51+ Things to Do in Washington, DC
I wasn't able to appreciate my birthplace of Washington, DC before I realised that there's a lot of unique things to do here that can't be done anywhere else. Being the capitol of the United States, DC offers a tonne of political and historic activities for visitors and also has a lot of American and international charm that draws millions in each year.
To keep things short and sweet, I've compiled a list of 51+ things to do in Washington, DC. I've done a majority of the things on this list so please let me know if you'd like assistance or extended opinions on any of them.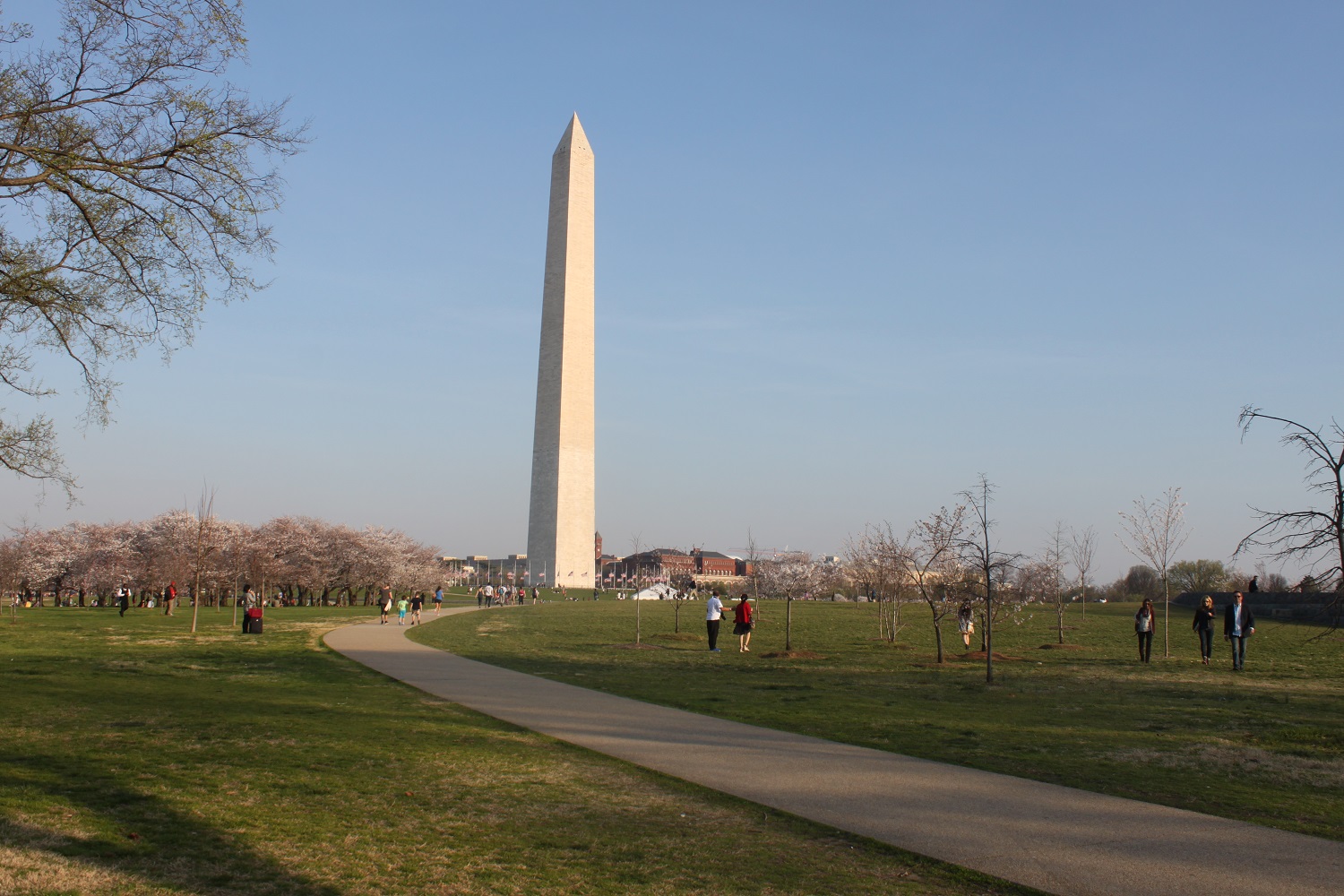 Places to See
Go to the White House. A lot of people stand outside the White House for some pictures but if you're super determined to get inside, you can book a tour through your Member of Congress or International Embassy.
See the Washington Monument. Probably the most iconic monument of DC, you can go to the top to get a great view of the city (when it's open – it has frequent closures).
See the Lincoln Memorial and reflecting pool. Another iconic monument, the Lincoln is almost always accessible and the reflecting pool makes for one of the most relaxing and picturesque spots in DC. The Vietnam Veterans Memorial is nearby and is also worth a visit.
Take a picture with your state name at the WWII Memorial. Honouring the Americans who served and died in World War II, this memorial has pillars with every state's name. Be sure to take a picture with your state name.
Stroll along the Tidal Basin. Whether you want to take a paddle boat on the water or just stroll and see the Jefferson, FDR, and Martin Luther King, JR Memorials, the Tidal Basin is another peaceful place to wander around.
Visit the US Capitol. A much easier visit than the White House, the US Capitol gives tours of debatably one of the most important buildings in the US.
Visit the Library of Congress. Even if you don't have time to do research or reading, visiting the Library of Congress is another distinctive DC activity. The interior of the library is gorgeous so architecture fans shouldn't miss out.
Visit the Supreme Court. You've got the executive and legislative branches, so why not see the third: the Judiciary branch. I've never been inside but the court is open to the public for viewing.
Go to Union Station. If you're not arriving or departing from this lovely building, it's still worth a trip in. The architecture is beautiful (think NYC Grand Central Station) and there's a tonne of chain stores and restaurants inside if you want a bite to eat.
Visit the National Shrine. (HIDDEN GEM) The Basilica of the National Shrine of the Immaculate Conception is near Catholic University and is a popular destination for Catholics and Christians alike. It's out of the way but is very beautiful architecture and one of DC's most unique buildings.
Go to the National Cathedral. The National Cathedral is a bit out of the way but is one of my favourite places in DC. The architecture is marvelous and with its historic- and pop culture-themed gargoyles, it's a unique place to visit.
Take a picture of the Smithsonian Castle. The famous Smithsonian Castle is great for taking pictures but unless you're super interested in the current exhibit, the museum inside is very small and uninteresting.
Museums
General Museums
Visit the National Museum of Natural History. This one is my and a lot of others locals' favourites (and it's free)! If you're not marvelling at the mammal taxidermy hall, including the huge elephant at the entrance, you can see a tonne of dinosaur fossils and learn a lot about geology and anthropology. Even if you're not big on the sciences, it's a fun place to walk around and see all the artefacts.
Visit the National Museum of American History. I always visit other countries' national history museums so the Museum of American History is something I'd recommend for everybody. It's another favourite of mine and has a large array of information on American history since colonialism, including political and cultural elements (including Hollywood, which is a favourite for a lot of people). It's another free museum.
See the National Museum of African-American Culture and History. This is a great museum that focuses on a large part of America's history. The top two floors and dedicated to the successes and great moments in African-American history while the bottom level has the struggles such as slavery and segregation.
Visit the National Museum of the American Indian. A really cool architectural design, the American Indian museum houses a great collection of Native American culture of different tribes and is one of my favourites to visit. It also has hands-down the best food you can get at a museum (and it's actually pretty good!)
Discover the National Air and Space Museum. The museum houses a tonne of information on air and space travel and is known for its IMAX theatre and interactive exhibits.
Visit the National Spy Museum. The museum can be a bit pricey but it's a fun and unique way to spend a few hours.
See the original Constitution at the National Archives. The National Archives is a great resource for people who like to do non-fiction research but it's also home to a fascinating and important museum highlighting some of American history's most important artefacts, including the Constitution.
Visit the National Geographic Museum. (HIDDEN GEM) This is one of my favourite things to do in DC but surprisingly, not many people go there or know about it. The museum has several amazing exhibitions from the Tomb of Christ to Sharks to the Cosmos. I got to see the Terra Cotta warriors – yes, the ones from China – when I was 14 and it's those type of exhibits that leave an impression on you.
See the historic Ford's Theatre. Lincoln was shot at Ford's Theatre on April 14, 1865. View the museum of the Lincoln assassination at this building and see how the President's Box looked on the night of the assassination (the rest of the theatre is renovated). Also go across the street to see the house where Lincoln died.
Pay your respects at the US Holocaust Memorial Museum. The museum has a tonne of artefacts and information about the Holocaust if you're interested in learning more.
Take a tour at the US Bureau of Engraving and Printing. I've never been myself but a lot of tourists enjoy the US Bureau of Engraving and Printing – another place unique to DC.
Spend some time at the National Arboretum. (HIDDEN GEM) DC has no shortage of outdoor space for a city and the National Arboretum is a pretty place to escape the hustle and bustle of the city (but not the tourists). I personally enjoy the large bonsai museum the arboretum houses.
Visit the US Botanic Garden. The botanic gardens are a great place to view some tropical foliage for visitors who are into plants.
Learn about Shakespeare. (HIDDEN GEM) Shakespeare has a big place in DC and the Folger Shakespeare Library has a lot of information on his work.
Go back thousands of years in history at the Bible Museum. Dedicated to the creation of the Bible, the Bible Museum is one of DC's newest. I've visited but was unimpressed, especially since it costs $20 to get in.
Art Museums
House Tours
Activities
See a show at the Kennedy Centre. If music, dancing, and/or theatre is your cup of tea, the Kennedy Centre is quite the venue to see a show. The Millennium Stage does free performances daily.
See a game at the Nats Stadium. Whether you like the Nationals, baseball, sports in general or not, almost everyone in the DC area has been to the Nationals Ballpark at some point in their lives. Located close to downtown, it's an easy commute.
Go to the National Zoo. If you're a fan of zoos, the National Zoo is a decent size and of course has the pandas.
Participate in a protest. Even if it's not as big as the Women's March, there's almost always a protest going on in DC to attend.
Take a walk down Embassy Row and visit an embassy. The embassies aren't much to marvel at from the outside, and gaining access is no easy feat, but there's only one place to enjoy all the national embassies. Several embassies also host frequent events to attend and there are often open houses once a season. The Woodrow Wilson house is also on Embassy Row if you're interested in paying a visit.
Take a cruise on the Potomac. It may seem a little posh but taking a river cruise is a great way to get views of the city.
Escape the city while staying in the city. If you're more of a nature person, you can check out Rock Creek Park, which is the city's most famous park and is very beautiful. Another great area for nature is Theodore Roosevelt Island, which is within walking distance of the main city. You can also enjoy some recreational sports at West Potomac Park on the National Mall.
See a show at E Street Cinema. The E Street Cinema in downtown DC shows independent films and also has iconic film viewings. If you're a movie buff, this could be a rare chance to see one of these films.
See a performance at the Shakespeare Theatre Company. There's no shortage of the performing arts in the nation's capitol, and the Shakespeare Theatre Company is one of the more popular, with two theatres in Chinatown. They do a range of old and modern plays and usually unleash a lot of creativity when making costume and set themes for each play. Definitely worth a visit for theatre geeks.
See a film at Congressional Cemetery (Summer). Probably one of my favourite things to do is go to Congressional Cemetery to see a movie during their "cinematery" events. Grab some food and sit on the grass as you watch movies like All About Eve, North by Northwest, and a lot more. The cemetery also has some other events like themed tours and "yoga mortis" that are worth checking out.
See the Cherry Blossom Festival at the Tidal Basin (Spring). Even though FDR put Japanese people in internment camps, the area of the FDR Memorial and the Tidal Basin is where a majority of the Cherry Blossom Festival activities take place to commemorate friendship between the US and Japan. Be sure to go early to avoid crowds.
Go to the Japanese Street Festival (Spring). If you're in town, the Japanese Street Festival is a huge and fun event where Pennsylvania Avenue shuts down for Japanese street food, vendors, and performances. It's a fun time for everybody and is personally one of my favourite things to do in DC.
Neighbourhoods
Luckily for tourists, a lot of the neighbourhoods worth visiting are located close to each other or are within walking distance (DC is a fairly small city size-wise). If you have extra time or want to get out after a day of sight-seeing, these places are worth checking out.
The Mall/Downtown is where a lot of the museums, memorials and government buildings are. If you're at the Mall, go north to get to Downtown. A lot of places are closed outside the 9-5 business hours but Chinatown (7th Street) is a great place to head to nearby that has a lot of fantastic restaurants and bars that will be open.
If you go southeast of the Mall, you'll hit Capitol Hill, which is a beautiful old neighbourhood that's a lot more relaxed than some other parts of the city. There are lots of bars and restaurants here to check out as well, and a lot of people enjoy going to Eastern Market to look around or get something to eat. It's another great place to walk around and see the old buildings.
A little bit of a walk north, there's the DuPont Circle area, which has a tonne of different restaurants of different types of cuisines. This is a trendier area and it's known as the "fruit loop" because it's popular with the LGBTQ+ community.
Georgetown used to be one of the cities in DC and it's one of the most gorgeous and preserved areas. The main streets are M St and Wisconsin Ave and there's a variety of shops and restaurants to check out, many of which are local. This is a much pricier area but taking a stroll and seeing all the antique shops and houses is free and a great way to spend a few hours. There's also a cat cafe called Crumbs & Whiskers that's decent, so if you've ever wanted to wanted to visit a cat cafe, this is your chance.
The last place I'd recommend for tourists are Adams Morgan, which is a trendy neighbourhood that's known for its diverse selection of cuisine (and international pleasures like hookah). It has a lot of local restaurants and bars worth checking out, and some great old architecture, as well. If you're looking for a night out or are on a foodie trip, this will probably be your best bet.
Some Things to Know
Before you go, there are things to know about DC:
The public transit sucks. It exists and it works, and it's probably better than figuring out parking and one-way streets, but keep in mind it may take a while to get from A to B, even if they're close by. I highly recommend walking. Either way, keep this in mind when you're planning out how much time you want to be in the city and what you want to get accomplished.
Washington is the city name, District of Columbia is the "state" name. DC technically isn't a state but it functions like one. There used to be three cities in the District of Columbia until they all got merged under "Washington." So Washington, District of Columbia (DC) is just like saying Baltimore, Maryland.
Security is taken VERY seriously. You can get away with a lot more in other US cities, but don't try anything because you could be fined or could lose the privilege to visit certain monuments.
The Mall is where a lot of the touristy stuff is, and not much else. Keep in mind that while you're visiting, there are not many places to eat after business hours in the area. I recommend going to nearby Chinatown to get some grub (near Capital One Arena on a map), or taking the bus or metro someplace else, but definitely plan accordingly. Museum food is not that great.
DC is beautiful at night. Definitely take a monument walk and a walk around the city after dark because the lighting combined with the relatively uncrowded streets makes for a great time.
The National Harbour isn't worth your time. It's a bunch of chain shops and restaurants. The views of the city are too distant to really appreciate.
Old Town Alexandria is worth your time. Alexandria used to be a part of DC and the old town (King Street) is very beautiful with lots of local restaurants and stores. It also houses the oldest outdoor market in the U.S. on Saturdays. Definitely worth a day if you have the time, and it's easily accessible via public transit.
The weather is really unpredictable. Be sure to pack layers and rain essentials just in case. Also note that DC gets incredibly hot in the summer (and sometimes other seasons).
There's a tonne to do in DC, and I'm so lucky to have grown up here with so many resources available to me. I hope my insider tips will aid you in planning and executing an exciting and memorable DC trip!
Let me know if the comments or email what you thought of DC, whether you loved it or hated it, and what you did. I love hearing outside opinions!
Pin This for Later
Posted on Friday, July 6, 2018 in Destinations
Tags: district of columbia, north america, united states, washington
Want to support me?
Buy me a Coffee