51+ Things to Do in Paris
Paris is a huge city with a tonne of opportunity and attractions, and sometimes it can be overwhelming. Below I've come up with a list of 51+ things to do while in the French capital in an easy-to-read post.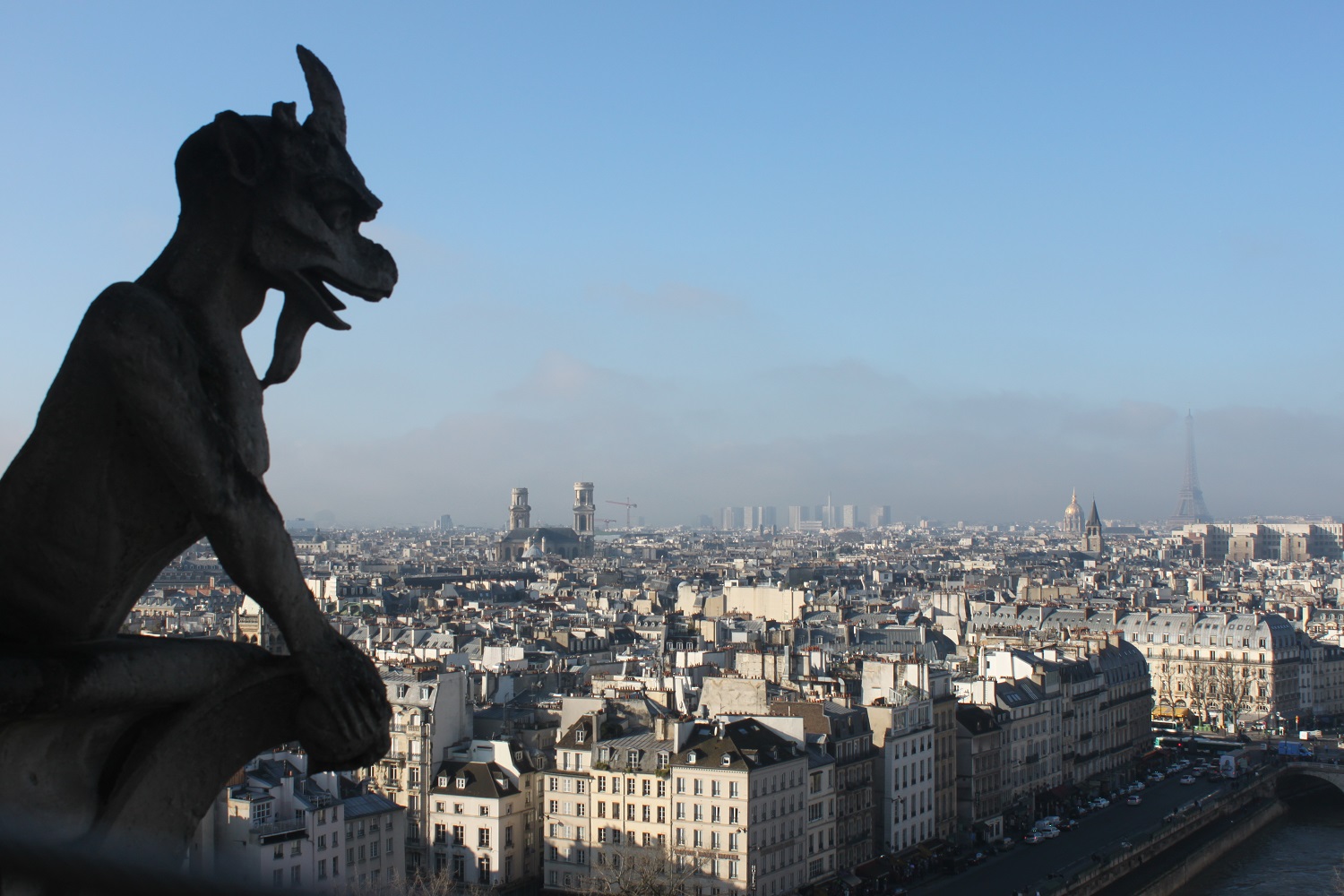 Places to See
Stop by the Trocadero Gardens and Chaillot Palace. Across the river from the Eiffel Tower is the Trocadero Gardens and Chaillot Palace. The gardens themselves are not super impressive but the exterior of the Chaillot Palace is beautiful and is one of the best places to take pictures with the Eiffel Tower.
See the statues at Concorde. Now a big traffic circle, you need to stop by Concorde to see the Egyptian obelisk that was put there by Napoleon (which also marks where many nobility and royalty were beheaded during the French Revolution!). In certain seasons, there's also a ferris wheel and fair food there to enjoy.
Visit the Opéra Garnier, and perhaps see a show. You should definitely see the beauty of the Garnier Opera House as it's one of Paris's most precious gems, and you can take a tour inside for only a few euros. There's also an original Chagall on the ceiling of the opera house – which is weird, if you ask me, but still an original Chagall. If you can, you can also get tickets to see one of the house's several performances.
Walk across Pont Neuf. This "new bridge" was built in the late 16th century as part of Henri IV's plan to make Paris a more open, less congested city. Many city bridges at the time were like those of Ponte Vecchio in Florence, so this was open-air but wide with some stalls so vendors could still sell on the bridge. Today, it's a beautiful bridge where you can sit in the stalls where vendors used to sell and take pictures of the Seine.
See the Hôtel de Ville. The city's administration is housed in a beautiful building along the Seine, with a square in front that houses a carousel (which are very popular in France) and special events. Be sure to stop by and marvel at its beauty.
Stop by Place de la Bastille. Marking where the famous Bastille once stood, there's a beautiful column in the middle of a traffic circle. It's not really worth the effort to get there, but if you happen to be in the area, definitely stop by.
Visit the Pantheon. The Pantheon of Paris, I consider a must-see for history buffs. The buildings itself is gorgeous and so many notable people are buried there – Voltaire, Jean-Jacques Rousseau, Victor Hugo, Marie Curie, and more.
Marvel at the stained glass of Sainte-Chapelle. A chapel dating back to the 1300s, Sainte-Chapelle is an overlooked gem of the city that's right across from Notre-Dame de Paris. It's a huge chapel of stained glass! Seriously, I'd look into Sainte-Chapelle since it's such a beautiful and unique place.
Ring the bells at Notre-Dame. OK, so unfortunately you can't actually ring the bells there, but Notre-Dame de Paris is one of my favourite cathedrals of all time, and of course one of the most famous. Be sure to go inside for free and go up in the towers for a small fee and get magnificent views of Paris. There's also an archaeology crypt nearby but unless you can appreciate the age of the of the structures before you, it's not super interesting.
Hang out at Sacré-Cœur. As Paris's famous basilica, Sacré-Cœur is also one of Paris's most unique pieces of architecture and is a beautiful and popular destination for visitors.
Take a stroll through Père Lachaise cemetery. One of the most famous cemeteries in the world, Père Lachaise houses the remains of several icons such as Edith Pilaf, Molière, and Jim Morrison. If you're not germophobic, you can kiss the glass around Oscar Wilde's tombstone to add to the lipstick kiss collection.
Chill out at the Place des Vosges. A beautiful arcaded building, the Place des Vosges surrounds a courtyard that is used today as a park. Built in the 1600s, it's a beautiful stop to take a breather and appreciate the history of Paris.
Stop by the Conciergerie. The Conciergerie started out in medieval times and grew into many roles, including the prison that held Marie Antoinette, before becoming a museum. It's an important building in Paris's history and though the inside isn't incredibly interesting, it should be a stop on your tour.
Stop by the Château de Vincennes. Though it's not *technically* in Paris, Vincennes Castle houses centuries of history and is right on the outskirts of Paris with its own metro stop – much too close to be considered a "day trip." I'd recommend stopping by and if you have time, going to the Bois de Vincennes, where they often have activities.
Head to the Cathedral of Saint-Denis. Also not technically in Paris, Saint-Denis Cathedral is right outside the city and is not only important to French history but houses several relics, such as the remains of Louis XIV and Marie Antoinette.
Visit the Lutèce Arena. Yes, even Paris has an ancient Roman amphitheater and tourists don't know it! It's not as impressive as those in Lyon or Nimes but if you want to pay a visit, it's one of the millennia-old pieces of Paris that make it the city it is.
Museums
Activities
Go atop the Eiffel Tower. This probably didn't need explaining since the Eiffel Tower is the icon of Paris, but it definitely deserves a picture or two.
Go atop the Arc de Triomphe. Another one of Paris's icons is the Arc de Triomphe, which was built by Napoleon and has fantastic views of Paris. Even though there's no elevator, I'd highly recommend visiting to snap some good pictures. Also, this is the start of the Champs-Elysées, the famous shopping street.
Take a Seine River Cruise. They're offered all over the place, but like many cities, it's always a good idea to see Paris from its famous river, the Seine.
Eat on the Seine. Many boats on the Seine house restaurants, and it's a charming way to get lunch or dinner. Be sure to escape to the edges of Paris – the 15th, 16th, 13th and 11th arrondissements – to escape the tourists and the tourist prices.
Go to the top of the Black Beast. Montparnasse Tower is the tallest building in Paris (aside from the Eiffel Tower) and it has a great viewing deck of the entire city. It was the first of what was supposed to be many skyscrapers, but the locals hated (and still hate) it so now it's a one of a kind. (It's called the Black Beast because it's considered ugly.)
Take a walk through the Bois de Boulogne. This huge park on the western side of Paris is pretty popular with the locals and is a nice stroll if you feel a need to get away from the city. Pro tip: Don't go at night because it gets a little… sketchy.
Escape to Parc de Bercy and the Bercy Village. Paris is such a huge city, but this park is a beautiful getaway. One of my favourite places in Paris is the Bercy Village, located on the outskirts. Some winehouses have been converted into shops and restaurants, which makes it into a small and charming street that's worth checking out if you have the extra time.
Have lunch at the Gardens of Luxembourg. A stroll through the Luxembourg Gardens is always a good idea, and many people like to picnic there in good weather. The Luxembourg Palace and Gardens are a beautiful place to stop by. They also have a small art museum for those interested.
See Paris from a hot air balloon. With a great view, Ballon de Paris is a great place to visit if you've ever wanted to go in a hot air balloon and get some good pictures of Paris.
See a show at the Moulin Rouge. Though more on the pricey side, you can see a show at the Moulin Rouge to check that off your bucket list. Alternatively, you can visit the cabaret Crazy Horse or the Folies Bergère. The art of burlesque and similar is a semi-large part of Parisian history so it's also a cultural experience.
Shop at the Galeries Lafayette. Even if you're not big on shopping, the Galeries Lafayette are absolutely gorgeous inside and a famous destination. I've heard you can also go to the rooftop to see the city but have never done so myself.
See the canals at Saint-Martin. The canals are in a way less crowded area of Paris and have a different kind of beauty to them than what you see at the Seine. It's a great stop if you have more time and want to explore offbeat Paris.
Take a cooking class. I personally recommend taking cooking classes in any city with gastronomical importance, and Paris is no exception. Perhaps learn to make macaroons or other French specialties.
Neighbourhoods
Paris is absolutely huge and divided into 20 arrondissements (precincts), but here's a breakdown of areas that I highly recommend:
Ile de la Cité is the small island where Notre-Dame is. It is actually here that medieval Paris was centred and Paris branched off of this little island, so I'd highly recommend looking around and seeing this quaint island in all its glory.
The Latin Quarter is the area that surrounds the Ile de la Cité to the north and south, and you can tell because several of the buildings look more Romanesque and are much closer together. The intersection of Rue de Rivoli and Rue de Pont Neuf dates back to Roman times and is two thousand years old! Even though Paris is beautiful all over, there's something so charming and timeless about the Latin Quarter that is so lovable.
Montmartre is famous for being the arts district, but this hilly area with cobblestone streets is very charming and has some of the best and most affordable patisseries I've been to. Just beware that this area is probably the sketchiest at night.
If you have time…
The 16th arrondissement is not popular with tourists but I personally loved strolling around and seeing all the art nouveau buildings the area has. If you have some extra time, the 16th (also said to be the richest local arrondissement) is worth a walk around.
The 13th arrondissement is also not popular with tourists but it has a lot of more modern buildings, including the Bibliothèque Nationale. If you have time or are studying abroad, I recommend this area to see a different side of Paris that's not Haussmann.
Some Things to Know
I wrote another article on the logistics of visiting France, so please take a read.
Please know that Paris is filled with pickpockets, so always keep a close eye on your belongings.
They also have several train stations so if taking a train, be sure to check for the right station! Also know that their metro system is fantastic and can get you wherever you need to go.
Have you ever been to Paris? What's your favourite thing to do there?
Posted on Friday, August 17, 2018 in Destinations
Tags: europe, france, paris
Want to support me?
Buy me a Coffee