51+ Things to Do in Tokyo
Tokyo is one of the largest cities in the world and there's absolutely no shortage of activities to do, even for travellers. It can be overwhelming sometimes to think of everything there is to do in Japan's capital. So before you go, make sure you plan out the things you'd like to do in Tokyo – here are 51+ of them.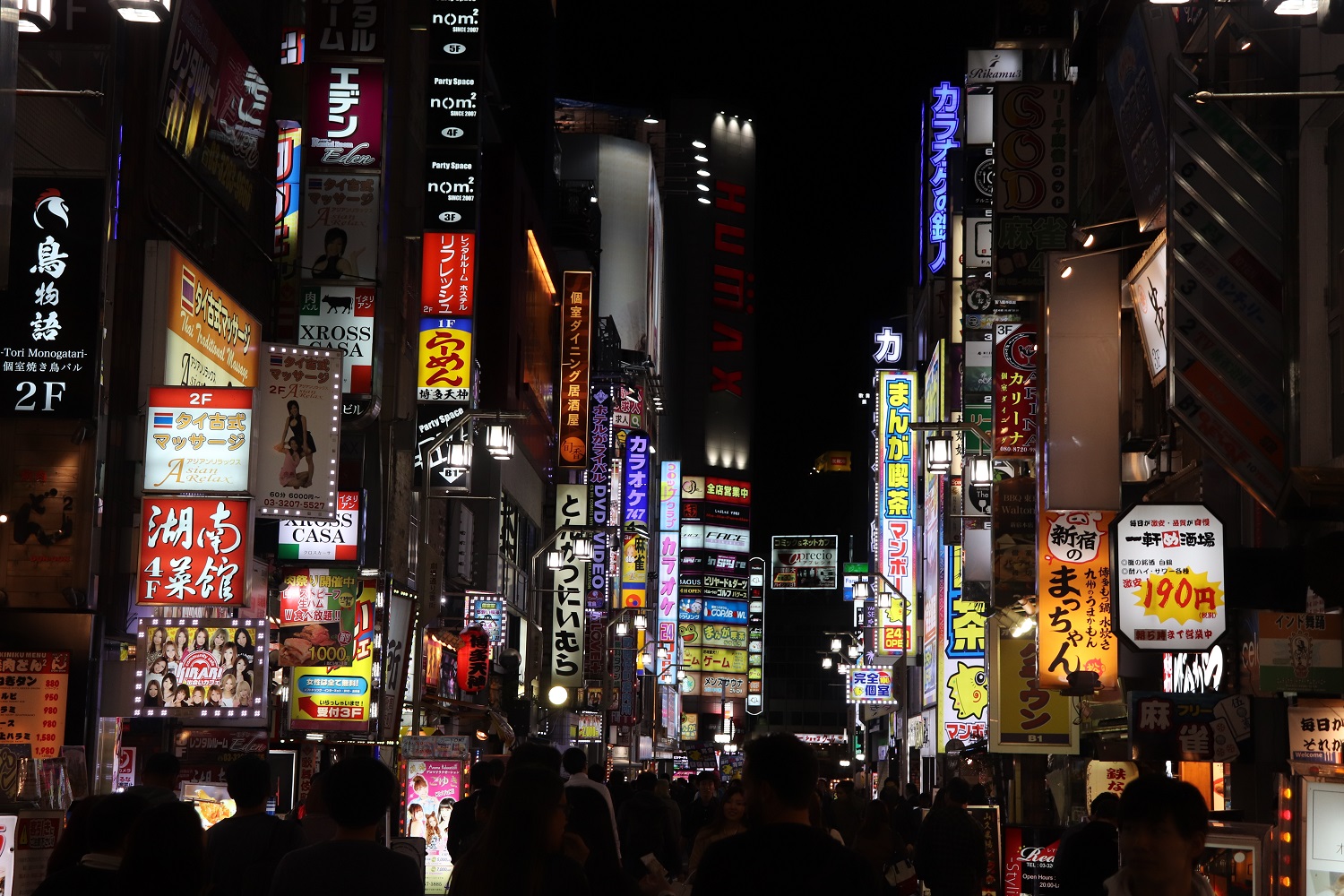 Places to See
Visit Senso-ji. Tokyo's oldest Buddhist temple was built in 645 for the Goddess of Kannon. Today, it's one of Tokyo's most popular tourist attractions and it's definitely worth a visit. Tip: The nearby Asakusa Culture Tourist Information Centre has a viewing deck on top, and is also open late. You can get great views of the area and Senso-ji temple from here.
See Tokyo Tower. You can go to the top of Tokyo Tower for a fee but at least stop by this iconic feature to see it in person. (Note that you can only see it from a few blocks away if you're on the ground – it's not highly visible otherwise.)
See the Skytree. Want another city view? Go to the top of one of Tokyo's newest additions, Skytree Tower.
Get nerdy in Akihabara. Akihabara – or Akiba for short – is an area of Tokyo with lots of lights and anime stores. It's a popular destination for anime enthusiasts to purchase souvenirs.
See the lights of Shinjuku. Shinjuku is one of the busiest areas of Tokyo, and there's a lot to see there – especially the lights, which are symbolic of Tokyo. It's also a great place to go shopping and explore, but note that prices here are much higher than other places.
Cross the street at Shibuya Crossing. Shibuya Crossing is the busiest intersection in the world, and it's worth popping by to see. You'd be surprised how chaotic this crossing isn't.
Stop by Golden Gai and Memory Lane. Golden Gai and Memory Lane/Piss Alley/Omoide Yokocho are two nearby areas of Shinjuku that have small restaurants and bars respectively. It has a very "old-timey" feel and is very charming, though it is packed with tourists.
Walk around Ueno Park. Ueno park is a huge and relaxing park in northern Tokyo, and is a great escape from the city for those needing a break. It's also popular with the locals.
Visit the grounds of the Imperial Palace. Though you can't go inside, getting a tour of the Imperial Palace grounds is a great way to get closer to the actual structures of the grounds. Otherwise, you can tour the outer grounds for free.
Wander around Meiji Jingu. One of Tokyo's most famous shrines, Meiji Jingu is in the middle of a large park and doesn't feel like it's in a city at all. Though the shrine isn't particularly special, the grounds are especially beautiful.
See the Ueno Toshogu Shrine. Another place in Ueno is the beautiful Toshogu Shrine. This was one of my favourite places to see in Japan.
See the Shinjuku Gyoen National Garden. One of Tokyo's most popular gardens, Shinjuku Gyoen is another escape from the bustling city.
Stop by Akasaka Palace. This western-style palace is the State Guest House and it's an absolutely gorgeous piece of architecture.
Give a cucumber to the Kappa-Dera Shrine. A Kappa is a frog-like water spirit in Japanese mythology. At this out-of-the-way shrine, you can see remains of the kappa spirit and give a cucumber to ensure the Kappa won't drown you.
See the Hachiko Statue. It's said that a dog once came to Shibuya station to greet his master returning home from work. Now, there's a statue right at Shibuya crossing dedicated to dogs' loyalty. (Because it's of course a universal truth that dogs are the greatest!)
Visit the Kyu-Iwasaki-tei Garden. Once home to the Edo clan, these gardens surround a beautiful western-style home.
Museums
Make your dreams come true at the Ghibli Museum. If you like Studio Ghibli, this museum is well worth the trip to Mitaka. You'll get to see how the movies are made, see an exclusive Ghibli film, and see architecture that'll make you feel like you're in a Ghibli movie all its own. Make sure you get tickets in advance. We got ours over 3 months in advance and there was still a waiting list!
Visit the Tokyo National Museum. A collection of smaller museums, the Tokyo National Museum is a must-see for visitors as it has a tonne of art and artefacts that make up Japan's history and culture.
See structures at the Edo-tokyo Museum. The Edo-Tokyo Museum is one of Tokyo's most visited museums. Inside, it has several displays of artefacts and buildings that existed in Japan during the Edo period.
See pandas at the Ueno Zoo. Tokyo has its own zoo, and the pandas are the most popular animal there (though they do have a large selection of other animals).
See an exhibition at the Tokyo Metropolitan Art Museum. The TMAM in Ueno Park is an exhibition-based art museum. Check out the website to see if their current exhibition interests you!
Visit the Ueno Royal Museum. Also in Ueno, the Ueno Royal Museum is another exhibition-based museum to visit.
See the National Museum of Nature and Science. Tokyo's another city that has a National Museum of Nature and Science, which is worth seeing for science and nature enthusiasts.
Visit the National Museum of Modern Art. Of course Tokyo has a museum of modern art, and it's called the MOMAT.
Go borderless at the Mori Digital Art Museum. Sadly, I didn't get to visit because tickets sell out days in advance. Make sure to grab your tickets online for the Mori Digital Art Museum to see amazing displays.
Stop by the National Art Centre. The National Art Centre is an exhibition-based art museum.
Go back in time at the Ota Memorial Museum of Art. Located in Shinjuku, the Ota Memorial Museum is dedicated to woodblock printing, an amazing art form famous in Japan and internationally.
See the Tokyo Toy Museum. Tokyo's yet another city with a toy museum to bring out your nostalgia.
Visit the Intermediatheque Museum. The Intermediatheque is one of Tokyo's more interesting museums, and its theme is hard to describe. Put simply, it's about form and function in multiple disciplines.
See the Shitamachi Museum. The "Shitamachi" is known to be traditional Japan's lower or merchant class, and this museum is dedicated to exhibiting how the Shitamachi historically and traditionally lived.
Check out the Nezu Museum. The Nezu Museum houses a collection of pre-modern Japanese and Asian art.
Visit the Samurai Museum. What's more Japanese than a Samurai? Be sure to stop by the Samurai Museum, located in the hustle and bustle of Shinjuku.
See the Edo-Tokyo Open Air Architectural Museum. It's a bit out of the way, but the Edo-Tokyo Open Air Architectural Museum has a bunch of reconstructed historical buildings and looks like a fun time.
See more houses at the Japan Open-Air Folk House Museum. Much like the above, you can see a selection of traditional house reconstructions at the Japan Open-Air Folk House Museum. (This one is technically not in Tokyo.)
Activities
Treat yourself with souvenirs. The nice thing about Japanese souvenirs is that they're beautiful and useful. You can get a nice new bag, a tea set, a stuffed animal, and a lot of other things that you're sure to enjoy down the road.
Walk down Kappabashi dogu-ai. This street has wholesale and general kitchen supplies for restaurants and home, and is a popular destination is Asakusa.
Go to the top of the Tokyo Metropolitan Government Building. Up there, they have two observation decks that are completely free to visit! These decks are indoors.
See a show at the Robot Restaurant. The Robot Restaurant is famous – or infamous – for its exciting shows. If you really do want to go, reservations are required and there's an 8000 yen entrance fee. However, you can get your photo taken with robots outside for free.
Eat at another themed restaurant. There are so many themed restaurants in Tokyo, from maid cafés to Alcatraz restaurants to monster-themed dining. Select a place that's right for you and see if it lives up to your standards.
Go to an animal-themed café. Tokyo is also filled with animal cafés, from owls and cats to hedgehogs. Get a cup of coffee at one and make some new animal friends.
Make a wish at a shrine. At a Shinto shrine or Buddhist temple, you can buy wooden cutouts from the vendors there and write your wish on them. Tie them up with the other cutouts and pray your wish comes true!
Play Pachinko. There are Pachinko parlors all over Japan as it's a popular form of gambling in the country. Stop by one of the parlors to try Pachinko for yourself and see what all the hype is about!
Get a "gotcha." Those white machines that are everywhere in Japan? They're called "gotcha" machines, and for a few hundred yen, you can get a random toy. There are so many different types of machines from souvenir toys to cat hats to anime-themed gotchas, so you'll have a lot to choose from.
Play a claw game. Also popular in Japan are those games where you have to get a stuffed animal (or similar) by using the claw machine. They're all over so try one for yourself and bring home a souvenir from it (if you're lucky).
Experience magic at Tokyo DisneySea. Tokyo does have its own Disney theme park and though I haven't been, the pictures alone make it look for spectacular than that in Orlando.
Watch Sumo wrestling. Sumo wrestling is a traditional sport in Japan and you can find some shows to go to or even dine while watching a Sumo event. Ask locals for the most authentic places.
Get put in a virtual reality. The VR Zone is Shinjuku is temporarily there but with its popularity, it will hopefully be a more permanent place. My brother went and thought it was fun, but many VR sets require 2 players.
Buy a Lolita wardrobe at KERA Shop. A lot of Lolita brands don't ship overseas, so if you go shopping in Tokyo, be sure to check out KERA Shop for a selection of Lolita clothing stores.
Learn how to make Japanese food. Tokyo has some amazing food, and it's a great place to get a class on making a Japanese classic like ramen or sushi.
See a tuna auction at Toyosu Market. Tsukiji fish market closed, marking the end of a decades-long spectacle, but it continues with Toyosu Market, which is supposed to be more visitor-friendly. My brother was lucky enough to go on Tsukiji's last day and thought it was quite an experience.
Unleash your inner nerd with a Mario Kart tour. Yes, you can take a Mario Kart tour through Akihabara. It's not that difficult to find and can be quite the unique way to experience such an exciting city.
Some Things to Know
The Tokyo metro is super easy to get around and is much cheaper than one would anticipate at under 200 yen for an average metro ride. Get a Suica card and take advantage of this great service. Update 2020: I believe the Suica has been discontinued and replaced by something else.
Tokyo is also very huge, so be sure to plan transportation accordingly.
Cash is king is Japan, so be sure to have enough yen to pay for everything. The easiest place to get cash is the ATMs in 7/11s.
Headed to Japan? Be sure to purchase your JR Pass! We saved a ton of money by purchasing the JR Pass and got to see a lot of beautiful places in Japan.
What is your favourite thing to do in Tokyo? Share in the comments below!
Thank you for understanding that this post has affiliate links from which I receive a portion of the proceeds. This is of no additional cost to you and helps fund my blog.
Posted on Friday, December 21, 2018 in Destinations
Tags: asia, japan, tokyo
Want to support me?
Buy me a Coffee