The Norman City of Rouen – Things to Do & Travel Guide
Originally published on Saturday, December 29, 2018
Rouen is such a charming city in Normandy with a fantastic history, and it makes an excellent day trip from Paris.
It's definitely worth seeing if you have time to spend in France. I've been twice and have enjoyed both trips to this lovely Norman city.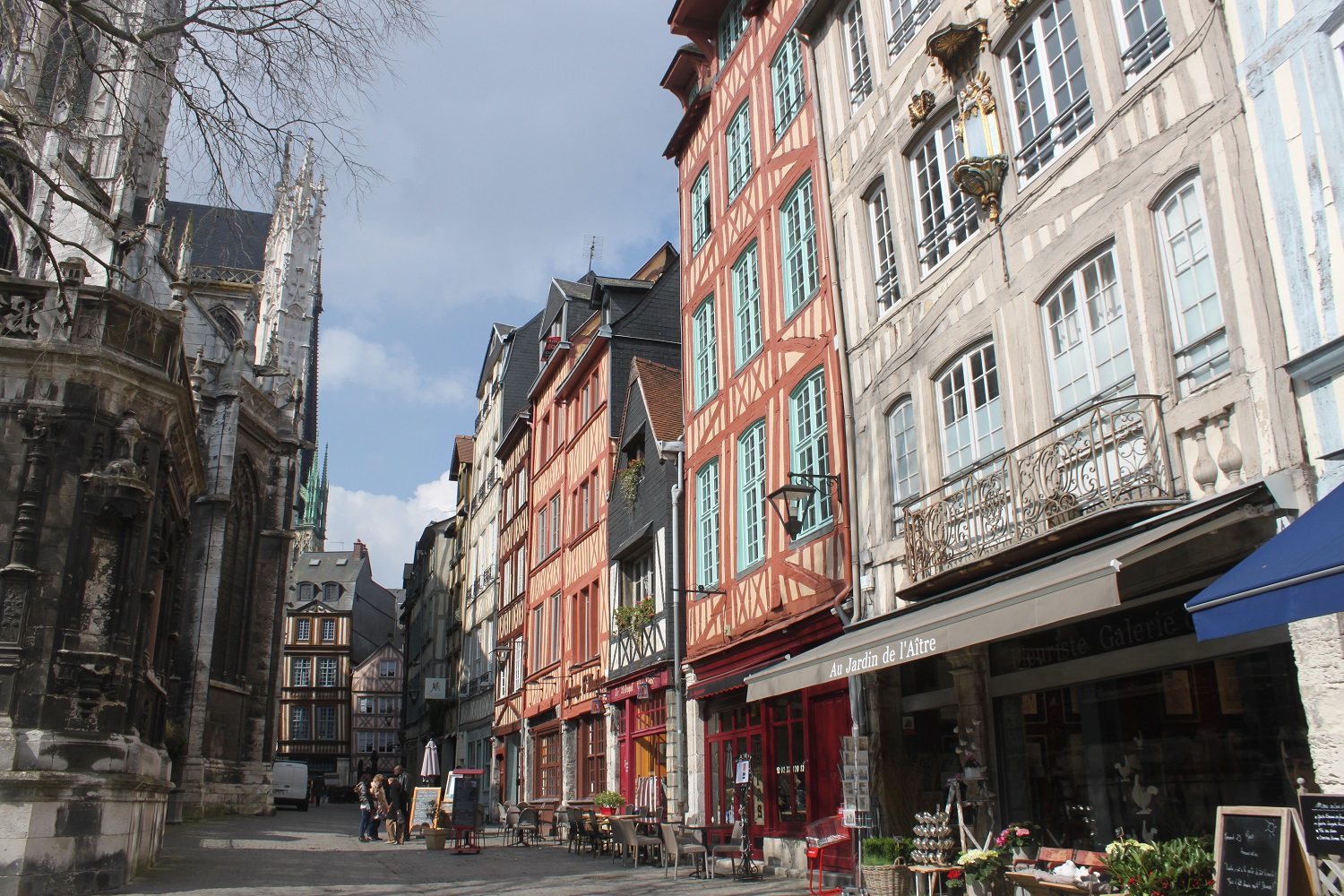 The History of Rouen
Rouen has a very long and impressive history. The city of Rouen dates back to the Roman days and became a Viking city in 841. It was actually so important that it served as the capital of Normandy until about 1060, when William the Conquerer moved the capital to Caen (which is also a cute Norman town to visit). In the middle ages, Rouen was a prosperous city of trade. The city fell to English forces in 1419, during the Hundred Years' War, and it also served as the capital of English power in France. Rouen remained under English rule until 1449, when it returned to the French.
The city continued to have a large economy for centuries and was one of the most populous cities in France for quite some time. Unfortunately, that came to an end during World War II, when Rouen was heavily destroyed. Of course, Rouen had to be built back up after the war. Today it's a notable city, though not one of France's most populated or visited, but it certainly still retains a lot of its heritage and charm.
Joan of Arc in Rouen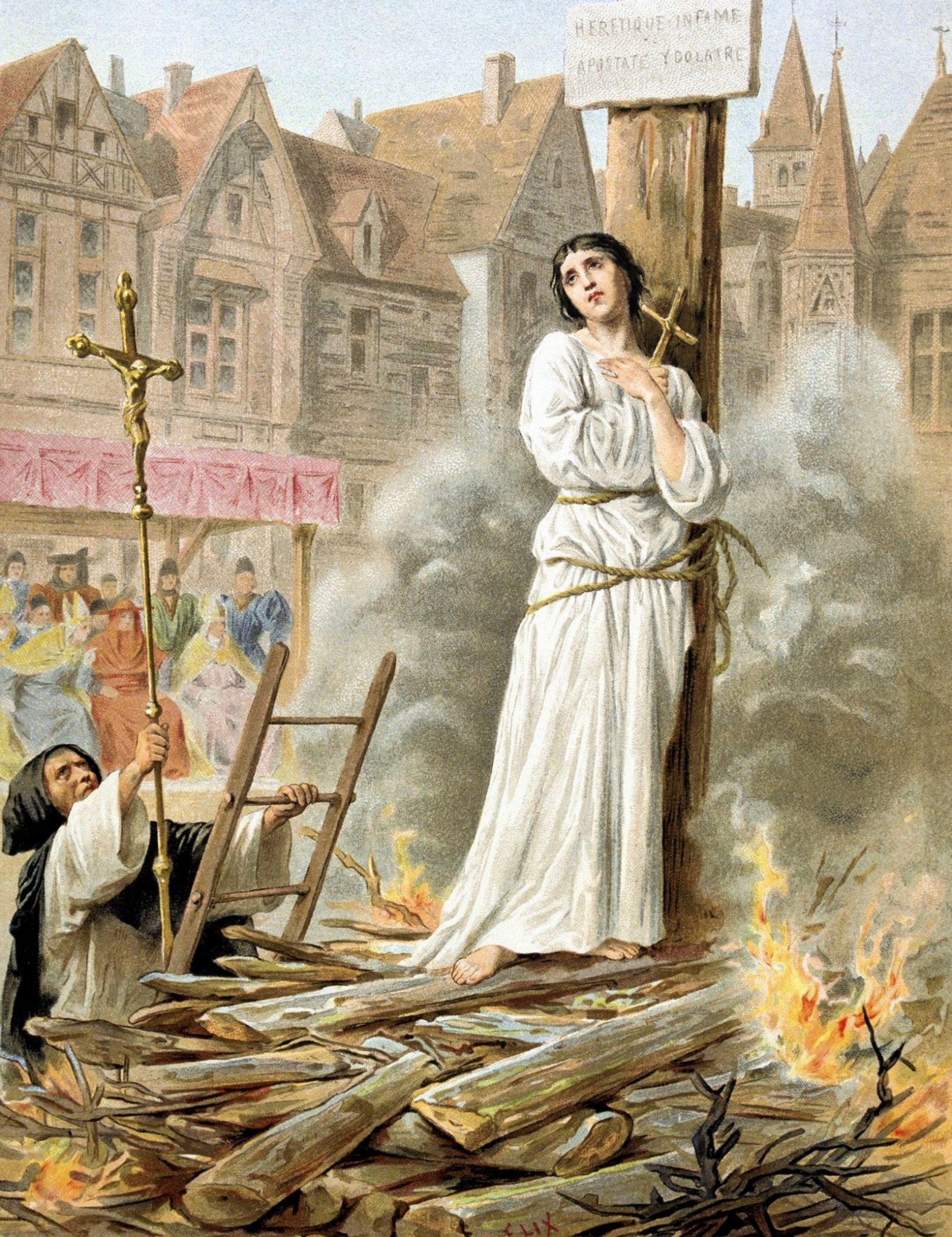 Rouen's almost synonymous with its most famous event, Joan of Arc's death at the stake. Joan of Arc wasn't actually from Rouen, but from eastern France, and was brought up in a peasant family during the Hundred Years' War. From a young age, she had visions of the Archangel Michael, Saint Catherine and Saint Margaret that persuaded her to drive the English and Burgundians from France. Additionally, they confirmed that God wanted King Charles VII on the throne of France rather than the English Henry V. She was able to tell her story to King Charles, who allowed her to become part of the military campaign in 1428.
She wasn't a fighter. Rather, she rode into battle with a banner depicting the fleur de lis, the saviour, and two angels, and implored military men to give up their vices and become more pious. I'm not quite sure how but this apparently whipped the men into shape and many became more dedicated to France's cause. She is credited with winning the cities Orleans and Troyes back to France, as well as getting King Charles VII to Reims (which was under English control) for a proper coronation. (Side note – Reims Cathedral is also worth a visit if you have time.) But we know that Joan's story doesn't have a happy ending. After over a year of military campaigns for Charles VII and France, Joan of Arc was dropped by the military after a battle lost near Paris. She got back on the field in early 1430 but was captured by the Burgundians after only a month or two, and then sold to the English.
Rouen comes into play just at the end of Joan's life. She was put on trial there and convicted of heresy. She did repent but violated the terms of her agreement when she continued to wear men's clothes. Now this is really sad – she continuously wore men's clothing because she was in a prison guarded by men and constantly under threat of being assaulted. It's said that guards took her dress away from her and gave her men's clothes, eventually forcing her to put on the clothes. Because of this violation, she was sentenced to death.
She was burned at the stake in Rouen on May 30, 1431, at about the age of 19. Her trial was successfully appealed in 1456 (though that didn't do much for Miss d'Arc then) and she was canonized in 1920.
Things to Do in Rouen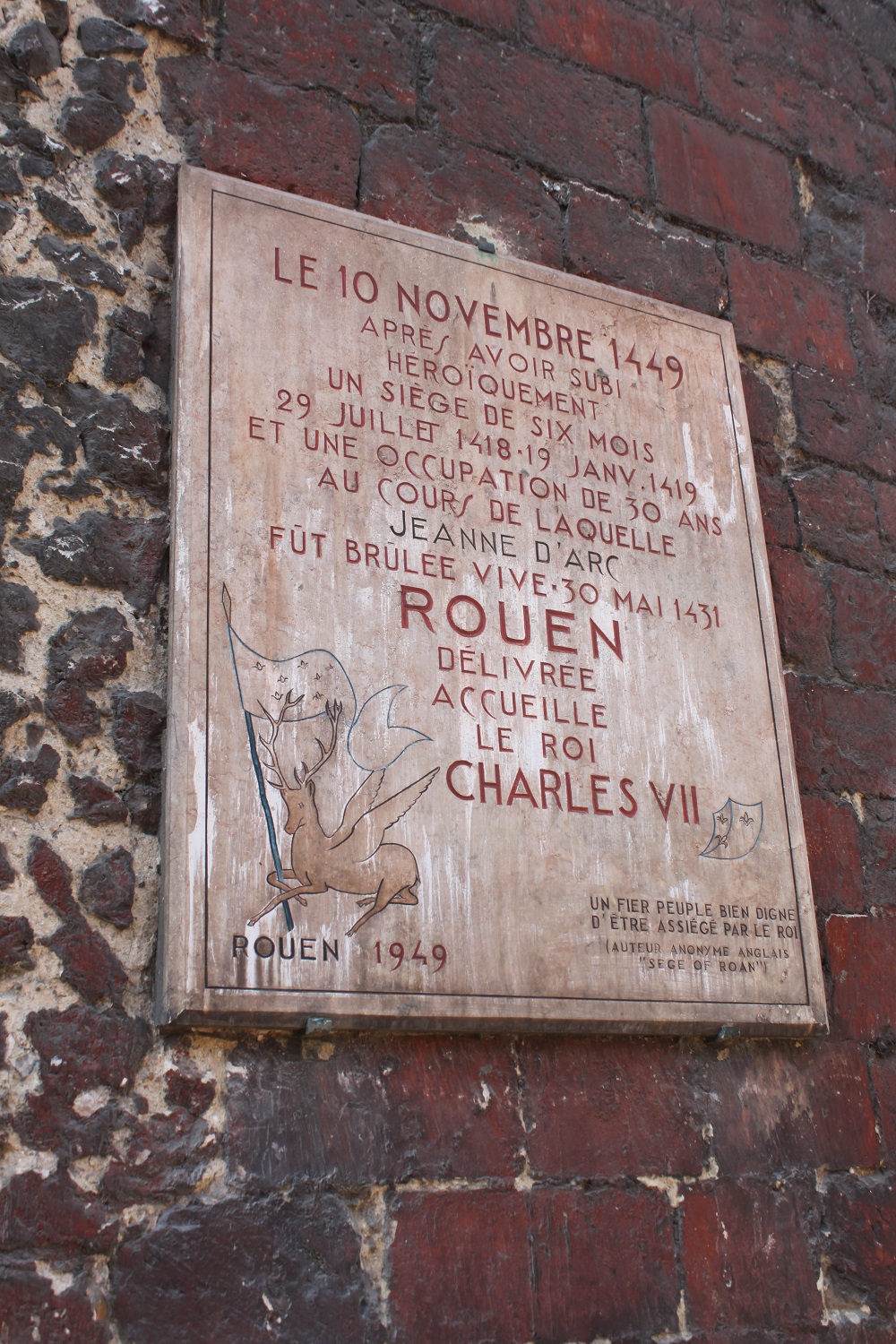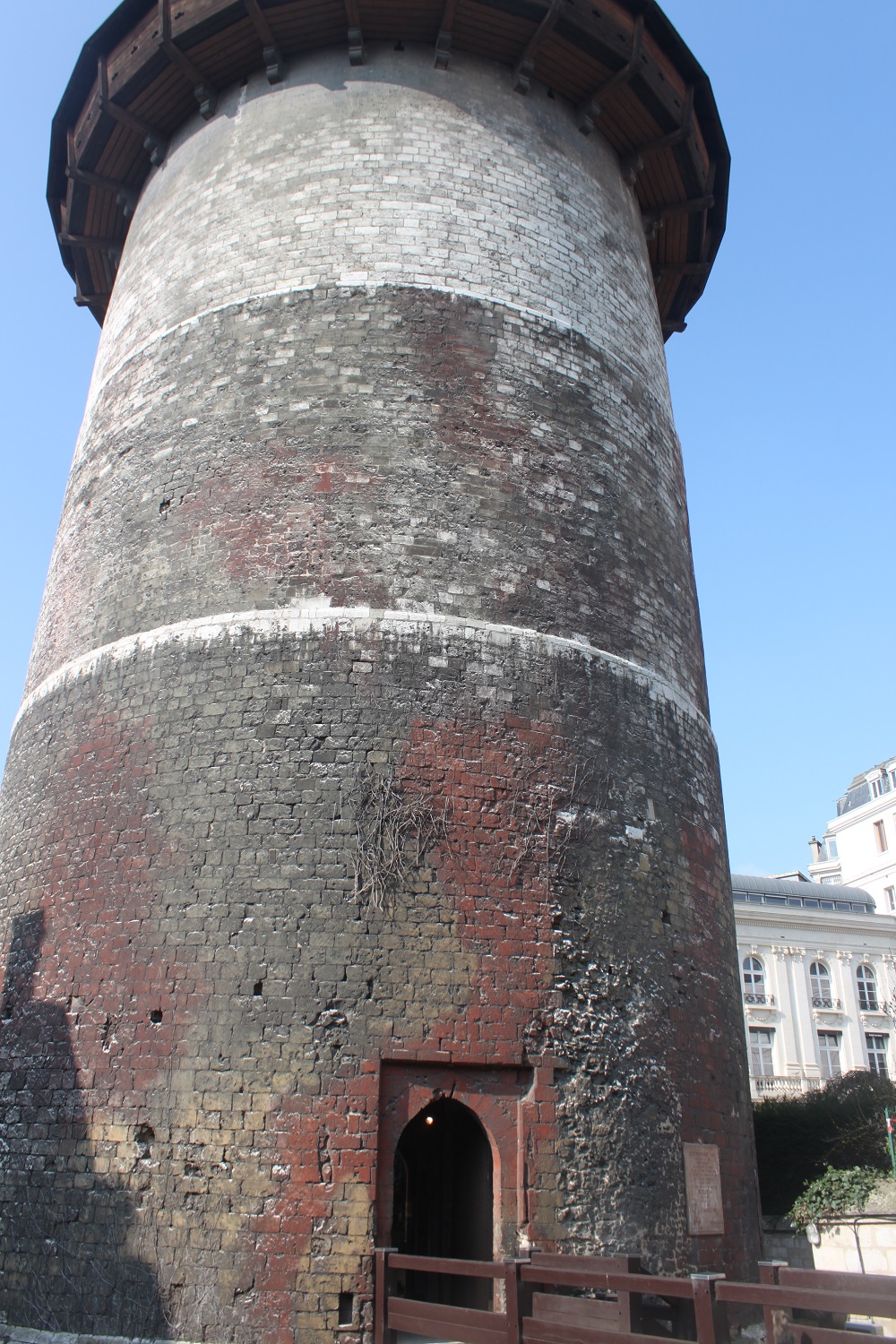 Today, Rouen upholds its medieval past while blending beautifully with the present. Of course, Rouen pays tribute to Joan of Arc in many ways. The Donjon of Rouen is a part of the castle where Joan of Arc was imprisoned, and their exhibit inside is fascinating (though they've redone it since I've been there). There's also an entire museum dedicated to the saint! You can also see the place where she was burned at the stake, which is marked with a garden. It's next to Saint Joan of Arc's Church, which is quite modern and one of the most unique-looking churches I've ever seen. If you go to the north end of Pont Boieldieu you can see another plaque that marks where her ashes were scattered on the Seine.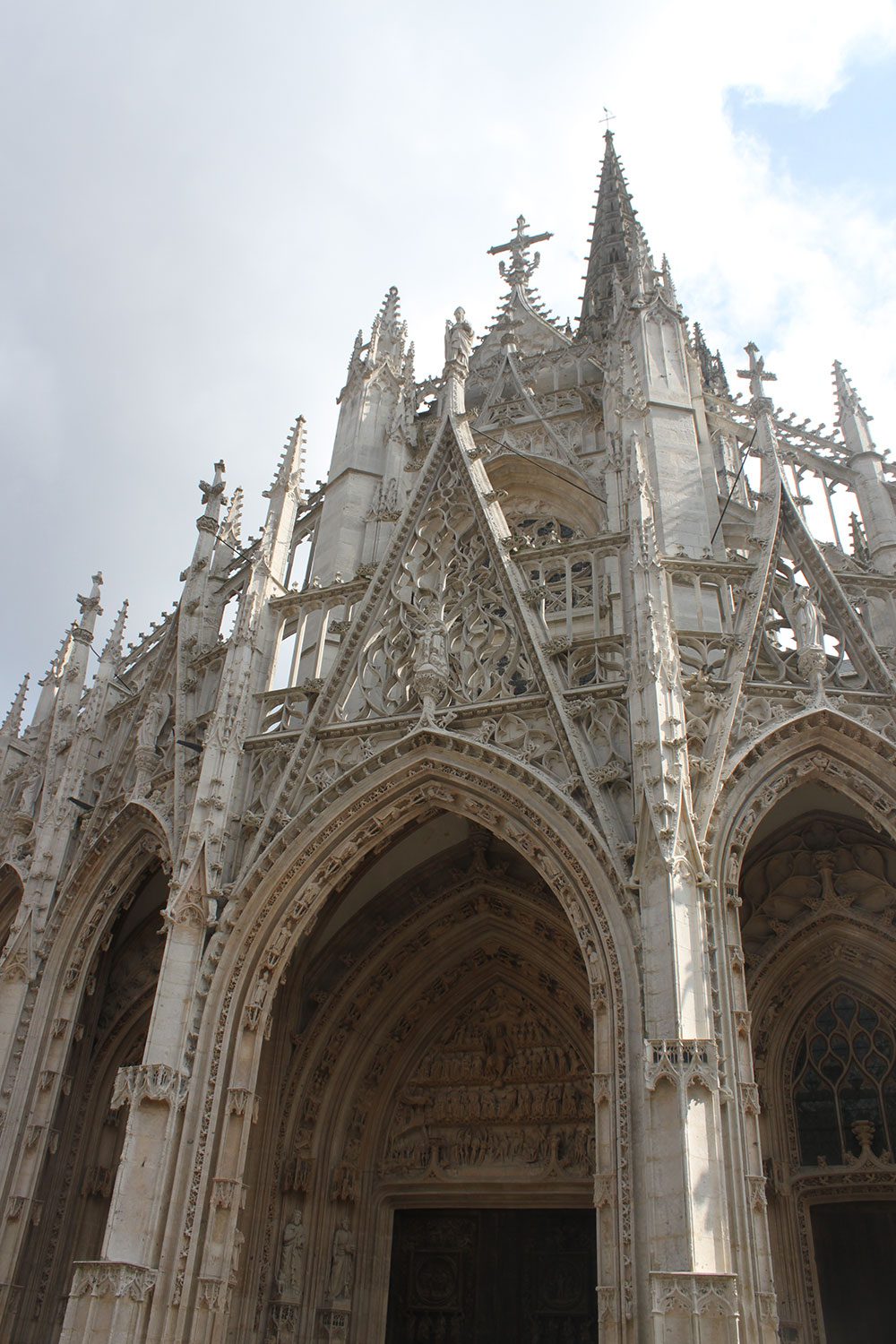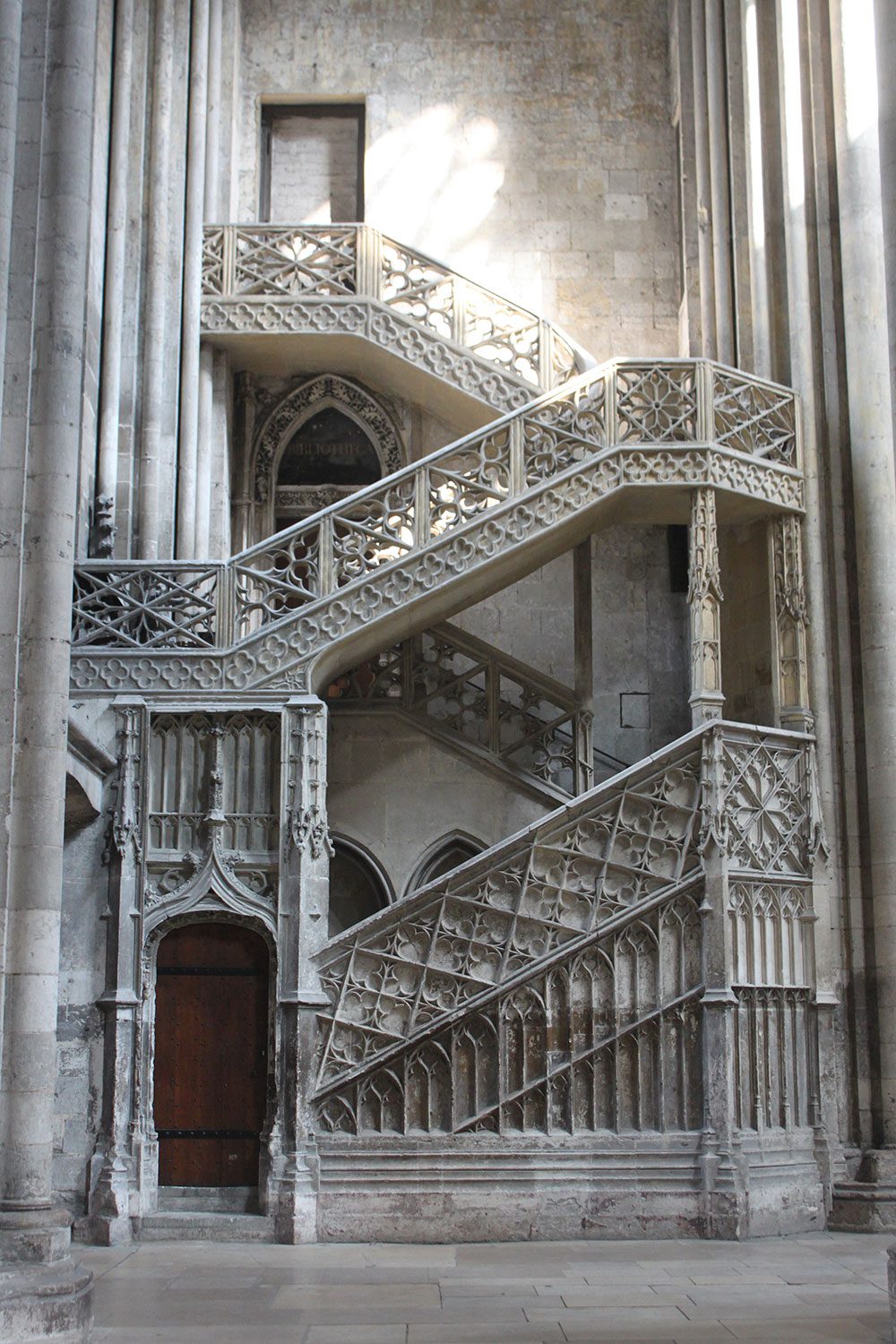 Beyond Joan of Arc, you can't miss the charming timber-frame architecture as it's quite prominent in Rouen, and they clearly celebrate their medieval heritage. One of the most popular things to do in Rouen is see Notre-Dame de Rouen Cathedral. It was one of Monet's favourites – he used this spot in Rouen to paint several of his works. The cathedral dates to the 11th century but its appearance has changed over time (though remaining in the gothic style), and it was heavily destroyed during World War II. I also love the 19th century Saint Paul Church, but I'm not sure why. It's nothing particularly special but I'm just so drawn to it.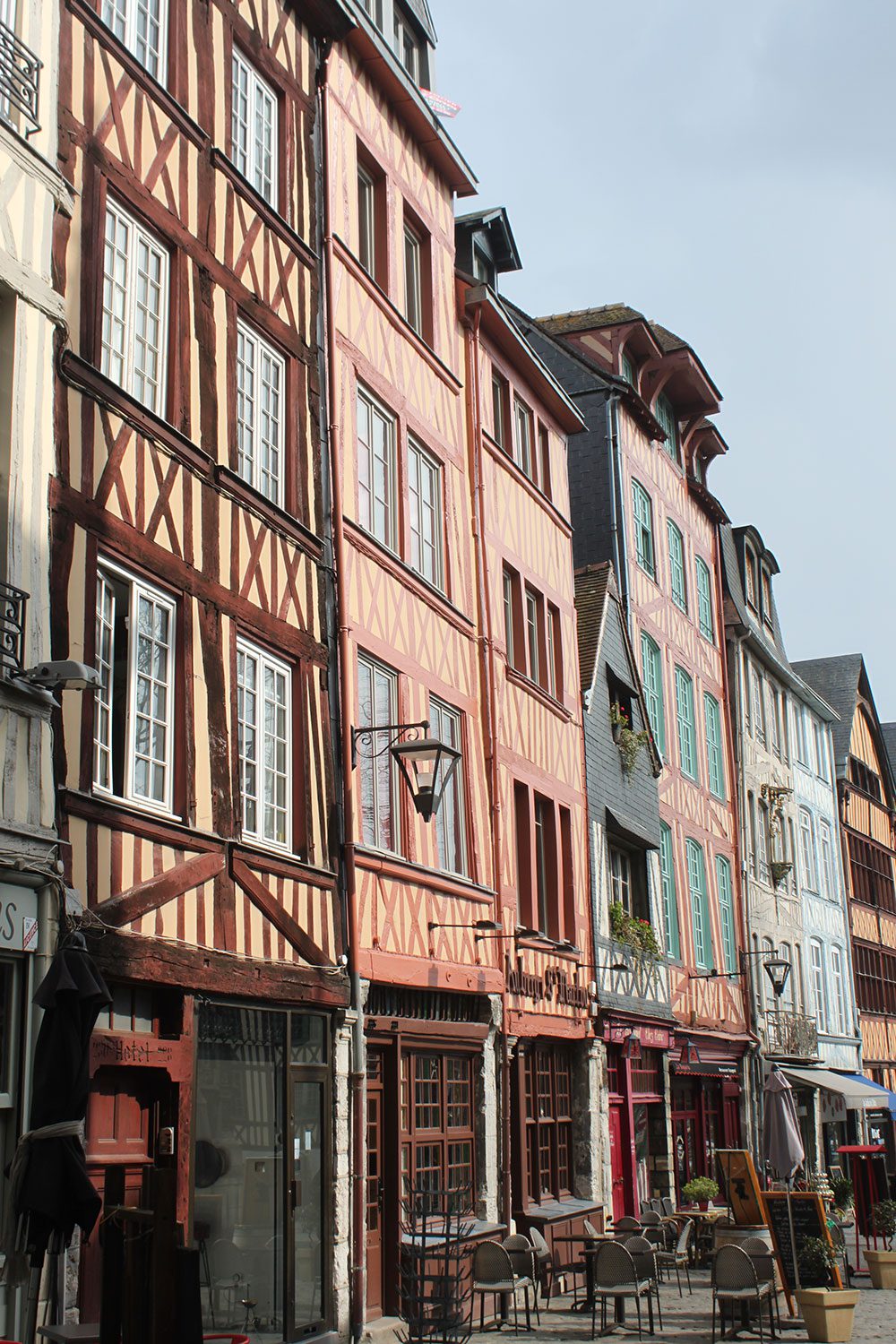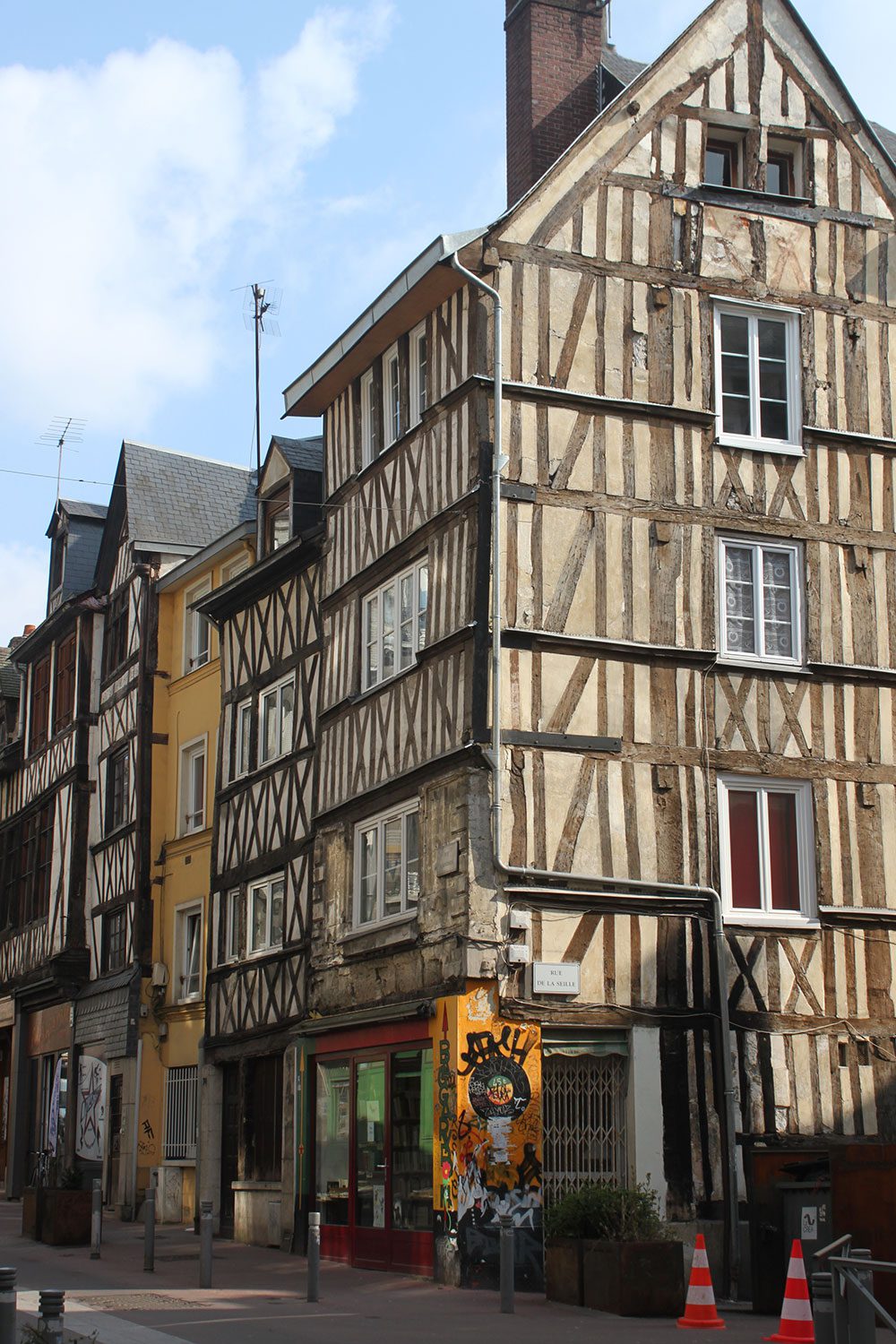 More places to stop by include Le Gros Horloge (the fat clock) and St. Maclou's Catholic Church (which is gorgeous). You'll recognise the area surrounding it as a lot of photos from Rouen feature this area. However Rouen's quite big and definitely deserves a good few hours to explore.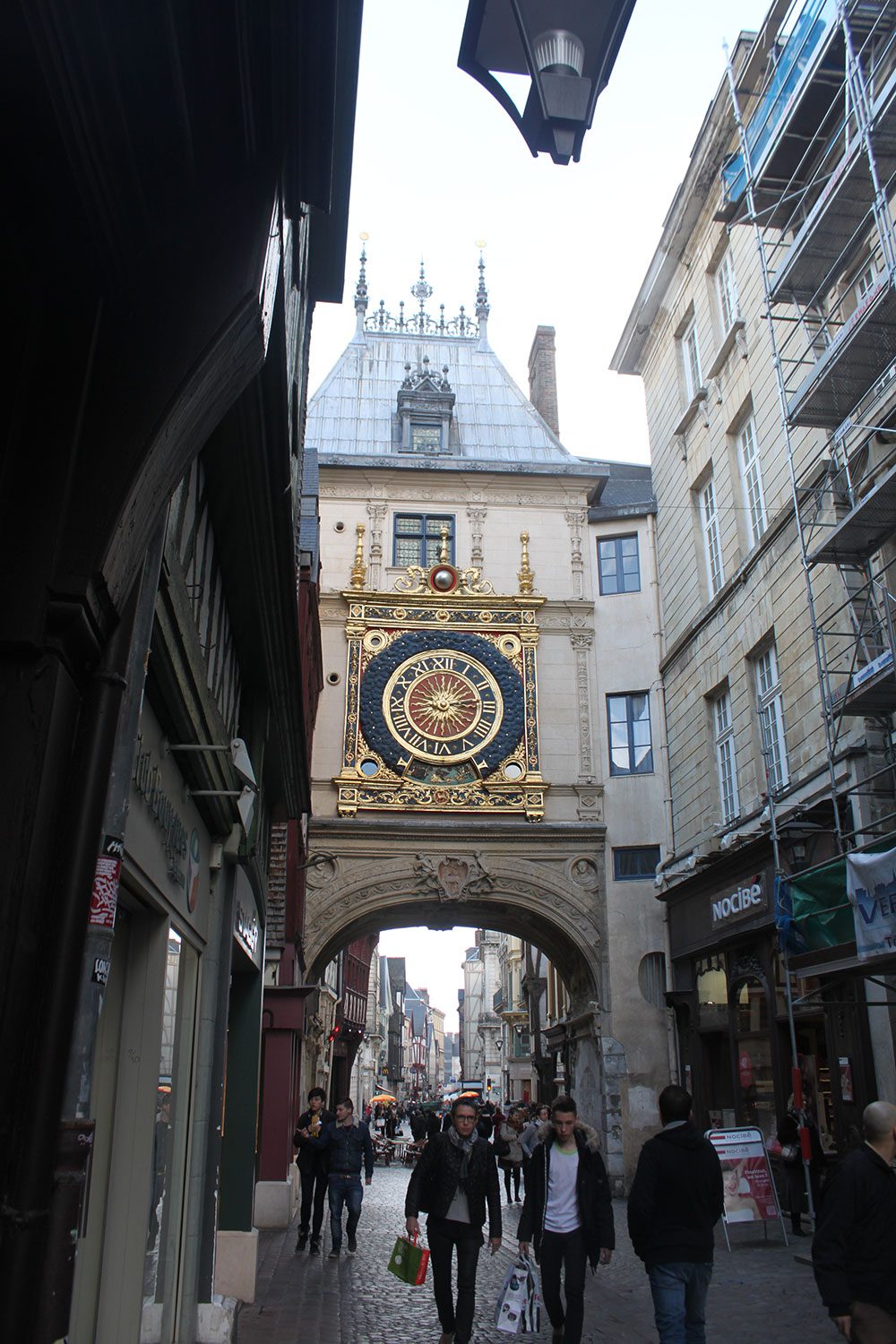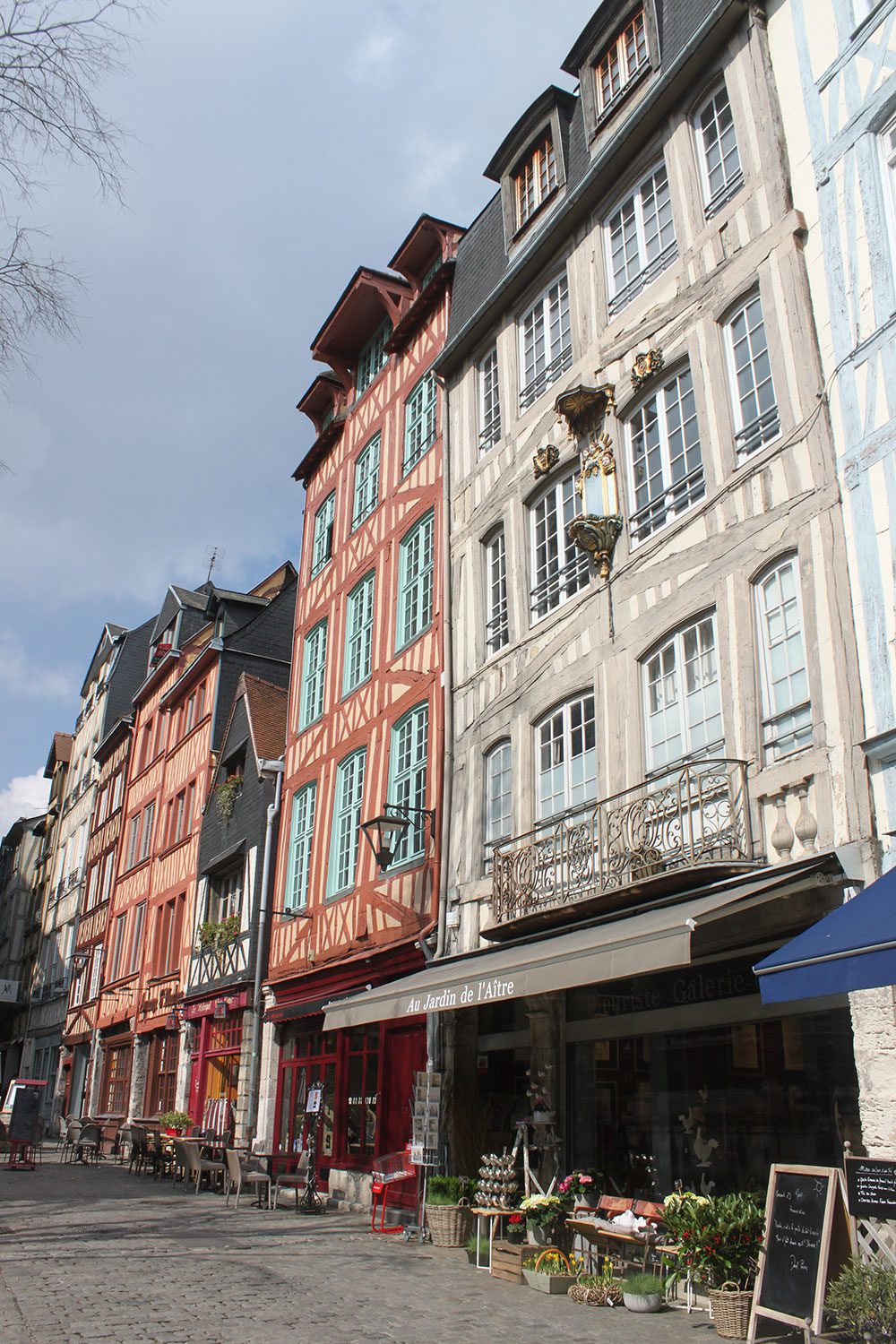 Rouen is also a very artistic city. Their museum of fine arts is a good visit, and they have smaller museums displaying ancient art and ironworks. Their courthouse and town hall are absolutely gorgeous, as well, but the unity of architecture that brings Rouen together is what makes it really beautiful. There are remnants of the city's past here and there which adds a nice touch of spontaneity. The city itself is a work of art, not just a city with a work of art.
Though the old city is north of the river, I also got to explore the south side and it's also quite cute.
One big drawback of Rouen, though, is that it's not very vegetarian friendly. I looked in so many restaurants trying to find vegetarian options and there were none. So it's something to keep in mind. However it might have changed since I last visited.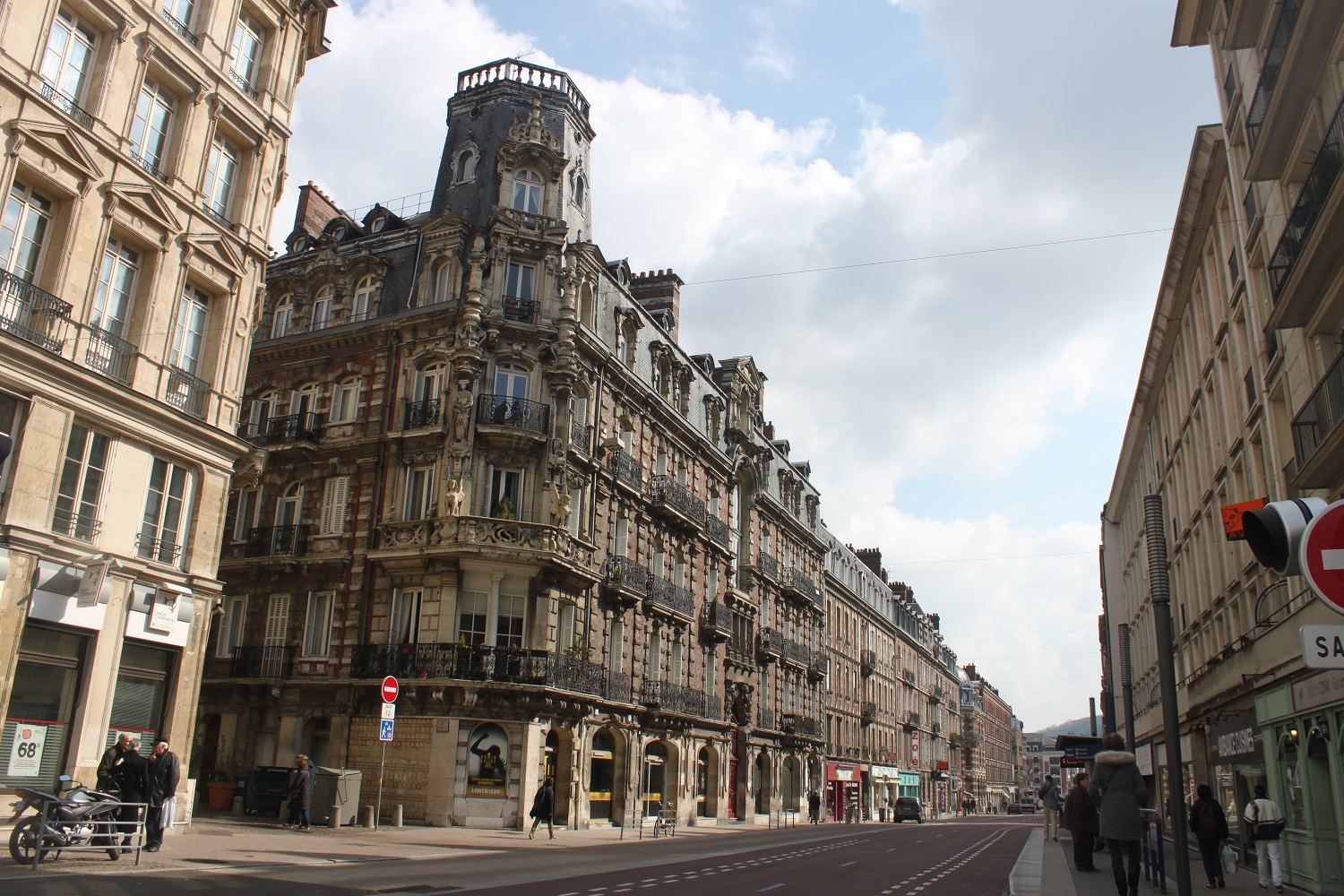 Though Rouen is certainly fascinating for history lovers, it's still a beautiful and enjoyable place for those who aren't particularly interested in history. You can definitely spend a few days there but can see a lot in a single day, too. I'd definitely recommend going to explore this beautiful city, even on a first-time trip to France.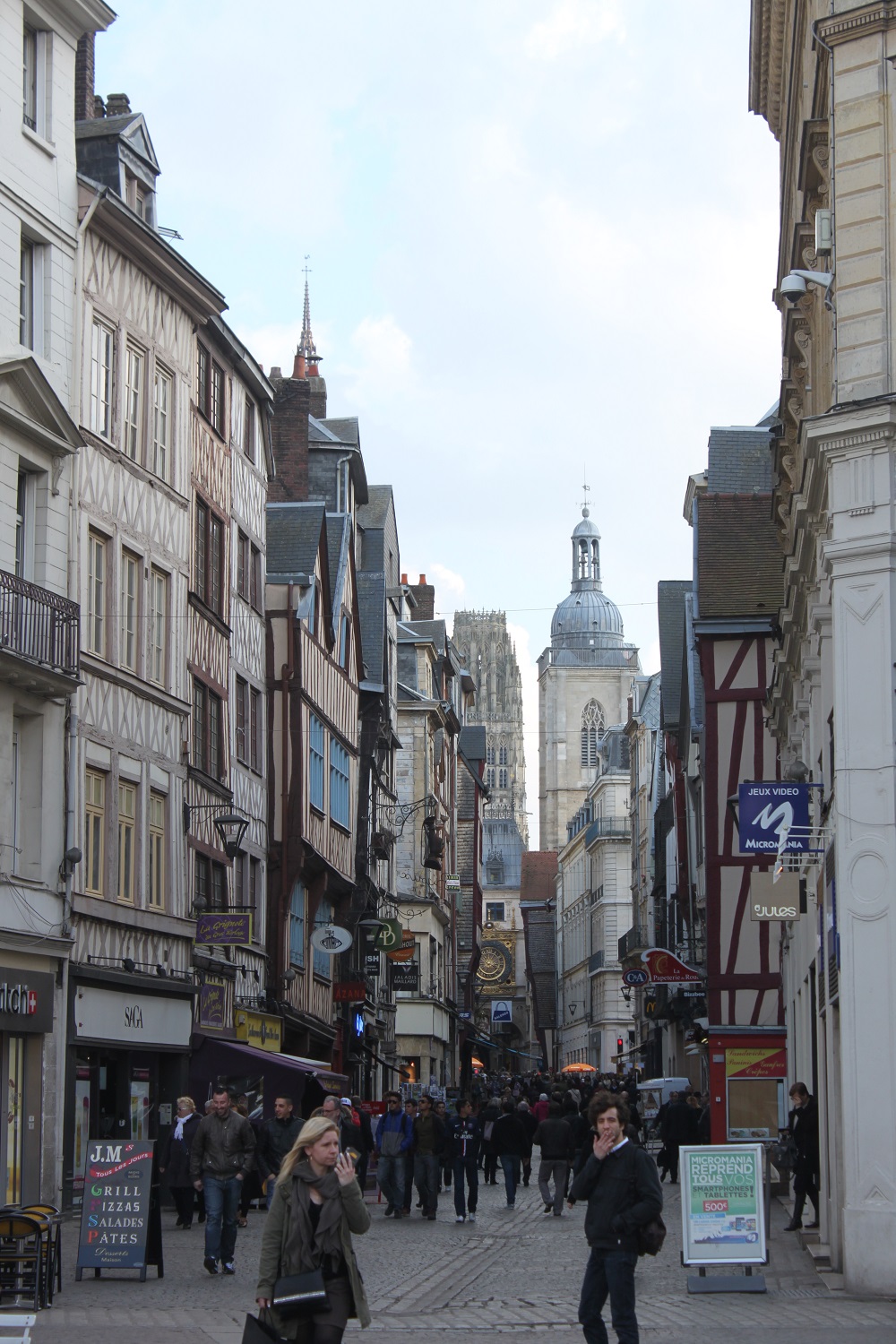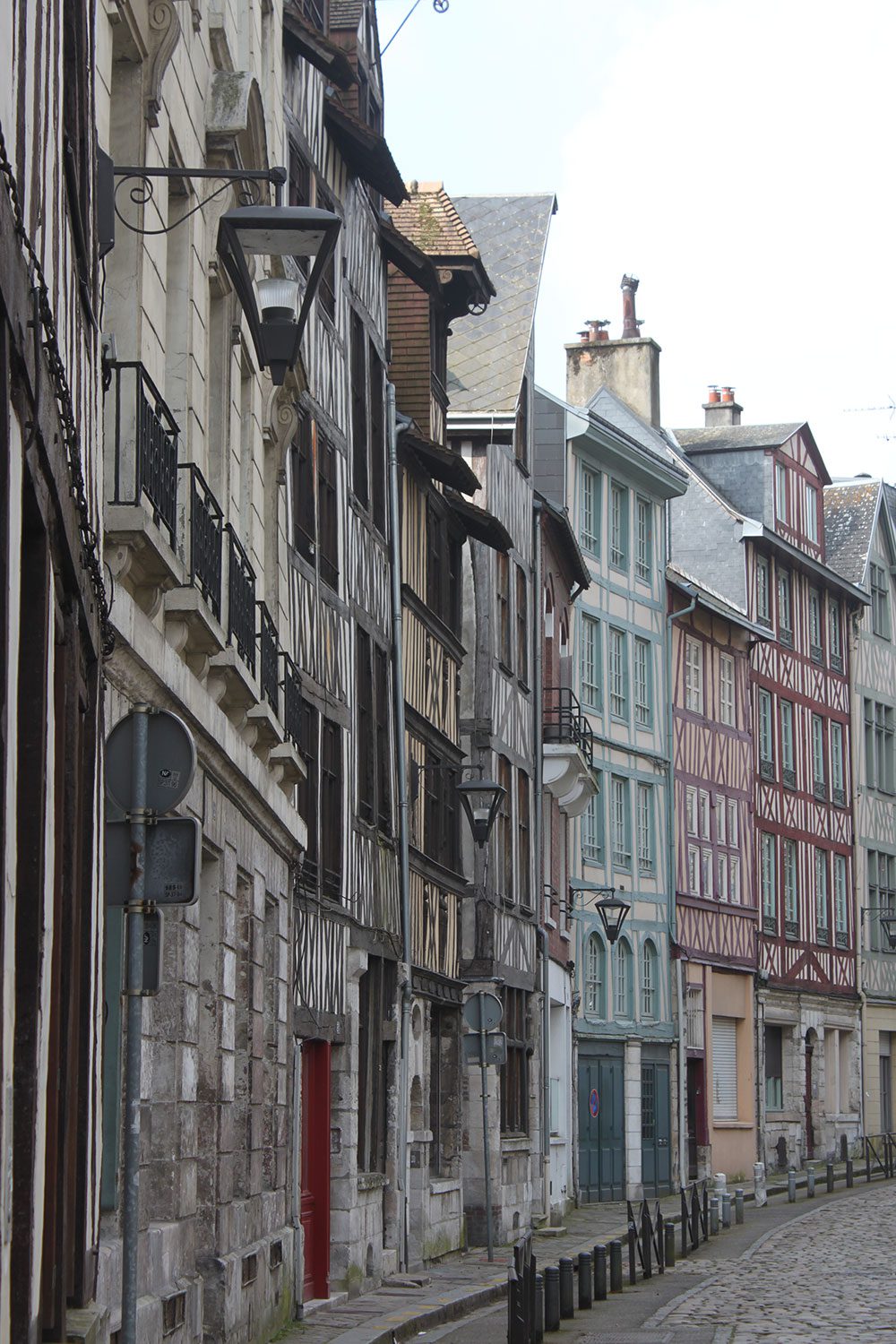 Have you ever been to Rouen? What did you think?
Pin This for Later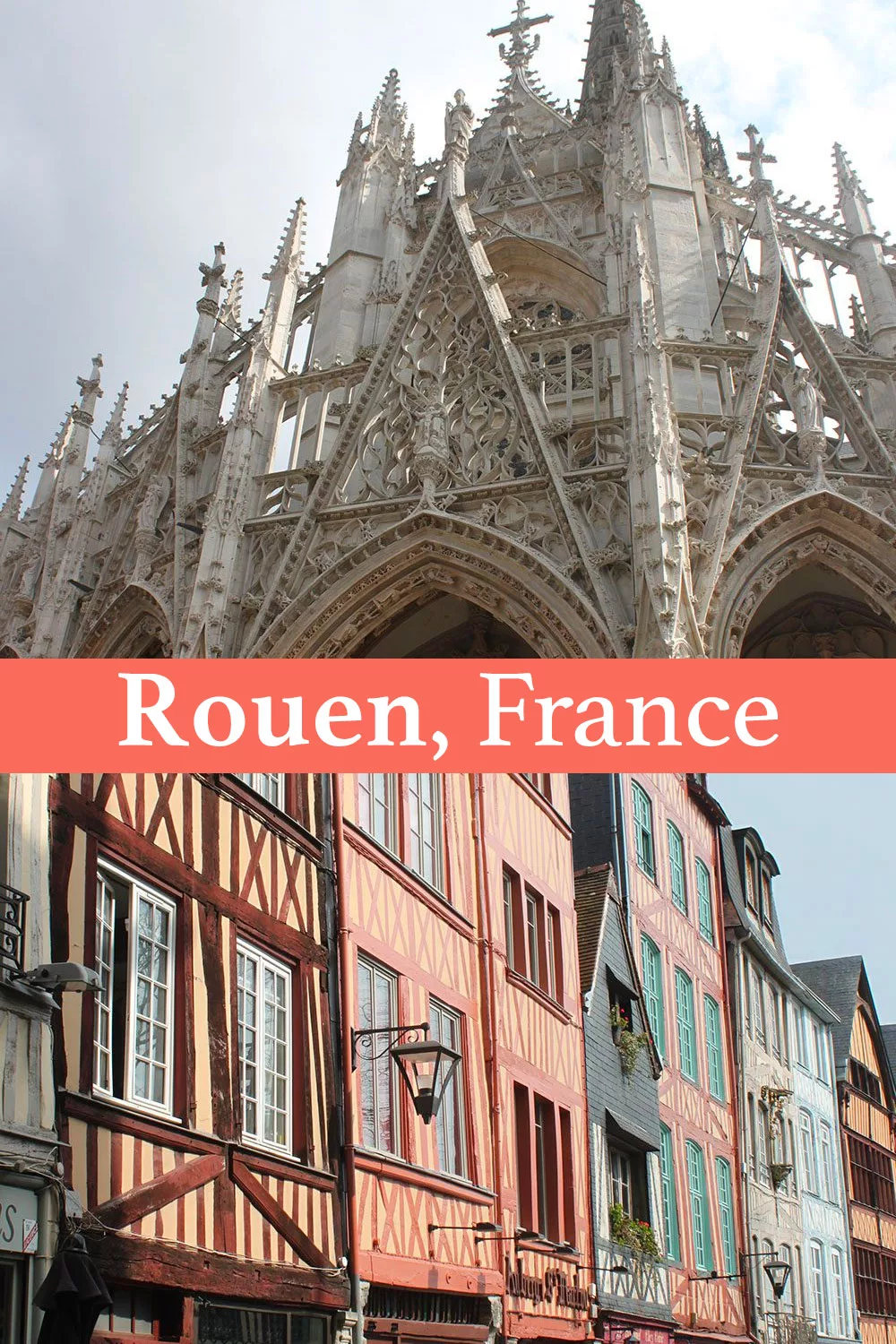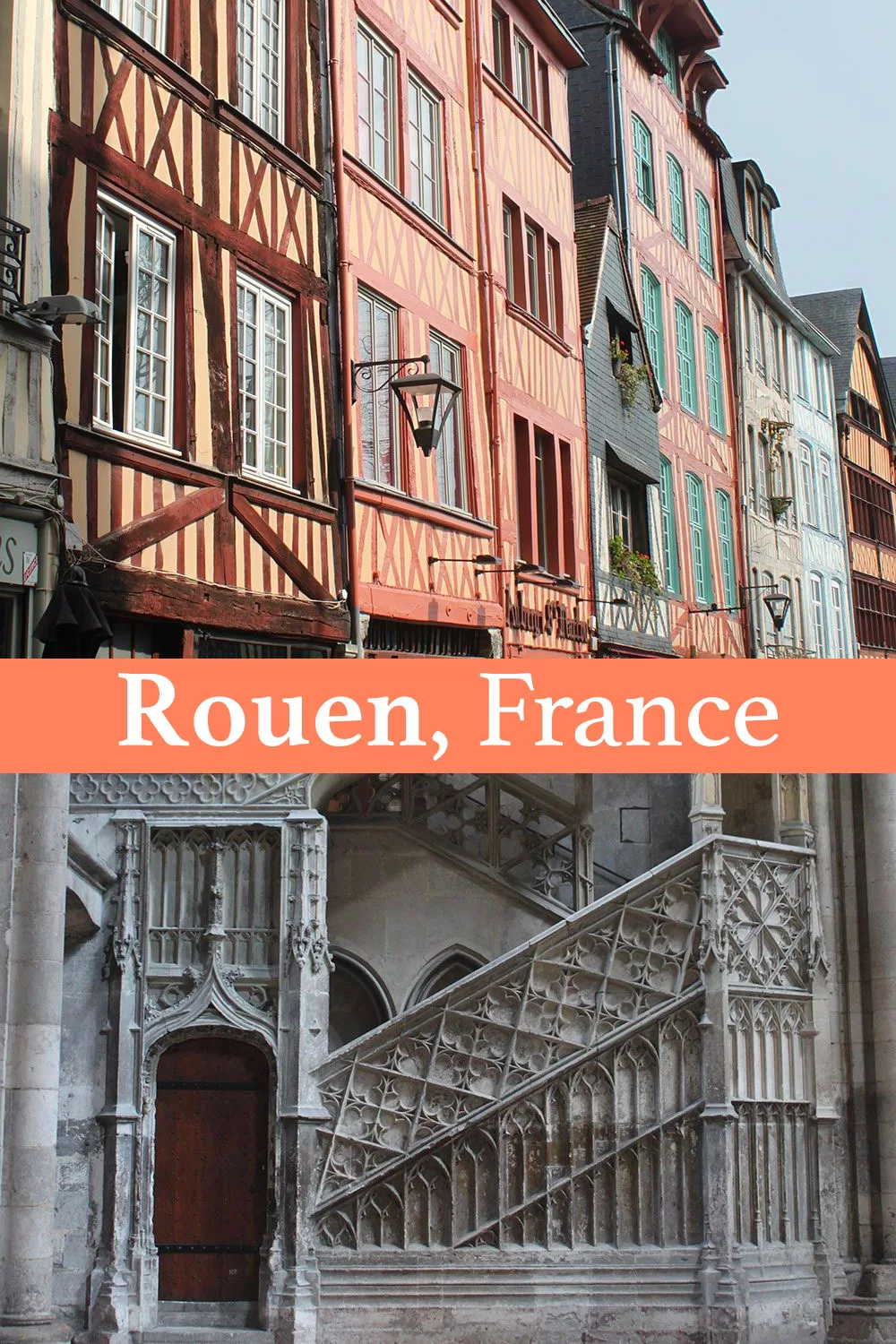 Please note that this post may contain affiliate links. These are at no additional cost to you but I receive a commission if you make a purchase through the link, and the commission helps me run my blog. Thanks for your support!
Tags:
europe
,
france
,
normandy
,
rouen
Sharing is Caring
Want to support me?
Buy me a Coffee