The Porcelain City of Dresden – Things to Do & Travel Guide
Originally published on Saturday, July 13, 2019
When people think of Germany, they think of Berlin, Frankfurt, and Munich. But in my case, Dresden was on the top of my German bucket list because it's a baroque masterpiece in its own right. It's the capital of Saxony and can be an easy day trip from places like Berlin, Prague and Wroclaw. What I found is it's a great city to visit and even spend a little more time in.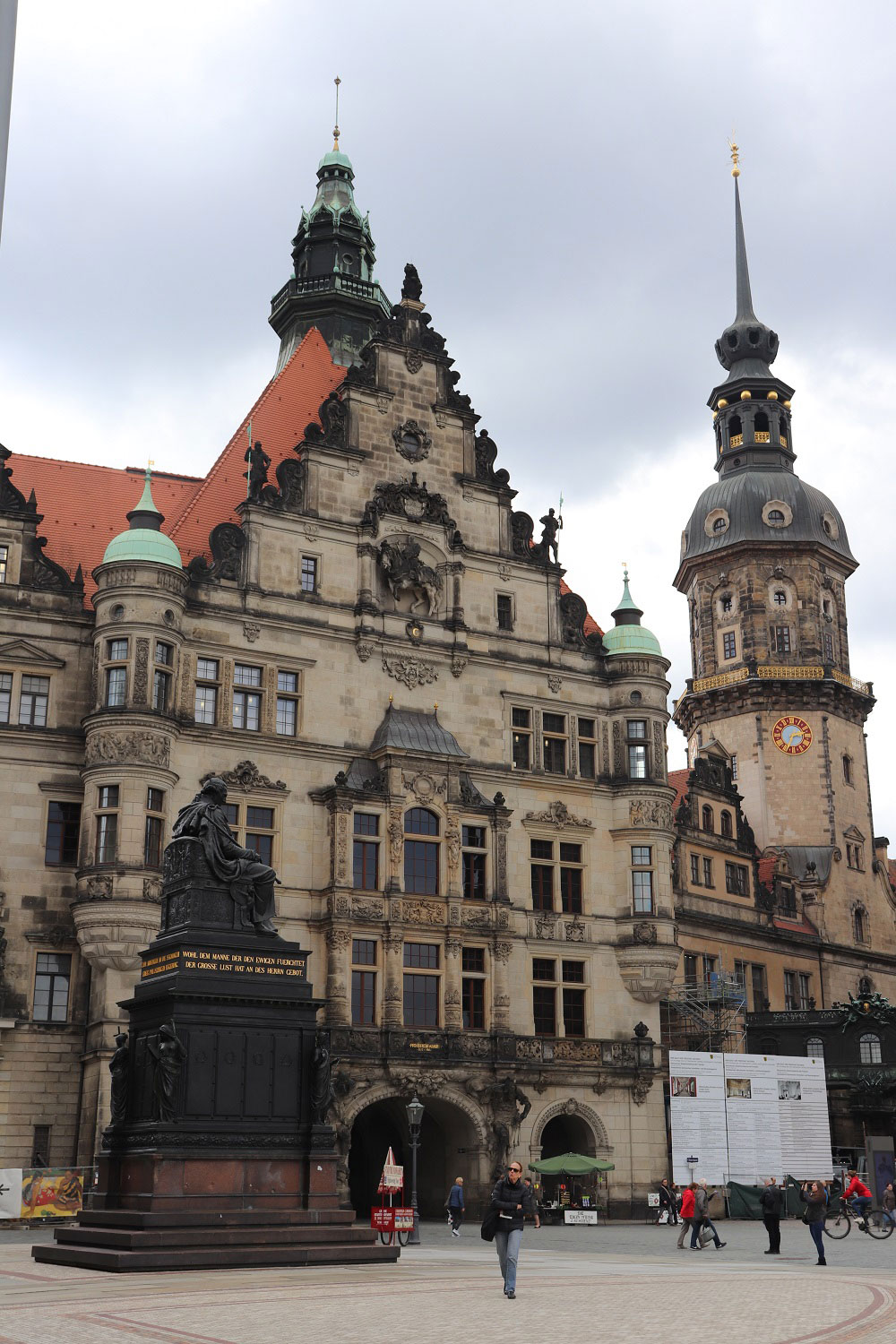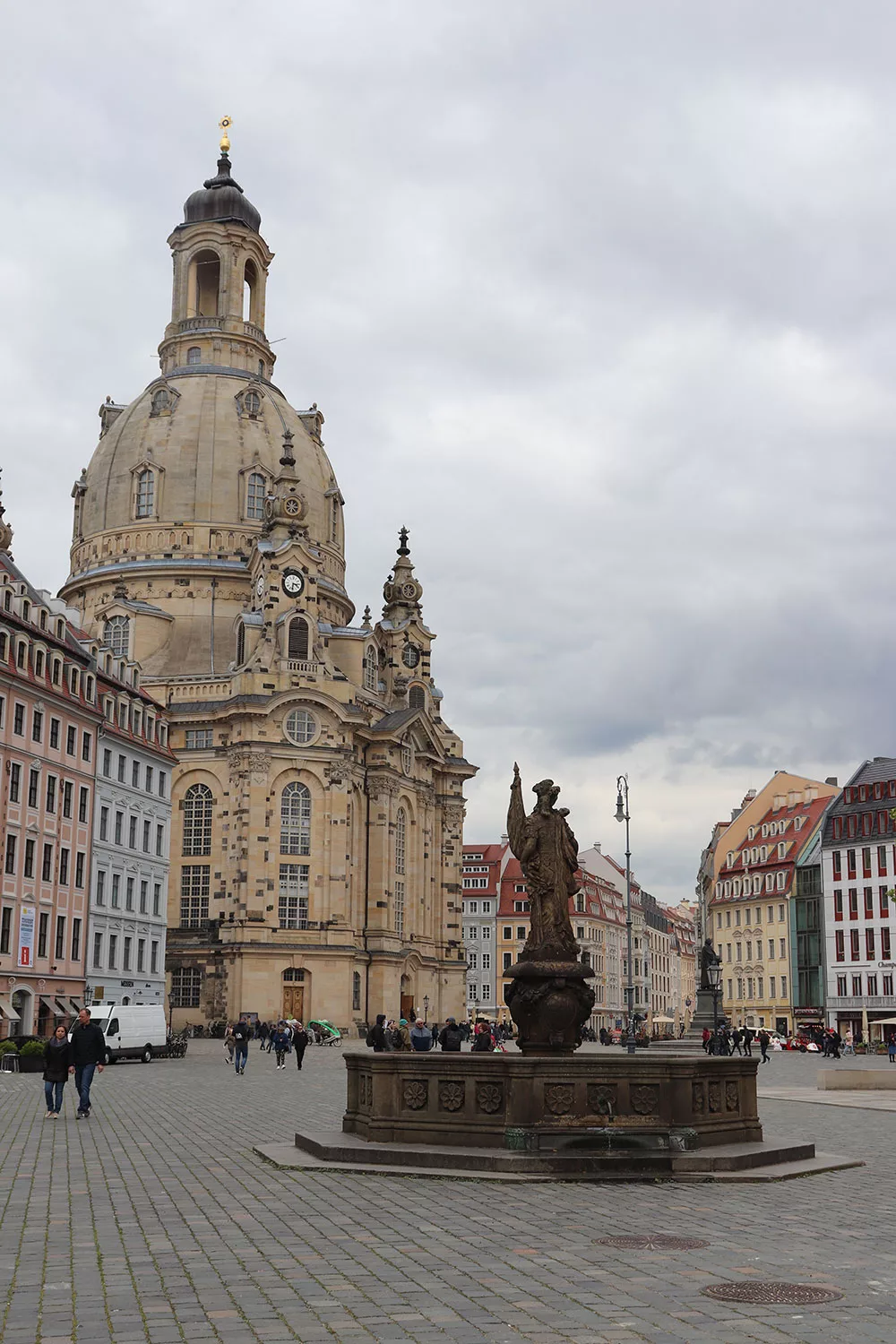 A Short History of Dresden
Dresden has been a settlement since the mid-late middle ages. Its heyday actually came under Polish rule, when Polish King Augustus II (also known as King Augustus the Strong) created a residence there. This was around the early 1700s. He had several buildings built, including the Zwinger Palace and the two churches, Hofkirche and Frauenkirche. It became a centre for art with the founding of the Dresden Porcelain Collection and the "Green Vault." The Porcelain Collection was a company that started operations in 1872 and became successful throughout Europe until the first World War.
The city was bombed in World War II but rebuilt. Today you can experience so many prominent parts of Dresden's history.
Things to Do in Dresden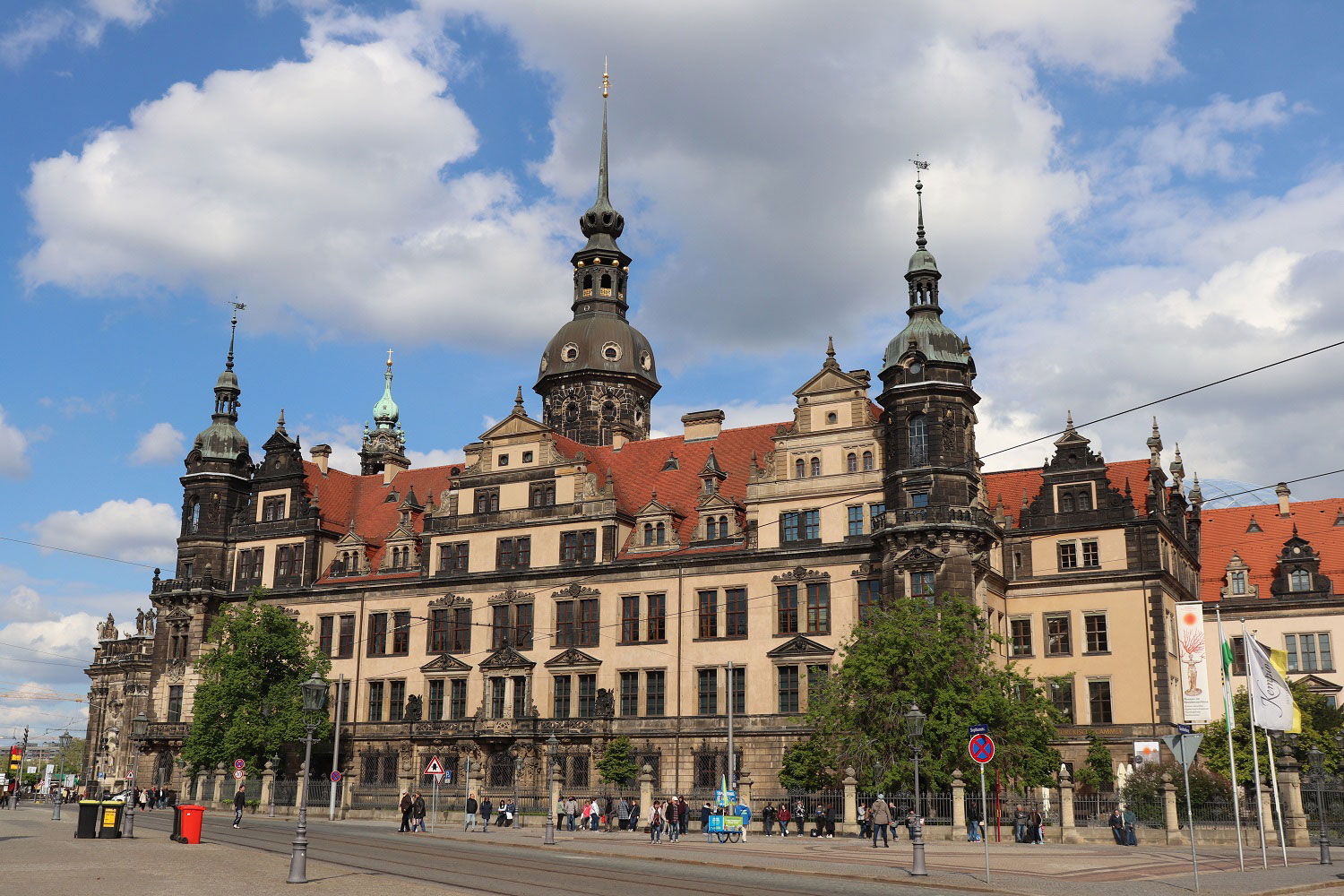 Dresden is actually a very sizable city. It's divided into "Old Town" and "New Town." It looks so small on a map but a walk from Alaun Park in New Town to the Old Town is about 20 minutes of continuous walking. To get from Old Town to the train station is about 10-15 minutes walking. They have a lot of public transport you can use to get around the city more efficiently.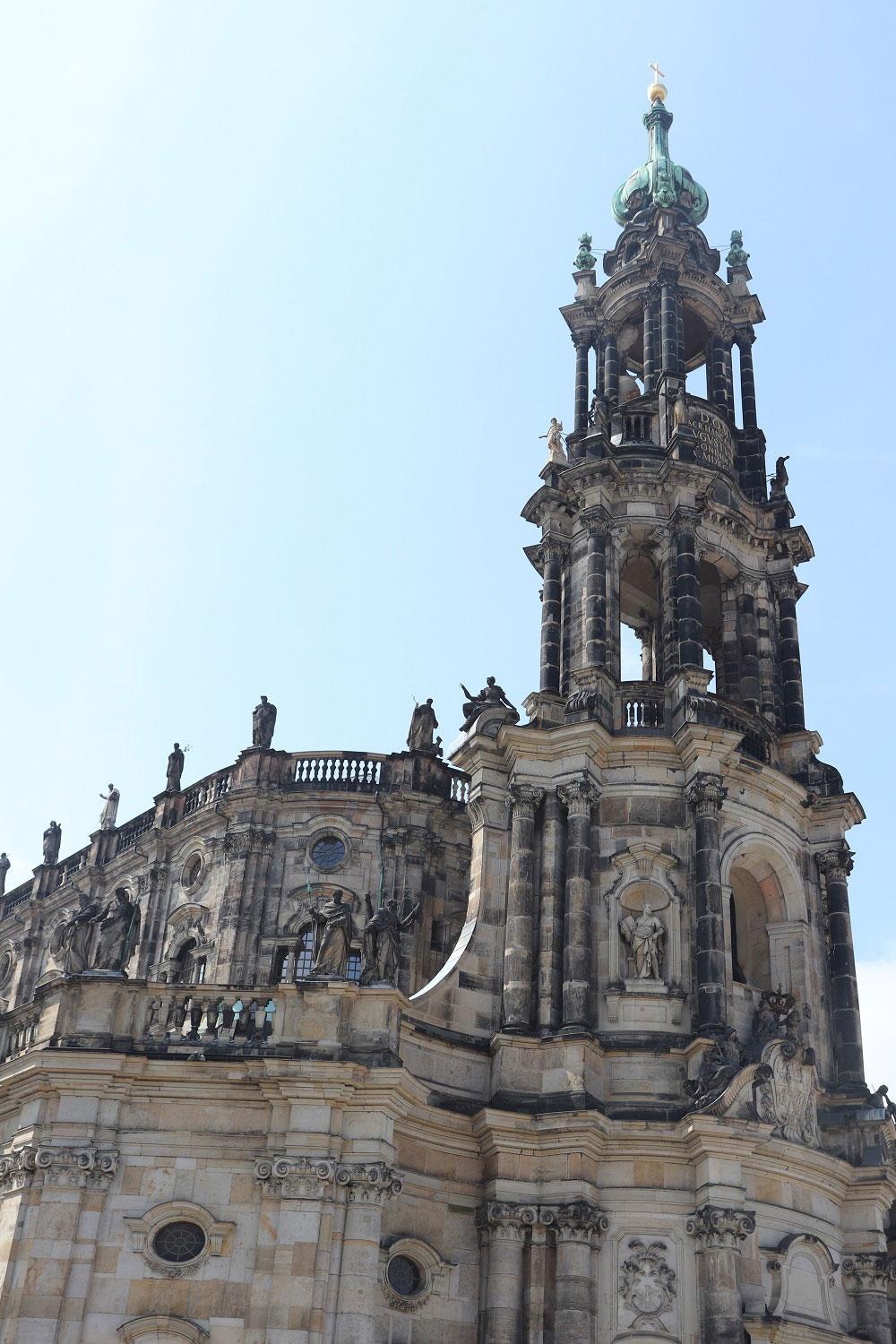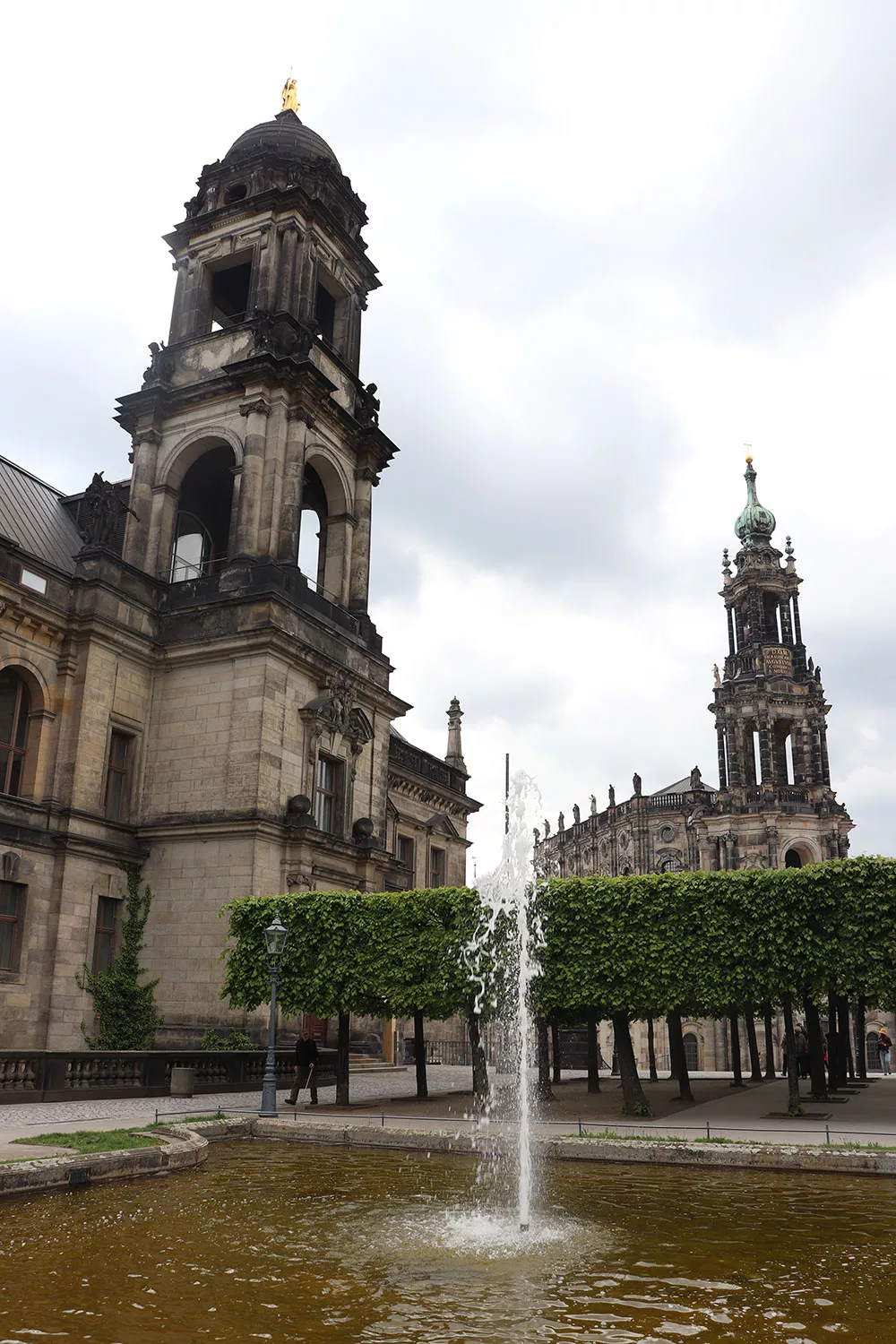 The Baroque part of Old Town (the area near the Zwinger) is absolutely gorgeous. It was so amazing to see the stonework that made up that part of the city. There's a huge gallery with different types of art located in Dresden Castle. They have several small museums within the one building so I recommend doing your research before visiting. (Also, their ticket booth is not as clear as their website.) The most popular place to see is the Historic Green Vault, which is a porcelain and jewel collection housed in a magnificent interior of several decorated rooms. It was great to see the artwork but I didn't appreciate how they had an audioguide only; I much prefer to read things. Nevertheless, it is gorgeous. Next door, you can see the beautiful Opera House.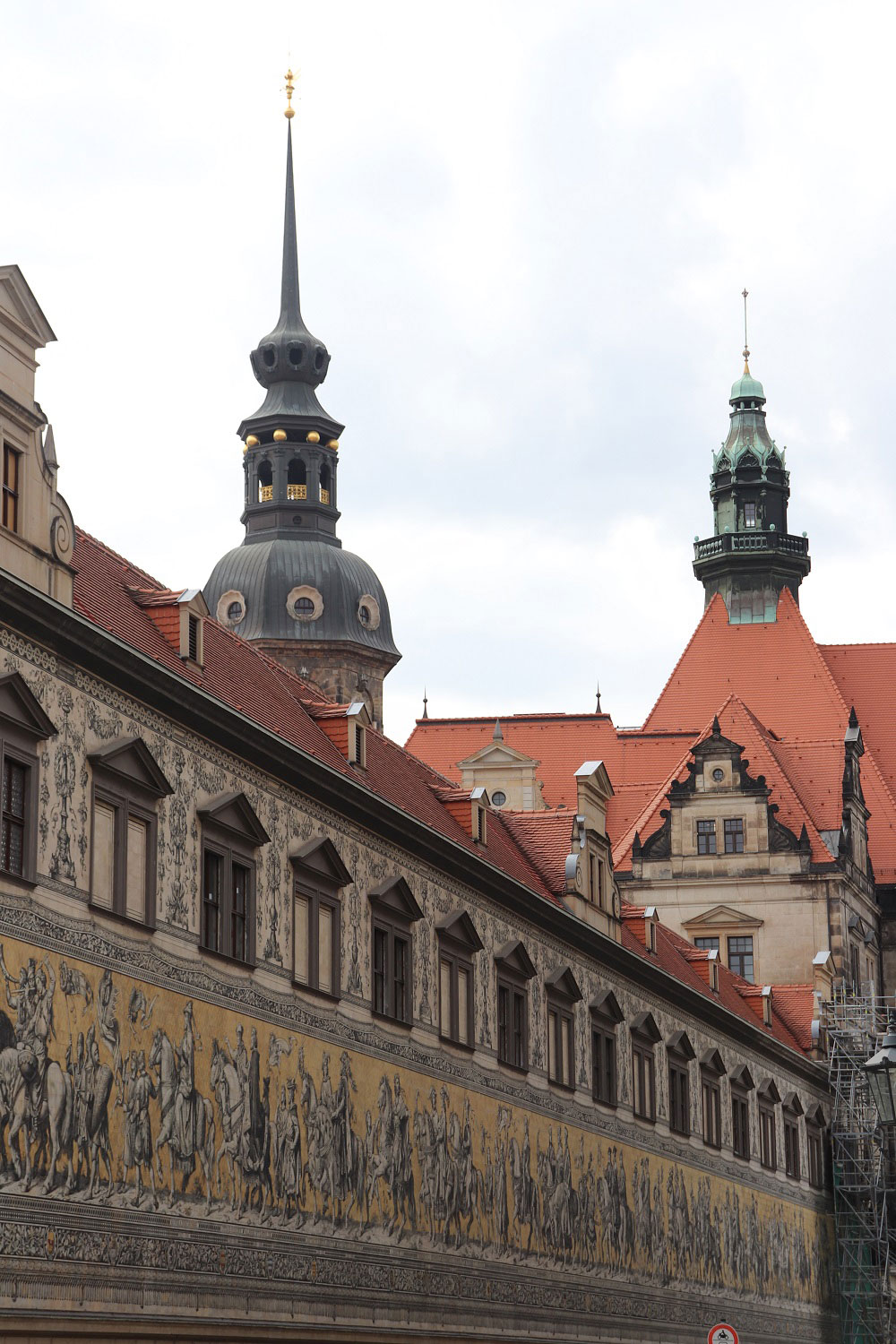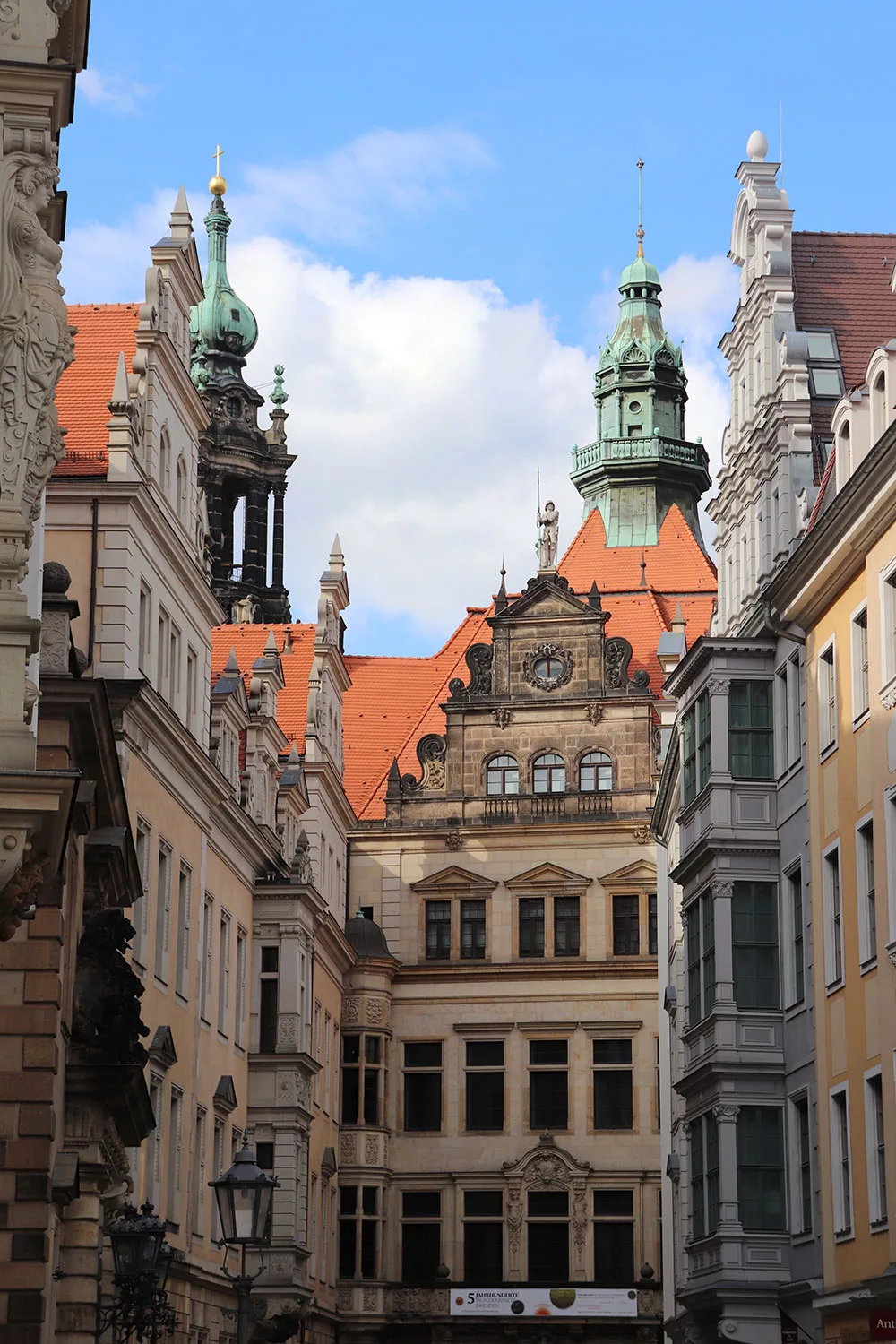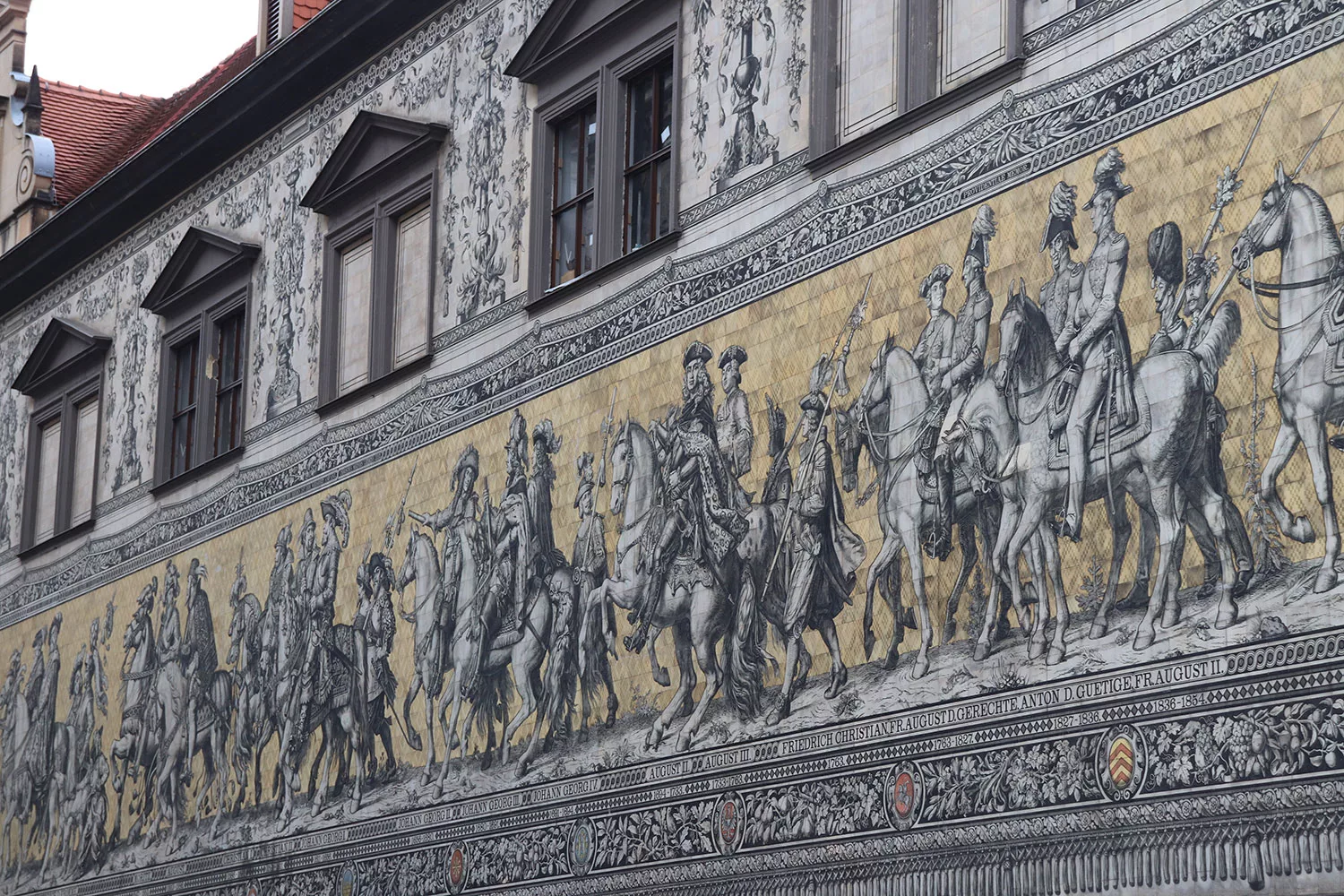 Nearby, you can see the "Fürstenzug" or "Procession of Princes" porcelain mural, which depicts Saxon rulers over time. It's gorgeous and the size in person makes it much more dramatic. There's also only one female on the mural, and a challenge is to find her. I won't tell you where she is. You have to go see for yourself!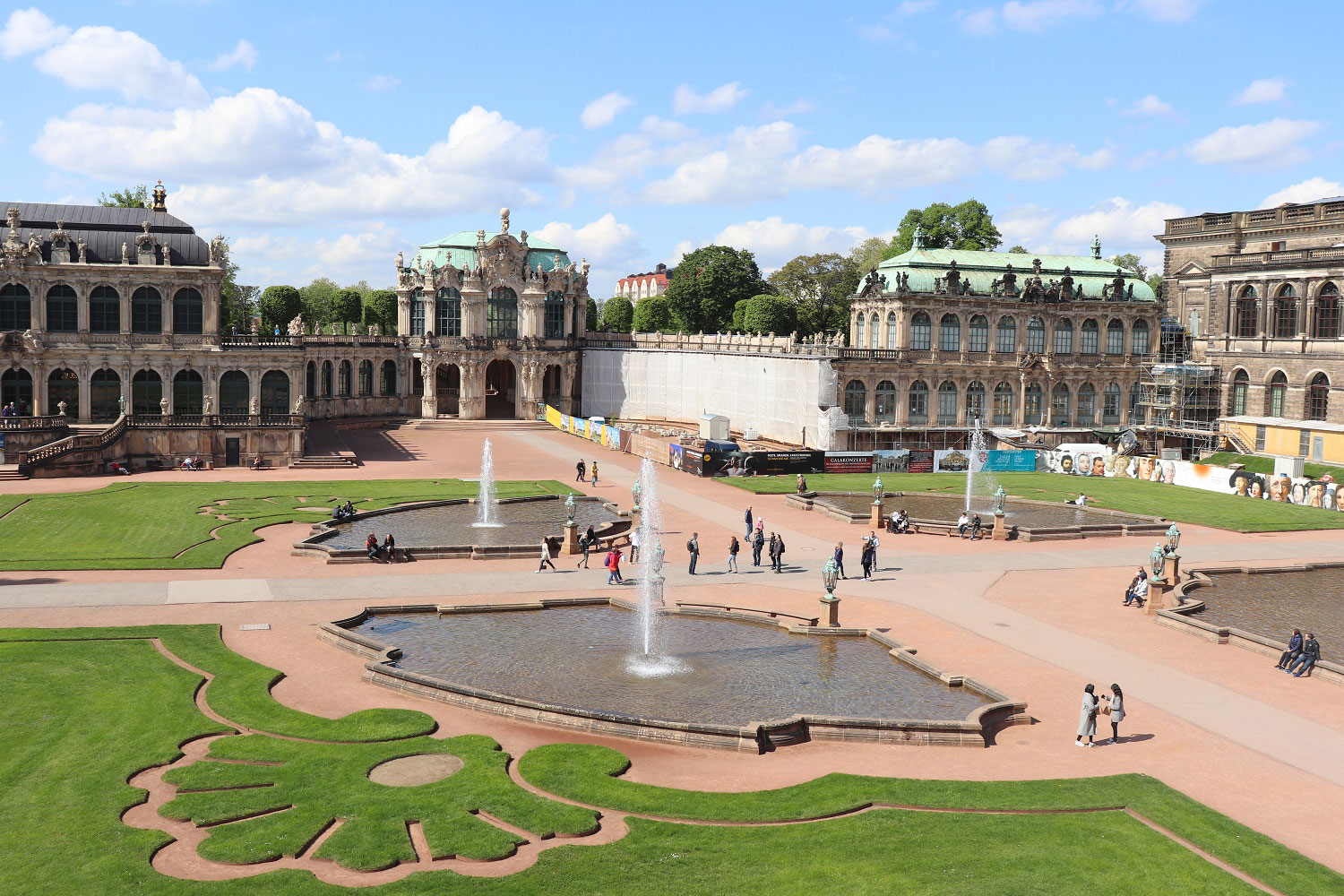 Then you'll see the Zwinger and honestly, it's one of my favourite pieces of architecture! It's so elegant and festooned but its short height makes it more modest. What's interesting is that the Zwinger started out as an orangery – isn't that a bit unexpected? Now it serves as the home of two museums: Dresden's famous porcelain museum and the Old Master's Picture Gallery. The porcelain museum was very informative and of course you get to see some beautiful and unique pieces of art; in Dresden, I would consider it a must-see.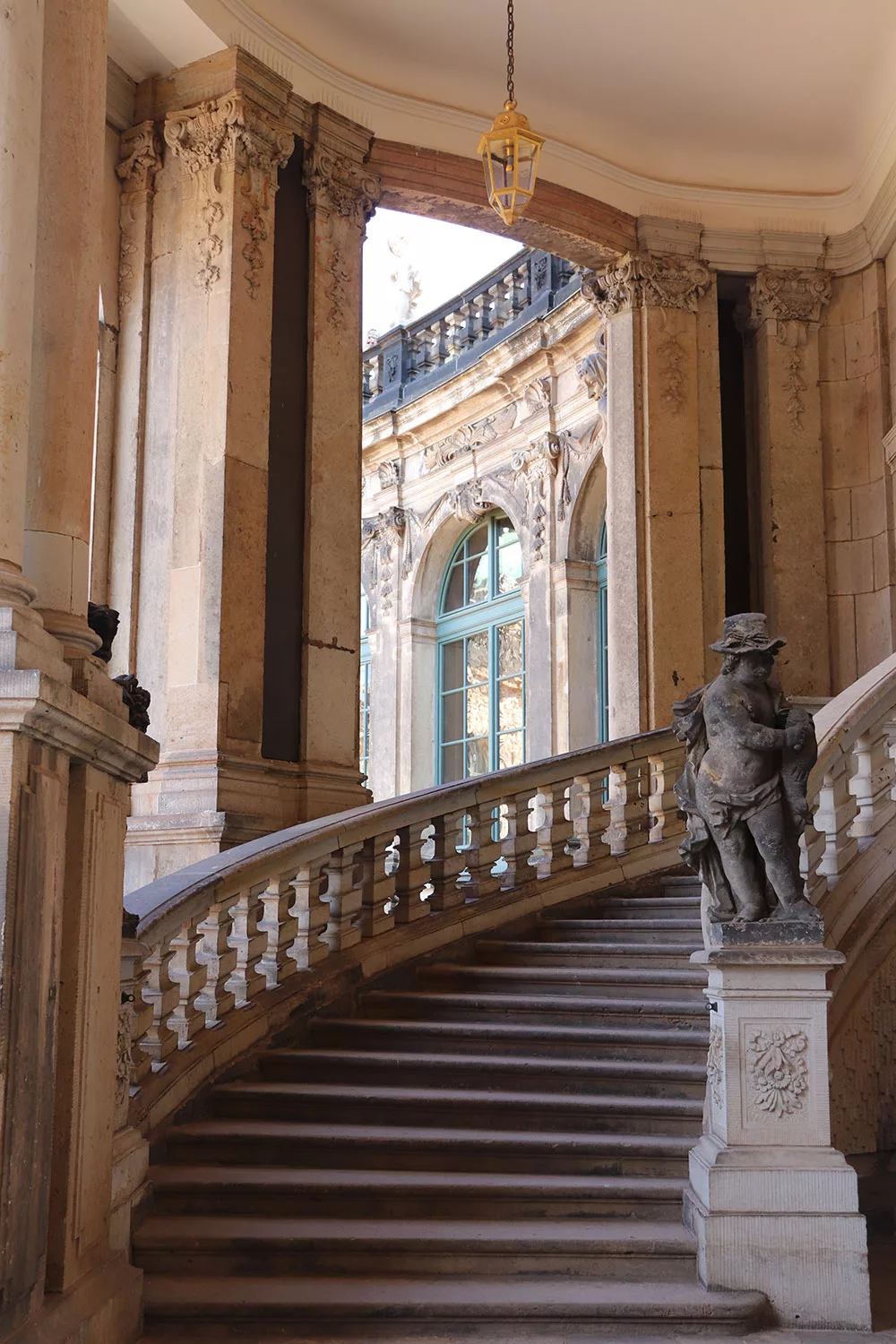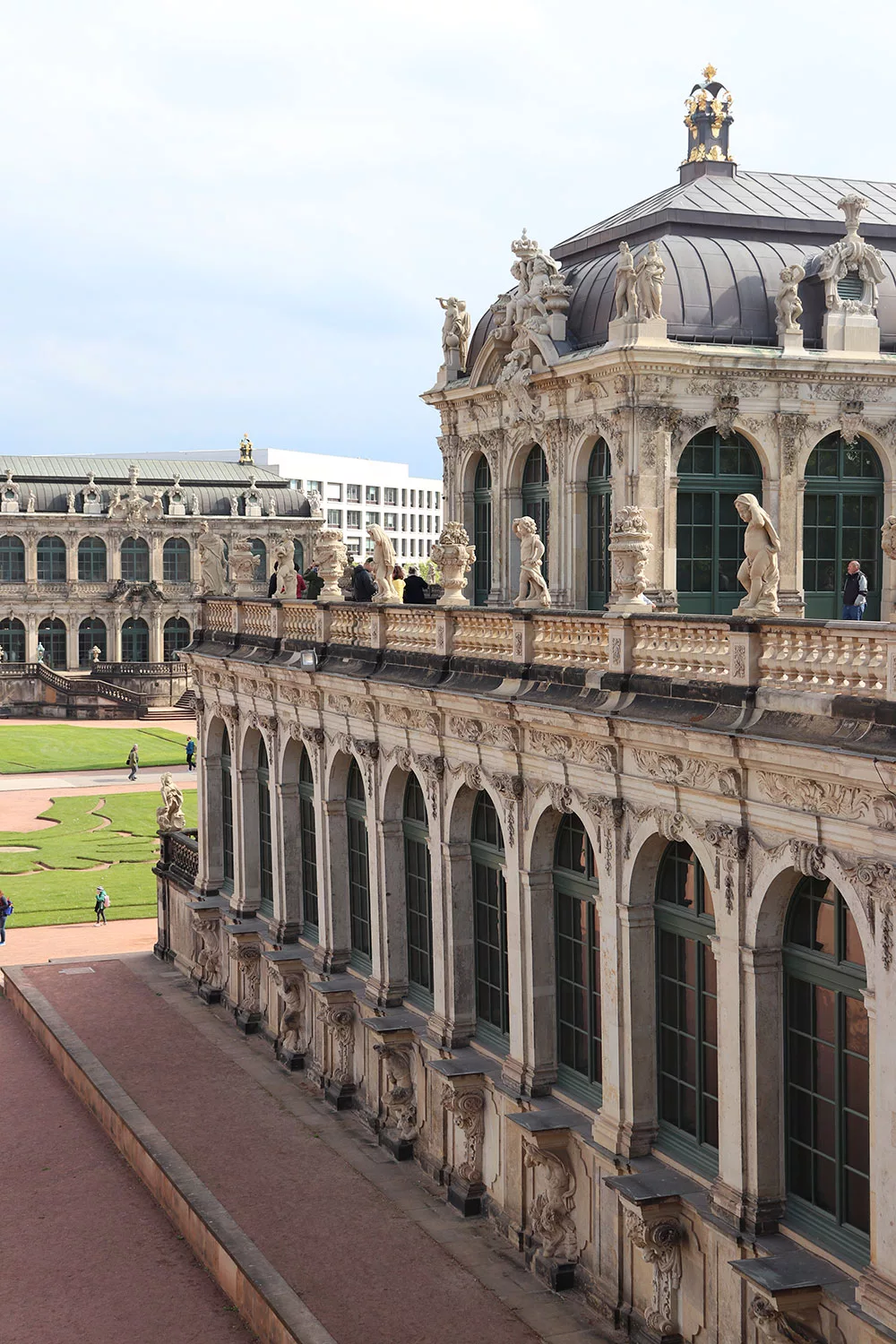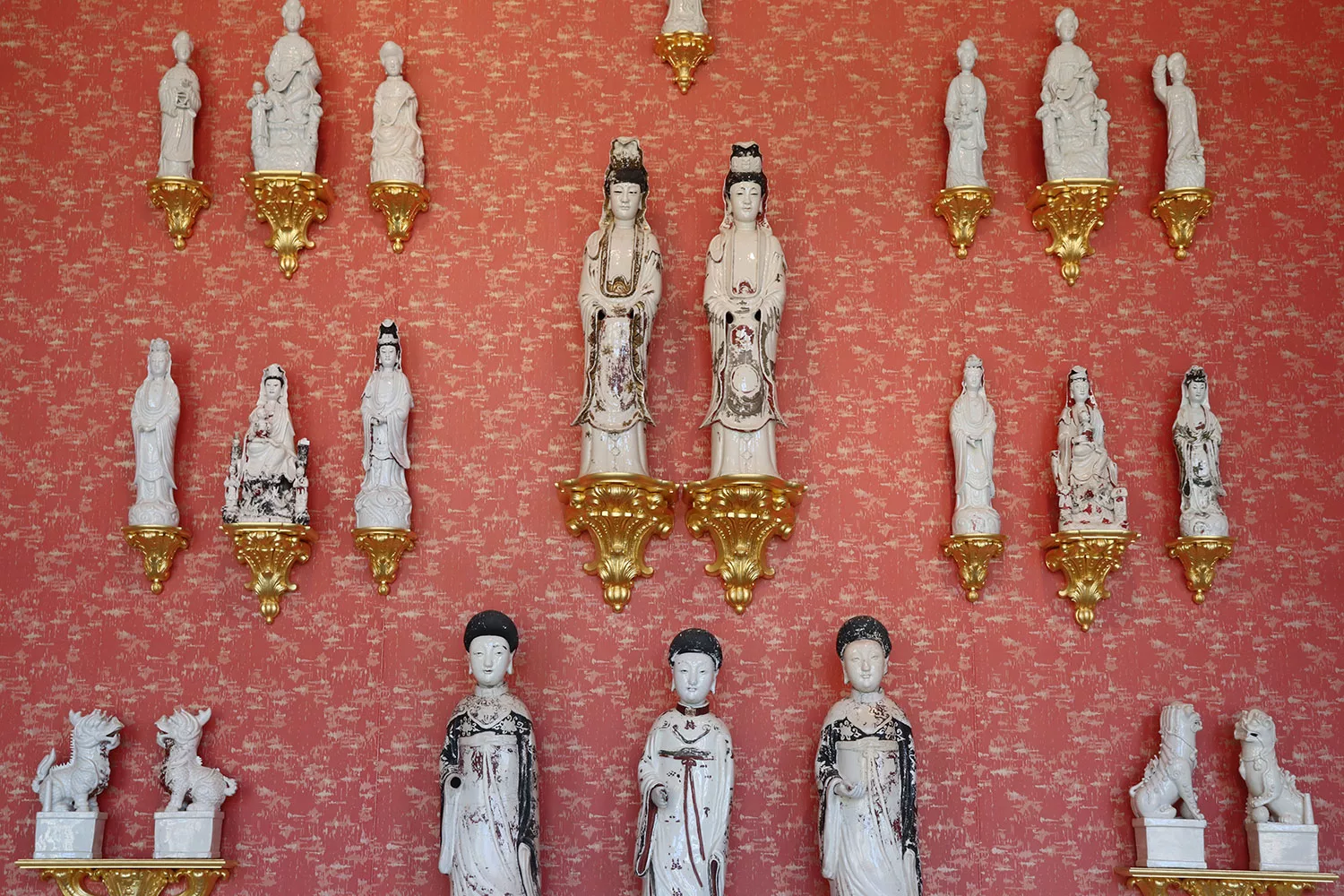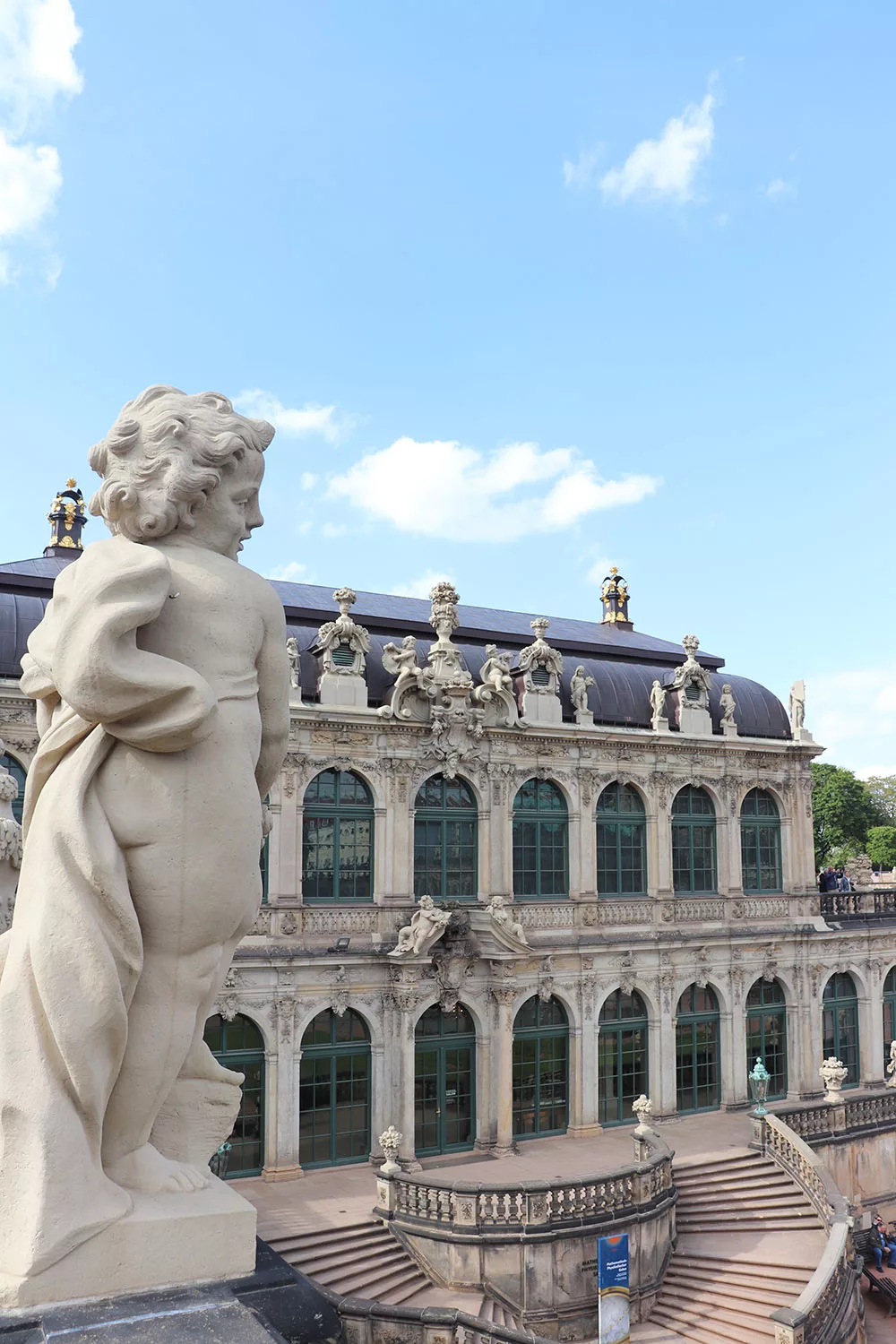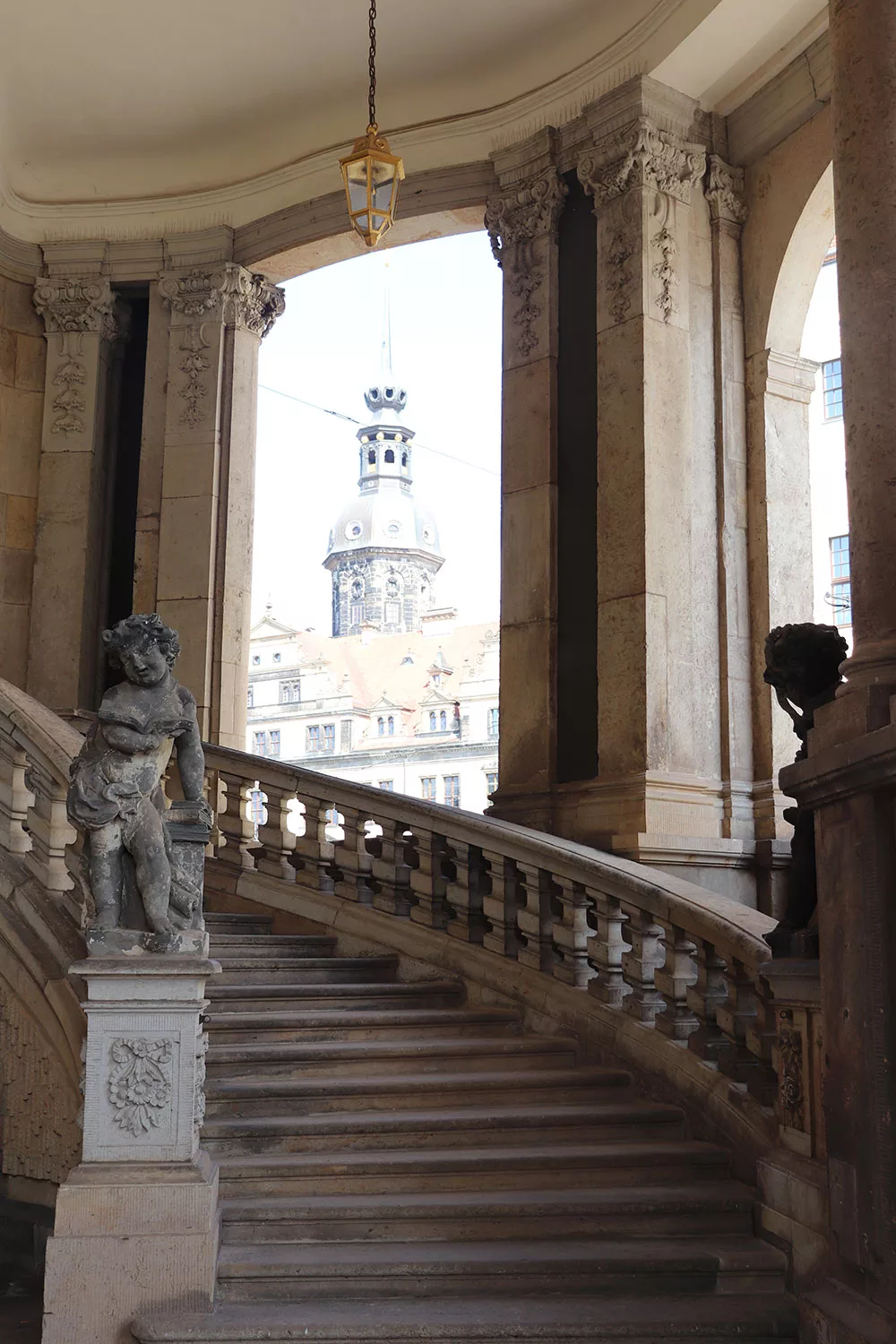 Porcelain is famous in Dresden as it was here that porcelain was first produced in Europe, back in 1708 (before the Dresden Porcelain Company was founded). It's known as Meissen porcelain. You can also see the Japanese Palace where the collection was originally housed but today it's the Senckenberg Natural History Collections and the Museum of Ethnology. If you have the means you can also purchase some porcelain from one of the many antique stores around the city.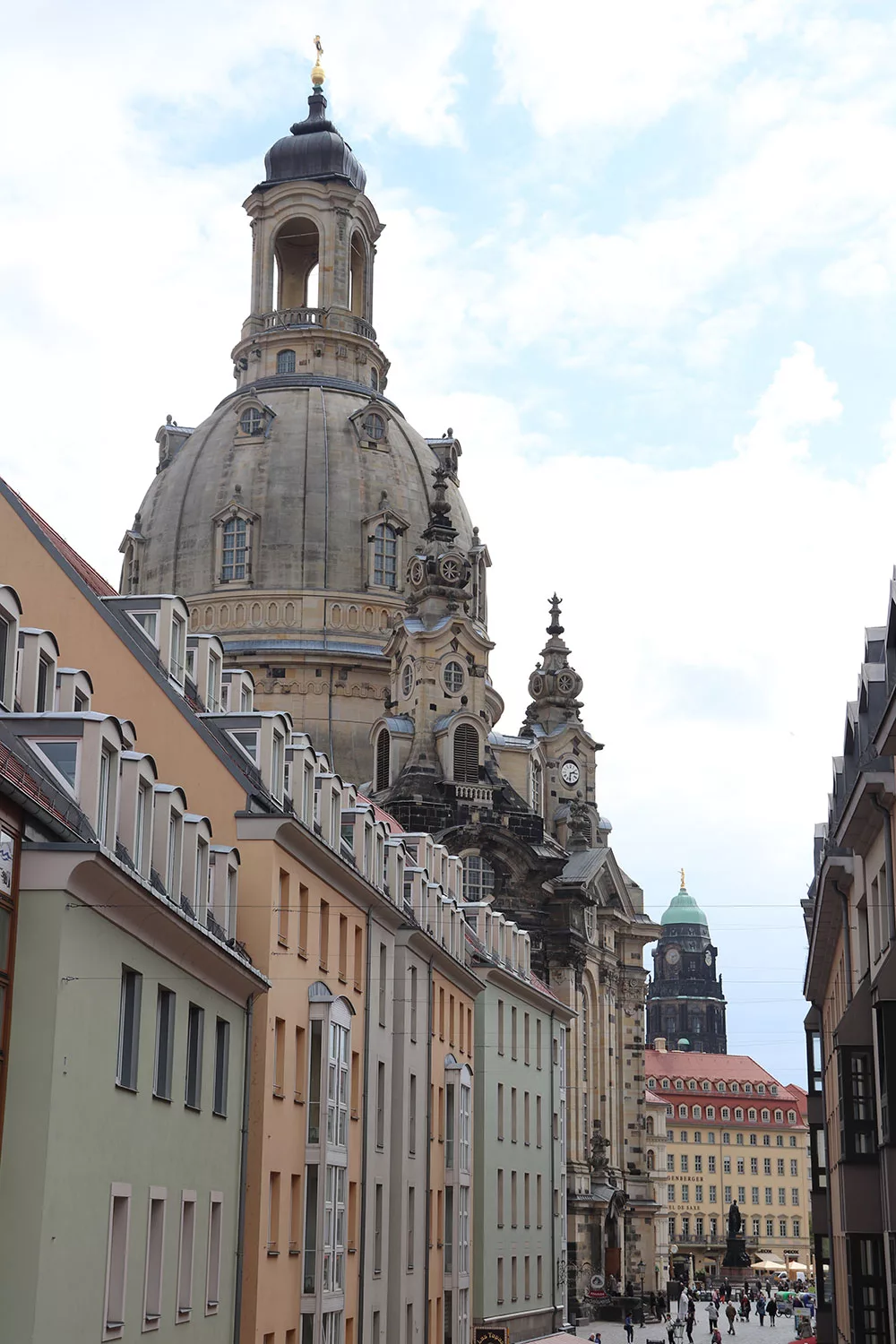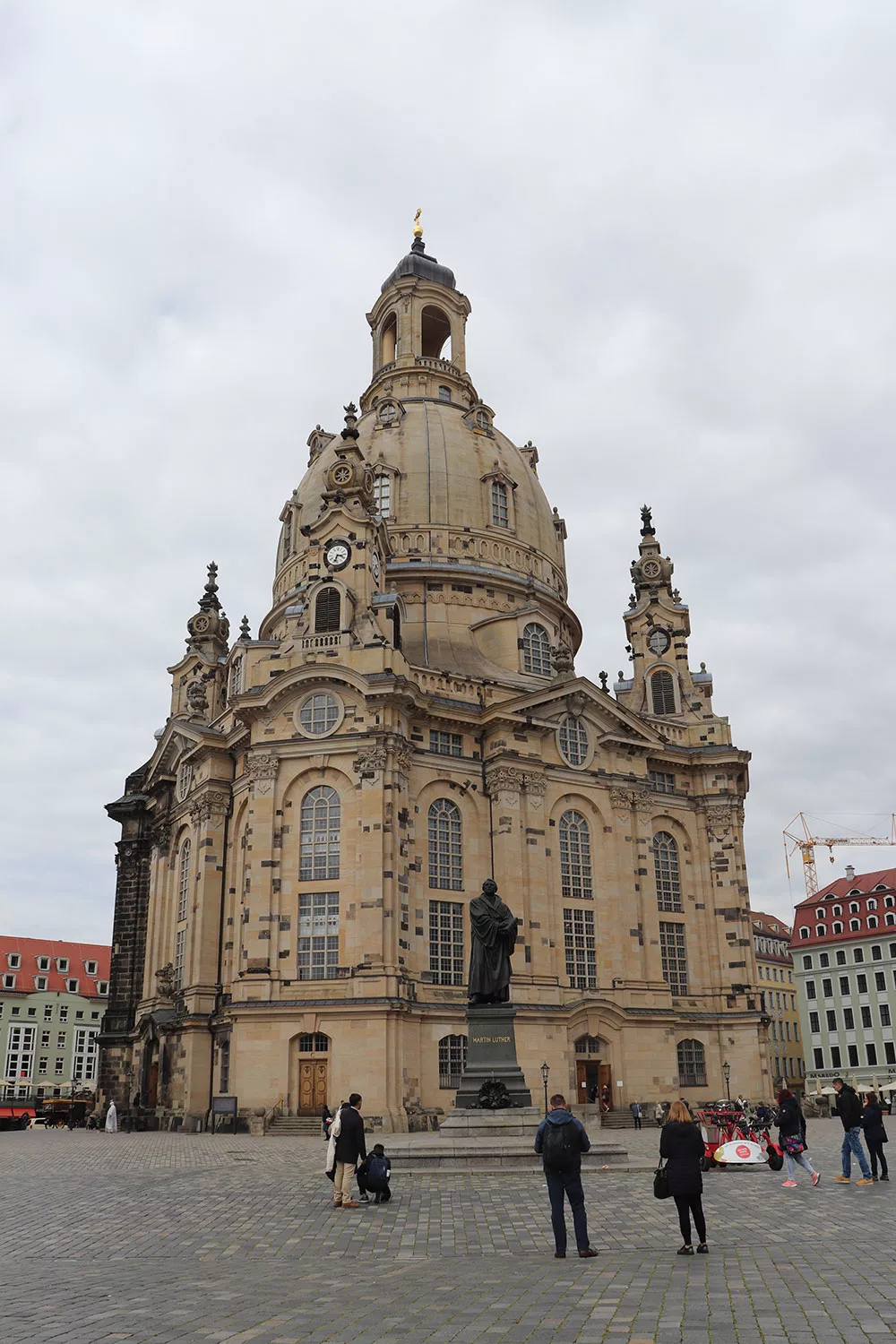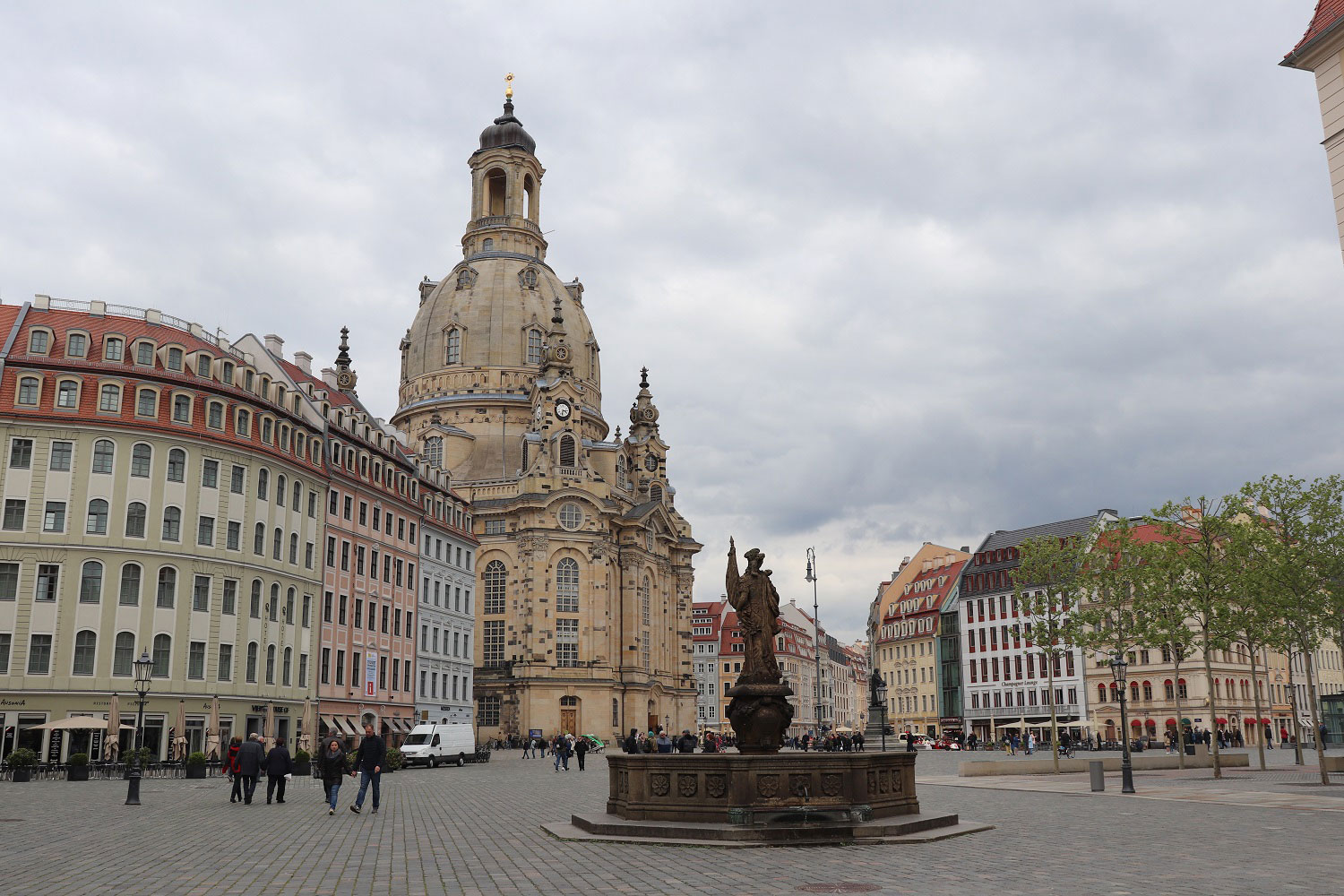 Another popular building to see is the Frauenkirche, Dresden's famous church. It's absolutely beautiful inside, although photos are not allowed – unless you can catch some while climbing up the tower. If you want to, you can climb the church tower to see for yourself. It is a strenuous climb since there are many ramps. The market square also very cute, however it is very tourist-y. I recommend escaping to find a good place to eat and drink.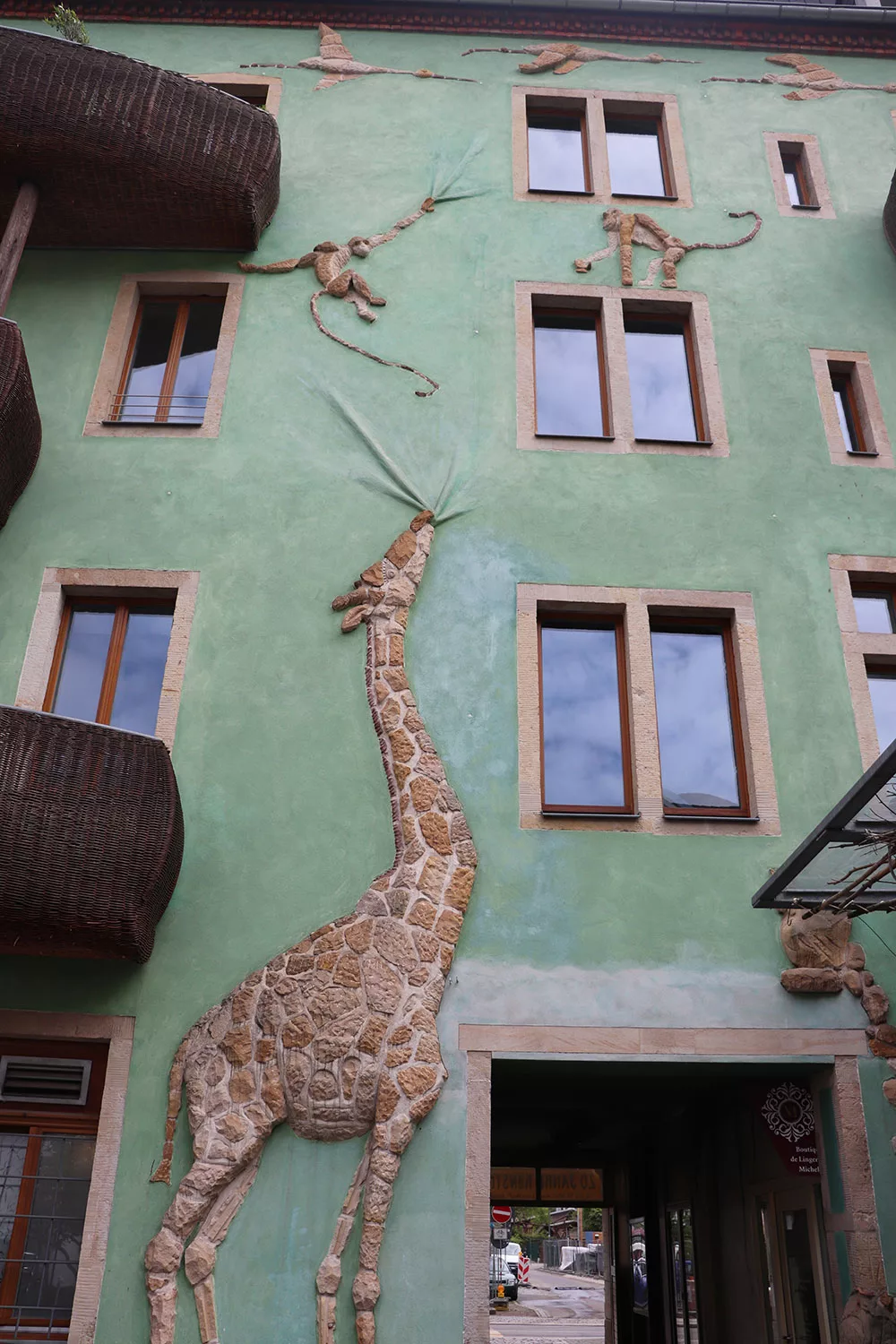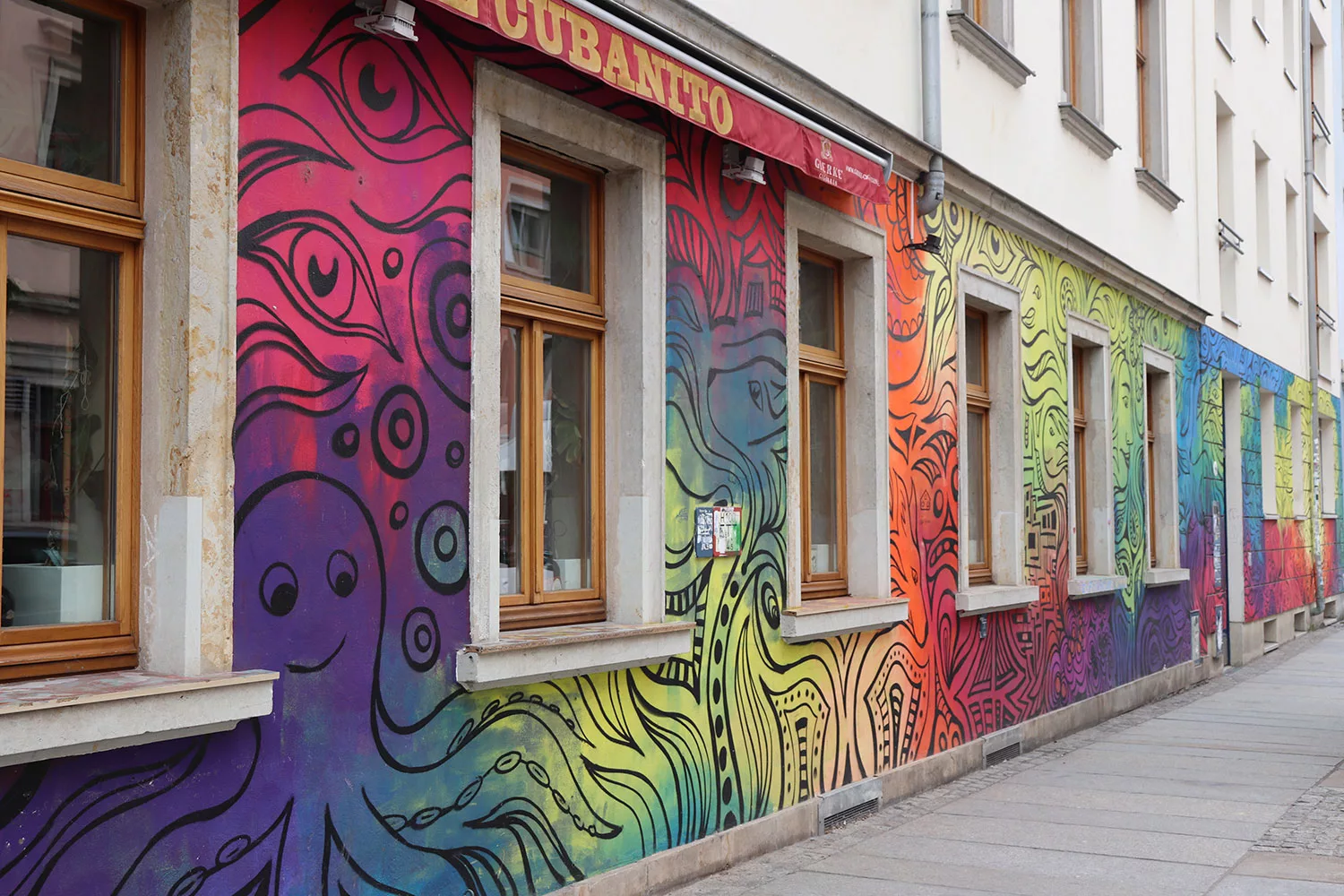 New Town is a great place for that. It's across the river, and you'll want to stop at the Golden Rider statue because it's the symbol of Dresden. It represents King August II, the king discussed earlier in the post. You can also stop in Kunsthofpassage, which is essentially a few courtyards that are decorated in different ways.
New Town looks a lot more plain than I was expecting but they have a fantastic selection of vegan and vegetarian foods. I didn't know before visiting that Dresden has the highest concentration of bars in Germany, so it's also a great place to hang out. I found the locals to be very friendly, so don't be shy to go out and meet someone new. I also recommend stopping in Pfunds Dairy, which is considered the most beautiful dairy in the world. It's definitely one of the most beautiful places I've ever been in. It's not beautiful at all but there's also a cafe on the second floor where you can grab a bite to eat and try some of the products they sell.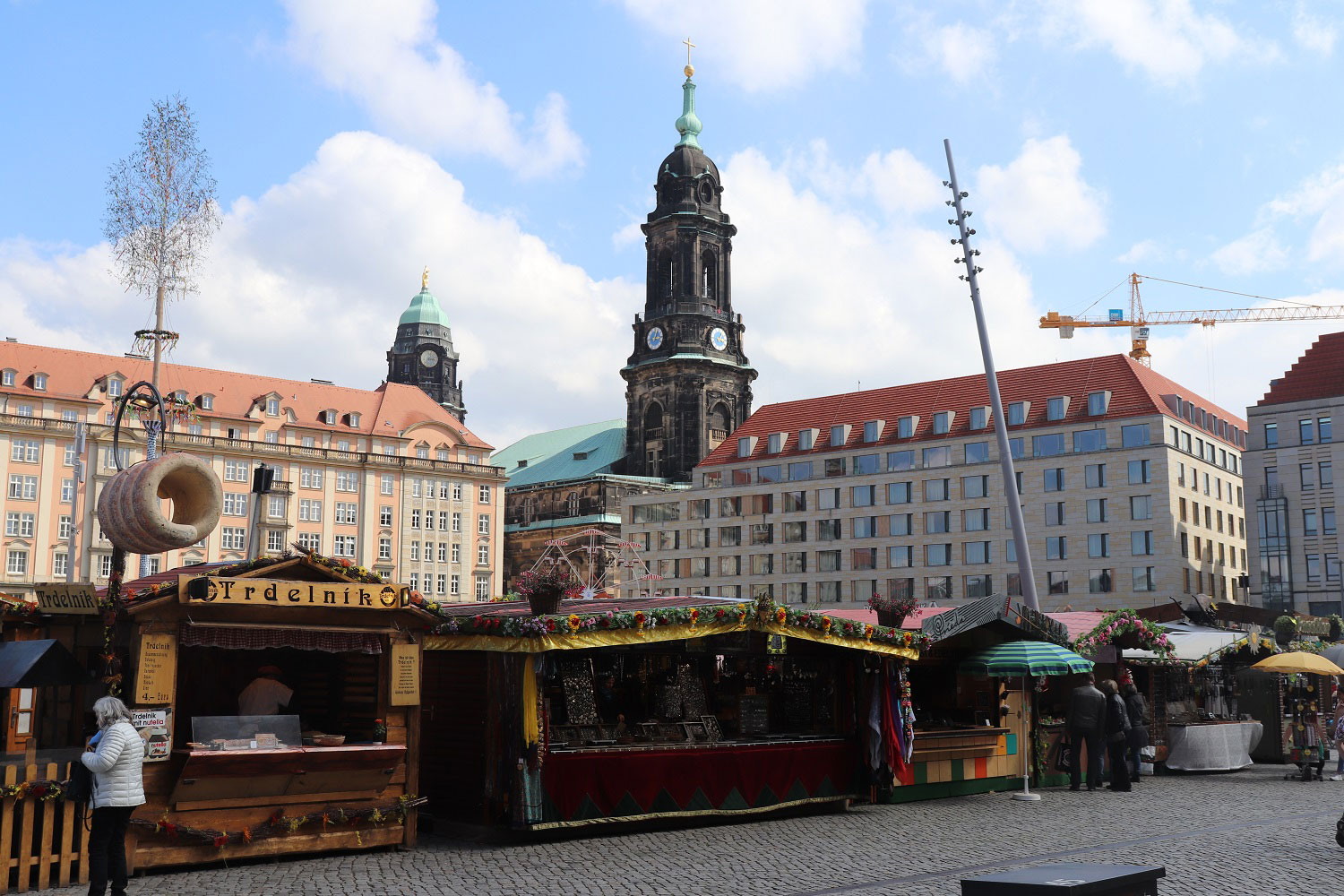 I spent two days in Dresden and I could've put in more time to see more museums. I definitely could've stayed longer to try more food and maybe meet a few more people. Dresden is a very laid back, beautiful city that has a lot of local life. It would honestly make a great location as a base or a slow travel vacation. However, with good planning, two days can be enough to get a taste of this fantastic city.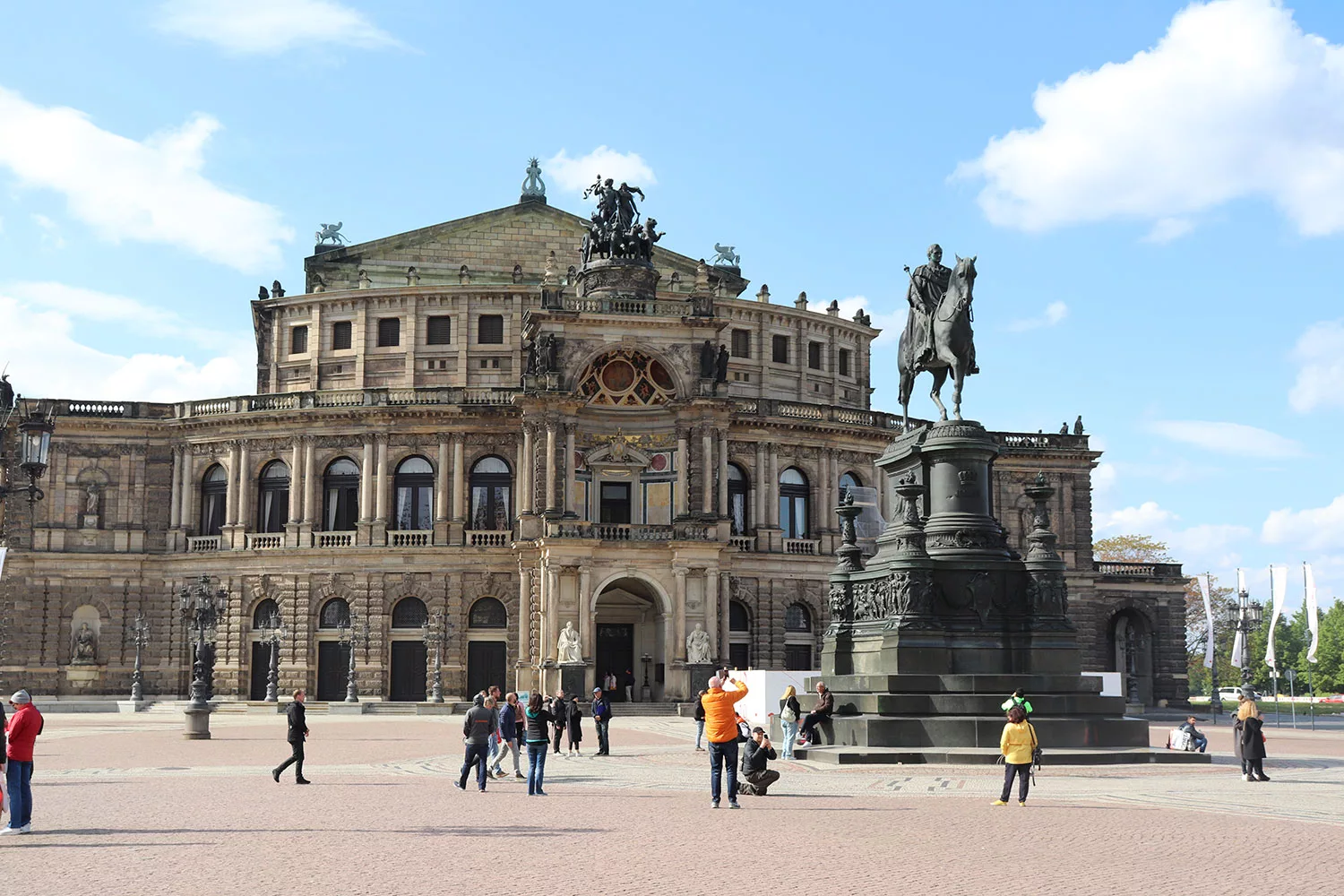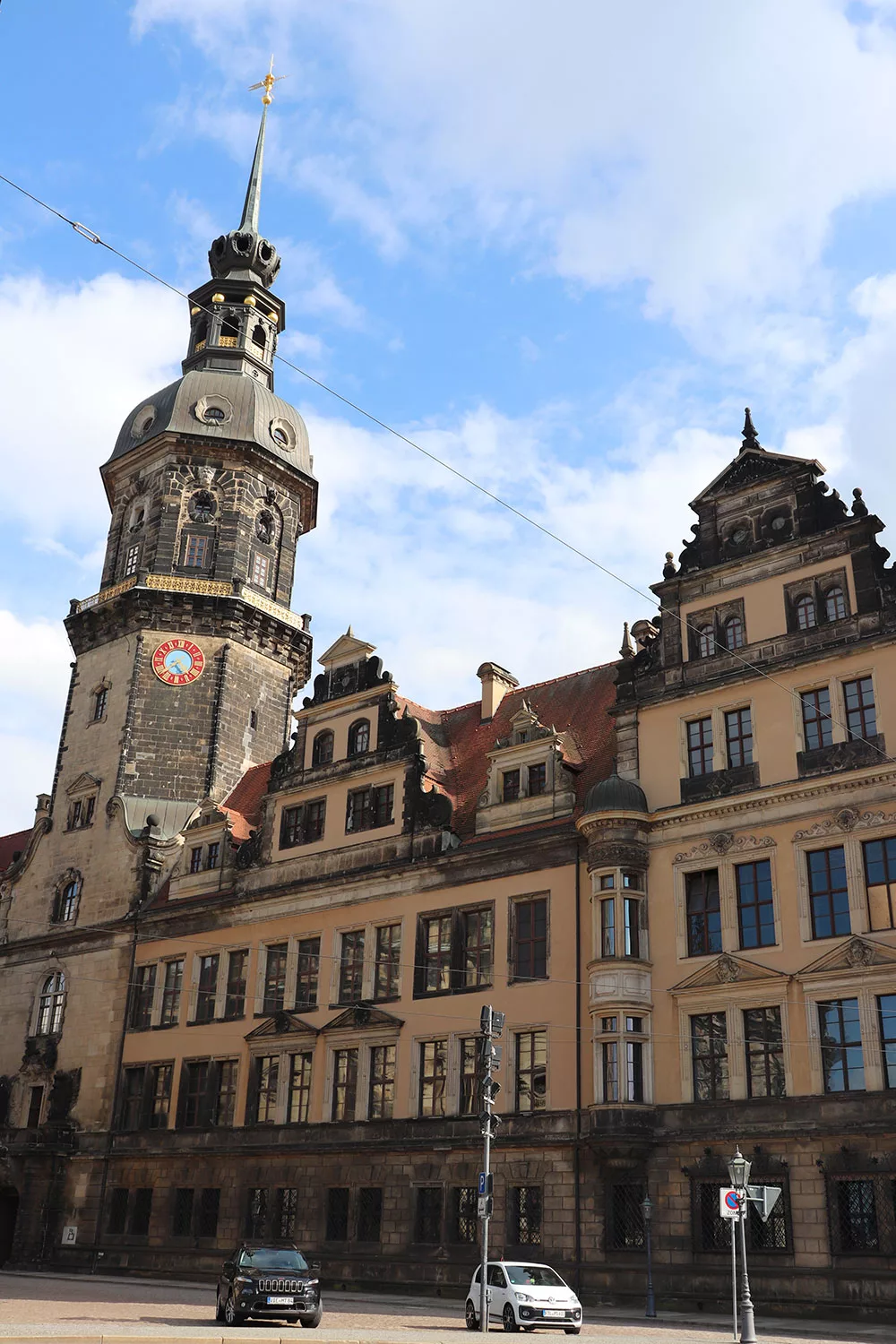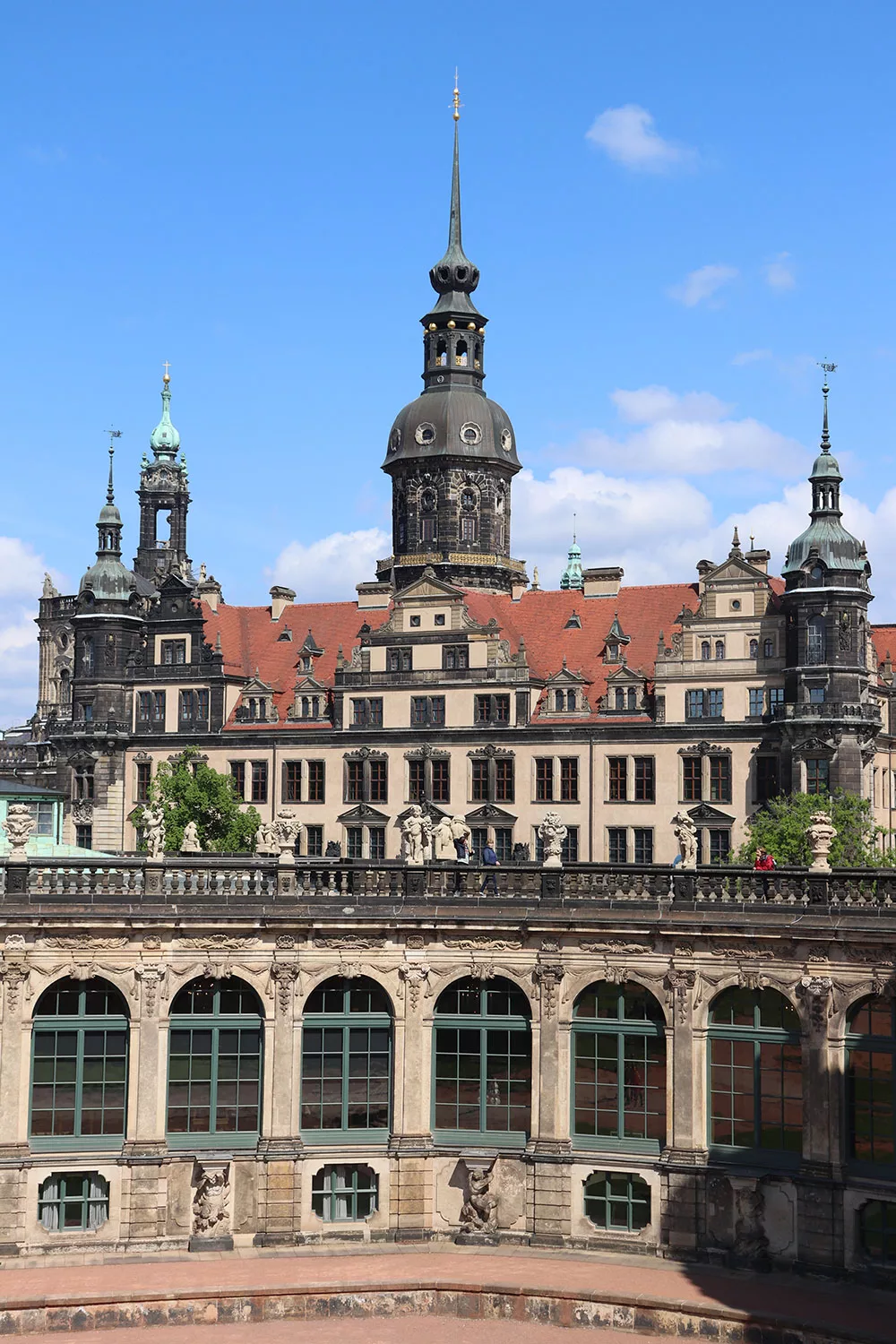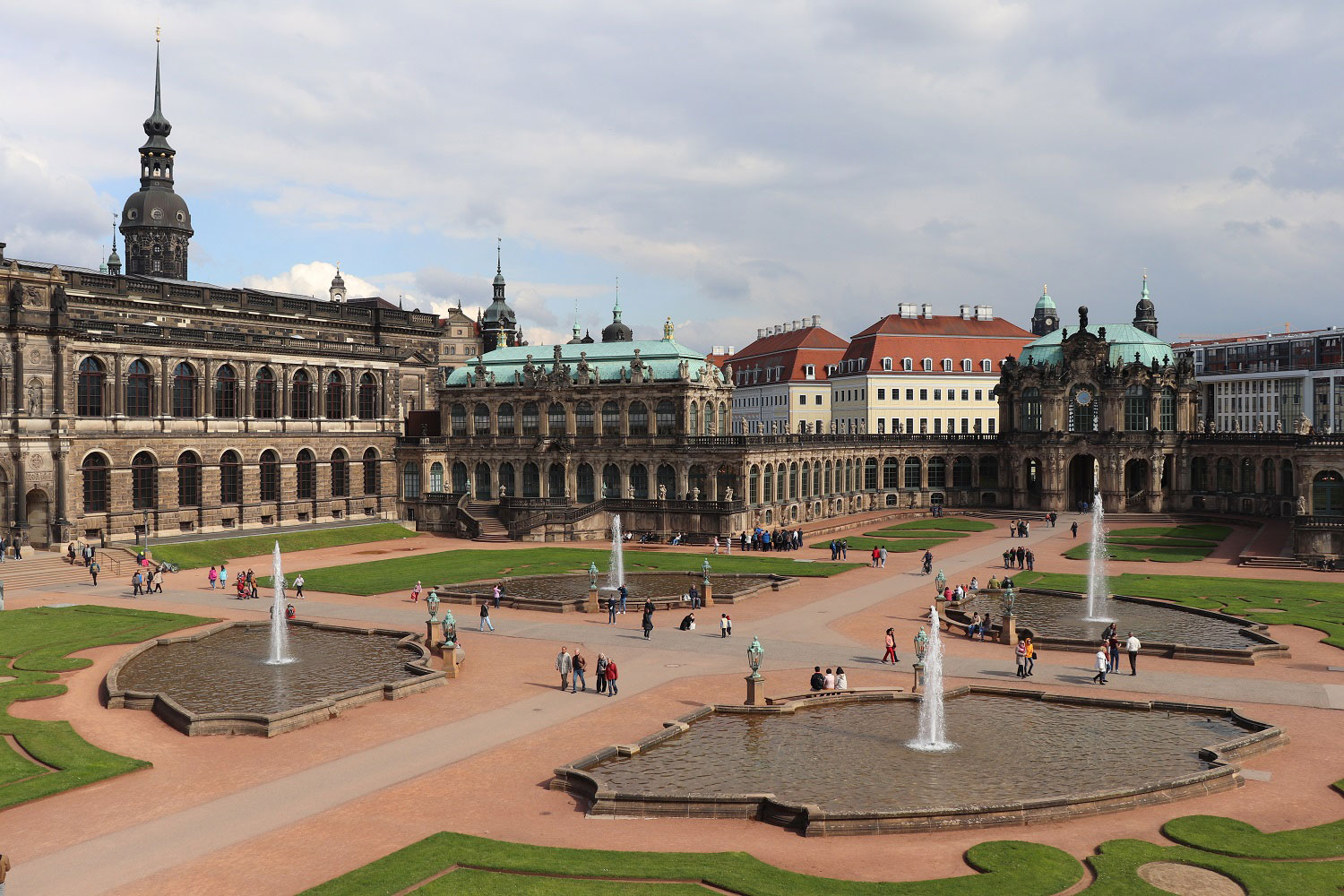 Dresden isn't one of Germany's most famous cities but it's one of the most charismatic I've been to. The architecture is breathtaking and it's difficult to find such a large amount of Baroque exteriors that have such a prominent place. However the great atmosphere also made my visit one to remember. Dresden looks like a city stuck in time but it has the soul of today's world. I definitely think Dresden is very overlooked and recommend it as part of your trip to Germany, or even a country nearby. It's easily accessible from several other prominent cities.
Have you ever been to Dresden? What did you think?
Pin This for Later
Please note that this post may contain affiliate links. These are at no additional cost to you but I receive a commission if you make a purchase through the link, and the commission helps me run my blog. Thanks for your support!
Tags:
dresden
,
europe
,
germany
,
saxony
Sharing is Caring
Want to support me?
Buy me a Coffee