10 Etsy Gifts for Travellers
There are so many wonderful travel-inspired items on Etsy that it's very difficult to make a list. In the spirit of supporting small business, I found a variety of my favourite items on Etsy to help you find something for the traveller in your life.
A Travel Art Print
Maps are a staple go-to, but you can also opt to give someone art of a specific destination. Artists sell prints off the rack or can be commissioned to work on something specific. Two of my personal favourite styles are below:
Travel Posters by OldPrintARTDigital

Artwork by Agginares
A Passport Cover
There are so many different passport covers to choose from, but I like this soft knitted one I got from OneStopTravelShop, pictured below. You can buy one in this beautiful purple colour or another – whatever suits the one you're shopping for.
Passport Cover by OneStopTravelShop
A Shawl
A shawl is simple, but I'm absolutely in love with a shawl I got a few years ago. It's soft, lightweight and warm. It's perfect for going out in the summer when it's hot in the day and gets chillier in the night. It's also perfect for when I'm outside in the heat and then go inside to an air conditioned space. It's a great idea for a traveller (or anyone) who spends time outdoors.
Cotton Shawl by LinenWorld
A Wet Bag
More and more, I find myself in need of a wet bag. It's so useful for people who are more outdoorsy, but also helps for city breaks in the rain. It can be a real game-changer on a trip. These come in all kinds of prints to make whomever you're shopping for happy.
Wet Bag by MrCraftHandmade
A Travel Journal
A lot of travellers like to write down their travel memories, even if it's just jotting down peoples' names and a quick summary of some fun times. A travel journal is a great way to do just that. I particularly love the style of this shop, pictured below.
Travel Journal by MissPetuniaMary
A Miniature
Miniatures are an adorable addition to any home. They're also fun because they can be collectible. Though you can find miniatures on your travels and save them for Christmas presents, you can also find vintage ones online. There are some cute quality ones out there!
Vintage Miniature by MGBVintage
At Home Drinkware
Travellers like to be reminded of travel even at home. One thing people can always use is glasses with etched maps and skylines. A sleek but surefire way to add wanderlust to any home.
Kyoto Skyline Glass by WellTold
As a tea lover, I can never have enough mugs. I personally have them in styles from different parts of world – like Polish and Spanish pottery – but there's also this cute mug. It's like a "where I've been" map but a mug! Not technically from an Etsy store, but still a small business.
Color Map Mug by UncommonGoods
On the Go Drinkware
Travellers can always use reusable water bottles. It is so much better for the environment than plastic water bottles and there are a tonne of different styles to choose from. I have a collapsible water bottle from another company and it's a fun piece to take on the road.
Collapsible Water Bottle by MianS
Jewellery
I'm picky about my jewellery but I have this ring. It's subtle but I can look down at my hand and remember what I love: travelling. There's a lot to choose from, so you can find something that reminds you of the person you're shopping for.
Map Ring by Bubblebox
A DIY Pushpin Map
I tried to find a pushpin map I liked and though there are nice options, they weren't perfect. So, I opted to make my own pushpin maps. Click here for my post on how to make one!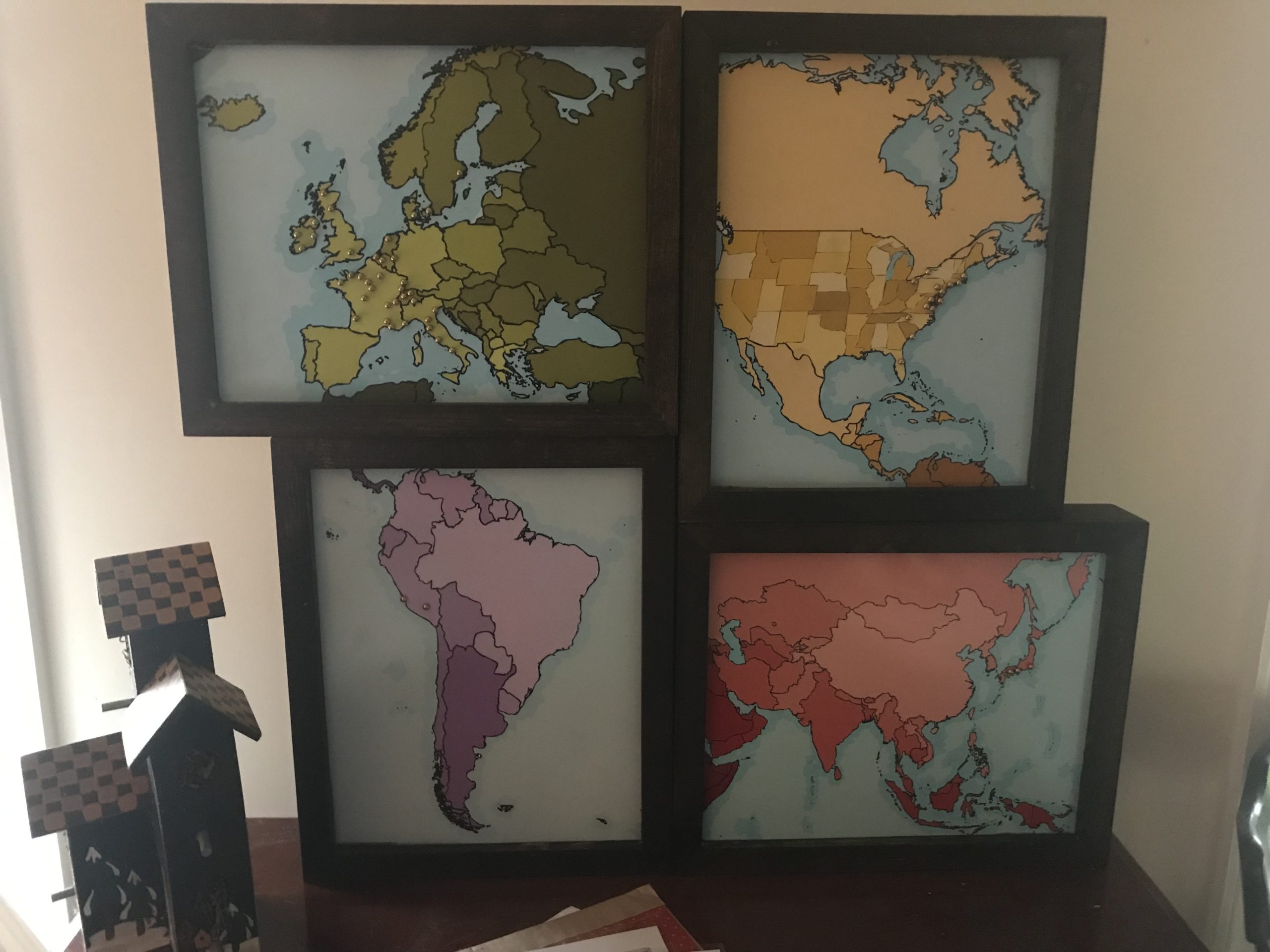 Since I made that post, I've made a pushpin map for my friend and another for my living room. (The one pictured is for my office.)
Fellow travellers, what kinds of travel-related gifts do you like getting? Feel free to leave your own Etsy links in the comments!
Happy holidays!
* All photos were taken for the purpose of free advertising. If you have copyright complaints, feel free to let me know.
Posted on Monday, November 16, 2020 in Uncategorized

Want to support me?
Buy me a Coffee