Visiting Ruined Castles and Fishing Villages in Fife
Originally published on Friday, May 28, 2021
Fife is often recommended as a place to visit in Scotland, so for my second trip, I thought it much appropriate to check out what is said to be one of Scotland's most beautiful gems. Though the peninsula is known historically for its coal and industry, the tourist perspective is its picturesque fishing villages with scattered ruins. After a visit to Stirling, we got a long evening to drive around the fantastic Kingdom of Fife.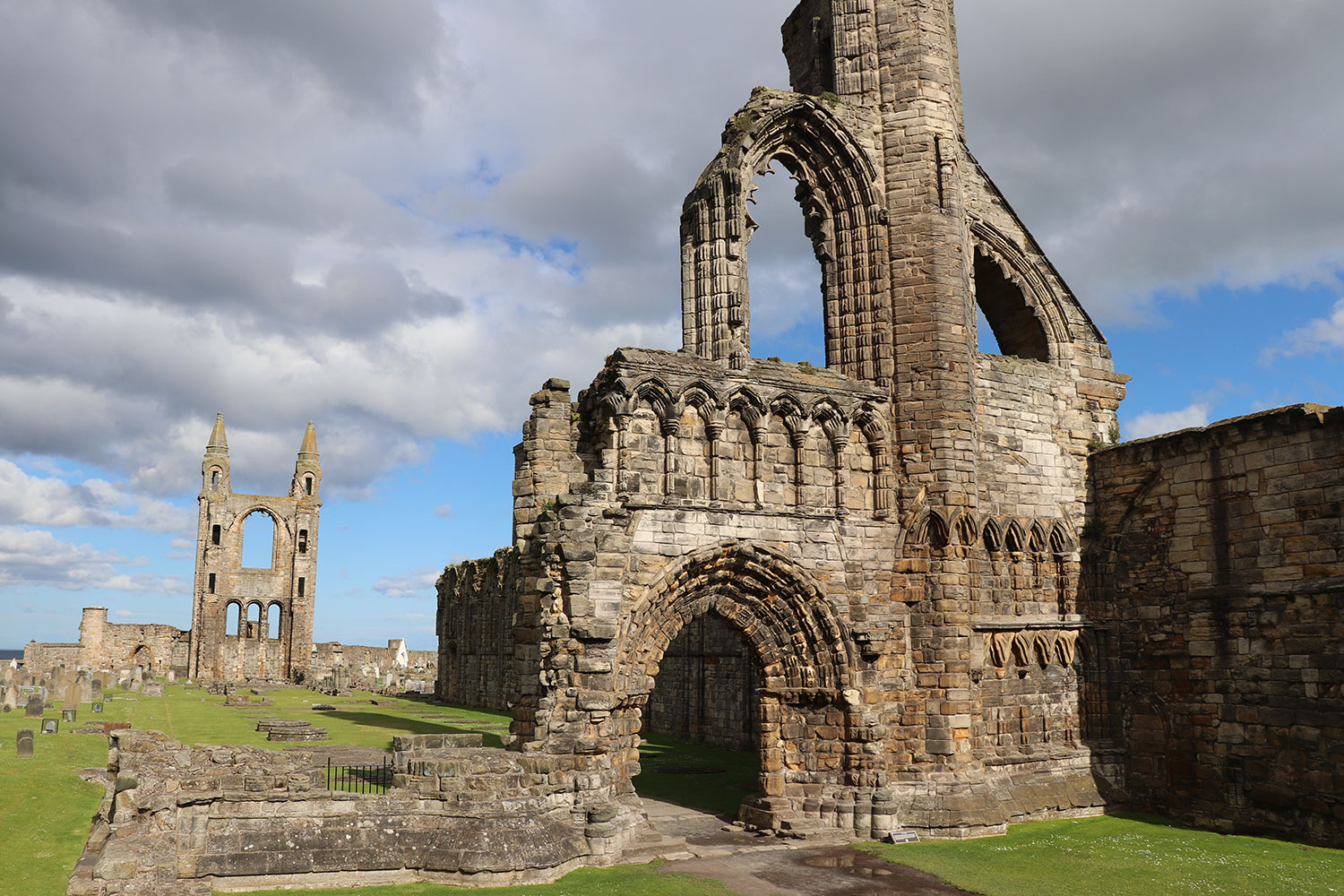 Fife has been a part of Scotland for over a millennium. Fife had thanes, which were like earl equivalents, and obviously a strong regional identity which still remains to this day. The most notable town is St. Andrews, which is named as some relics of St. Andrew are said to have been brought there in the early 700s.
St Andrews, Fife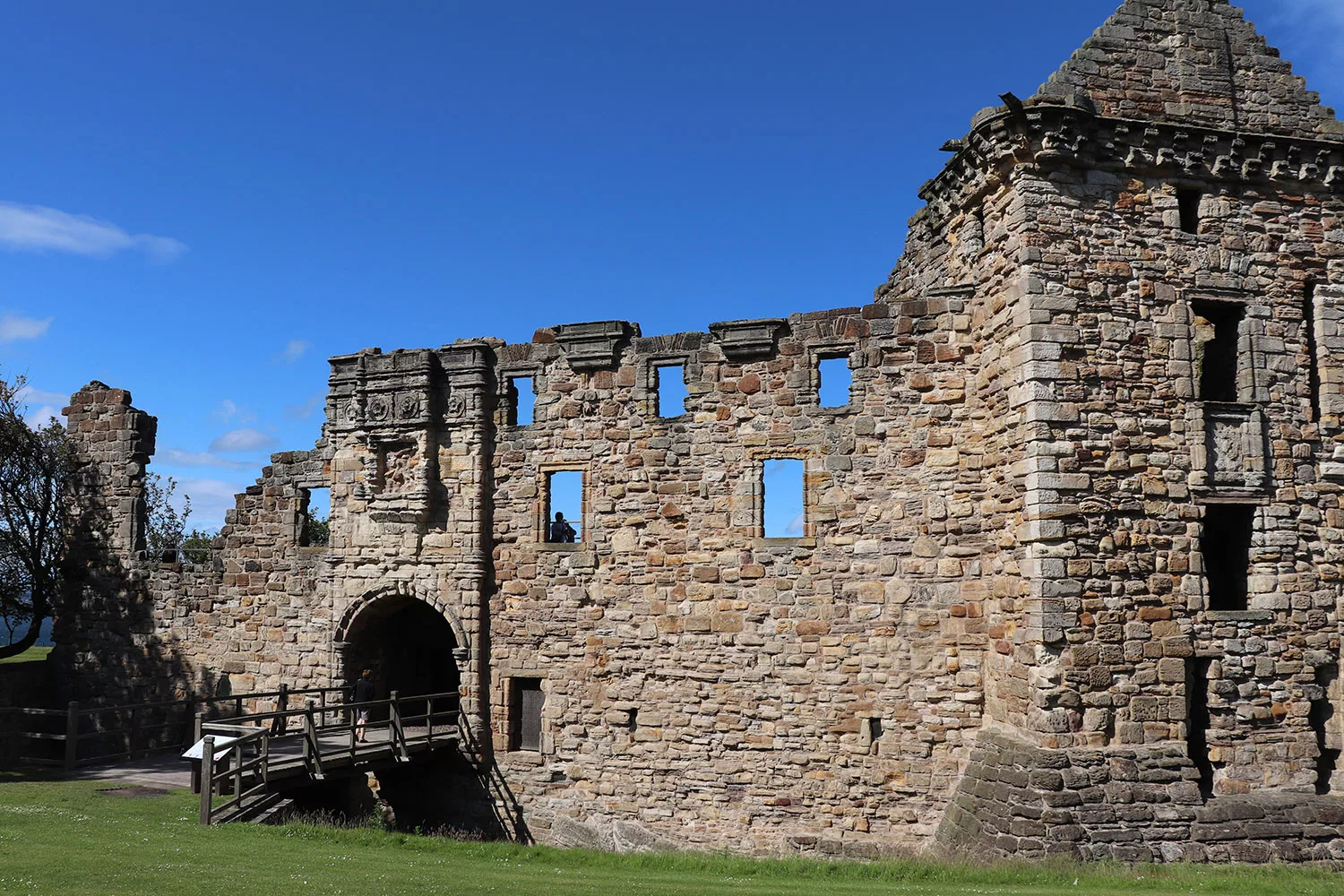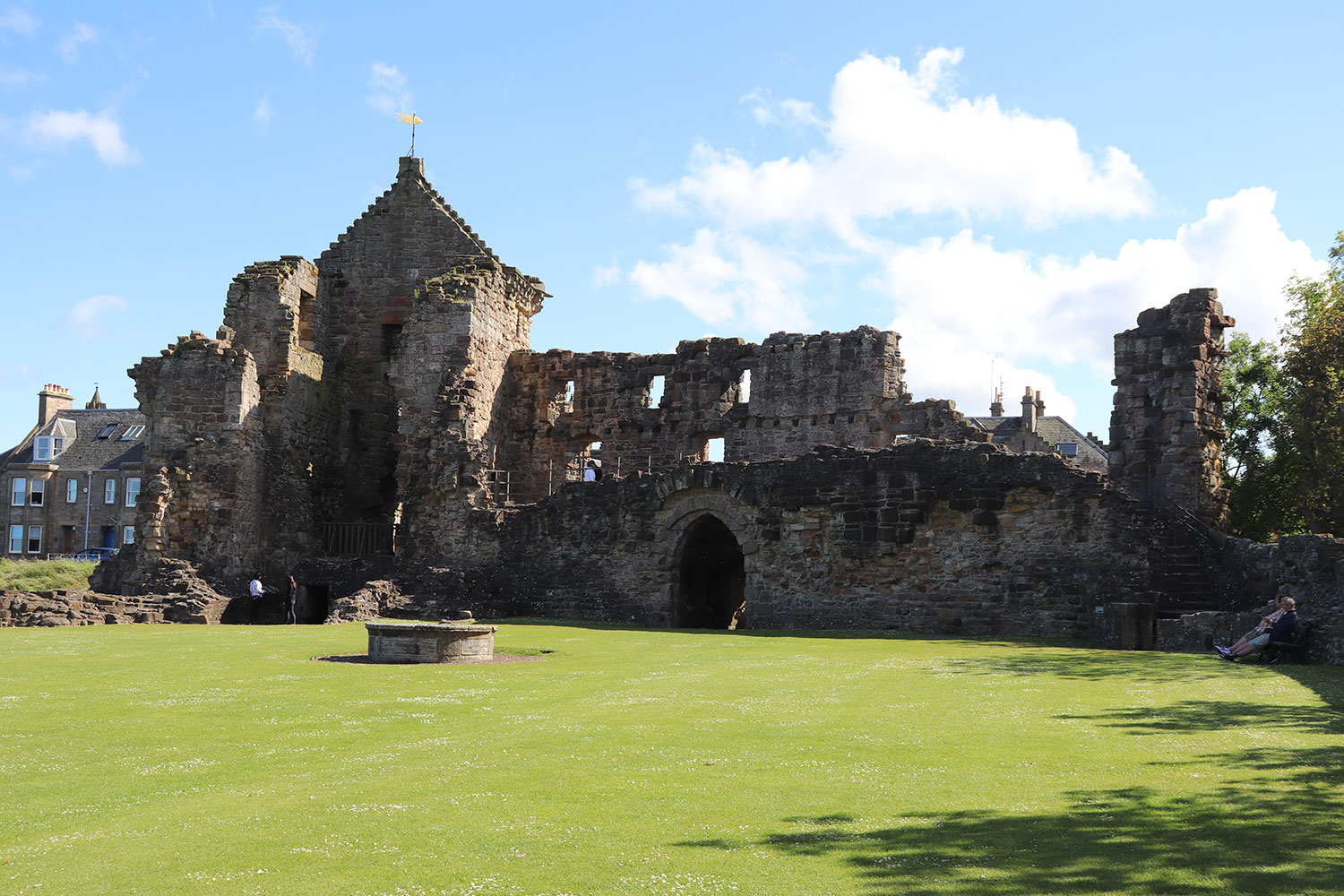 St. Andrews is where we started our journey. Historians will know of St. Andrews Castle and Cathedral, which date back roughly to the 1100s (though the bones of St. Andrew were brought there much earlier). It's known as a major pilgrimage site in Scotland historically. People still make the pilgrimage there today, called the St. Andrew's Way or Way of St. Andrews, even though the relics of St. Andrew are apparently kept in Edinburgh.
The town is popularly known today as where Will met Kate, as they both went to school there. We started out by going to St. Andrews Castle, which is very much a ruin. One thing you can still see there is a dungeon and there are still a few rooms/sculptures remaining. We also visited St. Andrews Cathedral, which is also in a very ruined state. It is however still a pilgrimage for some, and both sites are pretty at the very least. However it is a bit disappointing that it's fallen into such disrepair. I wish the establishments would've had more information about the two sites as they're so important.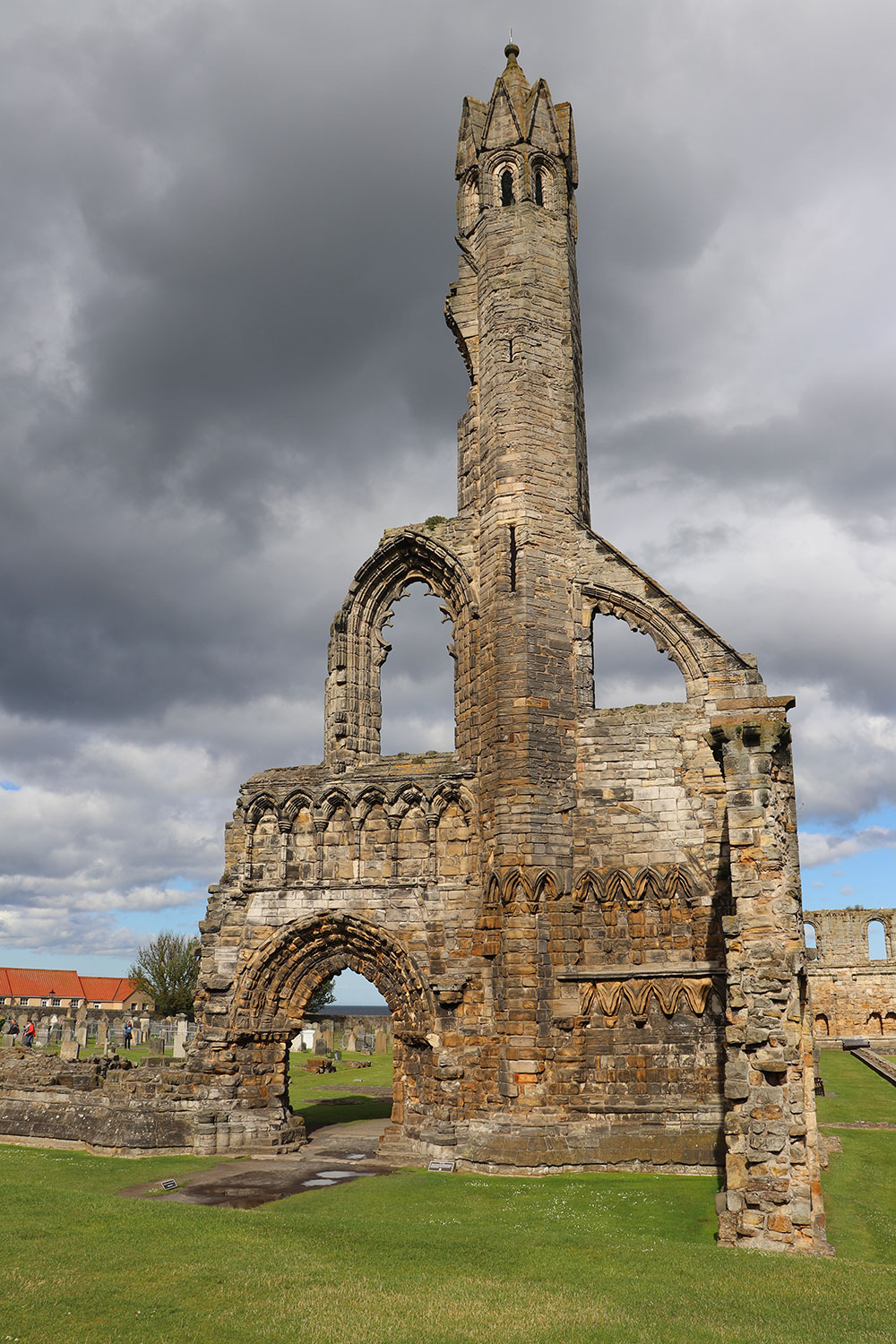 Even though the ruins aren't particularly exciting on their own, the town itself is incredibly cute, and actually quite sizable. It's very much a classic seaside town. Since it's also a university town, there's a lot of food and drink options to choose from. One thing we did was check out St. Andrews Brewing Co., which has a large selection of their own beers. Worth a pop in if you'd like some local craft drink or want to head out for a night. St. Andrews also has tonnes of beach to walk along and feel the ocean breeze. Though, I reckon going in summer rather than winter helped. The weather was great when we went so many people were out and about, but it was nowhere near crowded. The main city of Fife is still quite off the beaten path.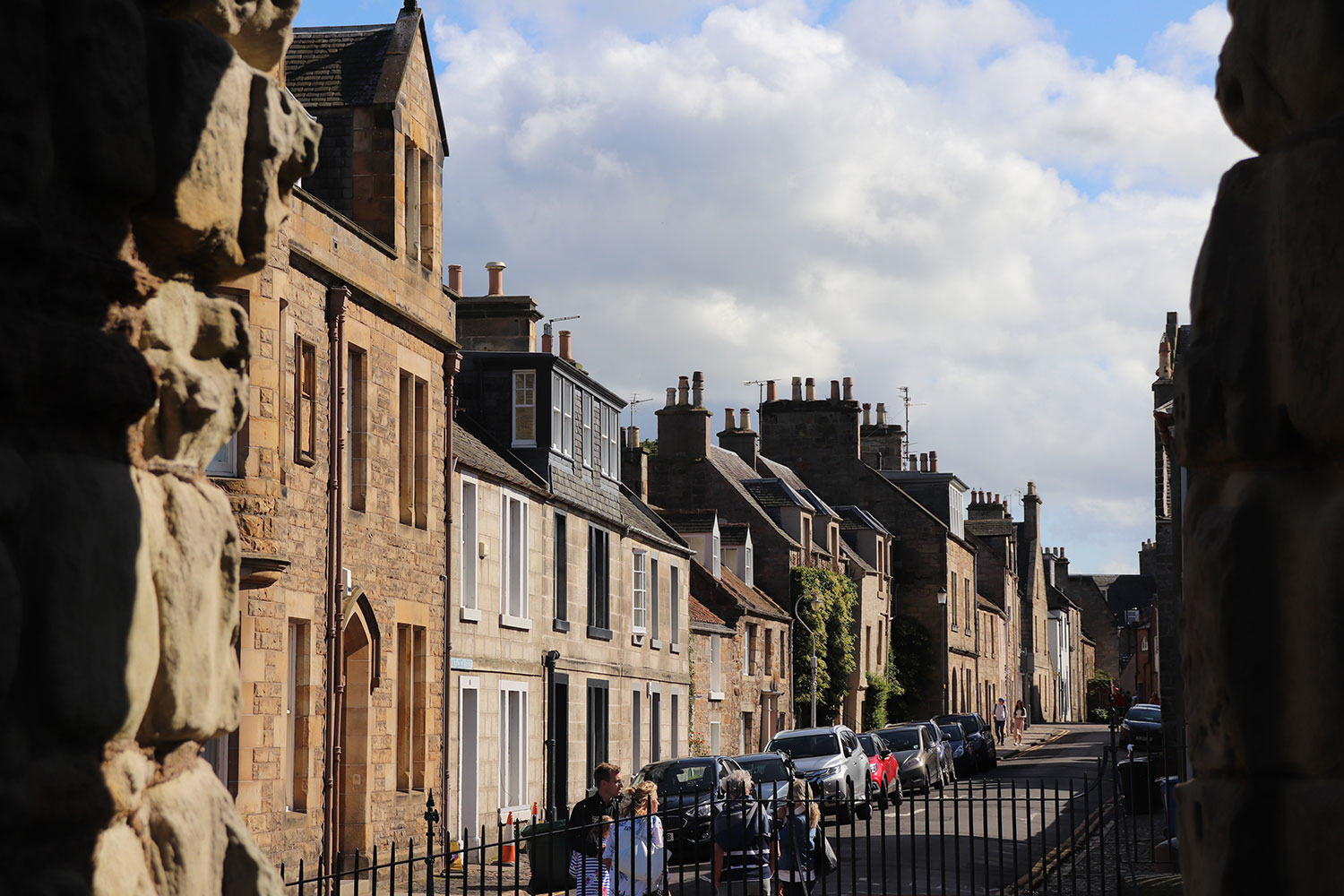 Scotland is also the birthplace of modern golf, and St. Andrews is credited with being the golf capital. Another unique thing to do is visit the British Golf Museum, but why stop there? There are several places to play golf and mini golf for a fun night out. I wish we'd been able to stay longer to have a game or two.
St. Andrews is small and can be seen in a few hours, but it's definitely a place where you can spend the day with friends and family and have a great time. It's so pretty and relaxed but there's just enough there to keep everyone preoccupied.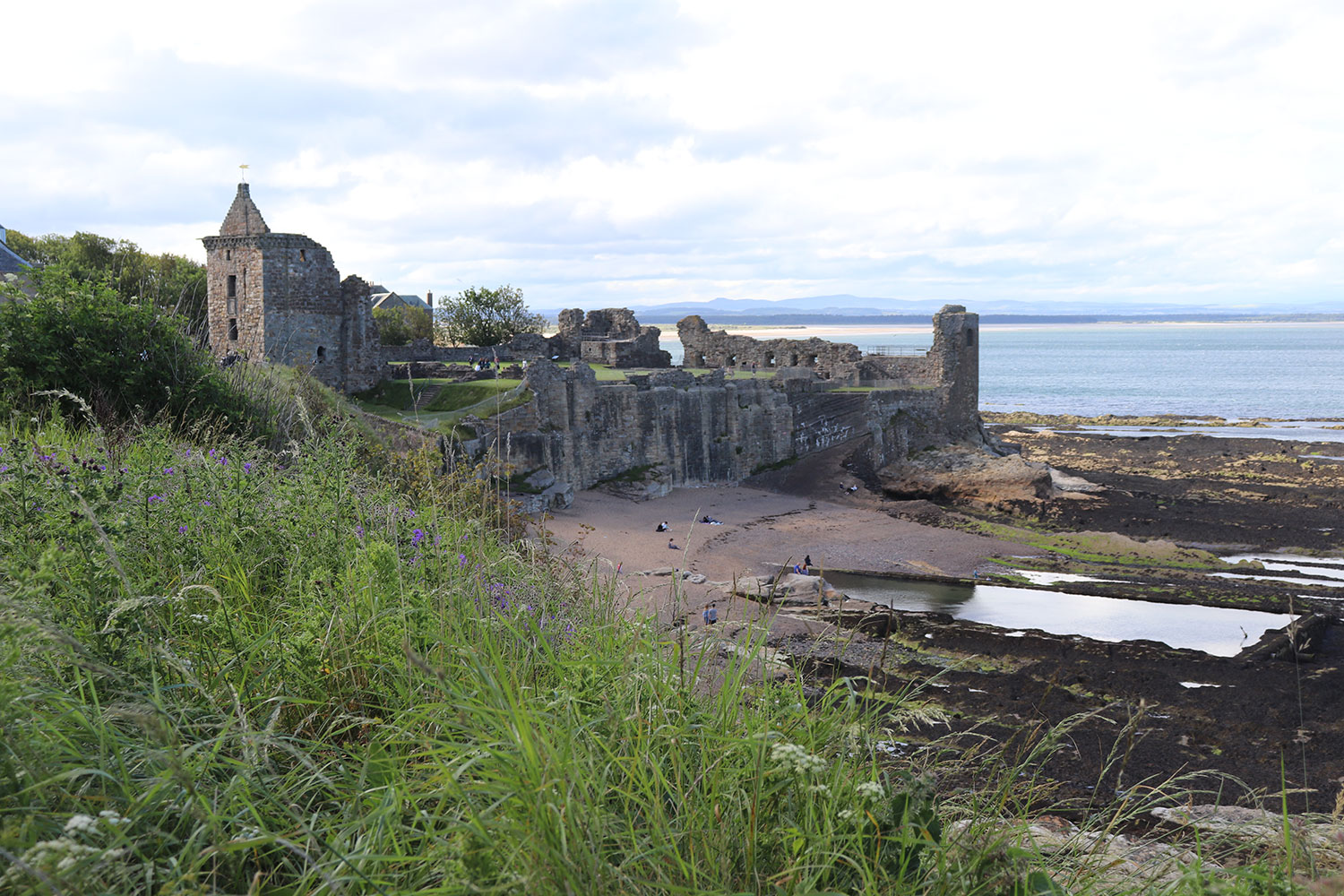 Anstruther, Fife
After everything closed and we got dinner, we still had several hours of sunlight to see some other picturesque places in Fife. There are so many options for places to see! We considered Crail and Culross, both pretty seaside villages. It was too late to visit Falkland and Falkland Palace, which I would've liked to see. Instead, we headed to Anstruther, a fishing village known for its fish and chips.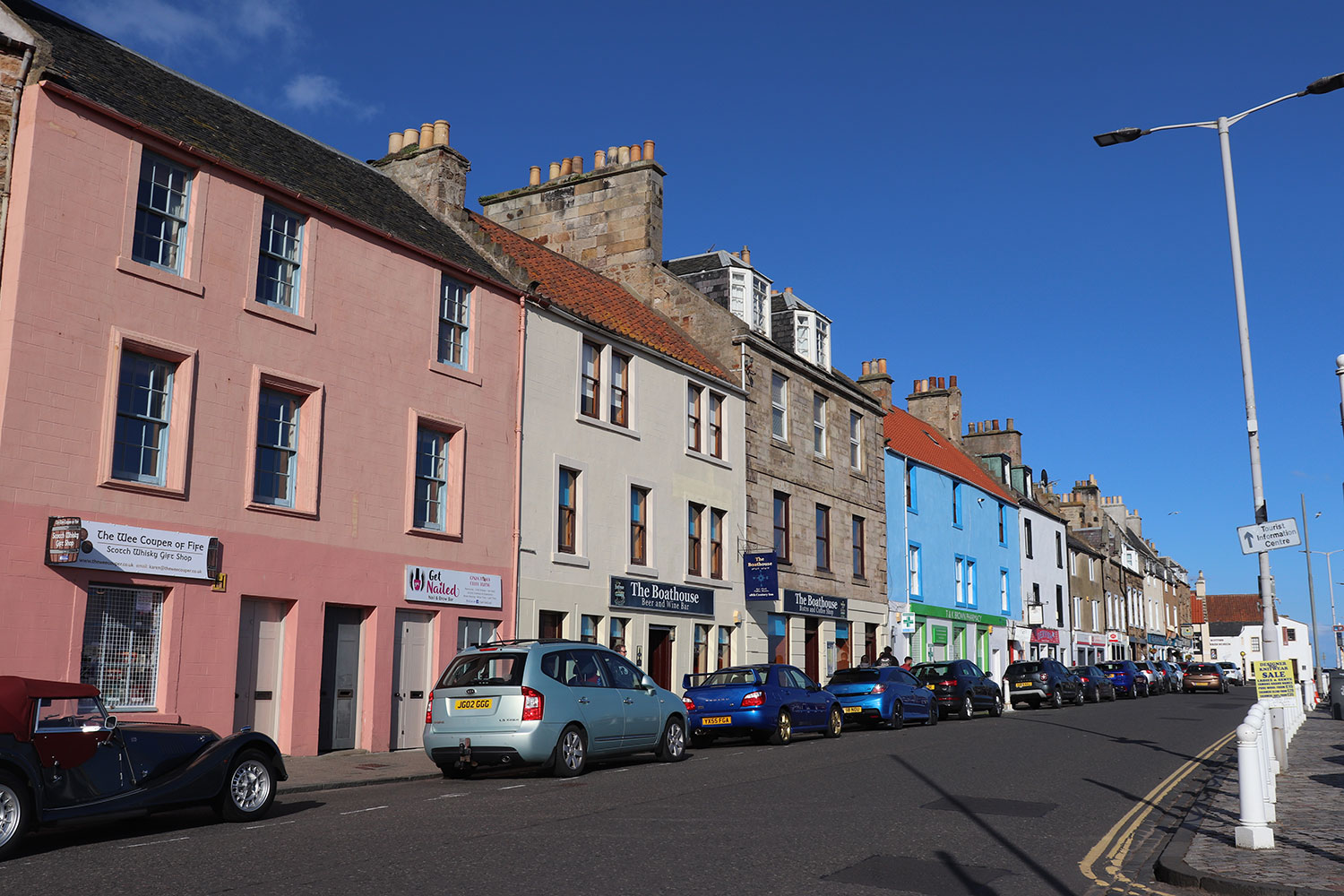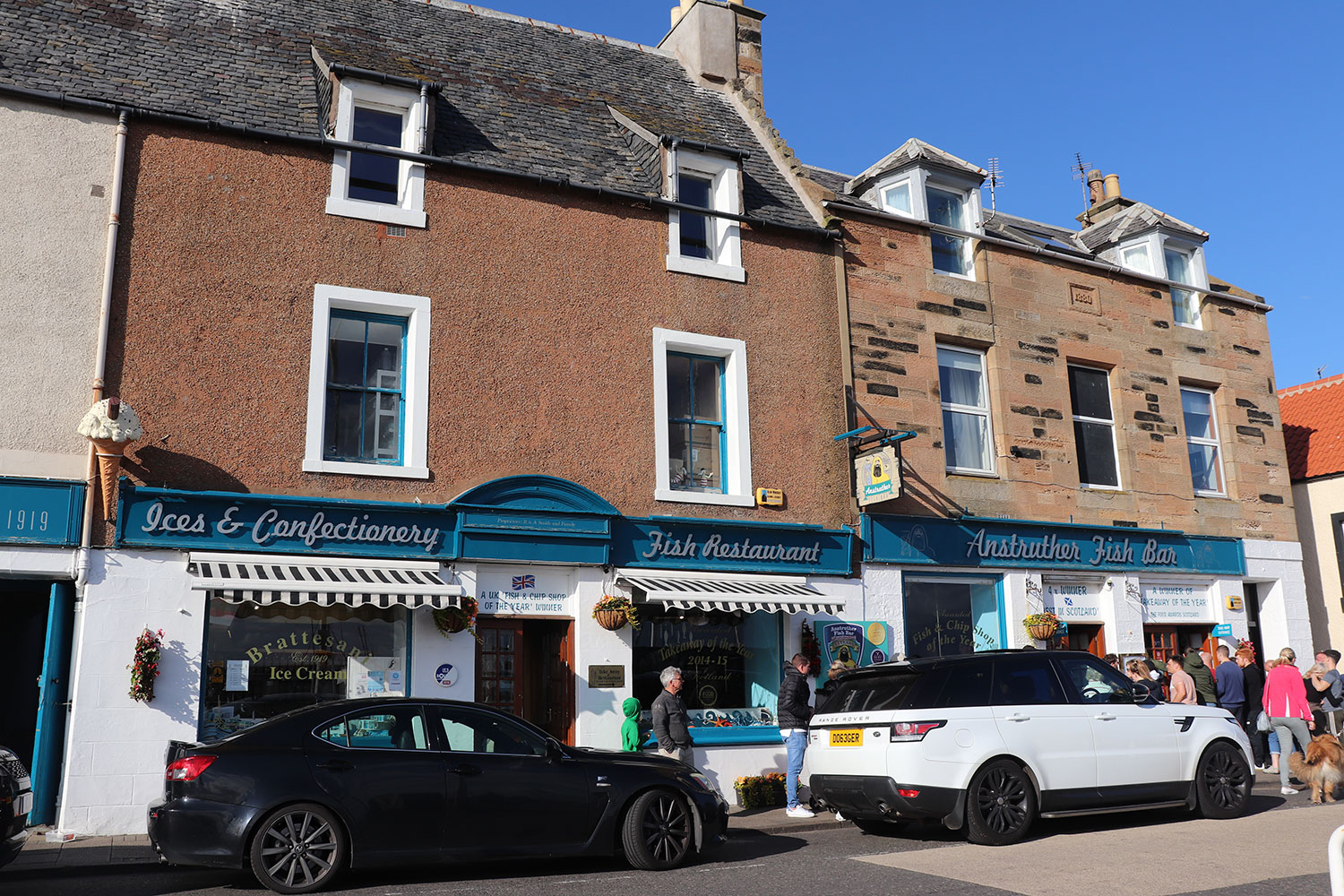 As expected, Anstruther is quite small. If you walk around, you can probably see it all within half an hour, but it has a very strong local charm. Unfortunately there are virtually no vegan options in Anstruther, though I've been eating vegan fish fillets that I hope make their way there. Like St. Andrews, Anstruther's appeal is its old buildings and relaxed atmosphere on the water. I remember how much it smelled of the sea and even though we weren't really doing anything, how nice it was to be there.
The local fish n chips restaurant is very busy and there's also a place to get ice cream, which is always a great way to end a day out.
That evening, we got to take the picturesque coastal route back to Edinburgh at sunset.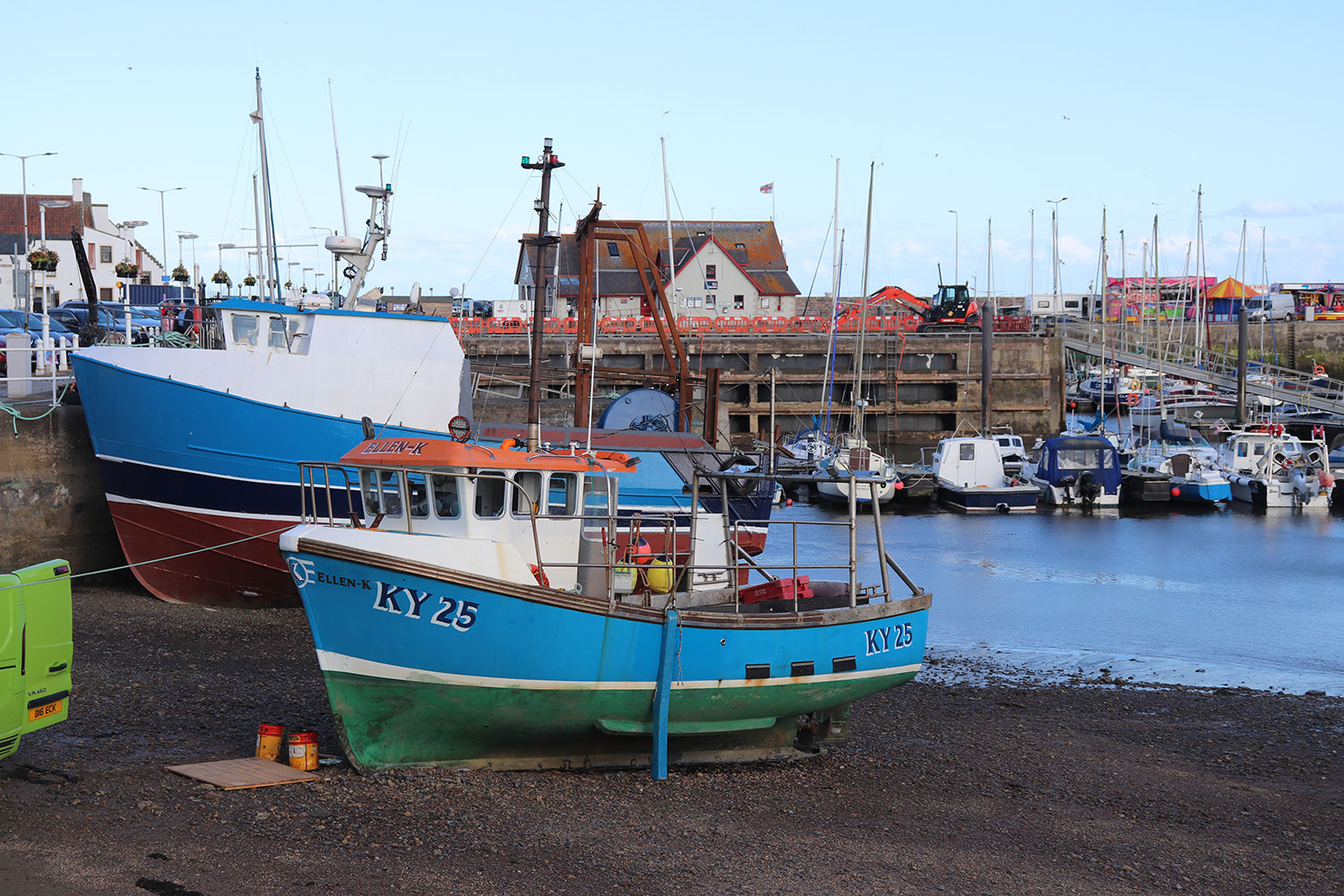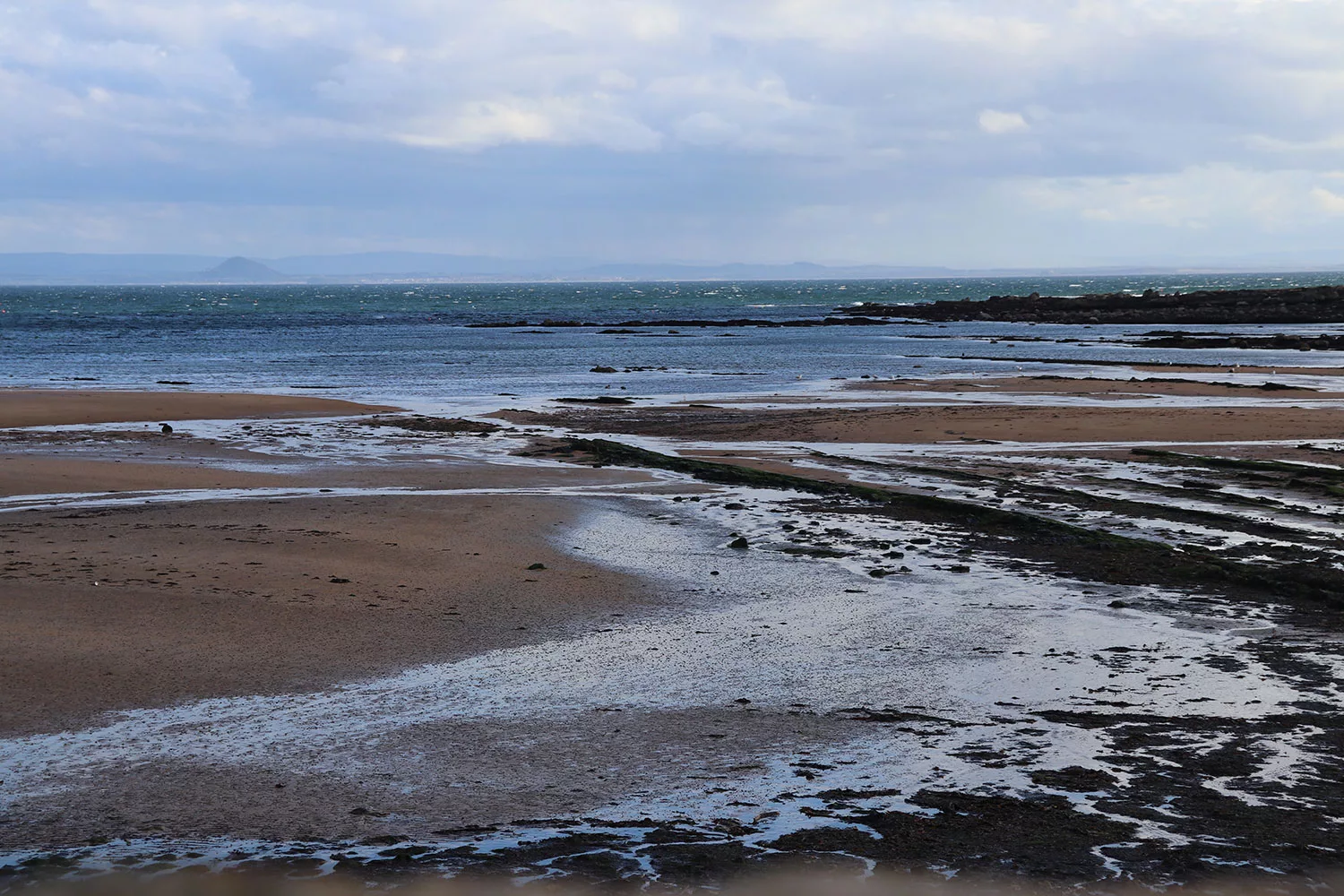 I wish we'd gotten more time to spend in Fife. It was great to see so much in what was really half a day but it was definitely one of the prettiest and most laid-back half days, and it would've been great to have had an extra day to spend exploring.
Here's some further reading for more places to visit in Fife:
Have you ever been to Fife? What were your favourite places?
Pin This for Later
Please note that this post may contain affiliate links. These are at no additional cost to you but I receive a commission if you make a purchase through the link, and the commission helps me run my blog. Thanks for your support!
Tags:
europe
,
fife
,
scotland
Sharing is Caring
Want to support me?
Buy me a Coffee
2 Comments on "Visiting Ruined Castles and Fishing Villages in Fife"