Swimming with Manatees in Crystal River, Florida (an incredible experience)
Originally published on Monday, August 9, 2021
If swimming with manatees isn't on your bucket list, it should be. Getting up close and personal with these gentle giants is said by many frequent travellers to have been a highlight of their experiences.
Crystal River is home to hundreds of manatees. Yes, a small town on Florida's western coast houses springs that are warm all year long, allowing manatees to escape the cold waters of the Mexican Gulf during the wintertime. That means that hundreds of manatees come flocking in to live in warm waters and people are easily able to go see them!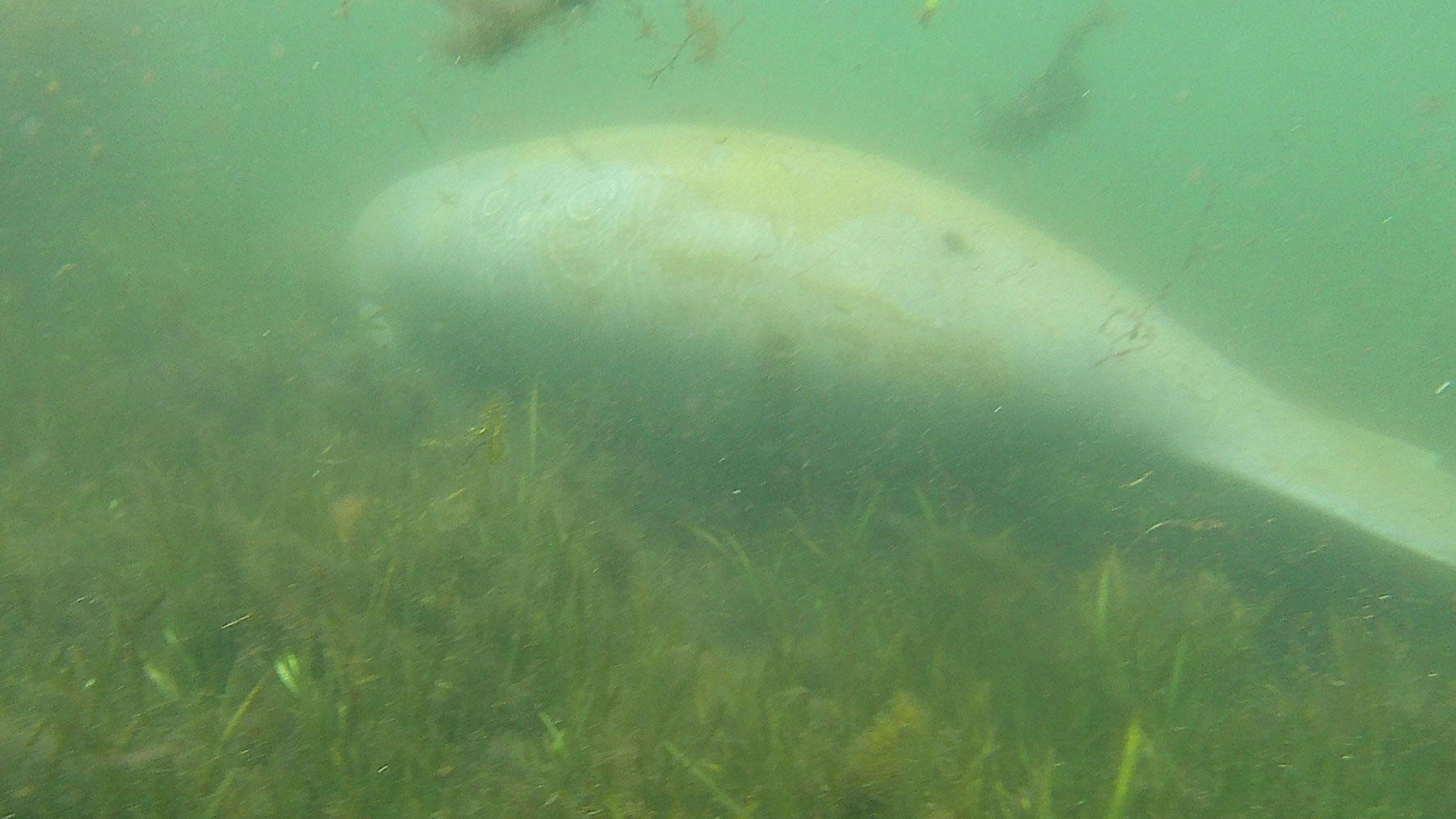 The peak of this phenomenon is November-March. I happened to be in Crystal River in late May, which was a bit of a bummer since most manatees have already left. Though a few pregnant manatees and those with calves will stick around, it's a lot more difficult to spot the sea cows. We still decided to attempt swimming with manatees for the day and were lucky enough to see three!
Here's a bit on my experience with swimming with manatees and what I learned on my trip.
Some Fun Facts About Manatees
Like every creature, manatees are quite fascinating and have some interesting quirks about them.
Did you know…
Manatees are most closely related to elephants. I would've guessed walruses or maybe otters but no – elephants are their closest living relatives.
They have the smallest brain-to-body size ratio of all mammals. Though manatees have very large organs, and are very large in general, their brains are quite small.
They have no natural predators. Which is awesome! Except, of course, humans, though we are unnatural predators. Something to think about.
Their nicknames are "sea cows" and "mermaids of the sea." Both endearing, but I find "mermaids of the sea" has a nice ring to it. It's said that Christopher Columbus once saw a manatee and thought it was a mermaid, alerting his crew that he saw a fish-woman in the sea. But he also thought Cuba was India, so it seems he wasn't the brightest crayon, so to speak.
Manatees can live in fresh and saltwater but need freshwater to live. It seems strange to us, but though manatees venture into saltwater, they need to drink freshwater. Our guide told us that people who live by saltwater find manatees drinking from their hoses. That would be quite a sight, I think.
They can hold their breath for up to 20 minutes but need air to breathe. It seems so strange that a sea animal needs air to breathe, right? Though manatees eat and sleep underwater, they can hold their breath for up to 20 minutes. In our experience, they came up quite frequently for breaths of air.
There was a much bigger manatee breed called the Steller's Sea Cow. It must have been amazing to see one in person because they were much larger than the manatees still living today. However, they went extinct because of their only predator – the humans. That's why we should learn about and appreciate the manatees that are still around today – so we can ensure this endangered species doesn't become extinct.
Swimming with Manatees on a Tour
After some research, I decided to go with a tour called Birds Underwater to go swimming with manatees. There are some options to see the manatees without a tour (more on that below) but with very limited knowledge of what to do, we opted to do a tour with the professionals. We found Birds Underwater to be friendly, knowledgable, and fun, so we definitely made a great choice in selecting them!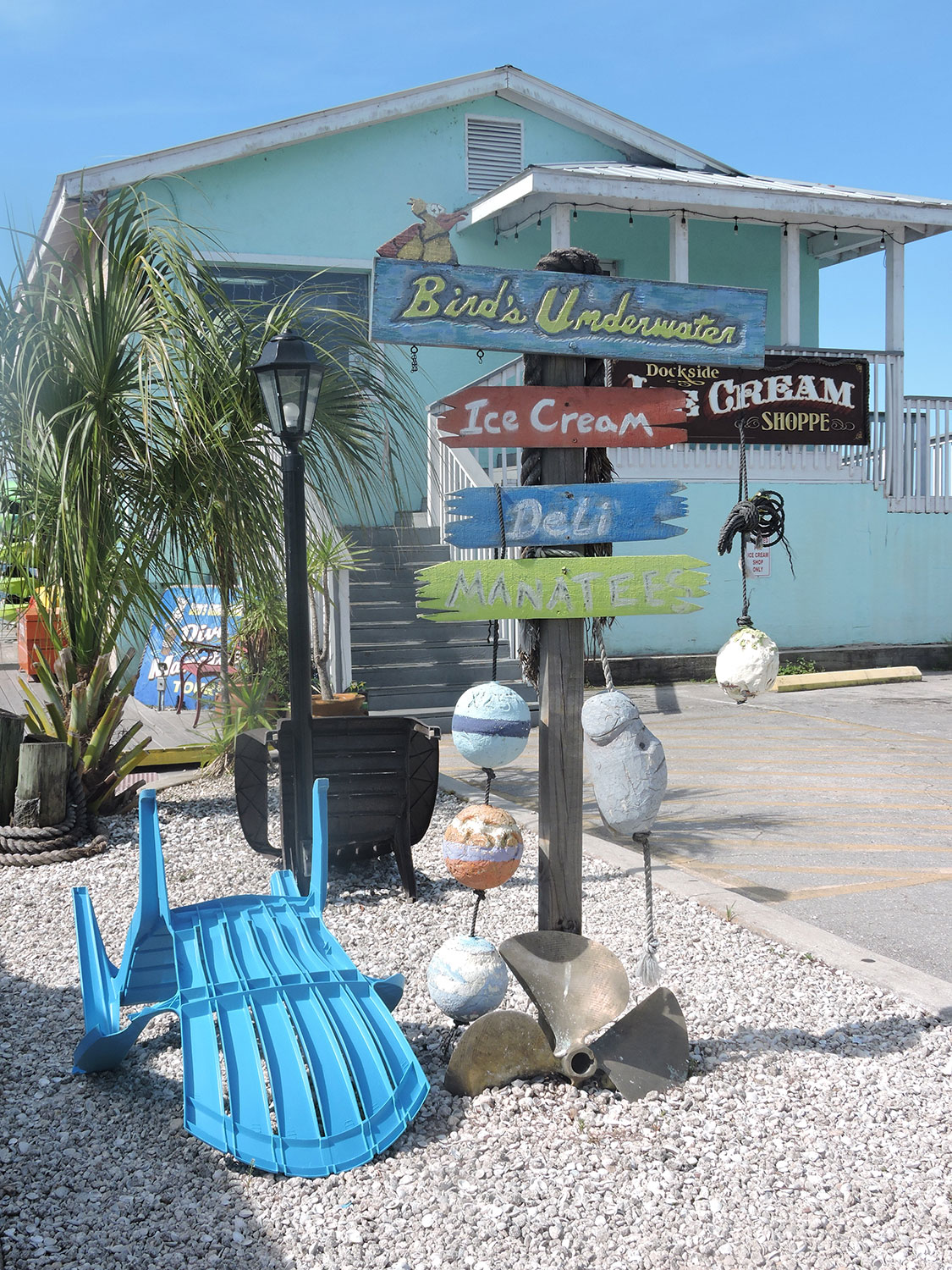 It actually ended up being more important than I thought because I hadn't done anything like this before and learned a lot. For example, it's huge that you don't actually swim with the manatees because the noise it makes will drive them away. I totally wouldn't have known this. You also can't stand on the ground of the shallow waters because it brings the sediment up. I totally would've done this too. Total novice here. I'm glad we got some guidance.
It also helped to be warned about the size of the manatees. Of course, I knew they were big. I knew they were harmless. But the guide warned us that seeing the manatees in person can be very daunting at first. It was. They look so small above water that once you go underwater, they're bigger and much closer. It's a real shock.
Though people started crowding around the manatees, I'm also glad we took a tour because I wouldn't have been able to spot them or know where to look. In the warmer months, the waters are murkier and the manatees become even harder to see. As I mentioned before, the warmer months also yield much fewer manatees than the colder months, so they're more difficult to spot.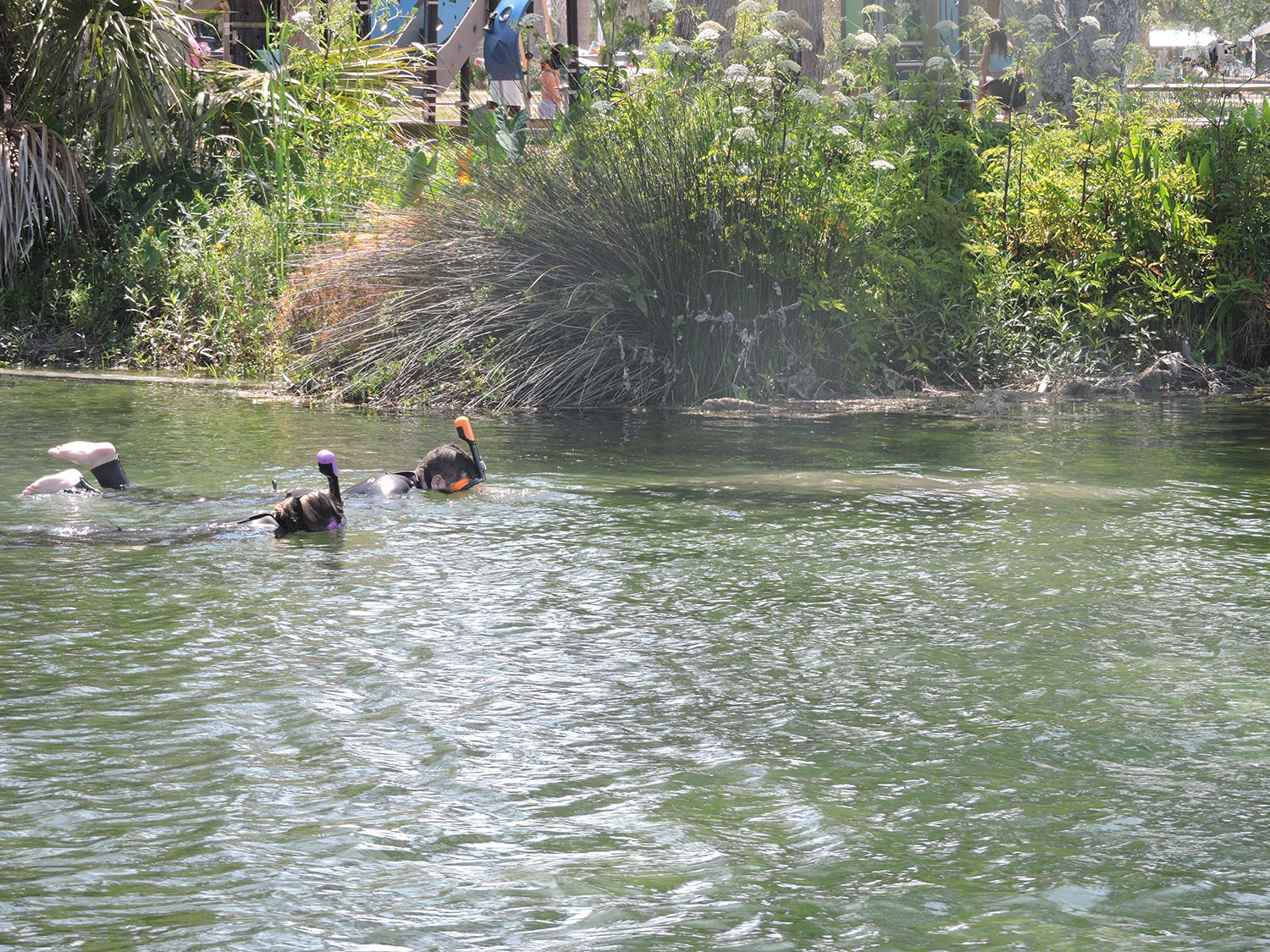 Once we checked in, the company provided us with wetsuits and snorkel gear, and we watched a short video on the manatee and what to expect. Then we head out to go swimming with manatees! We got in their boat and shortly after, saw our first manatee, a pregnant lady named Nancy. We got to swim with her (or more, hover around her) for a short while before she swam away. It was pretty exciting to be so close to her and she even swam under me. We're not allowed to go and touch the manatees but she came up and brushed against me so I was able to feel her coarse skin.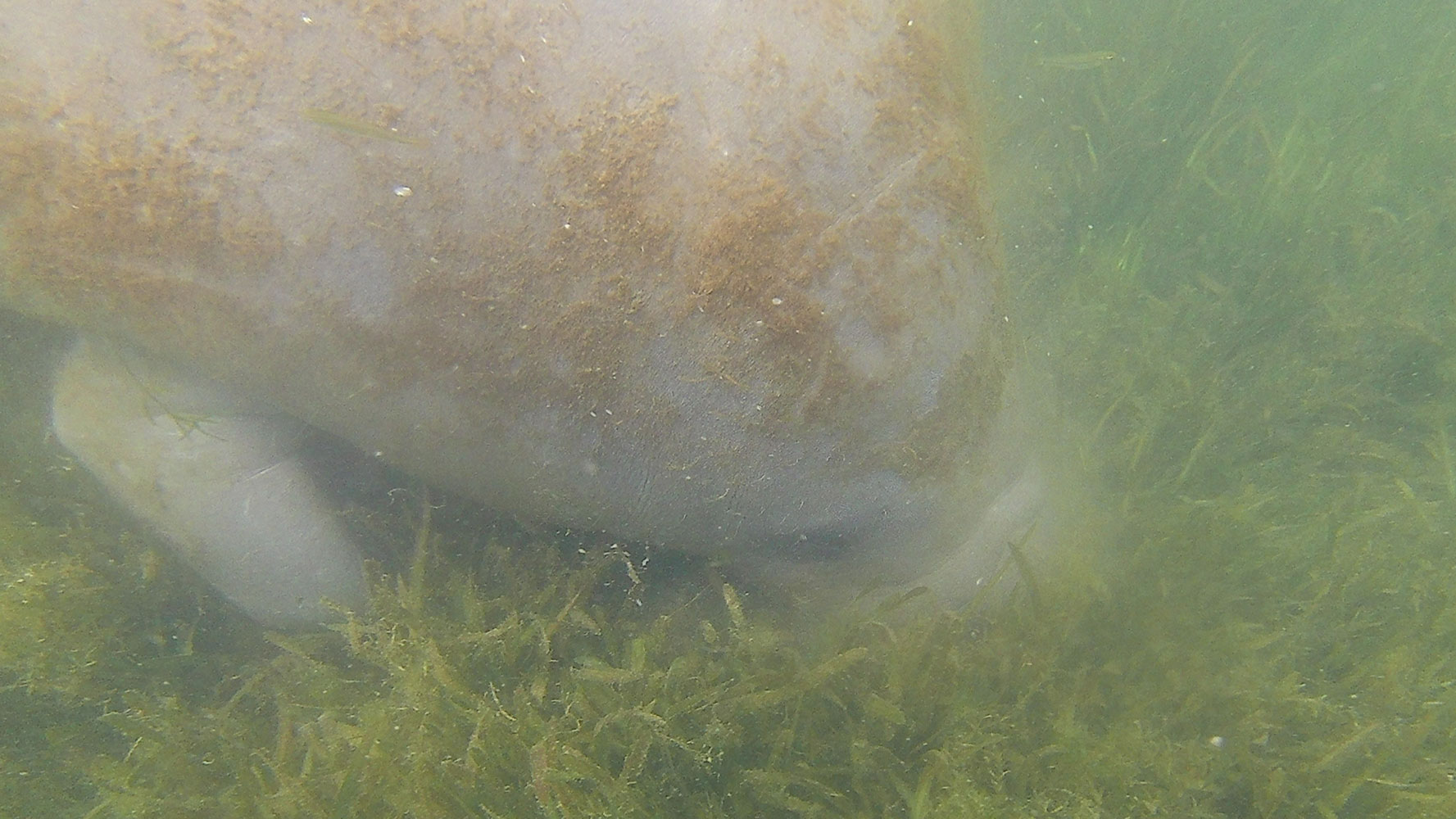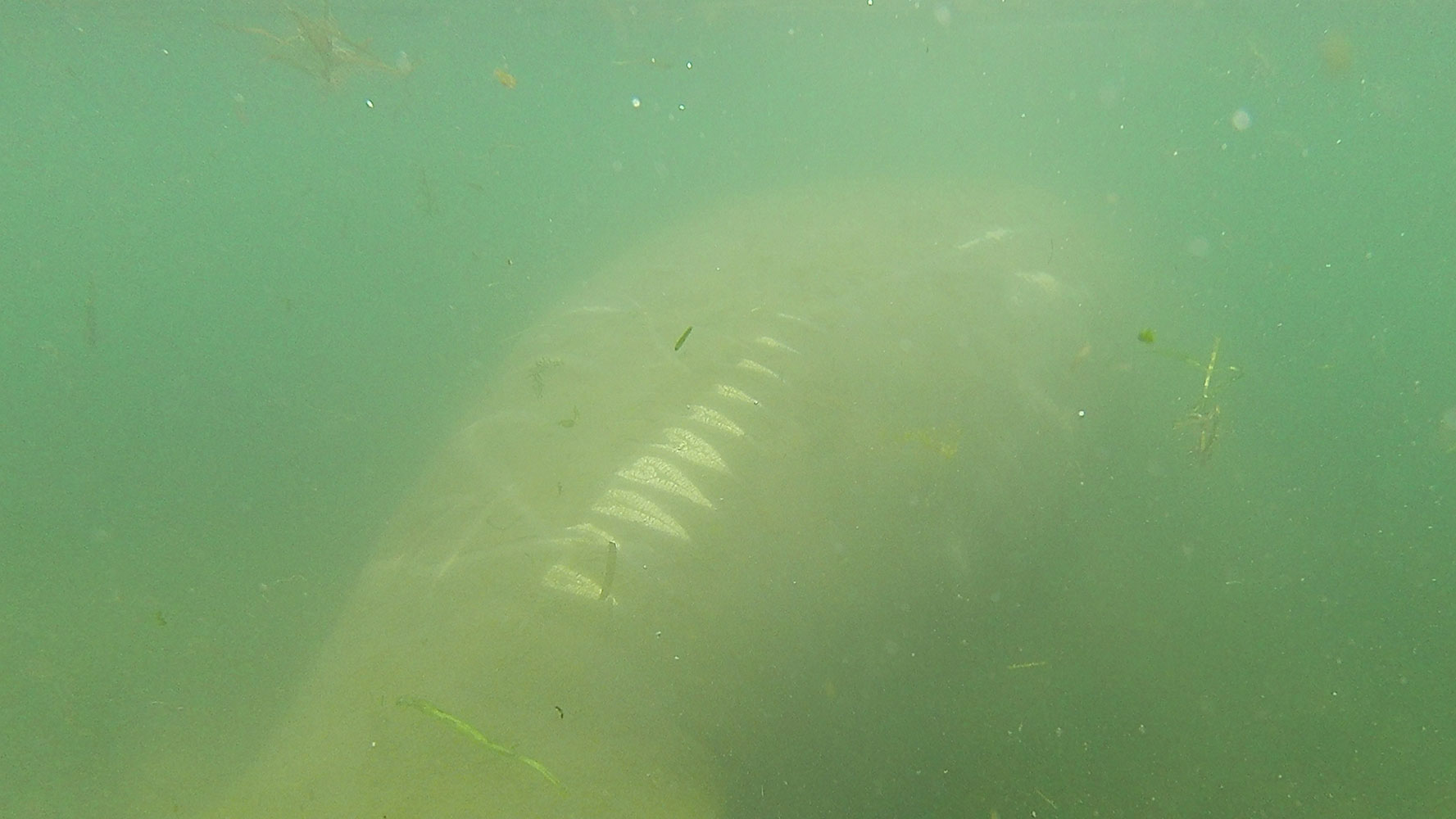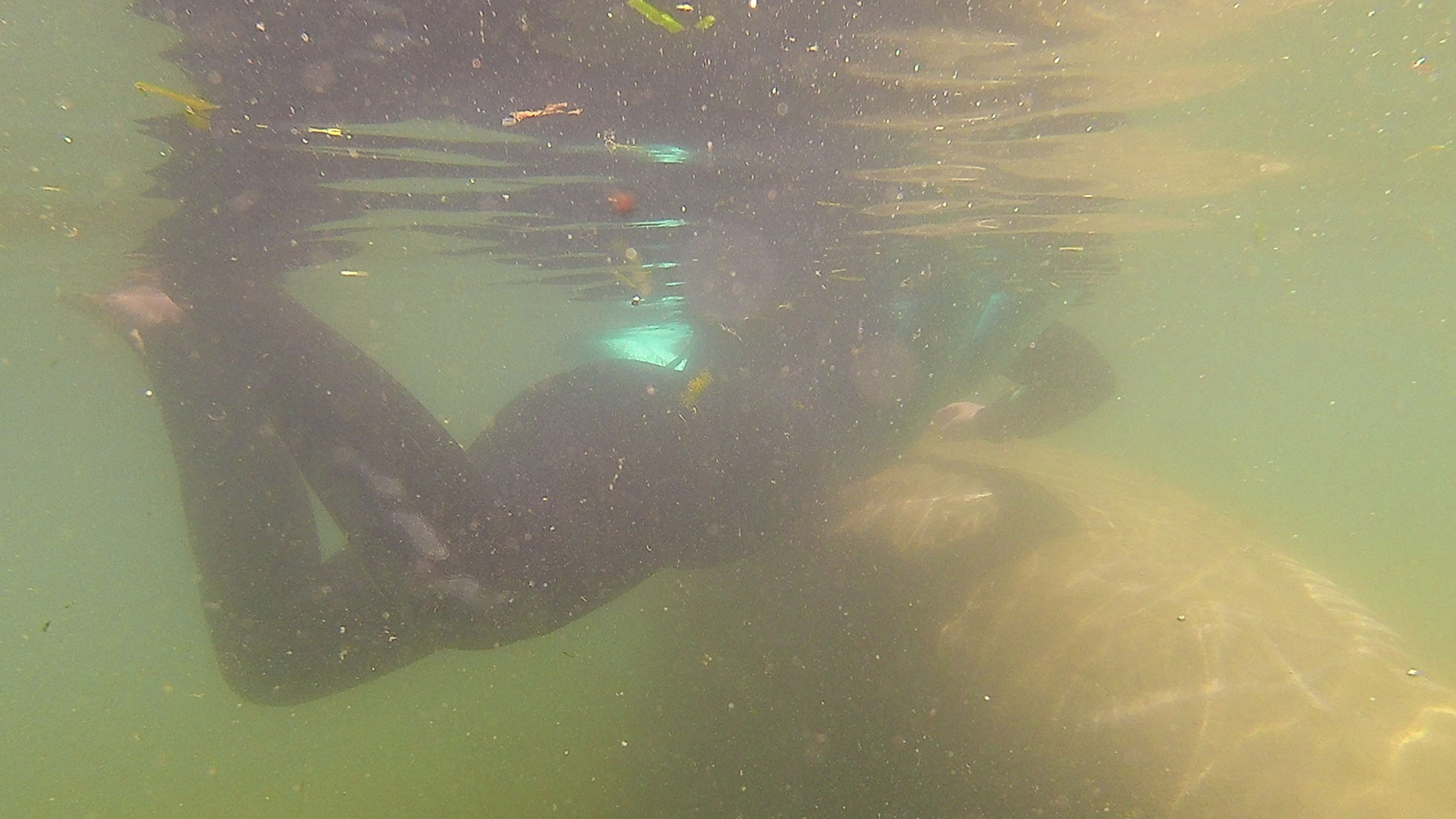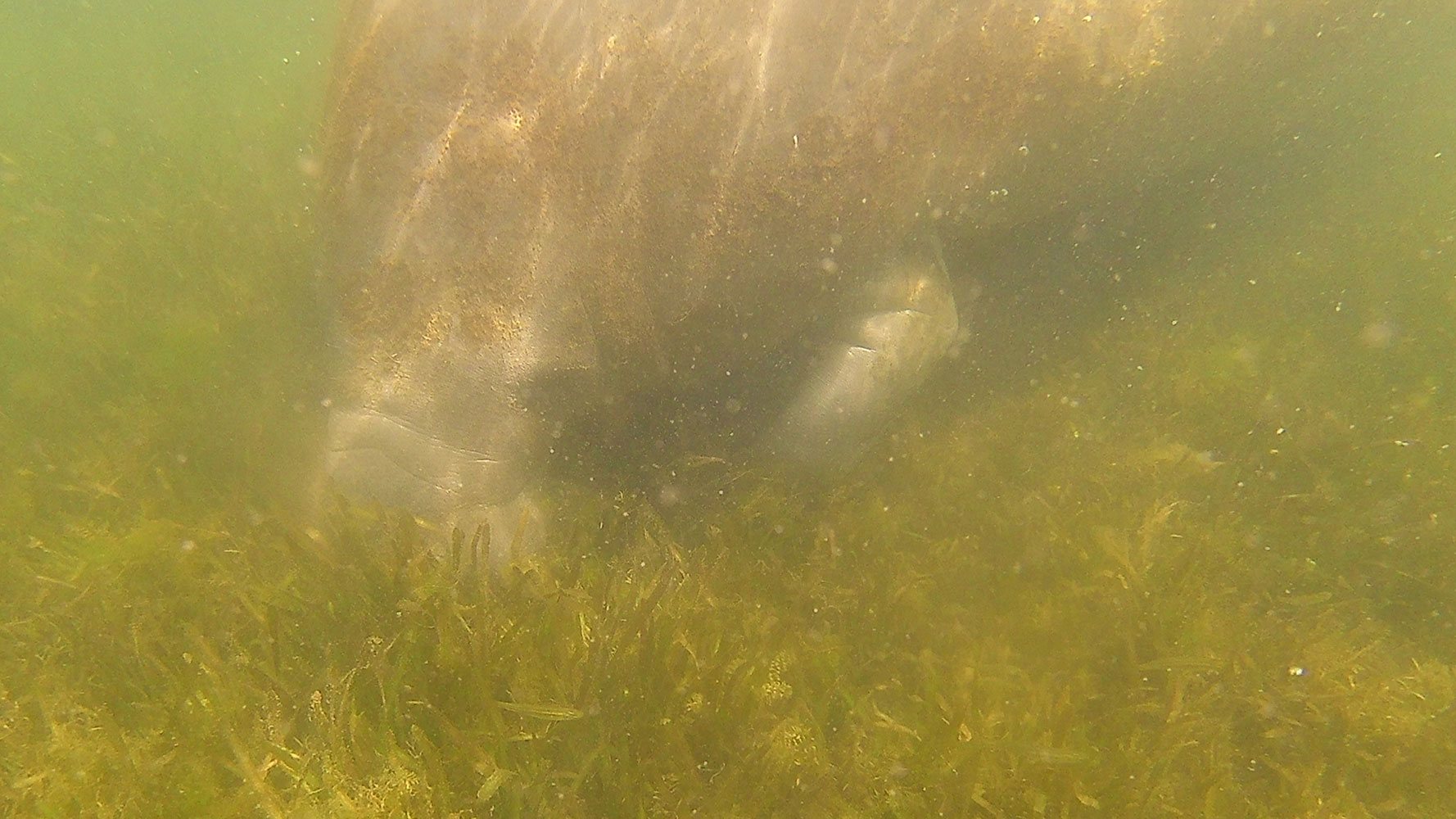 Me with Nancy the Manatee
Once she left, we headed over to another part of the bay. There we were able to spot a mother manatee and her 5-year-old calf came over and joined her. It was lovely, being able to see such lovely creatures up close. It actually did feel like a rare experience. Since there weren't many people there, it also felt more intimate. Just us and these manatees.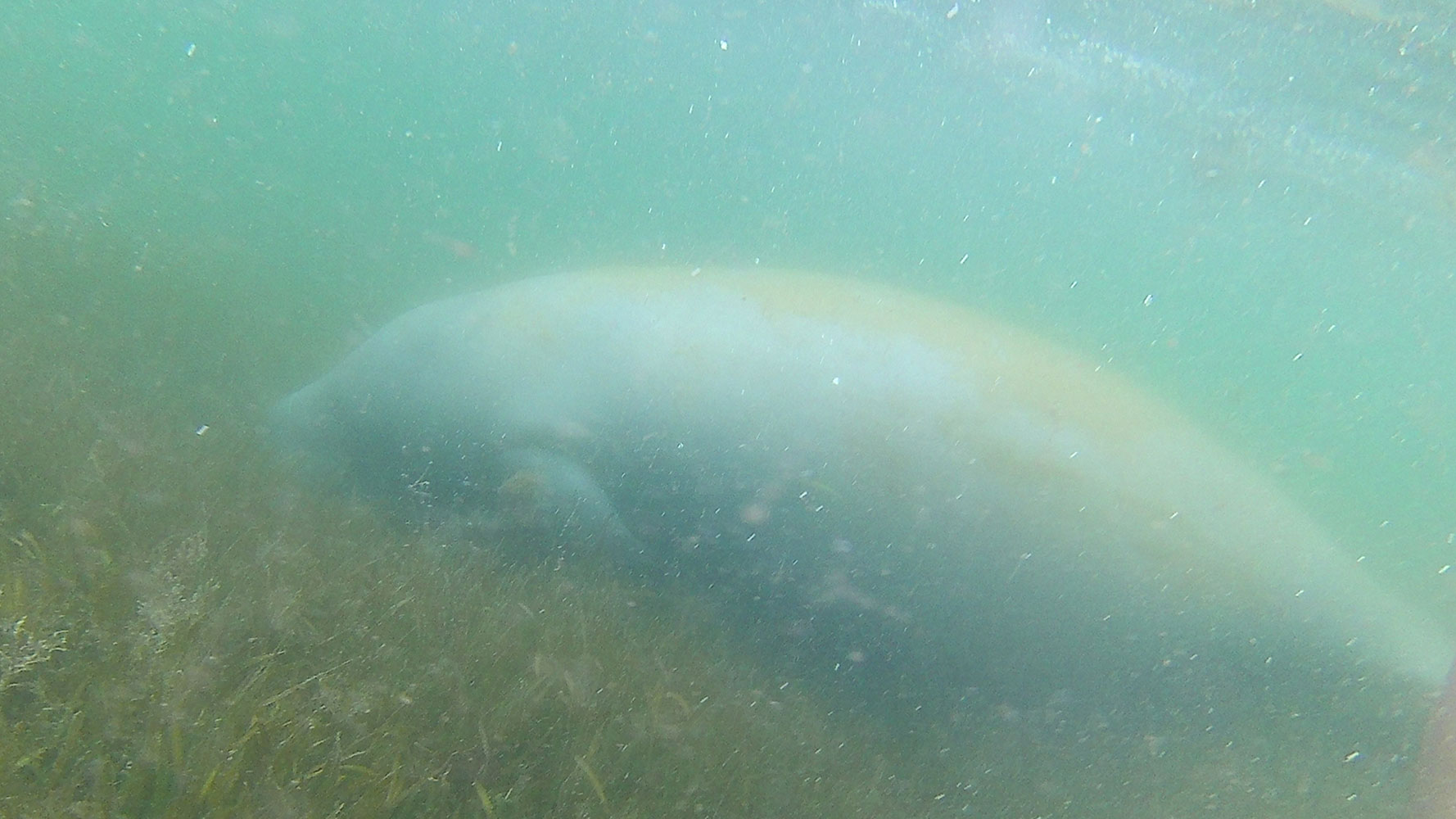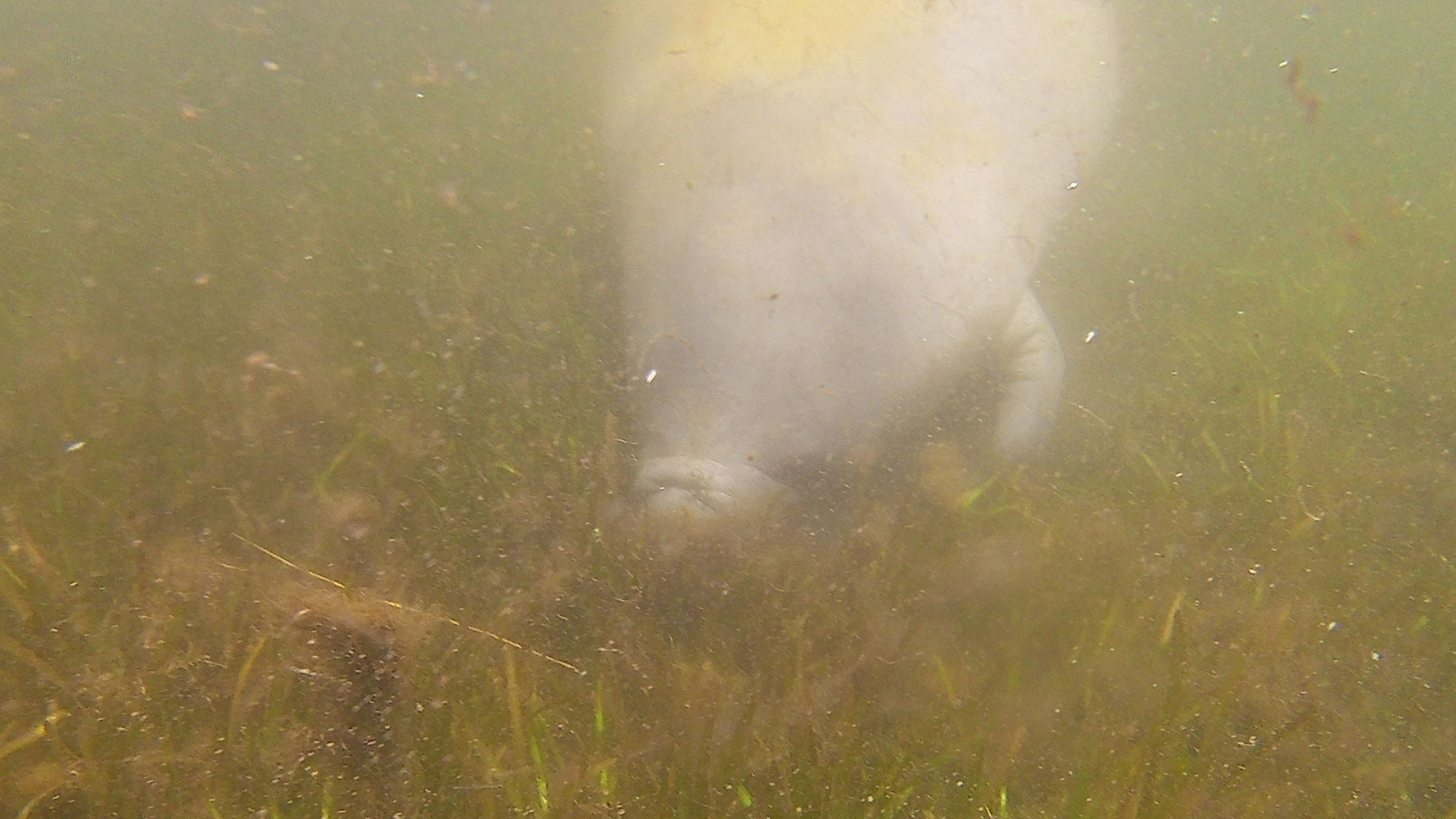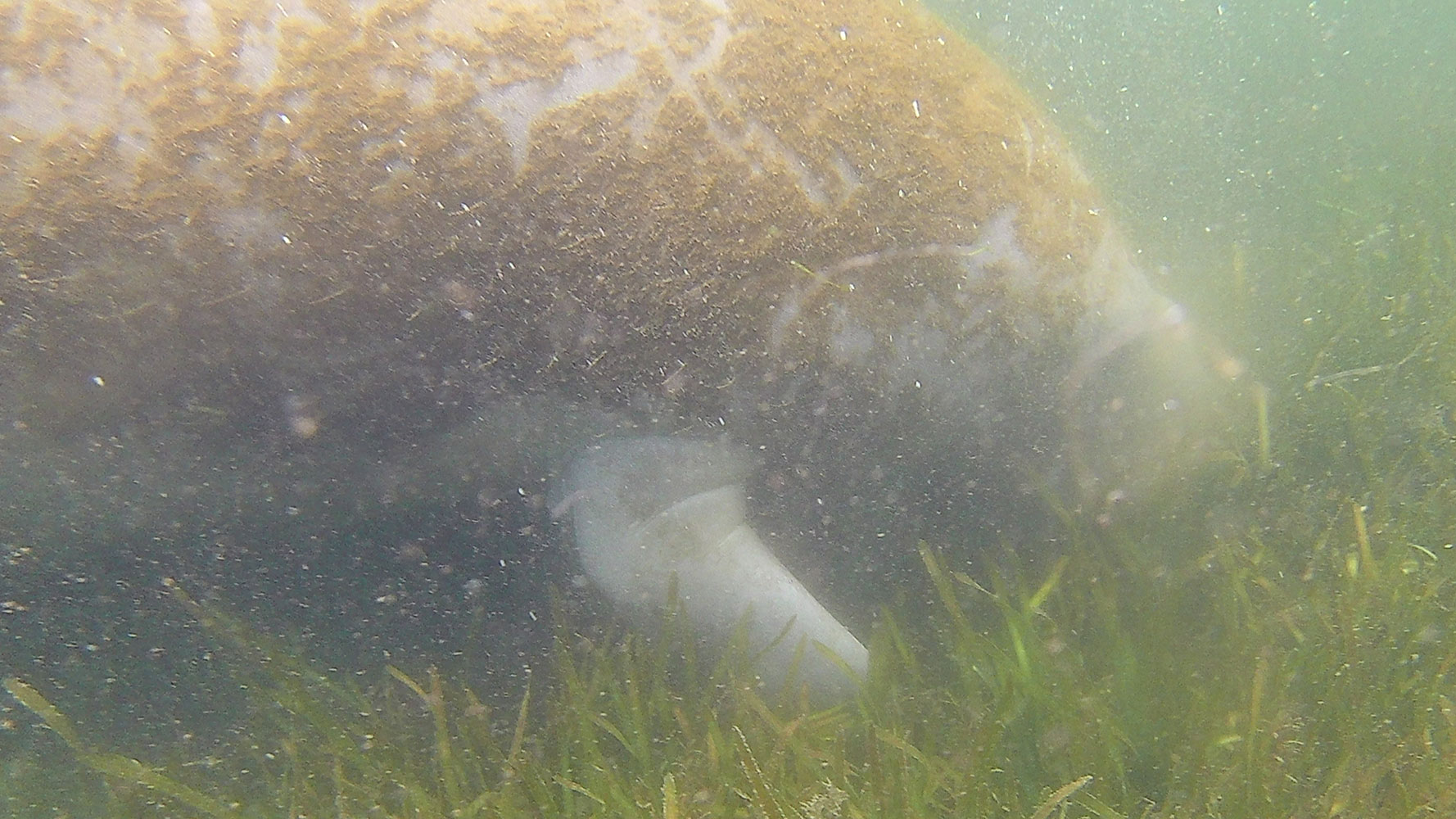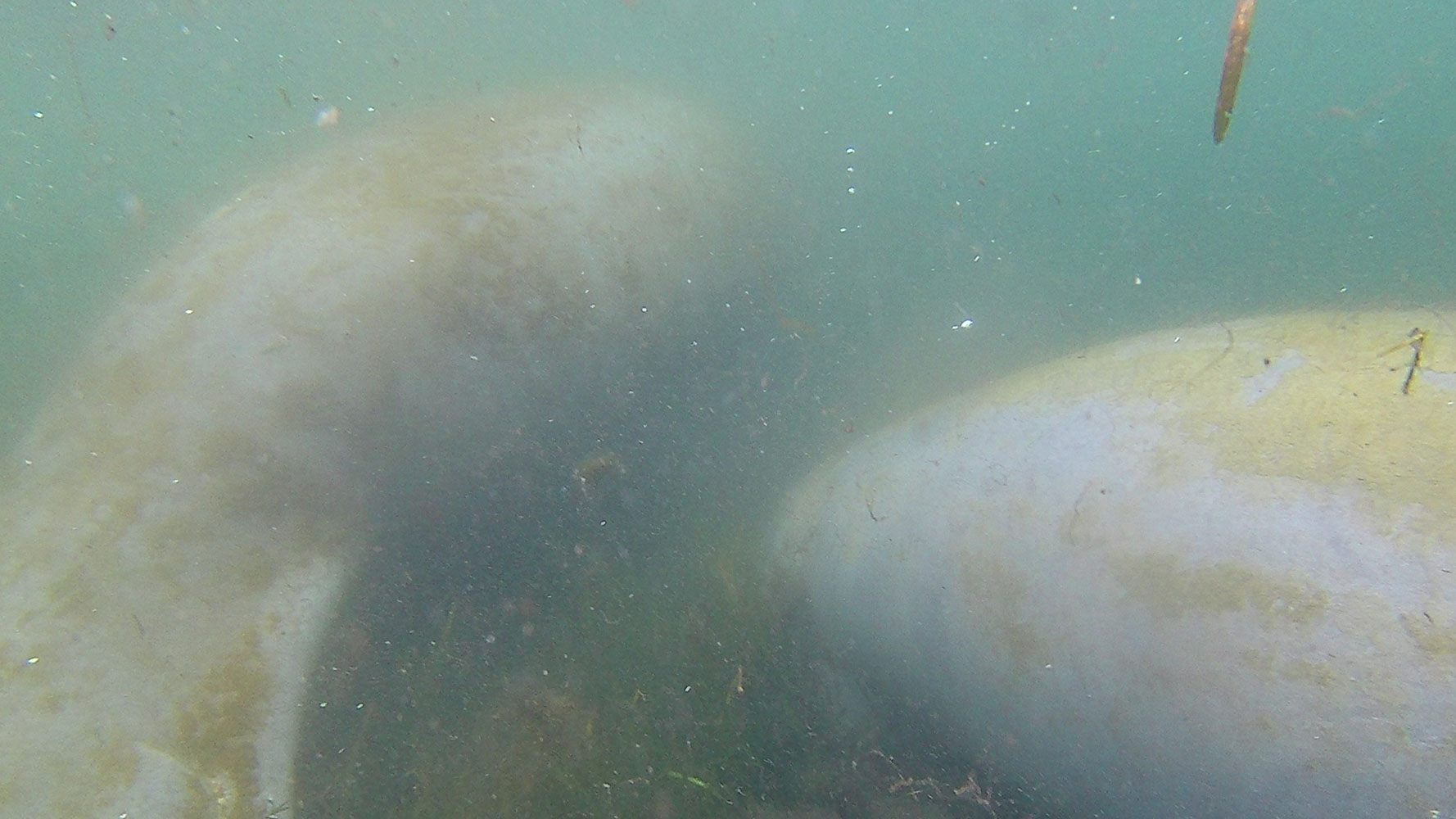 Momma and Baby Manatee
Since we spotted the manatees early on, we were able to take some time to swim around the beach at Hunter Springs Park. It's an area you can access for a beach and a small boardwalk for manatee sighting. More on that below.
Swimming with Manatees On Your Own
As I mentioned, a "swimming with manatees" tour is not the only way to see manatees. You can go to a park like Hunter Springs and swim from there if you're an experienced swimmer (or bring a noodle). Remember that splashing is not allowed past the beach markers. There are also several places to launch a kayak if you have one or rent a kayak. However, Crystal River has many restrictions and access is limited – which is another reason we opted for an organised tour. In retrospect, it was most expensive but the best option for us. Next time, I think we'll grab noodles and float around from the beach.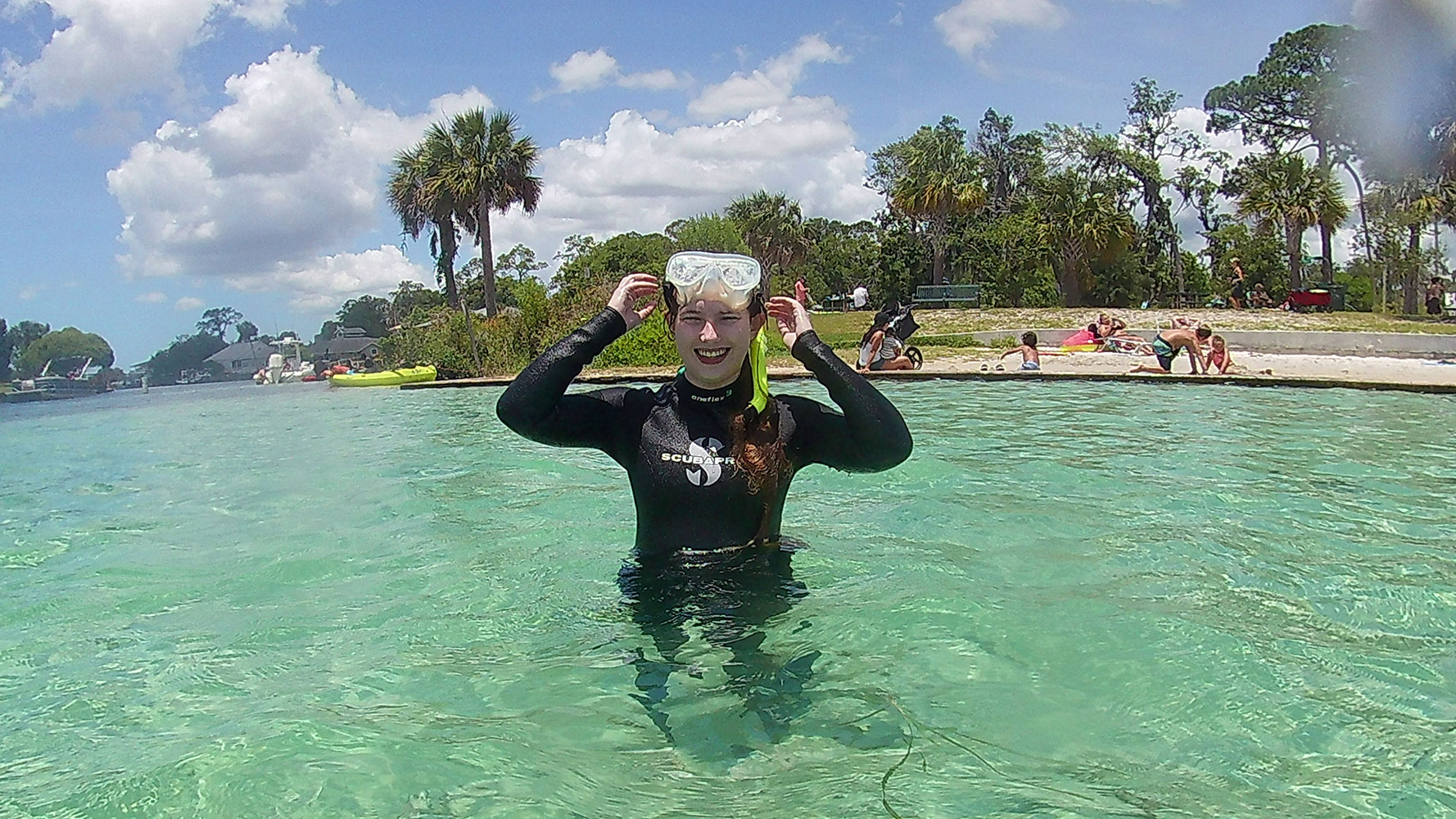 Other Activities in Crystal River
We were short on time so we didn't explore much of Crystal River. There's Three Sisters Springs, the premier spring in which to see the manatees. However we'd already been swimming with a few so, while the spring looked beautiful, we didn't see any need to stop by. There's also the Crystal River National Wildlife Refuge. I can't see that there would be any bad choices in Crystal River!
You can also see pre-Columbian burial grounds in Crystal River Archaeological State Park if you have time.
Overall, Crystal River is a beautiful place and swimming with the manatees was fun but relaxing. We had a great time and would definitely come back to see more wildlife. I'd especially like to see Crystal River in the winter when the manatees are there by the hundreds!
Save the Manatee
I want to re-iterate that this post is not sponsored. I just wanted to take this opportunity to share a foundation called Save the Manatee, which first introduced me to manatees in my youth. My aunt lives down in Florida and would "adopt" a manatee for me and my brother every year. If you want to help this endangered species, Save the Manatee Club has a 91.77% rating on Charity Navigator and donations are tax-deductible. They also have an online store to buy manatee merch.
World Wildelife Fund is another great charity and they also have a store where you can "adopt" a manatee.
2021 has been the deadliest year for manatees so far and that's horrifying. Any help would be greatly appreciated.
I think if we do things like go swimming with the manatees, we should also be willing to help and protect them.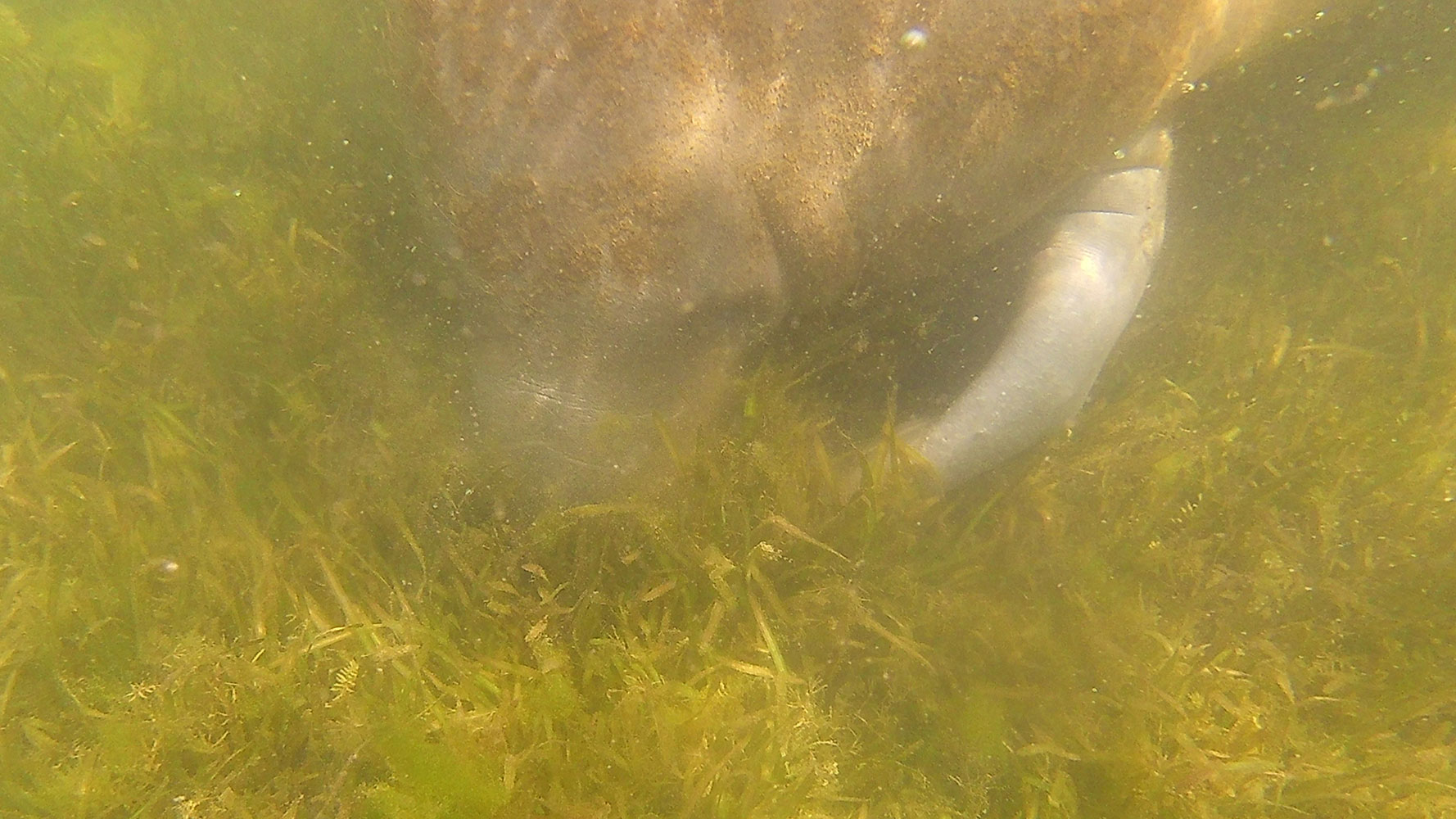 Have you ever been swimming with manatees? Was it in Crystal River or somewhere else? I'd love to hear about your experiences in the comments!
Pin This for Later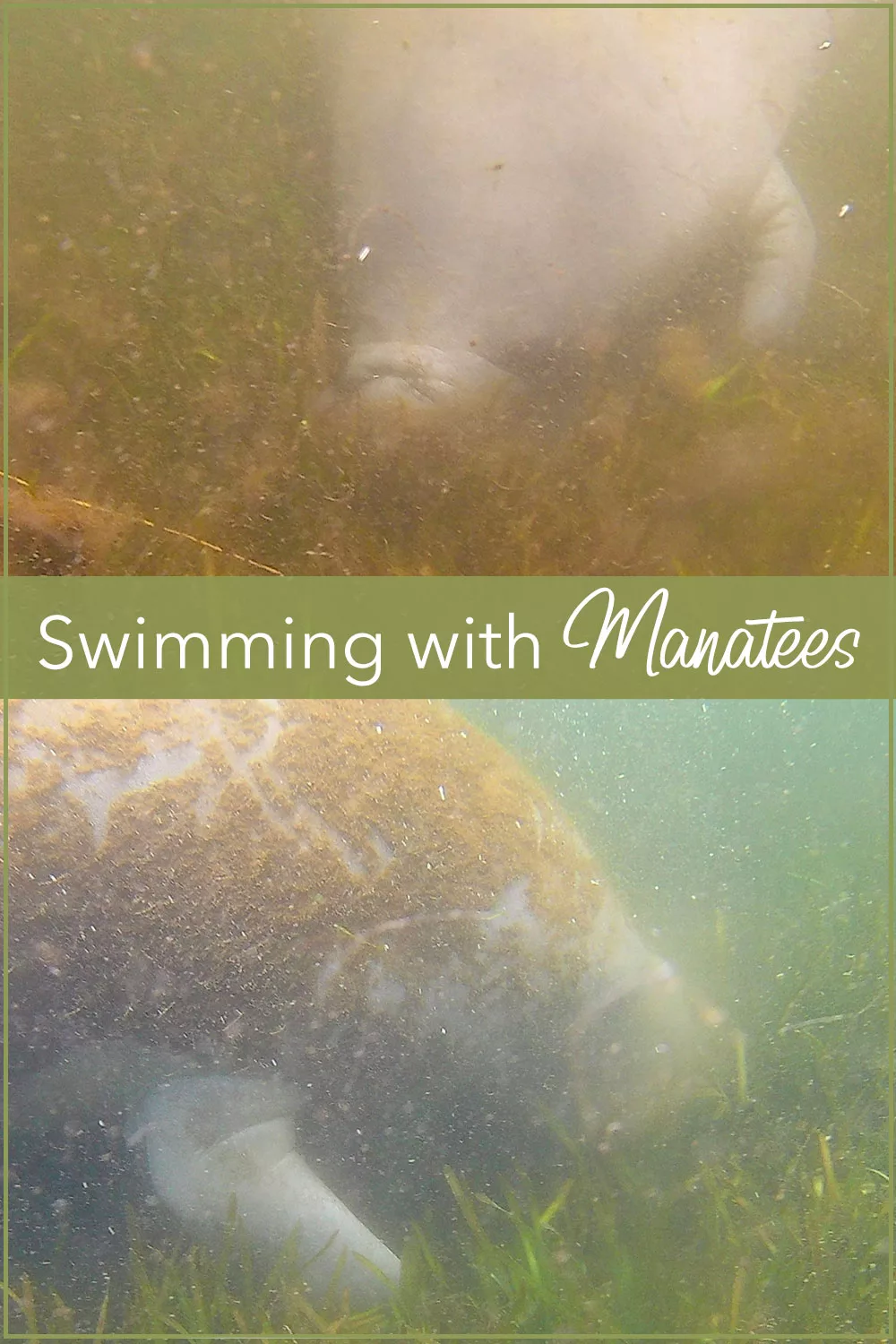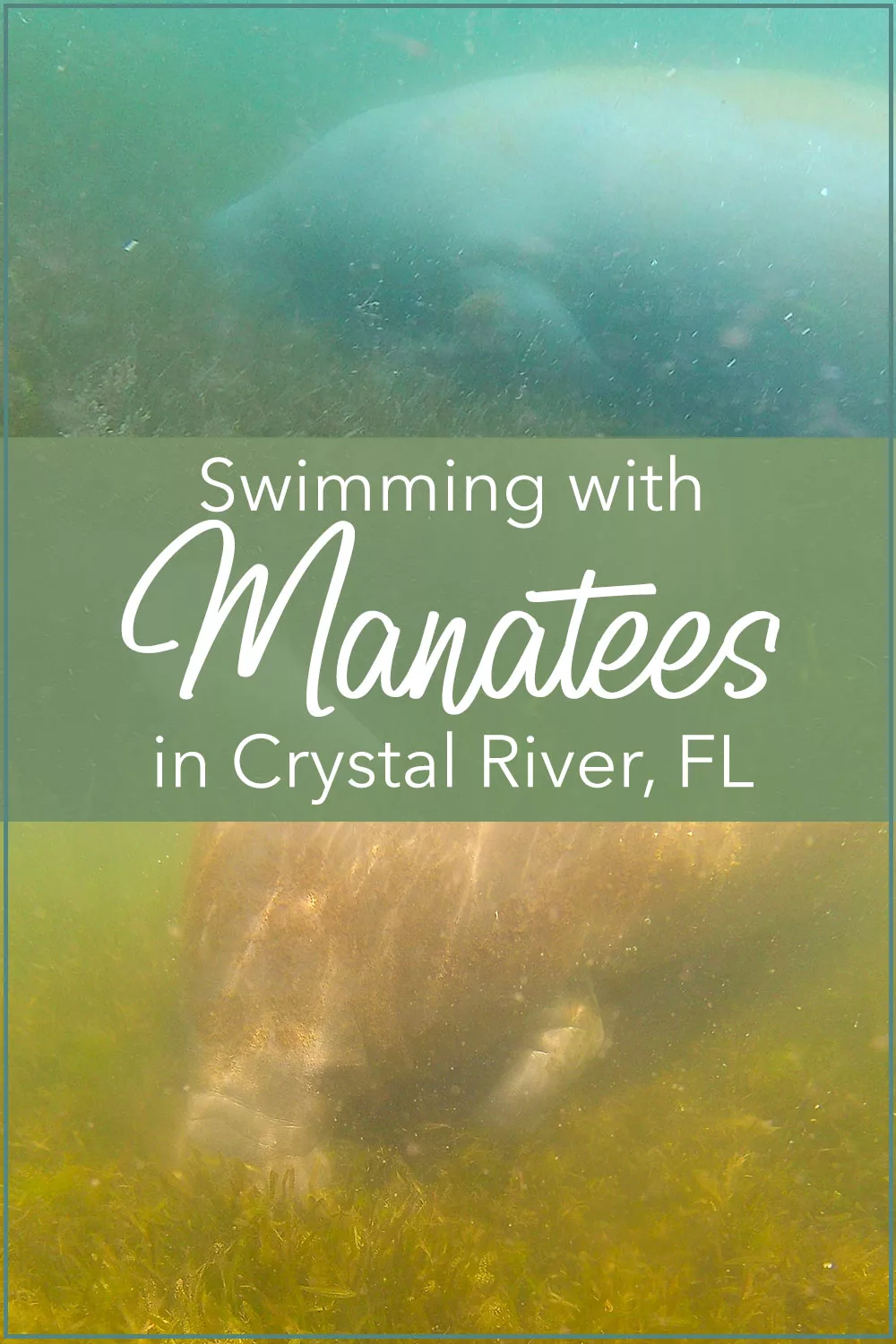 Please note that this post may contain affiliate links. These are at no additional cost to you but I receive a commission if you make a purchase through the link, and the commission helps me run my blog. Thanks for your support!
Tags:
crystal river
,
florida
,
north america
,
united states
Sharing is Caring
Want to support me?
Buy me a Coffee