A Visit to Assisi, the Home of Saint Francis – Things to Do & Travel Guide
Originally published on Friday, February 17, 2023
I first visited Assisi when I was 16 and absolutely fell in love with it. Even though rain was pouring down hard, I found the town so charming and loved the sweeping views it had over the Umbrian countryside. So when I returned to Italy as an adult, Assisi made my list of places to return. Not only did I get perfect weather, I had a lot more time to explore and appreciate its extensive history.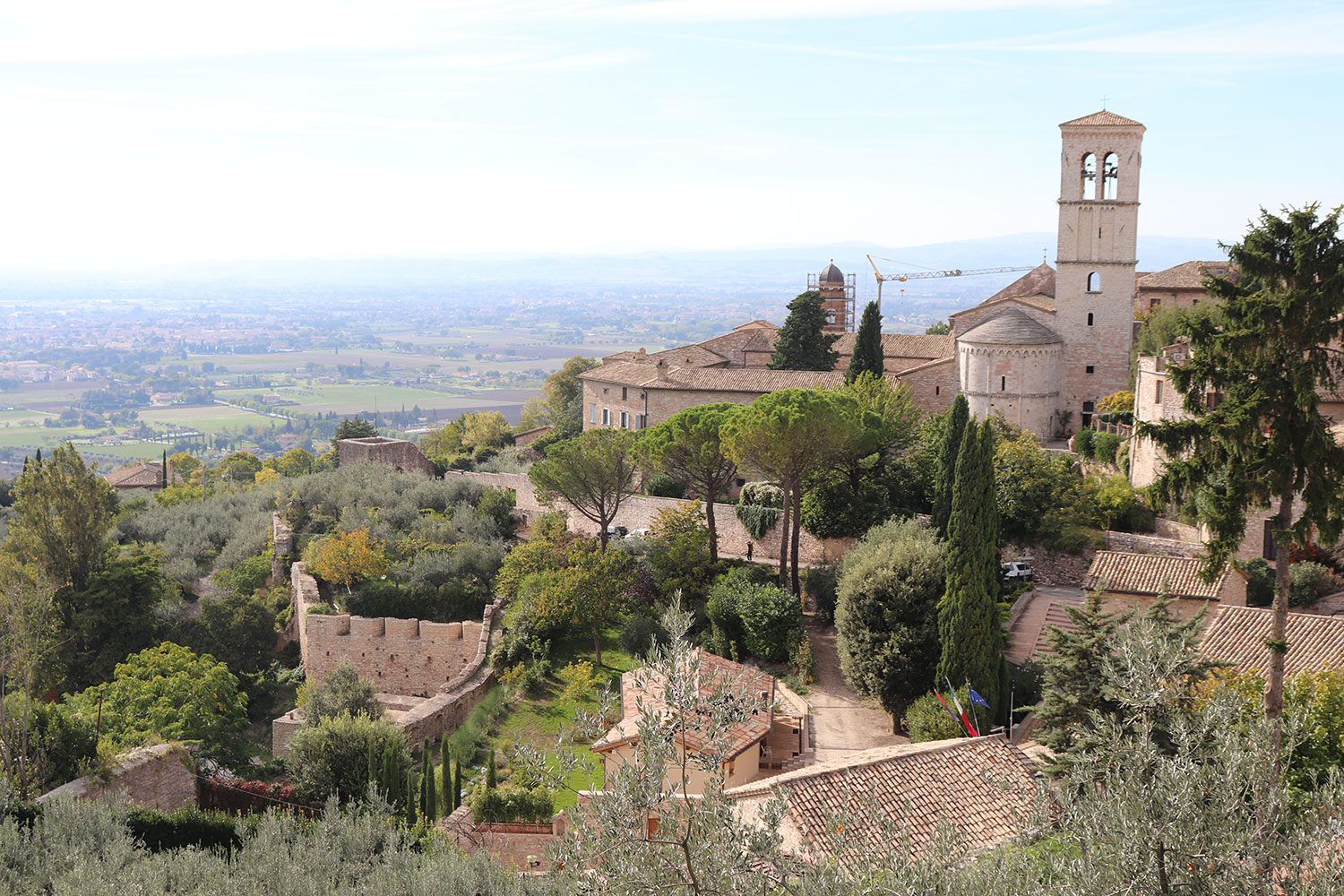 The History of Assisi
Assisi dates back to the times of the Romans when it was probably called "Assisium." Its history is tumulus with invasions from and battles with the Ostrogoths, Byzantines, Lombards, Carolingians, and Perugians – and I'm probably missing a few. When St Francis died in 1226, Assisi already started its association with the saint and the Franciscan Order.
The city physically split in the 14th century between the Guelphs (supports of the Pope) and Ghibellines (supporters of the Holy Roman Empire). It continued to be attacked and occupied by groups such as the Perugians and even Nazis.
So it's miraculously indeed that today it has so many ancient and priceless structures and is one of the biggest historically important towns of Italy. It is now a UNESCO World Heritage Site and a pilgrimage site. Assisi is also home to several saints, the most notable of them being St Francis – one of Italy's patron saints.
St Francis of Assisi
St Francis has one of the most interesting lives of the saints I've read about. The namesake of the Franciscan Order, he's also one of the most well known.
St Francis was born to a wealthy family circa 1181 in the town of Assisi. Even though he travelled and indulged in fine goods and food, he was very spirited and could be seen giving alms to the poor. His father was a cloth merchant and St Francis would give poor people cloth stolen from his father, and he'd deal with the repercussions and do it again. He was a bit like the Robin Hood of Assisi.
When he was in his mid-20s, he was praying in San Damiano church – a ruin – when Jesus came to him and told him to "repair the church." He stole money from his father to repair the church but it greatly angered his father. Francis gave the money back and exiled himself from the family, even giving back the clothes he was wearing. From then on he abolished owning worldly possessions and became a beggar to emulate the life of Jesus.
He started preaching the simple life void of material possessions and had a few followers within a few years. The Pope allowed the creation of the Franciscan Order in 1210. St Francis and his followers spent the next several years travelling extensively to convert others. He died of illness in 1226.
Things to Do in Assisi & Churches in Assisi
Aside from perhaps charming streets and unbeatable views, churches are the main draw of Assisi. Of course the most popular thing to do in Assisi is visit the Basilica of Saint Francis – which has eluded me twice. It dates to shortly after the death of St. Francis himself and was completed in 1253. The lower basilica holds St. Francis's tomb.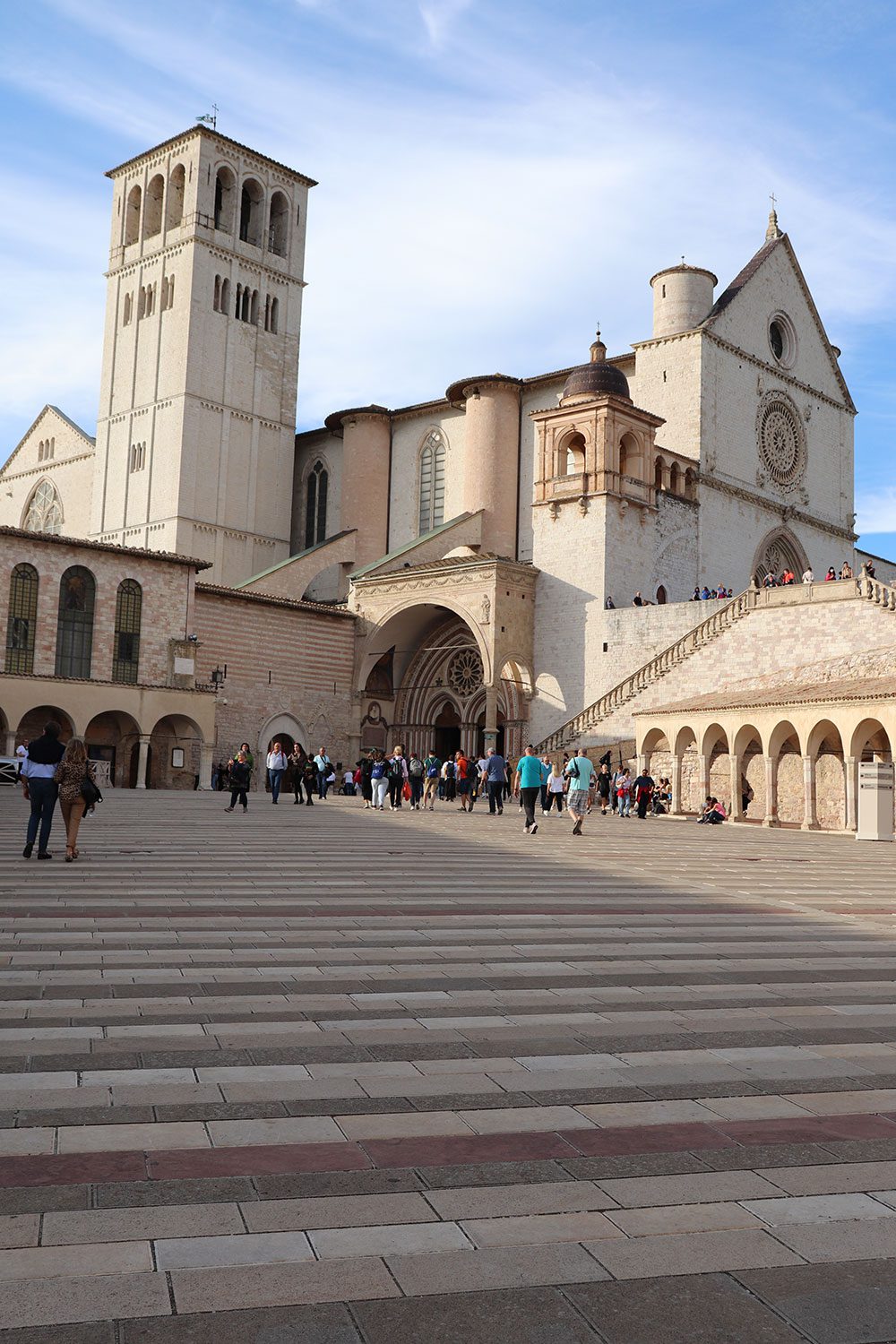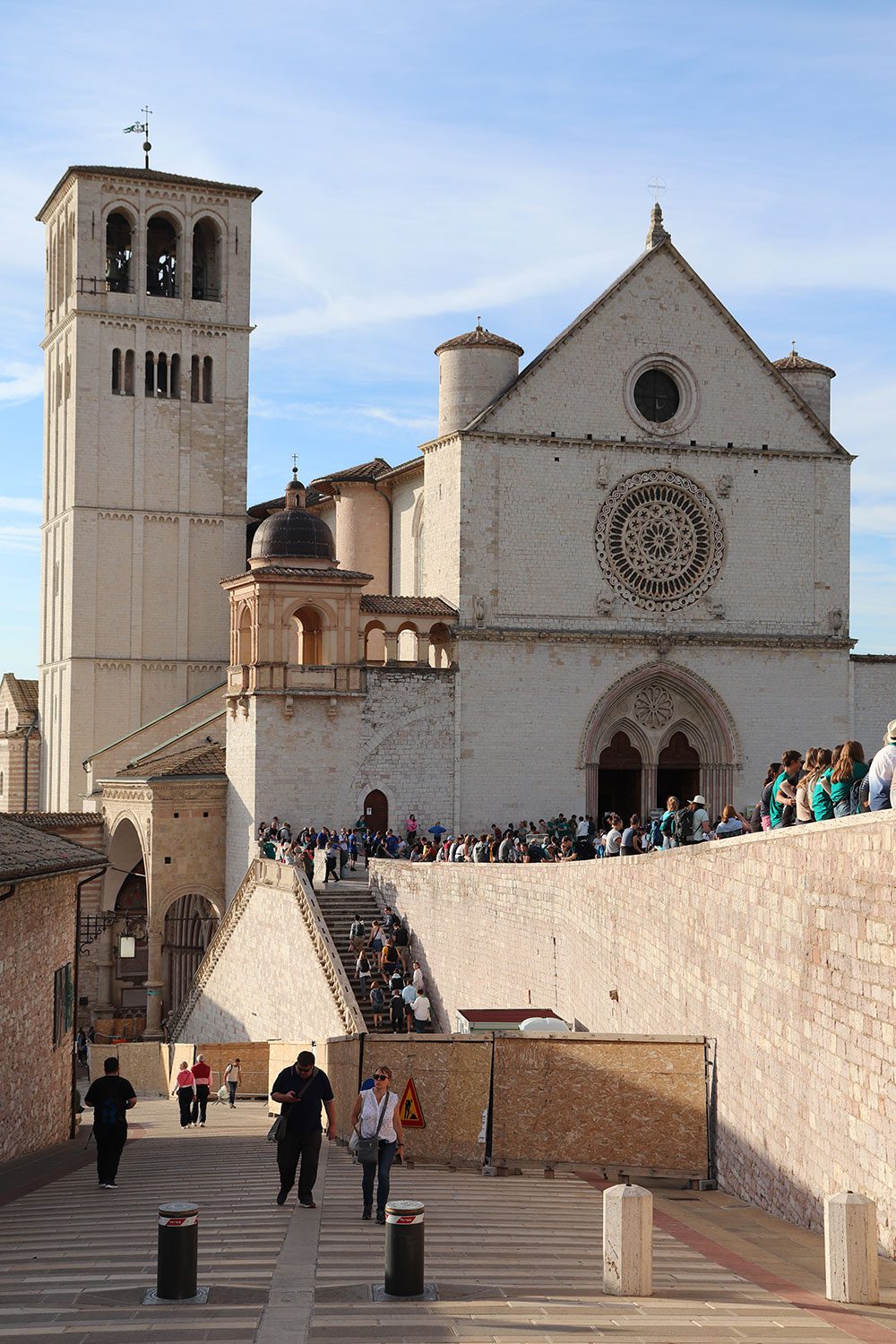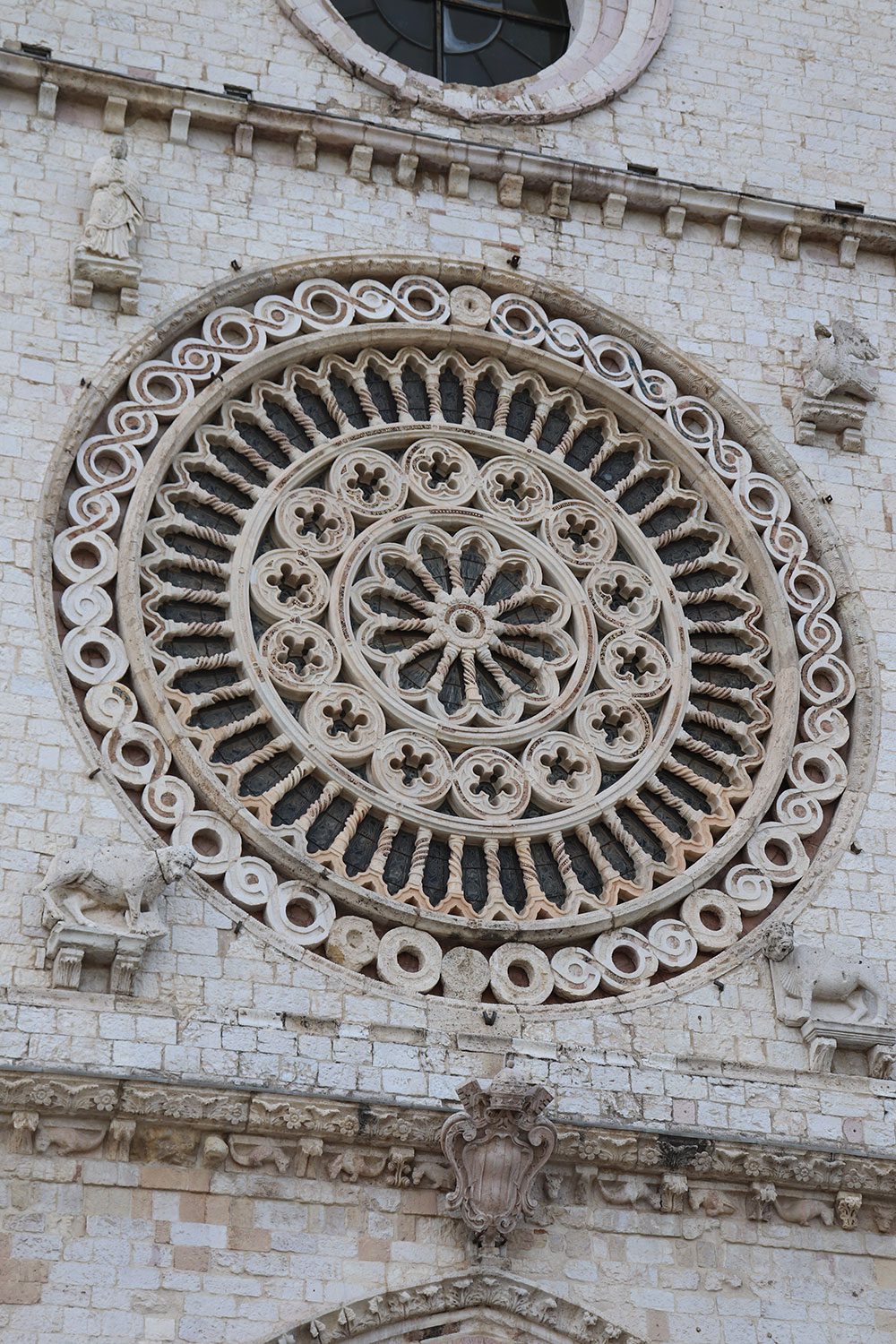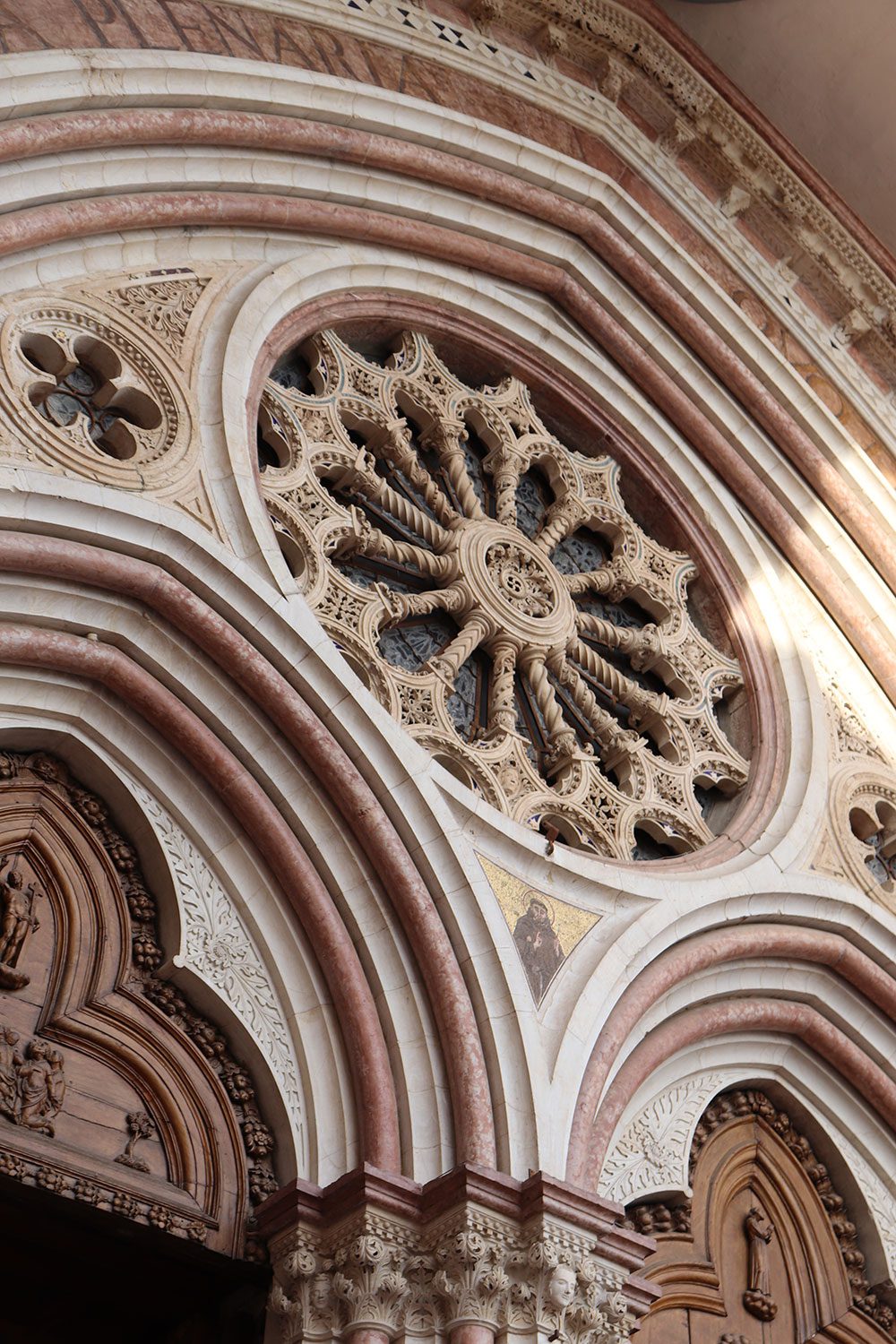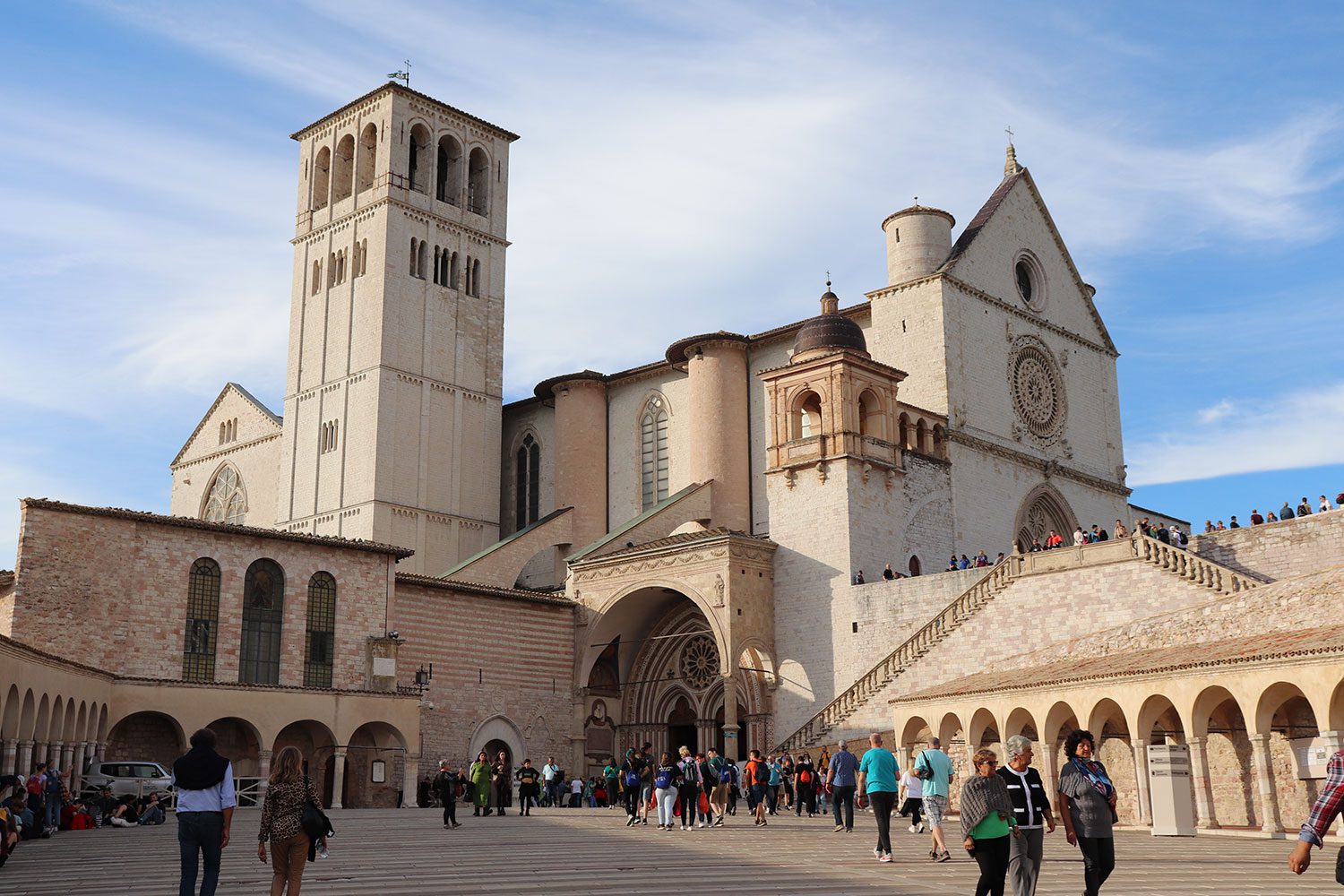 I have been to the lower chapel which is absolutely stunning (no photos were allowed). It also has the grave of Saint Francis himself. It's free and I highly recommend a visit. However the main cathedral, I have not visited. The first time I went, I was on an organised tour that for some reason took us there on a Sunday during mass, so the church was closed to visitors. The second time I went on October 4, the Feast Day of Saint Francis – i.e. the day he died. I thought it was a happy coincidence I booked that day but in reality, the place was packed with church groups and the cathedral was closed to visitors who weren't partaking in mass. So alas, I have not yet been inside the Basilica of Saint Francis. But the lower part of the cathedral is beautiful enough on its own to warrant a visit. And the part I haven't seen yet looks absolutely stunning in photographs.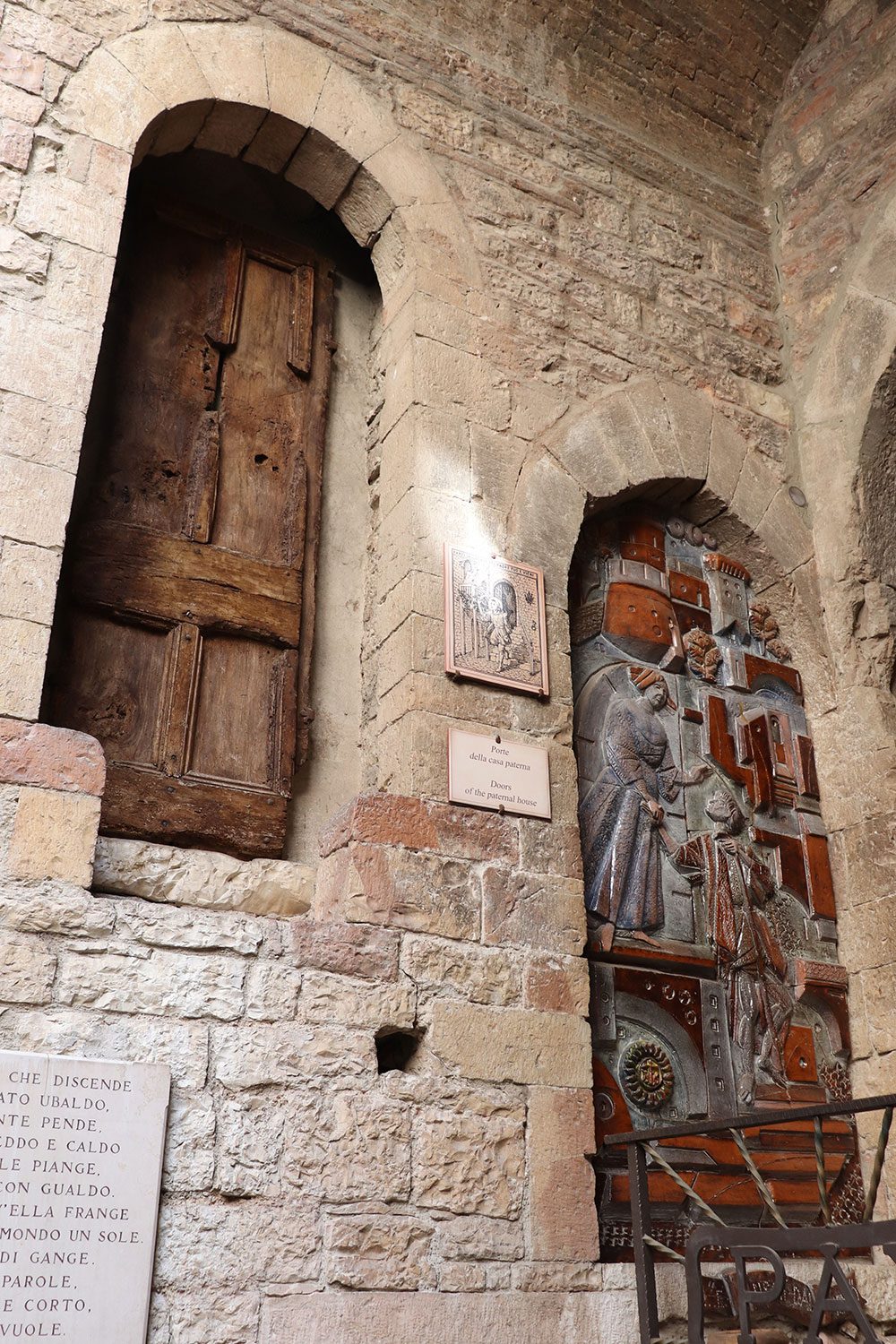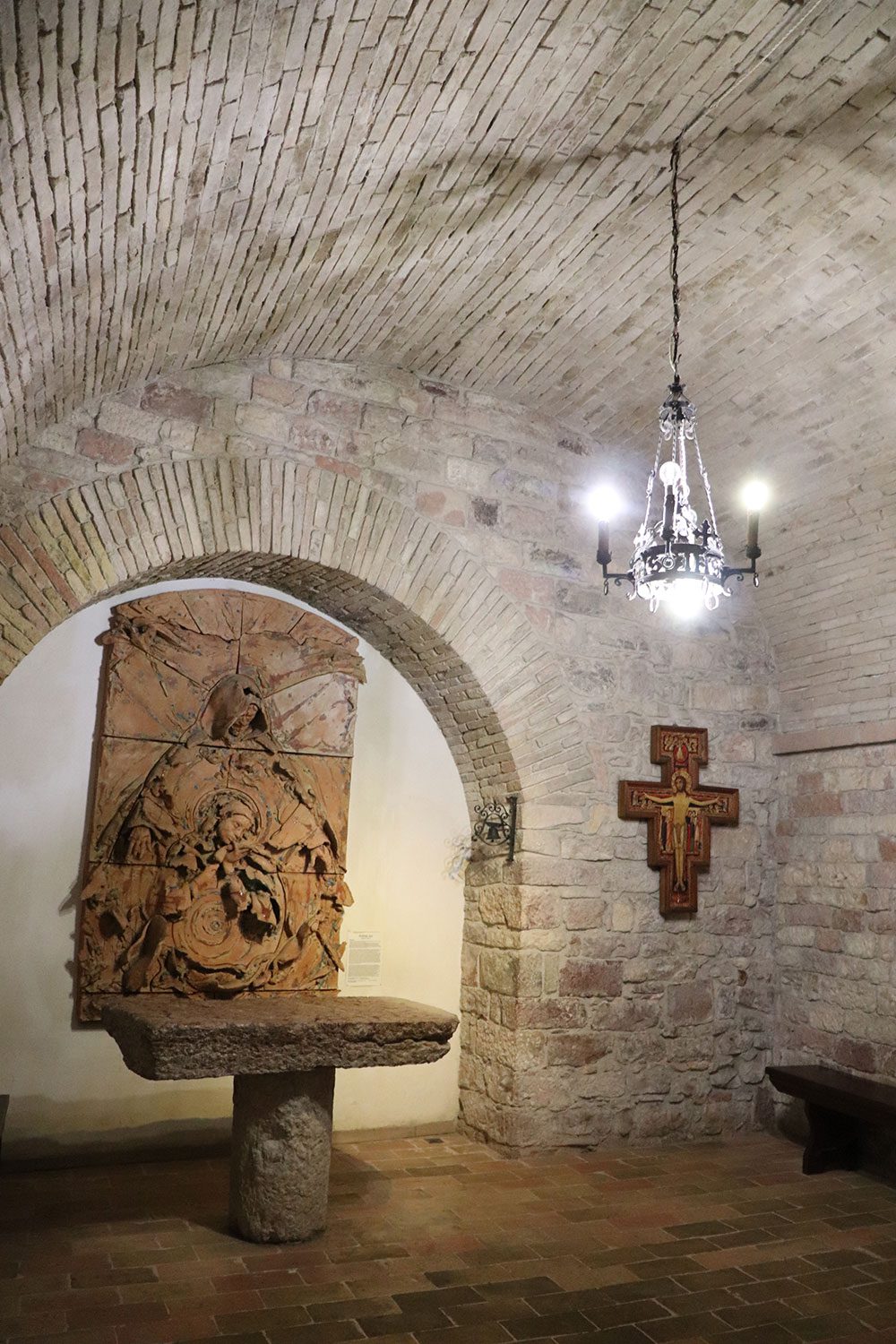 You can also see where St Francis lived with his family if you go to Chiesa Nuova (or New Church). If you're facing the church, head left and you should see some doors that lead to a stairwell. Off this stairwell is his home, which is marked with a placard. If you keep going down that small street you'll end up at a chapel. Not a church, but just one room. This is supposedly where St. Francis was born.
You can also visit Chiesa di San Damiano which is where Jesus talked to Francis. Unfortunately I didn't have time since it's out of the way but it does look very cute. It's now a convent.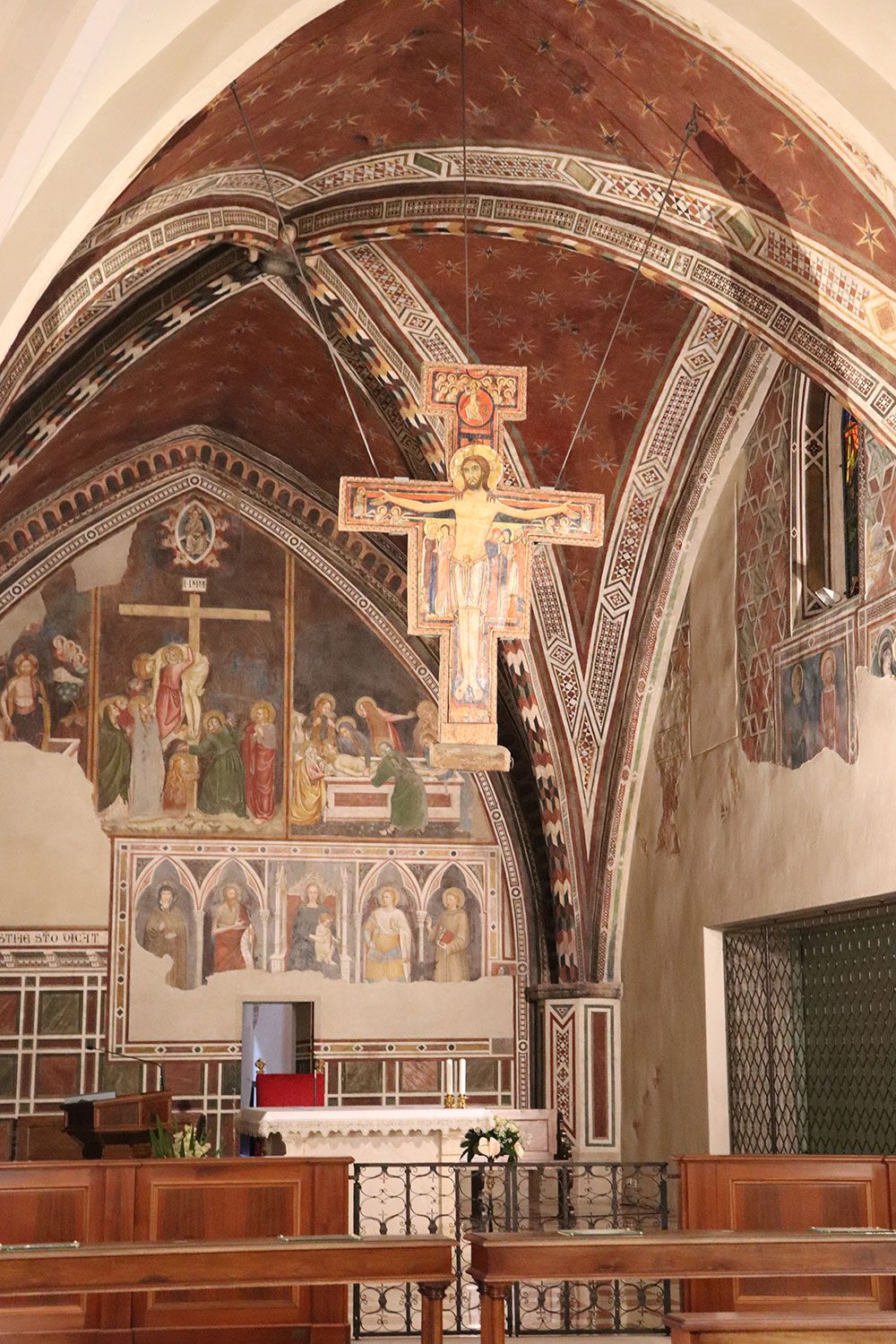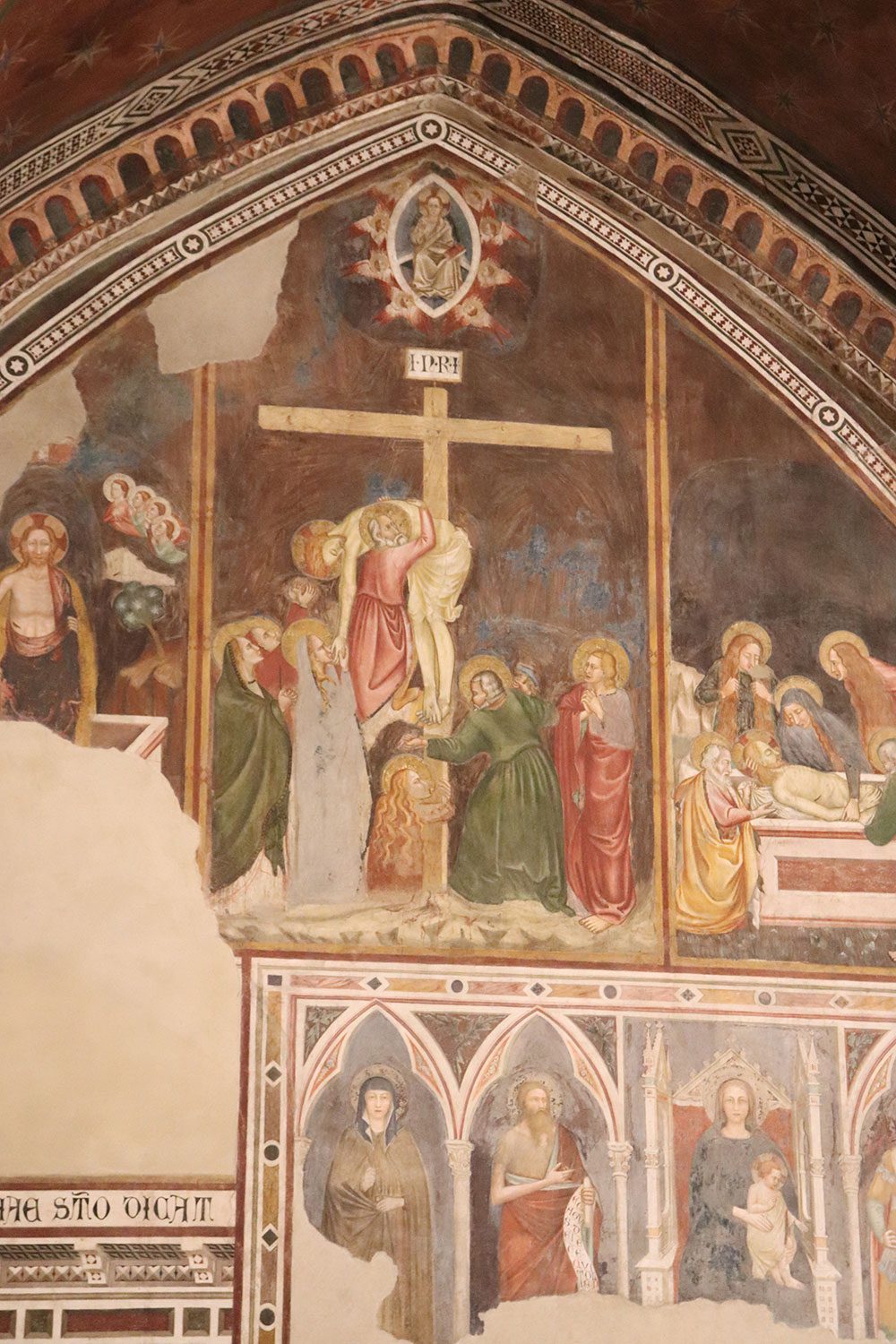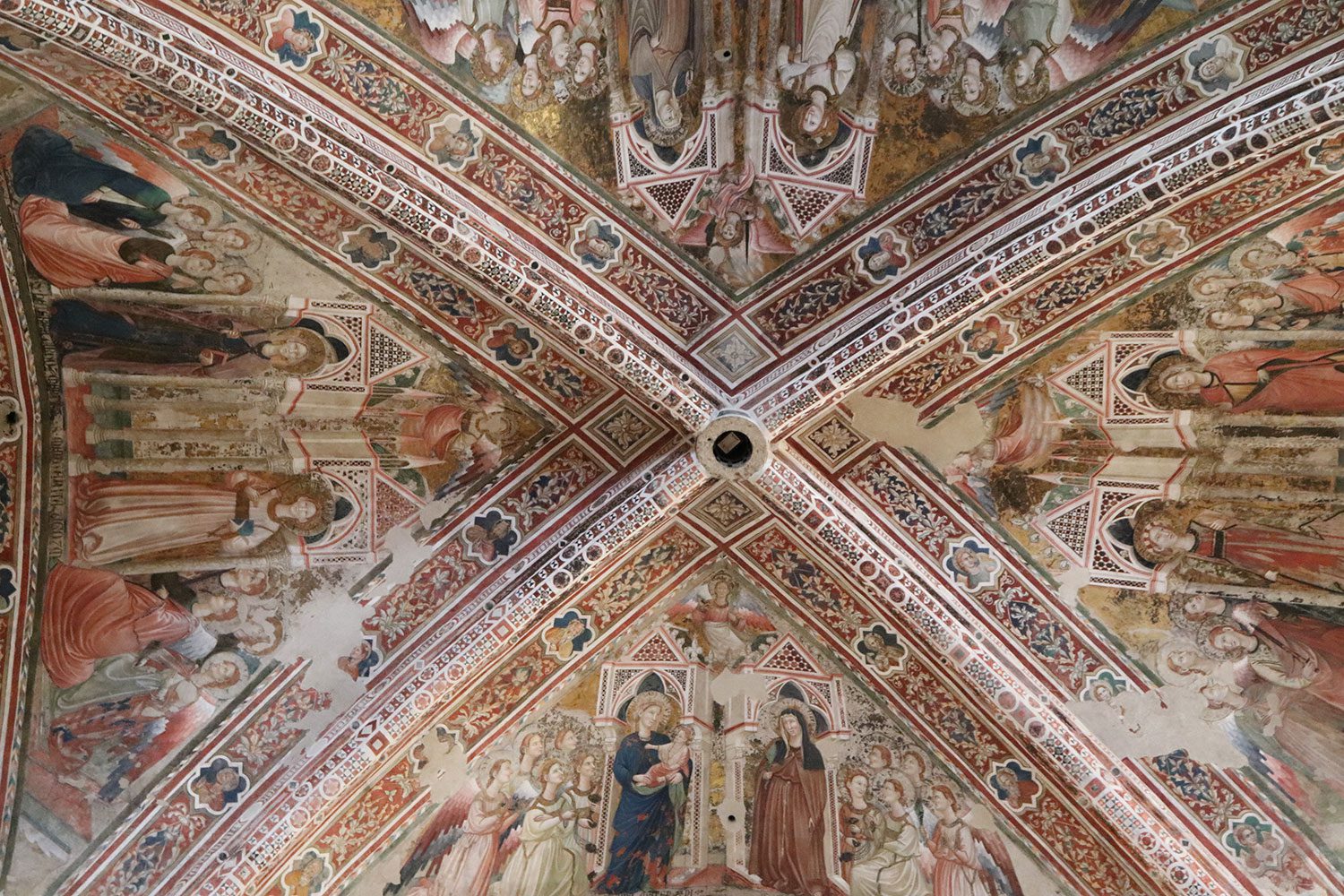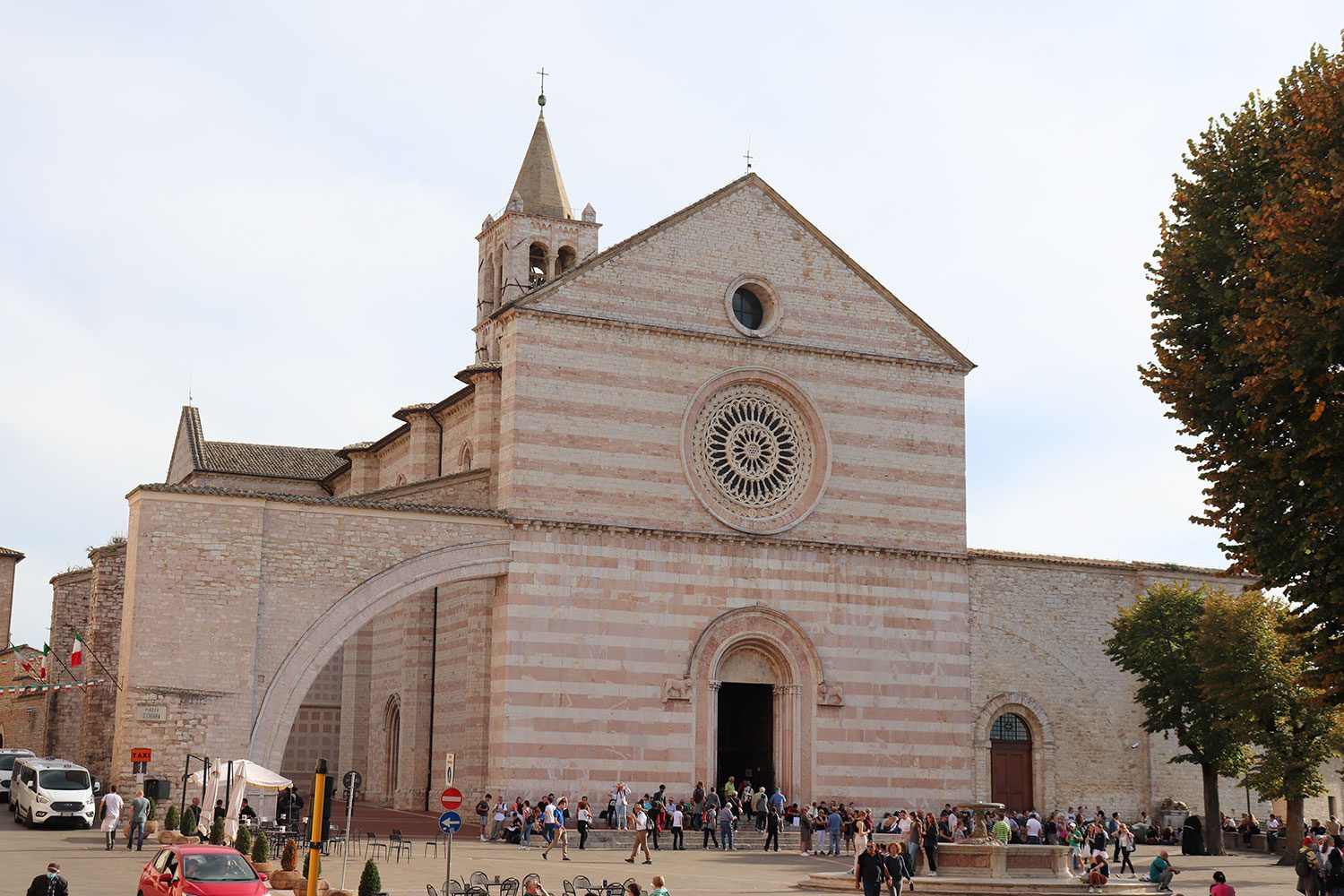 There are still lots of churches to see in Assisi and many of them are quite gorgeous. I really liked the Basilica of Santa Chiara – homing the remains of Assisi's other saint. St Clare was a contemporary of St Francis and founded the Order of Poor Ladies, which in a nutshell is the women's equivalent of the Franciscan Order. Much like the Basilica of St Francis, Santa Chiara dates to the mid 13th century. The main nave is a bit bare but if you go off to the side, the chapels are quite beautiful. It's free to visit so I recommend doing so. The basement is a paid visit but does have clothes that St Clare made herself, so that's quite cool.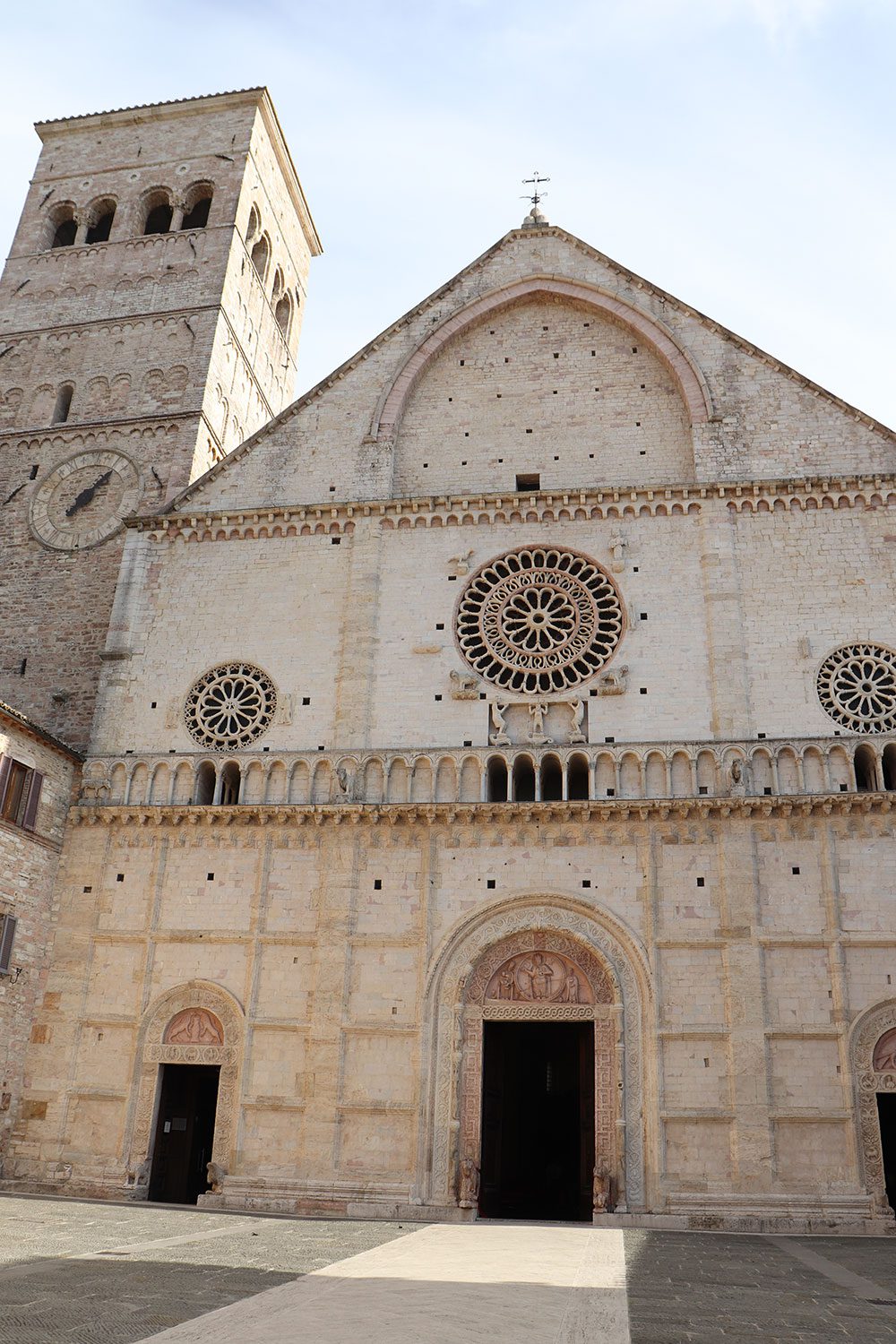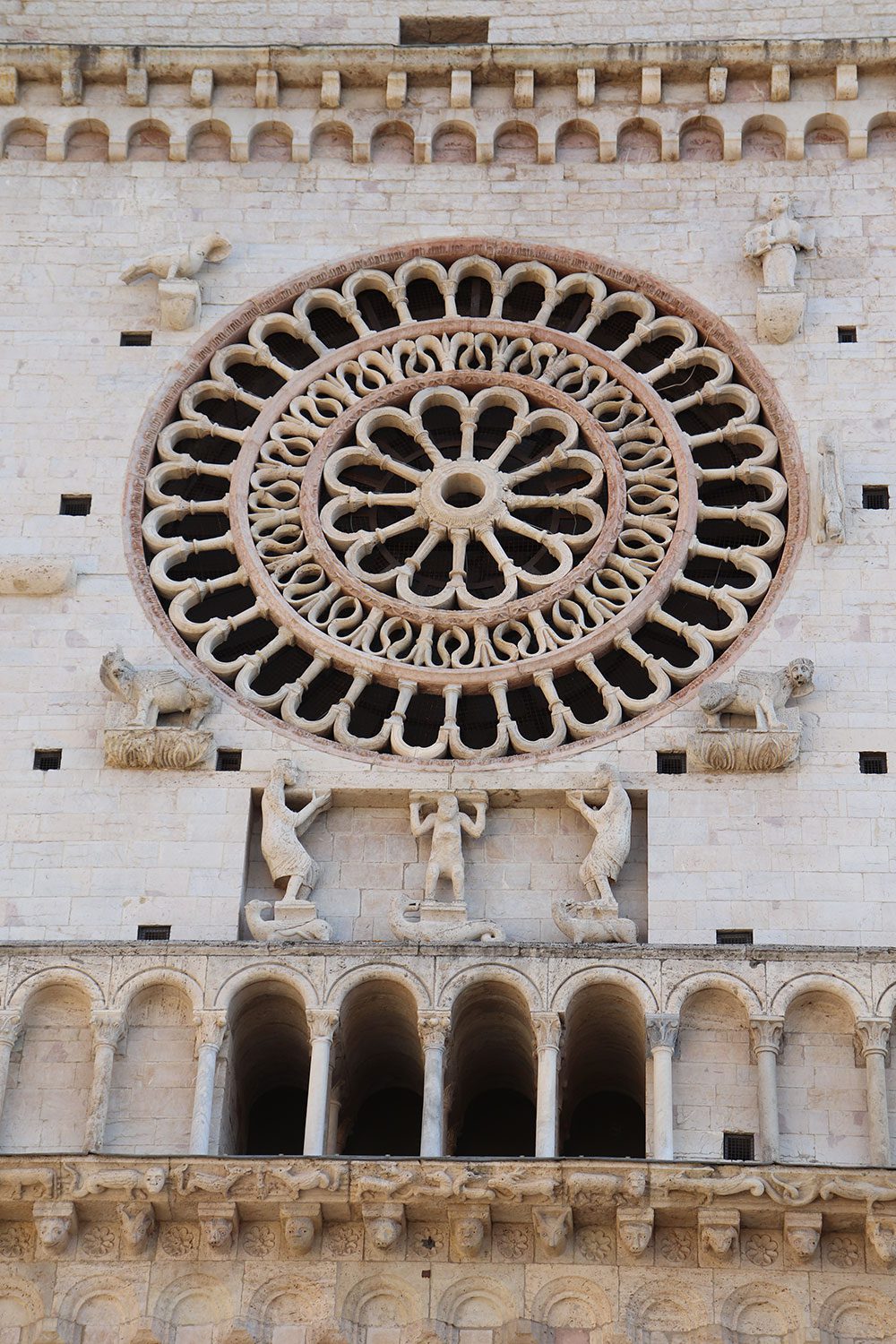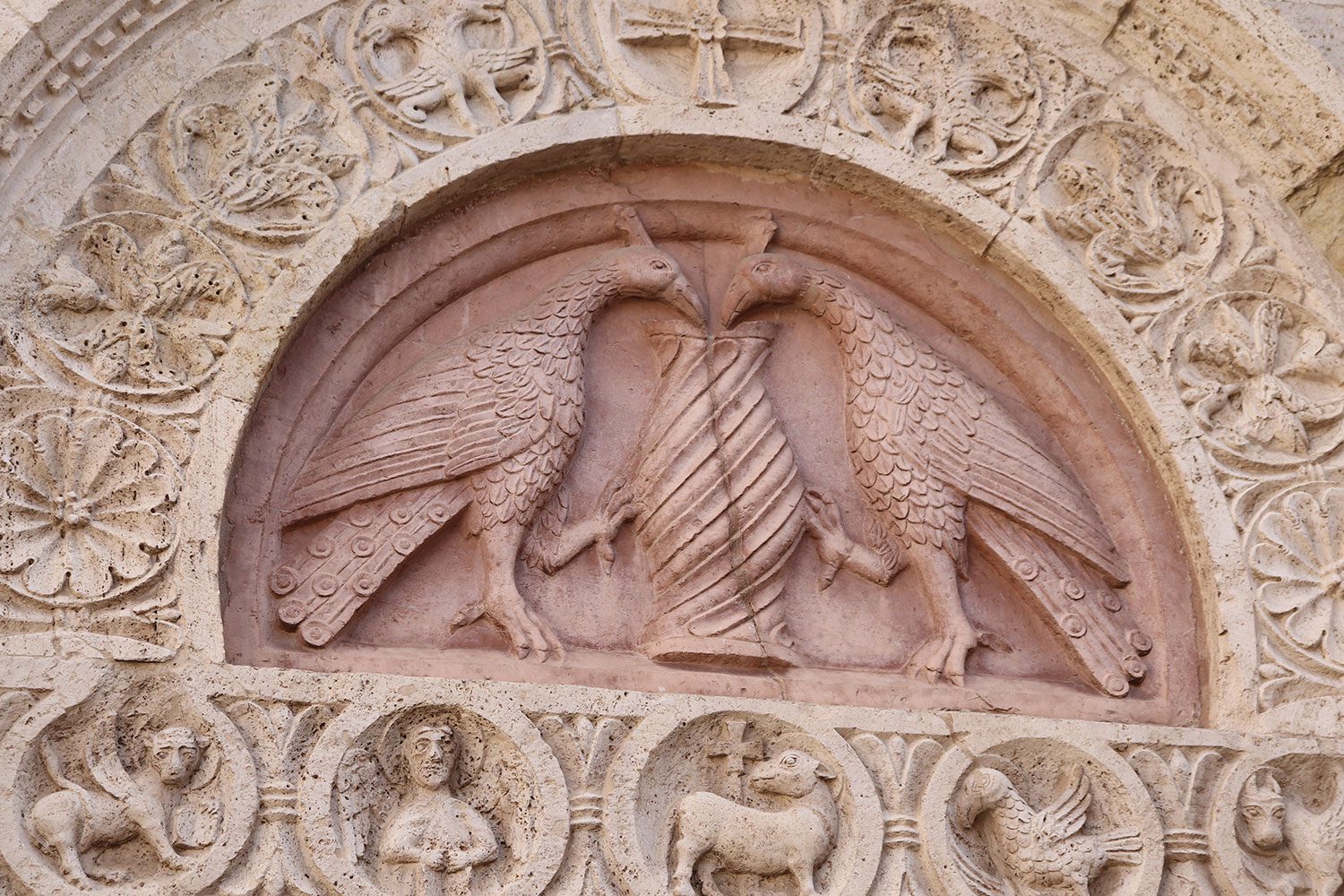 There is also the Cathedral of San Rufino (or Assisi Cathedral). Though the cathedral dates to the same time period as the other two churches, St Rufinus died much before the time of St Francis and St Clare, in the 3rd century. He also came from Assisi and is credited with converting the town to Christianity. His remains are also in the cathedral. It's a bit bare on the inside but is also free to visit. However the exterior is quite gorgeous and absolutely worth stopping by.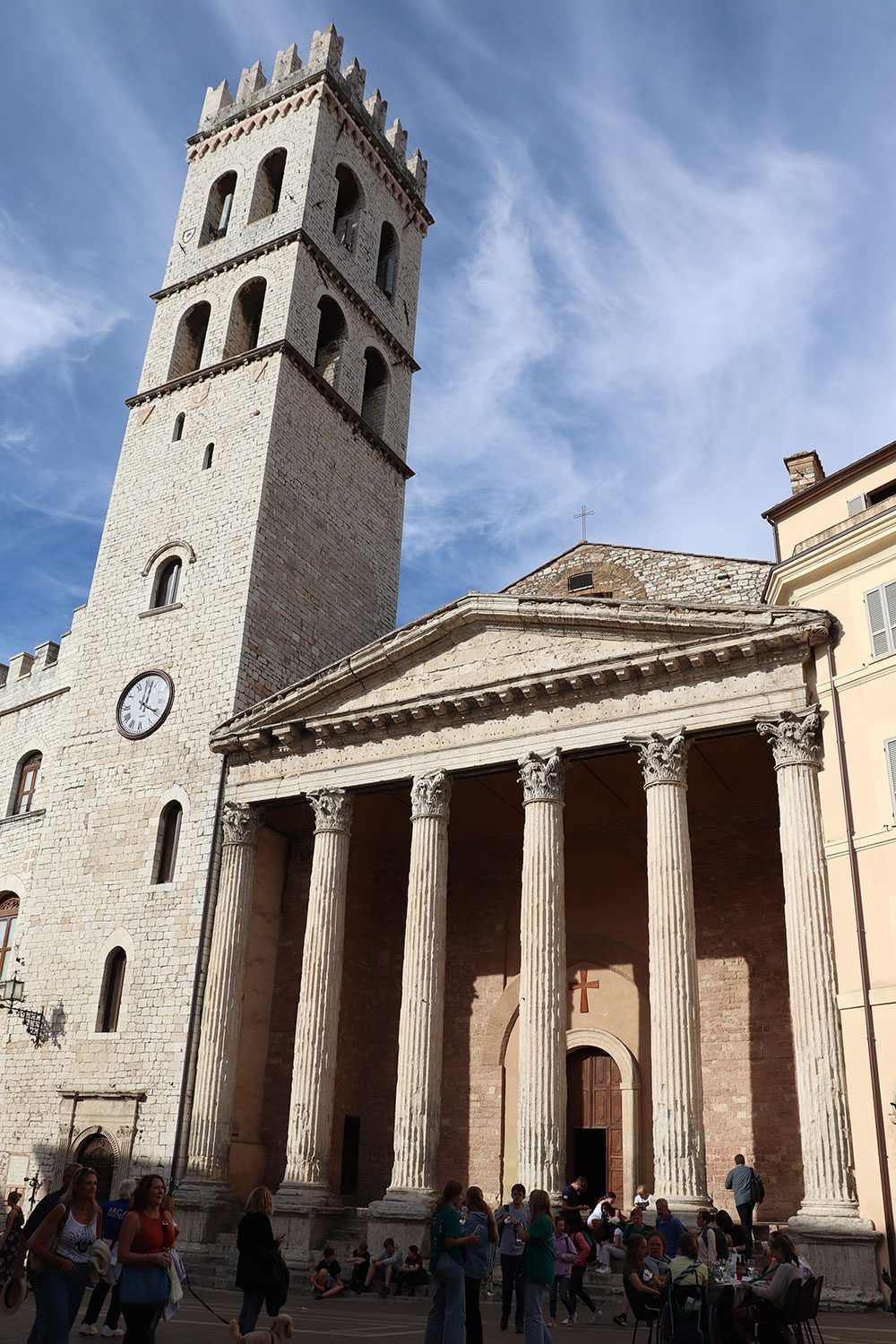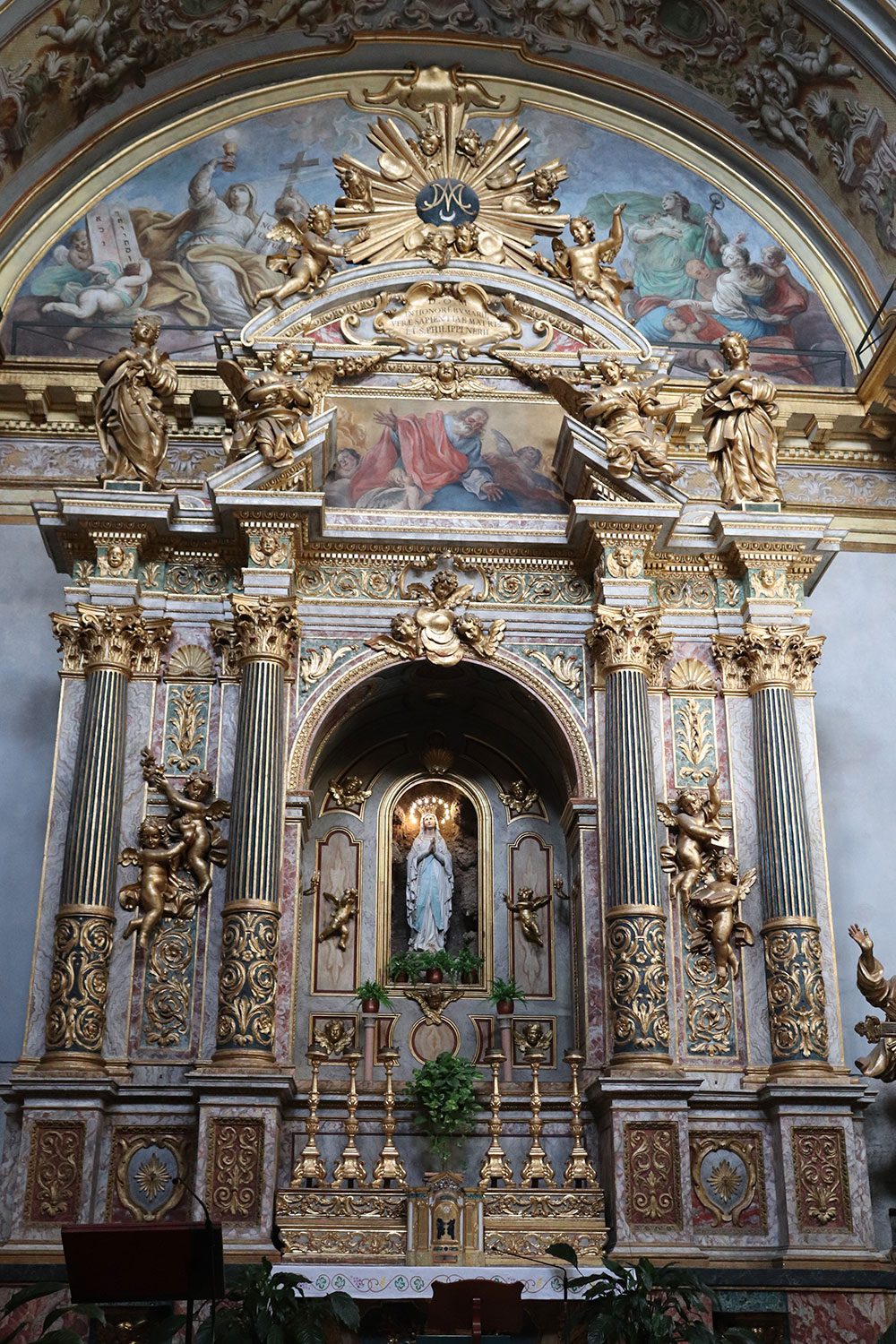 A newer but equally impressive church is Santa Maria Sopra Minerva, which dates to the 17th century. It is also free to visit and the interior is absolutely stunning. It's of course very different in decoration from the Basilica of St Francis but very much worth a stop in to see. It's hard to miss because outside is the remnants of the ancient Roman Temple of Minerva, dating 1600 years before the current church. It's a beautiful reminder of just how old Assisi is and how much it's seen. If you're interested in Roman Assisi then you can also visit the Archaeological Museum which houses the Roman forum.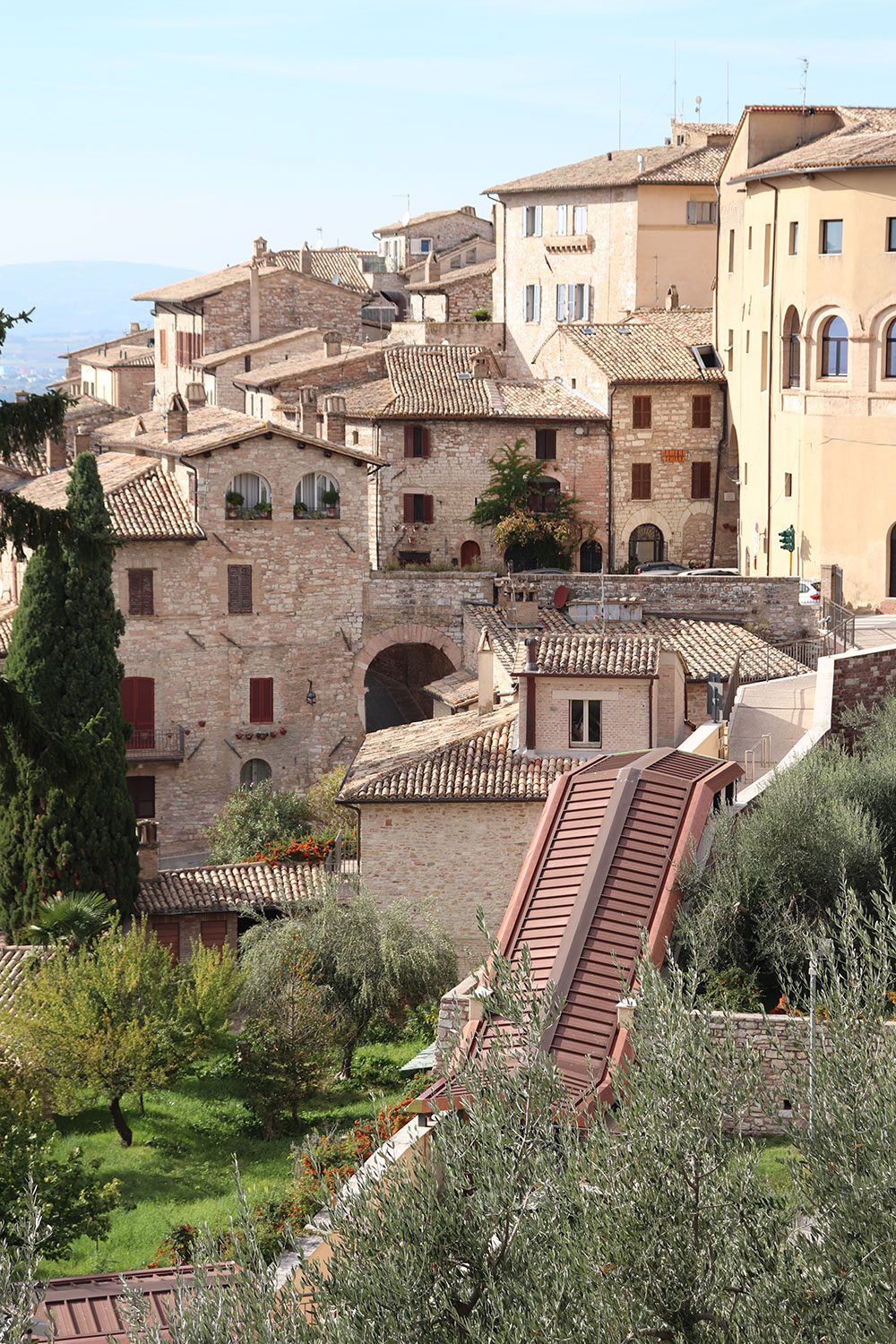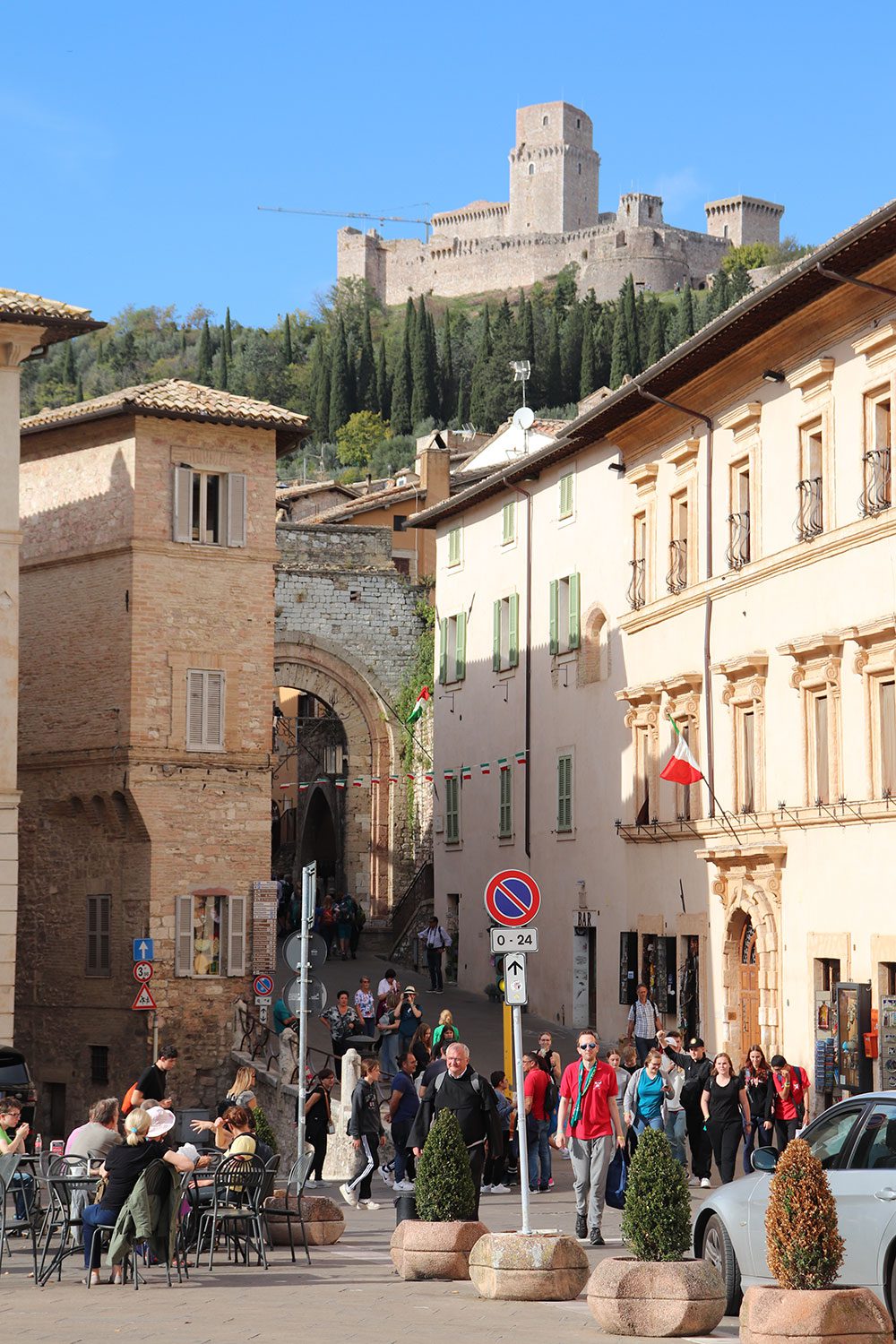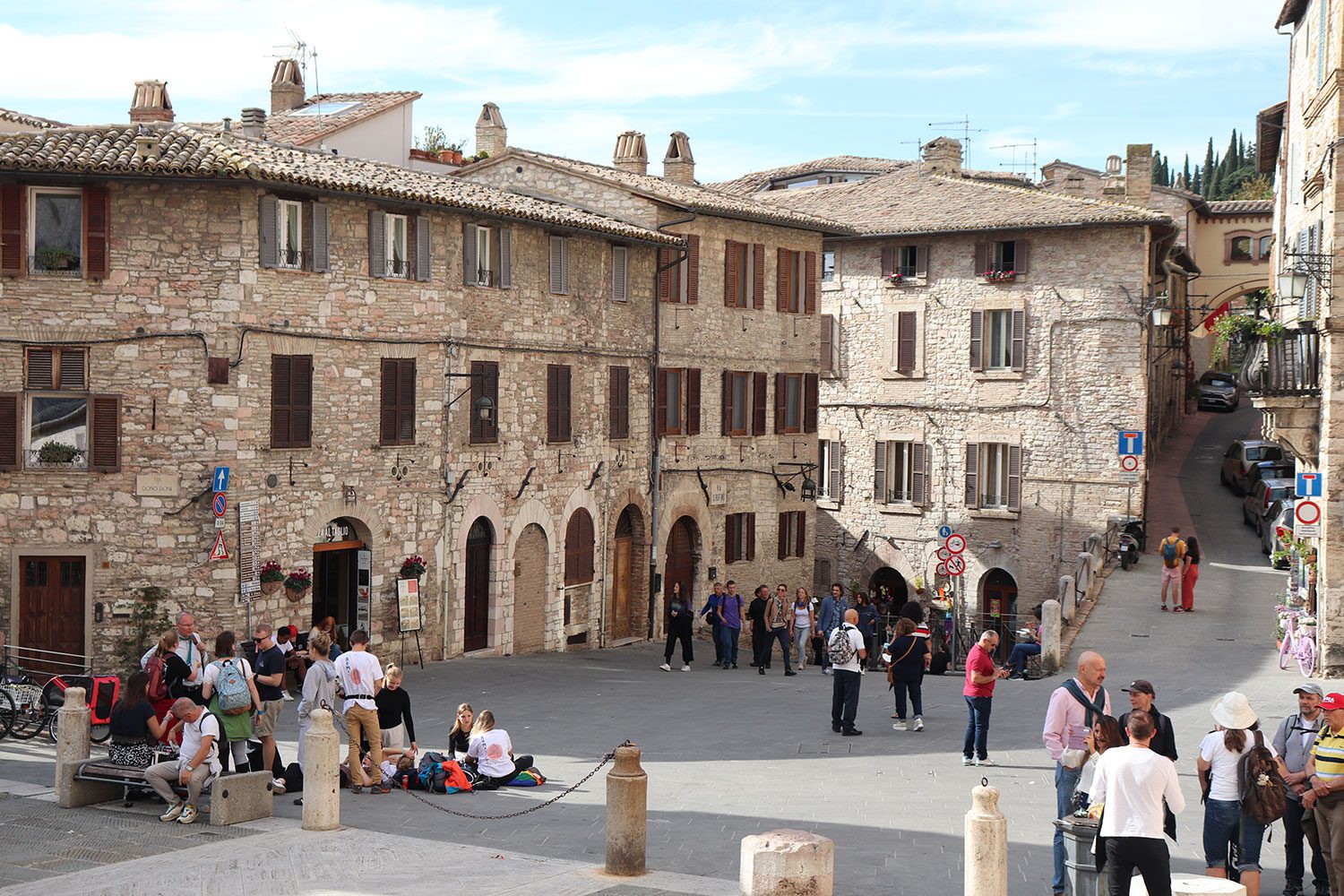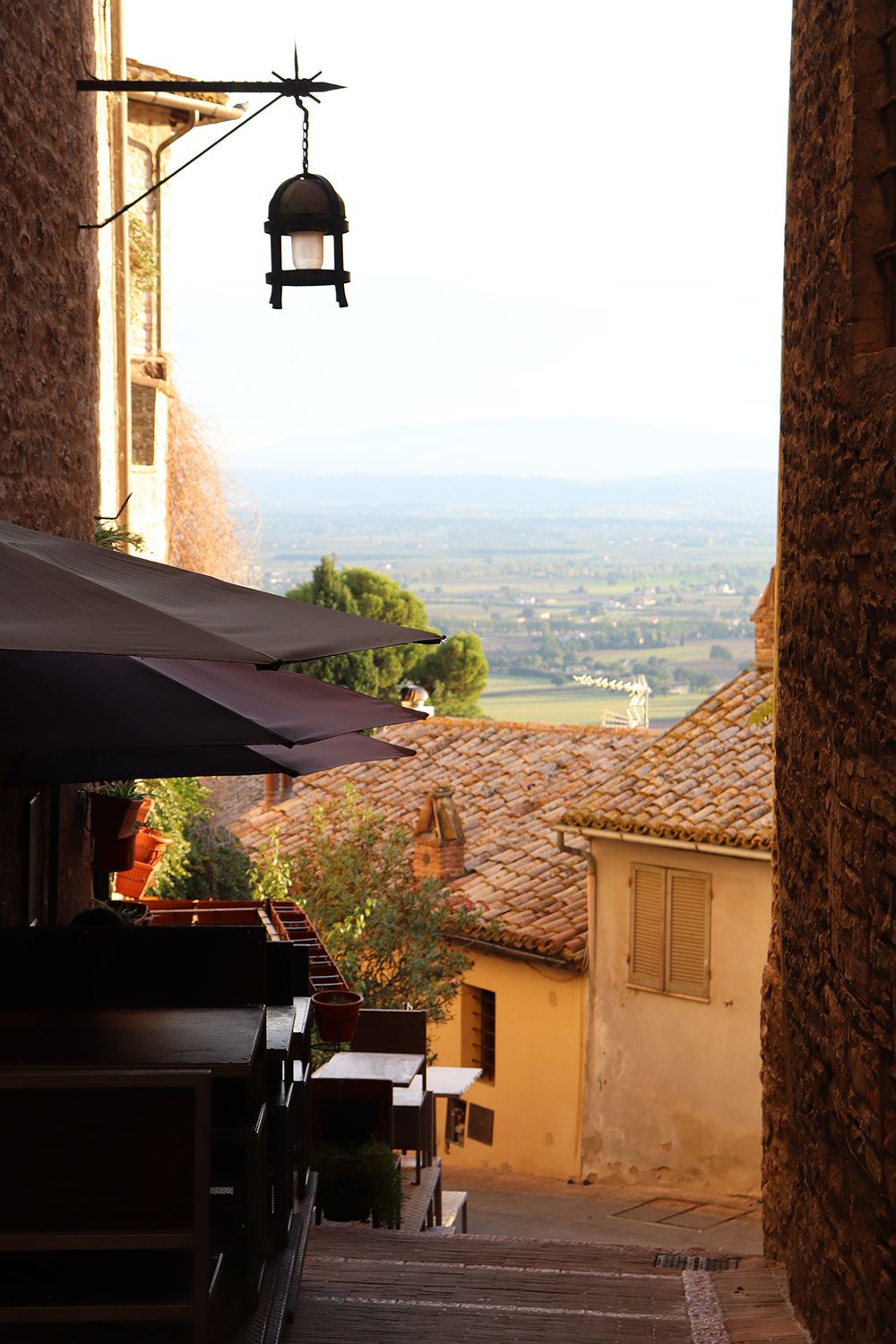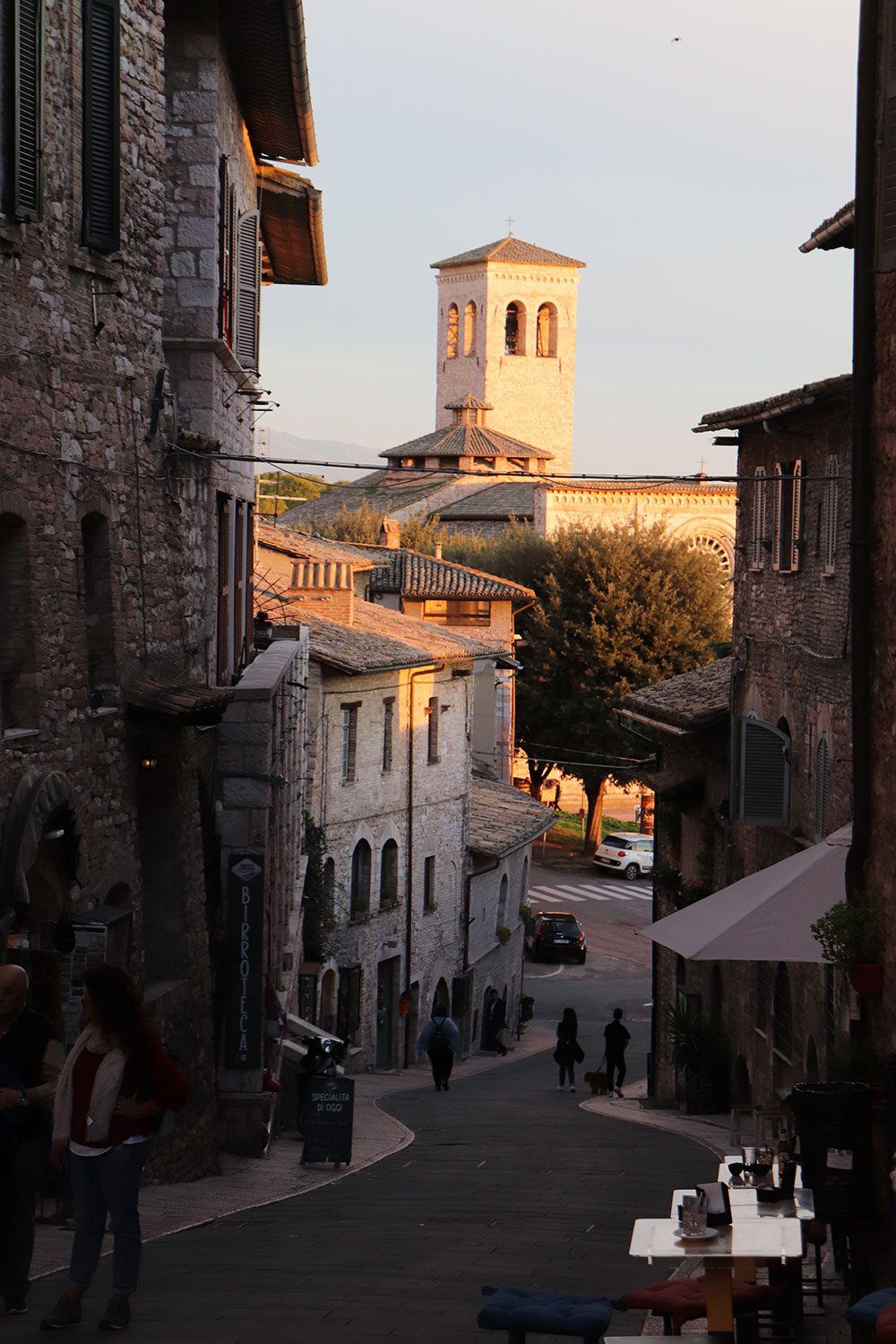 Another church that's popular to see is Basilica of Santa Maria degli Angeli. The outer church dates to the 17th century but it actually has an inner church called the "Porziuncola" which is where St Francis started his Franciscan movement. It also has the "Chapel of the Transit" which is where St Francis died. It's obviously a very historically important church but unfortunately I did not get to visit since it's a few miles from Assisi town.
You can also go and see the Rocca Maggiore which is a 14th century fortress at the highest point of the town.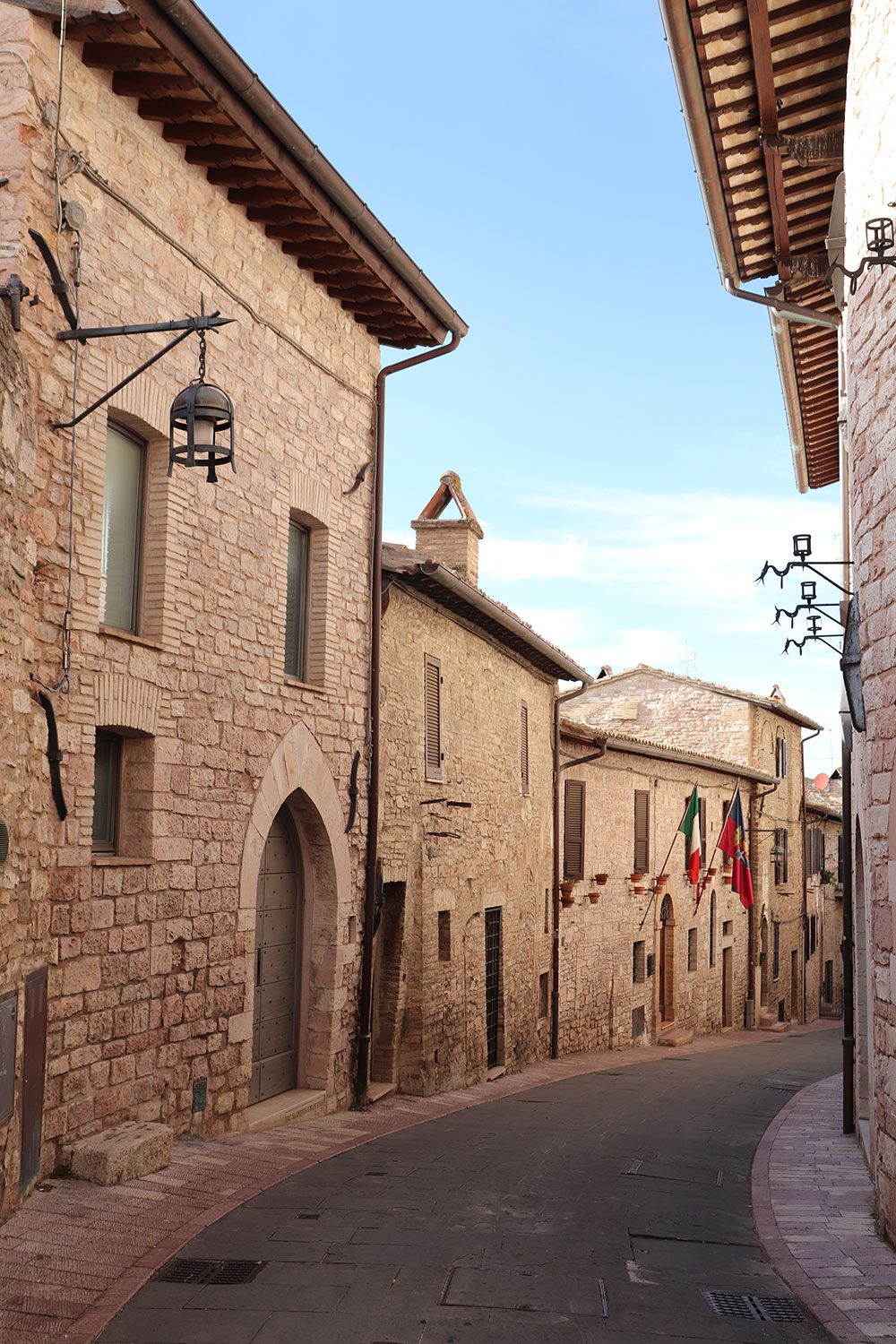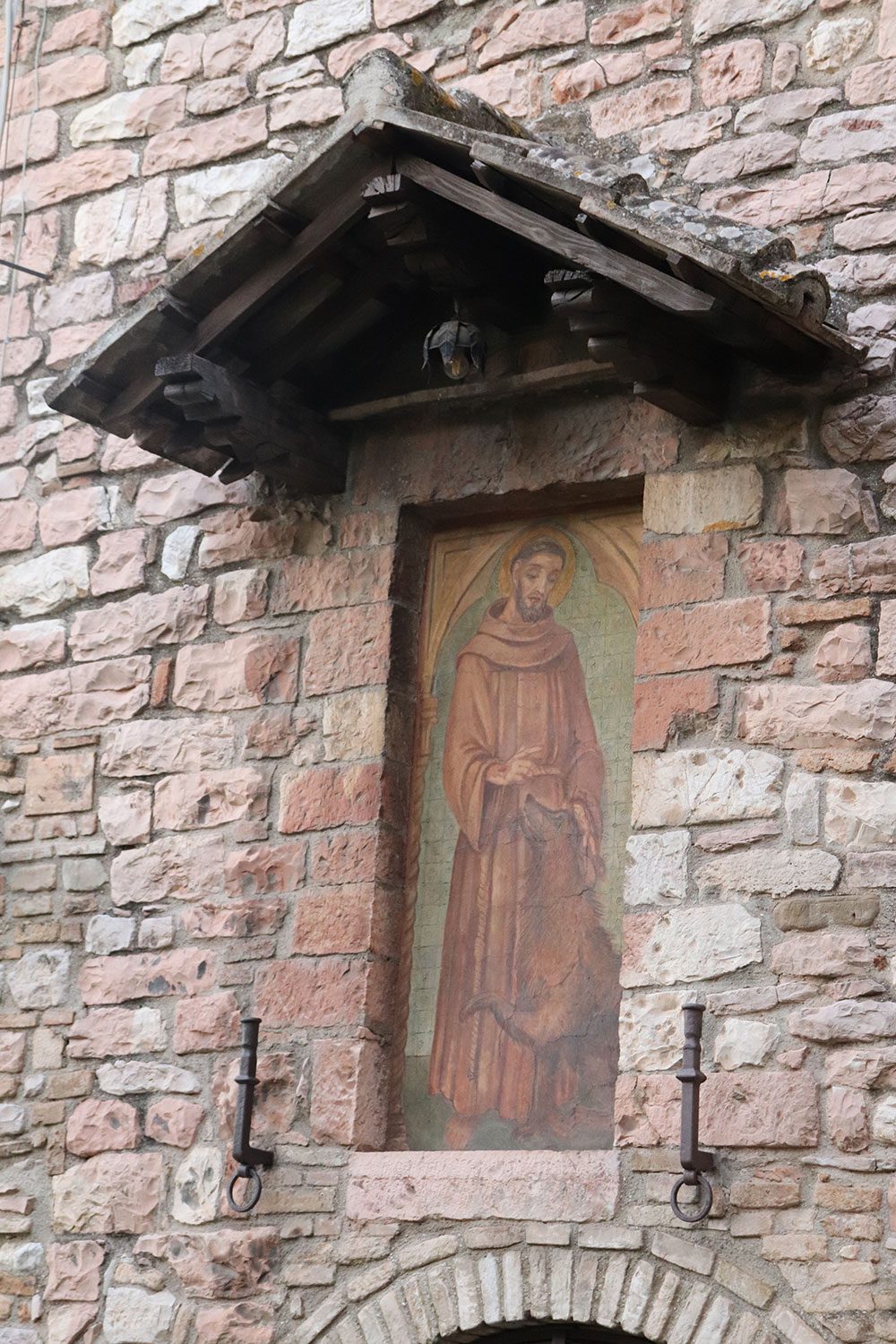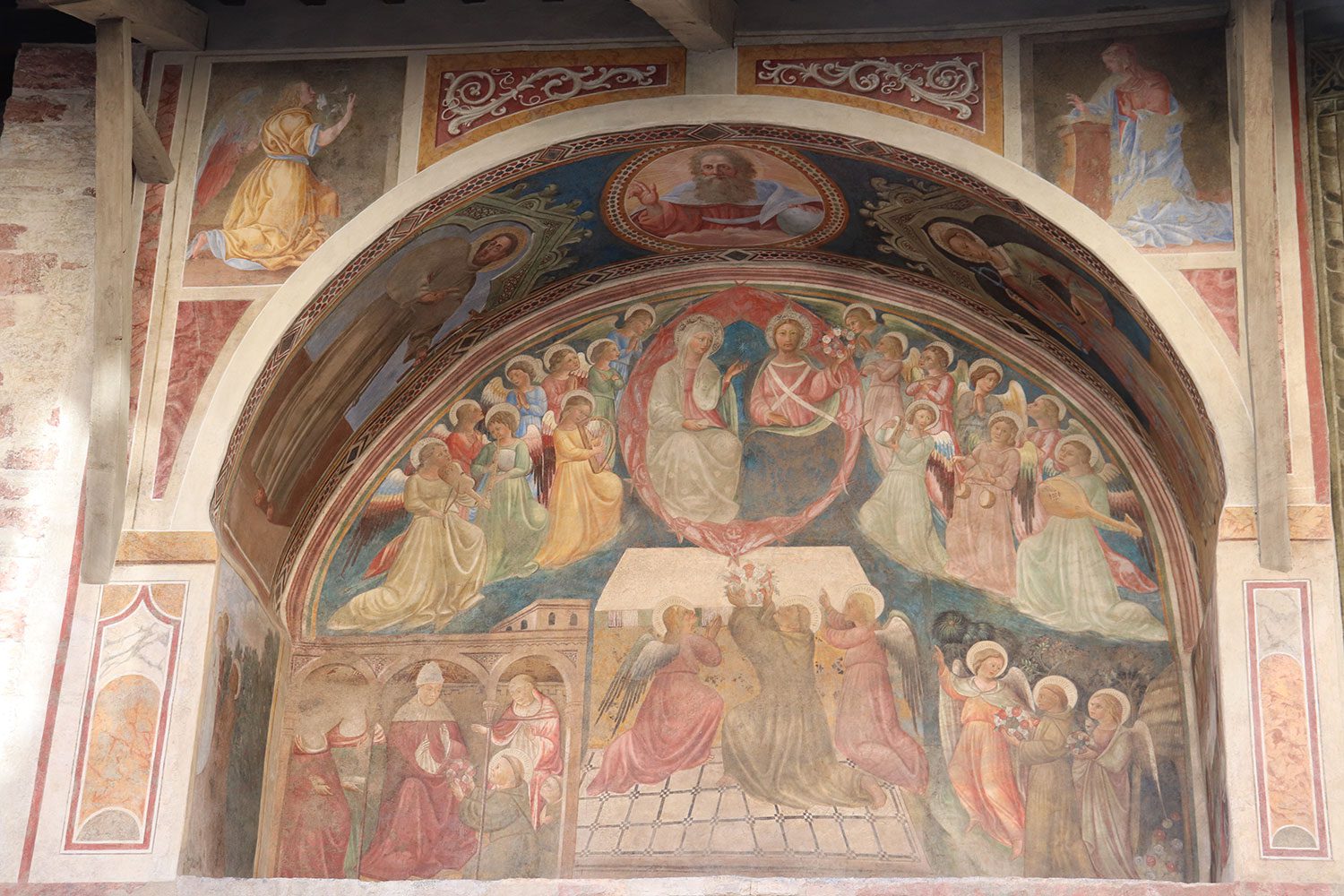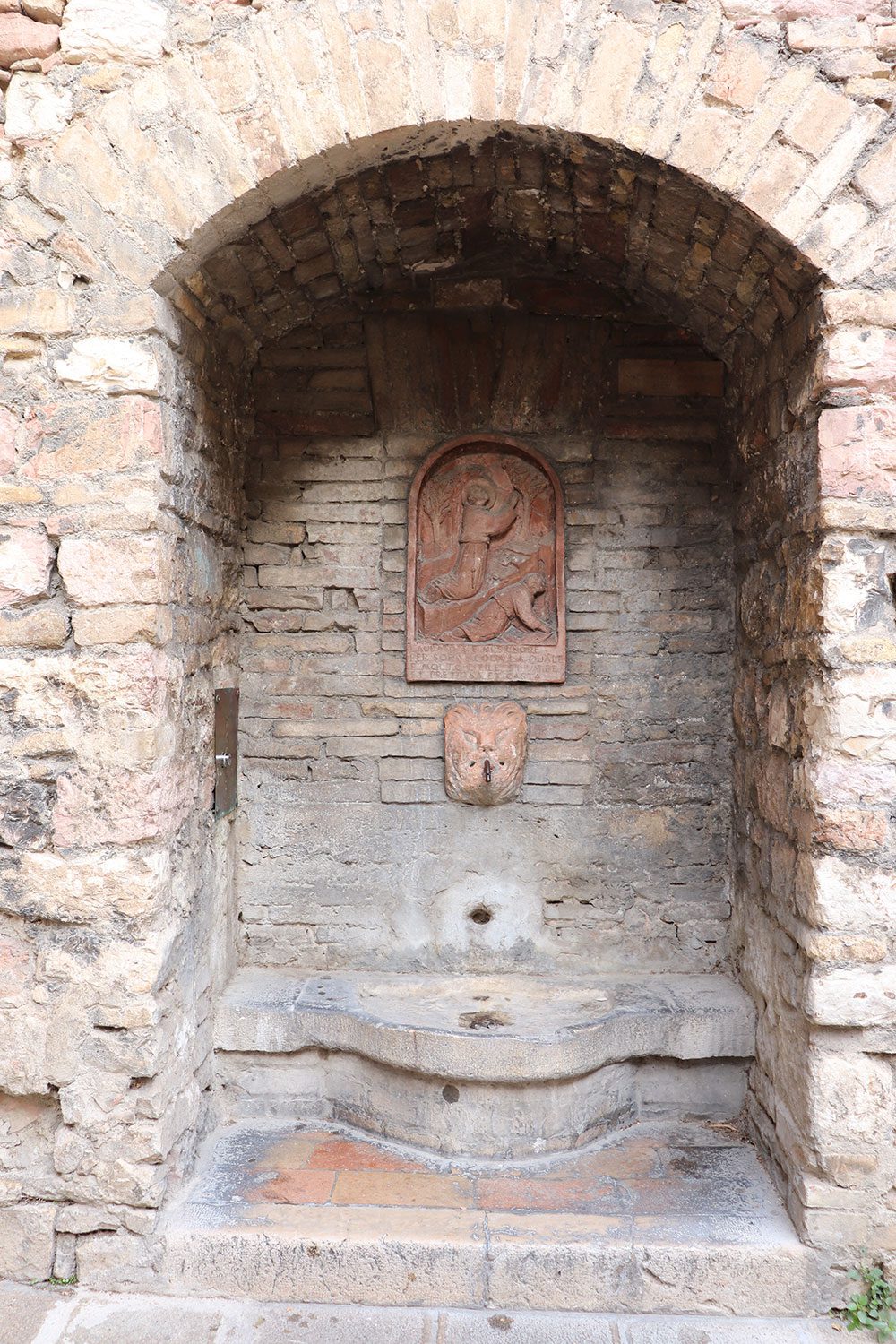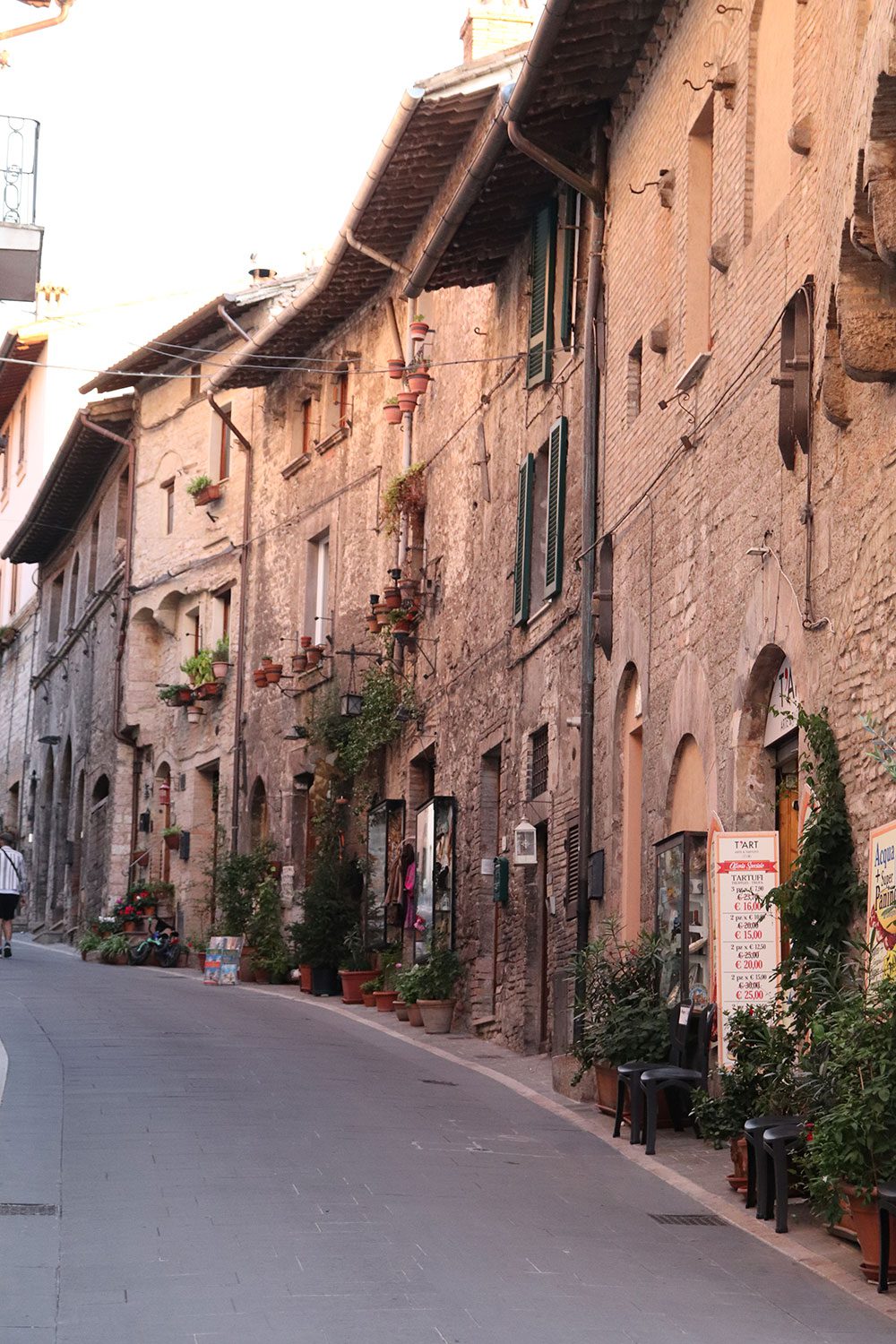 Assisi's also a very nice town to explore. It has about 3-4 main roads (depending on where you are) so it's easy to get around. I really enjoyed going down all the streets and seeing lovely artwork, whether it be unique architecture, a fresco painted onto a building, or one of the many shrines that are dispersed throughout the town. Even though Assisi is quite small, it felt like there was a lot to see and there was something new around every corner. There's a lot of attention to detail around town and it makes Assisi quite a fascinating place to visit.
Of course since Assisi's a small town filled with visitors, it's a very touristy place. Gift shops are everywhere, filled with Franciscan souvenirs amongst others. But I didn't really feel this take away from the experience or enjoyment of being there.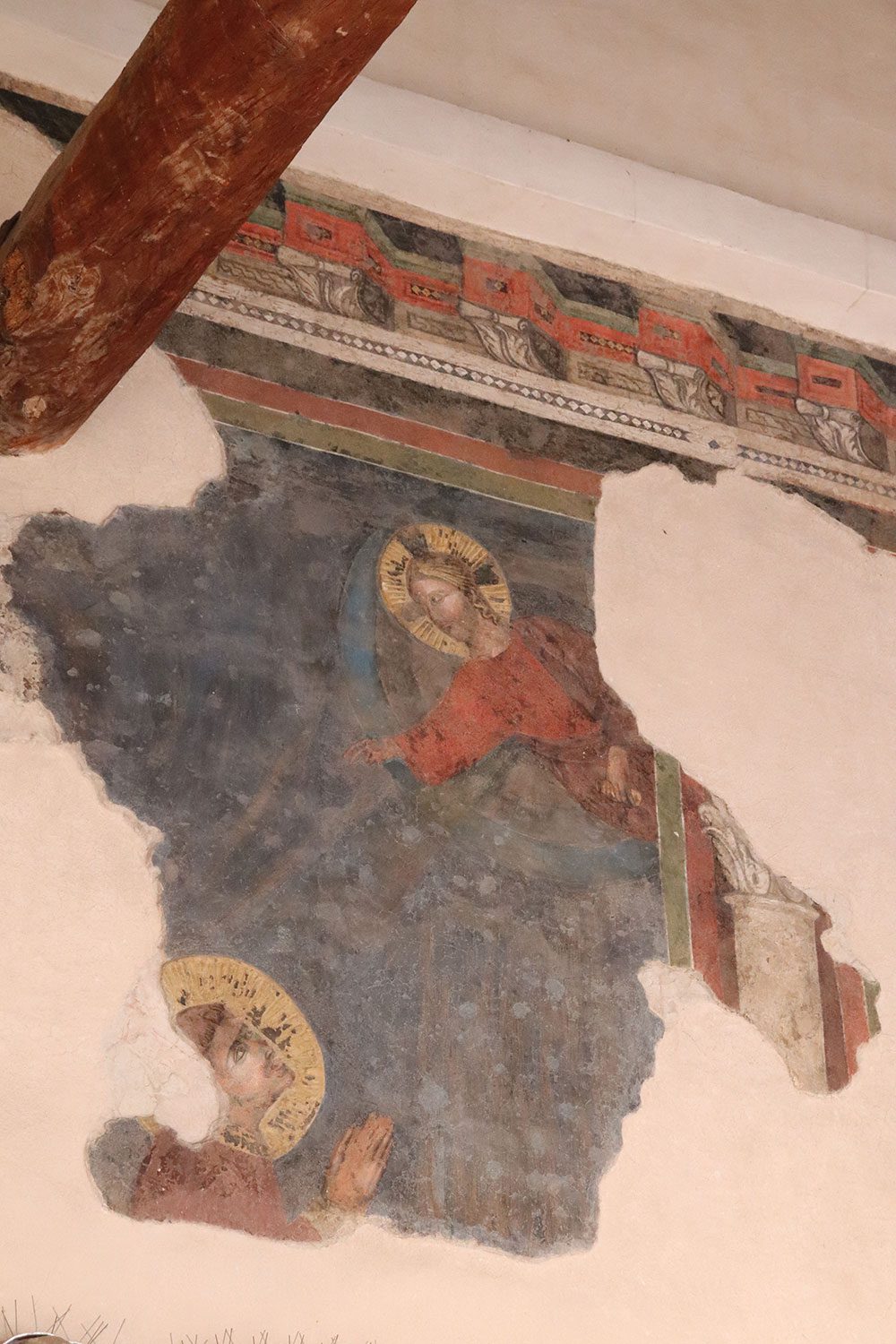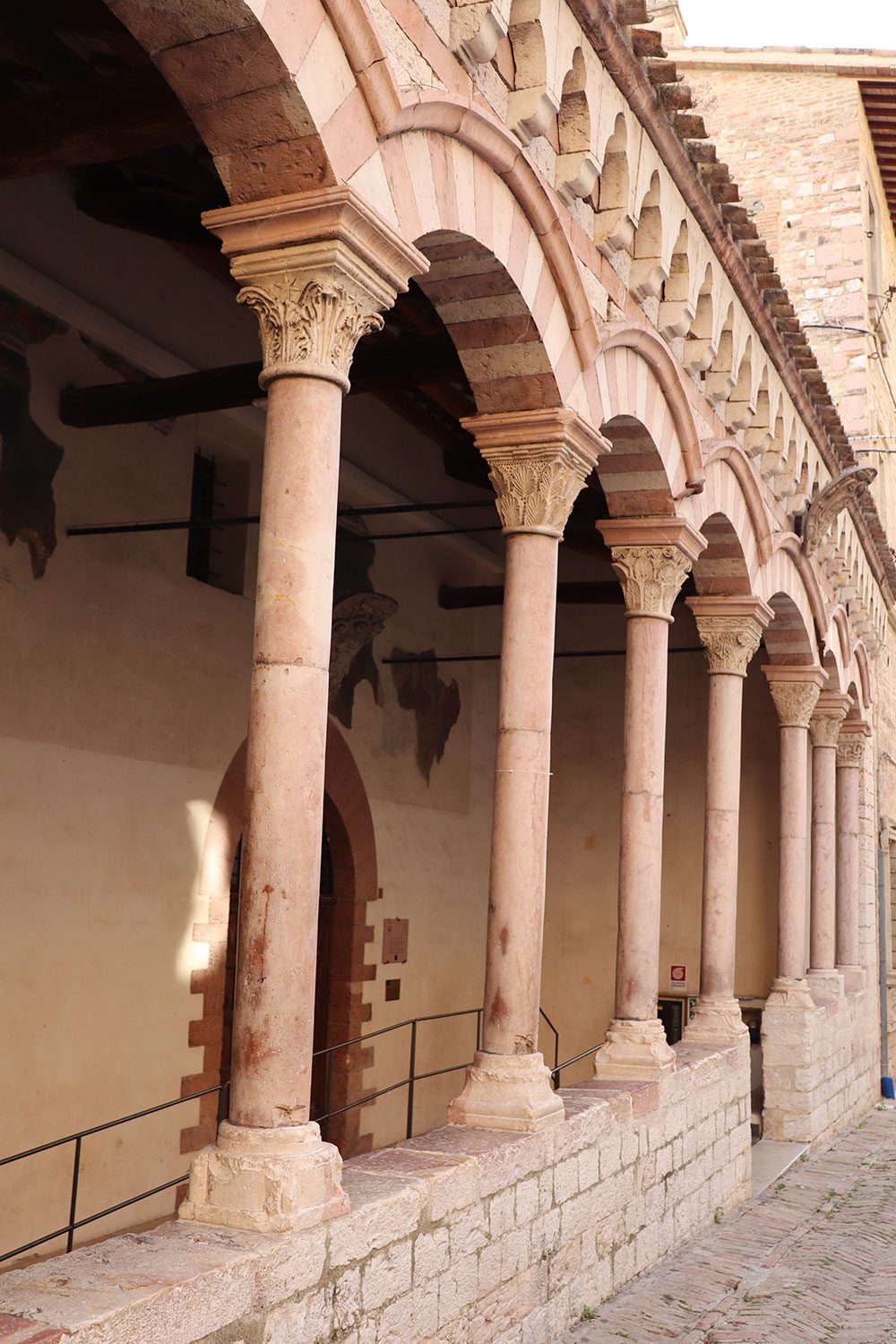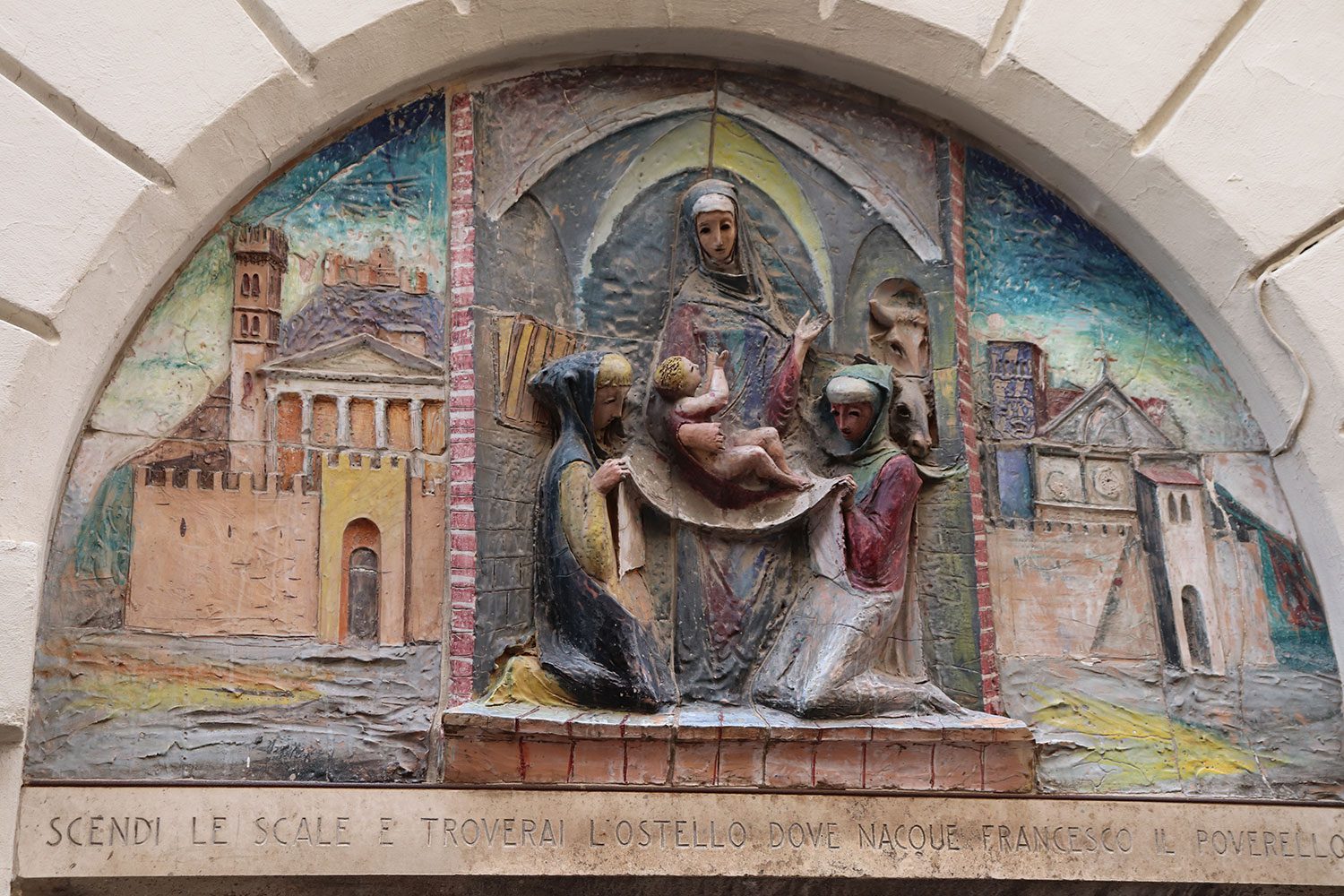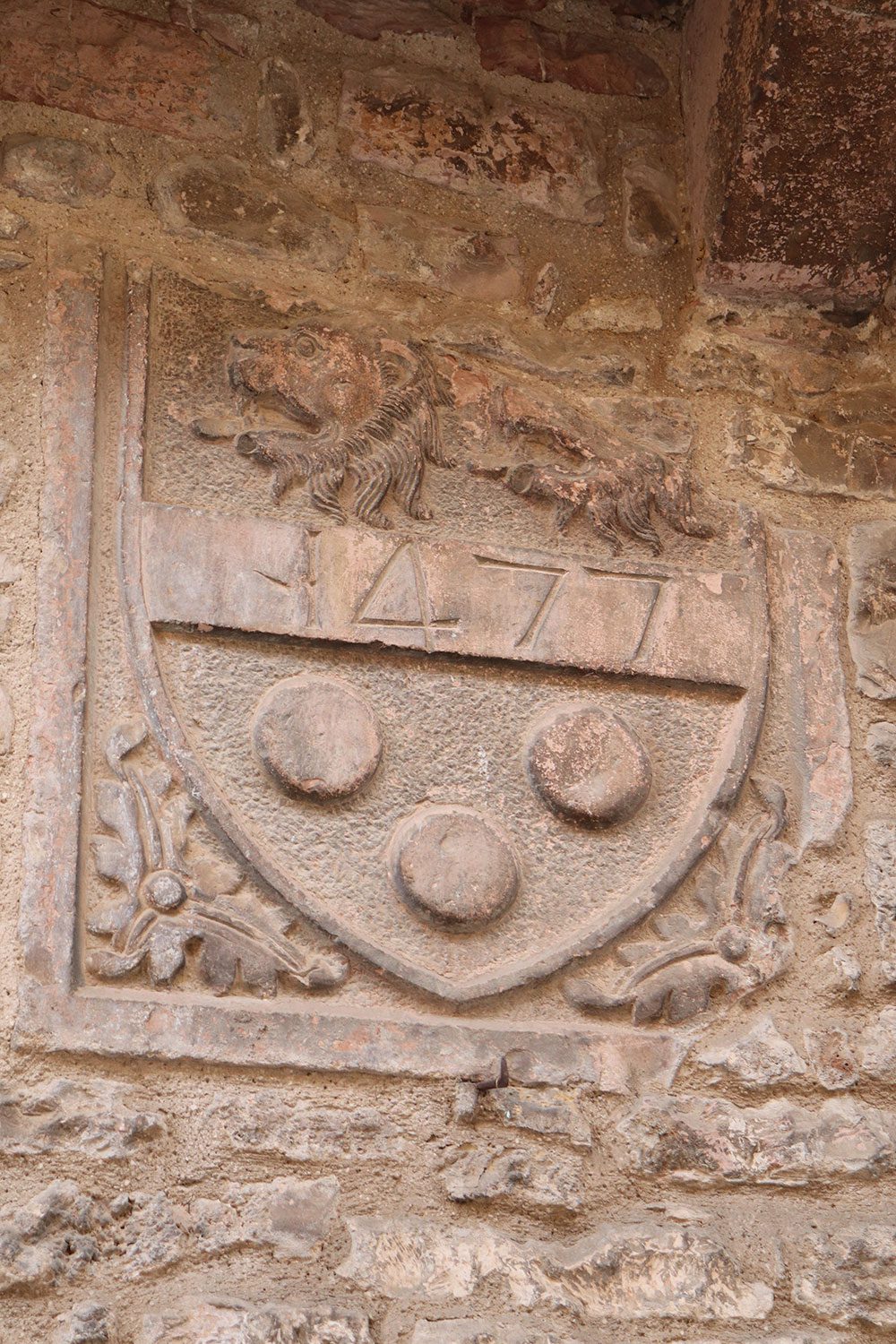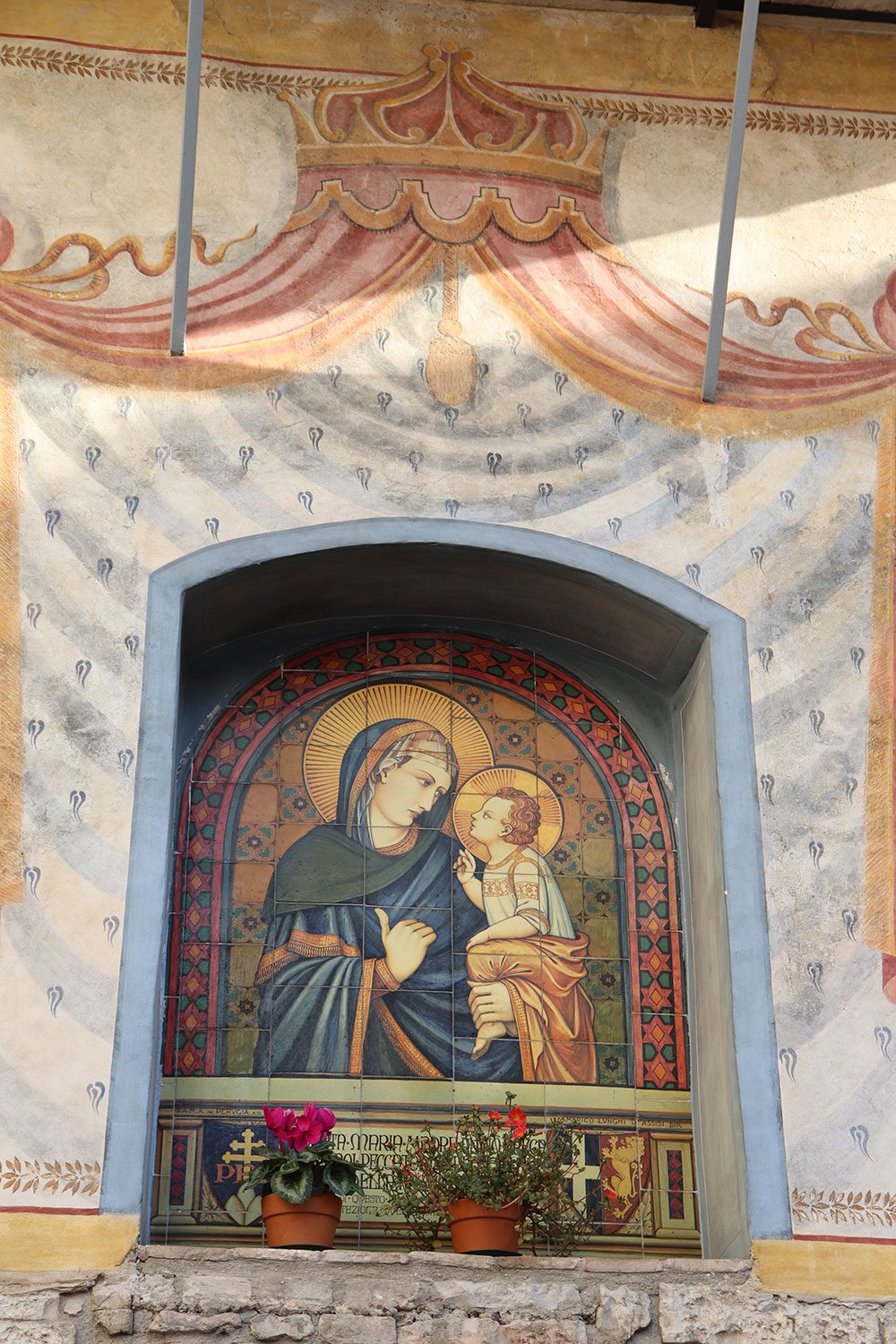 You can also see the remaining gates of the medieval city walls, including Porta Giacomo, Porta San Francesco, Porta Nuova and Porta Moiano.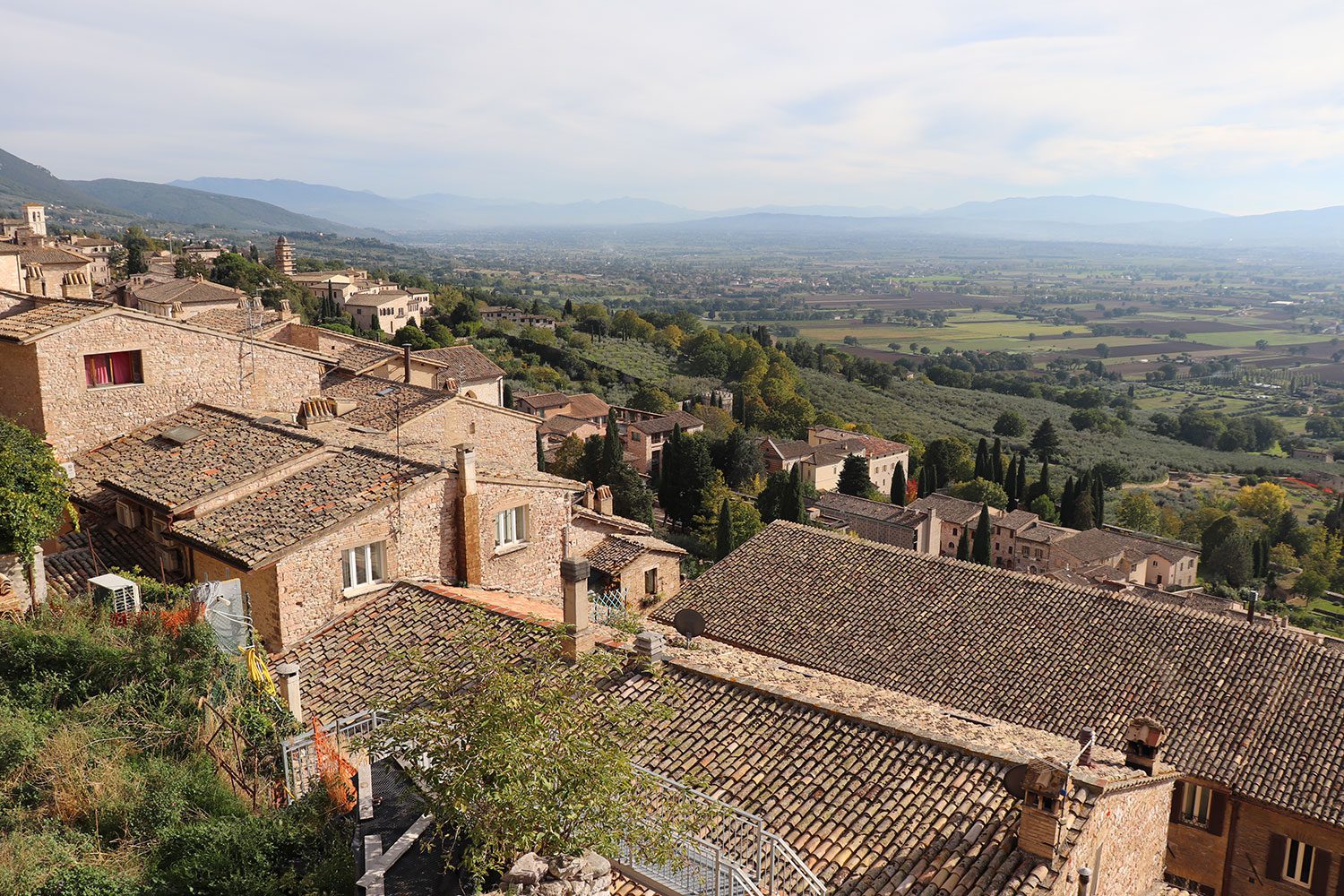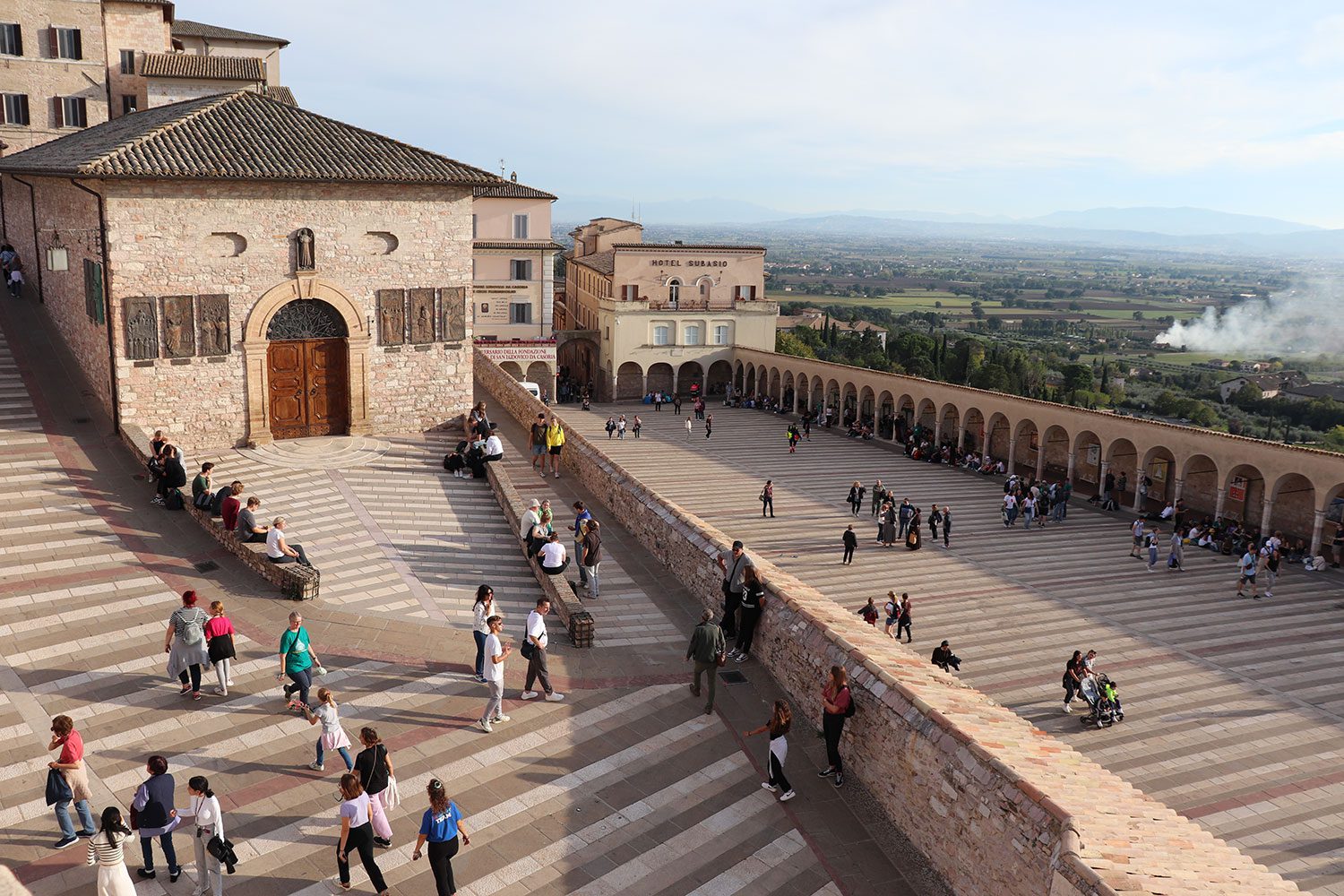 Or course another draw of Assisi is the amazing views. Since the town is perched up high on a hill, you get unbeatable views of the Umbrian countryside. Complete with rows of olive trees and stone houses that date back hundreds of years, it's really the epitome of picturesque Italy.
A note on getting to Assisi: When you get to the train/bus station you can either walk a mile uphill or you can take a shuttle that costs about 2 euros each way. It will take you to the town center. Make sure you're getting on the correct bus since there are other busses that come that aren't going up to Assisi.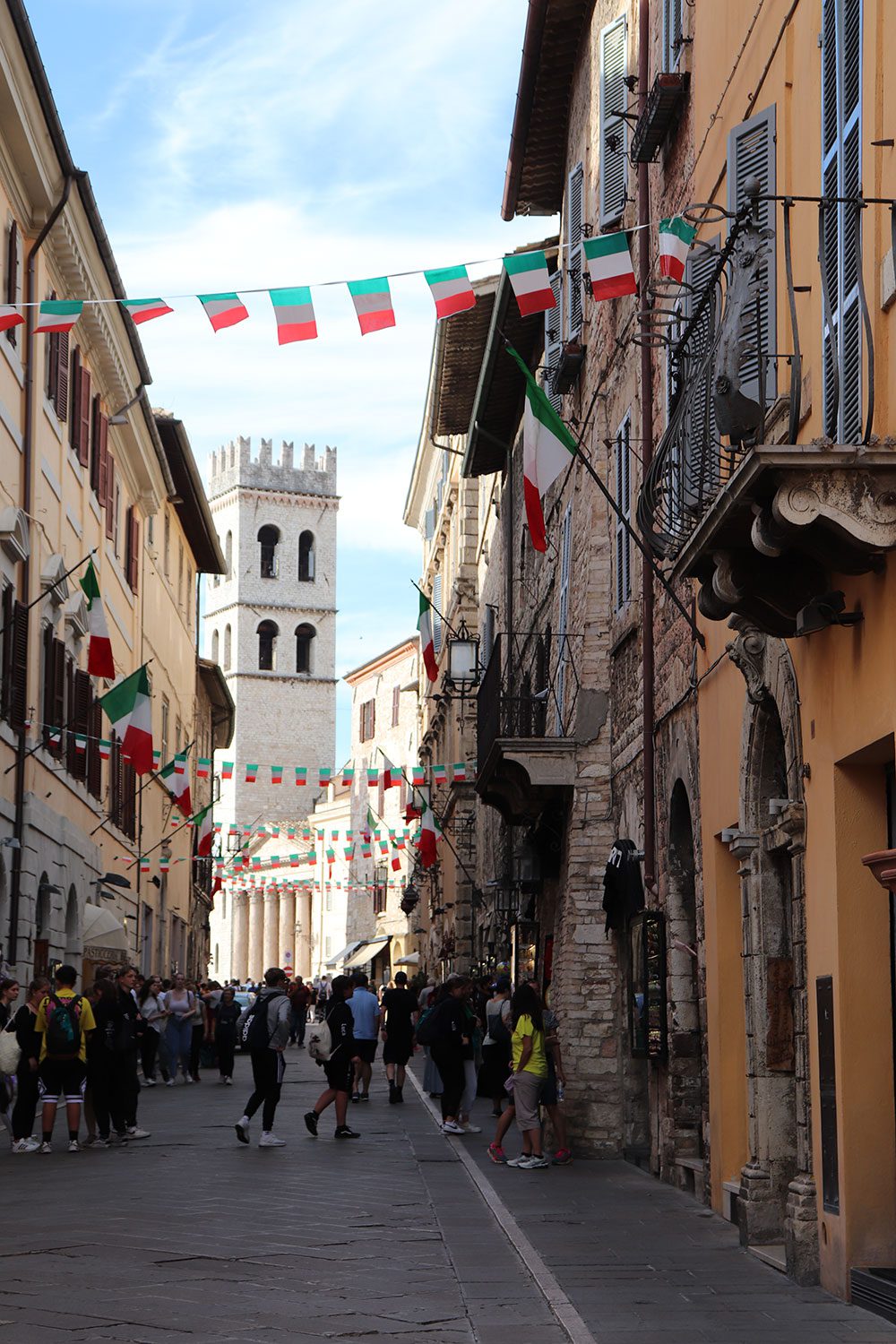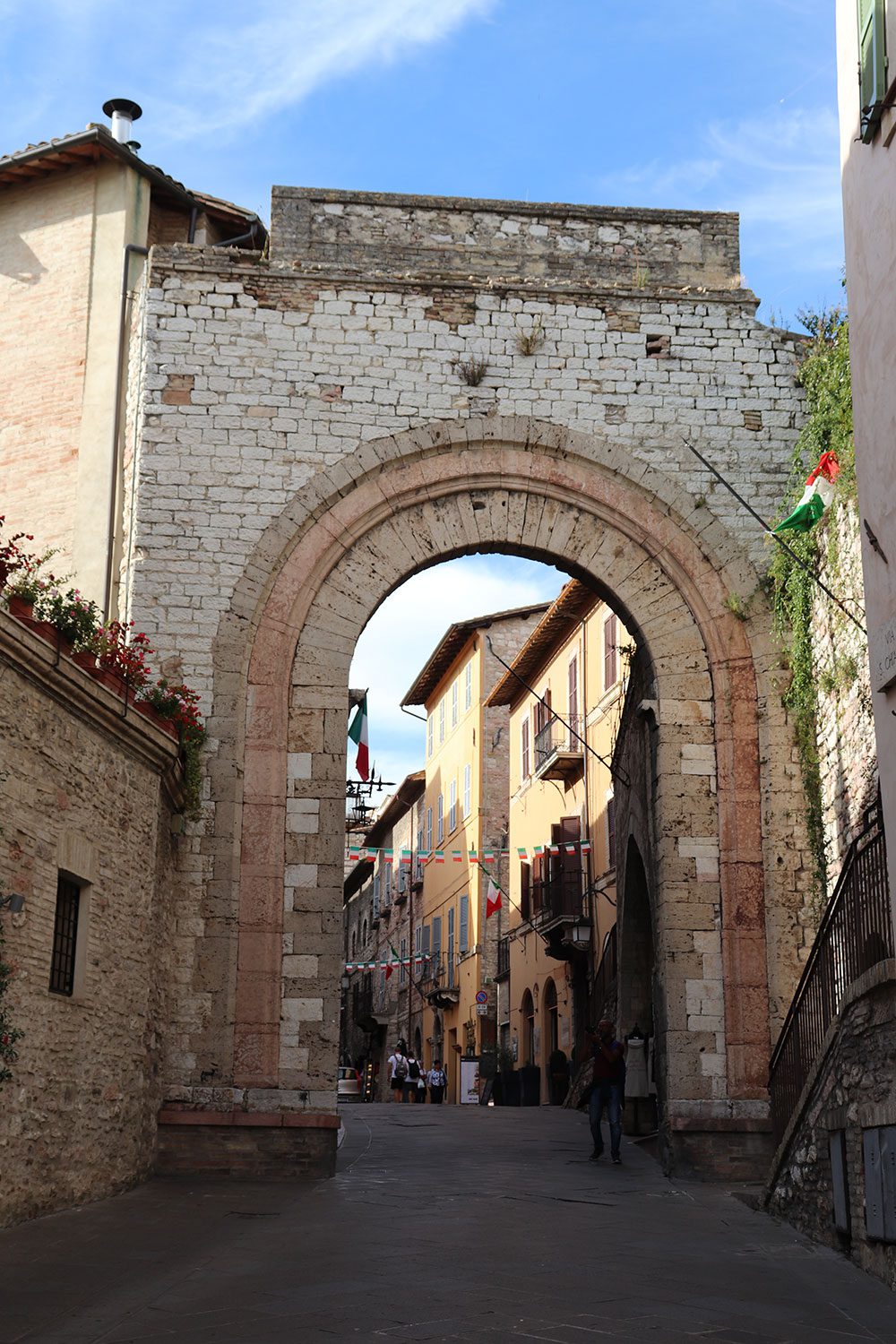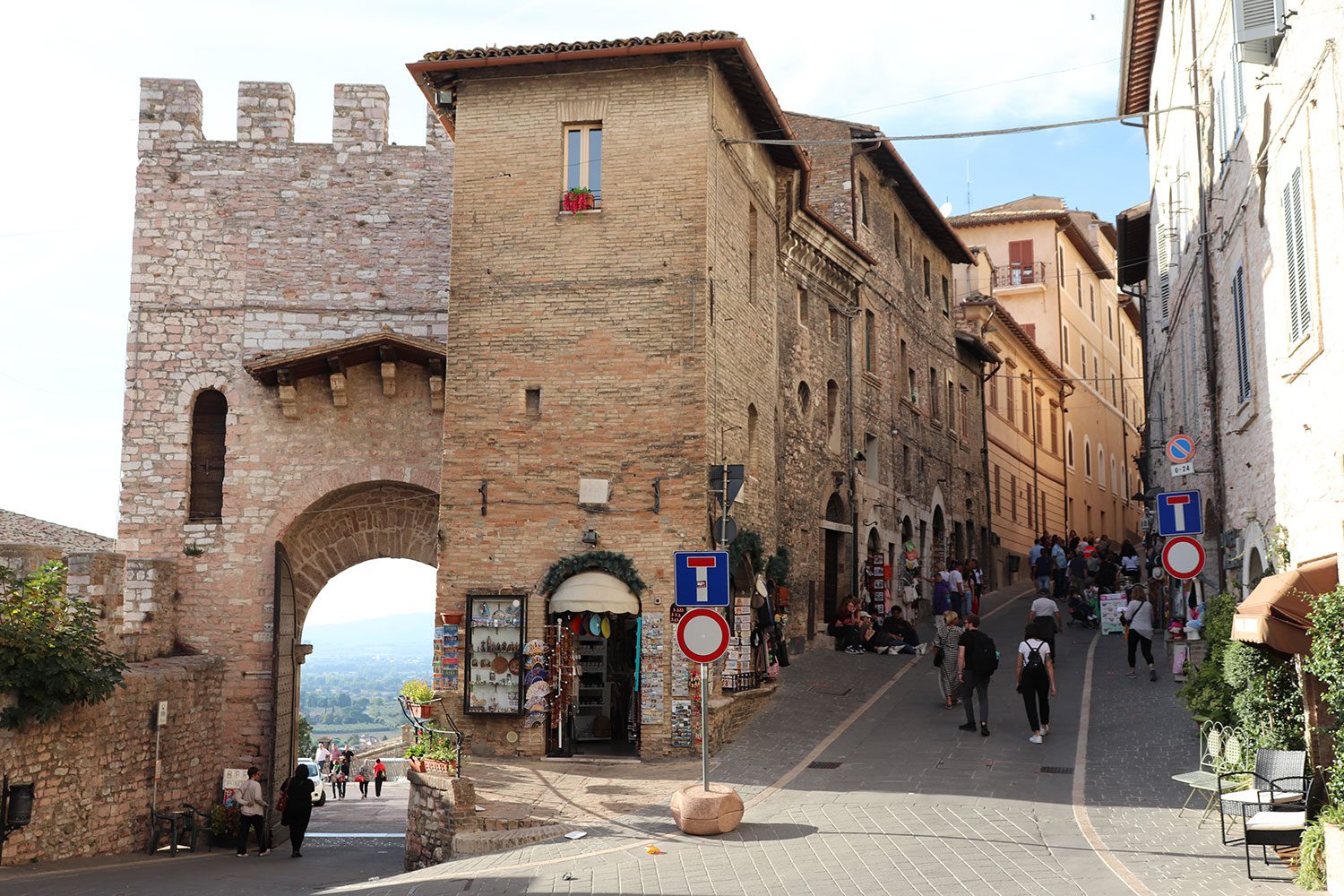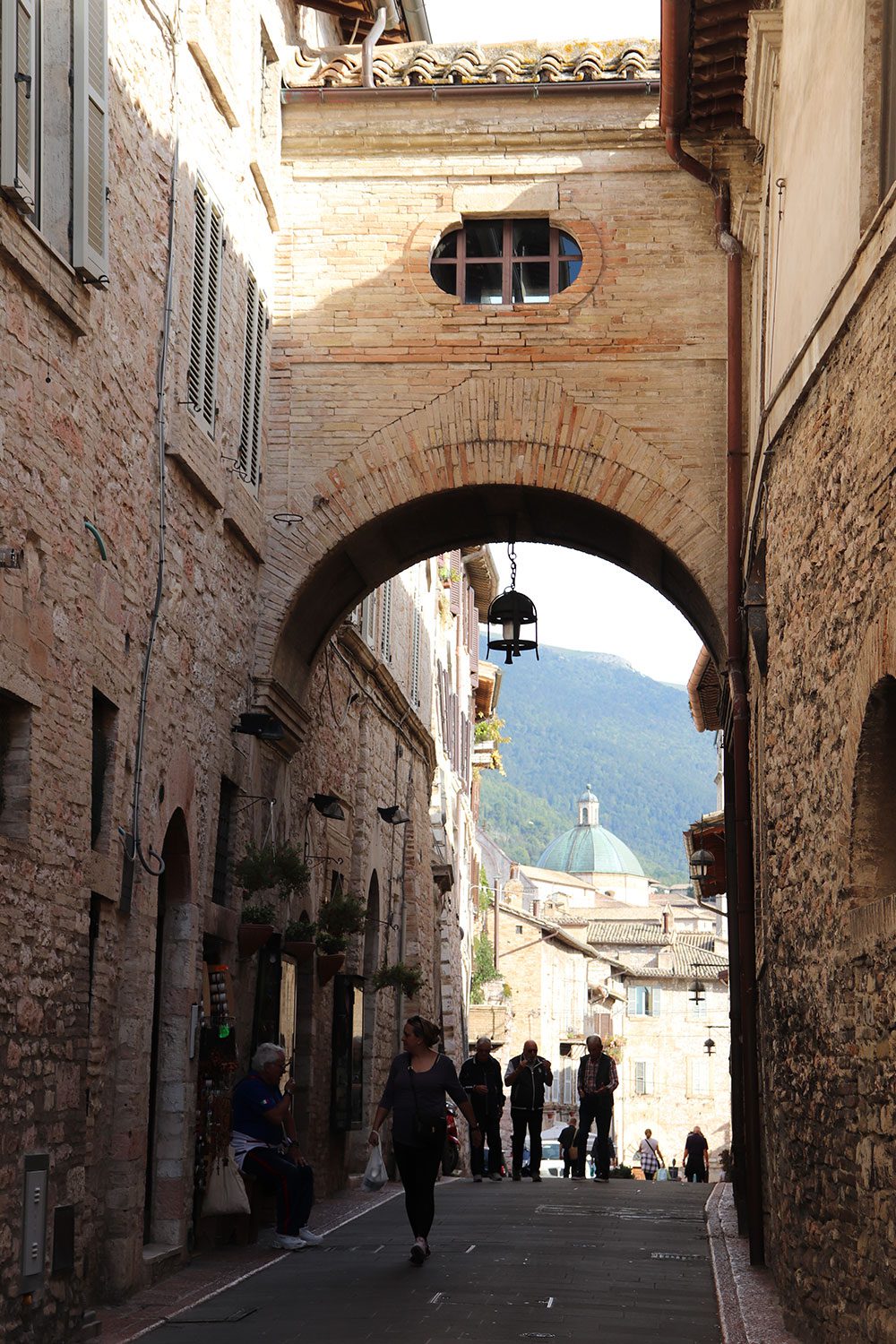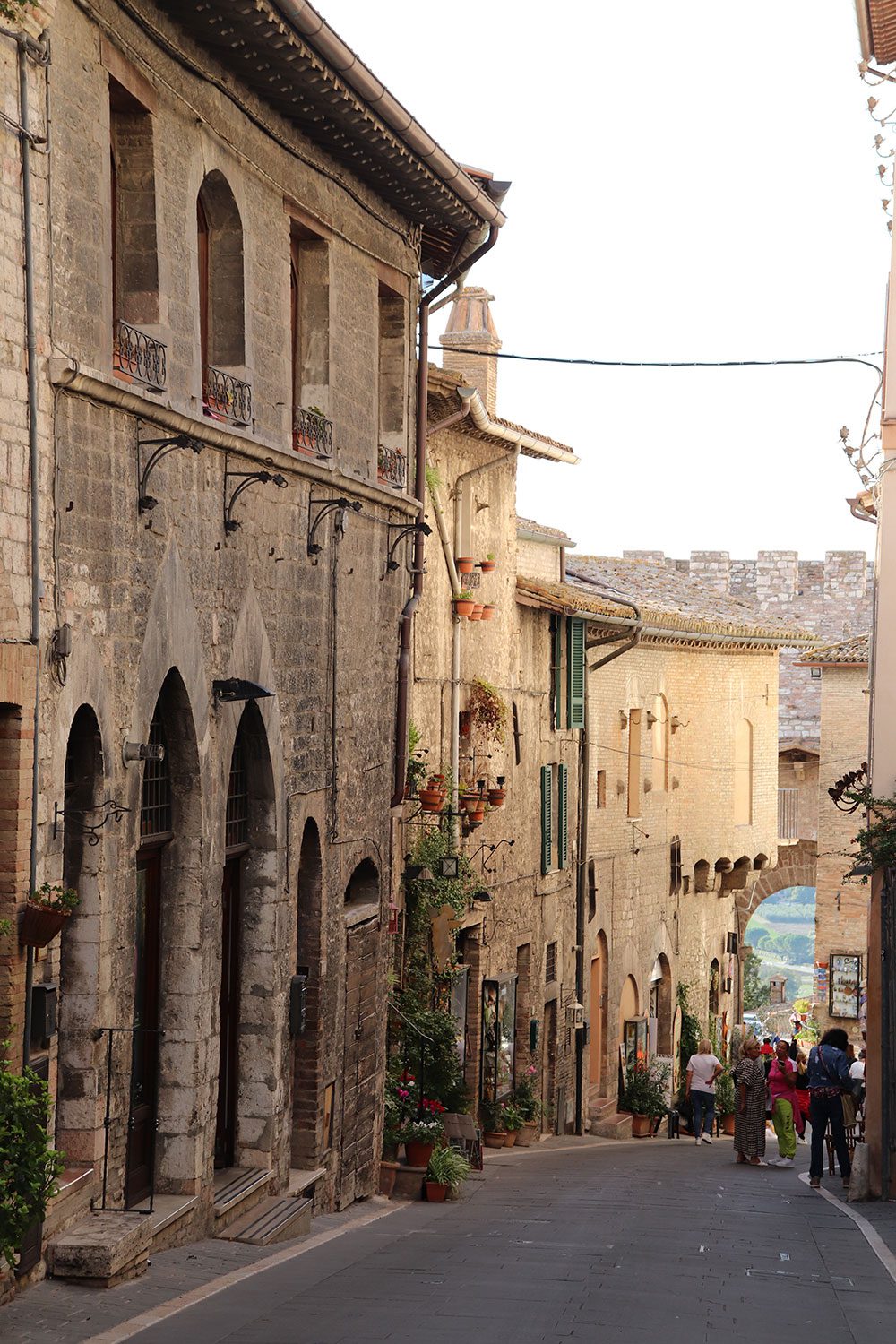 I would definitely recommend a trip to Assisi, even for the non-religious. If you don't find the basilica absolutely stunning then surely you will the streets and the views. You can see most everything in a day if you hurry, and you'll definitely need a few more hours to visit places outside the main town center like San Damiano and Santa Maria Degli Angeli. You can spend a few slow days exploring all the town and area has to offer. But at the very least it deserves a few hours because it would be a shame to miss such a fantastic place.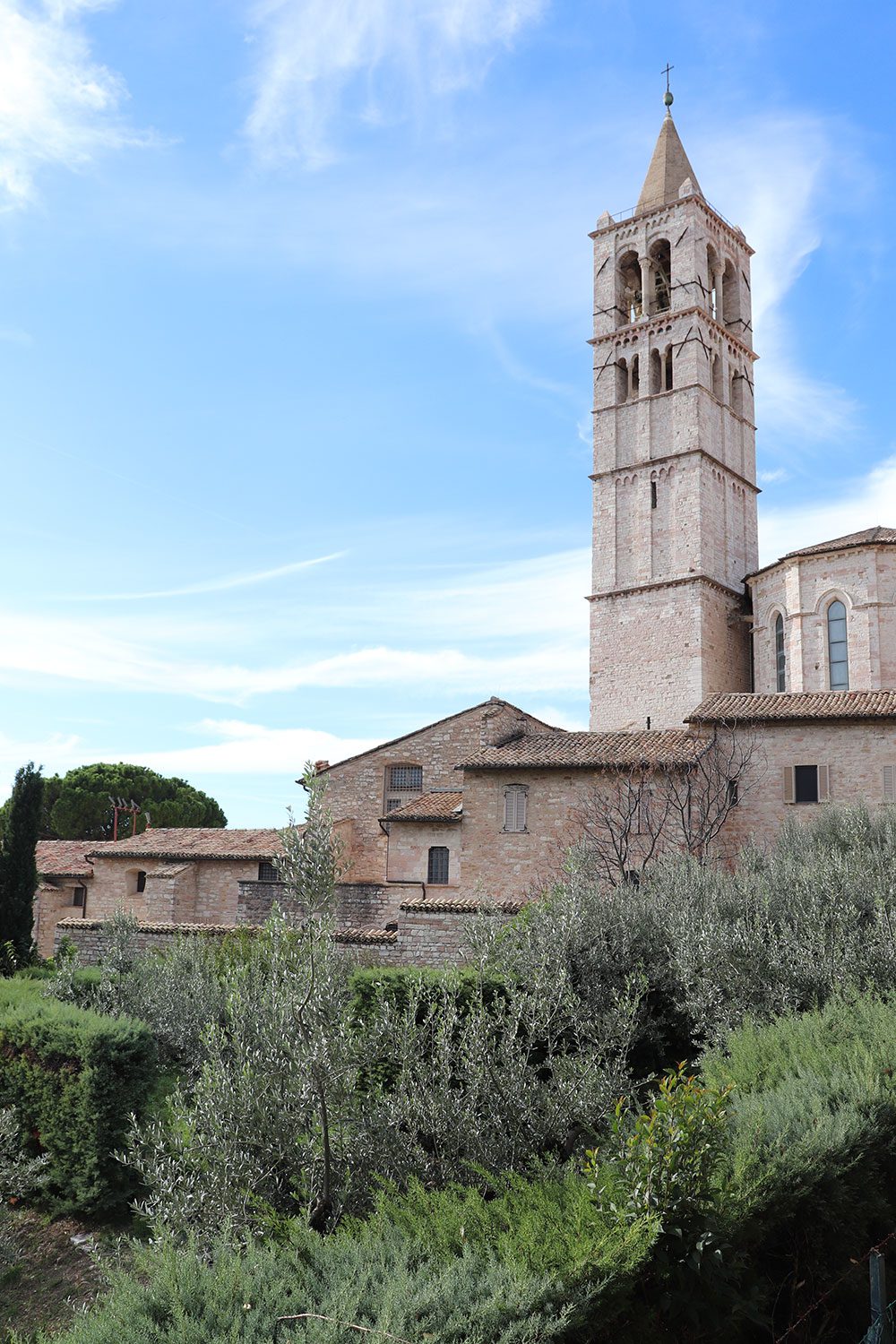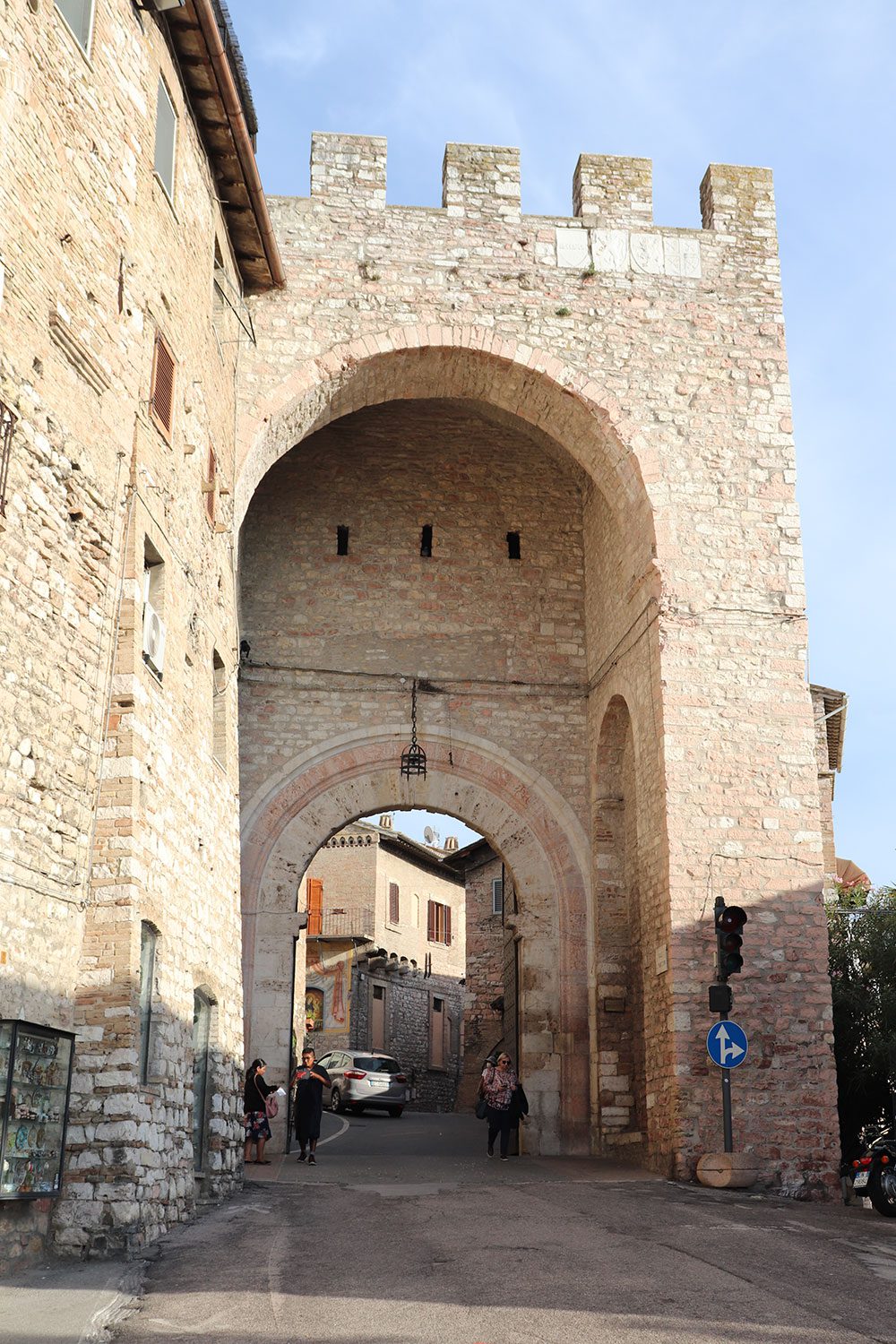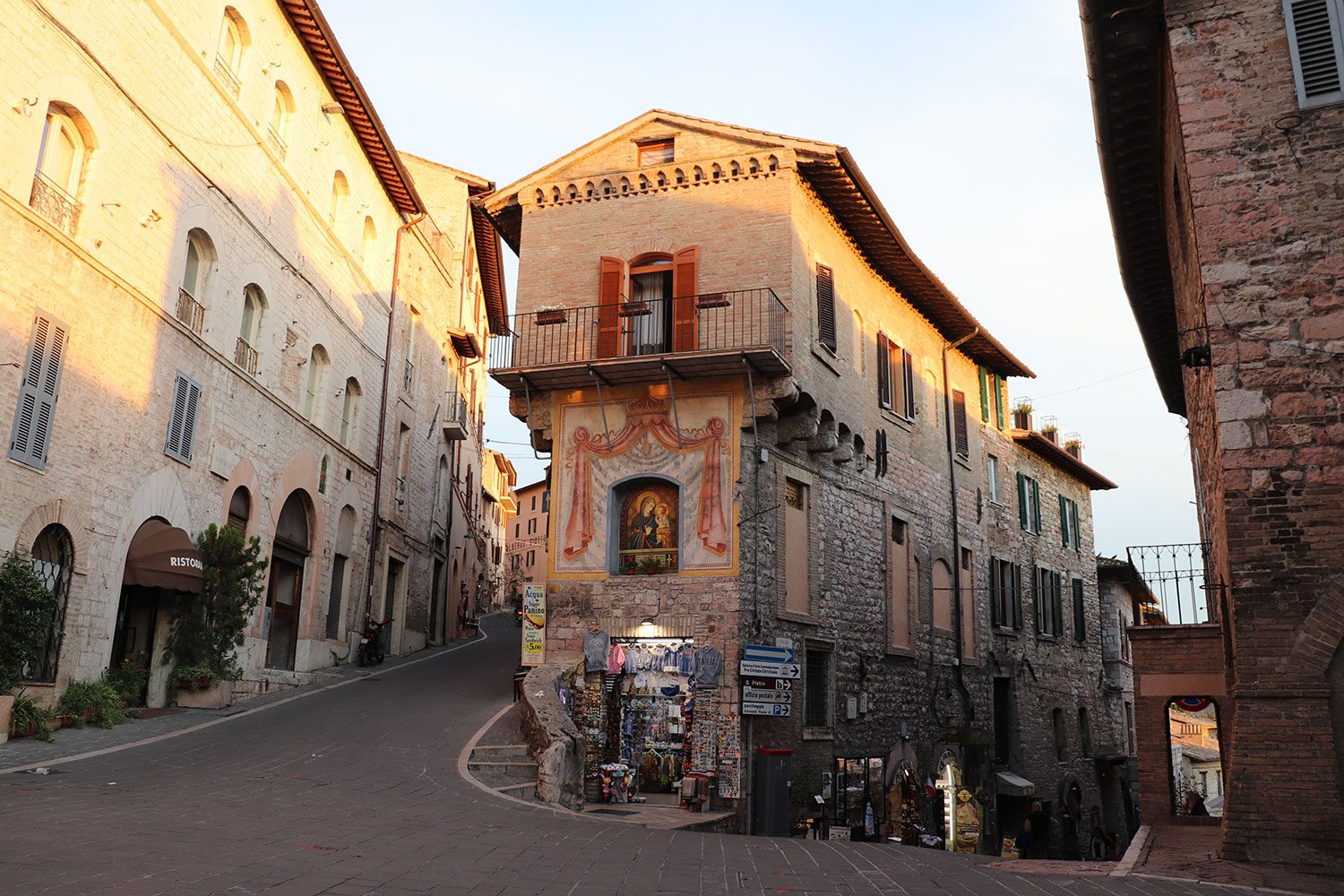 Have you ever visited Assisi? What did you think?
Please note that this post may contain affiliate links. These are at no additional cost to you but I receive a commission if you make a purchase through the link, and the commission helps me run my blog. Thanks for your support!
Tags:
assisi
,
europe
,
italy
Sharing is Caring
Want to support me?
Buy me a Coffee