Why You Should Visit Baltimore on a Day Trip
Originally published on Wednesday, March 1, 2023
Baltimore isn't known for its tourism industry. Some people visit Baltimore on a day trip but many people, even those who live nearby, don't visit it at all. For some reason our beautiful areas, events, and museums have flown under the radar so that many people say, "What's there to do in Baltimore besides the aquarium?" Well, there's actually a lot! And I'd like to show you why you should visit Baltimore on a day trip, at least.
Which one are you?

The Art Lover
The Historian
The Black Historian
The Foodie
The Beer Enthusiast
The Family
The Sports Fanatic
The Spooky One
The City Walker
Baltimore's Great for Art Lovers
We have three main art museums and you can't see the three properly on a single day trip. My person favorite is the Walters Art Museum, which hosts a large collection of different types of art – from ancient Egyptian art to Renaissance works and impressionist pieces. You can spend the entire day just visiting the Walters. It's also off of one of Baltimore's most beautiful places, Mount Vernon Square. It's free to visit.
The Baltimore Museum of Art, or the BMA, has a more contemporary collection than the Walters but still features some classic art styles. It's a bit smaller but if you have the time, it's also free to visit.
The American Visionary Art Museum is one of the wildest art museums out there. The artwork is mostly modern and local, which means you probably won't see its collection outside of Baltimore. I'm more of an old-school art lovers so this museum was very weird to me, but a lot of people really enjoy the AVAM. They also hold a "Kinetic Sculpture Race" that goes around the city each year in Spring.
I also recommend a quick stop at the famous Peabody Library which is said to be one of the most beautiful libraries in the world. You can't explore the books unless you're a Johns Hopkins affiliate but you can still visit for free and see the library in person for yourself.
Tucked up north is also the hidden gem, the Evergreen Museum and Library. This beautiful home dates to the 19th-20th centuries and is filled with magnificent art, including some originals by artists such as Picasso and Degas. It's extraordinary! Since it's out of the way, I don't recommend this for your first visit to Baltimore, but it's something to keep on your radar.
Visit Baltimore for the History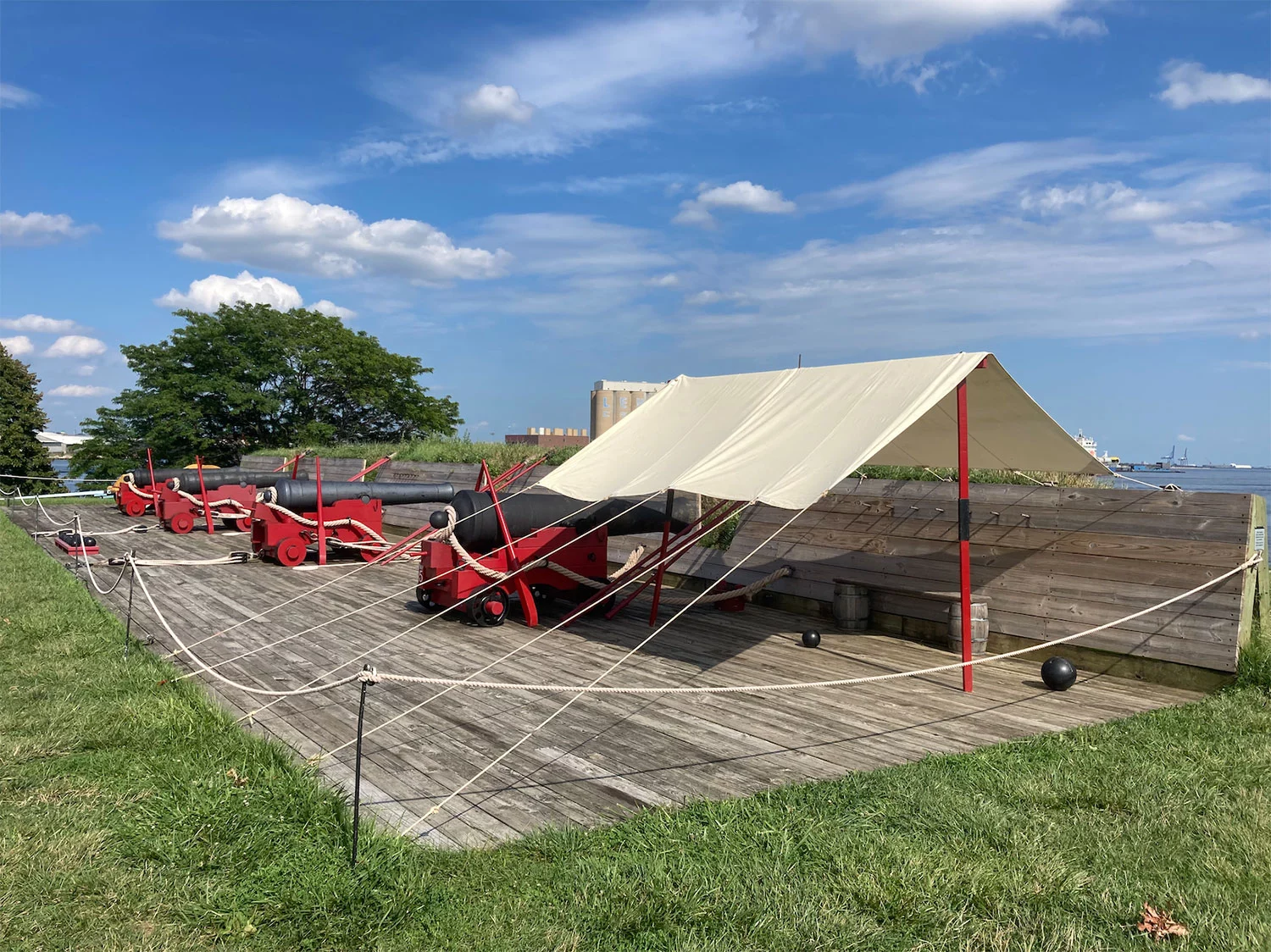 Baltimore is seeping with history. Since so many people left in the 20th century, much of the architecture has remained the same so you can still experience Baltimore as people have for decades. Some of these people include Edgar Allan Poe, Frederick Douglass, Babe Ruth, Billie Holiday, F. Scott and Zelda Fitzgerald, Wallis Simpson, Tupac Shakur, and Tom Clancy. I would be remiss to try to fit all of Baltimore's history into a single blog post, so I'm going to include only the highlights.
Did you know Baltimore's where our national anthem was written? Yes, The Star-Spangled Banner was written during the War of 1812 by Francis Scott Key right here in Baltimore. It was inspired by a battle Key witnessed in which the Americans, by their pure resilience, defeated the British in the Baltimore harbor. You can visit Fort McHenry to see where the battle took place. They also have an exhibit on the War of 1812 in Baltimore and the history of the anthem.
For even more star-spangled history you can visit the Star-Spangled Banner House. This is the house where the flag that presided over the Battle at Fort McHenry was sewn (i.e. the flag that inspired the anthem).
Baltimore also made history by having the US's first railroad, which you can learn more about at the B&O Railroad Museum. Similarly there's the Baltimore Museum of Industry which documents the city's history as an industrial center.
If you're interested in more niche topics of history then I definitely recommend researching those in specific. You'll find that for a city much overlooked, Baltimore has a lot of stories.
& Discover Baltimore's Black History
Baltimore also has its share of Black history, from Frederick Douglass to Billie Holiday and even Oprah Winfrey, which is celebrated today. If you visit Baltimore for Black history then the Reginald F. Lewis Museum has to be your first stop. Located right next to the harbor, it's a staple of Baltimore and details Black history. Its founder was the first Black billionaire, who was from Baltimore himself.
You can also head up to the National Great Blacks in Wax Museum to learn more about Black history. I don't find Madame Tussaud's to be particularly interesting but not only is the GBiWM significantly cheaper, you can learn a lot more from its exhibitions. The focus is on the preservation of history as much as it is the art of wax figures.
You can also see property that Frederick Douglass once owned in Baltimore at 524 South Dallas Street. This section of homes he bought in 1892 with the intention of renting them out to African-Americans. The cluster is called "Douglass Place." It's only a small slice of history but an interesting one nonetheless. The location is very central so you don't have to go out of the way to see it.
Billie Holiday's home from 1926-29 is not too far away at 217 S Durham Street.
Baltimore's Also a Foodie Haven
Most people go to the inner harbor and think, Uno? Phillips? Baltimore sucks. But outside the inner harbor there's no shortage of local restaurants. The food is our secret weapon.
If you're a vegan, I have good news for you! Baltimore has a ton of vegan and vegan-friendly restaurants, which I wrote about here. I try to keep the post updated as I can. My personal favorite vegan restaurant is NuVegan which recently opened in Baltimore (yay!), and the most notable place for vegan food is the Land of Kush. Both are excellent options.
I don't like to recommend food places because I don't eat out much and definitely haven't been to every restaurant to give it the thumbs up or down. (Maybe buy me a beer and I'll use it to do "research"!) But here are some options that my circle recommends:
Ekiben is a restaurant I hear a lot about. I personally didn't like it that much but I have a friend who drove from Ohio just to get Ekiben, so it's probably worth a try.
A local staple is Jimmy's Famous Seafood. I don't eat seafood, and it's expensive, but my family pretty much charges for this place anytime they come up to visit.
For fine dining, the Charleston is an absolute must. It's like the holy grail of fine dining in Baltimore. For more affordable fine dining, perhaps try Cuchara or Le comptoir du vin.
Baltimore hosts a large variety of cuisines for different budgets so you're sure to find an excellent place to dine here.
Also be sure to try a Berger cookie. These are very filling and have an incredible amount of trans fat, but being unhealthy they are of course very good. They're a staple of Baltimore's history. I've never seen the 2 pack but you can buy a container of them at almost any grocery or convenience store.
& a Beer Haven
Did you know that the only Guinness brewery outside of Dublin is in Baltimore? Random, right? But it's true! It's just outside the city but if you have a car, you can get to the Guinness Brewery for a tour itself. If not, you can get Baltimore's brew, the "Guinness Blonde," pretty much anywhere in the city. It's a pale ale and tastes nothing like a typical Guinness. Our other "local" beer is the Natty Boh.
Baltimore City also hosts a lot of breweries and actually has one of the highest densities of craft breweries in the country. Some places to visit include the Ministry of Brewing (a popular choice), Guilford Hall Brewery, Monument City Brewery Company, and Mobtown Brewing Co. I also like PubDog because their beers are $2 each (!!!). They also have a brewery tour but it's in Westminster, MD on select dates only. There are tons of craft beer brands in Baltimore but these are the most popular and my personal recommendations.
Though it's not beer, I also have to recommend Charm City Meadworks which is a popular brand. For some reason people in Baltimore & Maryland love mead. I even brew it myself and know a few other people who also do home brewing.
Every autumn, there's also a craft beer festival that's quite popular and worth checking out. The festival also makes for a good day trip activity.
Baltimore's Great for Family Days Out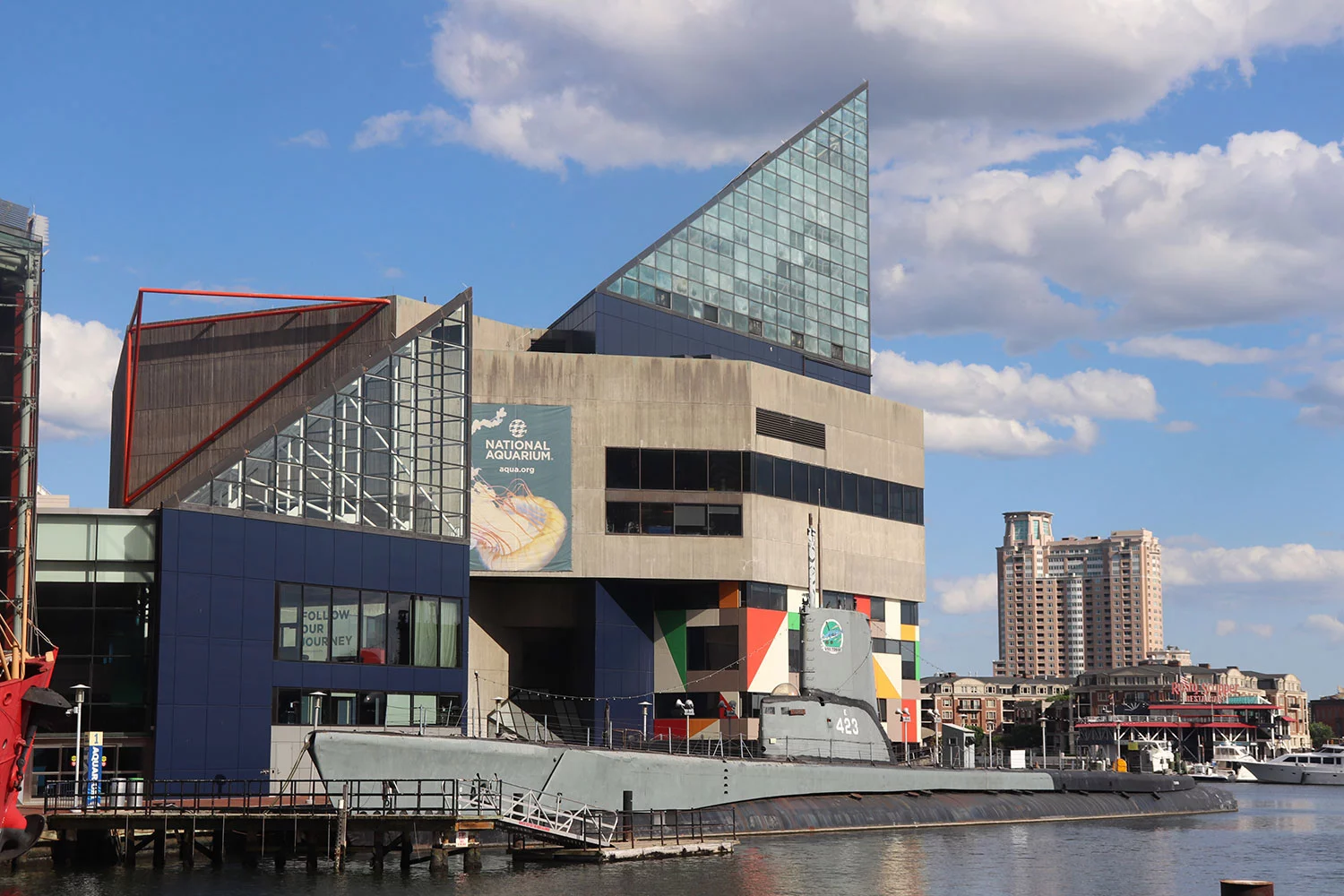 There's a lot for kids to do and it's mostly centered around the Inner Harbor. The most famous is of course the National Aquarium, which is definitely excellent to visit. It's half off on Friday nights if you want to save $20 per person. It's large enough that you can spend a few hours here.
Nearby there's also Baltimore's famous Port Discovery which is basically three floors of playground for your kids. For something just as fun but a little more educational, you can head in the other direction from the aquarium and stop at the Maryland Science Center. I had a great time there as a kid and just recently they opened an outdoor play park.
If you can do all these things in one day then hats off to you, because your child must have an insane amount of energy.
& for Watching Sports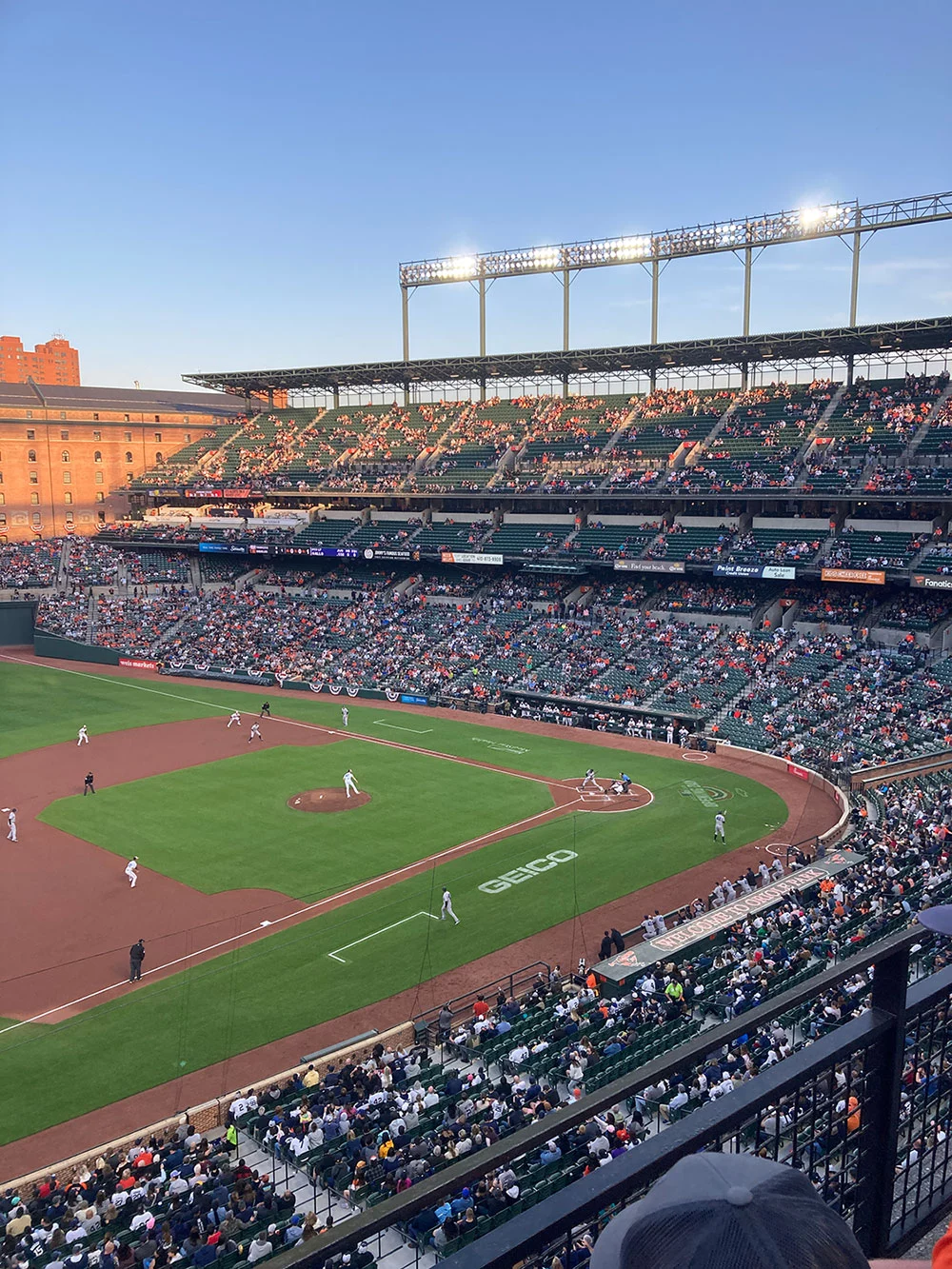 Baltimore loves its sports. If you want to visit Baltimore on a day trip, seeing a sports game is a good bet. You'll probably see half the area's locals at the game too!
Camden Yards is home to the Baltimore Orioles and is also one of the most renowned sports stadiums in the nation. You can't get a bad seat and tickets cost as low as $10 for the standing section. Also, believe it or not, outside food and drink is permitted which means you don't have to spend a gross amount of money on a tiny amount of food.
There's also the M&T Bank Stadium which is home to the Baltimore Ravens. If you're visiting from out of the country, the stadium is super accessible compared to other middle-of-nowhere stadiums, and seeing an American football game is a great way to experience American culture.
Both stadiums are conveniently located downtown, but traffic can get wild during the sports games. (I already told you half the area's locals will probably be there!) I recommend taking public transit into the city; or parking away from the stadiums and walking or taking a bus over; or going early to get garage parking.
(Want a little history too? You can also visit the Babe Ruth Museum a short walk away from Camden Yards.)
Visit Baltimore For the Spookiness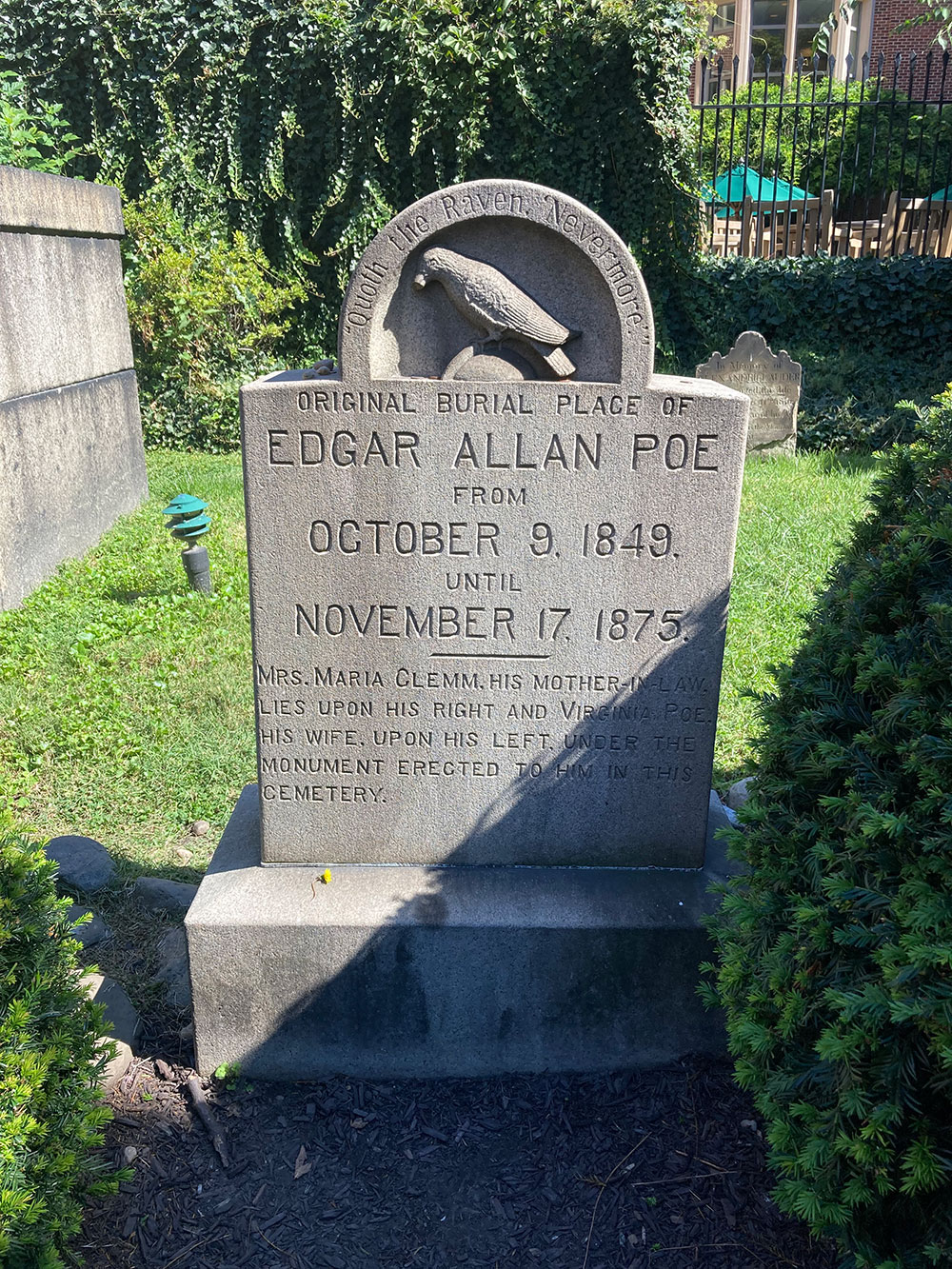 Every city has a spooky past, but Baltimore's a little bit special. Of course we have the typical ghost tour that runs through the popular neighborhood of Fells Point and, in October, through the Mount Vernon area as well. But that's just the beginning.
The iconic Edgar Allan Poe lived in Baltimore for a time and he died here, too. You can still visit the house he lived in which has an entire festival dedicated to him the first weekend of October. He's also buried at Westminster Hall a few blocks away. You can't miss his new grave, but be sure to walk around to find his original gravesite. Also take a peak under the hall, since there are catacombs there. Supposedly you can tour them but they've never been open when I've gone during opening hours. If you're dedicated, then give them a call ahead of time.
(If you're a Poe fan, be sure to check out my full post on Edgar Allan Poe sites to visit. This includes some more information on his time in Baltimore as well as New York, Philadelphia, and more.)
Did you know that Baltimore's also home to the Ouija Board? The building it was invented at is now a 7-11 off of Mount Vernon Square, but you can also see Elijah Bond's Ouija Board Grave in Green Mount Cemetery. Green Mount Cemetery is Baltimore's most beautiful cemetery and also houses the corpses of the Booth family, including John Wilkes Booth. His grave is unmarked but alongside his father's (who was actually an abolitionist). It's a cool place to hang out.
If you like oddities then Bazaar, a store slash museum, is the place for you to visit. They have a selection of weird and creepy stuff in here and most of it is for sale. Baltimore is also a host city for the World Oddities Expo each October, usually around the time of Poe Fest. For lovers of the spooky and macabre, autumn is a fantastic time to visit Baltimore.
Or Just Visit Baltimore to Walk Around
Do you like walking around cities aimlessly? I do. I love architecture and walking or driving through different areas lets me see a city's architectural personality. Since so many people left Baltimore in the 20th century, a lot of the old houses and buildings remain, so it's a very historically preserved city. I love seeing the old houses turned into restaurants, etc. I like window shopping. I like walking past a restaurant, saying "hey this looks good," and having a fantastic meal. If you just want to see Baltimore, here's a rough itinerary for you.
If you go to the South, Federal Hill is a wonderful area that's often overlooked for places north of the harbor. Here you can find good shops and places to eat. Don't forget to stop at Federal Hill Park for sweeping views over the city and the harbor.
Even though the Inner Harbor is almost synonymous with Baltimore, it's not a very exciting area. There are lots of chain restaurants and not a lot of charm. From here, I advise you head east to the area called Little Italy that merges into what's probably Baltimore's most popular neighbourhood, Fell's Point. Here in Fell's (along Aliceanna, Fleet St, etc.) you can find a ton of places to eat, with a lot of places to shop. It's a popular place for going out at night and for bars. You can also take a nice walk along the boardwalk.
Aliceanna meets Boston St at a seafood restaurant shaped like a boat, so it's hard to miss when Fell's Point turns into Canton. Boston Street is the main road in Canton but between there and Patterson Park are streets filled with small businesses. You can also spend some time in Patterson Park, which is like the Central Park of Baltimore. This area looks small on a map but it's actually several miles.
Fell's Point and Canton are the most popular sections of Baltimore and I highly recommend visiting them first. But if you return to Baltimore, you can head north from the harbor. If you go up St. Paul's Street or thereabouts, you'll end up in Mount Vernon, which is one of my favorite parts of Baltimore. It has the charm and the history of other areas but not the crowds.
Going north, the areas aren't as expensive so you'll see more affordable food options and stores. If you head north more, you'll end up at Station North which is an area popular with college kids because the University of Baltimore and Johns Hopkins are close by. It's not as pretty as some other areas but is a popular clubbing destination.
Go even more north and you'll end up at Johns Hopkins University. This area is packed with restaurants (even though some of them are chains). A lot of people in Baltimore come through because of Hopkins so a lot of locals know this area well. This is about as north as you can get before getting into purely residential areas. If you go west you can get to Hampden which is Baltimore's hipster neighborhood. It's a fun area but fairly small.
Intrigued to Visit Baltimore? Here's some FAQ:
Is a visit to Baltimore safe?
Short answer, yes, Baltimore's safe to visit. There are definitely areas that drag Bmore down in terms of safety but most* of the places I mentioned are safe to visit. The unsafe areas are generally residential so you probably won't end up there anyway. If you're staying in Baltimore then I recommend looking at my full guide to see the areas I recommend avoiding. You can also reach out to me and I'll help you choose a place to stay!
* The Poe and Great Blacks in Wax Museums are in iffy areas. Definitely visit if you want (I have) but I personally wouldn't linger too much in those areas. These are the only two places on this list.
What is driving and parking like in Baltimore?
Unless there's a sports game, traffic is generally minimal. You have to watch out for pot holes but driving is generally no better or worse than any other city. There's usually a lot of available street parking, too. The garages at Inner Harbor are really expensive so I recommend driving a few blocks away and finding inexpensive or free street parking instead.
How do you get around Baltimore?
If you don't have a car, the Charm City Circulator goes around tourist areas and is free. These are the buses with green and purple decor. There's also a CityLink Bus but that's not free. We also have bikes and scooters to rent, and of course there's Uber and Lyft.
How do I visit Baltimore without a car?
Baltimore has a central station called Penn Station, which you can get to from DC via the MARC train. It's also on the Amtrak line to access from places like Wilmington, Philadelphia, and New York. Do not take Megabus to Baltimore! The "Baltimore" bus stop is a 20 minute drive outside the city. You can take the 120 bus to the city but it adds about an hour to your trip each way. Penn Station is where you want to be.
So here you are – lots of reasons to visit Baltimore, and suggested plans based on your interests. I hope if you're in the area, whether that be DC, Philadelphia, or somewhere else, that you come to visit Baltimore for a day trip at least. And I hope so much that you enjoy it!
Have you ever been to Baltimore? What were your thoughts?
Please note that this post may contain affiliate links. These are at no additional cost to you but I receive a commission if you make a purchase through the link, and the commission helps me run my blog. Thanks for your support!
Sharing is Caring
Want to support me?
Buy me a Coffee