Where to Buy an Affordable Renaissance Fair Outfit: 8 Online Stores
Originally published on Thursday, August 10, 2023
One of my favorite things is going to the Maryland Renaissance Fair but buying a Renaissance Fair outfit can be quite the challenge for those of us on a budget. There are lots of mass-produced pieces you can find on places like Amazon and Ebay, or places that sell cheap stuff made in China, but there are also lots of great quality pieces you can find on Etsy and other stores which can even be made specifically to your liking.
I might have spent an embarrassing amount of time looking around for a Renaissance Fair outfit, but I've found some really great shops I'd like to share with you. This way, you're supporting small business and can find some more unique clothing designs.
The criteria: each of these shops must have a certain number of clothing available to make a Renaissance fair outfit (shirt/pants or a dress) for $100 or under before shipping.
Please note, I cannot be 100% certain that these shops are handmade or not made in a huge factory but I do my best to filter out places that are definitely misleading. These, at least, made it past my personal filter. Also, please read the entire listing before you purchase anything and keep in mind that shipping times may be a bit long.
Burgschneider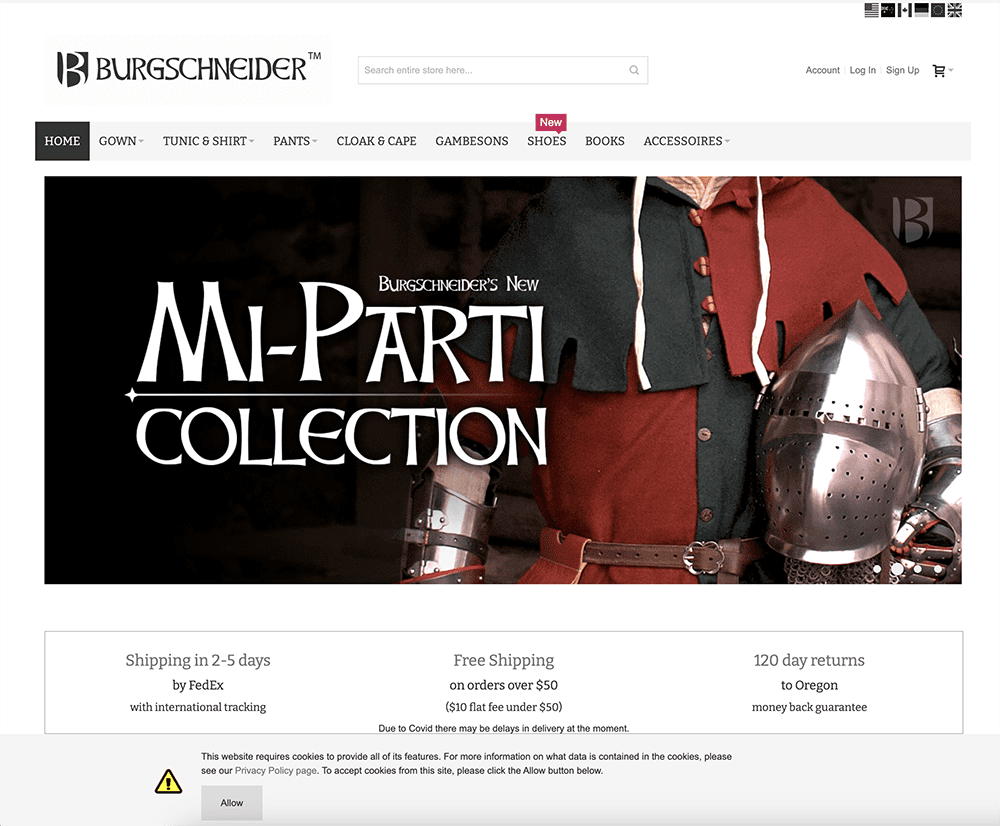 URL: Burgschneider.us
Location: Germany
Shipping Cost: free shipping to USA
Burgschneider is a German brand that sells a variety of basic and not-so-basic Renaissance fair outfits. Their quality is revered and you can purchase their garb from other sites. You may not stand out exactly, but Burgschneider's a solid choice for affordable Renaissance fair outfits.
Camelots Closets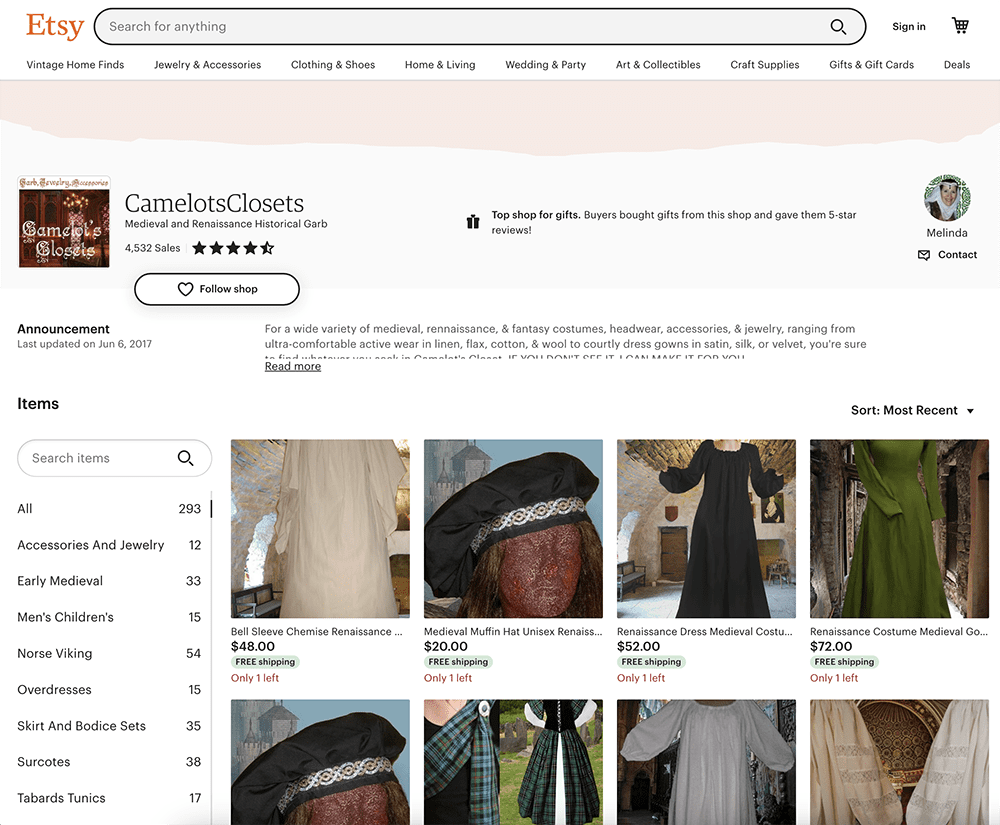 URL: etsy.com/shop/CamelotsClosets
Location: USA
Shipping Cost: free shipping to USA
If you are looking for a handmade Renaissance fair outfit for under $100, Camelots Closets is an absolute godsend. Melinda has been making clothing for decades before going to Etsy and she has dozens of designs available well under the $100 mark. And if you live in the USA, shipping is free! On this list, Camelots Closets is probably the best Renaissance fair outfit for value.
Celtic Fusion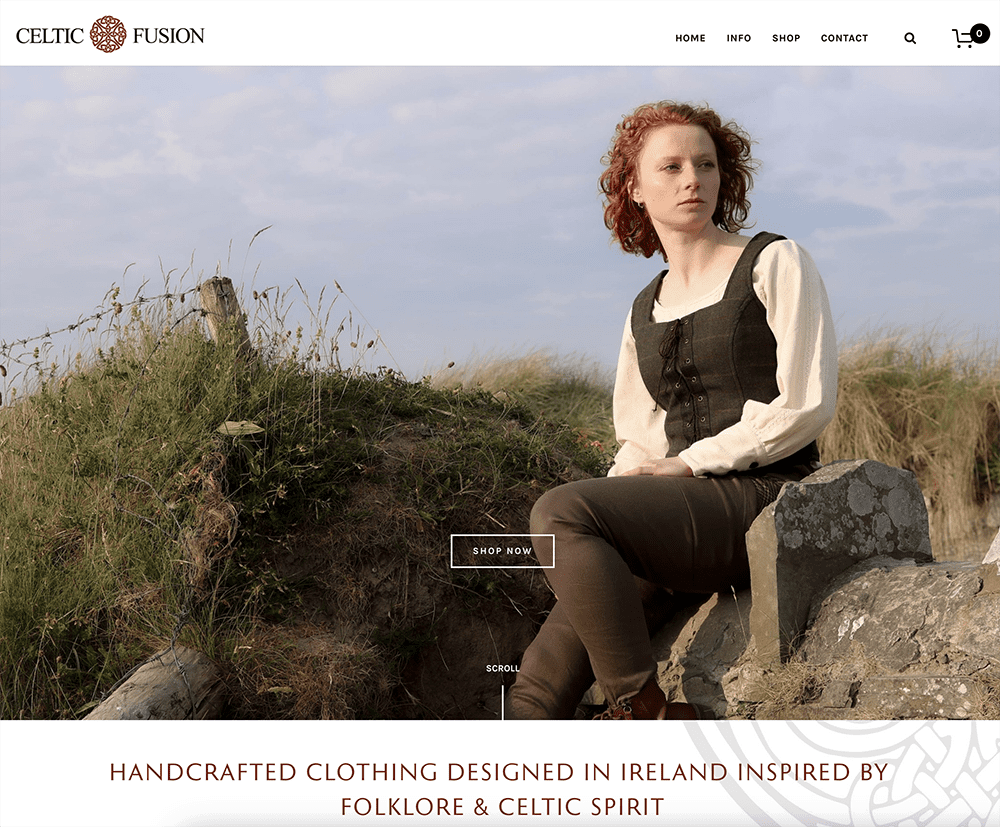 URL: celticfusiondesign.com
Location: Ireland
Shipping Cost: about $13 to USA
If you're looking for something unique yet appropriate, Celtic Fusion has a great selection of products. They're not the traditional Renaissance fair outfit but their designs are too close to ignore, plus you can also easily wear them outside the festival. They also pride themselves on being handmade and ethical, so it's an all-around winning choice. They also have a shop on Etsy.
Chicken Vicious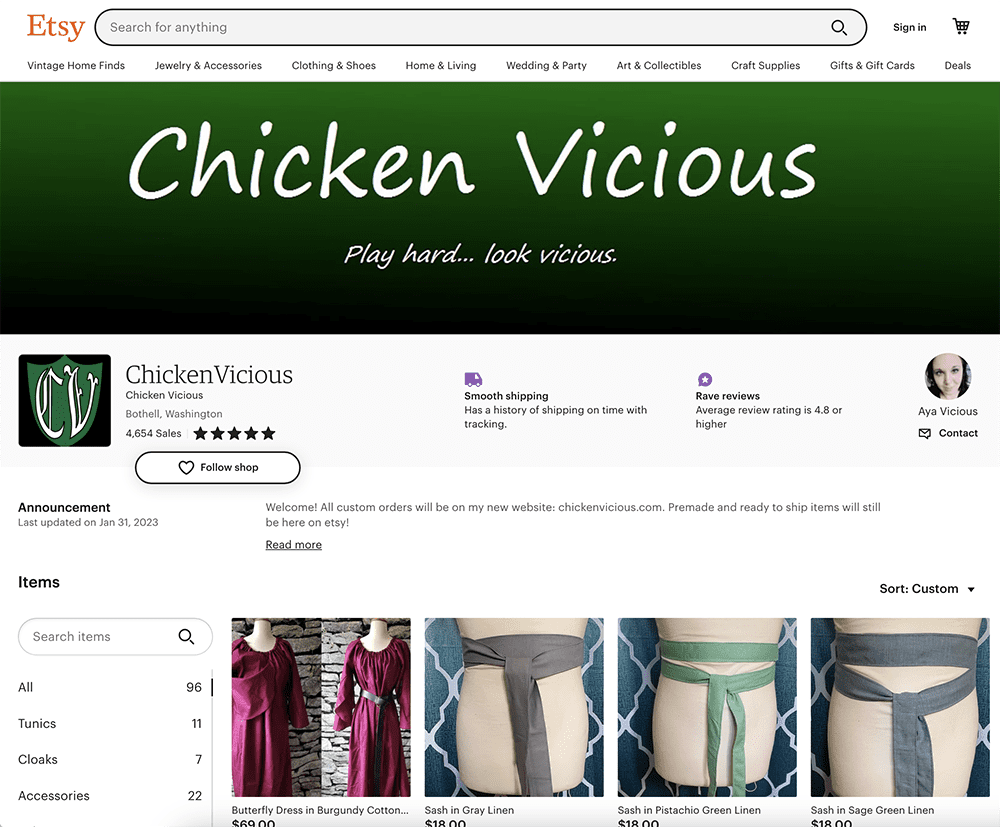 URL: etsy.com/shop/ChickenVicious
Location: USA
Shipping Cost: free shipping to USA
Chicken Vicious is another name that's popular in the bespoke medieval clothing world. This shop has premade clothing, so you'll need to find a style and size that suits you. If you want a custom product you can look at their Shopify which has designs made to order.
Dreamtime Fairy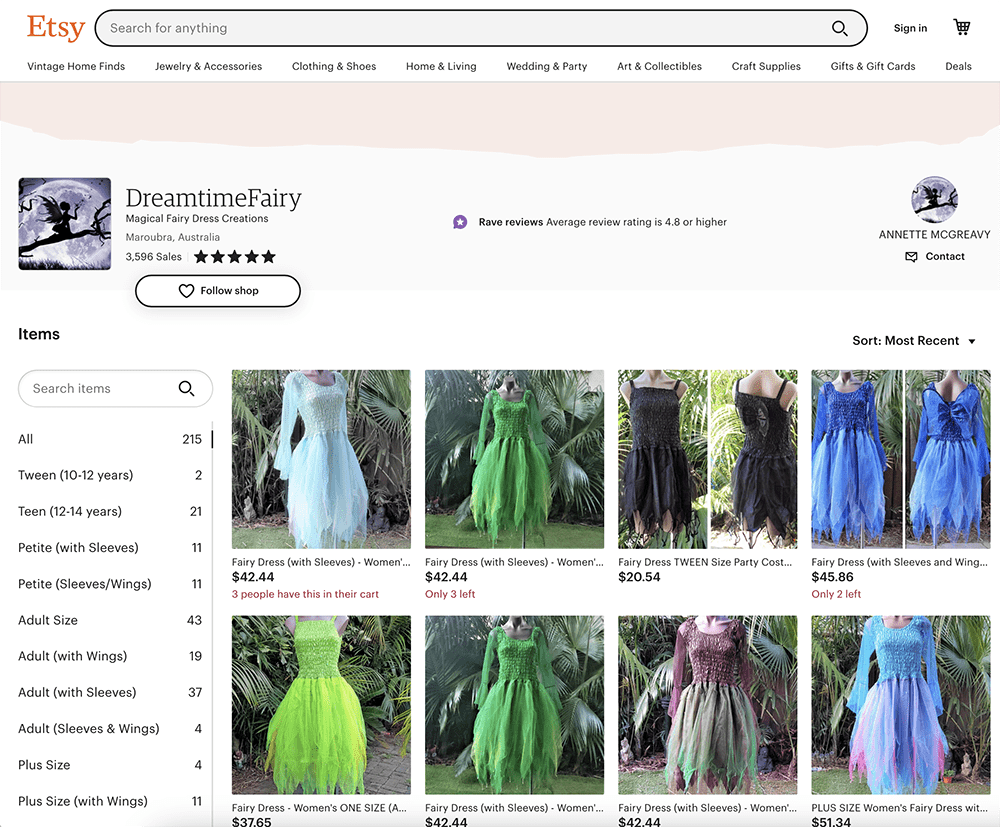 URL: etsy.com/shop/DreamtimeFairy
Location: Australia
Shipping Cost: about $20 to USA
This one is for the fairies (or faeries) out there! Dreamtime Fairy is an Etsy seller that has a wonderful selection of fairy dresses for great prices. They've got tons of beautiful colors to shop from. Even though they're located in Australia, you can still get a dress for under $100 after shipping to the USA.
Money-saving tip: If you put things in your Etsy basket and sit on it for a bit – even a short bit – often sellers will send you a coupon to complete your purchase. Usually it's about 5-10% off.
Leonardo Carbone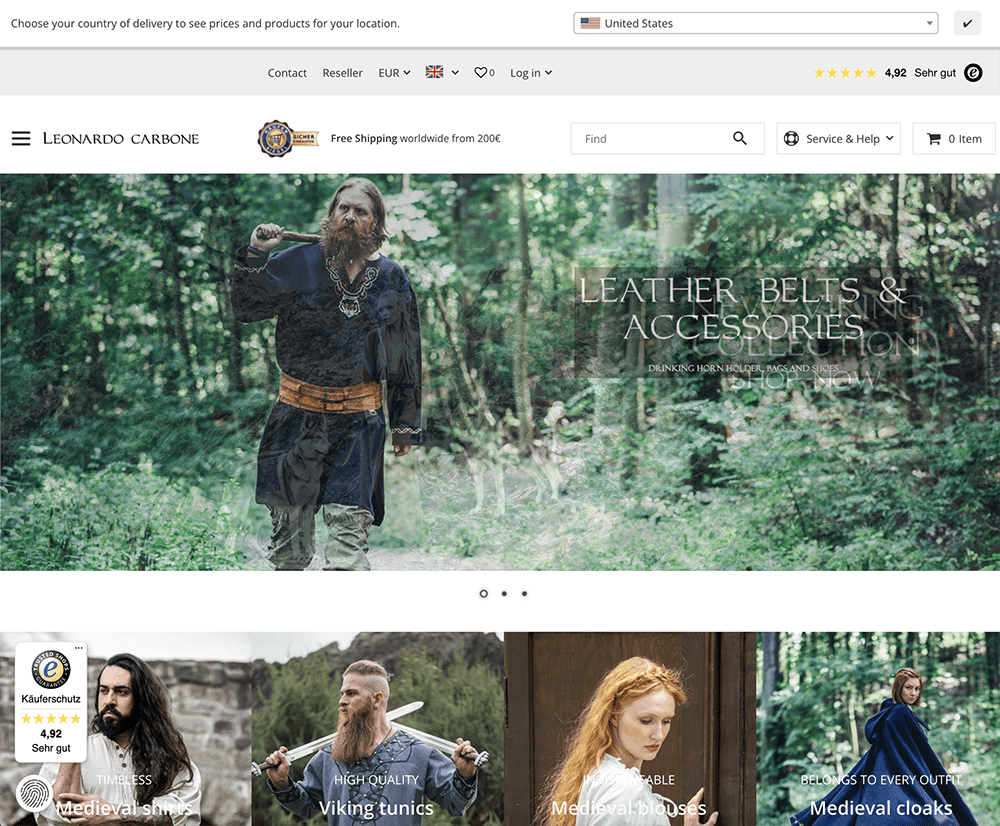 URL: leonardo-carbone.com
Location: Germany
Shipping Cost: about $13 to USA
Leonardo Carbone has some pretty designs to wear at incredible prices. They are another brand that's resold but I felt their designs are unique and well priced, so it would be a shame to omit them from this list.
Moonmaiden Gothic Clothing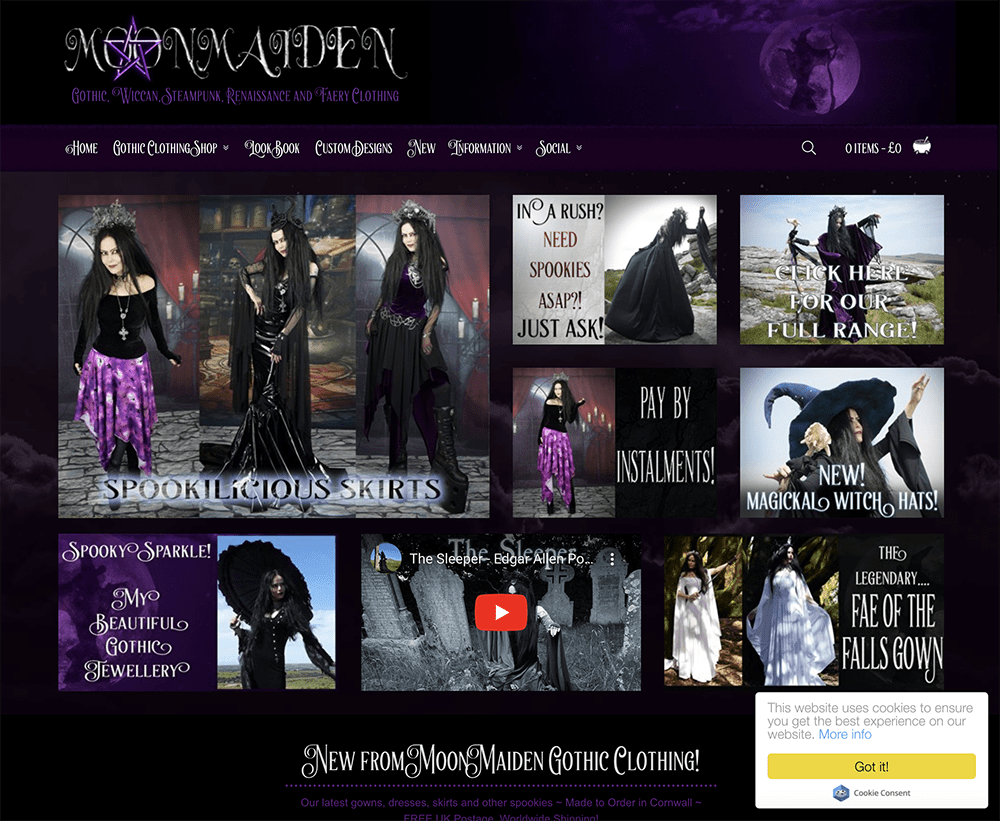 URL: moonmaiden-gothic-clothing.co.uk
Location: Wales
Shipping Cost: about $30 to USA
I love Moonmaiden, which is a husband-wife team in Wales. You can get a wide variety of nice dresses made just for you at under $100 after the currency exchange, and some even nicer dresses if you're willing to pay a bit more. Many of them are suitable to wear as Renn fair outfits. The only downside is that the website runs on Paypal and you need to email them after placing your order to make sure they got your order (one time, they did not see my order) – but I still recommend them. They also have a tiny selection on Etsy.
Shreeharicolours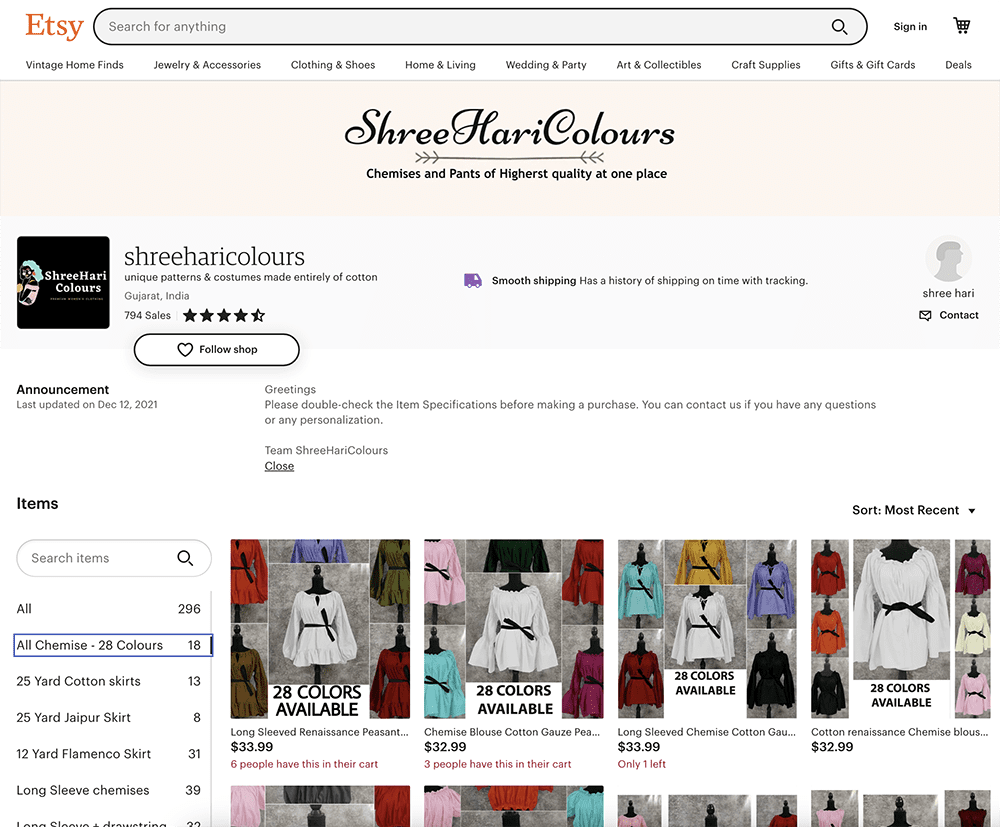 URL: etsy.com/shop/shreeharicolours
Location: India
Shipping Cost: about $22 to USA
This shop has a ton of different styles in so many different colours to choose from – hence the name. If you need the basics of a Renaissance fair outfit like a chemise or a skirt, this is a great place to get one at a great price – even after shipping. You can also have your clothes personalized.
Beware of Etsy scams! Unfortunately there are a huge amount of scams on Etsy. Lots of people take images from high-cost stores like Armstreet and post them as their own. They might send you a much lesser quality version. Please be on the lookout.
I hope this list helps you find a nice Renaissance fair outfit for a great price, and that if you decide to purchase one, you love it and have a great time wearing it.
Be sure to let me know in the comments which Renaissance Festival you go to!
Need to wear your Renaissance fair outfit somewhere else?
There are lots of beautiful places in Europe that still have tons of medieval charm. Browse through my destinations to find a place you can wear your outfit for some cute photos.
Headed to Maryland in the Fall?
You can find my post on other fun things to do in Maryland besides our award-winning Renaissance fair.
Please note that this post may contain affiliate links. These are at no additional cost to you but I receive a commission if you make a purchase through the link, and the commission helps me run my blog. Thanks for your support!
Sharing is Caring
Want to support me?
Buy me a Coffee