Highlight: Berlin
I'll be quite honest with you: Berlin was never on my list of destinations. If you follow my blog, you know that I'm more into cultural history and historical architecture. Berlin doesn't really have any more historical buildings and a lot of its history is more modern, and obviously focused on the second World War. The people who recommended Berlin to me were all big on nightlife so no, I didn't want to go.
However I chose to when it became a much-needed stop between Poznan and Dresden. And it was actually a very fun stop.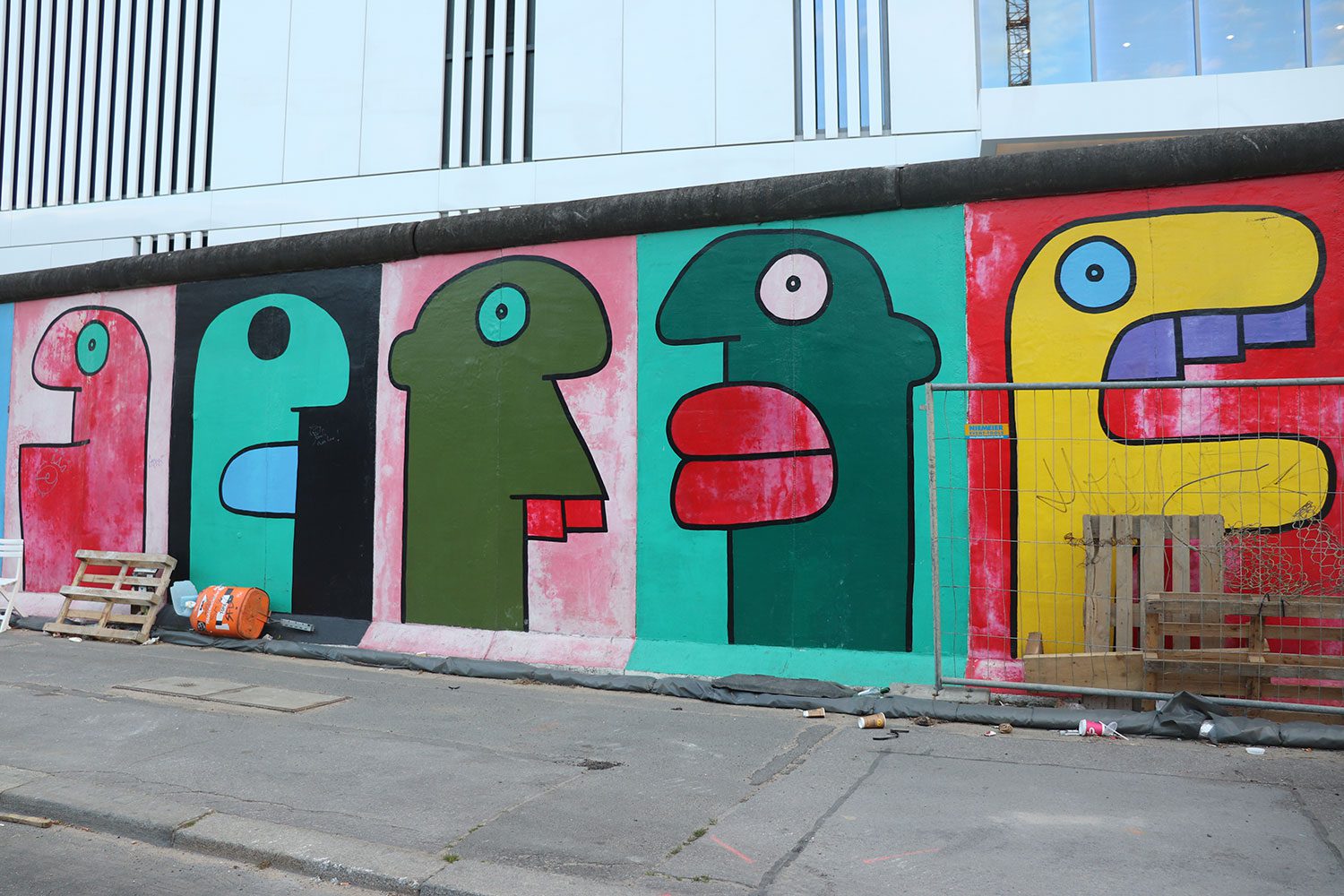 Before you go, I recommend looking into the Berlin Welcome Card and the Museum Pass Berlin. And read the fine print. You can save a lot of money by using these cards, though they have a combination of "get free entry here/get a discount here," so you'll need to do a bit of math to figure out which is the best. Also note that Museum Island museums are generally separate passes.
One of the first places I had to go was Charlottenburg Palace, which is a Baroque Palace that served as a residence during the Prussian Empire. It's absolutely beautiful inside with interesting gold gilding detail, and has a lovely garden. It was nice to see some of Germany's Prussian-era architecture, which is so rare to find. I also discovered the lovely Queen Louise of Prussia, who is now one of my favourite historic figures. Isn't it so nice when you travel and come back with a new interest?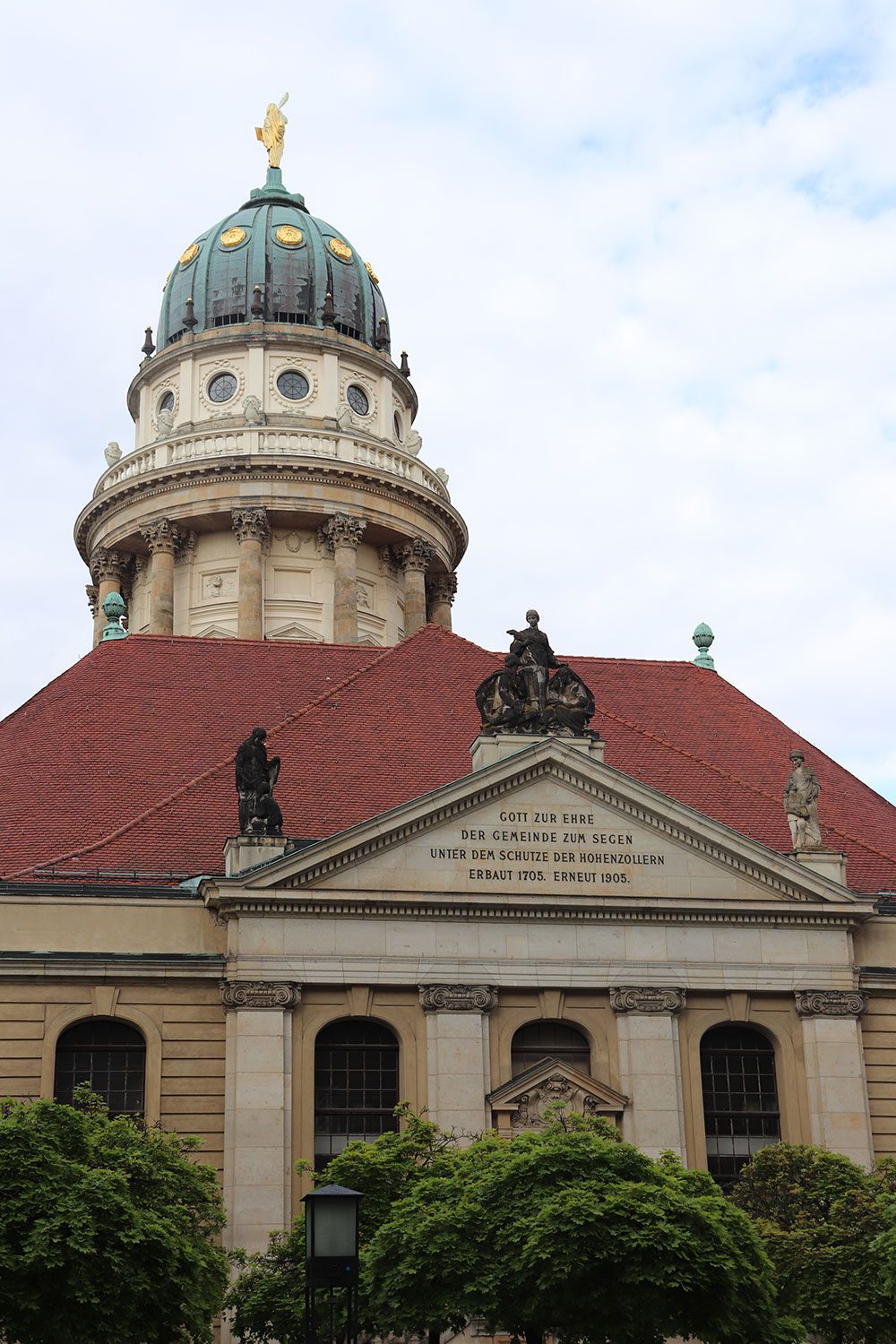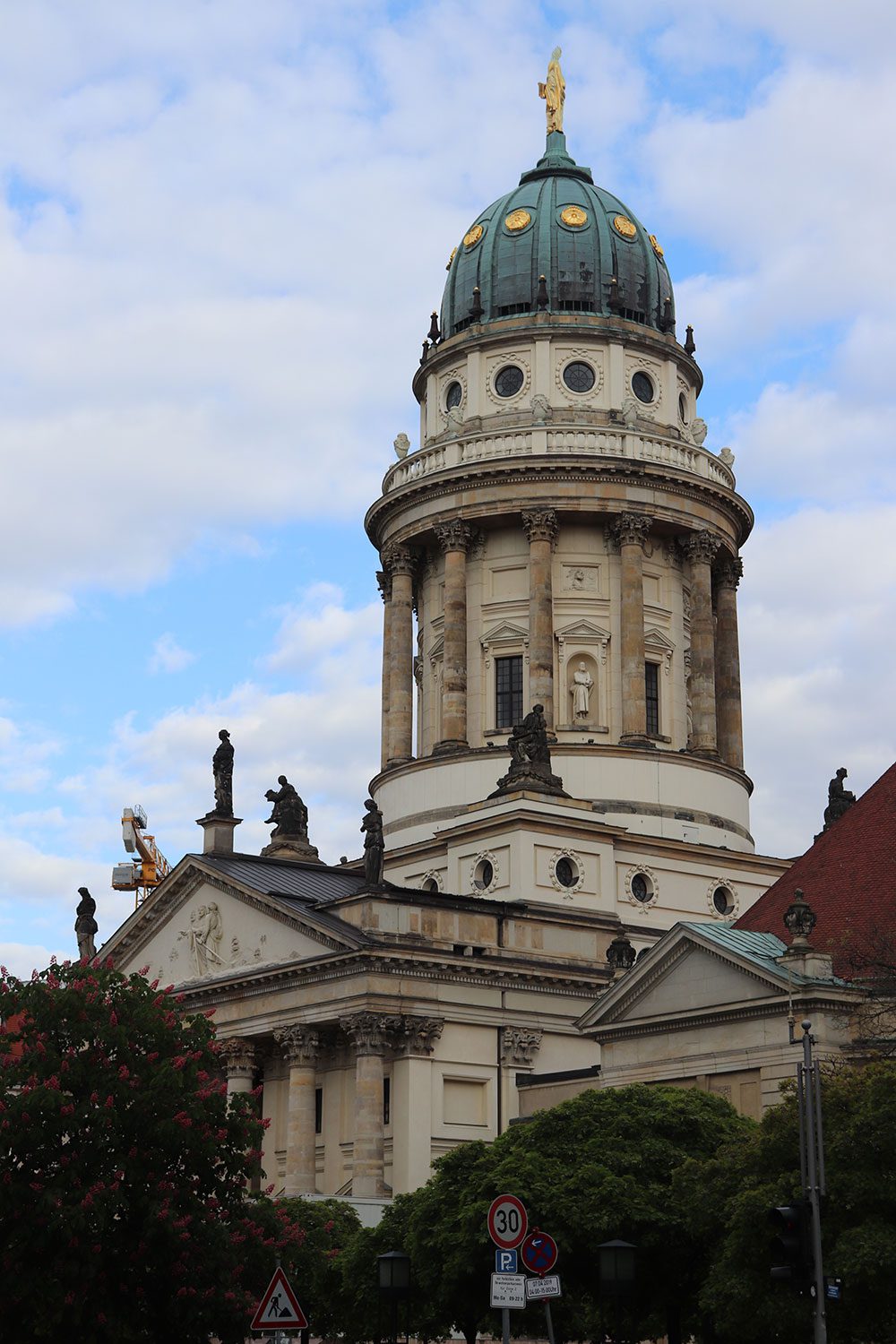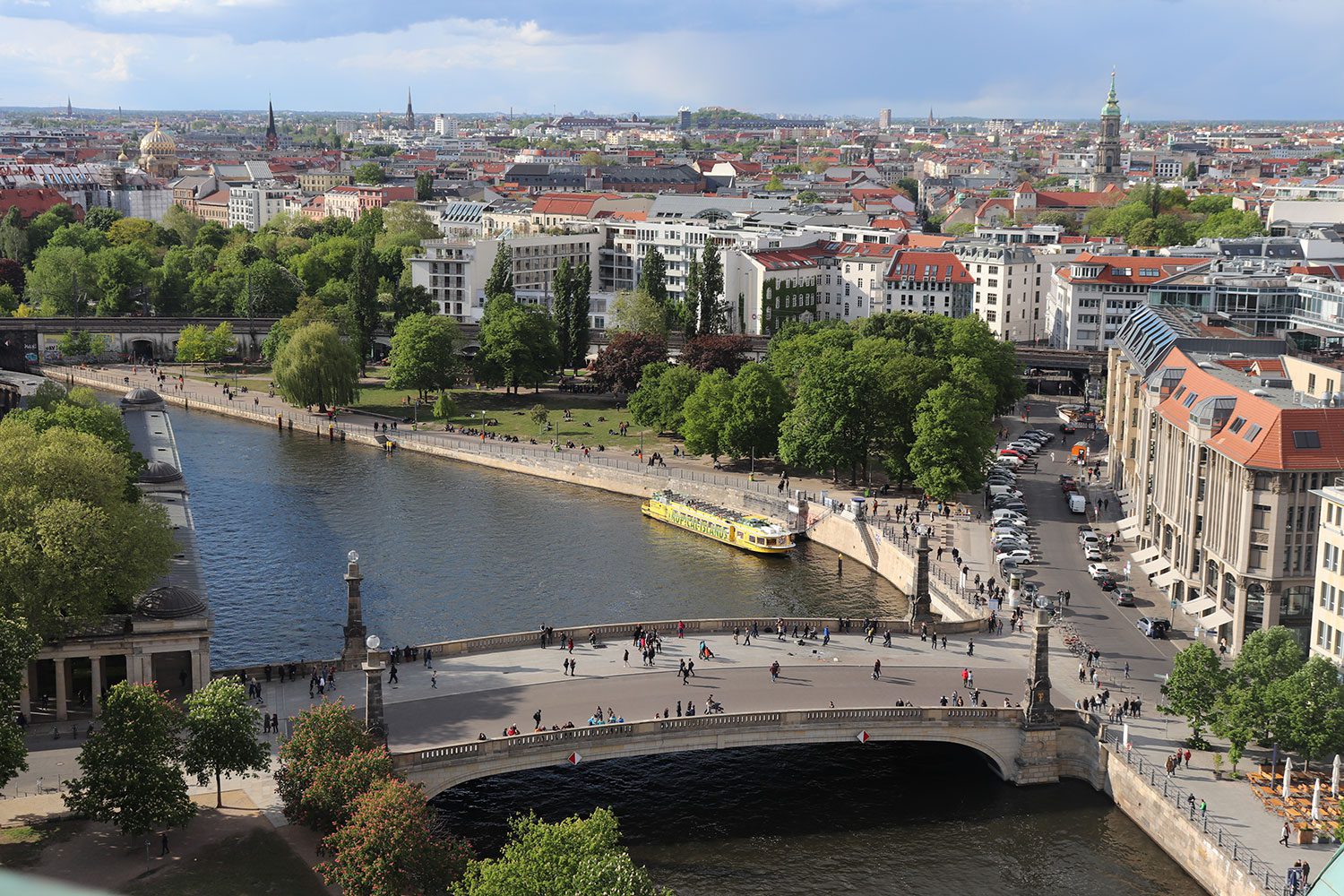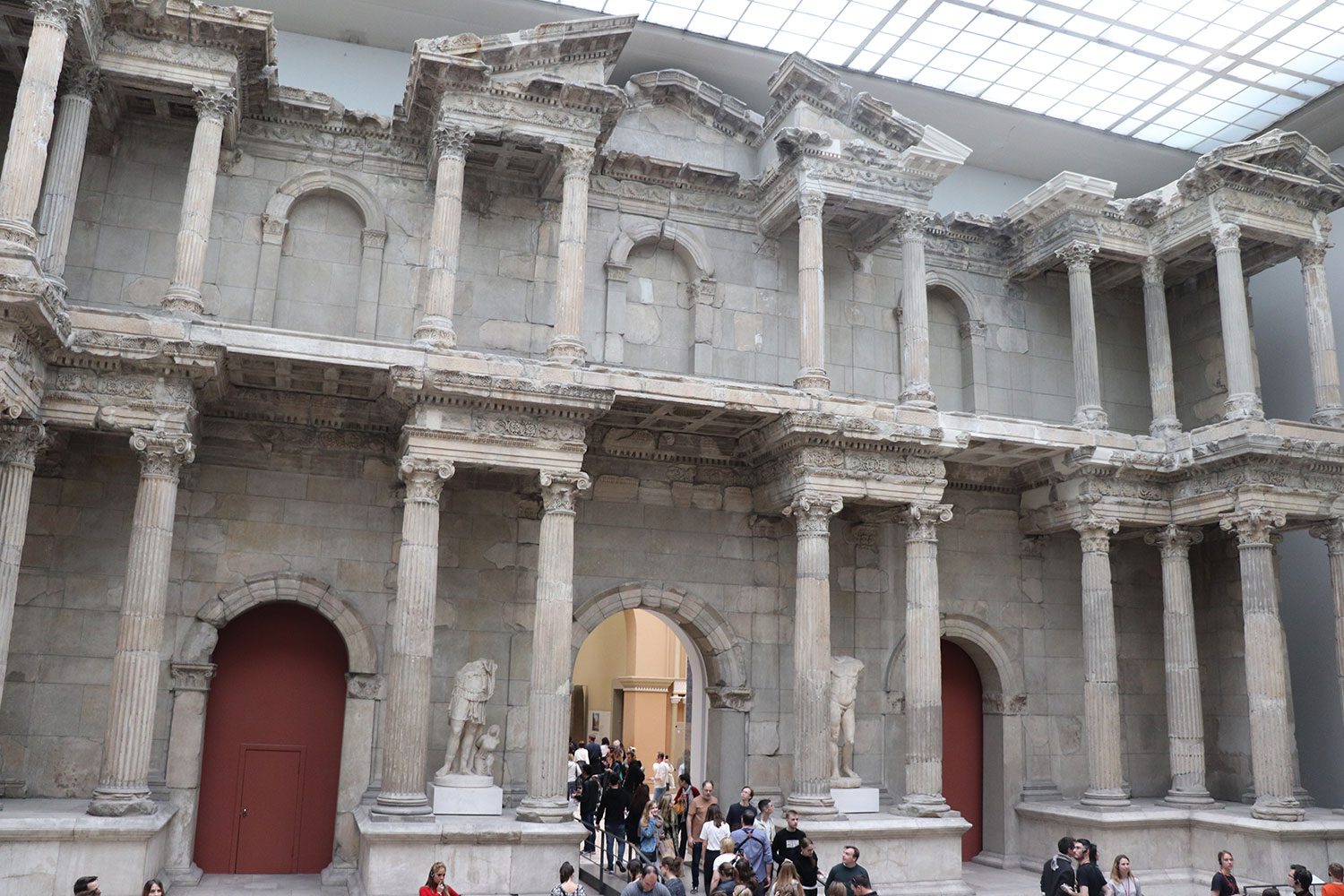 Of course I also visited several museums on Museum Island, the hottest tourist attraction in Berlin. I first went to the Old National Gallery and really enjoyed the art. They don't have extremely notable pieces but they have a lot of landscapes, impressionist-esque paintings, stuff of that nature. Of course I had to visit the Pergamonmuseum, which houses the Market Gate of Miletus as well as the Gates of Babylon (yes, the Babylon). The Pergamon Altar was not on display when I went but the gates were clearly the highlights of the museum. Was it worth paying about 18 euros to see them? Not sure. But it's still cool to say that I went.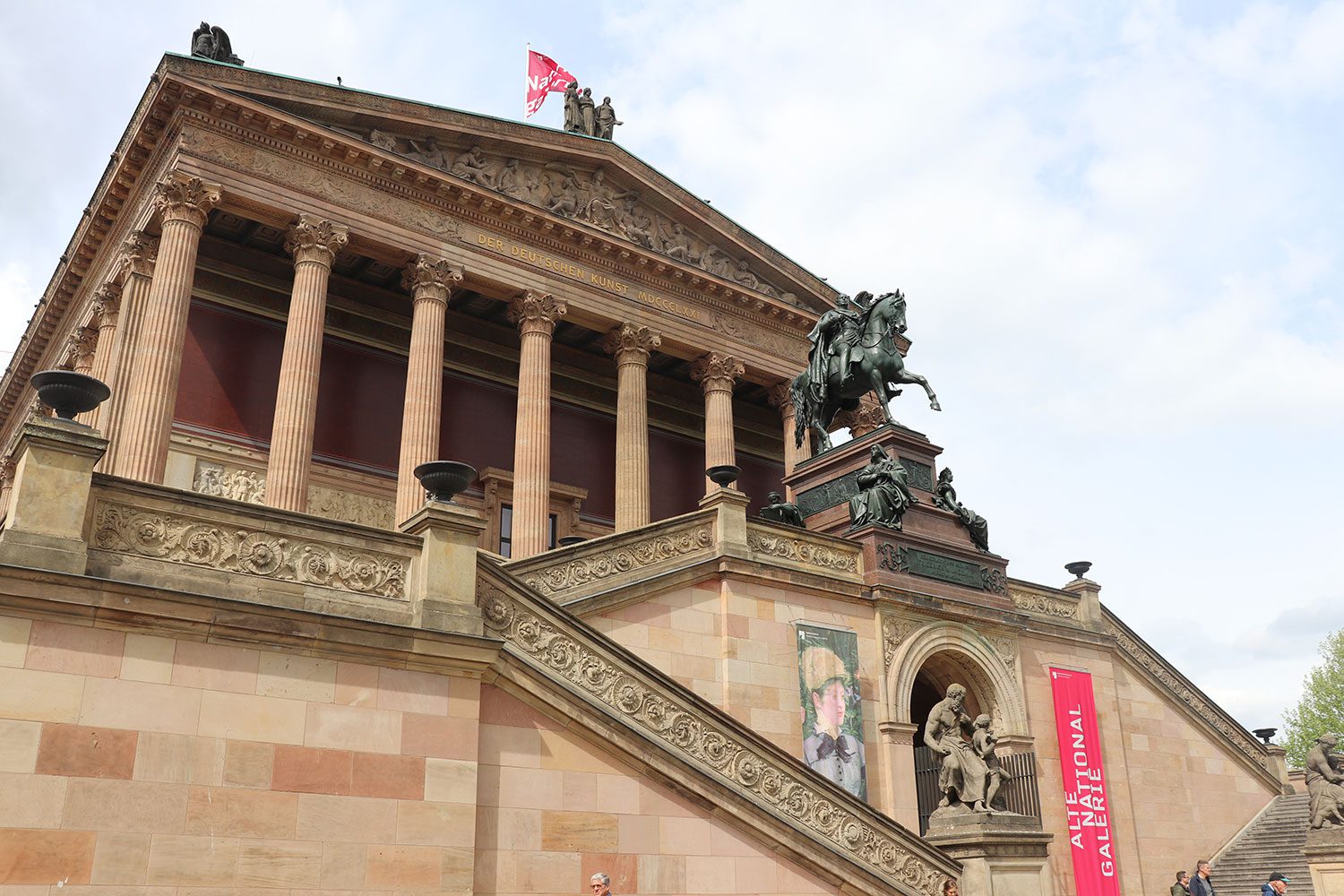 Next door you can see the Berlin Cathedral, which is an absolutely gorgeous work of Baroque architecture. The views from the tap are actually very nice, especially since Berlin is such an expansive and diverse city.
Two of my favourite places to visit in Berlin are actually not the most popular. First was the German History Museum. I have to say it's one of the best history museums I've ever been to. It's in very clear chronological order and has highlights from cultural and political events in history. Knowing virtually nothing about German history, I came out with a much expanded knowledge. I highly recommend visiting this gem! Another attraction I liked is the Berlin Story Bunker, which houses the history of Berlin in a WWII bunker. Berlin's history extends back to only the 1600s but again, I was able to learn a lot. It's also an artefact-based museum and it's super cool to see things that existed hundreds or decades of years ago. They also have a display on stuff found within the bunker. What I liked about both museums is that they don't emphasise WWII like a lot of places do with German history. That's part of their history, but just that – a part.
There are also places such as the Bradenburg Gate and the Victory Column that many people stop by to see and take a picture of, though I was never able to find out the significance of the Bradenburg Gate. Even though it's a little tourist-y, I enjoyed the area between the Gate and the German History Museum. It felt most historical. There is also of course the East Side Gallery but to be quite honest, it wasn't as extensive as I'd expected.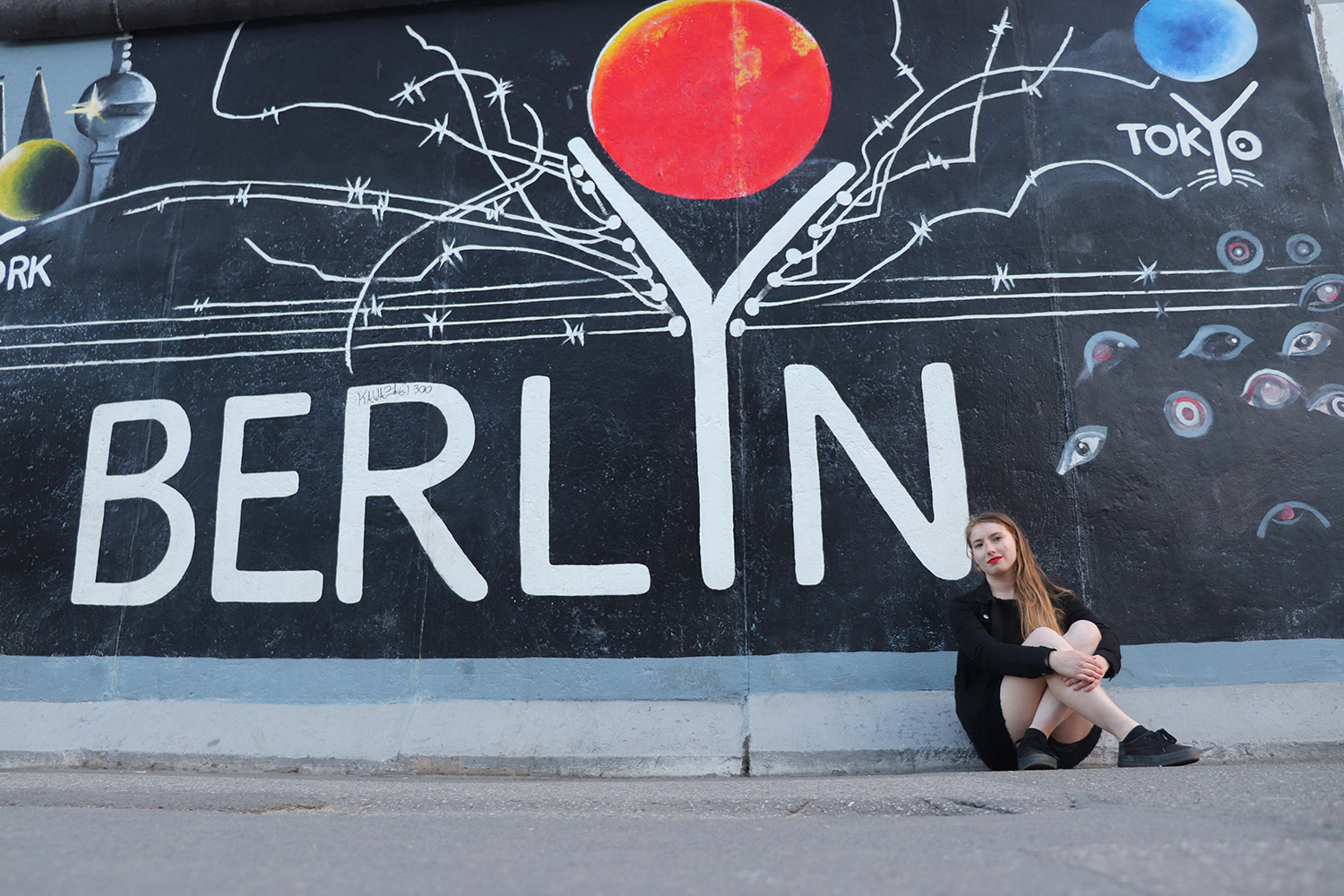 Berlin also has some very delicious food! It's a very vegan- and vegetarian-friendly city. I personally loved going to Rausch Chocolate House as well, and had the best hot chocolate there. You can apparently make your own Ritter Sport in Berlin, as well. Lots of good food and chocolate!
Berlin still isn't one of my favourite cities, nor one I'd necessarily like to return to. But there was a lot of great stuff to do and I really enjoyed my time there.
Have you ever been to Berlin? What did you think?
Posted on Tuesday, August 27, 2019 in Destinations
Tags: berlin, europe, germany
No Comments ★ Permalink
31+ Things to Do in Dublin
Dublin has a lot of fun and uniquely Irish things to do for tourists. From an abundance of museums to iconic monuments, here's a list of 31+ things to do while you're in Dublin.
Places to See
Learn at Trinity College. Established in 1592, Trinity College is one of the most visited places in Dublin. You can take a tour here or simply go in and walk around by yourself.
Touch the Molly Malone statue. I personally think this is way overrated but people love taking a photo of themselves *touching* the Molly Malone statue. They also touch it with their mouth. Please don't do that.
See Christ Church Cathedral. Built almost one thousand years ago, Christ Church Cathedral is a popular place for visitors to visit and catholics to worship.
See St. Patrick's Cathedral. You've probably heard of St. Patrick, who cast all the snakes (pagans) out of Ireland. St. Patrick's Cathedral is built on the site where St. Patrick baptised people into Christianity. This cathedral was also built almost a thousand years ago.
See the Oscar Wilde house. Unless you can get a group of 25+ people together, the Oscar Wilde house is inaccessible to the public. However you can still view it at 1 Merrion Square West.
Go across the street to see his statue. Directly across from the house is a statue of Oscar Wilde.
See the O'Connell Monument. Right in the centre of town, Daniel O'Connell's Monument is important to Irish history. O'Connell is credited with the Catholic emancipation, allowing Irish to practice Catholicism in the 19th century.
Cross the Ha'Penny Bridge. This Victorian-era pedestrian bridge is a quite popular spot to cross the River Liffey. Is it weird looking? Beautiful? That's up to you.
Admire the Harp Bridge. The Samuel Beckett Bridge is a bit out of the way but it's very unique. It's designed to look like a harp, the national symbol of Ireland.
See the Temple Bar. It's very tourist-y and overpriced, so not worth having a drink there. However the area is pretty cute and has a lot of live street music.
Museums
Visit Dublin Castle. At Dublin Castle, you can go inside the State Rooms, medieval castle, or both. However I didn't think it was anything spectacular.
See the Book of Kells & Trinity College Library. You can see two very famous Irish icons at once. You can see some original pages from the Book of Kells and then the famously beautiful interior of Trinity College Library by going on their special exhibition. I recommend getting tickets in advance.
See the bog bodies at the National Museum – Archaeology. If you like archaeology, you'll have heard of the "bog bodies." Ireland's are on display at the National Museum of Ireland – Archaeology. I also found this museum to be incredibly informative as to the history of Ireland.
Visit the National Museum – Decorative Arts & History. I still haven't been since it's a bit out of central Dublin but Ireland's National Museum system also includes a branch on decorative arts & history.
See the National Museum – Natural History. Like other large cities, Dublin also has a national natural history museum.
Revisit the 20th century at the Little Museum of Dublin. I personally thought the Little Museum of Dublin was uninteresting as it only covers the big parts of Ireland's 20th century history – the parts everybody knows about. However it is a popular museum.
Taste at the Irish Whiskey Museum. Conveniently located, the Irish Whiskey Museum has exhibits on Irish Whiskey and an included tasting.
Or go to another distillery. Dublin has a few distilleries, including Jameson Distillery and Teeling Whiskey Distillery.
Shrink at the National Leprechaun Museum. Yes, Ireland actually has a National Leprechaun Museum. Here you can feel small as you seat yourself in oversized furniture, turning you into a wee leprechaun. They also have night tours with "twisted tales" if you're looking for something a bit spookier.
Visit the National Gallery of Ireland. Of course Ireland also has a national gallery that has an array of art from the past few hundred years.
Visit the Dublin Writers Museum. The pro about this museum is that there are a tonne of Dublin writers. The con is that they have only about 2 feet exhibits on each writer. It's out of the way so I don't think it's worth going.
Look up your family history at EPIC. The Irish Emigration Museum (EPIC) houses information on emigration from Ireland. However you can also look up your Irish family history here.
Learn about the famine aboard Jeanie Johnston. The Jeanie Johnston is a replica ship of one that carried immigrants from Ireland to Canada. Today you can learn more about famine in Ireland on the ship, and you can also see the statues of Famine right by it.
Visit the Kilmainham Gaol. A bit of dark tourism, the Kilmainham Gaol was the site where Irish rebels were imprisoned during the war in the 20s. It's on the outskirts of the city but is still a popular place for tourists to visit.
Step back in time at Dublinia. I still haven't been but I'd love to go to Dublinia. It's an experience that allows you to enter Viking and medieval Dublin.
See the National Botanic Gardens. Of course, Dublin does have its own botanic gardens.
Visit the Irish Museum of Modern Art. If you like modern art, the Irish Museum of Modern Art (IMMA) should be a good stop for you.
Activities
Have a drink at the Brazen Head. The Brazen Head is Ireland's oldest pub, dating back to 1198. Though it's cool to have a drink there, we found their food to be a bit mediocre.
Stroll through St. Stephen's Green. This park is a nice escape from the city. It's also where many rebellion battles were fought.
Get lost in Phoenix Park. Phoenix Park is a huge park located on the outskirts of Dublin.
Experience Gaelic games with Experience Gaelic Games. The company Experience Gaelic Games offers lessons in Gaelic Football, Hurling, and Gaelic Handball. I have no personal experience with them but it looks like a unique thing to do. They also have lessons in Galway and Cork.
Dublin has a good number of activities for tourists, and it's interesting that a lot of them are very specific to Ireland. The country has a lot to be proud of and that's clearly on display in their capital city of Dublin.
Have you ever been to Dublin? What was your favourite thing to do?
Posted on Thursday, August 22, 2019 in Destinations
Tags: dublin, europe, ireland
No Comments ★ Permalink
Reflections on Auschwitz-Birkenau
One of the places I've always wanted to see is Auschwitz-Birkenau Concentration Camp in Poland. It is and has been on so many peoples' travel lists, including mine, but I couldn't tell you why. It's supposed to be a sobering experience, and something that makes people realise how lucky we are to have what we do. I guess that's why I wanted to go. I wanted to get emotionally sober, to feel more emotions than what I normally feel.
I was nervous going into the camp. I thought maybe I'd accidentally or unknowingly say or do something wrong, or that I'd see someone blatantly doing something inappropriate (such as taking a selfie or laughing). Everyone there behaved and I myself did not do anything dumb. First we went through the arbeit macht frei gate, which is quite small in person, and then you can see what Auschwitz looks like on the inside. It's actually not a bad-looking camp. The buildings are well preserved and the lawns and trees well manicured. It's such a juxtaposition to all the horrors that happened there.
A lot of the rooms we visited were informational, with artefacts, photographs, and facts relating to the Holocaust. With a guide, you don't have enough time to see these for yourself. Of course, Auschwitz has items that belonged to Holocaust victims there: shoes, pans, suitcases with their names on them, and most notably, the hair. I wanted to imagine all of the lives that once filled the shoes, that cooked with those pans, that wrote their names on their suitcases, that wore their hair. The weight of all those lives would've been crushing.
There's also a hallway with a bunch of photographs of early Auschwitz victims, which truly puts a face on the horrors. They had a lot of anger or even despondence in their faces, and I wondered how many of them knew at that time that they were going to die.
Actually, the most touching photograph I saw was at the Deutsches Historisches Museum in Berlin. It's of a little girl who I believe was 12. She had so much fear in her eyes.
We then got to see more administrative buildings and the Death Wall. This gave a lot more perspective on how people actually lived – if they got to – at Auschwitz. What got me was the little cells in which they'd hold up to 4 people. We got to see that they clearly were not large enough for 4 people, and had to be entered through a small door only a few feet high. I felt uncomfortable just thinking about it. We then got to walk through the doors that the condemned would walk through to get to the wall. It was so strange seeing what so many people saw during their last bit of life.
However I found Birkenau to be more touching. When execution got on so large a scale, Birkenau was built and was the real extermination camp. It was so desolate. Of course we went on the train tracks but here, you could see the actual gas chambers where thousands of people were murdered. You get to go into one gas chamber and see the holes in the roof for the gas pellets. This was particularly creepy. I rushed out of there and into the crematorium, which was obviously no better. Actually, I tripped on a recessed part of the floor, which was where the tracks for the crematorium cart went. At this point, I felt physically ill.
Auschwitz and Birkenau were both strong, thorough museums. They're very well preserved and give quality information about the Holocaust. What struck me the most about the tour was how much it was driven home that nobody really knew what was going on. Of course there are a lot of theories and fake news out now, but I'd believe from the stories of locals that everything was kept hidden. That's why so many people went and brought their prized possessions; they thought they were going to be relocated rather than killed. It makes me so terrified about what's going on today.
Even though I did something I've always wanted to do, I was disappointed in myself for feeling so numb – for not being able to imagine and feel what happened there. For not being able to cry. I shouldn't have been disappointed. In retrospect, it's completely normal for people regulate their emotions as I did that day, so they don't feel extreme feelings. But it reminded me of how privileged I am to live here and now. I never lived through a war or through genocide. To me, it's hard to imagine that could ever happen in my country in my lifetime. But it's heartbreaking that these millions of people walked straight into their deaths and they actually didn't even see it coming. In a weird way, Auschwitz gave me more skepticism for the world, but also more peace with other people.
And to be honest, I never noticed how much the Holocaust and Auschwitz itself is always compared to current events. Visiting gave me a sense of what Auschwitz actually is, not just what people say it is.
At the end of our tour, we got to see the plaques in several languages that promise to never forget what happened there. Our tour guide sincerely thanked us for coming since it helps keep the camps open. That was actually the most sobering part for me: never forget. The site is a memorial now and a way to remember all the souls lost to genocide. It's tangible proof that the Holocaust happened. It's sad to think that if Auschwitz closes and is torn down, our memories might shrink a little bit. It's so strange how that happens.
Maybe that's why I wanted to go to Auschwitz: to help the memorial survive. But in all honestly, I still don't know why I really went.
◘ ◘ ◘ ◘ ◘
Getting to Auschwitz: From Krakow, you want to get to Oswiecim, which can be done via train. The ticketing system at Auschwitz is a little weird since it's free before a certain time, and after a certain time. And obviously, it's a very popular spot to visit so the lines are naturally long. You can read more on their website here. I went with a tour group so I could also see Wieliczka Salt Mine in the same day. The costs I got online for tickets and public transit rides were only a few dollars less than I paid for the tour, so I don't regret it. Whichever works for you.
Have you ever been to Auschwitz? What is your view on "dark tourism"?
Posted on Saturday, August 17, 2019 in Destinations
Tags: auschwitz, europe, poland
No Comments ★ Permalink