My Worst Hotel Stay Ever (& What I Learned About Refunds)
Alright, so it was a hostel & hotel. But this had nothing to do with my roommate and everything to do with the establishment.
New York City has expensive hostels anyway, but I found a place that was $90 for one night and it was rated a 6.5 out of 10 but I didn't mind. I wasn't looking for anything luxury, just a place to sleep for the night. It was actually in a good location so I thought it would all be OK. I didn't know a hotel could suck so much.
It was only 8pm but I got an early start, my friend already went back to his hotel, and I was quite tired. So I get to my hotel and it's a really old building, but in a dingy way. It doesn't look like it's been cleaned in a few years, and it's also an apartment building that has signs telling us we're not allowed to interact with the tenants. Friendly. The man at the front desk was actually really nice. However he got my address wrong, which I corrected on the receipt, but he wouldn't correct it in the system because it wasn't that big a deal. I didn't care at the time but I later would.
So I get up to my room and have one roommate. He clearly has the top bunk, which has been slept in. I have the bottom, the mattress without anything on it. I look around the room, in some drawers and in the closet, to find my linens. I went back down to the man at the front desk and said I didn't have any linens. His exact words were, "If we have any more, we'll bring them to you." He started calling someone with the landline to ask if there were linens and I went back up to my room, wanting to sleep but being unable to.
Then I realise it's actually very cold. I search around the room for a heater, but there is none. There is, however, an AC unit in a window, which left a bunch of the window open, letting the cold in. Oh BTW, it's January, in NYC. So it's very cold and I start putting all the clothes I brought on, layering to keep myself warm. Two hours goes by, and I go back down to the desk to ask where my linens are. He said that they were washing them for me then, and would bring them up soon. It was hopeful, but I also thought, it's 10pm. This is kind of ridiculous. I couldn't believe they didn't have an extra blanket or something to give me, at the very least. It was then that I decided I'm just going to ask for a refund.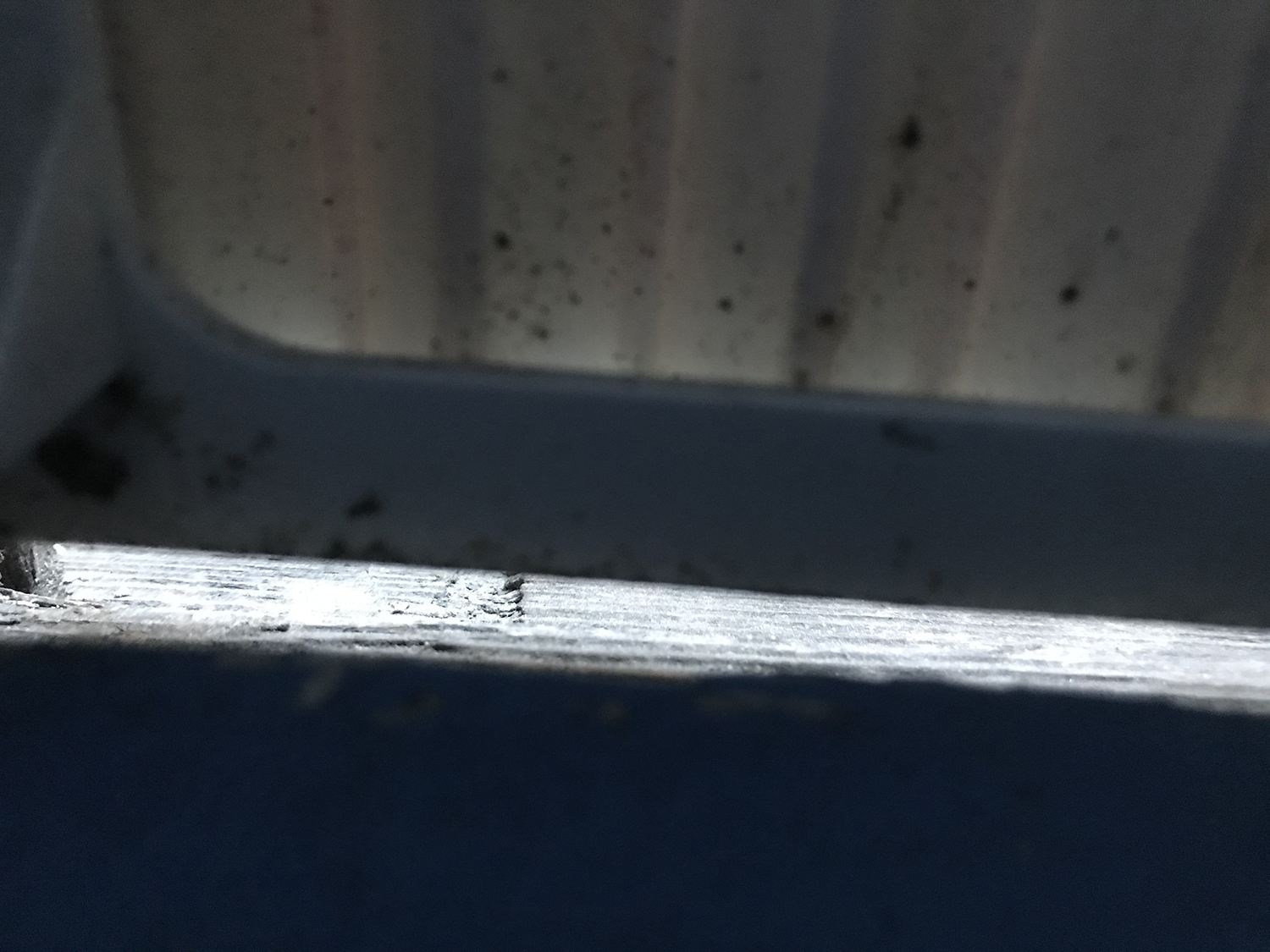 I'm fed up at this point. And very tired. So with nothing but a layered outfit, I lay down on the mattress and got to sleep. Kind of. I was in and out of consciousness because I was uncomfortable and cold. So, bizarrely, I was awakened at 1am because someone (not my roommate, not the man at the front desk) was tucking me in with a blanket. What?? Not only was I woken up, but it was 3 hours later, and I didn't know who this person was! I guess it was supposed to be a nice gesture but there were a million ways that could've been handled better.
I wake up later in the night. I'm still cold. I'm pulling the blanket around my body when I realise it's not even a blanket but a thin sheet. It's wrapped all around me and it's still cold. I look for the pillow they brought, but there is none. Just this sheet.
So I wake up in the morning and I'm so tired. I'd gotten an early start the day before and couldn't sleep in such uncomfortable conditions. When I woke up in the morning, I could see that the sheet they got me was actually more like a thin tablecloth. Bizarre. I had to use the restroom, and my room had its own. However it was so dirty it was terrifying. Also it only had a toilet and a shower – nowhere to wash my hands. So I went to a hall bathroom. The window was stuck open and there was no toilet paper. I went to another hall bathroom. There was toilet paper and soap, but this window was also stuck open and there was a huge puddle of water on the floor. I had to tiptoe around it to ensure my precious socks – the things keeping me most warm – didn't get wet.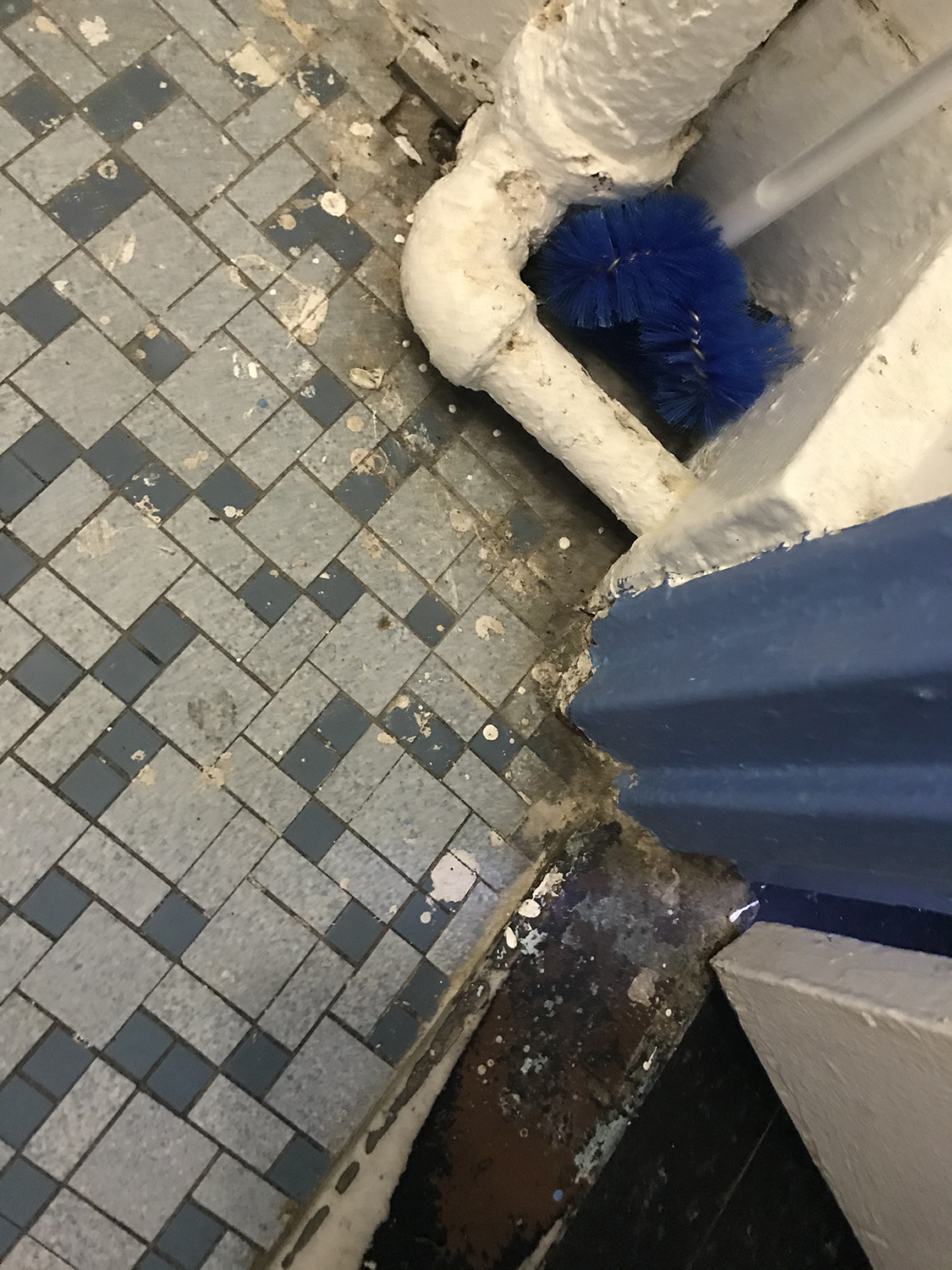 I look at their refund policy printed on my receipt and it says that refunds will be issued by checks in the mail, sent to the address provided at checkin. So they're going to snail mail me a check to an address that they got wrong, and that I had pointed out they got wrong? Nuh-uh. I'd decided I'm going to go through the internet to try to get my refund because I wanted it all in writing. I don't trust these people. I'm sleep deprived and upset at this point so I go to check out. Another man is taking care of the front desk and he is also very nice, except he can't find my name in the system. Am I sure I stayed here and stayed in the room written on my key? Uh… yes? He just said "ok" and let me go. He didn't ask me how my stay was so I didn't tell him.
Oh yeah, I forgot this puppy – the sign on the door that said the building had been condemned in a few rooms. Dated several years earlier. I don't own a hotel, but if I did, I'd want to fix that ASAP to get that warning off my window! Either they forgot to take it down or they never got the rooms taken care of. Either way, they just didn't care.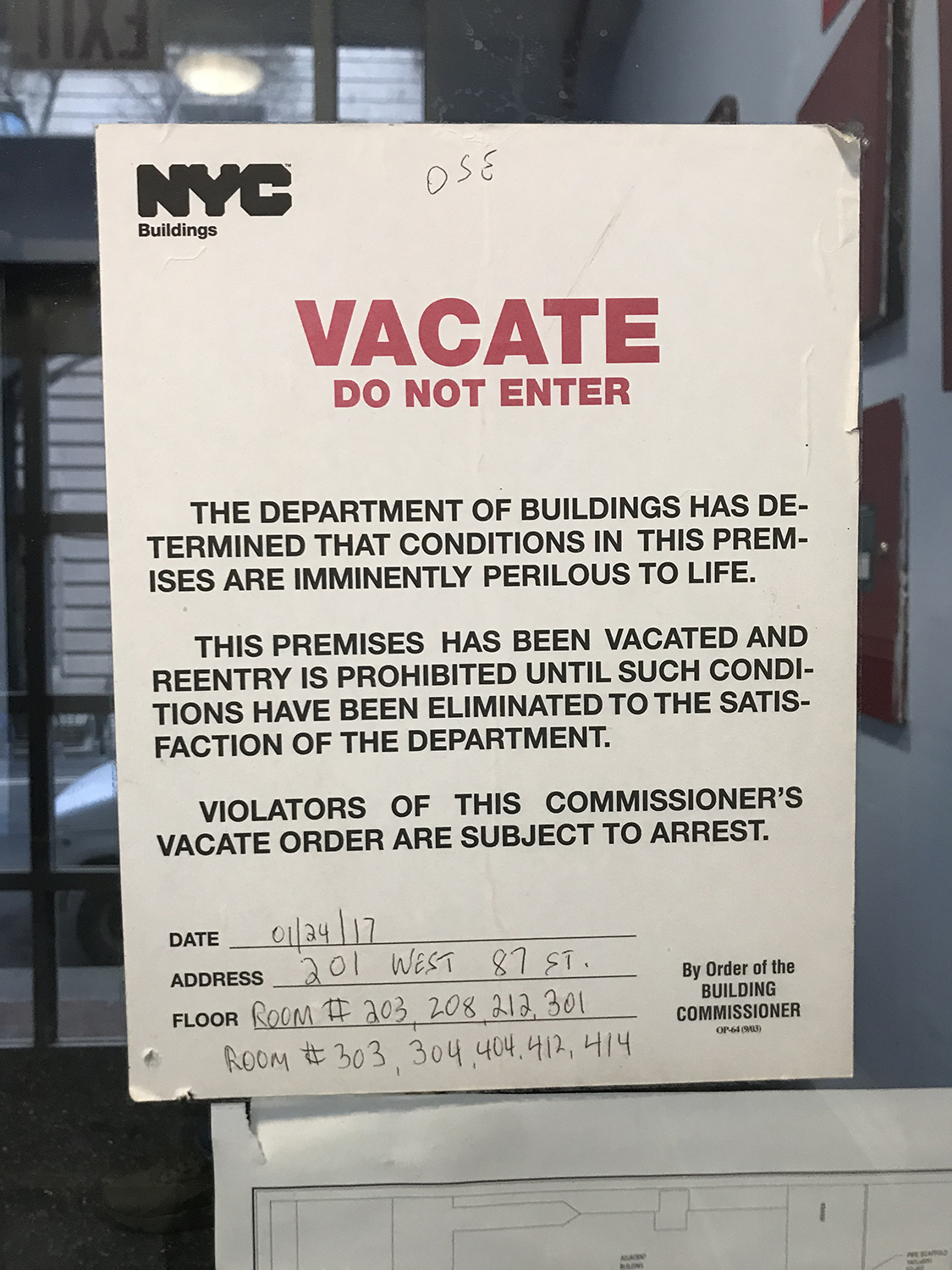 The Refund
So I contacted the hostel with my complaints via Booking. They didn't respond. I'm a generous person, so after a few days, I sent a follow-up. They said they could only give me $45. Since I
did
stay the night there (though, really, what choice did I have?), I offered $75 since $15 was taxes. They didn't respond. A few days passed and I sent a follow-up message. They didn't respond.
Off to my credit card company. I have a Visa and was ultimately told to report the complaint to them, so I called without hesitation. I told the man at Visa what happened and to much surprise, he was upset with me. He told me I should've asked for another room; I should've asked for the manager; I should've asked for a refund at the hotel itself; I should've taken the generous $45 they'd offered me. He was actually really upset I'd had the audacity to expect a refund when I didn't put "any effort" into making the visit right as I was visiting.
Excuse me? This entire hotel was dingy AF, and it was partially condemned and they didn't care about that. No, I didn't think about asking for another room because the entire place was crappy; no, I didn't think to ask for the manager because the man at the front desk didn't do anything wrong*; no, I didn't ask for a refund there cause I didn't want a check sent to a bad address; no, I didn't take the $45 because, honestly, I didn't think they'd refund me. I get that maybe this guy thought the hotel employee I encountered was doing a bad job and a good hotel would lose money because of it. But really, this place shouldn't even be in business.
(*I have a feeling this guy probably tried his best. I feel for good employees who work for crappy establishments.)
Anyway, it was quickly decided by the Visa team that I deserve a refund and got my full $90 back. So a win for me! A few weeks later, they sent me a letter asking if I had actually stayed at the hotel, which was weird considering I'd already gotten my refund. Yes I'd stayed there, but moving to another hostel in NYC at 10pm was not even an option to me. I won't apologise because all I wanted at a hotel was a blanket and pillow. But even though I hate confrontation and want everything in writing, I will probably talk to a manager to cover my bases. Hopefully I won't be put in another situation like this again.
Did you ever have such a bad experience at a hotel or hostel? Did you get a refund?
Posted on Saturday, February 29, 2020 in Stories

No Comments ★ Permalink
Highlight: Wroclaw
Wroclaw is a small city in southwest Poland, and like several Polish cities, its stunning architecture attracts tourists. I too had to see this city for myself, and it was much bigger than I'd expected. (Helpful tip: it's pronounced VROTS-WOV)
Something fun: My great-grandmother came from a small Silesian town near Wroclaw. She was a Polish Jew who married a Catholic Irishman – in the 1920s. How progressive is that?
That's on my mother's side. What's funny is that earlier ancestors on my father's side came from the same area of Silesia! Small world.
A little bit of history: Like other smaller Polish cities, Wroclaw's history as told today starts around the 800s, when it was a small village. The territory was known as Silesia. Along with Katowice, Wroclaw is one of the prime Silesian cities.
The town square that you see today actually dates to the 13th century, and the town's sentiments stuck with the town square. The city has been in the hands of Bohemian, Austrian, Prussian, and Nazi rulership since the 1300s. However, it's fascinating that over hundreds of years, the citizens identified (or wanted to identify) with Poland and the term Silesia is still used.
Wroclaw has a few essentials. The absolutely must-see is the Rynek, or town square, with the City Hall. This gothic building is one of the most beautiful I've seen! You can explore the inside for a small fee. The museum inside is actually quite small (it's a museum of Bourgeoise art), but if you have the time, you may as well go in. The town square itself is very colourful and filled with cafes. Poland doesn't have a lot of tourists so it's actually not that busy or crowded.
Another popular thing to do is see "Cathedral Island," which isn't actually an island. It is across the river from the main section of town though. Here you can see the Cathedral of St. John the Baptist and the Collegiate Church of the Holy Cross and St. Bartholomew. This area is pretty but quite small and more touristy. There are quite a few churches in the main part of the city though. St. Mary Magdalene's Church and St. Elizabeth's Church are both very prominent, and you can go to the top of both. If you're into churches, you should read up on those in Wroclaw because they're everywhere!
Something that's fun and unique to Wroclaw is to find all the gnomes that are spread throughout the city. These little guys started as a piece of fun in a communist regime, and now businesses pay to have one outside their front door. You'll notice that the gnomes often reflect their environment- the photo below was taken at the Opera House. Apparently more gnomes get added frequently and it's something that makes Wroclaw charismatic. If you're so inclined, you can buy a gnome map at a tourist counter.
A popular museum is the City Museum of Wroclaw, which I found to be very informative and fascinating. I much prefer this to the City Hall and recommend it to anyone who likes to learn the history of the city they're in. This is not to be confused with the National Museum, which is an art museum.
Another popular attraction is Wroclaw's "Hala Targowa," which is a food hall. I cannot judge an entire establishment based on one meal I had there but… it was a good meal.
There were a lot of other museums I discovered once arriving in Wroclaw. There's the Panorama Raclawicka, which is a panoramic painting of the battle. In keeping with elements of Polish culture, the Museum of Pana Tadeusza is dedicated to the Polish poem. The museum looks to give a holistic experience to the poem, including information about the time period. I honestly hadn't heard of either of those but it's fascinating that they could run successful museums off of single works. Some other offbeat museums include the Museum of Architecture, Ethnographic Museum (which covers the Silesian identity), and the Museum of the University of Wroclaw, which has a variety of exhibitions. Something's always closed when I come across the world to visit, and this time it was the University of Wroclaw. The exterior is quite beautiful though.
Wroclaw is such a fun city. There are lots of colours, gnomes hiding in every corner, and there's plenty to do beyond the typical history museum and church. This city stays true to its Silesian heritage and there's a lot you can of resources available to learn more about it. If you're looking for a laid back city break with a lot of history, Wroclaw just may be the place to go to.
Have you ever been to Wroclaw? What did you think?
Posted on Wednesday, February 26, 2020 in Destinations
Tags: europe, poland, silesia, wroclaw
No Comments ★ Permalink
Things to Know about Mardi Gras before ANY New Orleans Trip
If you've taken a French class in the U.S.A., you've probably heard of Mardi Gras. It's most known for being a celebration of "fat Tuesday," the day before Lent starts, and it's popularly celebrated in New Orleans. As I took French throughout school and participated in French club in college, I did the King Cake every year and would tell others that there's a crazy festival down in New Orleans each year to celebrate the day. I went to New Orleans in January because I wanted to avoid the Mardi Gras festivities, as it's just not really my thing.
Everything I thought I knew about Mardi Gras? Wrong, and definitely not enough. Even going in January, I was still able to see some Mardi Gras festivities. And it's not something they do for tourism – it's a huge part of the culture. It really hit home that Mardi Gras is very misunderstood and there's so much more to this cultural event.
PS – if you want to get to the point, you can scroll down to "Mardi Gras Today." The rest is a historical background.
Mardi Gras in Europe
The Fight between Carnival and Lent by Pieter Brueghel the Elder. Public domain.
A Background on Christianity: If you're not familiar with the Christian custom of Lent, it's the 46-day period before Easter Sunday, and thus always begins on a Wednesday. Lent is the period designated to commemorate Jesus' 40-day-long journey in the desert. Christians give up things like meat, eggs, and sweets for this period of time, though a lot of people today choose one "vice" and give it up for Lent. The 6 other days are Sundays, which are like "cheat days."
You've probably heard the song "The 12 Days of Christmas," because Christmas traditionally lasts 12 days starting on December 25th. This period is called Advent and ends on January 6, which is Epiphany or Twelfth Night.
The Origins of Mardi Gras: Mardi Gras, translated to "Fat Tuesday," is the day before Lent starts. It's also called Shrove Tuesday or Pancake Tuesday, but those have more of a religious connotation. It makes sense that hundreds of years ago, people would come up with the idea of indulging in all the food and fun activities that they would be giving up for 40 days. This was done with lavish parties and was celebrated in many European cultures. Like many other holidays, this one called for masked costumes.
(It's worth noting, however, that Epiphany, also called King's Day, is celebrated more in Europe now and Mardi Gras is relatively unheard of outside of Canada and the U.S.A. They also celebrate Shrove/Pancake Tuesday but it's a religious tradition that isn't as rowdy.)
Coming to the New World
Jean Baptiste Le Moyne Sieur de Bienville, a French-Canadian explorer, landed in what would be around present-day Empire, Louisiana, on March 2, 1699. It was actually the day before Mardi Gras so he and his men named the area "Pointe du Mardi Gras." The next day, they had a small party to celebrate the holiday – what some would consider America's first Mardi Gras.
This is where the story gets a bit more interesting. Today, many would think that modern Mardi Gras was planted and grew in Louisiana, but that's actually not the case. Mr. Bienville actually got up and migrated to modern-day Mobile, Alabama. By 1703, there was a small settlement there, but they were able to celebrate a proper Mardi Gras. The tradition has not been broken to this day.
The next year, they established a secret society, like a "krewe", called Masque de la Mobile. In 1711, the town had the first Mardi Gras parade and the secret societies and parades got more elaborate from then on.
With that in mind, let's switch back to New Orleans, which was established in 1718 by Mr. Bienville. (He did a lot back then.) The 1740s brought Mardi Gras Balls to Louisiana, but they were still following the model of excessive parties. In 1763, the Spaniards took control of New Orleans, and Mardi Gras was banned. However there are still some records of Mardi Gras festivities under Spanish rule. The tradition must have at least been underground because when Louisiana became a U.S. state in 1812, Mardi Gras was back up and running. Fifty years of oppression couldn't stop this centuries-old tradition.
The New Orleans locals began with parades as well, but they were more processions of horses and performers rather than the float-filled parades we see there today. But by the mid-19th century, Mardi Gras in New Orleans had become a wreck. While it was still celebrated every year, the parties were known to get too rough and became synonymous with violence. The locals felt they had to choose between one of their favourite customs and feeling safe.
This is when the city of Mobile comes back into play. In 1857, a group of young men in a society called the Mistick Krewe of Comus came from Mobile and put on a proper parade – one with "tableaux cars," or floats. They also brought flambeaux, or flaming torches with multiple wicks, that are still a staple of Mardi Gras.
The year 1872 introduced the "king of carnival," or "Rex," and his job was to preside over the parade. His job is also to pay for the party – or more specifically, the cake, because who can pay for an entire Mardi Gras parade? This is also when the three colours of Mardi Gras were introduced – purple, green and gold. They're said to symbolise justice, faith and power respectively, but it's also said that someone at some time just liked the colours.
And so the modern-day Mardi Gras was born.
Mardi Gras Today
Mardi Gras isn't just a parade people put on each year; it's a culture, and a process. There are different
krewes
, which are like socities or clubs, that have themes and come together to coordinate what each parade and possibly ball is going to be like. The costumes are a really important part, and one can tell from the amount of work that goes into the costumes – both in design and in making them lightweight.
The floats are also very important and so are throws, which are like party favors that get thrown out to the crowd. If you're in the crowd, you're supposed to yell, "Throw me something, mister!" and you'll get some throws. These are traditionally known to be plastic beads and coins, though they can also be things like small toys and stuffed animals. There's also some tradition that women show their boobs for throws, which is more in line of what we think of when we think of Mardi Gras. The krewes on floats are kept masked and anonymous.
The Krewes also have Mardi Gras balls, which are of course very formal. However these are all by invite only.
Beads can be found everywhere in New Orleans.
Another important aspect of Mardi Gras is the King Cake. If you've been to Europe for Epiphany, you may have seen another type of King Cake, but despite the name they're actually very different. Mardi Gras King Cake is shaped kind of like a crude bundt cake and it's cinnamon flavoured. It's often filled with other flavours such as raspberry or lemon. It's topped with purple, green and gold icing and a plastic baby. Whoever finds the baby in their cake is the next King of Carnival!
It is said that the baby represents baby Jesus but the actual origins of this tradition are less symbolic. Someone somewhere just liked porcelain babies and put them into the cake. You may also notice that babies are outside of the cake now, which is obviously to prevent possible choking. However this is also to ensure that the person who gets the baby doesn't slip it into his pocket and lie about not getting it.
(PS – You can get some delicious vegan King Cake at Meals from the Heart or Breads on Oak.)
But there's still more that's not very known. For one, Mardi Gras is also celebrated all throughout during festival season, which is January 6th until Mardi Gras. So if you go to New Orleans during this time, you can see some parades and parade practices. There's also handy apps to help you! If you look up WWL Mardi Gras Parade Tracker or WDSU Parade Tracker on your app store, these are both free apps that allow you to see parades and parade practices.
Mardi Gras can also be very child-friendly. Nudity isn't allowed in certain parts of the parade, and you can simply ask a local for advice on where to go if you have children.
Mardi Gras isn't just limited to New Orelans, either. Several other cities and towns celebrate this festivity, such as the birthplace of modern Mardi Gras, Mobile. Rural areas of Louisiana also celebrate it in a different way, called the Courir de Mardi Gras, which is a horse run and a chicken catch. Though New Orleans is most famous for this festivity, it's by far not the only place to celebrate it.
If you'd like to learn more about this very historic and large holiday, you can go to Mardi Gras World, which is the most popular museum highlighting floats of Mardi Gras. A less expensive alternative (or addition) is the Mardi Gras Museum of Costumes and Culture, which has a beautiful collection of costumes and does great docent tours. They also have a selection of costumes that you can dress up in.
Mardi Gras is so much more than getting drunk, throwing beads, and eating cake. My trip to New Orleans gave me so much more knowledge on the extensive history of this holiday as well as how important it is to local culture. It really can't be ignored if you want to visit New Orleans, because the two go hand in hand.
Have you ever been to a Mardi Gras festivity? What was it like? Posted on Thursday, February 20, 2020 in Destinations
Tags: louisiana, new orleans, north america, united states
No Comments ★ Permalink