Highlight: Nara
Nara is one of the most popular day trips in Japan, but unfortunately the history and temples are not actually well written about. It's known for its deer park, where deer roam freely and aren't afraid of humans. After doing some research and finding out about all the different temples Nara has, I decided to make it a day trip from Kyoto. So what did I think?
Well, I thought it was amazing!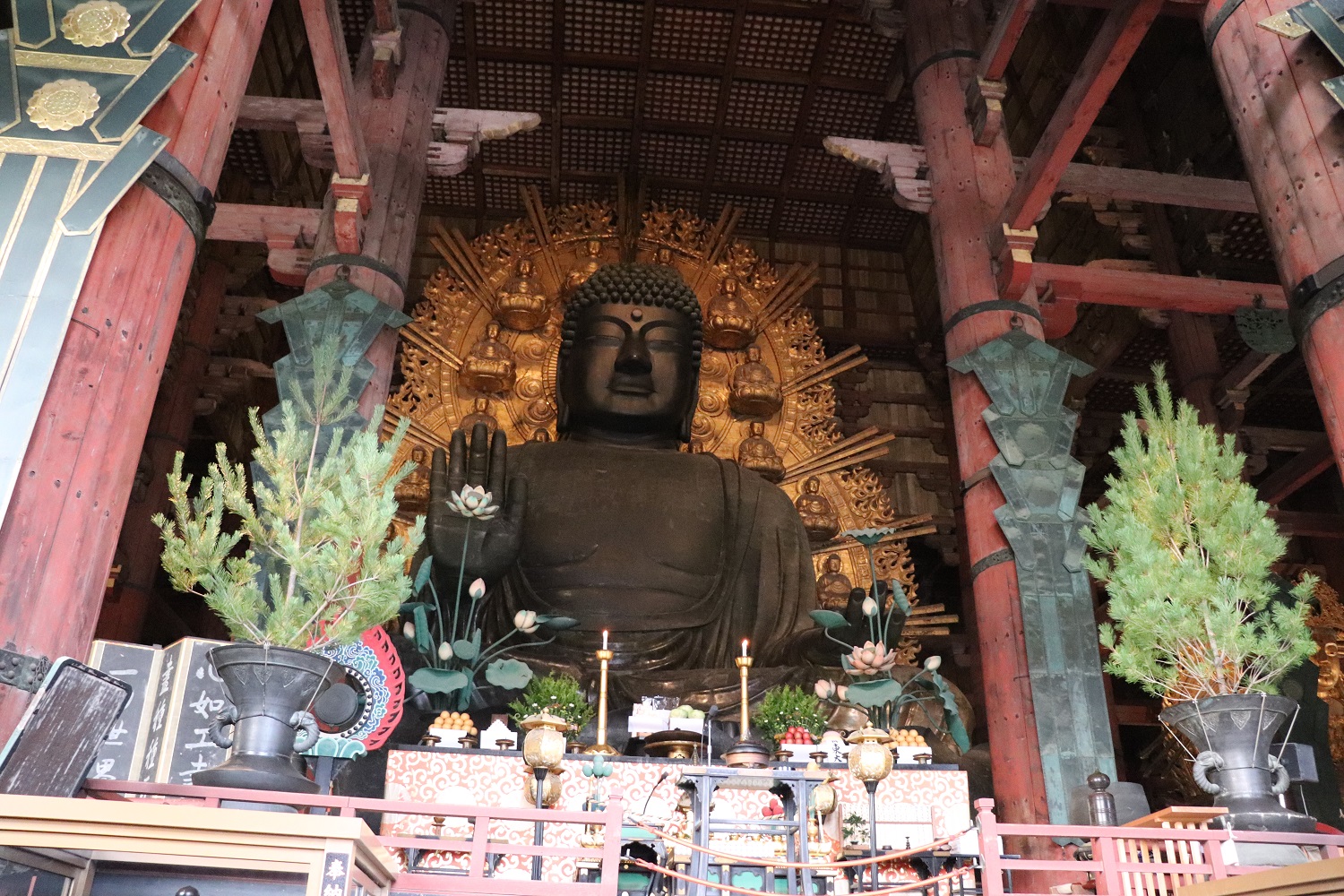 A little bit about Nara: Kyoto is known as being the ancient capital of Japan since it served that position for over a thousand years. However, Nara served as the capital before Kyoto did, in the 700s. At the time, Japan had close ties with China and Nara was built in a grid-like system after the Chinese capital. Unbelievably, much of the great architecture of that time survives today, which makes Nara a great destination for history lovers. A lot of sites are clustered in the deer park area but there's also a lot to see elsewhere.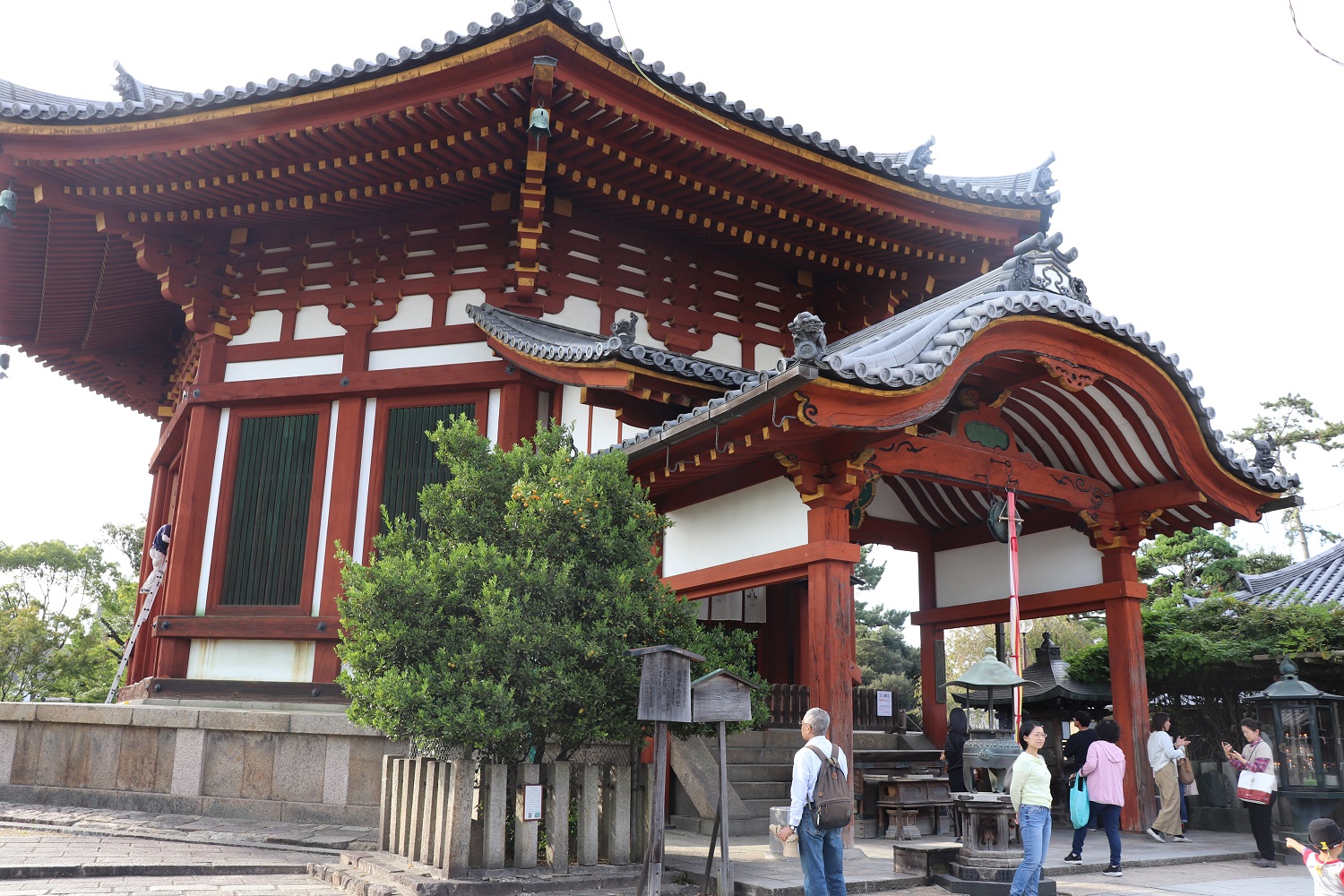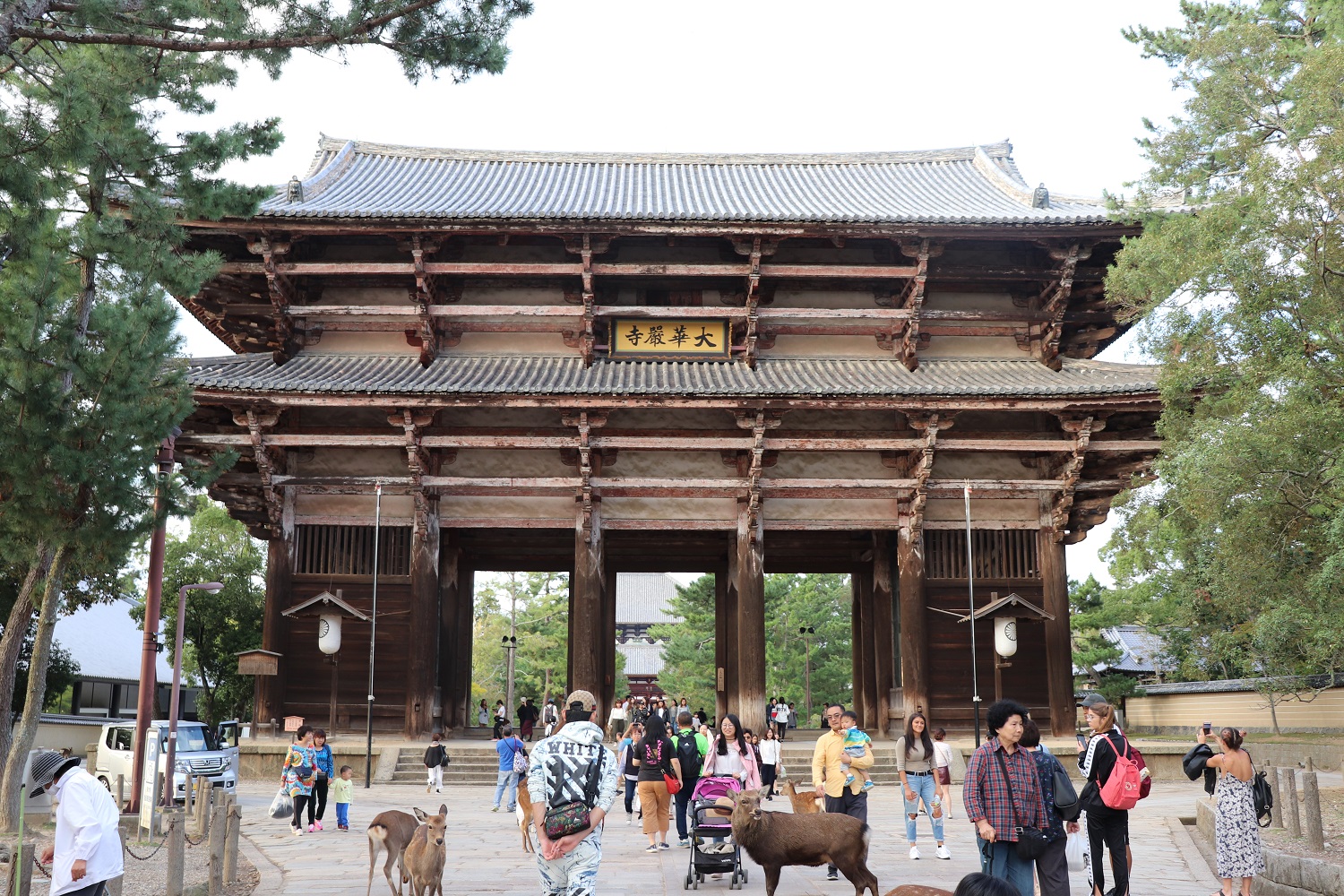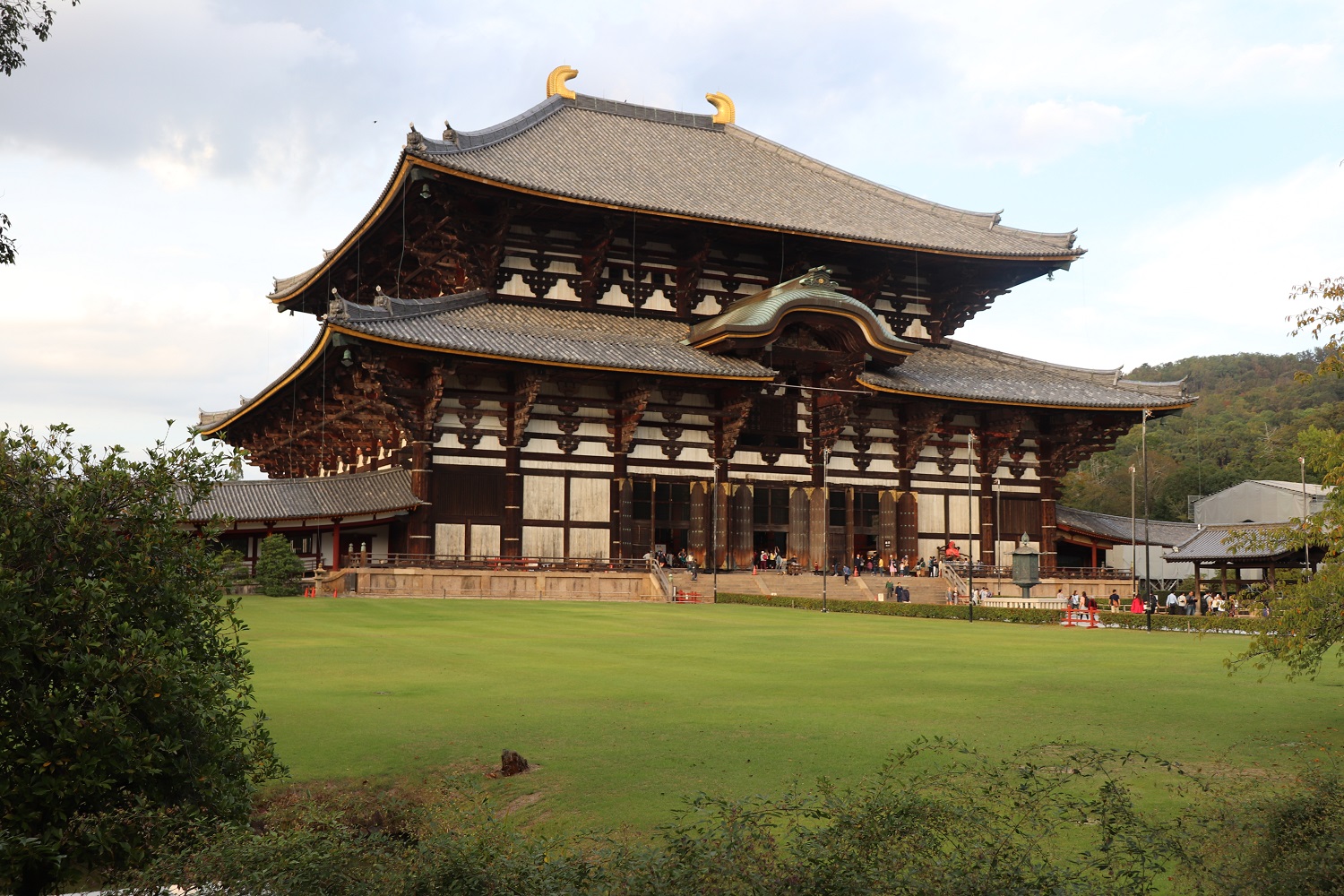 The Seven Great Temples of Nara: Nara has what's called the "Seven Great Temples," which all date to the 700s. Todai-ji is probably the most popular of the temples, and the most popular in Nara overall. It has a very large gilt Buddha inside and also a small museum of sorts, so it's a place you should put high up on your list. Kofuku-ji is an easy visit since it's centrally located, and it's also a nice set of structures. Yakushi-ji looks absolutely gorgeous in photos but I didn't get to see it in person since it wasn't near the deer park so I didn't have time to stop by. The lesser-visited temples are Saidai-ji, Horyu-ji, Gango-ji, and Daian-ji. My goal was to see all 7 but even with a full day, they're so spread out so one can't really see them all. If you want to read a bit more on the temples, you can visit this Tale of Genji page.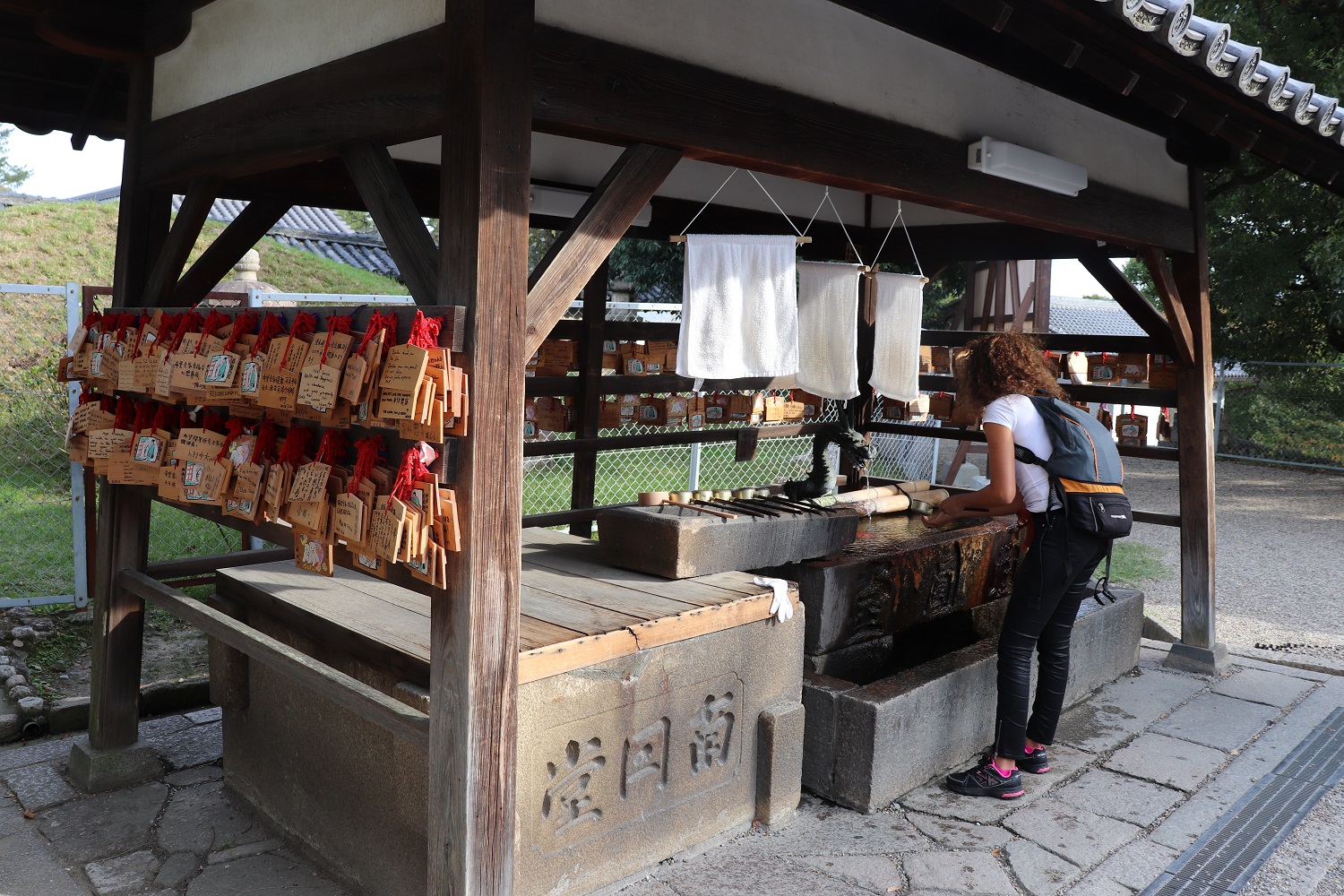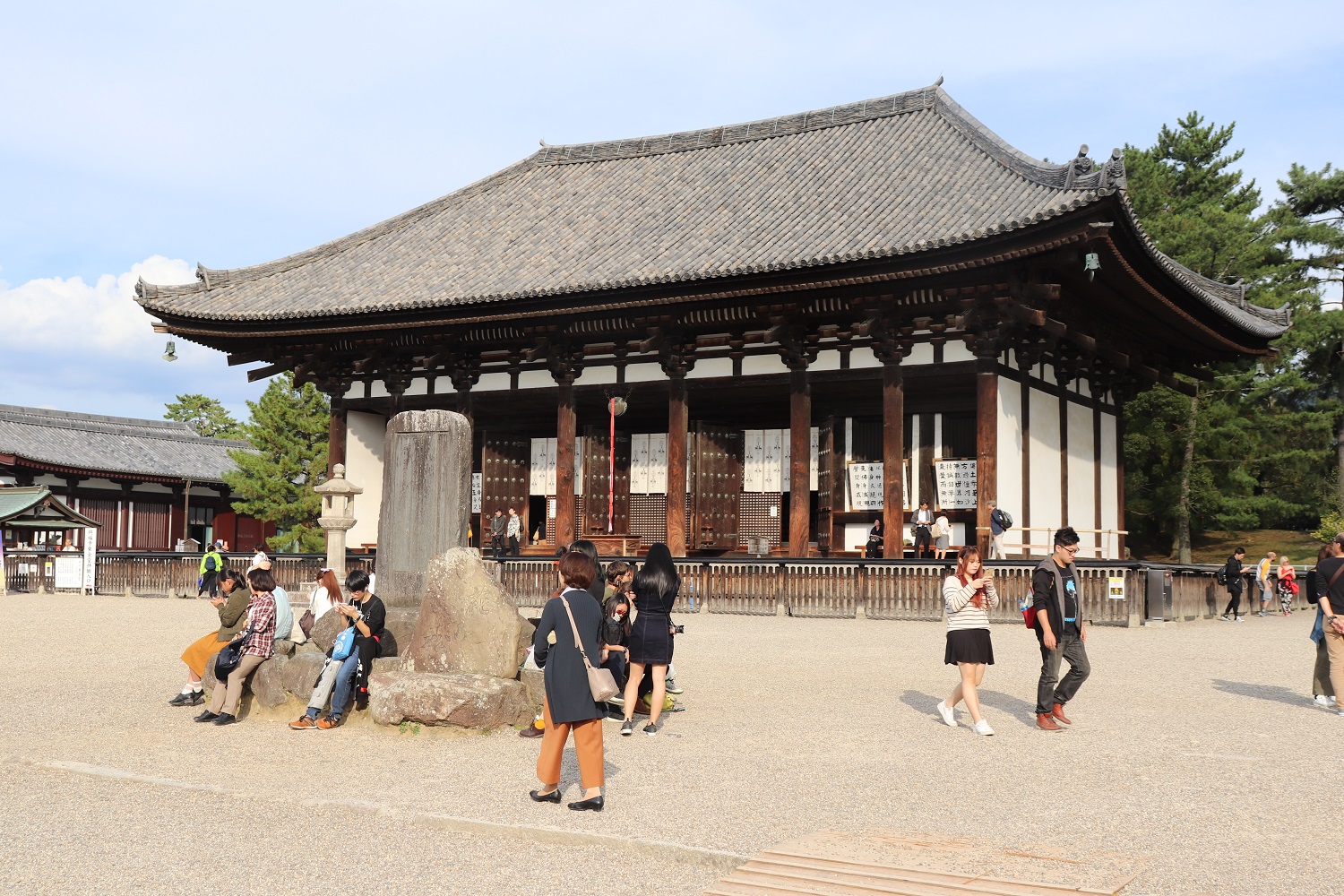 If you want to stay near the deer park, Kasuga Taisha is another easy visit. It's also a pretty surreal place, with all the nature and deer nearby.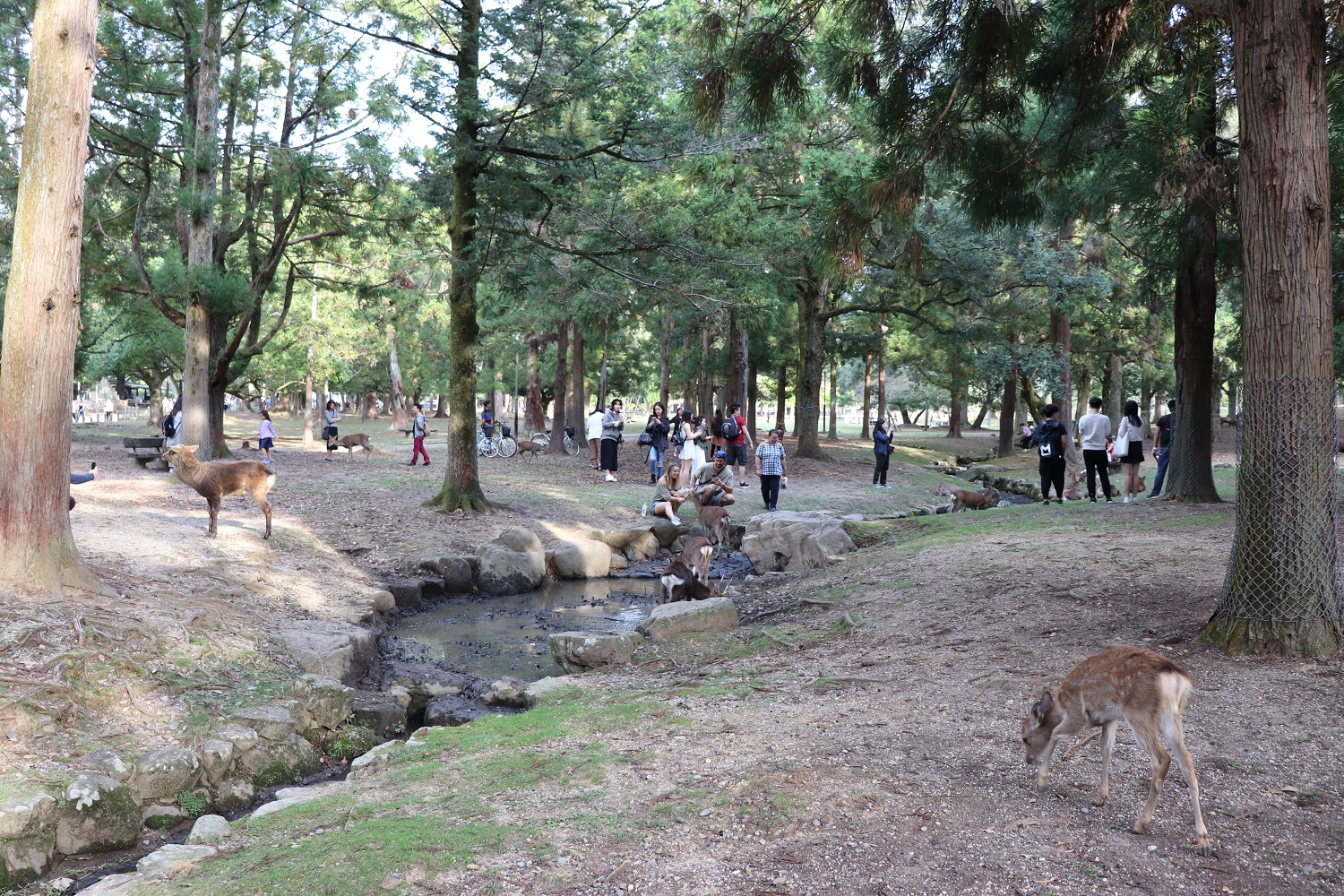 Nara also boasts a number of museums. For your art fix, you can visit the Nara Prefectural Art Museum and the Nara National Museum.
There's also the Manyou Botanical Gardens, which I enjoyed but would not recommend if you're short on time.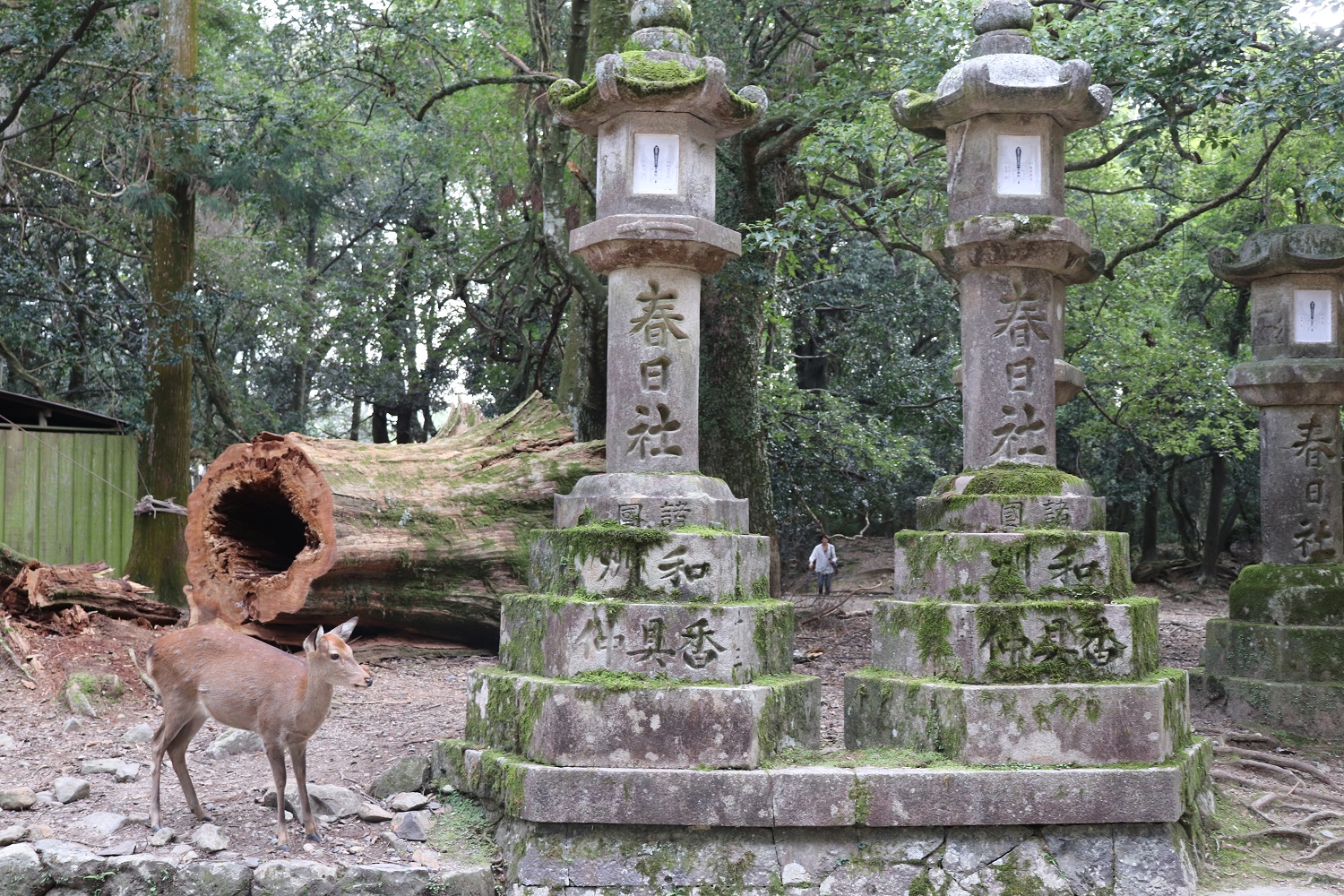 If you have more time to go to other areas, the Heijo Palace Remains aren't too far. It's a recreation of an ancient palace. You can also see one of the famous "keyhole" (Kofun) tombs here, formally called the Mausoleum of Emperor Suinin. There are a few of them throughout the greater Kyoto area so make sure you mark down the right one!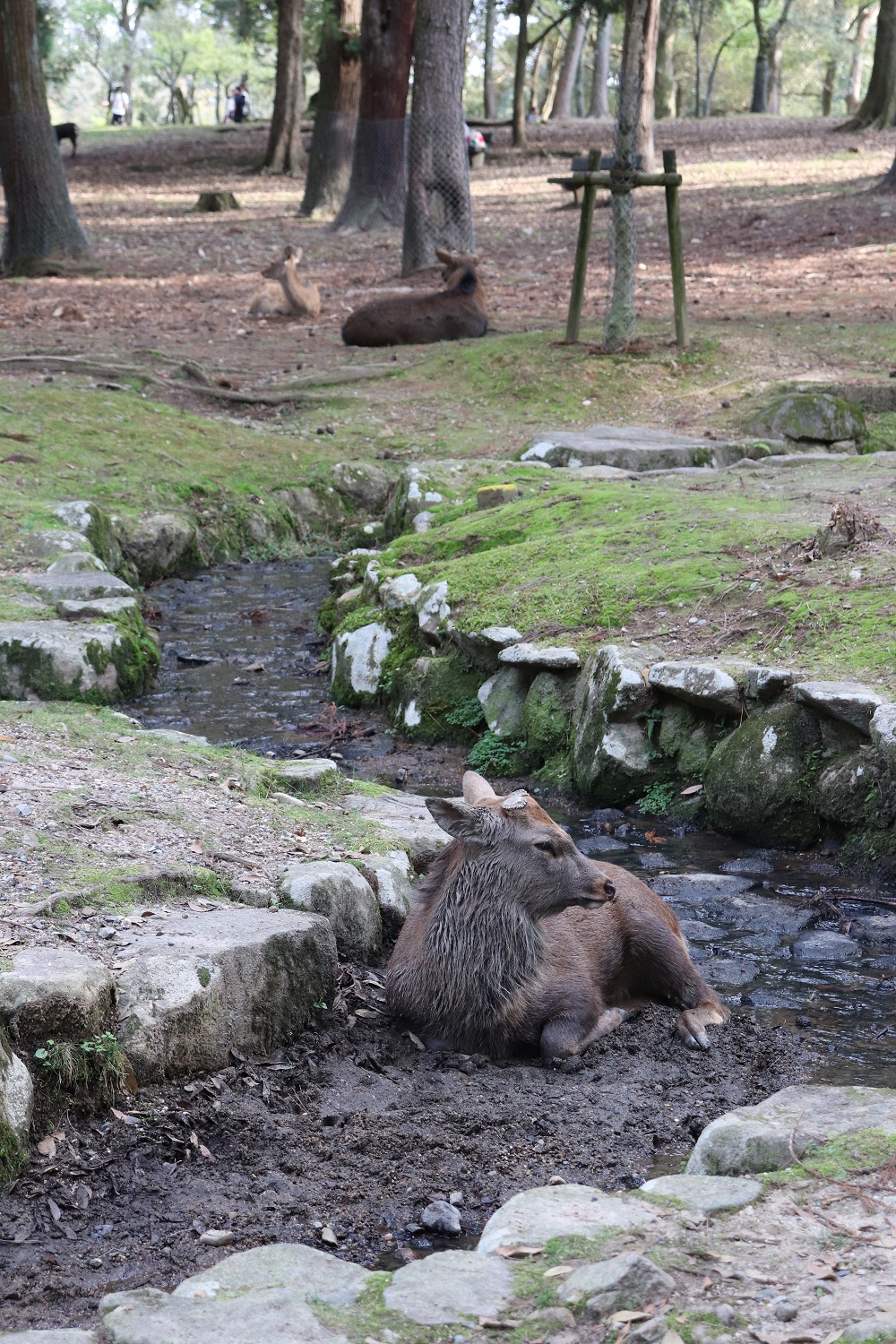 Before I went, the deer park didn't seem super exciting. However, it was a highlight of my entire trip! There are several types of deer in the park and, as someone from America, it was really cool to actually get up close to and pet deer. We see them all the time but at home, they're terrified of people. Here, I actually got to pet and interact with a bunch of different deer. It was a surprisingly surreal experience. Also, the nature was very beautiful and a great escape from the hustle and bustle of Kyoto.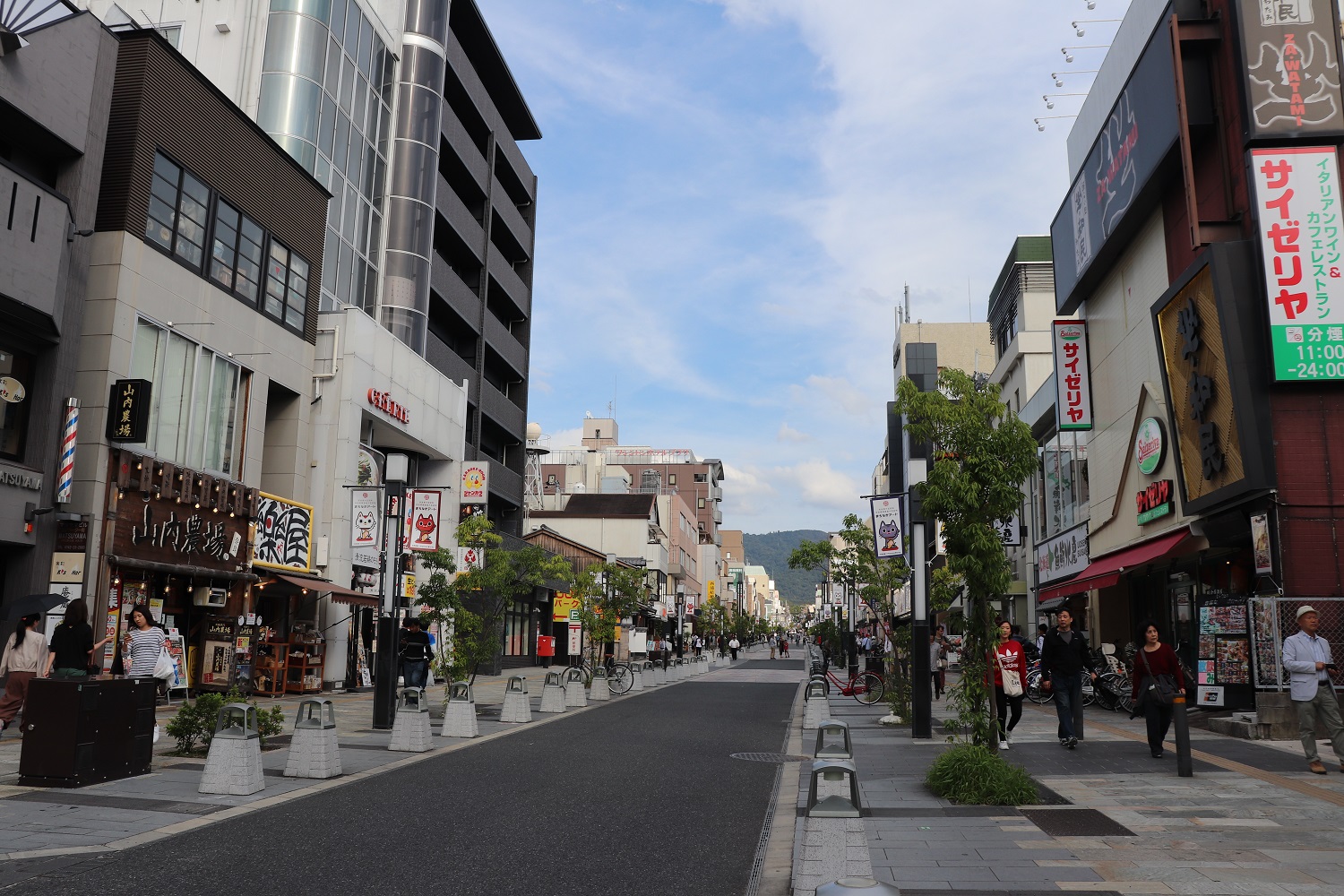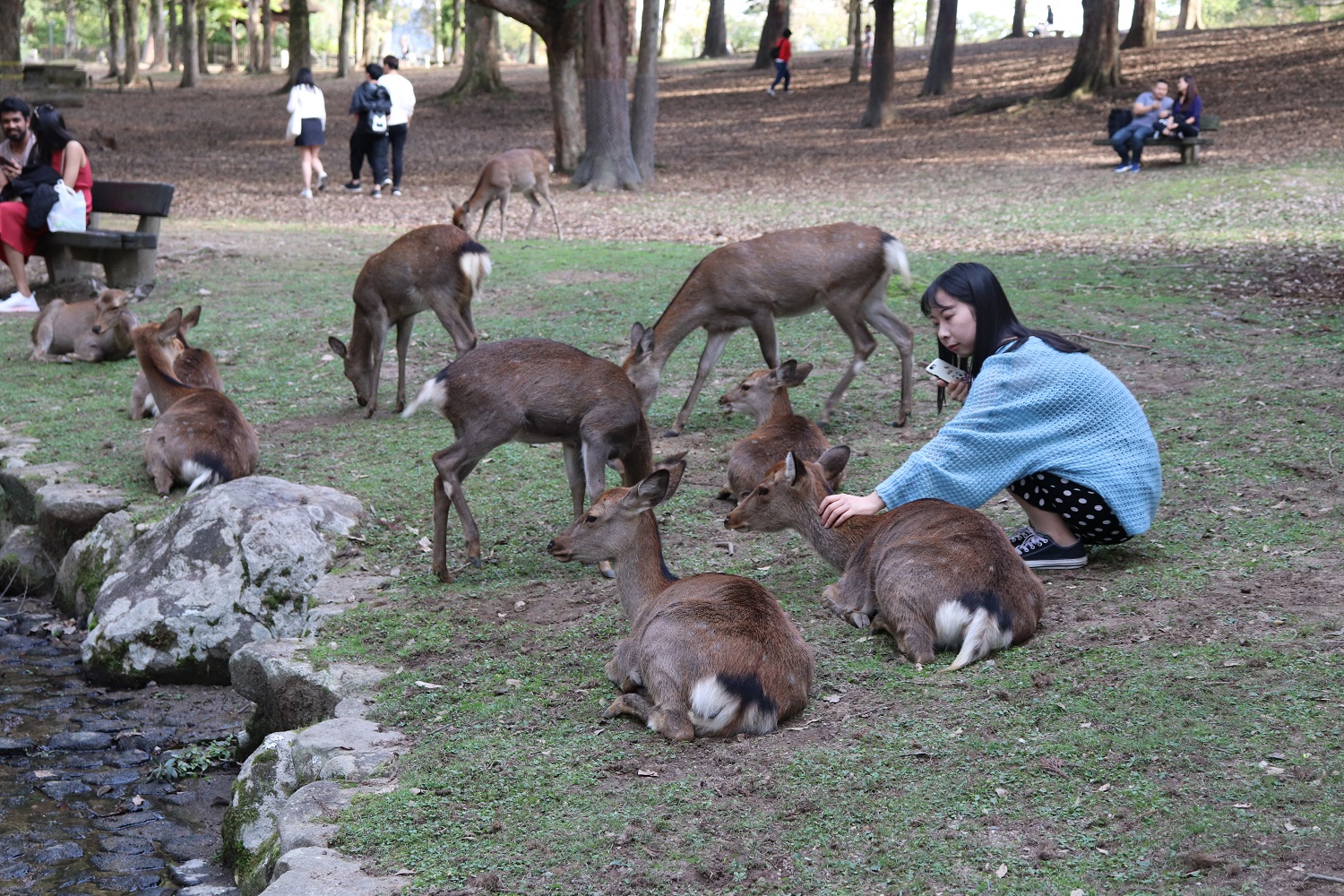 Nara also has a decent amount of more modern development so it's a lot more than just a tourist destination. You can also get a bite to eat at one of the several local restaurants or do some shopping. You don't even need to look for it; the patch of city between the train station and the ancient capital area has it all! If your time is limited in Japan, then a day trip to Nara may be enough to see the highlights. If not, Nara may be a place to extend your trip and spend two or three days, and you can see a little bit more of what Nara has to offer.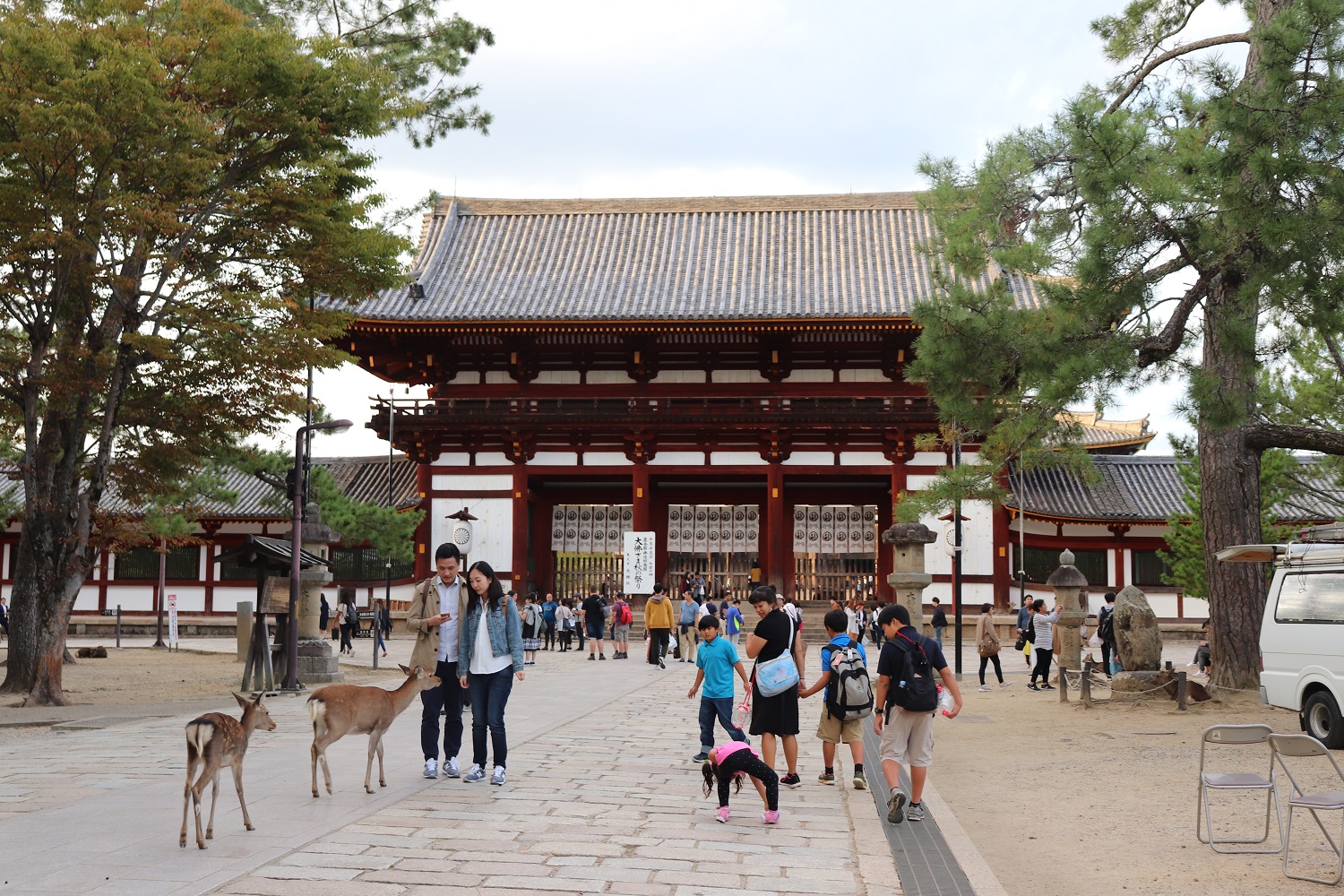 I spent half a day in Nara because I didn't think I'd like it that much, but I was so wrong. There was so much history there, deer everywhere, and the nature was so relaxing and beautiful. I would definitely recommend visiting for at least a full day and highly recommend a visit to anything visiting the area.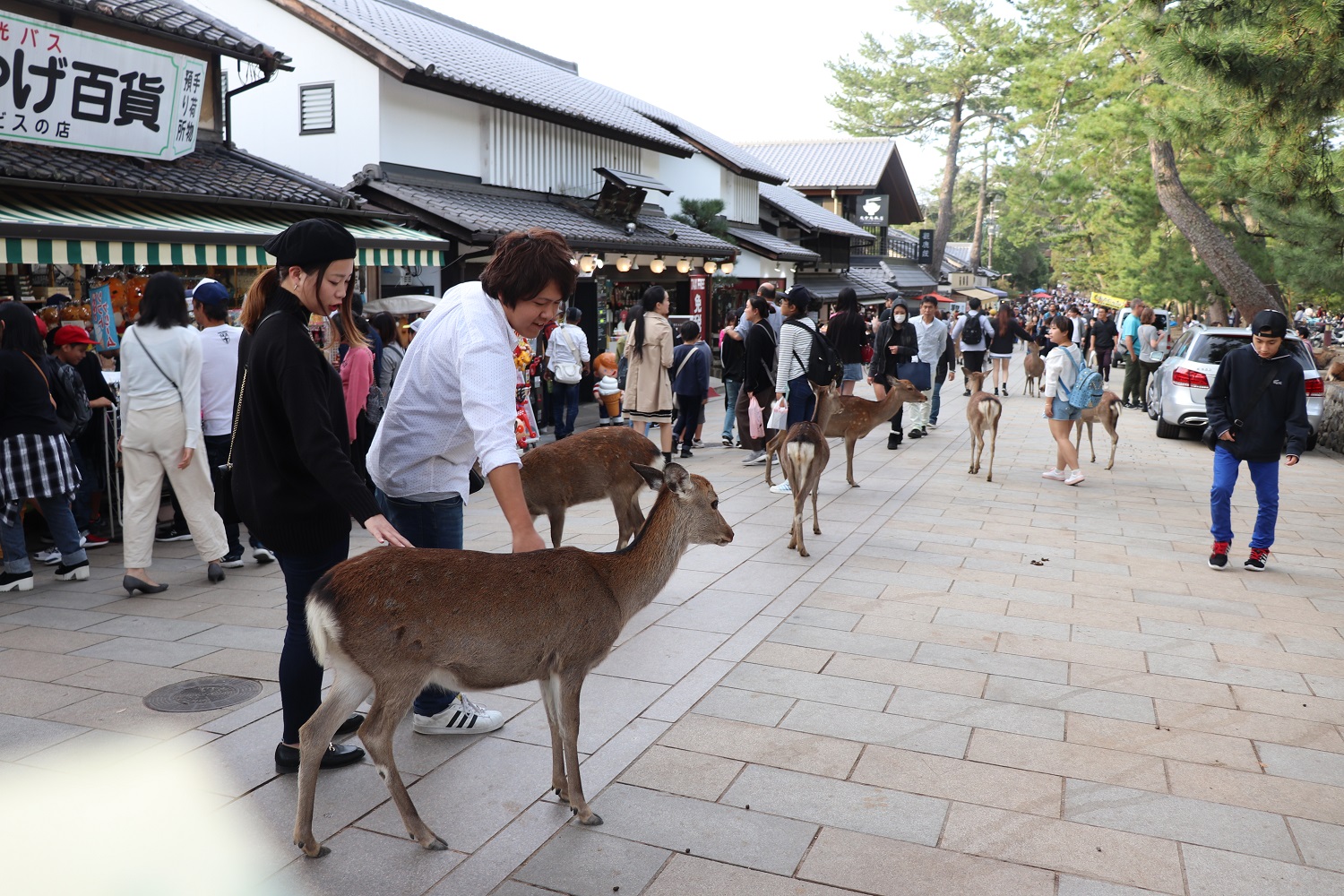 Have you ever been to Nara? What did you think?
Posted on Tuesday, March 5, 2019 in Destinations
Tags: asia, japan, nara
No Comments ★ Permalink
One Year Into Travel Blogging: A Reflection
When I started my blog a year ago, it was after years of debating it. I'd been blogging since I was about 11 or 12 (yes, really) and I'd never been that great at it. My blogs had been those write-what-you-feel type blogs and they ended up being all over the place and of no real consequence to any readers. For a good two years before ITFTS, I actually kept open a fashion blog. I was loyal in updating it every week and the content was ultimately good, and always consistent. I thought it would be helpful and I wanted to be a part of the fashion community I saw. But it backfired – bad. Not getting many likes on Instagram and getting little blog attention actually started to harm my self-image, so I left. It sucks posting selfies on social media that get 3-5 likes. It was incredibly disheartening that after choosing a focus and putting lots of work into creating content for others, I was still a worthless speck on the internet. An ugly, worthless speck.
So why should I have created a travel blog? It was going to be a lost cause.
But I started it because I had a burning desire to write about travel. Friends and family often come to me to ask for travel advice so I wanted to share it with others. I also read lots of travel blogs to orchestrate my plans, and there was some info missing on the internet that I wanted to complete. What is this tourist attraction really like? Is it better than this other attraction? Is there a lot to do in this city? What are some offbeat things to do here? These are questions I asked and wanted to answer. I knew what I liked and didn't like about travel blogs, and that I wanted to focus on history and art in travel. I knew I was an old soul and it showed through the things I did and saw. So I succumbed to my desire, and my boredom, and wrote down a bunch of blog articles. Then I opened the website you see today.
One year after opening ITFTS and I've put money into my logo, business cards, and web hosting (finally, I have to pay a lot of money to accommodate my traffic!). But why? What have I learned? And why do I stay here?
Lesson 1: It sticks because it's where my confidence lies.
First, I'd blog because I felt like it was cool and I wanted a blog, but not to blog. Then I finally found something I liked, but it wasn't something I was confident in. That ended up being a poor choice. But I know my relationship with travel. I know that the content I create is the content I want to see. I know I don't like photoshopping my images because it depicts a fantasy world. I know my opinions may be basic or even unpopular – but they're my true opinions.
This helps me because when I get criticism or my blog doesn't accumulate thousands of views a day, it's something that I can easily stand behind.
Lesson 2: People are a-holes.
The travel community is huge, and there are a lot of rude people out there. A lot of interactions with other bloggers have been negative but ultimately, it's because each time my opinion was called "wrong" in some way, shape or form. Opinions are not wrong unless they're based on falsehood. It's ridiculous how many people want to take time out of their day to put other people down. It's also ridiculous to go through travel forums and see trolls everywhere attacking everyone. Put all that negativity to the side. Just as there are a lot of rude people, there are also a lot of friendly people.
This is something that holds so many people back from becoming part of the travel community, but the internet is filled with trolls. Haters to the left.
Lesson 3: Photos are important now.
I used to not take photos to avoid losing a moment. I felt that being behind a camera could hinder the ability to live presently, and photos don't capture everything anyway. That's not untrue. However blogging has made me realise how many pictures I didn't take, and so I've started taking more – an abundance, even. I'm actually happier with that.
Lesson 4: YOLO, and also, you'll probably only be there once. Take notes.
I love travelling and exploring, but having a travel blog really increases the urgency to see things. If I go to a city, I feel more pressed to stop by a museum or place I want to see because I'd also like to write about it on the blog. At home here in Maryland, I've visited and re-visited a lot of places in the area just because I wanted to create blog posts from them. It's not that I travel just because I have a travel blog, but before, I'd say, "I'm going to visit eastern Maryland one day," every day. Now I say, "I need content for the blog, so let's go to eastern Maryland now!"
I'm also much more observant and take many more notes than I used to. It doesn't affect my perception of certain places but it helps match words to my feelings and experiences.
Lesson 5: Success is what success is to you.
Unfortunately the Instagram and blogging influencer world is plagued by people who fake followers; people who have no respect for what they're doing; people who get scammed by business partners. And let's be honest: there's good unrecognised content out there, and there's some pretty popular content that's honestly quite bad. It's like life but it's in plain sight in the travel blogging world.
Success is generally all about the numbers but I've given myself something to do in my down time. I'm keeping my writing and thinking skills in shape. I've made a place for myself in the travel blogging community. I'm happy with that! Once you spend a decent amount of time on your blog, you'll know whether or not you've been successful – because it'll be by your standards.
I'm happy to be here and happy to stay within the travel blog community. If you've read this post, I appreciate the time you put into reading my own story, and I hope it sheds some light and perspective onto yours.
Do you have a travel blog? Leave your links in the comments!
Posted on Thursday, February 28, 2019 in Uncategorized

No Comments ★ Permalink
Highlight: the Sites of the Sacred Valley
There is so much to see in Peru, and for our short time there, we opted to visit a few archaeological sites. There were so many to choose from but in the end, we visited Saqsaywaman, Puca Pucara, and Tambomachay. So what did we think of them?
Sacsaywaman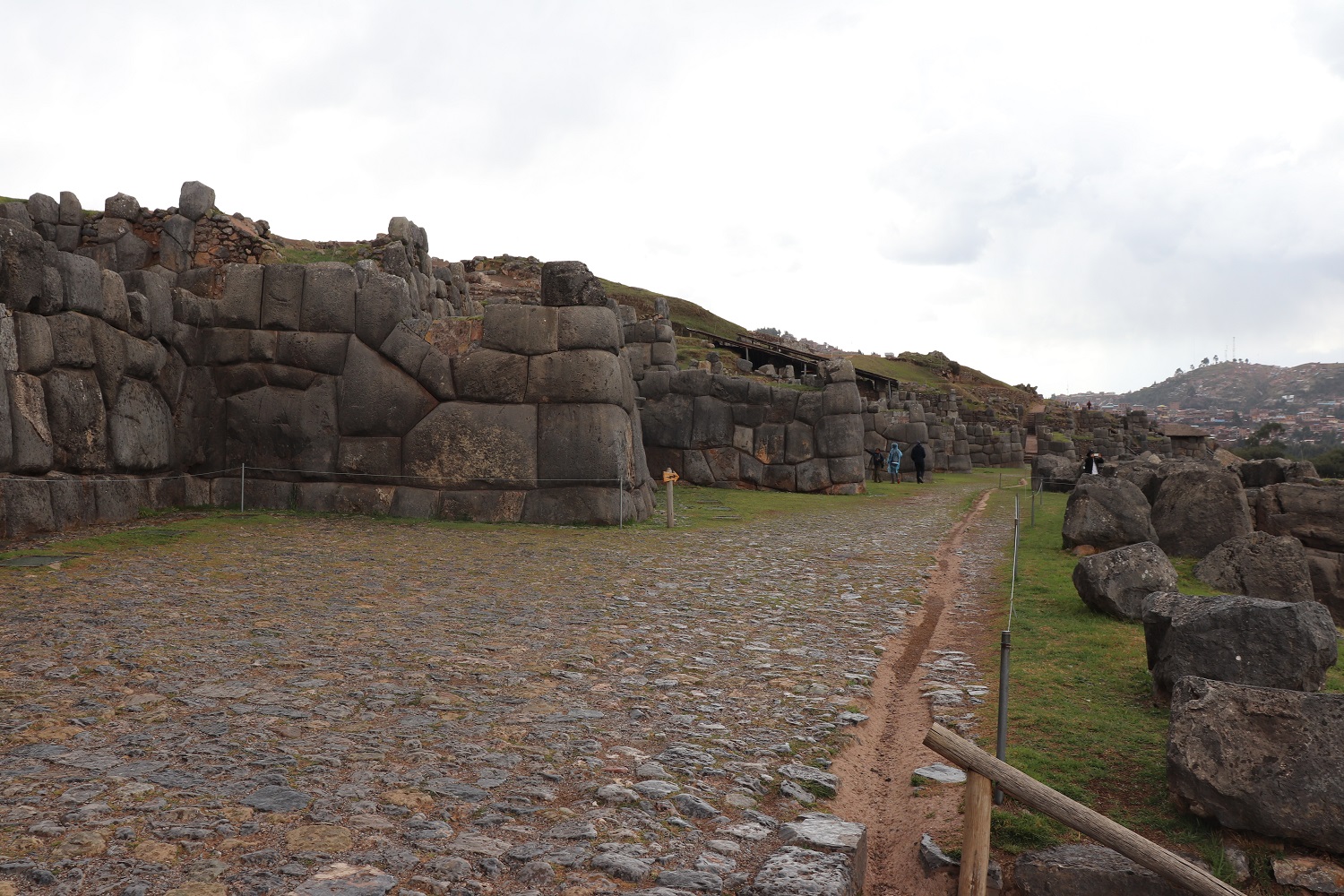 This one is by far the most popular as it is right outside of Cusco. If you're in the central square of the city, you can look up and see a white cross – that's Saqsaywaman*!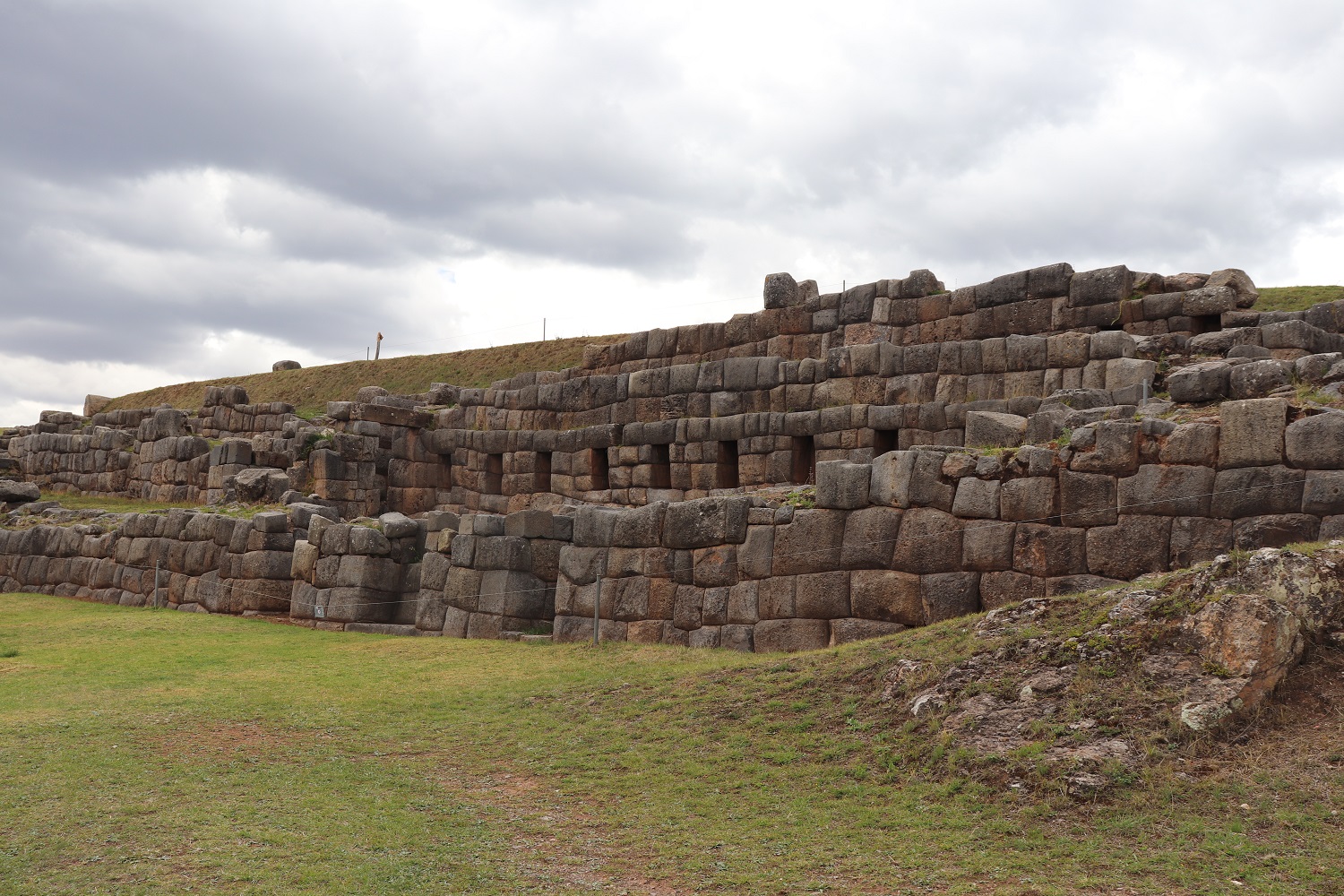 This place has incredible history. It's a military fortress was built during Incan times using their famous architectural methods. The stones they used are absolutely huge and perfectly cut to form walls. The greatest appeal and mystery to Saqsaywaman is the stones because the amount of work it must have taken to cut, move, and assemble these gigantic stones to the top of the hill must have been incredible. I'm always bewildered by architecture but there's something so striking about the work that went into this fortress. Even historians who see archaeological sites every day are perplexed by this place.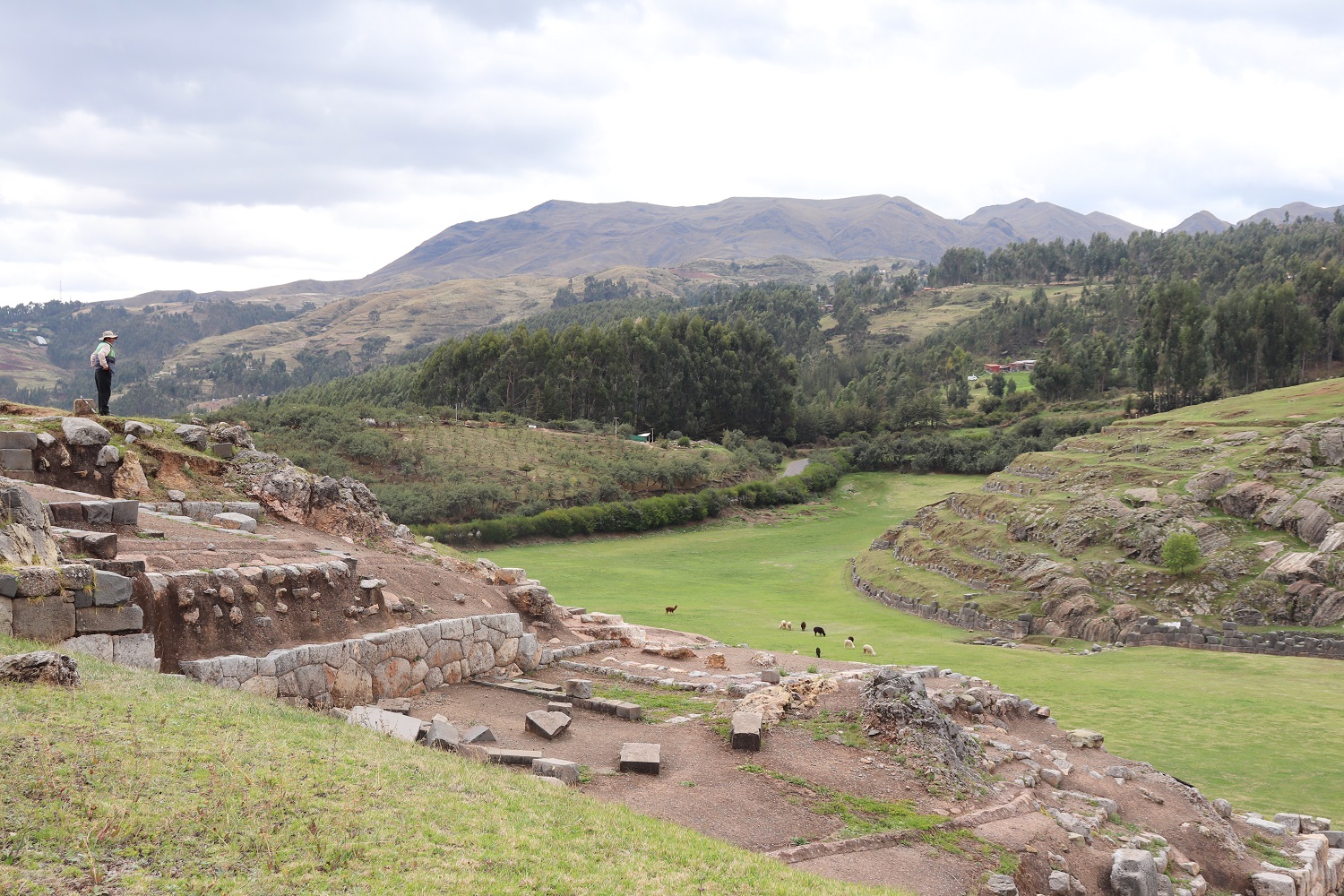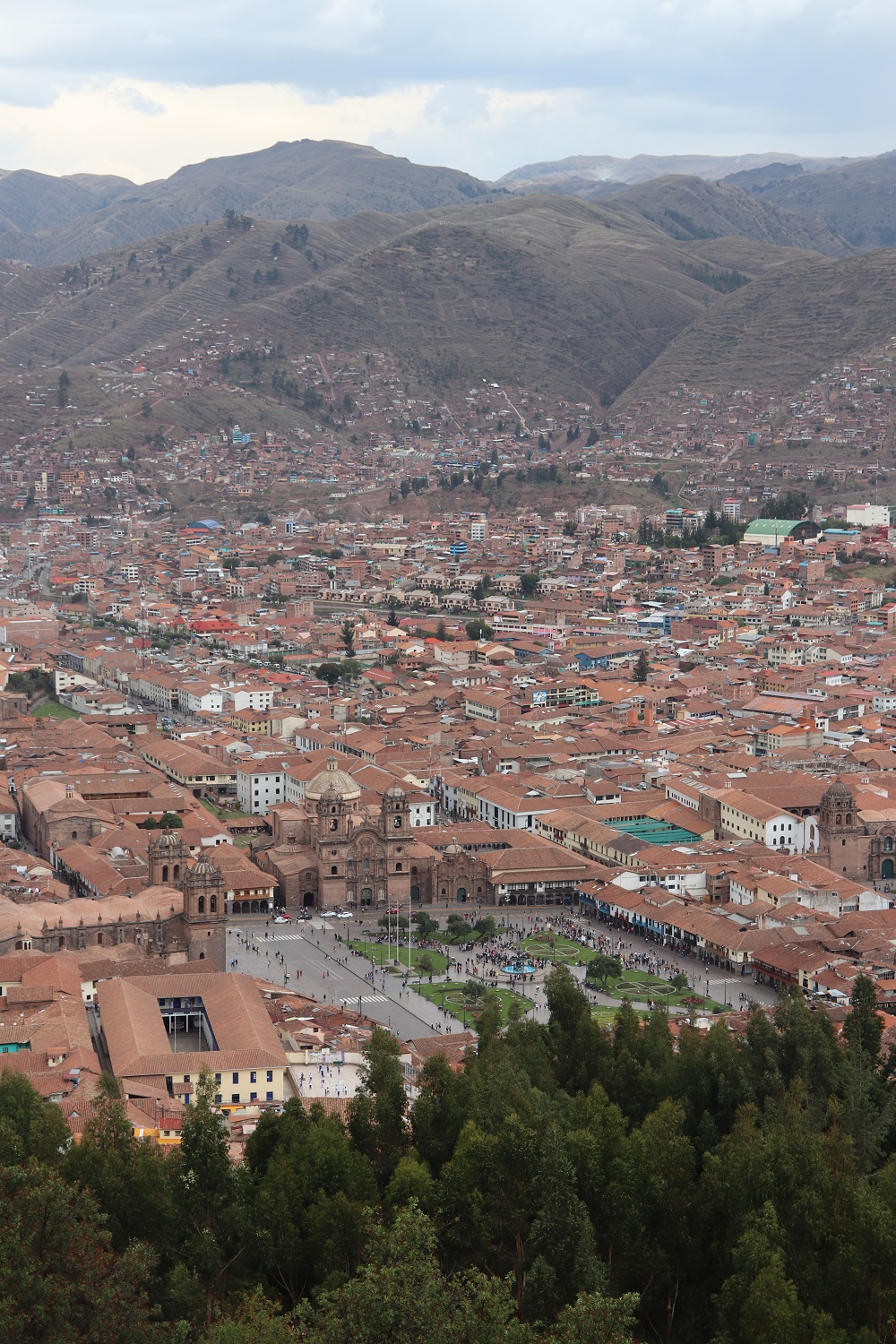 Today, it is not so magnificent. The fortress once had rooms and towers but now, you can see the perimeter of the rooms, and a few walls if you walk around. There's also no museum or artefacts from the site either. Fortunately you can still see how large the stones are and some of the construction techniques of the Incas. It's a shame that the site isn't very intact. However, one of the major parts I liked was the views. You can enjoy beautiful panoramic views of Cusco from the city square to the city outskirts to the mountains in the distance. It's easy to see why this fortress was chosen to overlook the city. Even in its ruin, I'd recommend paying this place a visit. Maybe one day we'll know more about how the site looked in its glory days.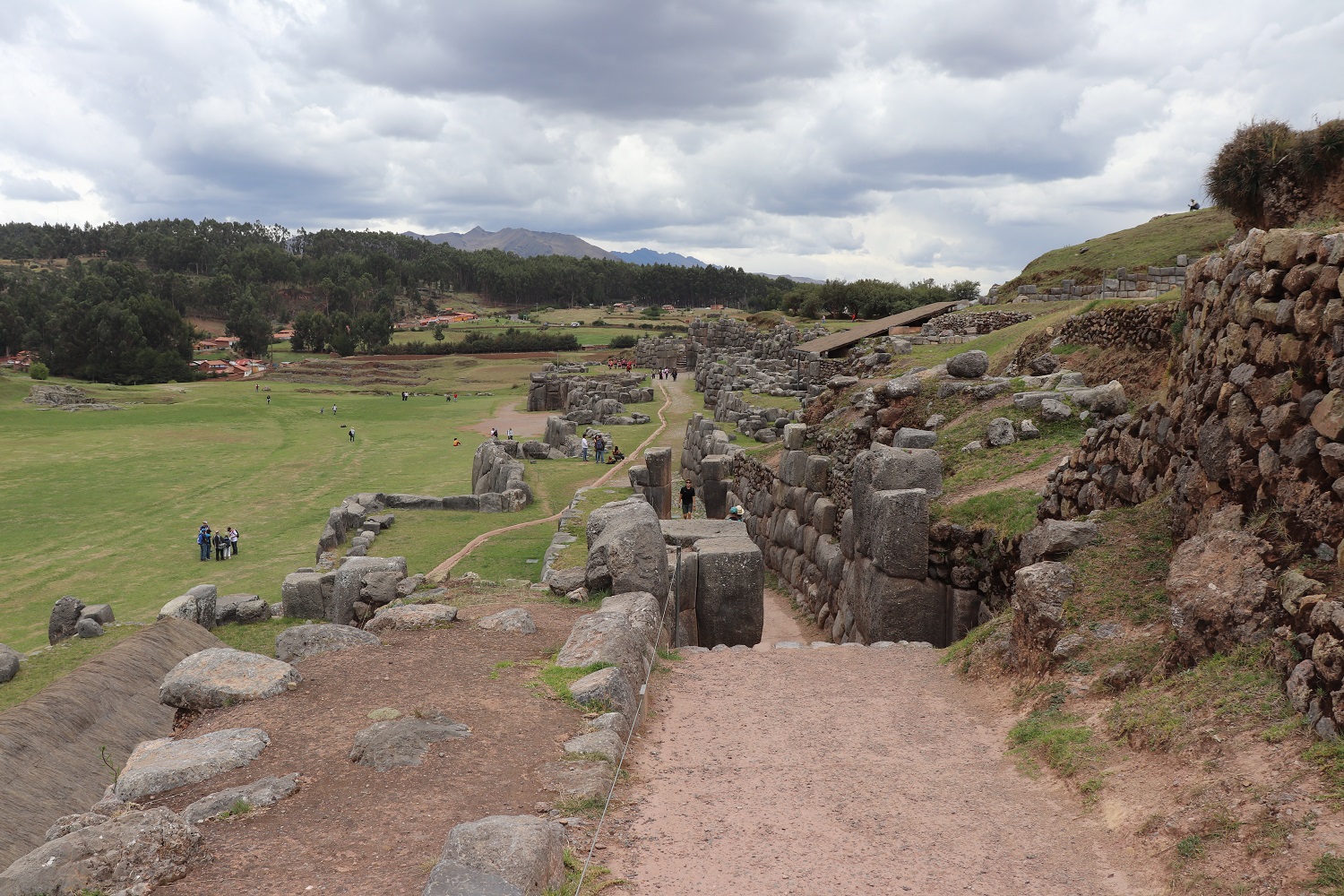 * Other spellings are Sacsayhuamán, Sacsayhuaman, Sacsahuaman, Saxahuaman, Saksaywaman, Saqsaywaman, Sasawaman, Saksawaman, Sacsahuayman, Sasaywaman, and Saksaq Waman. It's pronounced kind of like "sexy woman" so it's easy to remember.
Puca Pucara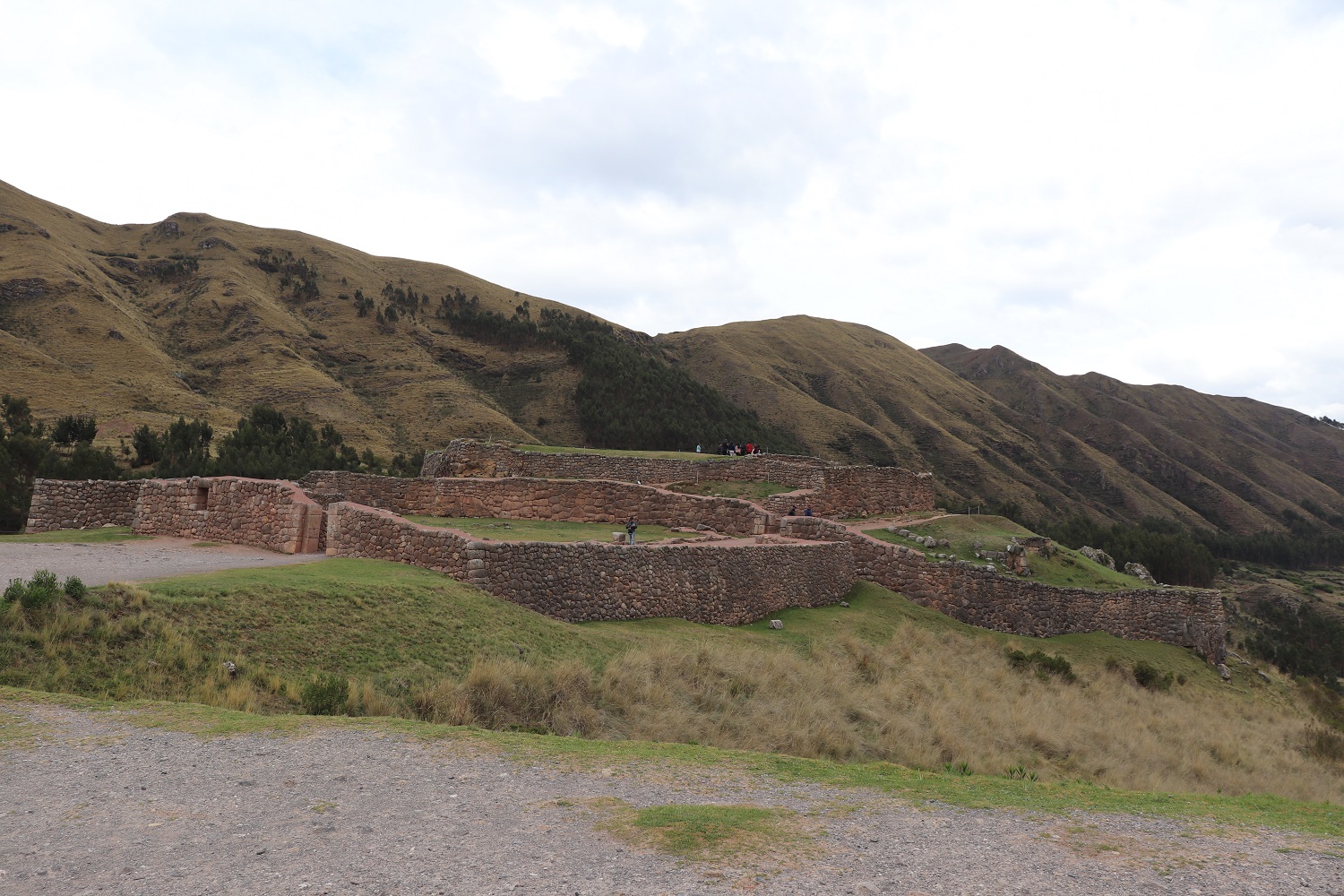 There is not a lot known about Puca Pucara but since it's close to Cusco, it's a popularly-visited site. It's perched atop a hill like Saqsaywaman so it has beautiful views of the surrounding landscape. This indicates it could have been used as a military fortress, as well, or it could've been a checkpoint in the road. It is significantly smaller than Saqsaywaman but the outline of what were once walls is clearer. There are no surviving rooms but it's easier to see what the site may have been originally like. If you enjoy good views, Puca Pucara has a great vantage point of its surrounding valley.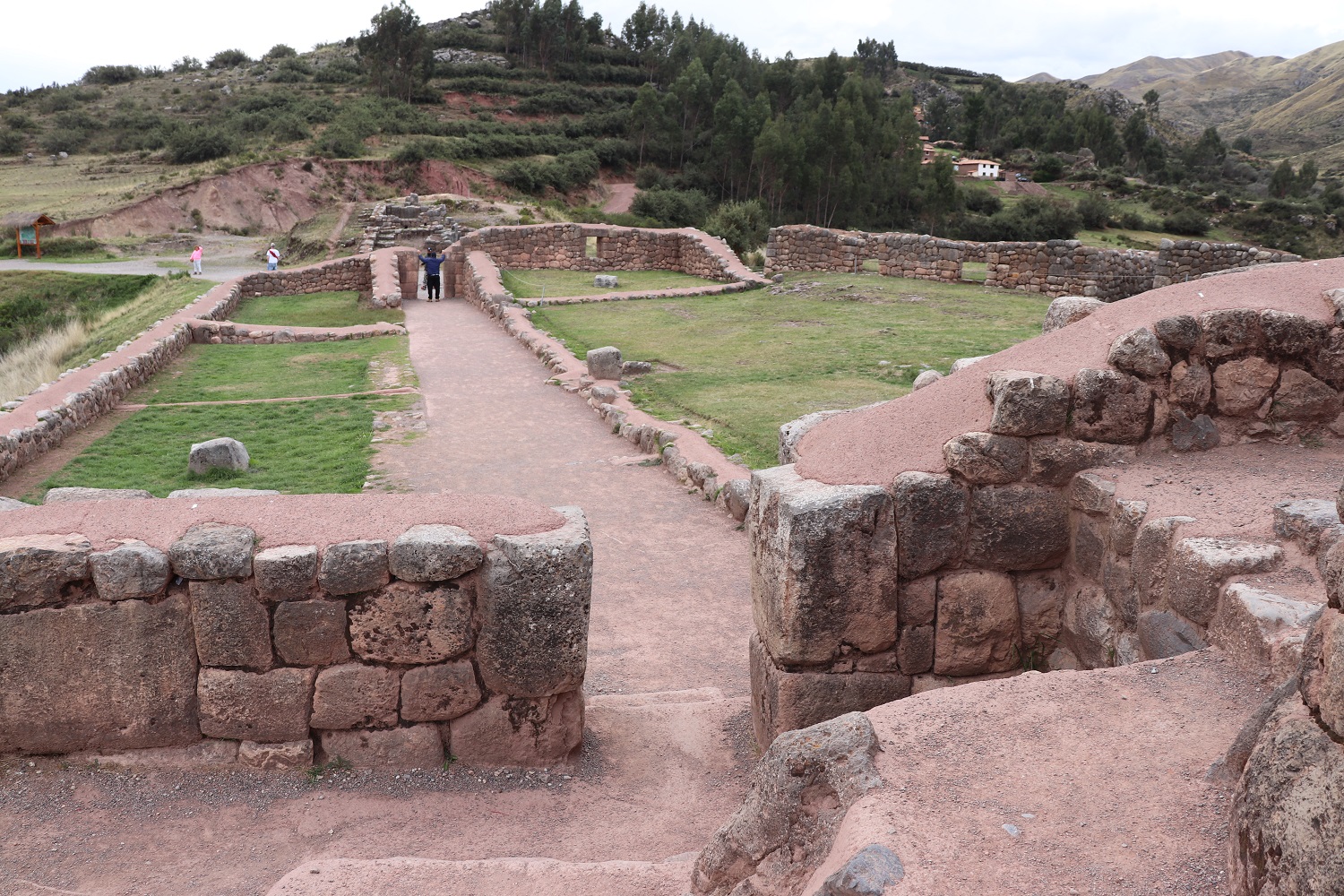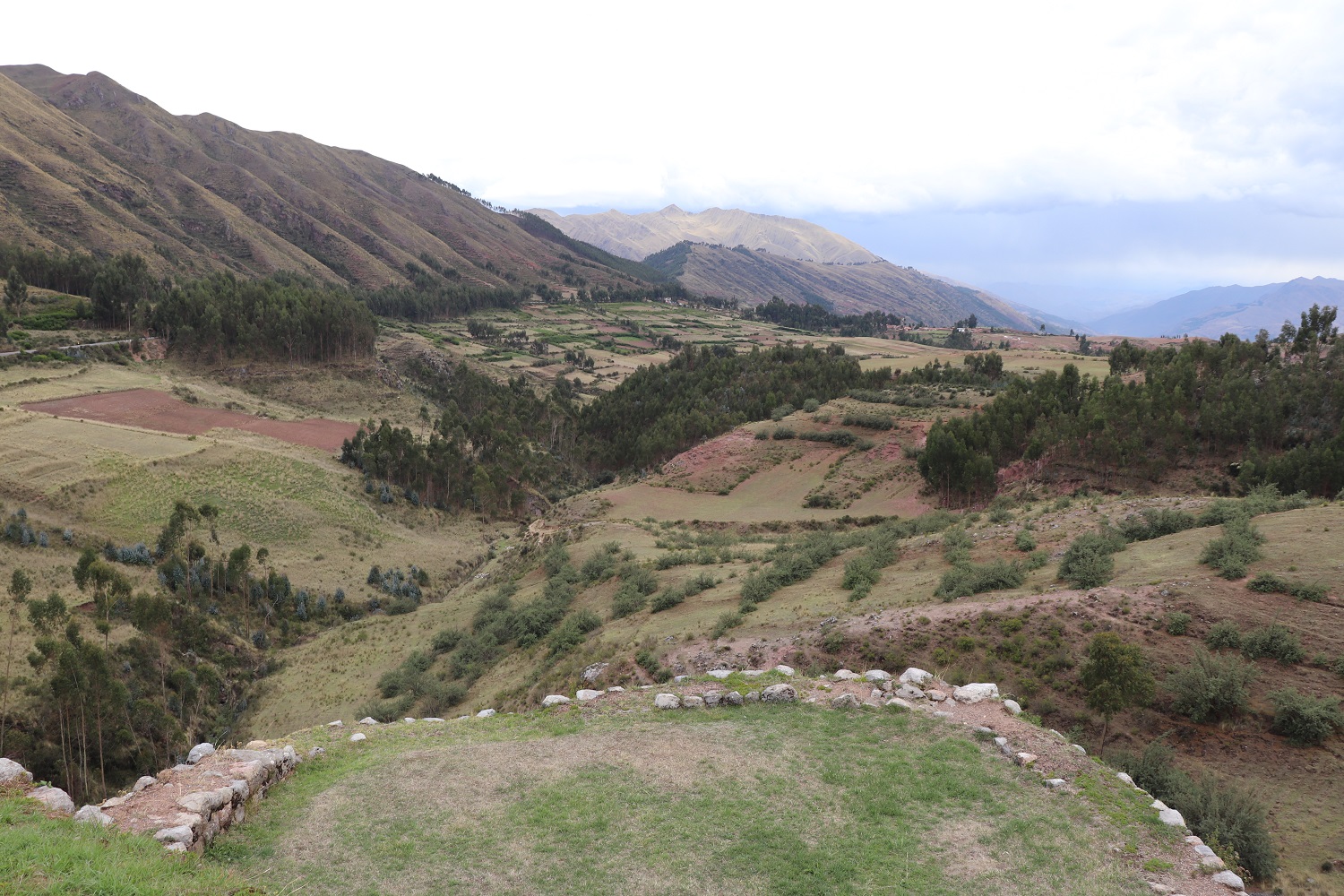 To be honest, that is about it. I put Puca Pucara on my list because it looked nice but there's really not much there.
Tambomachay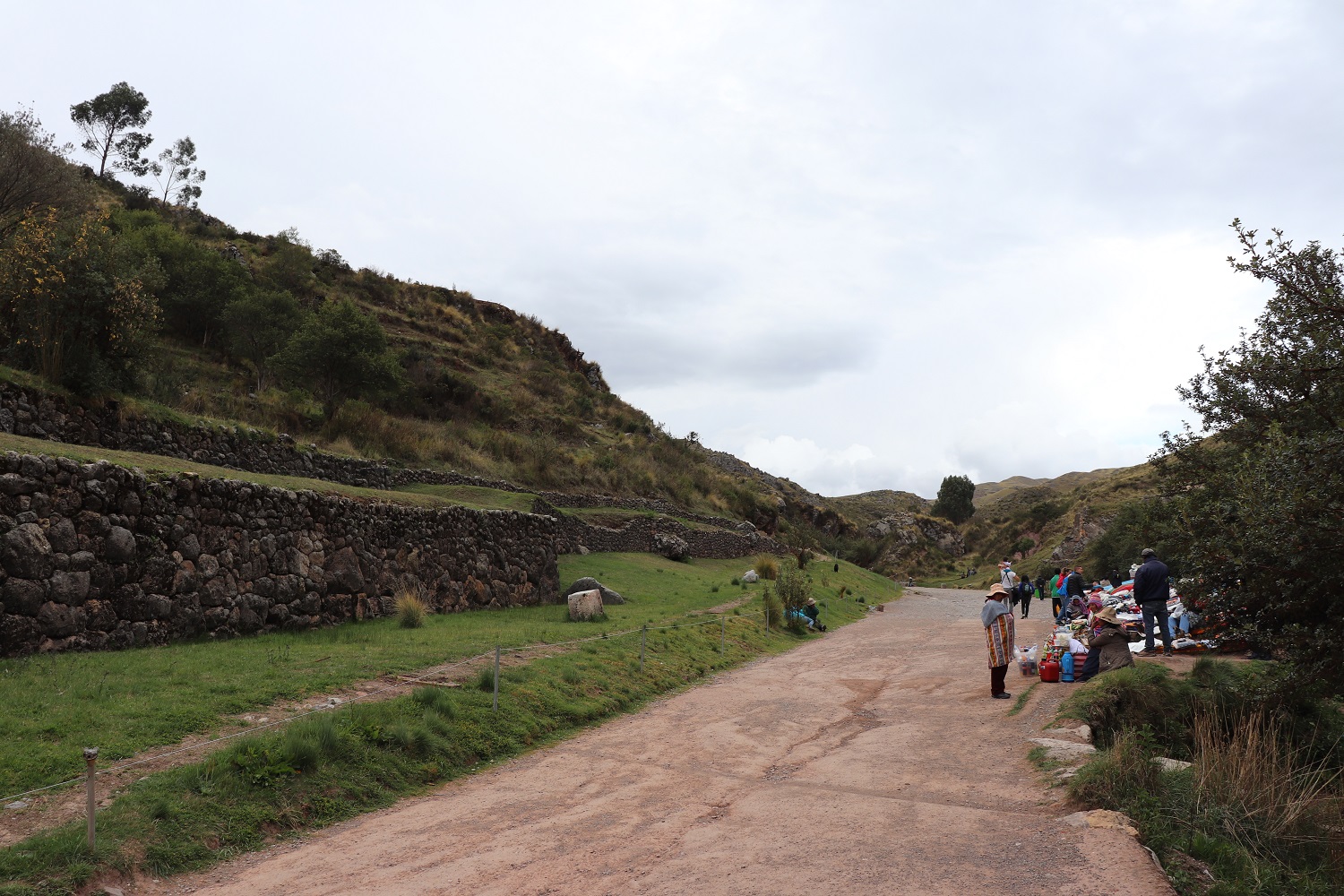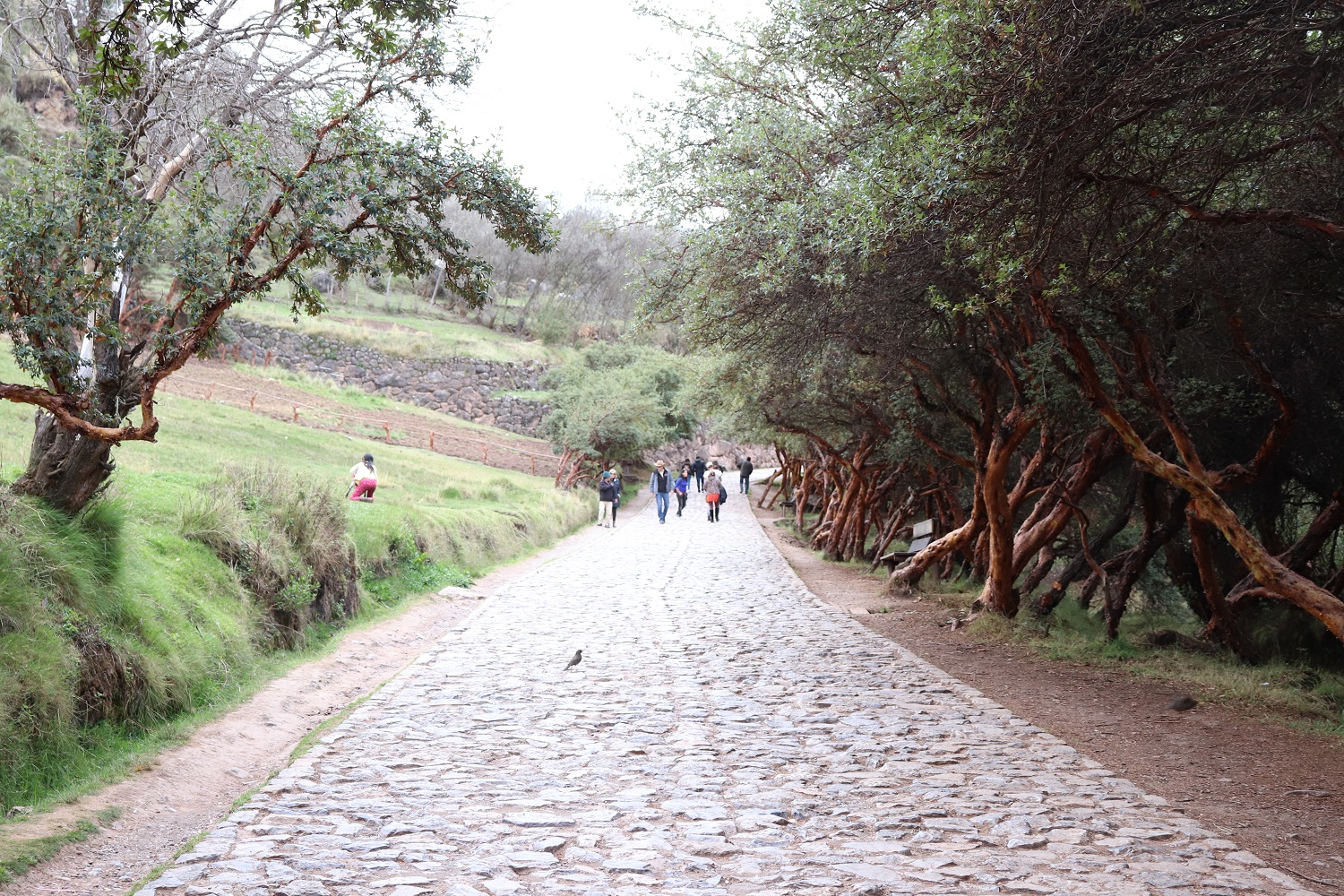 Tambomachay is also nearby and it's a little bit more interesting. It's made up of aqueducts, terraces and water falls – some of which still have water. However there's also not much known about it. It's said to have been a temple at some point. The site itself is not that exciting, with only a few remnants of the past here and there and no real explanation for them.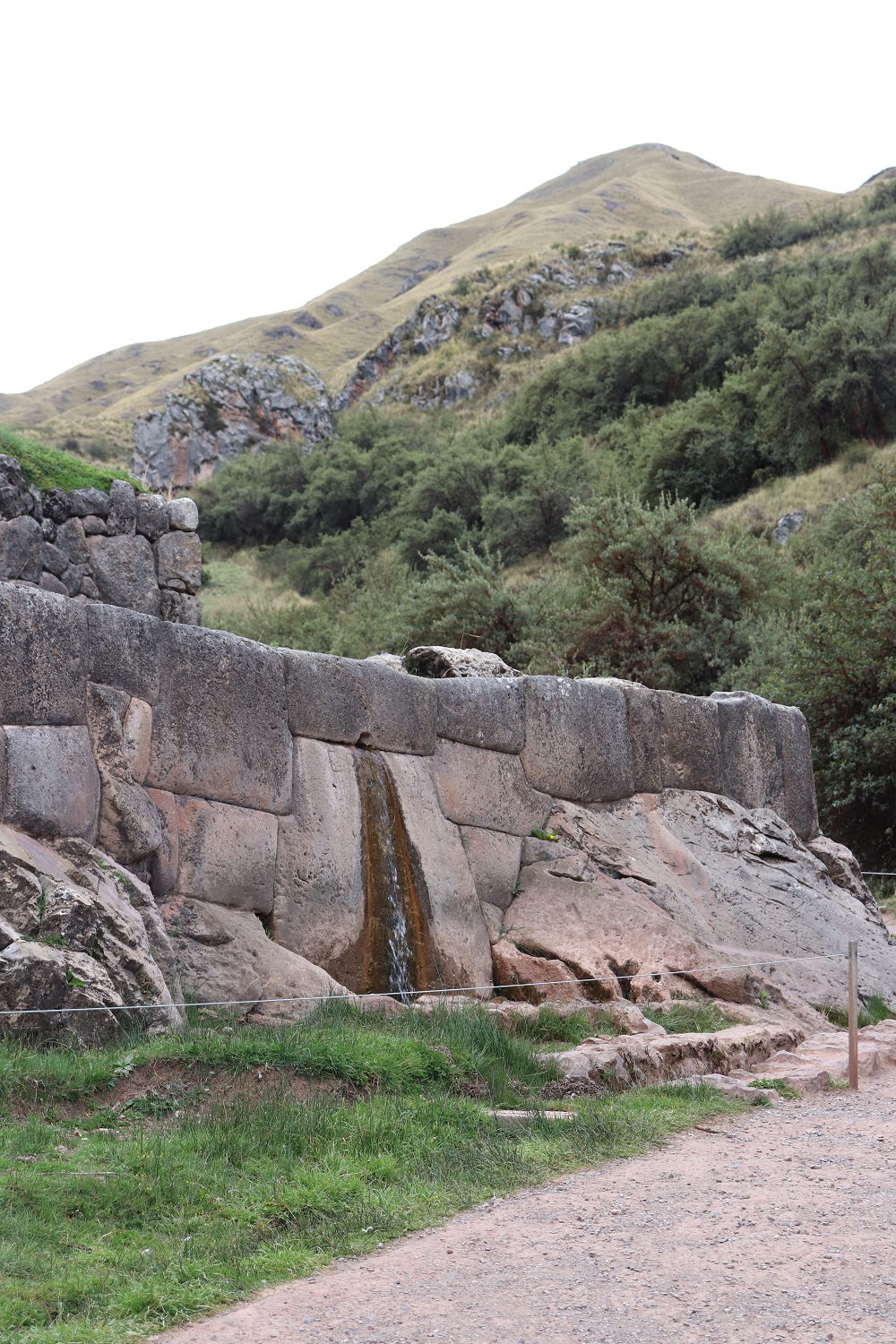 The thing I found interesting about this site is that it has a long walk and a lot of people seem to go there just to walk around. It was recommended to us by locals but even though the site isn't magnificent, the running water and the pathway through Peru's mountainous region is really peaceful. If you're staying in Cusco for an extended period of time, Tambomachay may be worth checking out if not to get away from the hustle and bustle of the city.
Getting around: We got around by taxis that our hotel called for us and it was a very inexpensive and efficient way to get around. Our taxi driver was very kind and enthusiastic about taking us to see the sites, which made for a great time. There are also excursions you can book online but renting a cab is probably cheaper.
We didn't go to Ollantaytambo or the ruins of Pisac (we did do Pisac city) and after seeing reviews and images of those, I'm feeling major FOMO. Peru has a wealth of history but the stones that make up what once was isn't really enough. I'd recommend visiting Saqsaywaman but if you're short on time, skip Puca Pucara and Tambomachay. There seems to come a point in every vacation where people are castled, museumed, or archaeology sited out and it's worth seeing some more complete sites before that happens.
(Also note that the towns of Ollantaytambo and Pisac are very pretty, so find some time to spend there as well.)
Have you ever been to any ruins in the Sacred Valley? What did you think?
Posted on Sunday, February 24, 2019 in Destinations
Tags: archaeological sites, peru, sacred valley, south america
No Comments ★ Permalink