Day Trip to the Swiss Rhine: Schaffhausen & Stein am Rhine
Originally published on Friday, August 10, 2018
On my way to Stein am Rhine, I got to see Schaffhausen as well. I love Swiss and German style architecture so when I went to Switzerland, I knew I had to spend some time near the German border to see the Rhine river and the towns that lived next to it. For that, I chose to go to Stein am Rhein and ended up seeing two towns instead.
Schaffhausen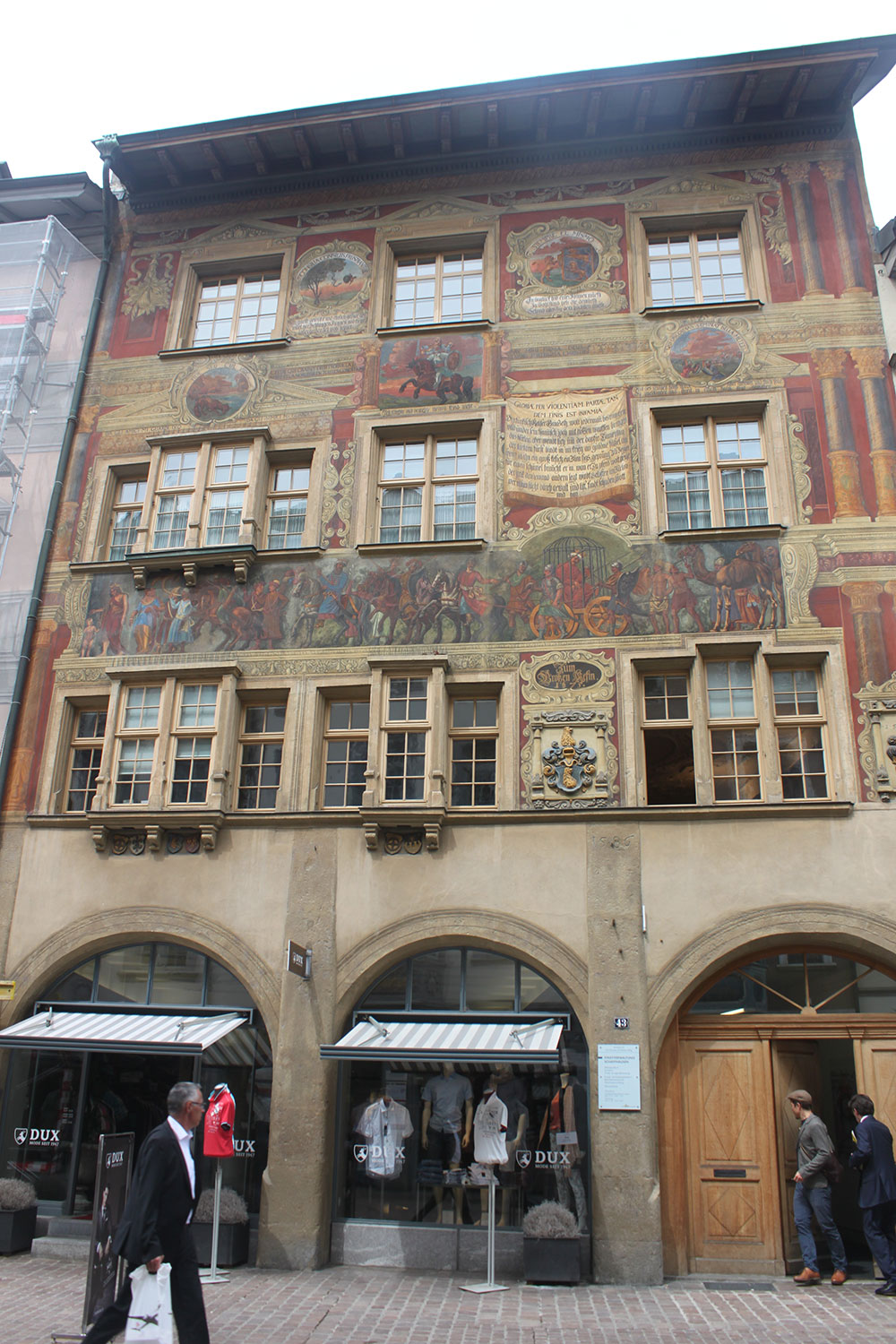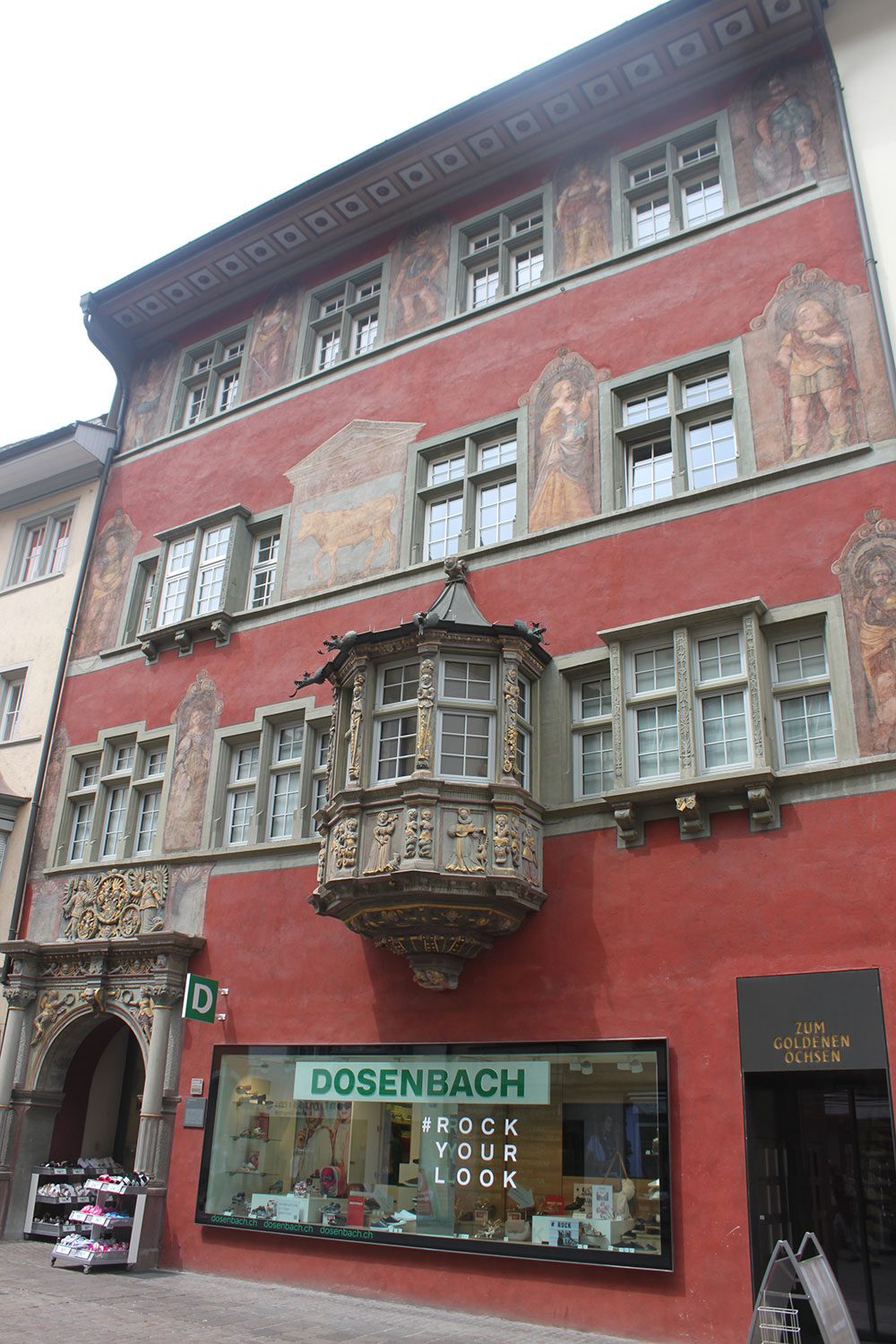 I had to go through the town of Schaffhausen to get to my destination, so I decided to make a trip out of it when I got there, and I'm so glad I did. It was gorgeous and I actually liked it more than Stein am Rhein!
The town itself dates back only 1,000 years, but remaining architecture of the old town, altstadt, dates from the medieval eras to the baroque. Virtually every building is painted in some way, whether it be in a fun colour or a beautiful mural. There's also ornamentation on several of the buildings. To give some perspective, there are 171 ornate bay windows, in this style called "oriel" windows. Schaffhausen is a small town and takes only about an hour to walk through but it's all incredibly decorated – a feast for the eyes!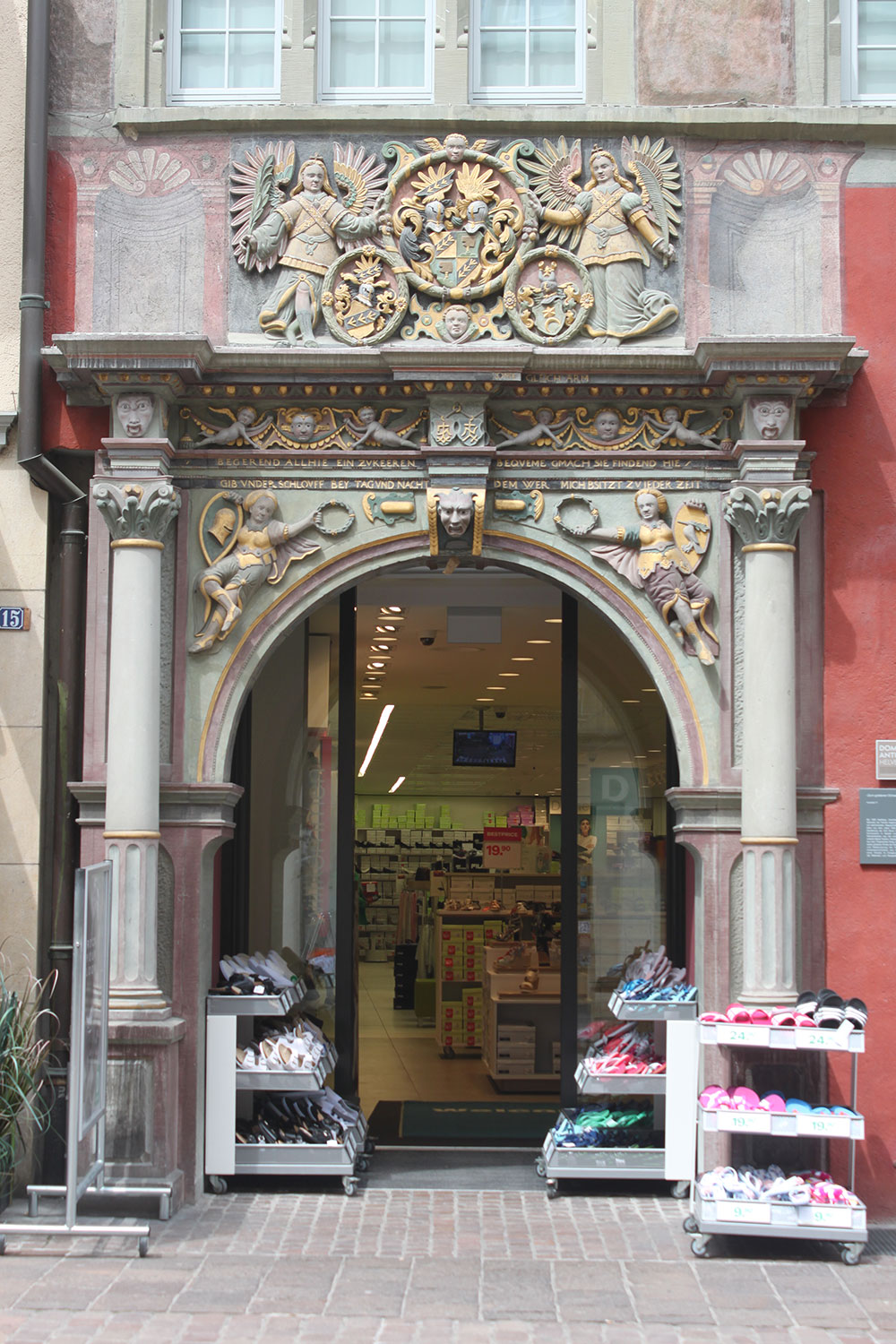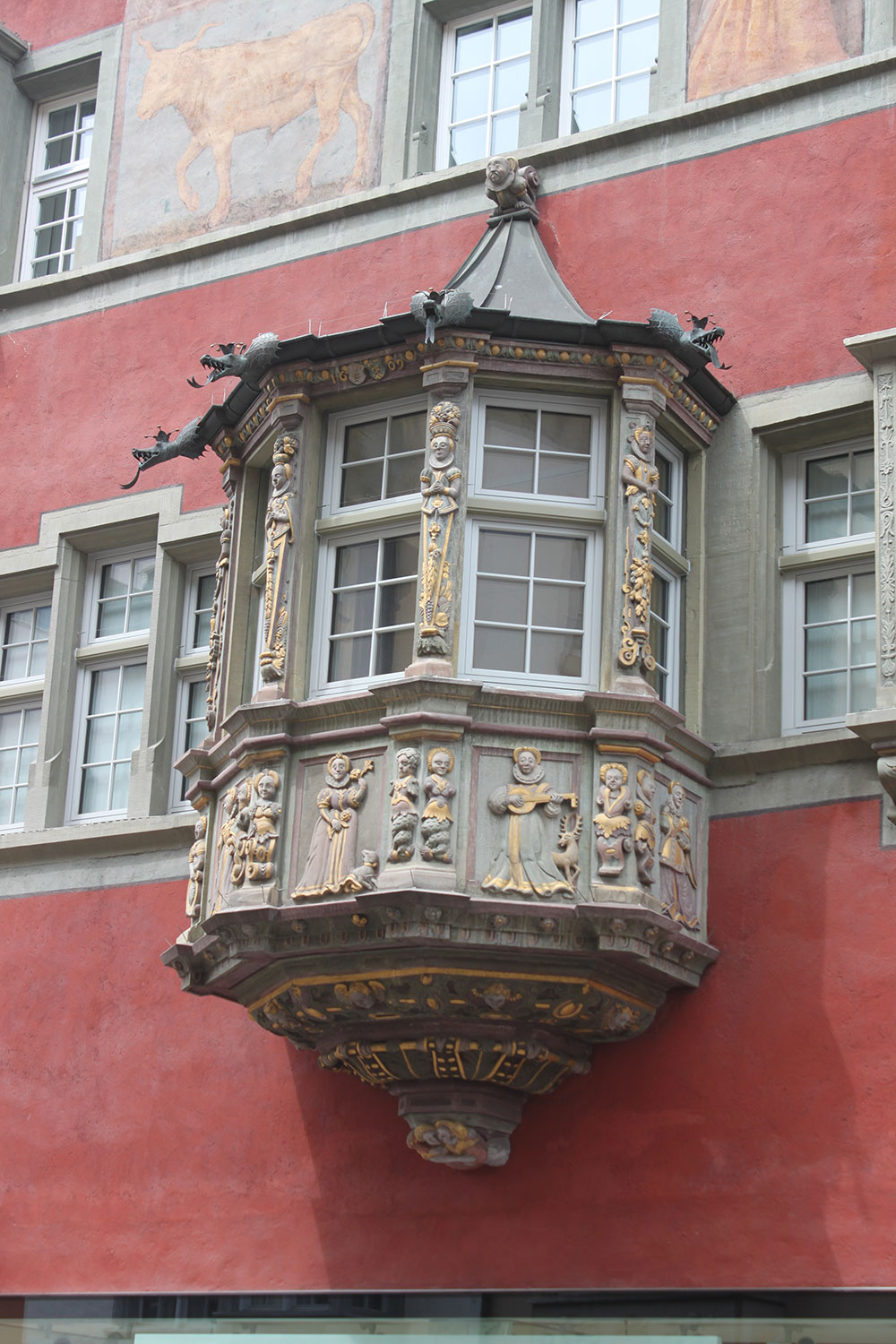 It's difficult to miss the crown jewel, Haus zum Ritter, or the Knight's House, pictured below. It's often deemed one of the most important Renaissance frescoes north of the Alps. They were completed by Tobias Stimmer in 1570 so they date back hundreds of years! (Though the building is actually much older.) It is a depiction of the civil virtues and also some scenes from Homer's Odyssey. The artist himself is represented near the top right. There's not much available on this painting online but it would make a fascinating topic for research, considering how complex the scene is. Unfortunately the building is now just a basic pharmacy, but its beauty is no stranger to the rest of the town. Schaffhausen is filled with frescoes, colours, and ornamentation. What a pleasant surprise it was for me to merely stumble upon this place.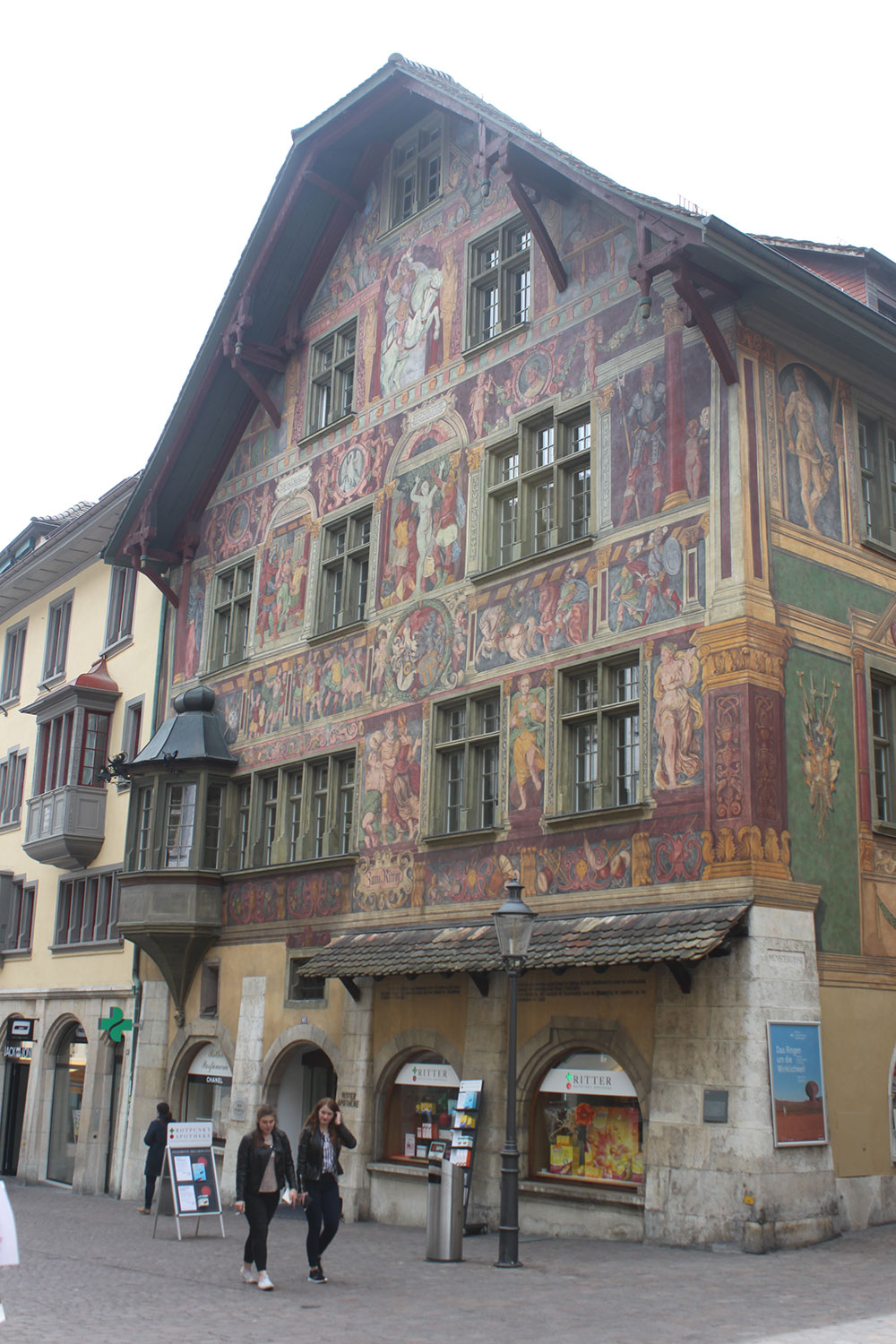 To see more of what Schaffhausen has to offer, you can head to Museum zu Allerheiligen, which houses some medieval treasures and the original frescoes from Haus zum Ritter. The museum was originally a monastery which helped define the beginning of Schaffhausen's history. This is one of the few tourist things to do in Schaffhausen. The rest of the town is filled with restaurants and shopping.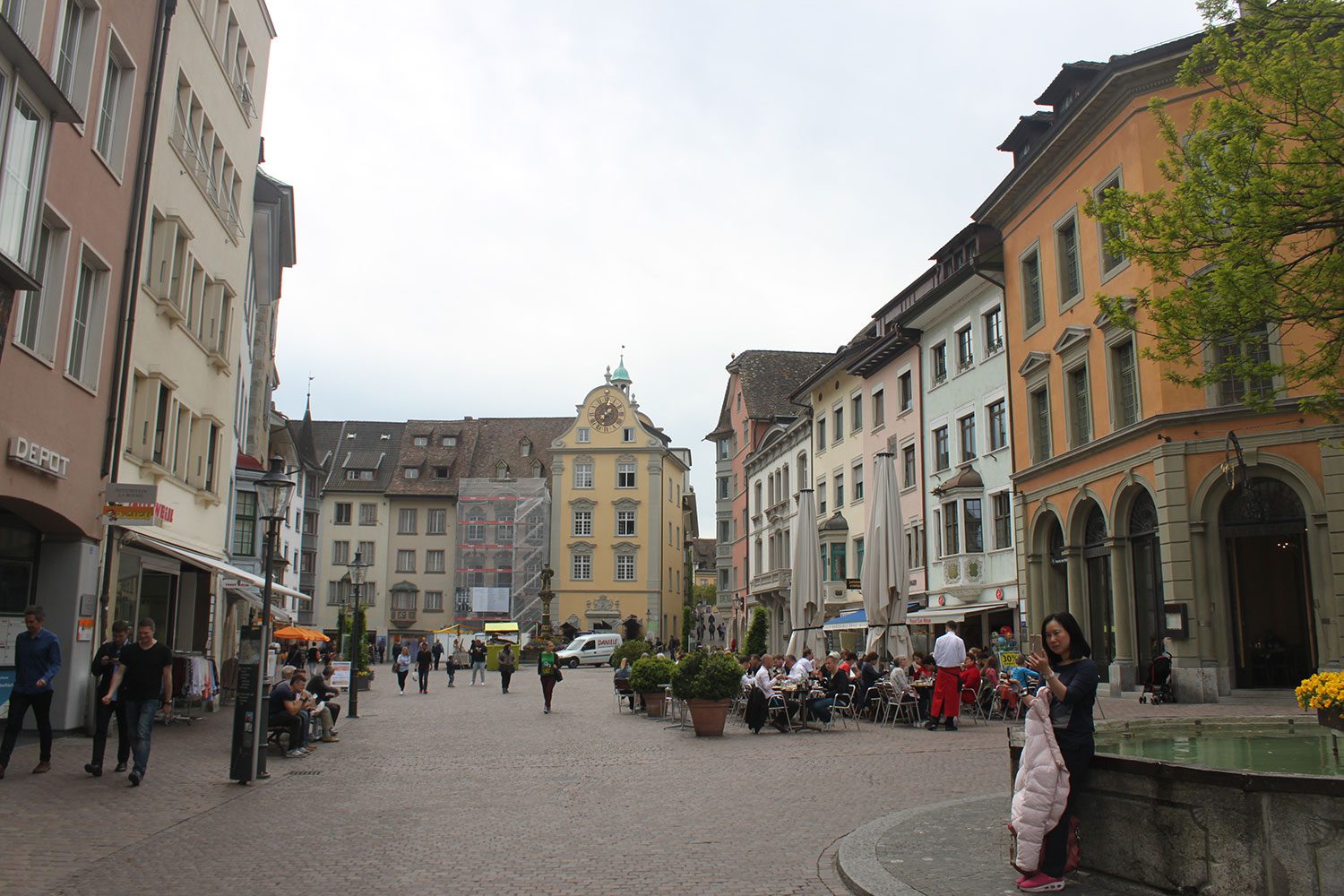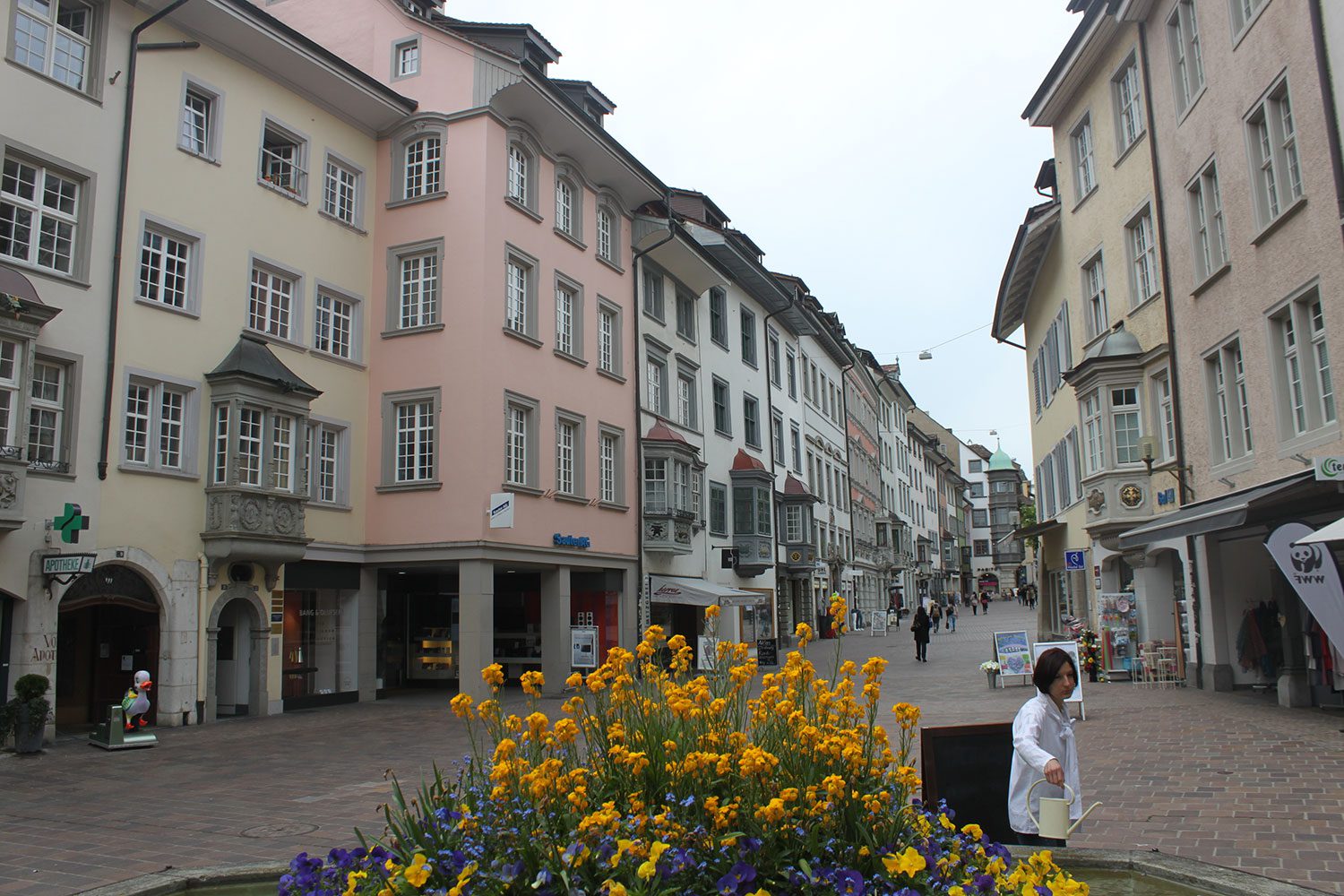 The landscape of Schaffhausen is dominated by the Munot Fortress. You can get some good views of it leering over the town if you go across the river. However I had a hiccup during my visit. You actually can't see the fortress from the Old Town – isn't that weird? It looks like it would be very dominating but it's not. I did not know it was there. Also the routes to get up to Munot are not very prominent and you have to look for them. So since I went to Schaffhausen without knowing diddly squat about the town, I didn't even know Munot existed until I started researching the town upon my return! Apparently the fortress has magnificent views over the old town. This is a great example of why reading up on destinations is essential to making the most of a trip.
Nevertheless, I had a fantastic time walking around the old streets of Schaffhausen and discovering this gem.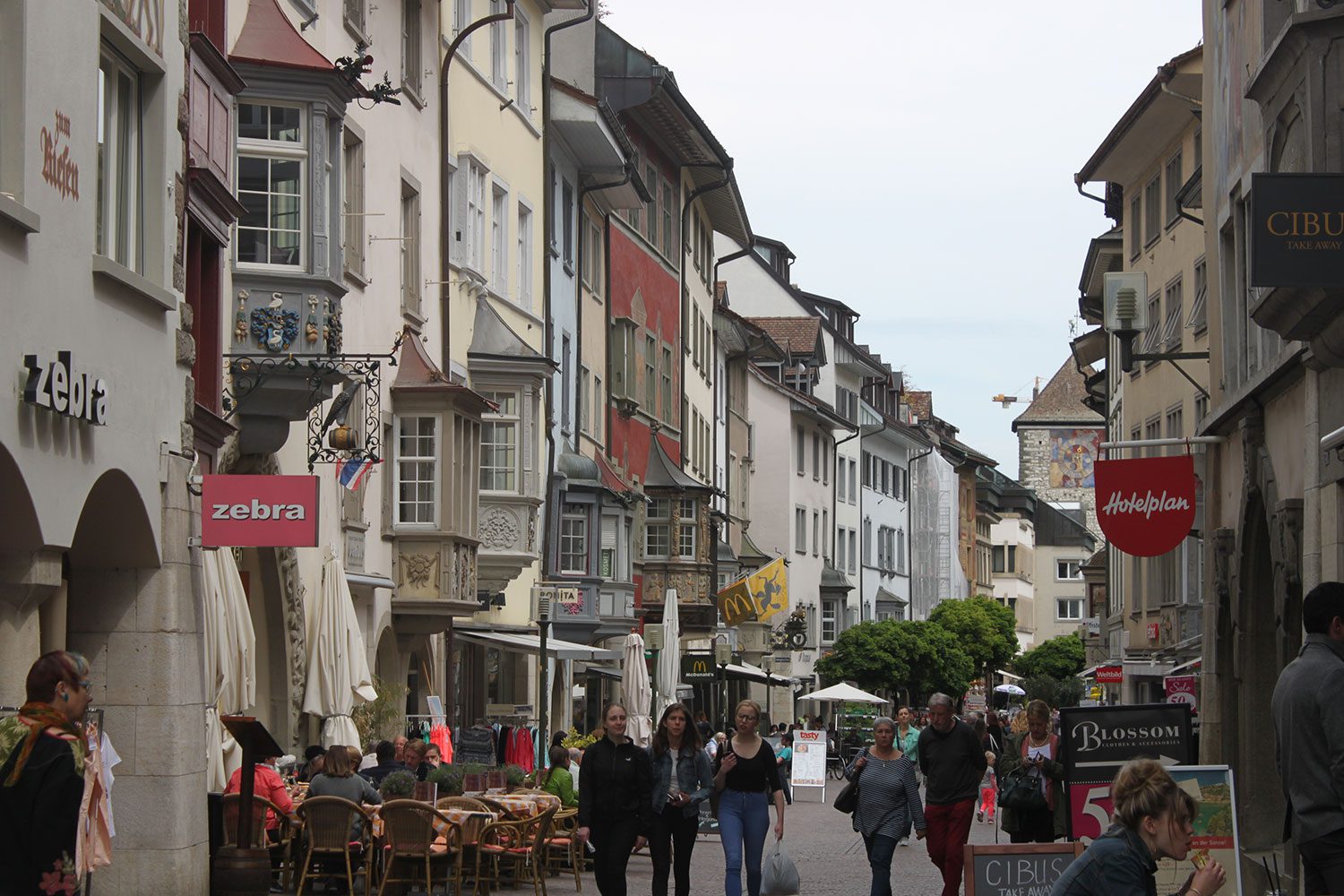 You don't need to spend much time here but if you happen to be in the area, it's a super charming town that's well worth seeing. It's also less than an hour's walk away from Rheinfall, so if you have the time, you can see the famous Rhine River with a view of Laufen Castle! The castle today is not open as a museum but has a restaurant overlooking the river.
Stein am Rhein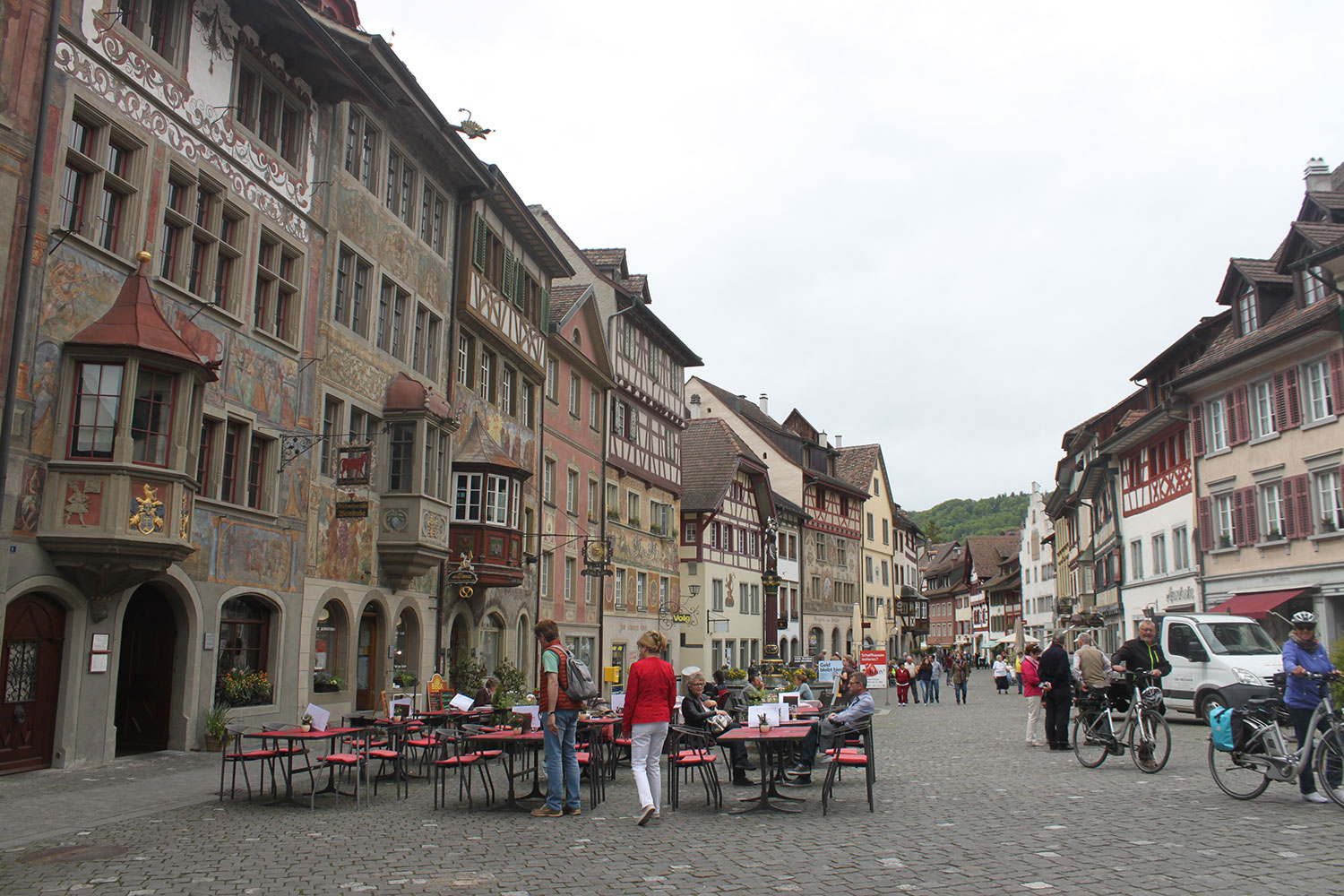 After Schaffhausen, it was time to go to the place I'd been wanting to see a lot: Stein am Rhein. The city centre is a bit of a walk from the train station but the path is clearly marked. The town history is very similar to that of Schaffhausen. However it started out as a fishing village, which is still easy to see since the town is situated so close to the water and still very much a village.
The fantastic architecture and frescoes that line the streets of its old town are no less spectacular than those of Schaffhausen, either. Actually, I'd argue they're prettier. When the clock chimes, it truly is like living in the 1500s, which is when the town was at its height.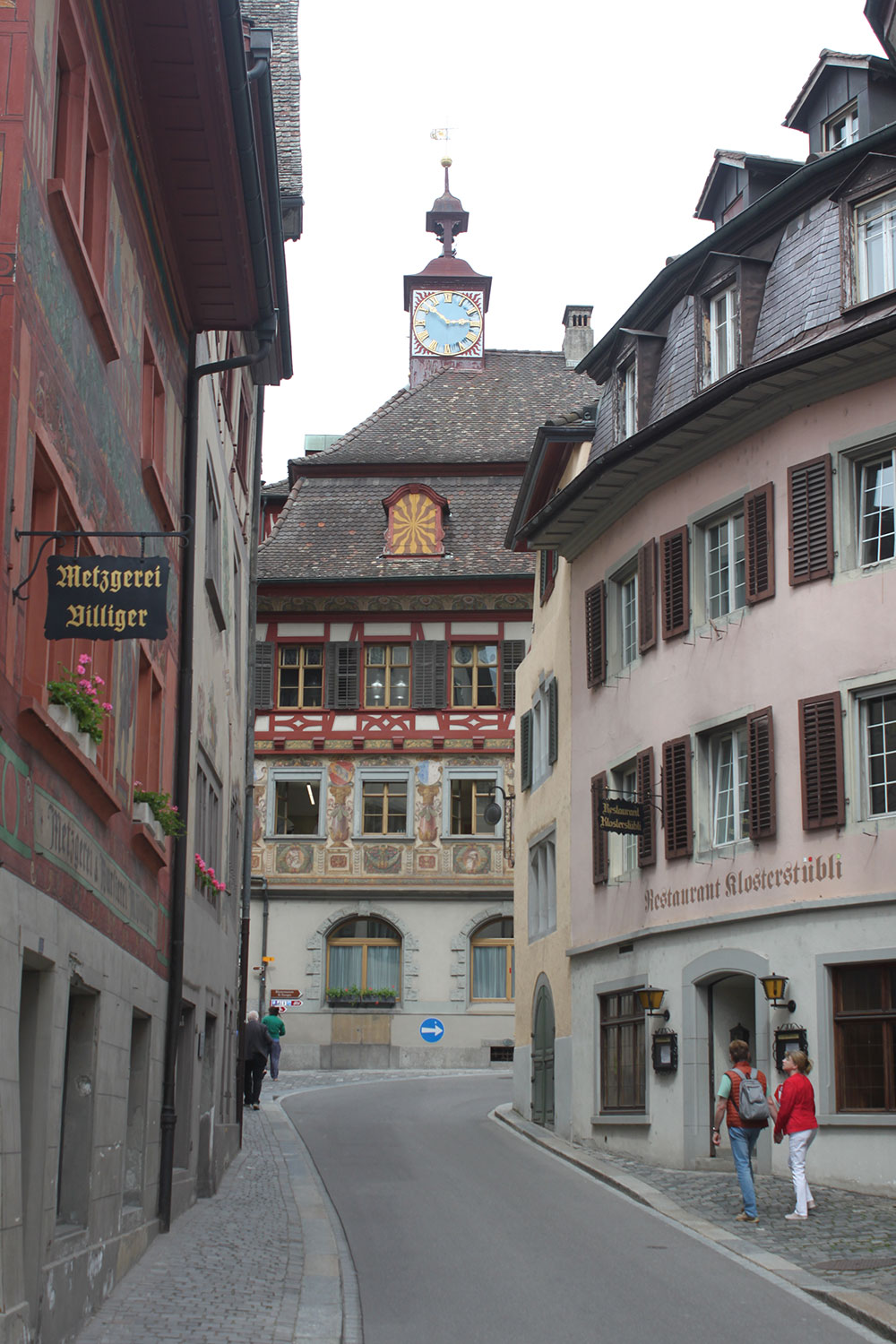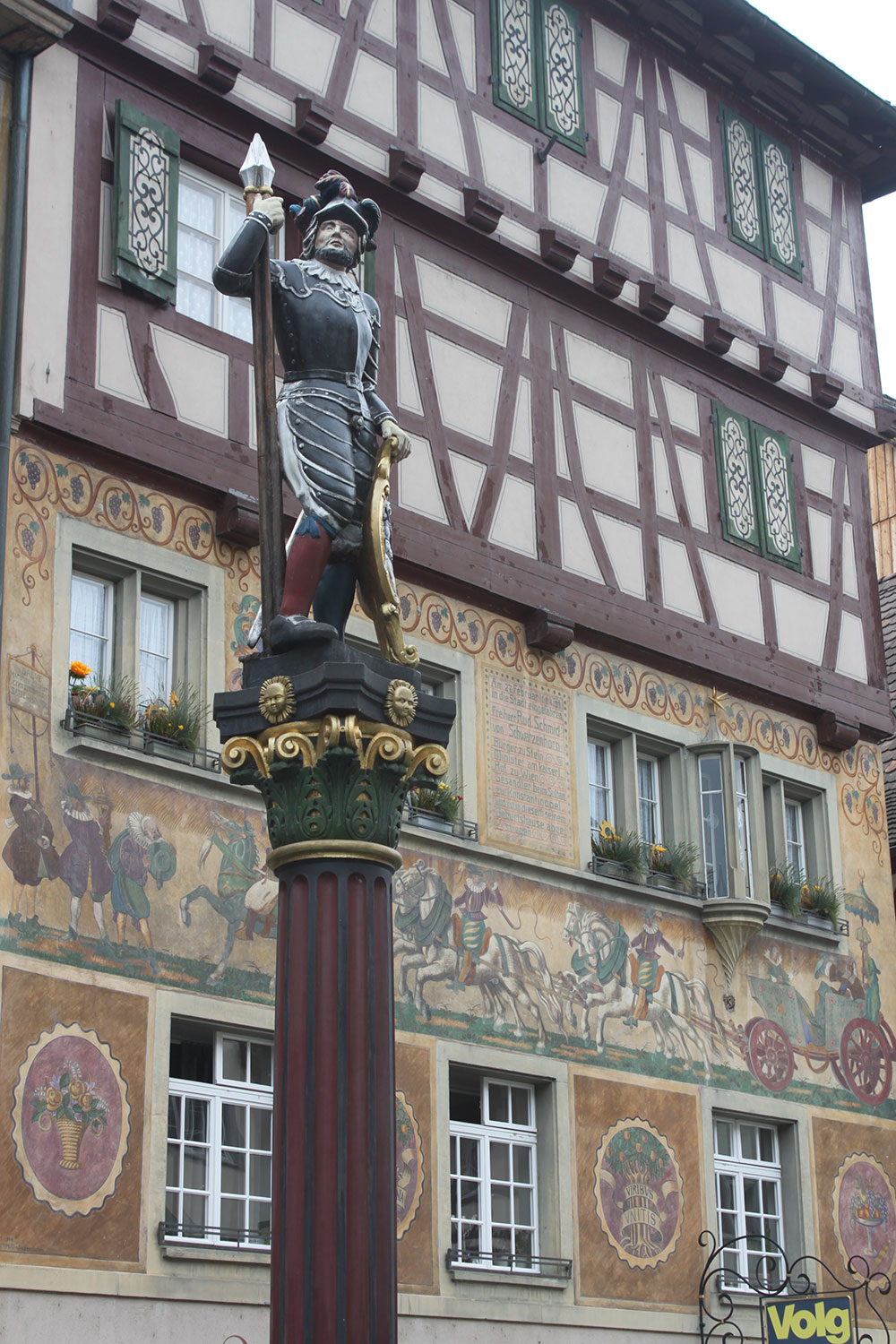 While in Stein am Rhein, you have to visit St. George's Abbey, which has displays on the town's history and gardens looking over the Rhine. You can also visit one of the houses by going to the Lindwurm Museum, though it dates much later to the 19th century. The rest of the town is mostly comprised of restaurants, cafes and tourist shops.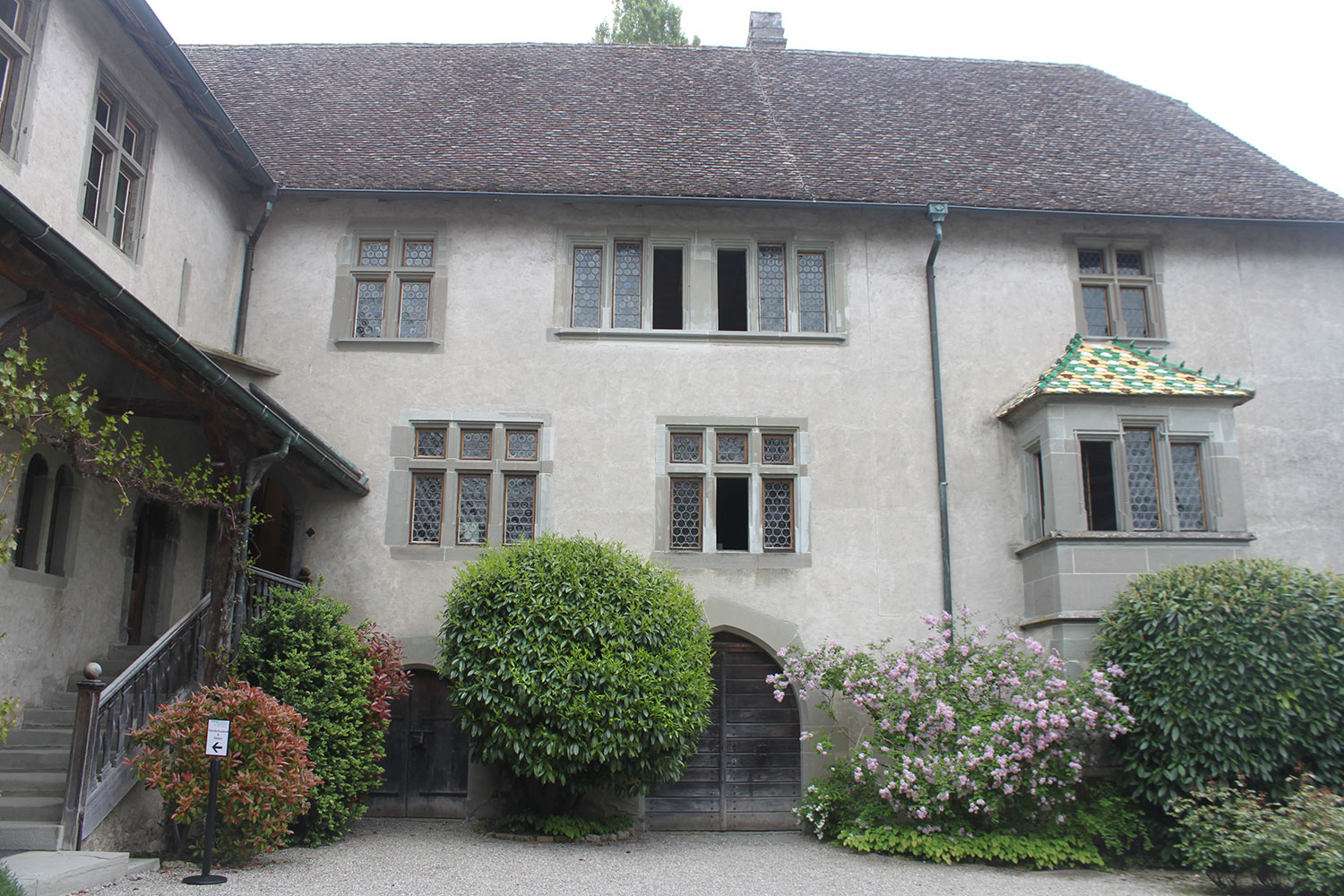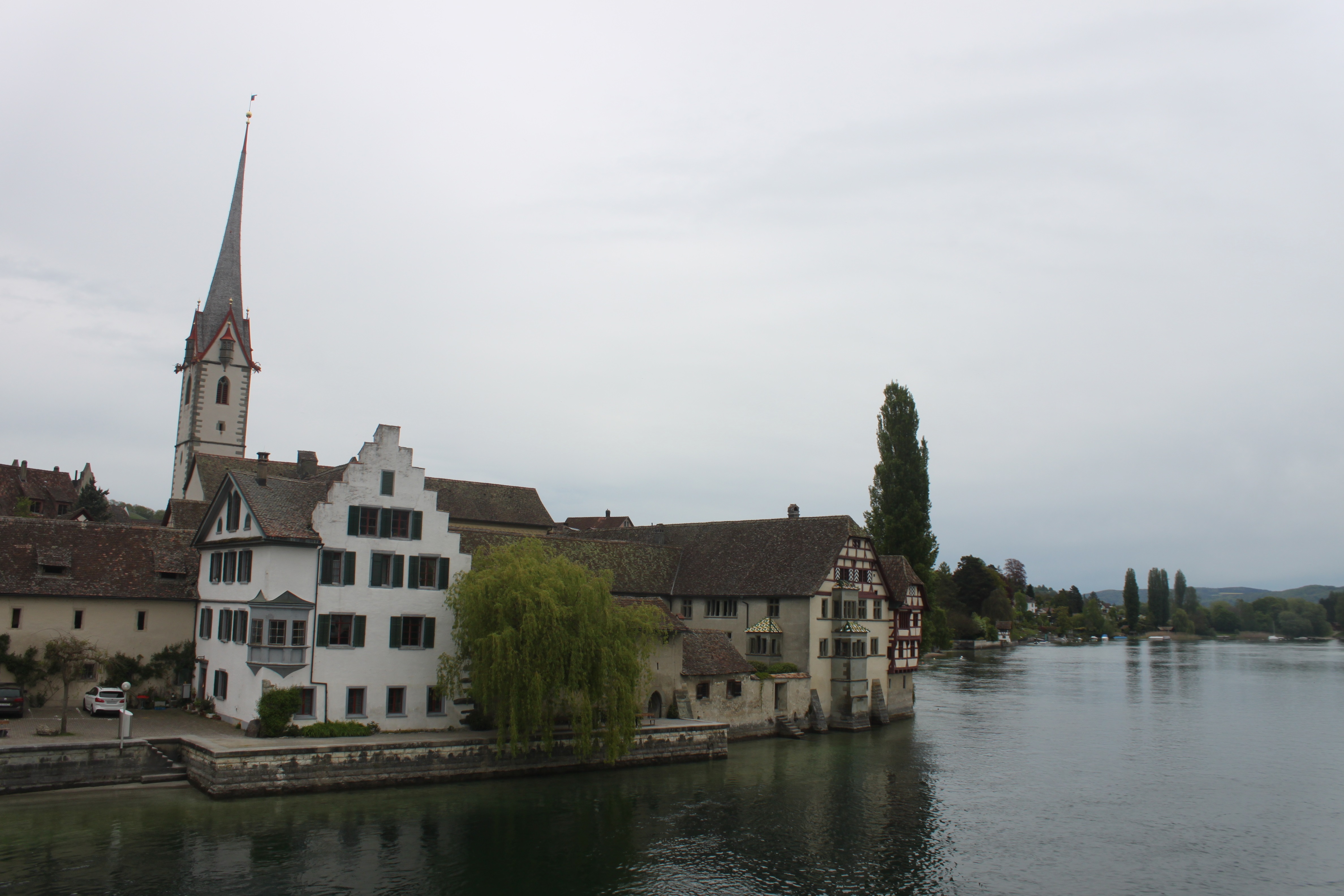 If you have the energy and time, you can also climb up to Hohenklingen Castle for town views, though the building is now a restaurant and hotel.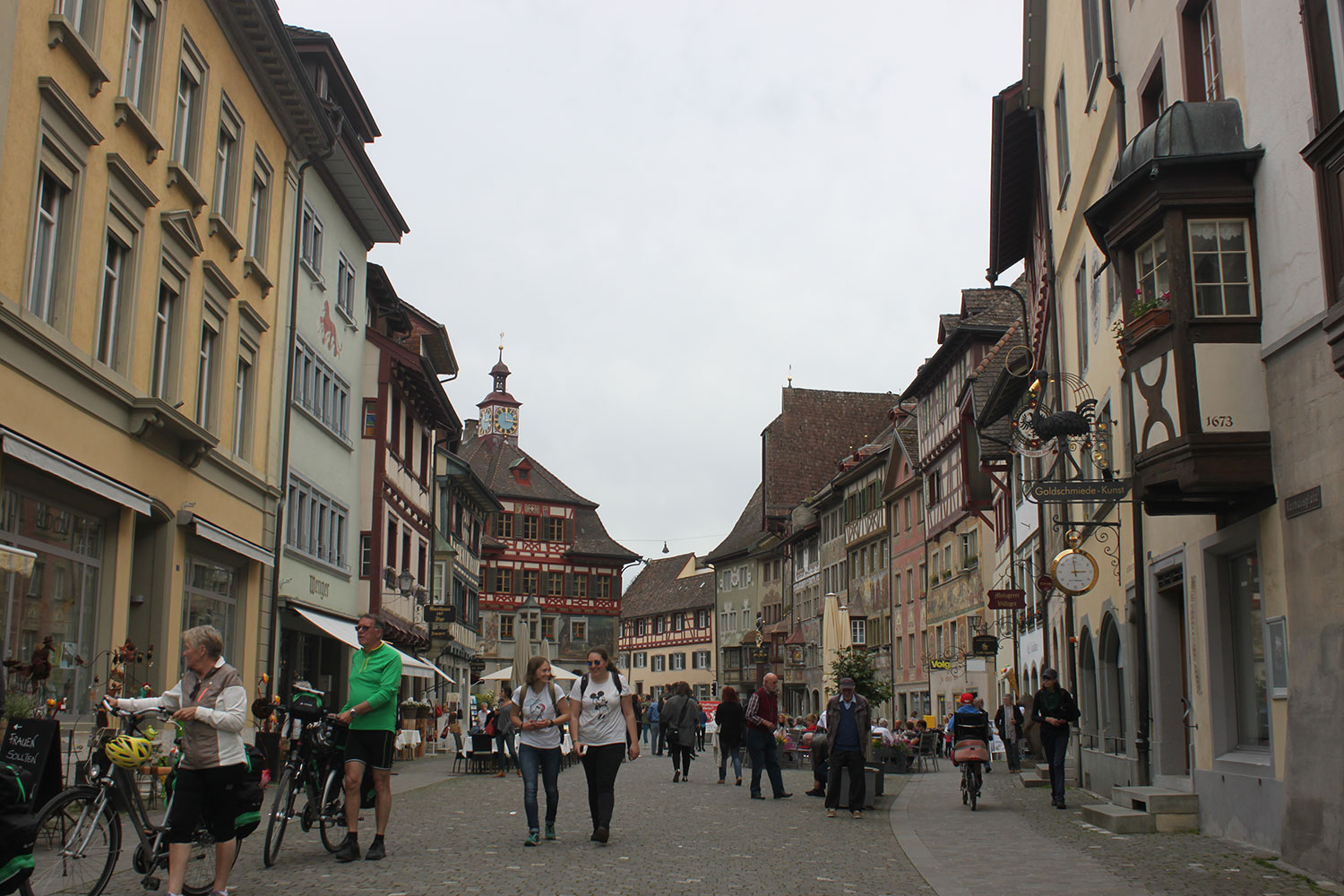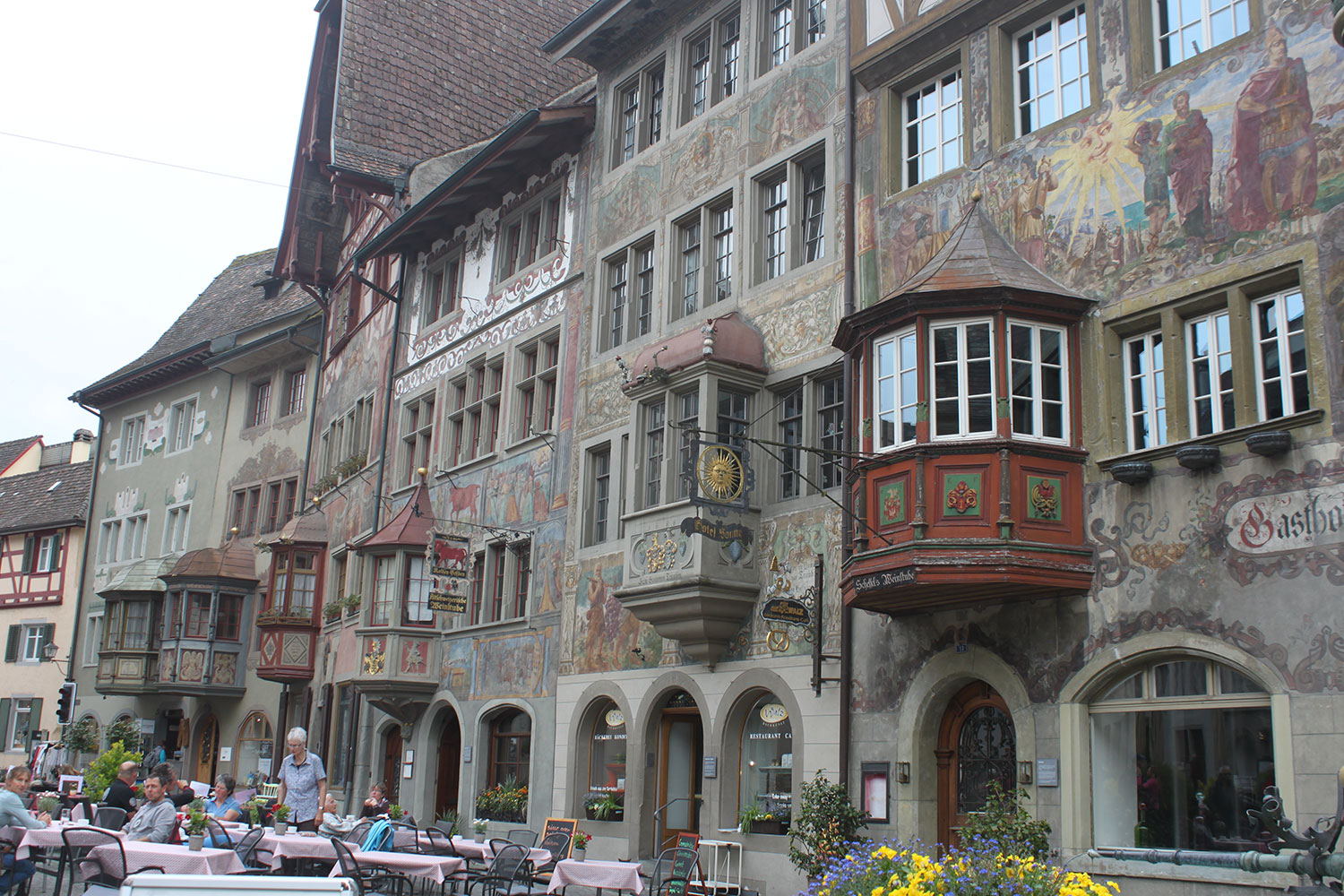 While I thought that Stein am Rhein was gorgeous, it is very, very small. There's really only one street that's lined with these houses, and then a few small side streets. It is so much smaller than Schaffhausen and there's not much to do besides take pictures and visit the Abbey. It is am amazingly well preserved example of a medieval Swiss town but two hours should be sufficient time to explore everything, minus the hike to the castle. To be quite honest, I had seen what I wanted to in about half an hour before I got dinner.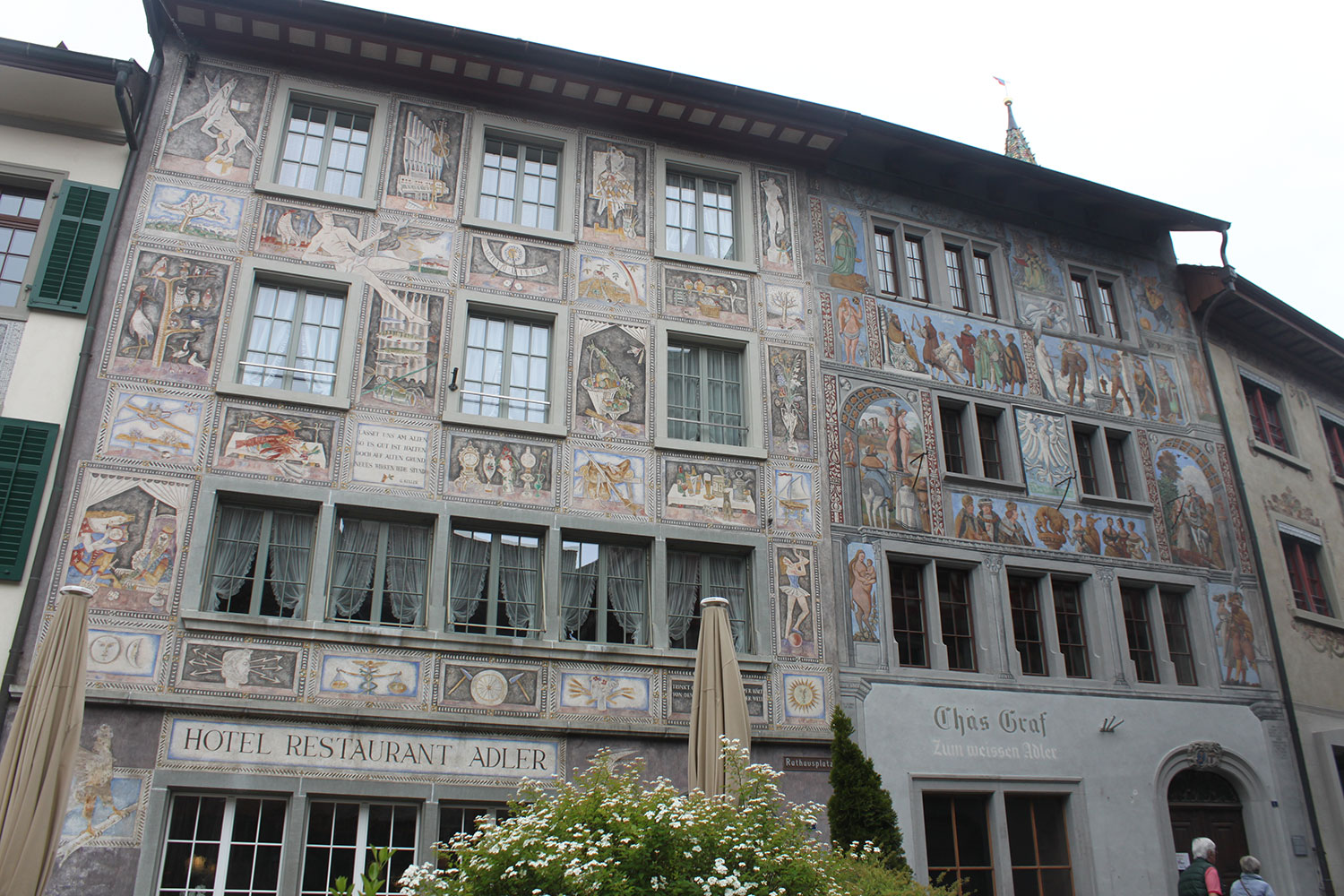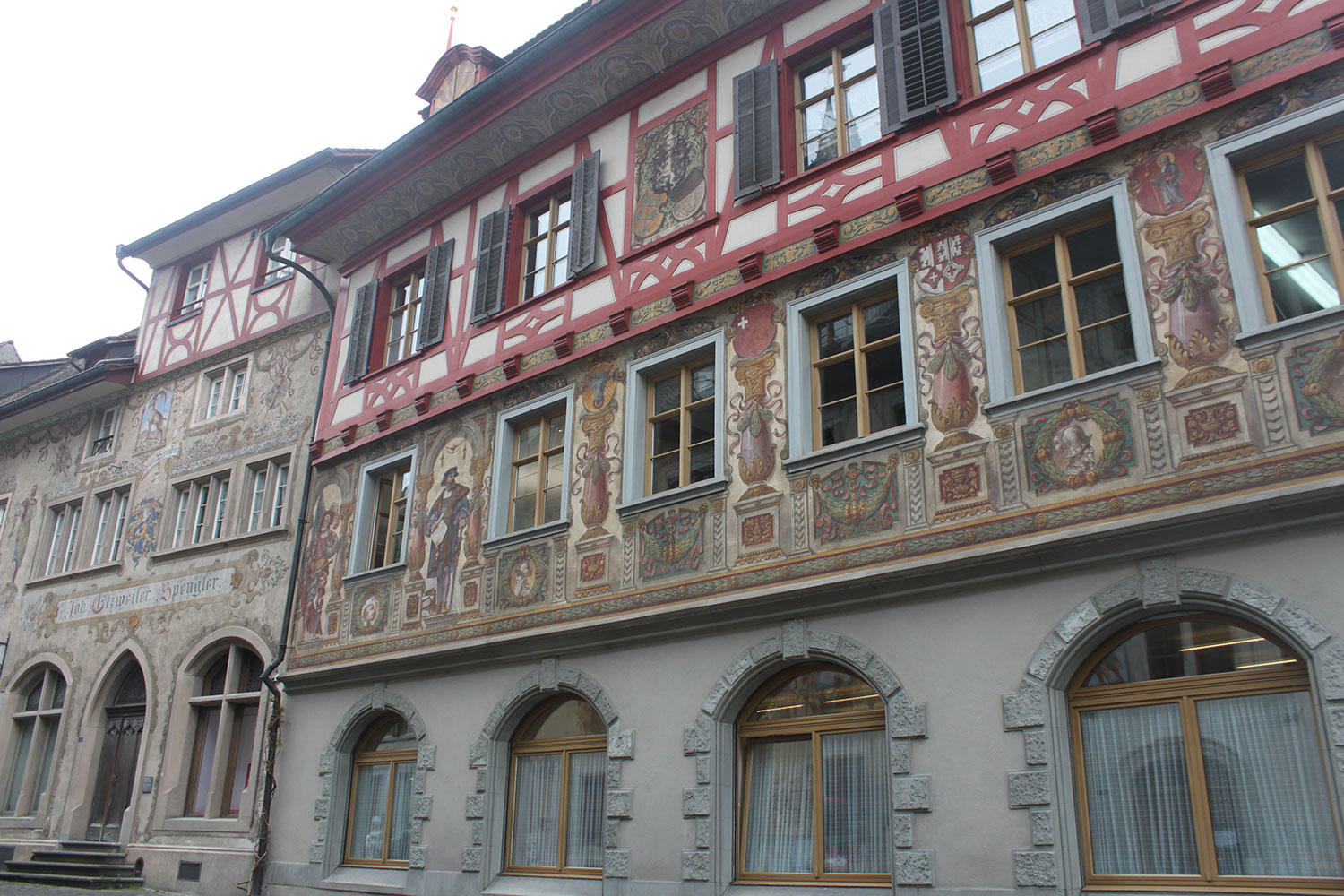 Switzerland is filled with tonnes of historic and charming towns, and both Schaffhausen and Stein am Rhine are fine examples. I wouldn't consider these towns "must-sees" but it would be a serious shame to miss out on seeing such beautifully painted towns, particularly for medieval lovers. You can easily visit both in one day. Probably my favourite thing about visiting these medieval villages was getting to see painted towns, which are not super common today but amazingly beautiful. It truly is like a remarkable step back in time.
Have you ever been to Schaffhausen and/or Stein am Rhein? What did you think?
Pin This for Later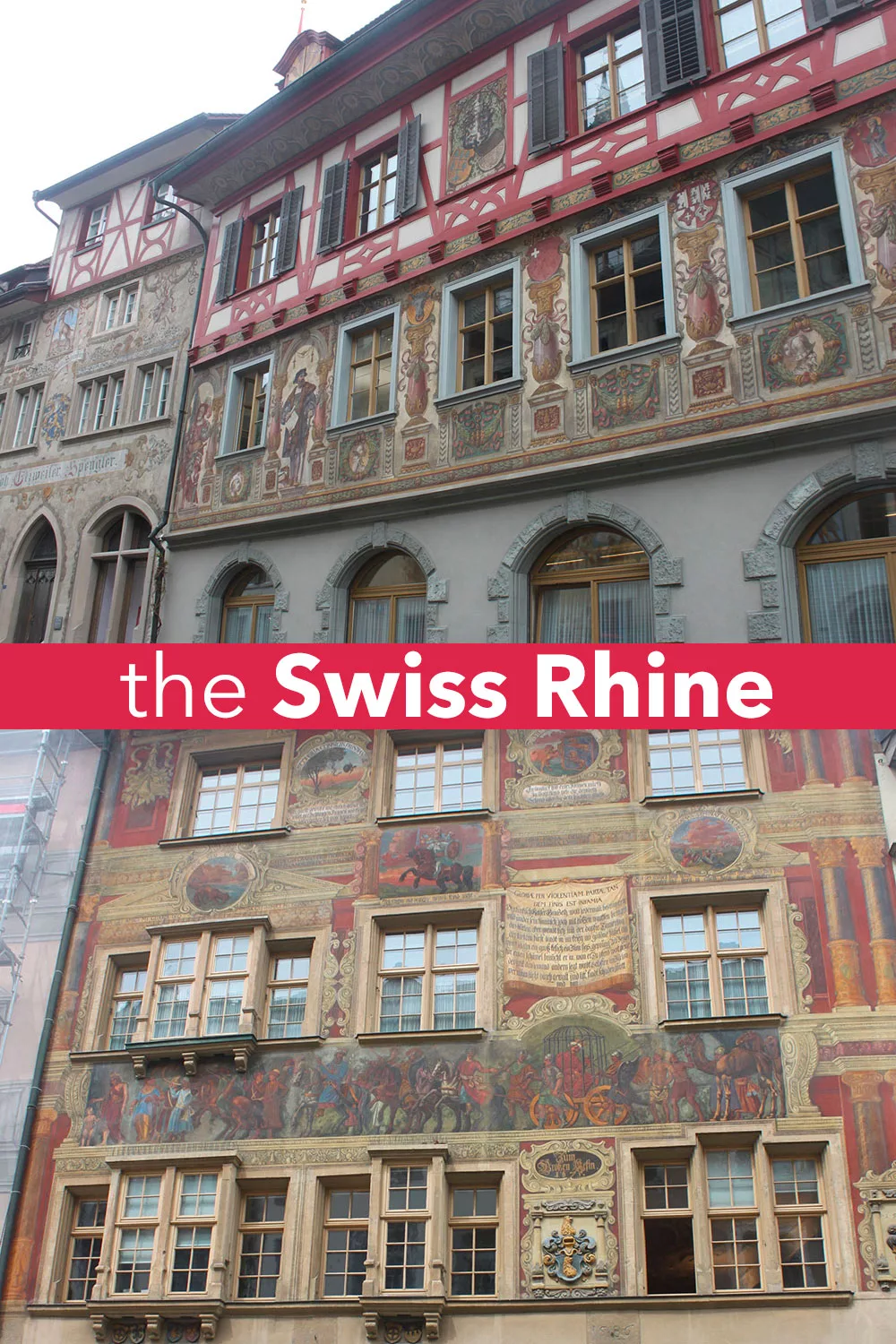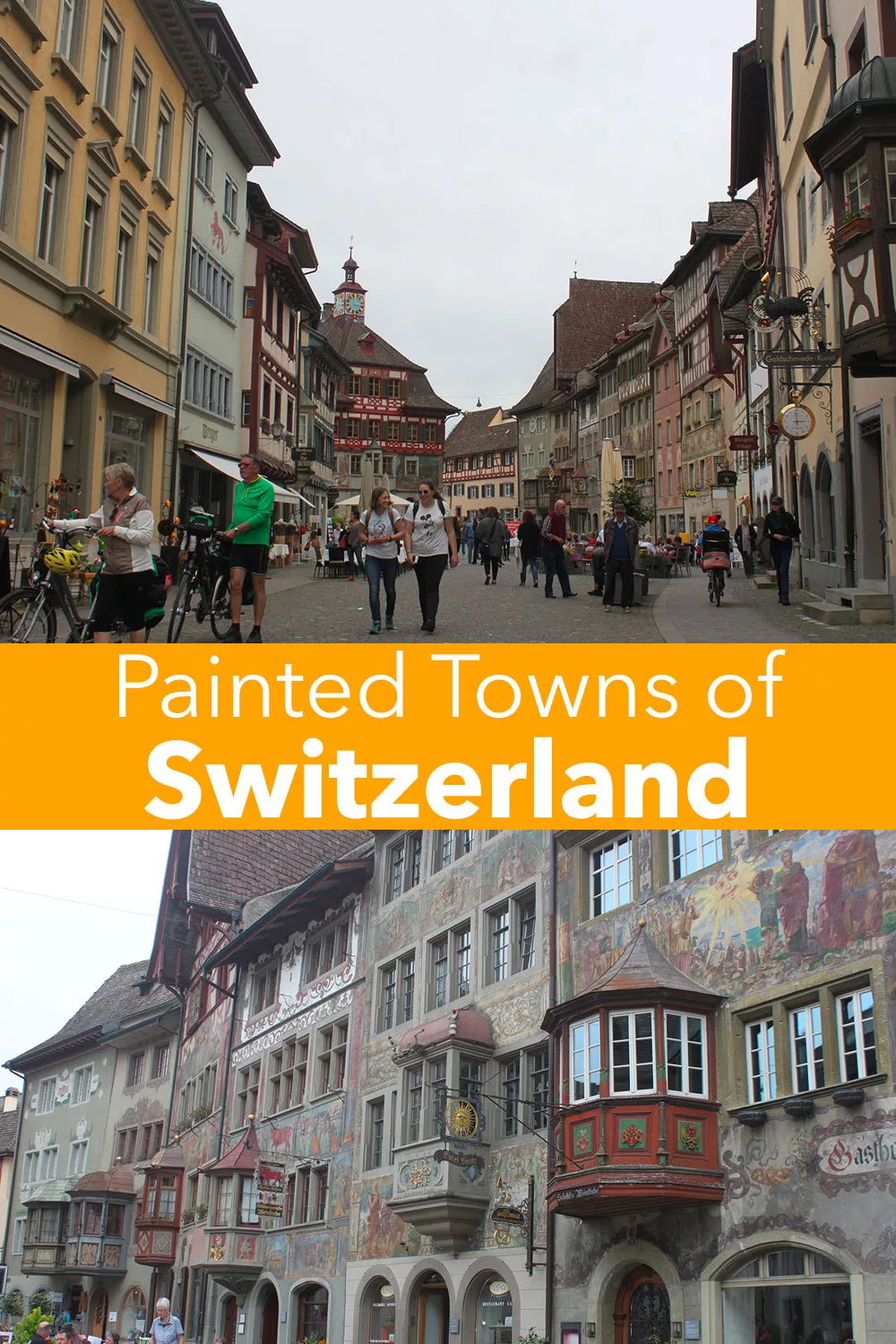 Please note that this post may contain affiliate links. These are at no additional cost to you but I receive a commission if you make a purchase through the link, and the commission helps me run my blog. Thanks for your support!
Tags:
europe
,
rhine
,
schauffhausen
,
stein am rhein
,
switzerland
Sharing is Caring
Want to support me?
Buy me a Coffee