Visiting the Historic Stirling Castle in Scotland
Originally published on Thursday, September 26, 2019
Stirling Castle is arguably one of the most important places in Scotland. It's an easy day trip from Edinburgh and is a must-see for anyone interested in Scottish history and castles, as it is a very complete castle with very recognisable residents. We got to stop here for a few hours and had it was definitely worth the visit.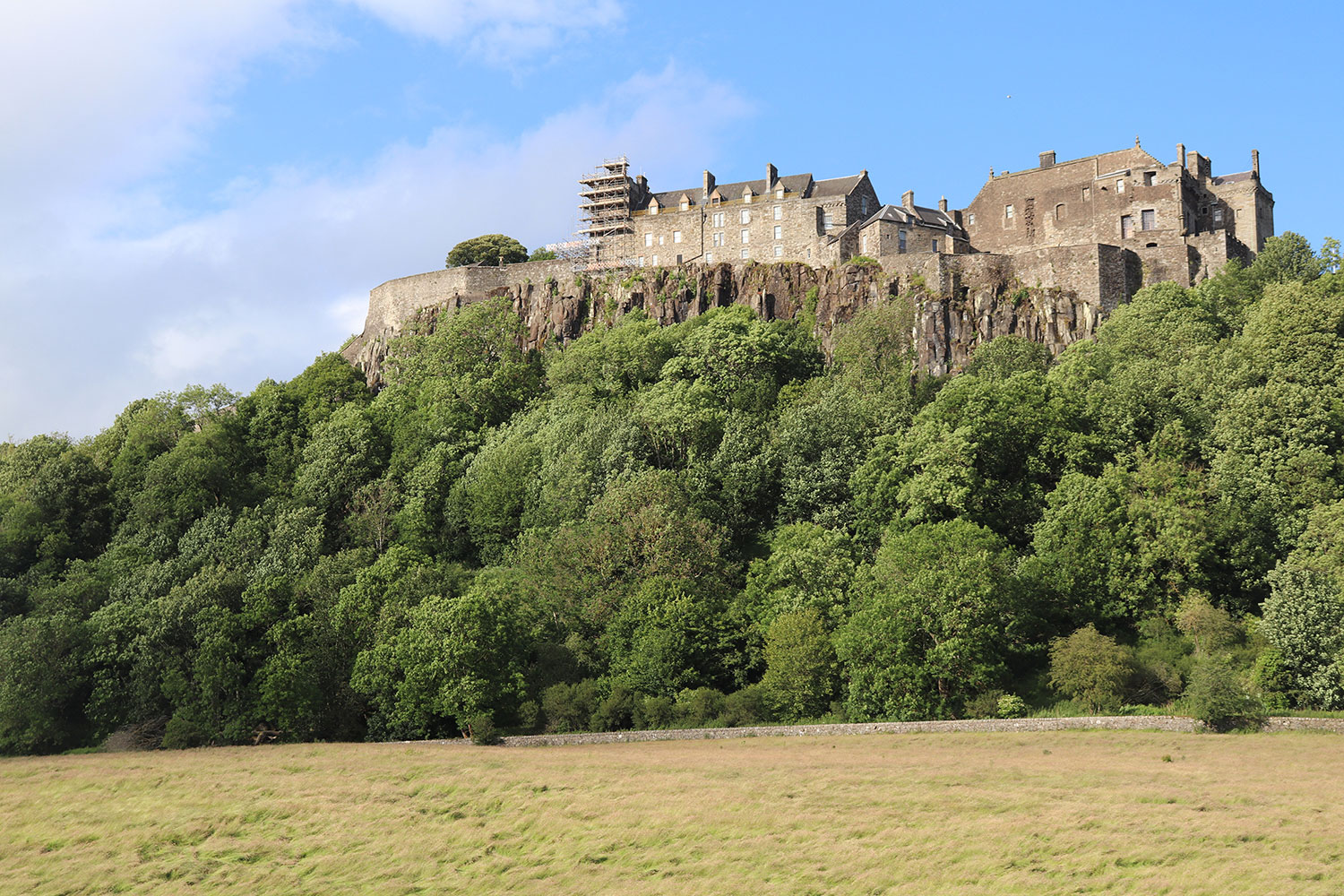 The History of Stirling Castle
Stirling Castle is known as the dividing point between the Scottish Highlands and the rest of Scotland, but it also has incredible historical significance. The castle dates back to the 1100s and flip-flopped in ownership between the Scots and English (as that area often does in history). However, the oldest remaining part of castle – the North Gate – was built in 1381. The castle was heavily reconstructed under James IV and parts of that design can still be seen today. The Great Hall was completed in 1503 and is that very light building you see in photos, in contrast to the earlier sections of the castle done in grey stone (as you can easily see in one of my photos below). It was designed like this to be seen as a "gold castle" from miles away, and I noticed driving past Stirling from a distance that it is quite true! It looks magnificent when you see it from far away.
James V was coronated and lived at Stirling Castle, further cementing it in Scottish history. Mary Queen of Scotts was also coronated there, and her son James VI was raised there. After his time, the castle was used mainly for military purposes. Later construction was done during the Jacobite Rising and the castle served as a military depot all the way until 1964. Today it's a magnificent place to visit and take in the centre of modern Scottish history, especially since I assume you've heard of at least one of those historic characters.
Visiting Stirling Castle Today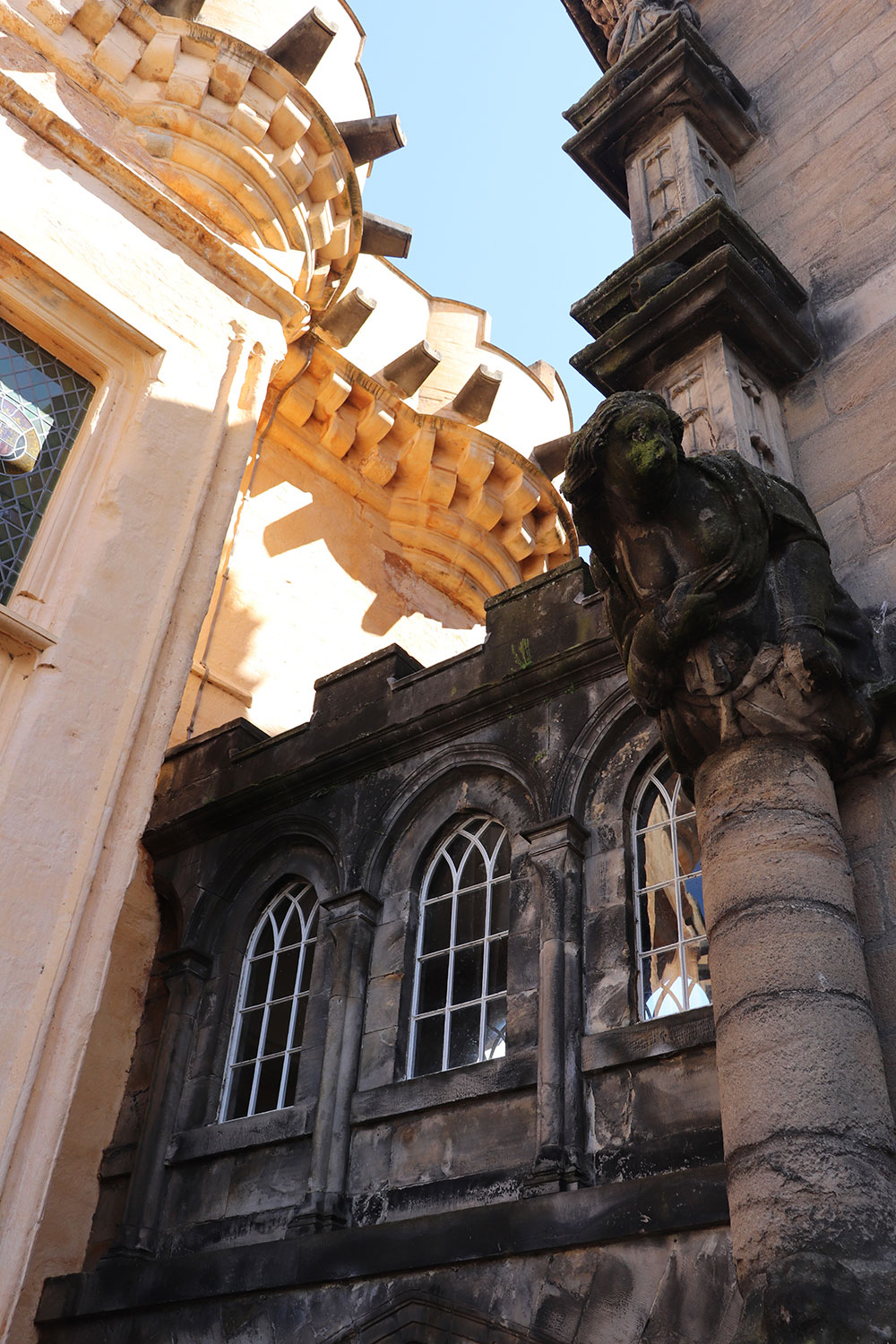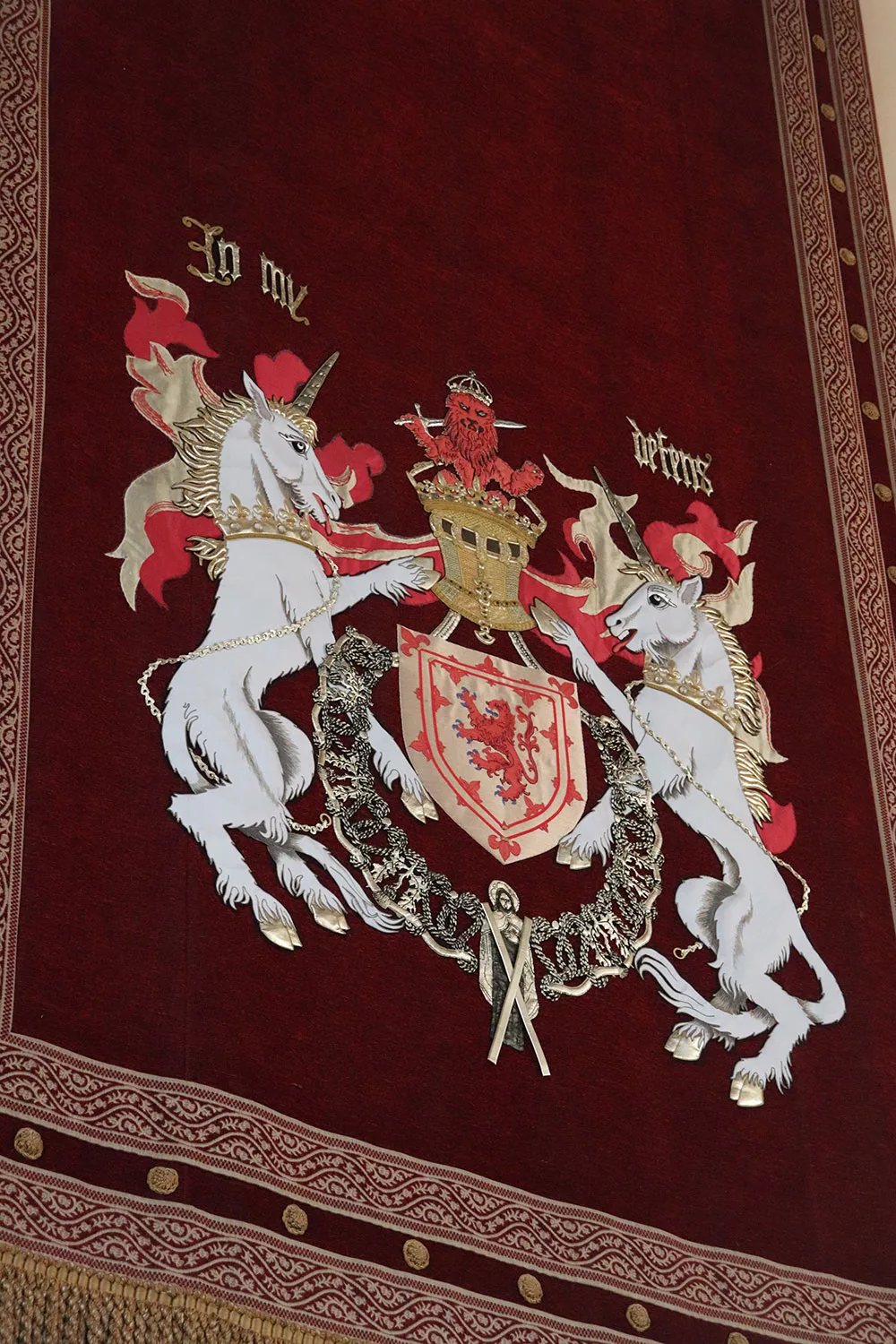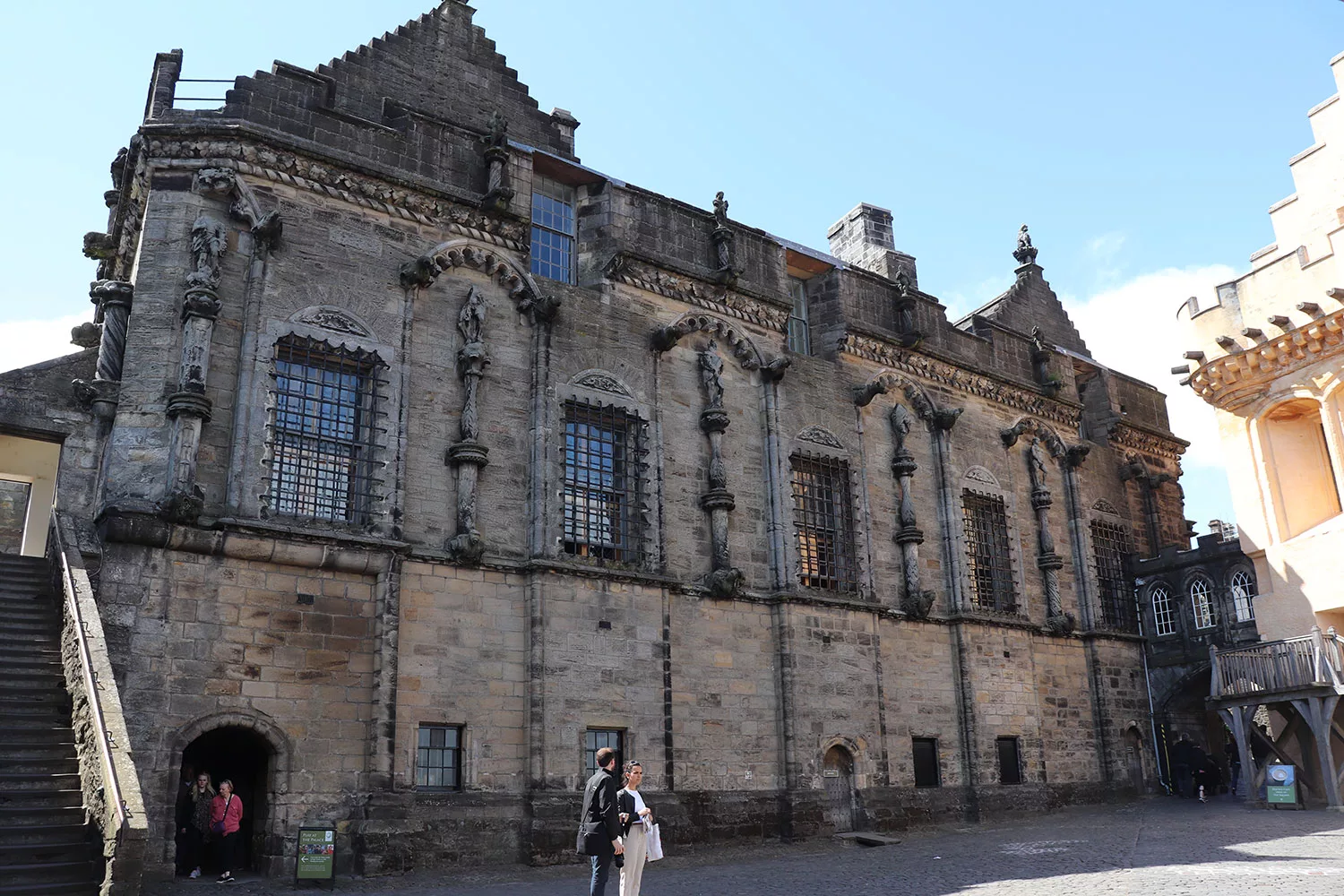 The castle is really incredible. It is very well preserved and it's obviously not of a cohesive design, but you can see the layers of building and history, which is quite fascinating. It's also partly furnished as it would have been when Mary Queen of Scots and the King James' would have lived there, and there are also people in costume. In one of the chambers, you can also see a Unicorn in Captivity tapestry. If you like medieval art, you'd recognise these unicorn tapestries. They originals are at the Metropolitan Museum of Art as well as the Cluny Museum in Paris. These reconstructions are an estimate of what King James V had in the castle during his lifetime. You can see in the photos that the design of the rooms is very colorful and extravagant as it would have appeared in the 16th century.
If you didn't know, Scotland's national animal is the Unicorn, which is why you'll see it around the castle and Stirling Town. Isn't that such a great mascot?
A lot of work was done to ensure the castle today looks the same as it did several hundred years ago. For a history nerd like me, that's so appreciated.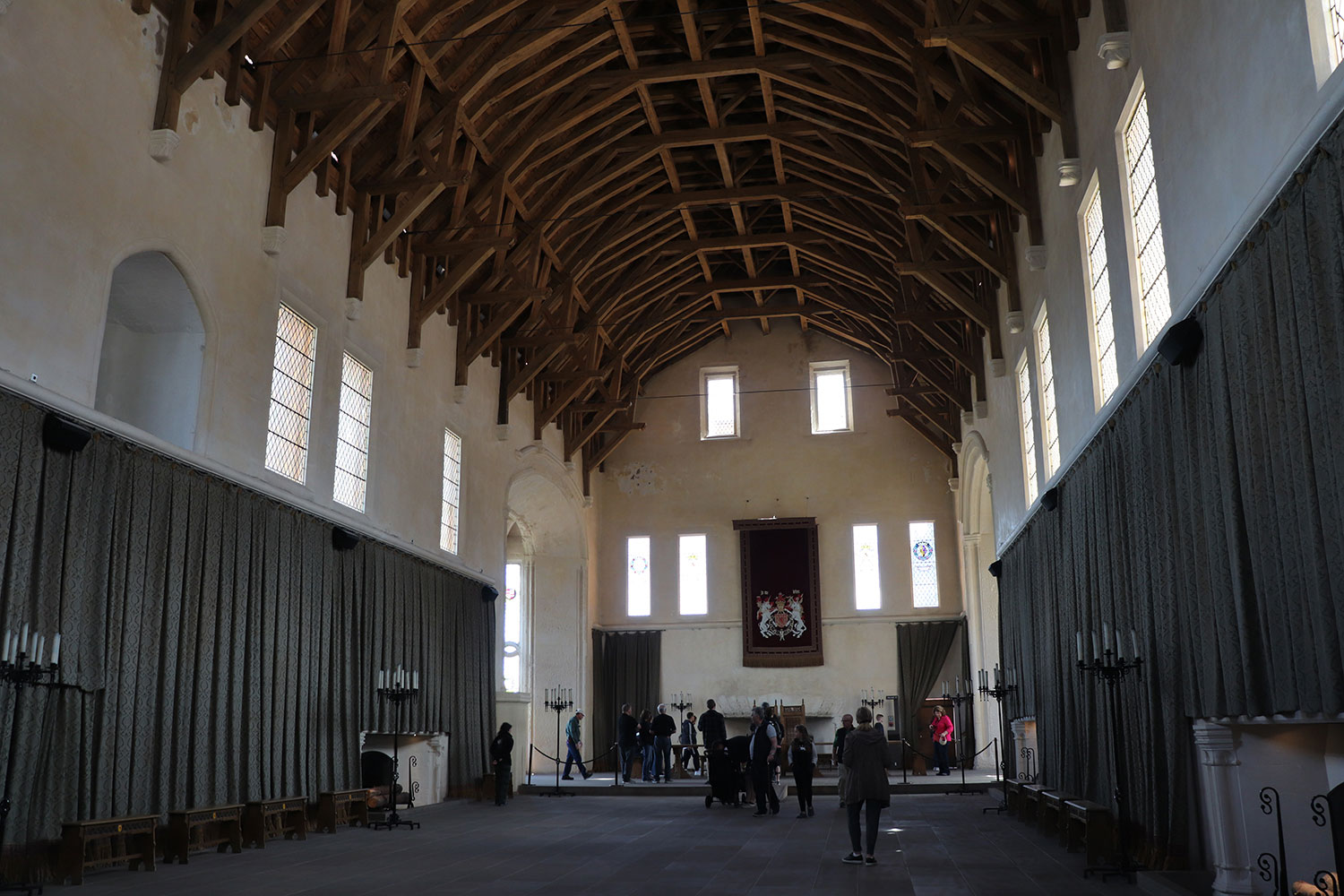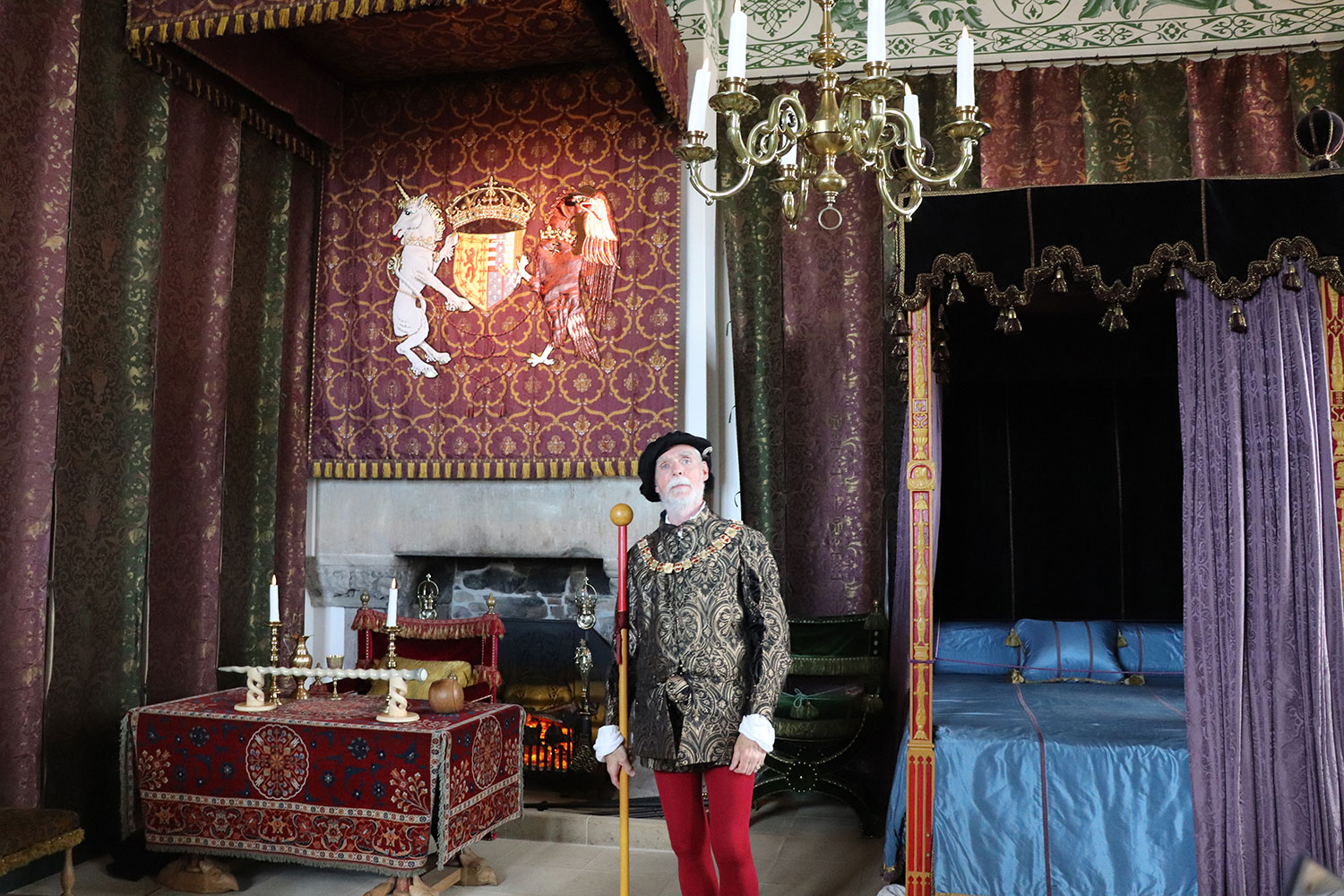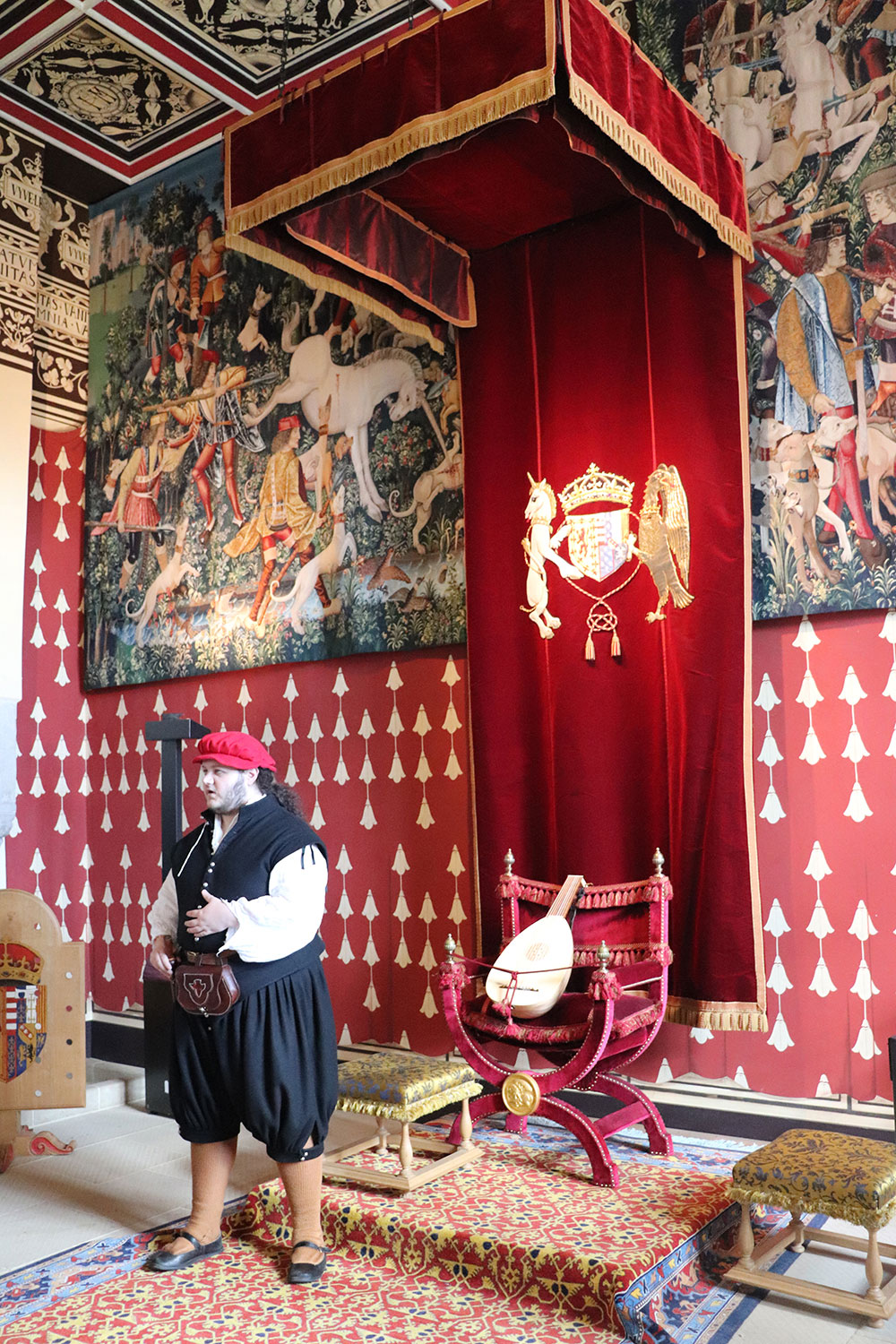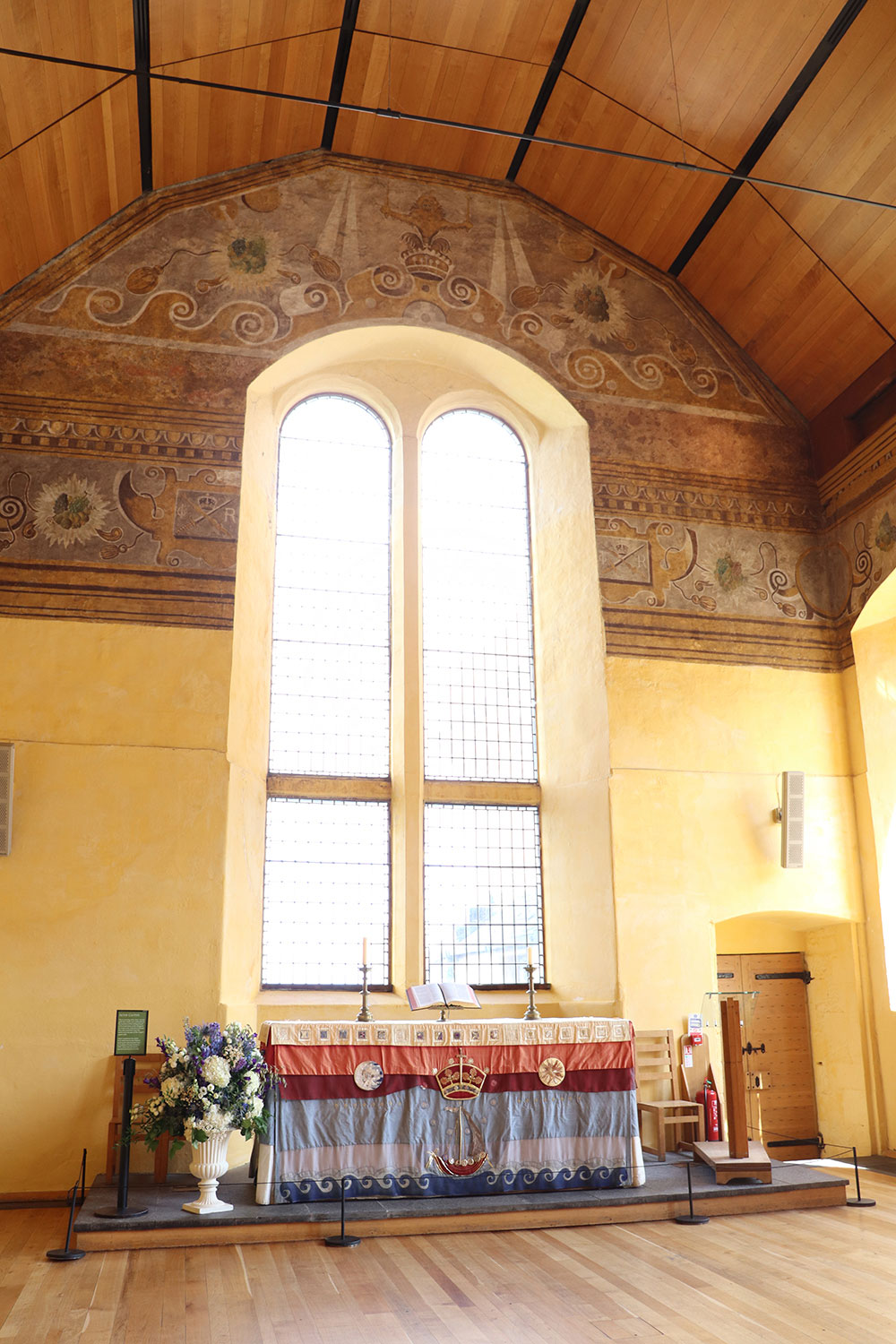 Make sure to look up because a large part of Stirling Castle's design is actually on the ceiling. The castle ceiling has what are called the "Stirling Heads." These are carved historic figures that were completed in the 1540s – another restorative touch to make the castle feel as it did centuries ago.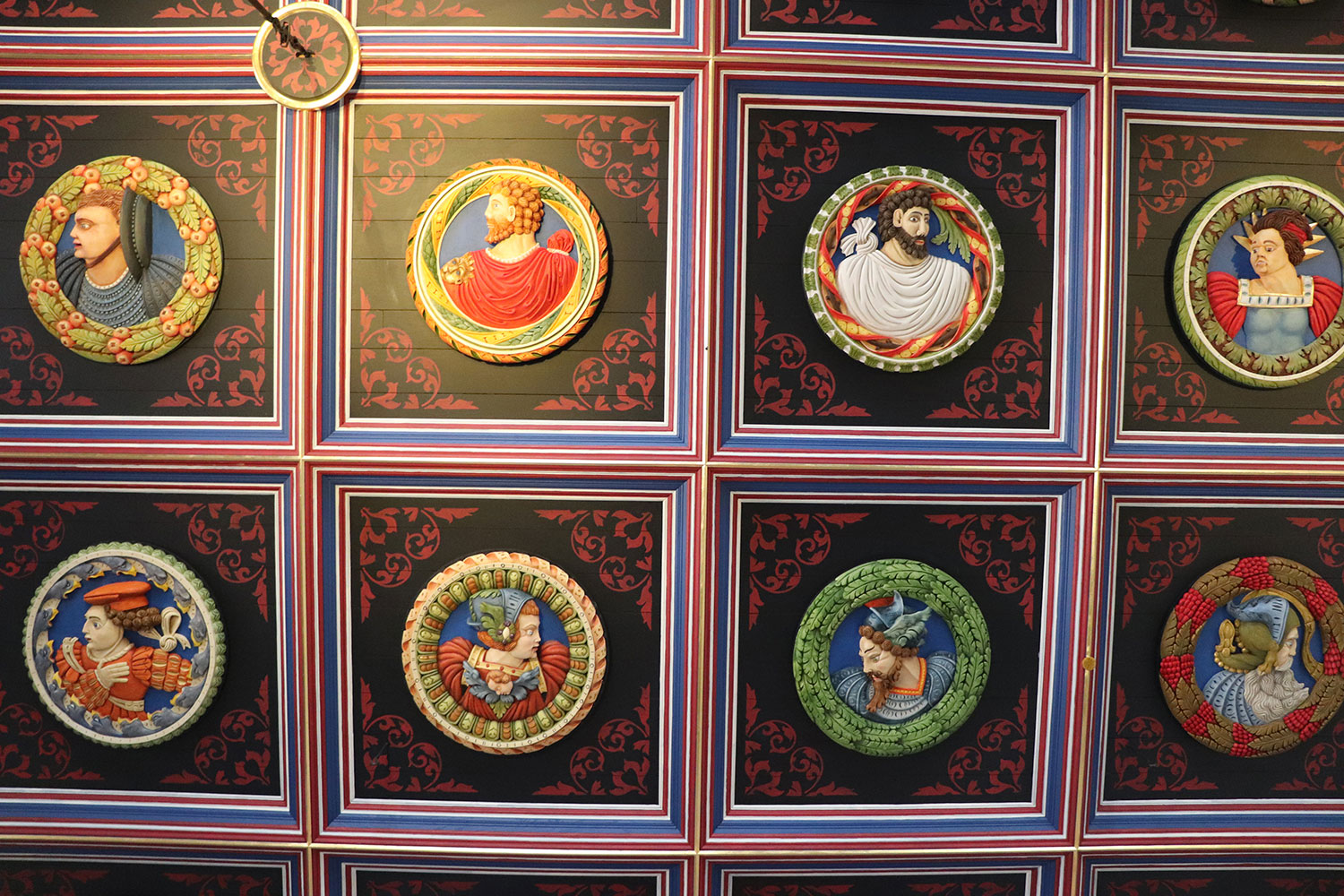 You also want to be sure to check out the informative exhibitions they have. There's actually some pretty cool forensic information and they have a tonne of artefacts that date back to the 14-16th centuries, which you can find in the rooms off of the gardens. There's also a complete set of royal portraits carved in wood (the original Stirling Heads) that you can see in one of the castle rooms off the courtyard. The exhibit there also has information on the people in the portraits. The castle highlights a lot of cultural information that I and my family found very interesting. One of the best things about visiting is that we didn't just see the castle but also got to learn a lot. The castle staff obviously puts a lot of effort into making the visit fun and educational.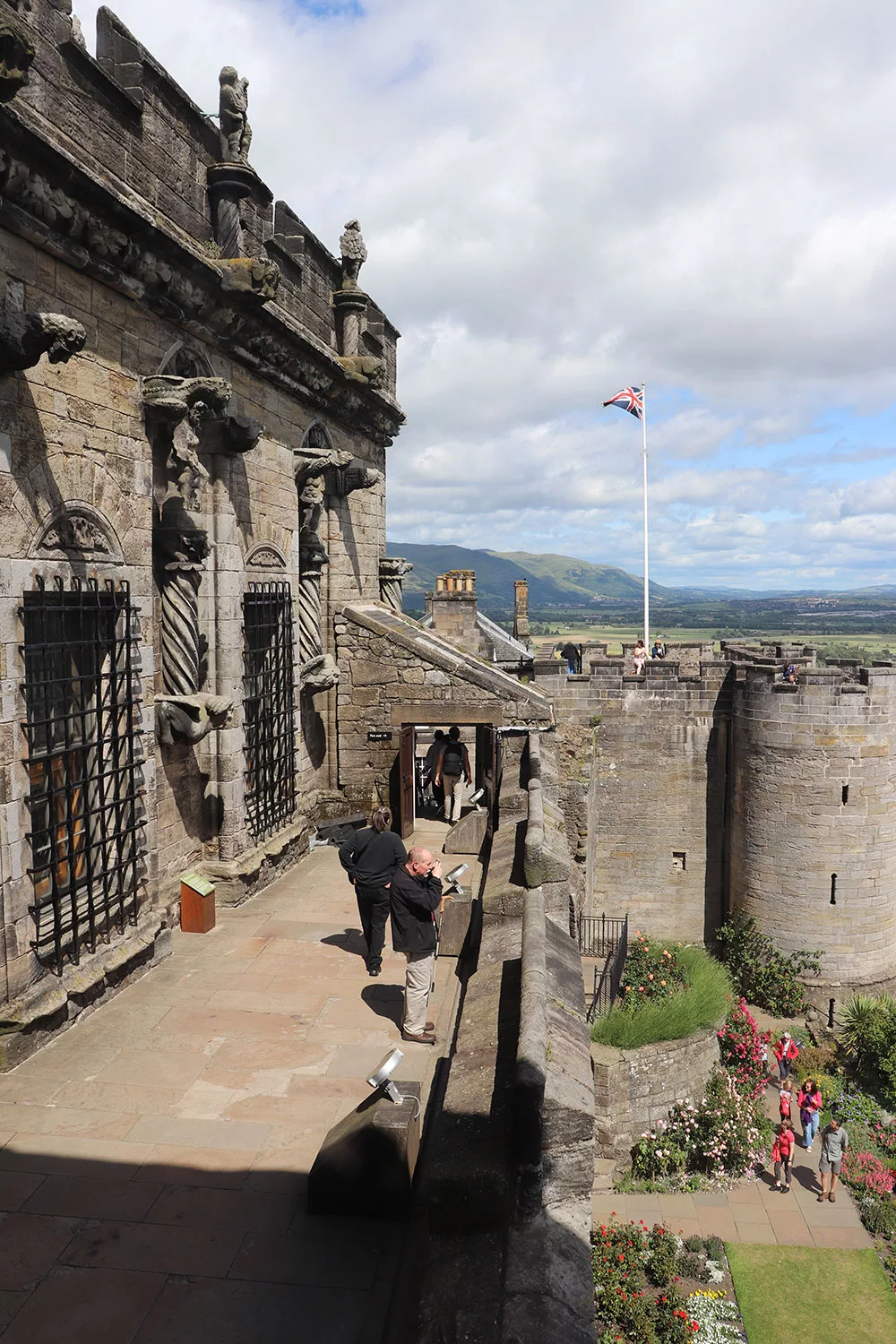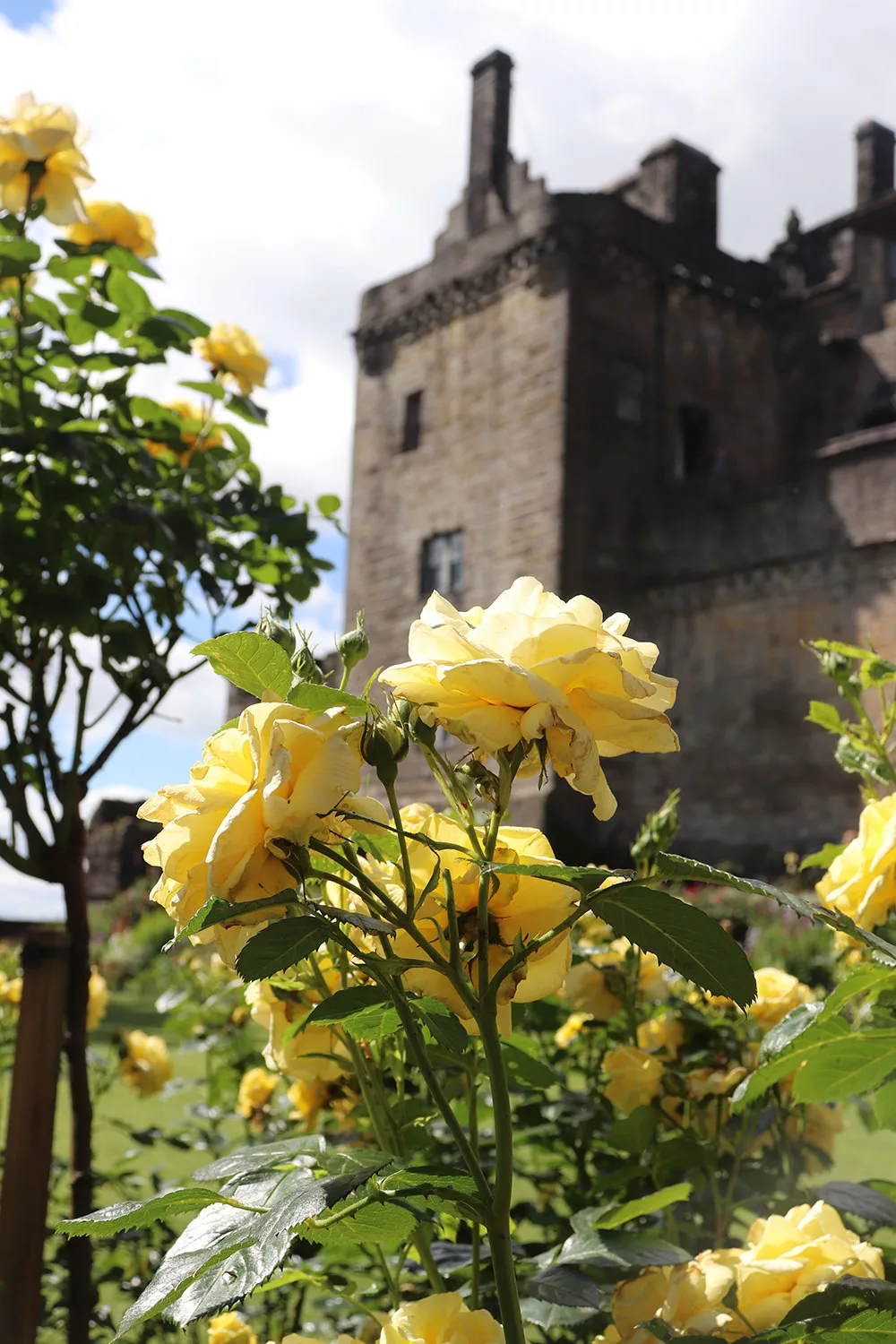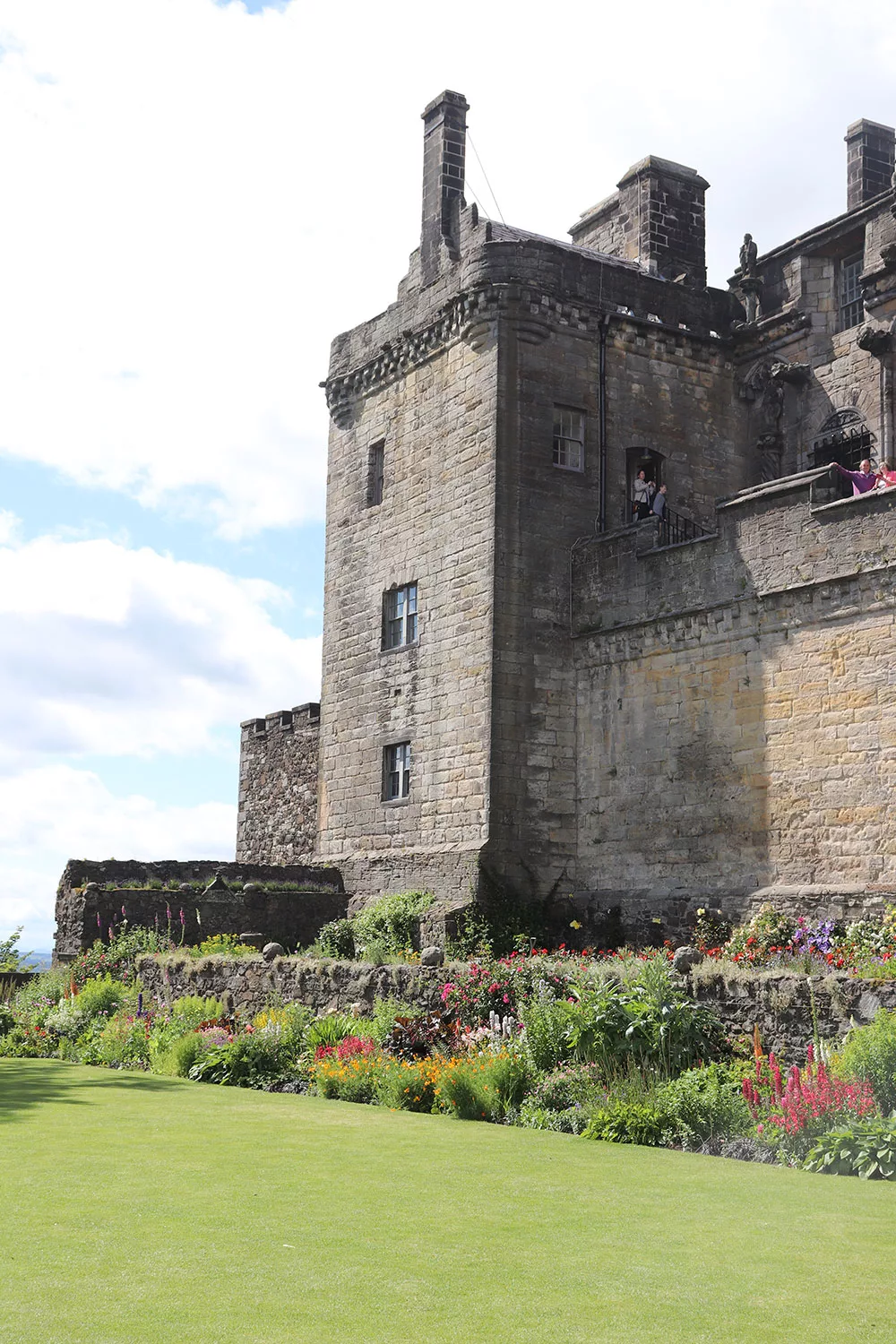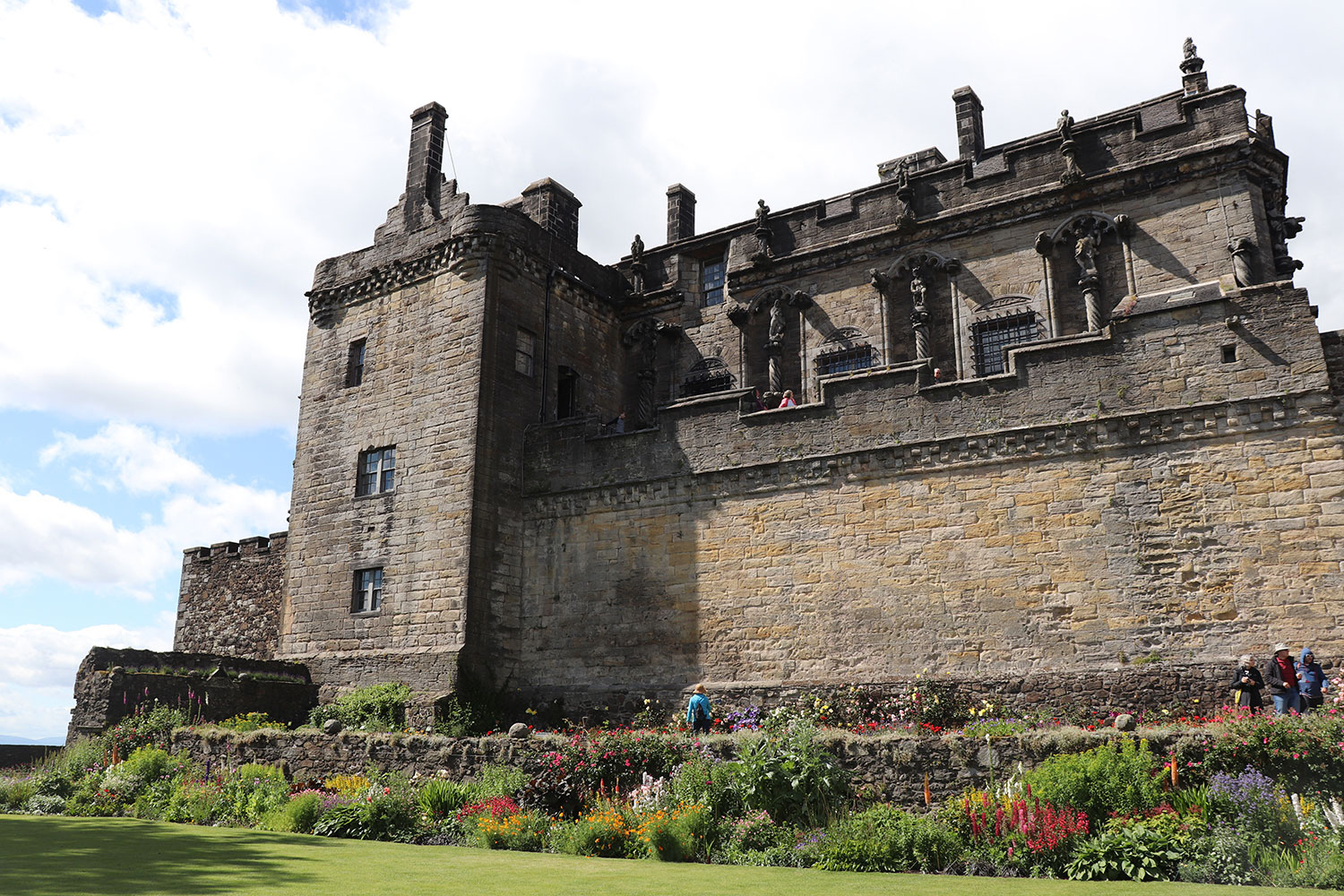 As I said, we went in June 2019, so the gardens were absolutely beautiful! I love British gardens and Stirling had one of the prettiest when we went. Hopefully it's similar for visitors in winter.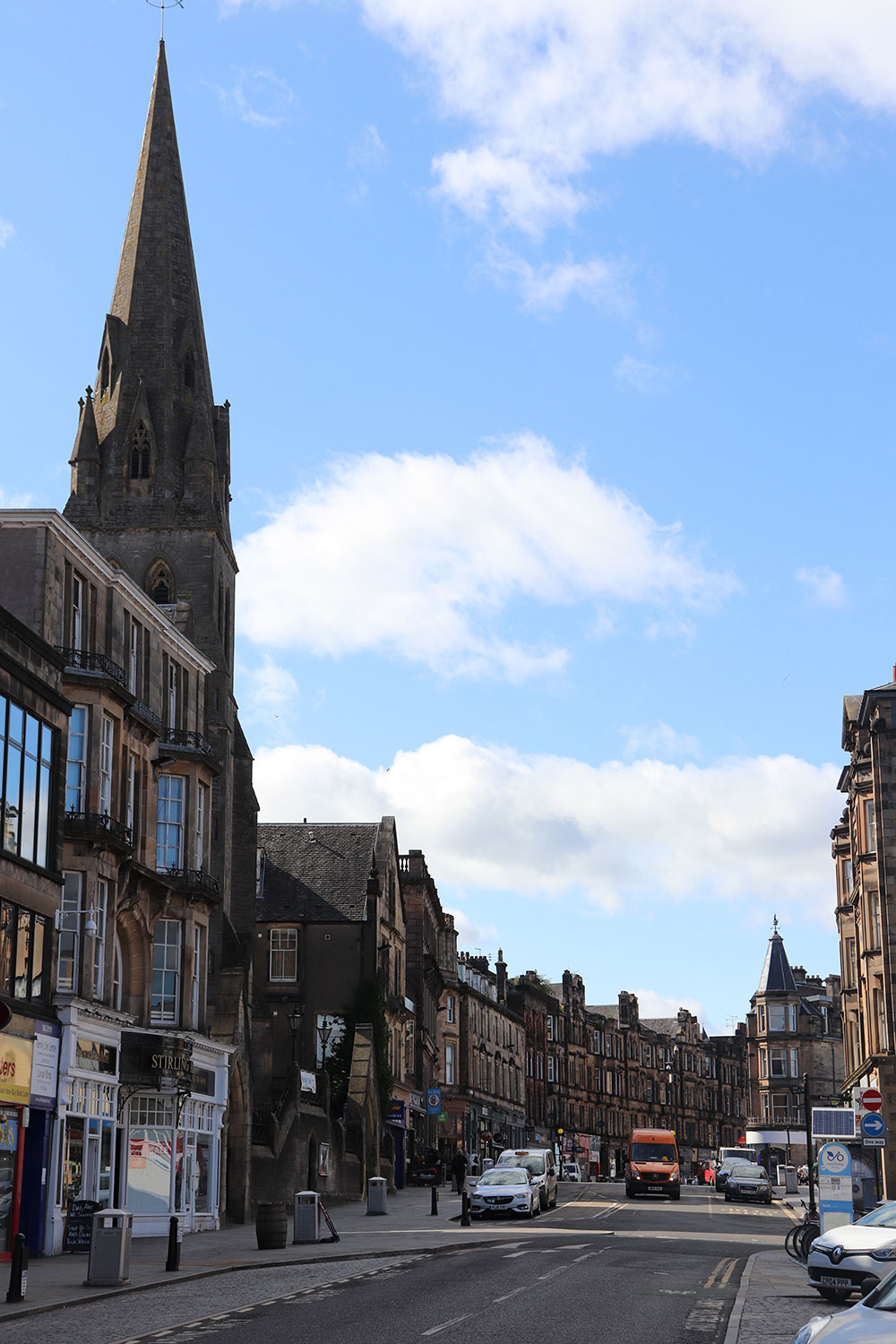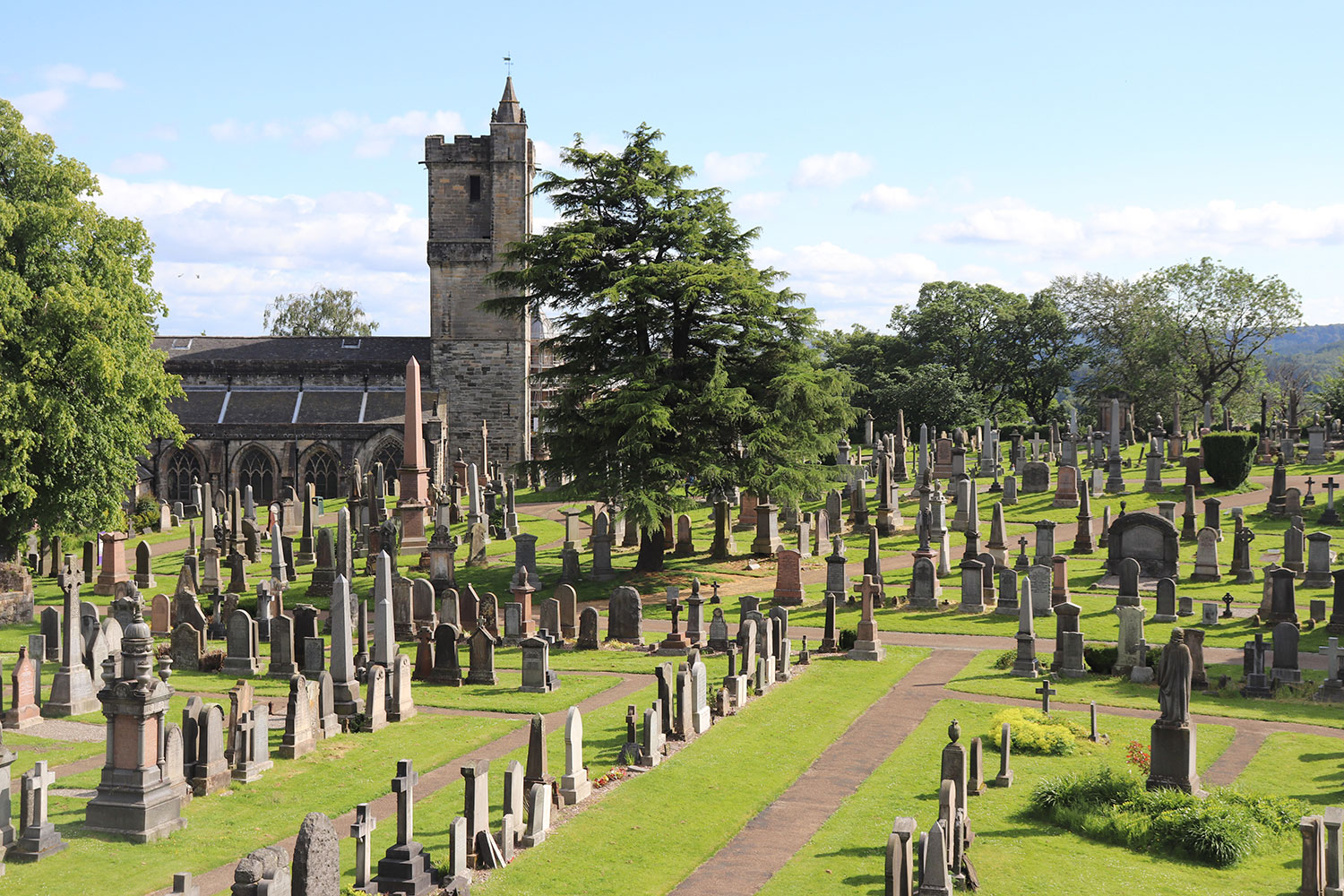 Stirling Town
Stirling Castle is an easy stop from Edinburgh into the Highlands but the town of Stirling is also deserving of a look. There's more to see around the town such as Holy Rude, which is where the King James Bible was written; Argyll's Lodging, a Renaissance home that I haven't been inside (but the outside is absolutely gorgeous); and quite a bit of shopping and restaurants. However, everything closes early, so be sure to get there at a reasonable time. The town itself is really charming and it's also decently sized.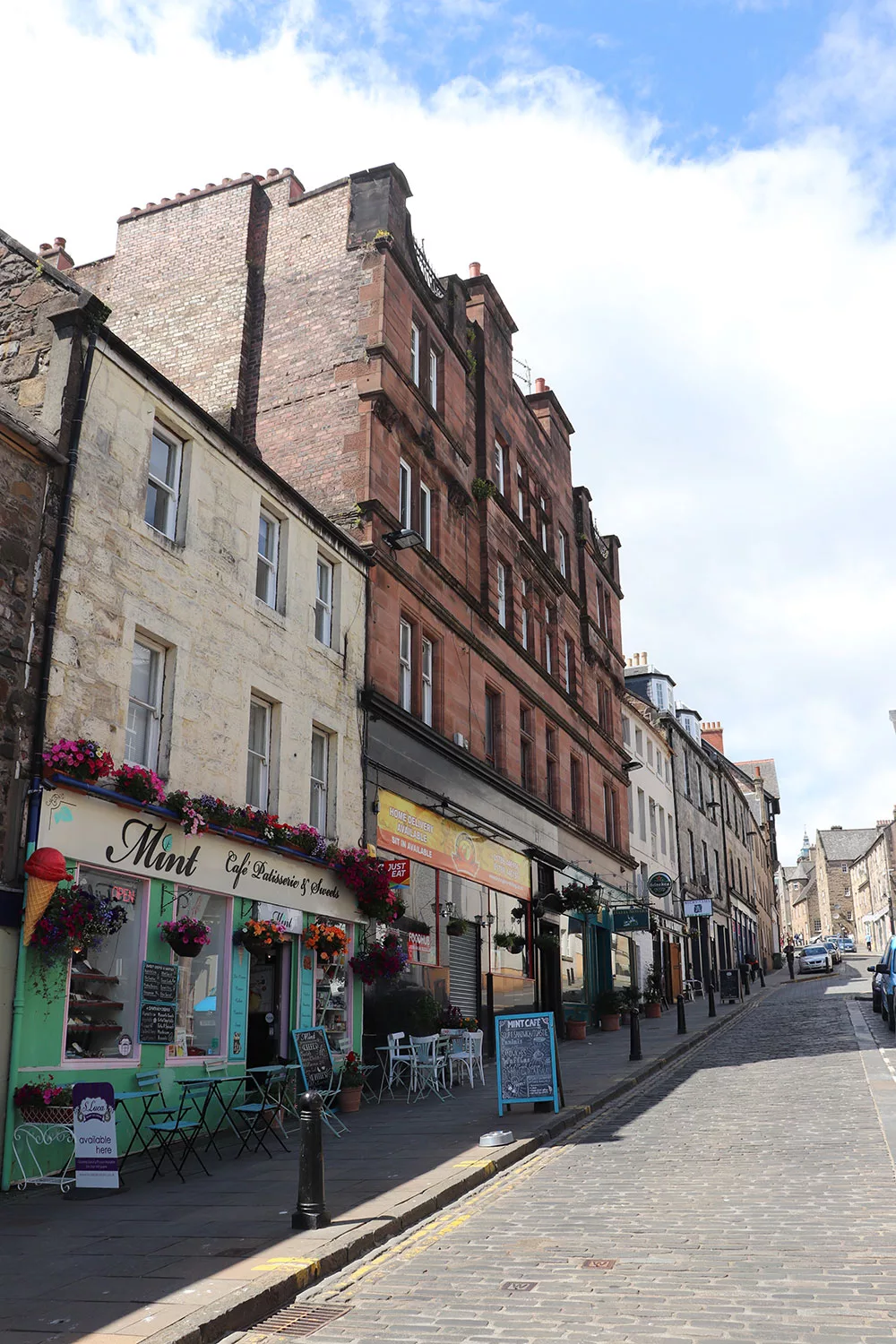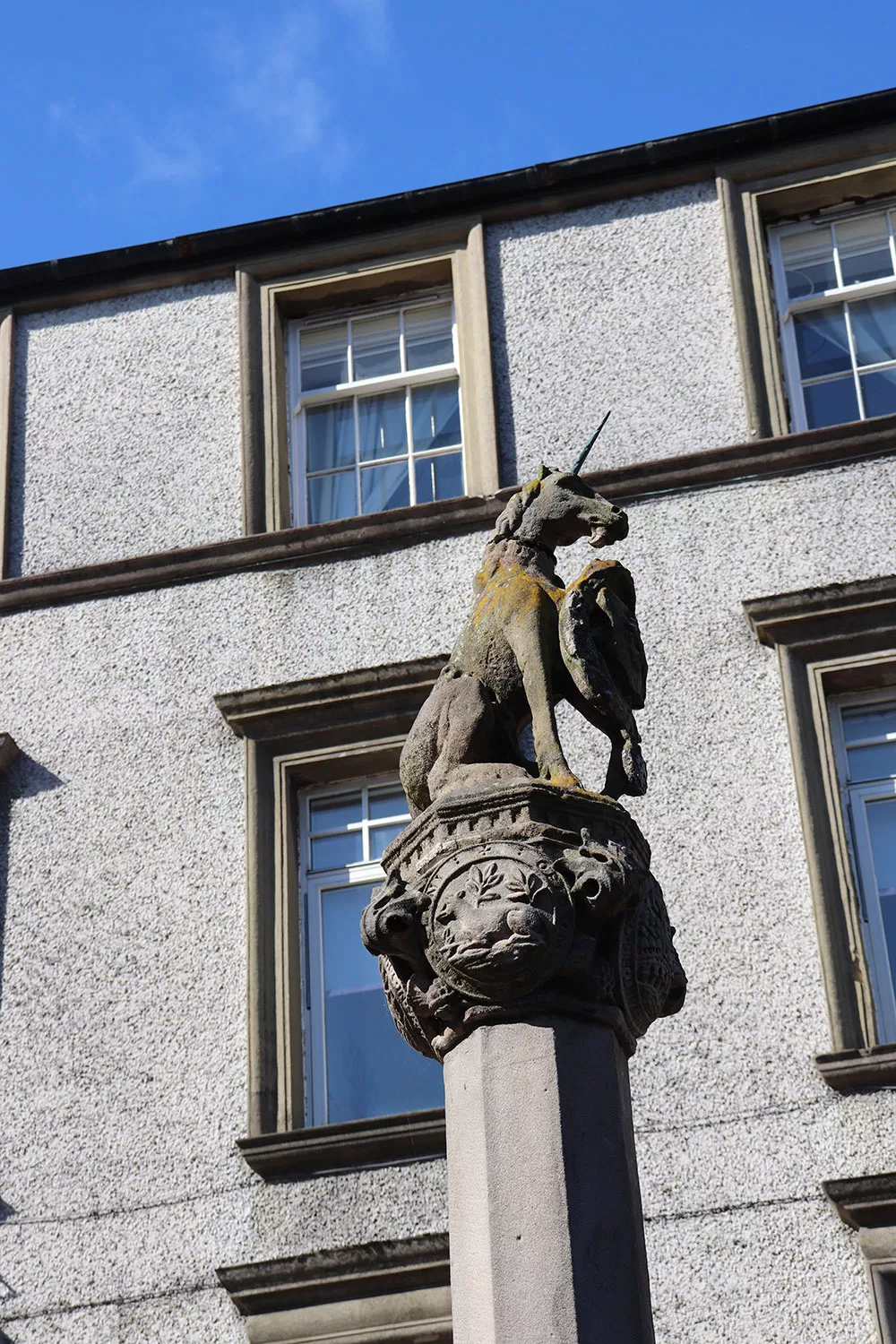 You can also head across the river to another part of Stirling to see the National Wallace Monument. The monument was erected for William Wallace and has his two-handed sword inside. I bet the views from the top are magnificent as well, though we didn't have enough time to go.
If you're in Scotland, I'd say Stirling Castle is someplace you have to see, especially if you're interested in any of the history. The castle is super informative and though it's an incredible step into the past of some of Scotland's most known leaders. It's still very much intact and furnished, which is a lot to have in this modern time. My family and I had a great time and learned a lot about Scottish history and the people who made it, and it's someplace I'm very happy to have visited. If you're not into history, it would still be fun to see the castle as it is so complete.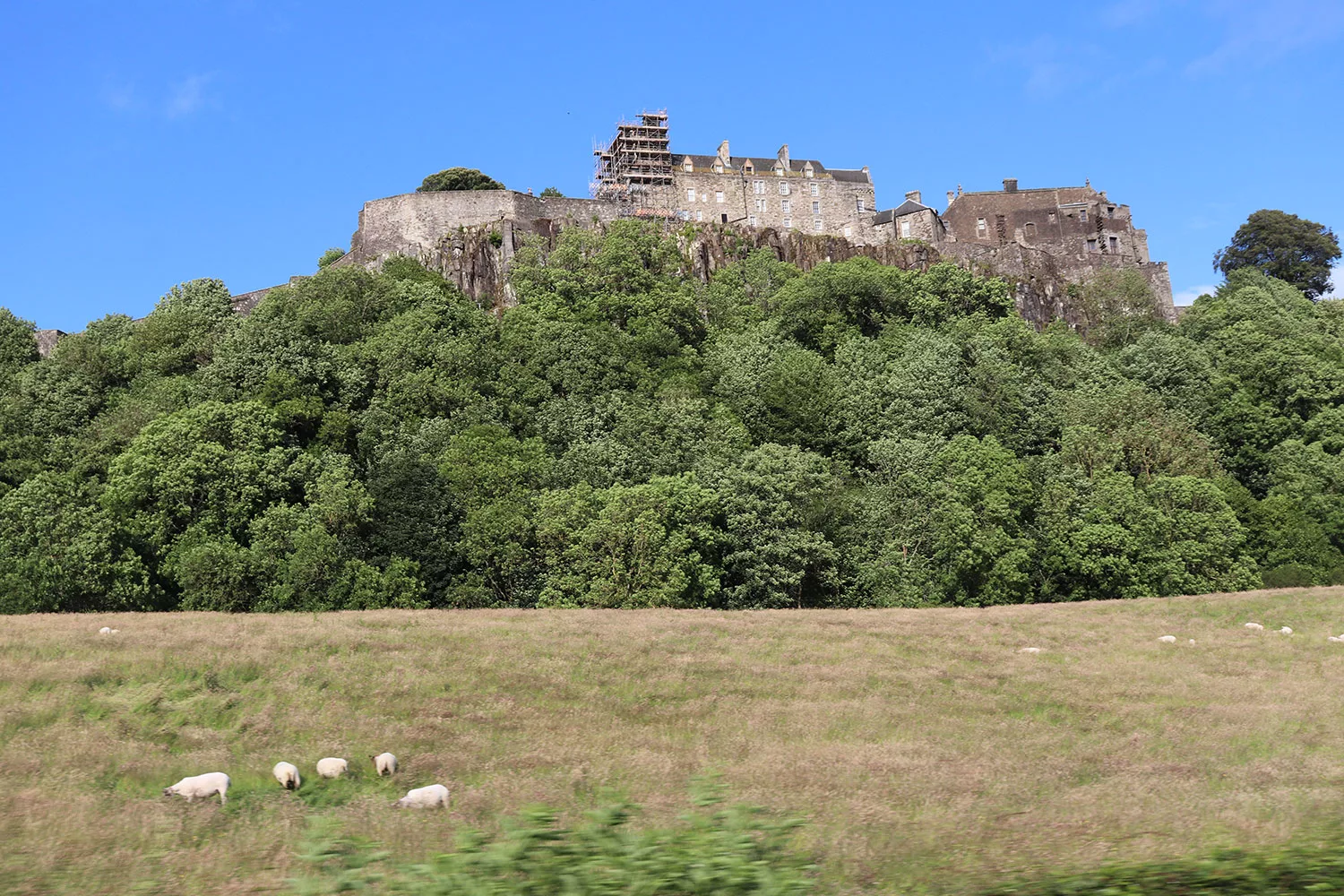 Getting to Stirling Castle
Stirling Castle is perched on top of a hill. You can access the castle via car (there is a small car park), a trolley on King Street, or a 15-minute strenuous walk uphill. We went in June 2019 and they were supposed to open a train that goes from the station to the castle.
To get to Stirling via public transport, there are many busses and trains that leave from Edinburgh and Glasgow, so it's quite an easy ride.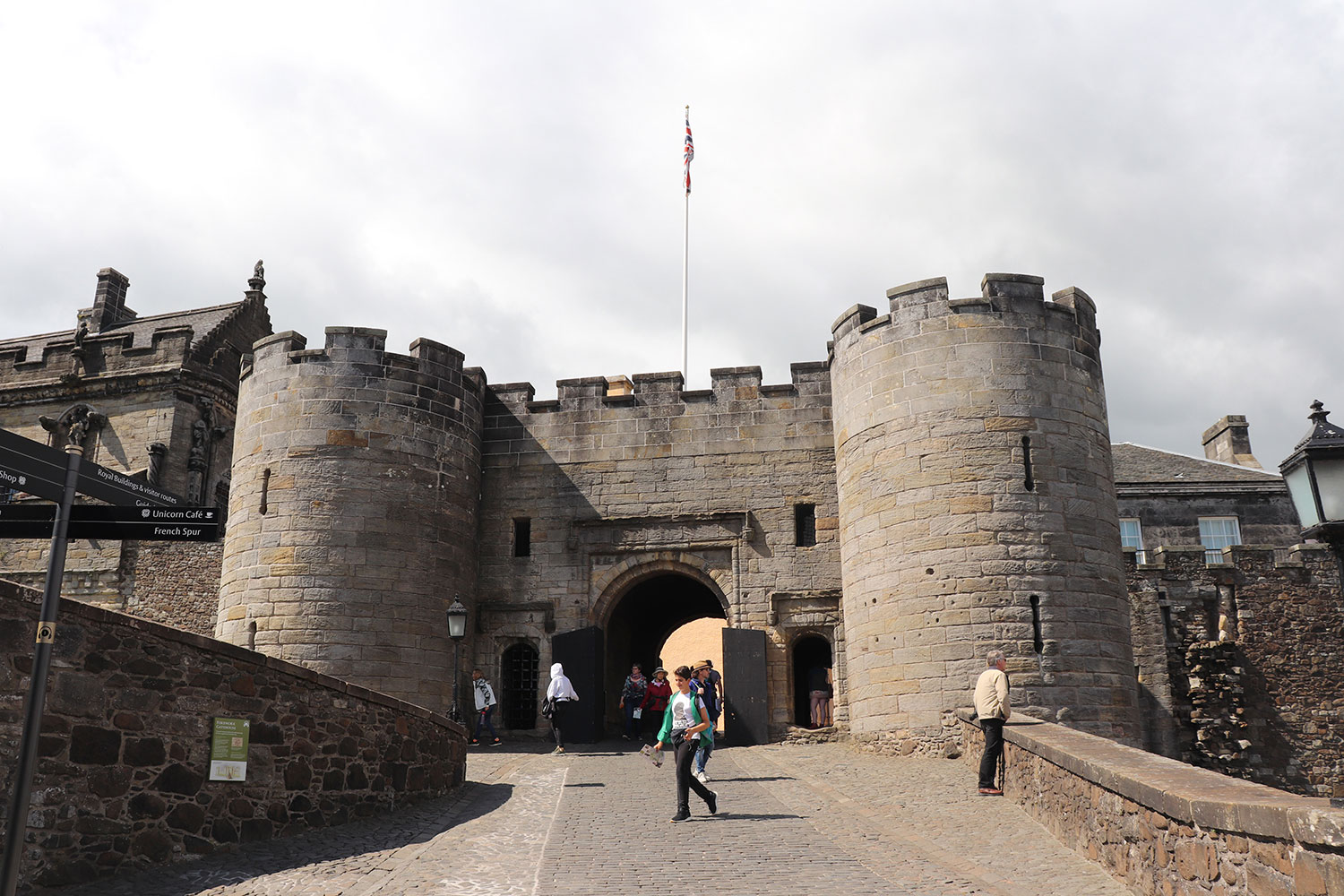 Have you ever been to Stirling Castle? What did you think?
Pin This for Later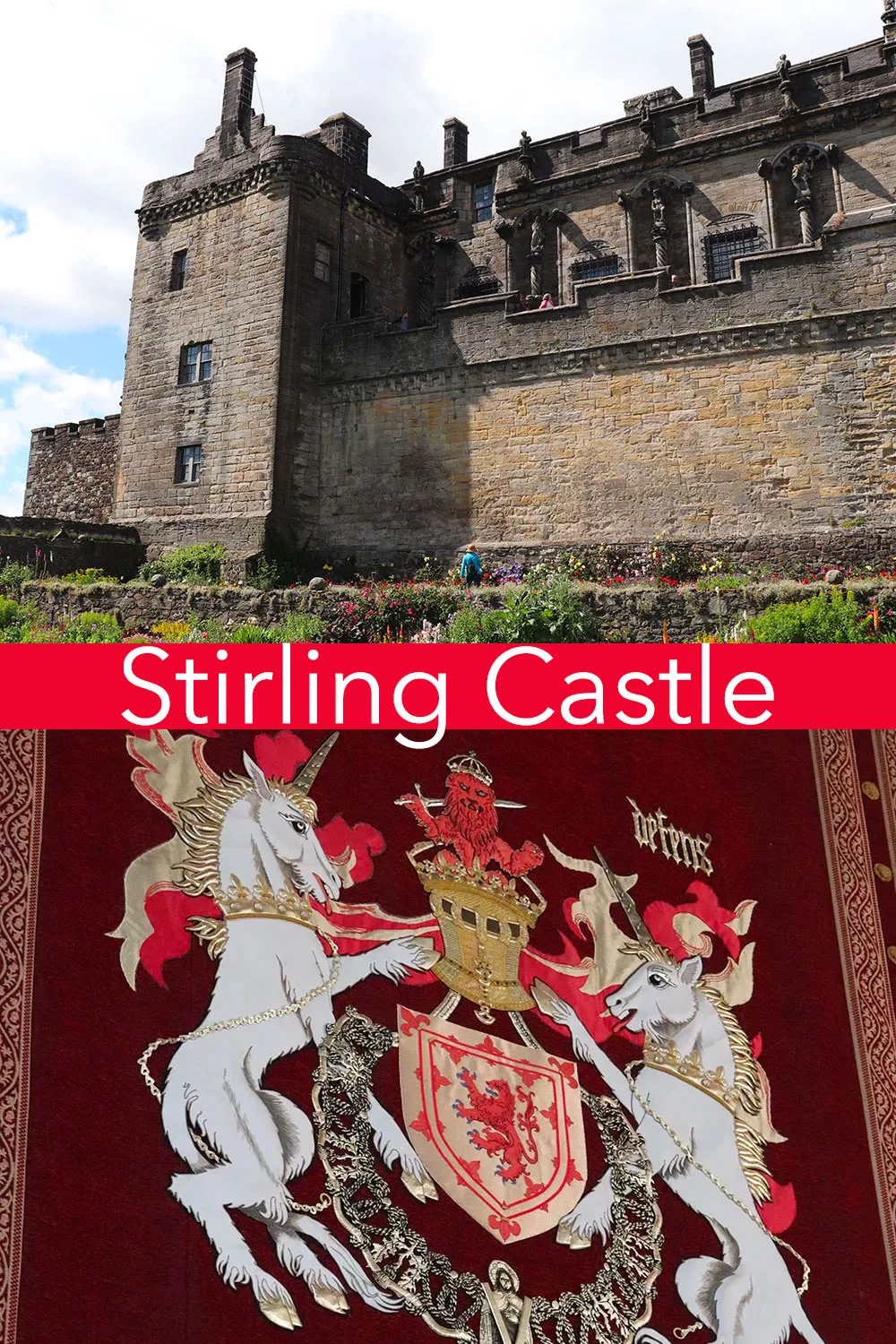 Please note that this post may contain affiliate links. These are at no additional cost to you but I receive a commission if you make a purchase through the link, and the commission helps me run my blog. Thanks for your support!
Tags:
europe
,
scotland
,
stirling
Sharing is Caring
Want to support me?
Buy me a Coffee