Siena, a Beautiful Jewel in Tuscany – Things to Do & Travel Guide
Originally published on Thursday, December 22, 2022
Siena's one of the most popular places to visit in Tuscany. It's a beautiful medieval town filled with hills, shopping, and history. I'd been before and absolutely loved it, so I made my way back during my most recent visit to see Siena again.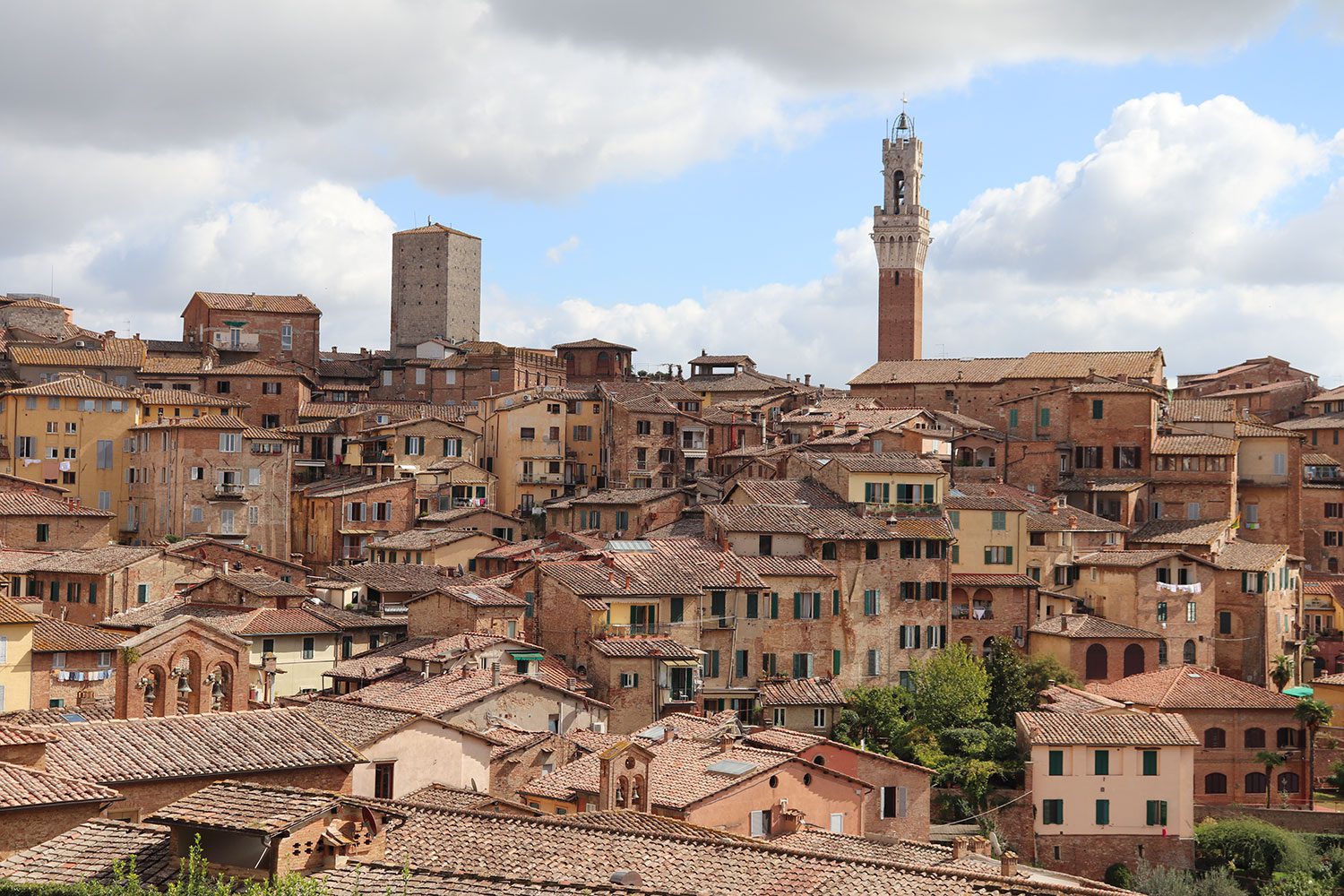 The Story of Siena
Legend has it that Siena was founded by the sons of Remus, as in the Roman Remus and Romulus. With them they took the statue of the babies suckling off the she-wolf and it thus became a symbol of the town. Of course, it was really just brought by the Romans. Today you can see the symbol seen throughout Siena and if you're wondering why it's in Siena and not Rome, that is the reason.
Siena has been inhabited since Etruscan times but it actually wasn't popular until the medieval era. It became a more prosperous city in the late middle ages. The Republic of Siena was founded in 1125 and Siena thus ruled over the surrounding territory in what is today Tuscany. The Republic prospered with art and wealth from trading but was in decline when it fell to, surprisingly, the Spaniards in 1555. It was only shortly after that Siena became part of Tuscany and then of course modern Italy.
A lot of the city standing today is the same that prospered several hundred years ago, and it was thus awarded status as a UNESCO World Heritage Site.
Siena's Contrade
In the medieval era, Siena started several military troops to decentralize their armed forces. They were based on geographic location in Siena city, called "contrade" – more commonly known as neighbourhoods. Though the military troops dissolved, the contrade remained. Today it's a fun part of Siena's culture. Each contrade has its own government, allies and "rivals" and you can tell which contrade you're in by the decor around the city. There are different flags and also street lights, statues, etc. dedicated to the contrade's animal. There are typical symbolic animals such as dragons, unicorns and eagles, but there are also offbeat animals like giraffes, snails, and caterpillars.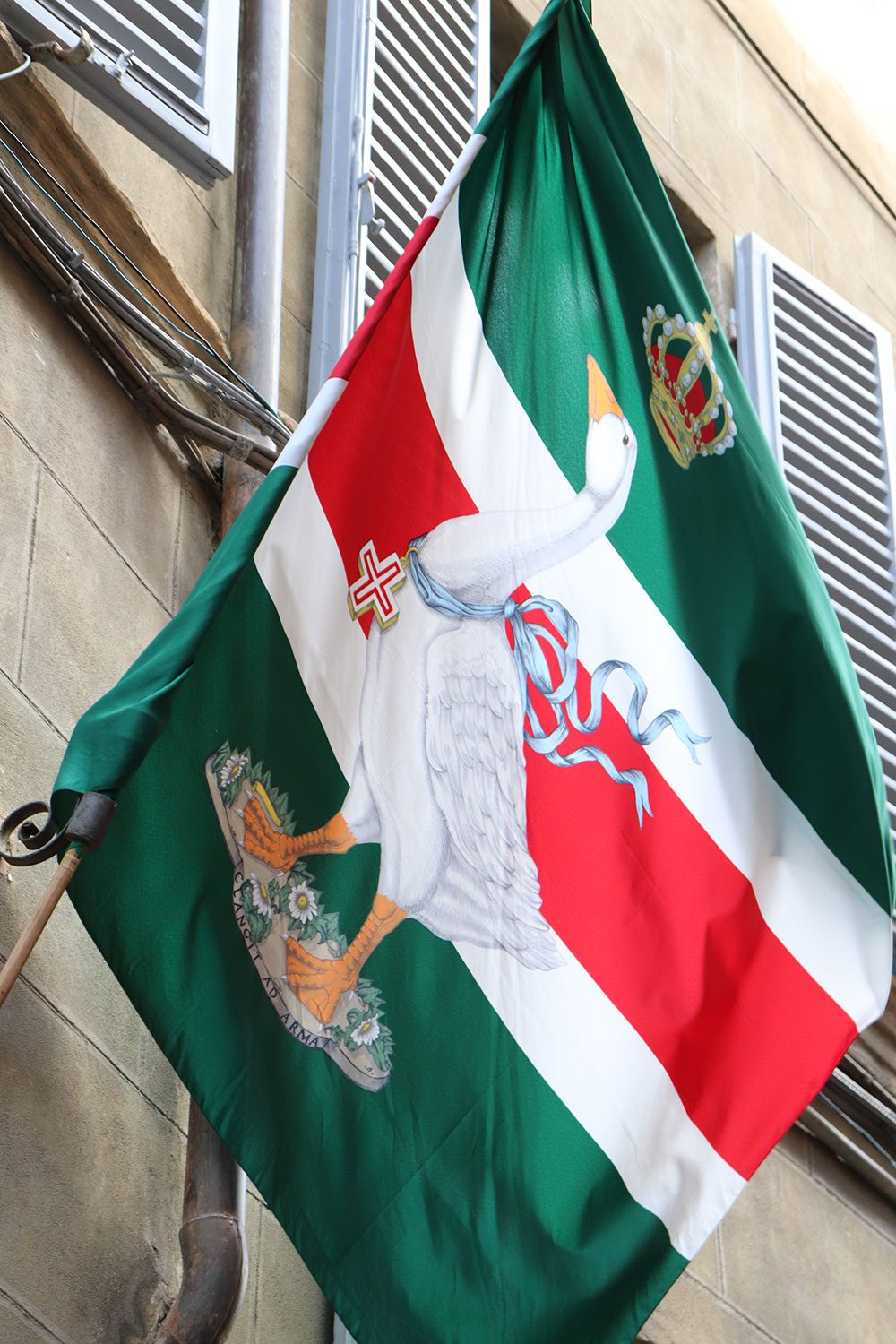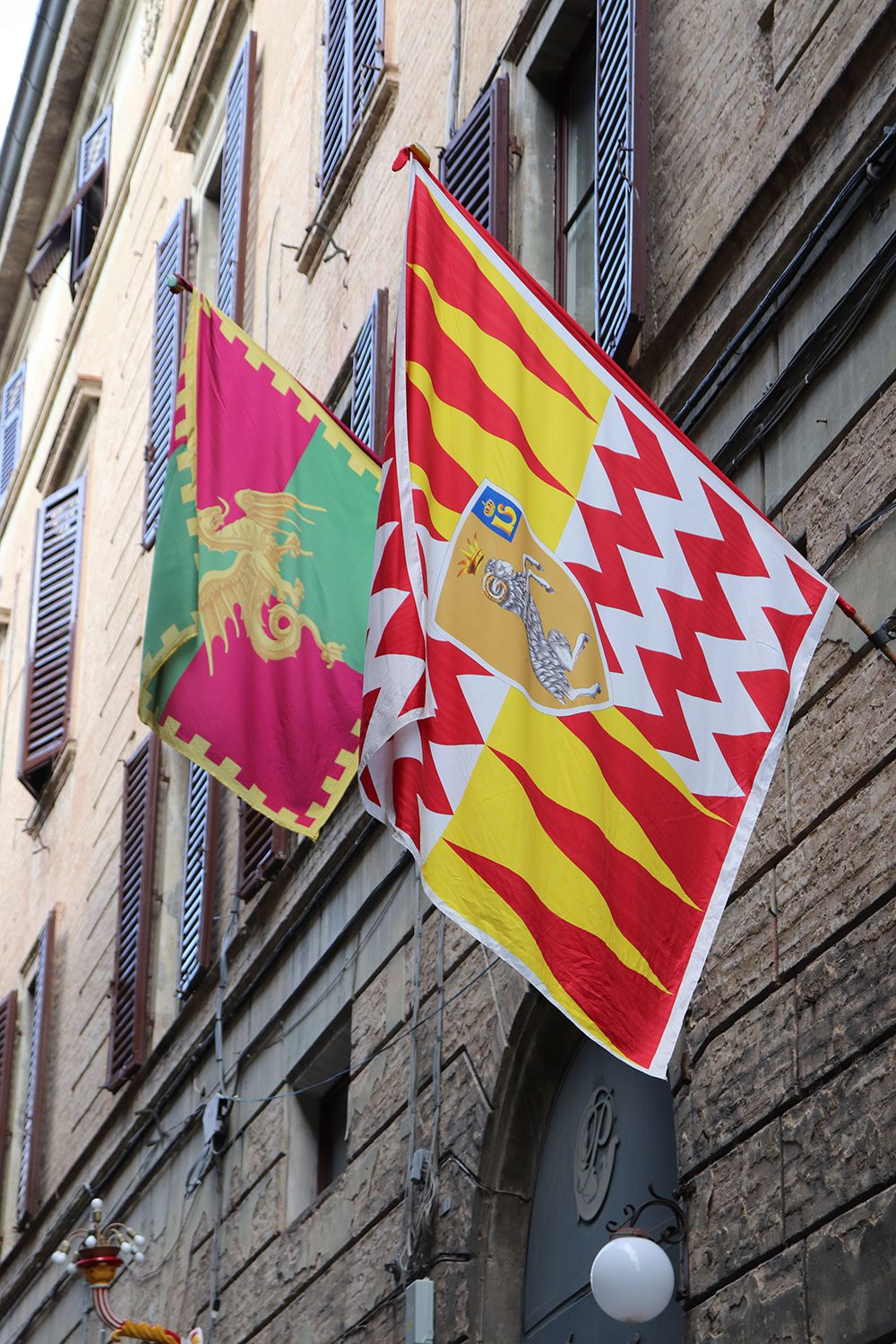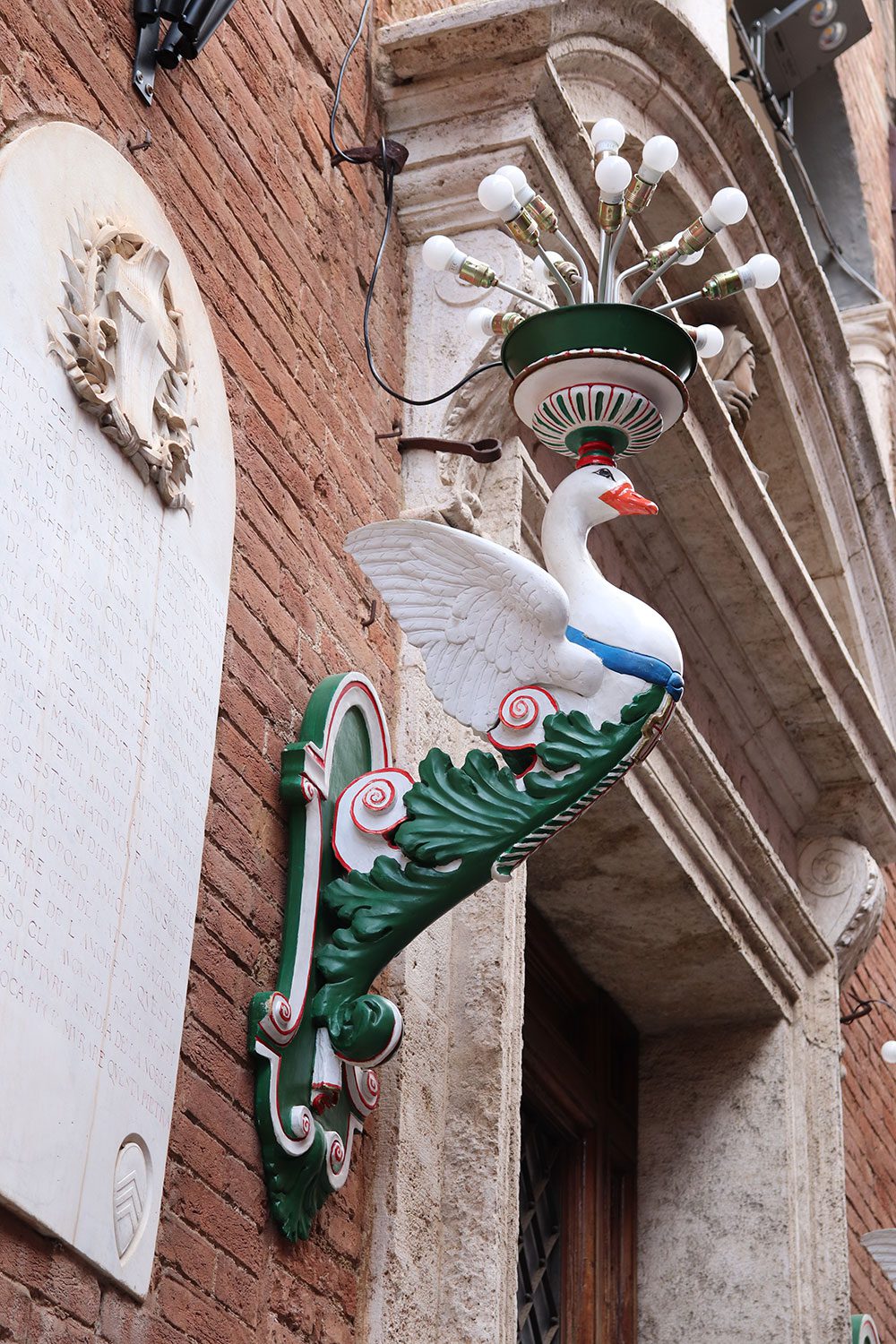 The contrade face off in the "Palio" each year, which is unfortunately a medieval-style horse race. Maybe they should consider residents racing in horse costumes. It's a little more humane!
It's hard to miss the decor of the contrade and it's one of the things that makes Siena charming and unique.
Saint Catherine of Siena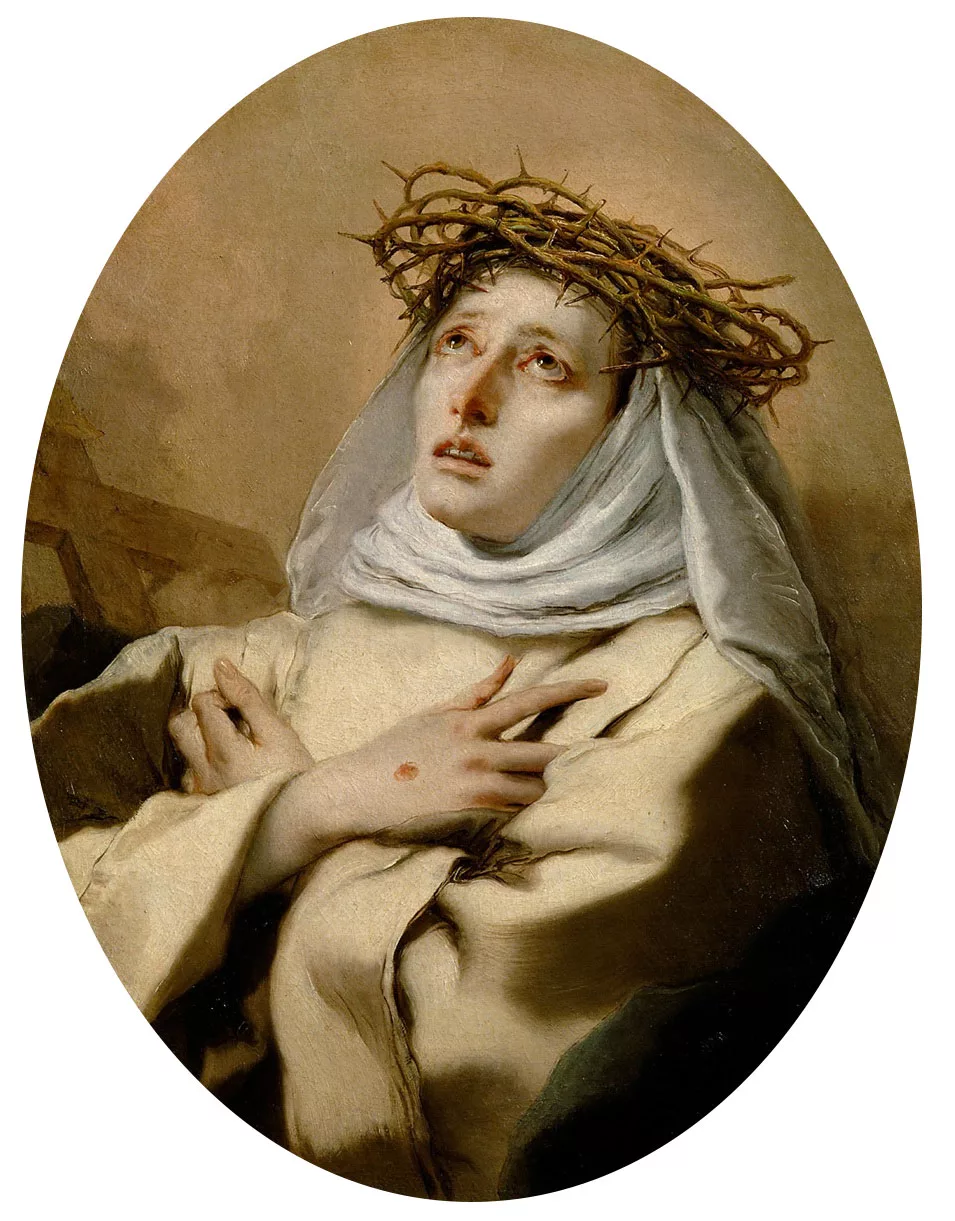 "St. Catherine of Siena" by Giovanni Battista Tiepolo
One of Siena's most popular residents is Saint Catherine, and you'll see references to her throughout the city.
Saint Catherine was born in Siena in 1347. When she was about 21 it is said she had a vision of Jesus telling her to help the poor and sick, and that she was given a ring made of Jesus' foreskin (I think that's pretty gross by OK). So she spent the rest of her life doing as she was told: aiding the sick and poor, and spreading the gospel. At the time, the Papacy was located in Avignon and there was some anti-papal sentiment in Italy, as well as a movement to return the Holy See to Rome. Today she is known well for her efforts to return the papacy.
Part of her religious observance was to fast, and she did so much that she became very ill. She died in 1380 from a stroke caused by fasting. More information on where to follow in Saint Catherine's footsteps is available below.
Things to Do in Siena
When you get to Siena, you'll want to go into the shopping mall in front of the train & bus station. There you can take a few escalators up to the top floor, which is where you'll see a road. Follow the road to the left and you'll end up at the city of Siena. It's about a 10-15 minute walk. There's also a bus that comes to pick people up and take them to the main city.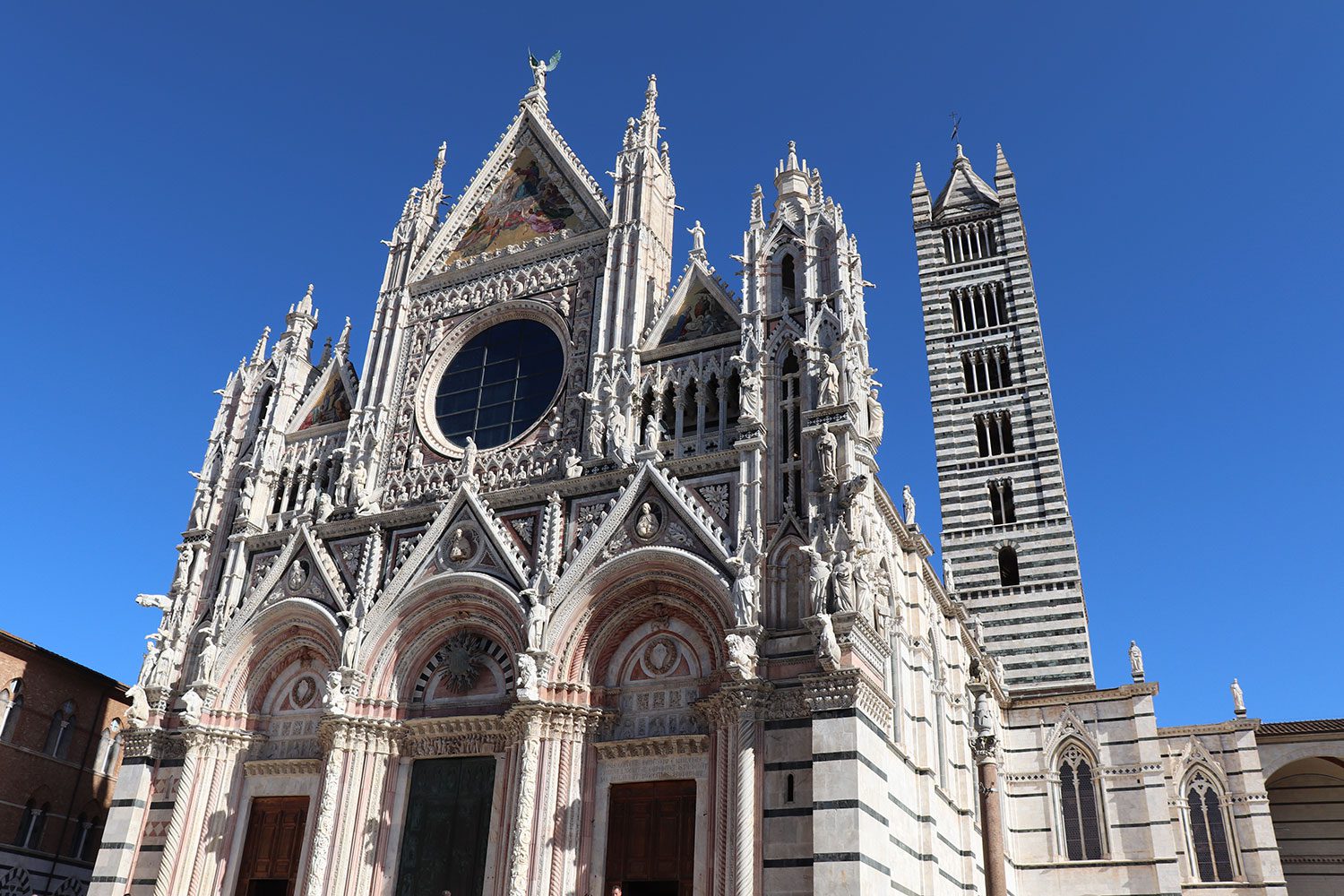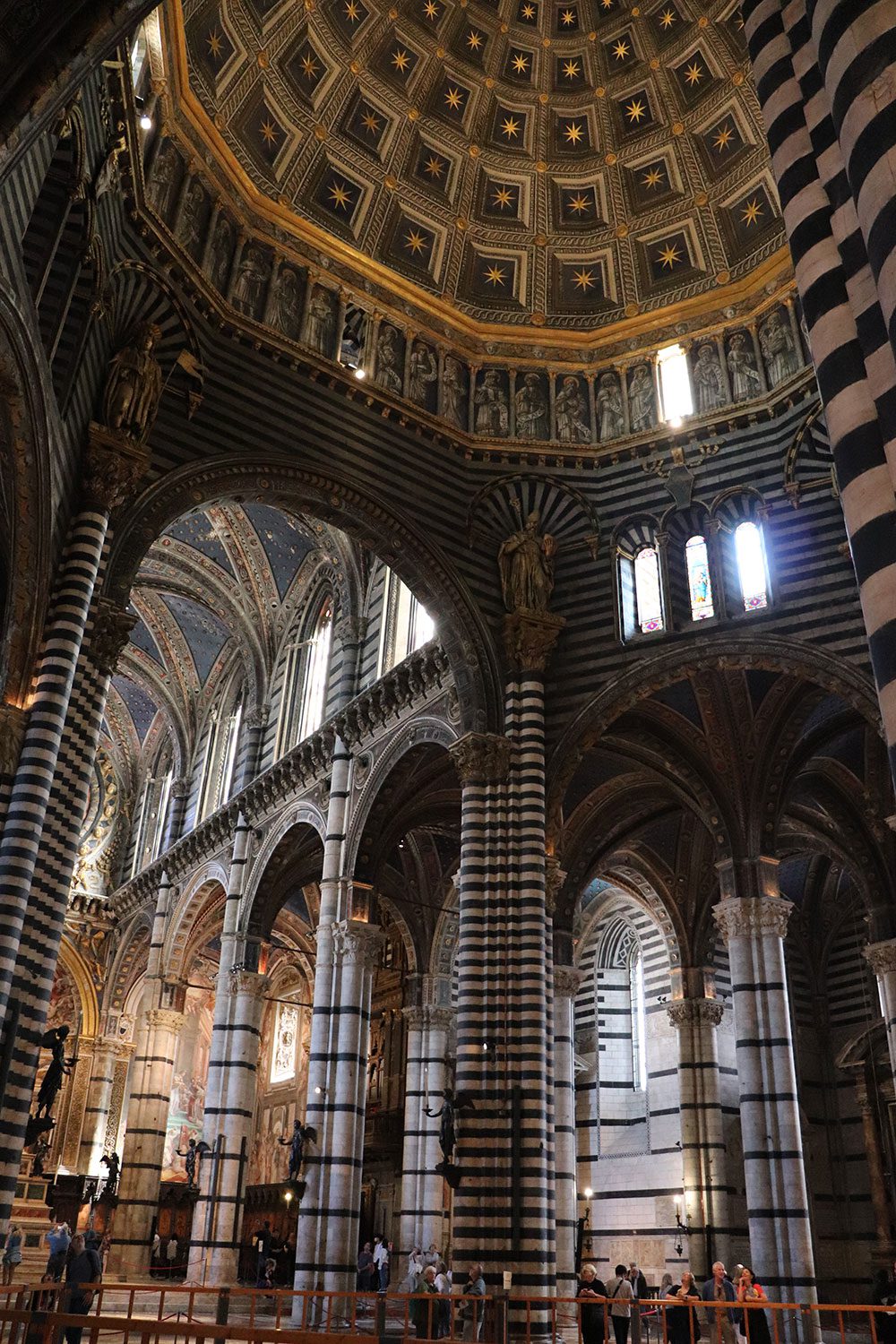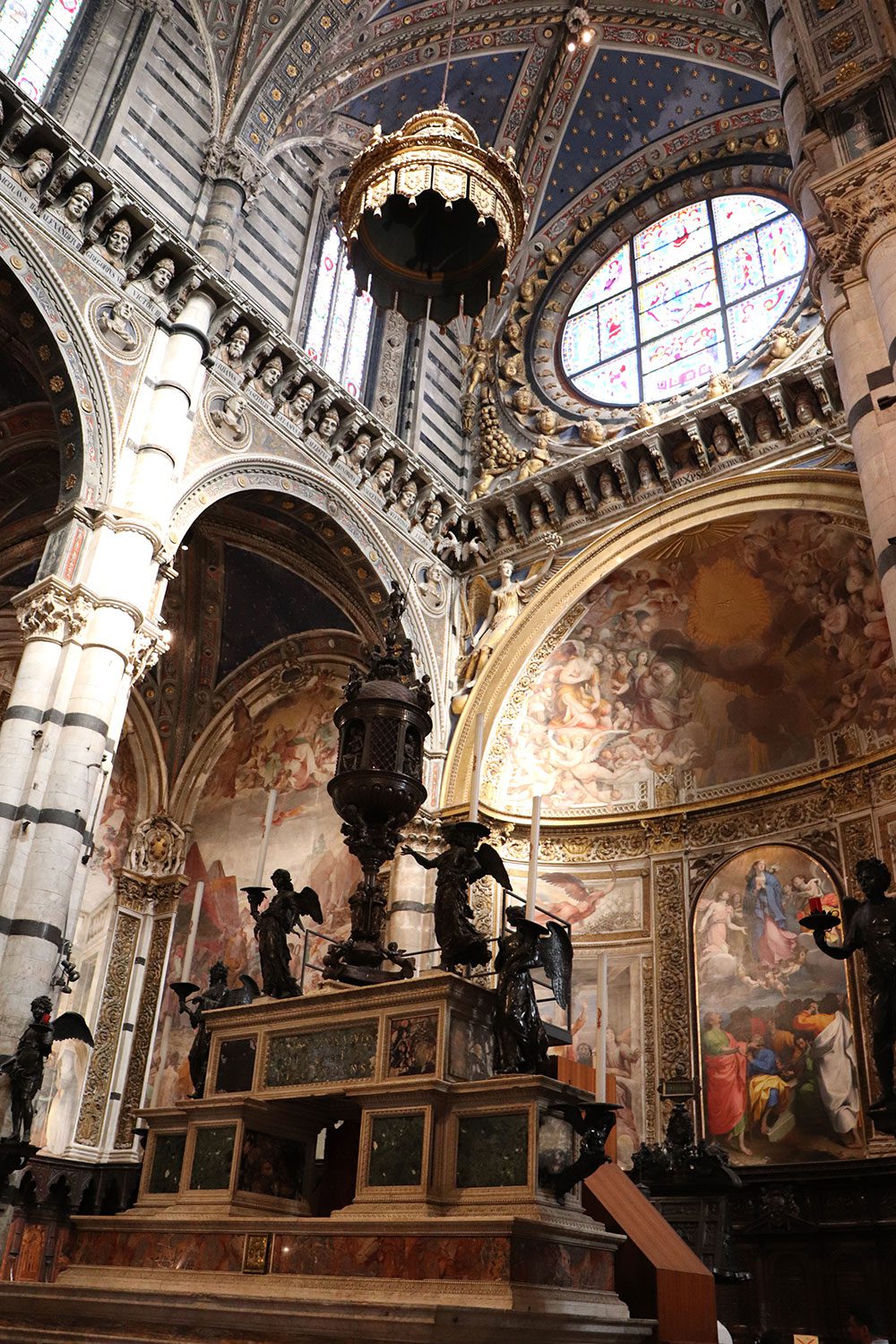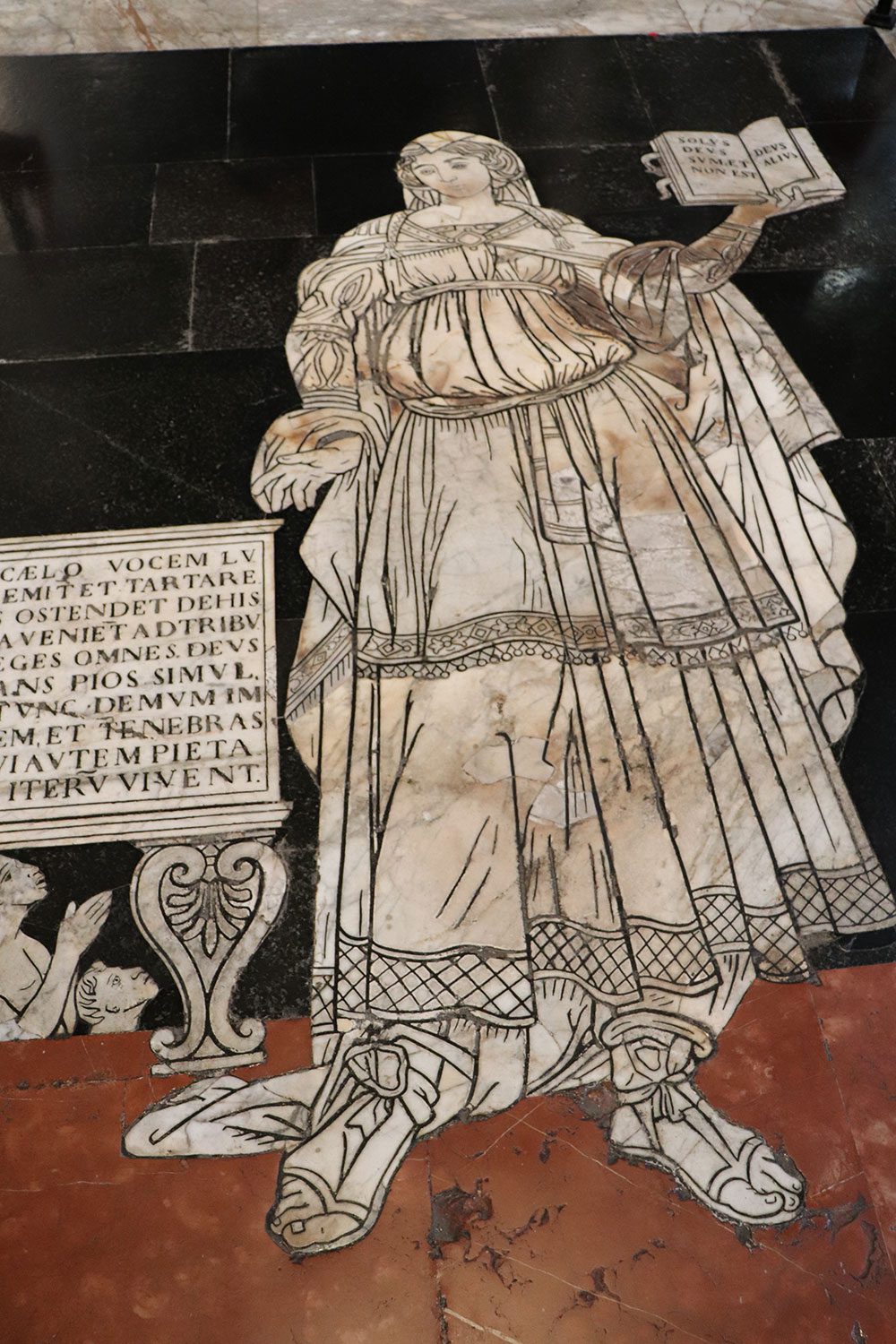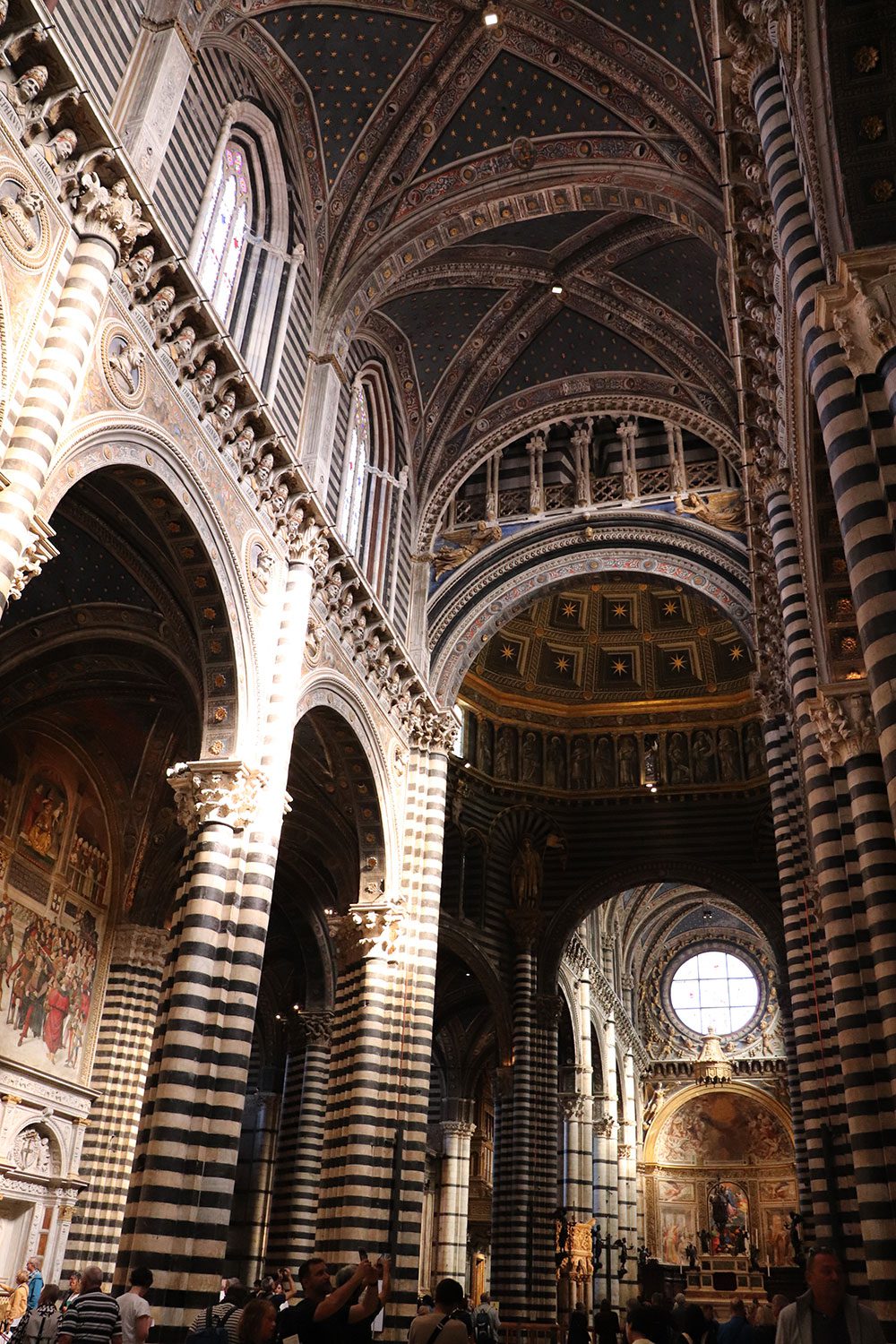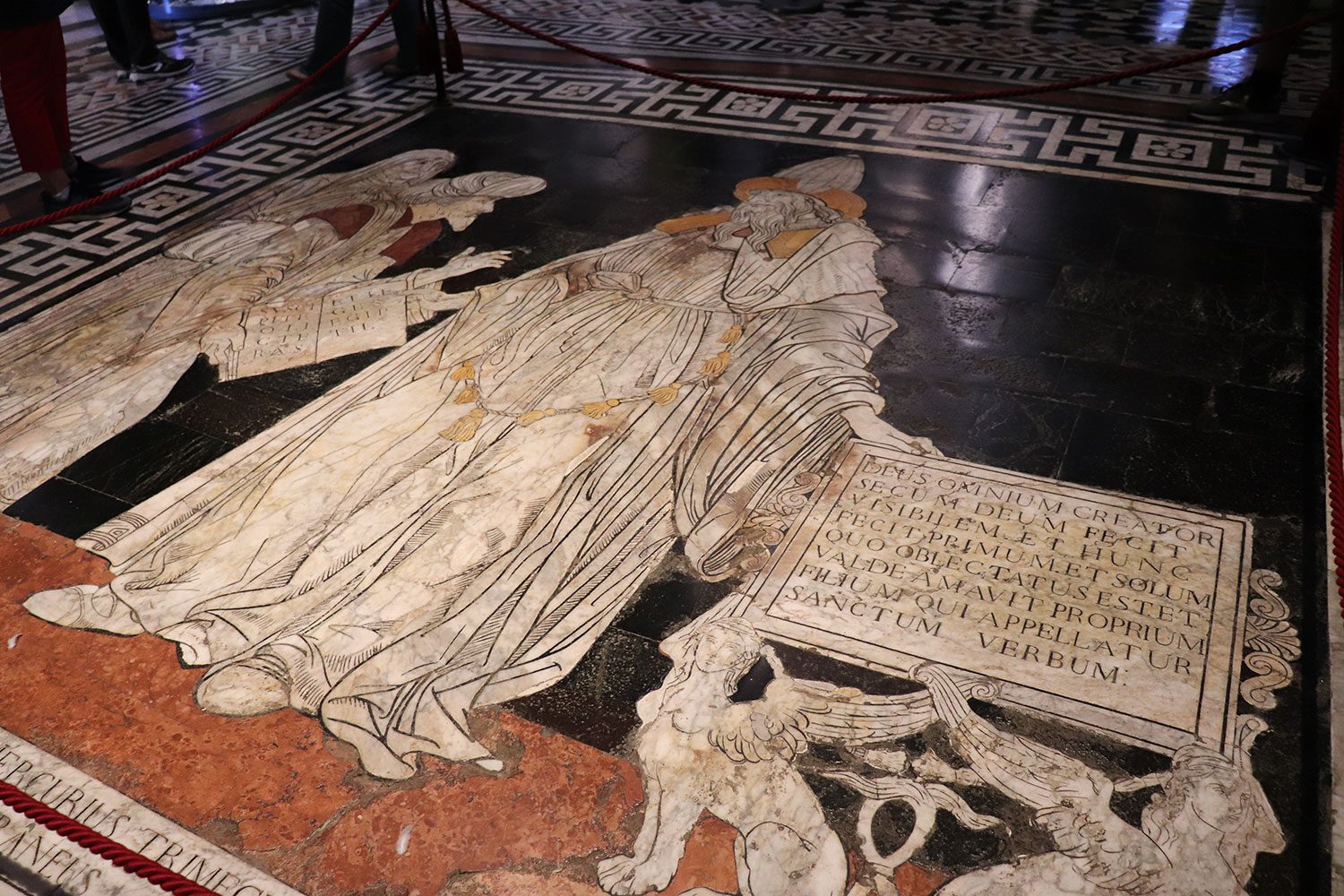 If you can only do one thing in Siena, it should be to visit the famous and absolutely breathtaking Duomo. Siena's cathedral dates to the 12th-14th centuries and is an absolute marvel of architecture and design. Every single nook and cranny of the cathedral is filled with detail, from the walls and ceiling to its famous floor designs. You can spend hours in the cathedral alone to study the individual works of art. The floors alone have over a dozen marble mosaics, which would take some time to thoroughly see. The structure is also huge so even a proper walk-through will take a bit of time.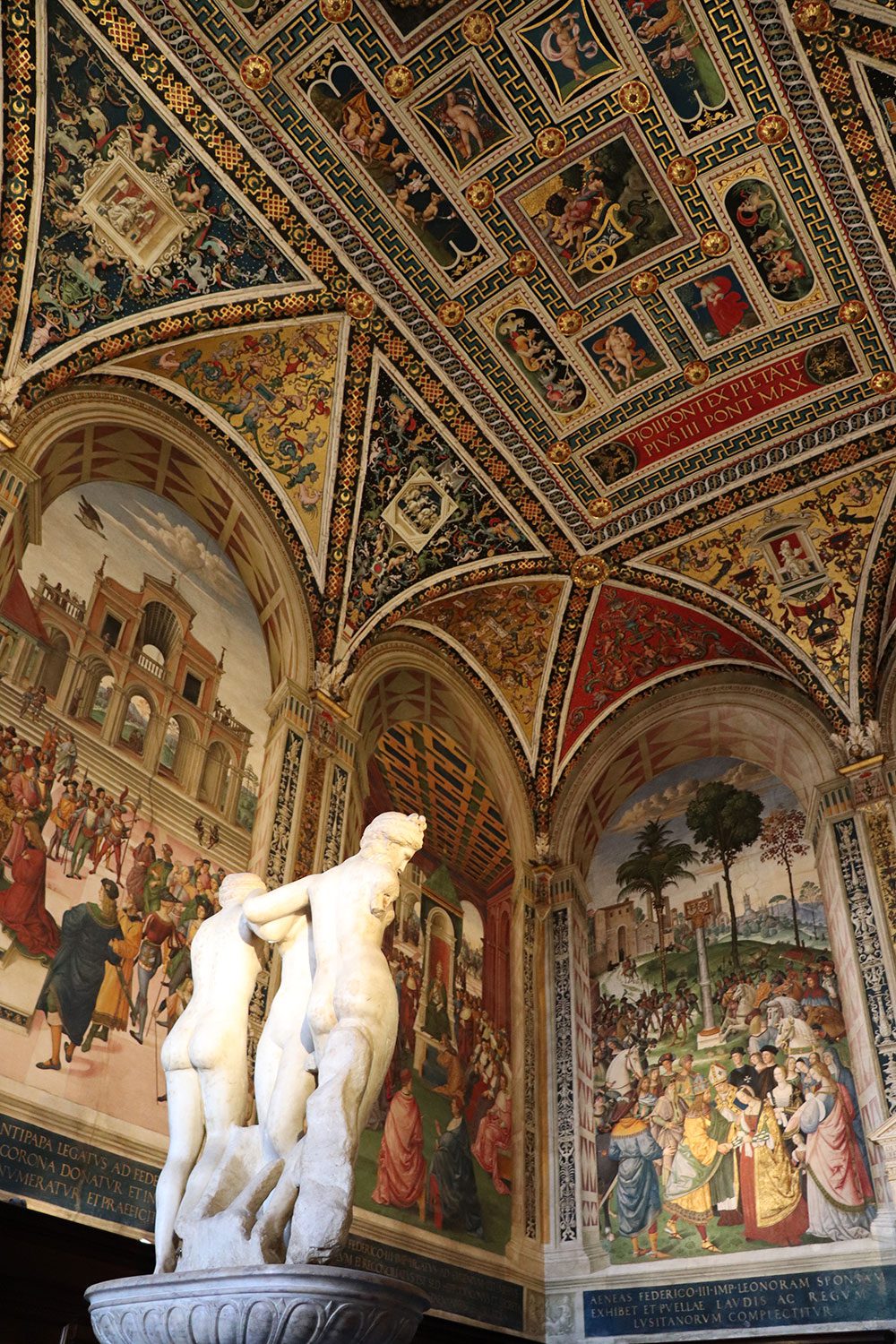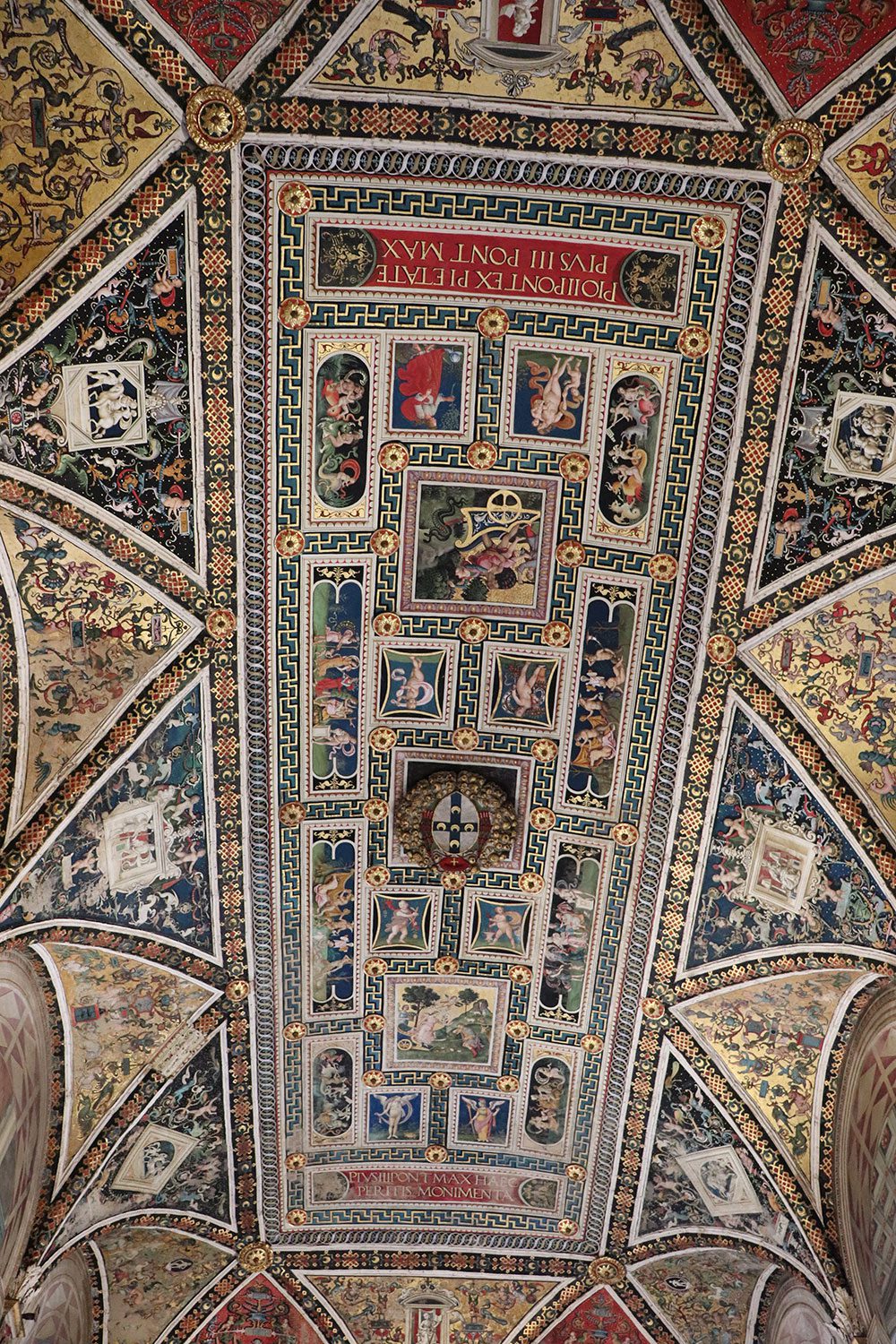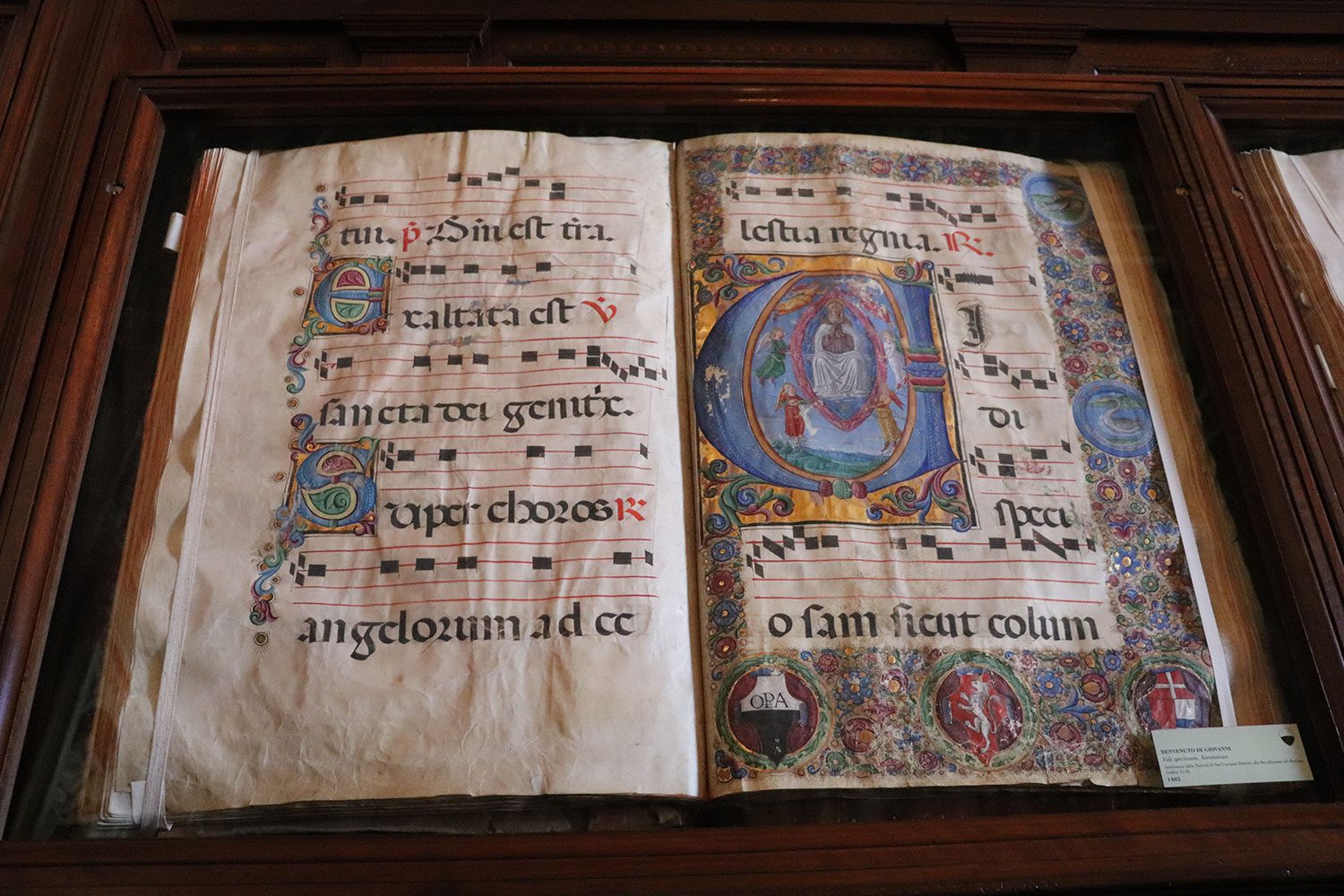 There are several parts of the cathedral to visit and many of them have separate tickets. In your main ticket you'll get access to the Duomo – that is, the main cathedral – which also has entry to the Piccolomini Library. The library is just as jaw-dropping as the cathedral and has a collection of medieval manuscripts. You'll see a line forming at the inside of the cathedral and this is the library entrance.
You have the option to upgrade your ticket to go to the upper levels of the cathedral, which allows you to see the floors of the main level. Of course you are able to see the scenes up close during your visit but seeing them at a distance can give you a better perspective of the entire scene. I did not do this so I can't comment on whether or not it's worth the money, but it's something to consider. You also get a closer view of the cathedral's ceiling.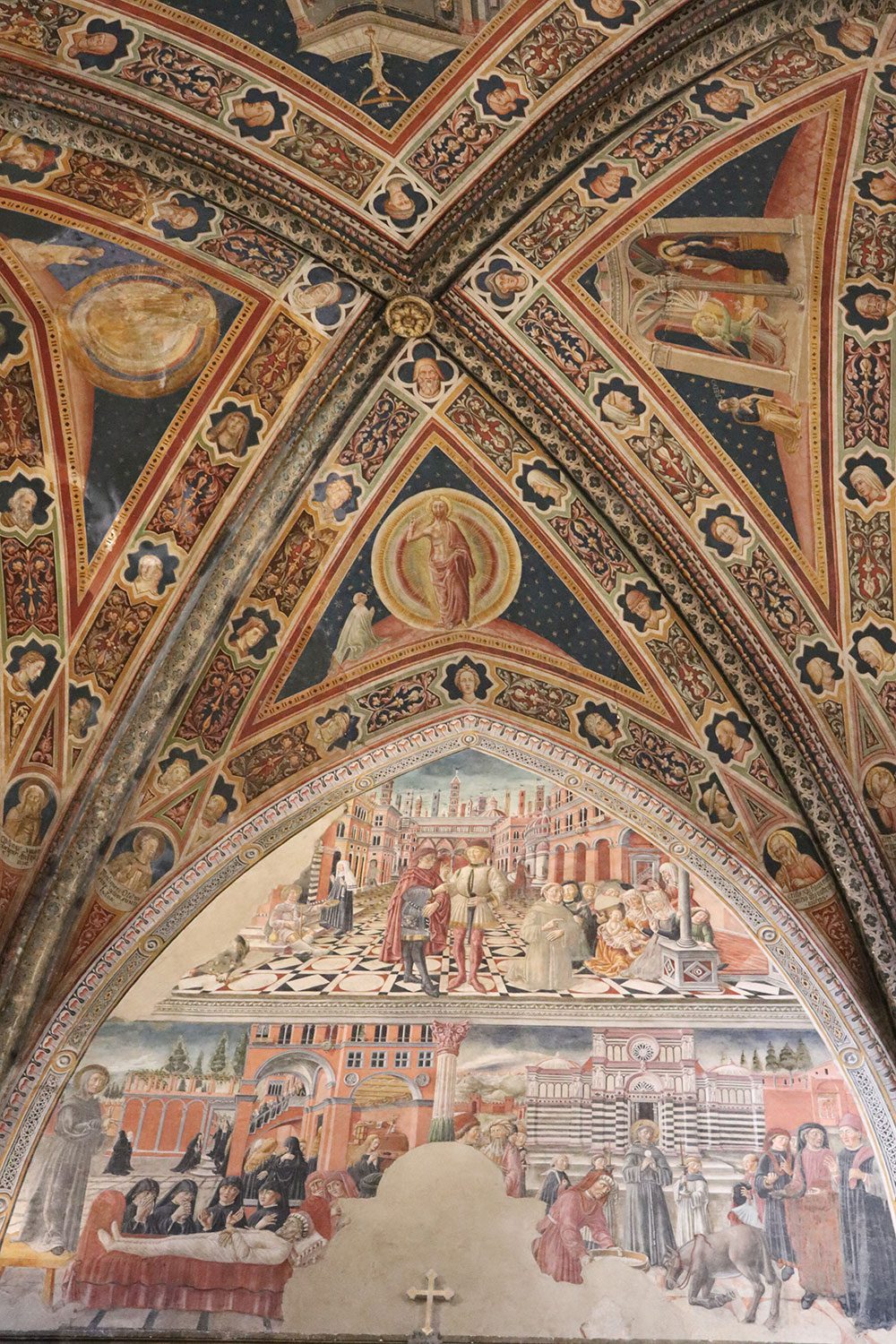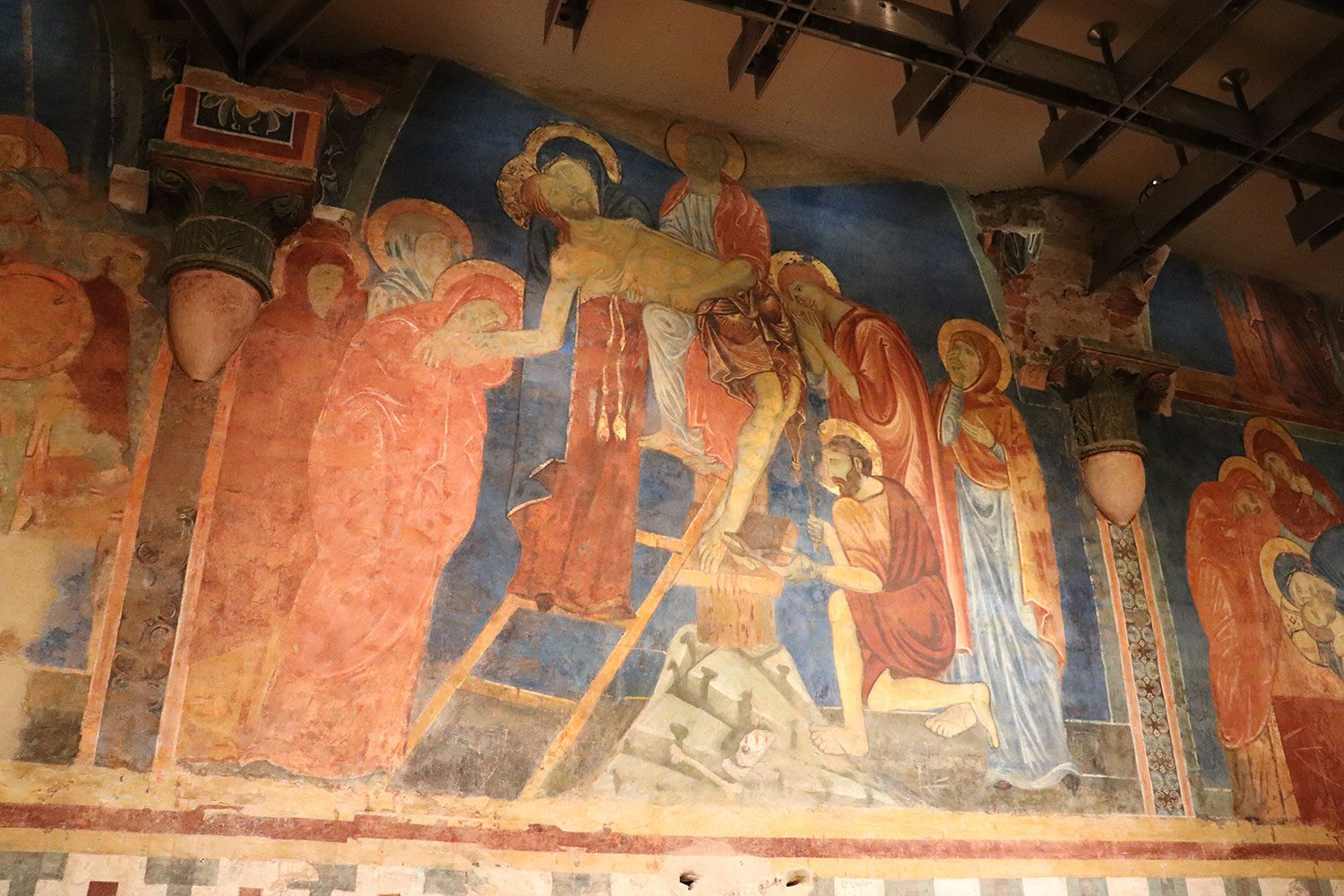 The cathedral also has a Crypt, Baptistery and Museum that cost extra. The crypt has several frescoes that I thought were quite impressive. The baptistery mimics the upper cathedral a lot and is quite beautiful as well. I did not visit the museum since everything I already saw was quite a lot. I'd say the crypt and baptistery are short stops worth the money if you have it but if you're on a tighter budget, the cathedral alone is certainly enough. It's still the star of the story. Also note that the two are in back of the cathedral (meaning you have to climb down all those stairs) while the museum is in front.
I was able to buy my tickets the day of my visit but the line was quite long. You can see the pricing for the different sections and buy your tickets in advance on the Duomo's website.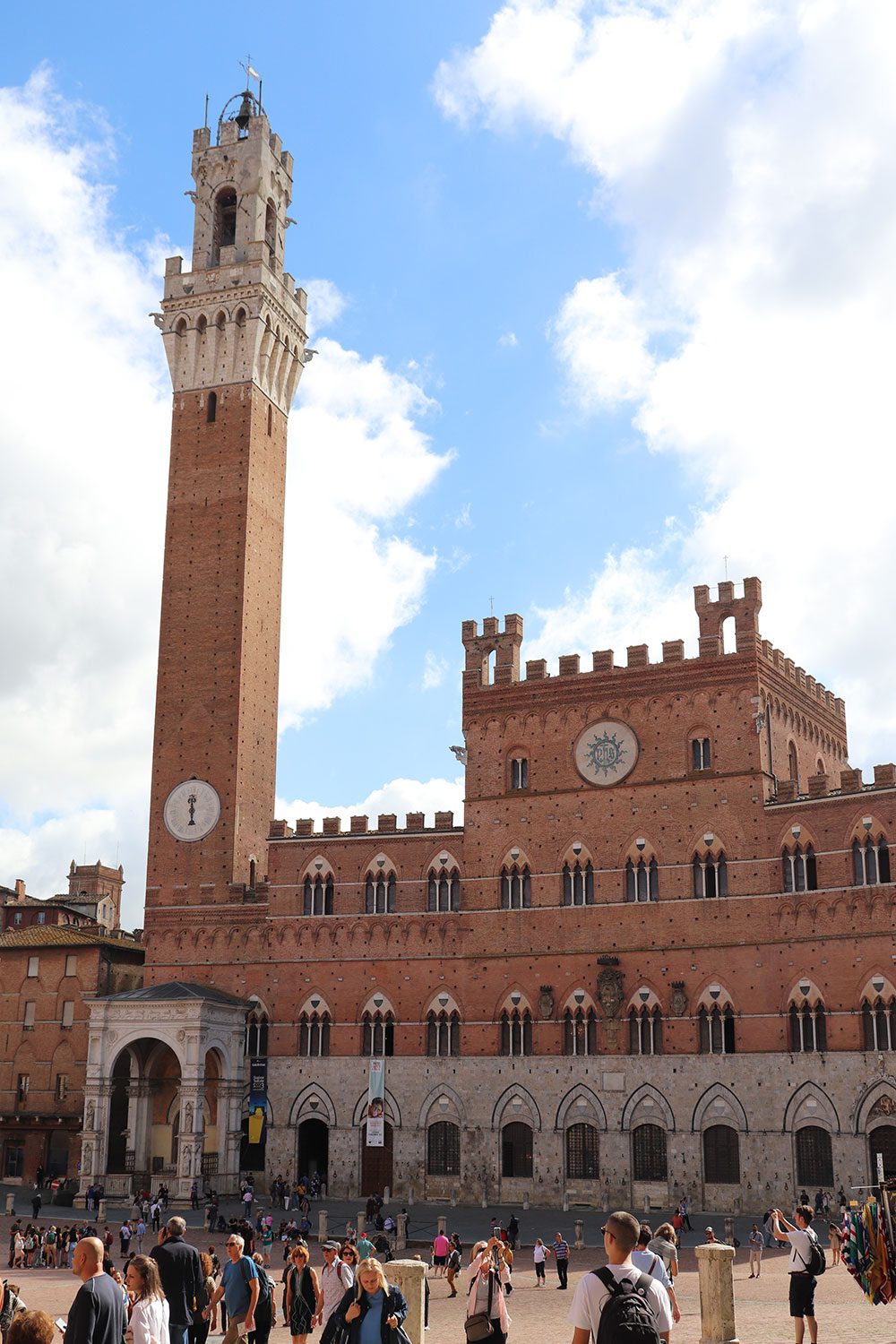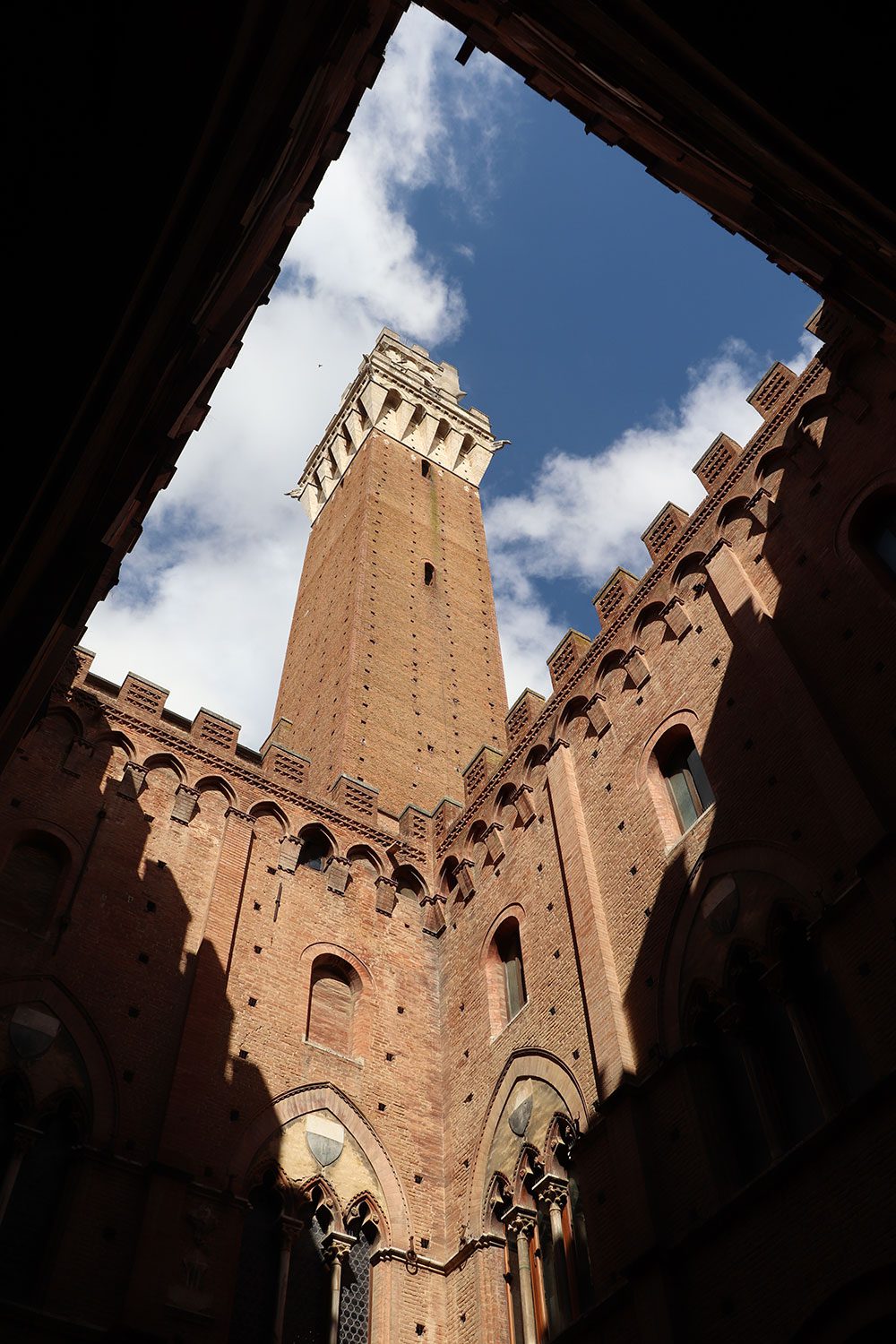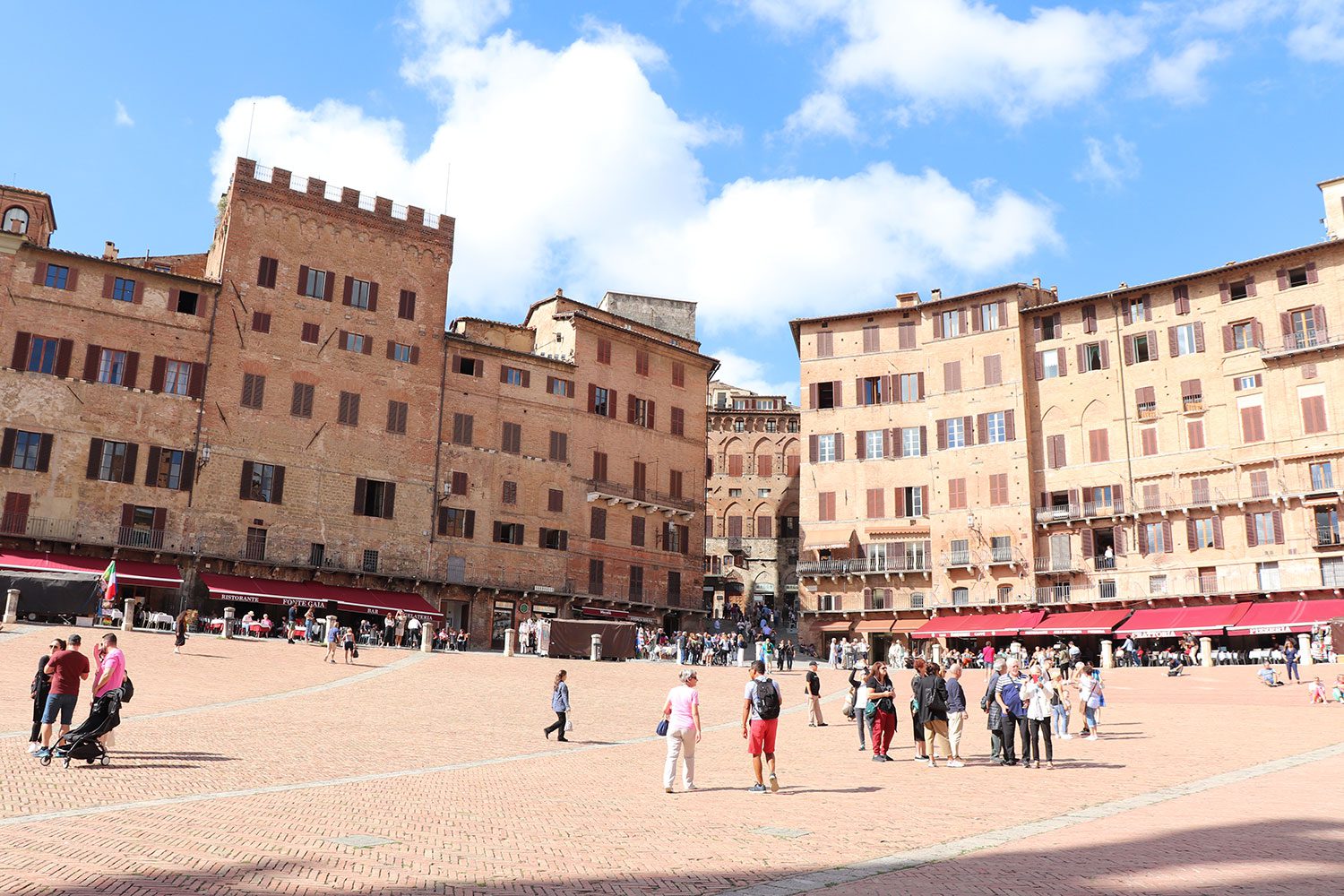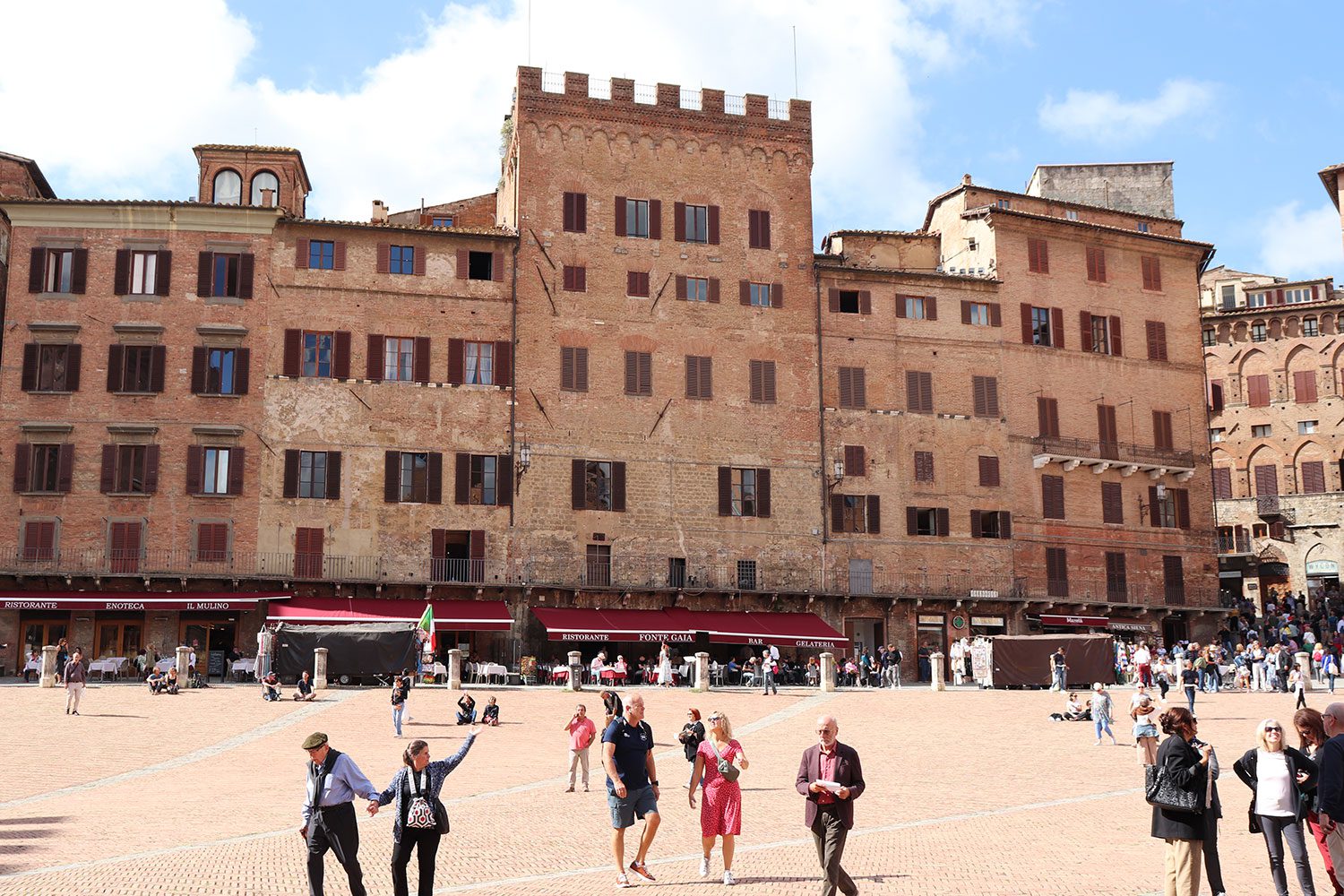 Of course in Siena, you also have to stop by the main square, Piazza del Campo. Here you can see the beautiful Fonte Gaia and go inside the Pubblico Palace to see a small museum. For an additional fee you can also go to the top of the Torre del Mangia to get views over the entire city. This is also where the Palio Horse Race takes place.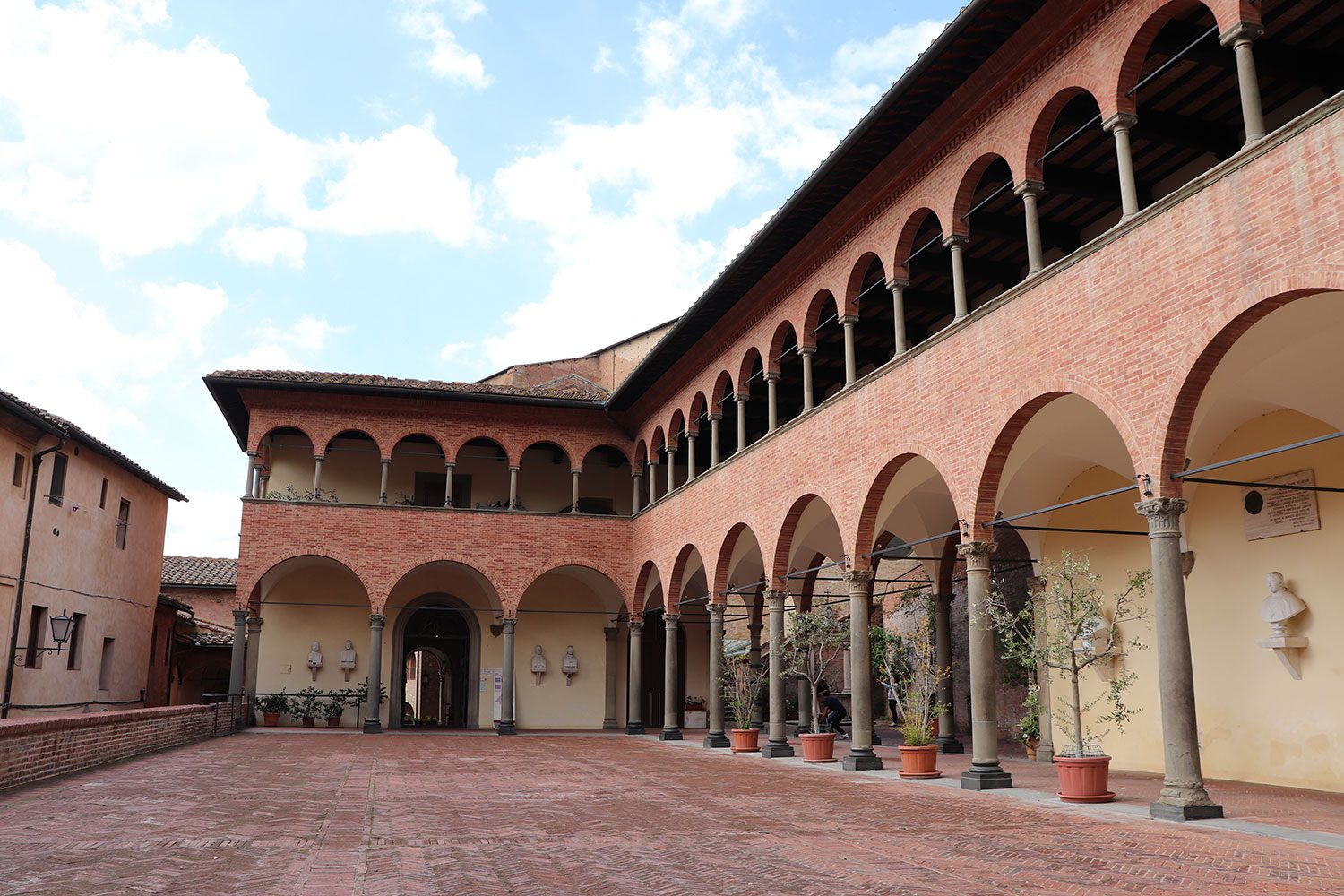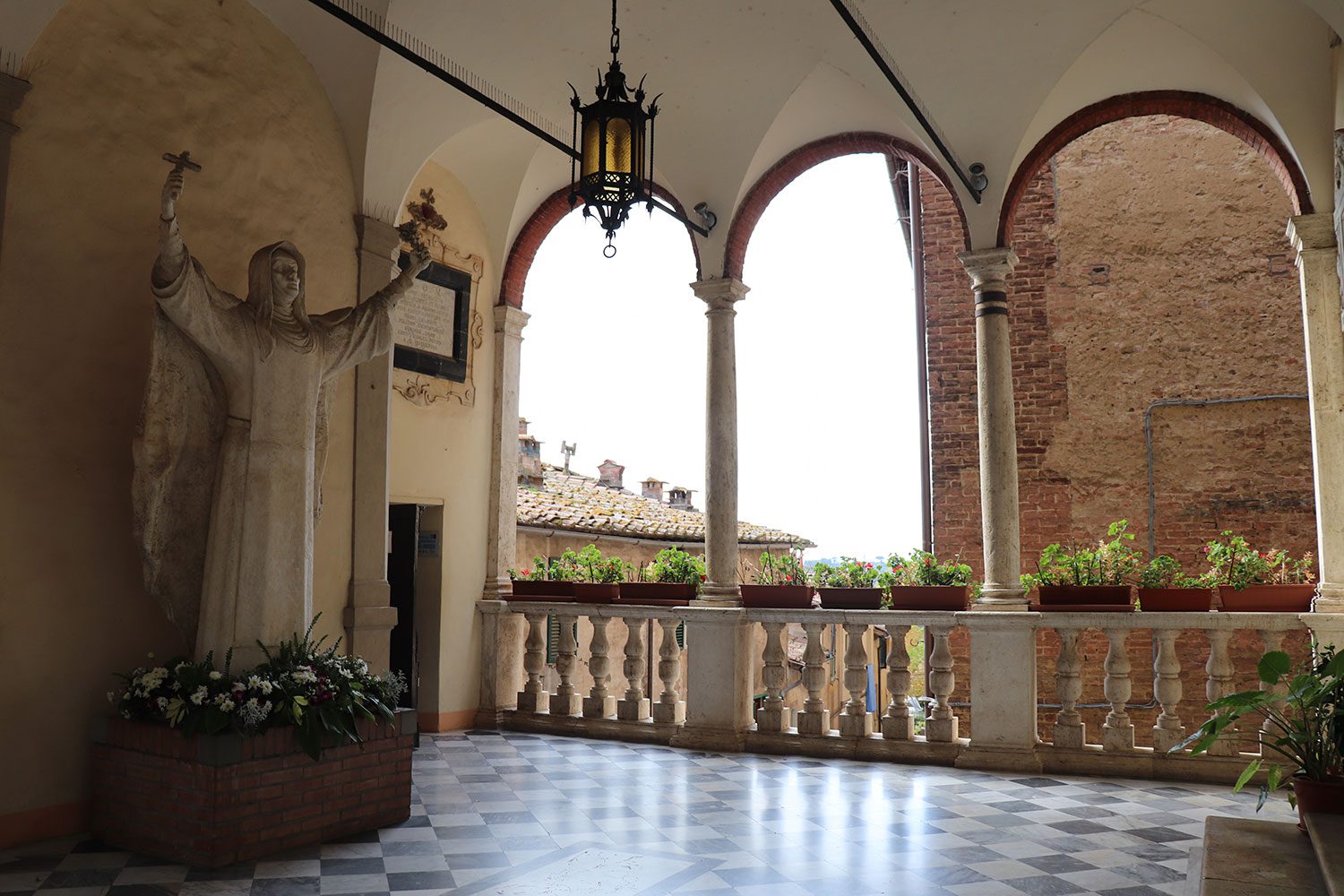 If you wish, you can move on to see places dedicated to Saint Catherine of Siena. Her birthplace, Saint Catherine's Sanctuary, is free to visit and quite a charming place on the outside. You can go inside to see a small but very lavish church, which is also free. Photos are not allowed and if you do try to take them, God himself will announce "NO PHOTOS." Or maybe just some guy working at the church. But I like to think I got yelled at by God.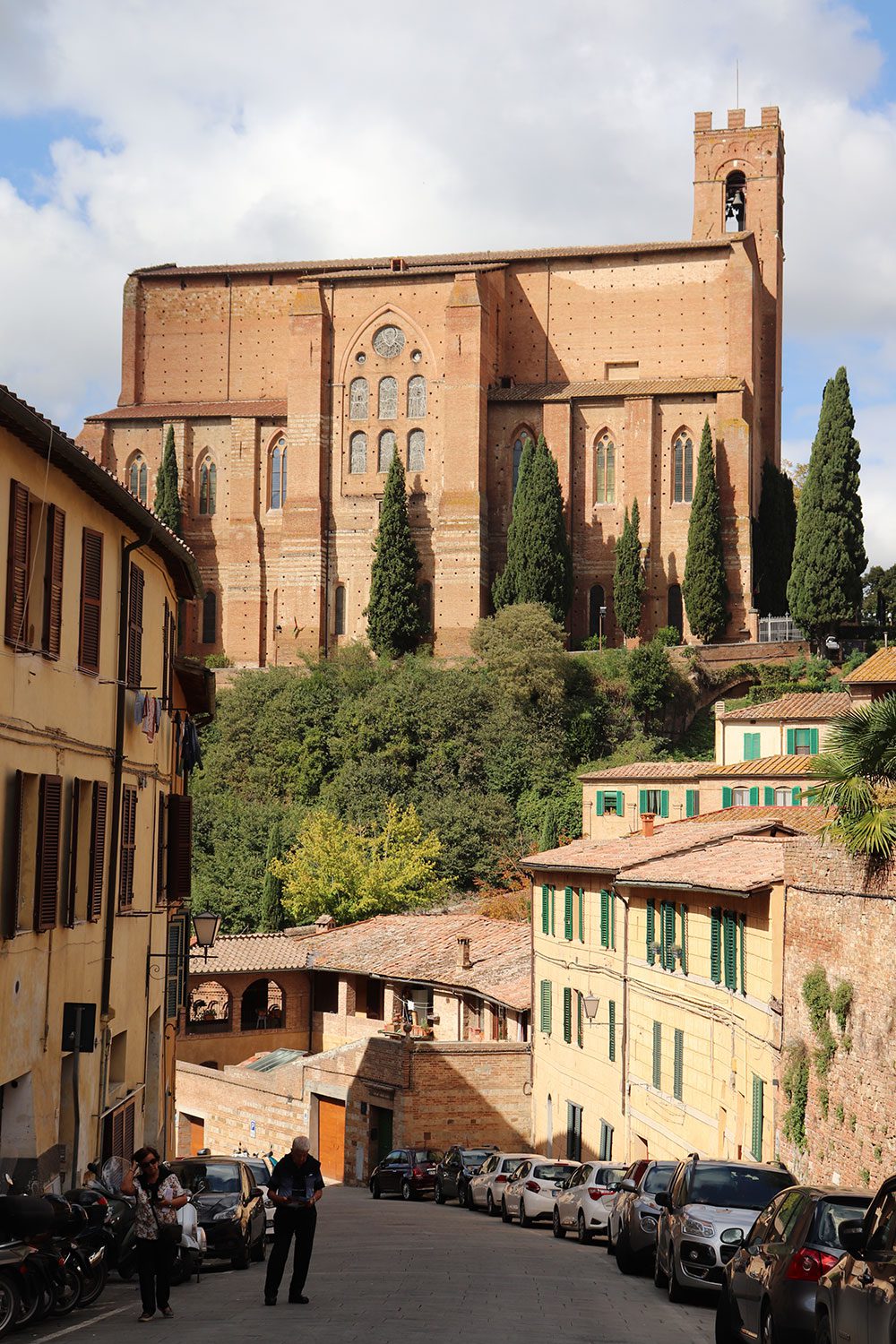 I also recommend a visit to Basilica of San Domenico. It's a 13th century church that's honestly quite plain, but it has the head of Saint Catherine herself on display. It's a very weird phenomenon to want to see dead bodies, but I think it's a bit cool to see an actual historic figure. Outside the church you can get stunning views over the city of Siena. I think that alone makes it worth the trip.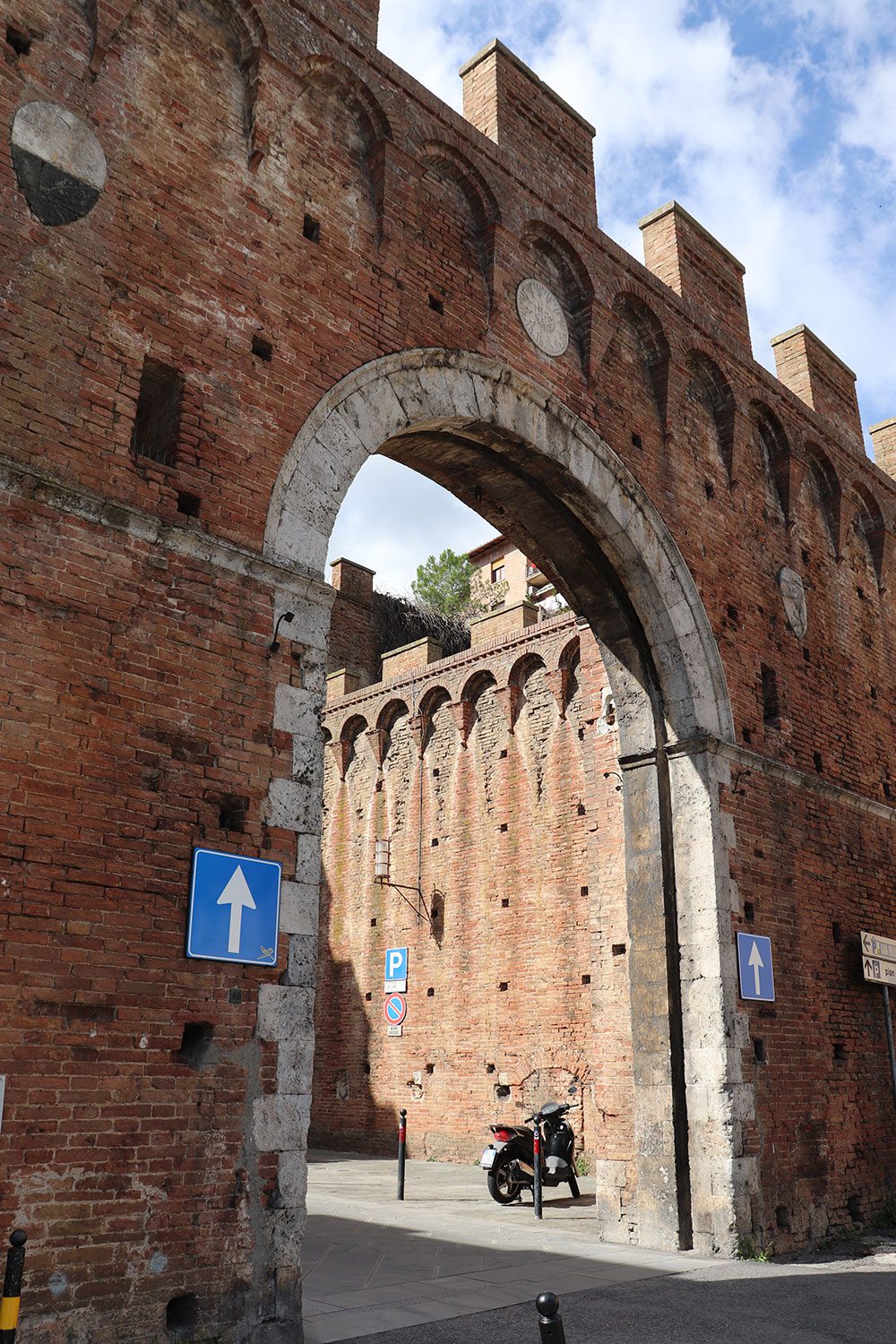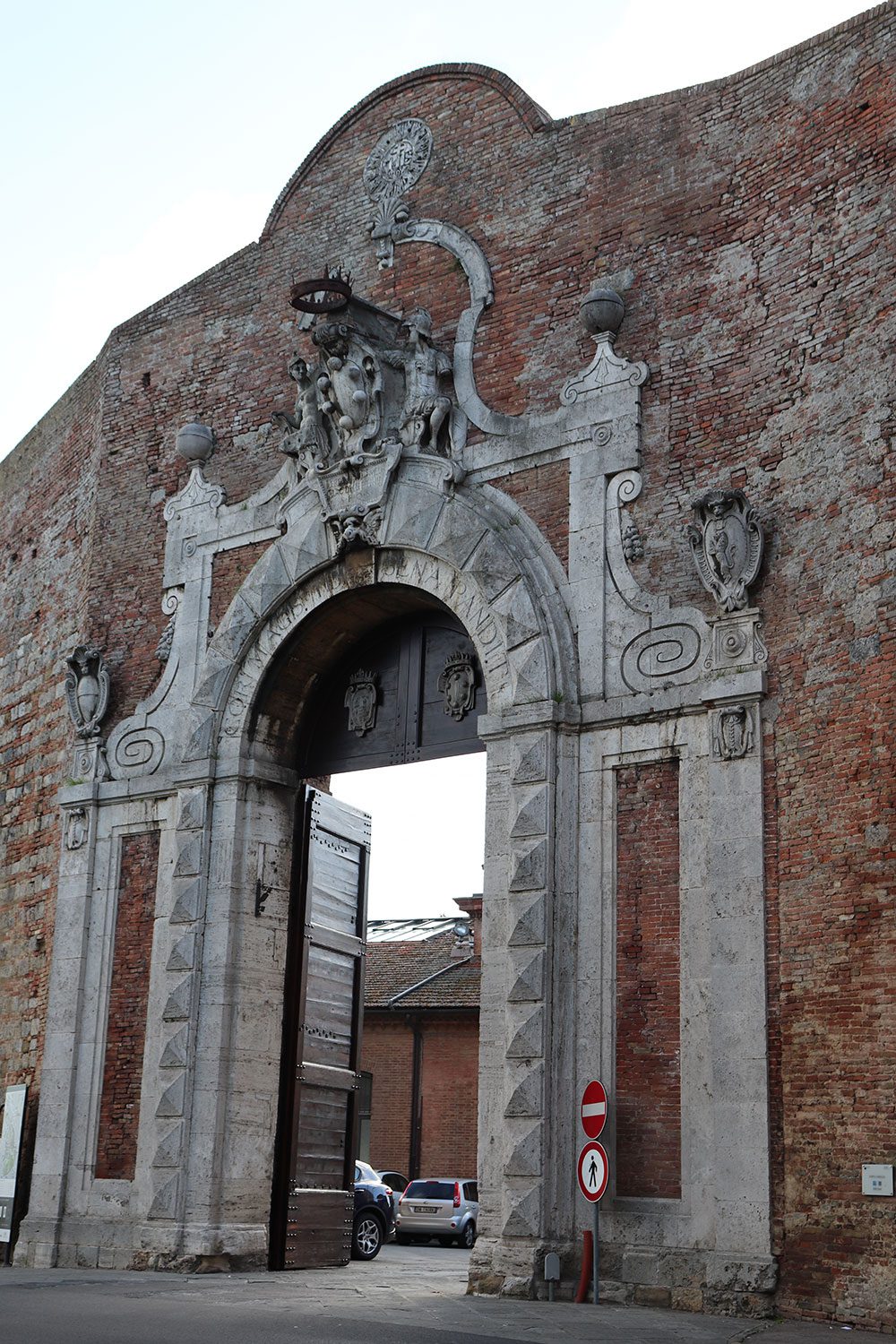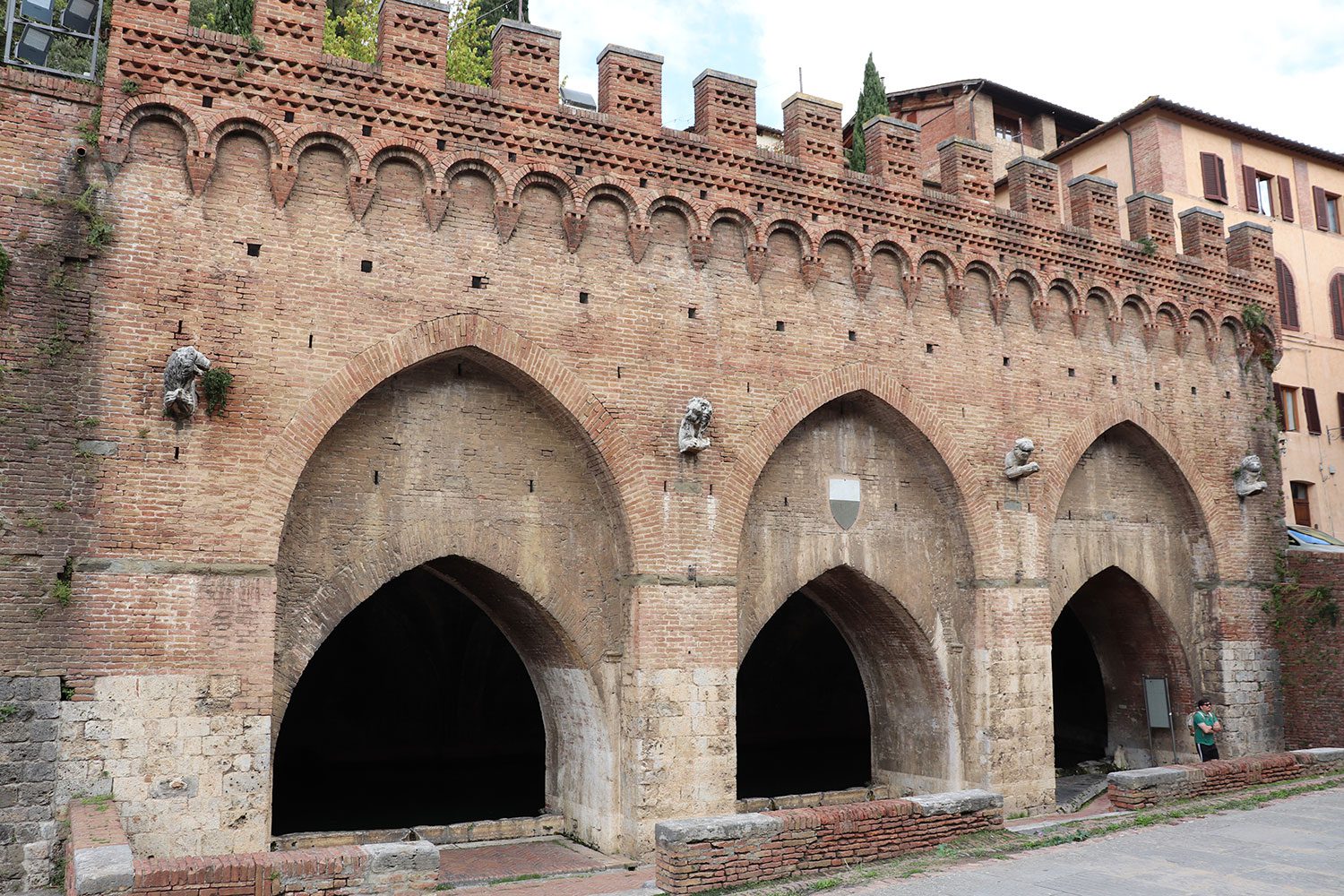 There are some more remnants of Siena's strong medieval past to see in the city. One is the Fontebranda or medieval fountain. The city also has 12 medieval city gates still standing. Some of the ones I got to see were the Porta Tufi, Porta di Fontebranda, Porta Ovile and the Porta Camollia. Some of the gates are in the main parts of the city but others are a little ways out.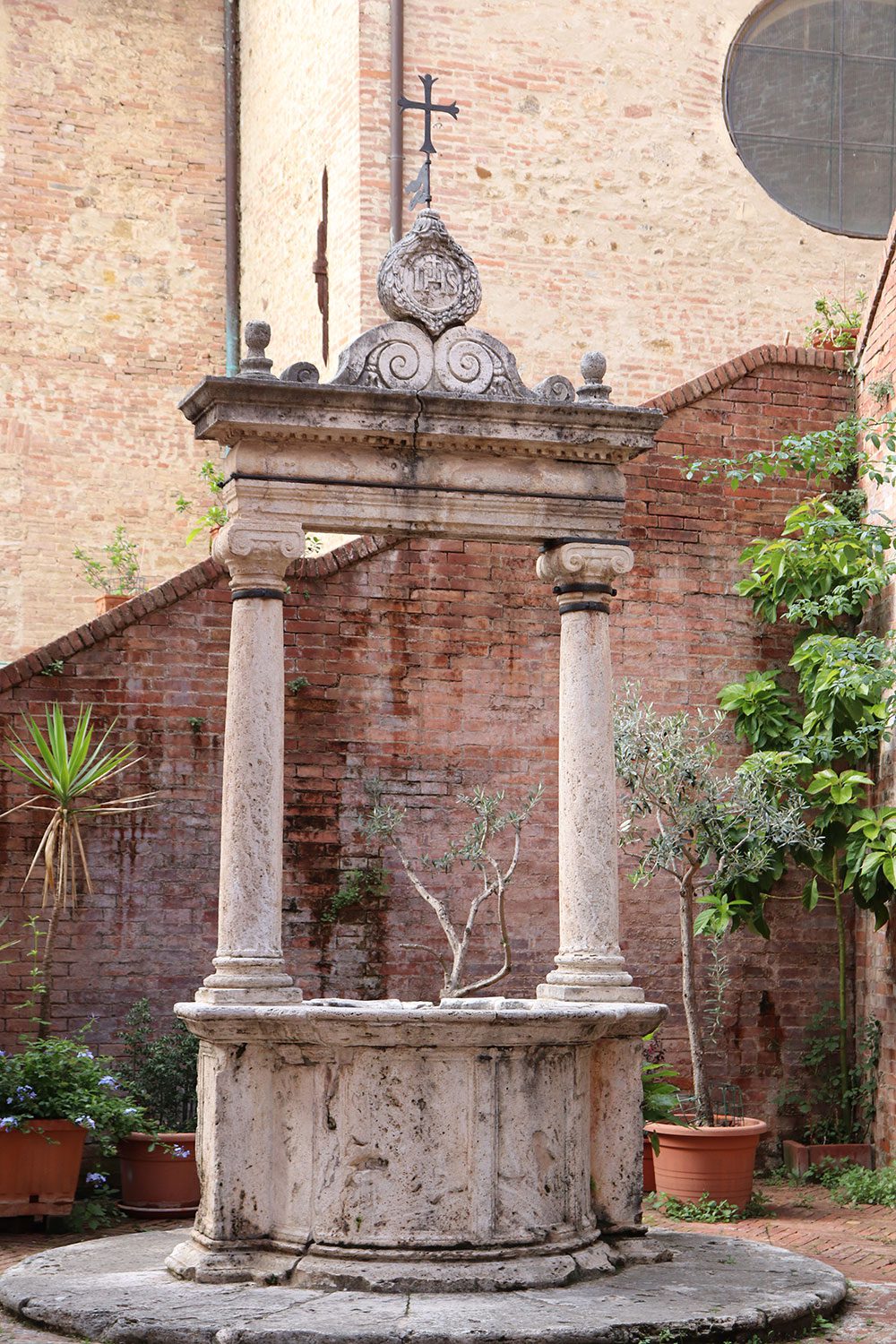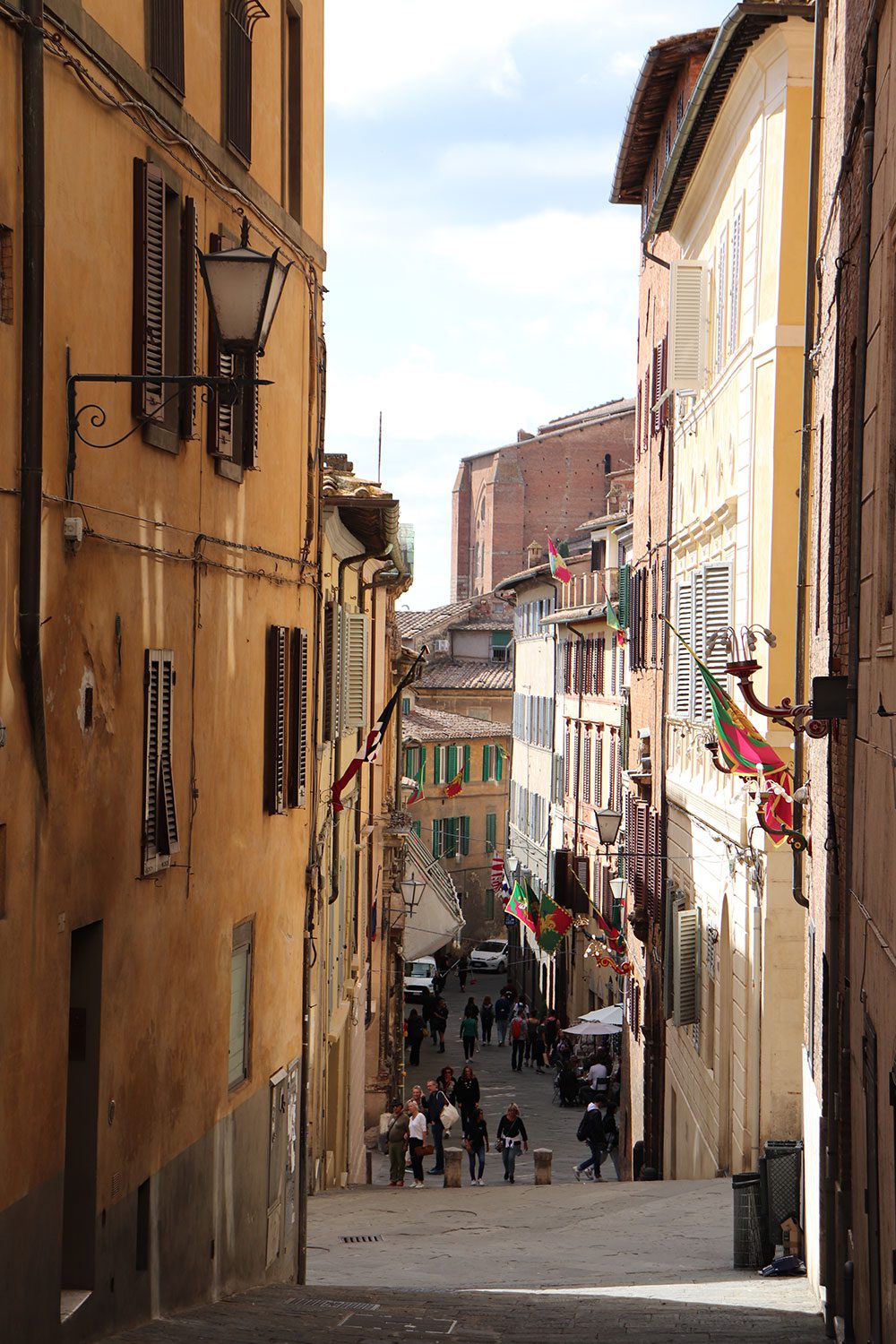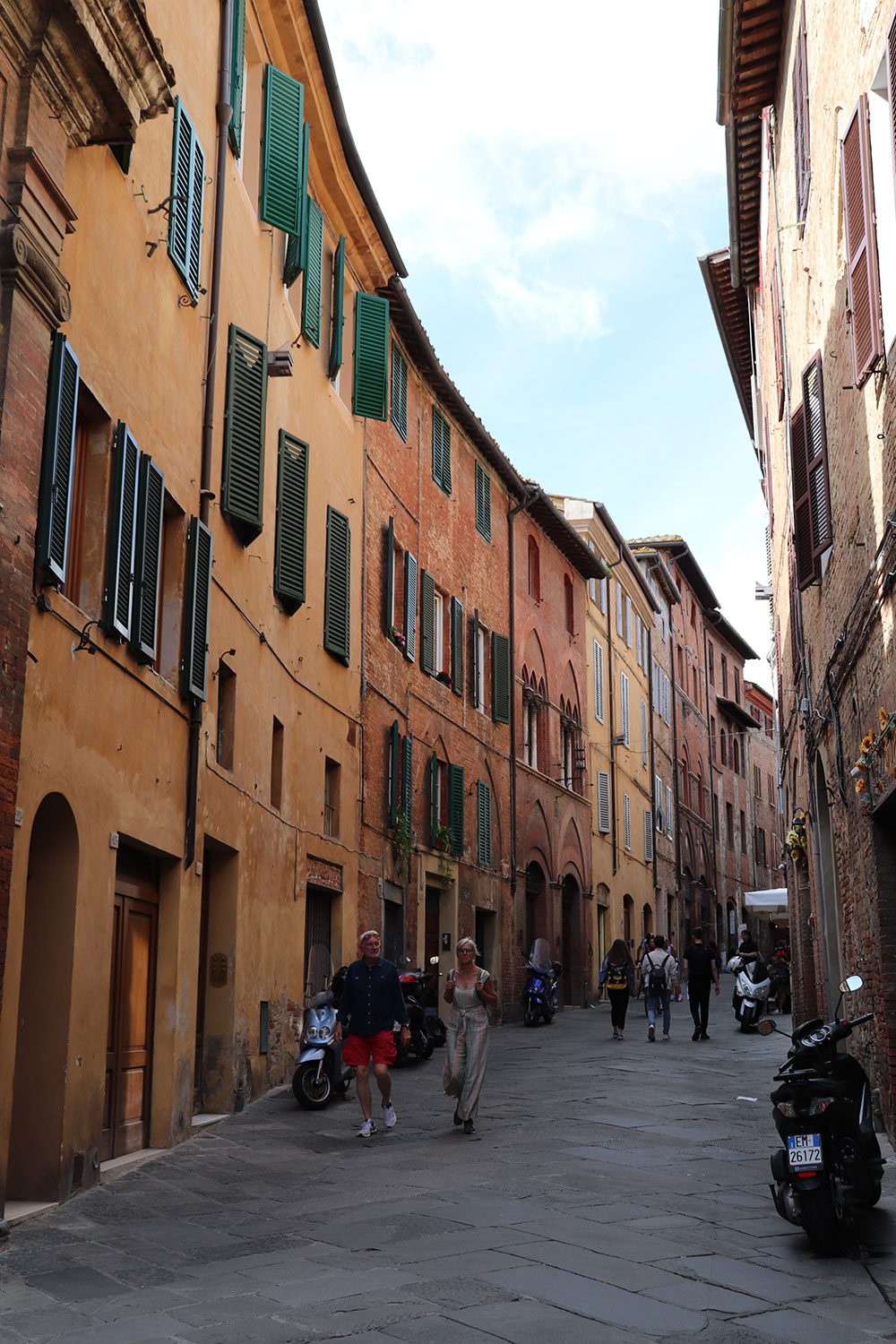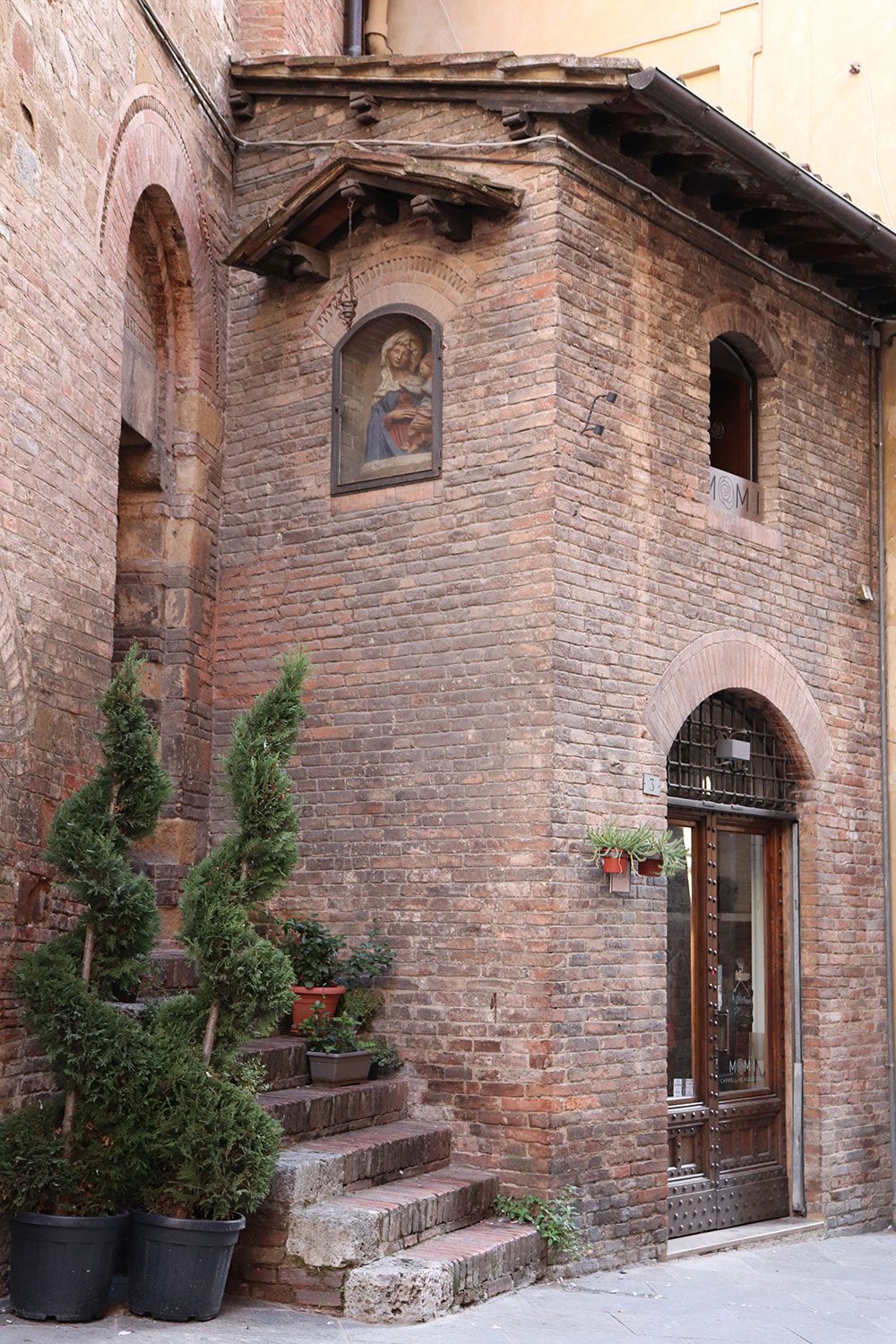 Siena may not have a ton in the way of museums but it's a very lively city. There's a lot of local eateries and a variety of shopping along the streets. There are of course a lot of tourist stands but they don't dominate the city as they do in many other places in Italy. Even though Siena's a popular tourist destination, it's also a great place to visit to feel like you're coming to be a part of Italy rather than just stopping by.
Siena's also not very big and you can explore a lot by foot in a day. The trade off is that it's a very hilly town – very, very hilly. So your thighs are going to get a nice workout.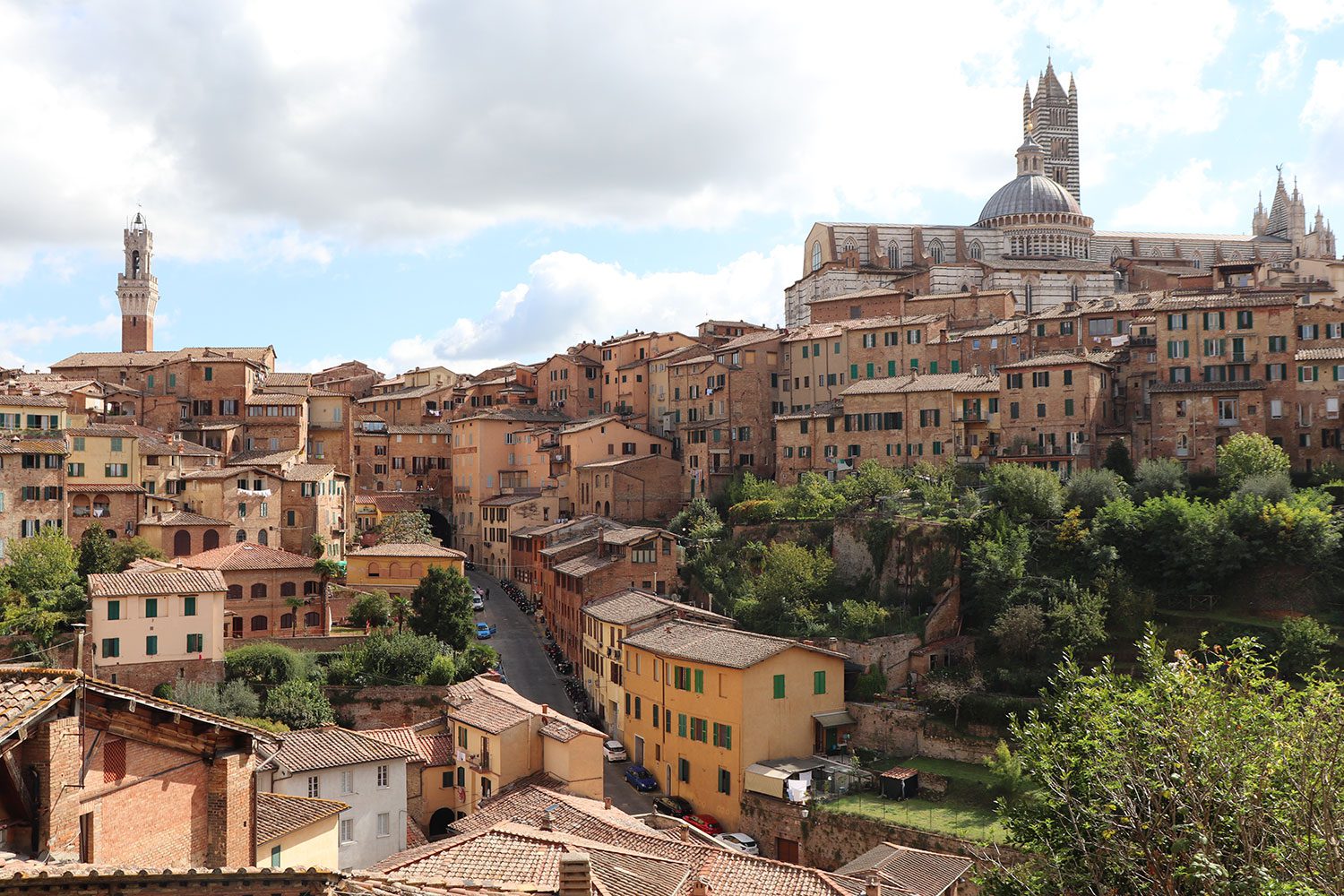 I definitely recommend a visit to Siena, no questions asked. It's one of the most beautiful places I've been to in Italy and the history one of the most unique. You can see a lot in a day but there are still so many places to see and restaurants to try if you want to stay longer. I hope you're able to make it to this wonderfully charming place one day if you haven't already.
Please note that this post may contain affiliate links. These are at no additional cost to you but I receive a commission if you make a purchase through the link, and the commission helps me run my blog. Thanks for your support!
Tags:
europe
,
italy
,
siena
Sharing is Caring
Want to support me?
Buy me a Coffee