Edam, Volendam, and Marken: 3 Charming Dutch Towns
Originally published on Sunday, April 16, 2023
One place I wanted to see was the Dutch countryside, and Edam, Volendam, and Marken were places that stood out to me. Each place is small and mostly residential, so they can be seen easily together on a day trip from Amsterdam. I happened to go on a cold and rainy day but still enjoyed these three charming places. Actually, I think it was one of my favourite parts of the Netherlands!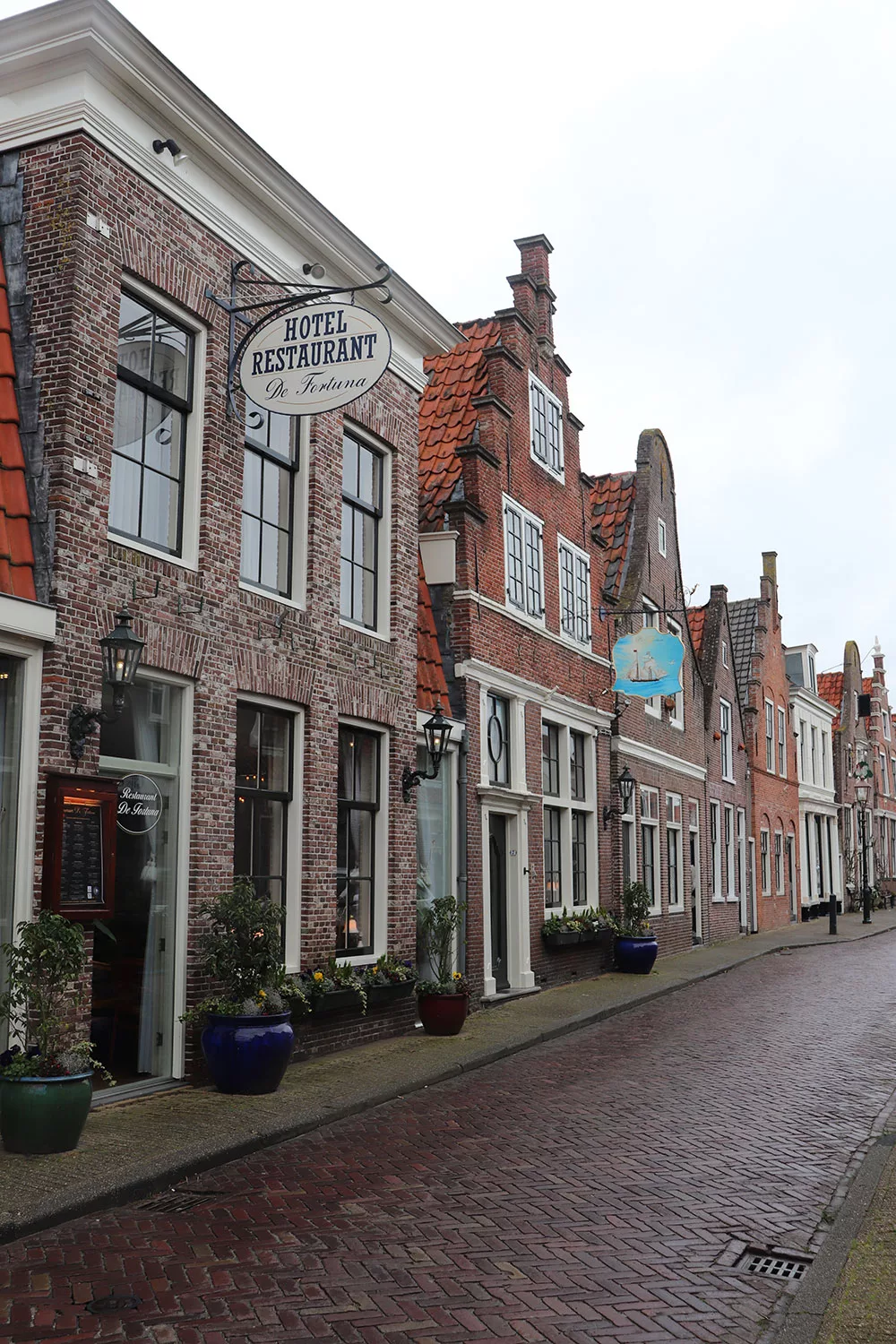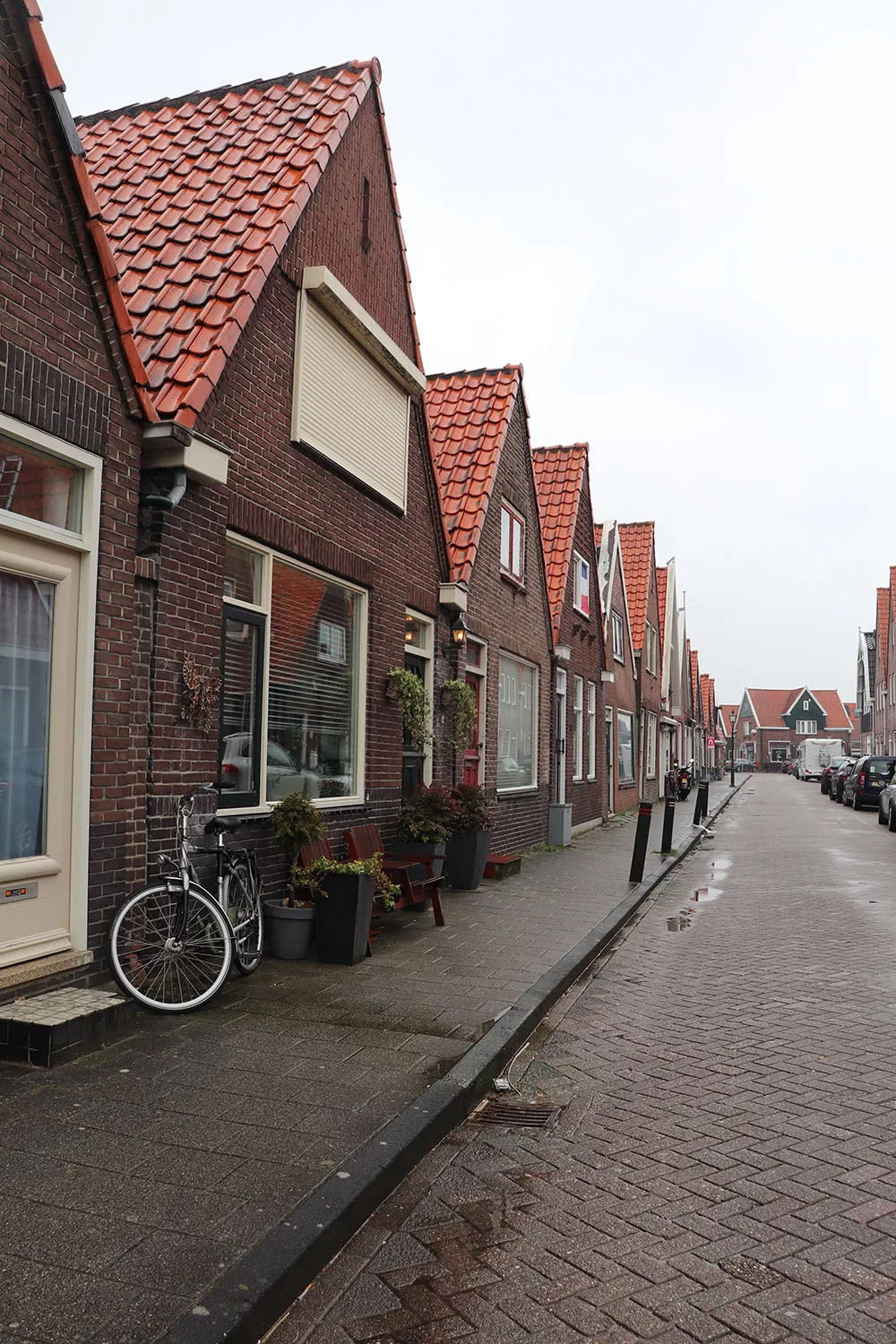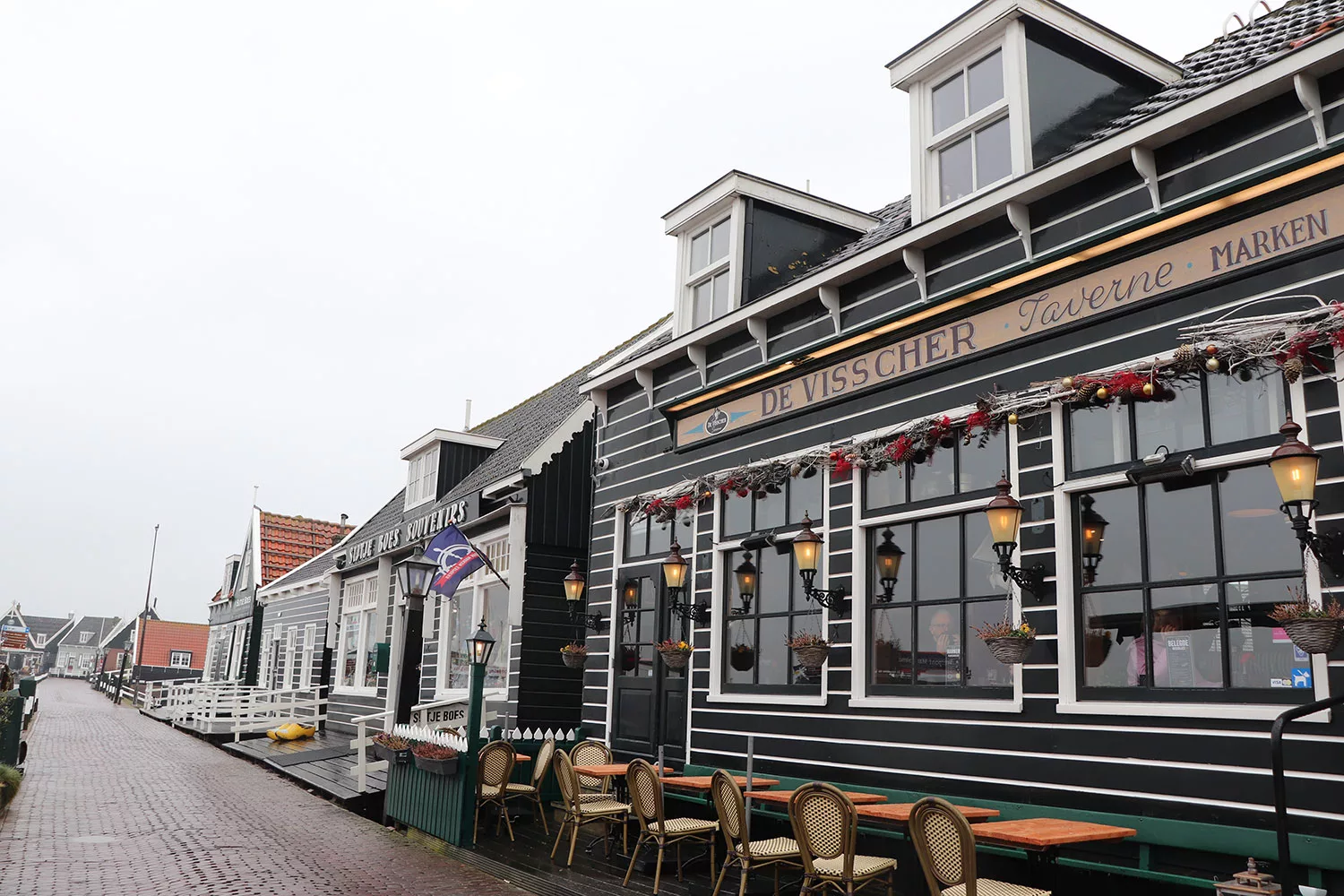 Edam
Edam is the oldest place on this trip. Due to the shipbuilding and fishing trades, Edam prospered in the 13th and 14th centuries. Flooding that occurred in the 16th century caused the harbor to shut and ultimately left to the city's decline. Around this same time, Edam cheese and the cheese market started (and Edam cheese is still popular in the Netherlands today). As of now, Edam is a small town stuck centuries back in time.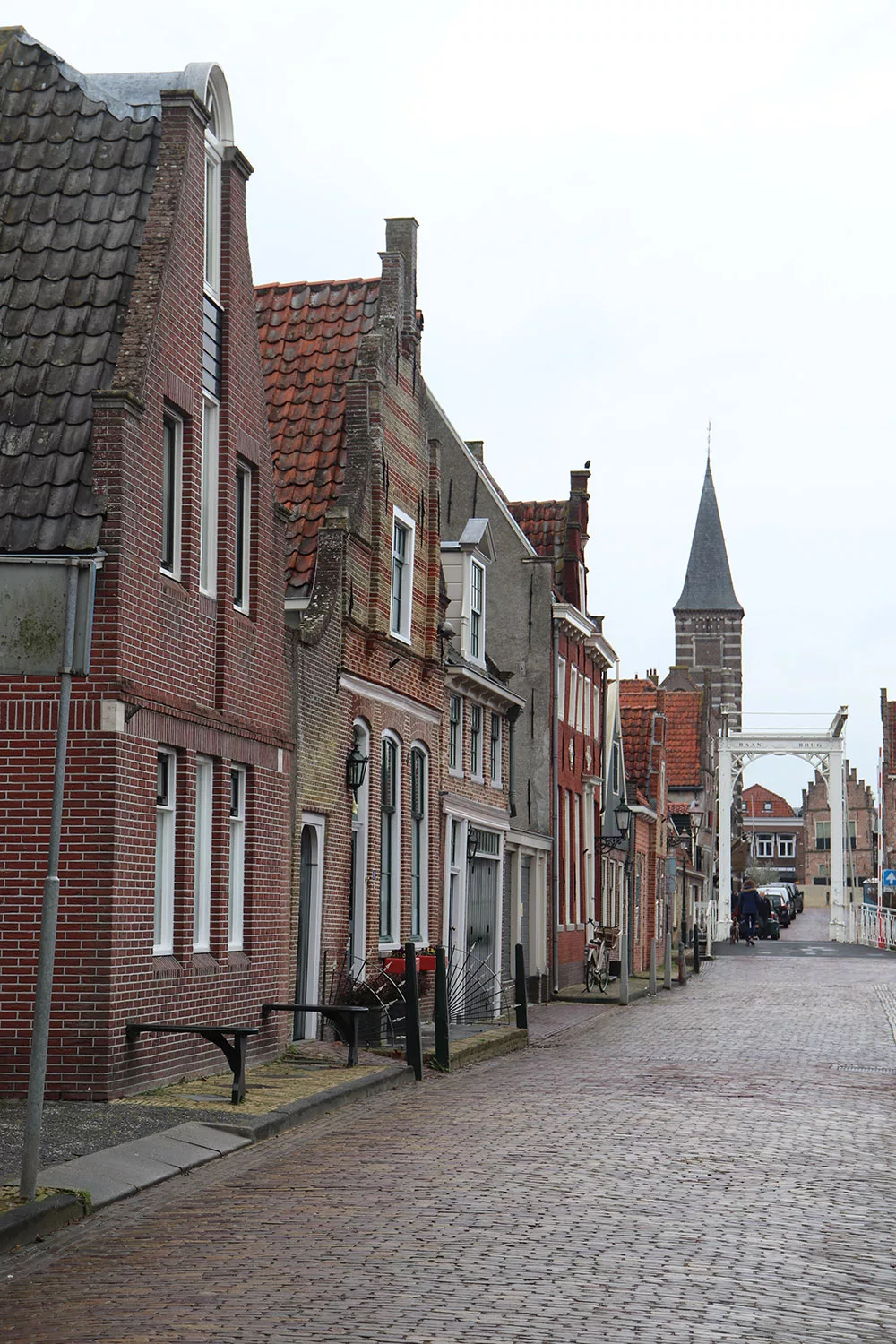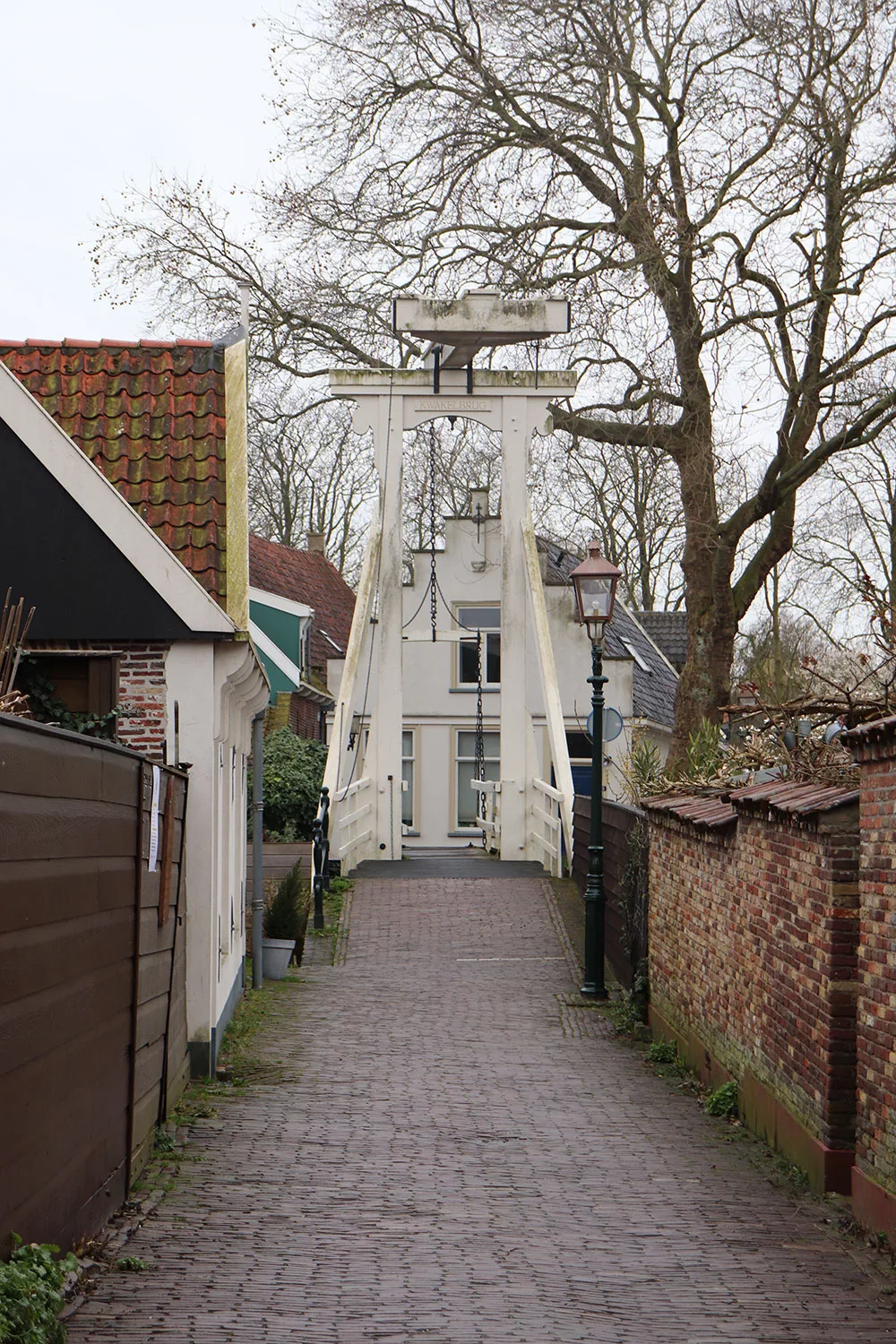 It's a small and sleepy residential town, and incredibly cute. It still has a lot of well-preserved streets you can stroll down and admire the architecture. Much of it dates to well after its heyday, around the 17th-18th centuries, but it's still absolutely gorgeous. There is a small Edams Museum and a "museum" of cheese (which is more of a store) but the real draw is the town itself. I spent an hour just wandering around, and that was on a cold and rainy day. If the weather had been nice, I could've spent a bit longer.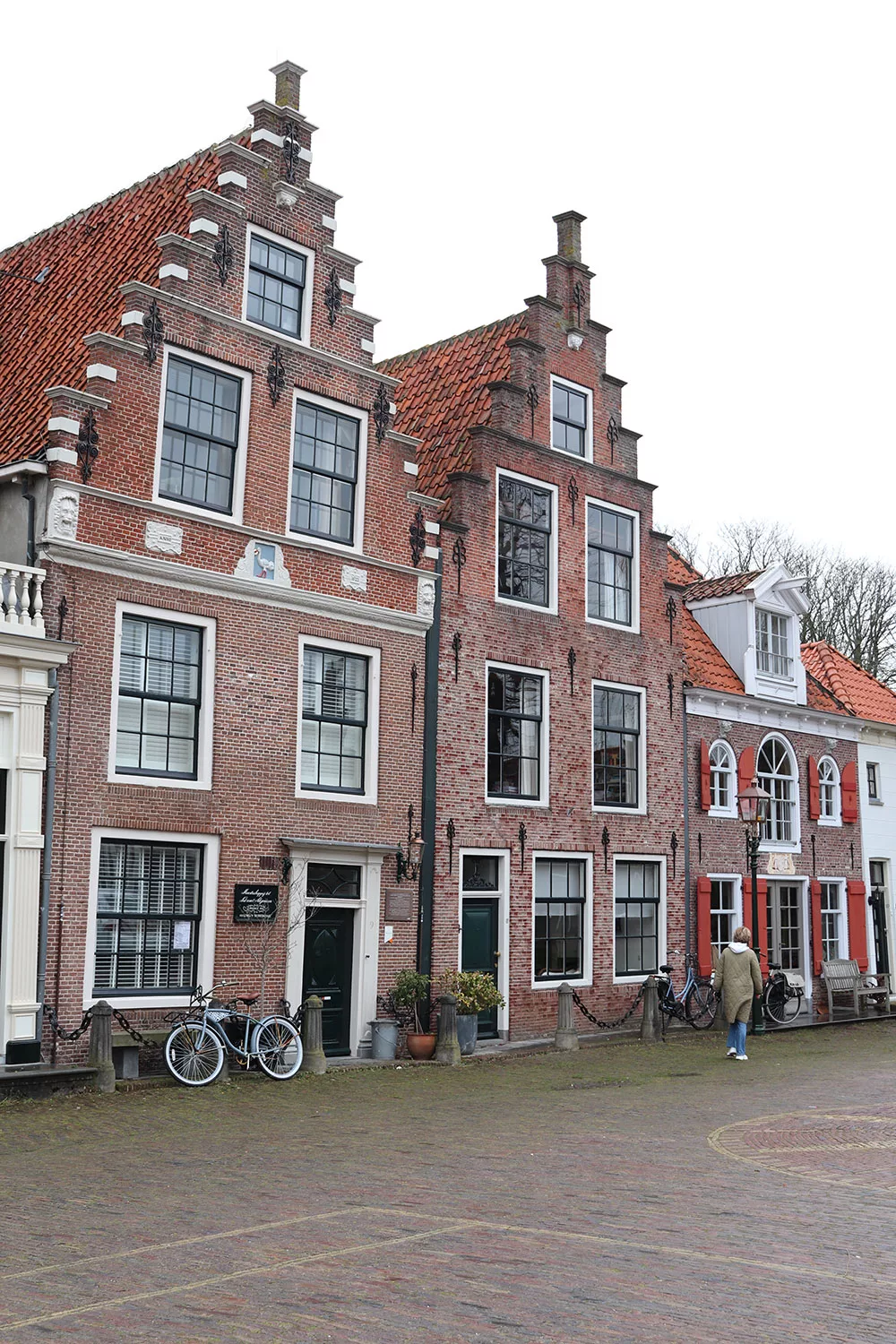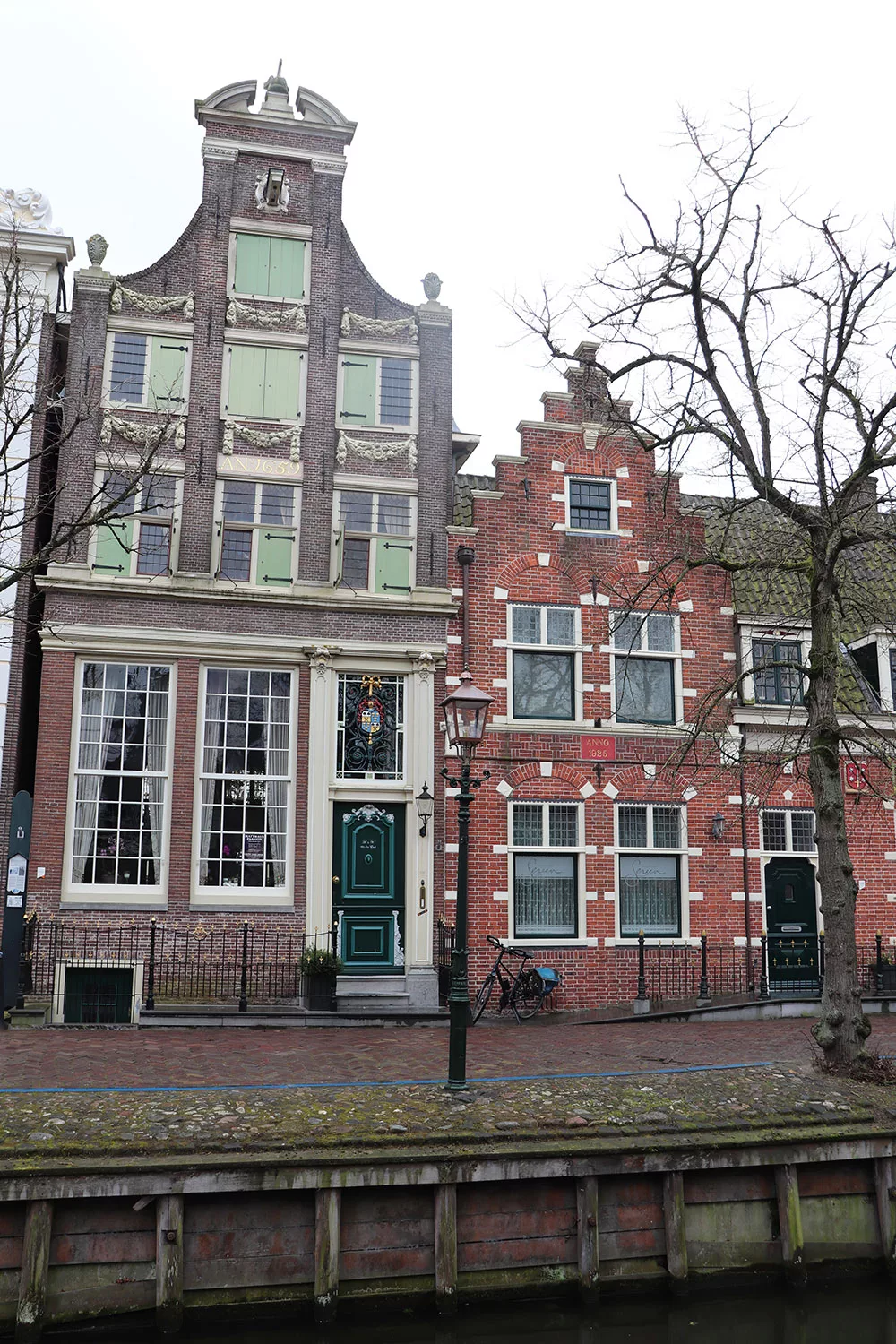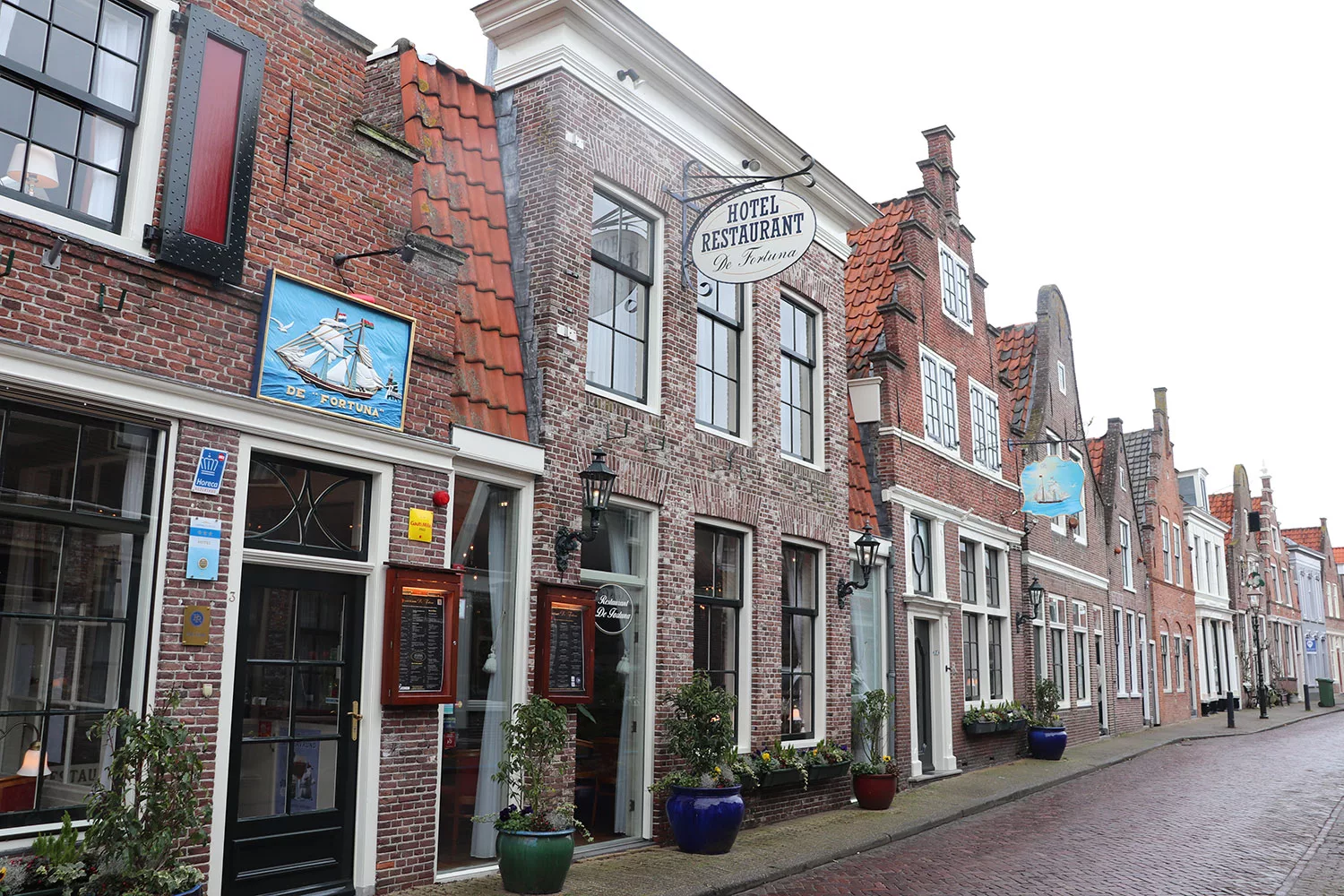 For small towns like Edam, I like to get a map and mark off the streets as I go along. They're all filled with little delights like cute buildings, bridges, and sometimes a market square. Be sure to make your way up to the Grote Kerk and Achterhaven 105, which is the oldest extant wooden building in Edam. It is almost 500 years old!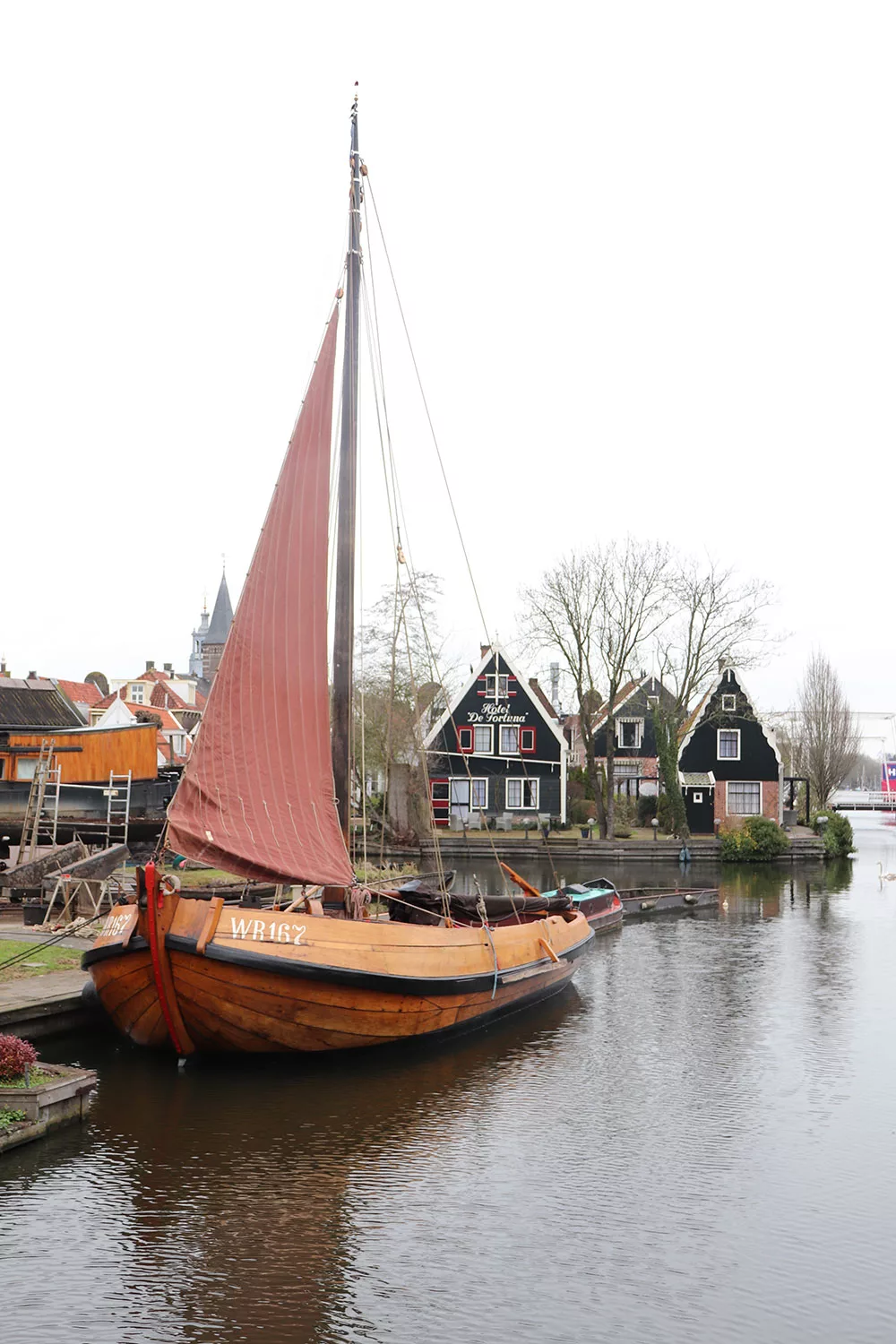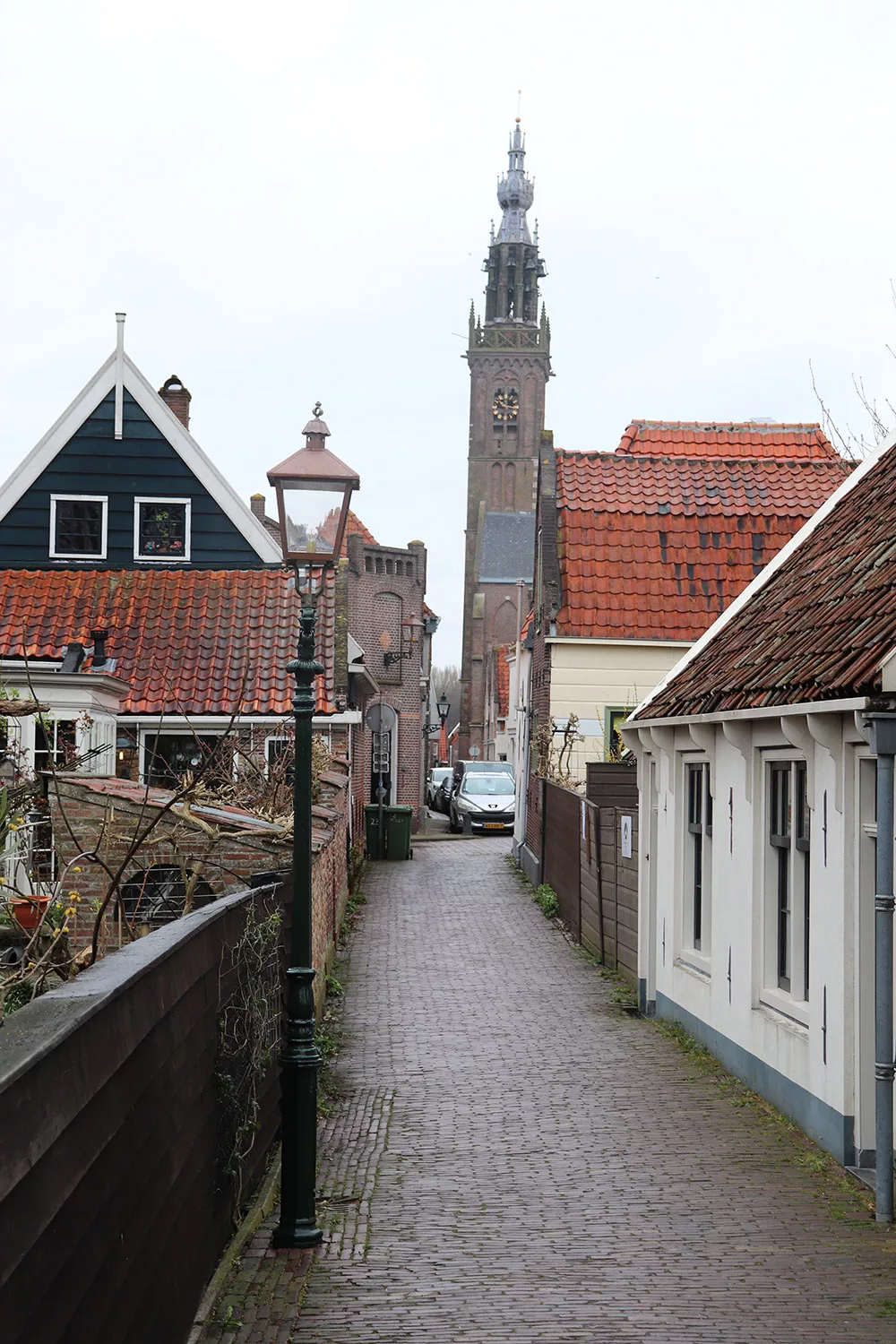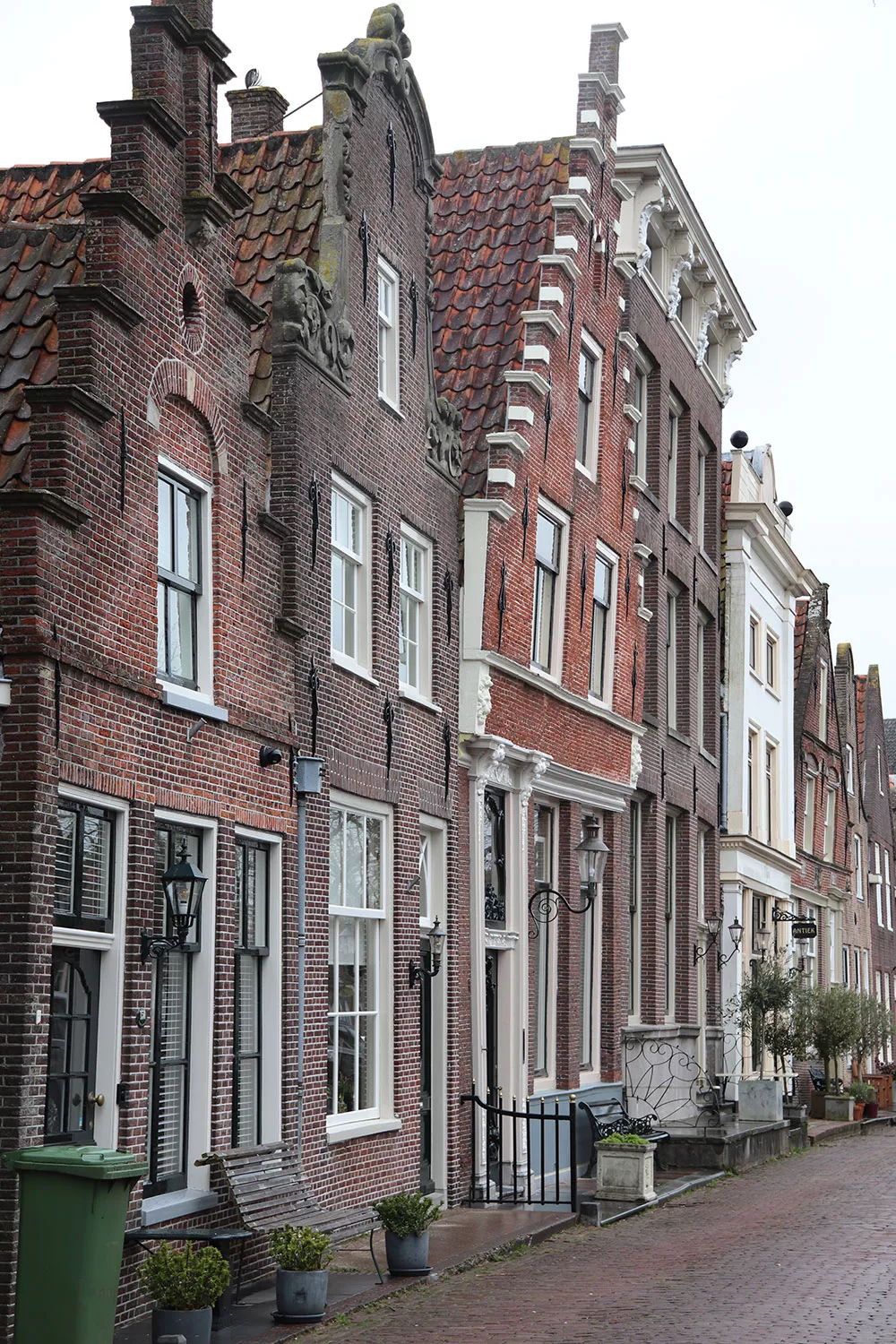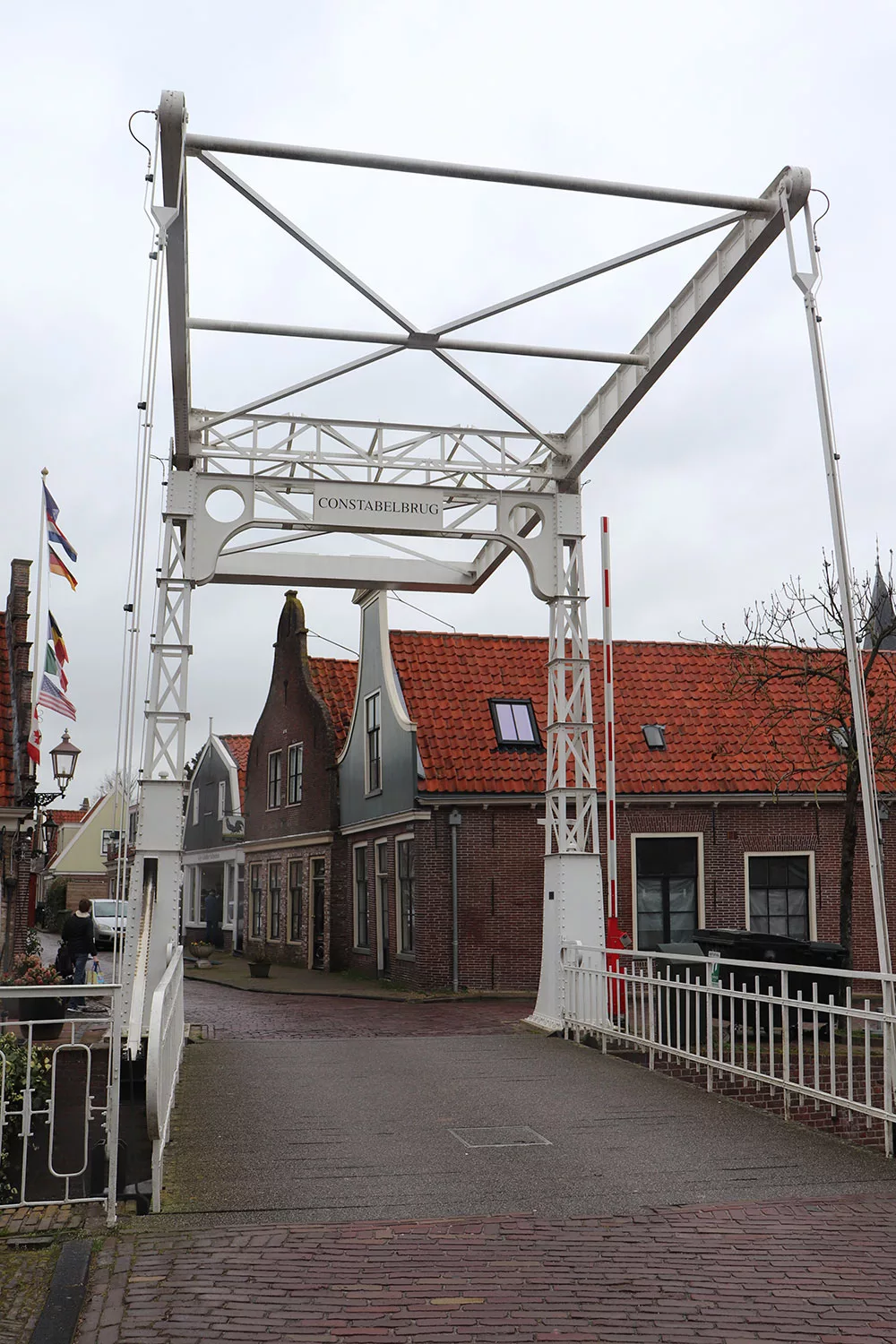 Edam was my first stop in the morning and almost everything was shut. There are a few restaurants and stores but they didn't look anywhere near opening, even when I left around 1:00pm. So it's something to keep in mind when you visit.
Volendam
Volendam started out as the harbor of Edam, but when Edam created a different harbor, Volendam became its own domain. This happened around the 15th century. It continued to have a strong fishing, and later tourism, economy through today.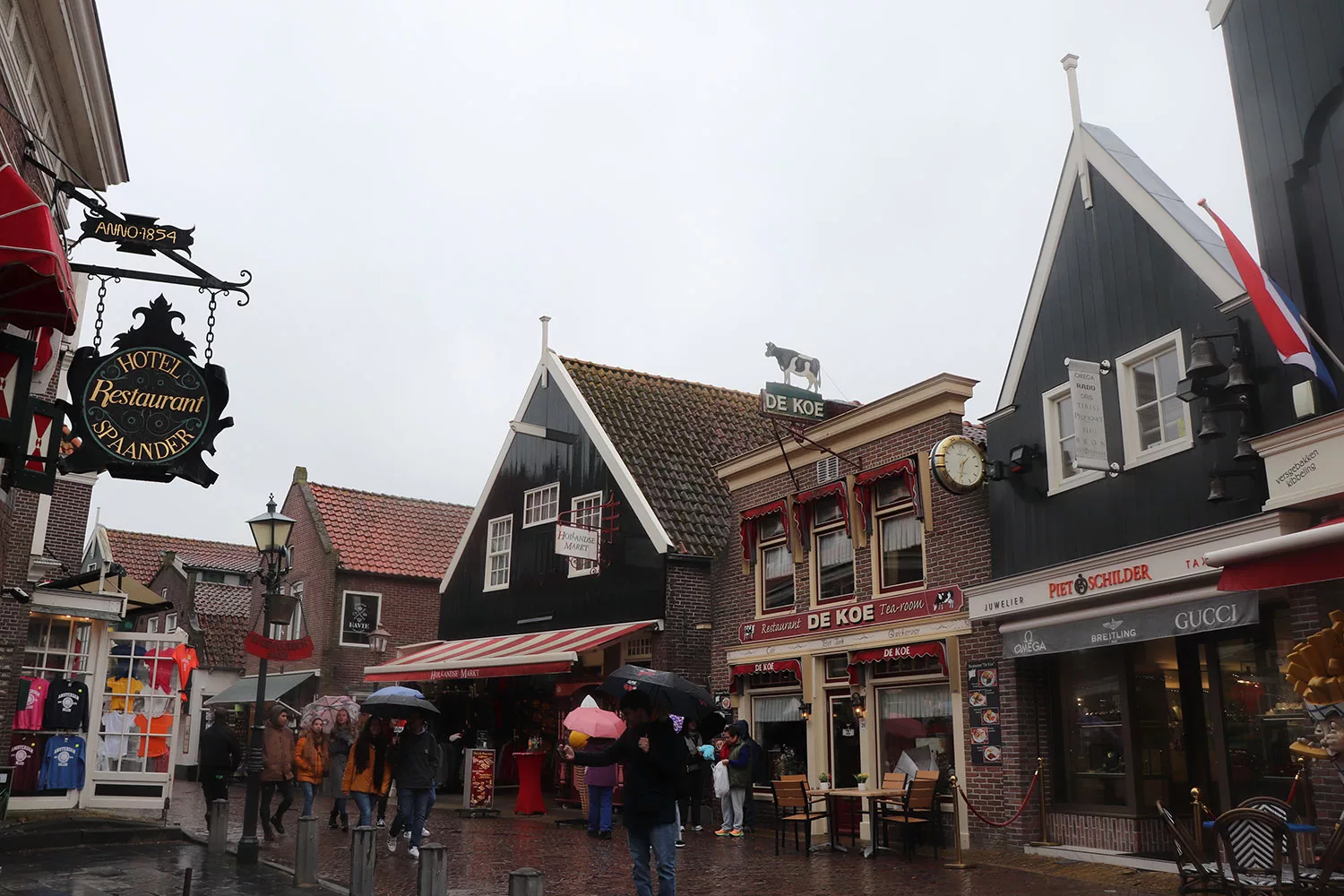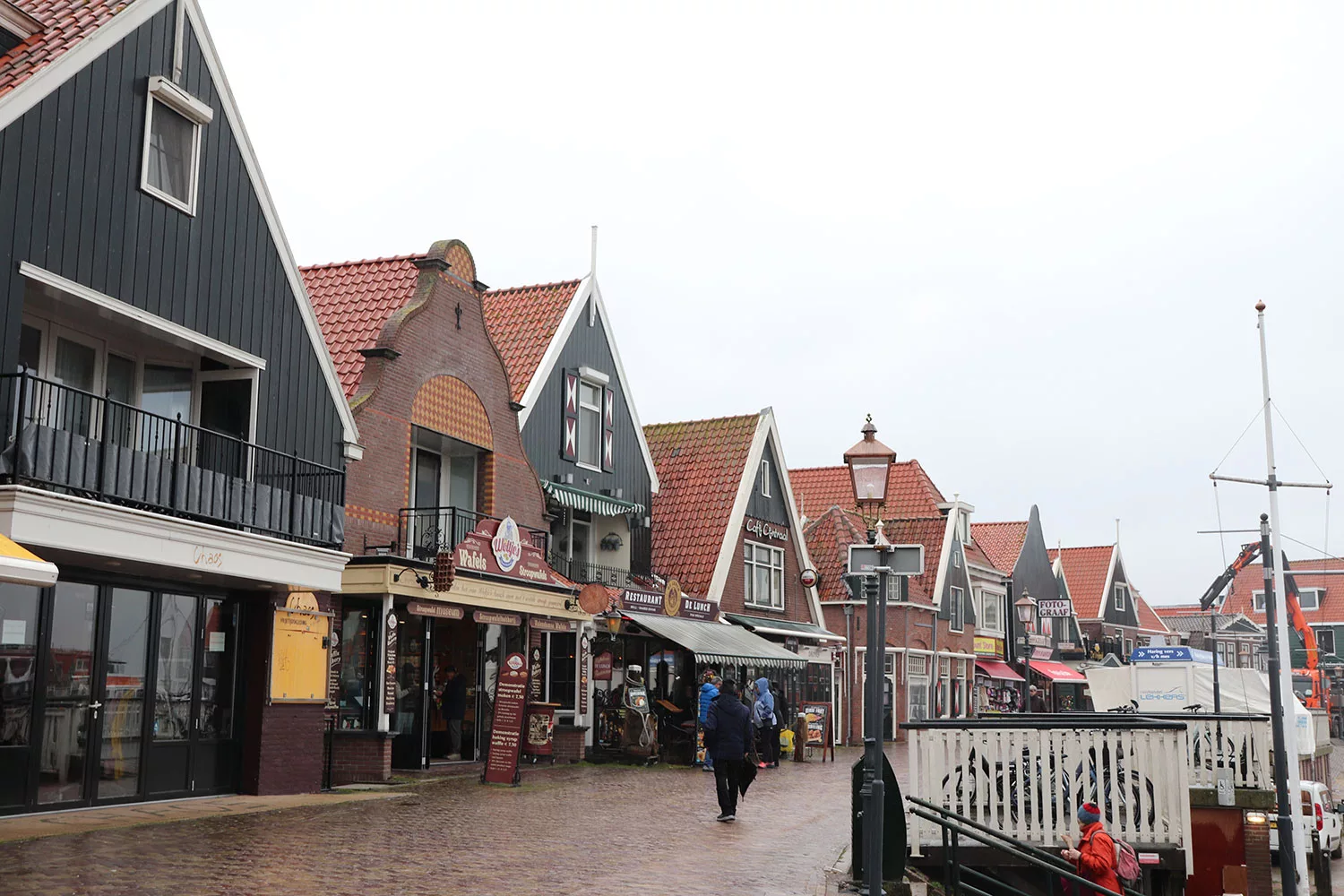 Despite its small size, Volendam is the biggest place on this list. It has a "downtown" area that goes around the harbor, and it's here you can find a selection of restaurants and shops. Of the three areas, you'll find the biggest selection of restaurants and shops here. (Note that vegetarian options are scarce.) However, Volendam is very touristy – unfortunately to a cartoonish level.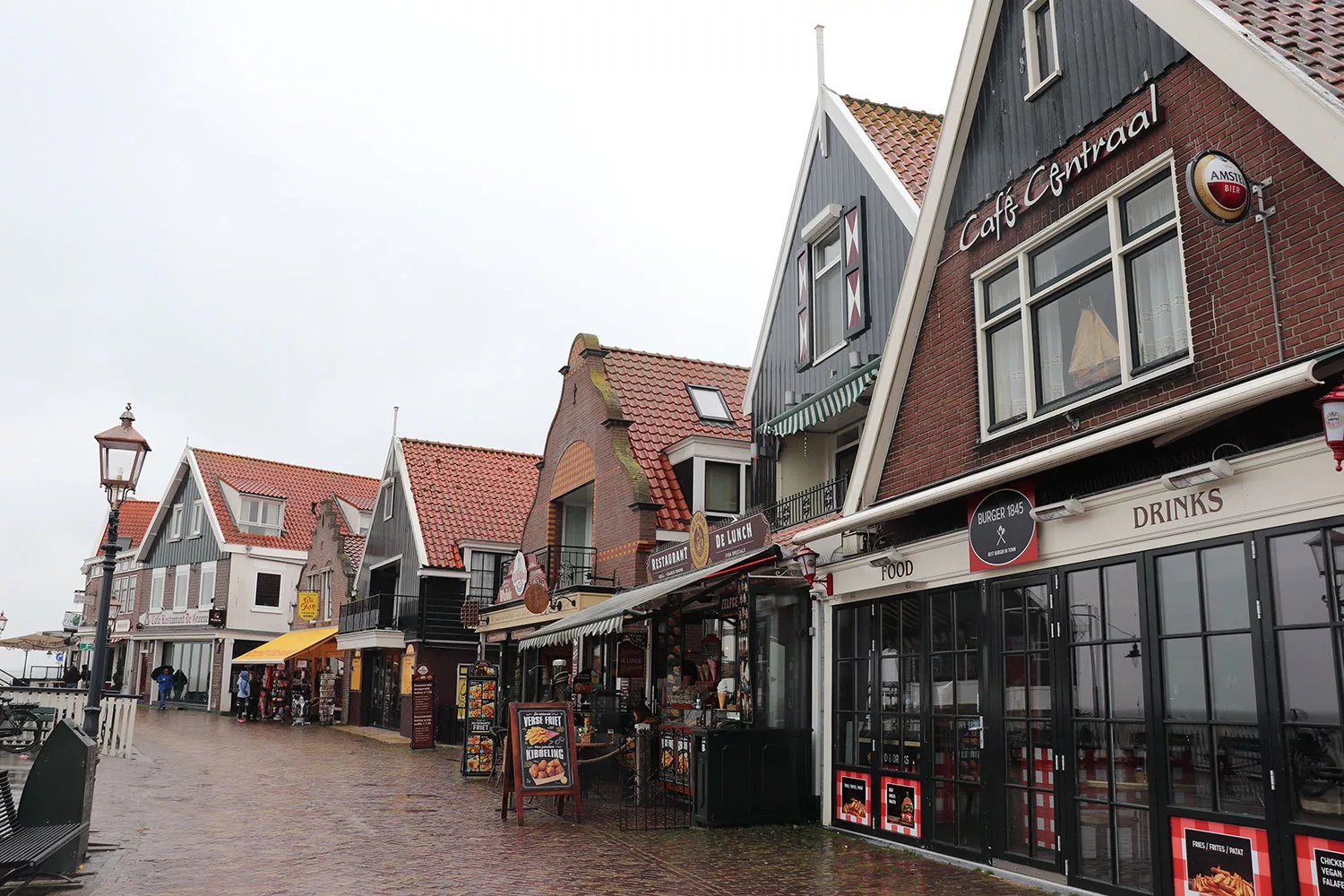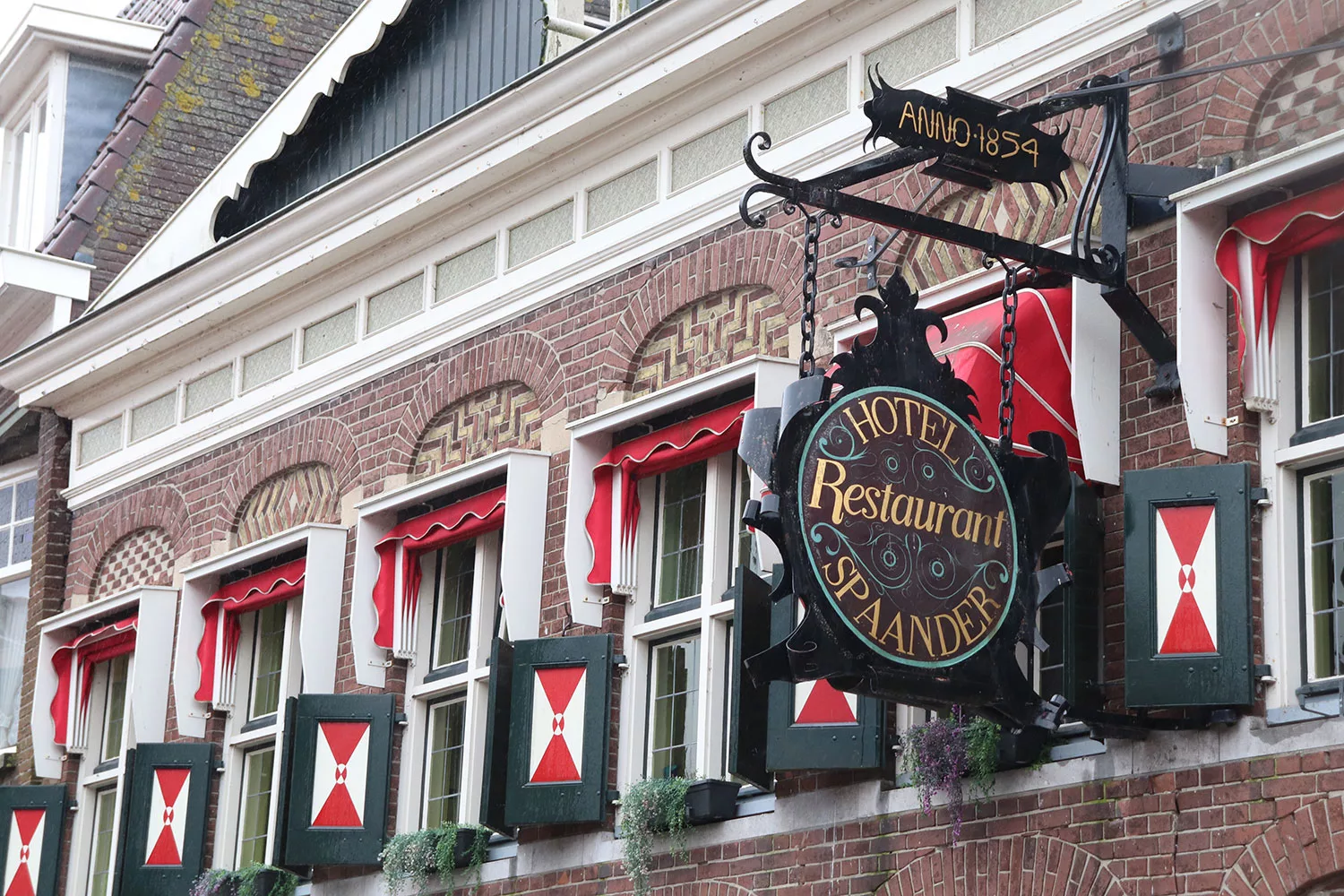 There are also a few museums like the Volendams Museum (included if you have the iAmsterdam City Card) but many of them look very small and more like lures to get you to buy things. (Disclaimer: I didn't go to any of them.)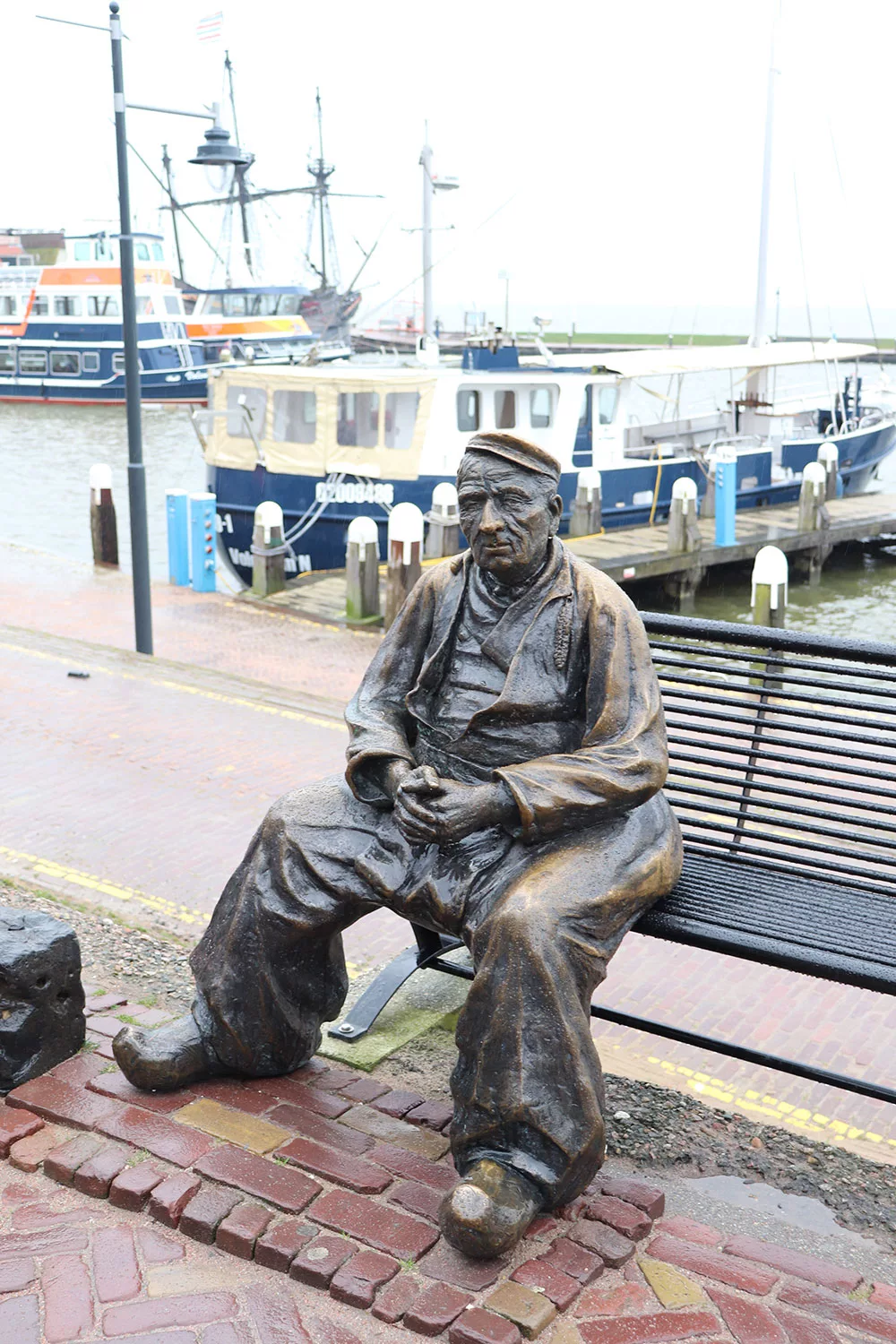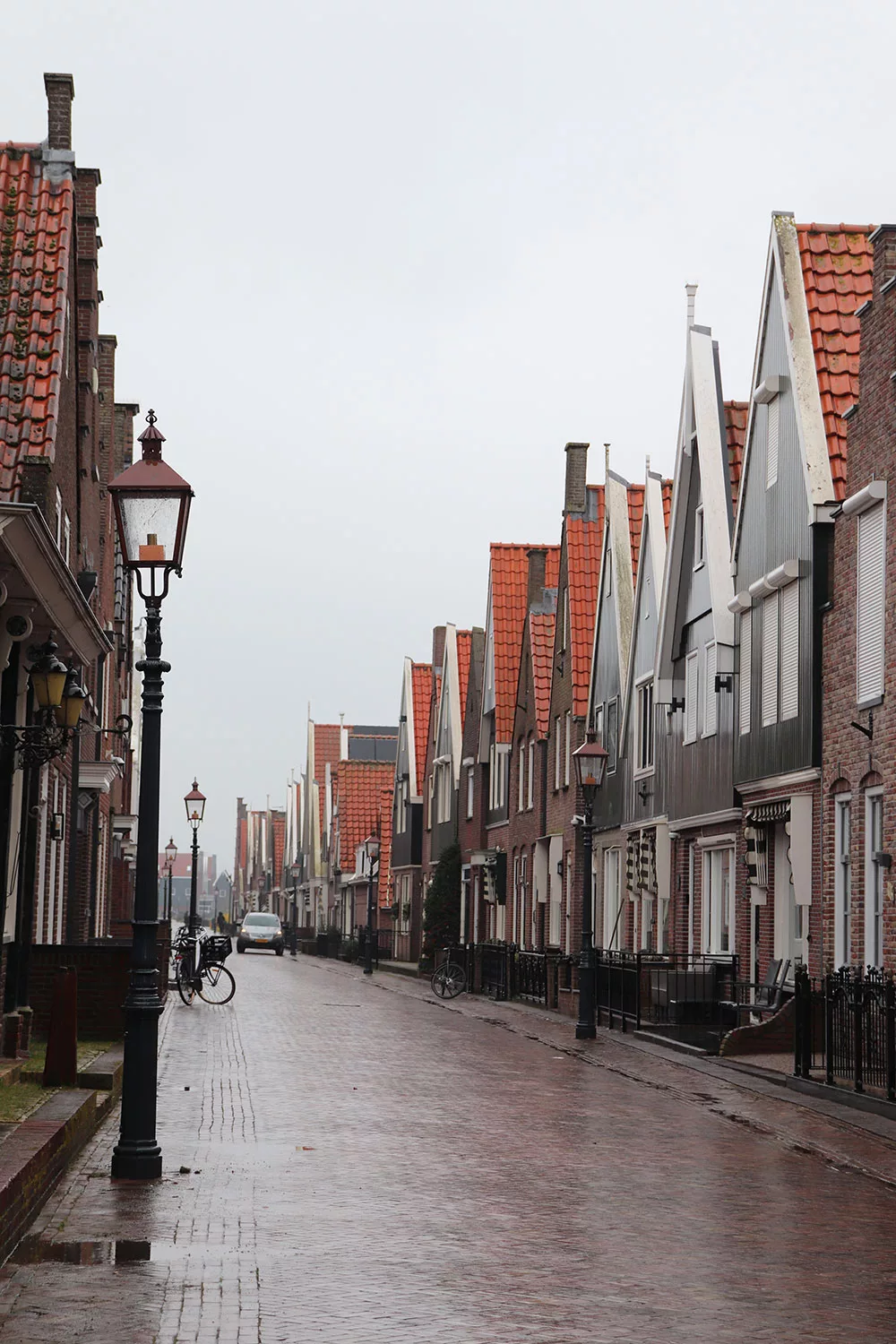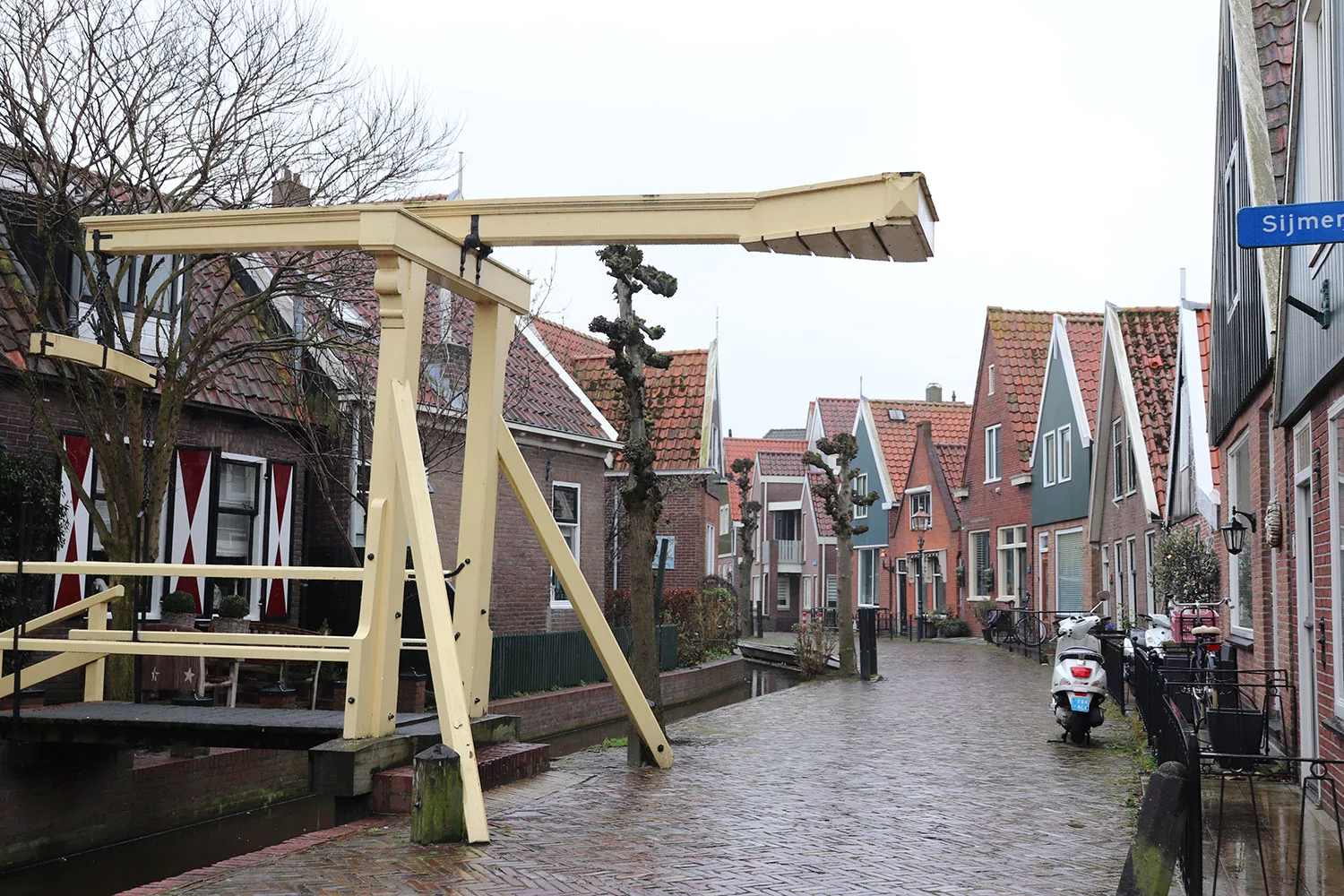 There are still a few side streets to wander around and see, and also the Volendam Kerk. Even though the town is centuries old, many of the buildings are newer are date to the 19th-20th centuries when it was still a fishing village. It's still quite cute and the harborside is lovely.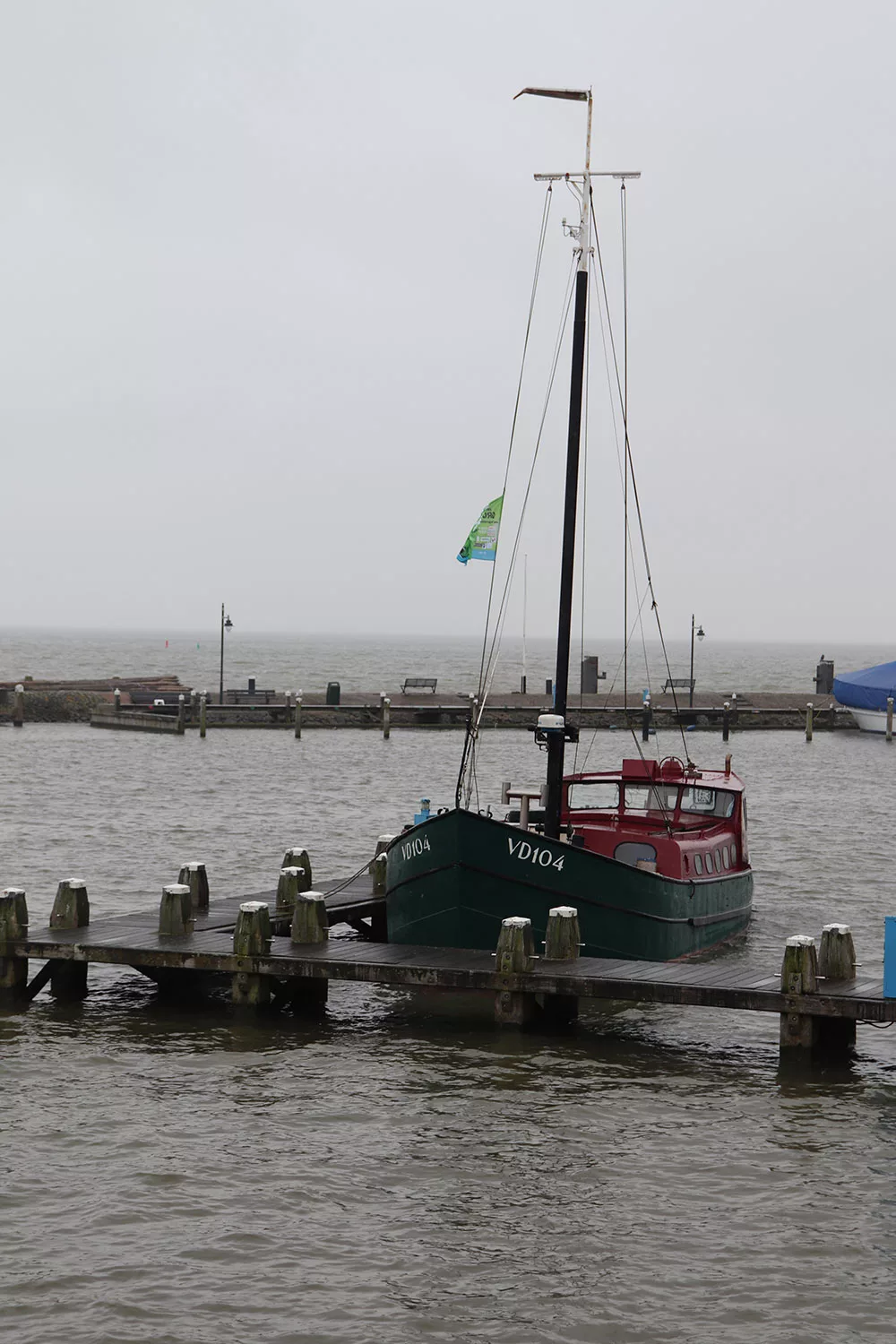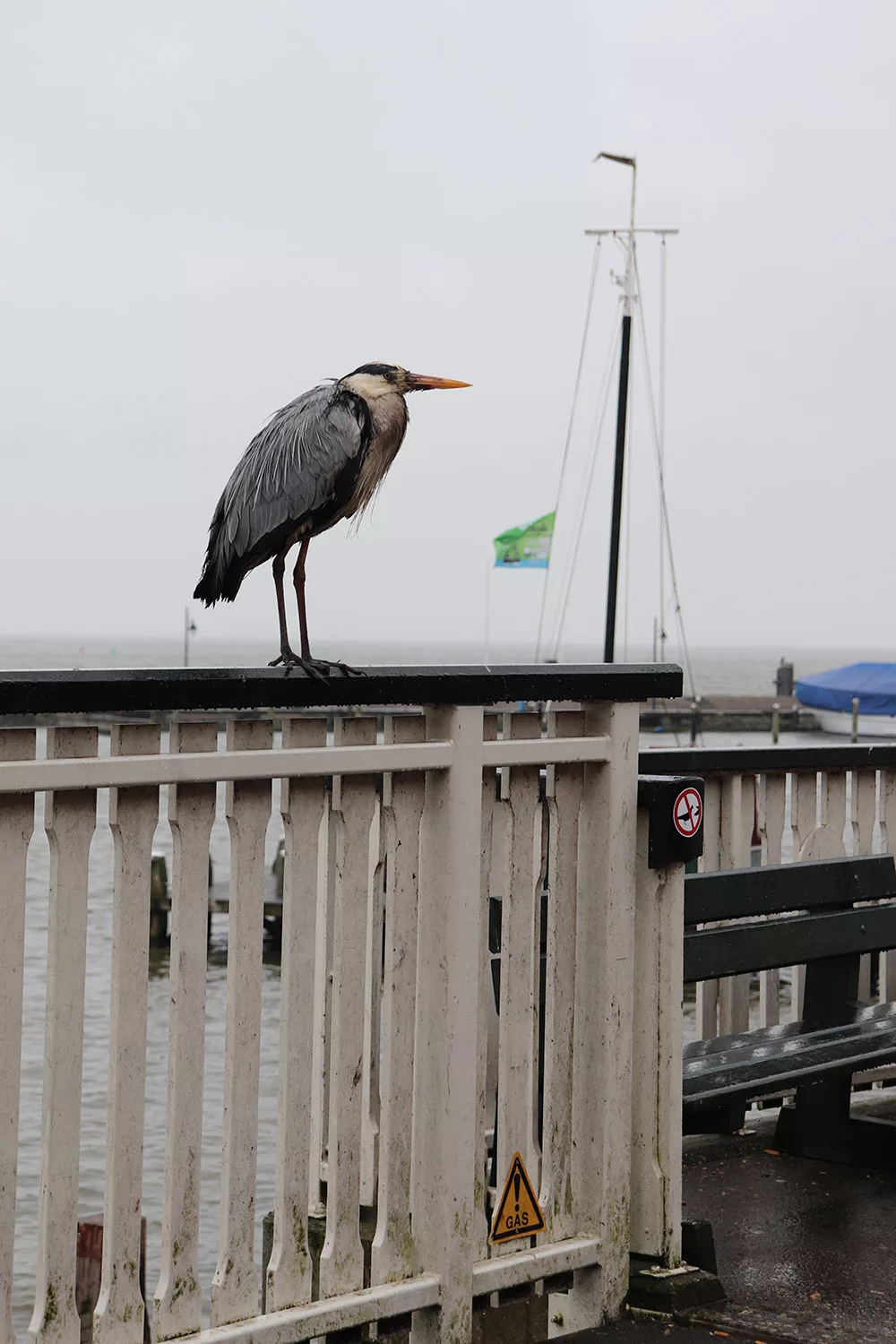 Volendam was my least favourite of the three because it lacked local flavor. However, it's still a solid stop between Edam and Marken, and the safest choice for getting something to eat.
Marken
Marken is the smallest place on this list and it is a tiny, tiny place. The history of Marken is a bit more obscure but it's centuries newer than Edam and Volendam. Marken as it's known today dates to around the 18th century, when it was on an island, and has always drawn some type of tourism.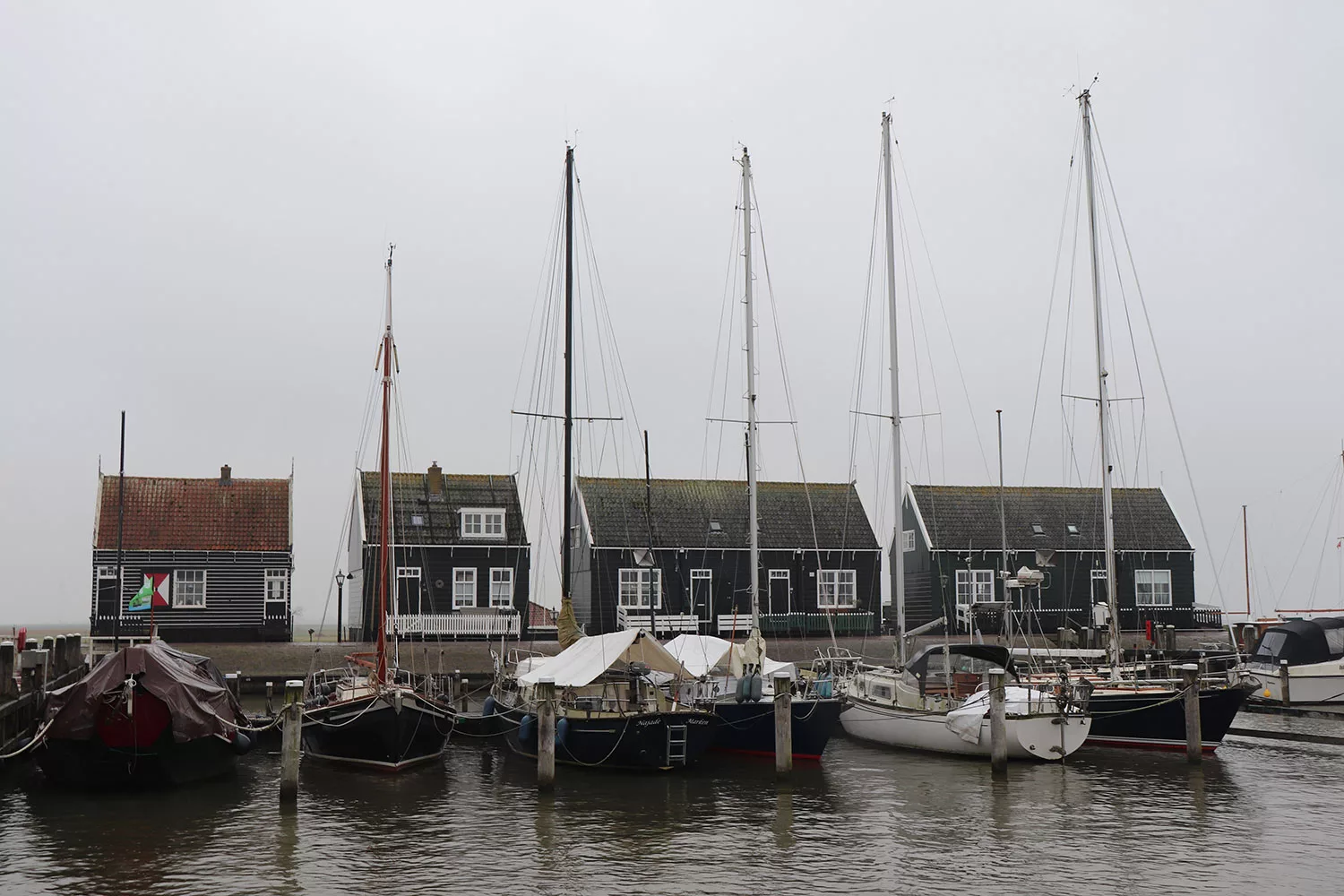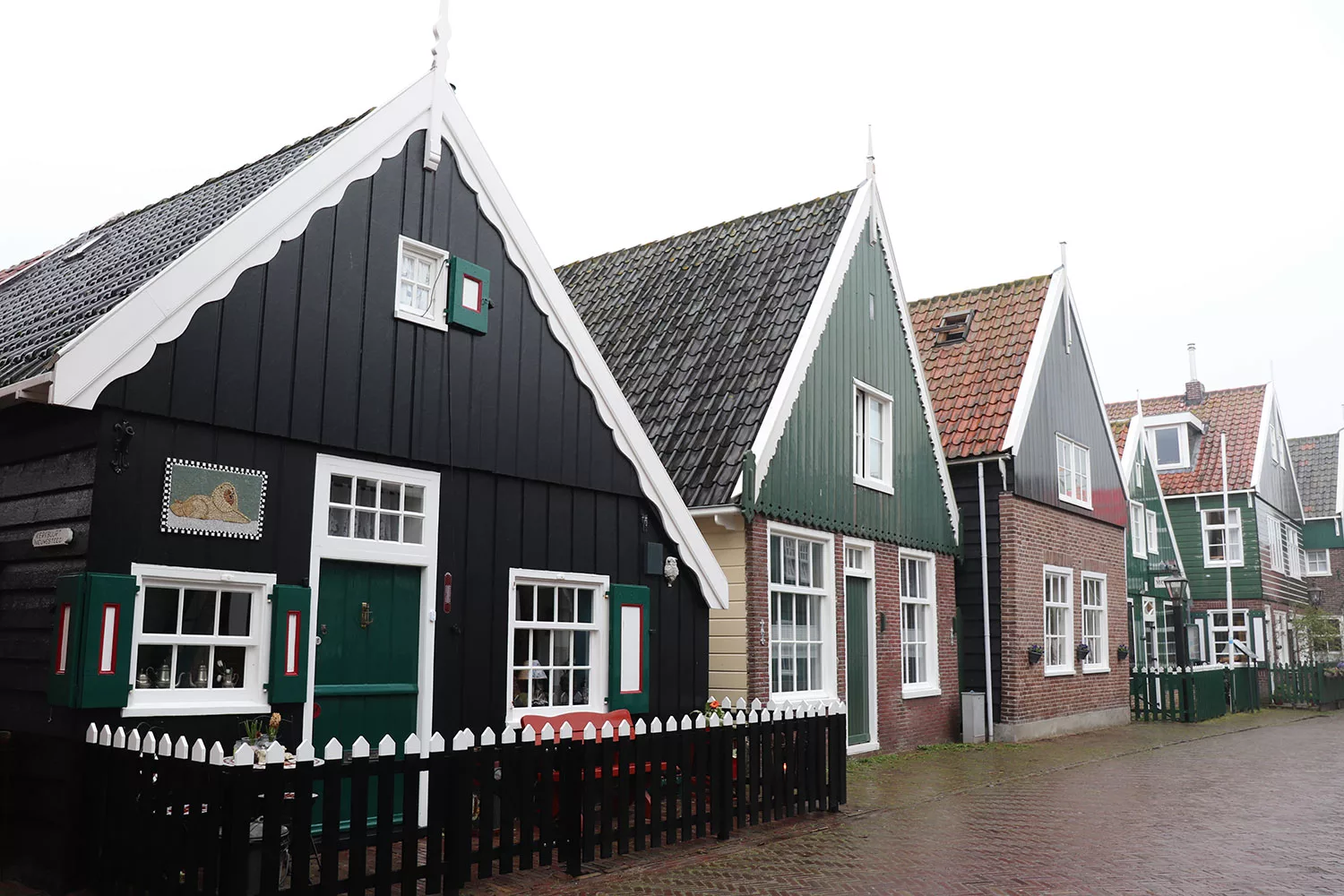 There are a few small museums in Marken, including the Sijtje Boes Experience house museum and a Marken Museum. But again, the real draw is walking around the charming town. There's the lovely harbor area but you should also make your way around Marken's quaint streets, especially near the Grote Kerk. With old, colourful wooden houses on stilts, surrounded by the flat farmland and canals that characterise the Dutch countryside, Marken is definitely the most rustic place on this list. And I think along with Edam, I really enjoyed it.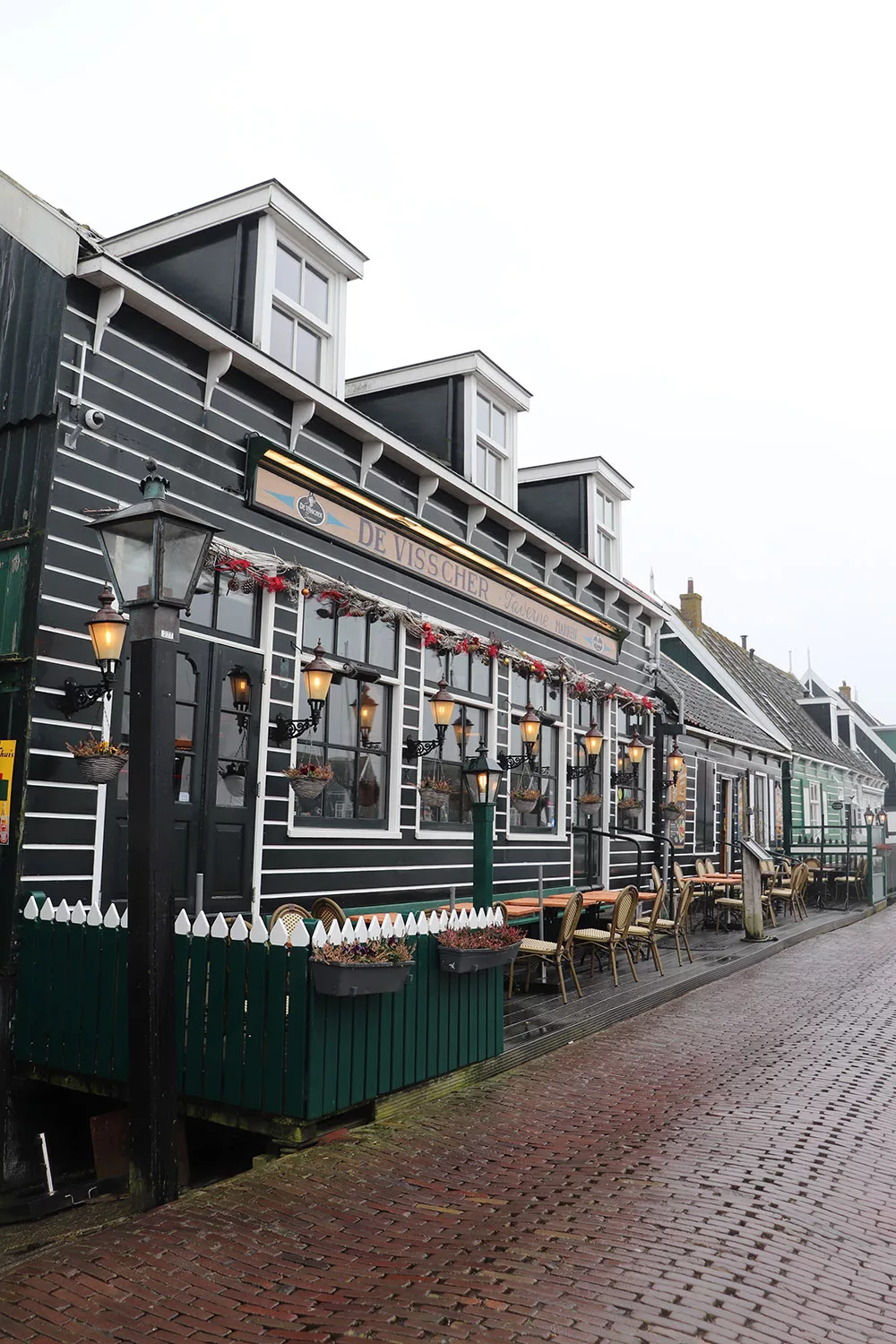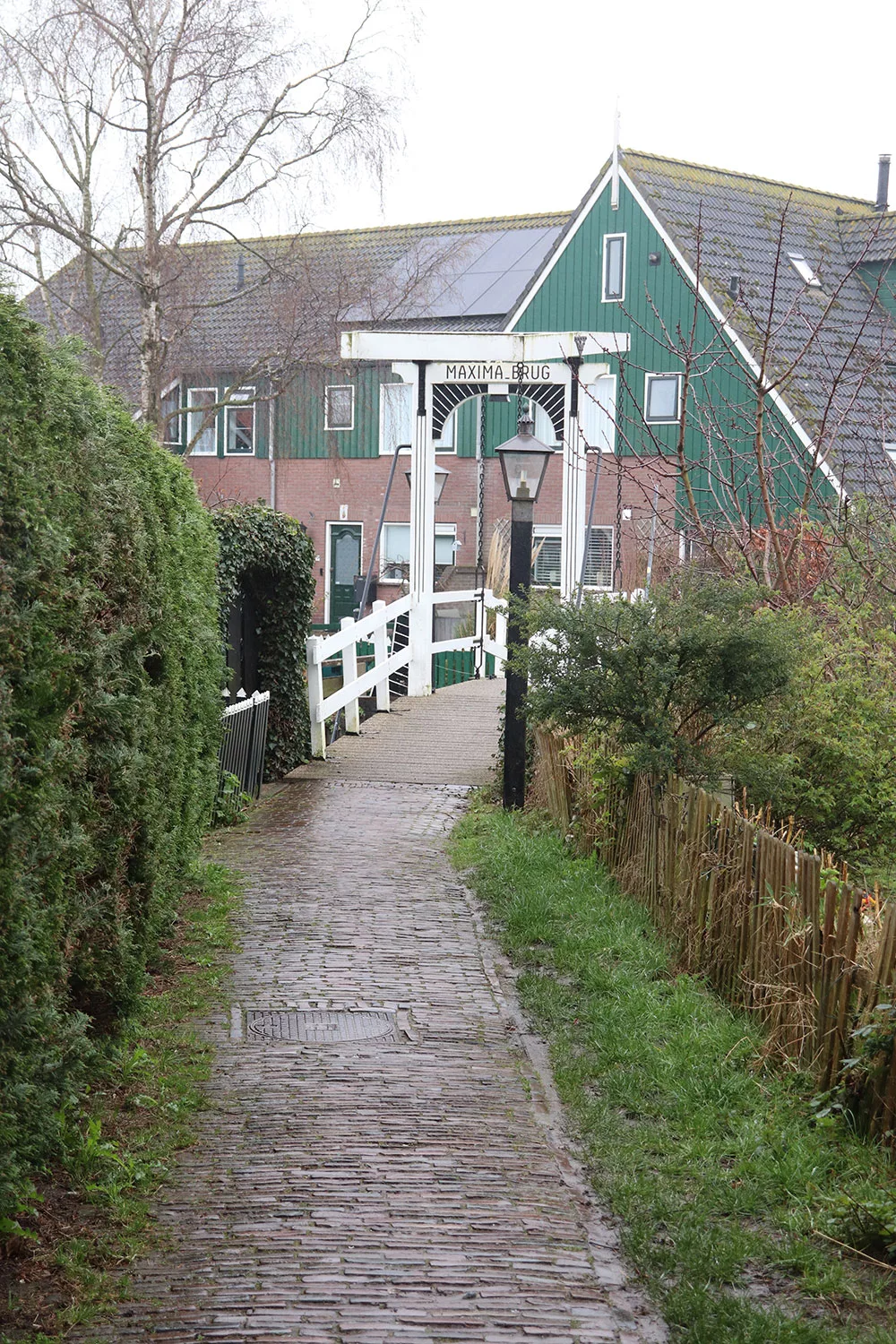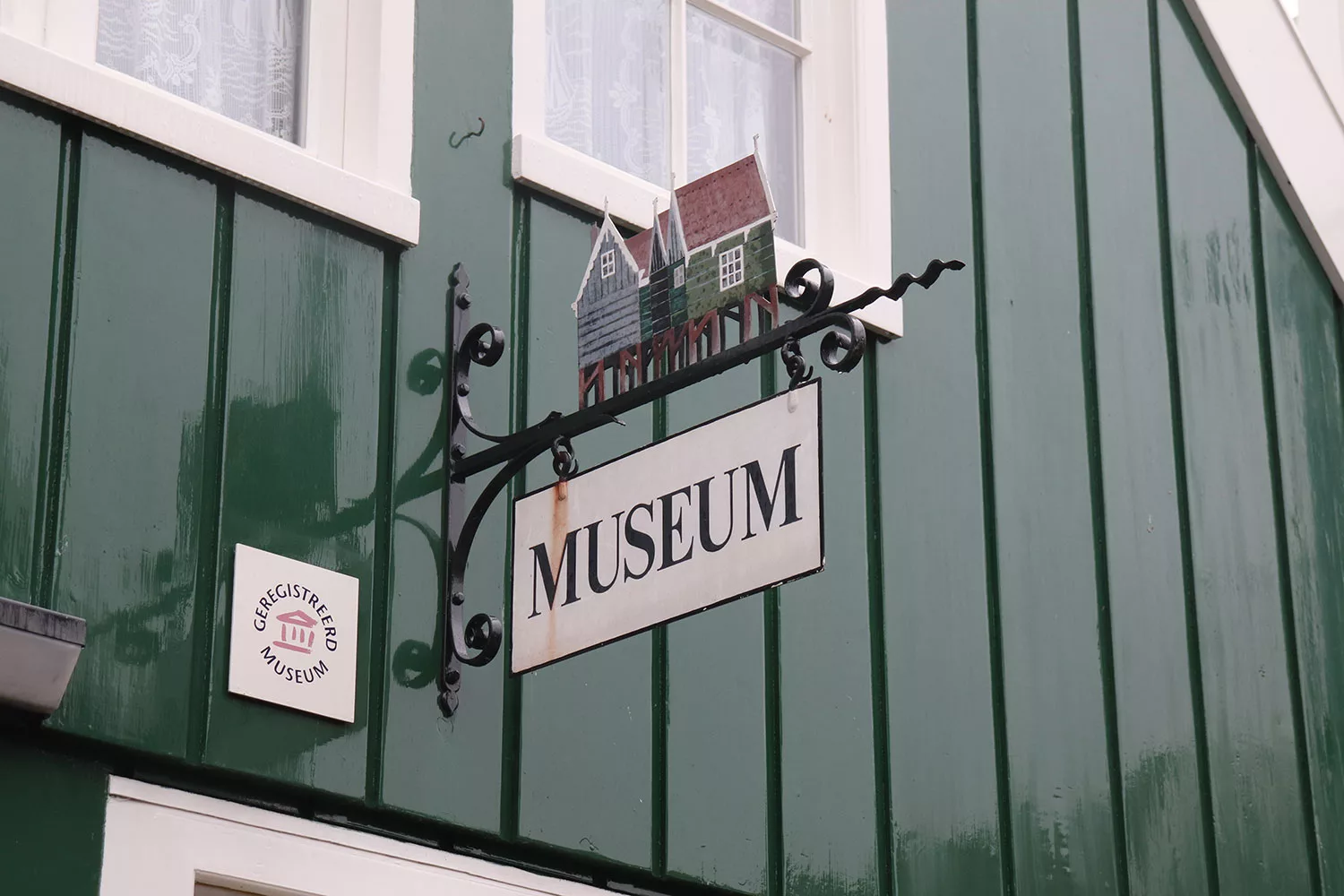 Marken has a few restaurants but not many. One you'll see advertised a lot is Taverne de Visscher, which is cute but expensive, so I definitely recommend looking at another place to eat.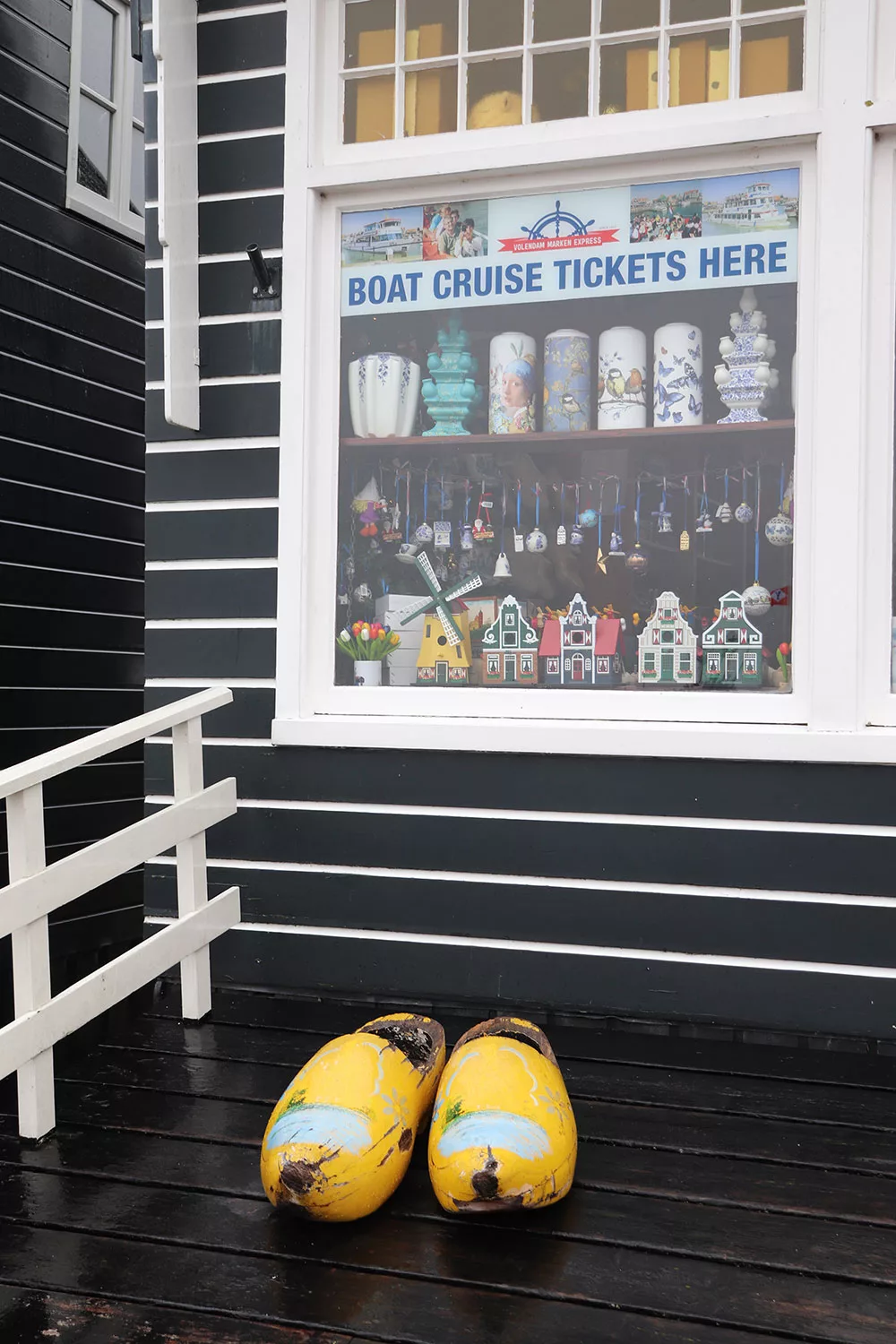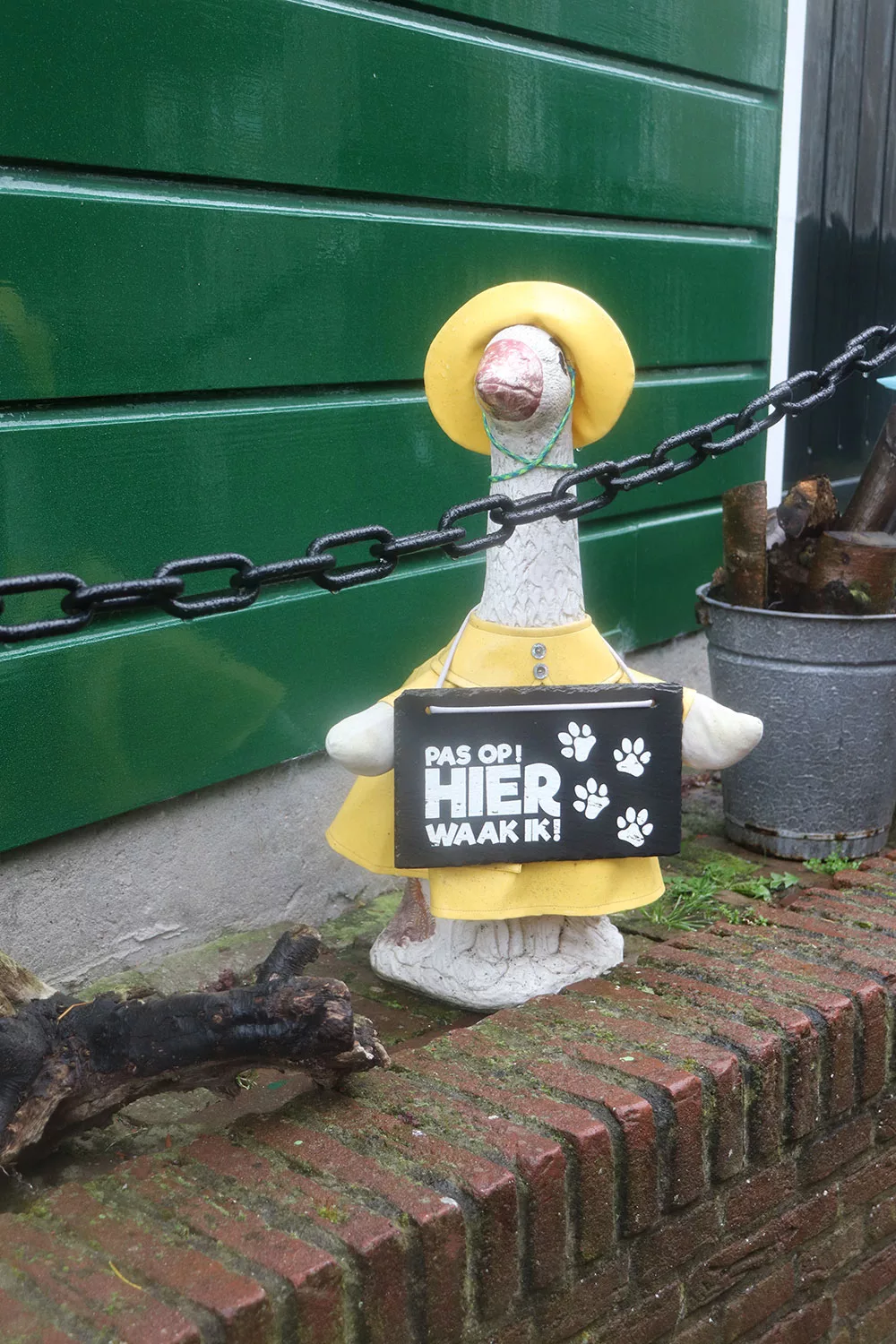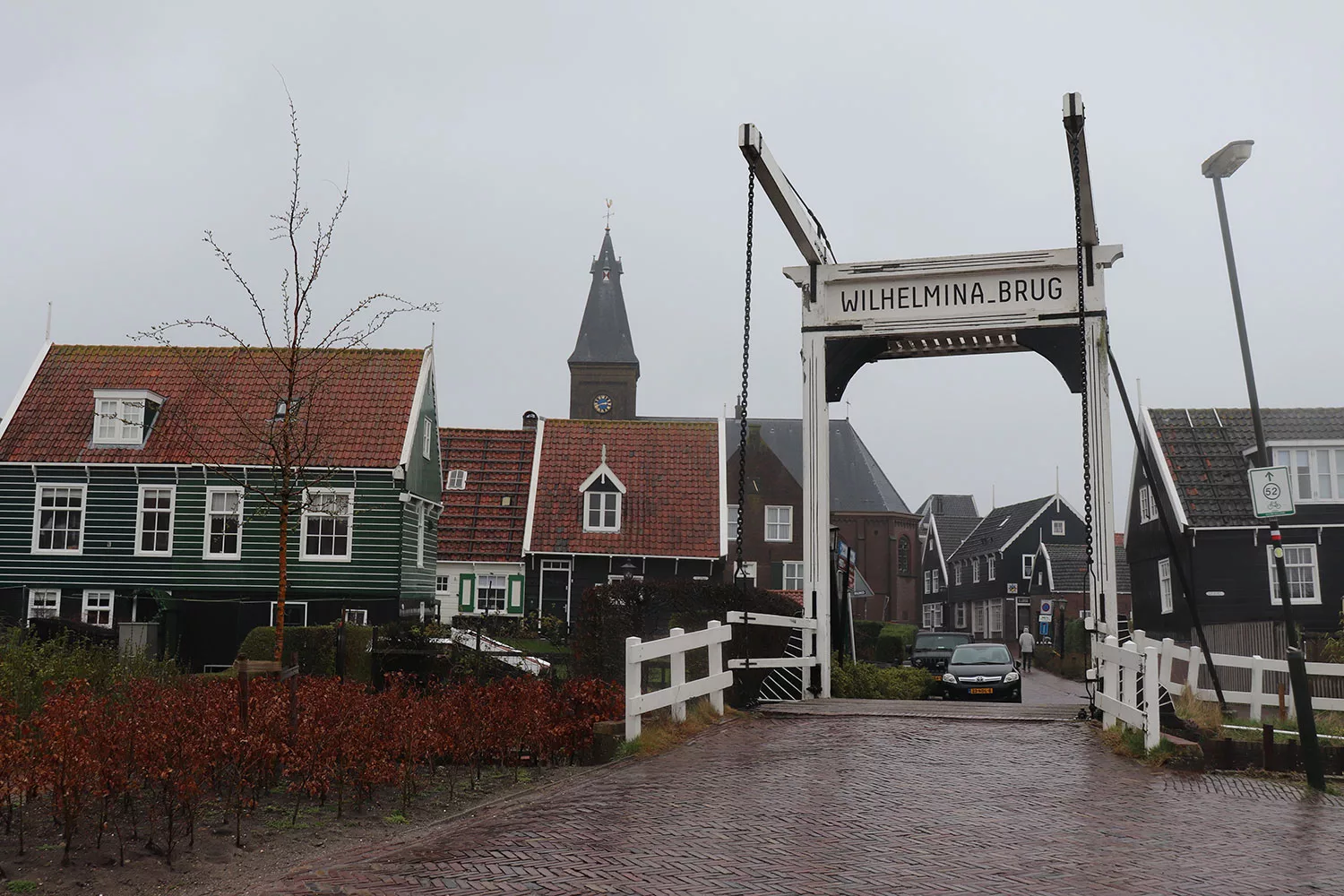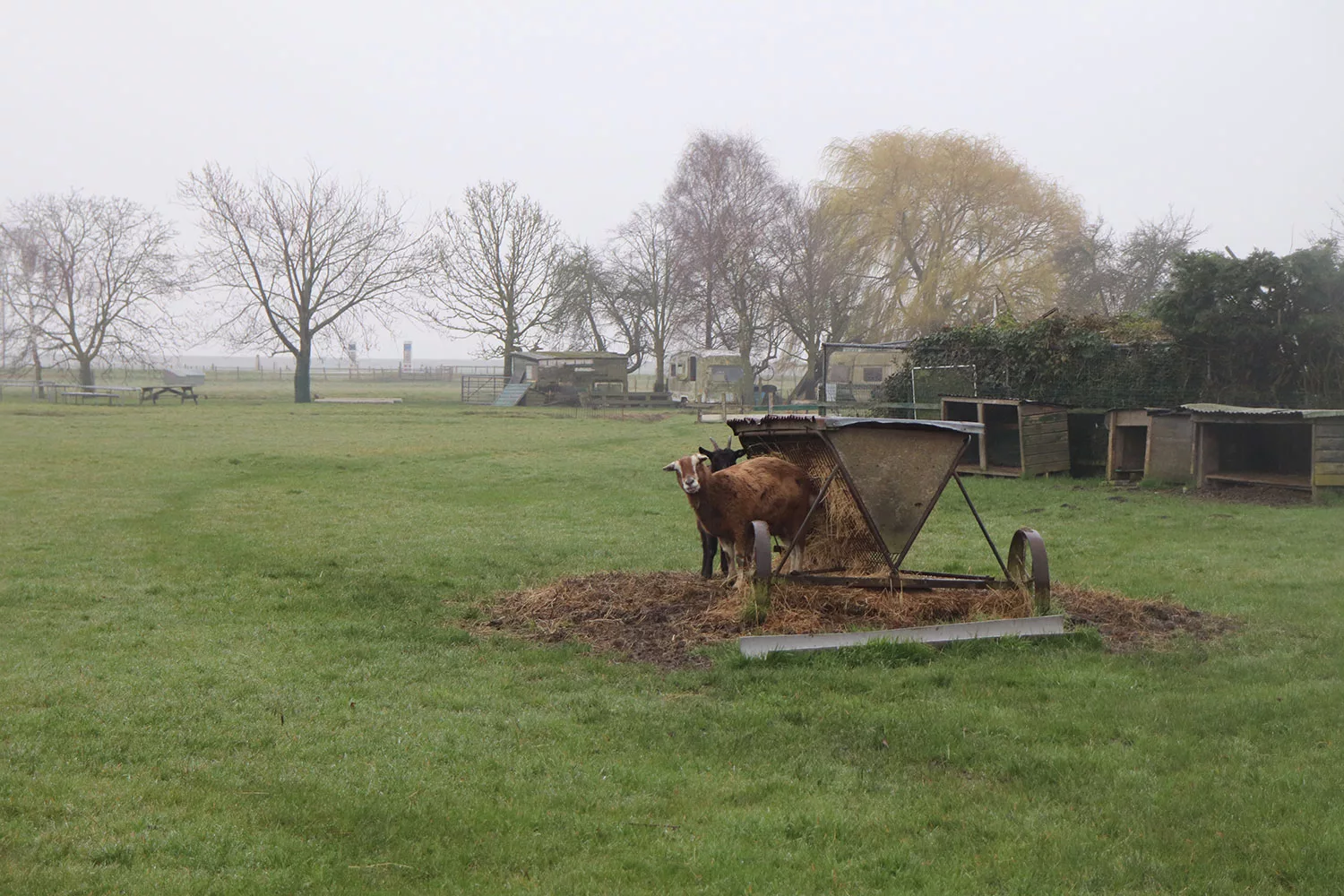 It doesn't take long to explore – maybe half an hour. I probably spent a little longer by taking photos.
Getting to Edam, Volendam and Marken
Getting to Edam and Volendam from Amsterdam is very easy. The 316 bus leaves from Amsterdam Centraal and has several stops in both places. On a nice day, you can also walk between Edam and Volendam as it takes around 45 minutes.
If you want to go between Amsterdam and Marken, you'll need to go to Amsterdam Noord station but then the 315 bus takes you all the way to Marken.
There is a bus route from Volendam to Marken but it is not direct. However there is the Volendam-Marken Express that goes between the two places and costs about 10 euros (included if you have an iAmsterdam City Card).
In total, public transport for doing this trip is about 25 euros.
There are also several organised tours via GetYourGuide and Viator. However these give you about 1 hour in each location. Each place is small so this is not a bad option, but certainly one that allows for less freedom.
Some also add in a trip to Zaanse Schans. I do not recommend going to Zaanse Schans as well if you are doing the self-guided tour, as you'll need to transfer through Amsterdam to get there. When the days are long, you'll probably be able to fit it in to see the old buildings and windmills, but everything will be closed by the time you get there.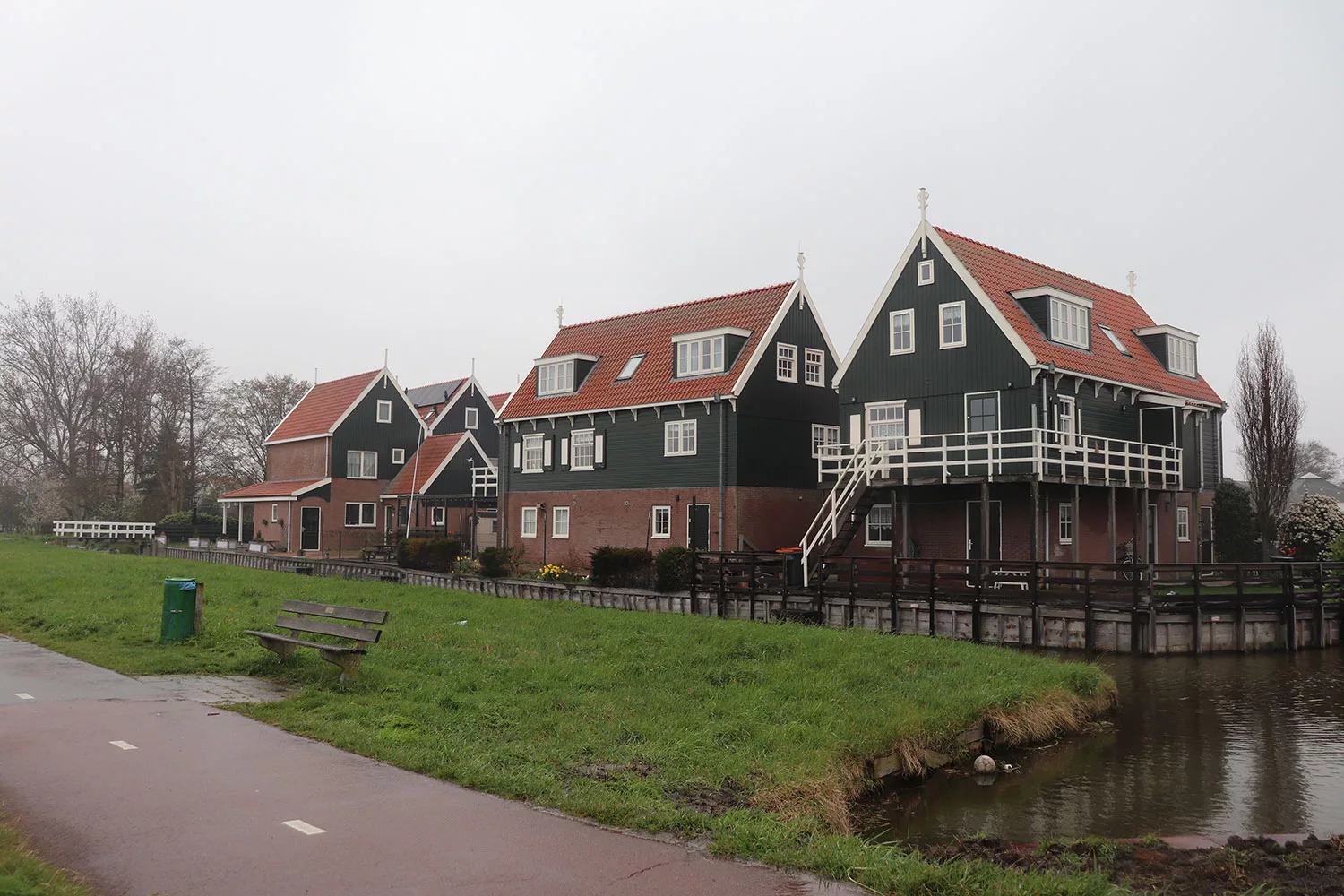 I hope this post showed you what to expect from these 3 charming Dutch towns! Personally, seeing Edam, Volendam, and Marken was a highlight of my trip to the Netherlands and I'd highly recommend it.
Please note that this post may contain affiliate links. These are at no additional cost to you but I receive a commission if you make a purchase through the link, and the commission helps me run my blog. Thanks for your support!
Tags:
edam
,
europe
,
marken
,
the netherlands
,
volendam
Sharing is Caring
Want to support me?
Buy me a Coffee