Visiting Pienza, a Cute Tuscan Town – Things to Do & Travel Guide
Originally published on Sunday, May 28, 2023
I went on a day tour of Tuscan towns and Pienza was on the itinerary. I didn't know much about it before arriving, but it's a small Renaissance town with beautiful views of the Tuscan countryside – the Val d'Orcia. We had about 2 hours there and I absolutely loved it. Even though the town is tiny, I would recommend a stay of longer than 2 hours.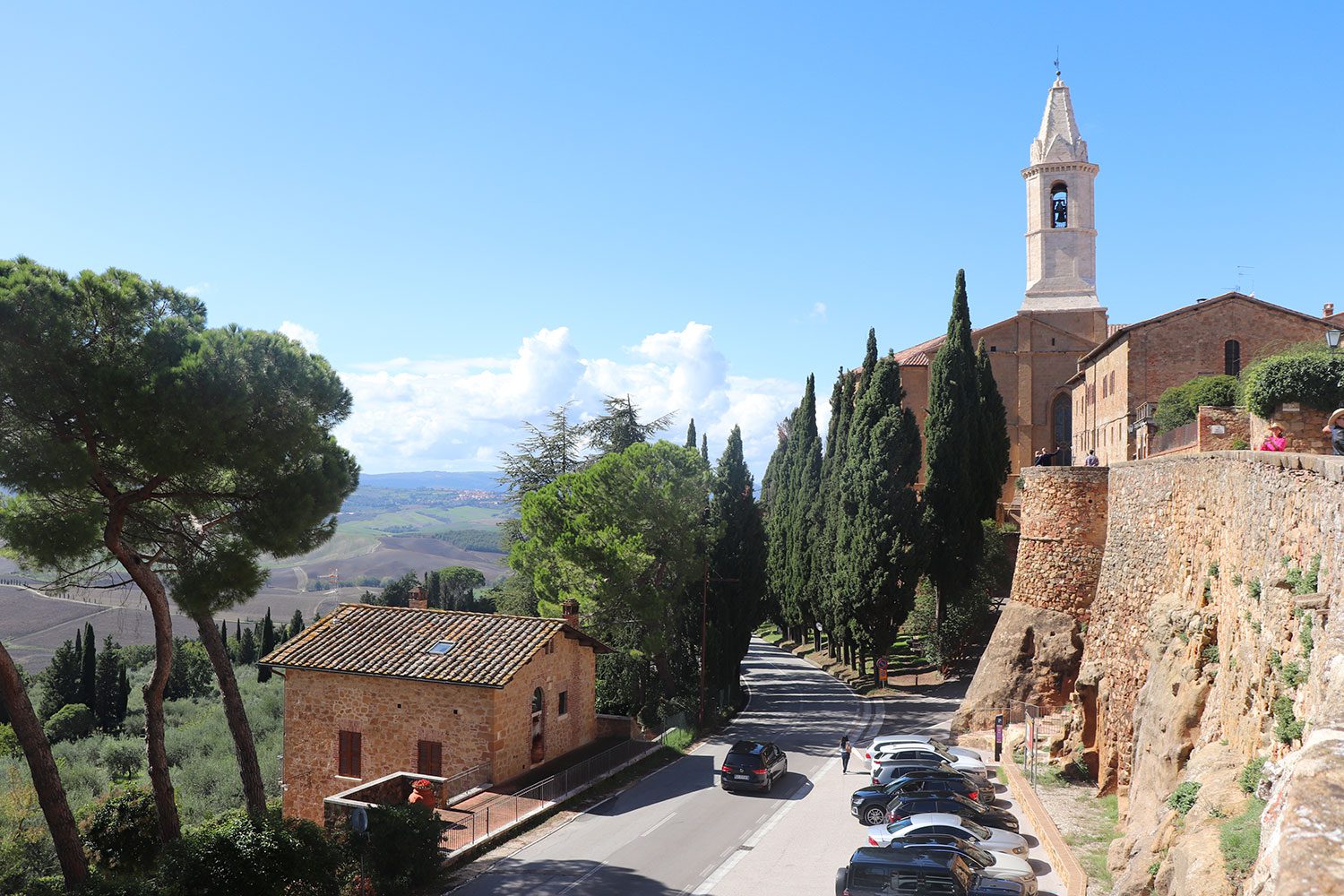 The History of Pienza
Pienza's original name was Corsignano and was established in the early medieval era. But Pienza's history changed drastically when a man named Enea Silvio Piccolomini – popularly known as Pope Pius II – was born there in 1405. Pope Pius II wanted his birthplace to be completely redone, and so it was.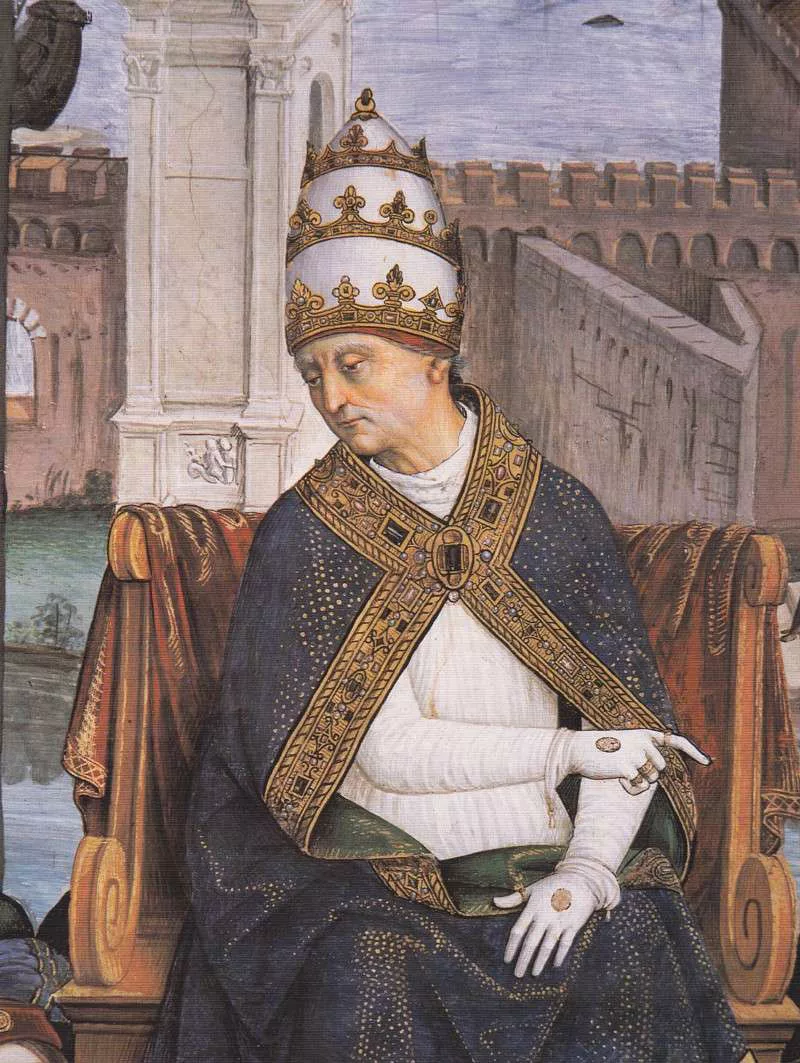 Pope Pius II by Pinturicchio
He enlisted the architect Bernardo Rossellino to design the new city in the Renaissance style, which was supposed to be an "ideal town." Construction started in 1459. It must have been so weird – exciting? upsetting? – for the residents of Corsignano to see their town completely redone. But it was, until the pope died in 1464. But as you can see today, a good chunk of the town was finished during these five years. It was renamed Pienza after the pope.
Today the town is a UNESCO World Heritage Site.
Exploring Pienza Today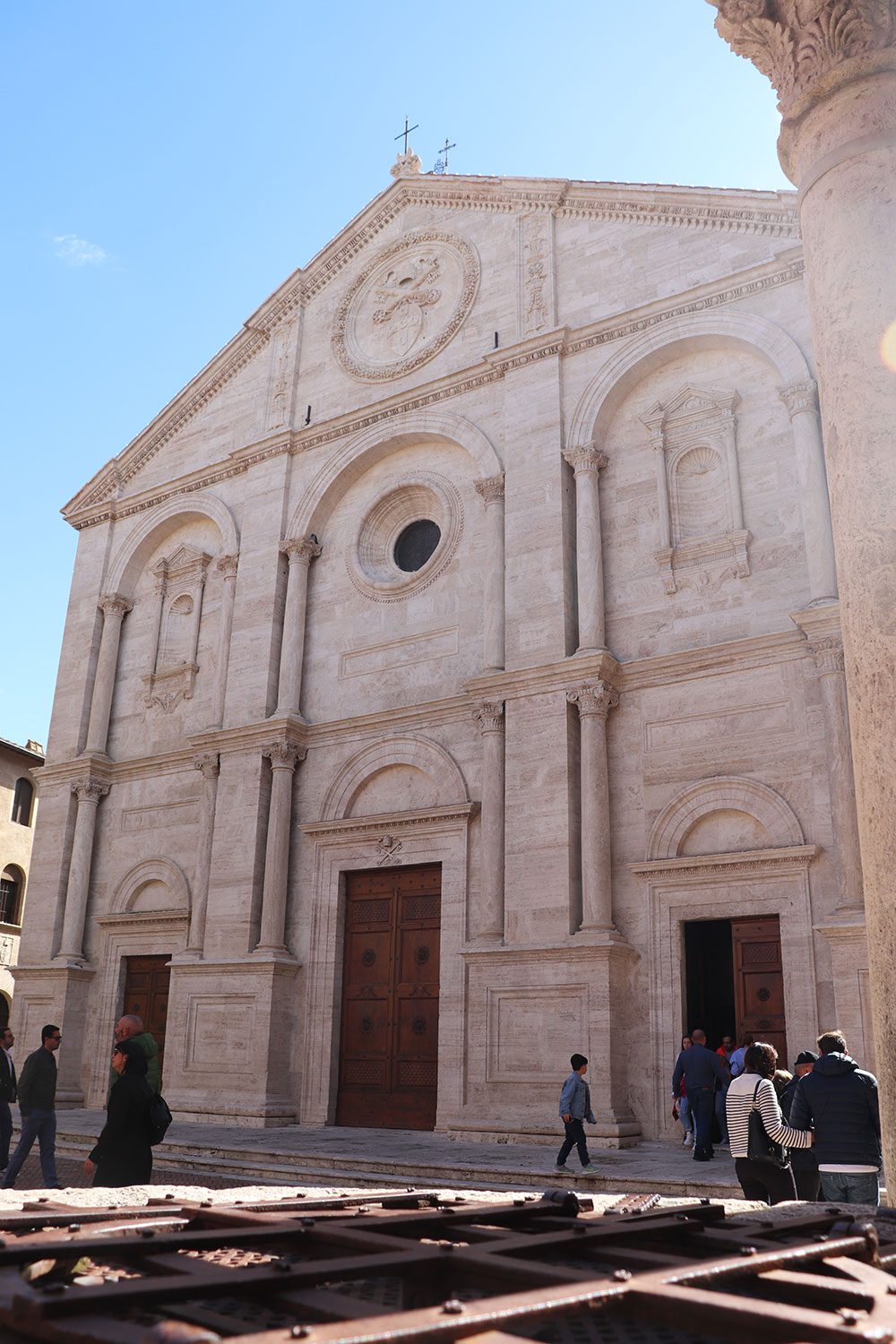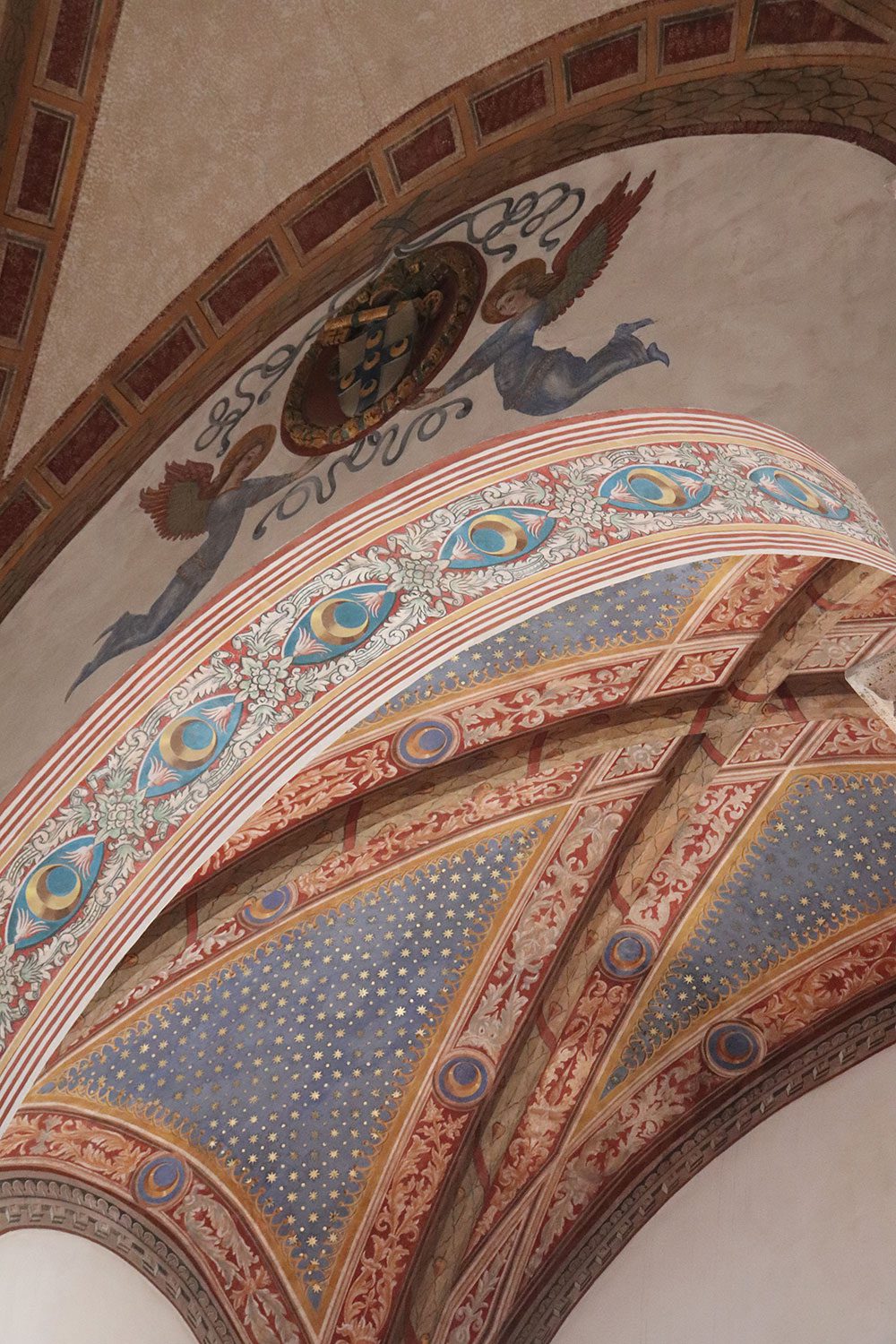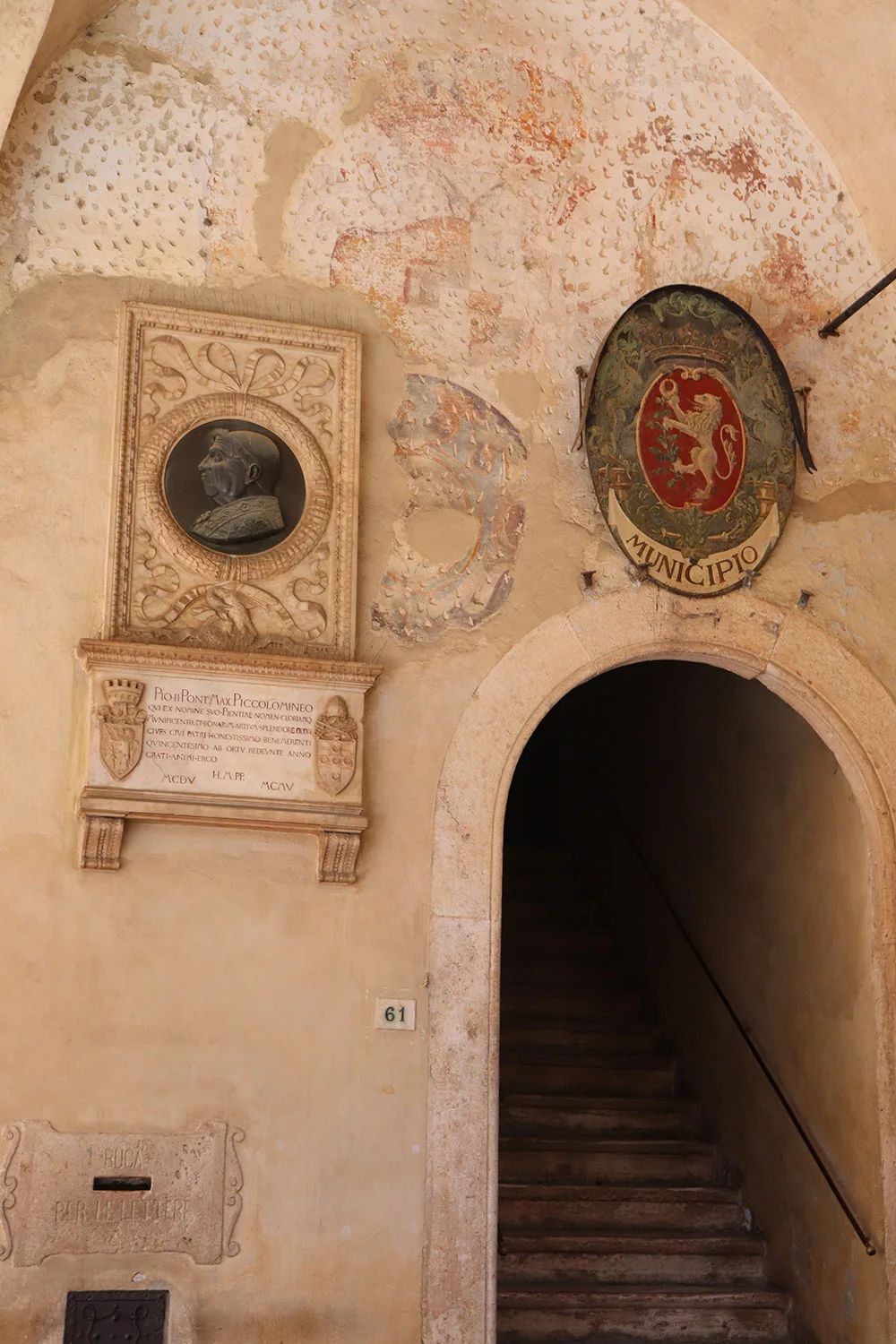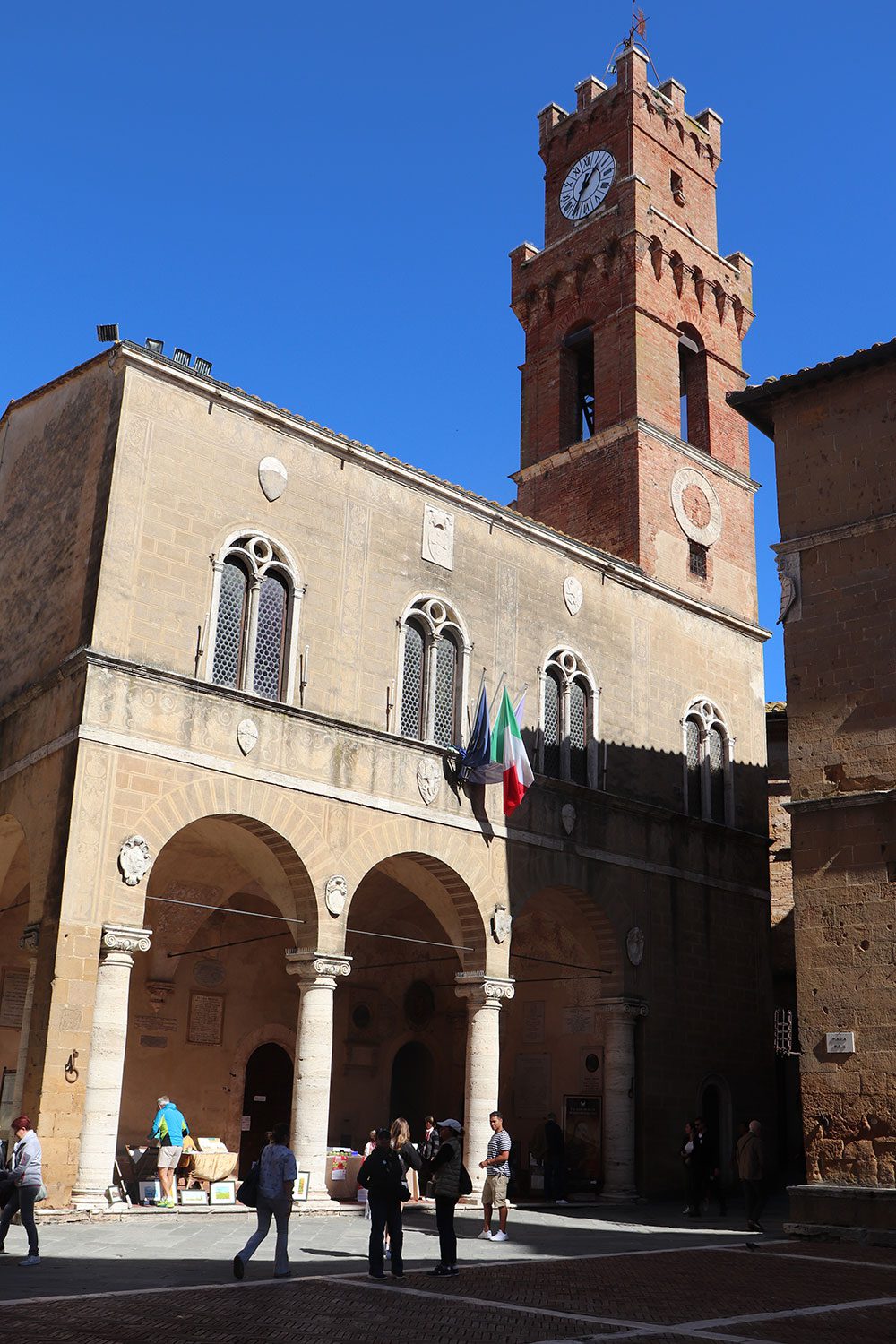 The heart of the town is the Duomo or cathedral, which was of course built in 1459 when construction started on the town. The inside's a little bit plainer but it is free to enter. You'll see it's right off the main square, called Piazza Pio II, which is quite charming. Across the way you'll see the Town Hall which is in an unusually light style compared to the foreboding architecture of the rest of the town.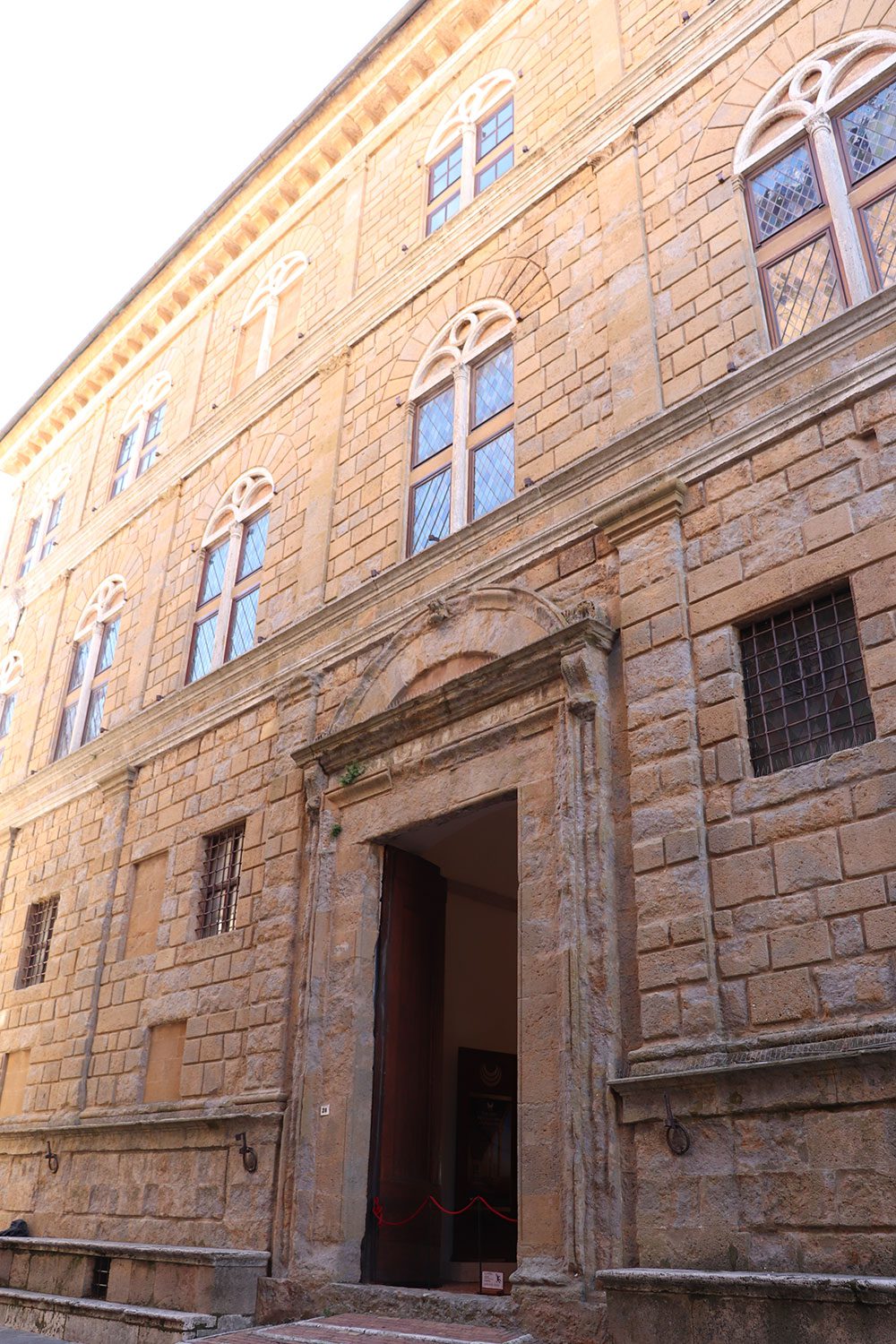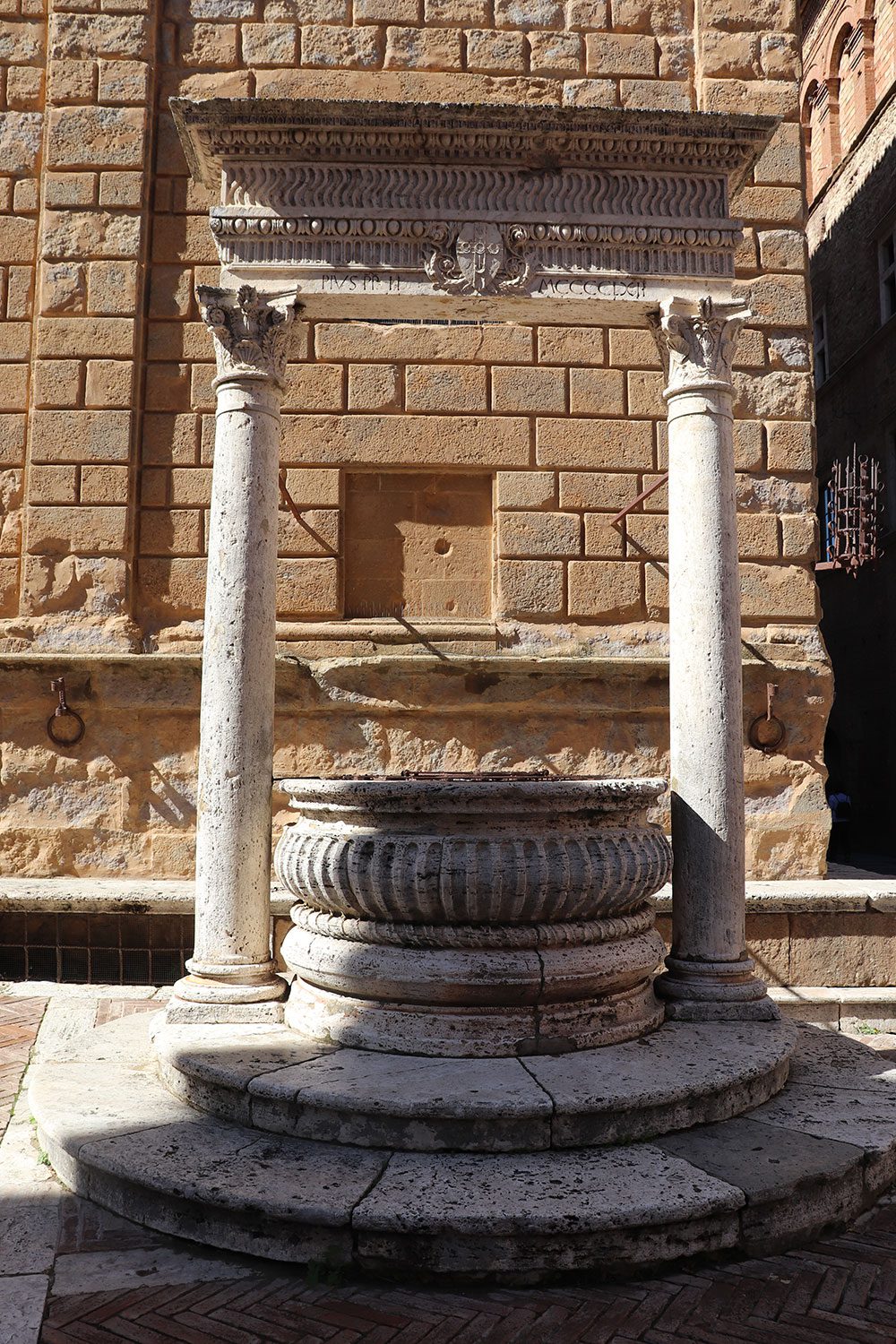 To the left of the cathedral is the Palazzo Borgia which has religious art, though I believe you need to pay a fee to go in. To the right is Palazzo Piccolomini which is free to go inside, though it's honestly a little unimpressive. Back in the square, you'll probably notice the lovely well which is called the "Well of the Dogs," but I'm not really sure why. I feel like I was told why on my tour but unfortunately, I can't remember!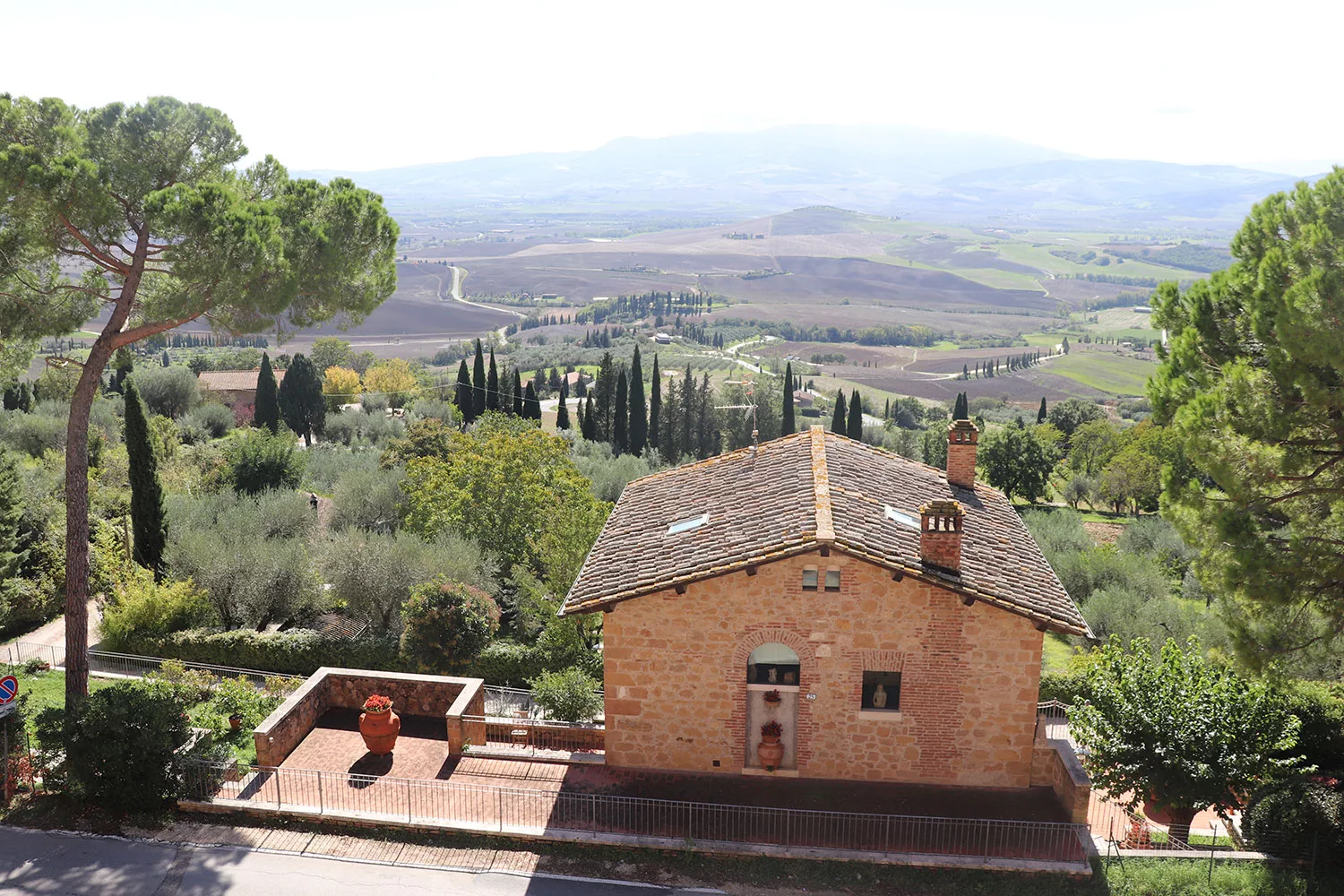 I may as well mention that it's behind the piazza and cathedral where you can see sweeping, beautiful views of the Val d'Orcia. There's a pedestrian pathway and there are many great photo opportunities, even though none of them will be as beautiful as how it is in person.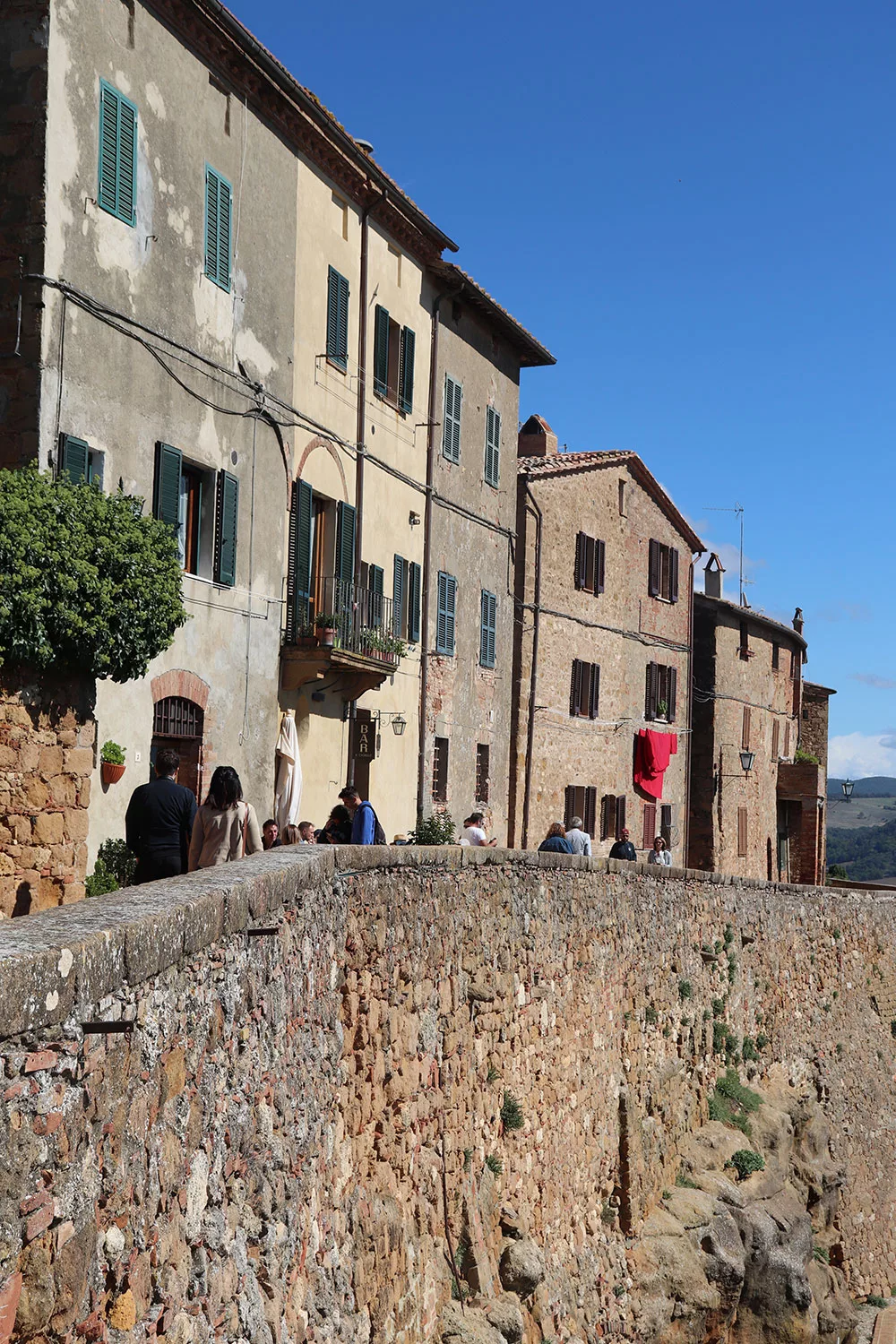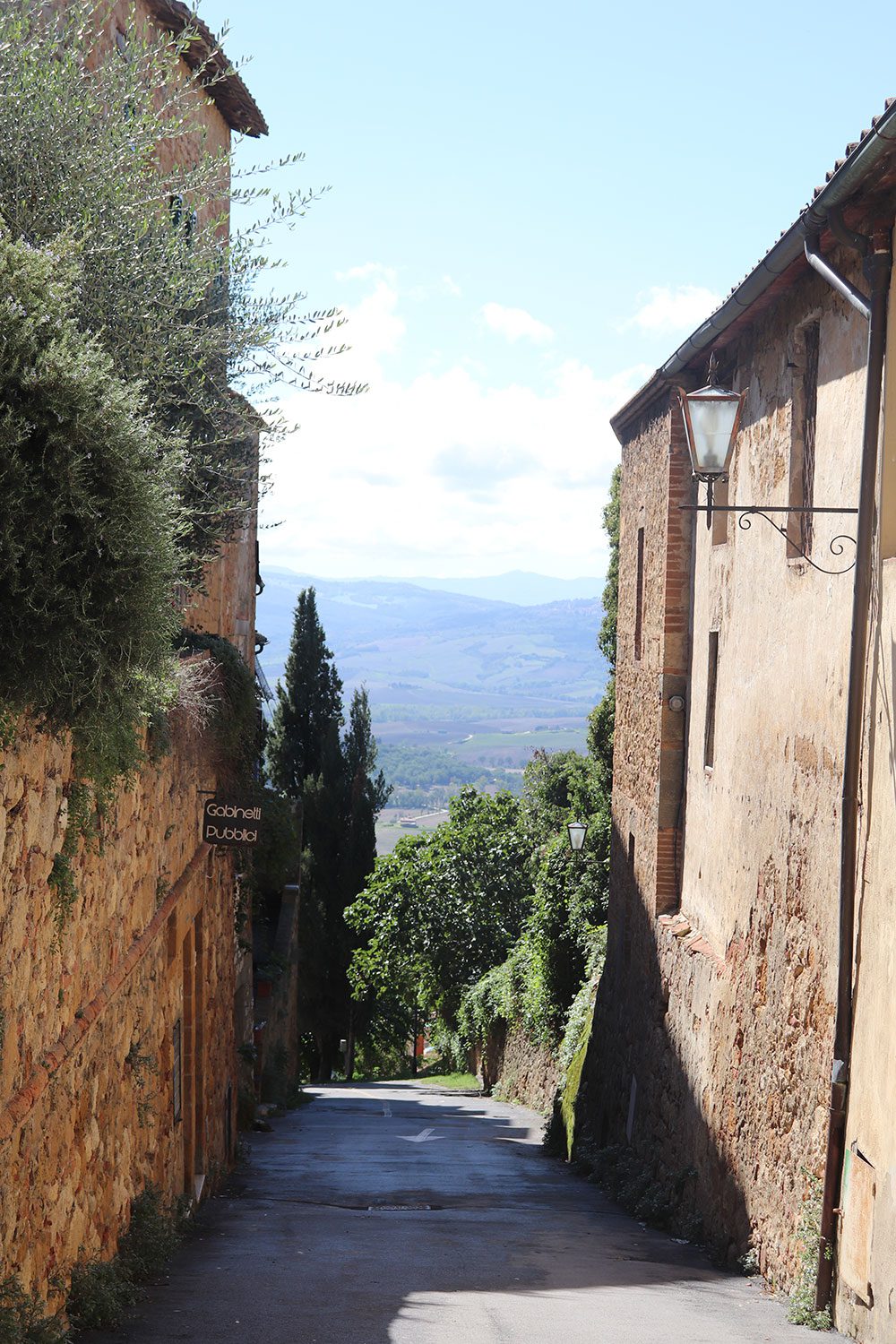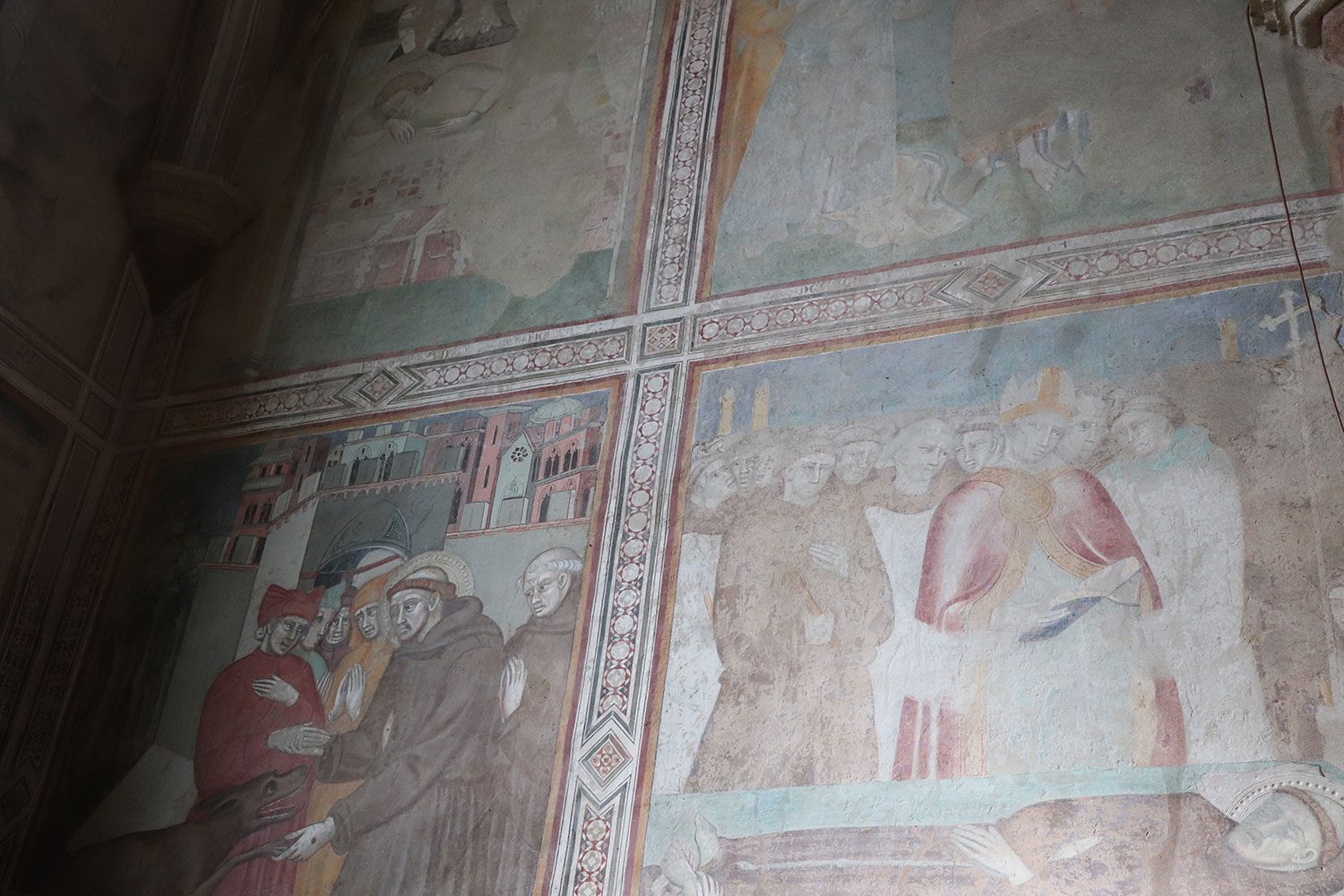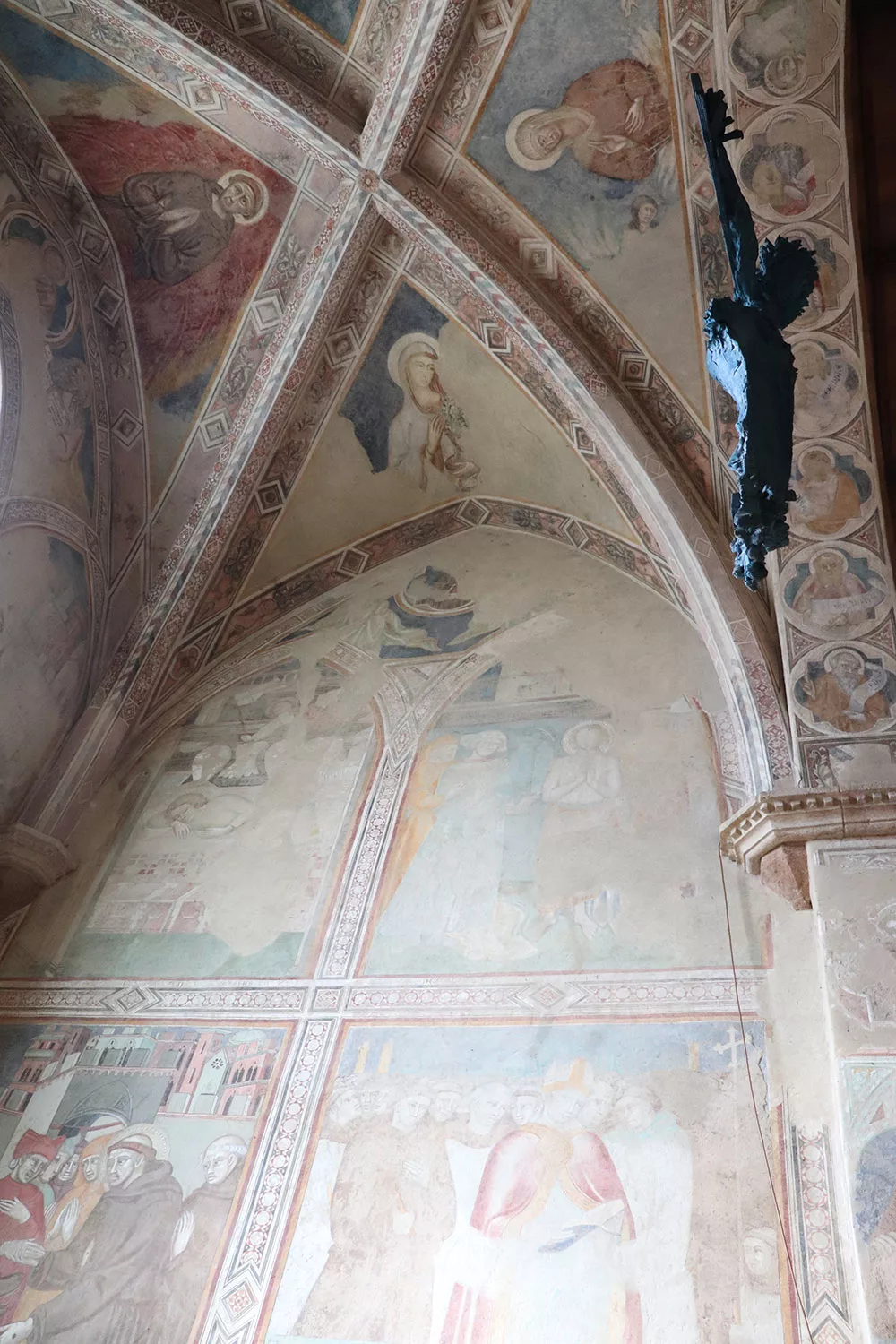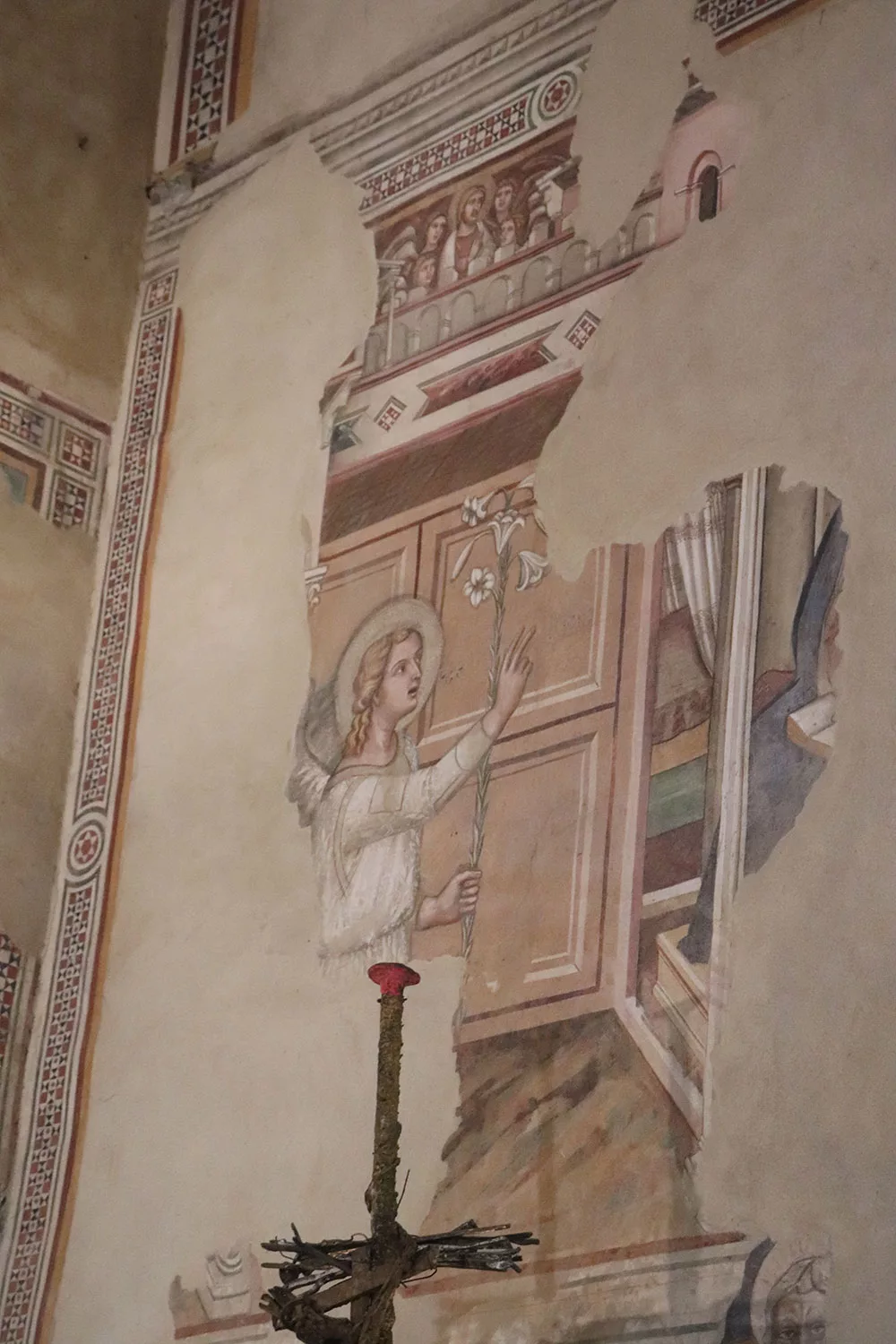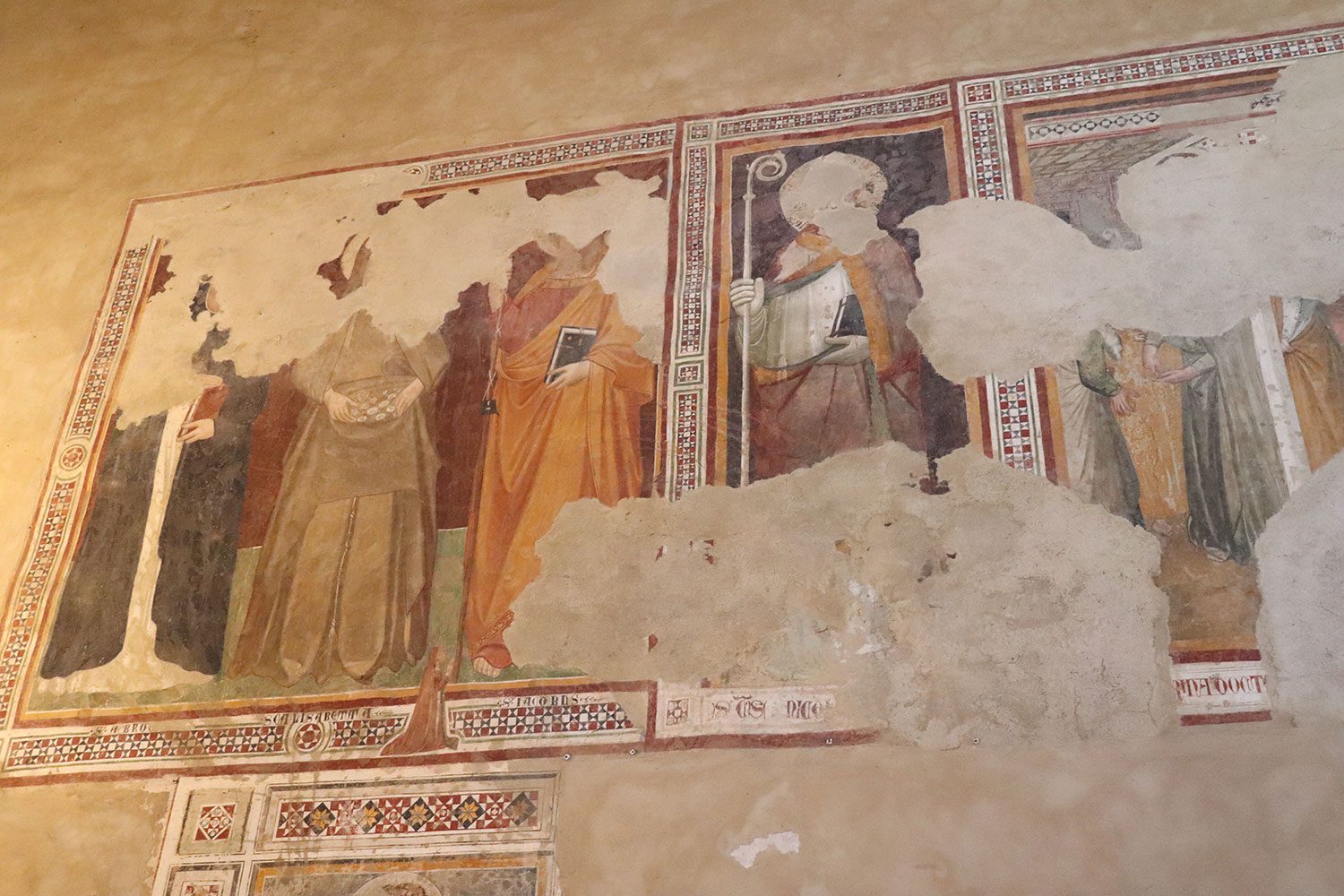 Probably my favorite place to see was the Church of San Francesco, which is off the main street, Corso il Rossellino. This church is part of the original town, dating back to the 1200s, and I really liked it because of the gorgeous frescoes. Entrance is free so be sure to pop inside and have a look.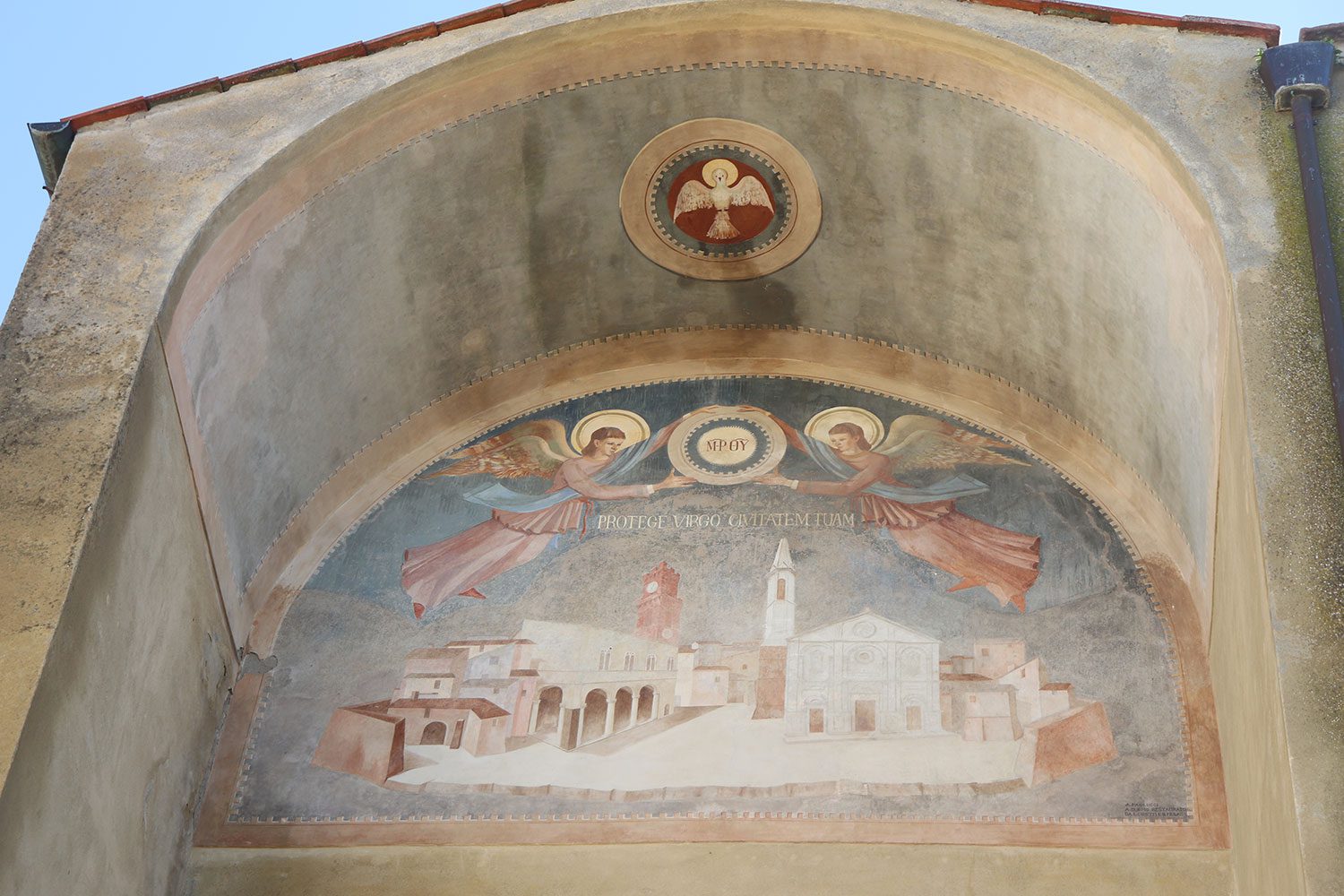 I also recommend you stop by the Porta al Murello which is a gorgeous city gate with a mural inside. Since the town isn't really all that big, you can easily get a map and mark off the streets as you go through them. I particularly like the side streets. Keep your eyes peeled because some passageways are smaller and hard to miss.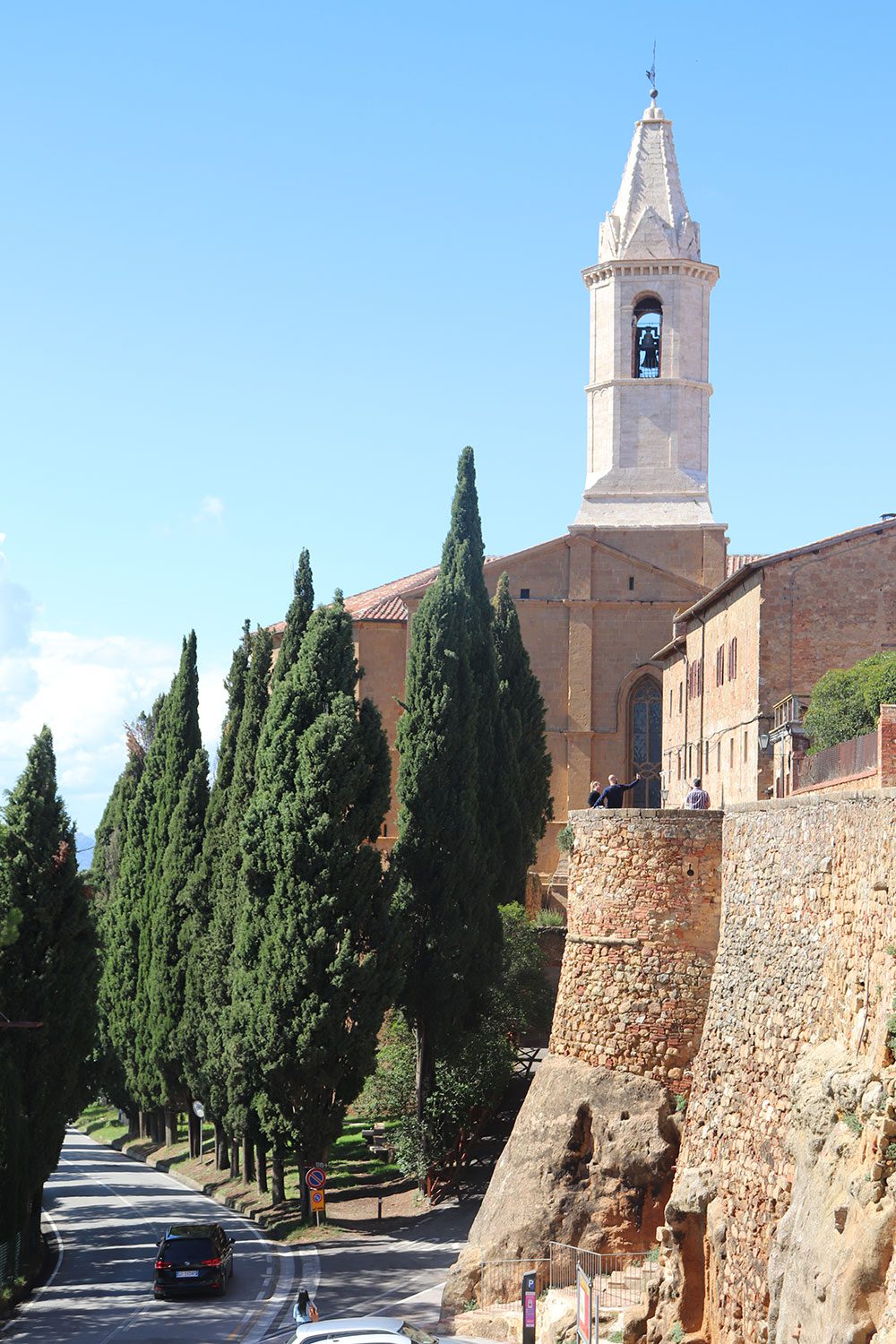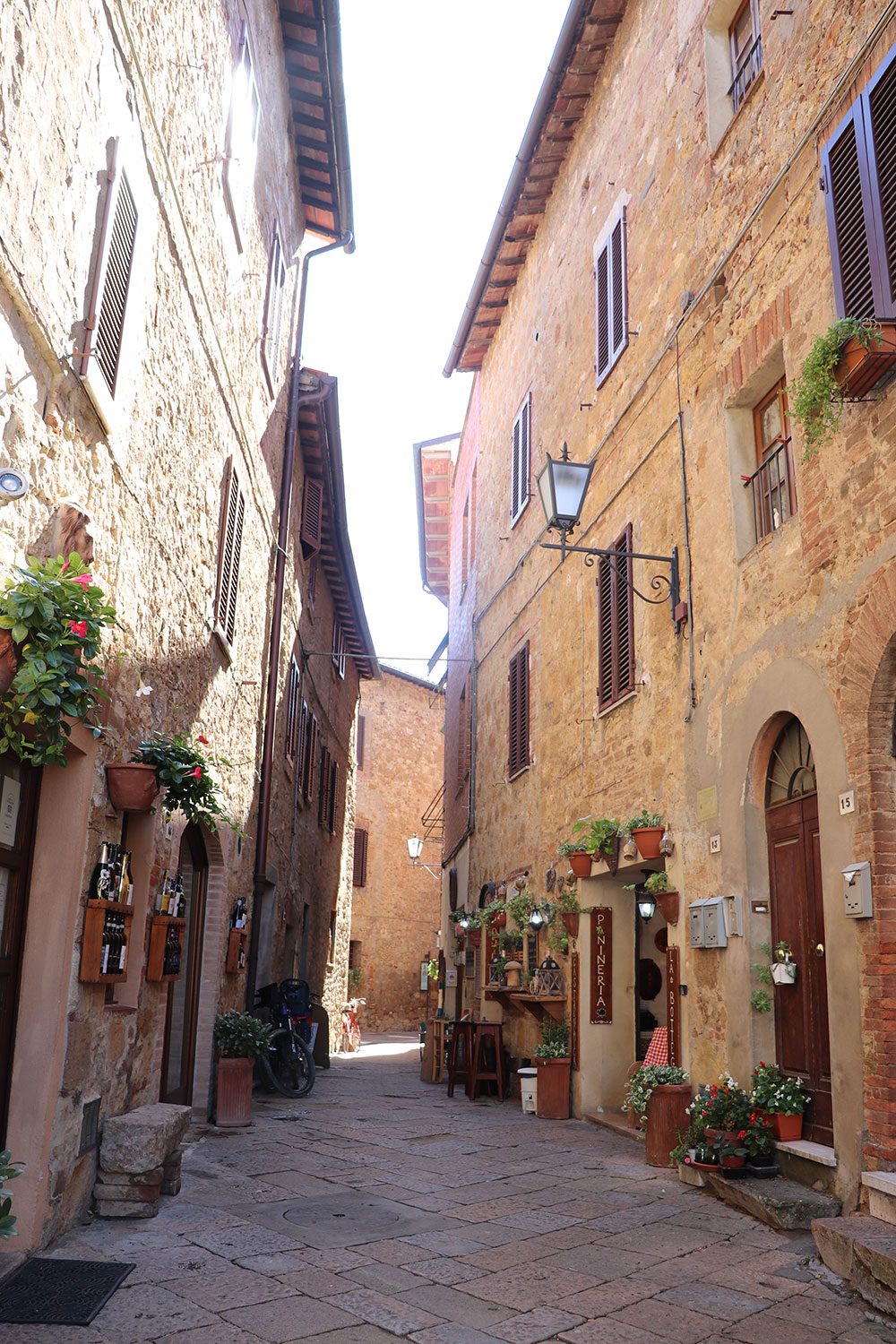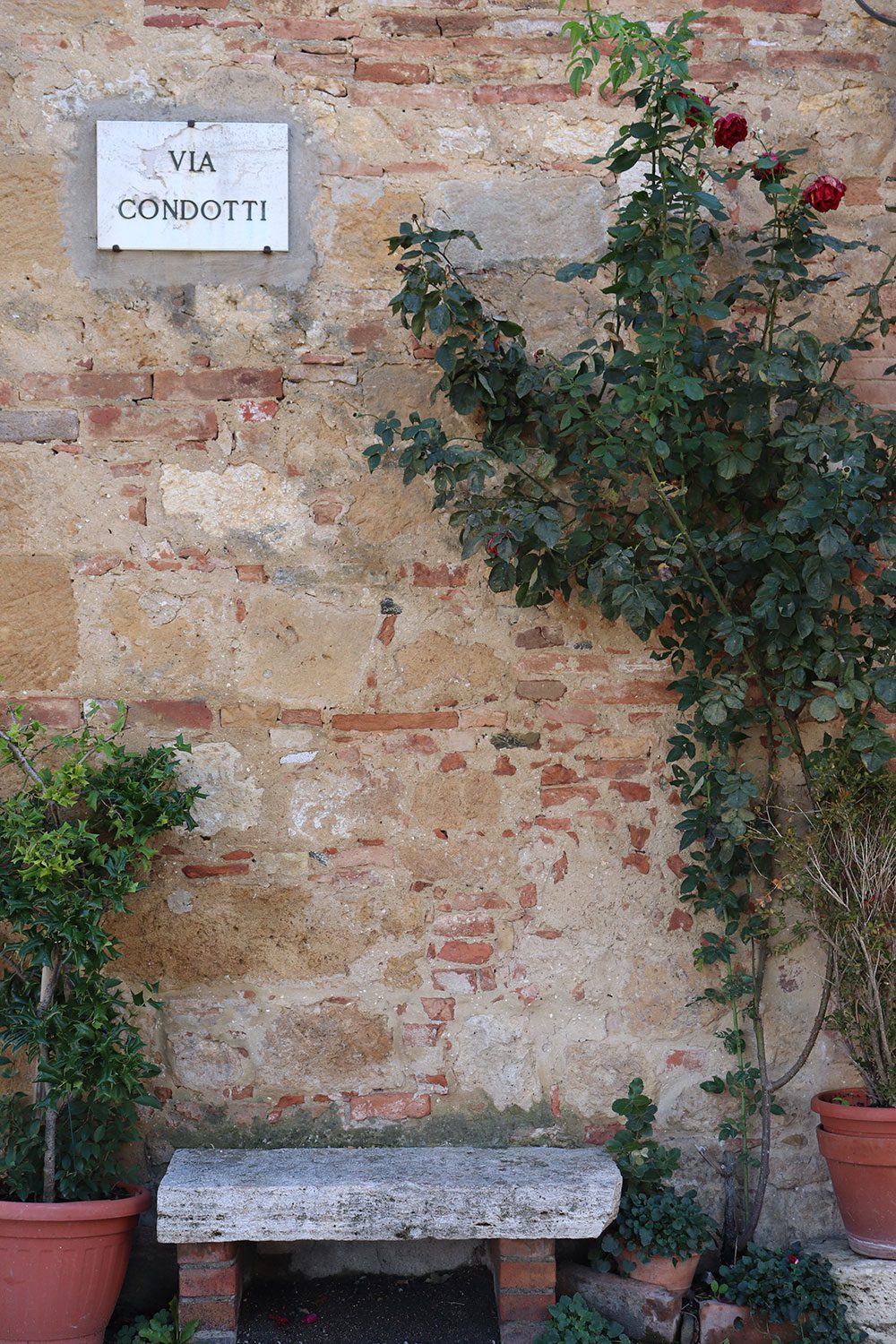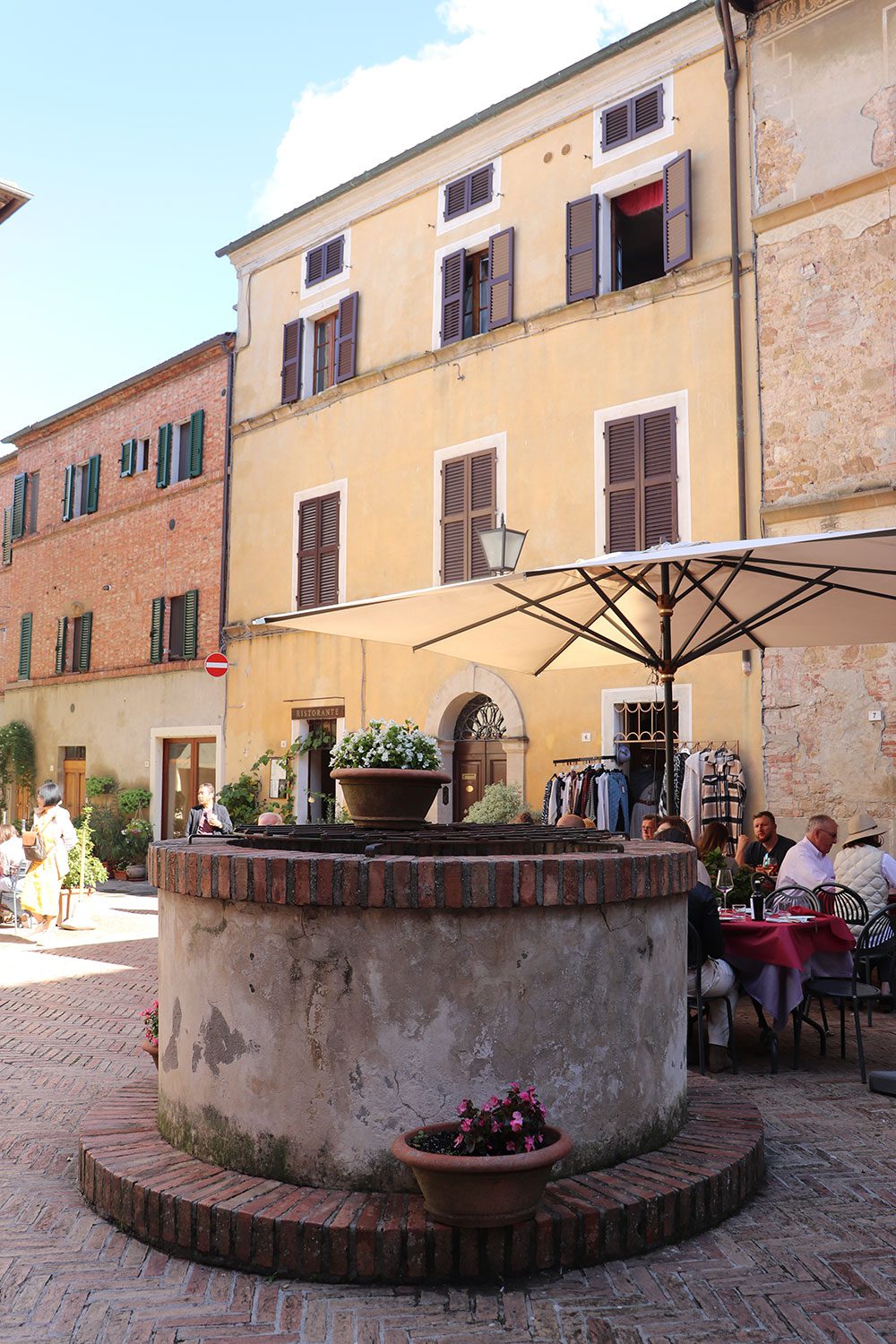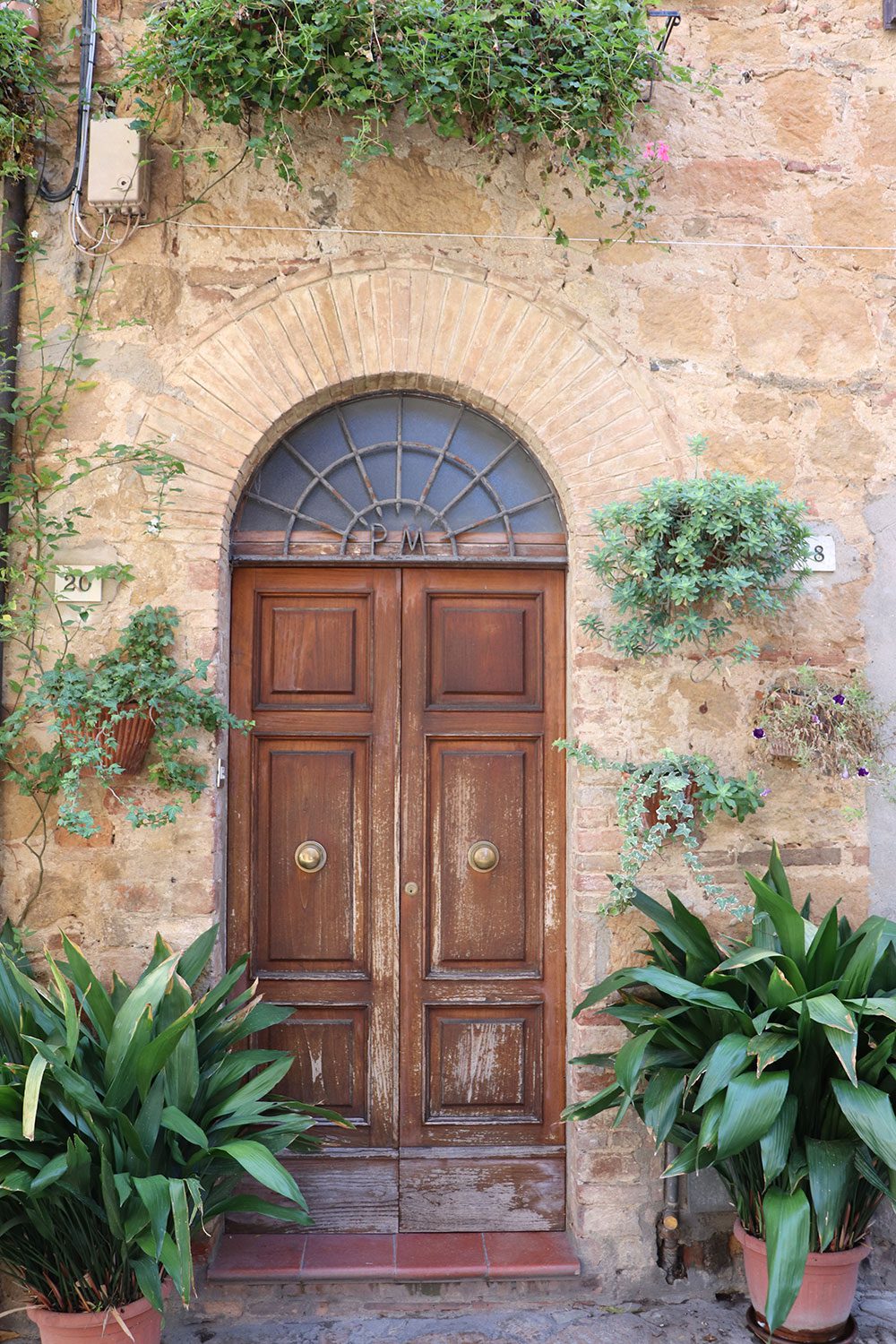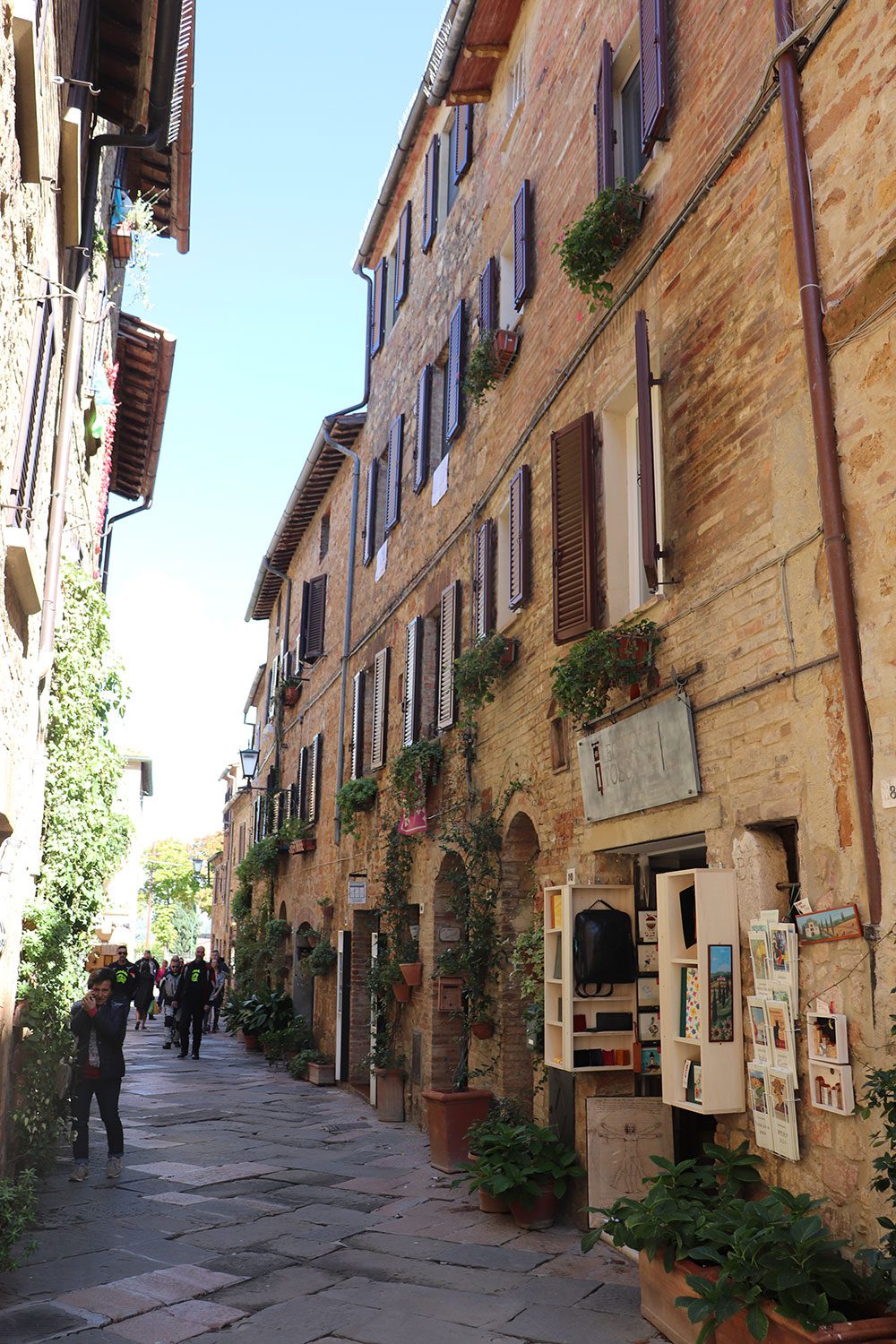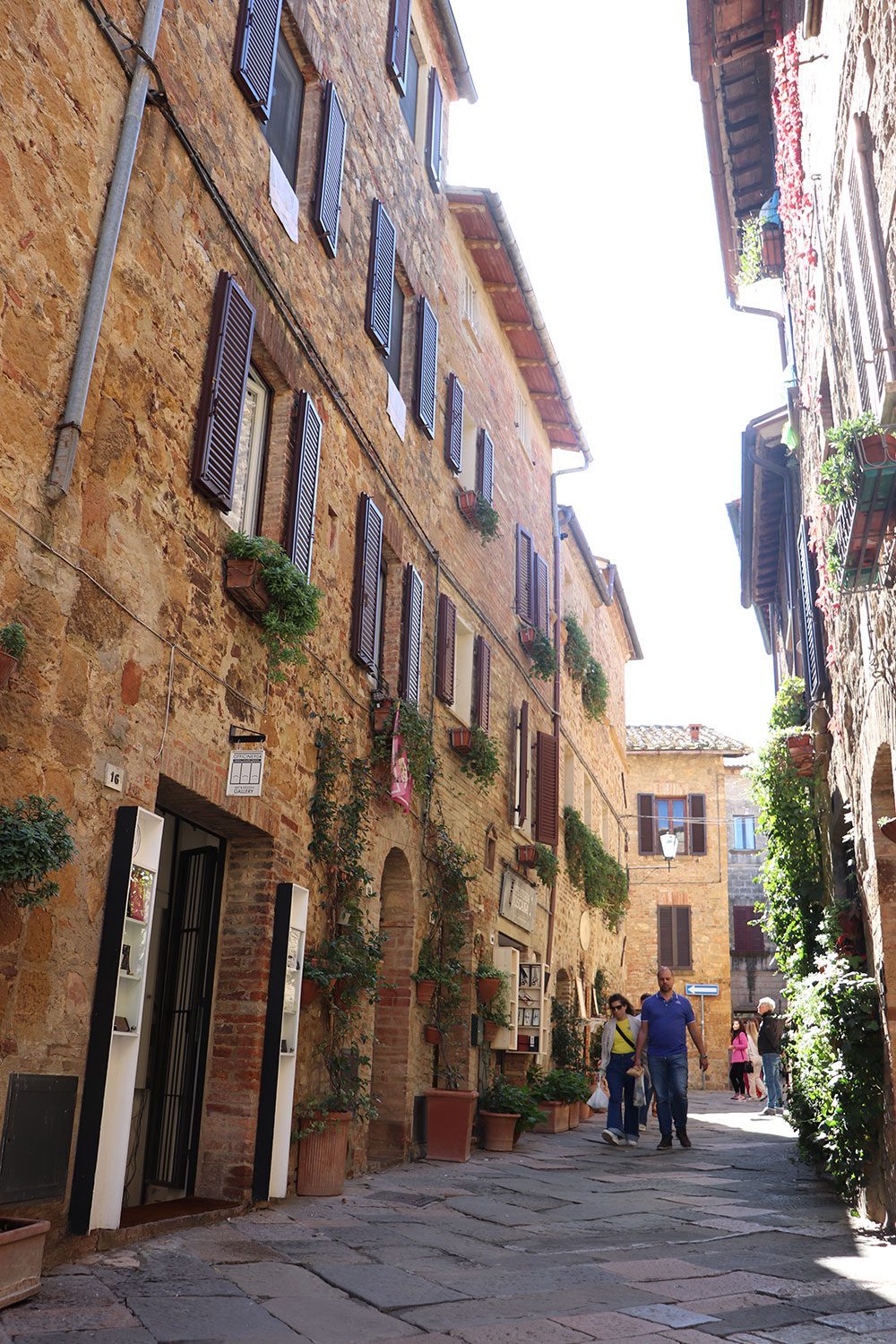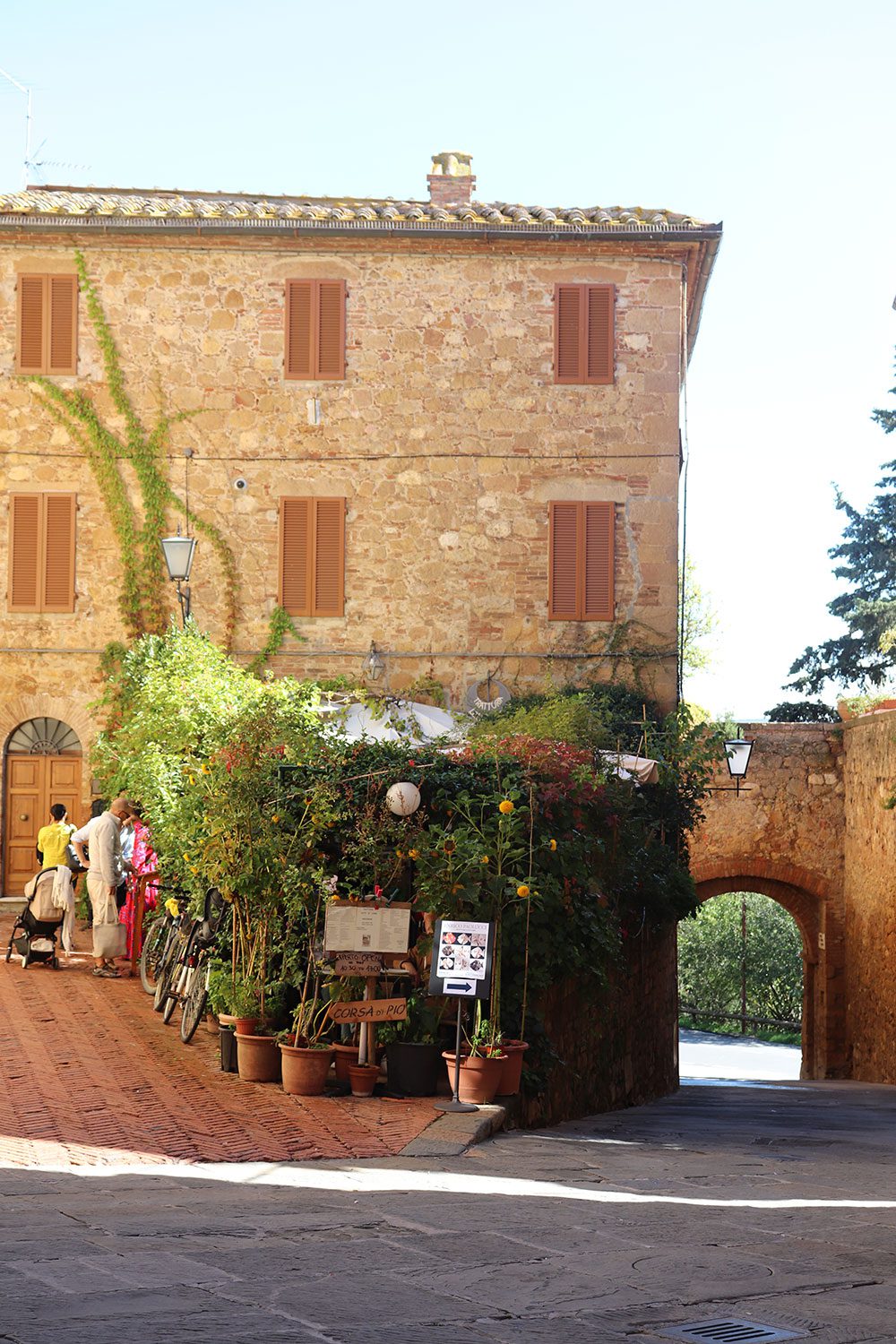 Vegans! Even though it mostly advertises meat, the place called Al FIERALE ToscanaGrill (Via Dogali 33) actually has vegan options highlighted. I had the ribollita – the Tuscan bean soup – and it was delicious. I'm sure most places have delicious food but I noticed this one in particular because of the vegan options.
How Much Time to Spend in Pienza
Something to keep in mind is that everything in Pienza shuts around 2:00 so you'll want to get there earlier in the day.
Pienza's a small town. Not super tiny, but not enough you need to dedicate an entire day to it. When I visit a place, I like to walk around all the streets, and there are enough streets to take up a bit of time just walking around. Let's say that alone takes half an hour. You may want to go in the shops (again, they close at around 2:00) and taste some pecorino cheese, the town's specialty. Maybe you want to go in a few souvenir shops and look at some ceramics. If so, let's add half an hour.
And of course, you'll want to spend some time going into the church, so add a few minutes. It's Italy so an hour is barely enough time to get something to eat.
Basically, you can see the whole town in 2 hours but it's very rushed. So I recommend at least 3 hours to set aside, if not 4. If you have your own transportation then that makes it even better! If you're on a tour like I was, then making the most of your time is important.
Getting to Pienza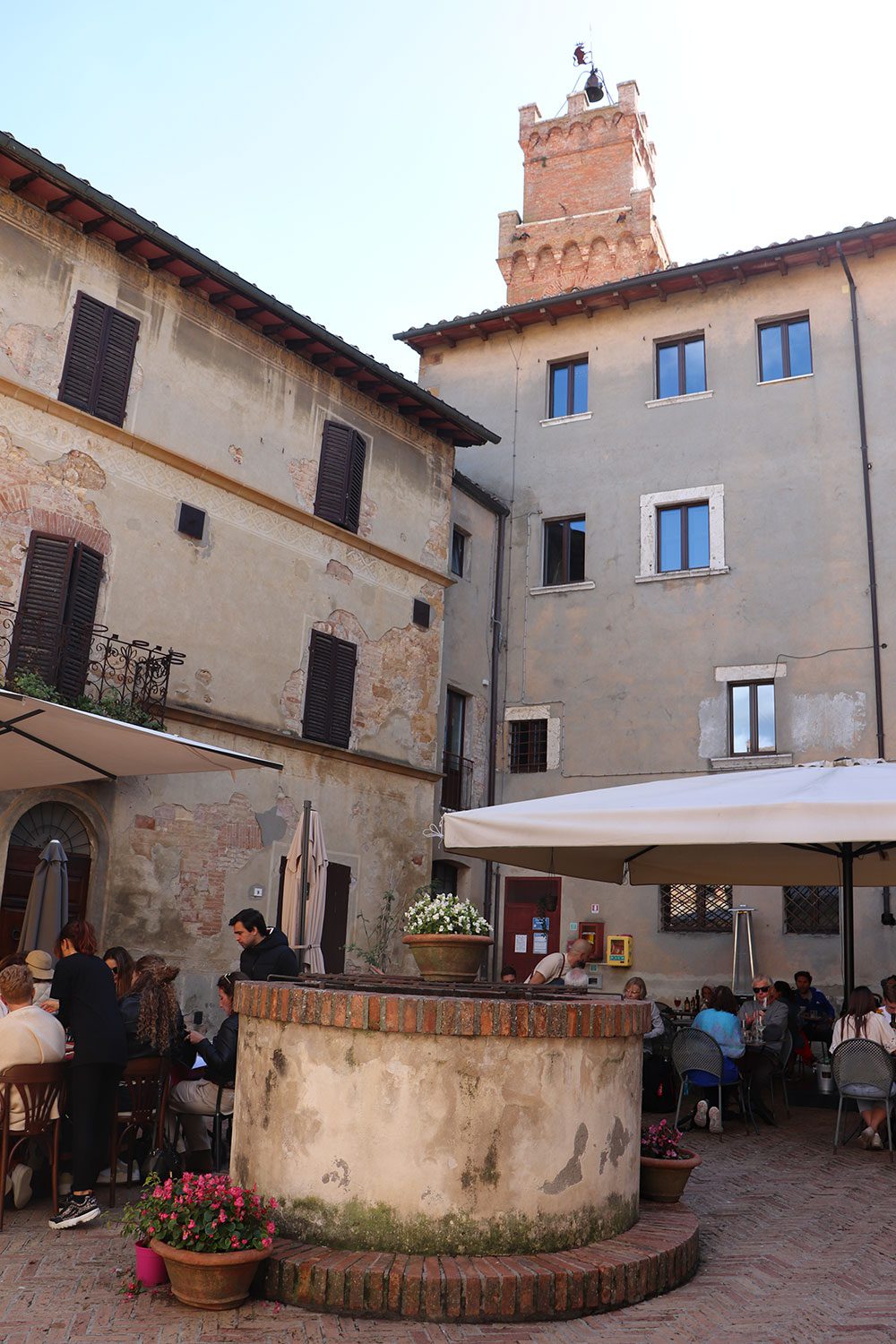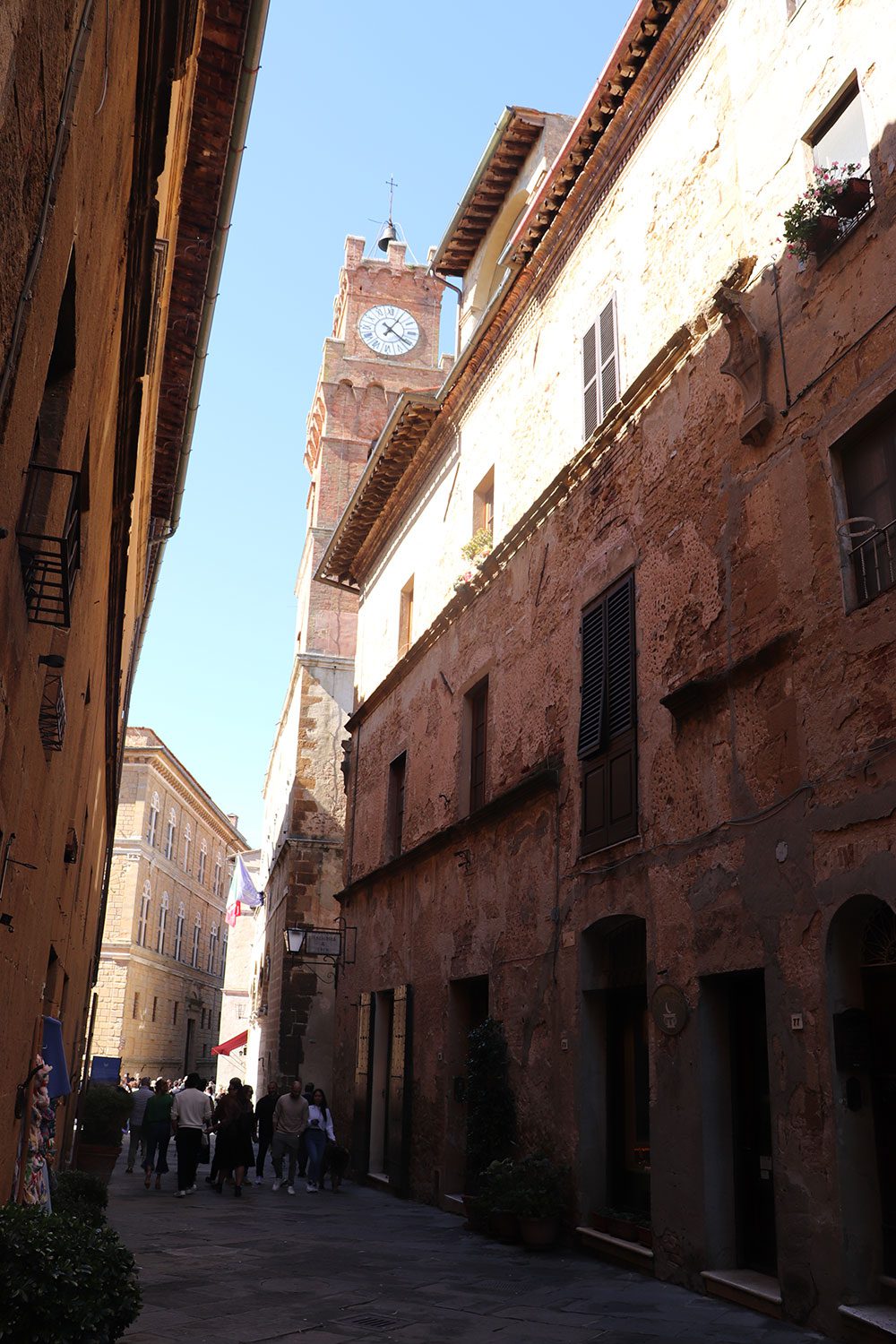 Unfortunately Pienza is a bit difficult to get to. Apparently Bus 112 will take you from Montepulciano (another cute town) or Buonconvento to Pienza BUT the bus station is in the town of Montepulciano while the train station is waaay outside the town. So say you take a train from Florence or Siena to Montepulciano, you'll need to then get to the main town before taking the bus onto Pienza. However the bus and train station are next to each other in Buonconvento, so you can go from Siena to Buonconvento and onto Pienza. If you go this route, be sure to check the schedule before leaving because as I'm writing this, the bus isn't operational Sundays or Mondays.
You can also a book a tour via GetYourGuide or Viator. This will be more rushed but it's the easiest way to get to Pienza, plus a few other places. However I went on a wine tasting tour and was upset because Montepulciano was skipped entirely for the wine tasting, so it's something to keep in mind.
And, of course, you can always rent a car.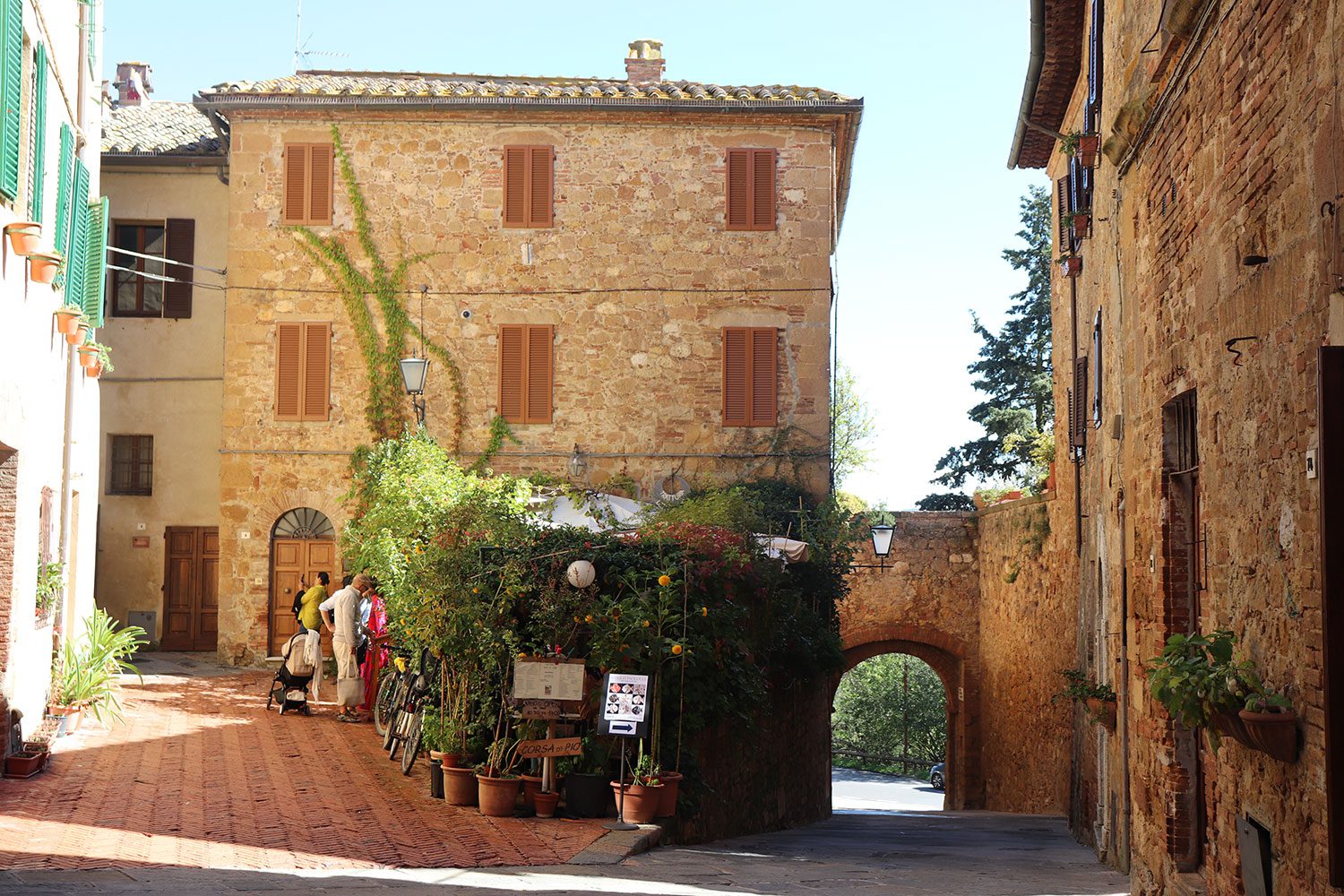 I really enjoyed my time in Pienza and think it should definitely be on your bucket list if it isn't already. It's a cute Tuscan town and deserves to be seen.
Please note that this post may contain affiliate links. These are at no additional cost to you but I receive a commission if you make a purchase through the link, and the commission helps me run my blog. Thanks for your support!
Tags:
europe
,
italy
,
pienza
Sharing is Caring
Want to support me?
Buy me a Coffee