Visiting Akrotiri, Santorini's Ancient "Atlantis"
Originally published on Friday, July 28, 2023
I've wanted to visit Akrotiri since I first learned of it in college. Much like Pompeii, this city thrived thousands of years ago before it was covered by a volcanic eruption. Though the volcano destroyed the city, it also preserved it so we could get a more intimate look at it all these years later. Visiting was an absolute highlight of my trip and I cannot recommend it enough for history lovers.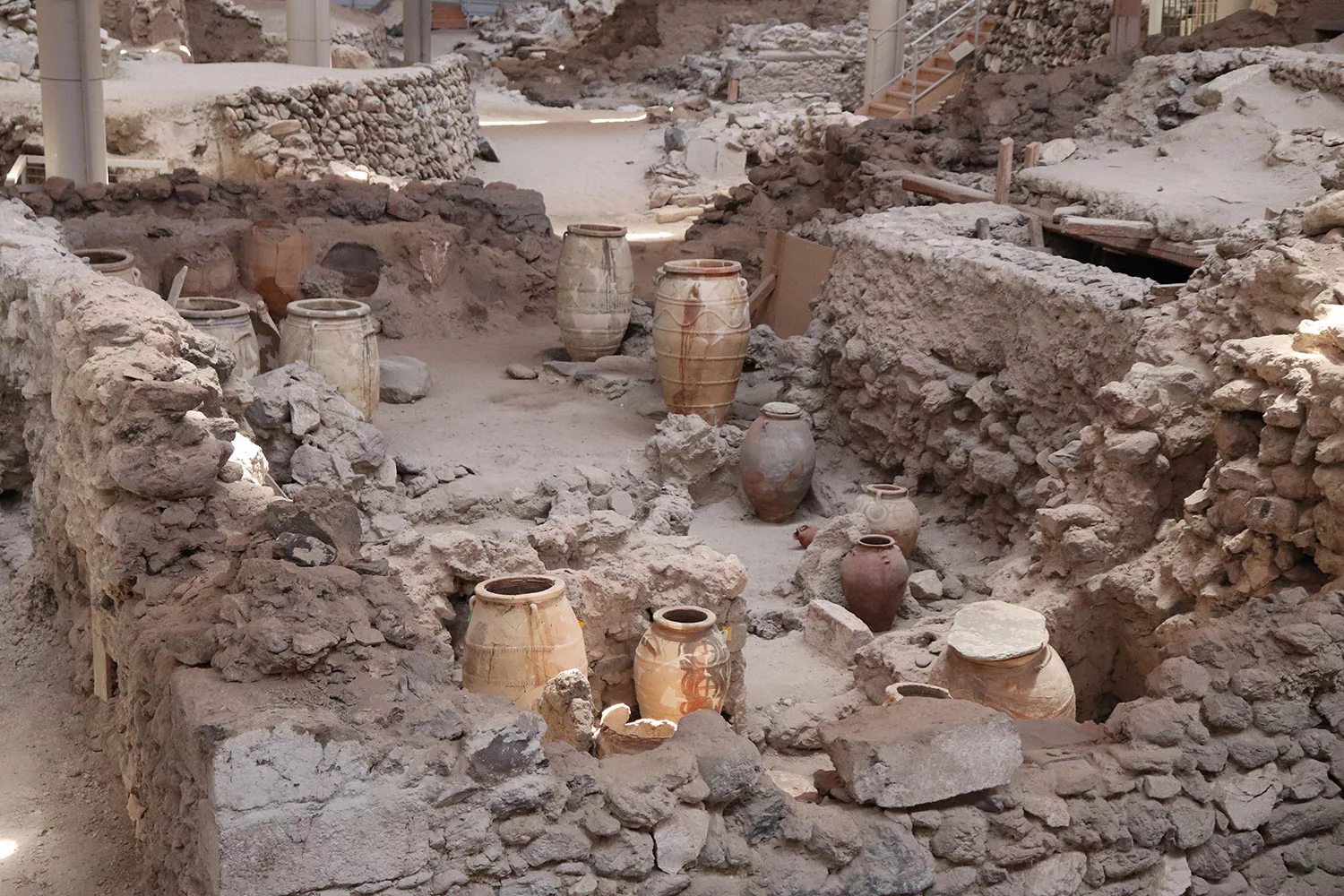 What was Akrotiri? A Short History
Akrotiri's one of Greece's biggest archaeological finds, but not much is known about it – not even its name. The language, called Linear A, hasn't been decoded yet, and the whole place is shrouded with mystery.
We do know that it must have been a huge trading center because of its location and wide variety of artefacts found. It was probably a Minoan city, based on the dates of the findings and the artwork. (The Minoans were a society based on Crete that faded out about 3300 years ago.) The city was very advanced with tall buildings and plumbing that still works to this day, so Akrotiri was not a general run-of-the-mill archaeological find. This place must have had some significance in its day.
There was a volcanic eruption from the volcano of Santorini around the 16th-15th centuries BC. It was probably preceded by an earthquake because the parts of the city excavated so far show no precious goods like metal – and no bodies. The people here took off with their belongings before their city was covered, and preserved, in volcanic ash. They probably hit the sea after the earthquake but a huge tsunami would've wiped them out. There's no trace of these people after they left Akrotiri – just the city they left behind.
Akrotiri and the Legend of Atlantis
There's speculation that Atlantis, the mythical island described by Plato, is actually Akrotiri. Atlantis was a beautiful place with painted frescoes, rings around the island (Santorini used to be ring-shaped), and it was sunk. Because of the similarities, some have drawn a pretty far-fetched conclusion.
My thinking is that Plato came around and wrote about Atlantis 1000 years after it was covered by volcanic ash. Lots of places had beautiful frescoes and were sunk or destroyed by tsunamis – probably more places than we know of! Aside from the similarities, there are many differences as well. For example, Atlantis was described as "bigger than Asia" but the whole island of Santorini alone is tiny. Atlantis was supposed to be a Utopia where Poseidon lived with his family, and Zeus was the one who sunk it. There's already a lot of imagination here so I'm personally not aboard the idea that Atlantis was an actual place.
Visiting Akrotiri Today
The archaeological site is enclosed in a glass-top building for preservation. There's a ramp that goes along the perimeter of the excavated site – which is about 5% of the original city – and that's where you view everything from.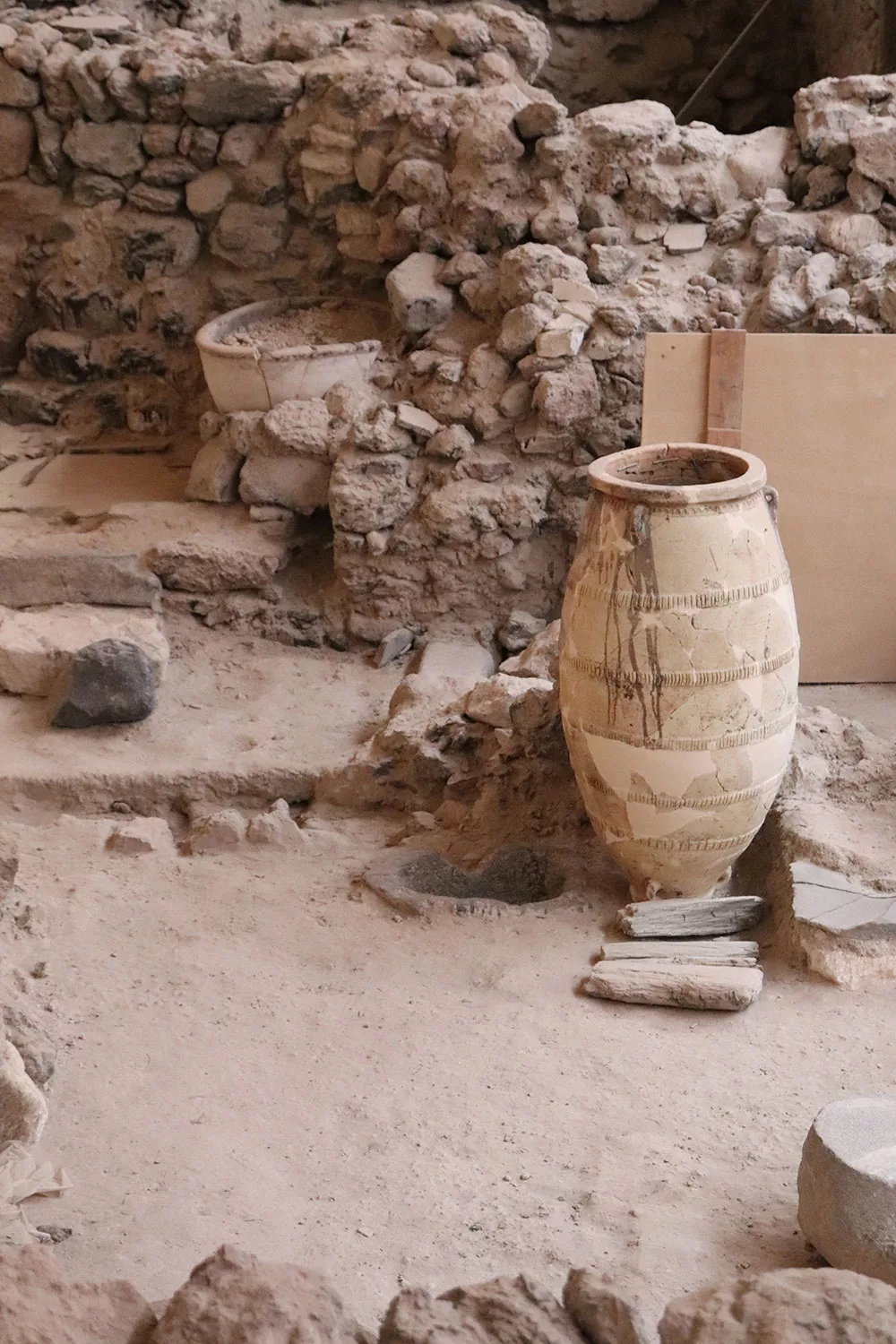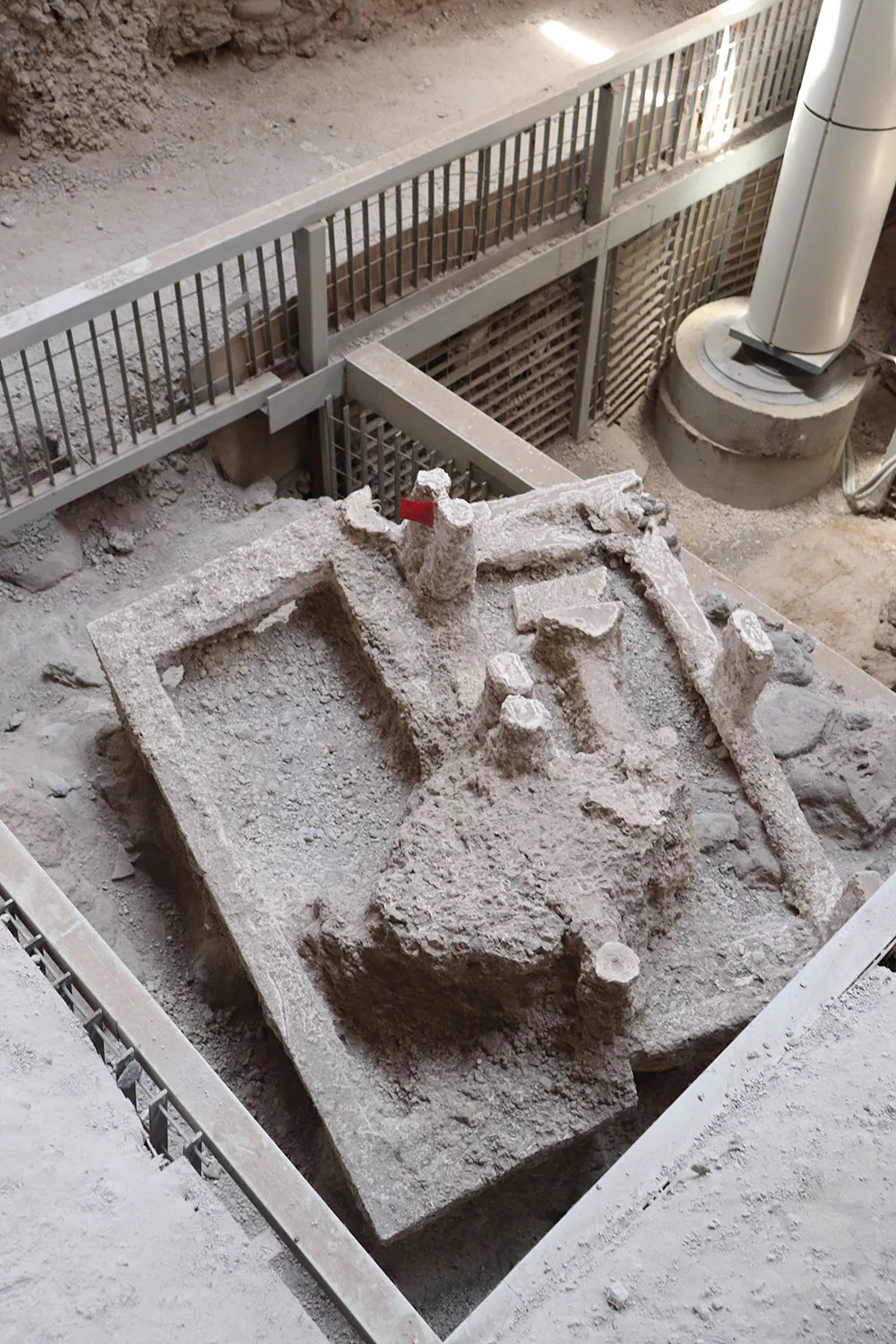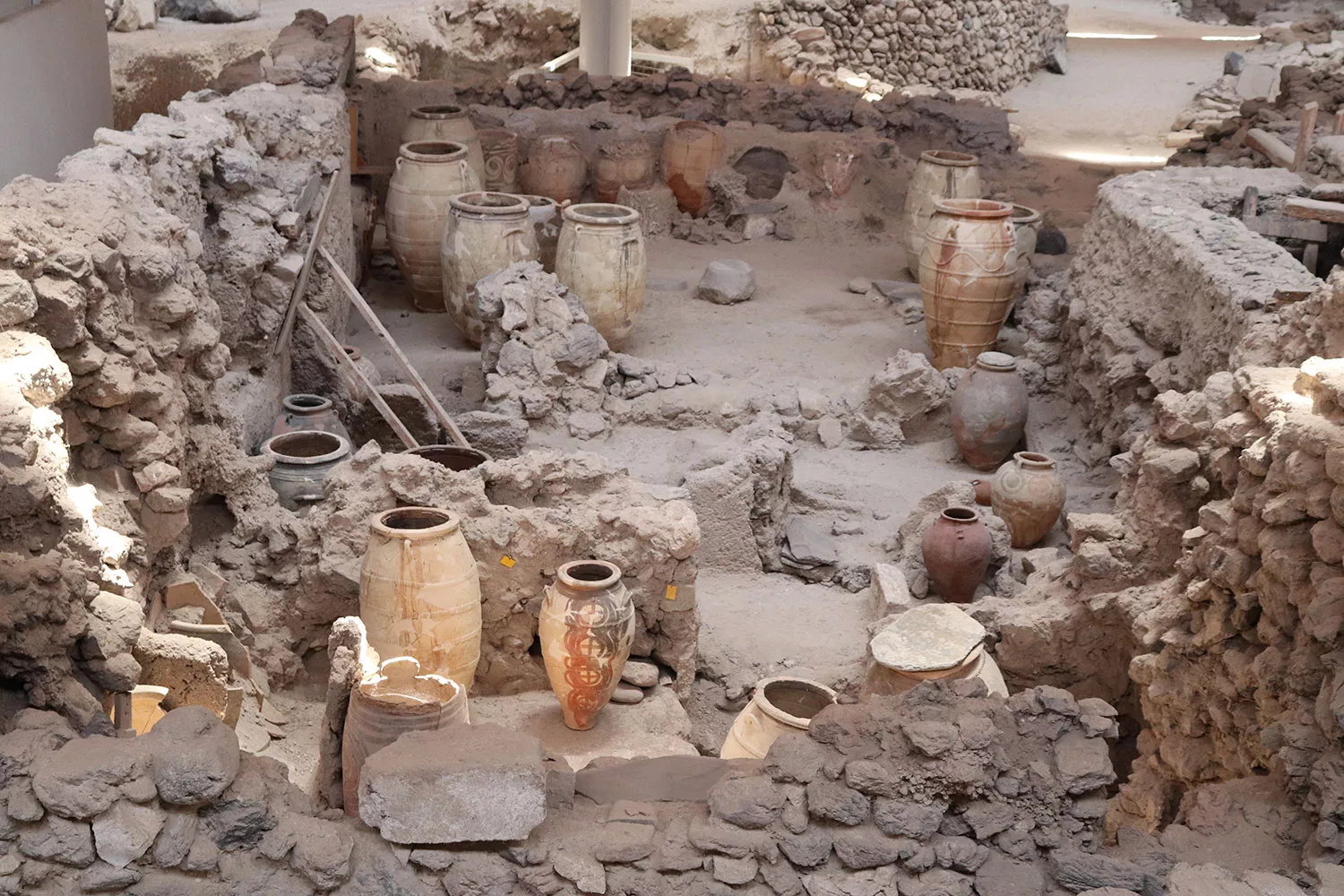 Some highlights of the tour include the main square and street, a toilet with plumbing still intact, and of course the building with the jars still in place. This building was probably a trading center or what we might think of as a bank, though the Minoans didn't have the same concept of currency as we do. The archaeologists left the jars, which would've been filled with various items, in the location in which they were found. It's also here you can see the cast of bed frames and a bath tub.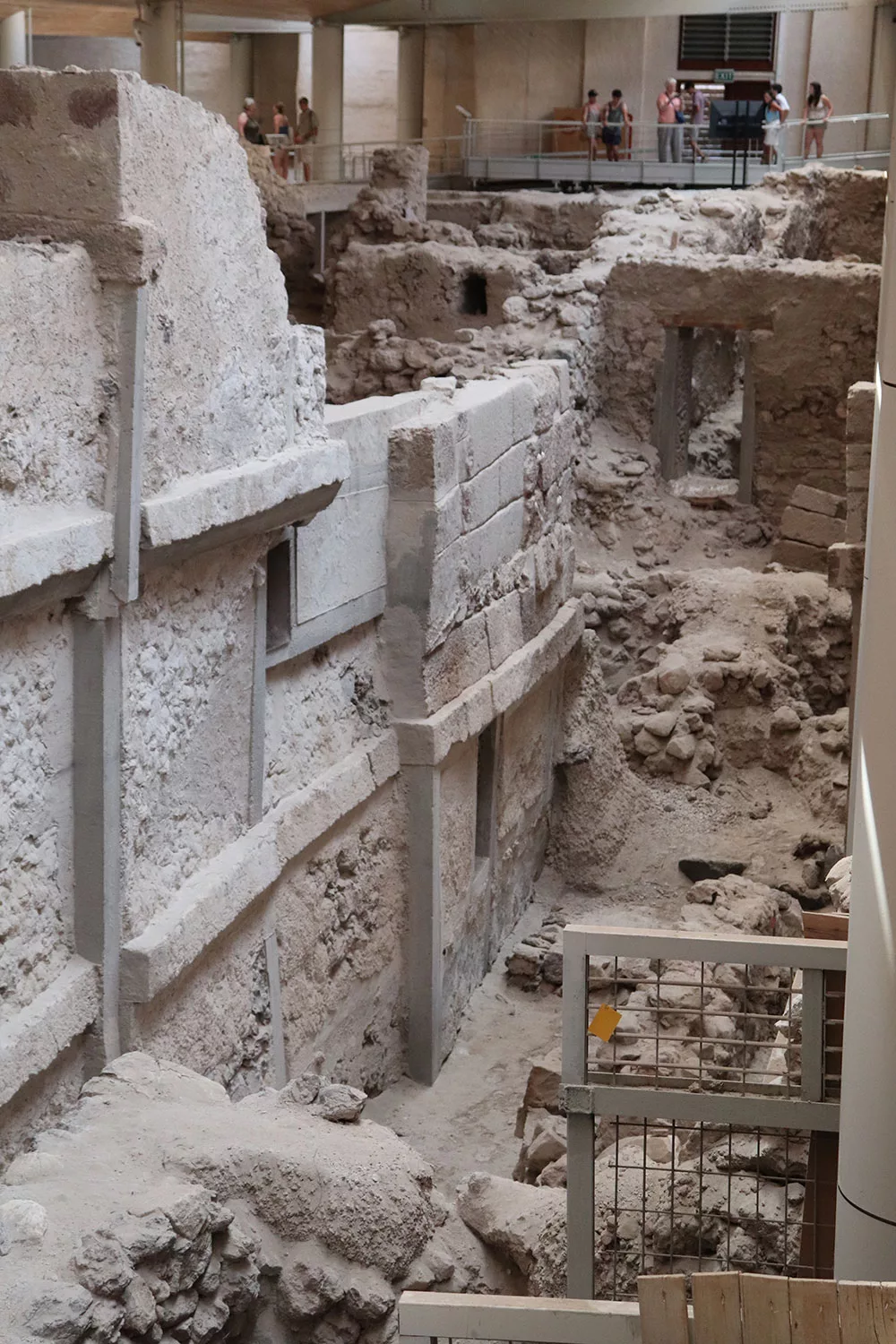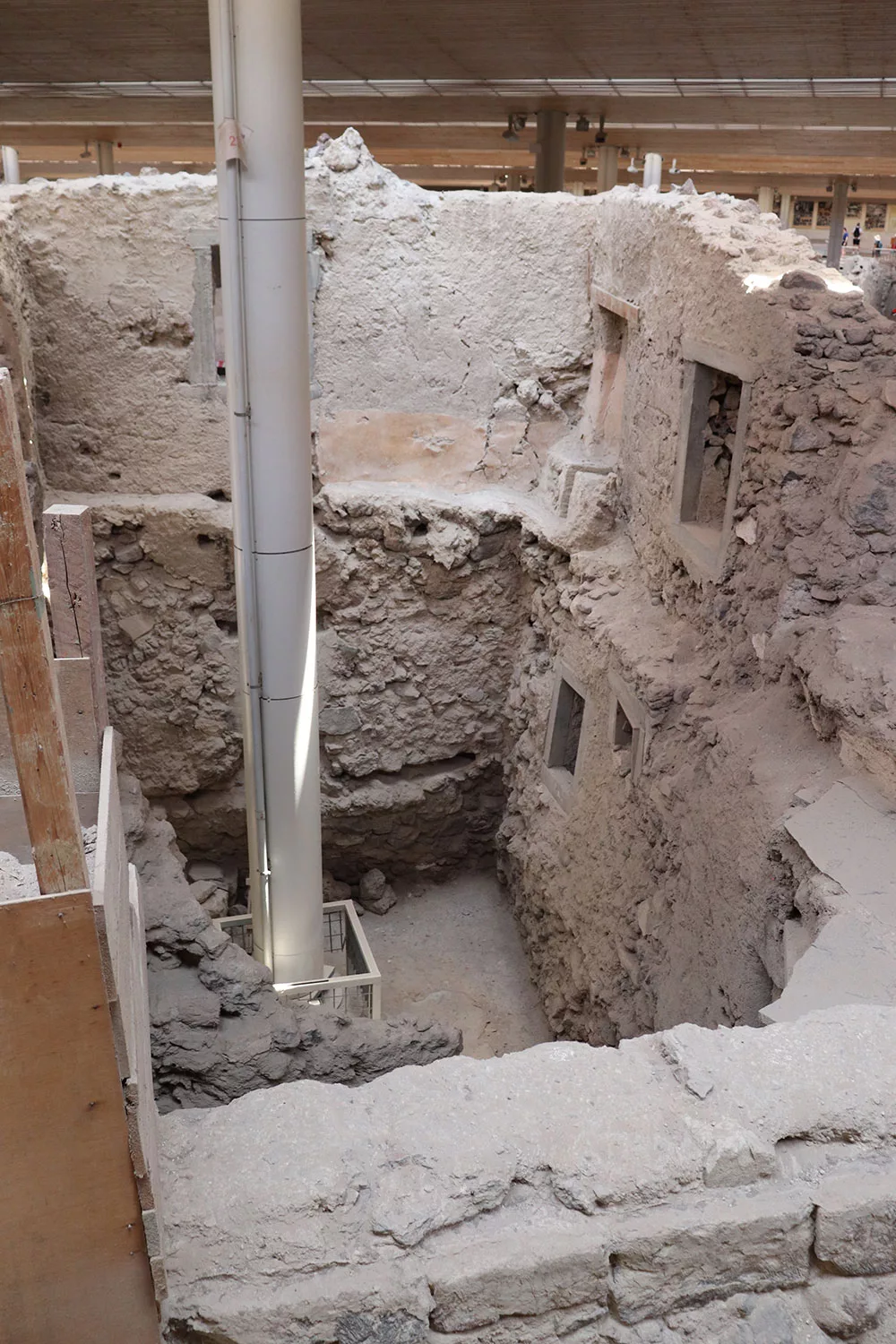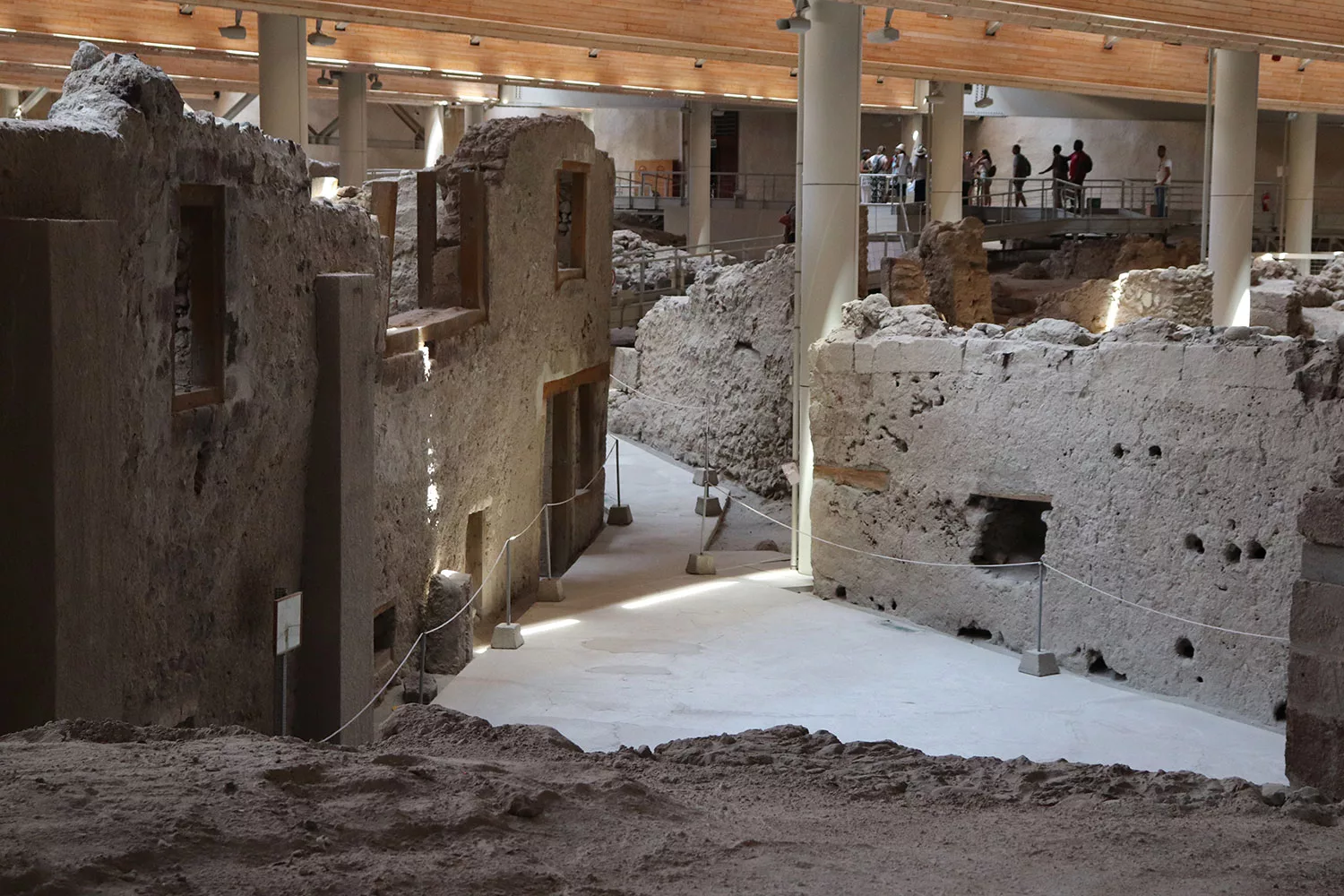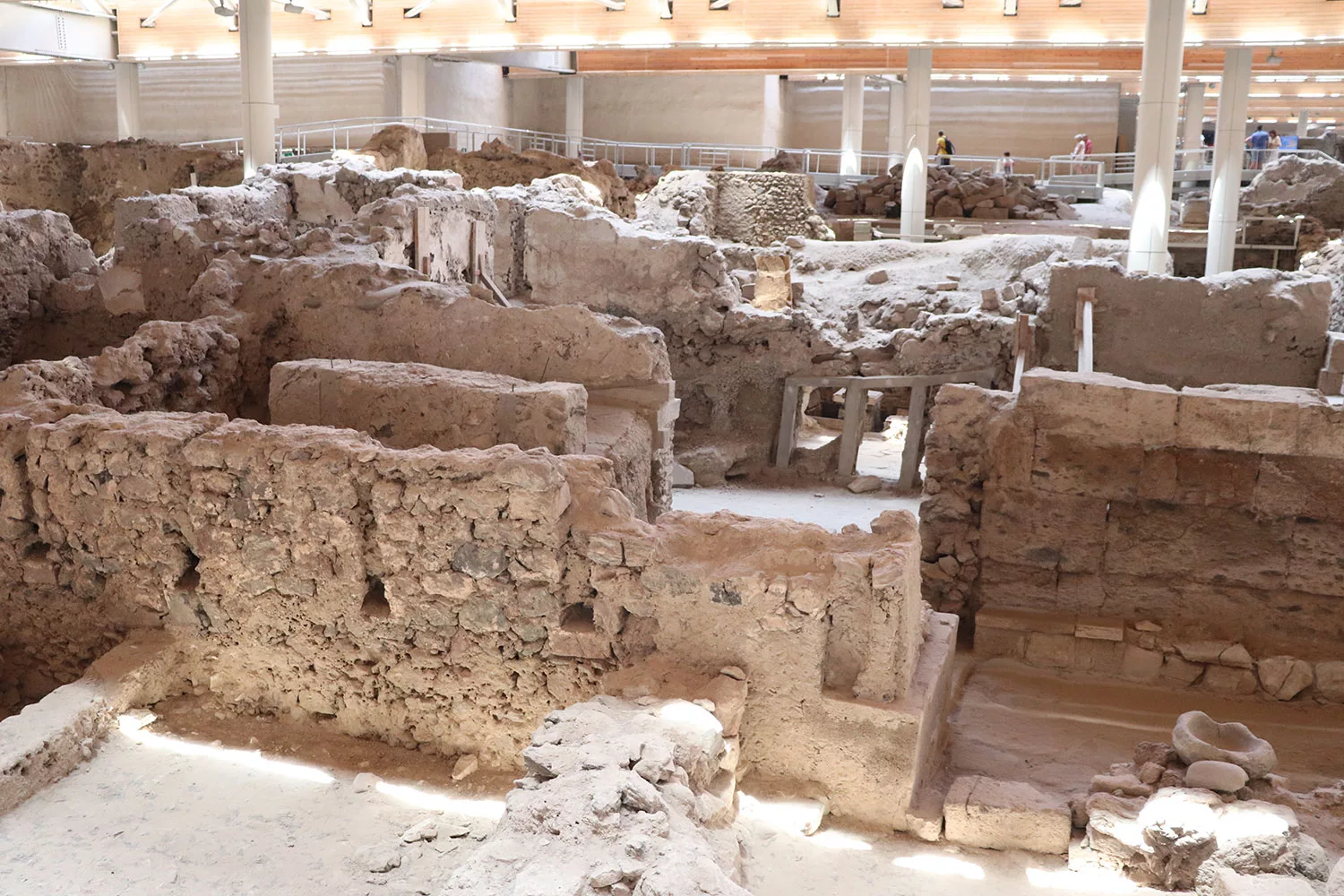 Strangely enough, I think one of my favorite parts of Akrotiri was seeing all the door frames and the windows. The site is very much a ruin that isn't in terrible great condition, but these features really helped me visualise what this place would've been like all those millennia ago. At one part of the walk, there is a video reconstruction of what you're looking at, which is also helpful.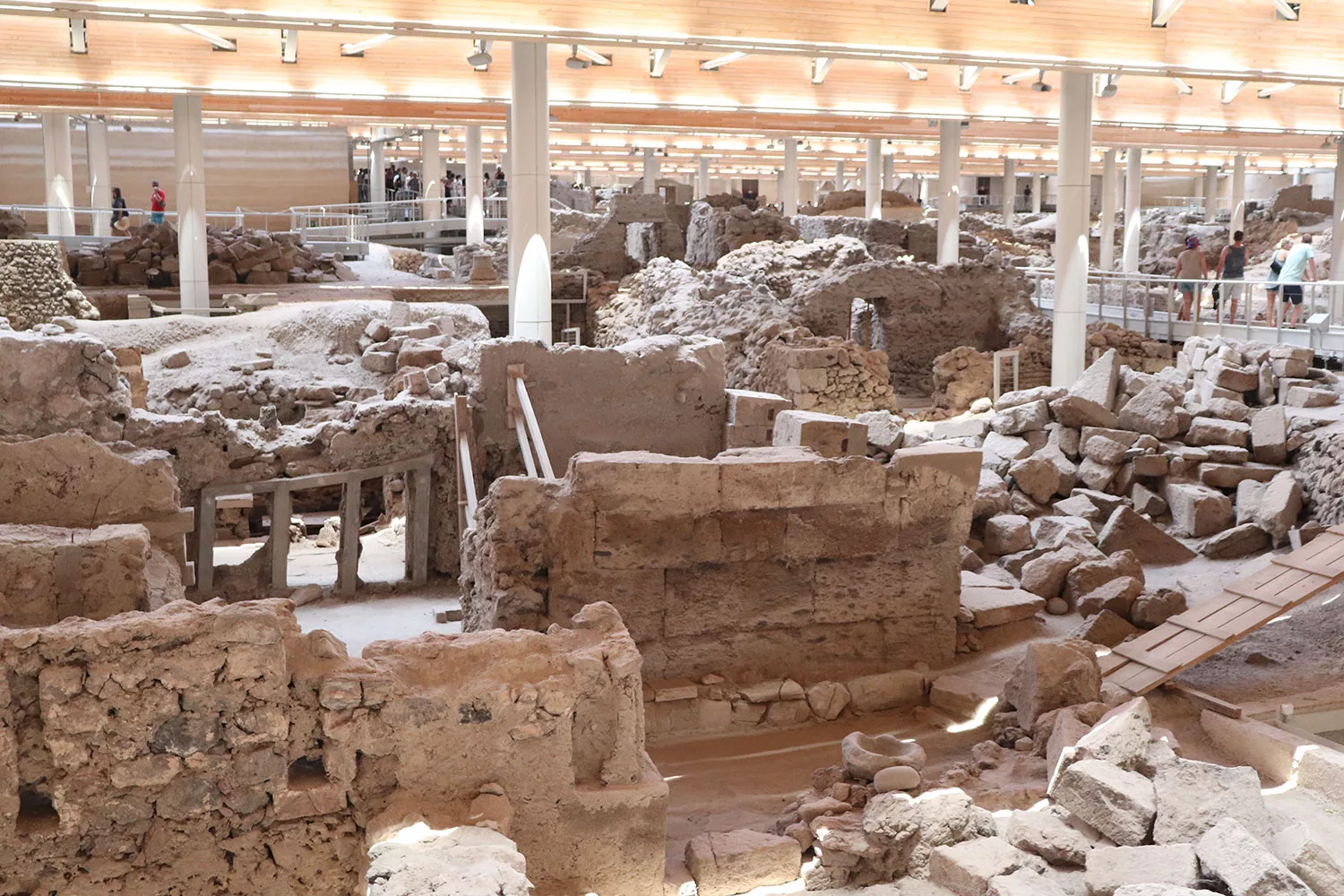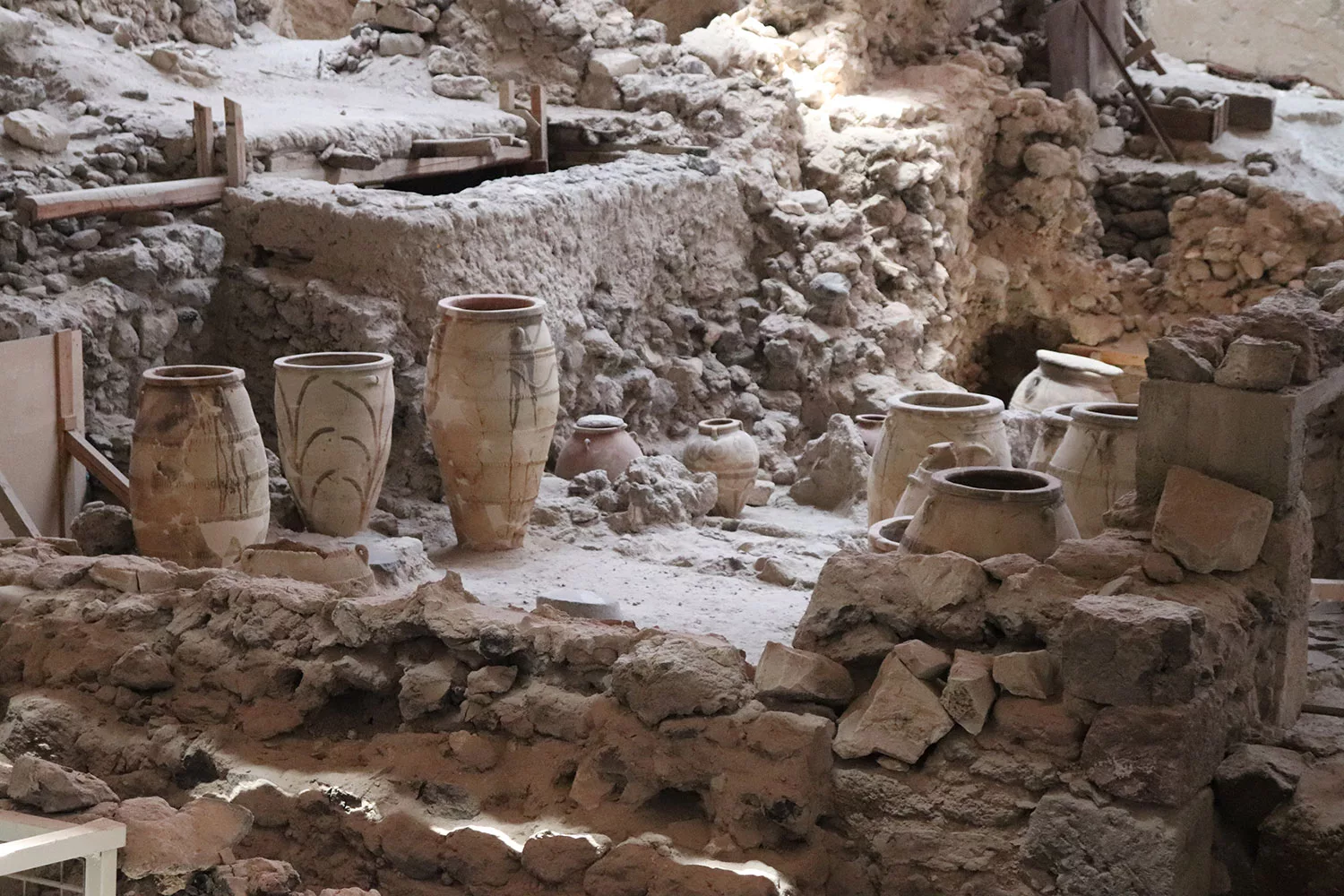 Though there are some signs throughout the site that tell a little bit about what you're seeing, but it's not fantastic information. I highly recommend getting a guide who can tell you what you're looking at and also tell you what artefacts were found in that area. The artefacts and frescoes are in the museum in Fira so it's nice to have someone give you that context before you visit.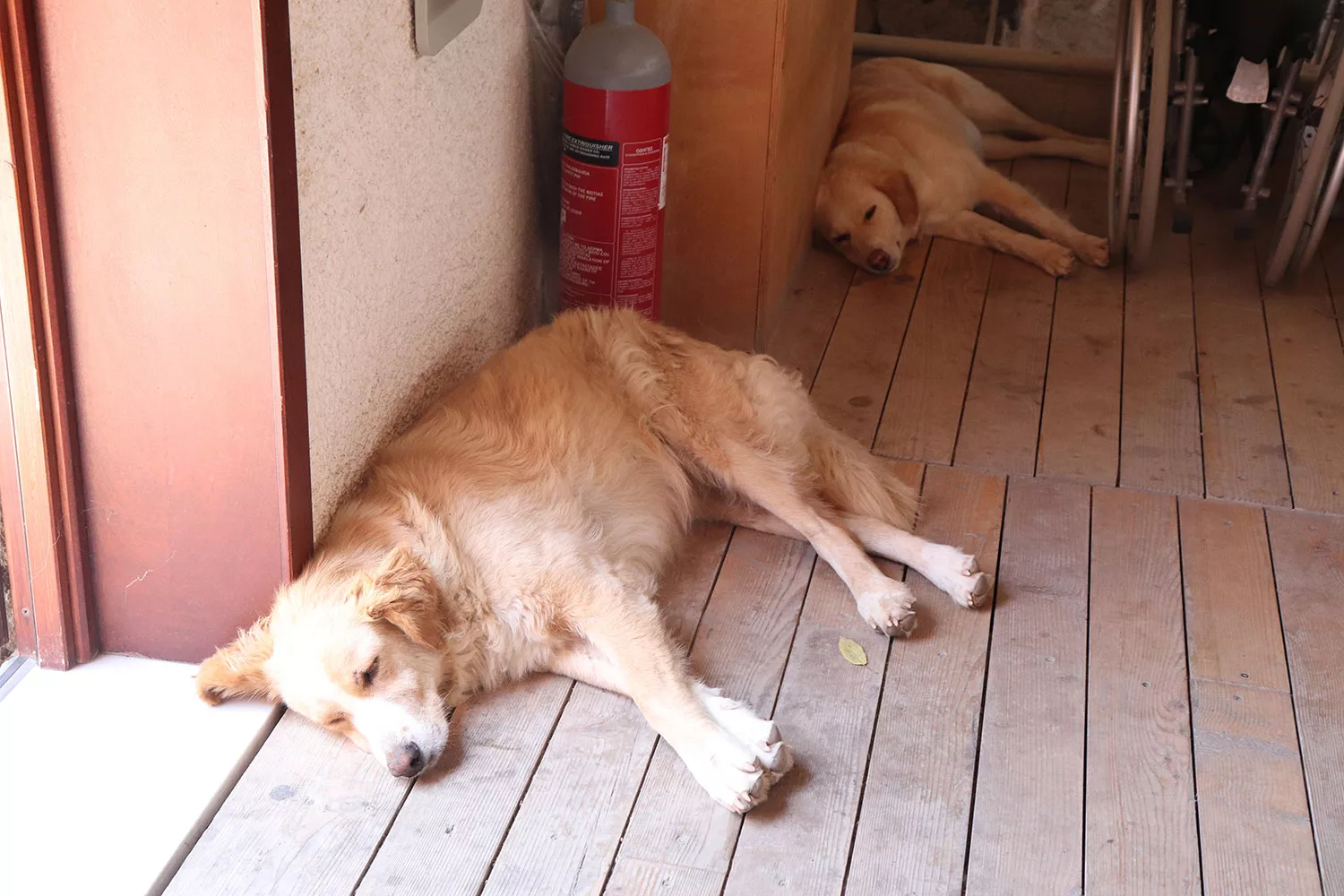 If you're lucky, you might also get to see the archaeologists themselves! Here they are sleeping after a long day of work.
How to Get to Akrotiri
We went on a guided tour but there are many public busses that go to Akrotiri for cheap. While you're there, you can check out the beautiful seaside and the interesting cave dwellings alongside the water. The Red Beach is also a short walk away.
Museum of Prehistoric Thera
You cannot visit the historic site of Akrotiri without going to the Museum of Prehistoric Thera in Fira. It's annoying that the locations are quite a bit away from each other but they're both essential to understanding the whole story. You can get a combined ticket at Akrotiri which will save you a few euros.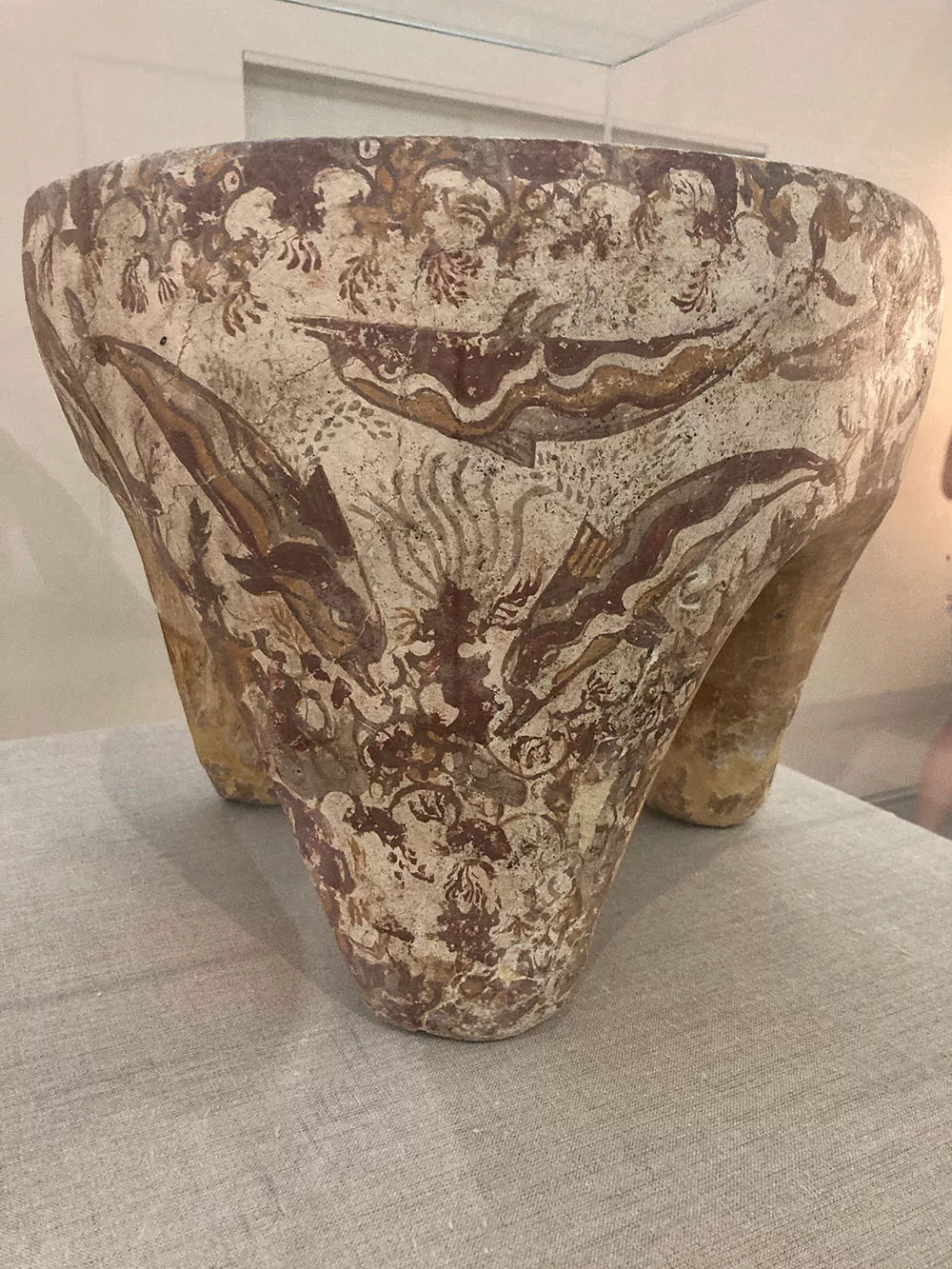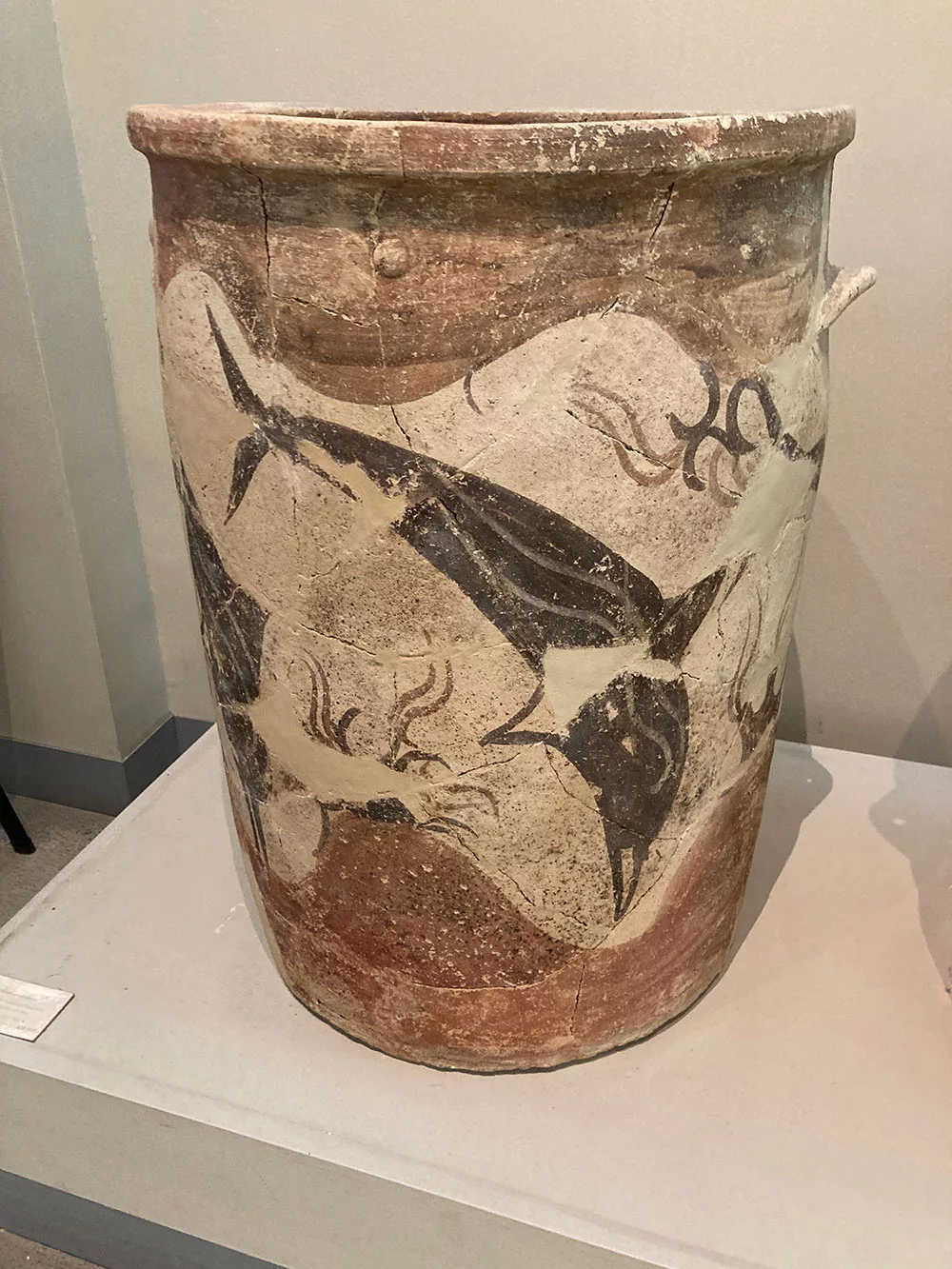 At the museum, you can see the artefacts that were found in Akrotiri. Many of them are storage vessels like the ones seen at the archaeological site – and they're huge! Some were about my size. But the prized jewels of the museum are the gold goat and the frescoes. The gold goat (if that's what it is?) was found inside a box and it's the only gold artefact found so far. The idea is when people set off with their gold, they forgot this piece in a box. It's not super detailed but quite cute, and timeless.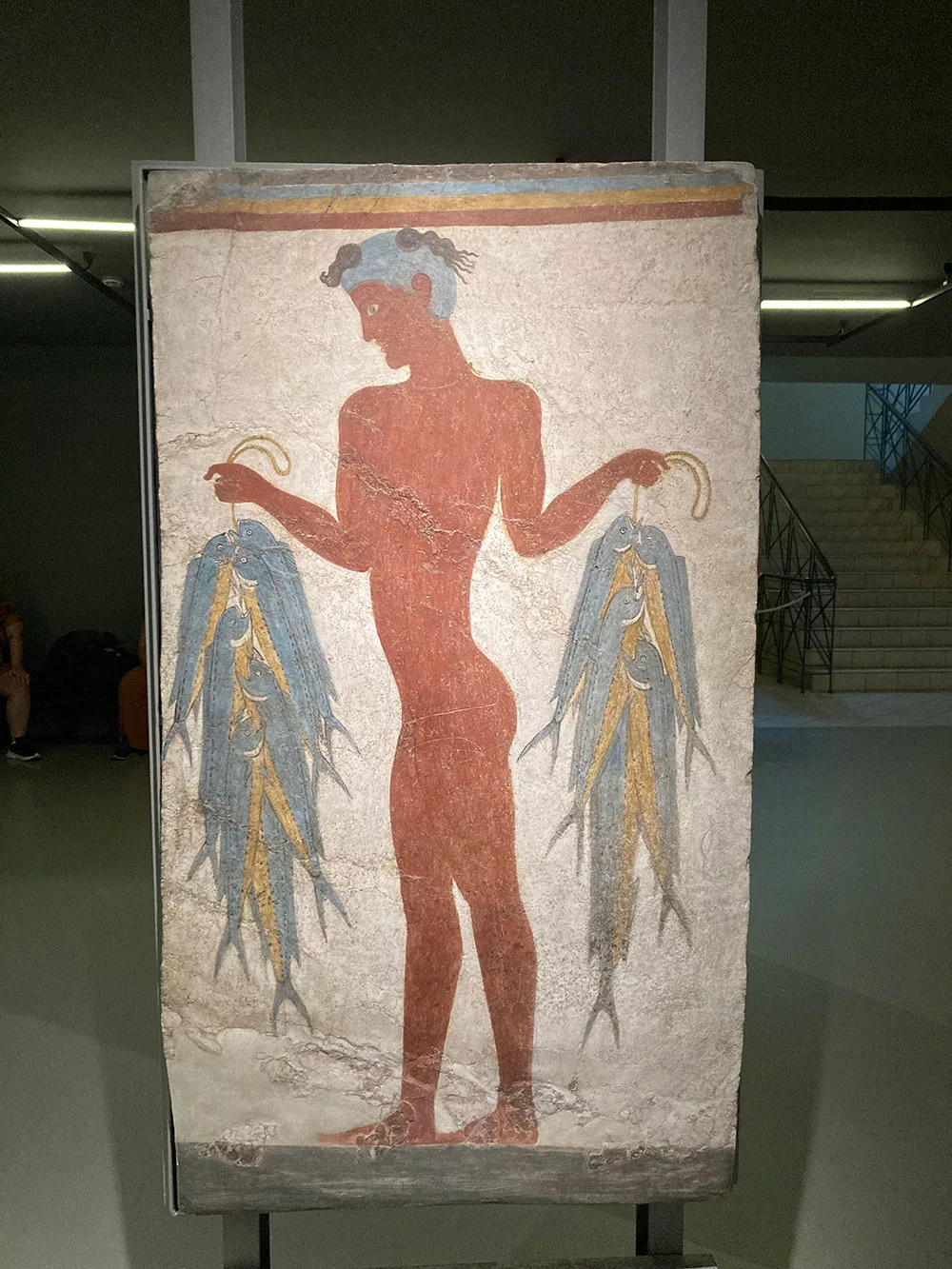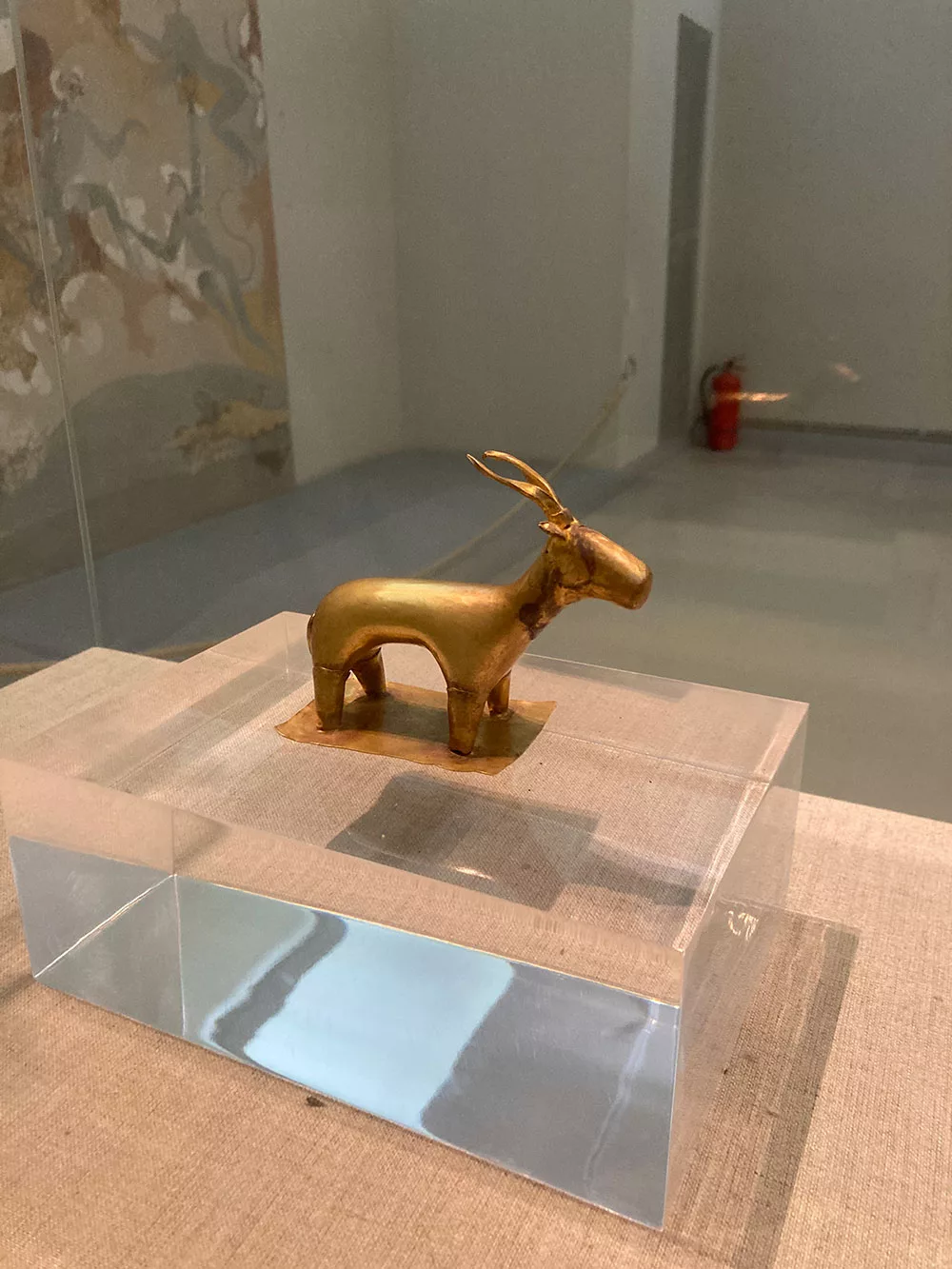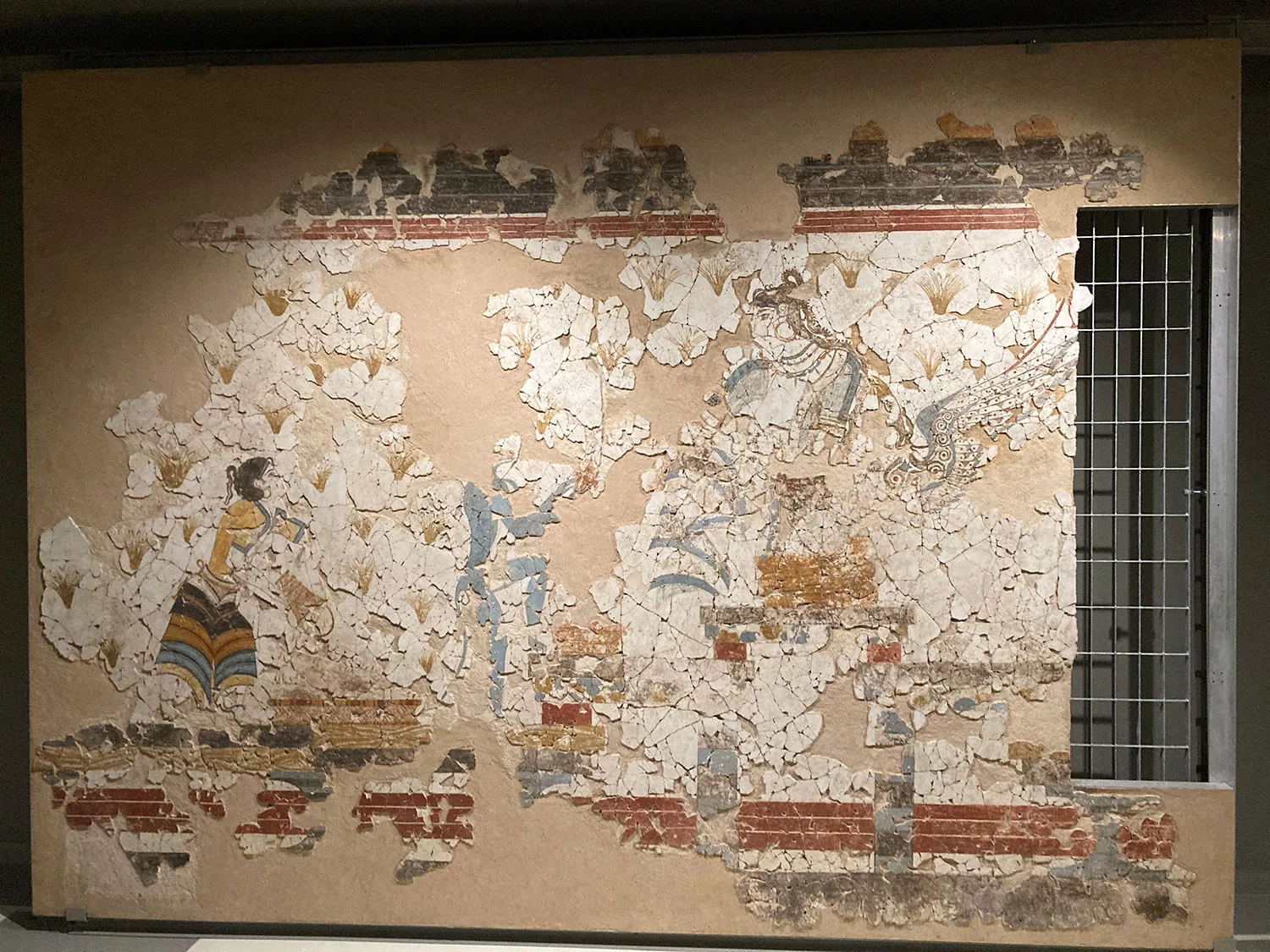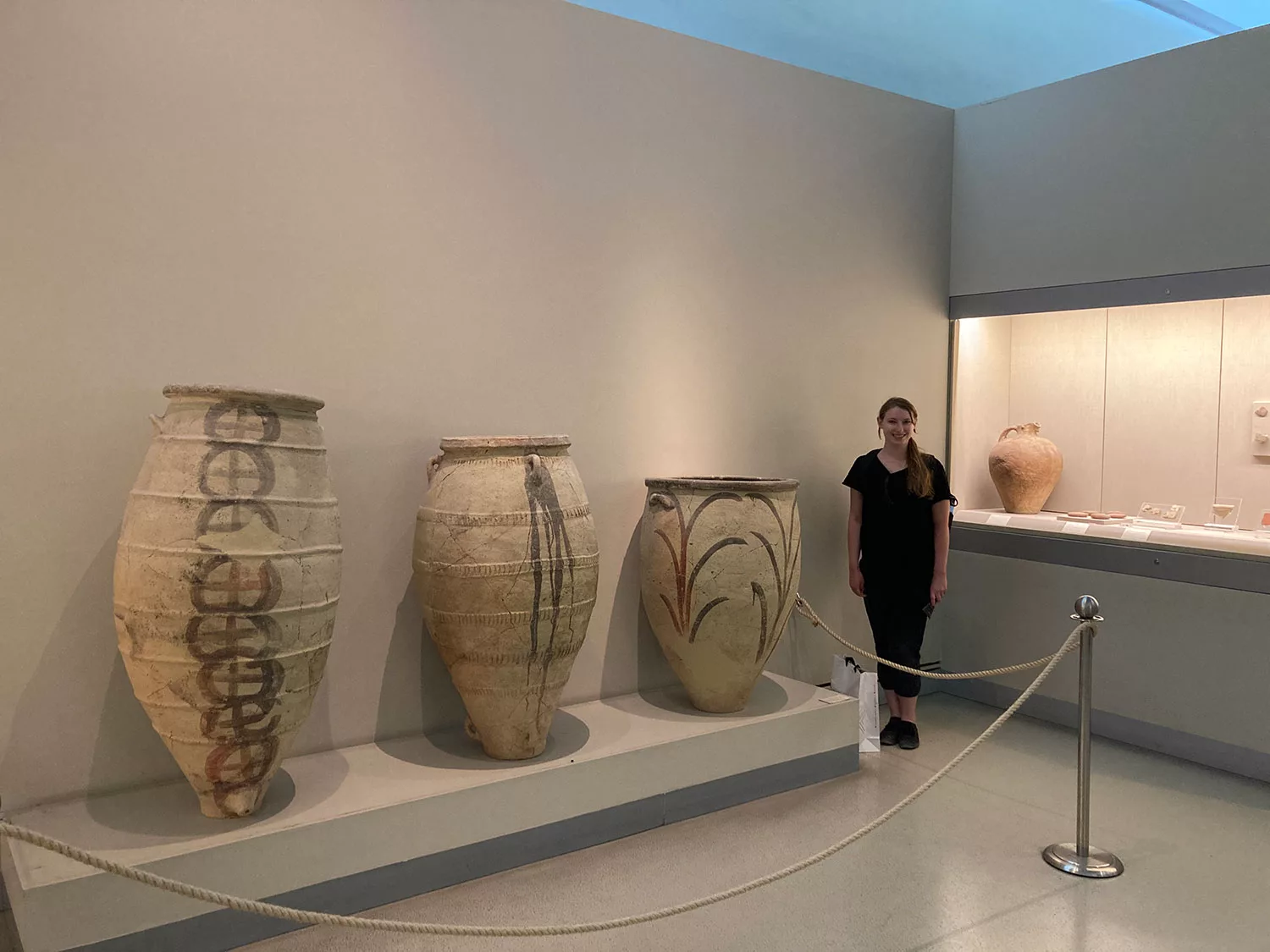 Of course the frescoes are absolutely amazing. There are so many of them and for being 3700 years old or so, they're in great condition. The museum does a good job of showing you the original fresco fragments and the reconstructed parts. Seeing these was definitely one of the coolest things we did. Note that they're all on the lower level of the museum, which I almost missed. So keep in mind there are two levels of the museum!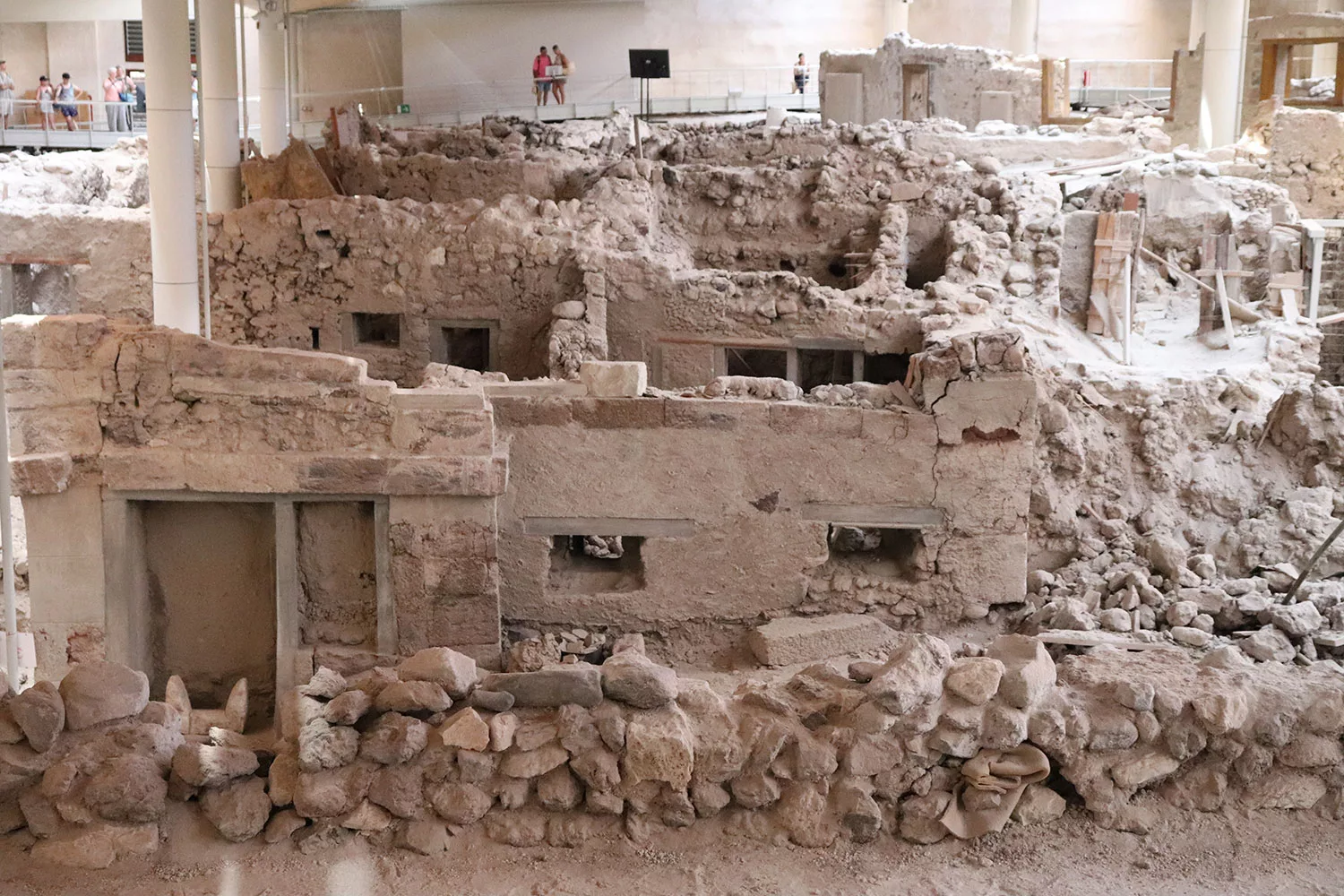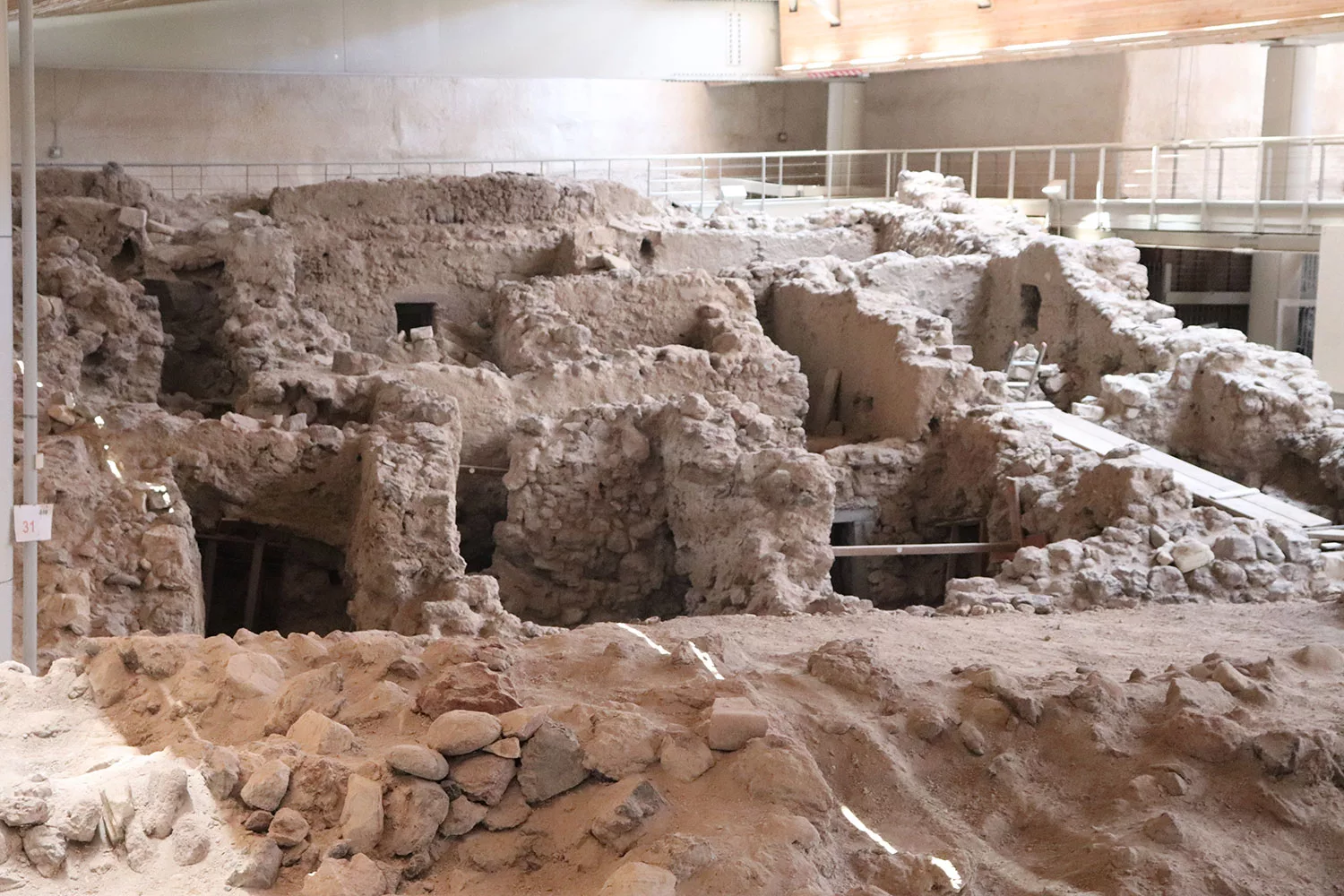 I cannot recommend a trip to Akrotiri enough. Seeing the structures that are so old was absolutely amazing and it gives a glimpse to a very far away part of Greek history. Santorini wasn't my favorite part of our Greece trip but visiting Akrotiri made it so worthwhile.
Please note that this post may contain affiliate links. These are at no additional cost to you but I receive a commission if you make a purchase through the link, and the commission helps me run my blog. Thanks for your support!
Tags:
akrotiri
,
europe
,
greece
,
santorini
Sharing is Caring
Want to support me?
Buy me a Coffee