Visiting Knossos, an Archaeological Splendor in Crete
Originally published on Friday, August 4, 2023
If you've studied archaeology then you've probably heard of Knossos in Crete, one of the world's ancient splendors. I was eager to see this place for myself and thought it was a fantastic experience.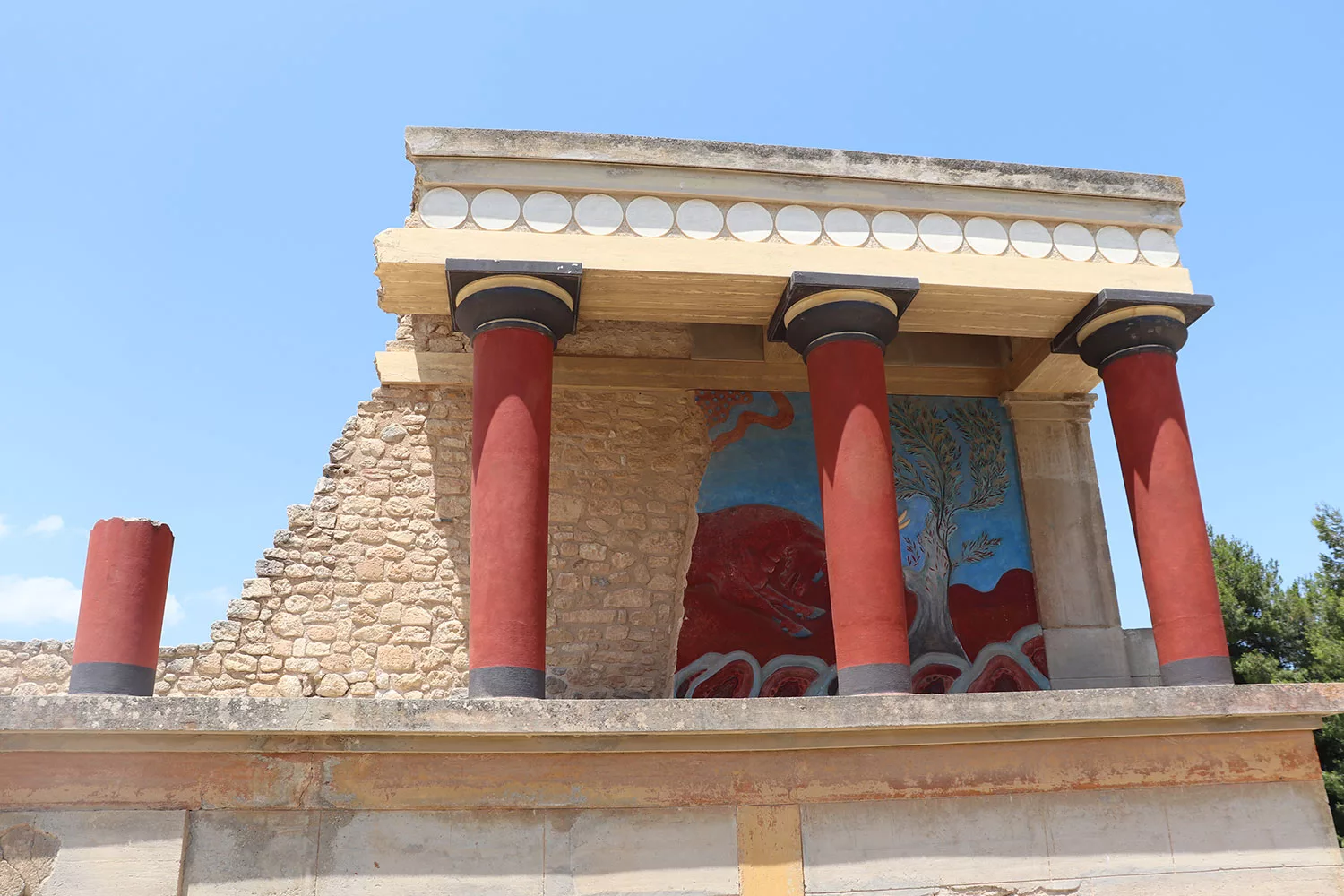 What was Knossos?
The Minoan culture lived on Crete thousands of years ago, and Knossos – being their largest city – was probably their capital or central power. What remains today is the Knossos Palace, which was a working palace with many functions and inhabitants.
Since Crete is centrally located between Europe, Asia and Africa, Knossos was definitely a huge trade city, which can be seen in the Minoans' artwork with influences from many cultures. Though the site had been inhabited for almost 10,000 years, the buildings we see today date back to about the 16th-14th centuries BC.
I was taught that Knossos was destroyed by a tsunami – which is possible – but it's more likely the city fell when the Greeks (Mycenaeans) conquered it in the 13th century BC, thought there is evidence they used the city for their own ventures before abandonment.
This also marked the end of the Minoan civilisation. Of course, there's lots of debate around what happened thousands of years ago, but this is a probable explanation.
Visiting Knossos Today
The main myth the Minoans followed was that of the Minotaur, half-bull half-man, who lived in a labyrinth. You can read about it here. Based on the myth, you'll see lots of bull motifs – particularly at the museum in Heraklion – and it's said that Knossos is designed to be like a labyrinth.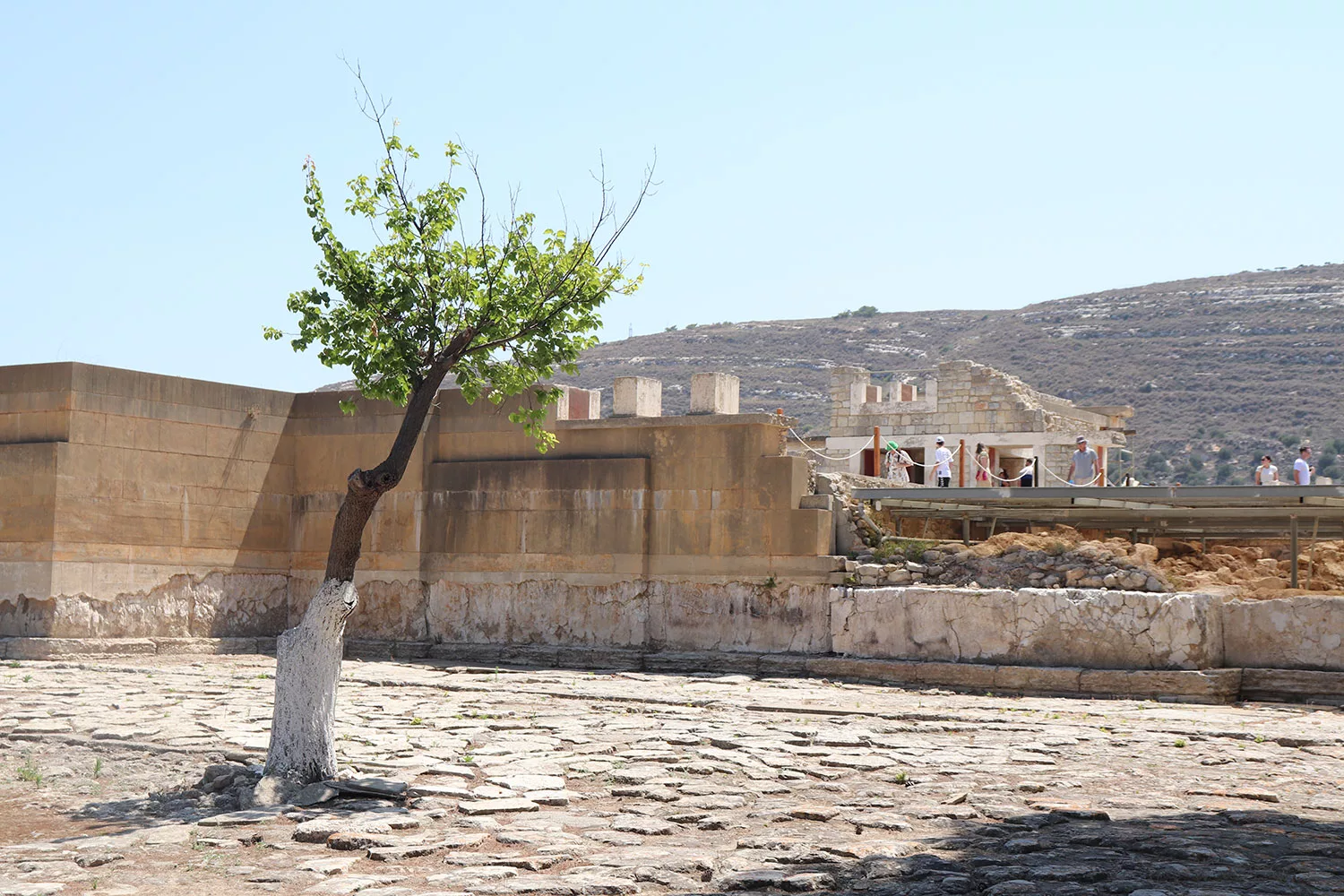 When you enter, you'll go to the main plaza where processions and festivities would've been held. From here, you'll need to look at the map to make sure you're going to every place. There are maps throughout the site so you should be OK. Generally you'll go around the site in a circle.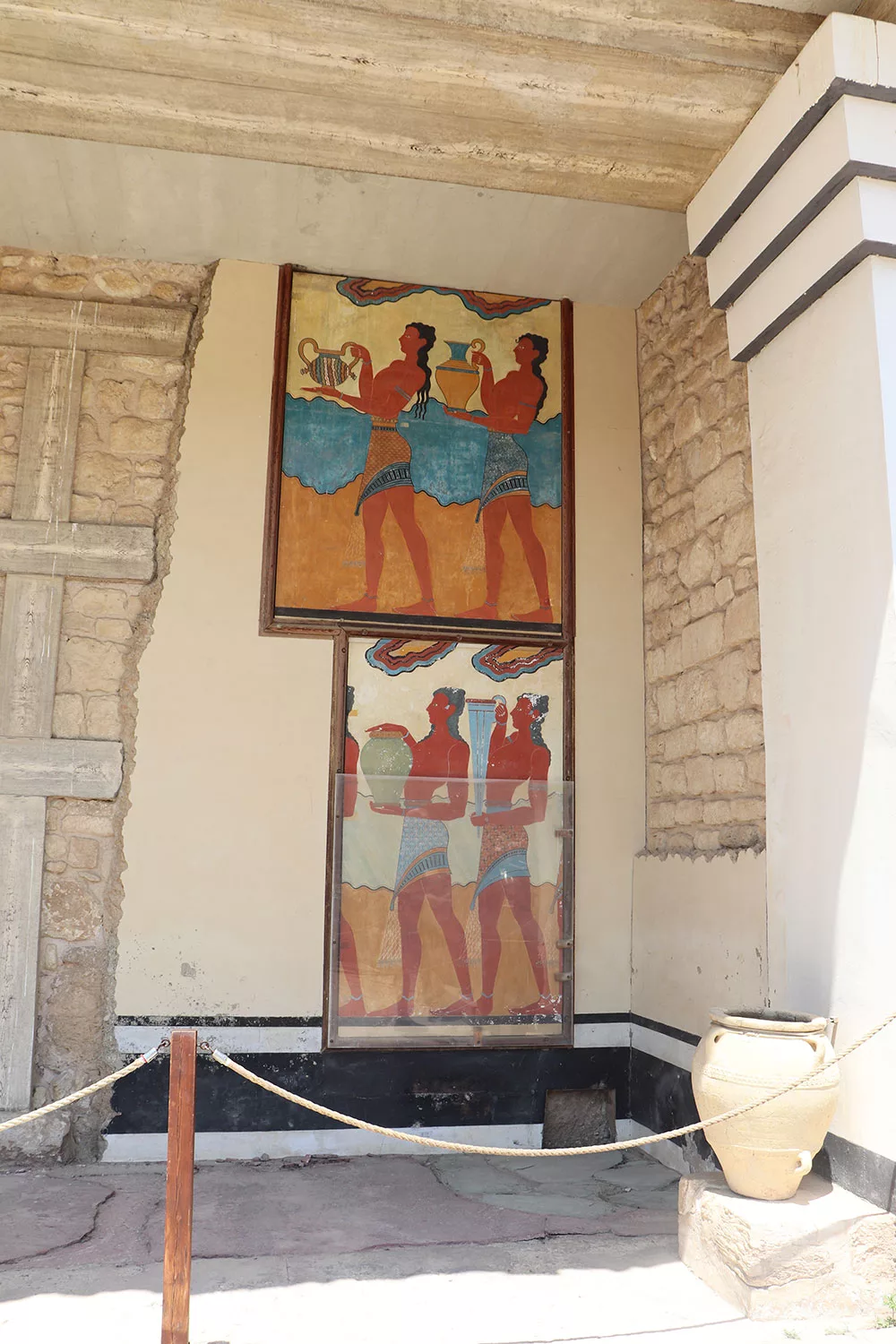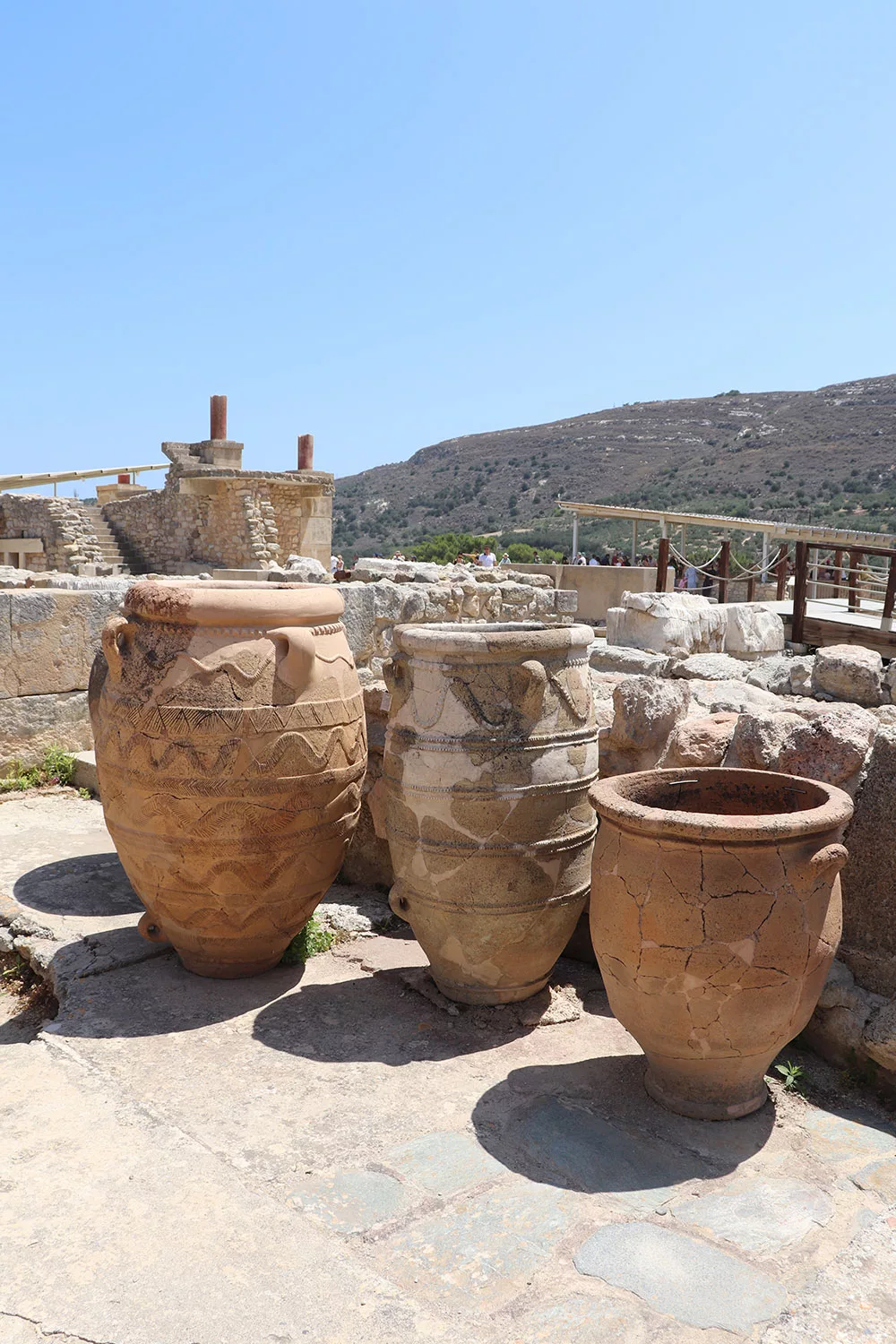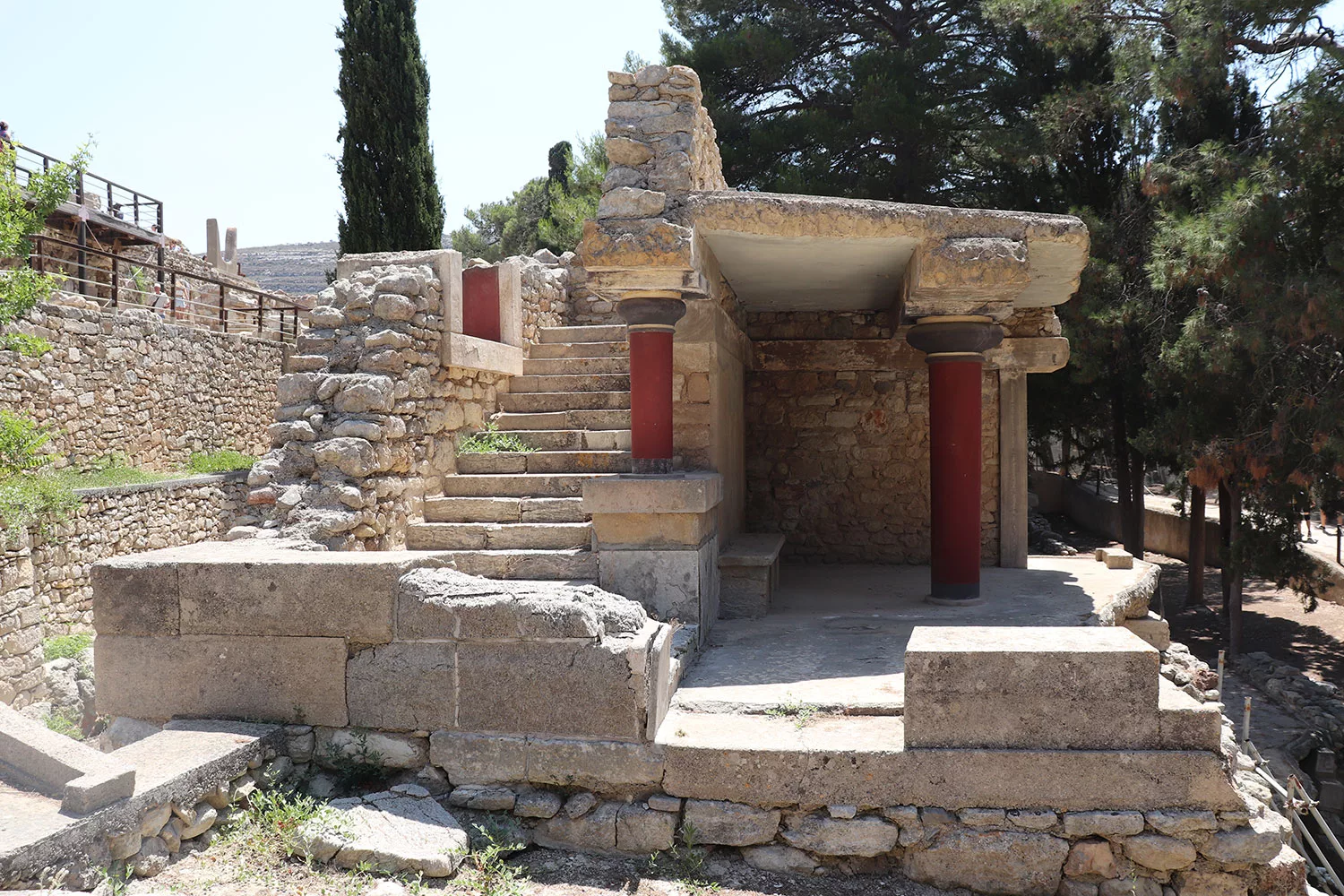 It wasn't very much like I'd expected. Lots of the site is in ruin. There are some places that have been reconstructed but this seemed to make some people disappointed. I personally don't mind it since it helps people imagine what the area would've looked like in its heyday; it turns a pile of rocks into a palace. But I noticed a lot of people were expressing their disdain or lack of enthusiasm because some places weren't completely original.
I think it's very easy to identify what these places are, though, since it's the difference between rubble and a pristine room.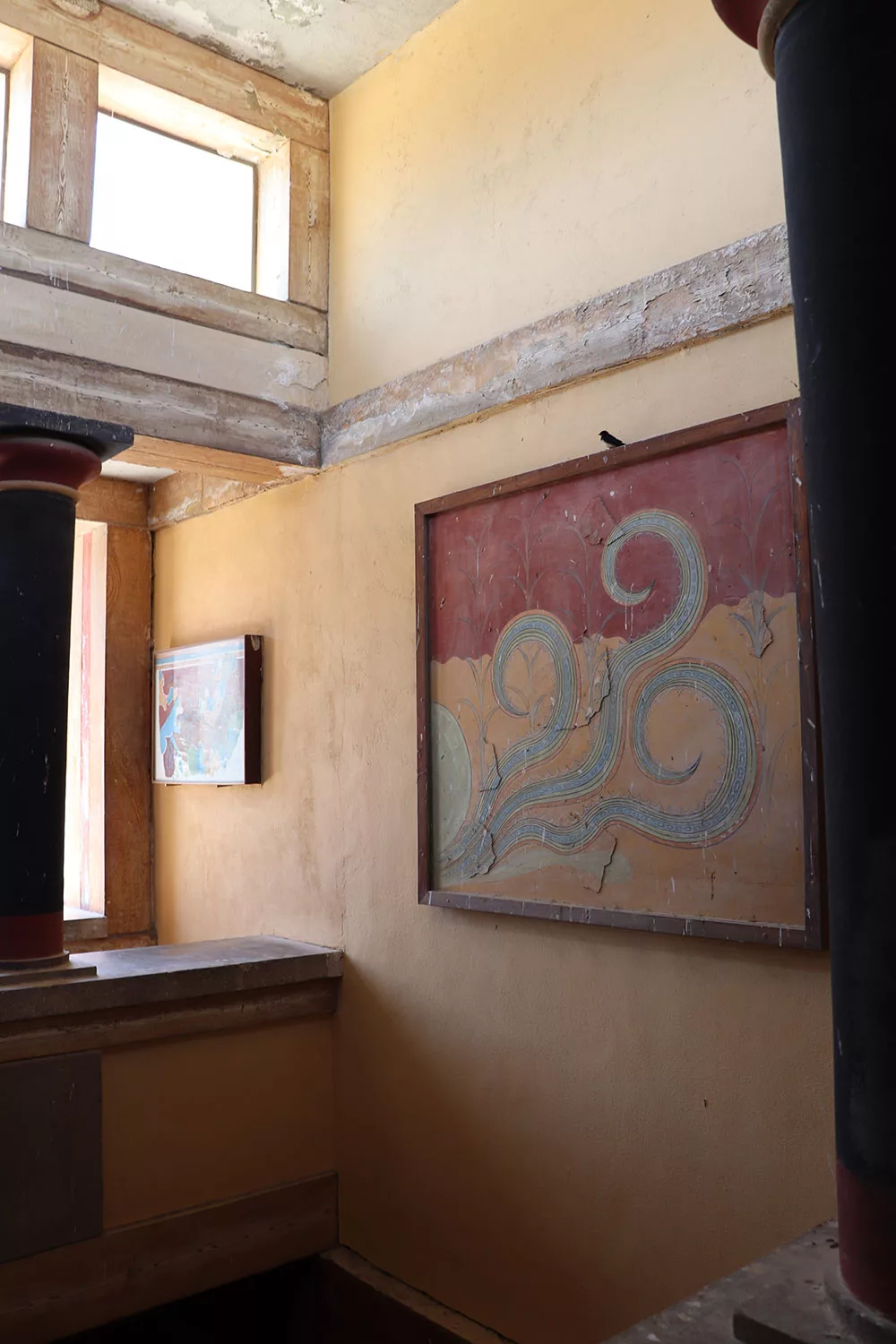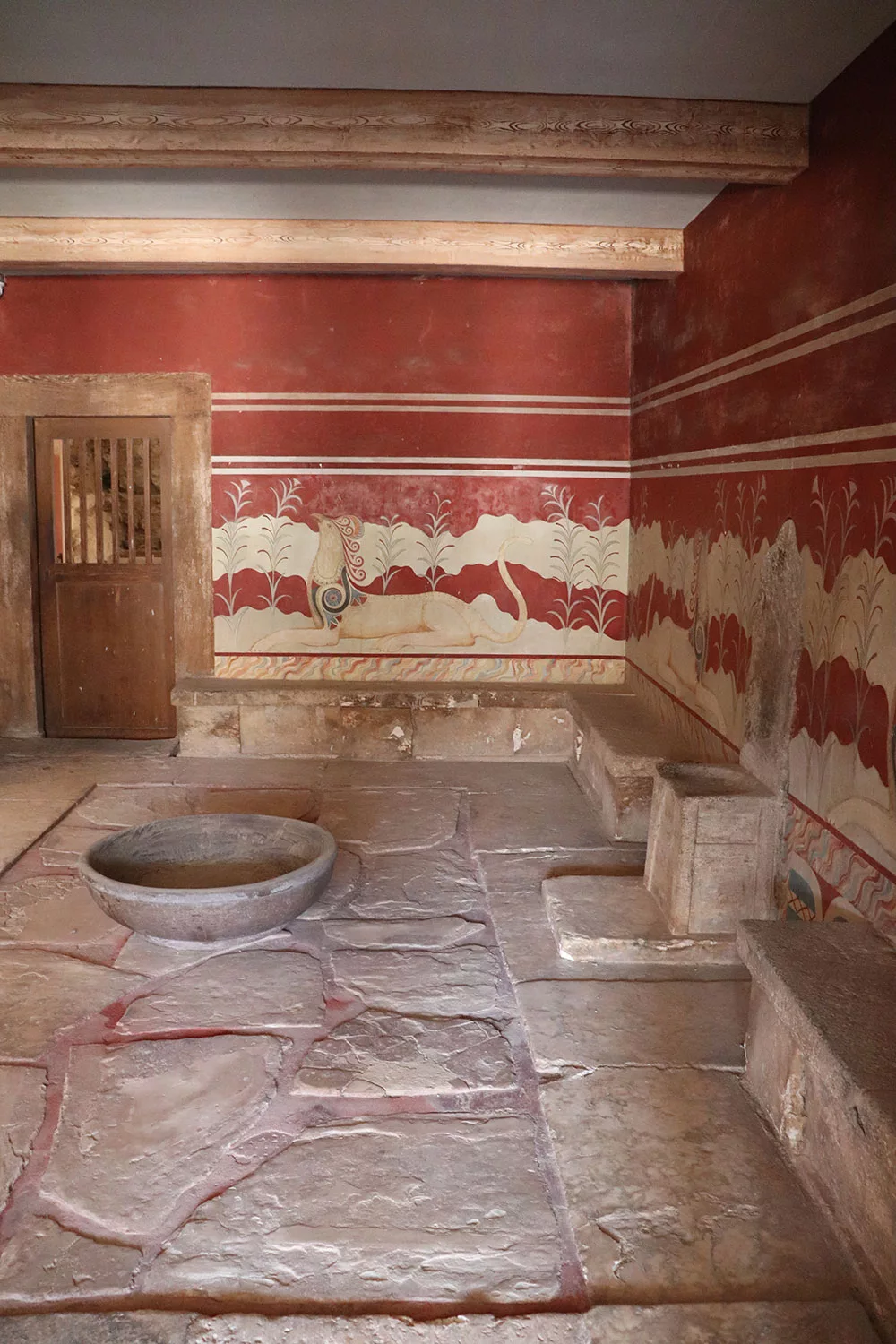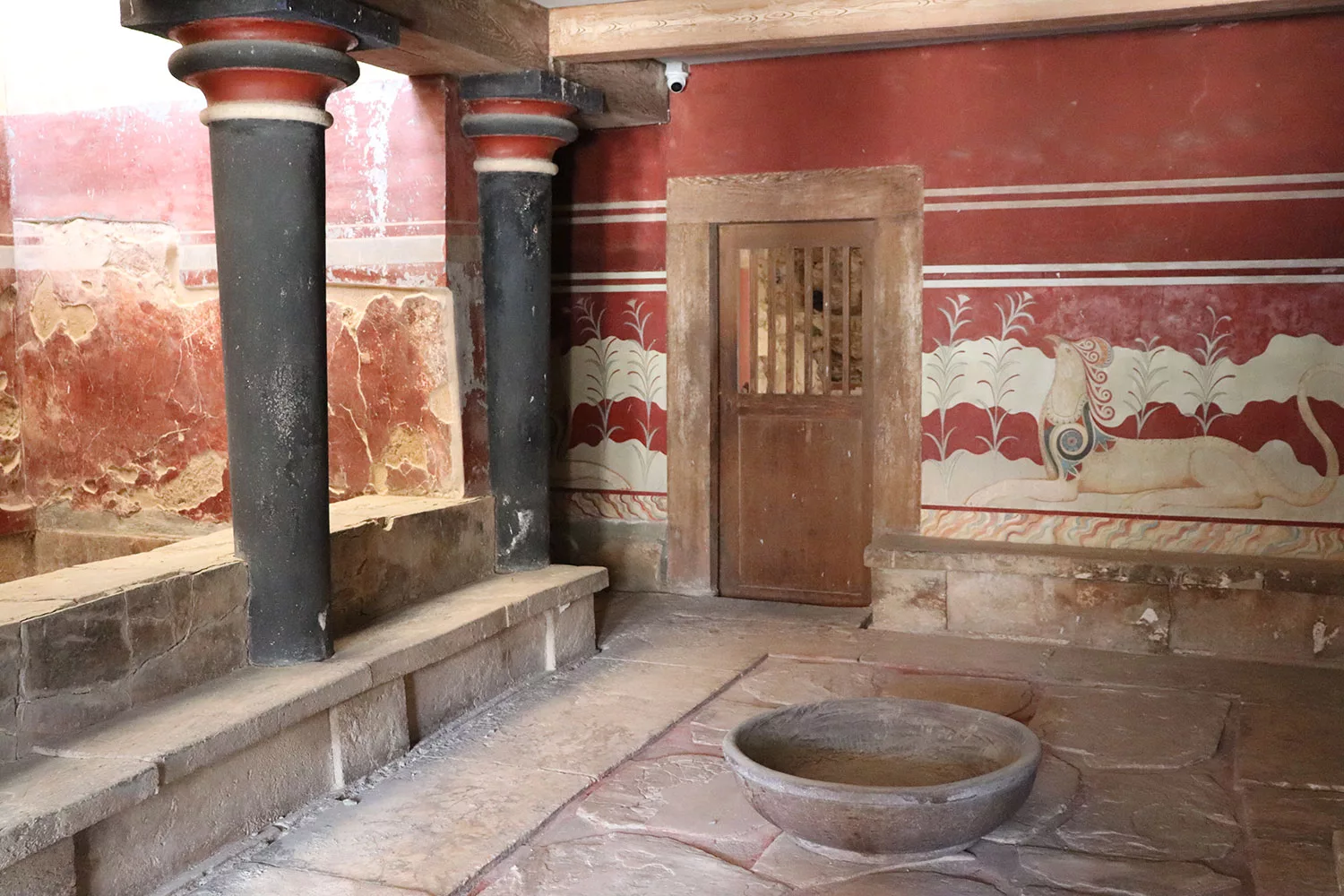 The site actually isn't that large and even if you read the plaques, it should take about an hour to visit. Some places you really need to stop by include the famous Throne Room, which may have a line of entry. It's worth waiting, though. Atop the Throne Room is a reconstructed section that I personally thought was cool because you can experience walking in and around Minoan architecture. They also have reconstructions of frescoes here.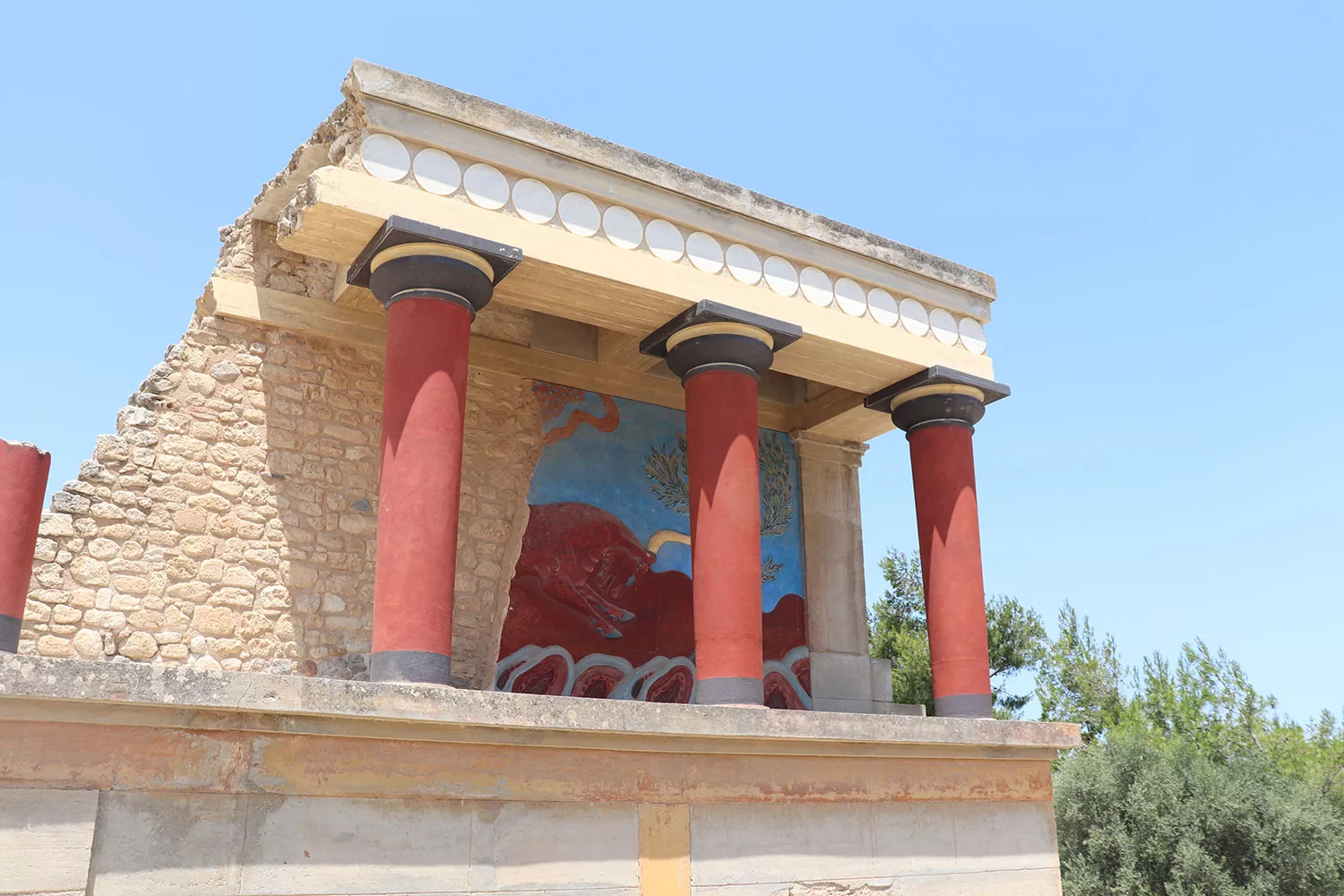 Of course you'll also need to stop by the North Entrance, which is the heavily photographed part of Knossos. This is supposedly what many foreigners would've seen as they entered the palace. I think this area goes to show that people really do like the reconstructions. Knossos and its history wouldn't be as famous without them.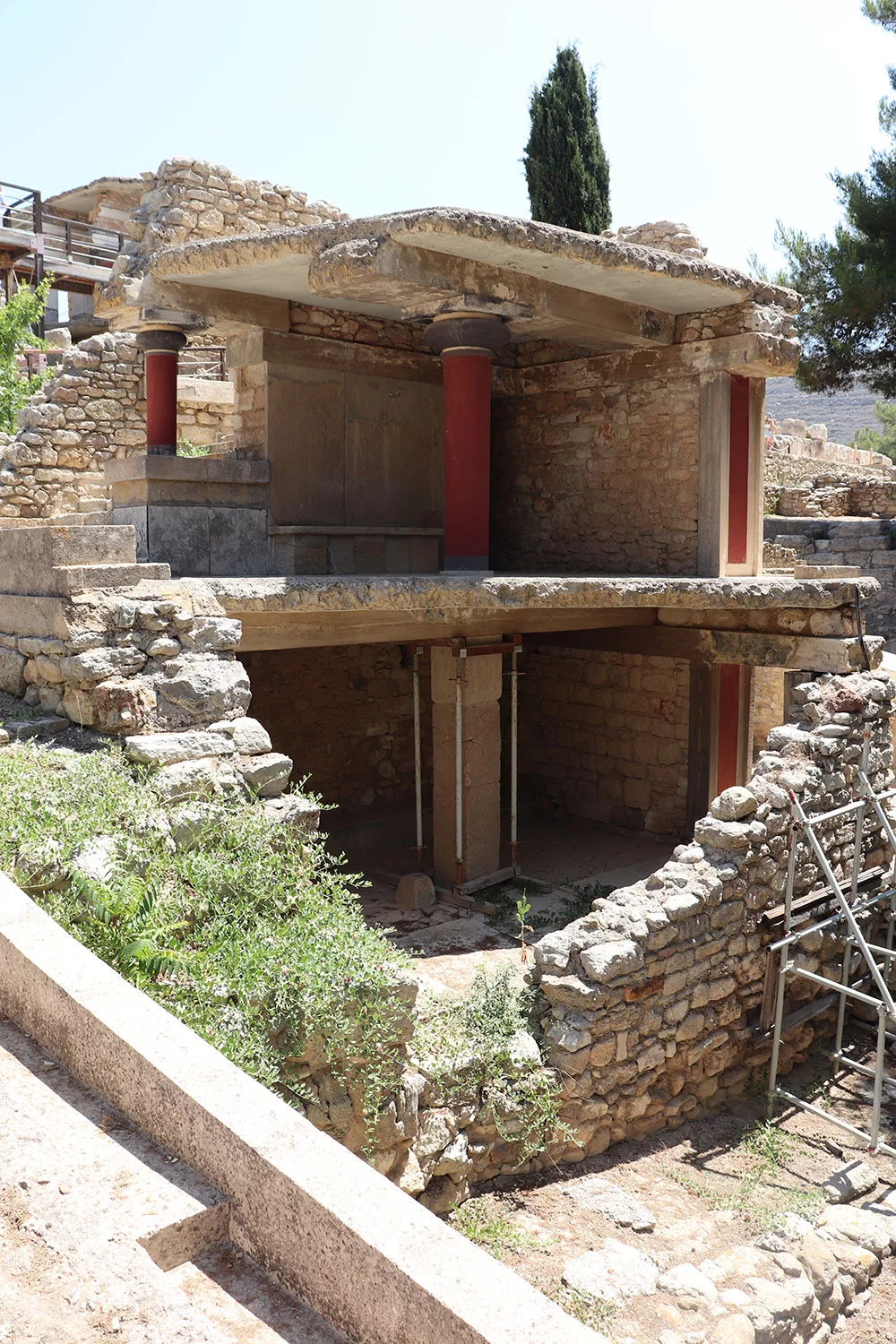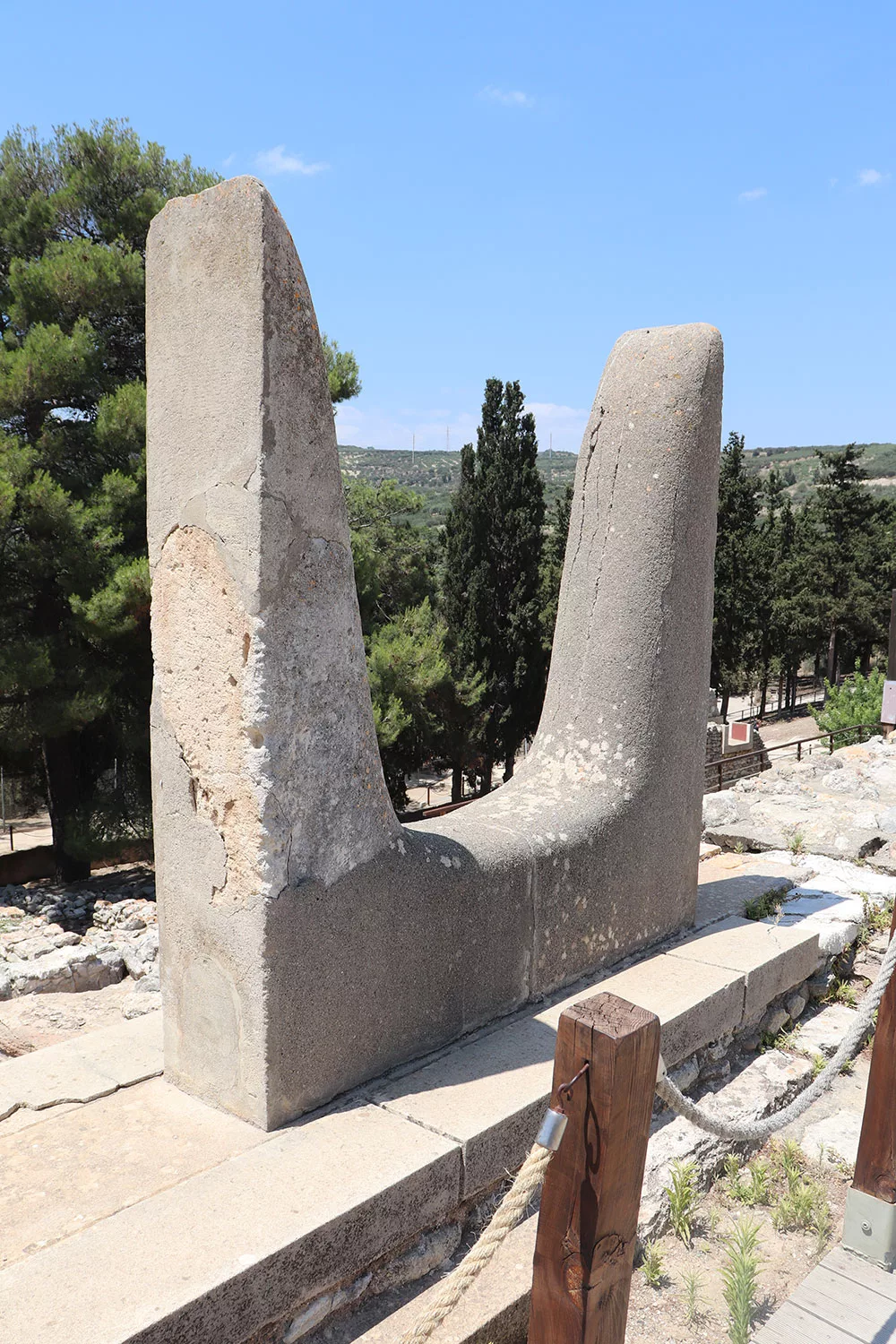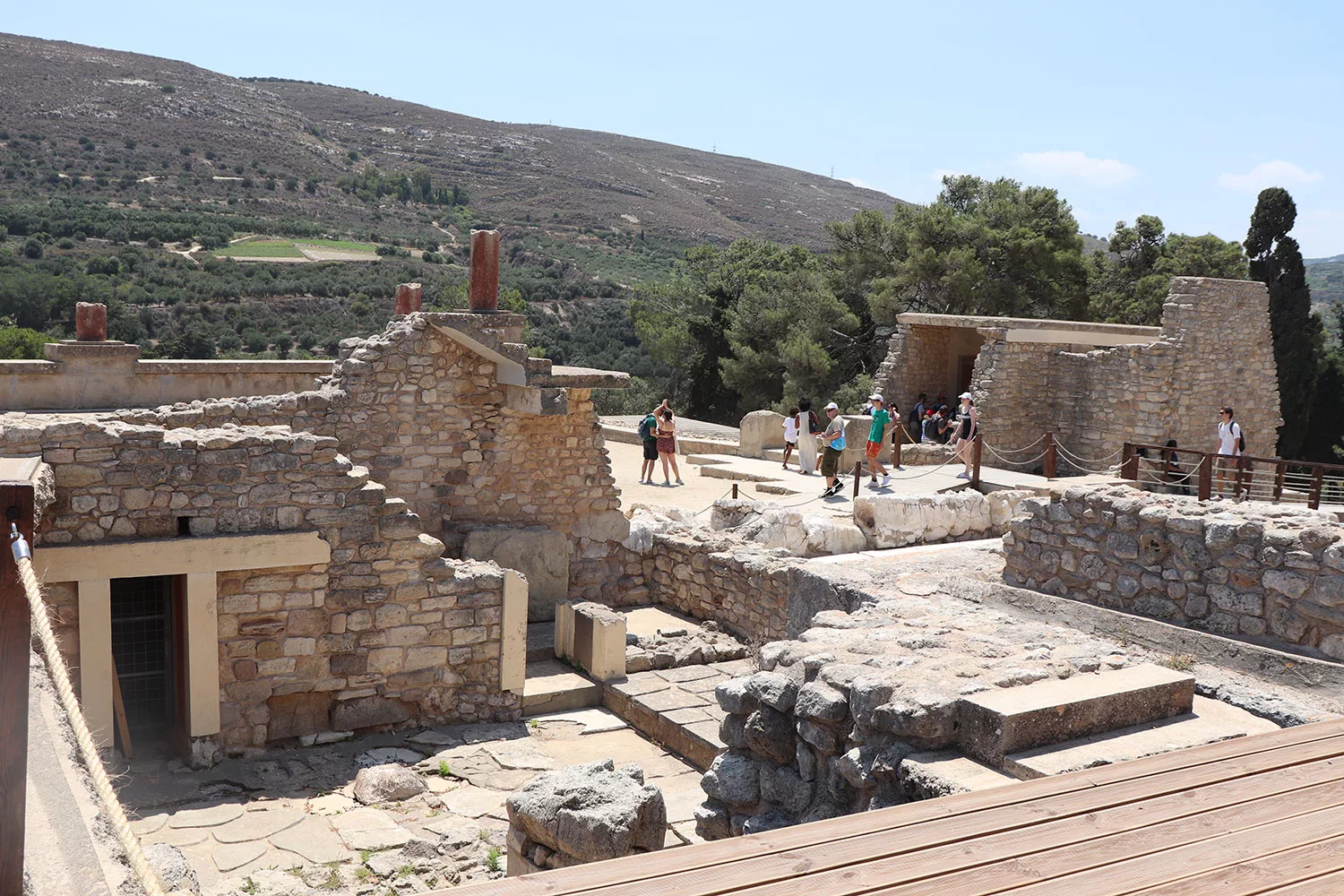 You might notice that a lot of signs mention Arthur Evans and what Evans thought. He was the lead archaeologist of the site, but I'm personally not a huge fan of having one individual's interpretation alone. It looks like a lot of the interpretations and the recreations of Knossos revolve around Evans' ideas and that's something to keep in mind. I wish the projects would've involved more experts instead of just relying on one person's thoughts – especially with the reconstructions. I mean, what if Evans was a quack?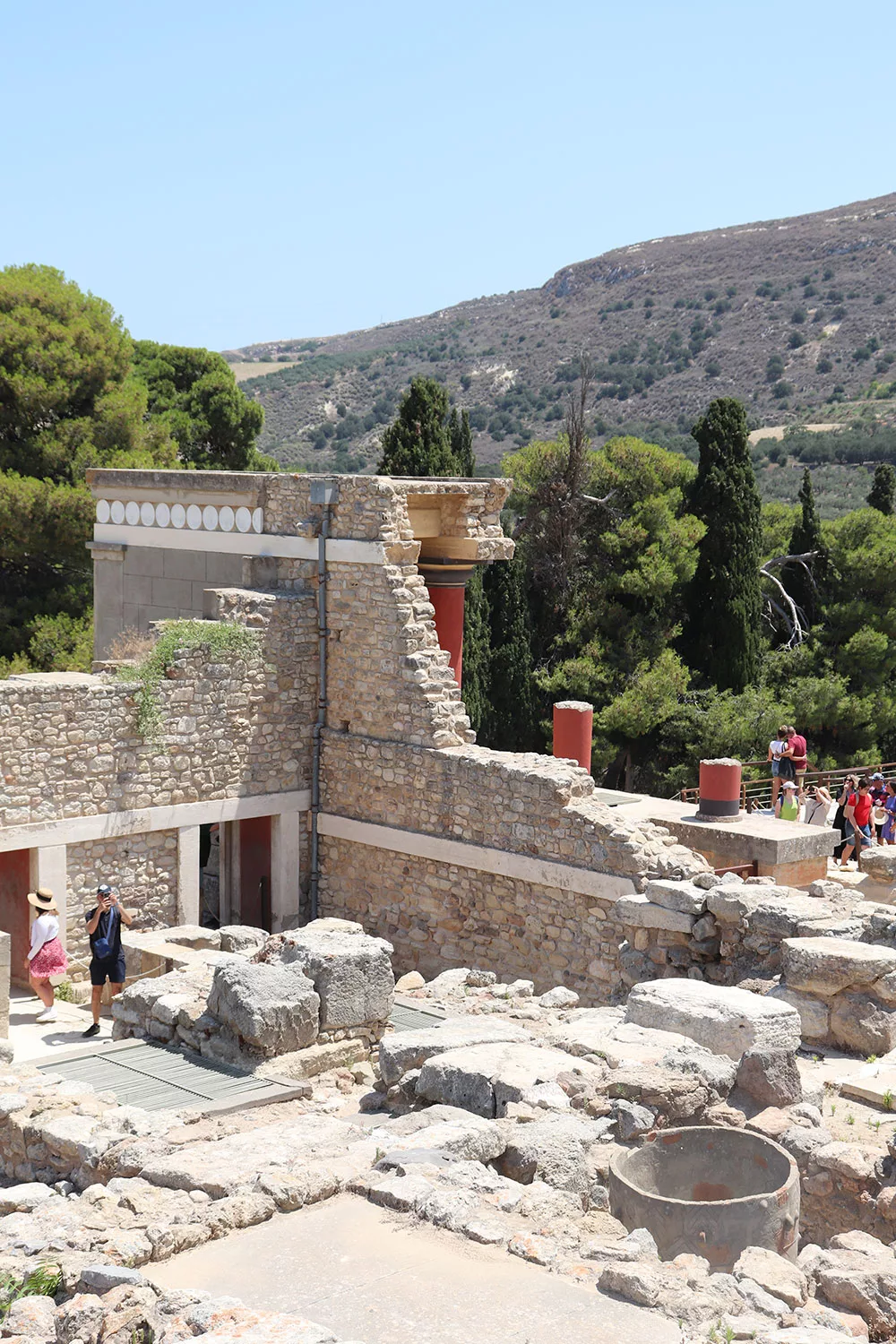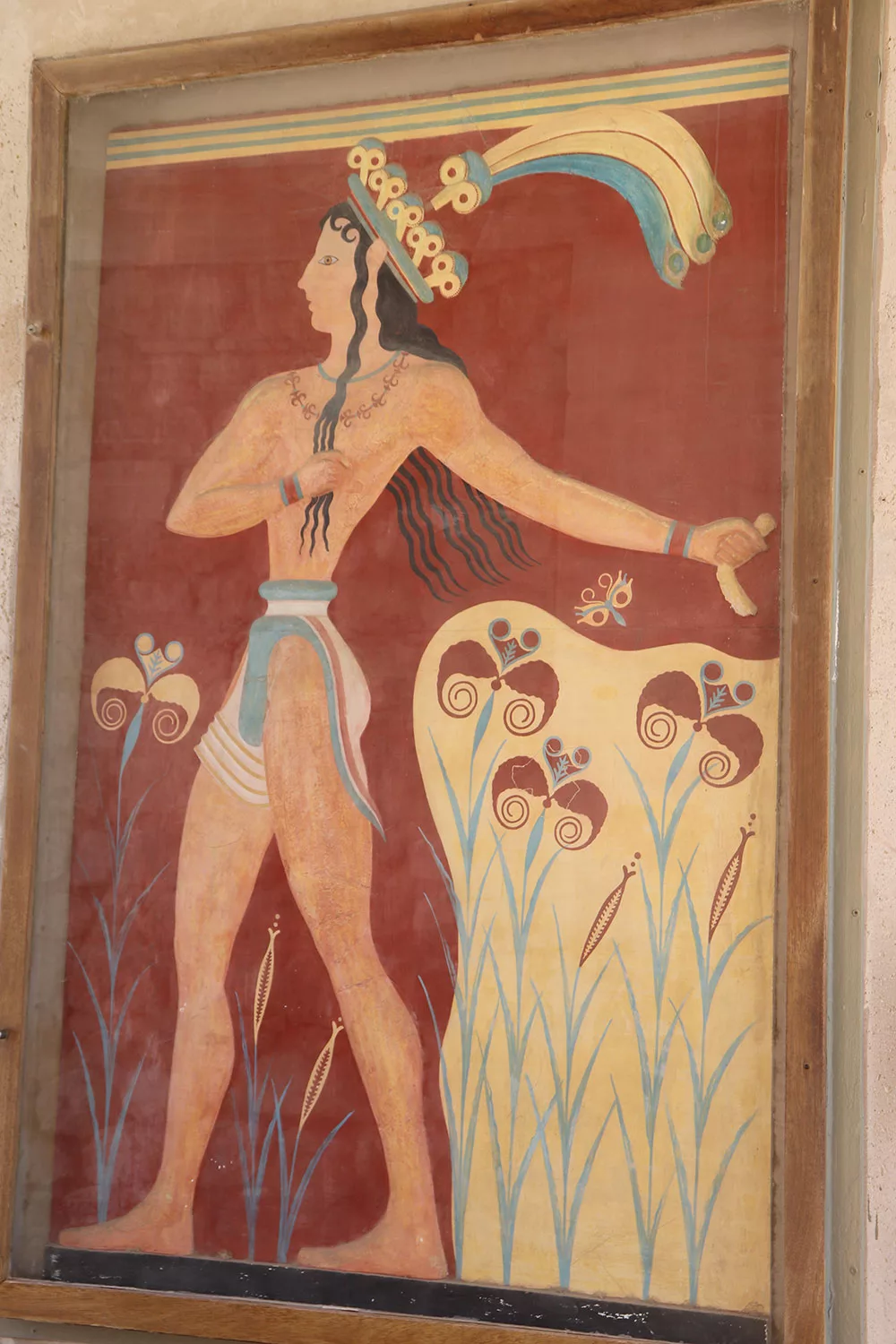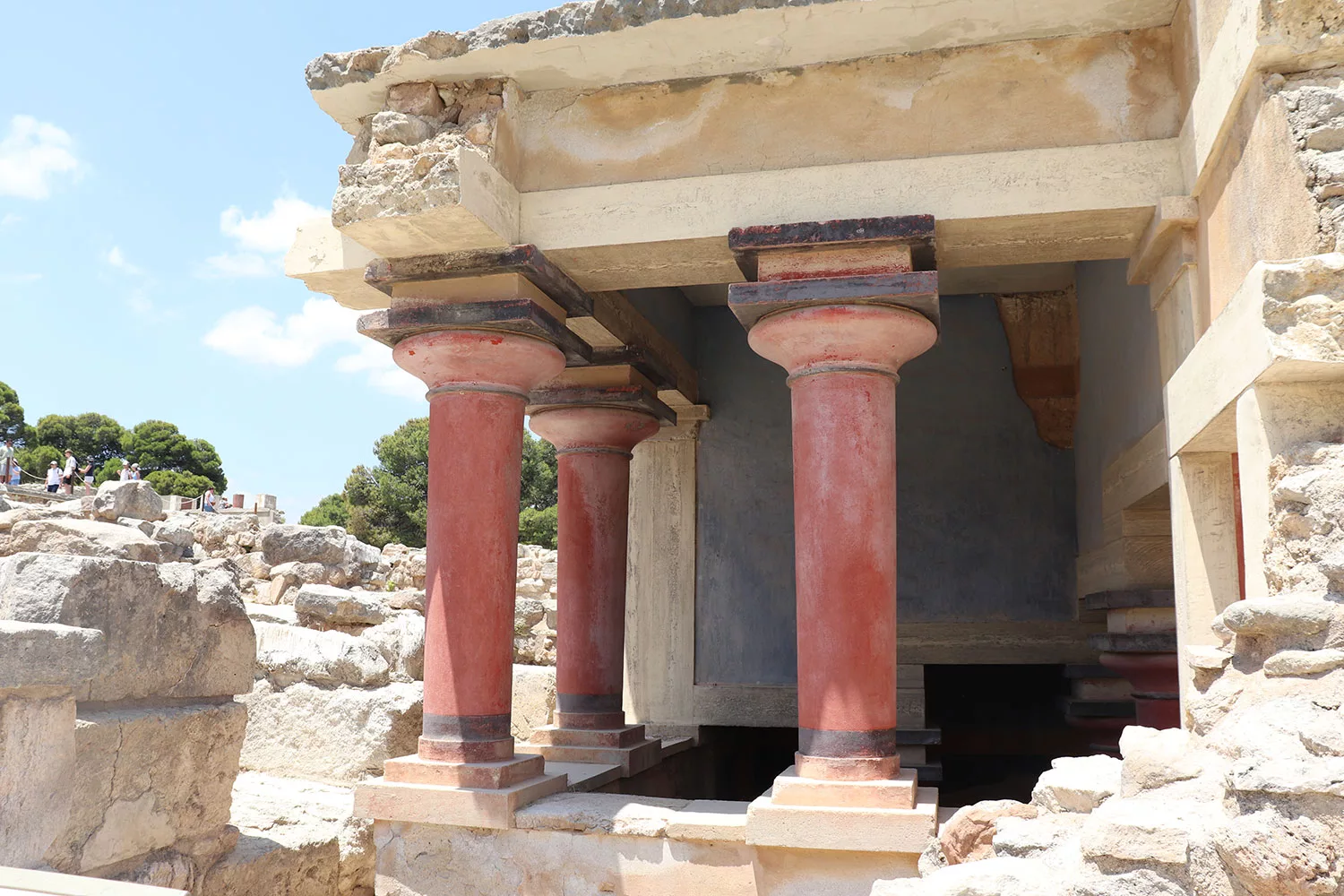 The site is very clearly mapped out and there are signs at every spot of interest describing the findings. The signs have quite a bit of information on them so I felt it was easy to get around and learn about the site without needing to hire a tour guide. Of course, a guide is always going to tell you more and can answer questions.
Tickets: You don't need to buy a ticket ahead of time but it'll save you from standing in a long line. You can purchase yours online via Tiqets.
How to Get to Knossos
Getting to the archaeological site is very easy. For a few euros, you can take a bus from Heraklion directly to the site. If you take a taxi, the cost is less than 20 euros.
The Heraklion Archaeological Museum
Many artefacts of Knossos are not on display at the archaeological site, so you will have to go to the Heraklion Archaeological Museum to see them. Keep in mind the museum displays remnants from Knossos but also other Minoan places, so not everything is from one particular site.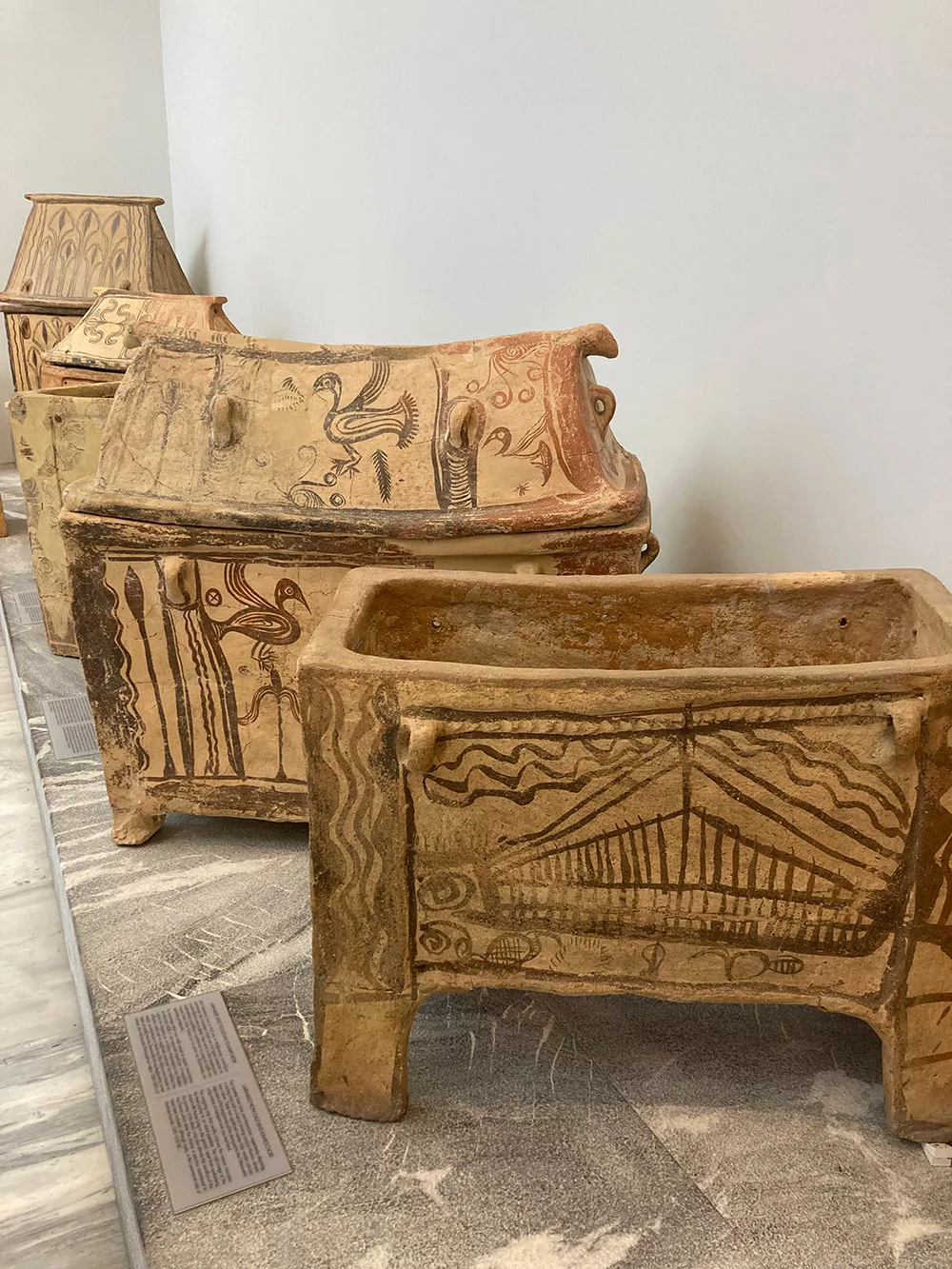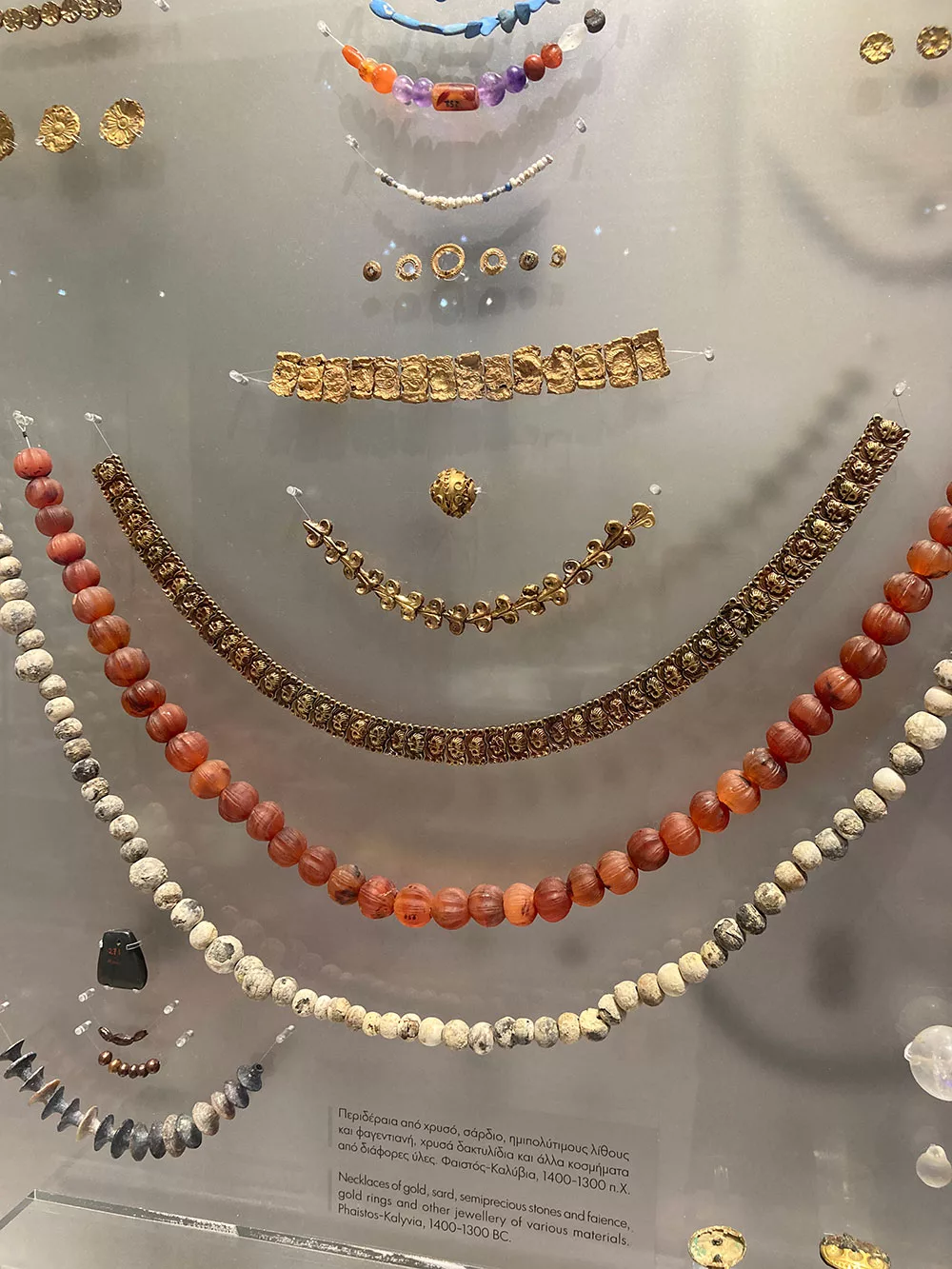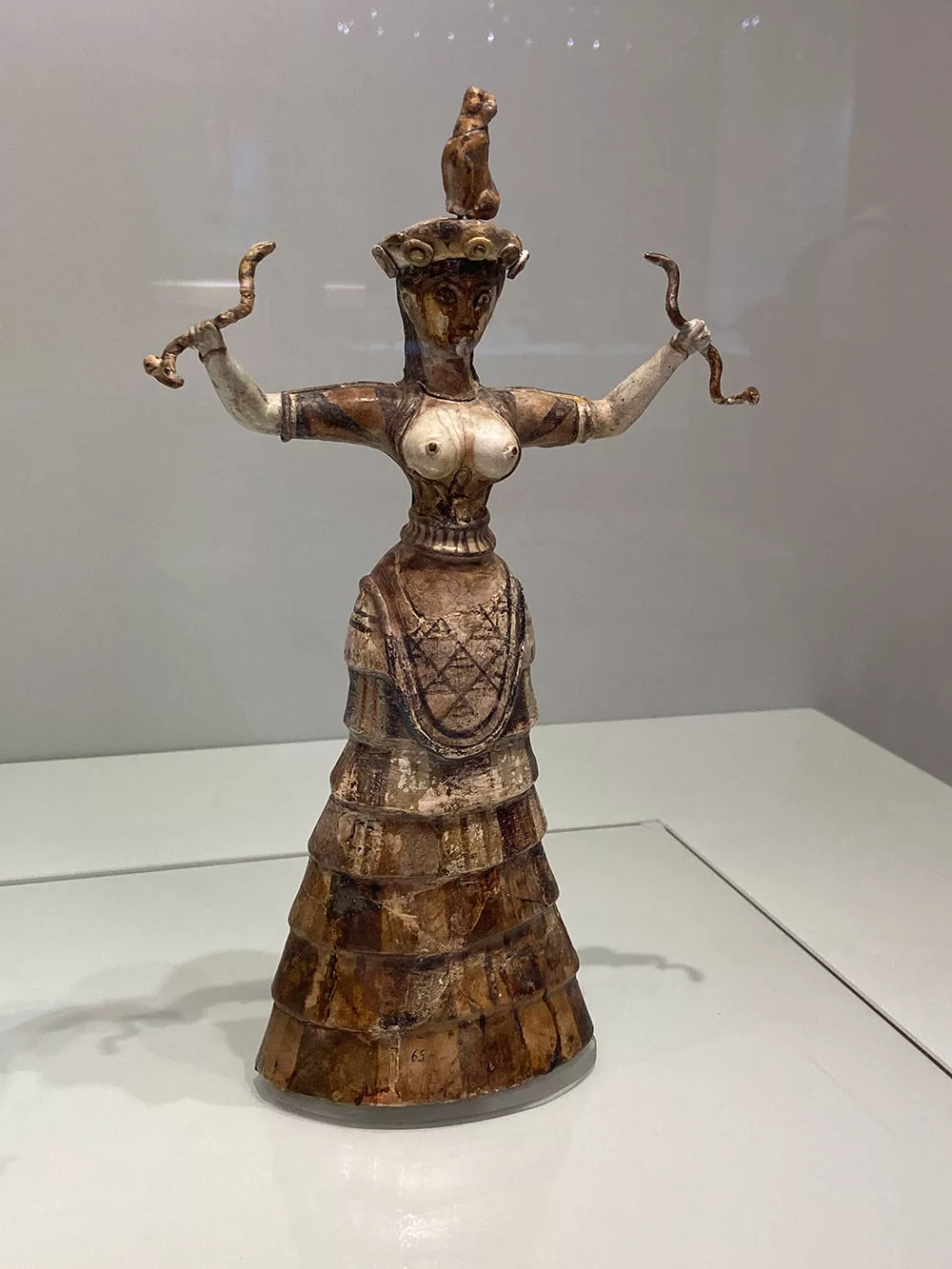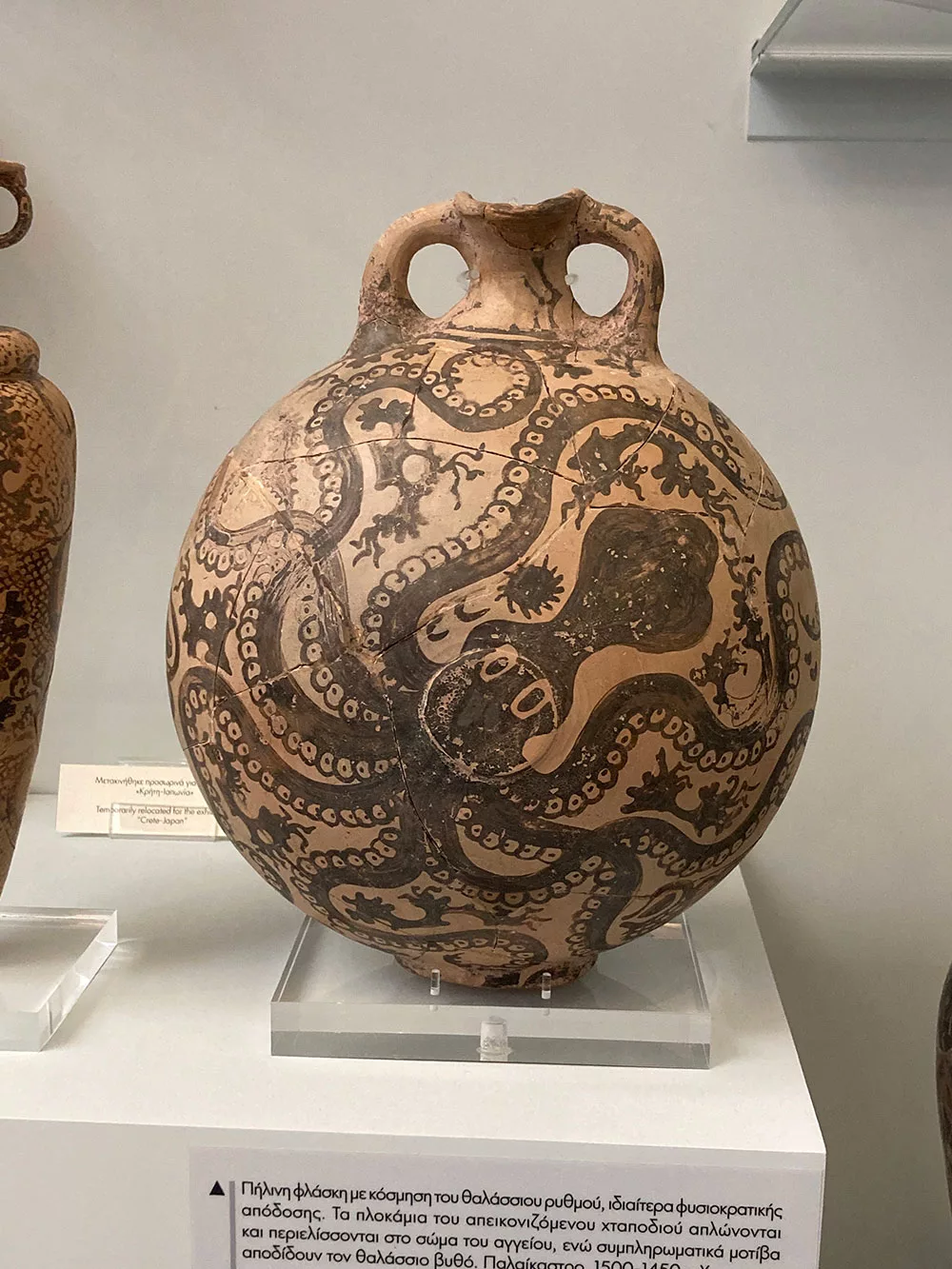 This museum is one of the best I've been to – and I've been to a lot! It is so well organised and one large section is dedicated to the Minoan culture, which is probably what you'll be most interested in for Knossos. However there are other sections for different eras of Cretan art, as well. There are also so many artefacts from drinking vessels to games to urns to jewellery. All sections have informative descriptions so you really get immersed in the world of the Minoans and can learn a lot just by visiting the museum.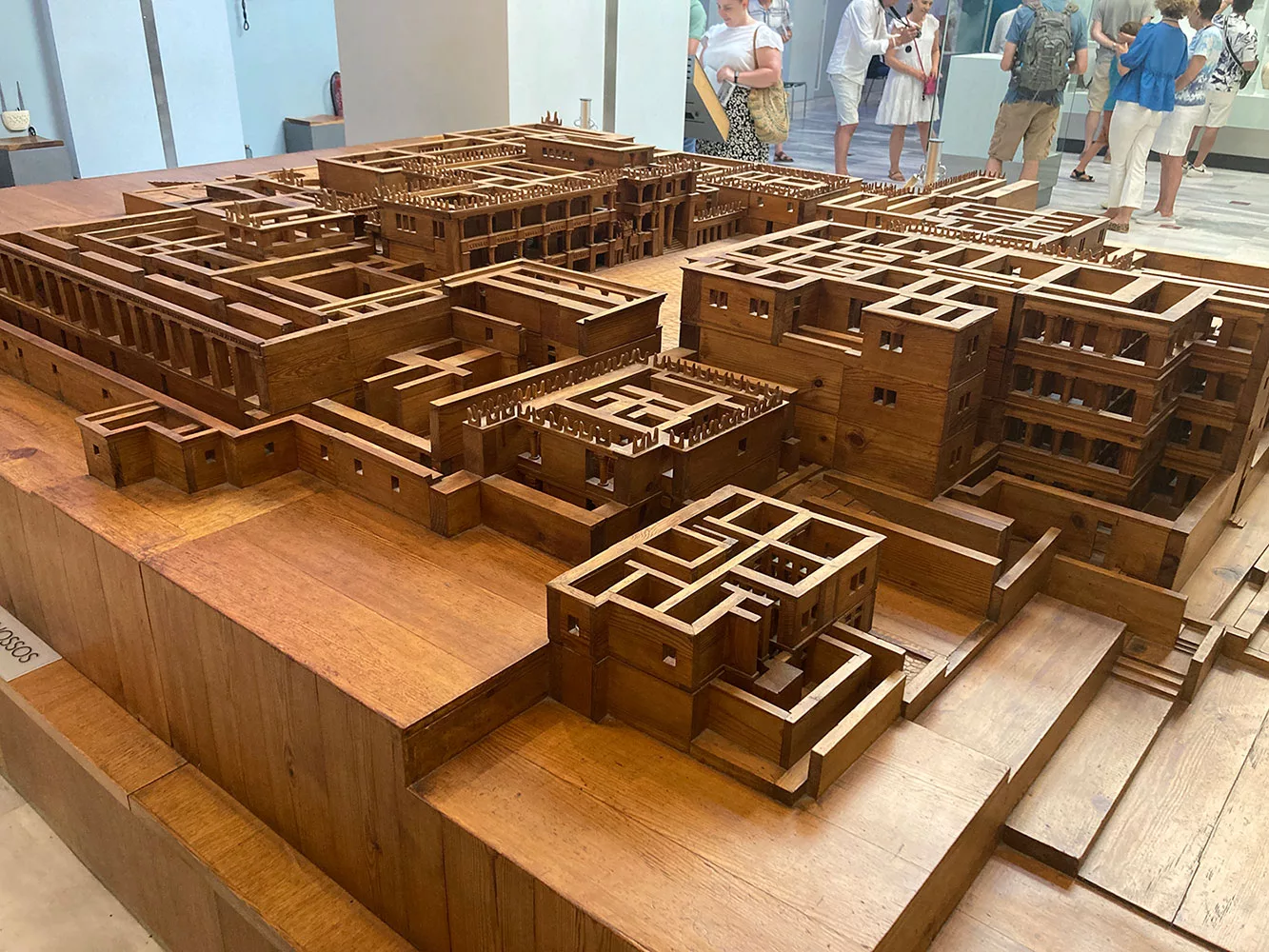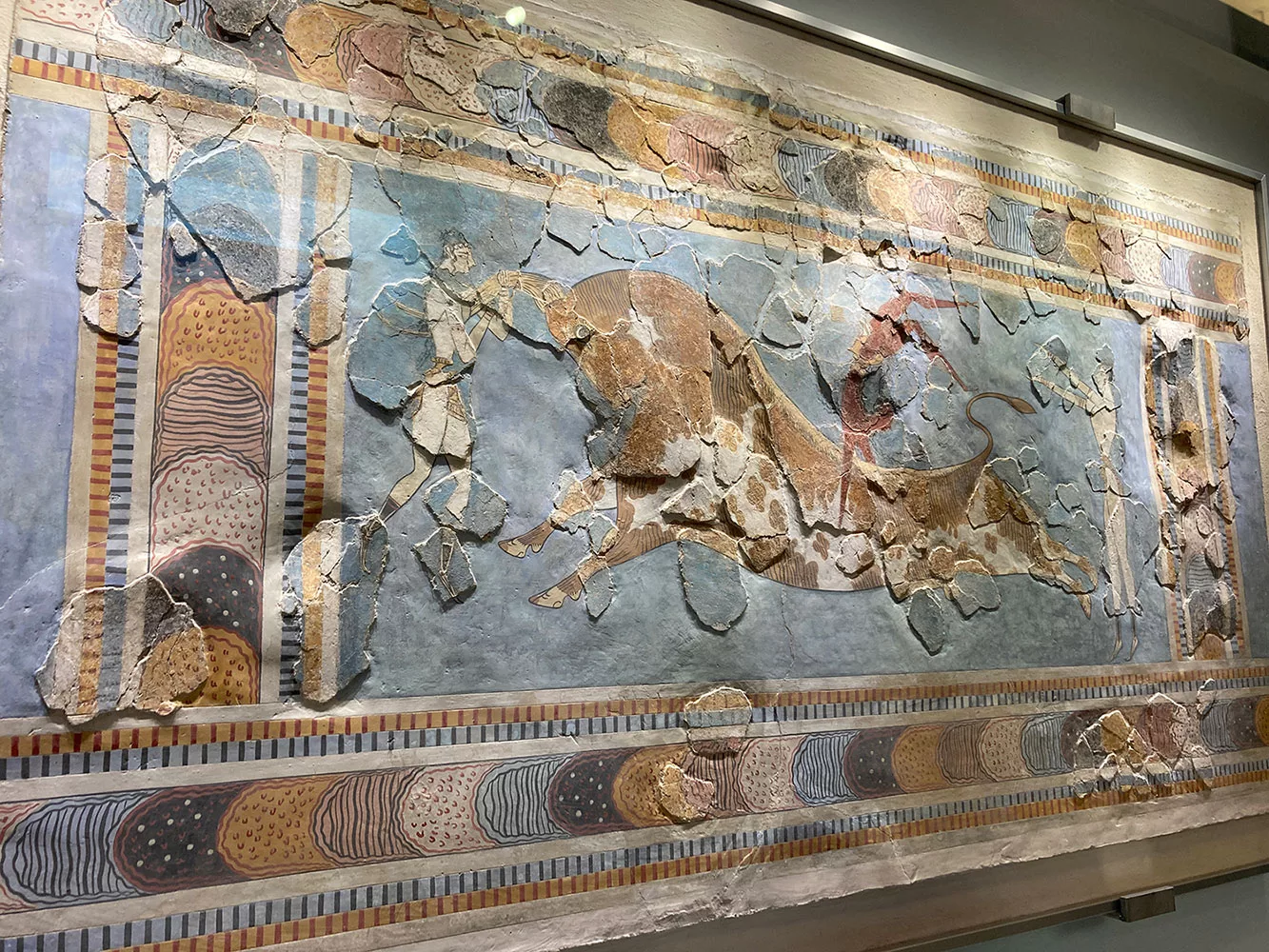 A cool part of the museum is the model they have of Knossos. Since the site is pretty much in ruin, it can be difficult to visualise how it must have looked once. This model is really helpful to see exactly what you've visited and you can start placing what you've seen within the model.
Don't forget to go up to the first floor because the mezzanine is where they have the frescoes from Knossos on display!
I definitely recommend going to both the Knossos archaeological site and the Heraklion Archaeological Museum, but if you had to choose between the two, I think the museum is more informational. But it would be a shame to go to Heraklion and not go a few miles out to Knossos.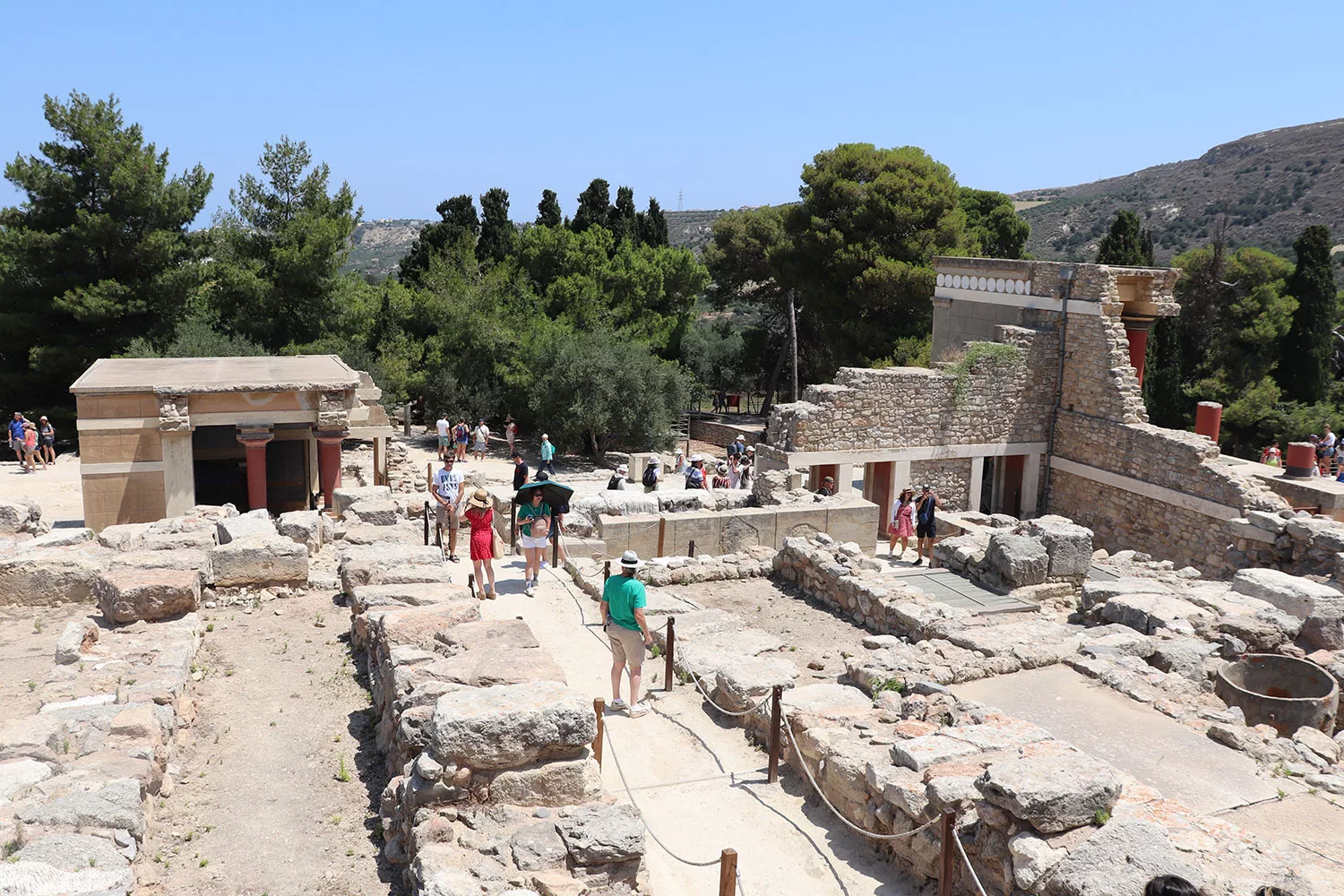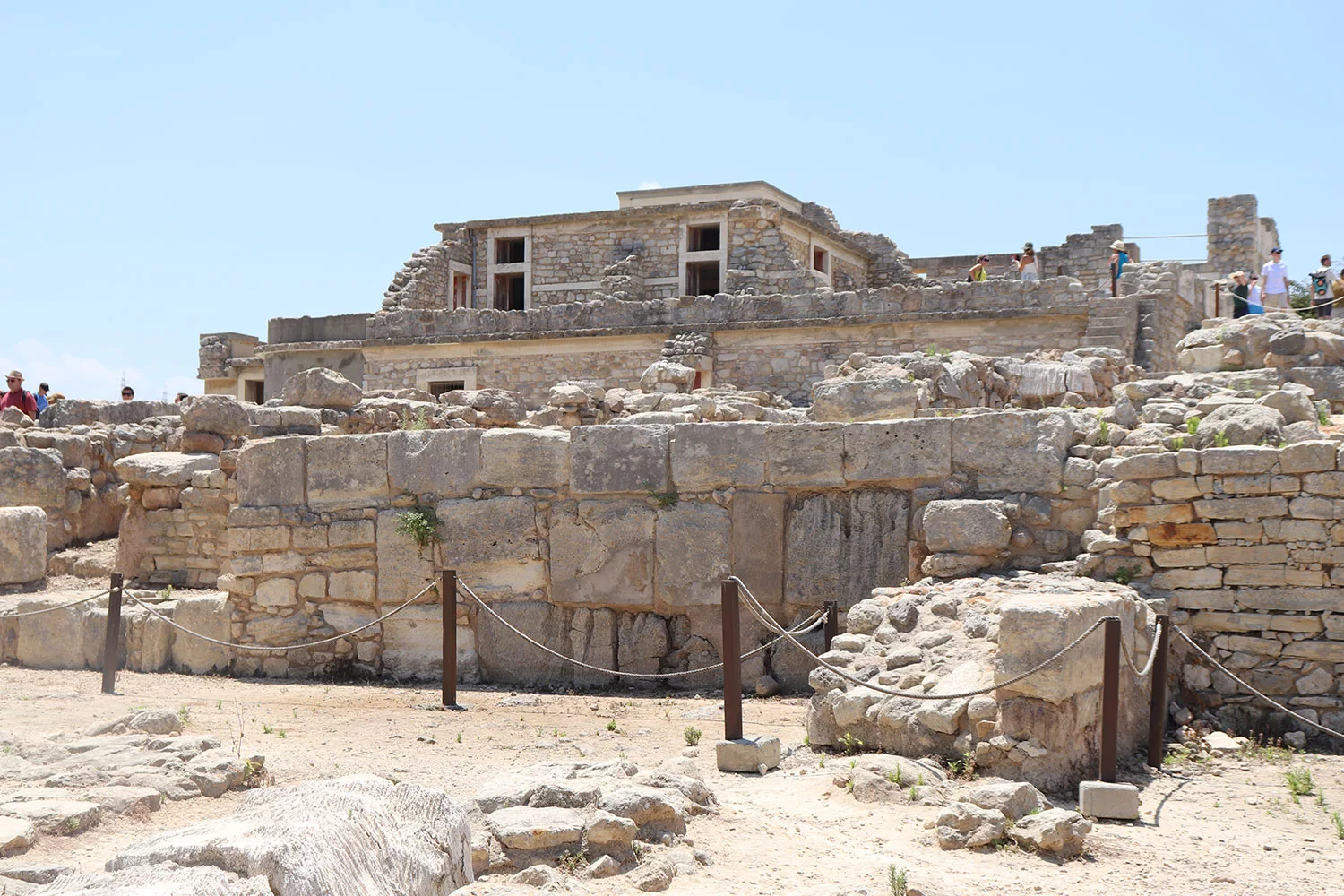 Even though it wasn't what I'd expected, seeing Knossos in person – and particularly all the artefacts of the Minoans – was a great experience to have in Crete. It's an important site and a great way to spend some time while learning history in Greece.
Please note that this post may contain affiliate links. These are at no additional cost to you but I receive a commission if you make a purchase through the link, and the commission helps me run my blog. Thanks for your support!
Tags:
crete
,
europe
,
greece
,
knossos
Sharing is Caring
Want to support me?
Buy me a Coffee