Experiencing AIRE Ancient Baths in Seville
Originally published on Sunday, February 9, 2020
Having a lot of Middle Eastern influences, Andalusian cities have several Turkish baths which you can go to. I like to treat myself to an expensive experience here and there so I decided that a bath and massage would be a great thing to splurge on. Also, people have taken Turkish baths for hundreds of years, so it was also like a cultural experience.
I chose to go to AIRE Ancient Baths in Seville as I was based in that city. So what was the experience like?
First off, all of AIRE's locations (they do have one in NYC and Chicago) look beautiful. The one in Seville is advertised as being a "historic building" but that's the extent they tell you. It probably wasn't a bath hundreds of years ago. Nonetheless, it's easily accessible and is situated in a pretty building.
The staff throughout was very nice and they do offer a selection of different services. I opted for the ancient baths plus a 15 minute massage. You can get longer massages, treatments with different products, a wine bath, rooftop bath access, etc. I did add on a glass of cava and chocolate truffles. The website does a good job describing what comes with each service and it's easy to book online.
After you check in, there's a waiting area where you can enjoy some warm tea and cold water. I hadn't had the mint tea before so I don't know how it compares in quality, but I enjoyed it. They then call you back and you can take a shower in a normal shower and change your clothes. Unlike other Turkish baths, AIRE is coed and all customers need to wear a swimsuit (you can bring your own or get one from them) and swim shoes, which they provide. They give you a towel and robe, and you can put your belongings in a locker.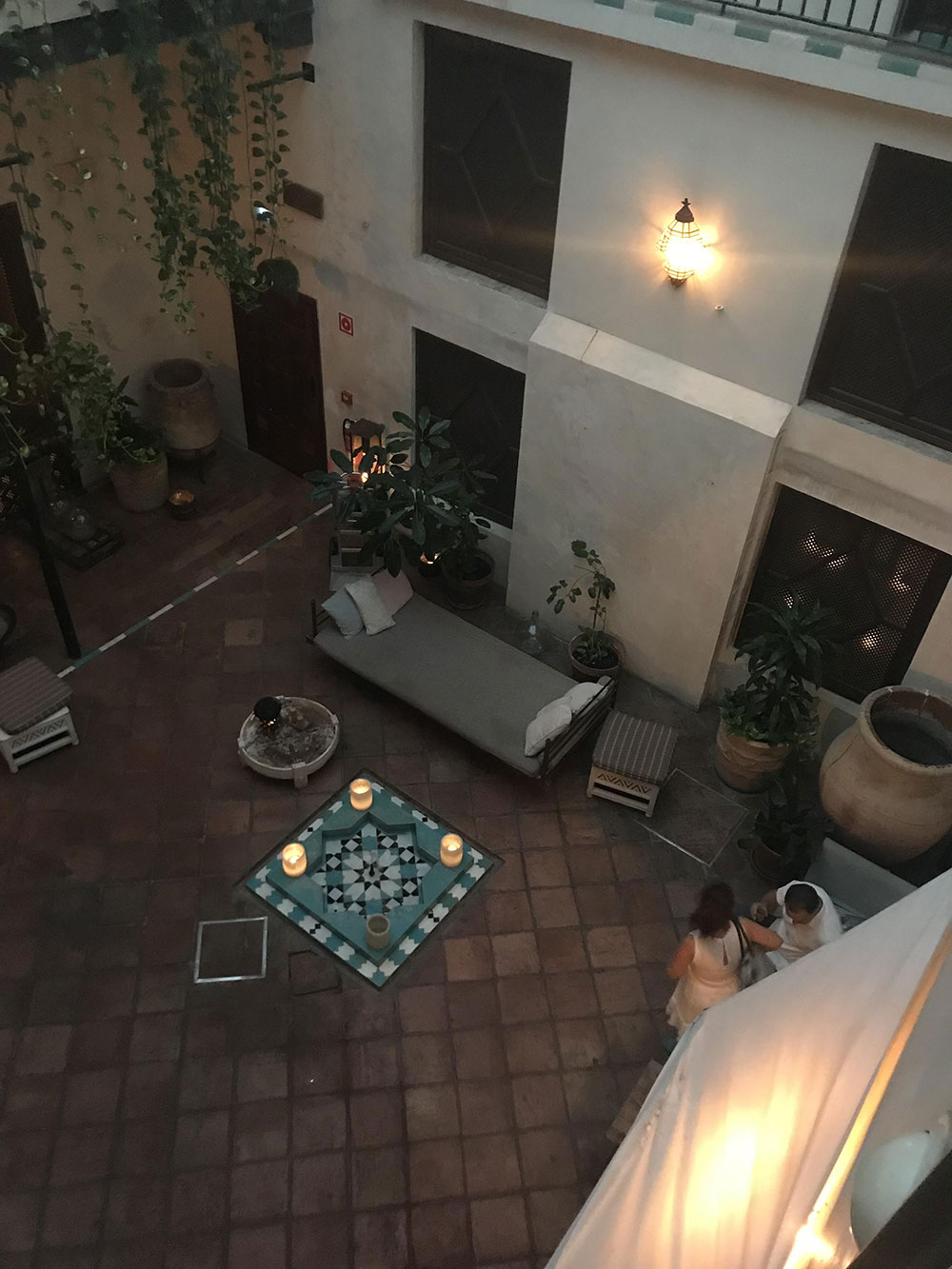 The waiting area.
After your shower, you can go down to the baths. I thought it would be like a funhouse, where you have a clear-cut path. However this was not the case. They tell you to start in the basement at the salt bath, but you're actually free to roam the place as you'd like.
The salt bath was really relaxing. Warm water with the salt felt rejuvenating, and there's music in this small, candle-lit space. A lot of people like to use this opportunity to float in the baths. I honestly had a hard time leaving. However, I suspected that my robe and towel would get taken; they did. So I wandered through the rest of the baths without drying myself off.
After that bath, you go upstairs and there's another sitting area in a marble-like room. You can also get some mint tea here. This is where I got my cava and chocolates. I thought it would be nice to relax in the tub, drinking my cava, but it makes sense that you're not allowed to take it into the baths. You drink and eat only in the sitting areas.
There are two more baths off of this sitting area, and I don't know which one you're supposed to go to next. I opted for the jet bath. This was a warm water bath with several alcoves where you can lie down and turn on the water jets. It's not clear in the photo because the alcoves are all underwater. This was also really nice, and the room was much brighter. Who doesn't love the jets?
Image copyright AIRE
The next room is the most beautiful: the red room. The pool here is, again, warm water. Nothing special, even though the decoration is superb. At the other end of the pool are the hot and cool pools, which are both quite small. The hot one is really hot – which I found super relaxing. The cold pool is freezing cold, which is supposed to be good for your circulation I believe. You can switch between the three pools as you like. I personally liked sitting in the hot pool.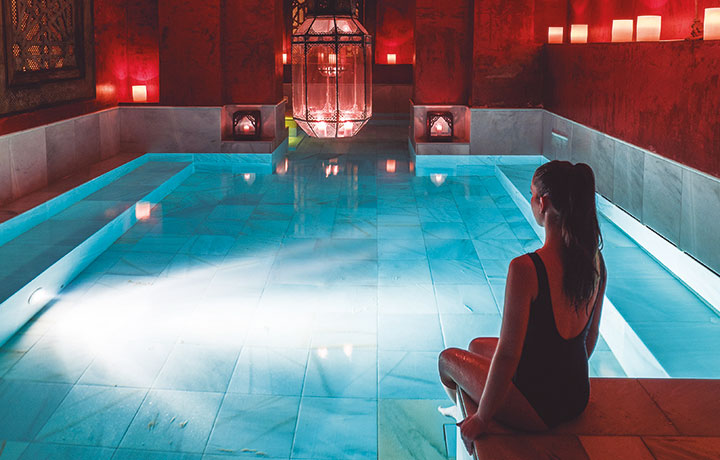 Image copyright AIRE
If you get a massage for your experience, they will come find you and bring you up to their very dimly lit massage room. They have a bunch of selections for your massage but I opted for the standard experience. It's a full body massage and is a one-size-fits-all. I get massages at work and they focus on my tense points. Since this was a generic massage, I didn't feel the same tension release as I like to. However they do offer more personalised massage experiences if you have areas you want to focus on.
Overall, I thought it was a great experience. I will never, ever complain about warm baths by candlelight. I had a great experience with AIRE specifically. However, it was not a super "authentic" experience. Most Turkish baths have you without a bathing suit, bathing only with members of your own sex. I *may* have been quite happy to have had a bathing suit, especially for a first-time experience. However I'm not completely sure AIRE works in the traditional way. Some other blogs and experiences I've read say that there's a specific order and time spent in each bath. With AIRE, you get free roam of the place. Was is relaxing and luxurious? Yes! Will I tell everyone that I've been to a Turkish bath? No, because I'm not sure I have.
Seville is a tremendous city! Click here for my full blog post on things to do.
I hope you found my review helpful in making a decision, or maybe as inspiration. You can book AIRE online if you're so inclined, and if you do, I hope you have a great time!
Please note that this post may contain affiliate links. These are at no additional cost to you but I receive a commission if you make a purchase through the link, and the commission helps me run my blog. Thanks for your support!
Tags:
seville
,
spain
Sharing is Caring
Want to support me?
Buy me a Coffee
2 Comments on "Experiencing AIRE Ancient Baths in Seville"