11 Fun Things to Do in Santorini
Originally published on Friday, July 21, 2023
There are so many fun things to do in Santorini that people miss out on. Actually, when we first planned our Greece trip, we were going on a cruise that stopped only for 2 hours – just enough to see Oia's "famous sunset." What a crime! That trip was cancelled so when we rebooked, we opted to spend several days on the volcano island and get to see what it really had to offer.
Visit Akrotiri & Prehistoric Museum of Thera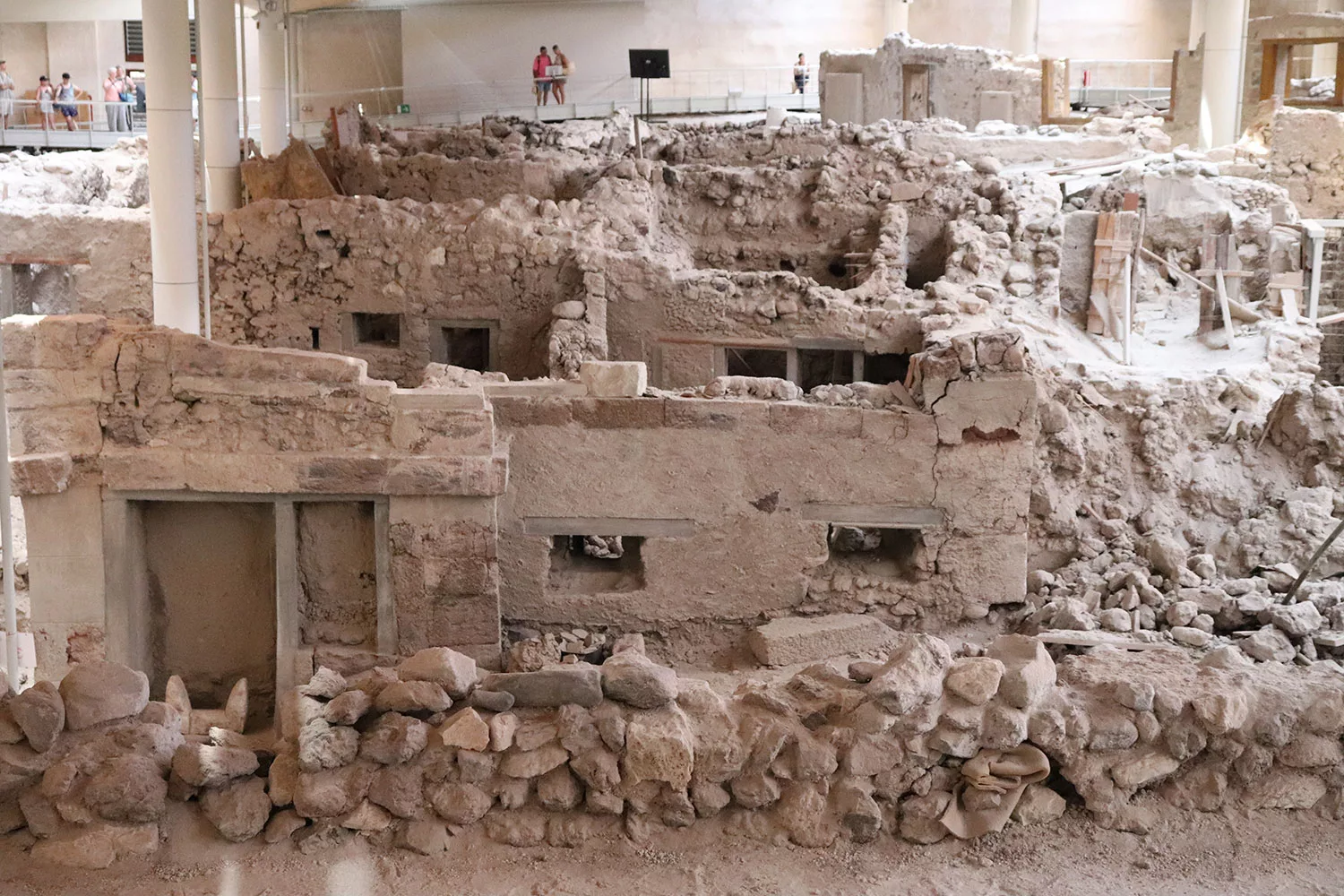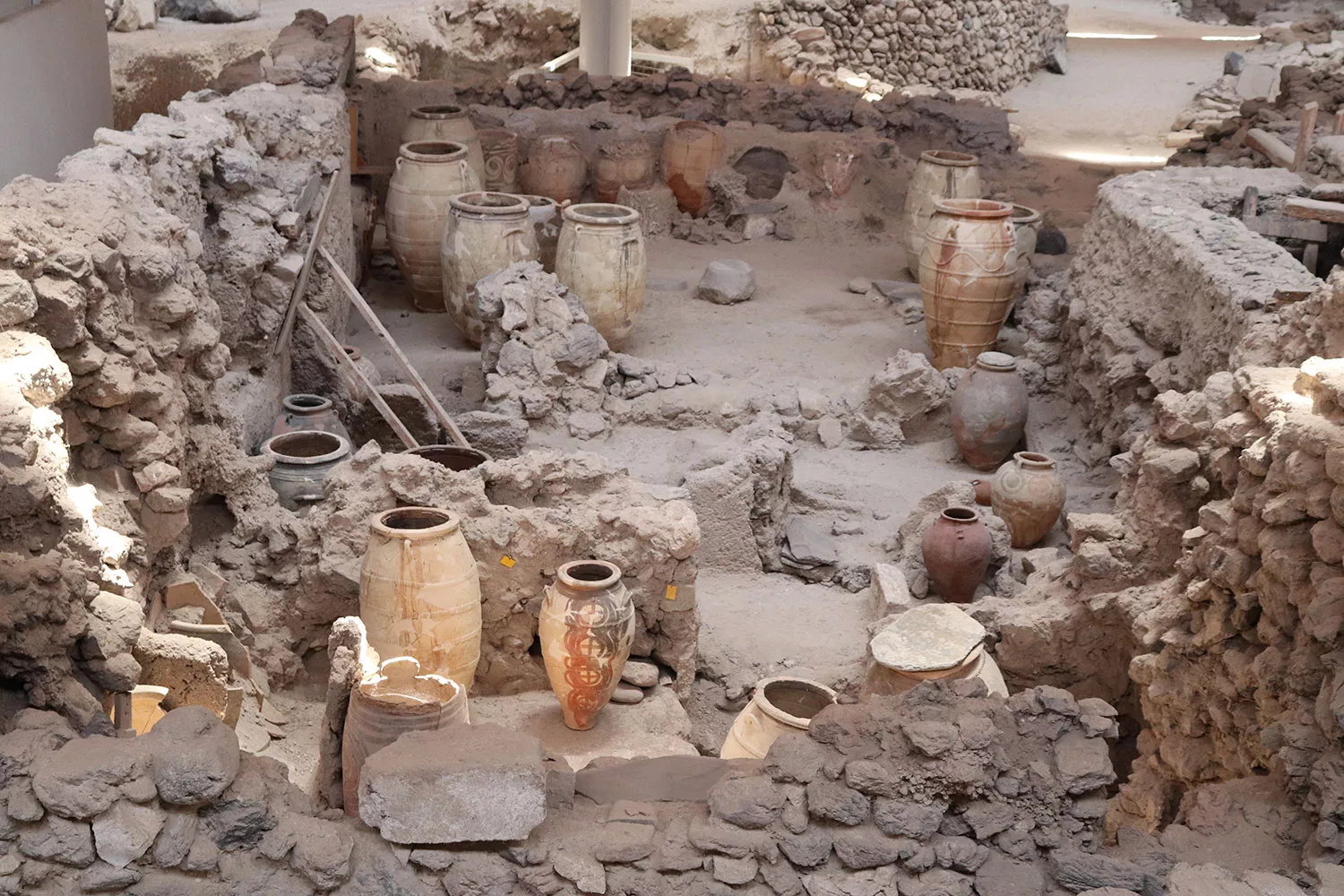 Akrotiri is absolutely one of the best things to do in Santorini. Particularly for history buffs, you can see the original site of the town dating back about 3700 years. Be sure to get a guided tour to get information on the ruins you're seeing and what it may have looked like in its heyday.
But don't just go to the historical site. Be sure to pop into the Prehistoric Museum of Thera in Fira to see the frescoes and artefacts that were originally in Akrotiri. Being transported back to a time so long ago is absolutely amazing, and many locals are proud to have this heritage.
Thera or Fira? Thera is the name of the main island in Santorini (which is actually 5 islands). Fira is the name of the main town near the ports of the island. And Firastefani is the town next to Fira.
See the Small Towns of Santorini
There are many small towns in Santorini that have their own charm. Because of an earthquake in 1957, lots of the towns have been rebuilt, but they still have rustic charm. Getting out of Fira and Oia is another one of the essential things to do in Santorini.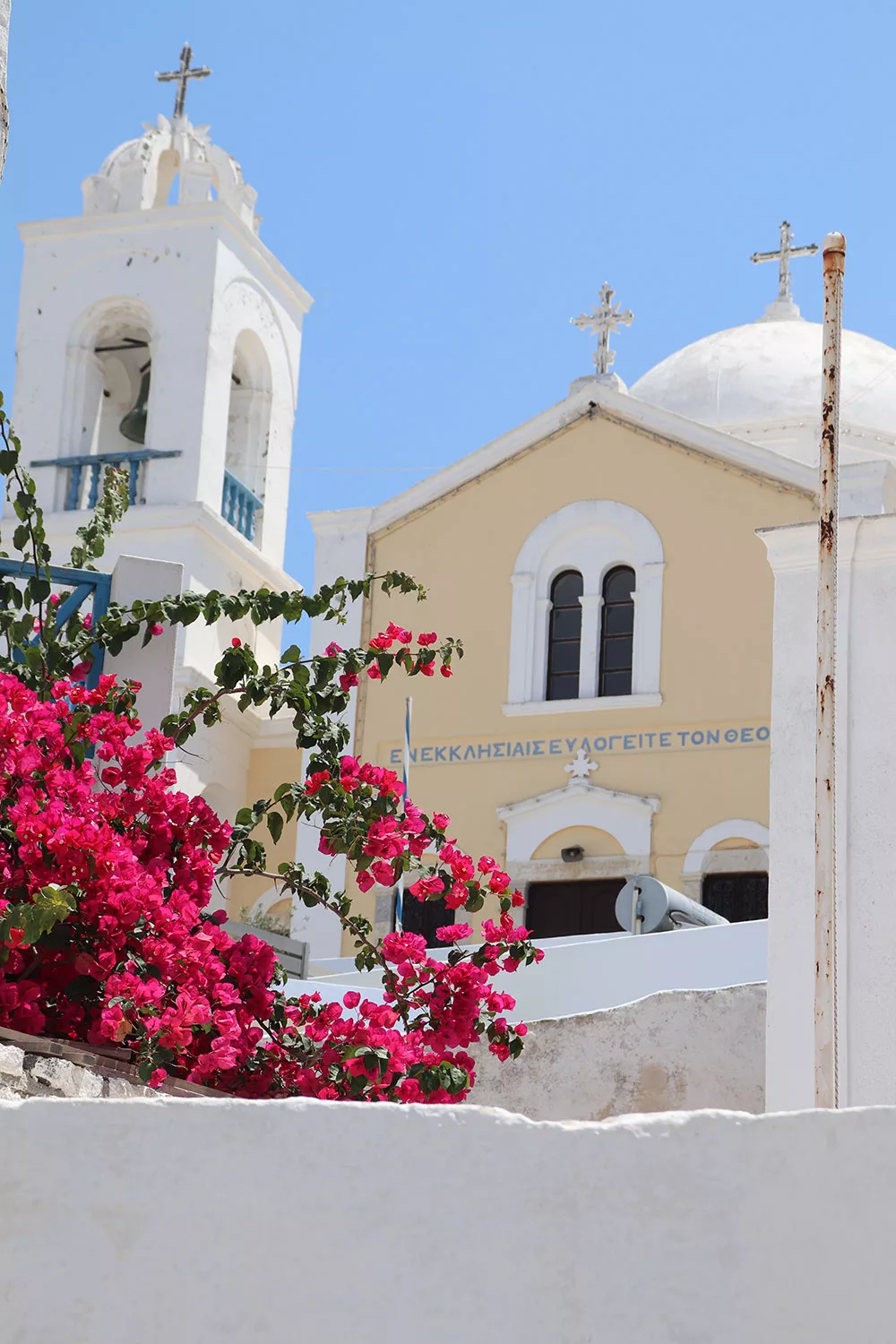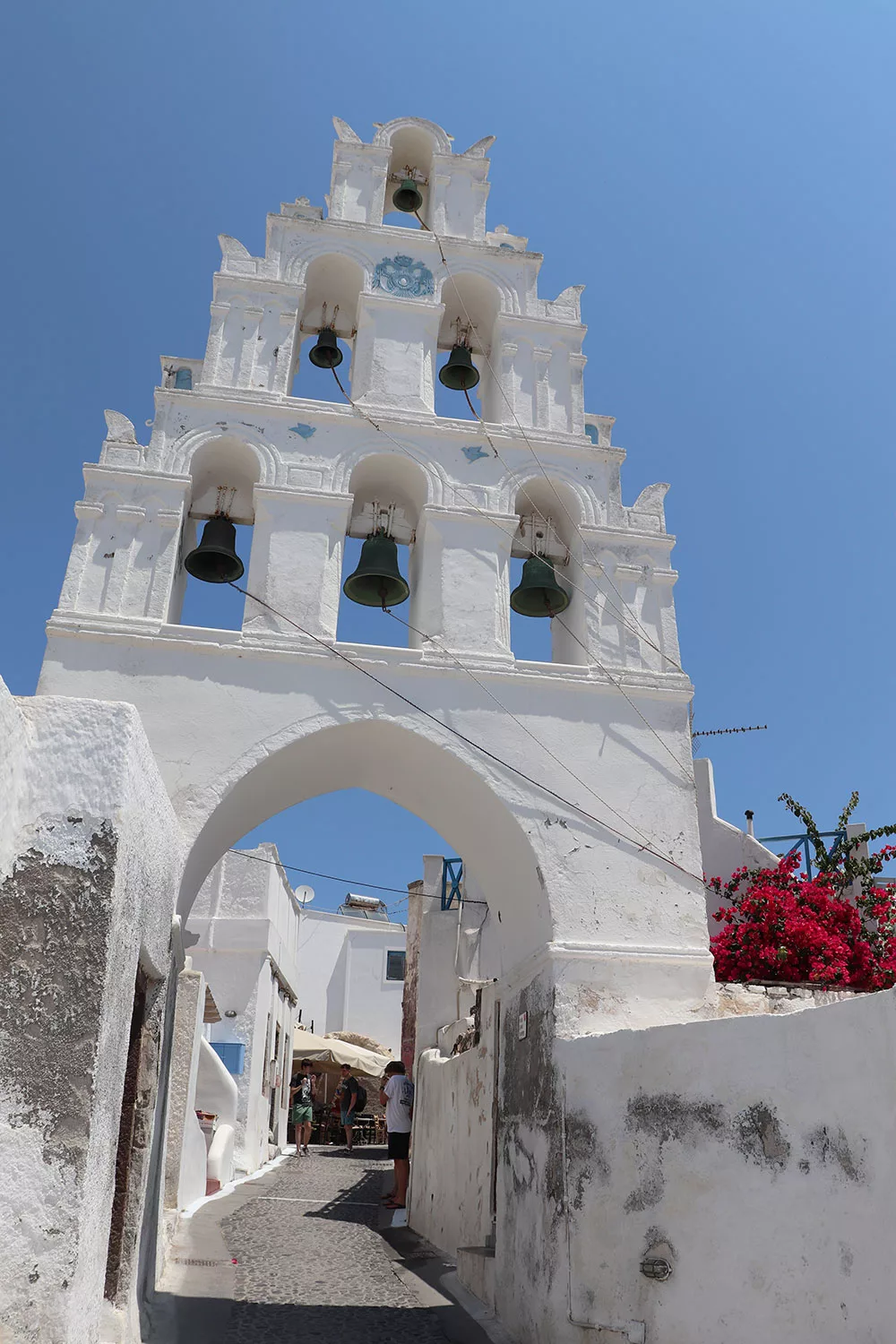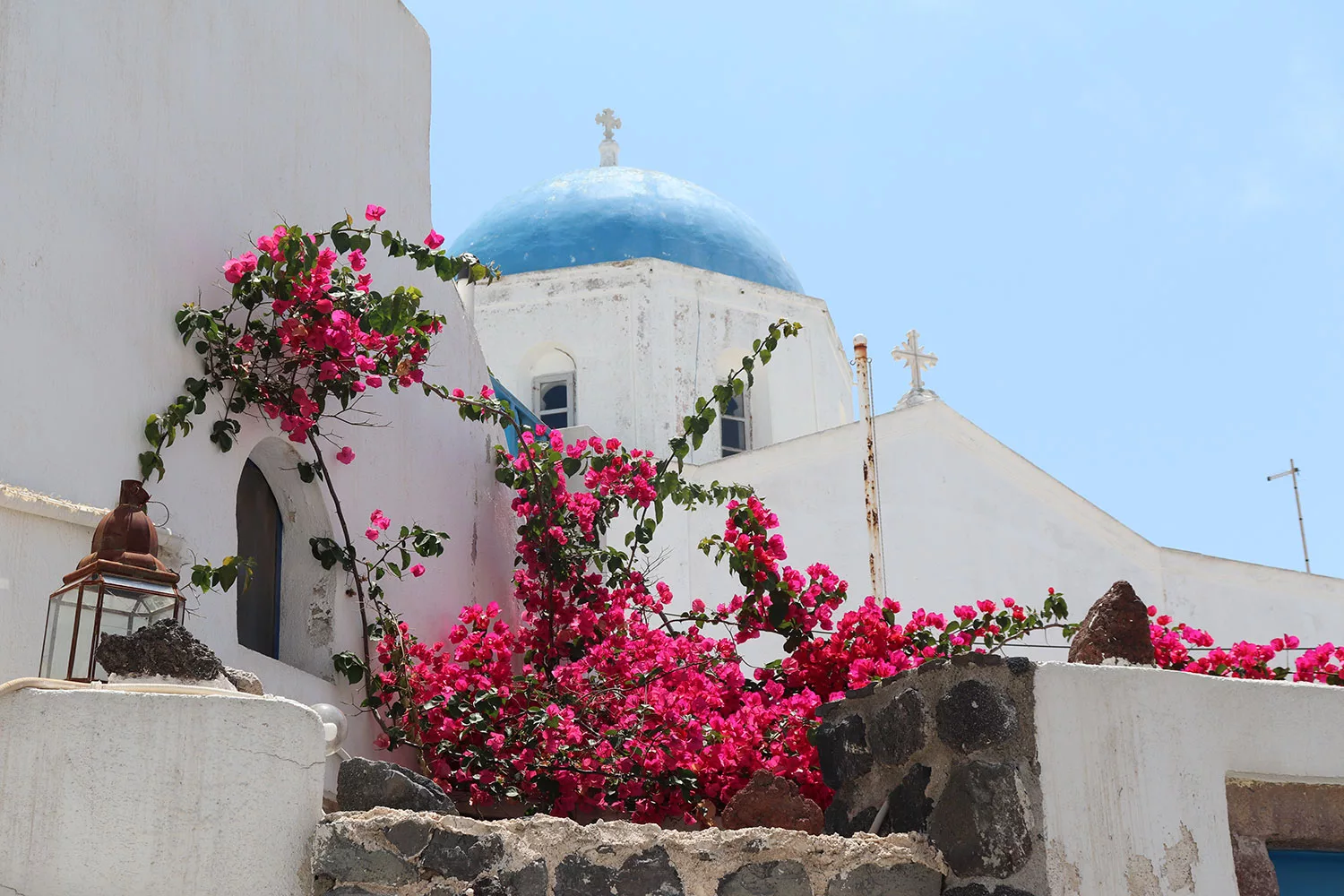 My favorite small towns to visit were Megalochori – an absolute gem!, Pyrgos, and Emporio. Megalochori is a very quaint village but it's super picturesque. You can also take a cooking class here – something we did in Athens and enjoyed very much.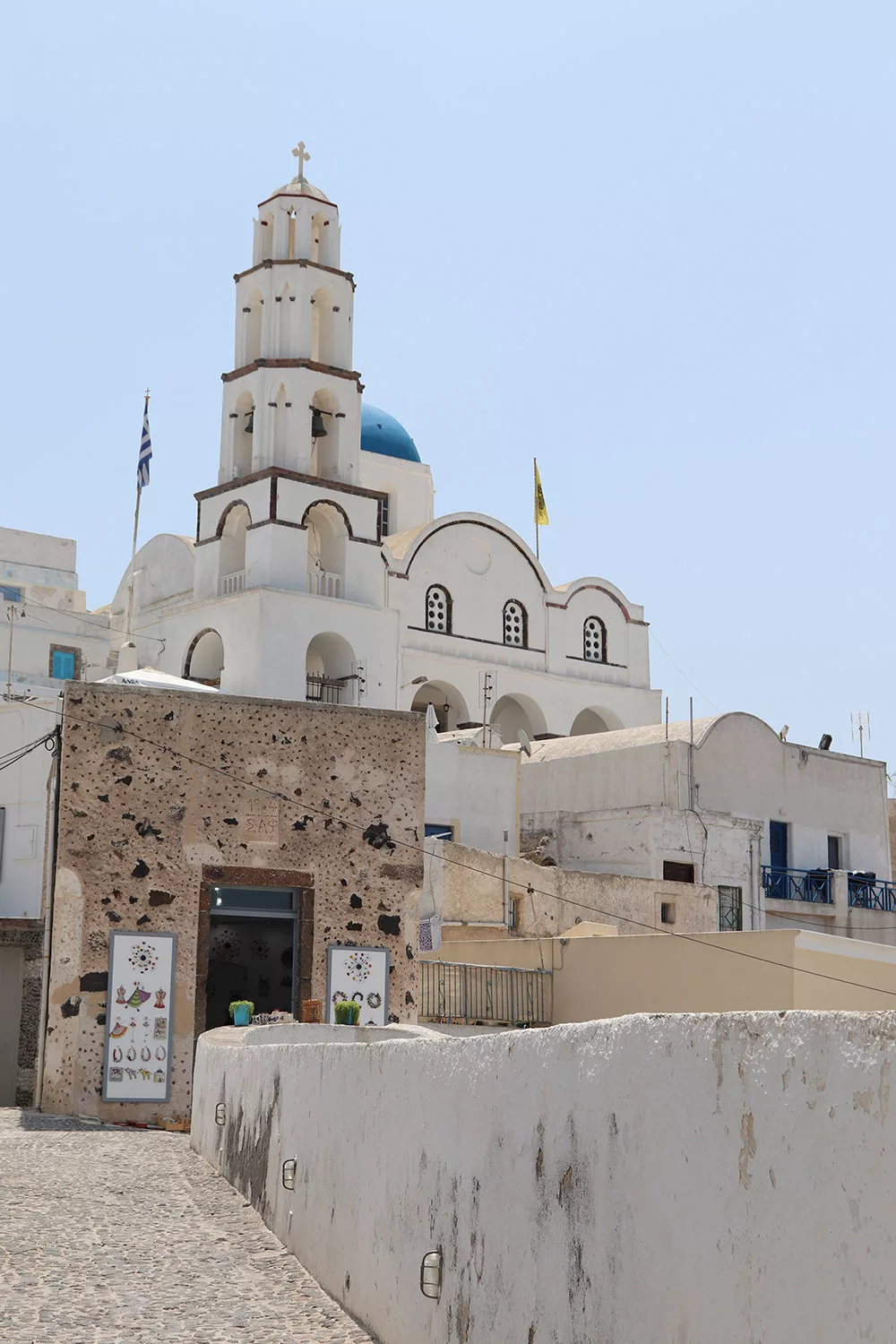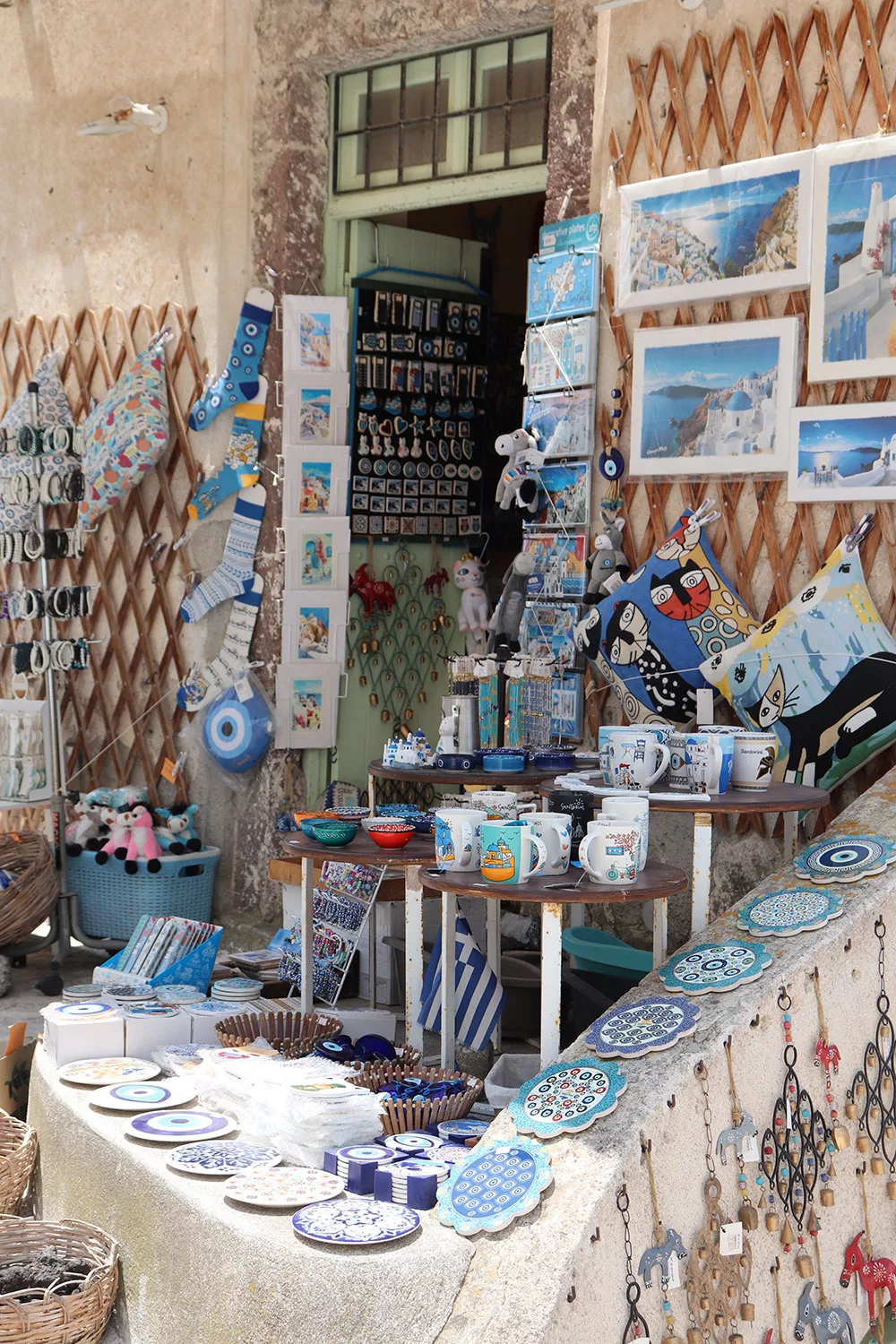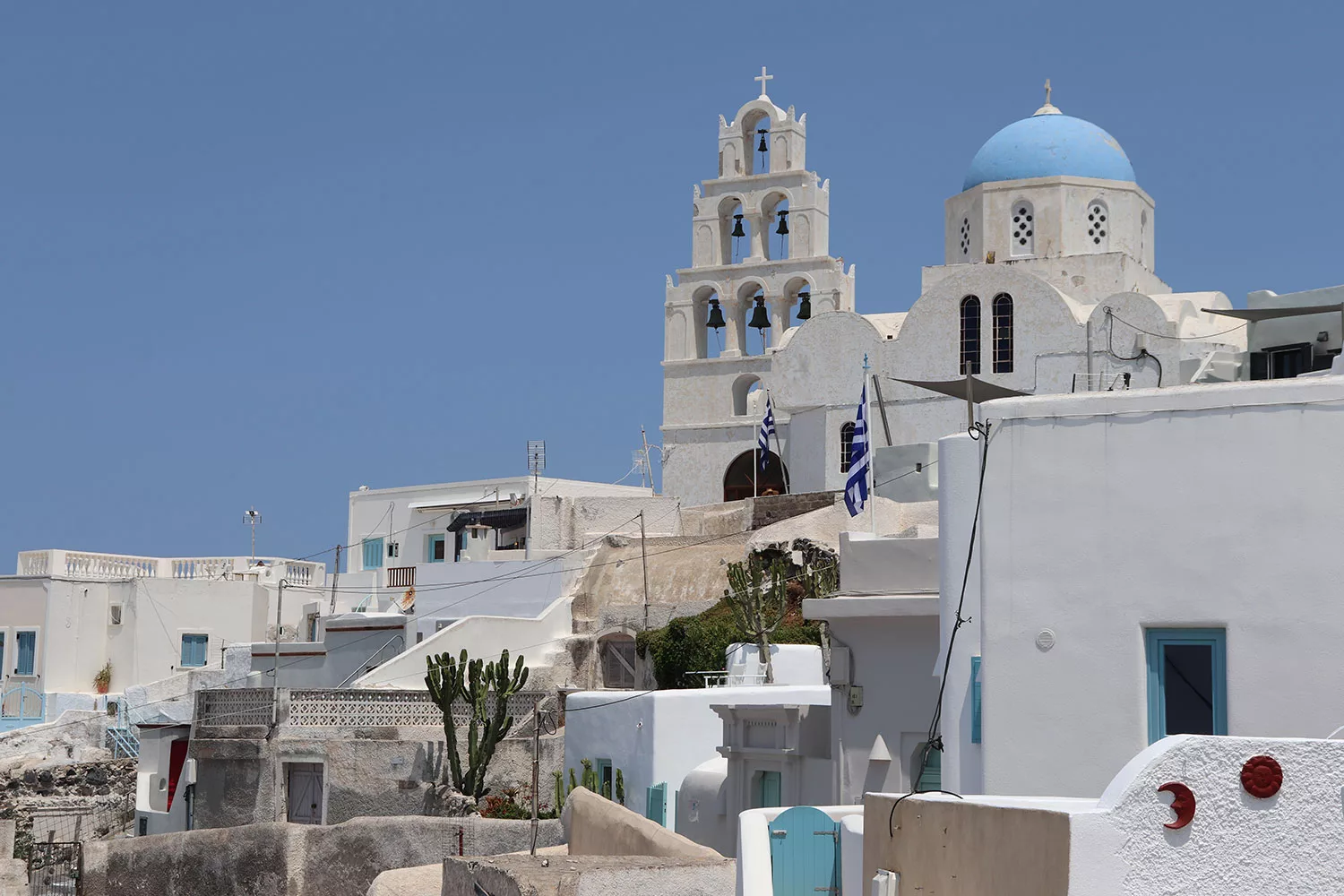 Pyrgos is the "main town" of Santorini. Its streets go uphill to the castle atop a hill (even though the castle is largely in ruin). There's a lot of souvenir stores and cute Greek architecture to see on the way up.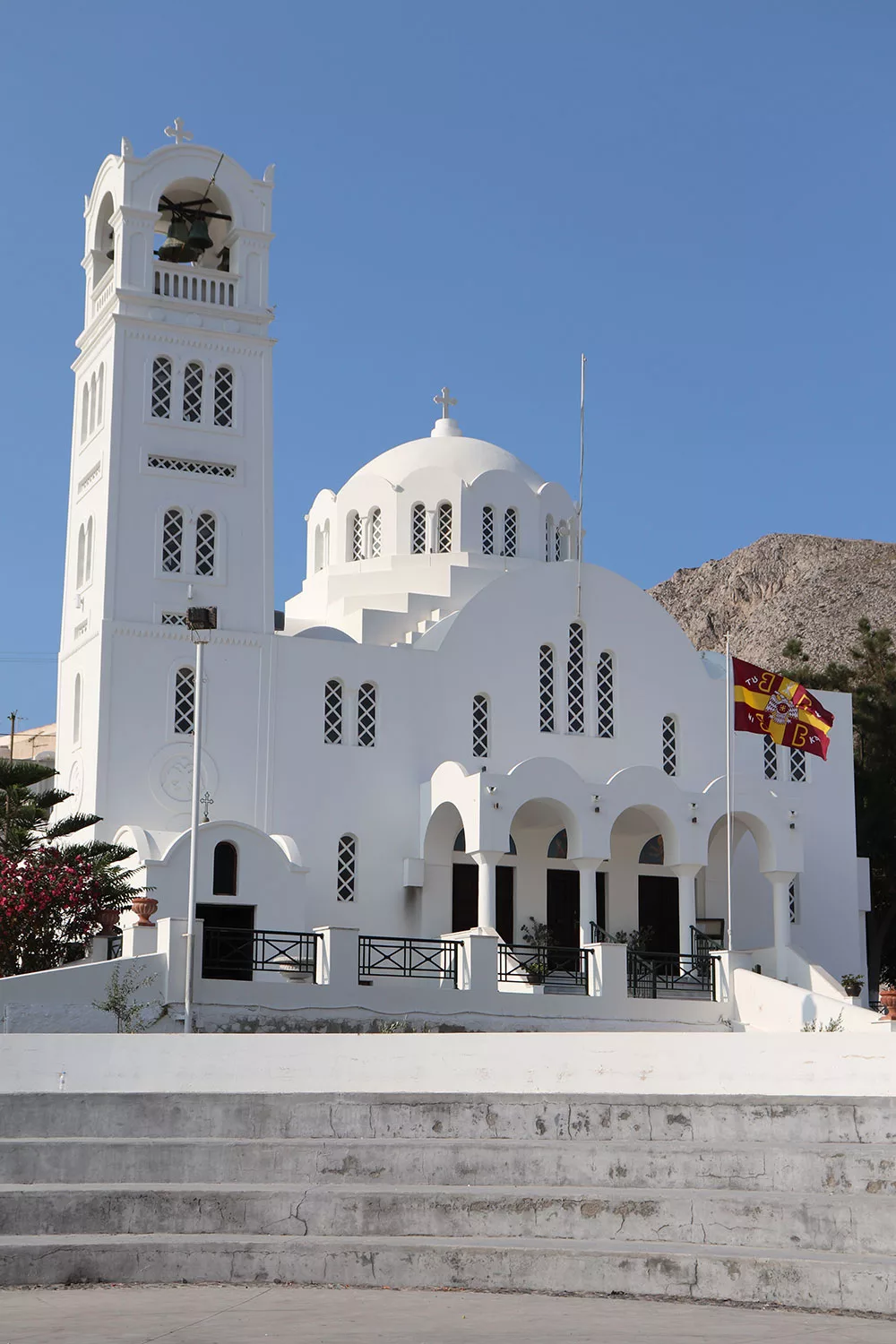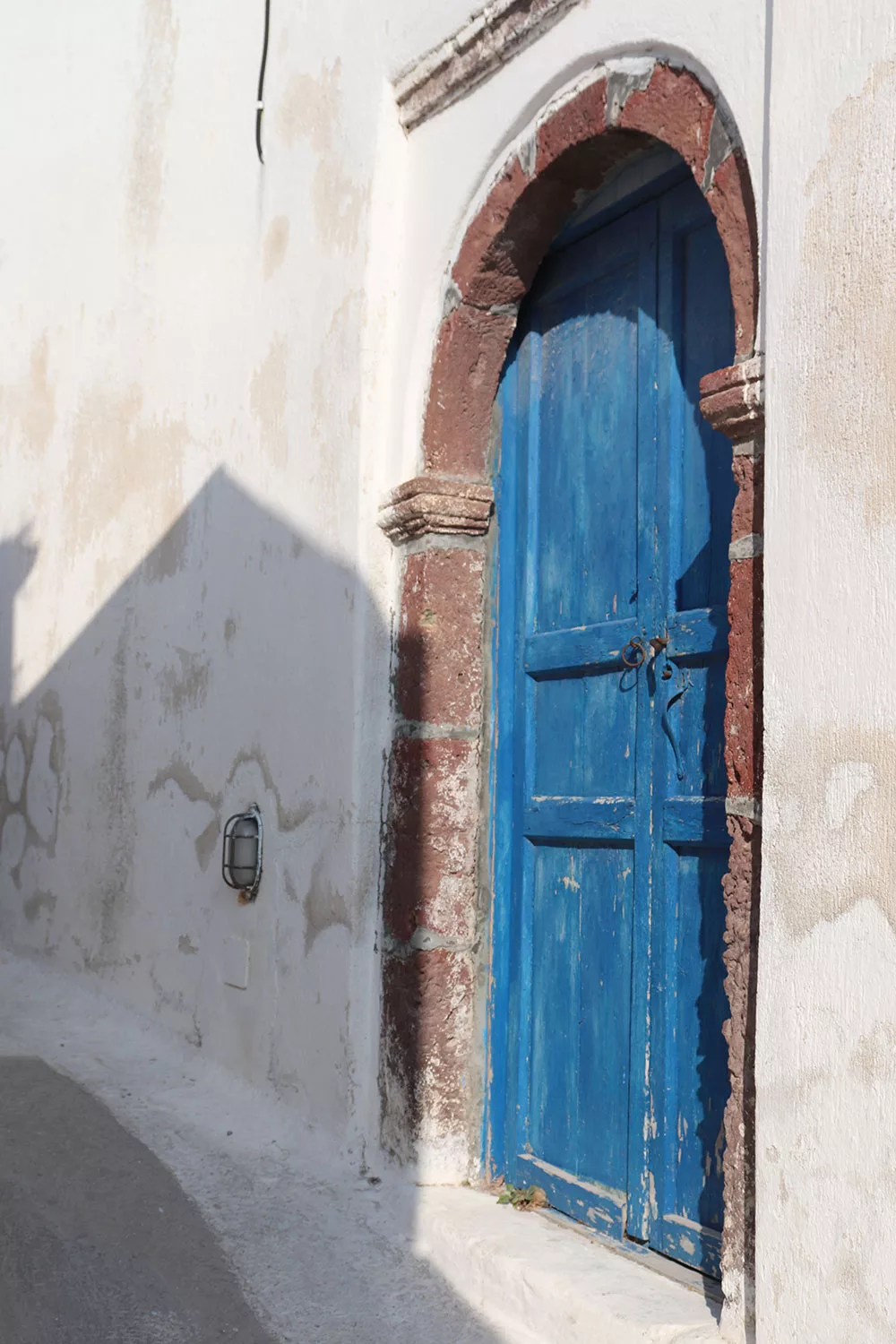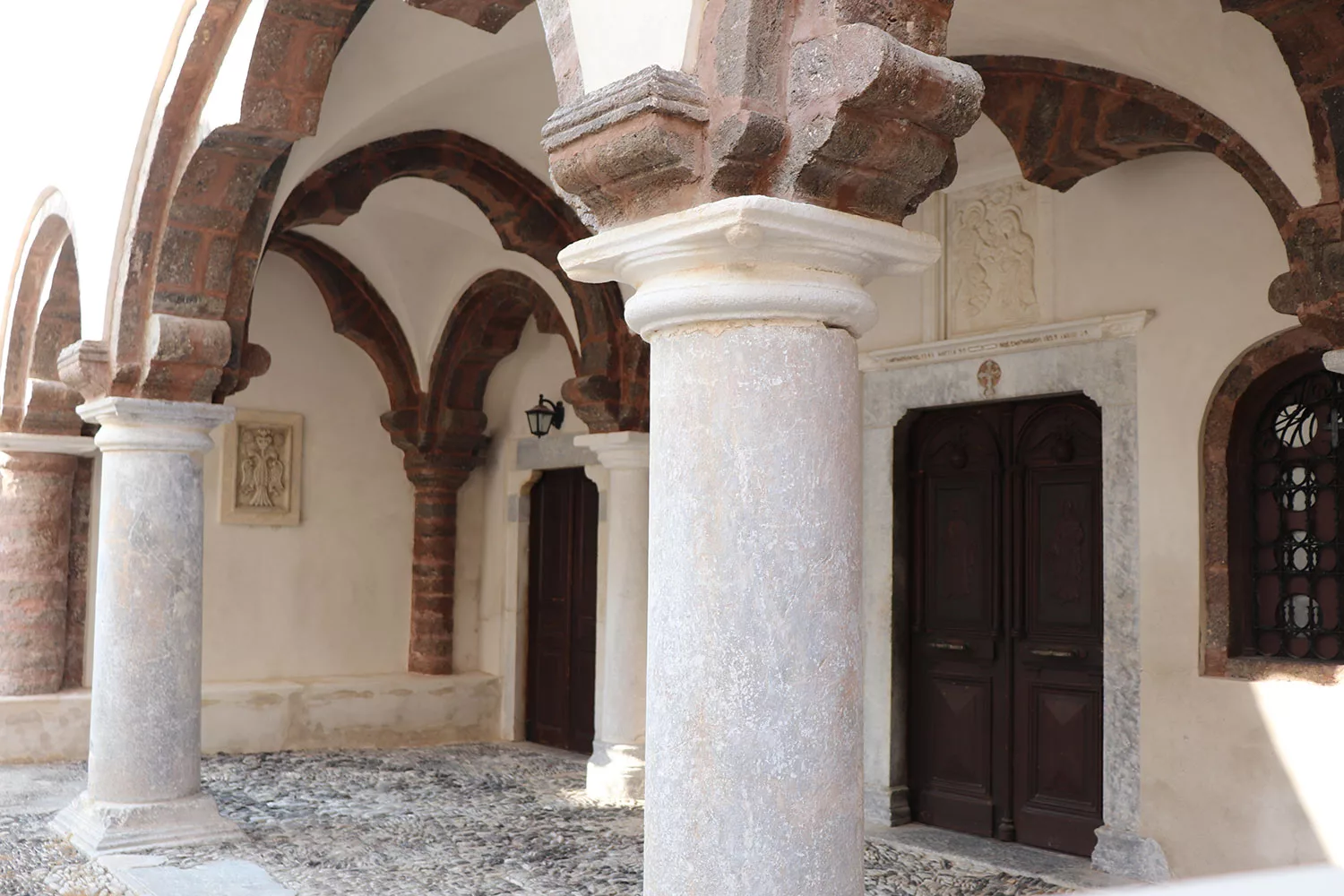 Emporio feels very small and has a labyrinth of streets. It's know for its Venetian castle but don't get too excited – it lacks Venetian adornment and castle grandeur. If I didn't know it was a castle, I'd have thought it was a continuation of the town. But Emporio didn't feel very touristy and had local heart.
Getting from town to town: I kept hearing it was impossible to get around Santorini without a car. This is not true at all! The island actually has a system of public busses that goes between towns, with each ride costing a few euros.
Partake in a Wine Tasting (Santorini's main export is wine!)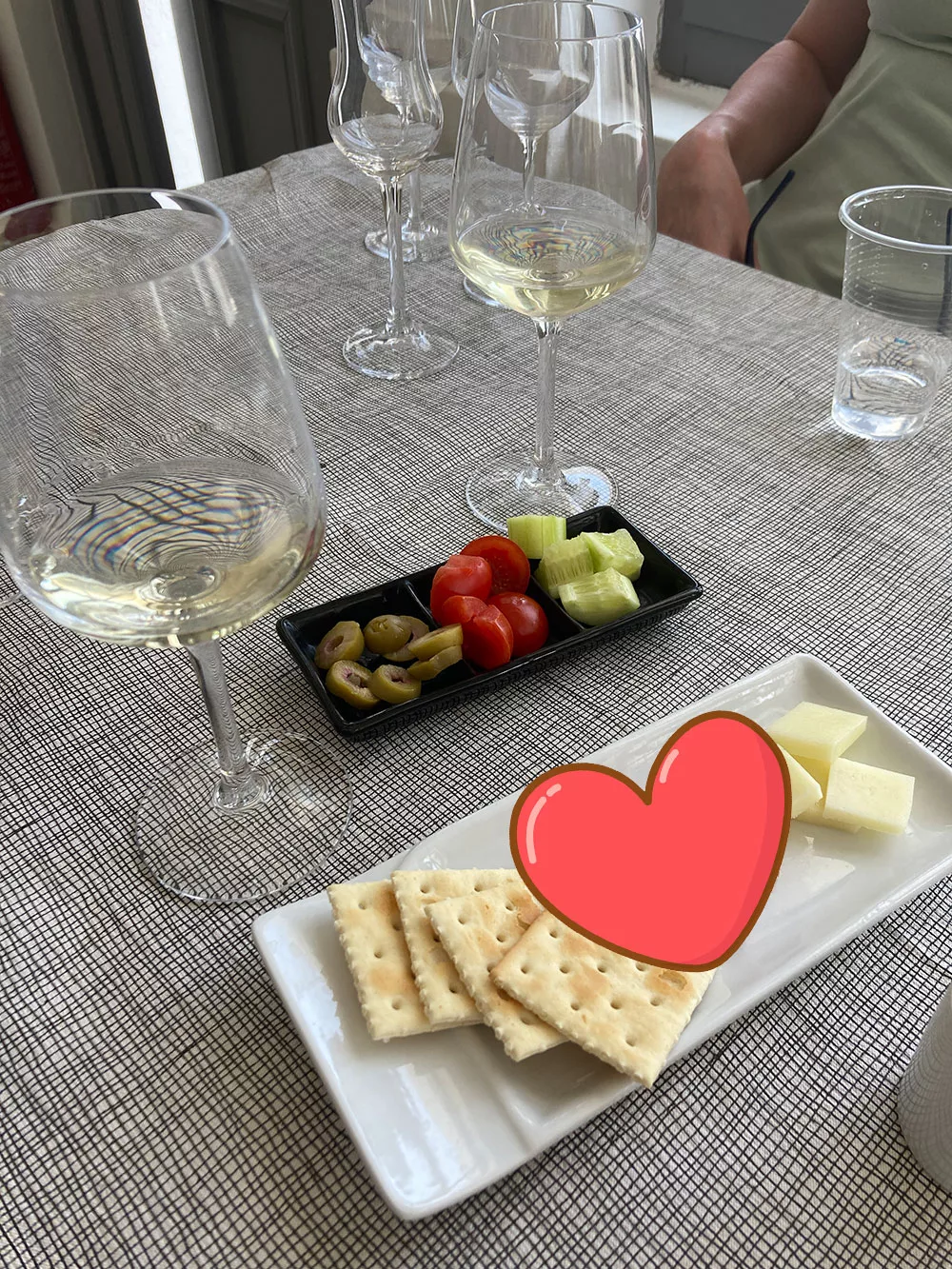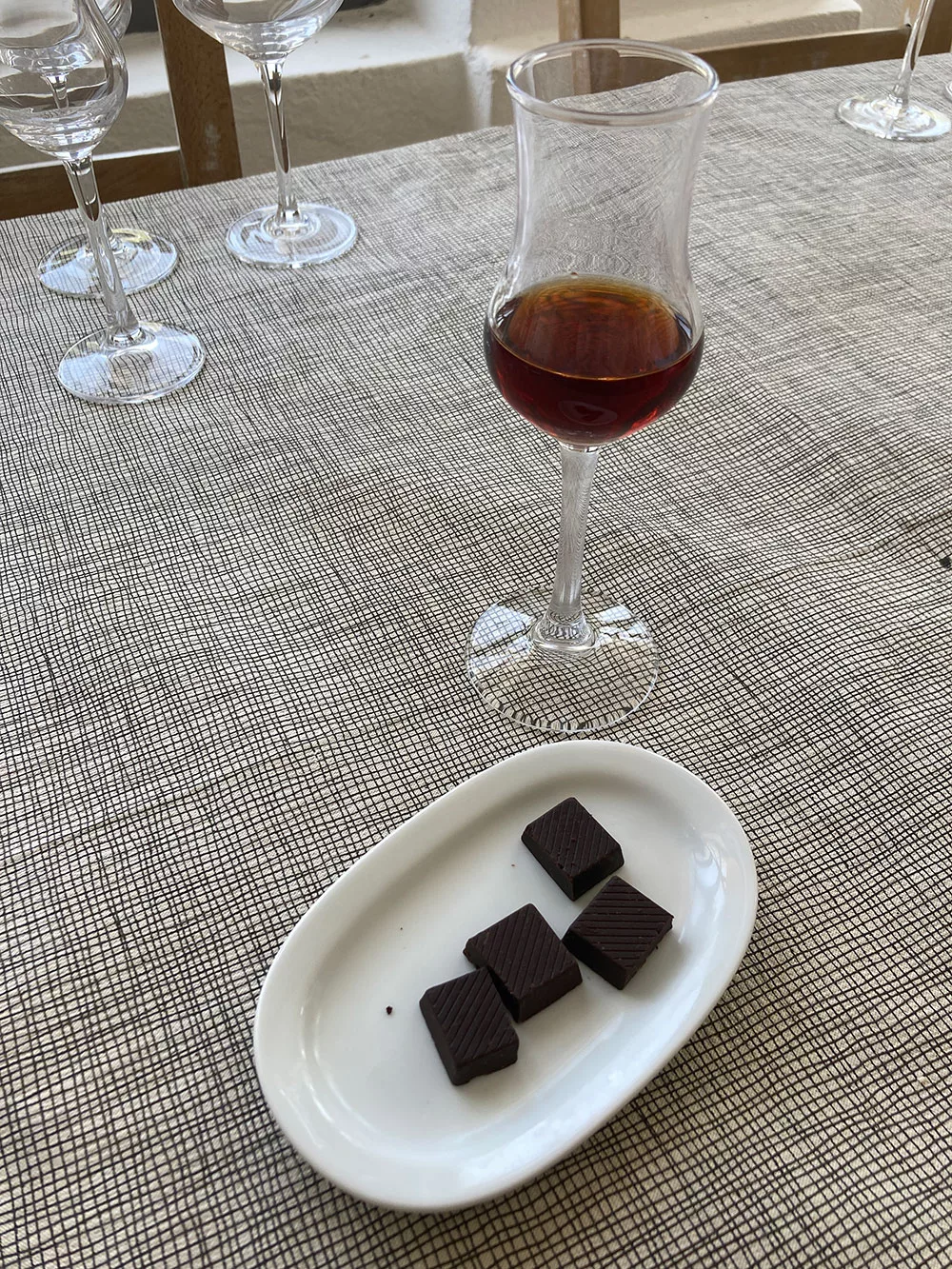 There are over 20 wineries on Santorini, which grows grapes in its volcanic ground, so wine tasting is one of the essential things to do in Santorini. Our tour organised a wine tasting for us in Kamari but there's no shortage of opportunities available, whether you go on a tour like we did or have your own vehicle. You can even check out the "Santorini" section of wines in markets and make your own tasting if you wish!
Visit the Black Beaches of Perivolos, Perissa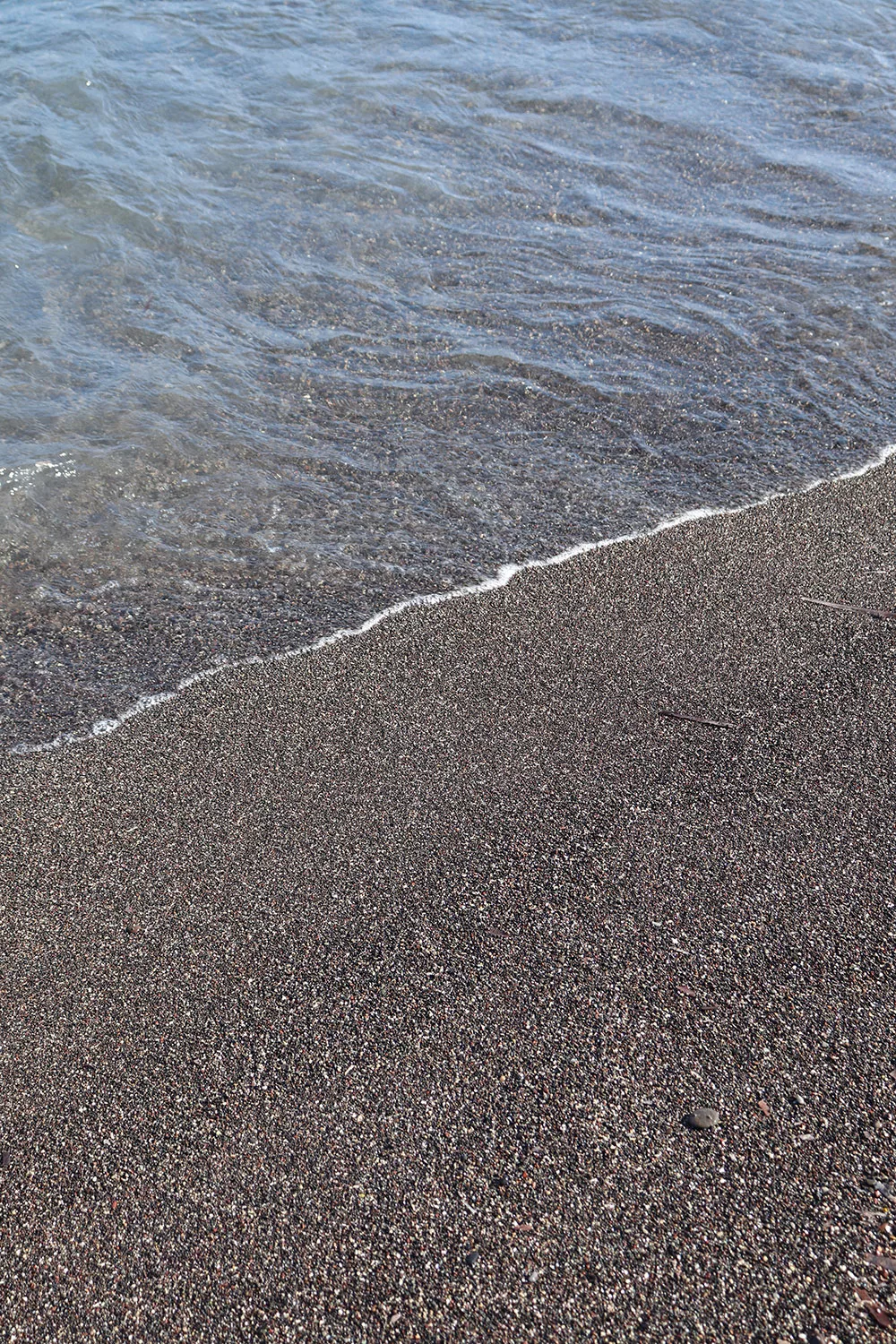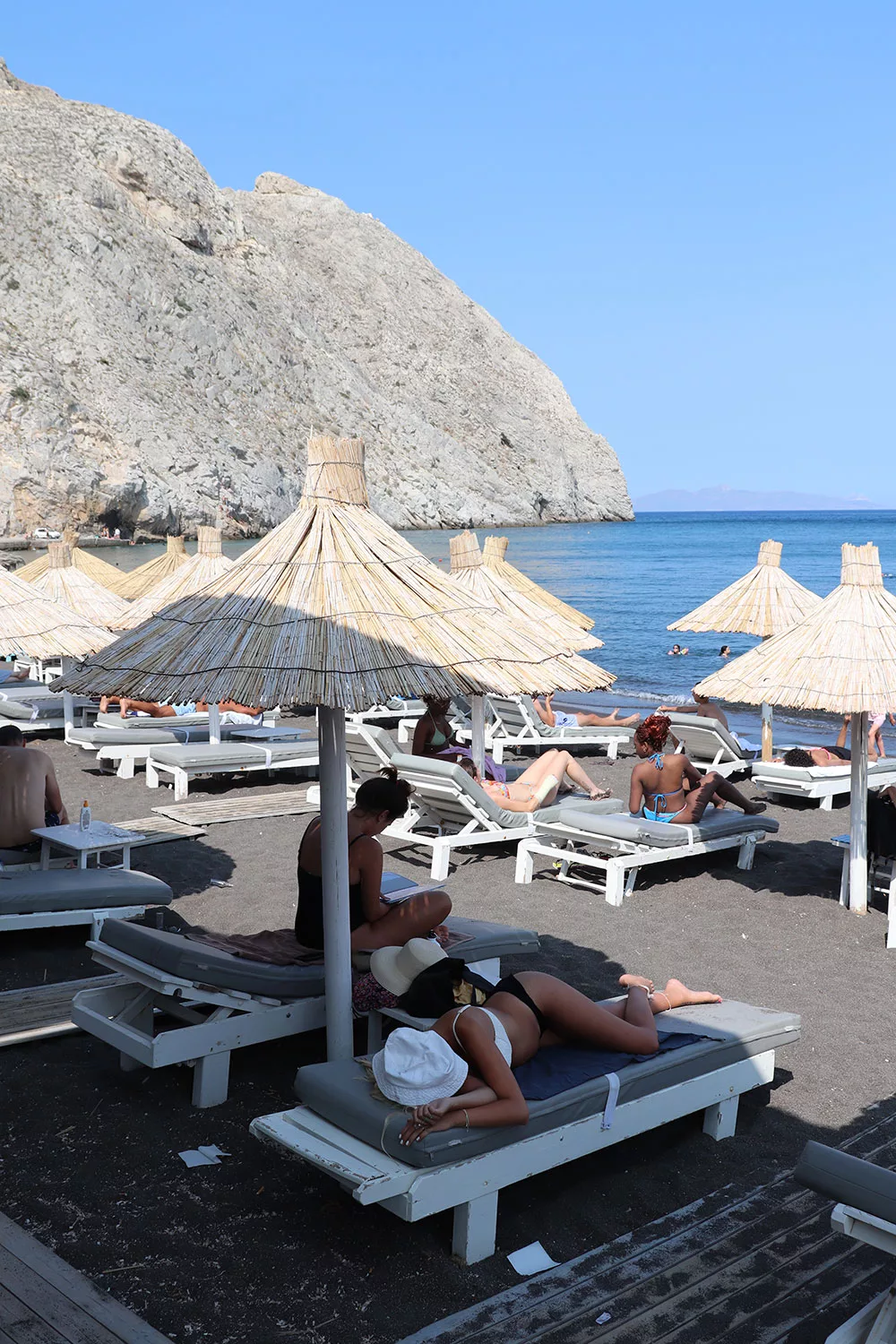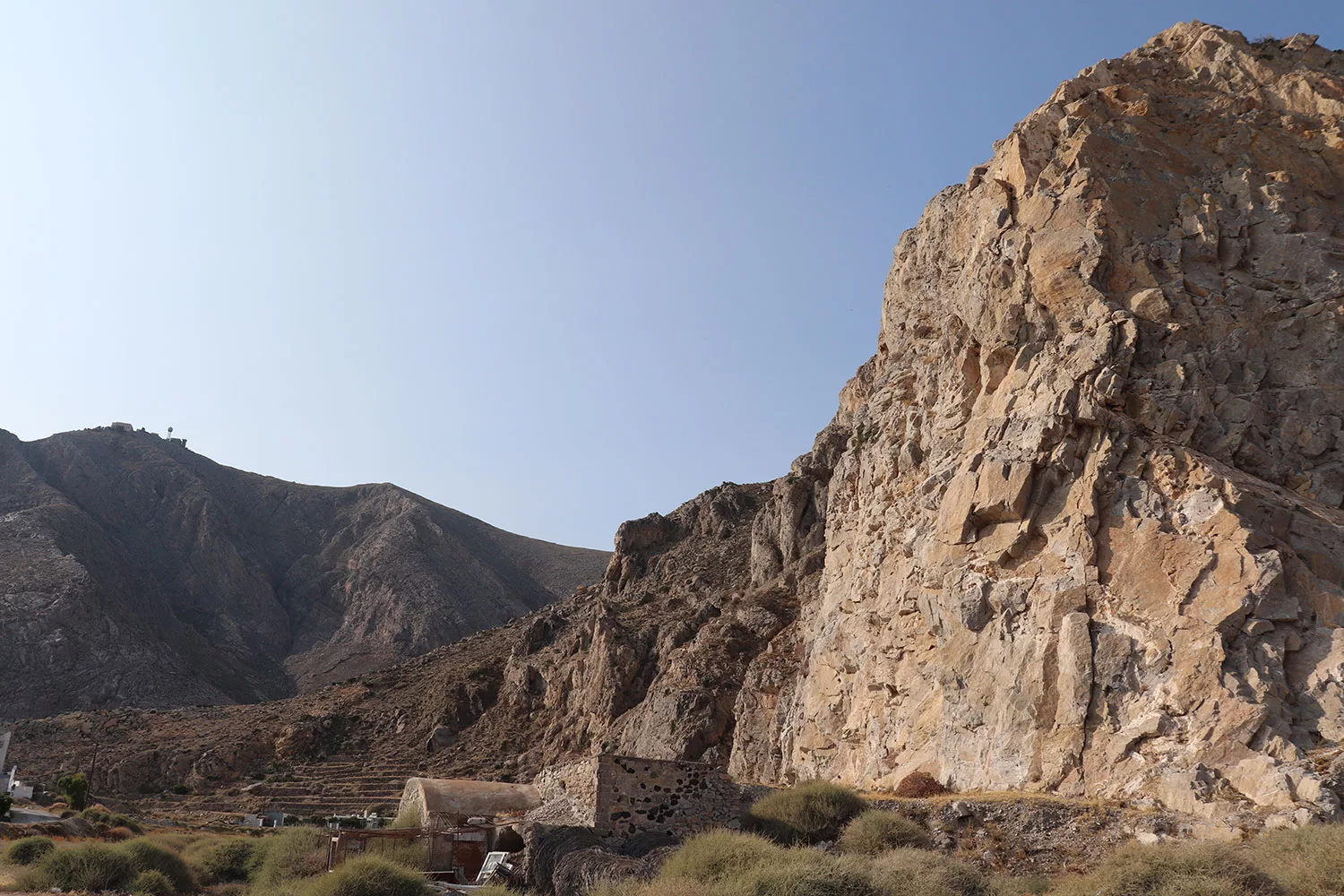 One of Santorini's most popular beaches is the Black Beach. It's actually one long beach but because it's so long, different sections have different names. We went to Perivolos and Perissa. The stretch of beach is lined with restaurants and each restaurant has some sun beds. They are either available with your food or you might need to pay an extra fee. Sitting on the beach with your own towel should be free.
Black beaches, I believe, are made from volcanic matter – which makes sense for the island, which is a big volcano. The waters here are crystal clear and in the summer they were the perfect temperature! I particularly liked Perissa because the beach is next to a huge rock dominating the landscape. I liked the drama of it.
If you're visiting on a hot summer day then hitting the beach is one of the best things to do in Santorini.
Walk from Fira to Firastefani to Imerovigli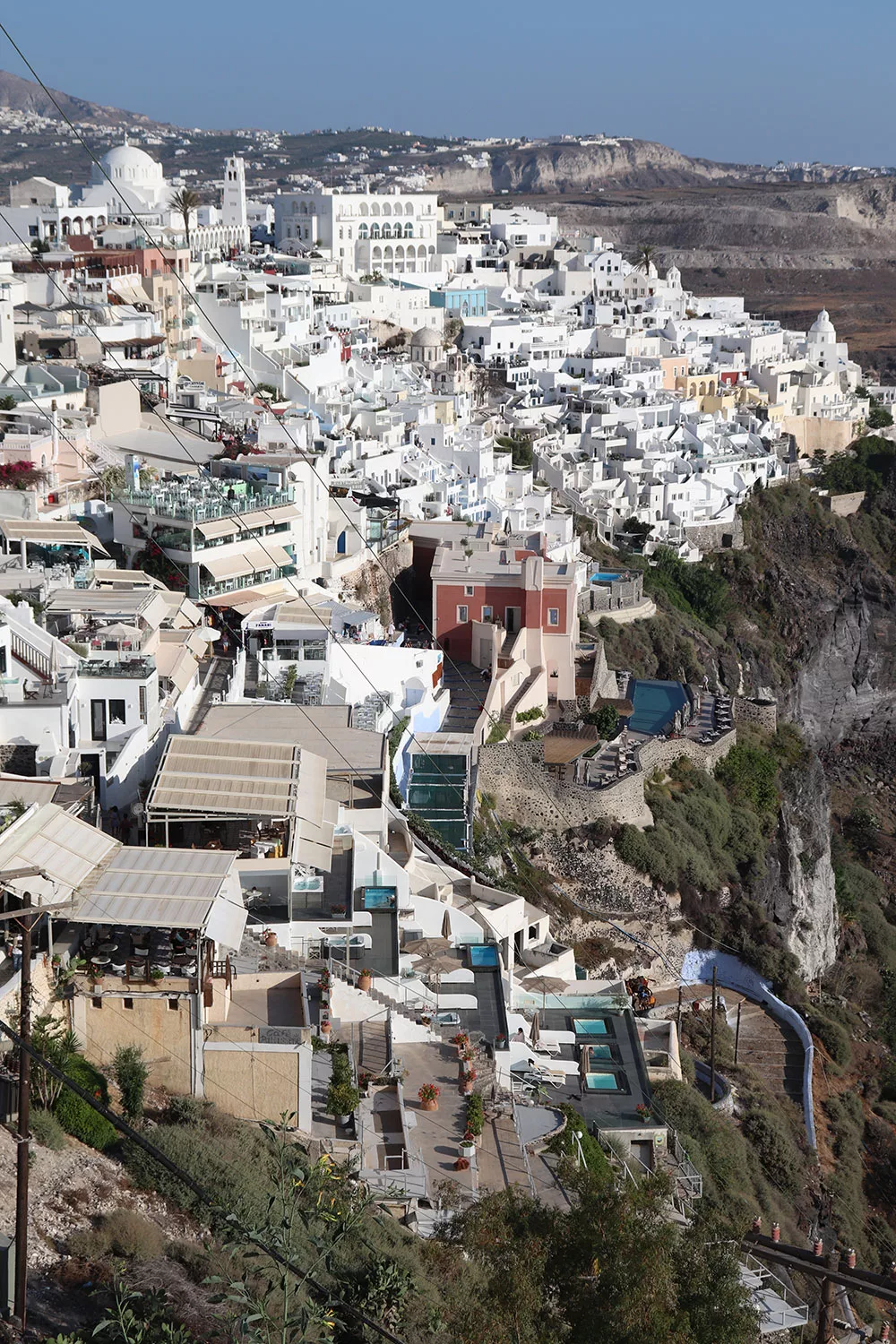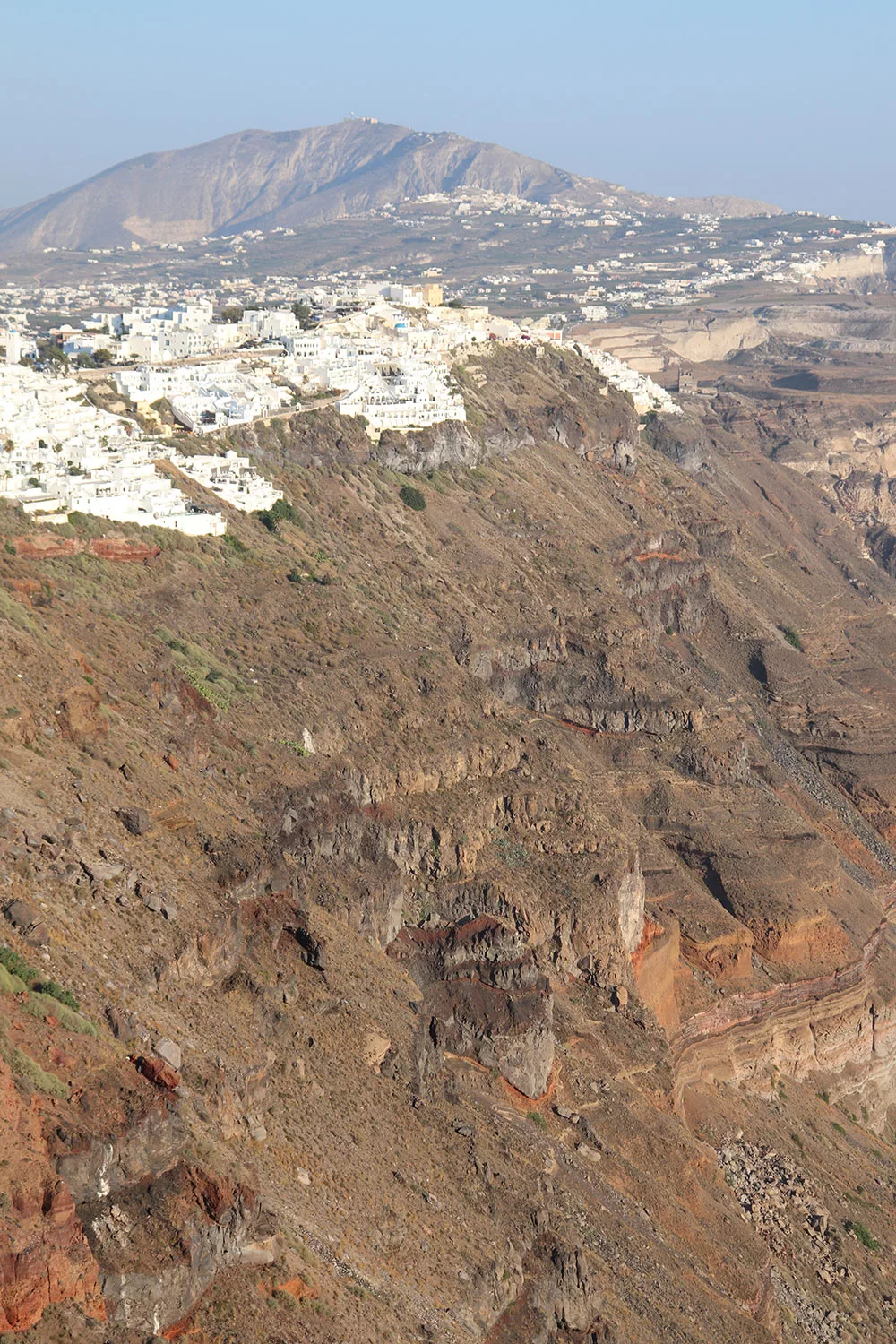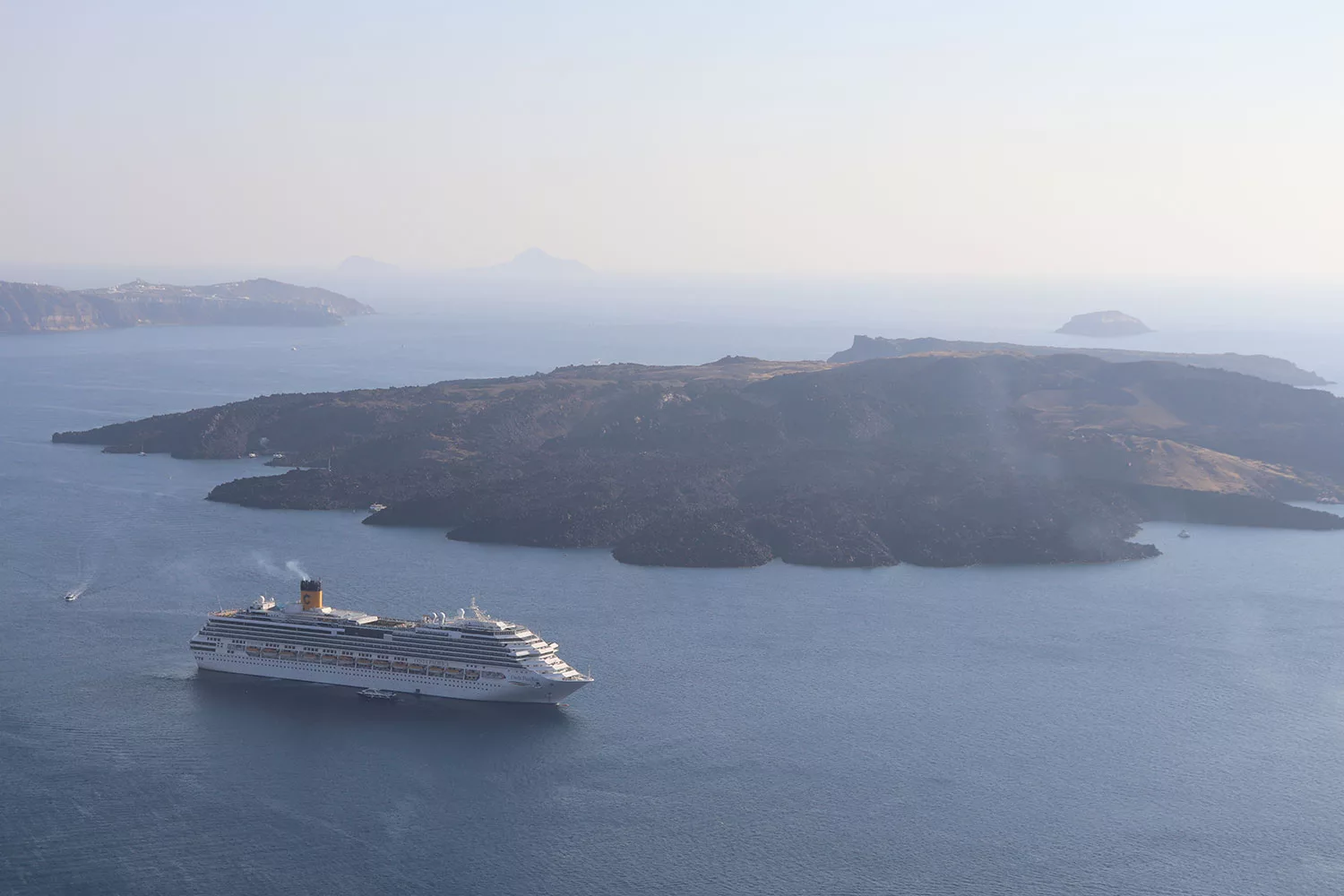 One of the most memorable things to do in Santorini is to take a walk from Fira, the island's main town, to Imerovigli. The walk is about 40 minutes to an hour and is mostly uphill. It's not a serious battle but the walk's a bit strenuous. When you get to the cliffs at Fira (you'll know you're there when you have sweeping views of the water), just take that path north until it ends. You'll go through Firastefani and end up in Imerovigli. You'll know you're in Imerogivli when you end up by a hill with a rock "castle" on top of it. You can hike here too if you wish.
This are is very touristy and the path is lined with souvenir shops and luxury restaurants. Here and there you'll get to a church or interesting piece of architecture. If you stray from the path and go to the road, then there's even less to see. But man – those views over the water, the island, and the volcanic crater are so dramatic and a quintessential part of Santorini. It was just a nice time walking along the cliffs at sunset. Some people opt to go all the way to Oia – which is about a 3 hour walk – but going to Imerovigli is a nice taste.
Visiting the Monastery of Prophet Elias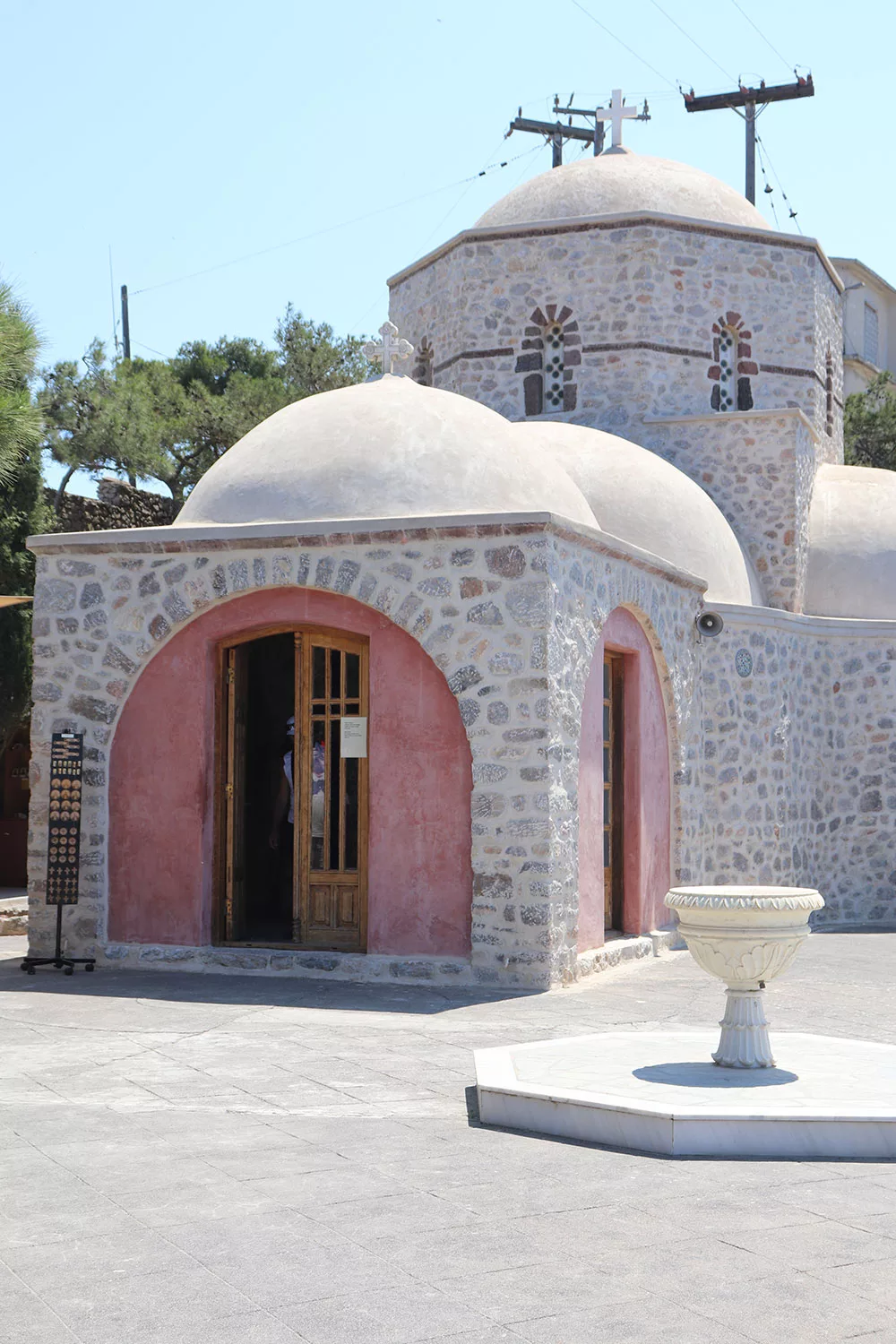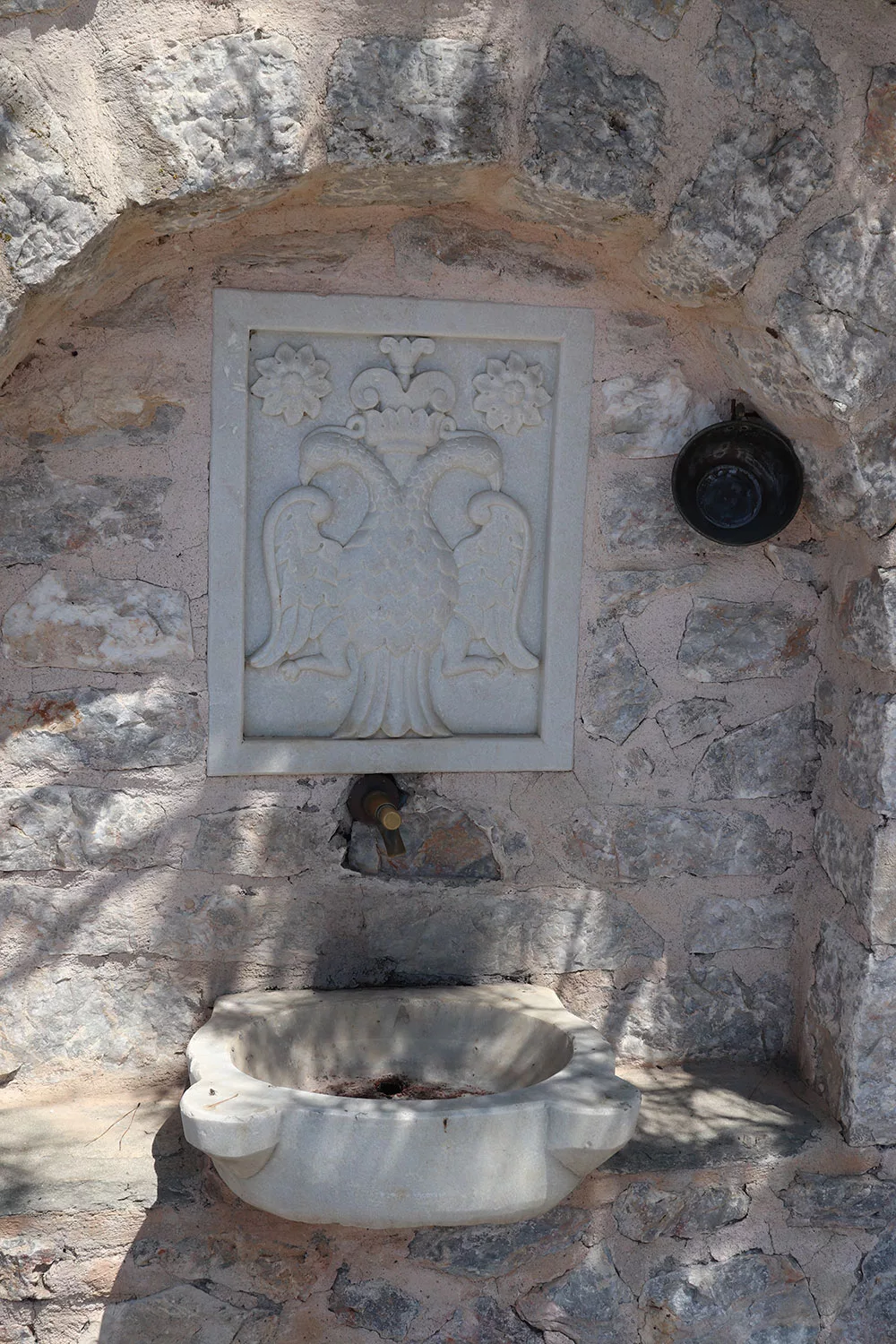 The monastery isn't open to visitors, and you'll find that many religious sites and churches are closed to visitors in Greece. But you can go atop to see a pretty garden and inside a small church at the Monastery of Prophet Elias. However the main draw is that the monastery is at the highest point of the island, so you can get sweeping views of the entire island from up here.
I didn't think the views were great when we first went. It was our first stop in Santorini and the barren island was honestly a little… meh. But after visiting several places, we went to the monastery again. Since I could now see the individual places for what they really were, the views of our second visit became more magical.
See the Sunset from Somewhere That's Not Oia
Oia (pronounced ee-uh) is famous for its sunset, and watching it is said to be one of the "essential" things to do in Santorini. As I mentioned before, it was the only Santorini activity my cruise had planned. Granted we went during summer, but the sunset at Oia was a nightmare. The streets were filled to the brim with people so I couldn't see much of the town itself. An hour before sunset, everyone had chosen a place for their view and just sat on the streets and steps. So, no view or photos for anyone just strolling through. Everyone's body heat made the overall temperature go up 10 degrees. I was happy to get out of there!
The hilarious part was, the night I was there, there were clouds near the horizon so the sun actually disappeared before the actual sunset LOL. The sunset is the same everywhere so do yourself a favor and do not go to Oia for the sunset. It's probably a more enjoyable town when there are fewer people.
Things to Do in Santorini I Missed
In a few days, we were able to accomplish a lot, but there are still things to do in Santorini that we just didn't get to. Here are some of the highlights:
Ancient Thera
Did you know there are not one but two large archaeological sites in Santorini? "Ancient Thera" is the other one. This site is open air and located atop the hills looking over Perissa beach. It also dated to about a thousand years after Akrotiri, to Greece's "classical" age – around the same time as the Acropolis in Athens.
This was one of the things to do in Santorini that was high on my list, but unfortunately we just didn't have time.
Tomato Factory
If you're thinking of things to do in Santorini, you might not think of a tomato factory, but there is one! The D. Nomikos Tomato Industrial Museum showcases another one of Santorini's most popular exports – the tomato. It's something a bit offbeat for foodies to consider.
Visit the Red Beach
Unfortunately the Red Beach was closed due to falling rocks when we were there, but another popular thing to do in Santorini is visit the beach with red sand. It's by Akrotiri and you can even get there from Akrotiri by walking.
Take a Boat Trip to the Volcano Crater
Going on a boat trip sounded really fun, but it was expensive. There are much less expensive boat trips to the volcanic crater of Santorini. You spend a bit of time taking a hike up the volcano but if that's up your alley, then definitely put it on your list. Everyone I talked to said a boat trip is absolutely worth it.
And remember… be mindful and respectful!
Santorini has a very small population but only a few decades ago, it was a poor island with no electricity. Now it's one of the most popular tourist destinations with millions of visitors. I don't believe people should miss out on things just because of overtourism, but remember to be kind to locals (you should be kind to everybody anyway); keep your volume in check; and remember that it may be your vacation but it's somebody else's home.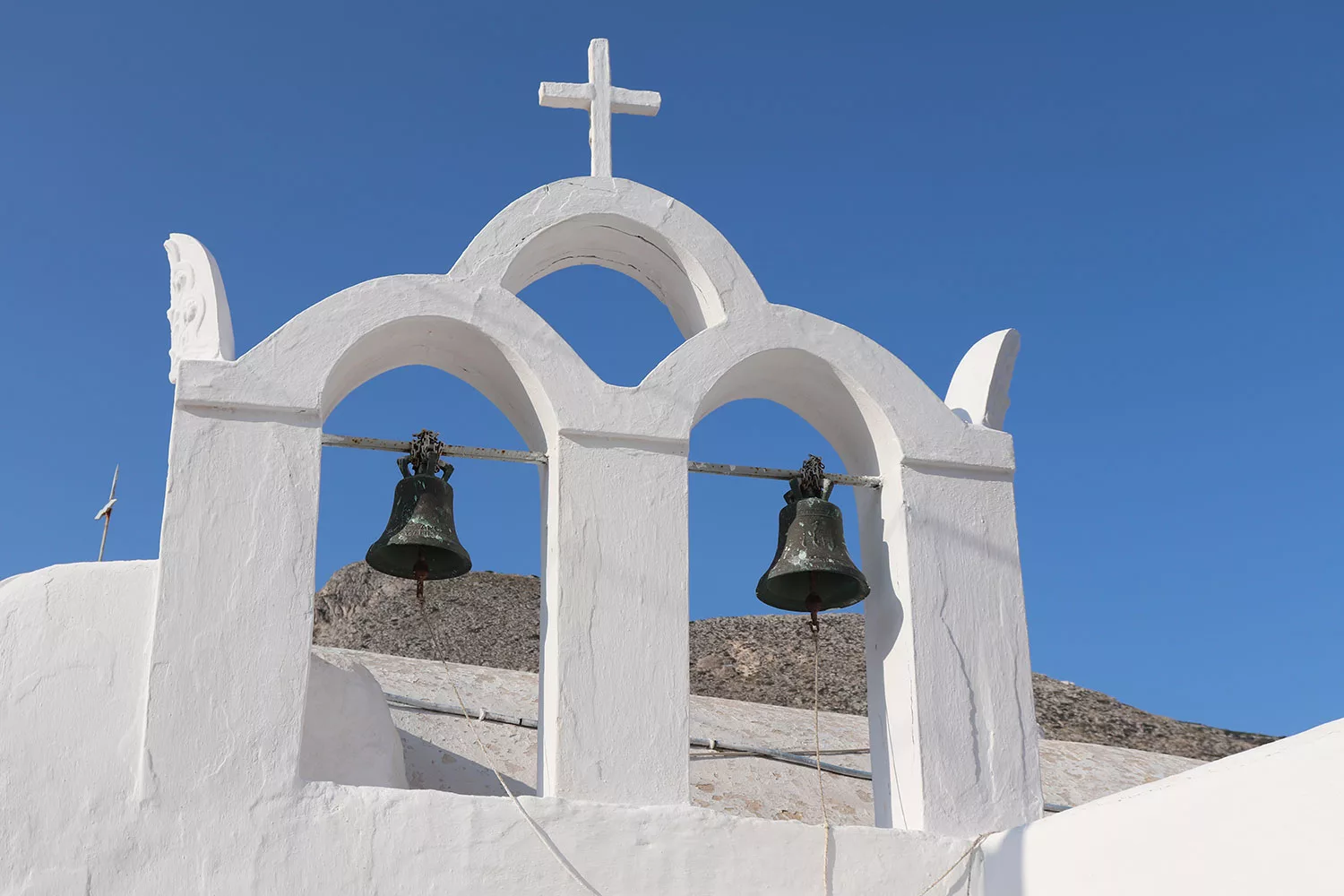 Was Santorini worth it? Santorini is cute. Santorini is pretty. Santorini is unique in that it's, well, a volcano. And Akrotiri, which is on the island, is an absolute must-visit place for history lovers. But if Akrotiri isn't interesting to you then you should probably head to a different island. Lots of island have beautiful towns, great food, lovely beaches, and fewer crowds than Santorini (and Mykonos). Honestly, Santorini didn't blow my socks off. Perhaps I'm spoiled but there are quite a few island destinations I liked much more.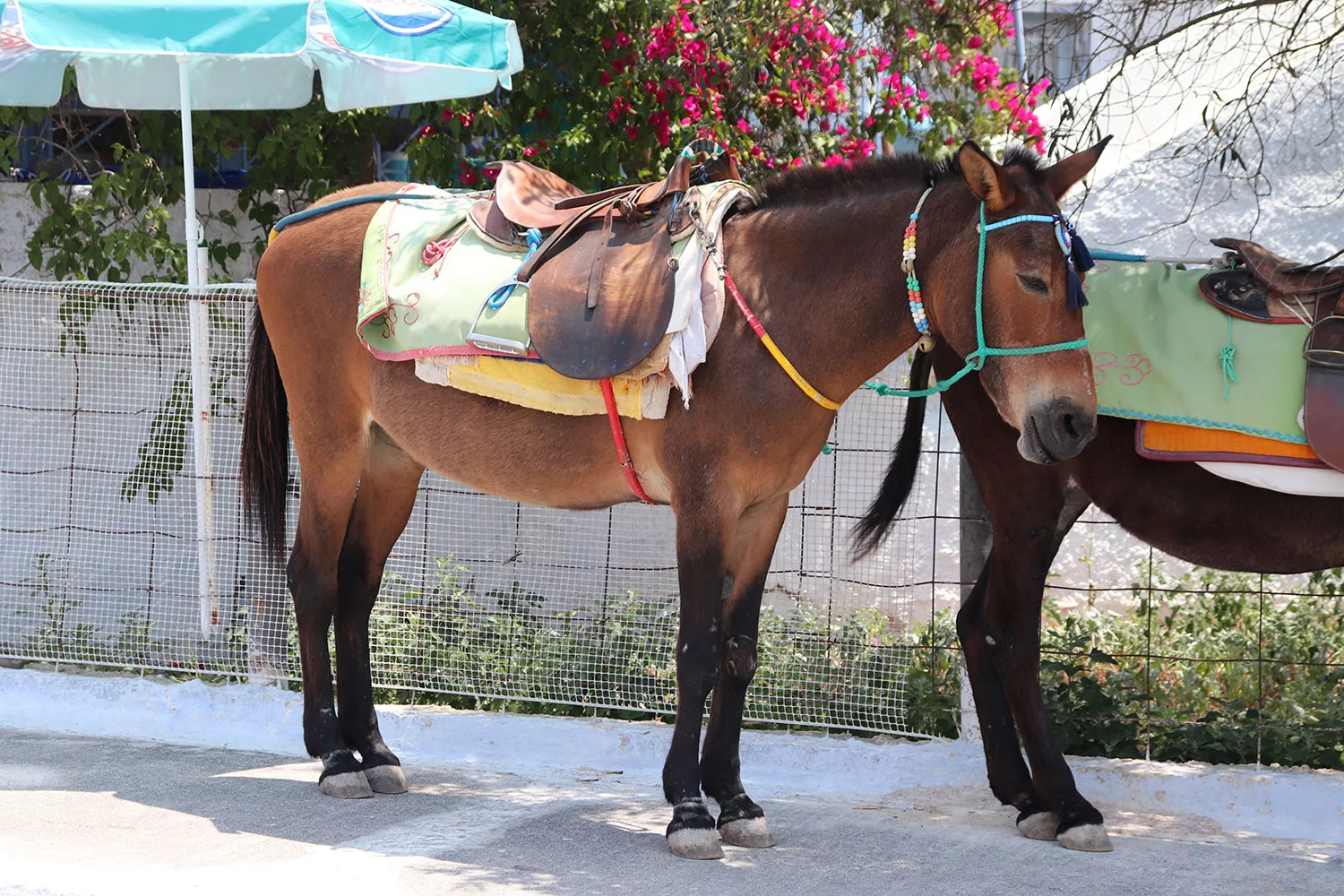 If you do choose to go to Santorini, I hope you have a wonderful time and remember this list of things to do in Santorini to make the most of your trip!
Please note that this post may contain affiliate links. These are at no additional cost to you but I receive a commission if you make a purchase through the link, and the commission helps me run my blog. Thanks for your support!
Tags:
europe
,
greece
,
santorini
Sharing is Caring
Want to support me?
Buy me a Coffee