11 Vegan Restaurants in Baltimore
Posted on Monday, October 11, 2021
Baltimore is a haven for vegans with a lot of different and delicious options. That's one of the reasons I love living here! So I wanted to try as many vegan and vegan-friendly restaurants as I could. Below is my experience with different restaurants in Baltimore, which is changing. I'll update this post as I try new places or have further experiences with old favourites.
(Even though it's not difficult to find a restaurant that accommodates vegans in Baltimore, the following are all restaurants that are 100% vegan or have a dedicated vegan menu. No "here's the one vegan option" on this list!)
Atwater's
Has a Vegan Menu
Even though Atwater's is a chain, it's specific to Baltimore and the area. It is one of the most expensive places on this list but it is delicious. Their menu is always changing but from their veggie reuben made with butternut squash to their soups to their shepherd's pie, I have had some amazing food at Atwater's.
Gangster Vegan Organics
100% Vegan
What caught my eye with Gangster Vegan Organics is their dehydrated bread. That's something I've never seen before and I wanted to try! It was actually delicious and had a wonderful texture. The flavour was heavy on the onion and the beet, but that's way up my alley anyway. My family got bowls and enjoyed their meals a lot. The thing I didn't particularly like is that all food is served cold. It's a part of their brand but I like my food hot. Unfortunately their "tuna" and pie weren't in stock when I last went but I would definitely go back and try it.
Germano's Piattini
Has a Vegan Menu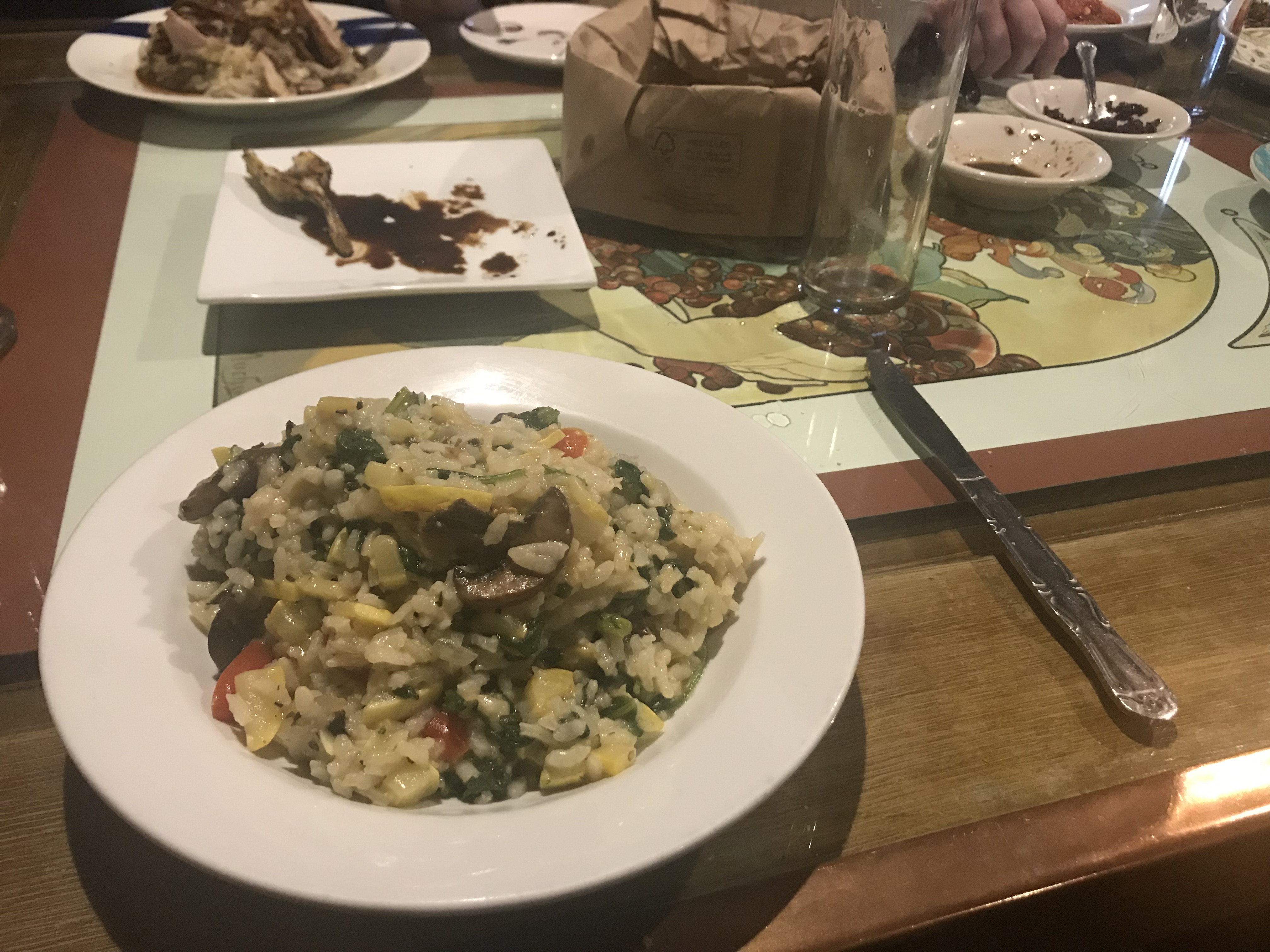 Germano's Piattini is one of those places that you're just so happy to find. It's a locally-owned restaurant with a lot of clearly-labelled vegan options and they have a cabaret with entertainment every night! I tried it with my family and everyone loved their meals. The vegan appetizers we got were amazing, and we even got some extra to go home just because they were so good. I got the risotto as my entree and I didn't enjoy the way it was seasoned. But seeing how much I liked their appetizers, I'd go back and try something else.
Golden West Cafe
Has a Vegan Menu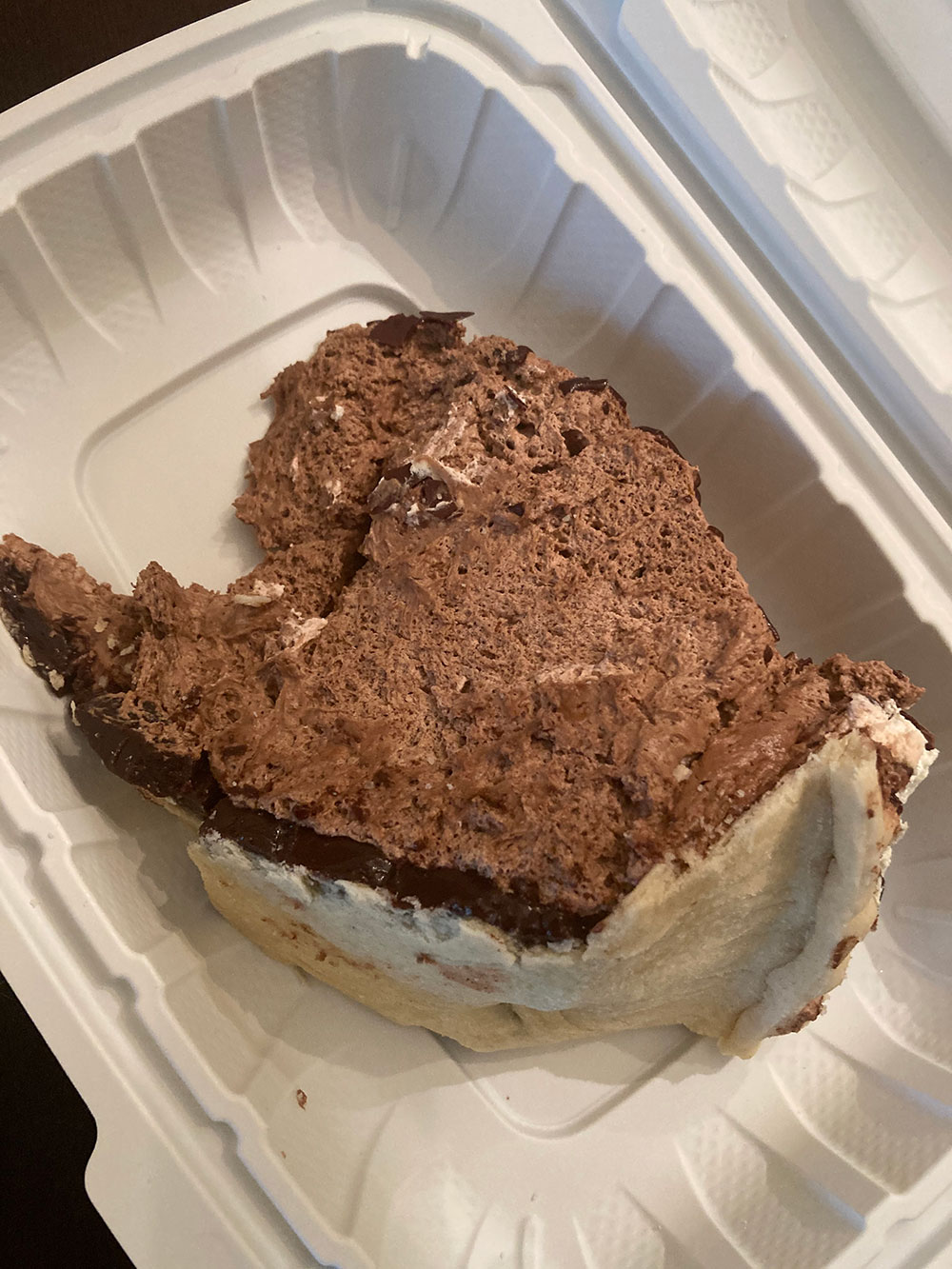 Golden West Cafe is a cute restaurant that has a lot of different options, many of which are vegetarian. They also have a full vegan menu. I got the brussel sprouts (delicious!) and the pumpkin curry soup (pretty good). They also have a full vegan bakery and I opted to get the chocolate mousse. It was a bit dense but it's always nice to have an option. I've been back a few times and it's definitely a local favourite.
Joe Squared
Has a Vegan Menu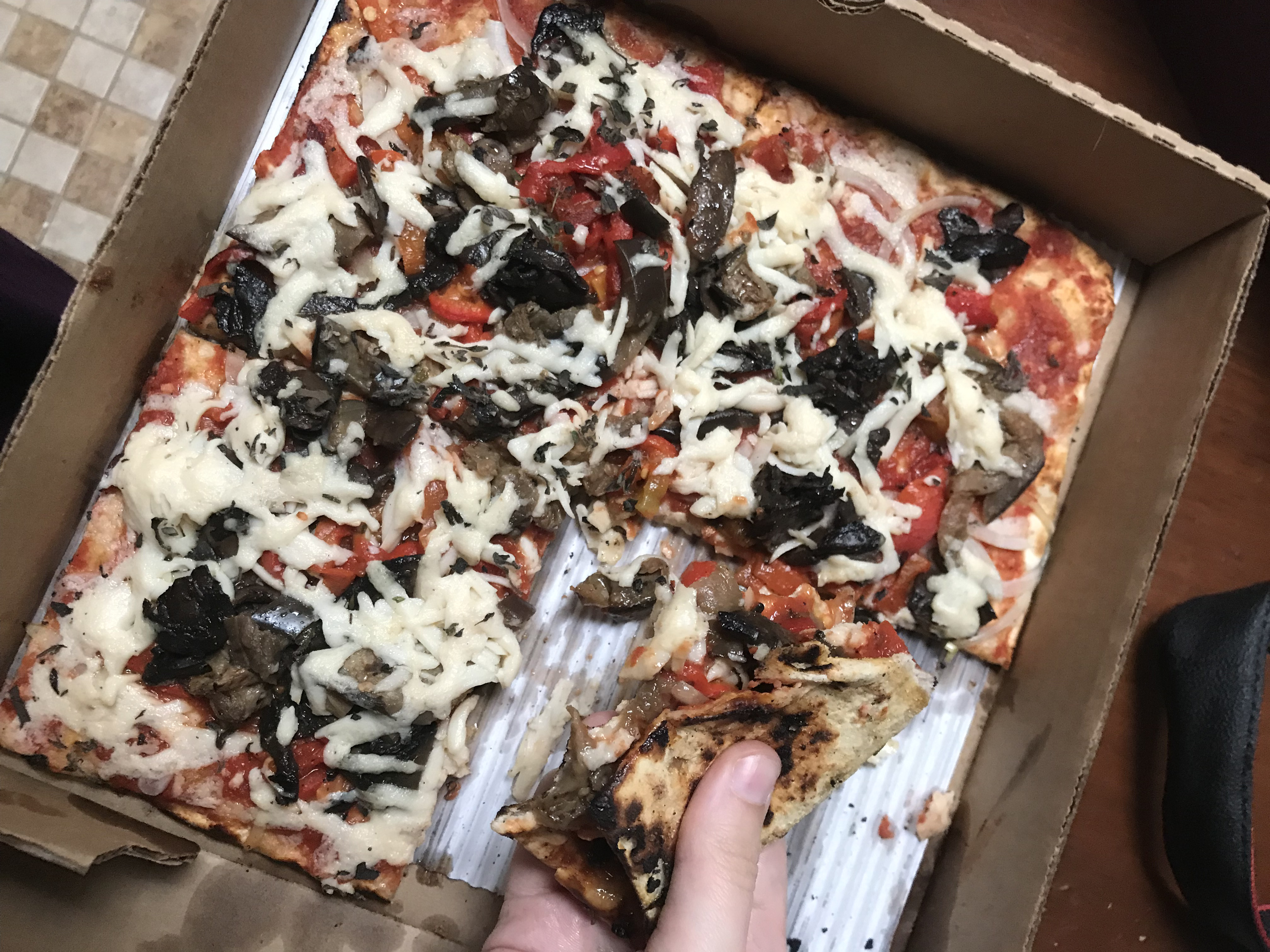 I actually came here a few years ago with my boyfriend and it was memorably overpriced and not filling. We'd gotten the margherita pizza. For this blog post, I decided to go back and give Joe Squared another shot, and hot damn! I'm glad I did. I got the vegan pizza as it comes and it was delicious. You can make virtually any pizza vegan and make your own pizza, which means lots of selection. All pizzas are about the same price so if you get one with more toppings, it's not as overpriced anymore. (Why is it so hard to find cheap pizza?) They also have more, like sandwiches and risotto. It's fairly expensive. I got vegetarian potato skins and oh my gosh – best thing ever. I've been back a few times and it's always been great.
The Land of Kush
100% Vegan
I clearly forgot to take a photo at the restaurant.
So The Land of Kush's claim to fame is their vegan crab cake and they've even won "Baltimore's Best Restaurant." It is delicious! Their mac n cheese and yams are very good. The crab cakes were the main event and it was actually quite decent. It's definitely not a loose crab cake but dense in texture. The issue is that they're very dry and need a sauce, which you need to ask for. However, of all the places I've eaten ever, I get cravings for these specific crab cakes and their mac n cheese. They definitely get a thumbs up. Make sure to go on a weekend as they don't serve the crab cakes during the week.
As a side note, NuVegan Cafe is a 100% vegan restaurant in DC and College Park that has an incredible vegan crab cake. If you can venture out there, it's a great place to stop.
My Mama's Vegan
100% Vegan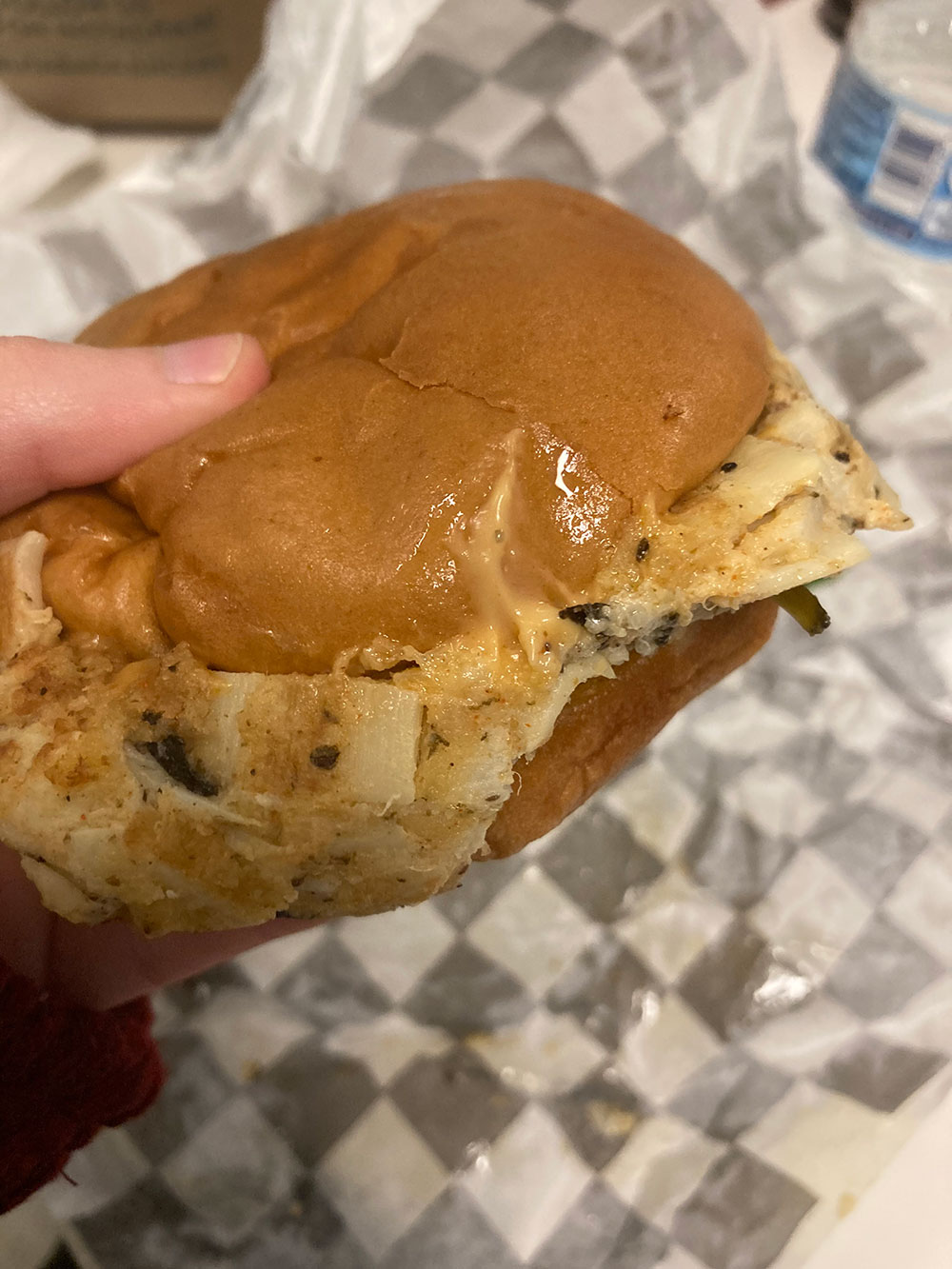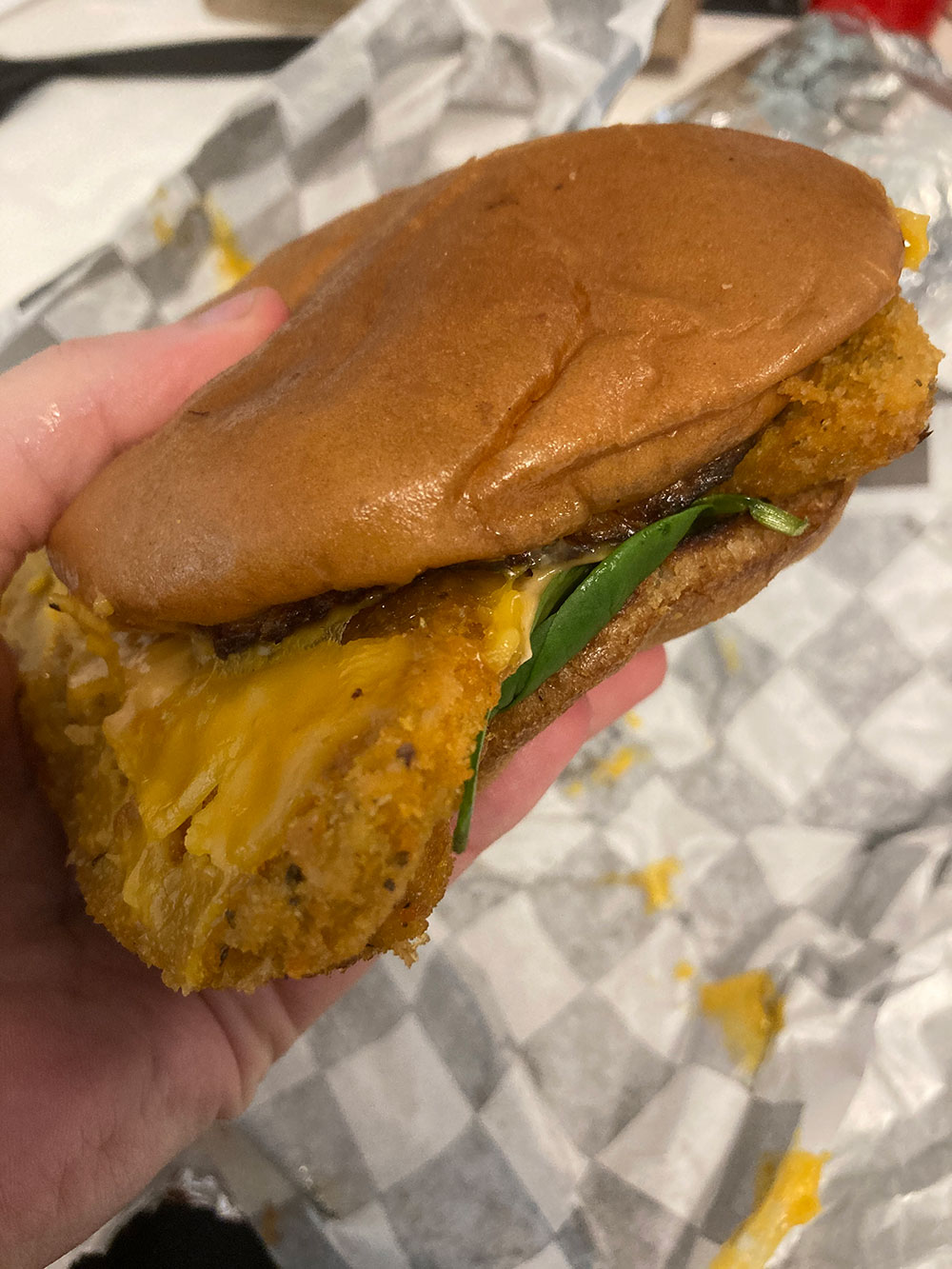 My Mama's Vegan is a newer carryout establishment and it got raving reviews, so I got two sandwiches when I ordered. The crab cake sandwich was heavy on the artichoke and vinegar flavouring, but it was OK. The fish sandwich was amazing. They specialise in "comfort food" so eating here doesn't feel healthy – it feels greasy. It's fantastic. This establishment is only open limited hours but I can't wait to get my hands on more of their food.
One World Cafe
Almost completely vegetarian, has a vegan menu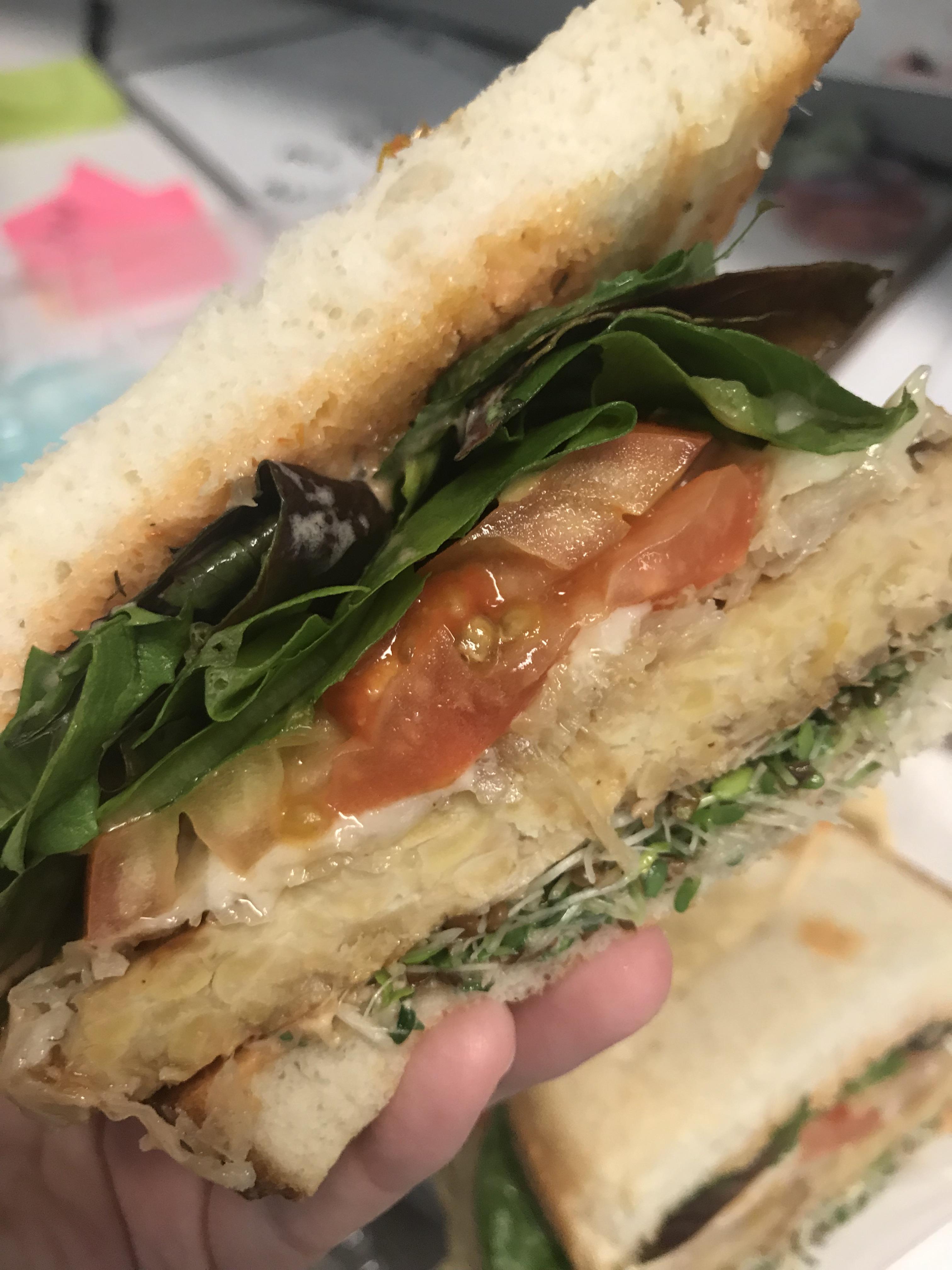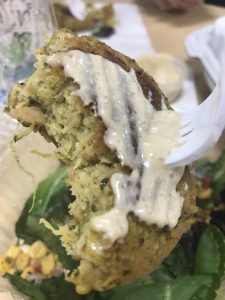 One World Cafe is another place that I'd heard great things of many times. They have a mostly vegetarian menu, lots of vegan options, and their offering change day to day. First off, I had a hard time ordering because so many of their options looked fantastic. They have popular selections from global cuisines and it all sounded so good! I ended up getting a tempeh reuben and the veggie crab cakes, which I believe were both vegetarian rather than vegan because of the sauces. Both were decent! Their reuben was full of flavour and as reubens are, it was very tangy and filling. The crab cakes were also good with the sauce. I'm not sure I'd get them again (they weren't particularly memorable) but they were decent. I definitely can't wait to check out this cafe again.
Red Emma's
100% vegetarian, mostly vegan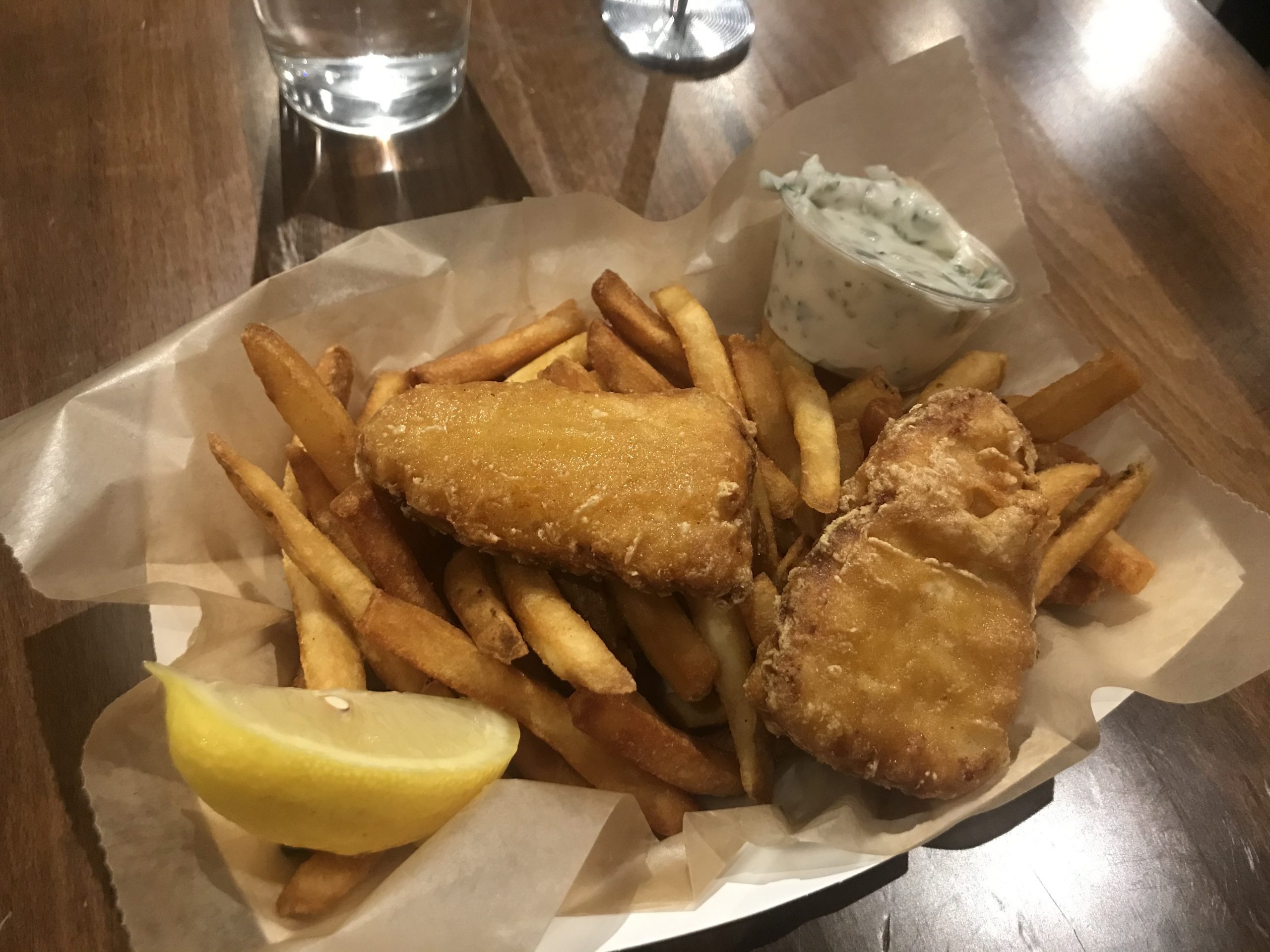 A lot of my friends frequent Red Emma's, which is a bookstore and community space as well as a cafe. They're also known for being worker-owned, paying fair wages, and focused on social justice. I decided to try their fishless & chips, which was priced well. It wasn't super filling but the "fish" was delicious (it's Gardein), served properly with lemon and cucumber tartar sauce. They also have a bar, small bakery and a great atmosphere. I'll definitely try a different food next time I go but they're worth going for the atmosphere alone. Just a cosy, welcoming place.
Rocket to Venus
Has a Vegan Menu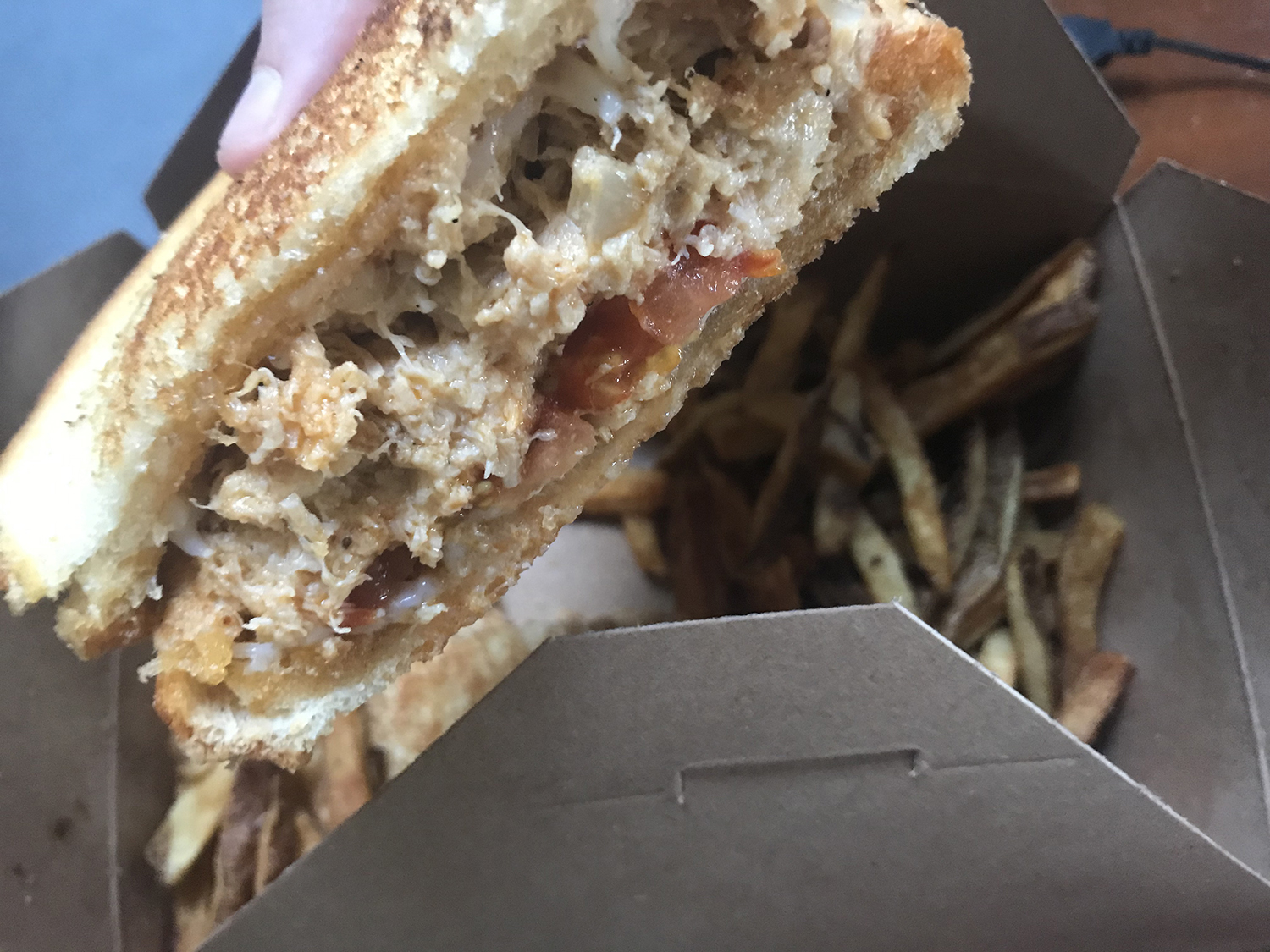 I went to Rocket to Venus and got the vegan tuna melt and it was so good. It's very similar in taste to a regular tuna melt, which is a bit unsettling since the establishment does serve meat. However it doesn't smell like tuna and has a thinner texture, so I'm pretty sure it was vegan. I may go back again and get something else (or just get the tuna melt again).
Sweet 27
Has a Vegan Menu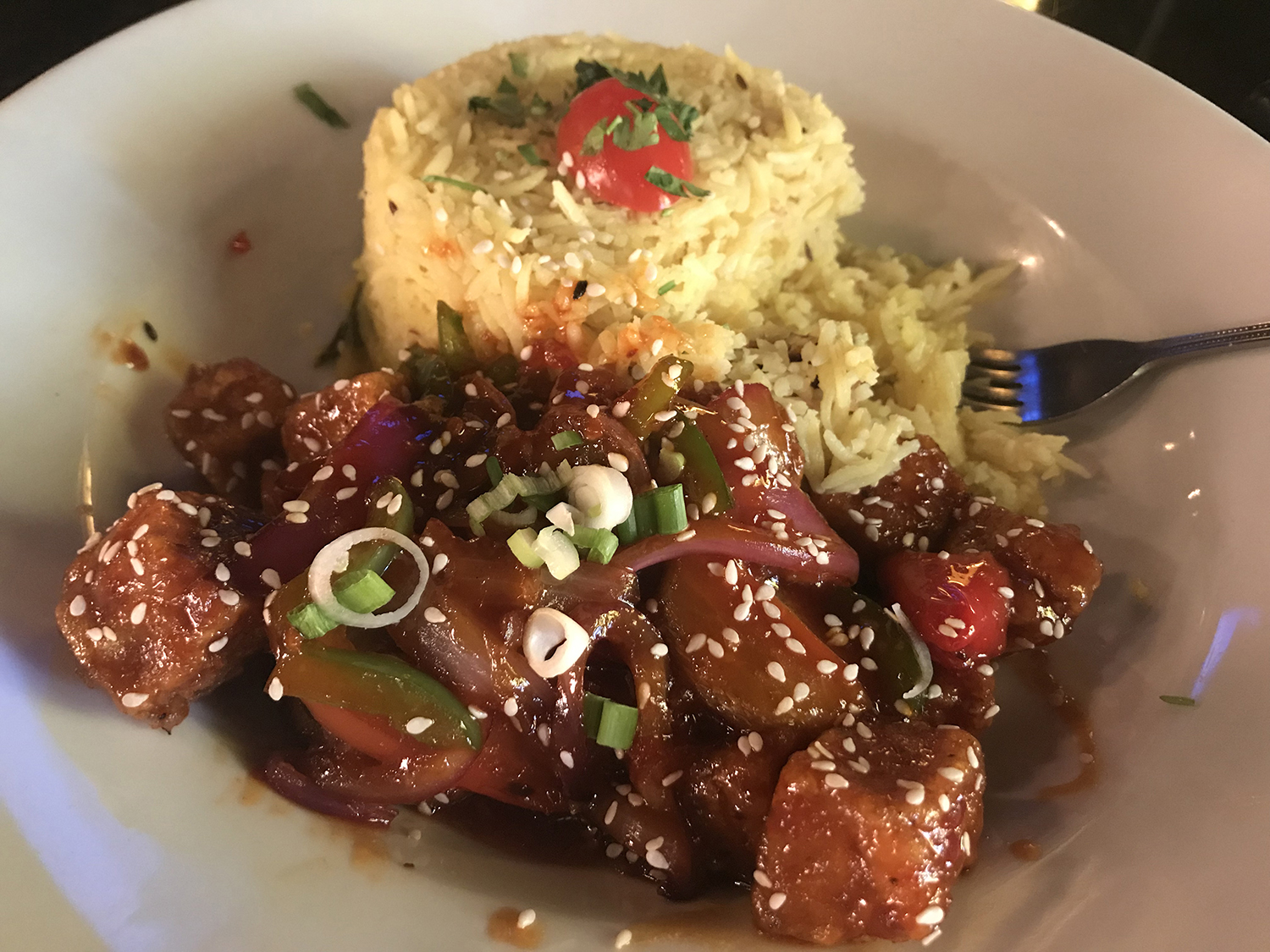 I'm not huge on spicy food, so Sweet 27 was not for me. It has an array of internationally-inspired cuisines but a lot of them are spicy. My tofu was not marked with a pepper but what still spicy, though the rice was quite good. The tofu was also all spice, and didn't have much other flavour, unfortunately. Also, they're big on IPAs, which is also not my style. I got a pilsner, which I usually like but I didn't like this one. Unfortunately, Sweet 27 is off the list for me.
So there you are: vegan restaurants for you to try in the lovely city of Baltimore! Unfortunately, I ate at 3 amazing vegan restaurants that have since closed, and the more I stay, the more I realise that the restaurant scene here in Bmore is transient. However I'll be updating this list accordingly.
So which are my favourites? If I had to recommend vegan restaurants to people visiting, I'd say my favourites are definitely Atwater's, Golden West, Joe Squared, and the Land of Kush. These are places I've been returning to. Unfortunately, a lot of the reason I haven't returned to several restaurants is because they're open odd hours, closed when they say they're open, are out of what I'm interested in eating, etc. It's honestly quite frustrating but I still want to make these vegan eats known because they're all fantastic.
Here are some other restaurants I've yet to go to:
Chipotle, Nalley Fresh, Honeygrow, and Sweetgreen are also here in Baltimore if you feel that you're short on time or funds.
Have you been to any of the restaurants above? What did you think? Which were you favourites?
Please note that this post may contain affiliate links. These are at no additional cost to you but I receive a commission if you make a purchase through the link, and the commission helps me run my blog. Thanks for your support!
Tags:
baltimore
,
maryland
,
united states
,
vegan
Want to support me?
Buy me a Coffee