In the Shadow of Edgar Allan Poe: Places to Visit in Boston, Baltimore, and Beyond
Originally published on Sunday, August 28, 2022
Edgar Allan Poe has been an icon of English language literature for over a century. Between the chilling and killing of Annabel Lee to a raven rapping at a chamber door, his works are amongst some of the most celebrated and reenacted in our culture. A Poe fan, but not an expert, I've stopped in many places where Mr. Poe lived during my travels. And it occurred to me: just how many sites are there to visit for Poe enthusiasts?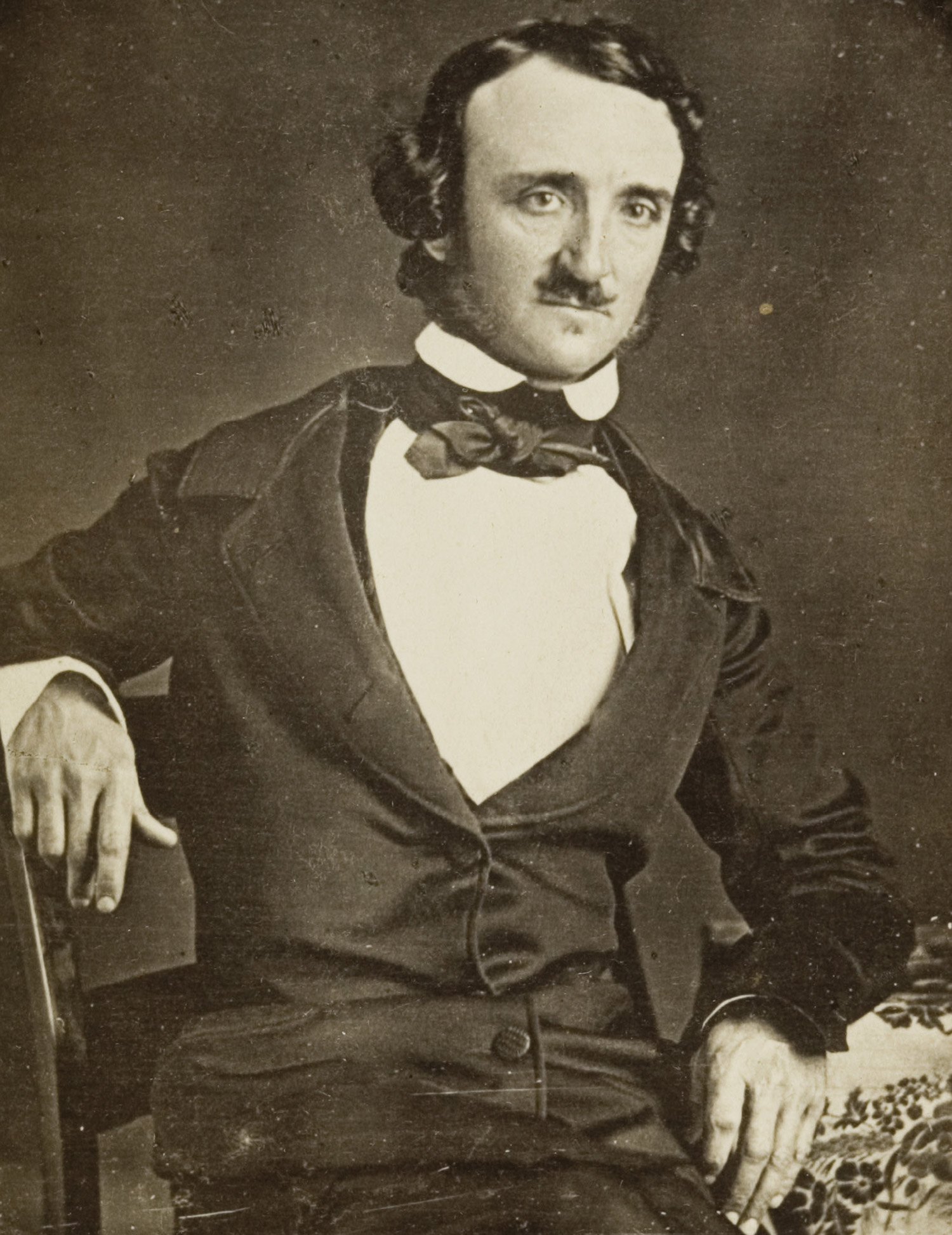 Surprisingly, I couldn't find a comprehensive list of Edgar Allan Poe sites. I did some digging around and compiled this nifty list of 28 places to visit relating to Edgar Allan Poe. Obviously Poe's words lasted longer than his world, but there are still remnants to be explored. These are all the museums, buildings and marked sights I could find from Boston to Baltimore and everywhere in between. I've been to many myself and am looking to visit more.
If you're curious, all these places – Boston, Richmond, Charlottesville, Baltimore, Charleston, New York City, and Philadelphia – are absolutely excellent destinations in their own right.
Hopefully this list will be valuable to all you Poe fans out there!
Here's the short list:
Poe's Birthplace Plaque, Boston
Monumental Church, Richmond
University of Virginia, Charlottesville
Fort Independence, Boston
Fort Moultrie, South Carolina
Fort Monroe, Virginia
Shockoe Hill Cemetery, Richmond
United States Military Academy, West Point
Edgar Allan Poe House & Museum, Baltimore
12 West Bank St, Petersburg
Edgar Allan Poe Museum, Richmond
Edgar Allan Poe National Historic Site, Philadelphia
Free Library of Philadelphia, Philadelphia
Northern Dispensary, New York City
85 West 3rd St, New York City
Butler Library at Columbia University, New York City
215 West 84th St, New York City
The Edgar Allan Poe Cottage, New York City
Fordham University, New York City
47 Bond St, New York City
Providence Athenaeum, Providence
88 Benefit St, Providence
Swan Point Cemetery, Providence
2407 East Grace St, Richmond
2315 West Grace St, Richmond
44 East Lombard St, Baltimore
100 North Broadway, Baltimore
Westminster Hall, Baltimore
Birth in Boston
Edgar Allan Poe entered the world on January 19, 1809, at 62 Carver St in Boston, MA. Unfortunately his birthplace no longer exists, but there is a commemorative plaque in the area at 176 Boylston Street. Right next to it you can find the Edgar Allan Poe Statue. Obviously it wasn't there during his lifetime but it's one of the only prominent statues dedicated to the writer today.
Poe would later go on to live in Boston, though he didn't care much for it. He called Bostonians "Frogpondians," amongst other things, due to their "constant croaking criticism."
Edgar Allan Poe in the United Kingdom
With young Edgar's father gone and his mother dead within his infancy, he was taken in by a wealthy man named John Allan. Though they lived briefly in Richmond (more below), they set sail in 1815 for the United Kingdom. There he lived and learned in Irvine, Scotland and Chelsea, London. Unfortunately none of the buildings he associated with are still standing.
Life in Richmond & School in Charlottesville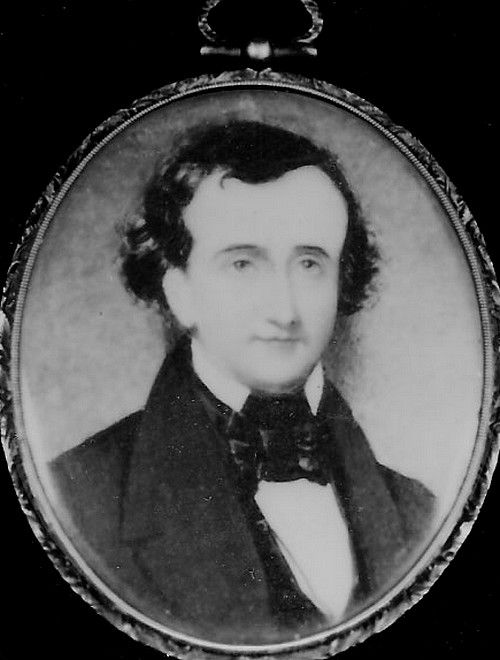 Poe returned to the U.S. with Mr. Allan in 1820 and lived in Richmond. None of the buildings he lived in survive to this day, including the home Moldavia that inspired many of Poe's works. However, the church he attended with his family, Monumental Church, is still standing.
His mother was buried in St. John's Churchyard, which he probably visited, but the grave has since been changed. In Richmond, Poe became engaged to Sarah Elmira Royster but she married someone else when he was at school (this comes back later). He had courted her in her father's walled garden, which was turned into the Linden Row Inn during his lifetime. The inn still has a garden and you can stay there.
You can also still see where he went to school in Charlottesville. In his late teens, he attended the University of Virginia, which still looks as it did when it was first designed by Thomas Jefferson. Additionally at UVA, you can see Poe's dorm room. The dorm room is the same as it had been when Poe attended university but the furniture is not exact. However, it's still really cool to look into the place he lived and knew so well!
He did well in school but racked up a lot of debt, which Mr. Allan did not approve of. So, Poe left UVA after only a short while.
Back in Boston: Stationed at Fort Independence
Though he left Boston early on, he would come back in 1827 when school and his relationship with Mr. Allan didn't work out. Shortly after, he enlisted in the U.S. army and was stationed at Fort Independence. He was only there for a few months but his stay there is said to have inspired The Cask of Amontillado (one of my personal favourites). The original story is that two lieutenants engaged in a duel on Christmas Day in 1817, but it's difficult now to determine exactly what details Poe heard. It's said that in 1905, a skeleton was found chained up and hidden behind a wall of bricks at the fort. However, I haven't found a reliable source for this story, which is probably just what it is – a story.
Relocated to South Carolina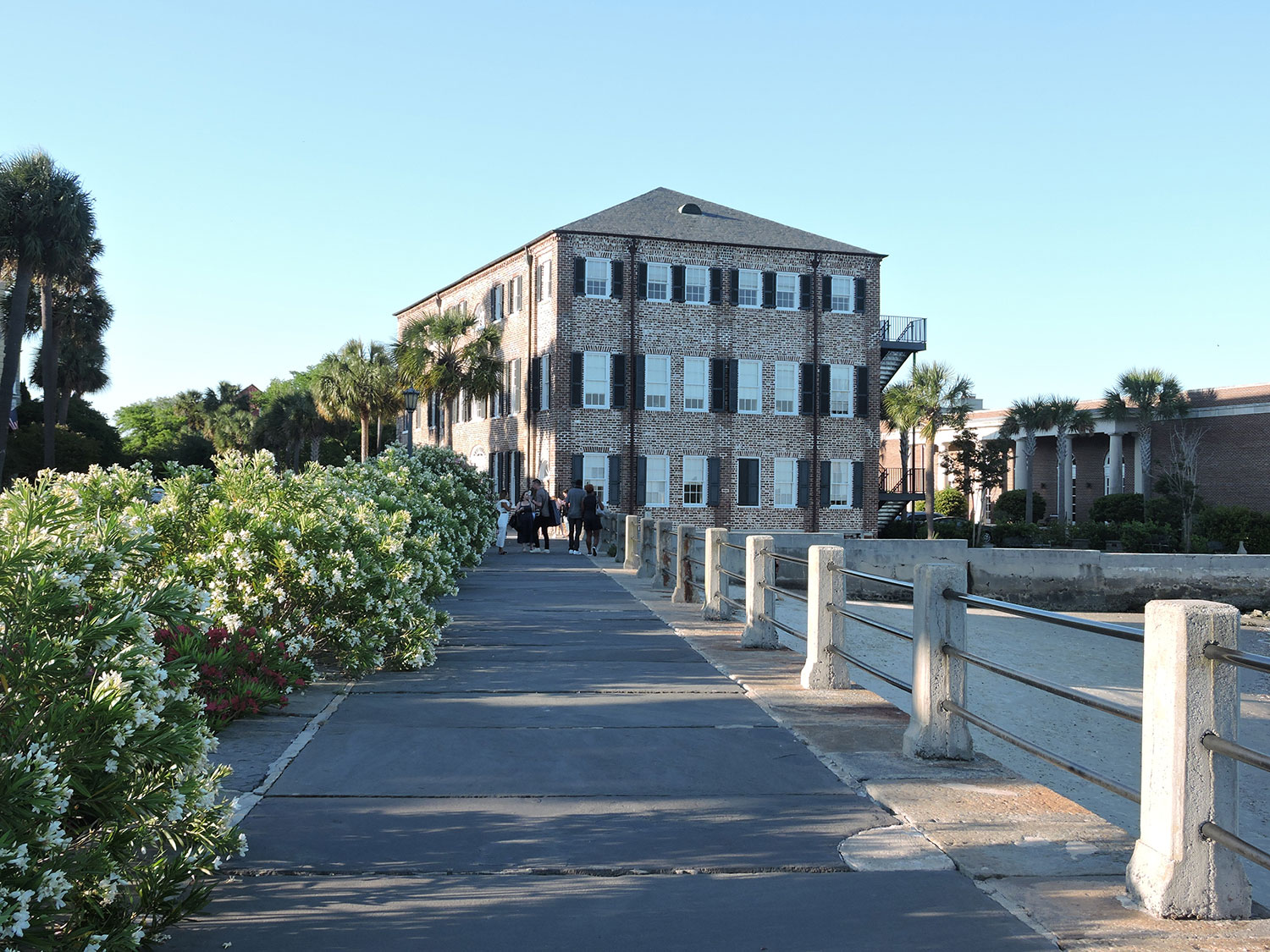 In November 1827, Poe was stationed down at Fort Moultrie in South Carolina, located on Sullivan Island near Charleston. You may recall a similar setting described in The Gold-Bug. He stayed there for about a year.
A Short Return to Virginia
After his stint in South Carolina, Poe returned to Virginia via the military at Fort Monroe, where he served a few months before being honorably discharged. His foster mother, Frances Allan, died in 1829 and Poe visited her grave after her burial. Though her own gravestone may not have been ready by then, she was buried at Shockoe Hill Cemetery – a place Poe would have already known. His first love, his friend's mother Jane Stith Craig Stanard, had been buried in this cemetery when Poe was 15 years old. A young Mr. Poe and his friend, Robert, would often visit her grave,
Up to New York
After reconciling with Mr. Allan, Poe went up to study at the United States Military Academy in West Point, NY. The school and its buildings still stand today. Like his time at UVA, Poe ended up with a lot of debt and Mr. Allan broke off relations with him completely. Since Mr. Allan couldn't give Poe a dismissal from the academy, he purposefully accumulated offenses that ended in his being court-martialed and dismissed from school. (A story I find incredibly funny and petty.)
Poe's Life in Baltimore
In 1831, Poe made his way down to Baltimore to live with his blood-related aunt, brother, and FIRST cousin, Virginia. He hadn't lived with his brother, Henry, for very long before he died – another tragedy in Poe's life. So yes, these were not foster but blood-related relatives, and you probably know where I'm going with this. Poe infamously married his 13-year-old cousin Virginia when he was 26. And apparently people lied about her being 21 at the wedding, which makes it even creepier somehow, like they knew *exactly* what they were doing. And he called her "sissy," an odd nickname for your wife. But anyway, I degress.
The house Poe lived in at 203 N Amity Street is still standing and now a museum. Unfortunately the house has only a few original artefacts and is mostly filled with informational panels about Poe's life. However it's still an interesting stop for anyone who wants to see a place where Poe actually lived. Now being cut off from his foster father and academic obligations, Edgar Allan Poe was now able to devote more time to writing.
Poe's Return to Richmond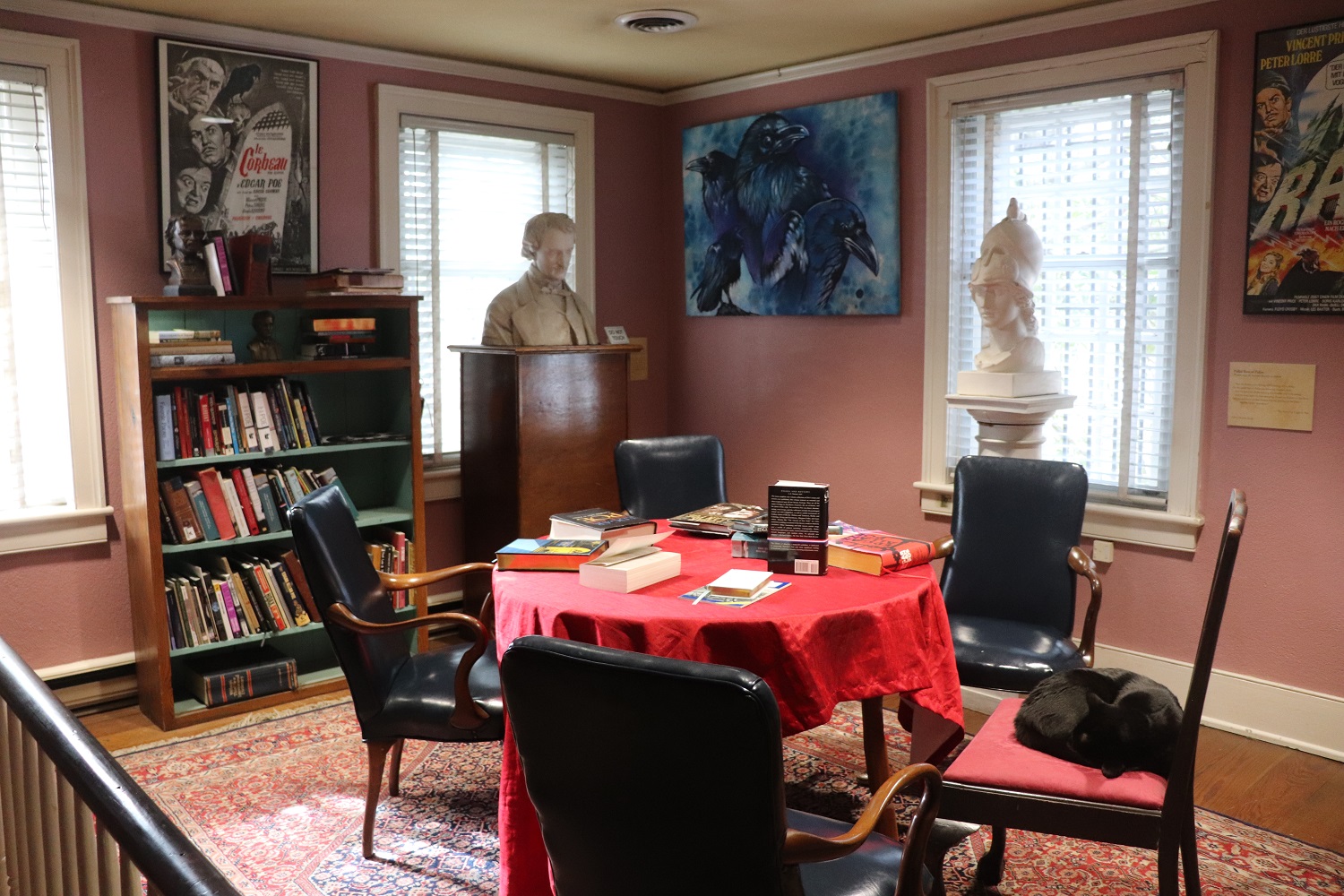 The Poe Museum in Richmond has two resident black cats: Edgar and Pluto. We got to meet one taking a cat-nap.
In 1835, Poe returned with his aunt and cousin (not quite yet wife) to Richmond. He worked as an editor for the Southern Literary Messenger, which was very successful at the time. Unfortunately the building it was housed in no longer remains, either. (So many places have been demolished!)
After he married Virginia Clemm, they honeymooned in nearby Petersburg, VA. You can still see where the couple stayed on the 2nd floor of 12 W Bank St. There is no business there currently but the building still stands.
Though Poe never lived in Richmond for long periods of time, he returned to the city very frequently. Today, the city houses the Edgar Allan Poe Museum. The building does not have any direct connection with Poe but the museum is excellent. It contains a ton of information and artefacts from Poe's life, and it's a definite must-see for Poe enthusiasts.
Onto Philadelphia
Edgar Allan Poe really did get around in his lifetime. After leaving the Messenger in Richmond, he spent the next several years editing and writing in Philadelphia. A lot of his most famous works were written there, including at his home which is now the Edgar Allan Poe National Historic Site. It's another great place to visit to see where Poe actually lived. There's even a faux fireplace in the basement, which is rumoured to have been the inspiration for The Black Cat, one of Poe's most famous works.
Several of his original writing is at the Free Library of Philadelphia. You can still see the work today but you must have an appointment and, I assume, a research purpose.
Writing in New York City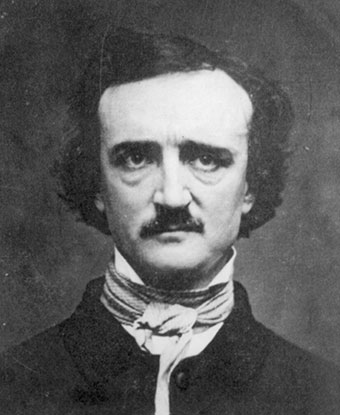 Poe was no stranger to the streets of New York City. In 1837, he was treated there for an illness at the Northern Dispensary, which is one of the few buildings still existent today.
When Poe moved to New York City in 1844, he lived in a home near 85 West 3rd St. The building is now demolished but there is a plaque and an "interpretive reconstruction" in its place. He also lived in a farmhouse on a spot which is now Manhattan – so that tells you enough about how times have changed in the past 150 years! The mantelpiece from that home is now at Butler Library, Columbia University. There are certain restrictions on visiting but it can be done. Obviously that farmhouse no longer stands, but there is a plaque at 215 West 84th St. (There's another plaque on East 84th St but this location is incorrect.) This street is also called "Edgar Allan Poe St."
Afterwards, he rented a home in the Bronx, now called The Edgar Allan Poe Cottage, which is open for visitors. It even has some of Poe's and Clemm's original furniture. So of all the places Poe lived, there are three that still stand and can be toured.
Nearby the cottage is Fordham University which was newly established when Poe lived only a few blocks away. It's rumoured that the bells at the college inspired another famous poem of his, "The Bells."
After Virginia Clemm's death – which would ultimately become Poe's downfall – he moved to 47 Bond St in Manhattan. It was the home of his friend Marie Louise Shew, who had helped him through Virginia's illness and death. The building is said to have inspired The Cask of Amontillado (like the story at Fort Independence) and you can see it for yourself; it's now an Italian restaurant.
Courtship in Rhode Island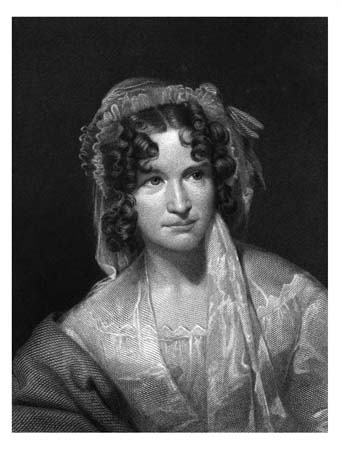 Sarah Helen Whitman
Perhaps less known is Poe's time in Rhode Island courting fellow poet, Sarah Helen Whitman (who was not a teenager but actually older than Poe himself). They were actually engaged to be married. (They also shared a birthday, which I find interesting.) Much of their courtship occurred at the Providence Athenaeum, where she also dumped him. You can go in and see the athenaeum today.
He also would've courted her at the house she was living in, 88 Benefit St. The house is still standing but is not open to visitors.
The next site I found due to the specific research of Levi L. Leland: Swan Point Cemetery. Though it is known that Poe proposed to Whitman in "a cemetery" (how Poe indeed), Mr. Leland has deducted that it was specifically at Swan Point. A place Poe considered romantic enough to propose to his love? Yet another great place for Poe fans to visit. (The cemetery also has the grave of H.P. Lovecraft – a bonus!)
Returning to Richmond
After being dumped, Poe returned to his childhood home and sweetheart, Sarah Elmira Royster Shelton, in Richmond. She was now widowed and living at 2407 East Grace St, which he would've visited frequently. It's still standing but is closed to visitors.
His last private reading was done at a home called Talavera, now located at 2315 West Grace St. He did a dramatic reading of The Raven in this home only weeks before his death.
Edgar Allan Poe's Death in Baltimore
Poe's life came to a close in October 1849. He died in a very Poe fashion. On October 3rd, he was in Baltimore for an unknown reason. One story is he was drinking at what is now The Horse You Came in On Saloon, which still exists but is very modern. However I can't find this version corroborated by Poe's biographers. Whatever the case, he was found a mess on the streets, drunk or drugged, at 44 East Lombard St. The area does not look as it did back in Poe's day but you can still go to the spot.
He died several days later on October 7. You can see a marker indicating where Poe died at 100 North Broadway (though the location is a bit less-than-excellent). To this day, nobody knows his true cause of death, but many think he may have been poisoned and it may have been because of the elections. To die in a mysterious fashion? Very Poe indeed – but it gets more morbid.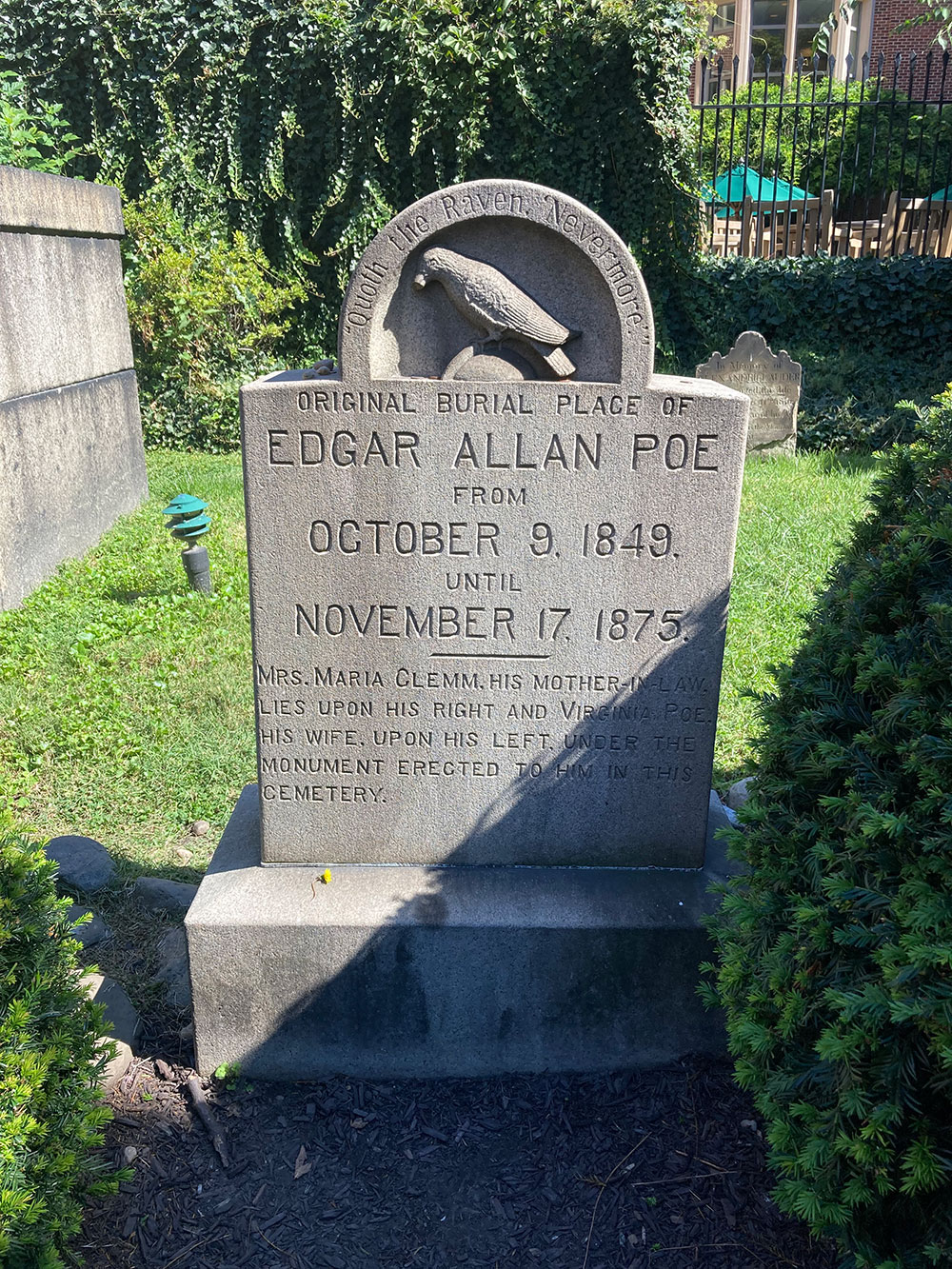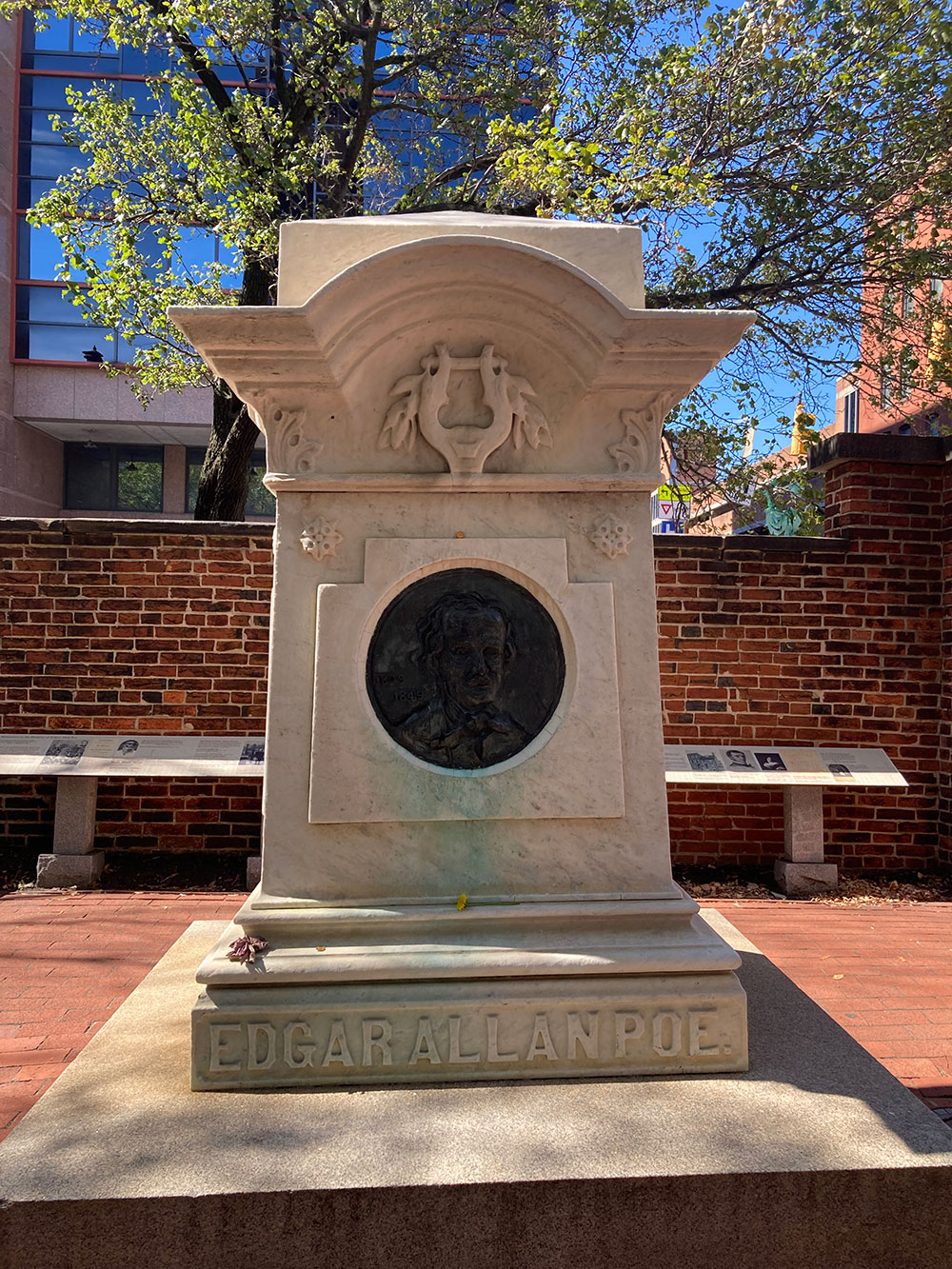 Poe was interred at Westminster Hall, and you can see his original burial spot there today (it's the small one with the raven). However, his body was moved to a more prominent gravesite in the same cemetery in Westminster (it's the large one). It's said that his bones fell out of the coffin while it was being transferred. Yet another very Poe occurrence.
It's worth noting that the plot at the time was just a graveyard and the church was built after his death. (The church also happens to have catacombs you can explore! If you want to visit, I recommend calling because the hours are very unreliable.)
Celebrating Edgar Allan Poe Today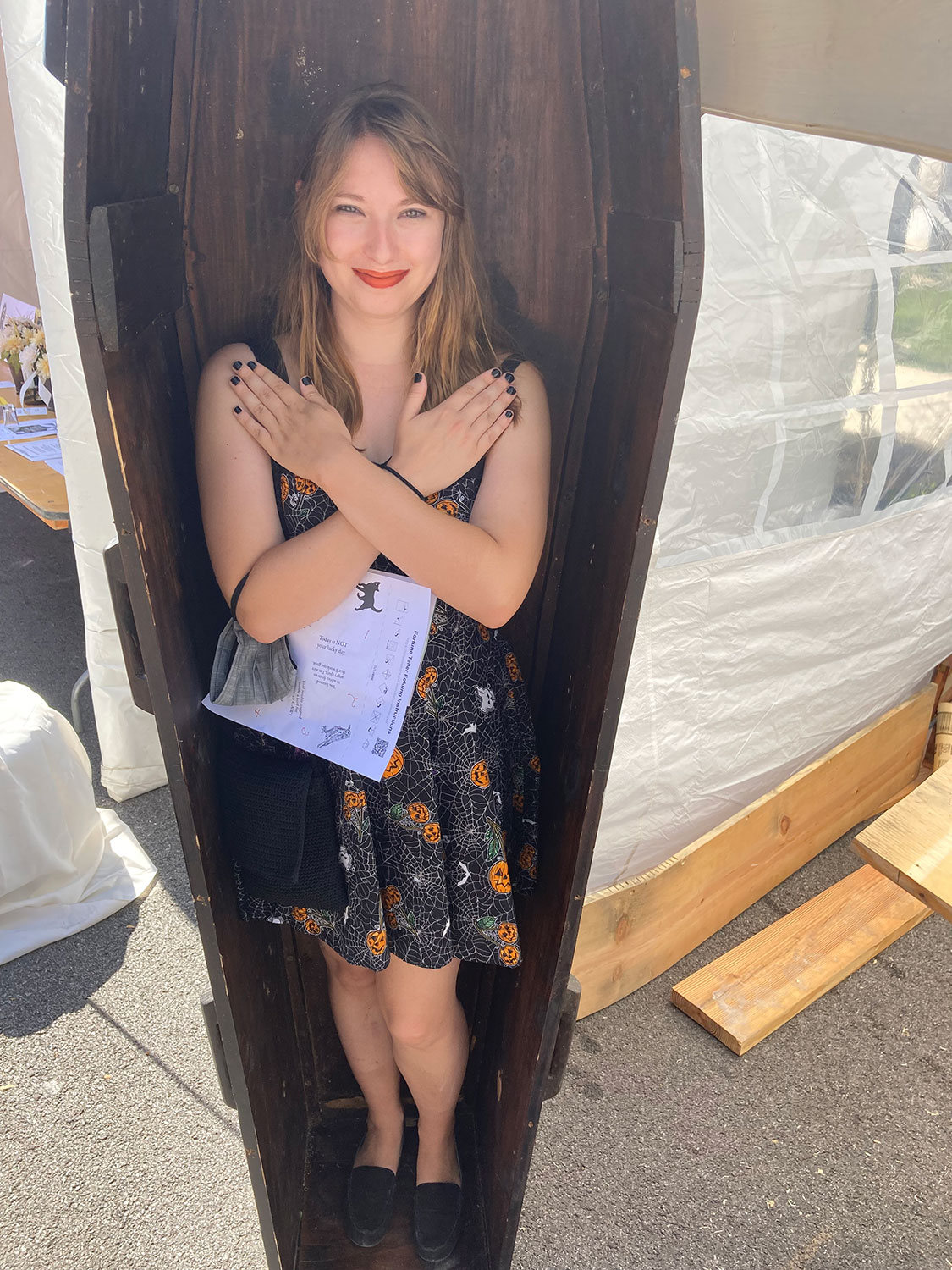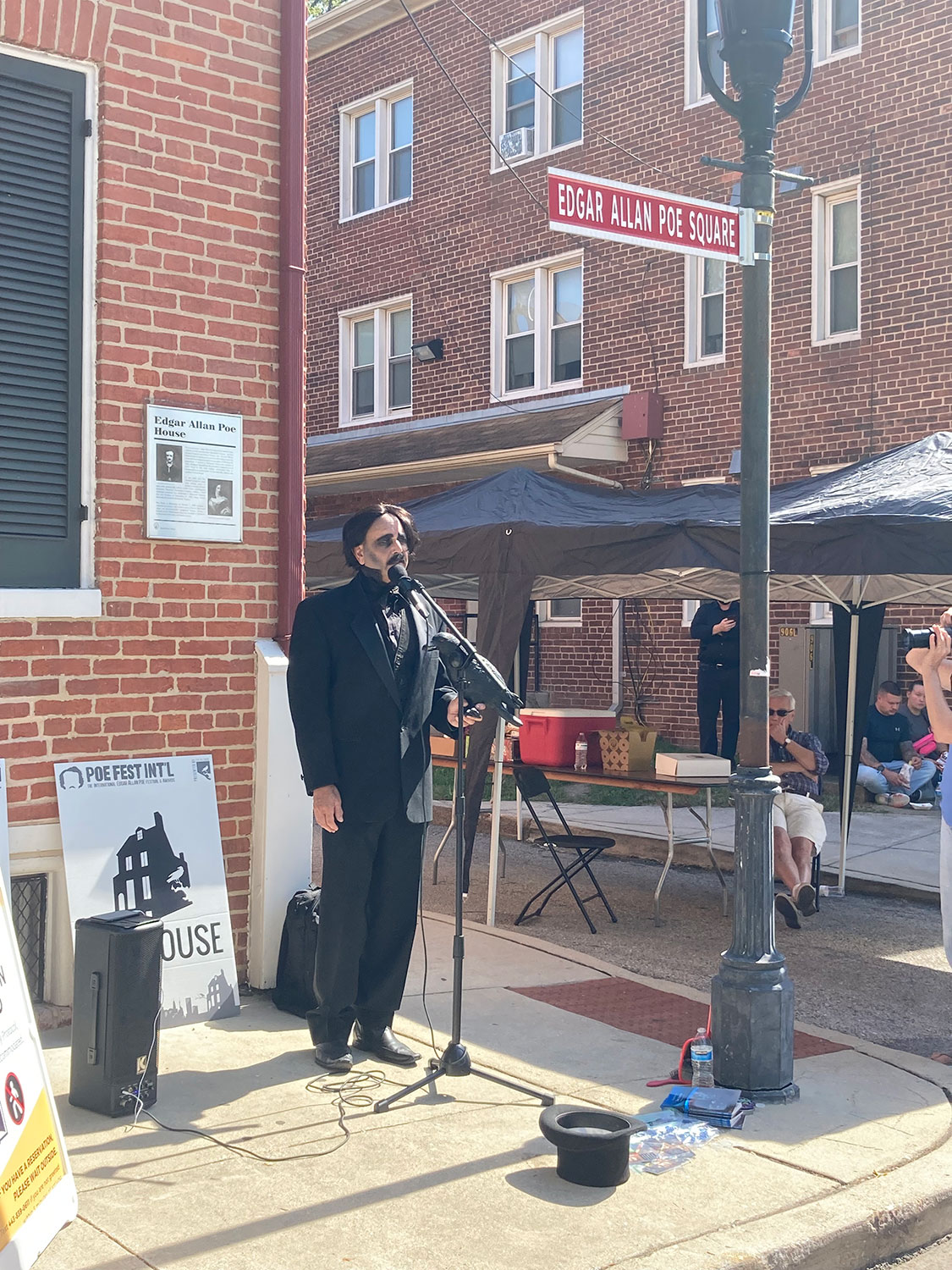 If you come to Baltimore on a Poe pilgrimage, you might want to time it around the annual Poe Fest International. To be honest, the festival is a small-ish gathering of artists celebrating Poe's legacy, and is not worth the trip to Baltimore on its own. However it's free and a good touch to your trip. (Note that tickets to the Poe house are about $25 during the festival when they're $10 normally.) You might also enjoy a stop at the Poe-themed bar and restaurant, Annabel Lee Tavern, which actually has great food and drinks! Ask if they have Raven Beer brand beer, which has 6 different flavors – but know that Raven Beer's a bit hard to come by.
I hope this article was helpful. There is so much work on Edgar Allan Poe that it was difficult to compile a holistic list. I still have to see a lot of places mentioned above but I intend to do so within the near future. I'll update this post as I do so.
In the meantime – happy haunting!
Pin This for Later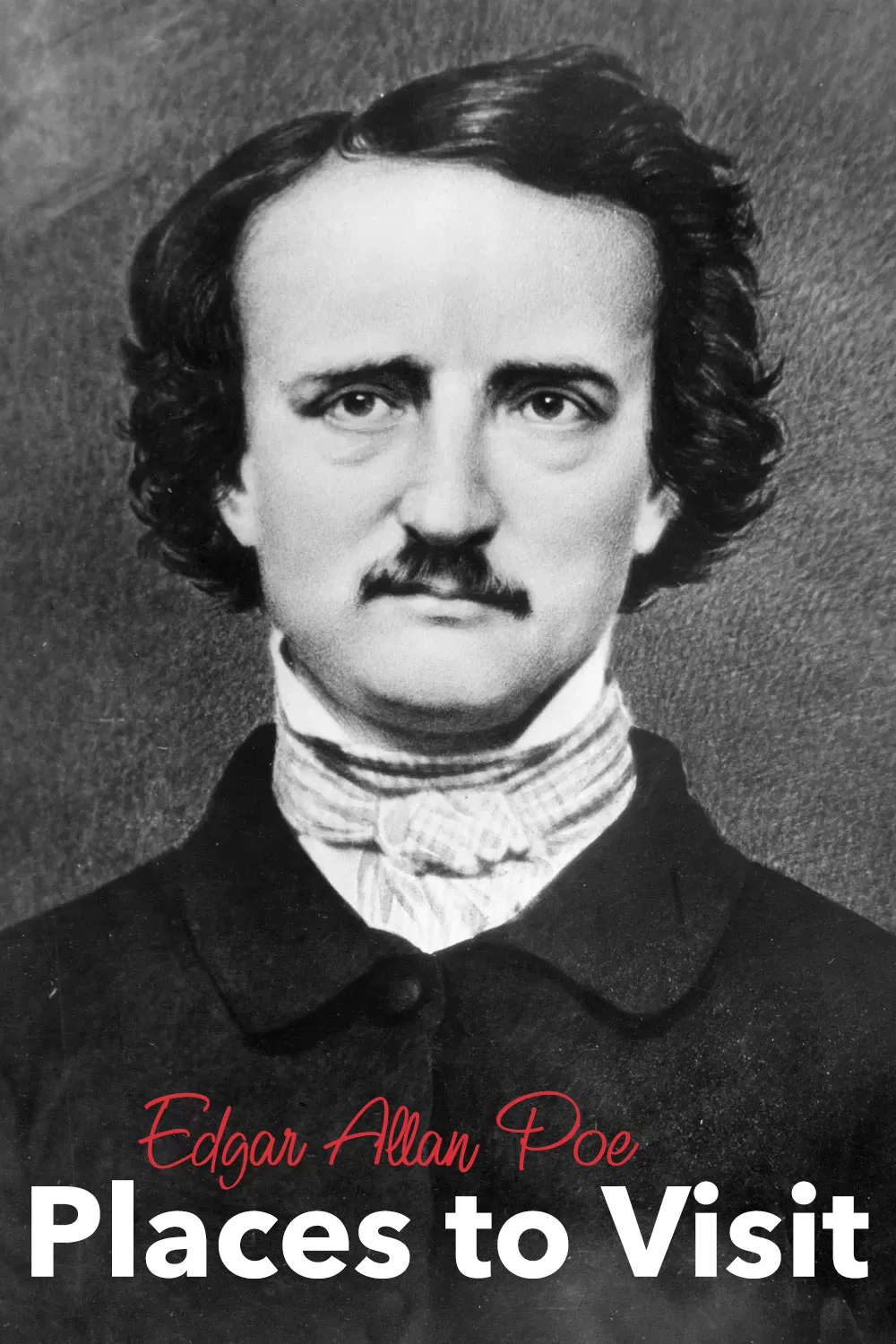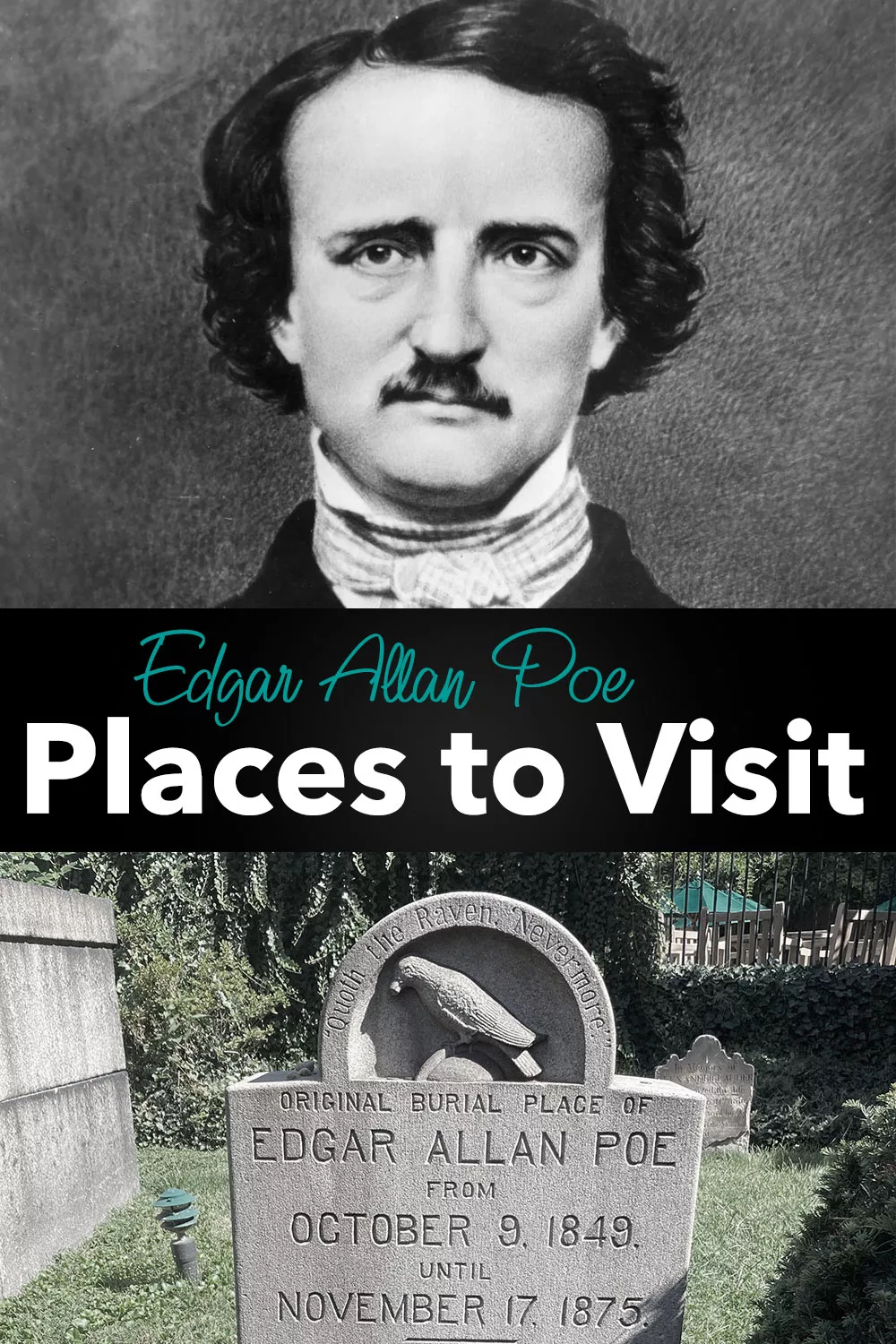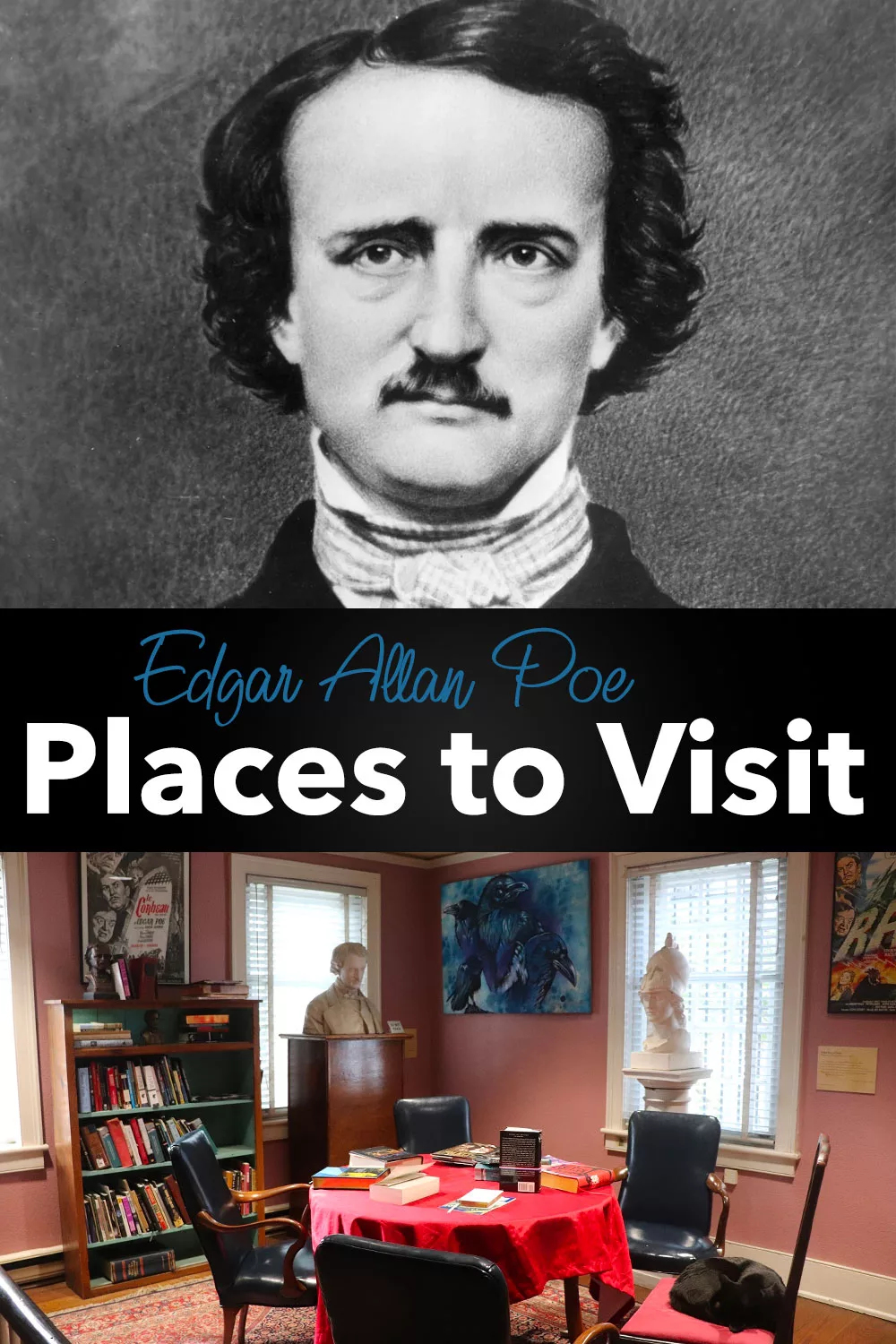 Please note that this post may contain affiliate links. These are at no additional cost to you but I receive a commission if you make a purchase through the link, and the commission helps me run my blog. Thanks for your support!
Tags:
maryland
,
massachusetts
,
new york
,
pennsylvania
,
rhode island
,
south carolina
,
virginia
Sharing is Caring
Want to support me?
Buy me a Coffee
1 Comment on "In the Shadow of Edgar Allan Poe: Places to Visit in Boston, Baltimore, and Beyond"