Comparing 3 Different Genetic Ancestry DNA Services
I guess it's just human curiosity that propels us to buy DNA tests that tell us where are ancestors are from. After thinking about it for years (because they're so pricey), I actually decided to brave the cost and get some DNA tests! There's a saying that goes along the lines of, "the truth is in between both sides" – so that's why I got 3 DNA tests instead of one.
According to my family, what am I? I have a professional historian for a father and my mother's family is fairly into history too, so we have a lot of family records and stories. We can trace our family history back generations and centuries, which is the cool part. The not cool part? My family has lived in Pennsylvania for a very, very, very long time. From before the revolutionary war until my dad moved out and raised me one state over, my family has been in Pennsylvania. My mother's family is the same way, but with different states in the South.
We have stories of when my ancestors came to the USA, but they're really just stories. A lot of times, they don't make sense chronologically, or my great-grandma who was born in Poland apparently was also born in Mississippi. No names, no hometowns, no reasons for immigrating. Moreover, nothing about their ancestry. But these stories have told me I have ancestors coming from Scotland, England, Wales, Ireland, Sweden, Germany, Poland, Austria, Switzerland, and Hungary. And at some point of time, my family was Jewish. So when I purchased my DNA tests, I was hoping for something a bit more concrete than my elders could give me.
(Just FYI – Ancestry.com is not a good resource for finding your heritage since anyone can access it and post their own incorrect family trees. Always rely on records alone.)
A little about genetic testing: Each test has its own breakdown of how it reaches its results, but the general idea is that certain genetic markers – which usually appear as traits – can be associated with living in a specific area. Someone living in that area may (or may not) pick up that genetic marker. So just because you have an ancestor from Italy doesn't mean you'll necessarily have an Italian genetic marker. Additionally, as your biological siblings and parents have different genetic markers, they may have a different DNA heritage than you – even though you obviously have the same exact heritage as your siblings. DNA tests aren't definitive answers of where each of your ancestors is from, but markers of where your genetic code originates.
23andMe
| | |
| --- | --- |
| French & German: | 36.4% (probably Switzerland) |
| British & Irish: | 33.3% |
| Scandinavian: | 2.5% |
| Eastern European: | 1.0% |
| Ashkenazi Jewish: | 0.7% |
| Iberian: | 0.1% |
| Senegambian & Guinean: | 0.1% |
| Broadly Northwestern European: | 19.0% |
| Broadly Southern European: | 3.0% |
| Broadly European: | 3.8% |
If I remember correctly, 23andMe actually had the fastest turnaround time, and it also has an optional health report you can opt into (though I chose not to). I was very surprised to get western African heritage (though my grandma got some with her Ancestry.com DNA test) but was also disappointed that such a large percentage of my DNA is "broadly European." However the report also includes Material Haplogroups and Neanderthal ancestry, and I was surprised to find out I'm less Neanderthal than 71% of people who take the DNA test.
Areas tested in 23andMe (32 – probably more): African Hunter-Gatherer, Ashkenazi Jewish, Balkan, British & Irish, Broadly East Asian, Broadly East Asian & Native American, Broadly European, Broadly Northwestern European, Broadly Southern European, Broadly Sub-Saharan African, Broadly Western Asian & North African, Chinese, East African, Eastern European, Finnish, French & German, Iberian, Italian, Japanese, Korean, Manchurian & Mongolian, Melanesian, Native American, North African & Arabian, Sardinian, Scandinavian, Siberian, South Asian, Southeast Asian, Unassigned, West African, Western Asian
Ancestry DNA
Ancestry DNA changes the estimates based on new data so the number in parenthesis is the old estimate.
| | |
| --- | --- |
| England, Wales and Northwestern Europe: | 38% (<1%) |
| Germanic Europe: | 32% |
| Ireland & Scotland: | 26% (21%) |
| Eastern Europe & Russia: | 3% |
| European Jewish: | 1% (1%) |
| | |
| --- | --- |
| Europe West: | (67%) |
| Europe East: | (3%) |
| Europe South: | (2%) |
| Scandinavia: | (2%) |
| Iberian Peninsula: | (1%) |
| Finland/Northwest Russia: | (1%) |
| Caucus: | (<1%) |
Ancestry DNA is probably the most popular DNA test out there, but let me be blunt: <1% went to 38%? Also, isn't England, Wales and Northwestern Europe really huge? Ancestry also provides a traits section of their website, which says I have dark hair and medium-tone skin. LOL. I'm a pale blonde. Plus they thought my grandma was my first cousin. I hope they don't do forensics for criminal investigations.
However, Ancestry does map my Irish heritage to western Ireland and accurately tells me my ancestors moved to western Pennsylvania. They also have a timeline of my ancestry that says my ancestors moved to the US in the early 1700s, which is probably accurate as well. That's more of the content I was looking for.
Areas tested in Ancestry DNA: They have over 350 regions to test, so click here to see the list
Family Tree DNA
| | |
| --- | --- |
| West and Central Europe: | 67% |
| Scandinavia: | 23% |
| British Isles: | 6% |
| South America: | <1% |
| Asia Minor: | <2% |
| West Middle East: | <2% |
Probably the least known of the three tests is Family Tree DNA, but they also don't have in-depth information about origins as the other two do, so it's easy to see why. It's nice that the other two said things like "Your ancestors most likely came from Switzerland" and "Your ancestors migrated to Pennsylvania," but FTDNA doesn't say anything like that. However it was fascinating to see some unexpected results like South America and Asia Minor.
They also have a cool "Ancient Origins" section of the website but my map looks exactly like the sample map so I'm not completely sure I trust it.
Areas tested in FTDNA (24): Ashkenazi, Asia Minor, British Isles, Central Asia, East Central Africa, East Europe, East Middle East, Finland, Iberia, North Africa, North and Central America, Northeast Asia, Oceania, Scandinavia, Sephardic, Siberia, South America, South Central Africa, South Central Asia, Southeast Asia, Southeast Europe, West Africa, West Middle East, West and Central Europe
So what now?
I'm going to be completely blunt: the whole ancestry heritage thing is probably a bunch of BS just because of the nature of the subject. Tracing DNA is a tricky science, if not impossible. It's more interesting to get multiple tests done and see what's similar between them, but would probably only benefit people who are uncertain of their ancestry or have mixed-origin ancestry. If you don't want to have multiple tests, I'd recommend Ancestry the most with 23andMe behind, and wouldn't recommend FTDNA.
Though it's been fun seeing my results but now all I know is I'm of British Isle and Germanic ancestry, probably, which doesn't include what was actually more important to me all along: my family stories (even if they are just stories). This DNA test journey has actually taught me that DNA doesn't matter to me at all. I don't know what my ancestors looked like; what they were like in personality; what they enjoyed and accomplished with their lives. I'd like to know, but some things sadly disappear with time.
Unlike some people, I'm not close to my heritage at all and it has no place in my identity. I have a Jewish name. Growing up, my family made homemade pierogi and golabki like our Polish ancestors, and we put rocks on peoples' graves despite not being Jewish. Polish ancestry is the closest I've had in my life but it didn't come up on the DNA results. I thought maybe learning about my ancestral heritage would answer some questions, but it posed more, and then I just didn't really care to answer those questions.
But at least now when people ask me what I am, I have three different maps to show them!
Have you ever gotten a DNA test done before? Do you identify with your heritage?
Posted on Thursday, February 14, 2019 in Uncategorized

No Comments ★ Permalink
Highlight: Pachacamac
There are so many archaeological sites in Peru but while we stayed in Lima, we decided to take the short excursion over to Pachacamac. Even though the Sacred Valley and the Incas take Peru's limelight, there's so much more to this gorgeous country, past and present. Part of that is Lima and its several surrounding archaeological sites – one of which being Pachacamac.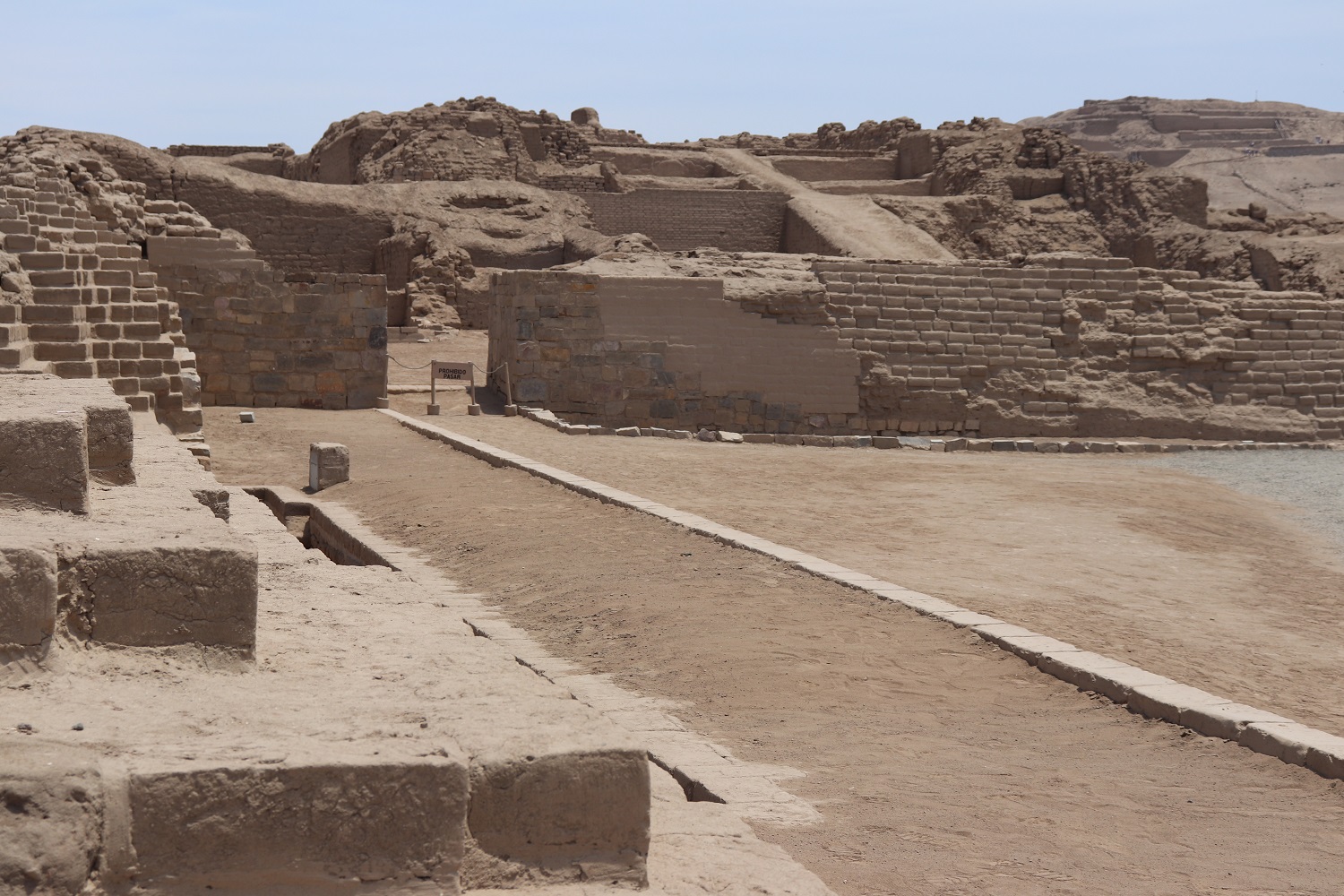 This ancient site dates to 200 AD and was created for Pachacamac, the most important god of pre-colonial times. Up through the Incas, the site was modified to meet standards of the times. The Incas were the ones to built the Temple of the Sun, which is one of the most prominent parts of the complex. This site thrived for about 1300 years before the Spanish came. Isn't that amazing?
There's so much to see at this very large and important site. You start off at a museum that has a decent amount of artefacts and a wealth of information. It's in chronological order so very easy to understand. It was really cool that they had well-preserved textiles dating back hundreds of years, as well as wooden and other objects. Those types of things don't usually last. After touring the museum, you then exit and head out to the site itself with a guide, who will drive you around.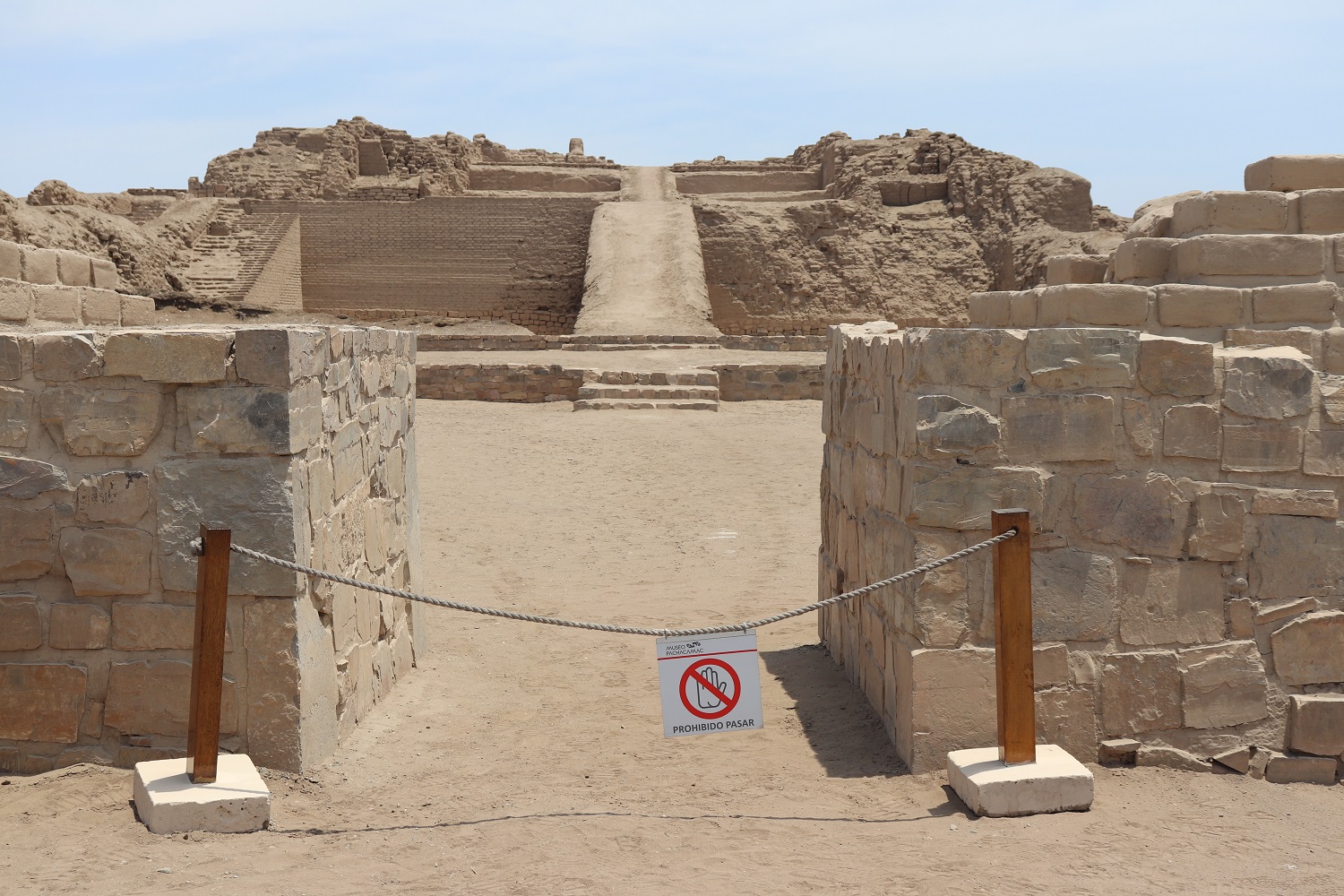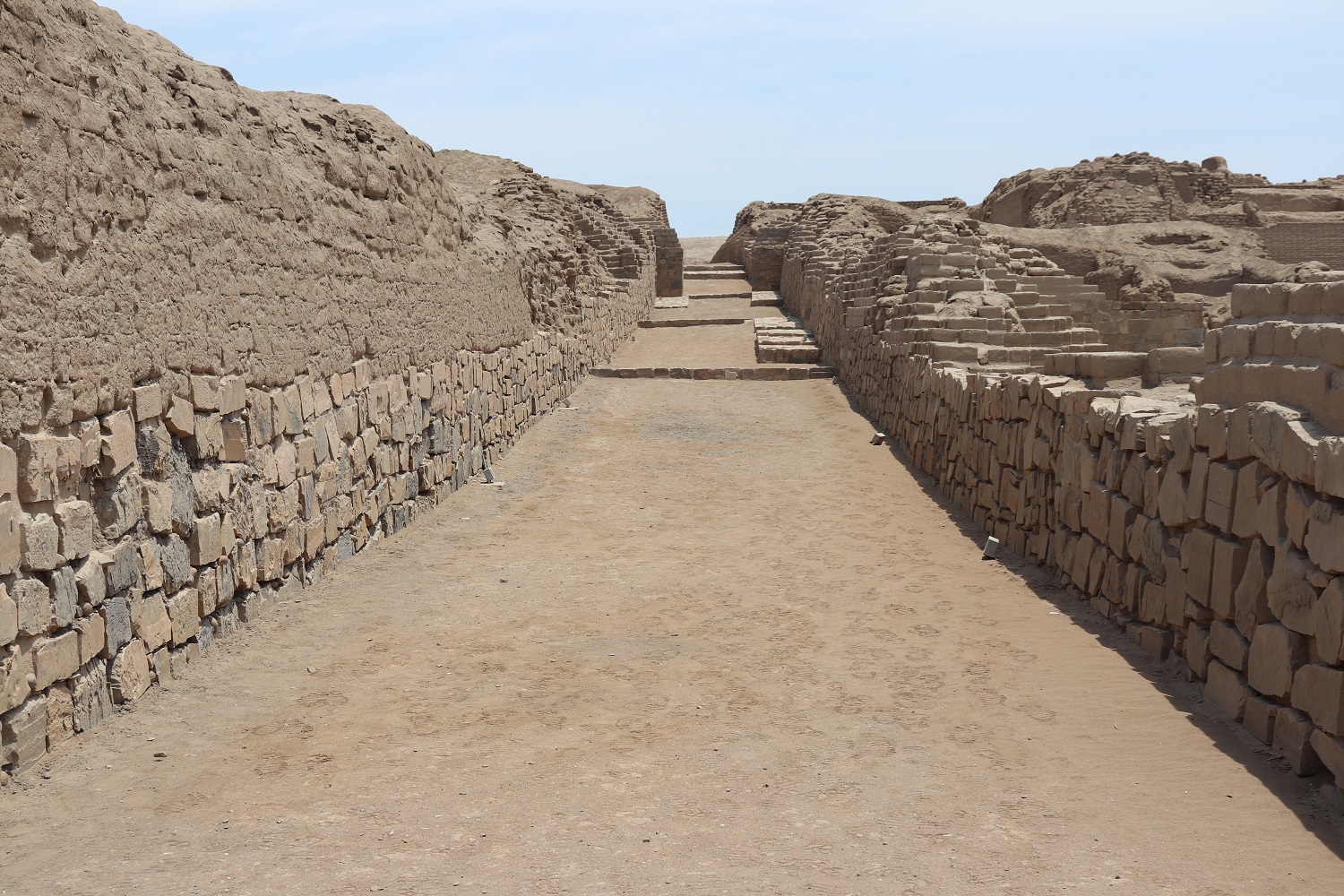 There are several pyramids in Pachacamac, not like those in Egypt but pyramids nonetheless. Peru is actually filled with them! You can see the ruins quite clearly and the guides will tell you all about how the buildings were used and what they may have been like in their heyday. You can also walk on a major ancient road that used to run several miles. It's cool to walk in the footsteps on ancient Peruvians, and there's also so much known about the archaeological site. It's fascinating to see a structure and know what it was once used for, rather than wonder.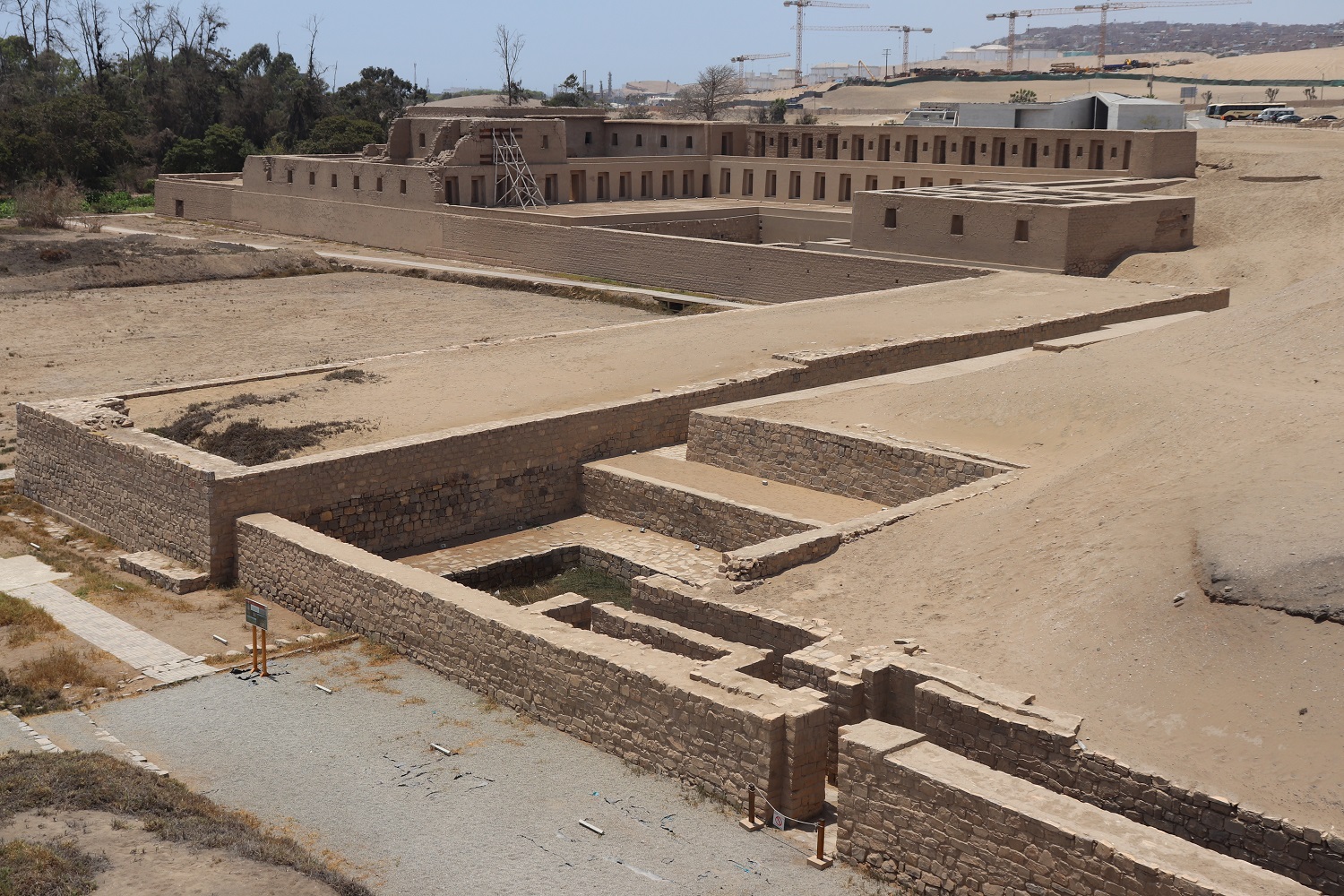 You'll also get to see the Acllahuasi, which is one of the most preserved and thus photographed parts of the site. It's another Incan building. Women were chosen to live there and perform domestic duties. You can only see it from afar but its grandeur can still be noticed.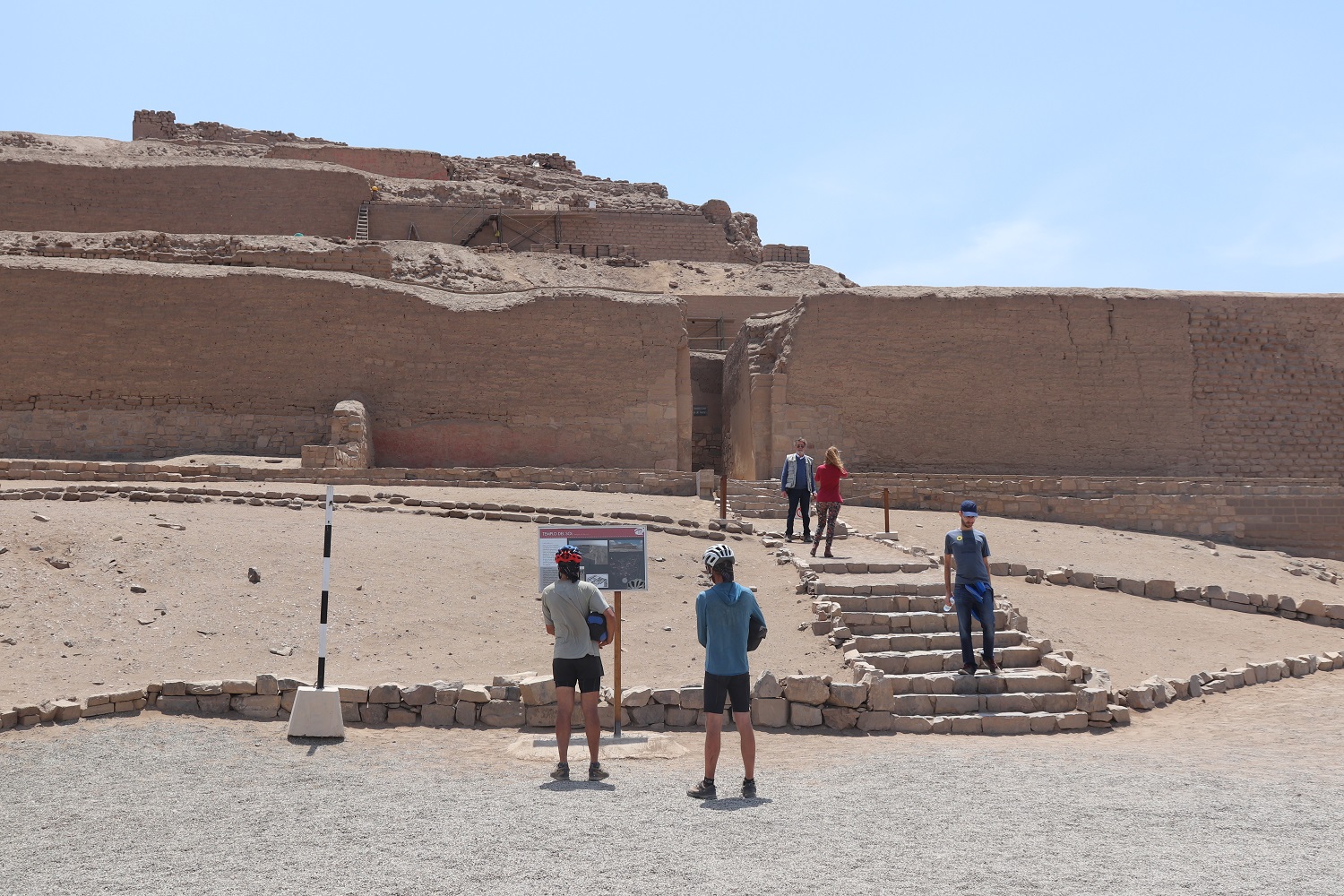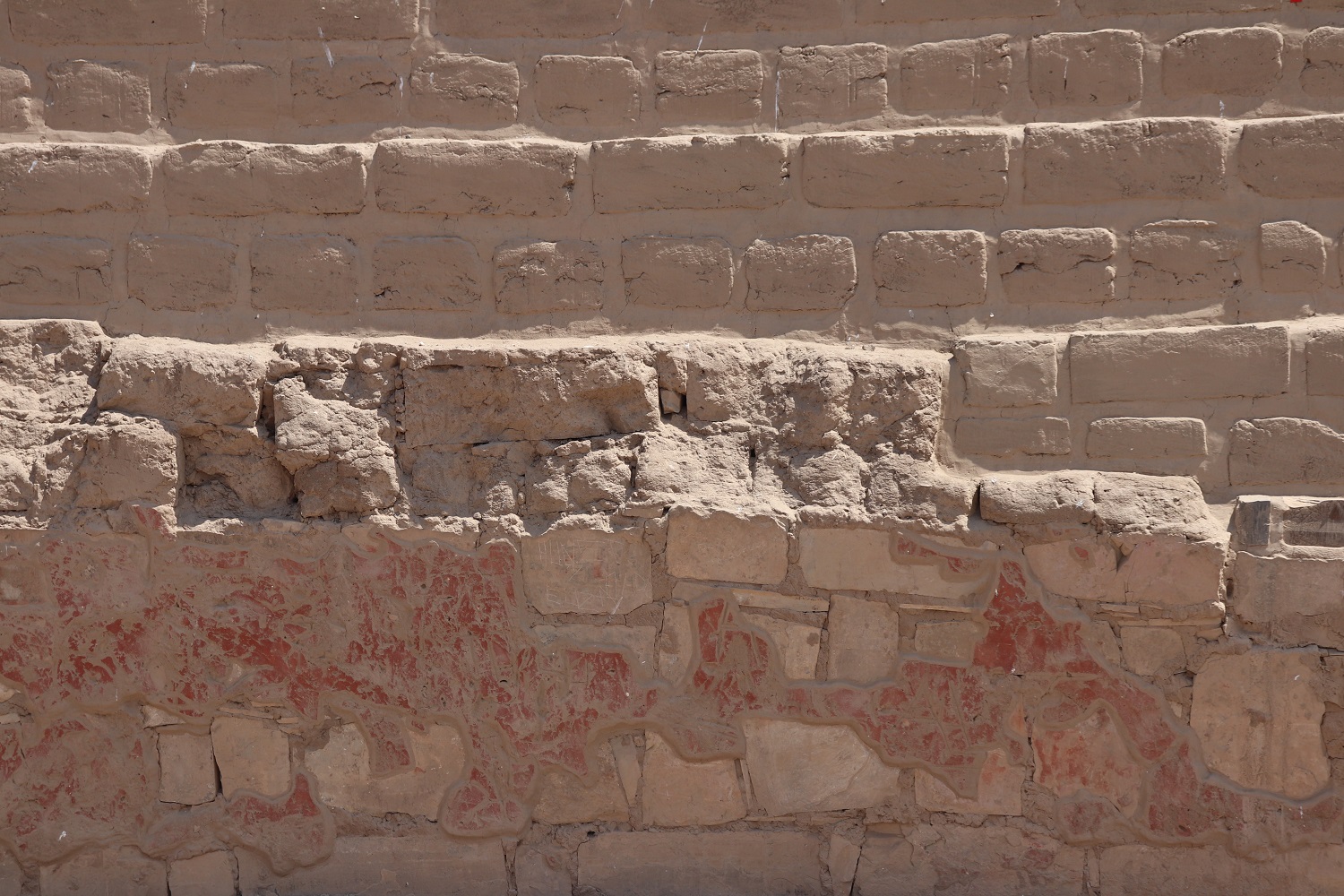 While you're there, you'll probably make your way up to the Temple of the Sun. Again, the temple is an Incan structure and it's on the top of a hill on the site, making it the most prominent part. You can still walk up to the temple though you can't go in, you can see it much closer than other buildings. I also didn't find the walk up to be as strenuous as some other sites out there. There's also some red paint still on the walls that you can see, which I always find fascinating. You can see a reconstructed version with the paint intact in the museum.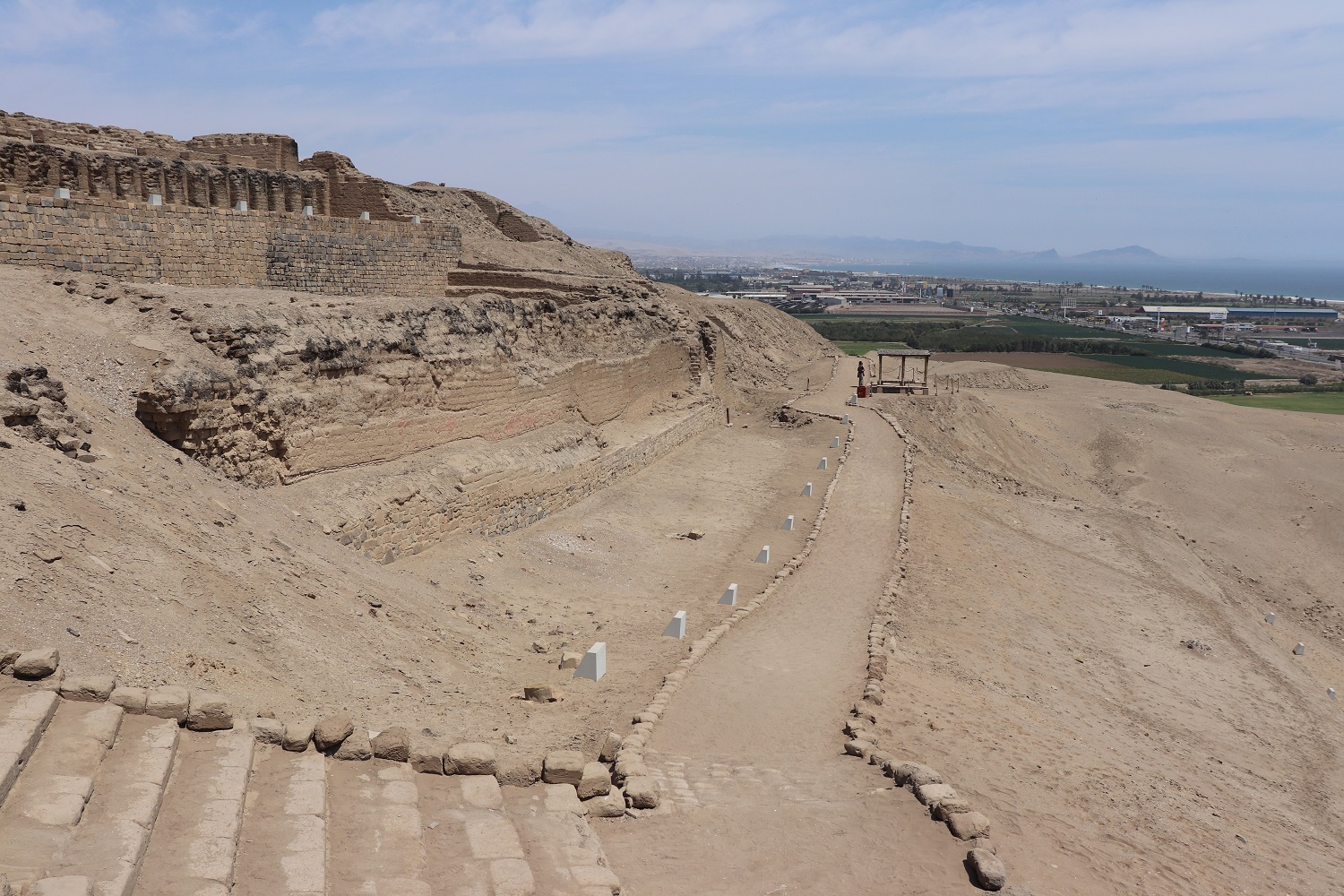 If you're in Lima, I highly recommend not only getting to know the city more but making your way out to some of the Lima area's best archaeological splendors. Pachacamac was one of the highlights of our trip and it's certainly worth a visit.
Posted on Saturday, February 9, 2019 in Destinations
Tags: archaeological sites, peru, south america
No Comments ★ Permalink
51+ Things to Do in Kyoto
Kyoto is famous for being one of the older, more traditional cities of Japan that survived the war, and real talk: there is so much to see in Kyoto. It was actually quite overwhelming to be there, to love everything we saw, and to want to see more when there was so much! However, good planning and narrowing down what you want to see can be a big help in curating your trip.
Here are 51+ things to do in Kyoto to get the most out of your time in Japan's ancient capital.
Places to See
Pay a visit to Nijo Castle. Nijo Castle is a 17th-century shogun residence and one of Kyoto's most popular destinations. It's not super exciting on the outside, but the interior is lavish and the nightingale floors? You have to experience them for yourself.
See the sunset from Kiyomizu Dera. Kiyomizu-dera is another one of Kyoto's more popular attractions. It's a very beautiful and colourful temple off the historic Gion District and it has views of the entire city! You have to pay to go to the balcony (seen in most pictures of the temple), but you can view the sunset from the front for free (and it's gorgeous).
Walk through the Bamboo Forest. The Bamboo Forest in Kyoto is another famous stop, but it's something you can skip in my opinion. Half of the bamboo is cut down, and it's not like you don't see bamboo at all in Japan.
Go through Fushimi Inari Taisha. This shrine is probably the most photographed place in Kyoto if not Japan. Though the feel is a little dampened by learning that all the gates are actually advertisements, it's still a surreal place and I absolutely loved it. Note that it can take an hour or even more to get to the top of the mountain. However, going to a certain point, you'll lose other tourists quickly and will have a good chance to take tourist-free photographs and explore in peace.
See Kinkakuji Temple. Another one of Kyoto's most popular attractions, Kinkakuji Temple is more popularly known as the Golden Pavilion. It's worth facing the crowd.
See the Kyoto Imperial Palace. The Kyoto Imperial Palace is one of the newer structures in Kyoto dating to just before the capital moved to Tokyo. To be very frank, the structures and gardens were not the least bit lavish or enjoyable as one would guess with a title such as "Imperial Palace" and visitors aren't allowed inside. Even though you can reserve a tour, it is apparently not much more exciting and you still can't go inside. I'd definitely skip.
Stop by Chion-in Temple. Chion-in is a large, 13th-century temple near Gion District. Its history is more impressive than the temple itself, but since it's located by several other attractions, it's easy to stop by and see.
Marvel at Sanjusangendo Temple. This temple is way too overlooked when going to Kyoto. Inside this large hall, there's a large Lotus Buddha and surrounding it are one thousand life-size kannon, a figure in Buddhism that needs to be read into to be understood. What's even more amazing is that they look incredibly similar but they're not metal – they're gold-leafed wood! Amazing. The temple was built almost one thousand years ago and even the reconstructed statues are dated to the 13th century! A must-see.
Visit Heian Jingu. The Heian Shrine is a large and very colourful shrine.
Take a stroll down the Philosopher's Path. The Philosopher's Path is even more out of the way but is a popular spot to walk, especially when the cherry blossoms are in bloom.
Visit Tenryu-ji temple. Though it's not super fancy, Tenryu-ji Temple is a historic temple complex in Arashiyama, and it makes for a nice place to walk around if you're in the area.
See Eikando (Zenrinji) Temple. Eikando Temple is another temple in the complex east of the Gion District, so it's an easy visit for those in the area.
Stop by Shoren-in Temple. Shoren-in is a beautiful temple that's also in the eastern Kyoto temple area, so it's worth stopping by and seeing.
See the Shimogamo Shrine. Another important and ancient structure, the Shimogamo Shrine is a gorgeous red shrine to stop by if you have the time.
Take a trip to Kifune-Jinja. The Kifune shrine is still in Kyoto but way outside the city centre. If you have the time, it looks like a beautiful and relaxing day trip.
See Ginkaku-Ji Temple. Ginkaku-ji temple is the less crowded sister of Kinkaku-ji Temple, and its nickname is the "silver pavilion."
See the Katsura Imperial Villa and Gardens. If you have more time to spend in Kyoto, a stop at the Katsura Imperial Villa and Gardens may be worth checking out.
Escape to Saiho-ji. Saiho-ji Temple, known as the "moss temple," is a bit out of the way but a great place for people with a longer stay to experience nature.
See Higashi Honganji Temple. Higashi Honganji is a large temple complex by Kyoto station.
See Nishi Hongan-ji. Near Higashi Hoganji is Nishi Hogan-ji. We admired the outside several times but we never went in – and from the pictures, it looks like that was a big miss!
Marvel at Toji Temple. Most of Kyoto's sights are north of the station, but just south of the station is the very gorgeous Toji Temple, so be sure to mark it on your map.
Visit Tofuku-ji Temple. Tofuku-ji is more known for its zen gardens than the temple itself.
Stop by Nanzen-ji Temple. Nanzen-ji is another temple located in the temple complex east of Gion District, so it's an easy visit.
See Ryoan-ji Temple. Ryoan-ji is another temple that's famous for its zen gardens.
Cross the Togetsukyo Bridge. If you go to Arashiyama, you will probably cross this bridge unknowingly, but it's actually a centuries-old bridge and significant landmark in Kyoto.
Visit the Yasaka Shrine. If you go through the temple complex in the eastern part of the city, you'll probably see the Yasaka Shrine complex, which like many other structures is over one thousand years old.
Stroll through Maruyama Park. The park was under construction when we went but when it's in better condition, it's probably a lot prettier. It's also between several temples so it's easy to see either way.
Go to the top of Kyoto Tower. You can see Kyoto Tower from so many places, but what about the top? If you don't want to pay the price, you can get a good free city view from Kiyomizu-dera Temple.
Stop by the Matsunoo-Taisha Shrine. If you want to explore western Kyoto more, the Matsunoo-Taisha Shrine is a more popular shrine in the western part of the city.
Explore Otagi Nenbutsu-Ji. Much like Kifune, Otagi Nenbutsu-Ji is way out of the city centre but looks like a great day trip for those who want to escape to nature.
Museums
See marine life at the Kyoto Aquarium. I didn't go to the aquarium in Kyoto but it's an alternative to the Osaka Aquarium if you don't want to make the journey to Osaka.
Explore the Nishijin Textile Centre. The Nishjin Textile Centre is small but a nice place to see textile making and buy souvenirs. It wasn't crowded at all when we went, but be sure to look at their website ahead of time to plan any classes or textile-wearing experiences ahead of time.
Visit the Museum of Kyoto. The Museum of Kyoto is an exhibition-based art museum.
See the Kyoto Museum of Traditional Crafts. A great stop for craft lovers, the Kyoto Museum of Traditional Crafts not only has displays but demonstrations and workshops.
See the Kyoto National Museum. Based in an impressive western-style building, the Kyoto National Museum is another exhibit-based art museum in Kyoto. It is much larger than the Museum of Kyoto.
See Buddhist artefacts at the Ryukoku Museum. Kyoto's Ryukoku Museum is dedicated to Buddhism.
Visit the Kyoto Railway Museum. Japan is famous for its bullet trains, and if that piques your interest, Kyoto does have a railway museum to visit.
Visit the Museum of Modern Art. Kyoto is a beautiful blend of the ancient, old and modern, so of course they have a collection- and exhibition-based modern art museum to visit.
Stop by the Hosomi Museum. Ahh to one day be an art collector. See Hosomi Ryo's art collection on display at this museum, conveniently located near the Heian shrine.
Visit the Kyoto Botanical Garden. Japan is well-known for their gardening so be sure to stop by Kyoto's Botanical Garden.
Pay a visit to the Gekkeikan Okura Sake Museum. We wanted to go so much but this museum is quite out of the way, even though it is in Kyoto city limits. If you have an extra day, this museum is actually more easily accessible than other sake museums and do I need say more than sake?
Get nerdy at the Kyoto International Manga Museum. If you're a fan of manga, you probably already know about this museum and are dying to go.
Stop in the Kyoto Costume Museum. Japan is well-known for its garments and traditional theatre, so deepen your knowledge about such subjects by visiting the Kyoto Costume Museum.
Activities
Feed monkeys at the Iwatayama Monkey Park. It's so fun to visit wild animal parks in Japan, and seeing Japanese macaque monkeys is no exception. You'll have to climb to the top of a mountain, which is no easy feat, but you get to see wild monkeys and have the opportunity to feed them.
Rent a kimono. There are so many places to rent a kimono in Kyoto and I wrote about my experience here. Since Kyoto's a traditional place, it's a great city to wear a kimono and take photos in.
Spend a day at Toei Kyoto Studio Park. Looking to do something different? Toei Kyoto Studio Park is a theme park with a focus on Samurai!
Stop by Nishiki Market. Tokyo is to Tsukiji Fish Market as Kyoto is to Nishiki Market. Stop by to try some food or go shopping for groceries, but make sure to check hours beforehand as they are quite limited.
Take a boat ride on the Katsura River. If you access the river near the Togetsukyo Bridge, there are plenty of places where you can have someone take you out on a boat on the Katsura River.
Get a free view from the station. To get a free view of southern Kyoto, you can go to the top of Kyoto station. Just keep going up the escalators and you'll get to a pavilion where you can also eat and wait for your train to come.
Take a stroll down the Kamo River. There are banks on the Kamo that you can walk down, seeing the city from a different perspective.
Try a traditional, cultural experience. Whether it be seeing a Geisha show or taking a calligraphy class, Kyoto is steeped in over one thousand years of history, making it a great place to try something cultural.
Neighbourhoods
The Gion District is the most popular because it's known as old town Kyoto. It's quite a bit more touristy than the rest of the city but you do get to see a lot of old buildings and come across a lot of nice shrines.
That's not to say that the rest of the city isn't charming in its own way. It's more modern but more laid back.
Some Things to Know
Kyoto is huge huge, huge – so I definitely recommend public transit. Buses are the way to go. There is a JR bus that goes around parts of the city that's included in your JR Pass, but I could not for the life of me find a map of where it goes. I do know it goes down one of the main roads, Road #1 on a map, but that's about it. However taking a bus is a flat fare of about 230 yen, which is not much considering the time and foot pain you save.
Have you ever been to Kyoto? What was your favourite thing to do? What was your favourite temple/shrine?
Posted on Sunday, February 3, 2019 in Destinations
Tags: asia, japan, kyoto
No Comments ★ Permalink