Highlight: Torun
You've heard of Warsaw and Krakow, but have you ever heard of the medieval Polish town called Torun? It's a great stop on your tour of Poland and also makes a great day trip from Gdansk or Poznan. It's been inhabited for millennia but its prime time was in the medieval era. It became an import trade route and hosted a Teutonic fortress in the 13th century. In the 15th-16th centuries, it was even one of the largest cities in Poland. It is also the home of Nicolas Copernicus, the astronomer who discovered that the sun is the centre of the universe.
Today, the town is a popular destination for people who enjoy medieval travel. Its pride comes from Copernicus and its local specialty of gingerbread. There's a lot of cool things to do in Torun!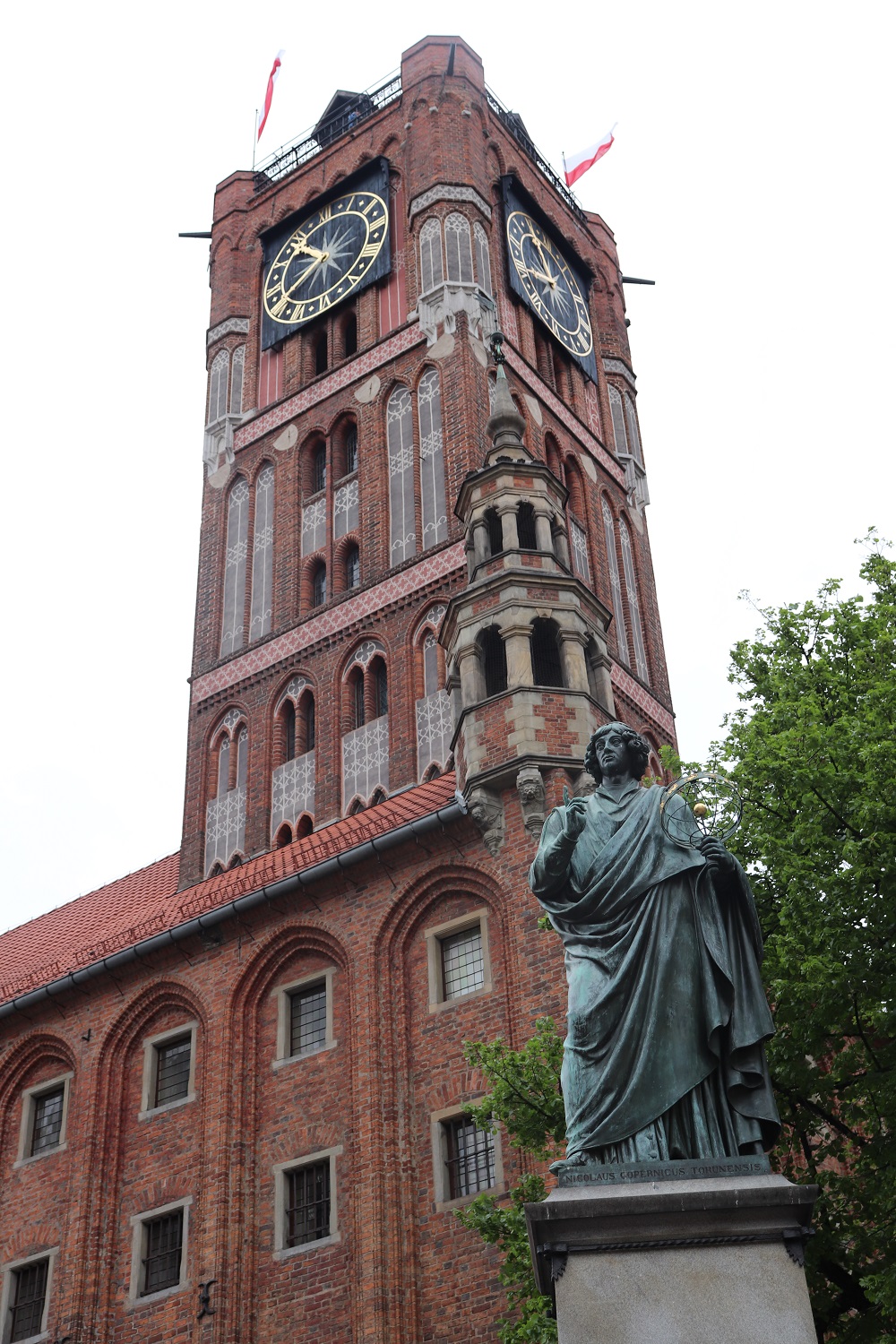 One site you have to check out is the ruins of the Teutonic castle. They are very ruined but the site dates back to the 13th century and there's a lot of information about Teutonic castles available there. Part of the castle is a room full of medieval torture devices that were found at the castle. Additionally, they have a lot of events and additional offerings such as jousting tournaments and archery lessons! I so badly wanted a lesson in archery but there was a wind storm the day I visited. Just my luck! However it was still a cool visit.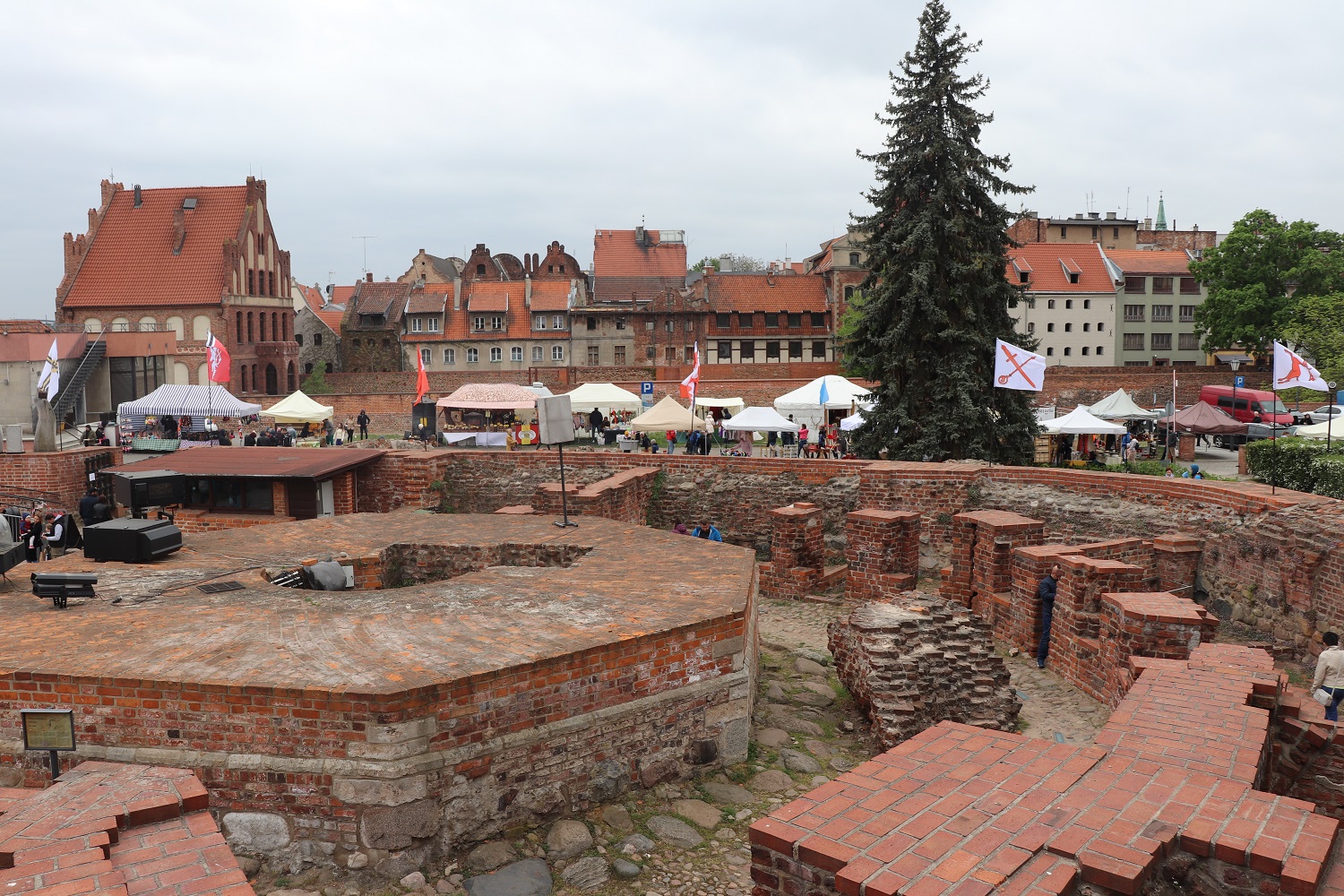 One of other important sites in Torun is the Nicolas Copernicus house, which is a museum on his life as well as medieval life in Torun. It's housed in Copernicus' home! Also be sure to stop by the Old Town Hall. You can climb the tower to the top for great views of the city, and there's also a small museum on the history of Torun to visit.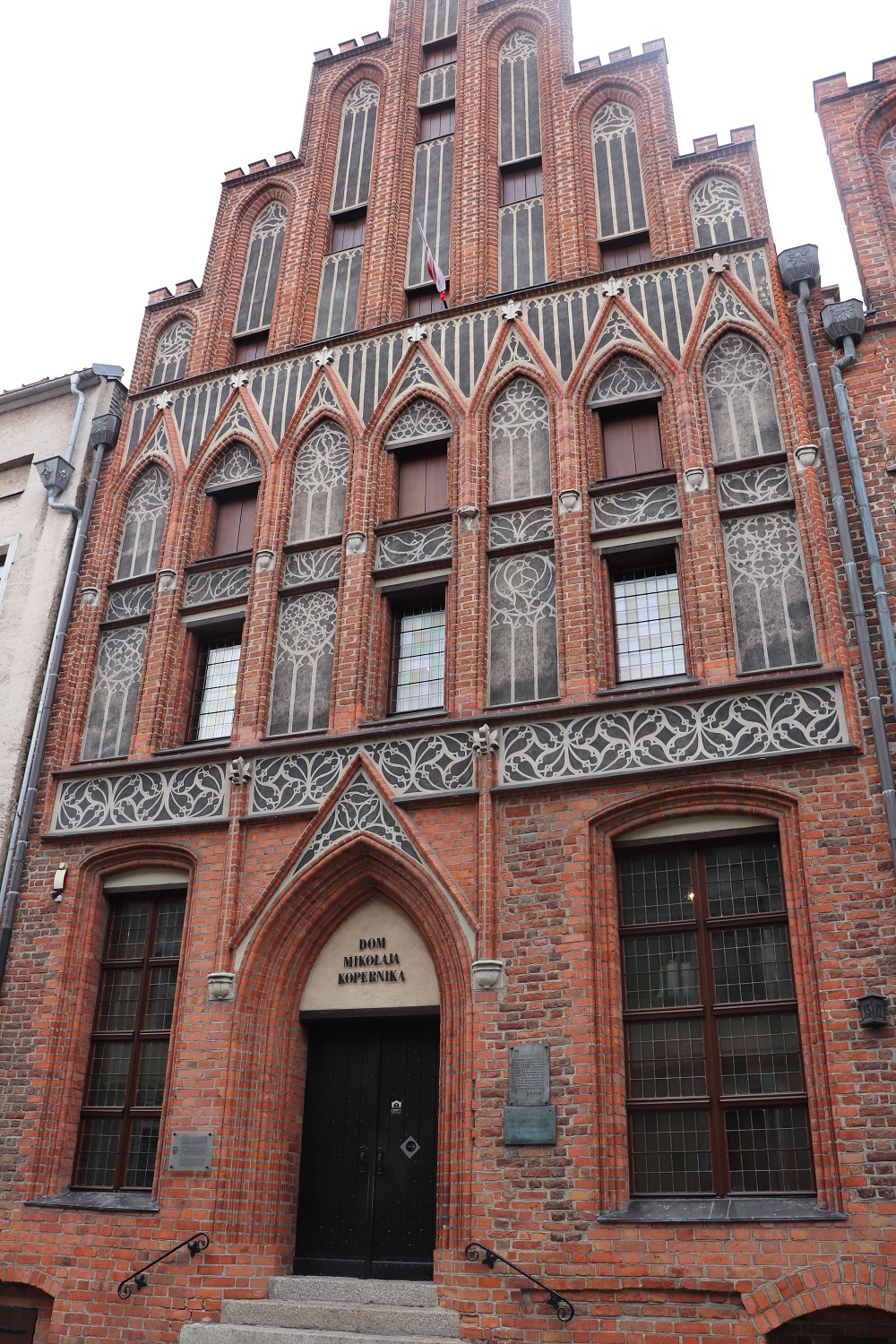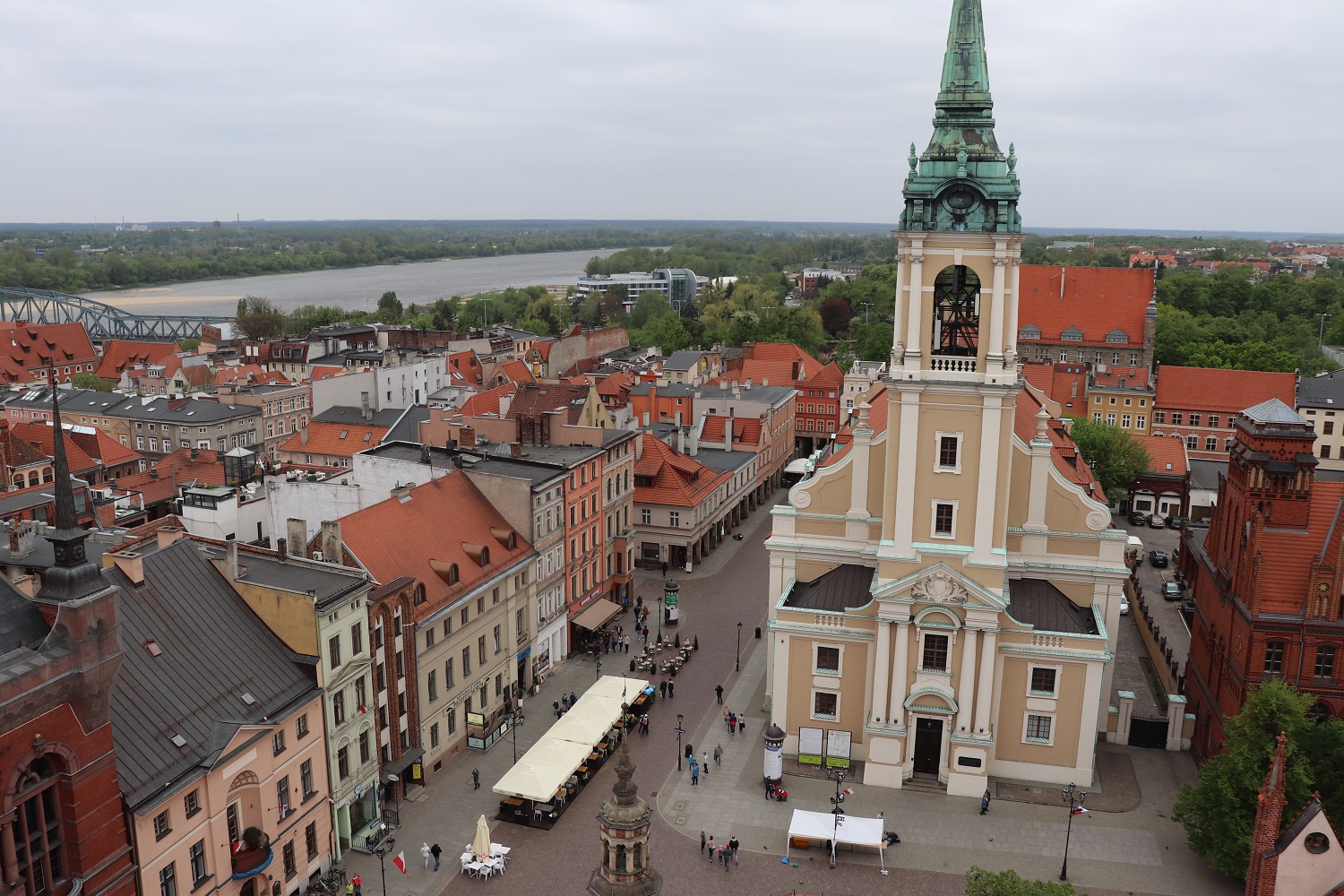 One of the more fun things to do is visit the Gingerbread Museum, where you can make your own gingerbread in medieval style (which unfortunately you can't eat). You can then decorate another piece of gingerbread for a few zloty extra. Tickets must be bought in advance because they sell out! Also there is only 1 demonstration in English each day. This is not to be confused with the Museum of Torun Gingerbread. I didn't visit but the website makes it seem like it's more informative about the development and trade of gingerbread in Torun, and the Gingerbread Museum more gave a brief overview. However Gingerbread Museum is the more popular of the two.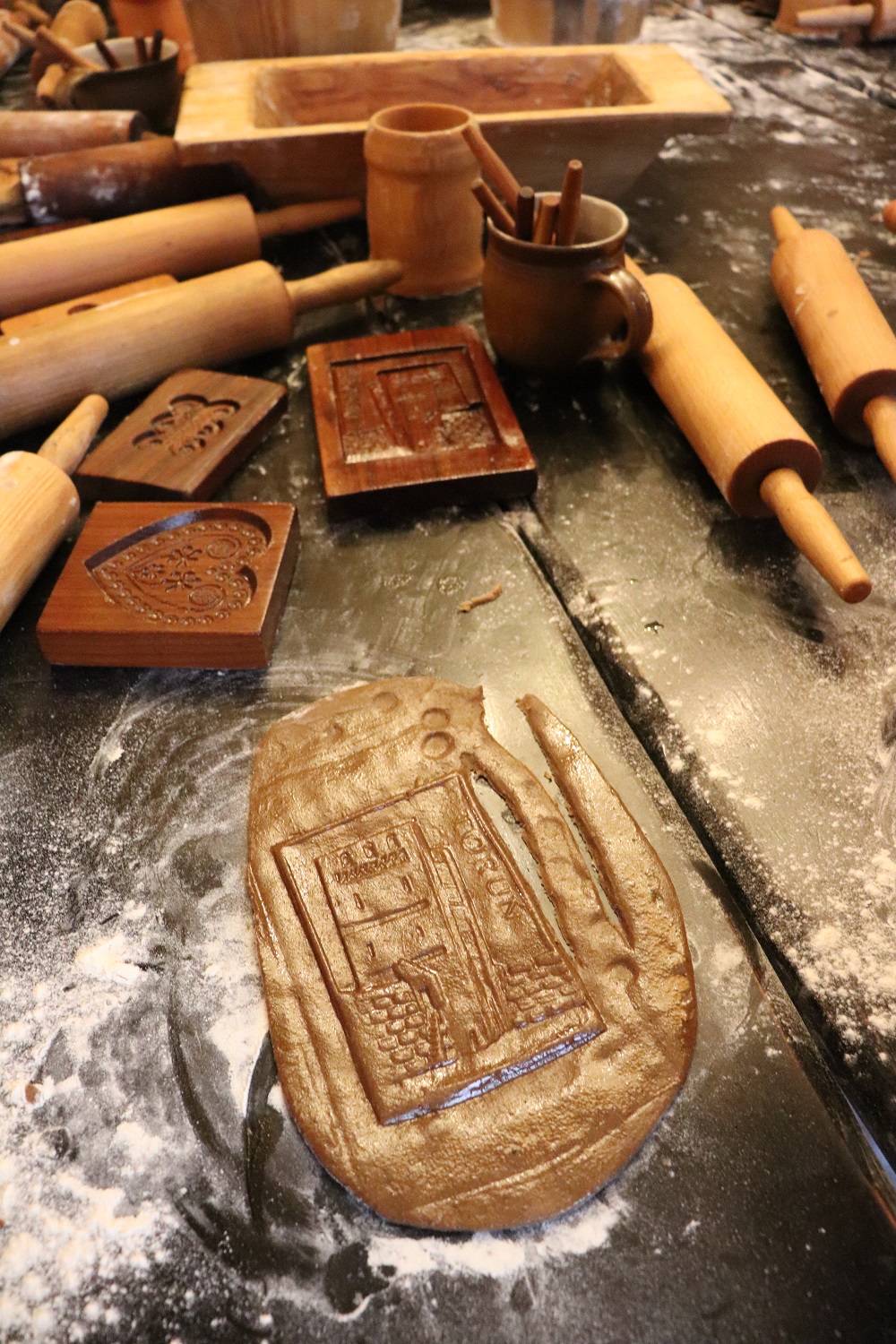 Torun also has gingerbread beer! You can get it at a few places but one brewery that has it is Jan Olbracht. If you contact them in advance, you may even be able to take a tour of the brewery – yet another fun thing to do in Torun.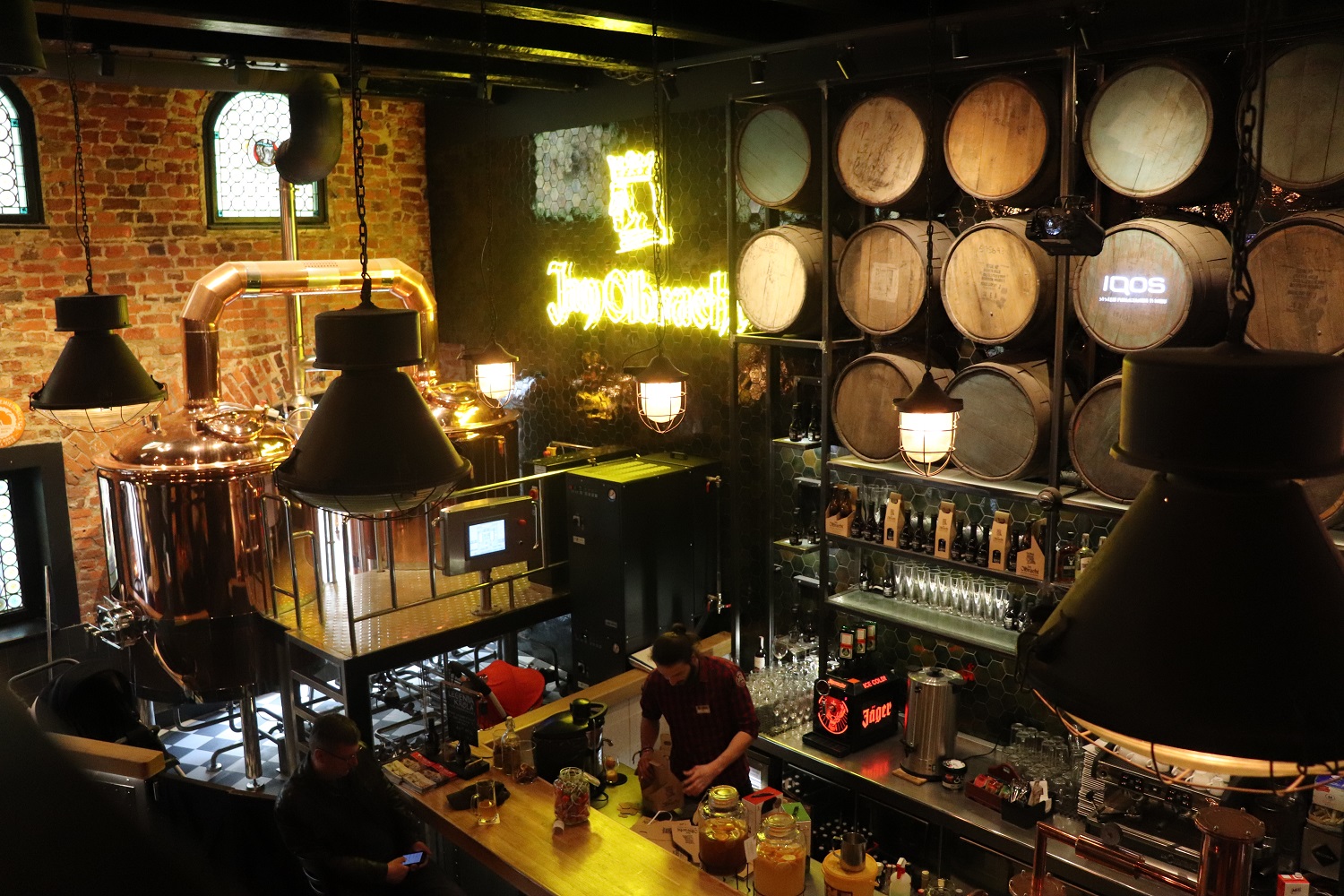 If you have extra time, you can go to Platforma widokowa/Panorama Torunia across the river and get some good shots of Torun. However note that the walk is much longer than it seems to be on a map, so it's not exactly a quick stop.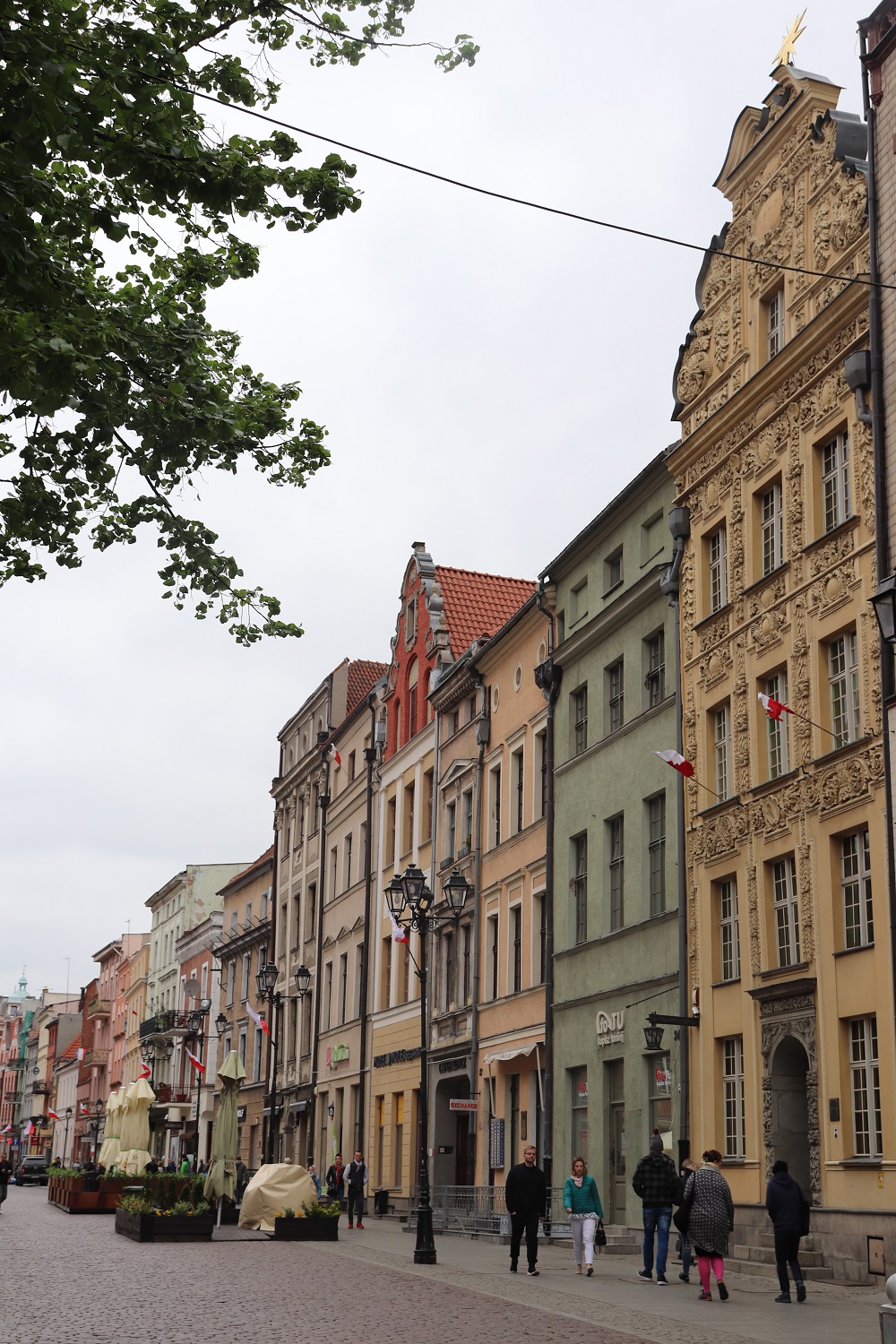 Before arriving, I thought that Torun would be like other medieval cities I've been to – Ghent, Bruges, Provins, etc. Old brick or wood-framed buildings. However that's not what Torun looks like. Though a lot of the aforementioned buildings are the classic medieval brick buildings we usually think of, a majority of its buildings date from around the 17th-18th century. A lot of them are pastel coloured, which I found interesting. It's still a cute town, just more eclectic in architecture than what I was expecting.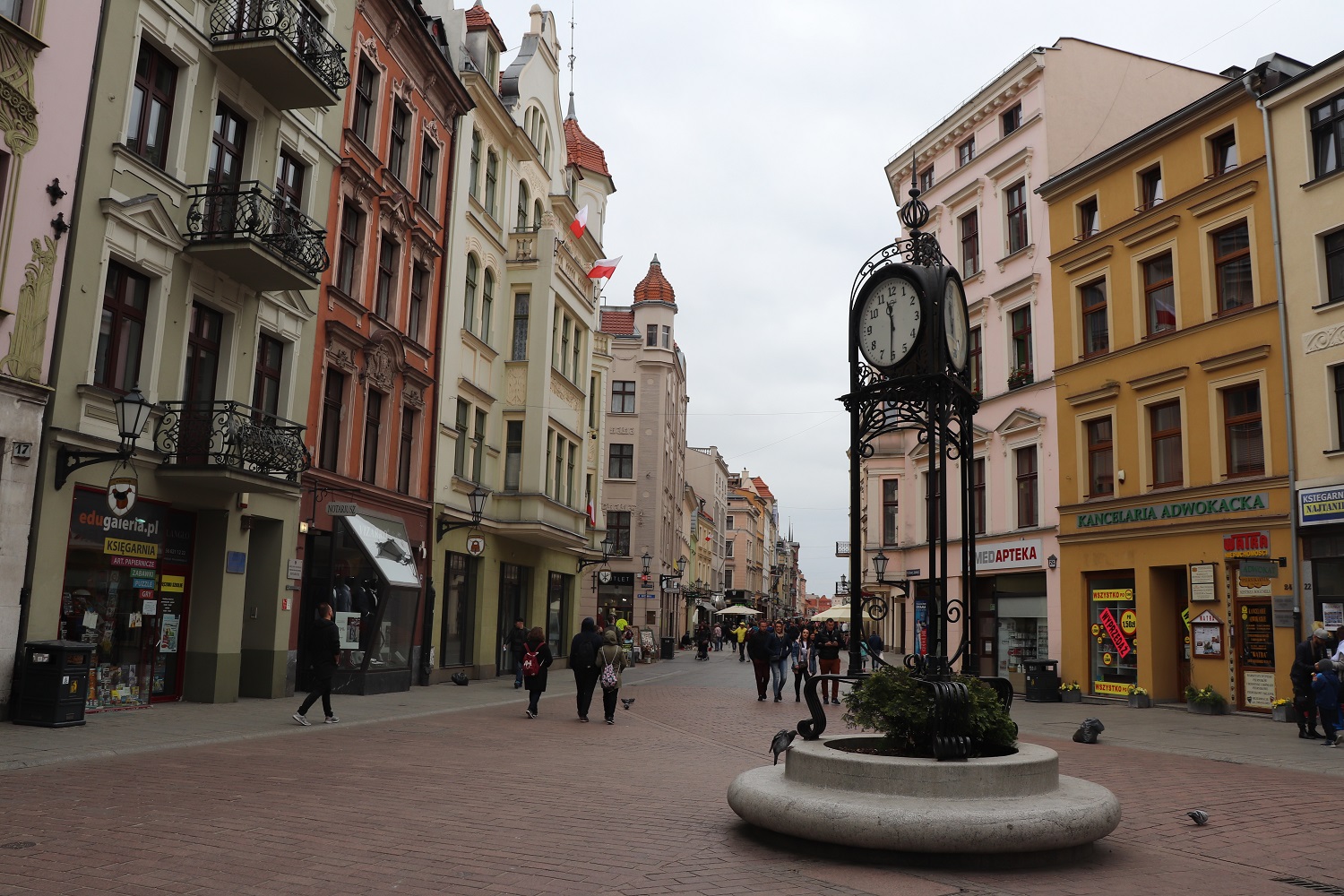 For anyone who enjoys history, I highly recommend spending a day in Torun. There's a lot of unique and fun things to do and it's a city to remember.
Have you ever been to Torun? What did you think?
Posted on Friday, May 24, 2019 in Destinations
Tags: europe, poland, torun
No Comments ★ Permalink
We Need to Talk About Belgium
I'd never been uncomfortable as a woman before I studied abroad. I didn't know that we were not supposed to walk alone at night and weren't supposed to travel by ourselves. The first time I learned this was when I had gone to several countries and cities by myself and some female friends kept asking me how I got the courage to do it. Courage? For what? Travelling alone as a female, of course. I didn't know I wasn't "supposed" to do it.
And then I went to Belgium.
Now at the time, I was studying abroad in Paris and France is really bad in terms of street harassment. It was definitely something I wasn't used to, something that was so angering, and it stopped me from going out alone when shops started closing at night. It was awful. However I didn't think it would – or could – get any worse when I went to one of the countries I'd wanted to go to my entire life: Belgium. Three beautiful languages, amazing architecture, and a great alternative culture. I was SO excited for this trip.
For the first day, I went to Brussels. And this happened. If you don't care to read another blog post, I was:
Eyed by one group of guys who thought I was lost and started catcalling me.
Chased down a street by a different group of men who yelled they were going to rape me.
(Also, some of those men weren't just hanging out – they were in cars and actually had the energy to get out and pursue me. Not that it really matters, but that was shocking.)
Sleeping in bed when I awoke to cops outside my room investigating a shooting.
End day one in Belgium.
Luckily I had a Belgian train pass which meant I could take the trains whenever I wanted. I decided that I needed to get back to my hotel room each night before it got too late. Which meant like, 6:00pm.
I went to Ghent the next day. Beautiful city! But:
I got followed by this one guy for AN HOUR. Literally, an hour! He followed me all around the city, talking in all the languages he knew. I ignored him and never even looked at him and he followed me for AN HOUR. I even went into buildings, got dinner, etc, and he kept waiting outside to continue following me! After a time I didn't feel threatened anymore but it was incredibly annoying and disrespectful.
I didn't know I was being followed by two other men. They hadn't said anything to me but they were both in the back of my selfies all across town. I noticed this when I went through my Ghent photos much later.
I literally ran from the metro stop to my hostel that night. Nothing happened, but after the night before, I didn't want to risk ANYTHING.
Nothing notable happened in Bruges the next day. I mean, I guess by this point you might have figured out that I did get catcalled at least once an hour but it wasn't even significant anymore. When I got back to Brussels before the sun set, I was walking to my bus stop and there were a bunch of men sitting outside at a restaurant. You know how restaurants have outdoor seating? Imagine that being full, but with literally all men. They all turned to me and catcalled. Some of them started getting up from their seats and I picked up my pace, but didn't want to run and look scared. It was all of them there. I focused on getting back home safely then, but in retrospect, it's like catcalling and terrorizing women is such a big part of the culture there that it's engrained.
I mean, I live in Baltimore and I felt so much more scared there than here.
I wrote a few blog posts on Belgium and they're all true. I do think Belgium is beautiful and charming. I do think it has a fascinating history. I do recommend going there if it interests you. But of all the countries I've been to so far, it's one I will never go back to without a travel buddy.
This is something that deserves attention. Of course, the men who do these types of things probably don't care or actually like that they disturb us women. But it helps if men who do care start having this conversation with other men. It helps if you see a lady being harassed and you ask what's going on.
What are your thoughts? Do you have any similar experiences in Belgium or otherwise?
Posted on Monday, May 20, 2019 in Ramblings & Advice

No Comments ★ Permalink
Highlight: Monticello
Monticello is the famous home of 3rd U.S. President Thomas Jefferson. Located in Charlottesville, VA, it makes a good day trip to DC and is an essential stop for any Virginia tour. Meaning "Little Mountain," Monticello was built initially in 1768 and wasn't the product we see today until much later, in 1809. Jefferson was a creative talent so he designed the home himself, and much of it was influenced from his time abroad in France. He designed it with his own interests and experiments in mind, rather than relying on whatever was popular at the time. That's what makes it so interesting.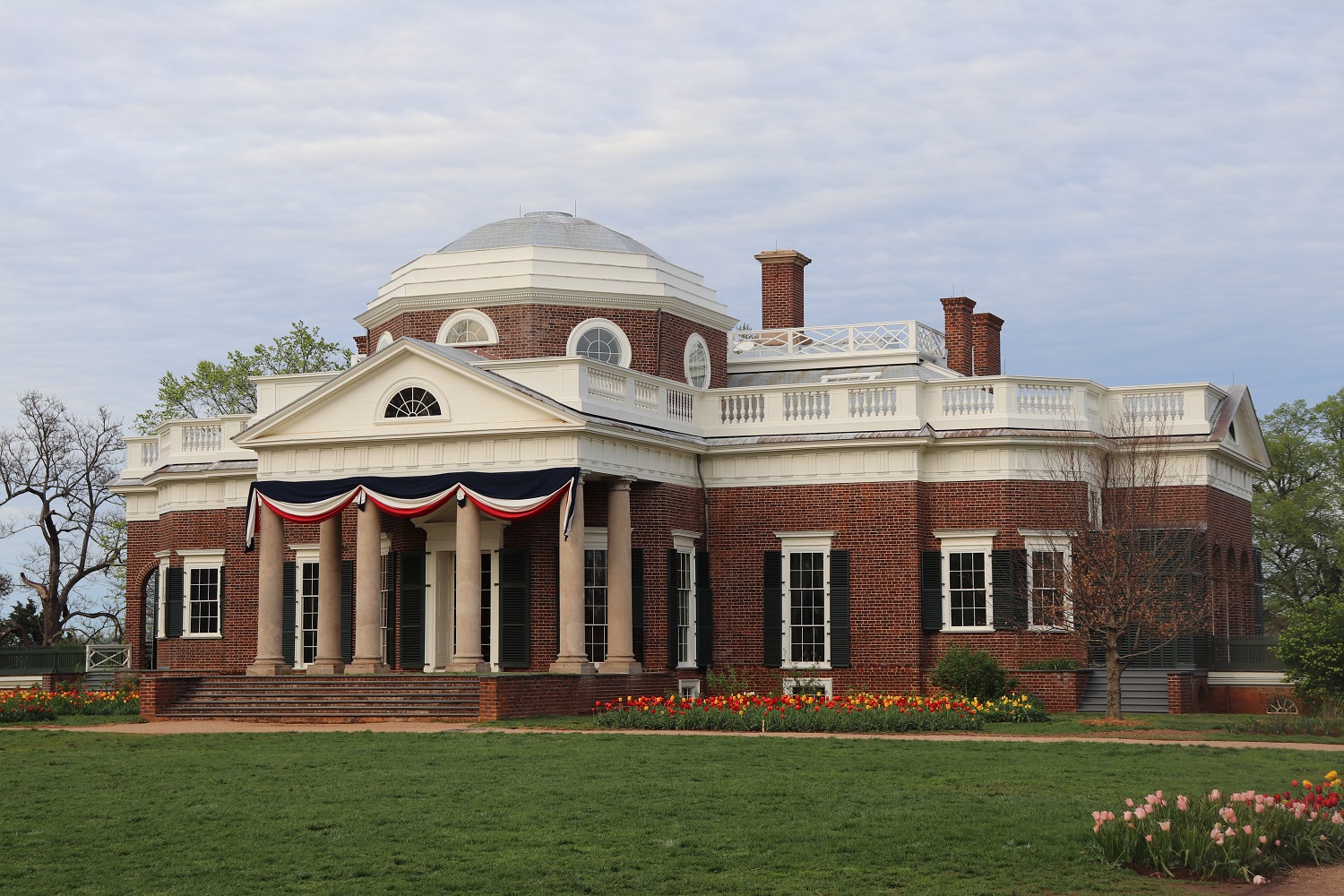 A little about Thomas Jefferson: even though T.J. is primarily known for being the 3rd President of the United States, he accomplished a lot more in his life. Politically, he wrote the Declaration of Independence and he also served as the French ambassador for a period of time. He brought a lot of design ideas back to the U.S., which can be seen in his home. He was also a man of many trades. He was an architect and academic, the founder and designer of the University of Virginia. He was a collector, and much of his eclectic collection can also be seen in his home. You can also see some of the products he designed in his home, as he was also an inventor. He did some fascinating things in his lifetime.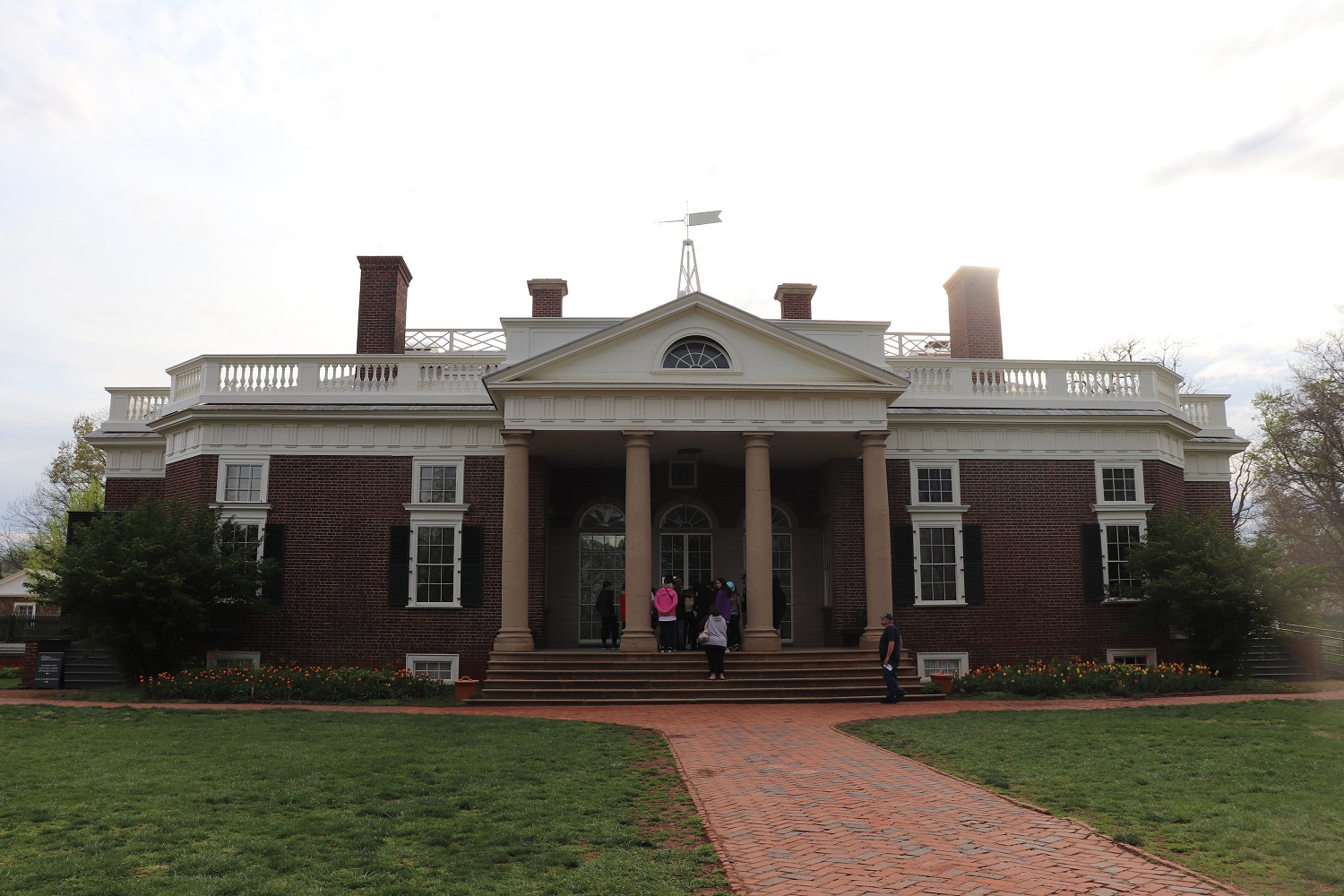 The home itself is a unique style primarily called "Jeffersonian," and it's really a hodgepodge of the styles Jefferson liked. What's most notable about the home is that it's three stories tall but it's designed to look like it's only one story. However you can see more about Jefferson and his interesting life on the inside, where you can see the collection of things he bought, brought to his home, and made. You can see some cool architectural elements such as his bed cove which has a dressing room on one side and an office on another. The top story, the observatory, is not like we see today but was indicative of a scientifically-fascinated man back in the early days of the U.S. What's cool about touring Monticello is that you learn not only about Jefferson but about some unique elements of design and post-revolutionary life.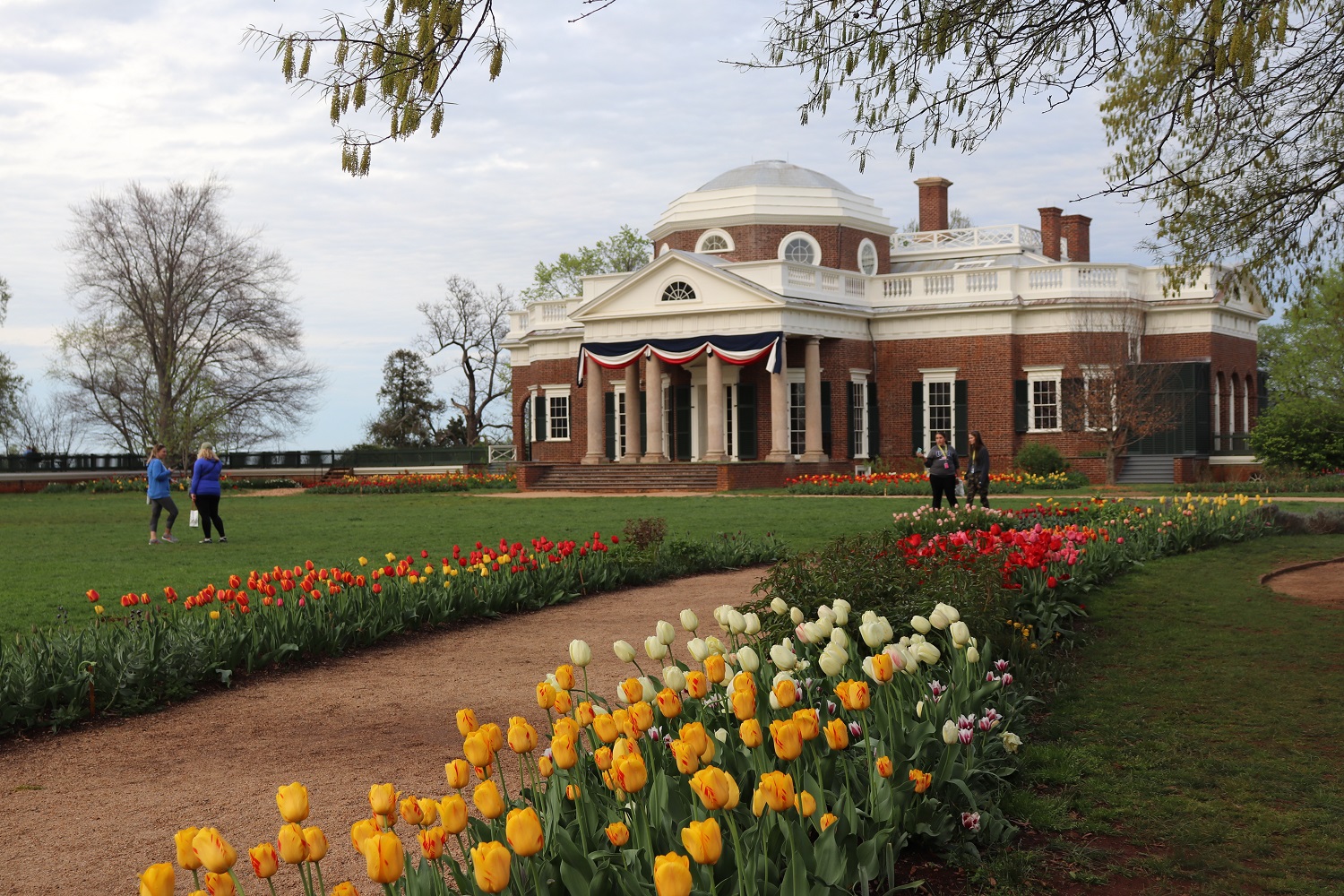 It is also, of course, quite beautiful inside. Because of our negative history with royalty, early presidents didn't have homes that were extremely fancy. Still, Monticello's use of colour and balancing space makes a home that's still beautiful by today's standards.
Monticello also has a lot of ground surrounding it. What's spectacular about the site is the views, which overlook the nearby mountains. Currently, you can see some of the slave quarters and the "working rooms." There's also flower gardens, places where they grow crops and grapes, as well a graveyard where you can see Jefferson's grave. Originally, the estate had several buildings where people would make goods, like with iron and wood, but much of that is no longer standing.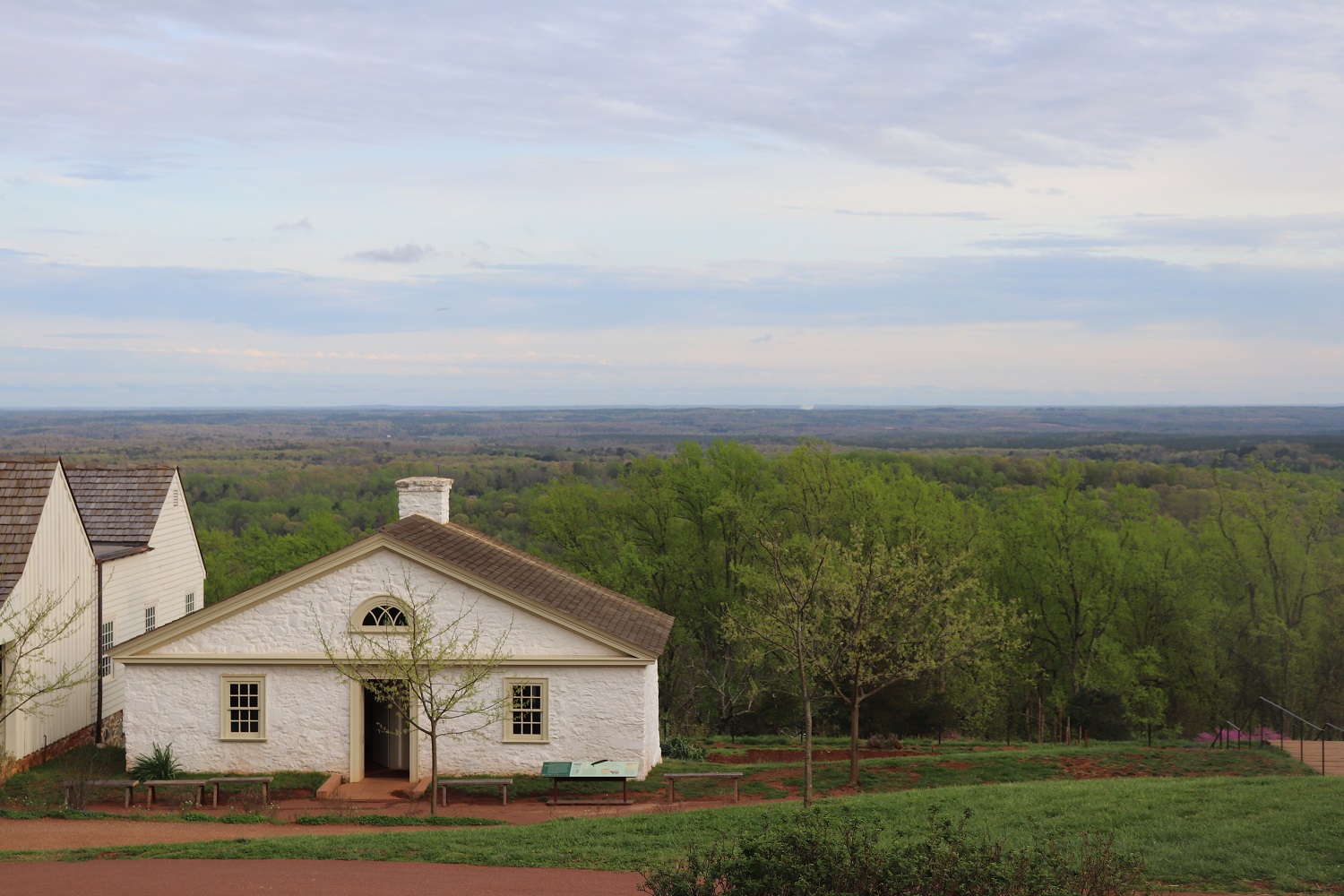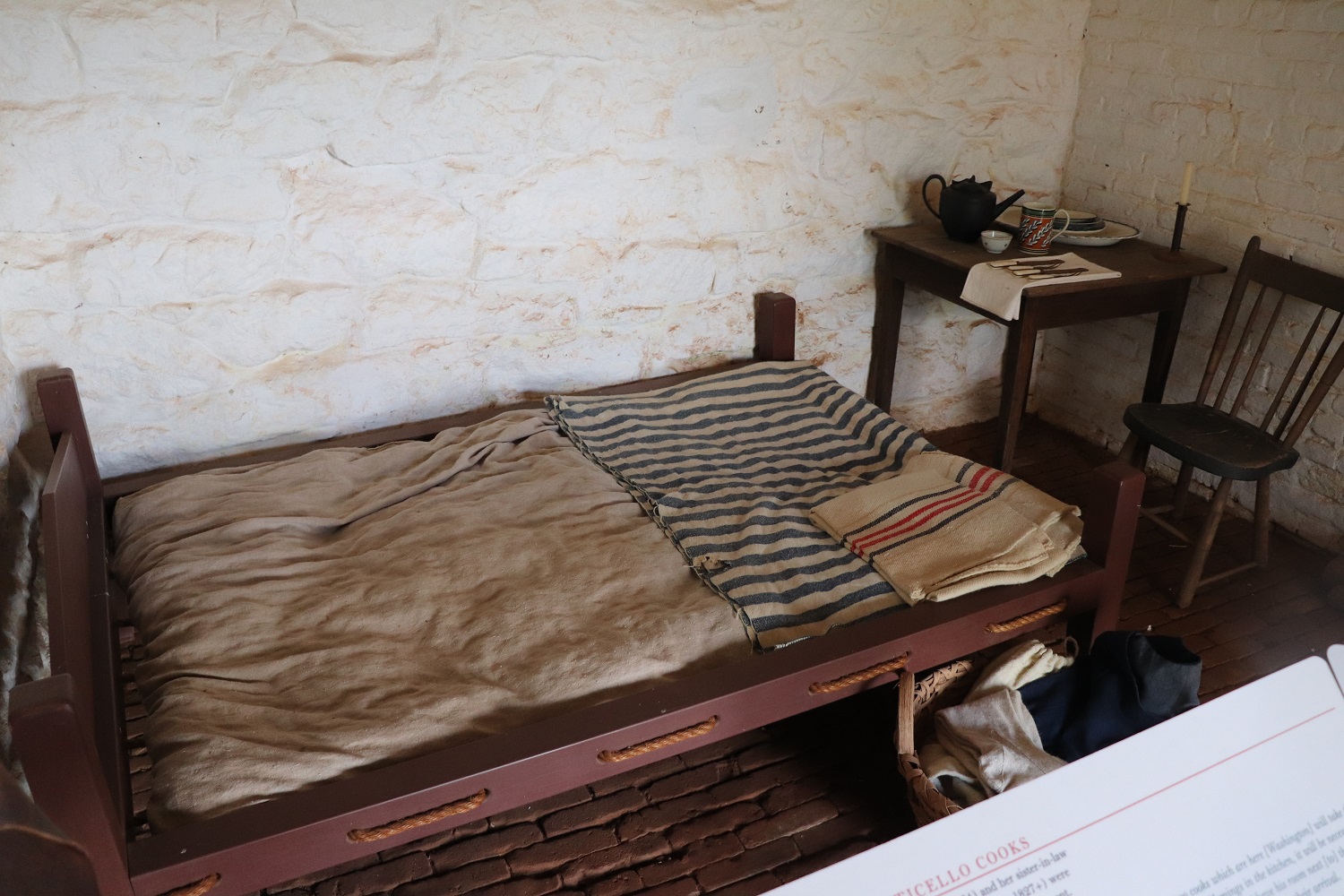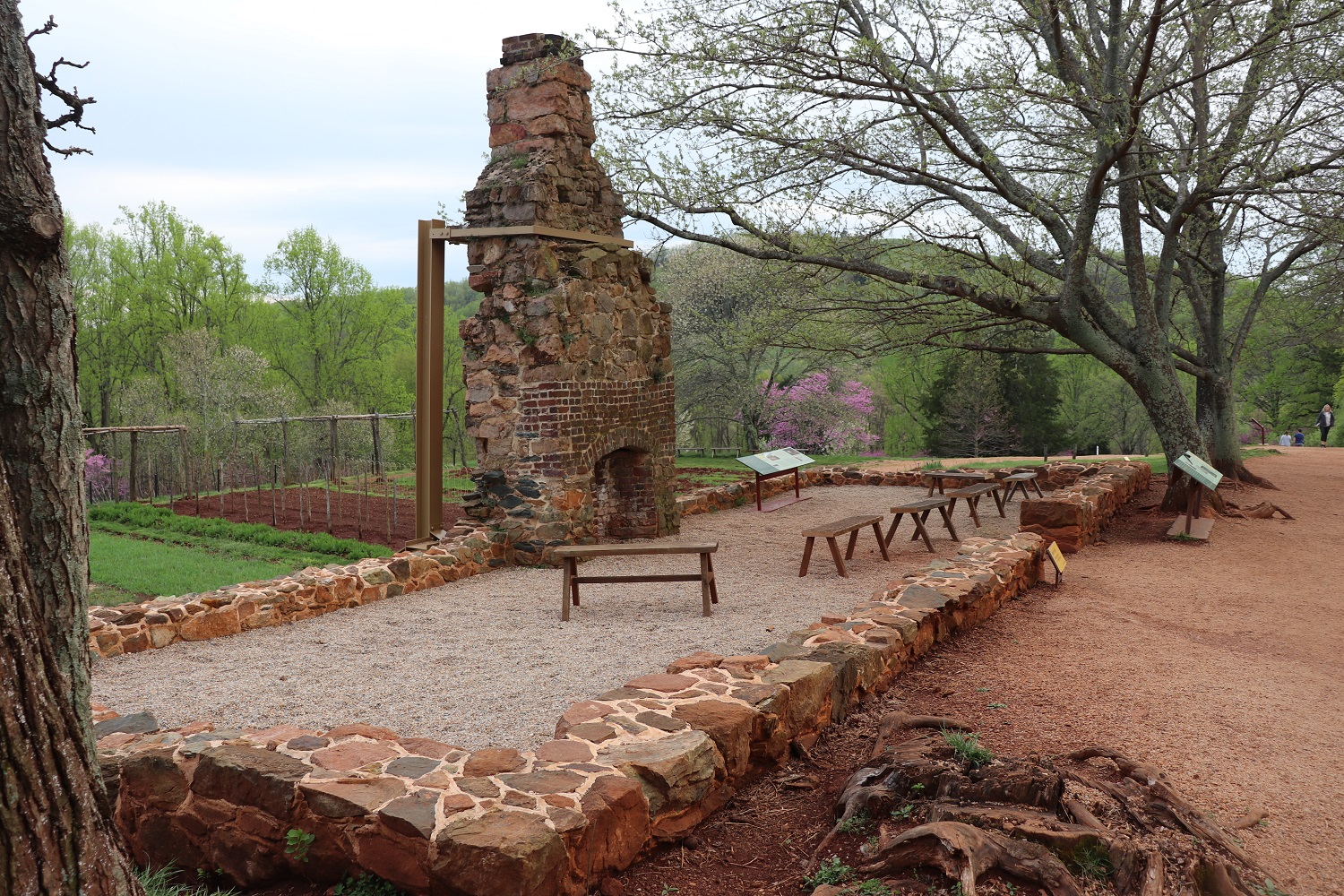 Jefferson did have a vineyard and the estate does grow its own wine and cider. The cider is fine but even Jefferson himself said that Virginia wine is not that great.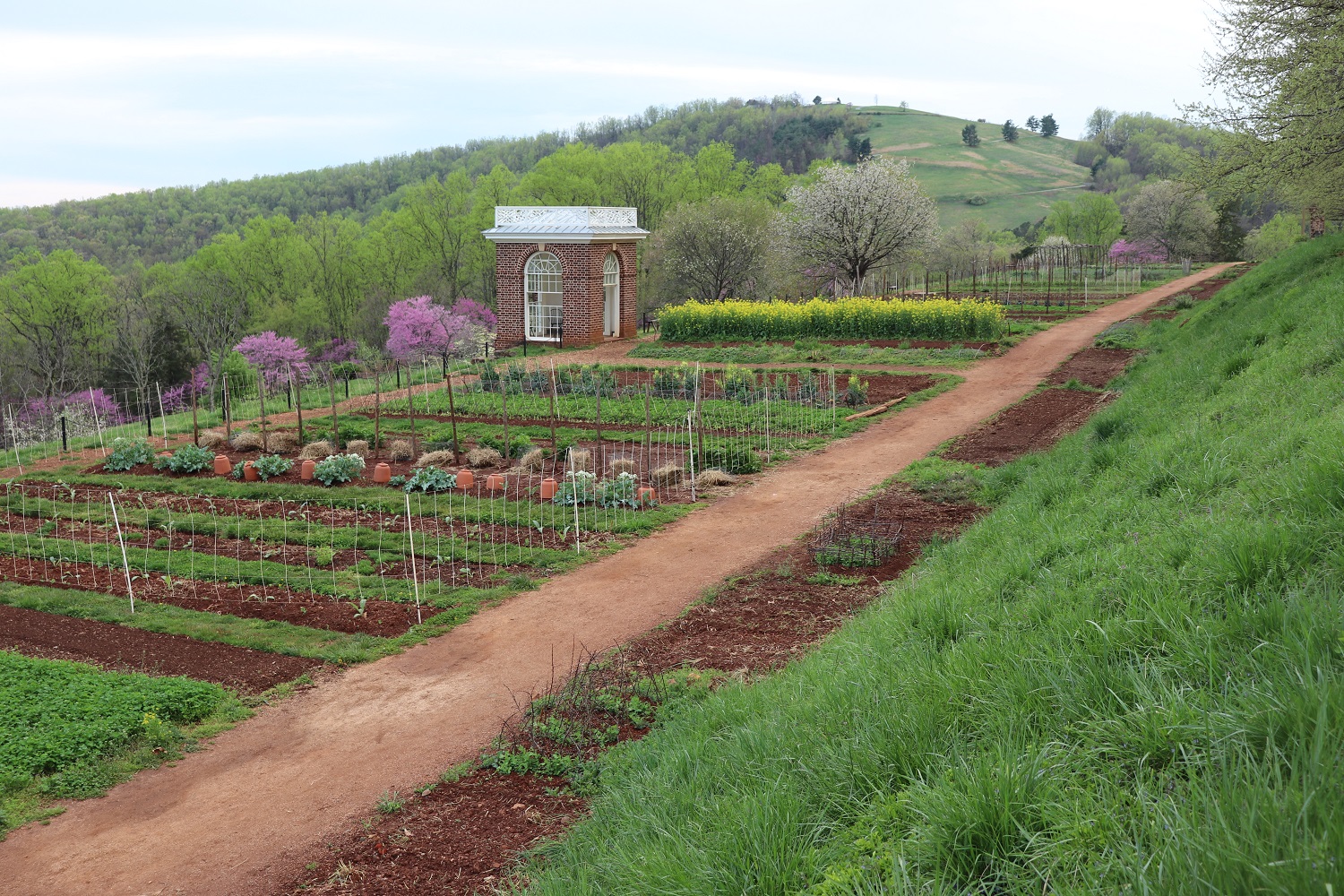 At the visitor's centre, they have a museum where you can learn more about Thomas Jefferson.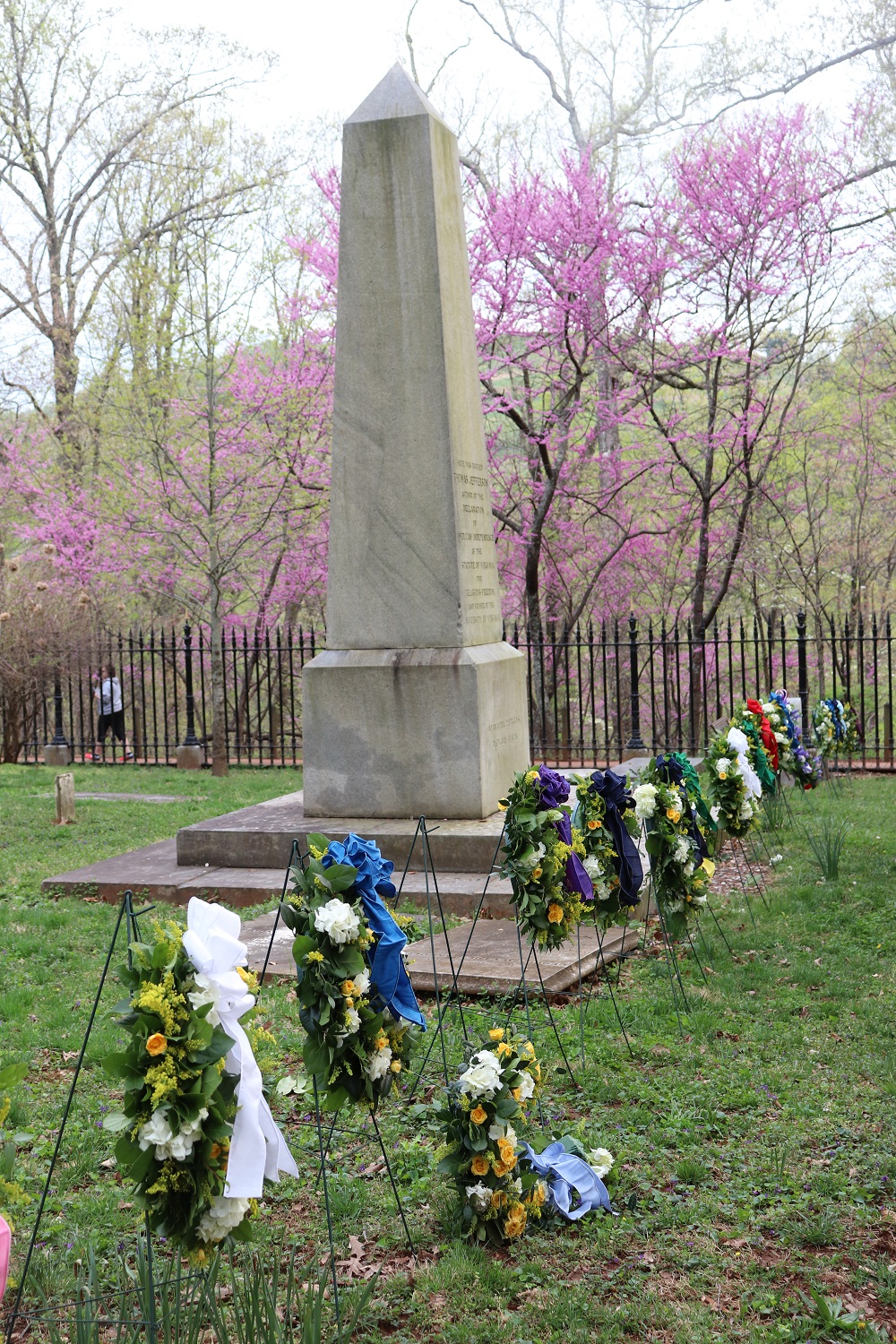 I don't think Monticello does a great job of slave reparations. They do have an exhibit on Sally Hemmings, the enslaved woman whom Jefferson impregnated. They are building a small monument to the people who were enslaved under Jefferson. But it stops there. I've said it before and I'll say it again: there's nothing wrong with owning responsibility for both the good things Jefferson did as well as the bad things. It's an interesting house and Jefferson was an interesting man, but that doesn't mean you need to bury the awful things he partook in. I mean, they could at least make the monument bigger. It looks like it's going to be bench-sized.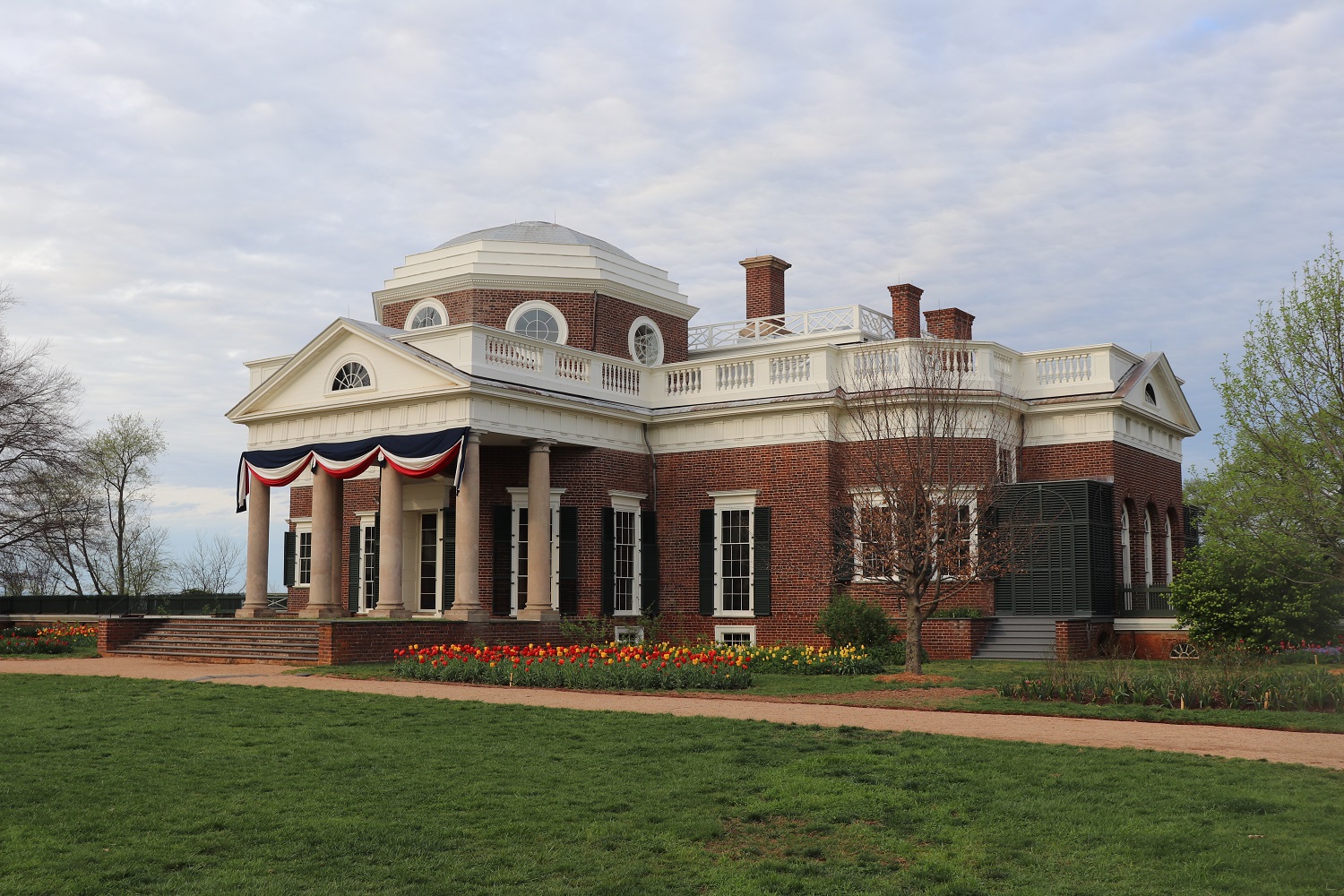 That being said, I think Monticello is such a unique place. With the town of Charlottesville so cute and lively, it makes a great day trip or a stop on a tour around the area. I'd definitely recommend it and hope that you learn something on your visit.
Posted on Tuesday, May 14, 2019 in Destinations
Tags: north america, united states, virginia
No Comments ★ Permalink