51+ Things to Do in Tokyo
Tokyo is one of the largest cities in the world and there's absolutely no shortage of activities to do, even for travellers. It can be overwhelming sometimes to think of everything there is to do in Japan's capital. So before you go, make sure you plan out the things you'd like to do in Tokyo – here are 51+ of them.
Places to See
Visit Senso-ji. Tokyo's oldest Buddhist temple was built in 645 for the Goddess of Kannon. Today, it's one of Tokyo's most popular tourist attractions and it's definitely worth a visit. Tip: The nearby Asakusa Culture Tourist Information Centre has a viewing deck on top, and is also open late. You can get great views of the area and Senso-ji temple from here.
See Tokyo Tower. You can go to the top of Tokyo Tower for a fee but at least stop by this iconic feature to see it in person. (Note that you can only see it from a few blocks away if you're on the ground – it's not highly visible otherwise.)
See the Skytree. Want another city view? Go to the top of one of Tokyo's newest additions, Skytree Tower.
Get nerdy in Akihabara. Akihabara – or Akiba for short – is an area of Tokyo with lots of lights and anime stores. It's a popular destination for anime enthusiasts to purchase souvenirs.
See the lights of Shinjuku. Shinjuku is one of the busiest areas of Tokyo, and there's a lot to see there – especially the lights, which are symbolic of Tokyo. It's also a great place to go shopping and explore, but note that prices here are much higher than other places.
Cross the street at Shibuya Crossing. Shibuya Crossing is the busiest intersection in the world, and it's worth popping by to see. You'd be surprised how chaotic this crossing isn't.
Stop by Golden Gai and Memory Lane. Golden Gai and Memory Lane/Piss Alley/Omoide Yokocho are two nearby areas of Shinjuku that have small restaurants and bars respectively. It has a very "old-timey" feel and is very charming, though it is packed with tourists.
Walk around Ueno Park. Ueno park is a huge and relaxing park in northern Tokyo, and is a great escape from the city for those needing a break. It's also popular with the locals.
Visit the grounds of the Imperial Palace. Though you can't go inside, getting a tour of the Imperial Palace grounds is a great way to get closer to the actual structures of the grounds. Otherwise, you can tour the outer grounds for free.
Wander around Meiji Jingu. One of Tokyo's most famous shrines, Meiji Jingu is in the middle of a large park and doesn't feel like it's in a city at all. Though the shrine isn't particularly special, the grounds are especially beautiful.
See the Ueno Toshogu Shrine. Another place in Ueno is the beautiful Toshogu Shrine. This was one of my favourite places to see in Japan.
See the Shinjuku Gyoen National Garden. One of Tokyo's most popular gardens, Shinjuku Gyoen is another escape from the bustling city.
Stop by Akasaka Palace. This western-style palace is the State Guest House and it's an absolutely gorgeous piece of architecture.
Give a cucumber to the Kappa-Dera Shrine. A Kappa is a frog-like water spirit in Japanese mythology. At this out-of-the-way shrine, you can see remains of the kappa spirit and give a cucumber to ensure the Kappa won't drown you.
See the Hachiko Statue. It's said that a dog once came to Shibuya station to greet his master returning home from work. Now, there's a statue right at Shibuya crossing dedicated to dogs' loyalty. (Because it's of course a universal truth that dogs are the greatest!)
Visit the Kyu-Iwasaki-tei Garden. Once home to the Edo clan, these gardens surround a beautiful western-style home.
Museums
Make your dreams come true at the Ghibli Museum. If you like Studio Ghibli, this museum is well worth the trip to Mitaka. You'll get to see how the movies are made, see an exclusive Ghibli film, and see architecture that'll make you feel like you're in a Ghibli movie all its own. Make sure you get tickets in advance. We got ours over 3 months in advance and there was still a waiting list!
Visit the Tokyo National Museum. A collection of smaller museums, the Tokyo National Museum is a must-see for visitors as it has a tonne of art and artefacts that make up Japan's history and culture.
See structures at the Edo-tokyo Museum. The Edo-Tokyo Museum is one of Tokyo's most visited museums. Inside, it has several displays of artefacts and buildings that existed in Japan during the Edo period.
See pandas at the Ueno Zoo. Tokyo has its own zoo, and the pandas are the most popular animal there (though they do have a large selection of other animals).
See an exhibition at the Tokyo Metropolitan Art Museum. The TMAM in Ueno Park is an exhibition-based art museum. Check out the website to see if their current exhibition interests you!
Visit the Ueno Royal Museum. Also in Ueno, the Ueno Royal Museum is another exhibition-based museum to visit.
See the National Museum of Nature and Science. Tokyo's another city that has a National Museum of Nature and Science, which is worth seeing for science and nature enthusiasts.
Visit the National Museum of Modern Art. Of course Tokyo has a museum of modern art, and it's called the MOMAT.
Go borderless at the Mori Digital Art Museum. Sadly, I didn't get to visit because tickets sell out days in advance. Make sure to grab your tickets online for the Mori Digital Art Museum to see amazing displays.
Stop by the National Art Centre. The National Art Centre is an exhibition-based art museum.
Go back in time at the Ota Memorial Museum of Art. Located in Shinjuku, the Ota Memorial Museum is dedicated to woodblock printing, an amazing art form famous in Japan and internationally.
See the Tokyo Toy Museum. Tokyo's yet another city with a toy museum to bring out your nostalgia.
Visit the Intermediatheque Museum. The Intermediatheque is one of Tokyo's more interesting museums, and its theme is hard to describe. Put simply, it's about form and function in multiple disciplines.
See the Shitamachi Museum. The "Shitamachi" is known to be traditional Japan's lower or merchant class, and this museum is dedicated to exhibiting how the Shitamachi historically and traditionally lived.
Check out the Nezu Museum. The Nezu Museum houses a collection of pre-modern Japanese and Asian art.
Visit the Samurai Museum. What's more Japanese than a Samurai? Be sure to stop by the Samurai Museum, located in the hustle and bustle of Shinjuku.
See the Edo-Tokyo Open Air Architectural Museum. It's a bit out of the way, but the Edo-Tokyo Open Air Architectural Museum has a bunch of reconstructed historical buildings and looks like a fun time.
See more houses at the Japan Open-Air Folk House Museum. Much like the above, you can see a selection of traditional house reconstructions at the Japan Open-Air Folk House Museum. (This one is technically not in Tokyo.)
Activities
Treat yourself with souvenirs. The nice thing about Japanese souvenirs is that they're beautiful and useful. You can get a nice new bag, a tea set, a stuffed animal, and a lot of other things that you're sure to enjoy down the road.
Walk down Kappabashi dogu-ai. This street has wholesale and general kitchen supplies for restaurants and home, and is a popular destination is Asakusa.
Go to the top of the Tokyo Metropolitan Government Building. Up there, they have two observation decks that are completely free to visit! These decks are indoors.
See a show at the Robot Restaurant. The Robot Restaurant is famous – or infamous – for its exciting shows. If you really do want to go, reservations are required and there's an 8000 yen entrance fee. However, you can get your photo taken with robots outside for free.
Eat at another themed restaurant. There are so many themed restaurants in Tokyo, from maid cafés to Alcatraz restaurants to monster-themed dining. Select a place that's right for you and see if it lives up to your standards.
Go to an animal-themed café. Tokyo is also filled with animal cafés, from owls and cats to hedgehogs. Get a cup of coffee at one and make some new animal friends.
Make a wish at a shrine. At a Shinto shrine or Buddhist temple, you can buy wooden cutouts from the vendors there and write your wish on them. Tie them up with the other cutouts and pray your wish comes true!
Play Pachinko. There are Pachinko parlors all over Japan as it's a popular form of gambling in the country. Stop by one of the parlors to try Pachinko for yourself and see what all the hype is about!
Get a "gotcha." Those white machines that are everywhere in Japan? They're called "gotcha" machines, and for a few hundred yen, you can get a random toy. There are so many different types of machines from souvenir toys to cat hats to anime-themed gotchas, so you'll have a lot to choose from.
Play a claw game. Also popular in Japan are those games where you have to get a stuffed animal (or similar) by using the claw machine. They're all over so try one for yourself and bring home a souvenir from it (if you're lucky).
Experience magic at Tokyo DisneySea. Tokyo does have its own Disney theme park and though I haven't been, the pictures alone make it look for spectacular than that in Orlando.
Watch Sumo wrestling. Sumo wrestling is a traditional sport in Japan and you can find some shows to go to or even dine while watching a Sumo event. Ask locals for the most authentic places.
Get put in a virtual reality. The VR Zone is Shinjuku is temporarily there but with its popularity, it will hopefully be a more permanent place. My brother went and thought it was fun, but many VR sets require 2 players.
Buy a Lolita wardrobe at KERA Shop. A lot of Lolita brands don't ship overseas, so if you go shopping in Tokyo, be sure to check out KERA Shop for a selection of Lolita clothing stores.
Learn how to make Japanese food. Tokyo has some amazing food, and it's a great place to get a class on making a Japanese classic like ramen or sushi.
See a tuna auction at Toyosu Market. Tsukiji fish market closed, marking the end of a decades-long spectacle, but it continues with Toyosu Market, which is supposed to be more visitor-friendly. My brother was lucky enough to go on Tsukiji's last day and thought it was quite an experience.
Unleash your inner nerd with a Mario Kart tour. Yes, you can take a Mario Kart tour through Akihabara. It's not that difficult to find and can be quite the unique way to experience such an exciting city.
Some Things to Know
The Tokyo metro is super easy to get around and is much cheaper than one would anticipate at under 200 yen for an average metro ride. Get a Suica card and take advantage of this great service.
What is your favourite thing to do in Tokyo? Share in the comments below!
Posted on Friday, December 21, 2018 in Destinations
Tags: asia, japan, tokyo
No Comments ★ Permalink
How to Be Green (Without Changing your Lifestyle)
Climate change and eco-friendliness aren't just political topics. As world citizens, it's important to make sure that we keep the earth and its inhabitants healthy and safe. Current activity and pollution is a serious threat to that, but there are ways of living a greener life.
Some people go off-grid and give up their electricity, and others end up biking 10 miles each way to work. While these acts are so honorable, setting the extremes as examples can deter people from changing their ways. Being green doesn't have to mean making a lifestyle change. Below, I've compiled a large selection of ways and products that you can switch to in hopes of leading a greener life. It's so simple that anyone can do it – and everyone should do it.
Switch out your kitchen supplies. From grocery shopping to cooking to packing up food, there's a lot of waste that goes into each meal. With a few easy switches, it doesn't need to be that way.
Clean with cloth. Whenever you have a mess, always clean it up with a reusable tool like a mop or a kitchen towel, rather than something like a paper towel. No extra energy needed. For added bonus points, get rid of paper towels and napkins at the dinner table and switch to nice cloth napkins (click here to browse some on Etsy). Again, no extra energy needed, and you can get a bunch of designs that fit your home decor and make you happy. Also, you'll save money on the paper towels you don't have to buy every month. Win-win-win.
Did you know that you can also buy reusable Swiffer pads? Click here to browse some on Etsy.
Use tupperware. Tupperware is so handy, so rather than throwing cling wrap over your leftovers, put them in tupperware. It's reusable and easier to organise in a fridge.
Wrap reusable. Instead of going through tonnes of plastic sandwich bags, get some reusable sandwich bags (click here to browse some on Etsy). Same deal: they're eco-friendly and add a lot of personality to your lunch. Additionally, you can get reusable food wrap such as Bee's Wrap. It's a little bit pricier but you'll also save on the plastic wrap you're not going to need anymore.
Shop green. You probably have a reusable shopping bag, which is a great way to save on tonnes of plastic each year. You can also get custom shopping bags and water bottles to advertise for your blog, company, or whatever you want! If you add in some reusable produce bags, you're absolutely golden (click here to browse some on Etsy).
Invest in work and party dishware. Always using plastic forks from work? Throwing parties frequently? Get yourself a set of dishware for work and parties that you can use again and again – a great suggestion is dishware made from bamboo or another sustainable source. Then just think of how much plastic you can save! (Bonus: use the reusable napkins, too!)
Switch out your bathroom supplies. There's also a tonne of ways to save plastic when selecting your bathroom essentials.
Use a bamboo toothbrush. Bamboo toothbrushes are getting really popular and rightfully so.
Essentials without packaging. Lush has developed some shampoo bars and you can also get toothpaste bits. This ensures that you have a good-quality product that has no or reusable packaging and will help reduce your waste. Also make sure that you buy soap bars with little packaging rather than liquid soap that comes in a plastic tub.
Switch out your appliances. Appliances can be a huge drain on resources and the environment, but luckily for you, switching them out is easy and needs to be done once every few years (if that). It can be anything from yours dishwasher to washing machine and drying machine, your refrigerator/freezer, your air conditioner and heat source, and your toilet, sink and shower head. All are easy to replace one time, require no change from you, and will help reduce your global footprint. If a product is Energy Star or WaterSense approved, then it's probably a great choice.
Air dry your dishes. A lot of energy goes into heating your dishes to make them dry, but it's just as quick and easy to turn the drying function of your dishwasher off and let your dishes are dry. This will save the energy the dishwasher puts into drying and will be a substantial amount long-term.
Eat less beef. It is a fact: meat is a huge contributor to global warming. No matter how good it tastes or how much you don't want to believe it, it's true. However, beef alone is a huge contributor to global warming. There are several studies, cited below, that list beef as a primary pollutant. So I'm not asking you to go vegan or even go vegetarian. I'm simply asking that you cut beef out of your diet. It's a lot easier to make this change since it's only one type of meat, which means you still have other types to select from. Of course, going vegetarian or vegan does make a huge impact on our global footprint, but let's be honest: for a lot of people, that's a huge jump. Giving up beef can go a long way and let me tell you that it is so empowering to help protect the environment in a big way.
Switch to solar for free! Did you know that you can actually get solar for free? Trinity Solar (USA) essentially lets you rent their solar panels for free when you switch your electric company to one of their affiliates. You still have to pay your electric bill (which you already do) but the solar panels are $0 down. You can also request a free quote, so what do you have to lose?
I sincerely hope that you'll take these changes to heart and make some of them in your lives today.
How many changes are you going to make to protect the planet?
Posted on Friday, December 14, 2018 in Ramblings & Advice

No Comments ★ Permalink
Making a DIY Pushpin Map
I wanted a pushpin map for my office, and even though there are great options out there, I didn't find quite what I wanted. So I decided to DIY a pushpin map and it actually turned out marvelously! Since pushpin maps can be really expensive, here's a guide on how to make your own.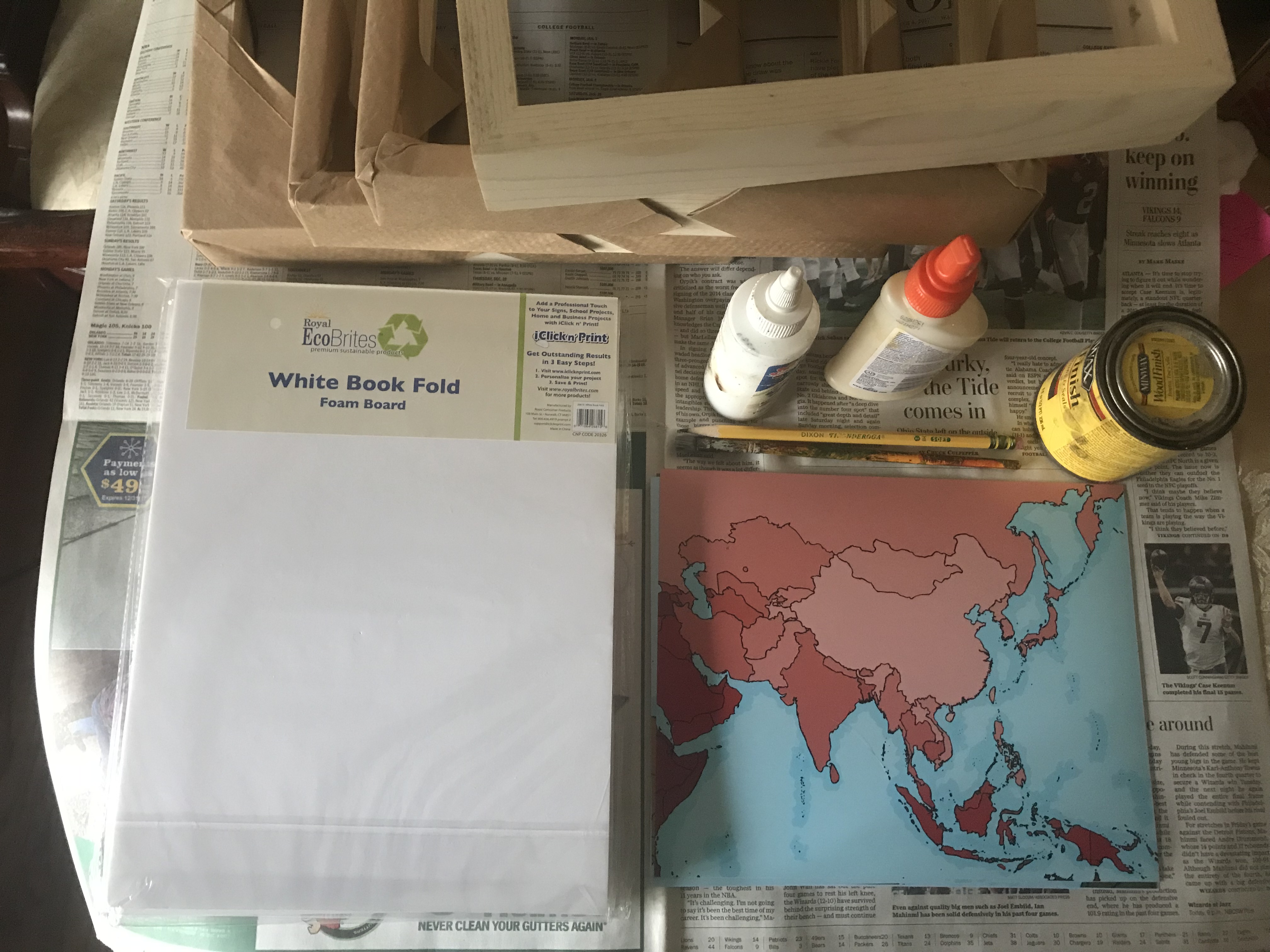 Here's what you'll need:
a map
a frame
wood stain, paint, or anything you'd like to decorate your frame with
foam or cork board
strong glue
pushpins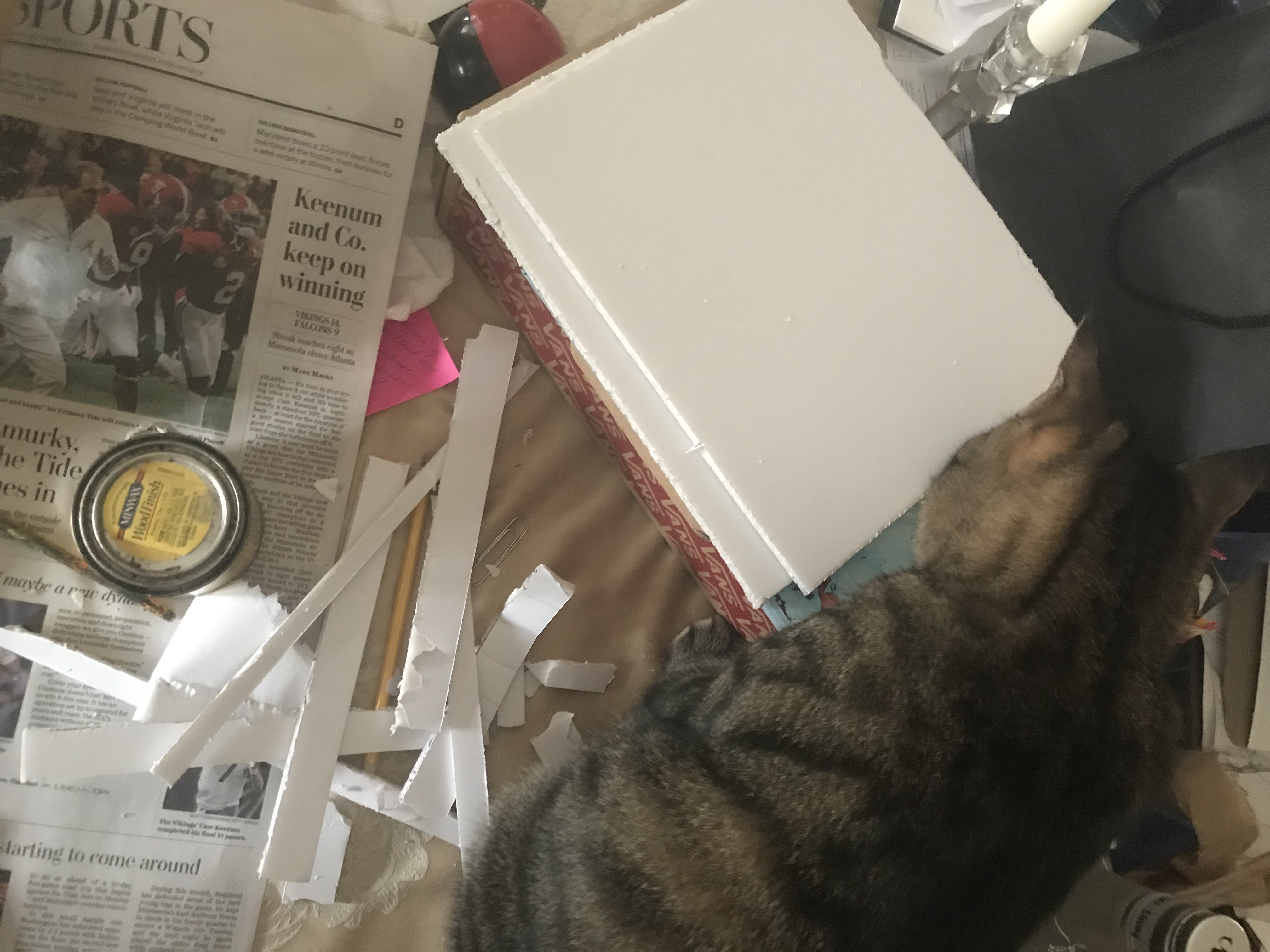 Please immediately remove interrupting cats so as to not get fur on your project.
First, get your map ready. There are so many available for download or purchase online, but you have a lot to consider. How big do you want your map to be? Do you want a borderless map? What colours do you want?
For me, I wanted something that would add nice colour to my office, but there's something else that a lot of people don't think about: the size of the pushpins. Seriously, I would've been fine with a smaller map but since a lot of my travels are in Europe, I wouldn't be able to fit my pushpins on. Europe is such a small area of the world so after pinning, I wouldn't be able to see country borders or have more than one pin in each country. That's when I decided it was best to have a different map for each continent, and to make the size work with my office, 8×10 inches would be a decent size.
I knew I wanted borders and nice colouring, but I had a lot of difficulty finding something that I really liked. Then I found the perfect solution: this downloadable world map coloring page. It's such a big file that the continents all come out over 8×10 inches, and I was able to colour the countries any way I wanted. (Psst – dividing the file into layers on Photoshop is a snap!) After experimenting around, I decided that I wanted each continent to be a different colour. I'm so happy with how they came out but definitely wouldn't have been able to do it without such a handy template!
(Also, I made an Africa one, which is orange, but haven't made it yet since I haven't yet been to any African countries. Hopefully in 2019!)
I got my maps printed on 8×10 matte photo paper by CVS and the quality is actually quite good. This cost about $4 per photo, almost $7 if you count in the file I bought. You will be poking holes in the map, so make sure you're not using something you may want to keep in good condition.
Then apply the map to a foam core. Or cork board, whichever you prefer. I found inexpensive foam board at Office Depot; it was only about $1 per 9×12 inch piece. I then cut it down to 8×10 inches, which is really easy to do with either material (though bad quality cork can sometimes crumble). Then you just glue the map onto the board! I use Sobo glue but most glues should be acceptable. Your map is pretty much complete!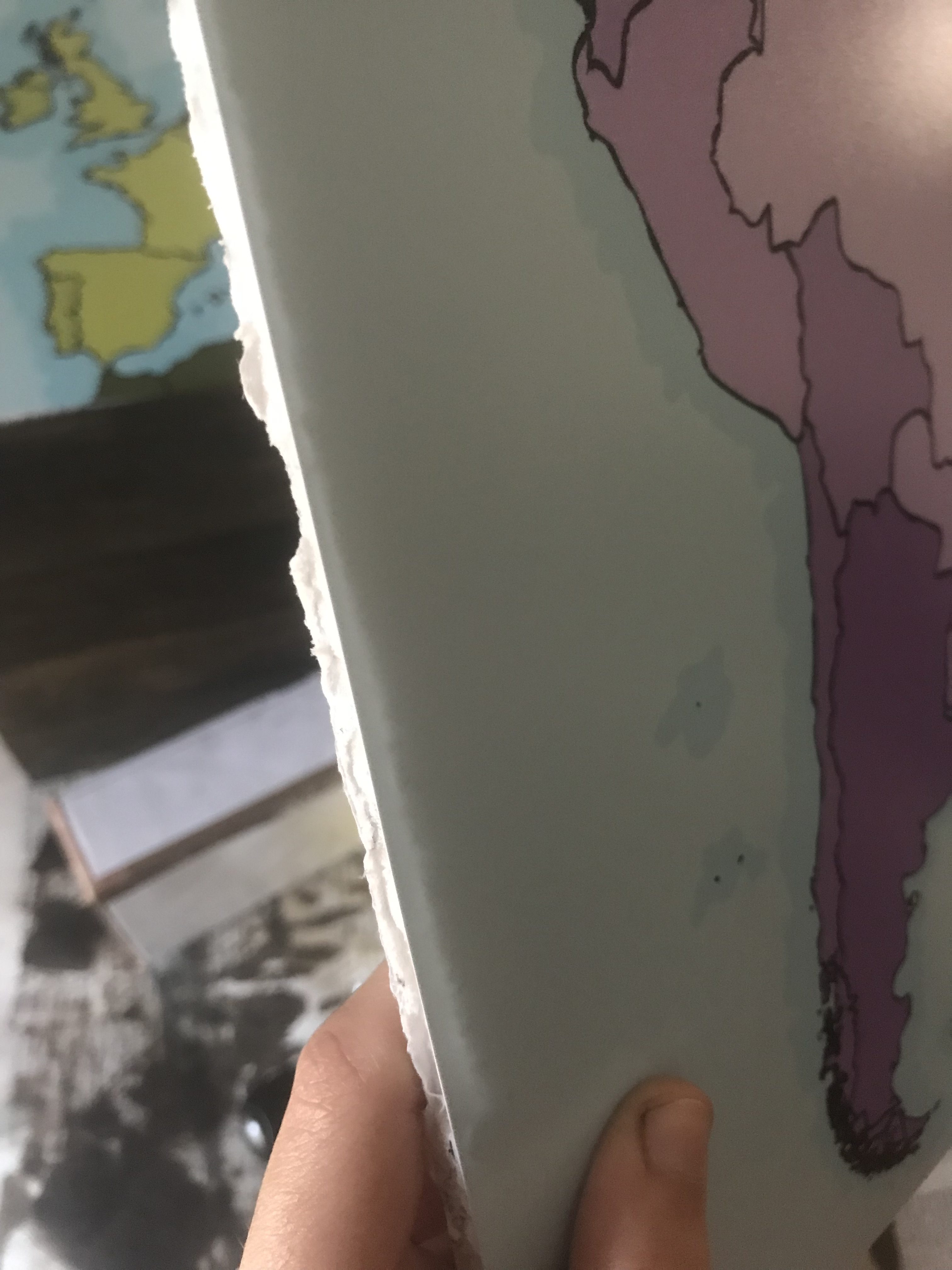 Get your perfect framing ready. There are so many options for framing, including a backless photo frame, a shadow box, etc. For me, these unfinished wood frames were perfect because they're thick enough to stand by itself, but had a small overhang so that I could glue the map on without seeing any edges. Either make your map a little bigger than the frame, or choose a slightly bigger frame to make sure you get a clean fit.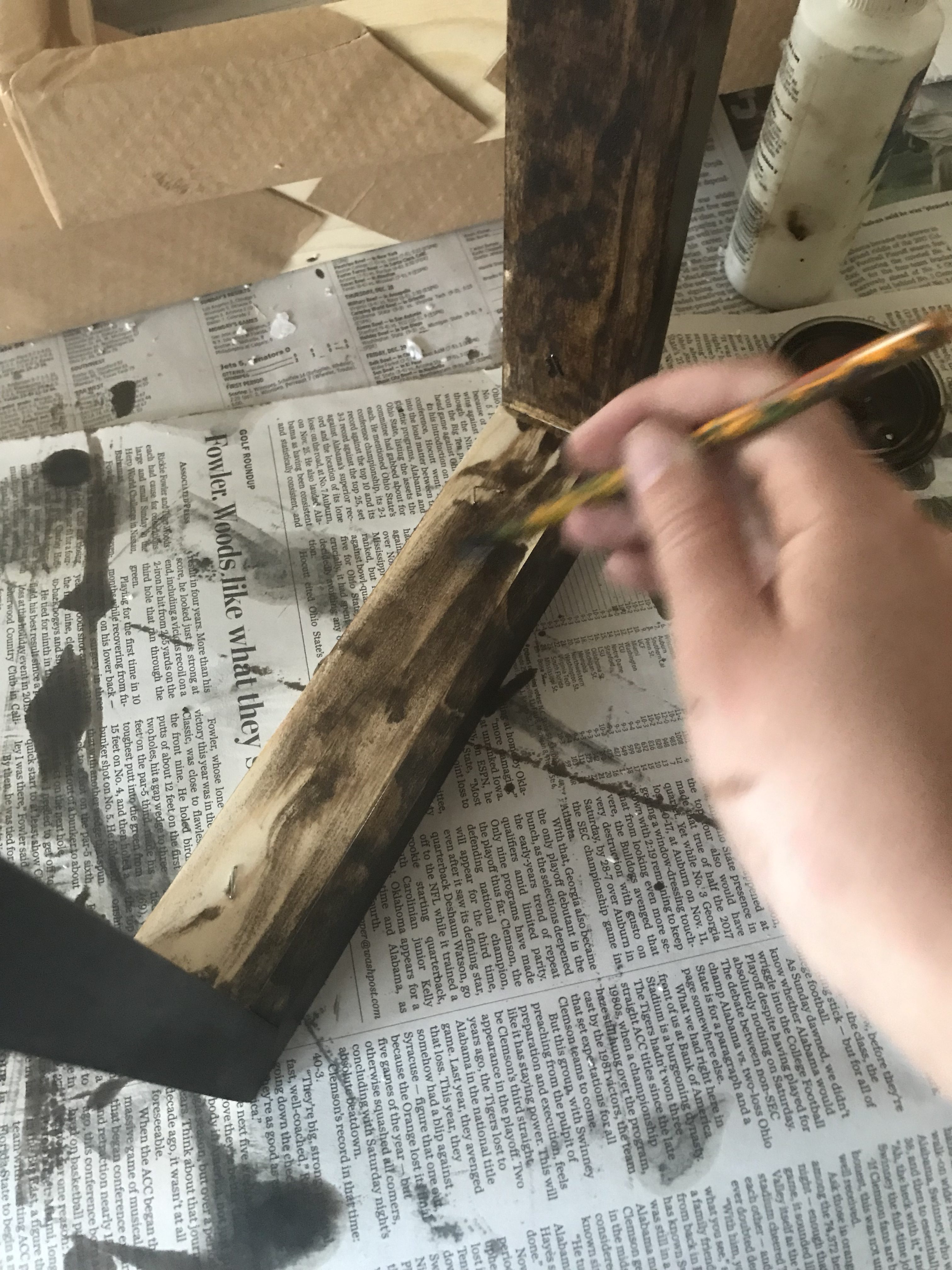 This was the priciest part of the project at $8.50/frame, but so worth it. However, you have lots of different options. Moreover, you have a tonne of options for decorating your frame. I just used a wood stain on mine, which costs about $6 at a hardware store. You can also use paint, paper mache, and so many other things to decorate your frame. You can even frame with cork board for an extra layer of pushpin action with photos from your travels.
Assemble. Using a strong glue (I used wood), you want to attach the map to the frame. Making sure beforehand that your map is slightly smaller than your frame is key in making this work, and why I chose the wood frames from Blick. Press them together to make sure the glue dries them together.
Once the glue has dried, make sure you have clean hands and tap the map from the front to make sure it's securely fastened to the frame. You're done now! Hurray!!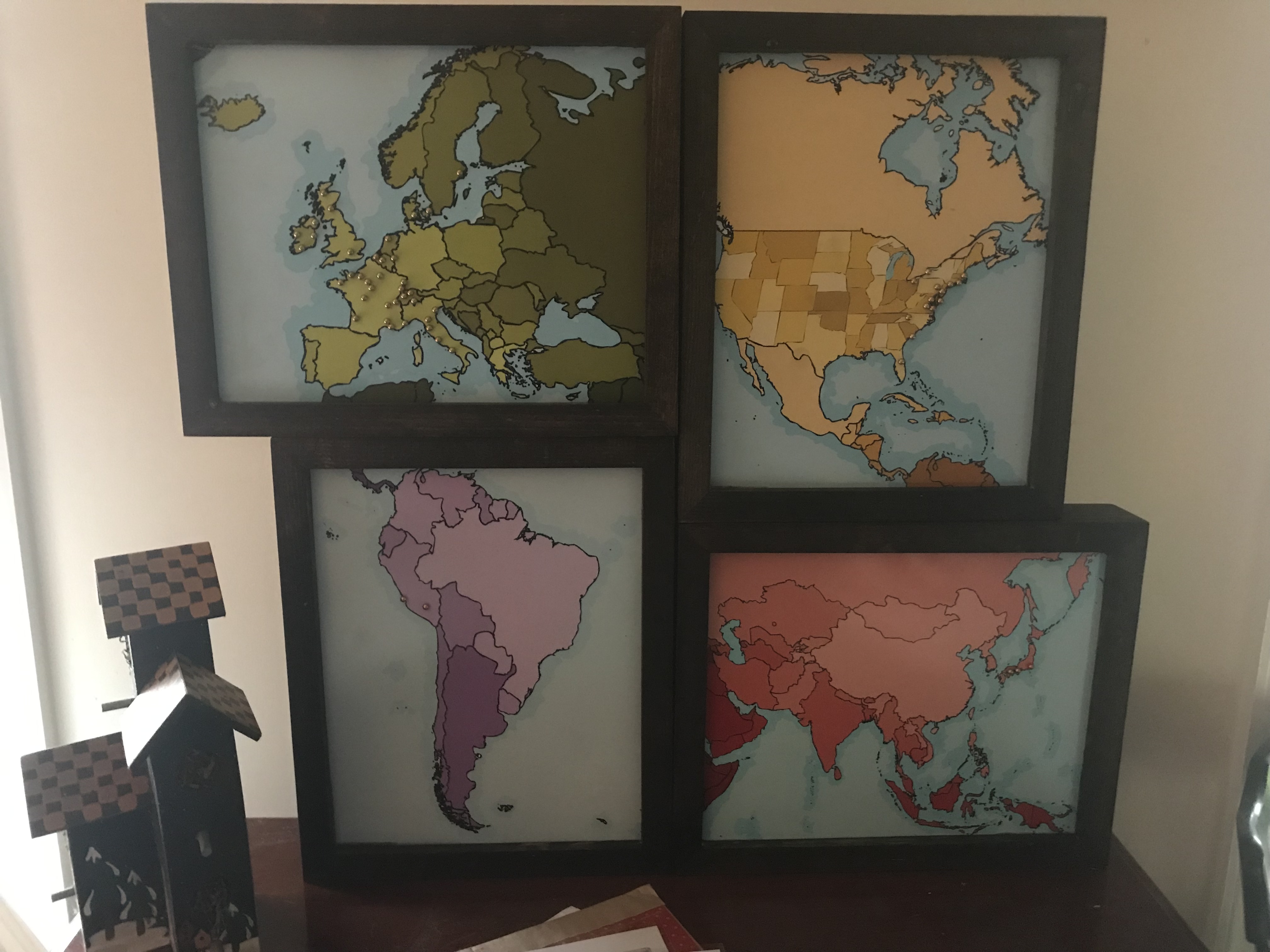 The map is 8×10 inches with regular map pushpins, so you can use these sizes for reference.
Start pinning. I bought gold map pins from the Travel Map Store to give the maps a nice shiny element, and I think it looks great! As you can see from the photos, 8×10 was a good size to go with for the European continent (and for the rest of the world). You can use the image for scale and see that if Europe were any smaller, the push pins would've taken over.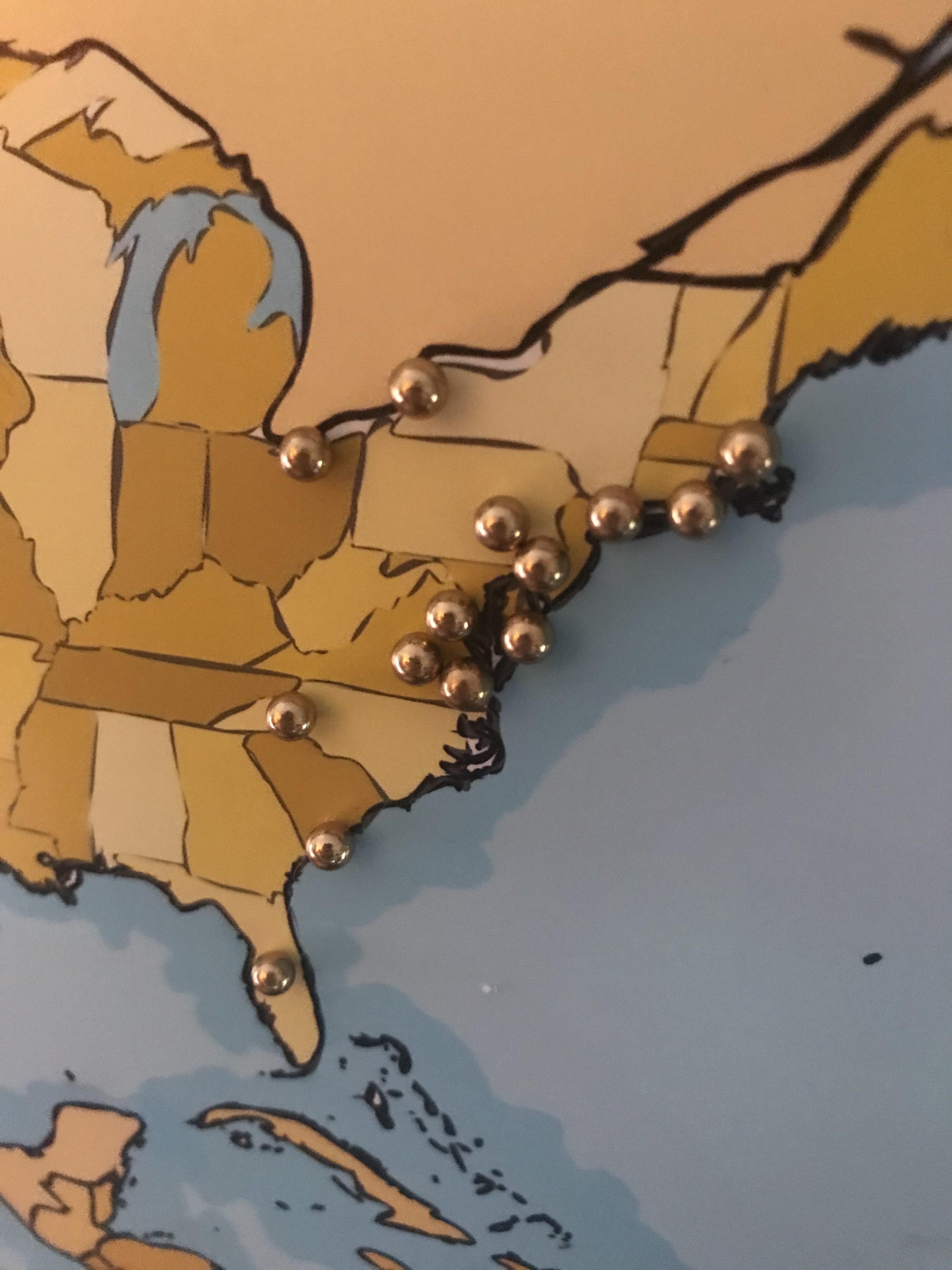 I'm so happy with how it turned out but also so thankful that Etsy and Blick had the PERFECT materials I needed to make it work. I don't have many traveller friends, but if I did, I'd probably make them a map like mine because it was so fun to make and looks absolutely wonderful in my office. It cost me roughly $70 to make four 8×10 maps but I had a great time making them, and I actually saved tens if not hundreds of dollars in the end.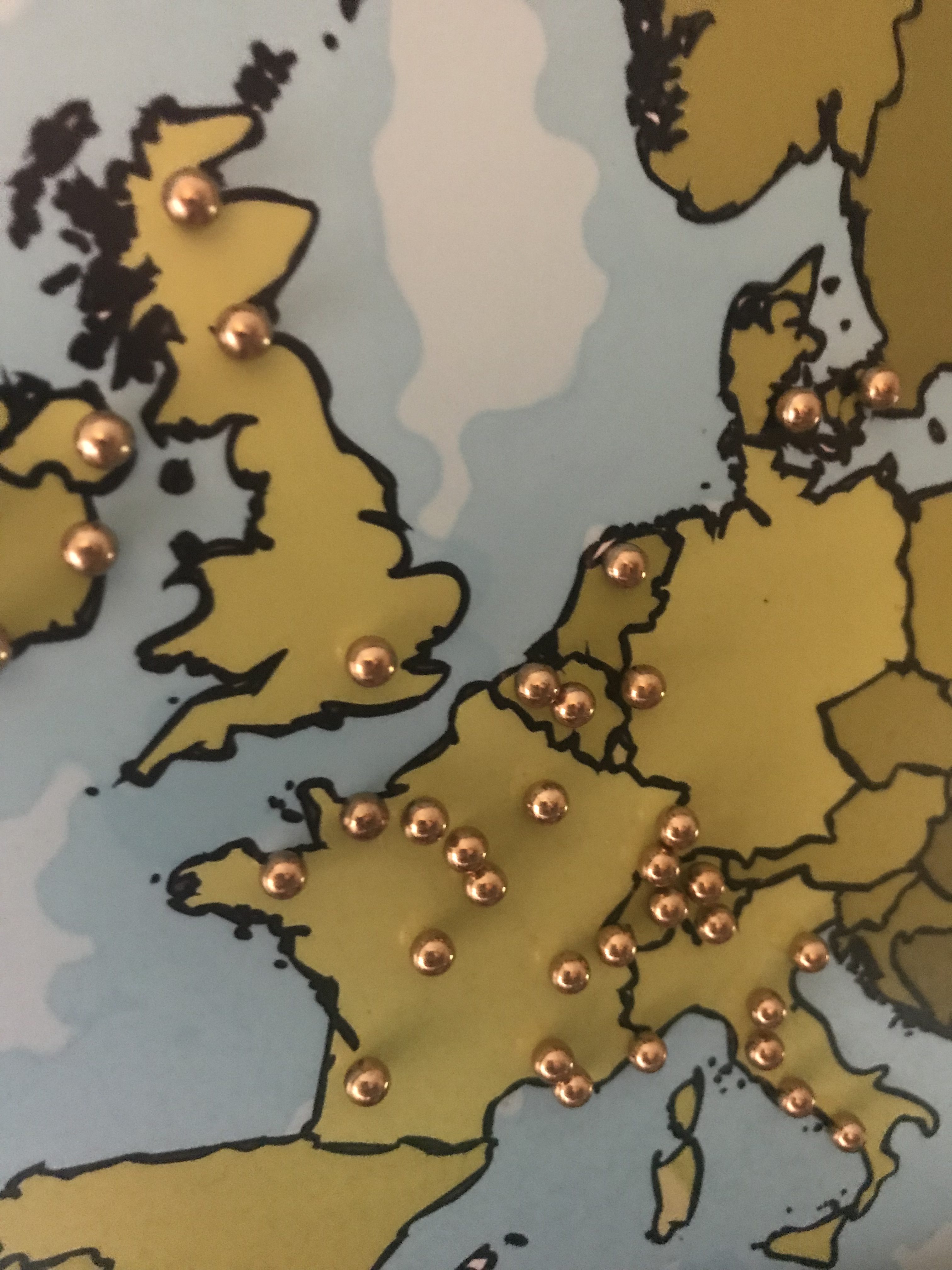 Do you have a pushpin map? Did you make it yourself? I'd love to see pictures of your maps in the comments!
Posted on Saturday, December 8, 2018 in Uncategorized

No Comments ★ Permalink