Highlight: the Ghibli Museum
I grew up watching Studio Ghibli and even took a class in college that covered two Ghibli films. My friend studied abroad in Japan a while back and got tickets several months ahead for the Ghibli Museum, which introduced me to the museum and the fact that it's super exclusive (details at the end of this post). I went with my brother and a pair of friends to Mitaka and didn't know what to expect. So, here's a post to let you know what visiting the museum is really like.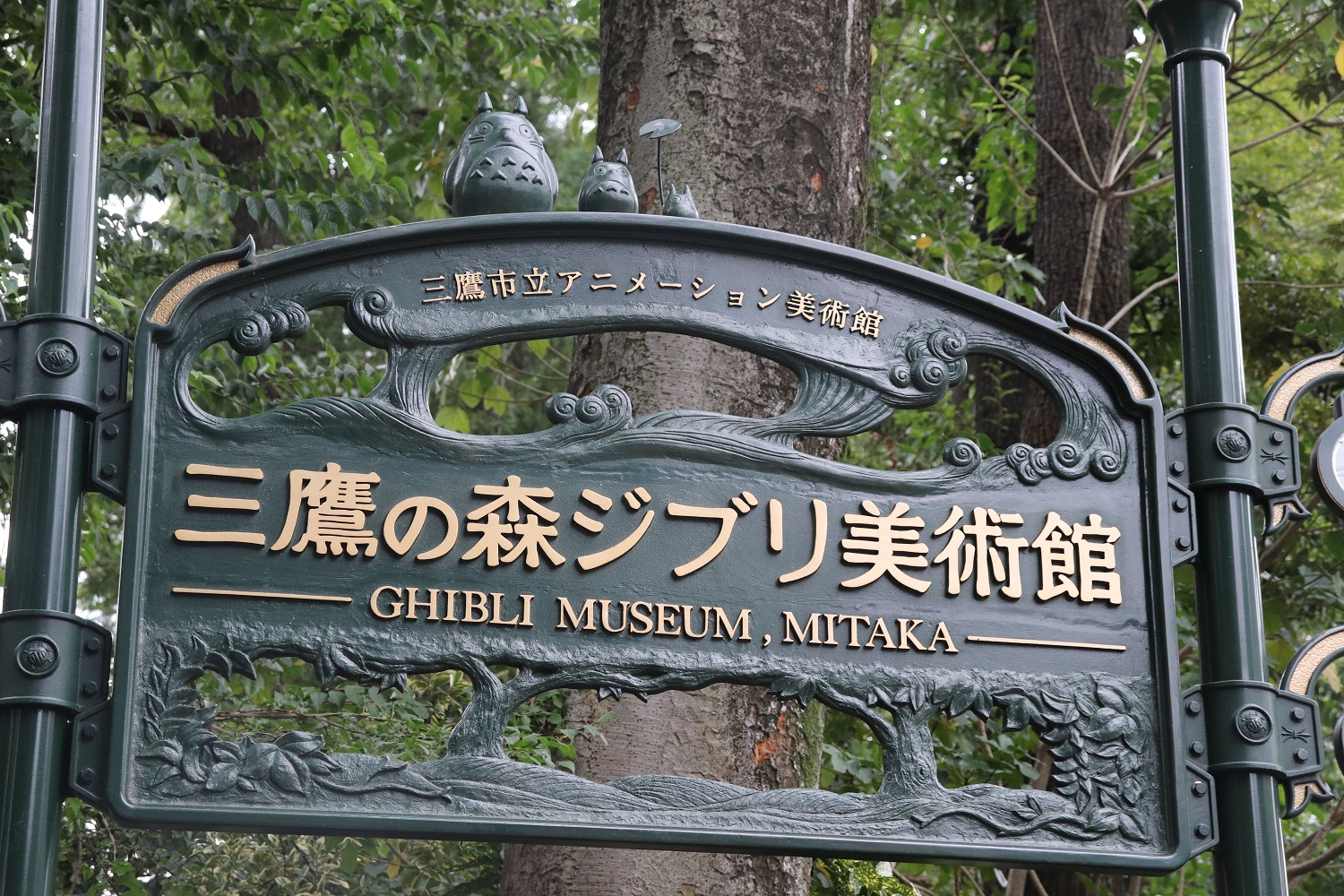 (Just a note, photographs are not allowed inside the Ghibli museum, so unfortunately this post will not feature many images.)

Image Courtesy the Ghibli Museum.
The museum most definitely has an interesting exterior and it's very whimsical without looking fake. When you check in, you're given these cute tickets that entitle you to one film screening. You then go down some stairs with super cute Ghibli-themed stained glass and get to the Central Hall. It's this gorgeous three-storied room with a glass roof, and cute additions like a spiral staircase and balcony. The exhibitions are off of this main hall.
Probably the most exciting part is seeing the exclusive Ghibli Museum short films. They have a range of films to see but you only get one cinema admittance per visit. We ended up seeing a cute film about wrestling mice. There are actually no subtitles available but the film was enjoyable all the same.
One of the permanent exhibitions is about animation in general. It has models and displays that show how animation can be created from images and it's interesting to look at. The other permanent exhibition is a room that looks like a study and it's filled to the brim with sketches of Ghibli movies. They range in stages and even include ideas that didn't make it to production. There's also some books in the room that show you visual inspirations for each movie. There's something that really nails the word "home" on the head with Studio Ghibli, and they delivered that especially well in this room. Of course the Ghibli team didn't want to create a museum that would show its work like artefacts out of commission and now on display. They wanted a living, breathing display, and it feels just like being in Miyazaki's home study and seeing his work in progress. Even through there's virtually no explanation, you can piece together some ideas based on what you see. But it's like that with everything Ghibli, right?
I also have to say that I am super disappointed those prints are not for sale because some of them were absolutely gorgeous.
There's also a temporary exhibition and the one on display when we went was on food. It was amazing! Now everyone knows Ghibli does food really, really well, but the exhibit was also fascinating. It showed displays of food, what the food is modelled after, sketches, and how characters and storylines interact with food. It was a temporary exhibition and they certainly set a high standard, but I'm sure they'll meet it with other topics somehow.
That actually concludes the "museum" part of the museum, but there are a few fun things left to explore. There's a room with a large cat bus for children 12 and younger to play with. It also has a bunch of soot sprites as well. You can also go to the rooftop and get your photo taken with the famous guardian statue from Castle in the Sky.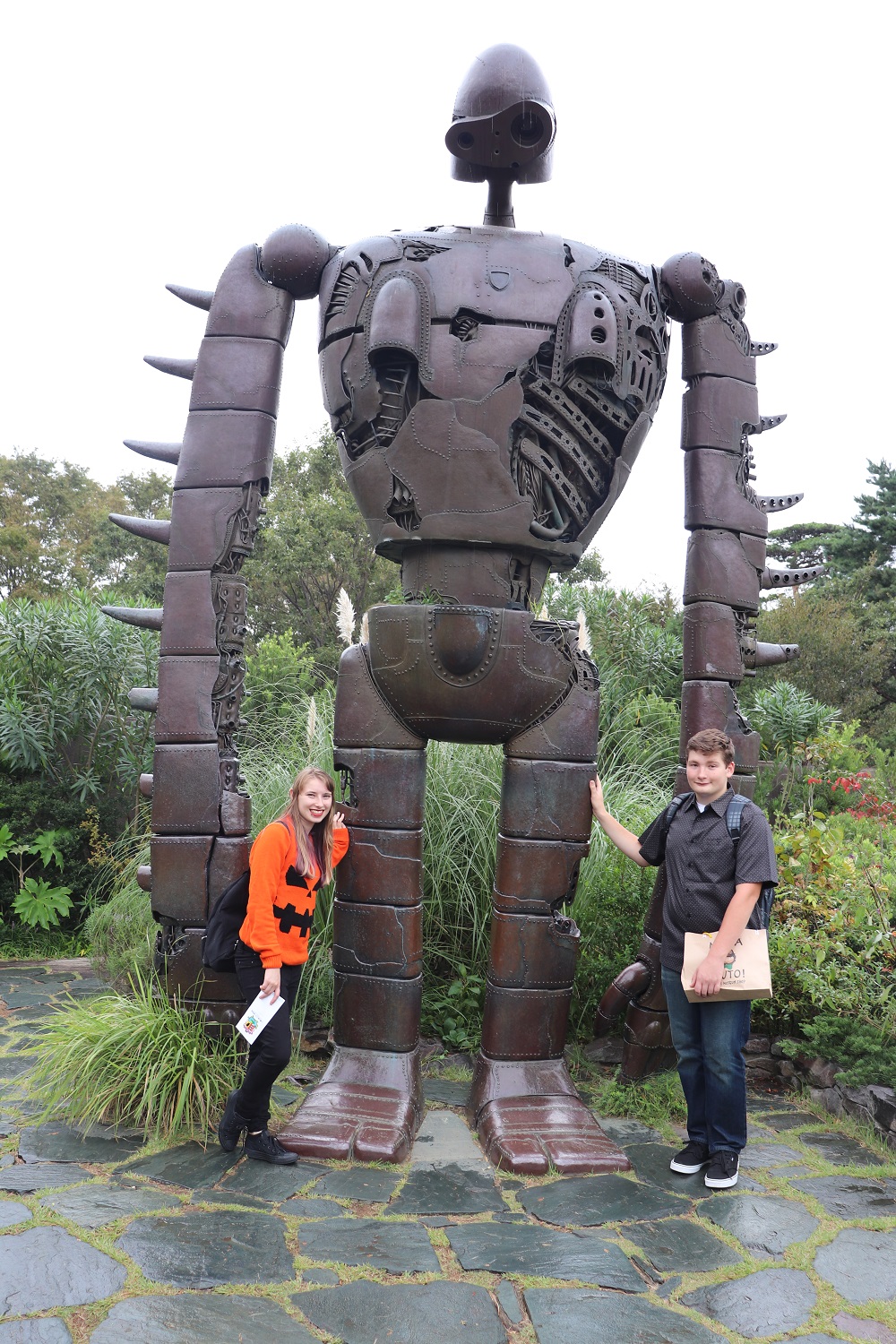 There's also a place to get snacks and then a sit-down cafe. They serve things like ice cream, French fries, and hot dogs at the snack shack. The cafe was unfortunately full when we went, but looking online, it looks like they have all types of cute Ghibli-style food. Nothing like in the movies, but at least they have something.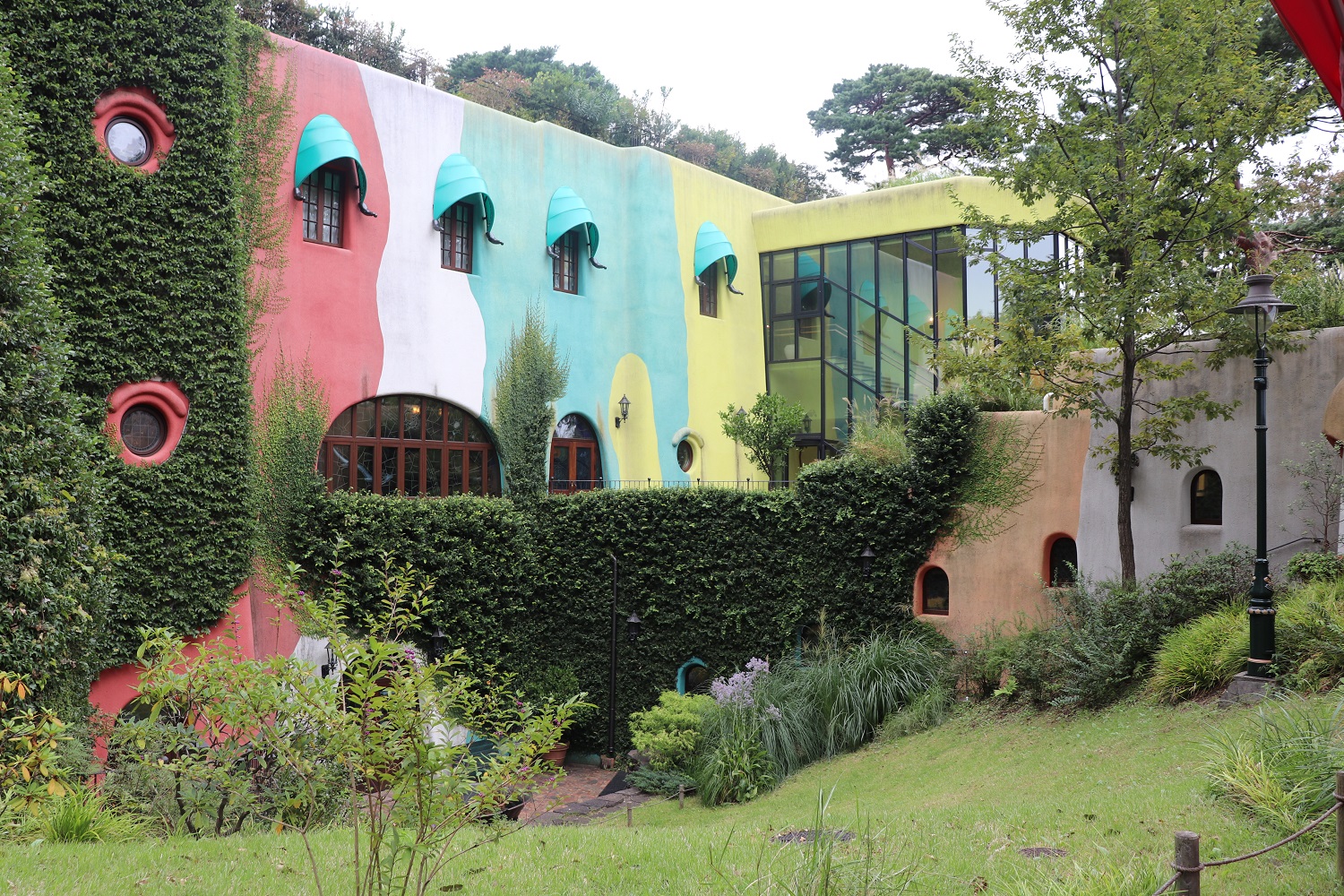 So overall, how was it? Well, people usually go to museums to learn new things or to see things in person. Did I learn a whole lot about animation? The Ghibli team? The Ghibli movies? Not at all. They have some information available but nothing in-depth. What was really nice about the museum is that it's like seeing a Ghibli movie in person. The building itself is gorgeous, playful and very well executed. Sometimes inspiration can backfire into appearing to fake but this isn't the case at all. Everything from the main hall to the exhibits to the bathrooms and the exterior, it all has so much personality. It feels like going into somebody's quirky home – just like in a Ghibli movie. And it's stuffed with all your favourites from Totoro to Kiki to Chihiro to Ponyo, so you get to experience all your youthful excitement as well.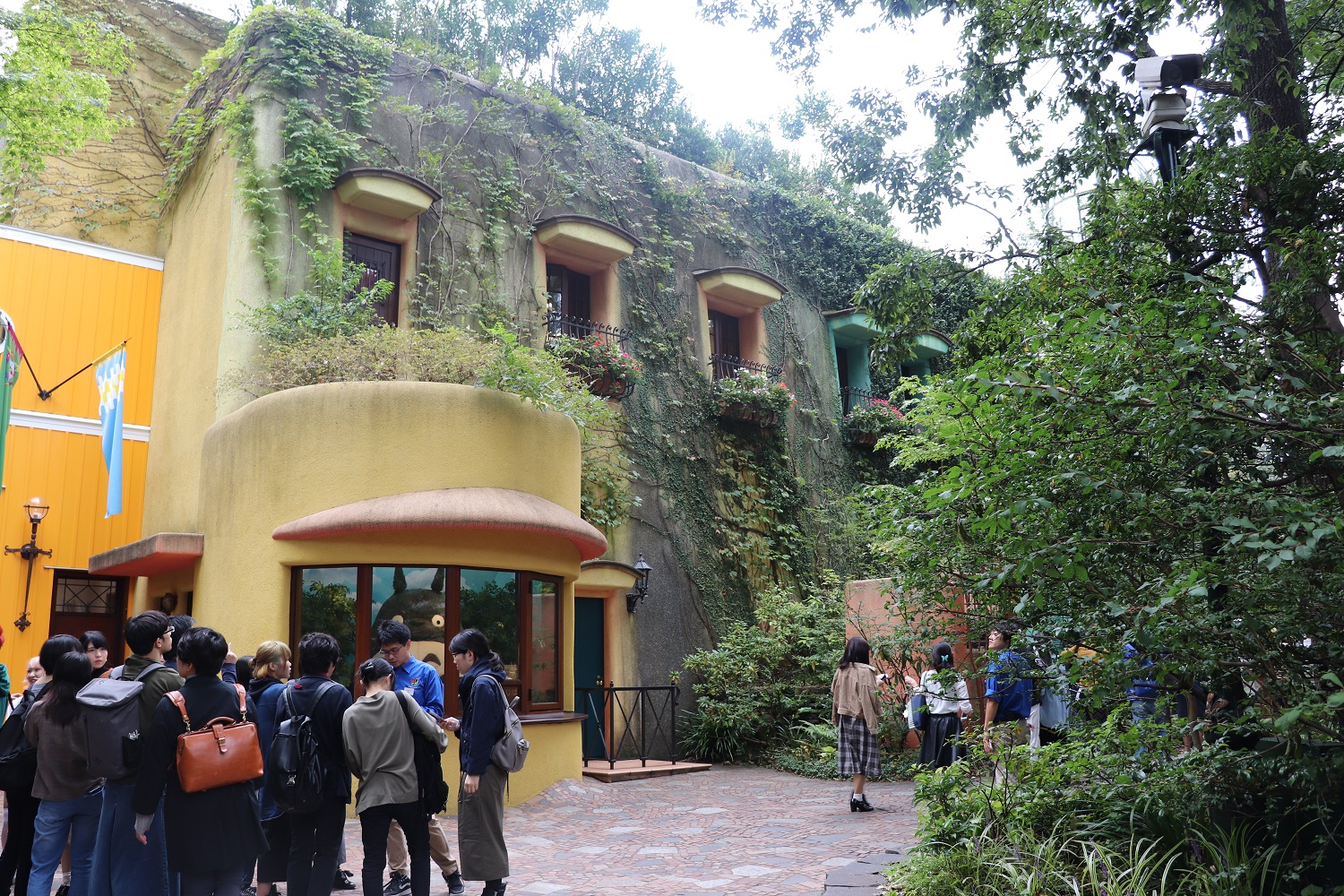 I went to the Ghibli Museum expecting to maybe learn more about what went into the movies, but I learned not all knowledge is fact. I don't need to know where Miyazaki got his inspiration, what artistic developments the team used to create their images, or what problems arise during film-making. The knowledge I got was the experience. We got to watch an exclusive video, see Ghibli models, and walk through a building the Ghibli team designed for us. It was a great time!
Getting Tickets & Getting There
Getting tickets: This is super important since a lot of people gloss over how exclusive the museum is and then miss out on getting tickets. The website has a description about the different ways to buy tickets but we bought them the traditional way, which was over the phone. We went in early October so tickets for us went on sale the 1st of the month three months prior; i.e., July 1st. I called my Designated Travel Agency and told them the legal names of the travellers in my group and our preferred dates & times. Believe it or not, on July 1st, I was put on a waiting list for tickets for early October. (Note that they had taken my payment information beforehand; this is normal so they can reserve your spot. It will be the cost of the tickets + a shipping fee.) A few days later, I got an email saying my tickets had successfully been purchased!
I had to fill out an online form and then I was mailed a voucher. Even though I'd bought tickets for my friends, I only got one voucher and it had all our names on it. It was essentially just a receipt but it was highlighted and said that no photocopies would be accepted. One odd thing was that we had to select a time and were told we could enter only at that time. However, the receipt did not list any time, only a date. We didn't figure that one out. When we got to the museum, I gave them the voucher and they gave us our tickets. You're supposed to bring your passport for ID and even though they didn't check ours, I'd still recommend doing it.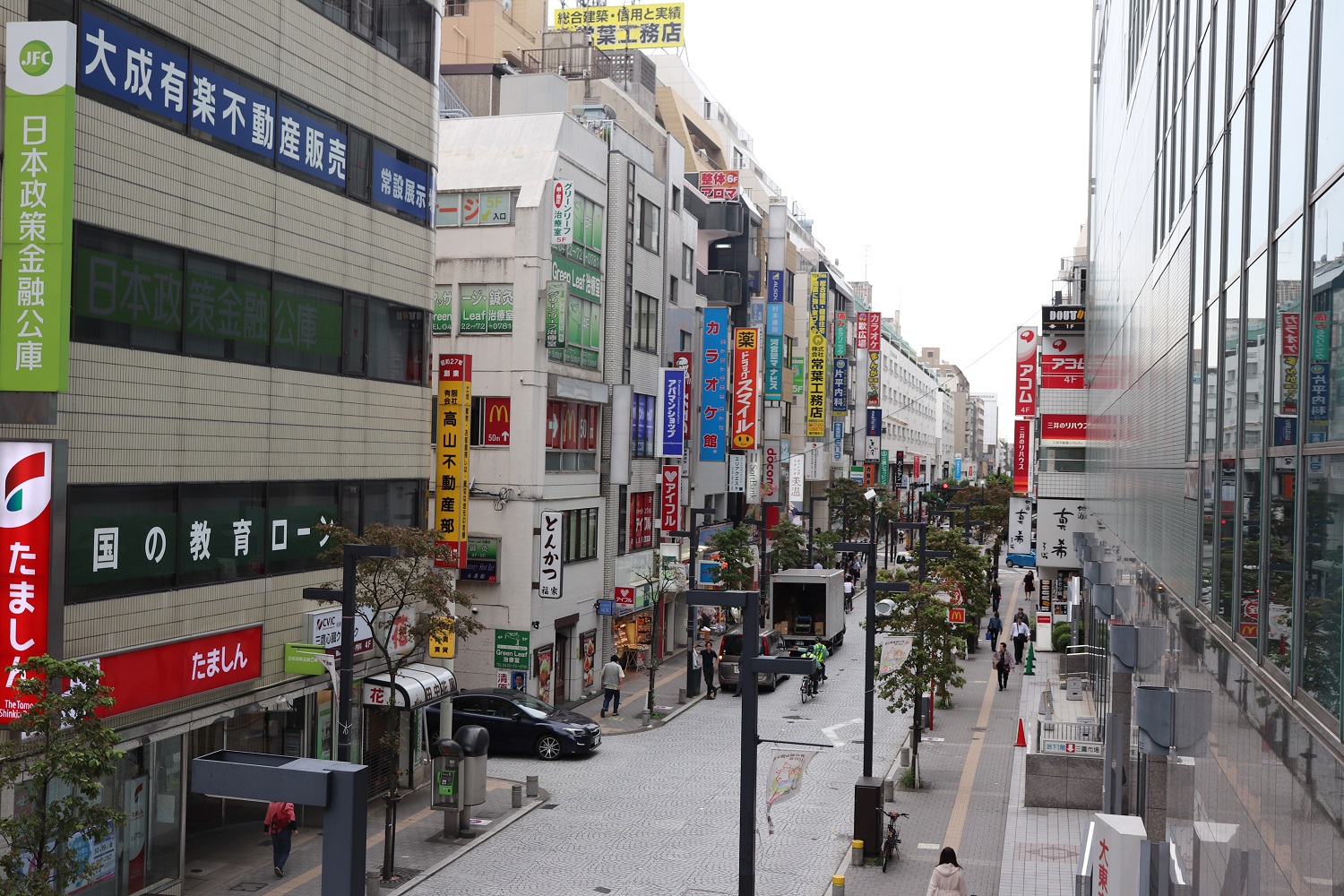 The streets of Mitaka.
Getting to the museum: With a JR pass or less than 400 yen from central Tokyo, you can go to the Mitaka stop on the Chuo line. The Tokyo metro is a lot easier to navigate than it looks online, and there are attendants in the metro who can help you if you get lost. There is a bus decorated with My Neighbour Totoro that goes from the metro to the museum, and it only costs a few hundred yen. However we walked and once we got to the main road, it was a direct route to the museum. The area had not much else but the museum so if you get lost, a local will 95% of the time know where you're going.
We had a great day and I'm glad that we were able to go to the Ghibli museum! My brother and my friends are glad they got to go, as well, and it's such a good idea for people visiting Tokyo. If you have some extra time, it's worth the voyage out to Mitaka to see this magical place for yourself.
Do you want to go to the Ghibli Museum? Also, I'd like to know: what's your favourite Ghibli movie?
Posted on Monday, February 18, 2019 in Destinations
Tags: asia, japan, tokyo
No Comments ★ Permalink
Comparing 3 Different Genetic Ancestry DNA Services
I guess it's just human curiosity that propels us to buy DNA tests that tell us where are ancestors are from. After thinking about it for years (because they're so pricey), I actually decided to brave the cost and get some DNA tests! There's a saying that goes along the lines of, "the truth is in between both sides" – so that's why I got 3 DNA tests instead of one.
According to my family, what am I? I have a professional historian for a father and my mother's family is fairly into history too, so we have a lot of family records and stories. We can trace our family history back generations and centuries, which is the cool part. The not cool part? My family has lived in Pennsylvania for a very, very, very long time. From before the revolutionary war until my dad moved out and raised me one state over, my family has been in Pennsylvania. My mother's family is the same way, but with different states in the South.
We have stories of when my ancestors came to the USA, but they're really just stories. A lot of times, they don't make sense chronologically, or my great-grandma who was born in Poland apparently was also born in Mississippi. No names, no hometowns, no reasons for immigrating. Moreover, nothing about their ancestry. But these stories have told me I have ancestors coming from Scotland, England, Wales, Ireland, Sweden, Germany, Poland, Austria, Switzerland, and Hungary. And at some point of time, my family was Jewish. So when I purchased my DNA tests, I was hoping for something a bit more concrete than my elders could give me.
(Just FYI – Ancestry.com is not a good resource for finding your heritage since anyone can access it and post their own incorrect family trees. Always rely on records alone.)
A little about genetic testing: Each test has its own breakdown of how it reaches its results, but the general idea is that certain genetic markers – which usually appear as traits – can be associated with living in a specific area. Someone living in that area may (or may not) pick up that genetic marker. So just because you have an ancestor from Italy doesn't mean you'll necessarily have an Italian genetic marker. Additionally, as your biological siblings and parents have different genetic markers, they may have a different DNA heritage than you – even though you obviously have the same exact heritage as your siblings. DNA tests aren't definitive answers of where each of your ancestors is from, but markers of where your genetic code originates.
23andMe
| | |
| --- | --- |
| French & German: | 36.4% (probably Switzerland) |
| British & Irish: | 33.3% |
| Scandinavian: | 2.5% |
| Eastern European: | 1.0% |
| Ashkenazi Jewish: | 0.7% |
| Iberian: | 0.1% |
| Senegambian & Guinean: | 0.1% |
| Broadly Northwestern European: | 19.0% |
| Broadly Southern European: | 3.0% |
| Broadly European: | 3.8% |
If I remember correctly, 23andMe actually had the fastest turnaround time, and it also has an optional health report you can opt into (though I chose not to). I was very surprised to get western African heritage (though my grandma got some with her Ancestry.com DNA test) but was also disappointed that such a large percentage of my DNA is "broadly European." However the report also includes Material Haplogroups and Neanderthal ancestry, and I was surprised to find out I'm less Neanderthal than 71% of people who take the DNA test.
Areas tested in 23andMe (32 – probably more): African Hunter-Gatherer, Ashkenazi Jewish, Balkan, British & Irish, Broadly East Asian, Broadly East Asian & Native American, Broadly European, Broadly Northwestern European, Broadly Southern European, Broadly Sub-Saharan African, Broadly Western Asian & North African, Chinese, East African, Eastern European, Finnish, French & German, Iberian, Italian, Japanese, Korean, Manchurian & Mongolian, Melanesian, Native American, North African & Arabian, Sardinian, Scandinavian, Siberian, South Asian, Southeast Asian, Unassigned, West African, Western Asian
Ancestry DNA
Ancestry DNA changes the estimates based on new data so the number in parenthesis is the old estimate.
| | |
| --- | --- |
| England, Wales and Northwestern Europe: | 38% (<1%) |
| Germanic Europe: | 32% |
| Ireland & Scotland: | 26% (21%) |
| Eastern Europe & Russia: | 3% |
| European Jewish: | 1% (1%) |
| | |
| --- | --- |
| Europe West: | (67%) |
| Europe East: | (3%) |
| Europe South: | (2%) |
| Scandinavia: | (2%) |
| Iberian Peninsula: | (1%) |
| Finland/Northwest Russia: | (1%) |
| Caucus: | (<1%) |
Ancestry DNA is probably the most popular DNA test out there, but let me be blunt: <1% went to 38%? Also, isn't England, Wales and Northwestern Europe really huge? Ancestry also provides a traits section of their website, which says I have dark hair and medium-tone skin. LOL. I'm a pale blonde. Plus they thought my grandma was my first cousin. I hope they don't do forensics for criminal investigations.
However, Ancestry does map my Irish heritage to western Ireland and accurately tells me my ancestors moved to western Pennsylvania. They also have a timeline of my ancestry that says my ancestors moved to the US in the early 1700s, which is probably accurate as well. That's more of the content I was looking for.
Areas tested in Ancestry DNA: They have over 350 regions to test, so click here to see the list
Family Tree DNA
| | |
| --- | --- |
| West and Central Europe: | 67% |
| Scandinavia: | 23% |
| British Isles: | 6% |
| South America: | <1% |
| Asia Minor: | <2% |
| West Middle East: | <2% |
Probably the least known of the three tests is Family Tree DNA, but they also don't have in-depth information about origins as the other two do, so it's easy to see why. It's nice that the other two said things like "Your ancestors most likely came from Switzerland" and "Your ancestors migrated to Pennsylvania," but FTDNA doesn't say anything like that. However it was fascinating to see some unexpected results like South America and Asia Minor.
They also have a cool "Ancient Origins" section of the website but my map looks exactly like the sample map so I'm not completely sure I trust it.
Areas tested in FTDNA (24): Ashkenazi, Asia Minor, British Isles, Central Asia, East Central Africa, East Europe, East Middle East, Finland, Iberia, North Africa, North and Central America, Northeast Asia, Oceania, Scandinavia, Sephardic, Siberia, South America, South Central Africa, South Central Asia, Southeast Asia, Southeast Europe, West Africa, West Middle East, West and Central Europe
So what now?
I'm going to be completely blunt: the whole ancestry heritage thing is probably a bunch of BS just because of the nature of the subject. Tracing DNA is a tricky science, if not impossible. It's more interesting to get multiple tests done and see what's similar between them, but would probably only benefit people who are uncertain of their ancestry or have mixed-origin ancestry. If you don't want to have multiple tests, I'd recommend Ancestry the most with 23andMe behind, and wouldn't recommend FTDNA.
Though it's been fun seeing my results but now all I know is I'm of British Isle and Germanic ancestry, probably, which doesn't include what was actually more important to me all along: my family stories (even if they are just stories). This DNA test journey has actually taught me that DNA doesn't matter to me at all. I don't know what my ancestors looked like; what they were like in personality; what they enjoyed and accomplished with their lives. I'd like to know, but some things sadly disappear with time.
Unlike some people, I'm not close to my heritage at all and it has no place in my identity. I have a Jewish name. Growing up, my family made homemade pierogi and golabki like our Polish ancestors, and we put rocks on peoples' graves despite not being Jewish. Polish ancestry is the closest I've had in my life but it didn't come up on the DNA results. I thought maybe learning about my ancestral heritage would answer some questions, but it posed more, and then I just didn't really care to answer those questions.
But at least now when people ask me what I am, I have three different maps to show them!
Have you ever gotten a DNA test done before? Do you identify with your heritage?
Posted on Thursday, February 14, 2019 in Uncategorized

No Comments ★ Permalink
Highlight: Pachacamac
There are so many archaeological sites in Peru but while we stayed in Lima, we decided to take the short excursion over to Pachacamac. Even though the Sacred Valley and the Incas take Peru's limelight, there's so much more to this gorgeous country, past and present. Part of that is Lima and its several surrounding archaeological sites – one of which being Pachacamac.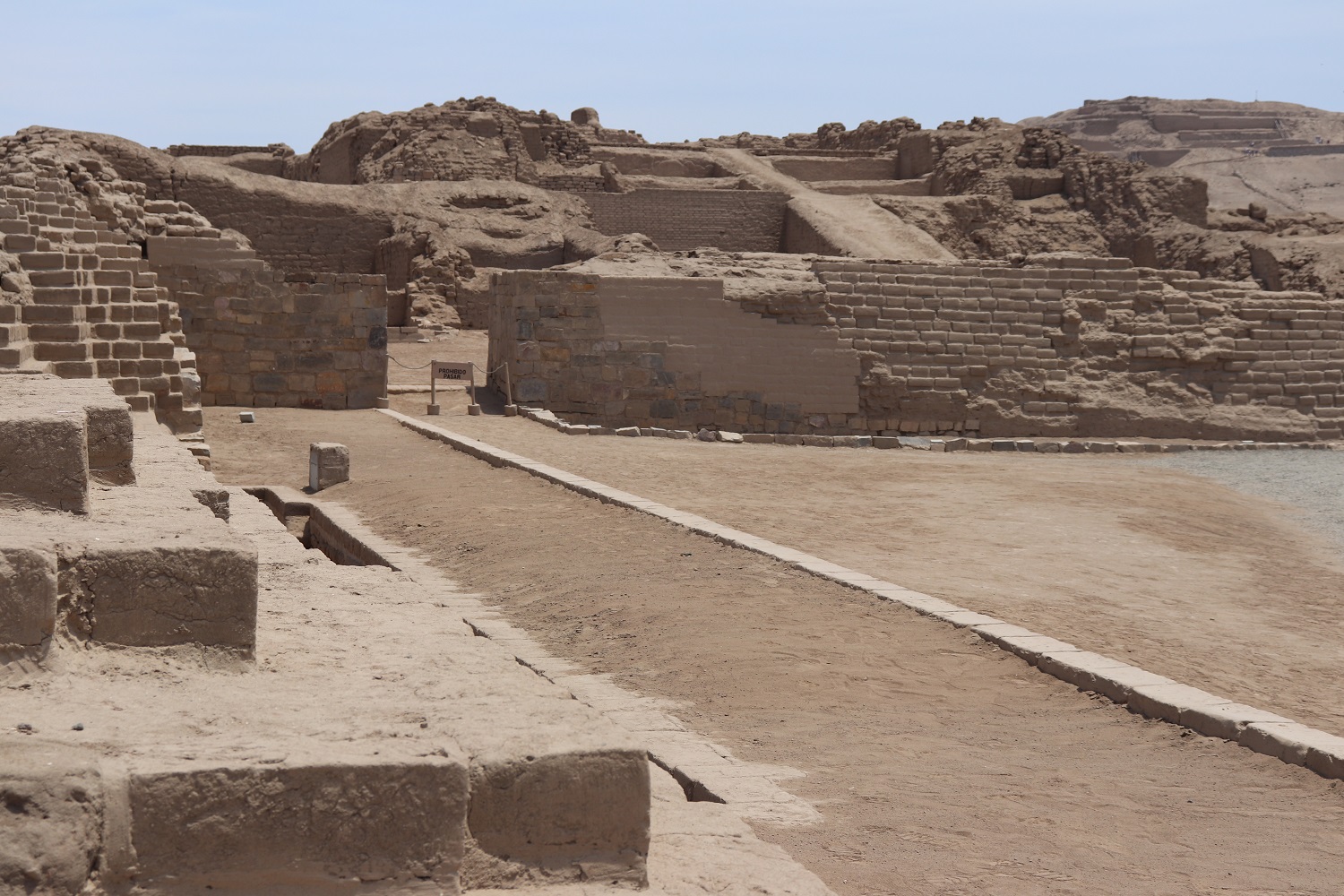 This ancient site dates to 200 AD and was created for Pachacamac, the most important god of pre-colonial times. Up through the Incas, the site was modified to meet standards of the times. The Incas were the ones to built the Temple of the Sun, which is one of the most prominent parts of the complex. This site thrived for about 1300 years before the Spanish came. Isn't that amazing?
There's so much to see at this very large and important site. You start off at a museum that has a decent amount of artefacts and a wealth of information. It's in chronological order so very easy to understand. It was really cool that they had well-preserved textiles dating back hundreds of years, as well as wooden and other objects. Those types of things don't usually last. After touring the museum, you then exit and head out to the site itself with a guide, who will drive you around.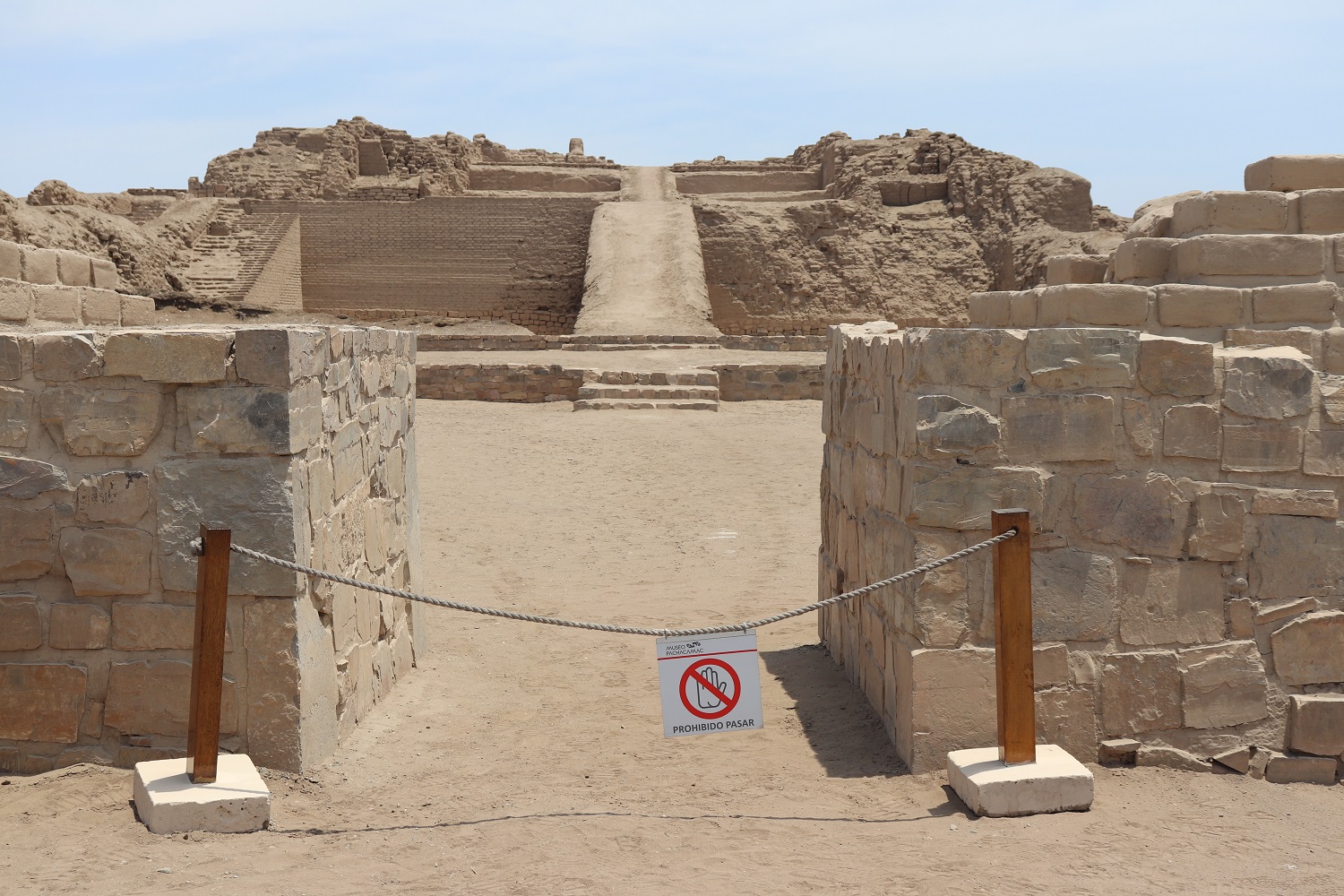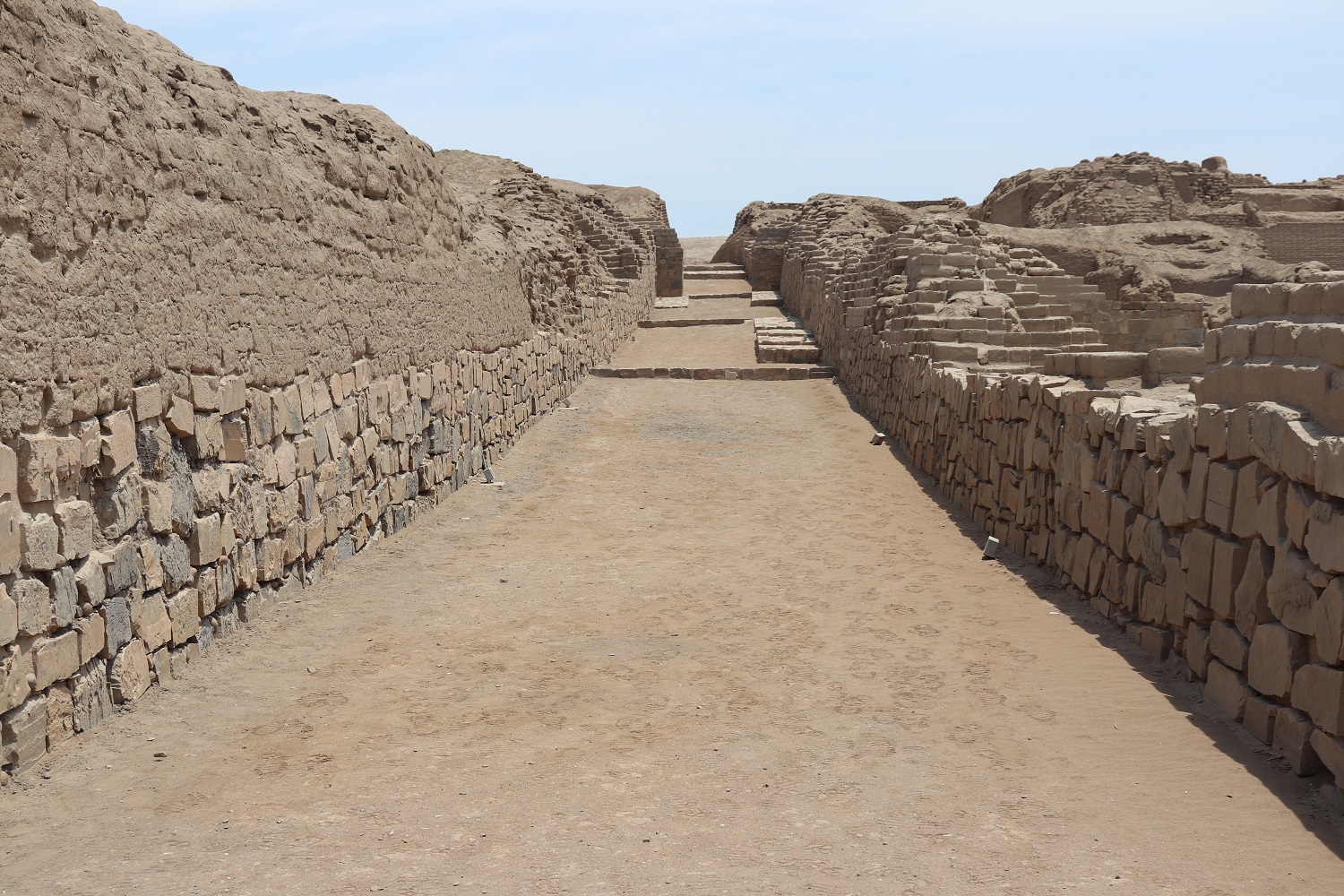 There are several pyramids in Pachacamac, not like those in Egypt but pyramids nonetheless. Peru is actually filled with them! You can see the ruins quite clearly and the guides will tell you all about how the buildings were used and what they may have been like in their heyday. You can also walk on a major ancient road that used to run several miles. It's cool to walk in the footsteps on ancient Peruvians, and there's also so much known about the archaeological site. It's fascinating to see a structure and know what it was once used for, rather than wonder.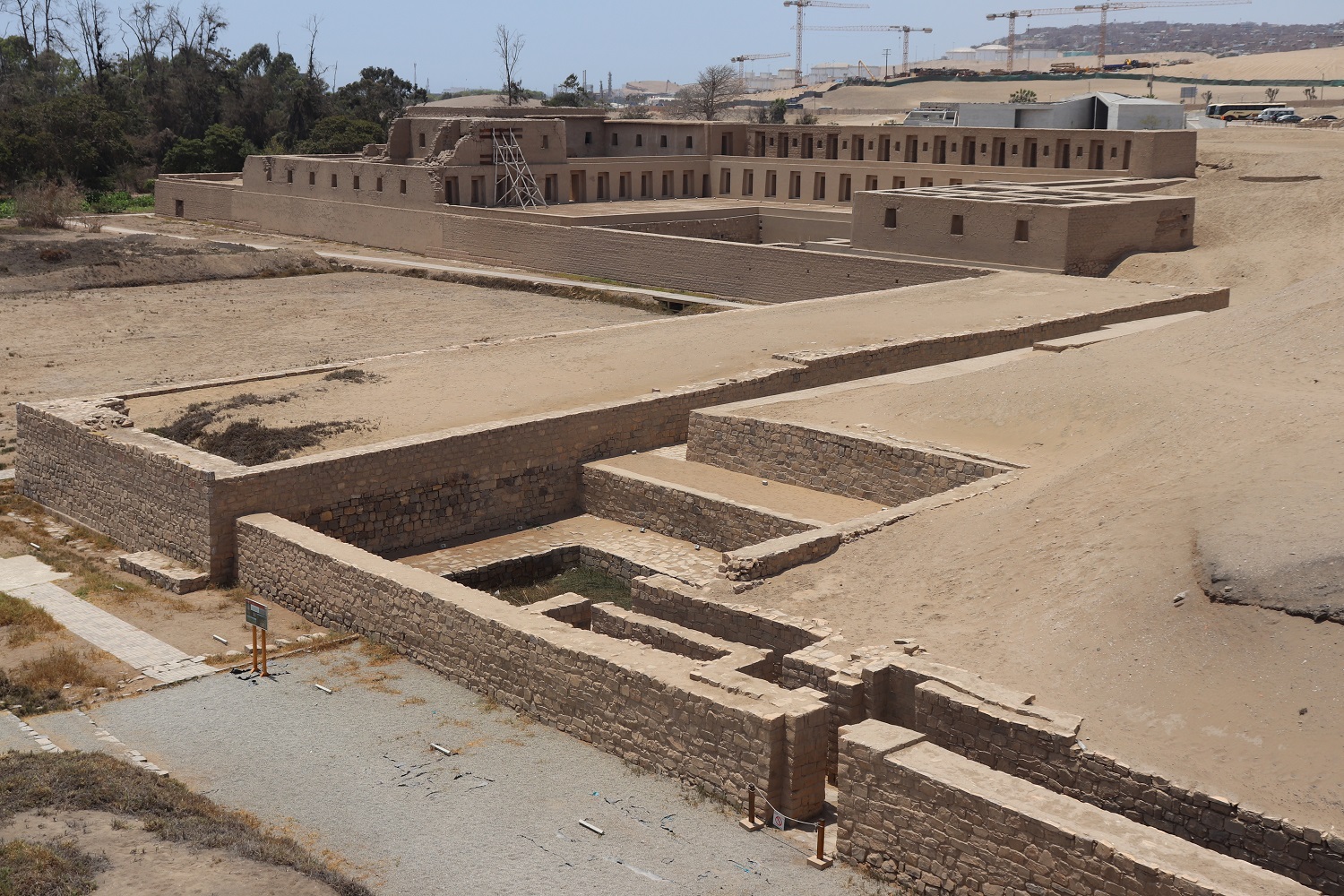 You'll also get to see the Acllahuasi, which is one of the most preserved and thus photographed parts of the site. It's another Incan building. Women were chosen to live there and perform domestic duties. You can only see it from afar but its grandeur can still be noticed.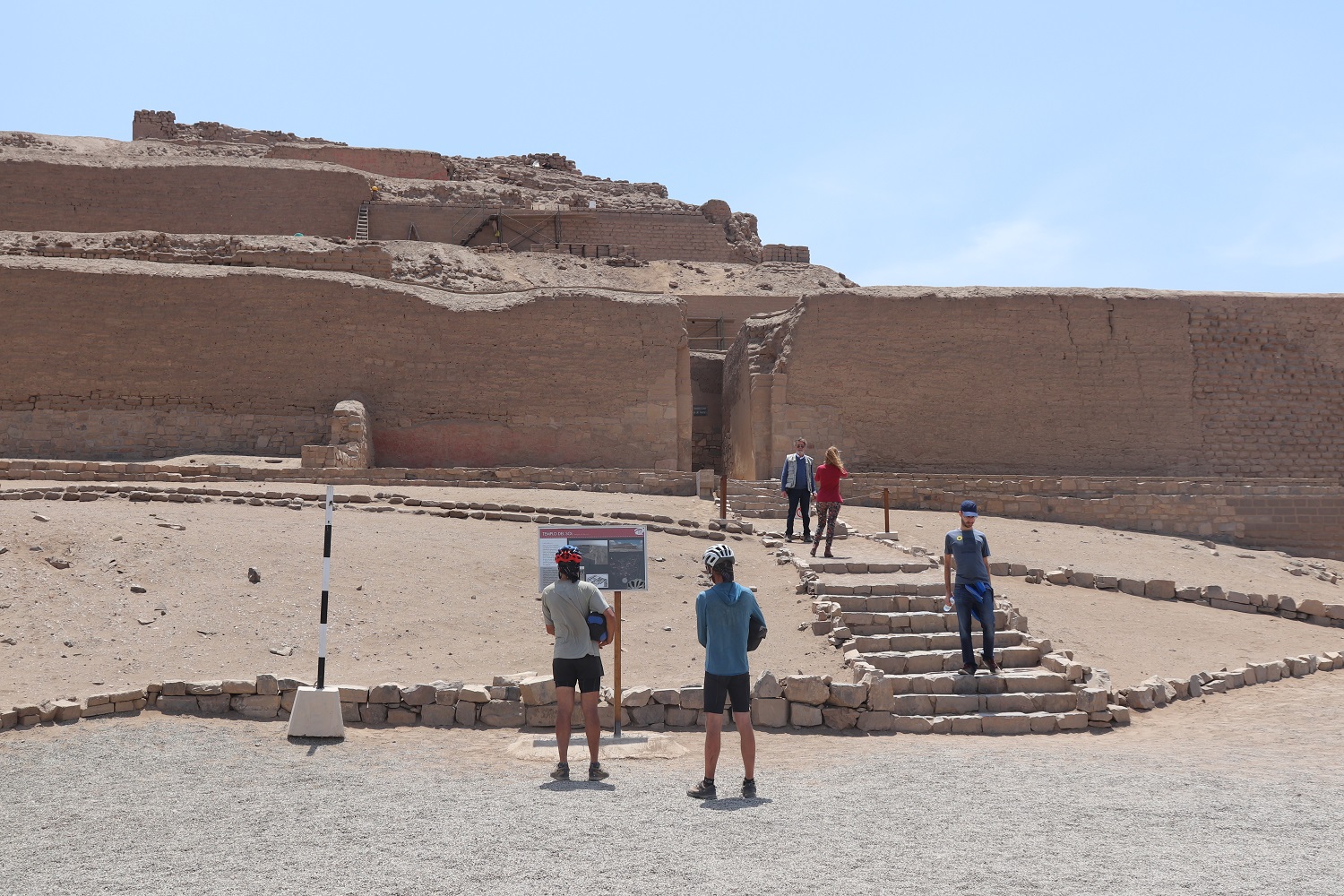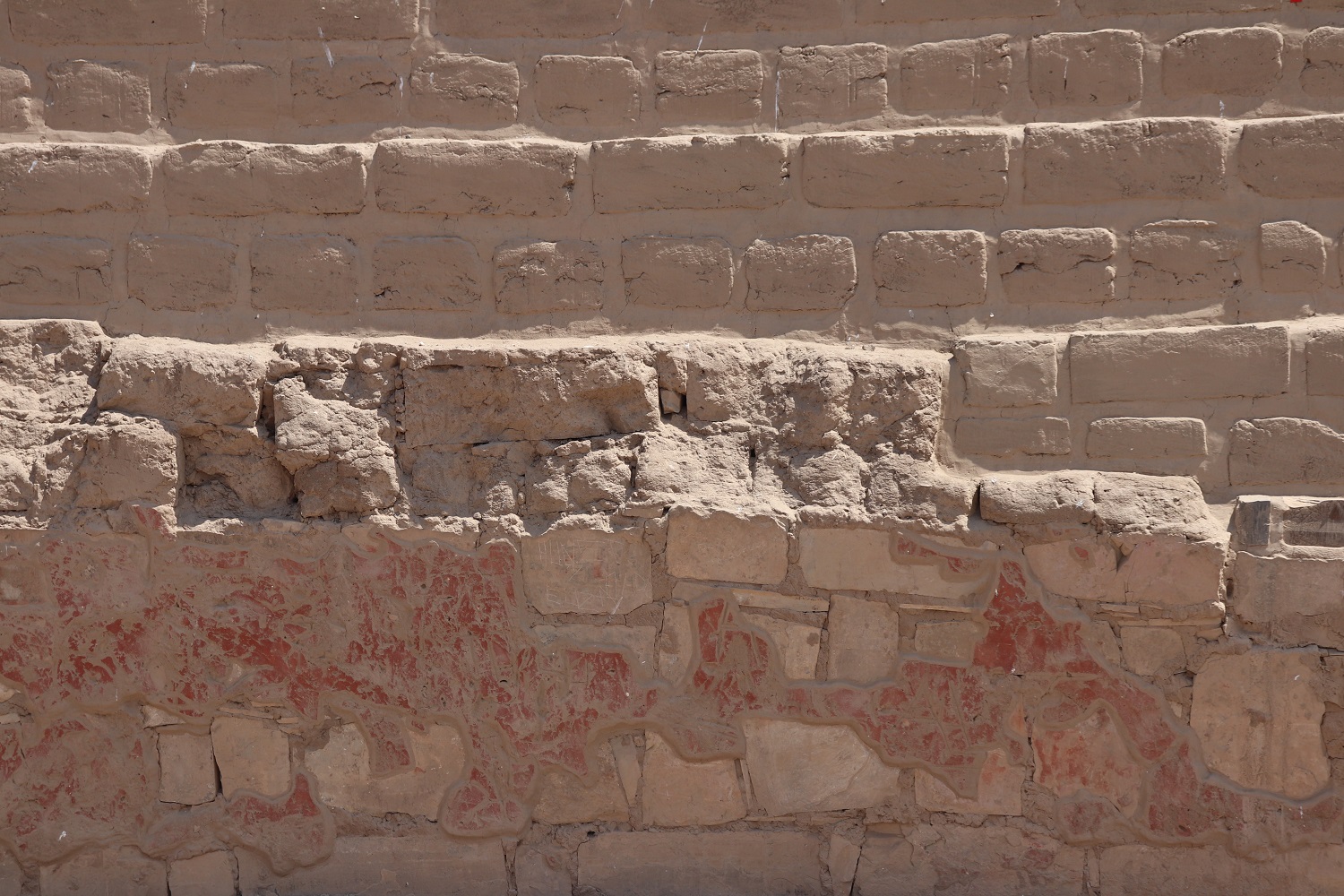 While you're there, you'll probably make your way up to the Temple of the Sun. Again, the temple is an Incan structure and it's on the top of a hill on the site, making it the most prominent part. You can still walk up to the temple though you can't go in, you can see it much closer than other buildings. I also didn't find the walk up to be as strenuous as some other sites out there. There's also some red paint still on the walls that you can see, which I always find fascinating. You can see a reconstructed version with the paint intact in the museum.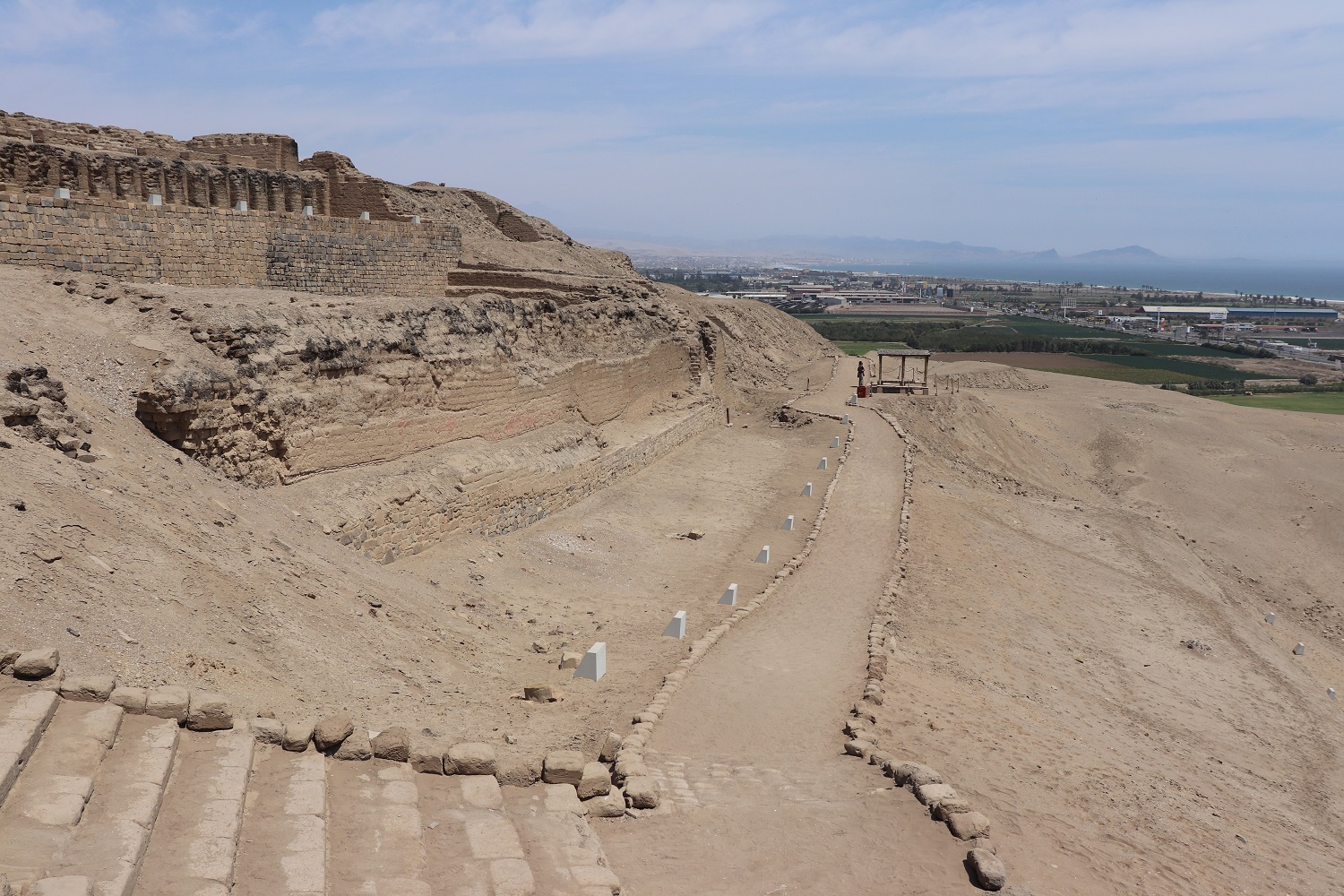 If you're in Lima, I highly recommend not only getting to know the city more but making your way out to some of the Lima area's best archaeological splendors. Pachacamac was one of the highlights of our trip and it's certainly worth a visit.
Posted on Saturday, February 9, 2019 in Destinations
Tags: archaeological sites, peru, south america
No Comments ★ Permalink